Cinderella's Royal Table is arguably one of the most sought-after reservations at Walt Disney World. We tried one of the 50th anniversary dishes available and here is what we thought!
Cinderella's Royal Table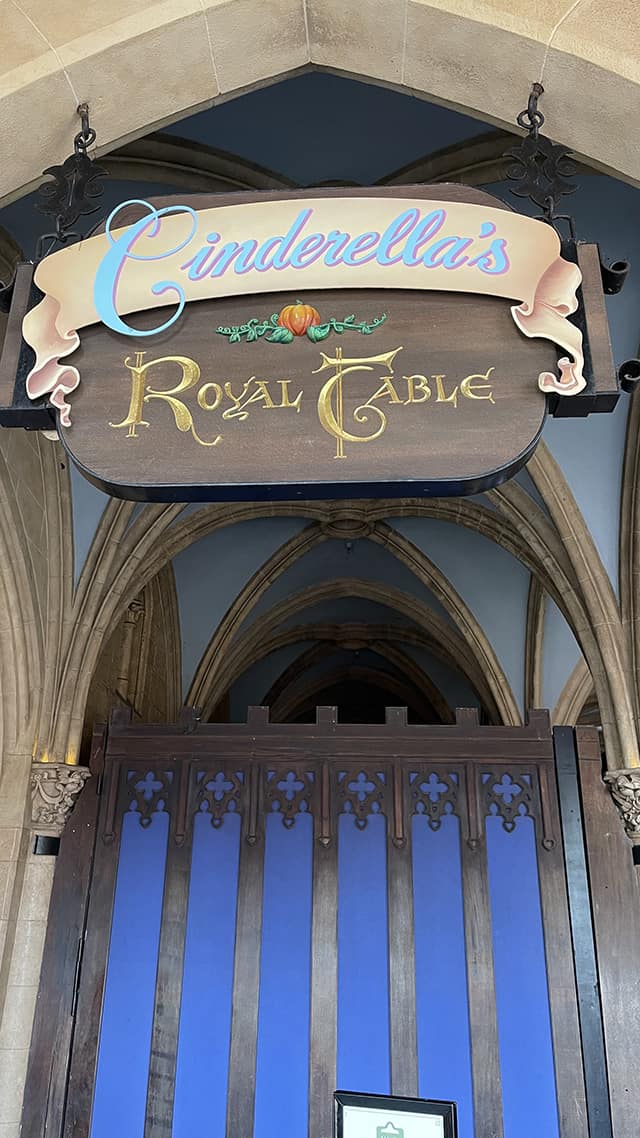 Cinderella's Royal Table is one of the most expensive and popular dining reservations at Walt Disney World. After all, it is the only place where you can eat inside Cinderella Castle!
The dining experience has changed significantly since the parks reopened after the pandemic. Guests can no longer meet with princesses like before, but one thing that has recently changed is that they can meet Cinderella!
To read a review of what the dining experience was like before this recent change, take a look at Monica's post HERE.
Getting a reservation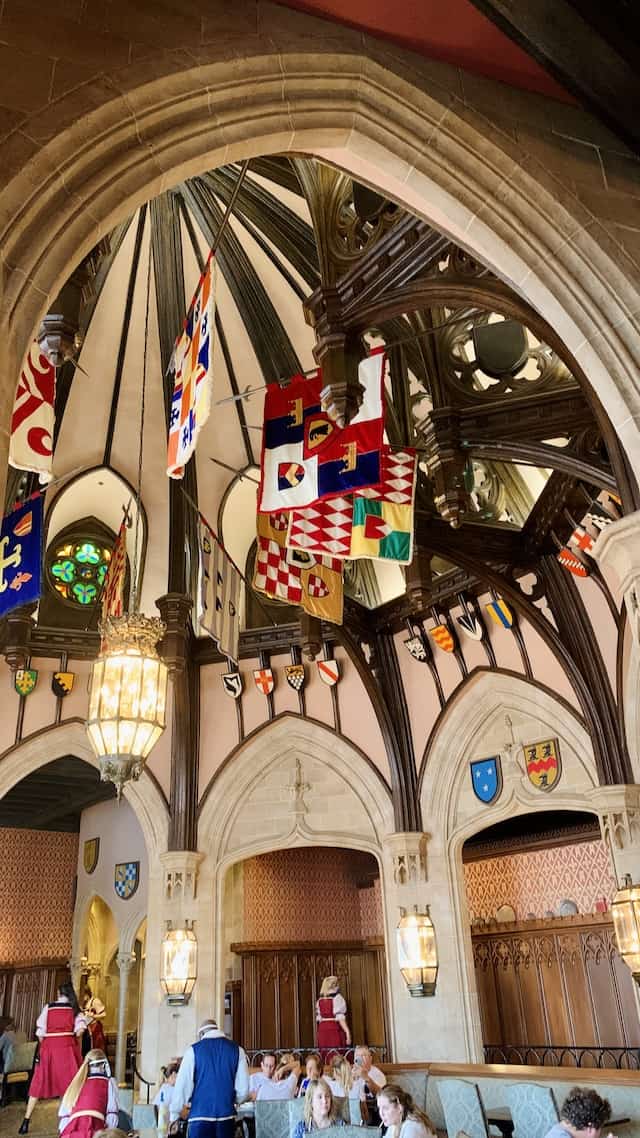 Getting a reservation for this location can be a bit tricky and frustrating. Monica has a few good tips on how to grab one in this POST. The real key is to never give up!
I (Maggie) had tried getting a breakfast reservation for a recent trip as soon as my dining window opened. I was never able to grab one, and I was starting to accept the fact that we just would not be eating there this time. However, days before our trip, I was able to find a lunch reservation!
People often cancel last minute before or during their trip, so always keep an eye out at all times of the day.
I happened to find this one real late at night, so be persistent.
Checking In
We checked in for our 11:10 a.m. reservation on My Disney Experience and waited until we were called. It was a hot day, so they invited us inside to wait. We entered the Majestic Hall, and the hostess told us that Cinderella would be coming shortly to greet us. We were so excited to see her!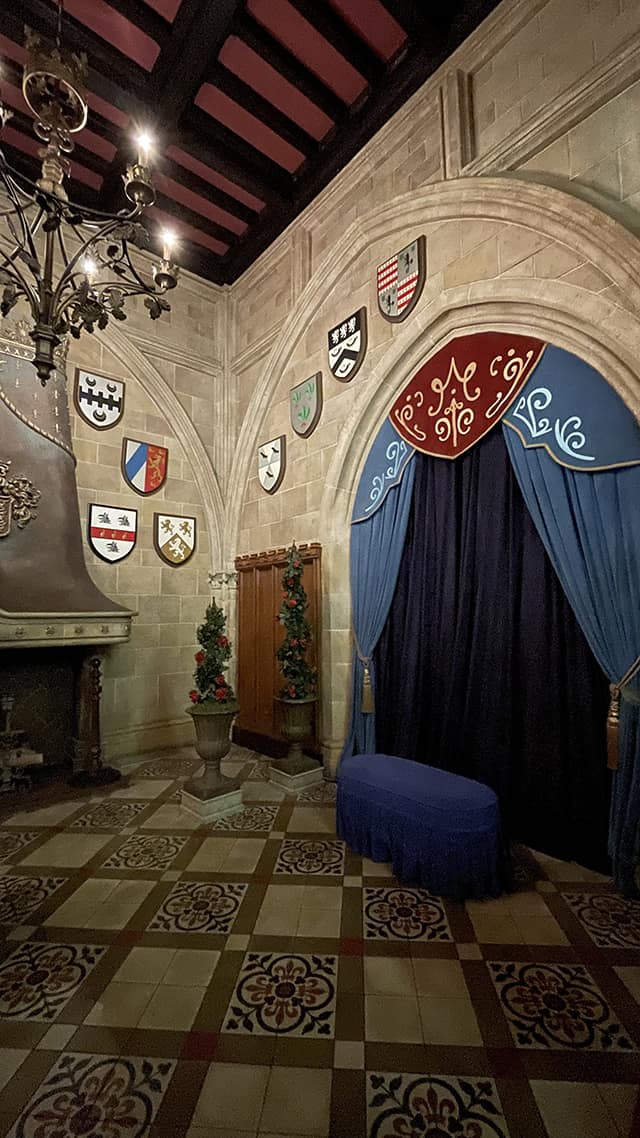 We only waited a few minutes and Cinderella appeared to welcome us all into her castle. There are no PhotoPass photographers here at this location at the time of writing, but Cast Members will take a picture if you ask them to.
This is also the only location and time Cinderella meets with guests during your meal. She no longer makes any appearances in the main dining room while you are eating. Read that story HERE.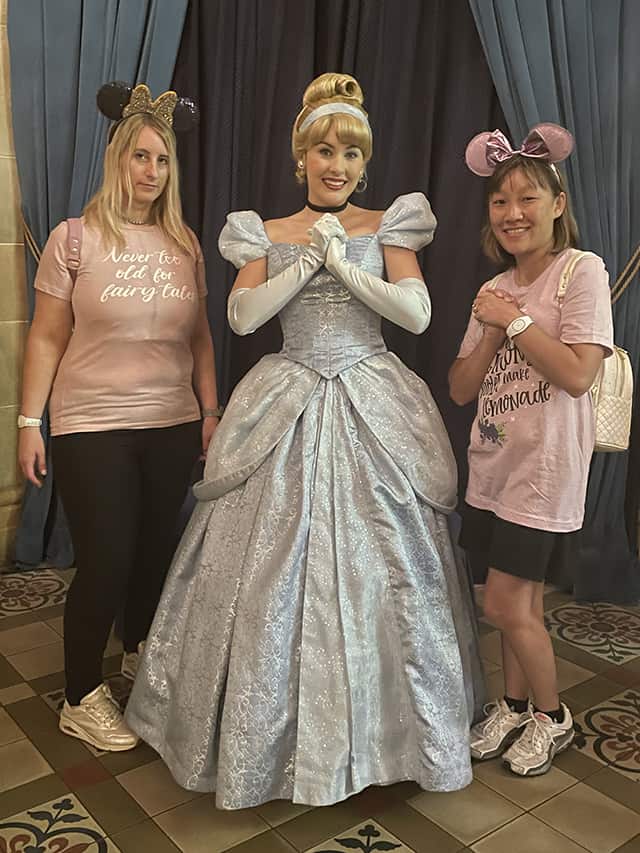 In some ways, I like this better because of being able to meet with her and have pictures taken, but I did enjoy seeing her more than once when she made character sightings. I tried to do my best Cinderella pose in this picture, but I think I will leave that up to Cinderella next time.
Dining Experience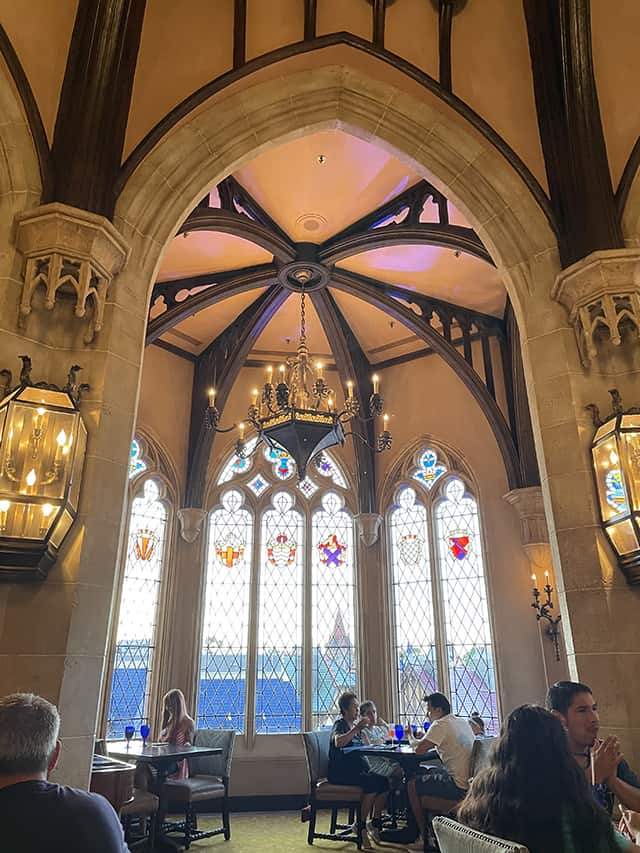 Shortly after we had pictures taken with Cinderella, we were notified that our table was ready. We walked up the spiral staircase into the main dining area. Each time I see it, I am amazed at all of the attention to detail and majestic feel of the entire dining area. It's truly a royal experience!
We had an amazing server named, Kathy, who made us feel so welcomed. I ended up giving her a Cast Compliment after our meal because she made everything so enjoyable!
Appetizers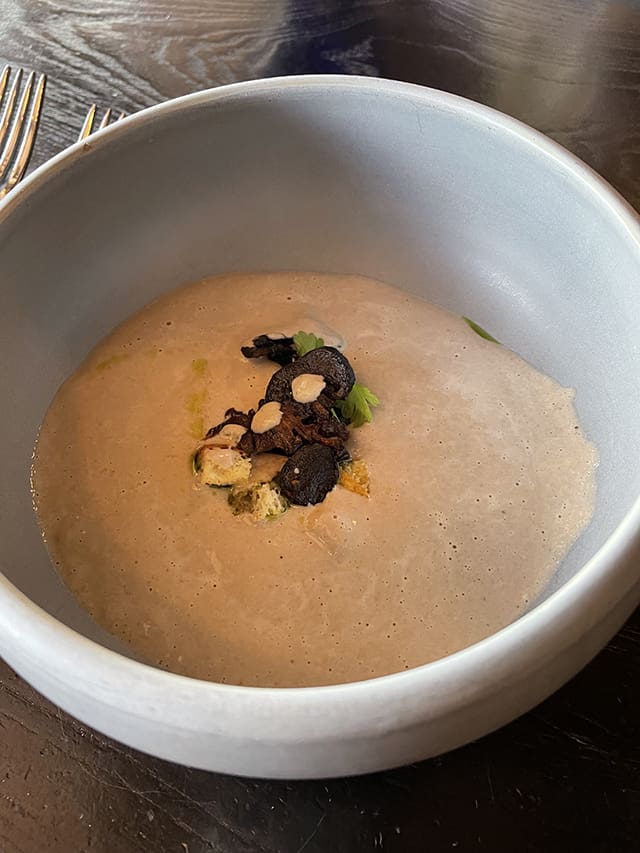 I began my meal with the Soup of the Day, which was Cream of Mushroom. I really enjoyed this soup and I don't even like mushrooms. It was creamy and hot. My favorite part about it was how creamy it was and the croutons on top.
It had a unique presentation too when it came to our table. It started out with only the mushrooms in the bowl and after our server poured the liquid in, somehow it became a creamy soup!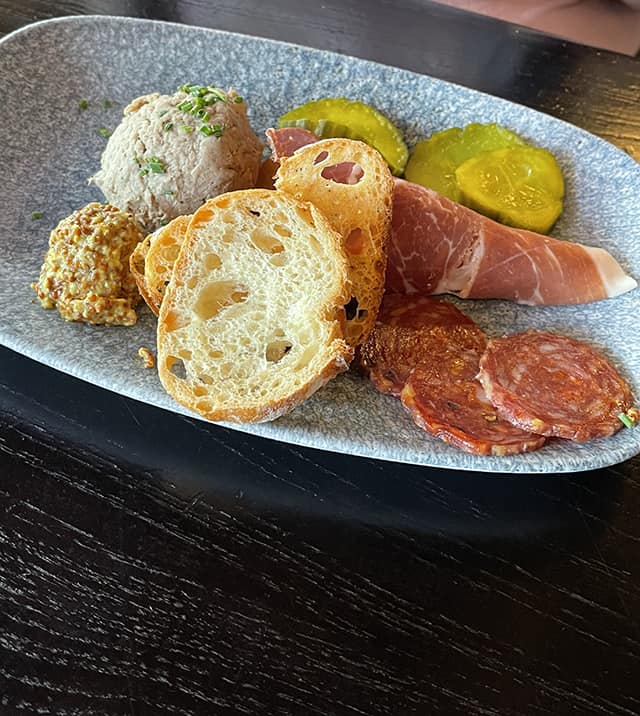 My friend enjoyed the Charcuterie. It came with a selection of Cured Meats, Castle Pickles, and Accompaniments. Everything was full of flavor and the pickles were a nice addition.
Main Dish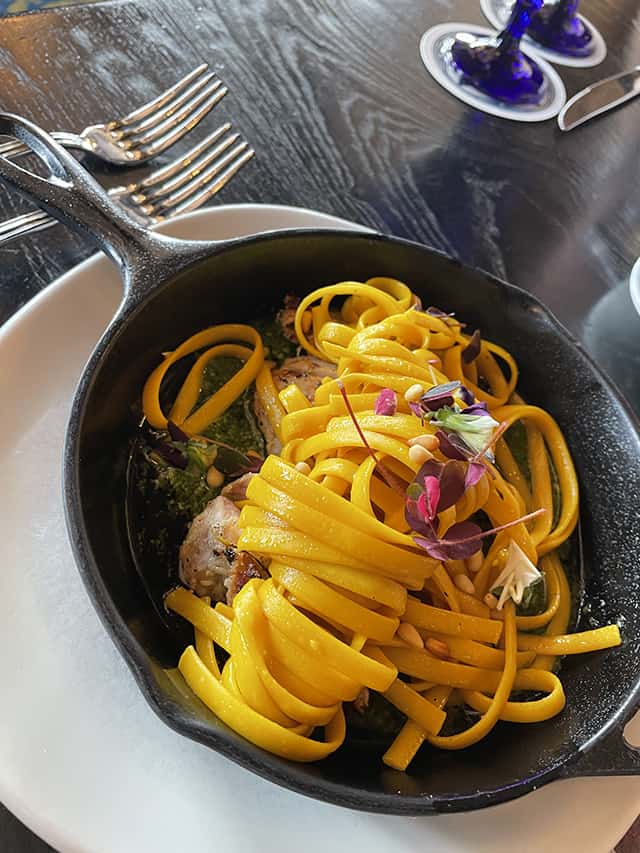 I decided to try one of the dishes specifically made to celebrate Walt Disney World's 50th anniversary. My main dish was the When Will My Life Begin Chicken and Pasta.
How many of you are humming Tangled songs now? I know I am! You might notice that the pasta resembles Rapunzel's hair and that it is served in a frying pan. Disney's description of the dish is the following: Tangled Pasta, Braised Chicken, Forest and Moss Flowers, and Pine Nut Pesto served in a Frying Pan (50th item).
In all honesty, I was not sure I would enjoy this dish, but I wanted to try it because it was a 50th anniversary item. To me, the pasta just looks so very yellow and almost seems like it would be overdone. Pasta and chicken are a couple of my favorite things, so I figured why not.
I am glad I did try it because I really enjoyed it. It's a nice, light meal. The chicken was tender and the pasta was not overdone. It was cooked just right and had a hint of a buttery taste.
Dessert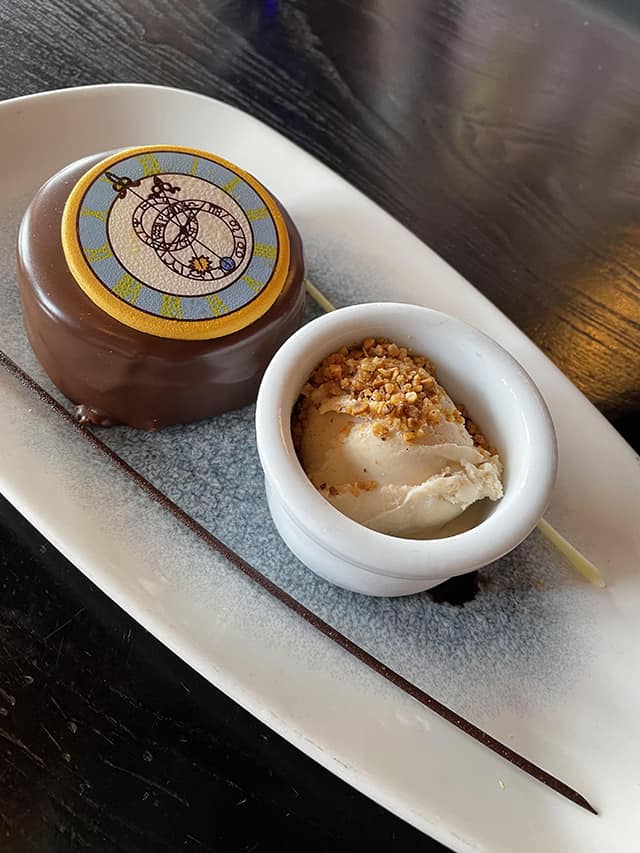 For dessert, we both had The Clock Strikes Twelve. It comes with Dark Chocolate Mousse with a Caramel and Crunchy Praline Center, served with Chocolate Sauce and Hazelnut Gelato.
Sometimes I feel like some chocolate dishes are too rich, but the chocolate mousse and the Hazelnut Gelato were a delightful combination. This dessert was very good, and I would definitely get it again.
Final Thoughts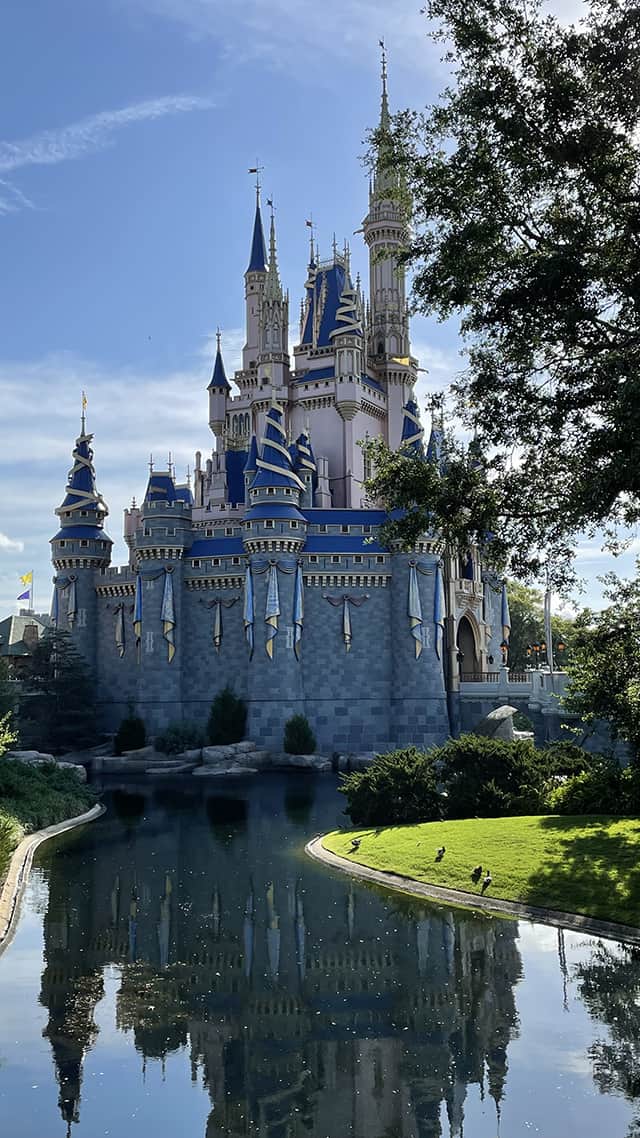 Cinderella's Royal Table has never been a disappointment. I have dined at this location for breakfast, lunch and dinner. The service has always been outstanding. The food is delicious and the overall atmosphere is simply spectacular. It remains uncertain whether or not guests will ever meet with princesses again. I certainly hope they do come back at some point and that guests can have the full character dining experience.
While Cinderella did not meet with us during our meal, the dining room did make several magical announcements during our meal with an announcement from the Fairy Godmother. Lights around the dining area twinkled and at the end of the meal, we each received a signature card featuring Cinderella and autographs.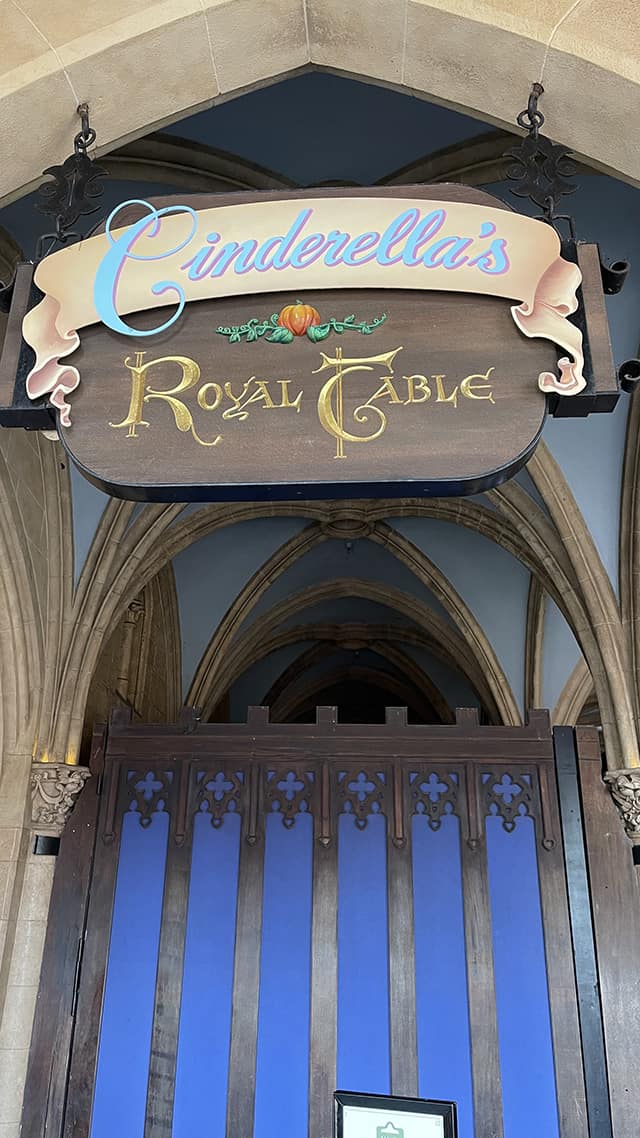 Cinderella's Royal Table is also one of the few meals at Walt Disney World where you pay in advance at the time of making the reservation. Breakfast prices are $42 per adult/$27 per child plus tax and gratuity. Lunch and dinner cost $62 per adult/$37 per child. It is definitely one of the more expensive meals at Disney, so plan accordingly if you choose to dine here.
Despite the high meal prices, I feel like dining in the castle alone is well worth the price and being able to meet Cinderella is wonderful.
What do you think of Cinderella's Royal Table? Do you think it's worth it? Did you find any difficulty in grabbing a reservation from this location? Tell us about it in the comments below or on our Facebook page.