You may be planning ahead and are curious which restaurants have outdoor dining options. Look no further!
Dining Outside at Disney World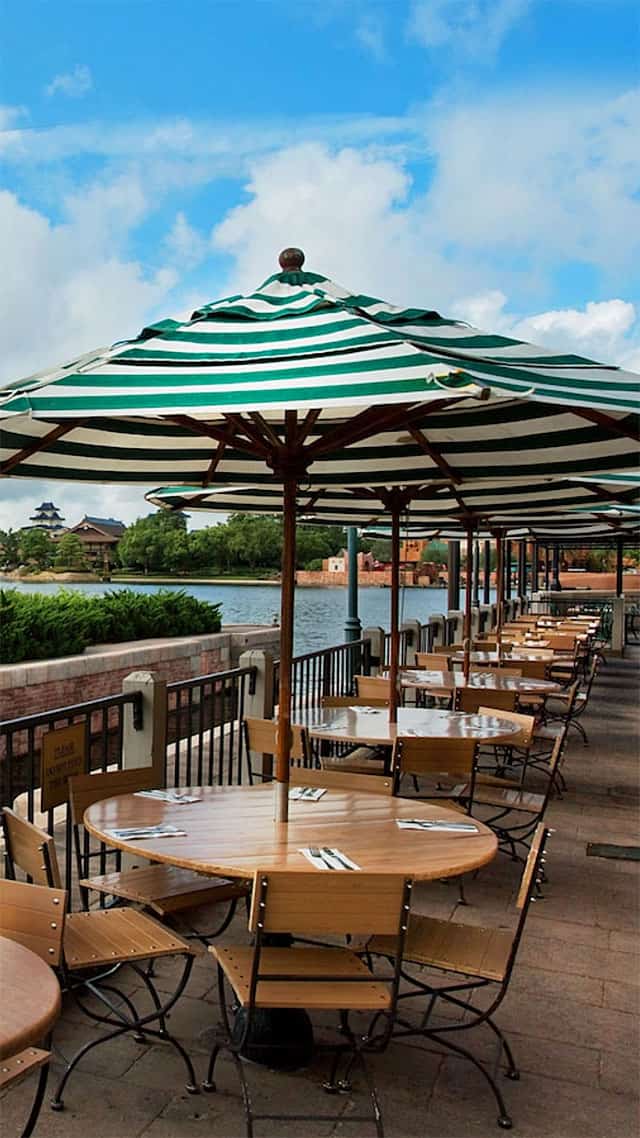 Disney World offers so many different dining options. From table-service to snack carts, you will find a little bit of everything you may be looking for. There are also many seating arrangements at these restaurants. Some may offer only indoor seating, while some offer both. And, sometimes, they offer none!
You may want to enjoy some outdoor seating during certain times of the year – particularly when the weather doesn't feel unbearably hot. Other times you may be more conscious of your health and choose to take extra precautions.
Here is a list (though not exhaustive) of outdoor dining locations around property. I've included pictures to help you see what the outdoor seating looks like. Then, I give my personal favorite based on factors like shade, availability, and popularity. I've also included reviews of the restaurants where applicable!
Magic Kingdom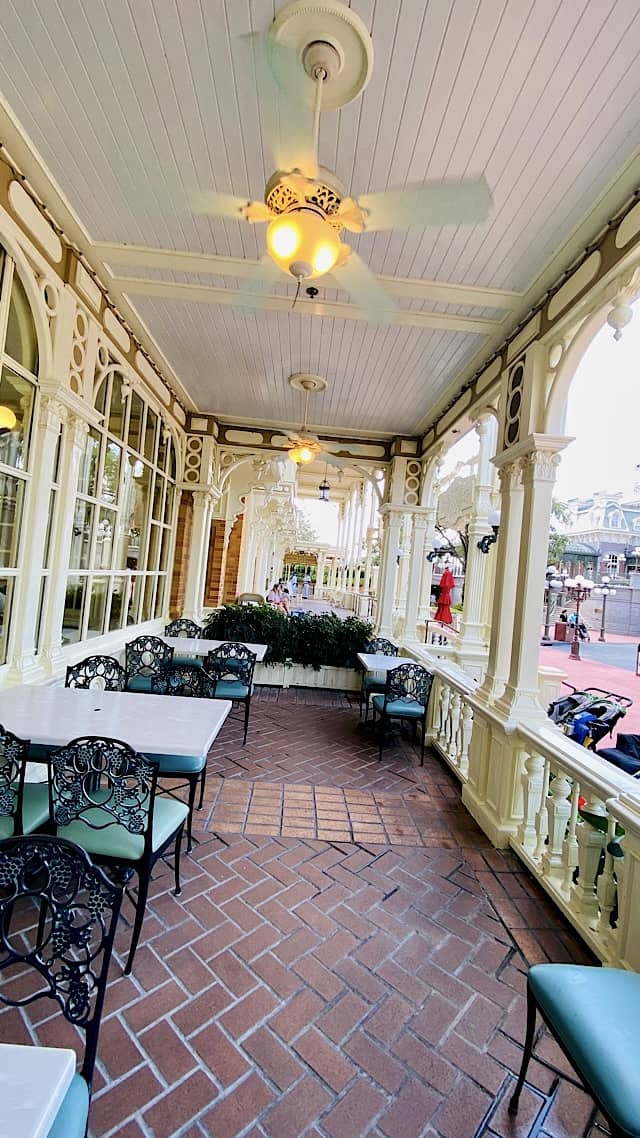 Tony's Town Square: located on Main Street right after entering the park. There are only a few tables outside, but it's the only table-service restaurant in the park that has outdoor seating. Here is our review.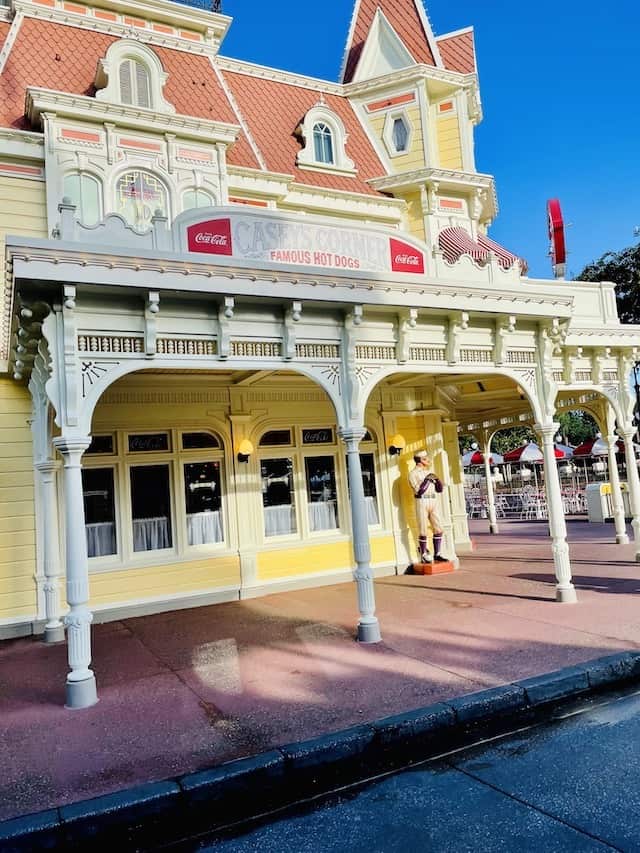 Casey's Corner: located near the Hub. You can find some tables just outside the restaurant, and some even have umbrellas! It can definitely be hard to locate a table, especially during the parade and fireworks. Here is our review.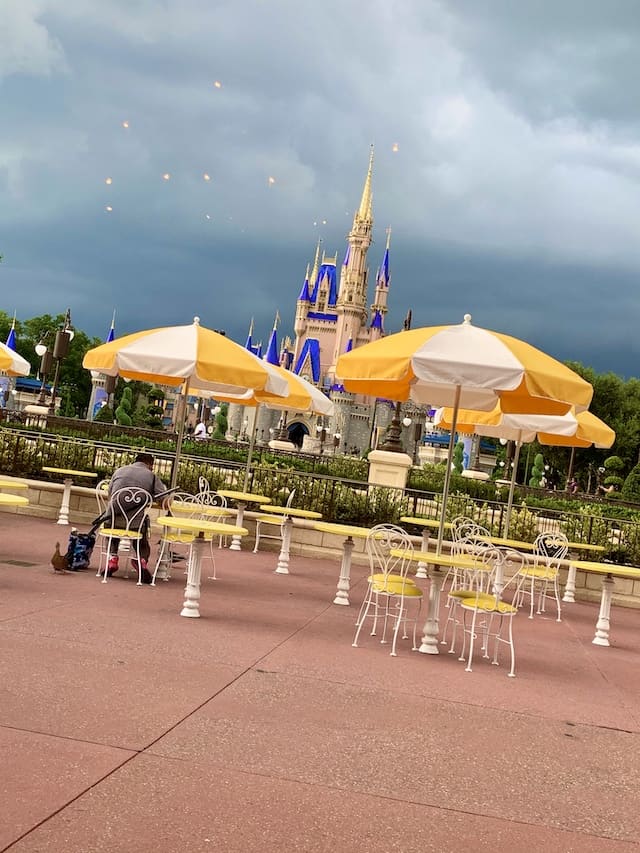 Plaza Ice Cream Parlor: opposite Casey's Corner on Main Street. Again, there are a few tables, but they can be scarce during busier periods of the day.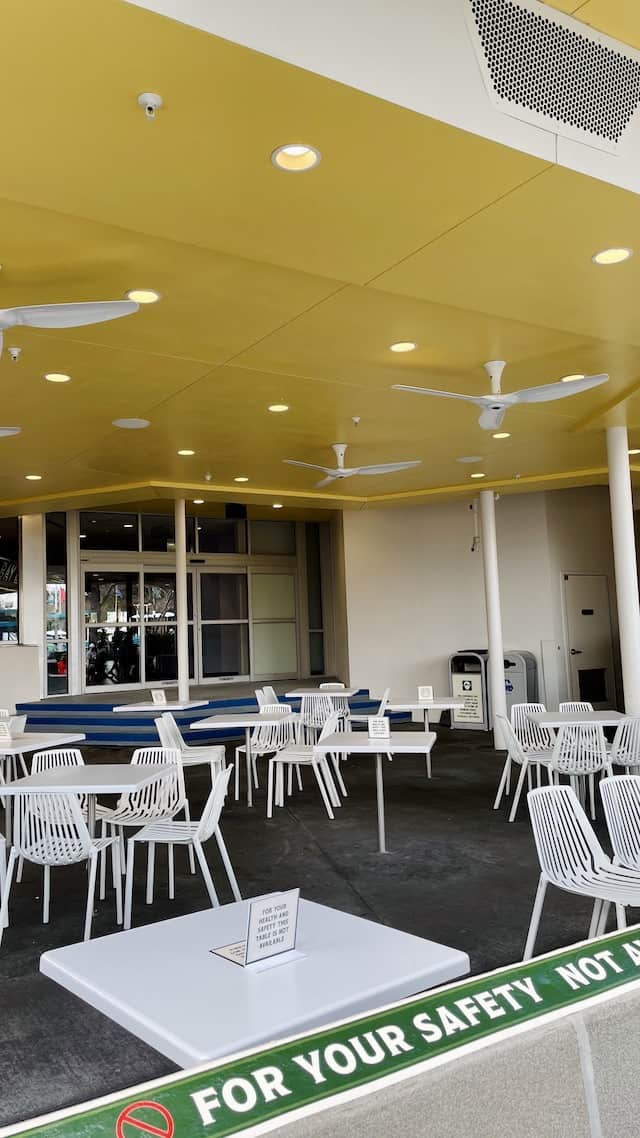 Cosmic Ray's: huge outdoor seating area, and most of it is covered. It can be a bit loud with the Tomorrowland Speedway right across from you. Here is our review.
The Lunching Pad: also located in Tomorrowland. I can almost always find a spot here to enjoy my cream cheese pretzel!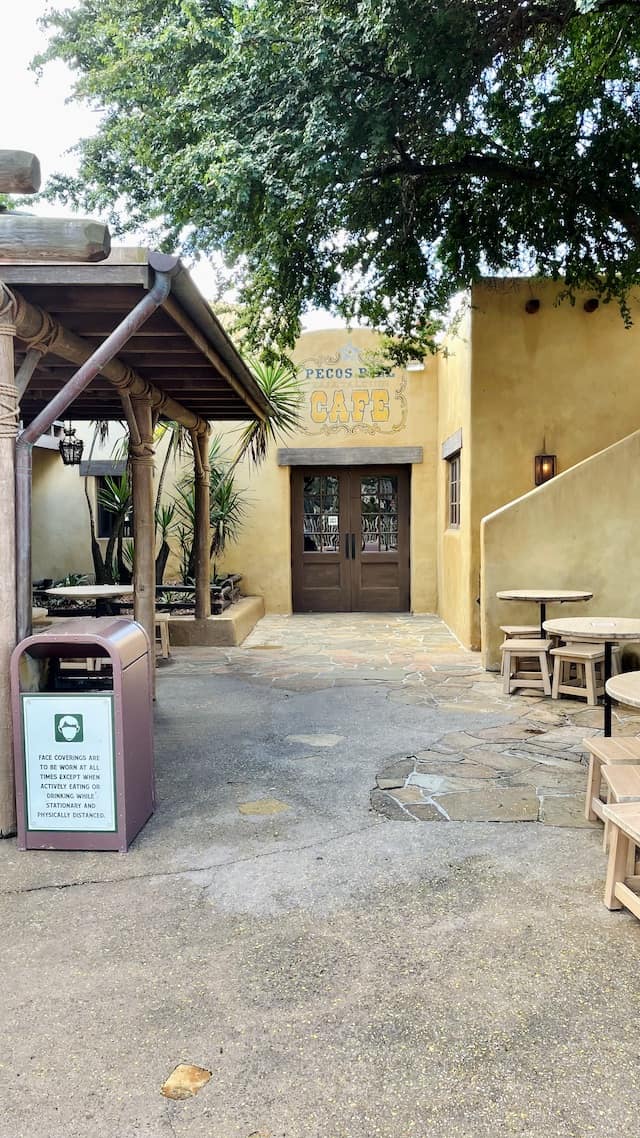 Pecos Bill: located in Frontierland. If you time your meal right, you can catch the Festival of Fantasy parade from your seat. Here is our review.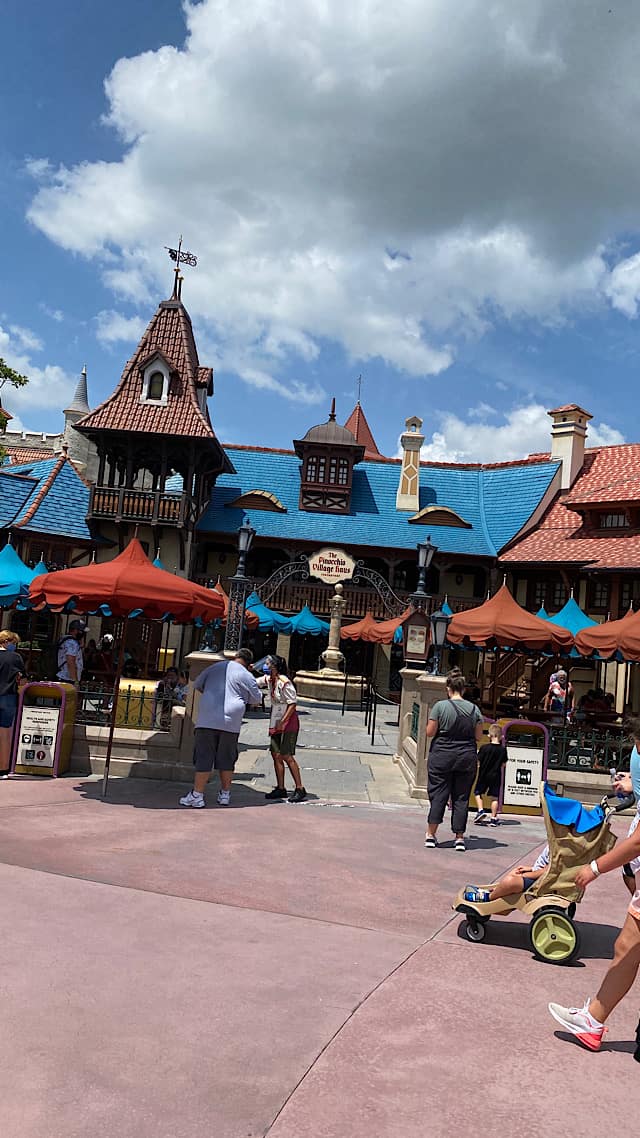 Pinocchio Village Haus: located in Fantasyland. Outdoor dining is open, but I rarely see it filled all the way up. Here is our review.
Sleepy Hollow: at the entrance of Liberty Square coming from the Hub. There is a small section of seating, but you have to stalk the area a bit to wait for someone to get up. Here is our review.
My favorite: Casey's Corner/Plaza Ice Cream Parlor. Even though it does get quite congested and can be hard to find a spot, does anything beat your views? When I'm with a group, one of us stakes out a spot while the others grab the food!
Epcot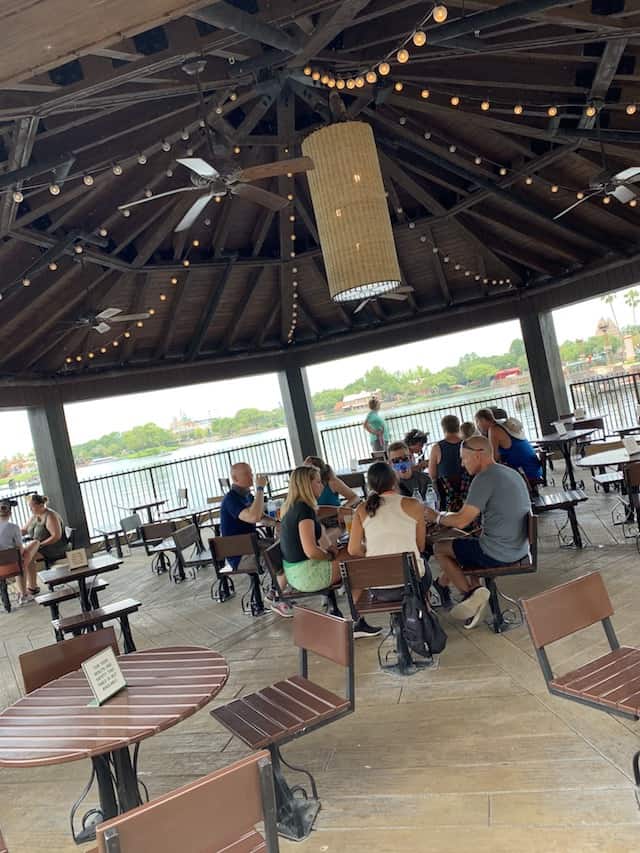 La Cantina de San Angel: located in the Mexico Pavilion. There is a nice shaded area overlooking the water, but it can be very busy and tables are usually dirty. Plus, watch out for the birds trying to take your food! Here is our review.
Germany Pavilion: though not dedicated to any one restaurant, there is a large seating area in the Germany pavilion. There are picnic tables and some standing tables as well as benches.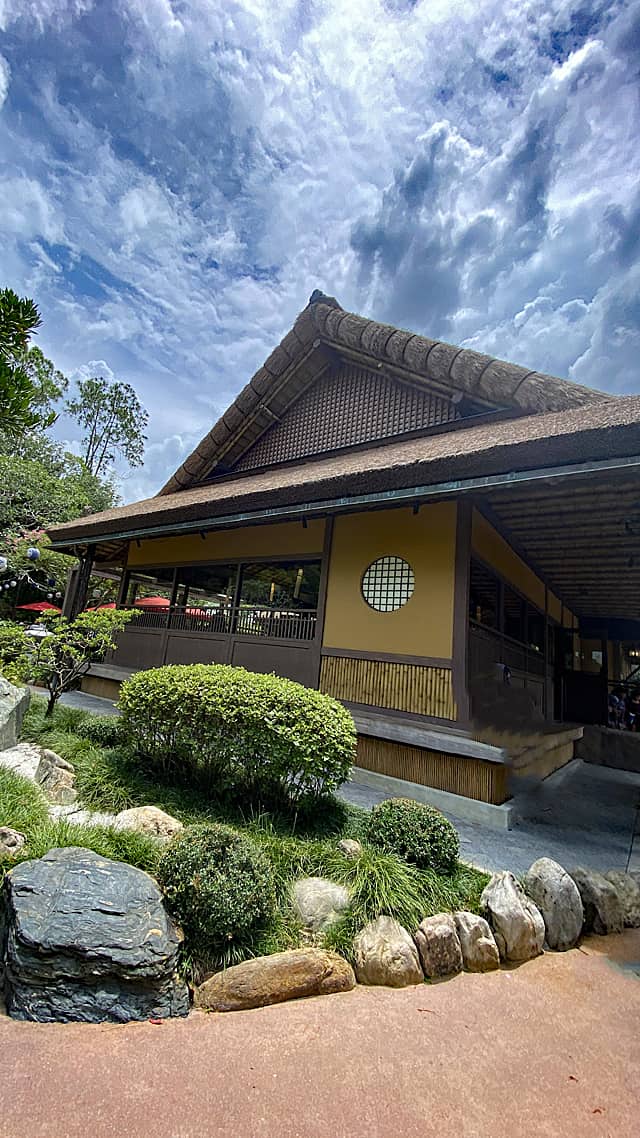 Katsura Grill: located in the Japan Pavilion. This area is located in the very back of the pavilion, and I don't think many people know it exists. There are plenty of tables, shade, and zen.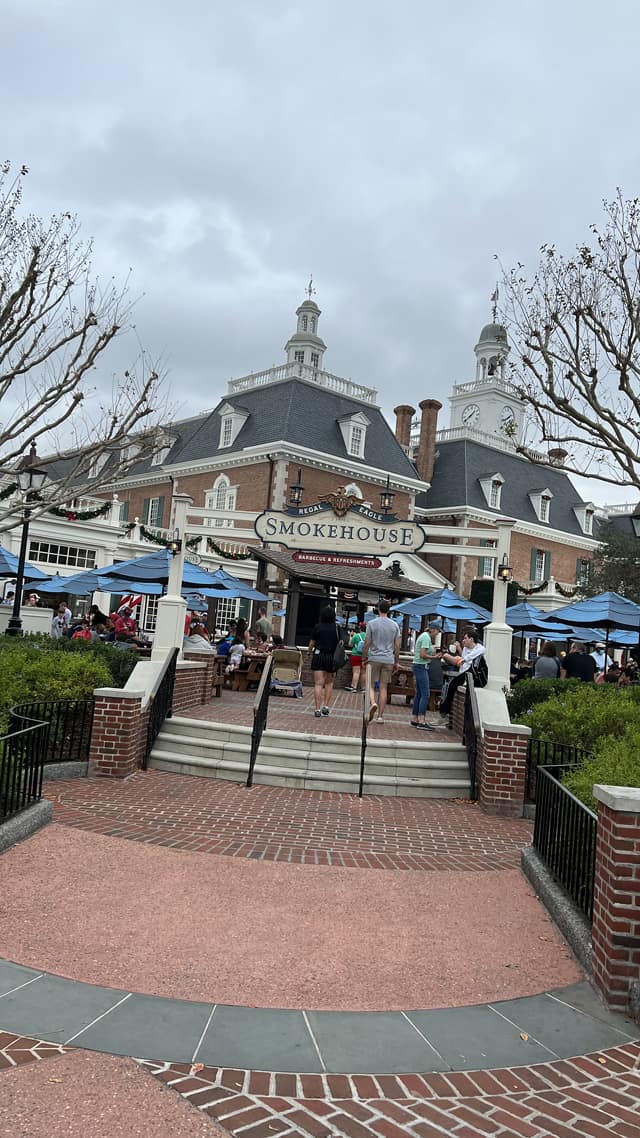 Regal Eagle: located in the American Adventure. Again, there are many picnic tables outdoors in this entire area so you can catch a performance taking place on the stage. Here is our review.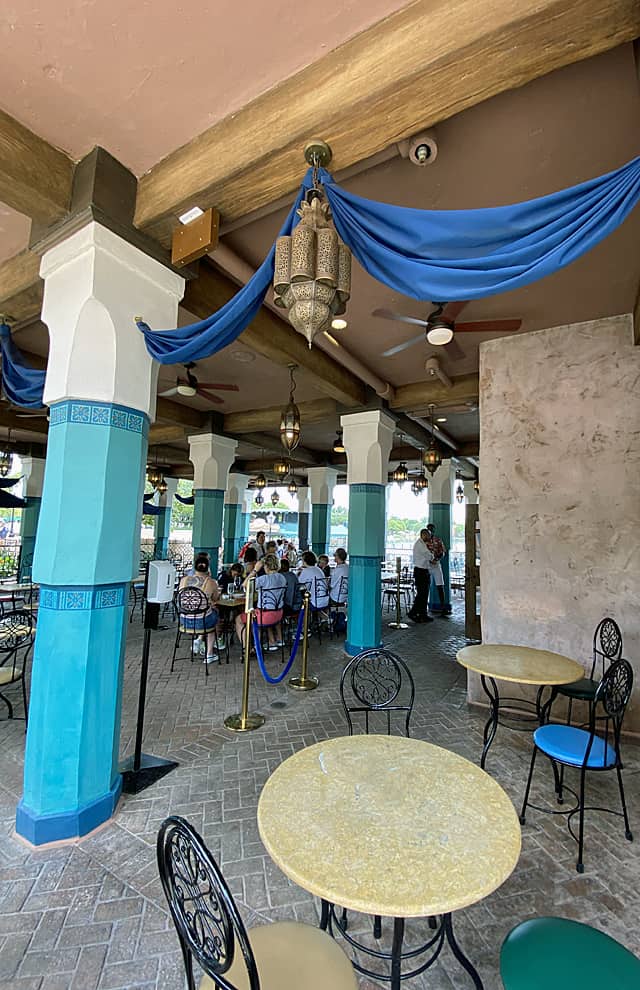 Spice Road Table: located in the Morocco Pavilion. You can book a dining package for the Harmonious fireworks and have a lovely view.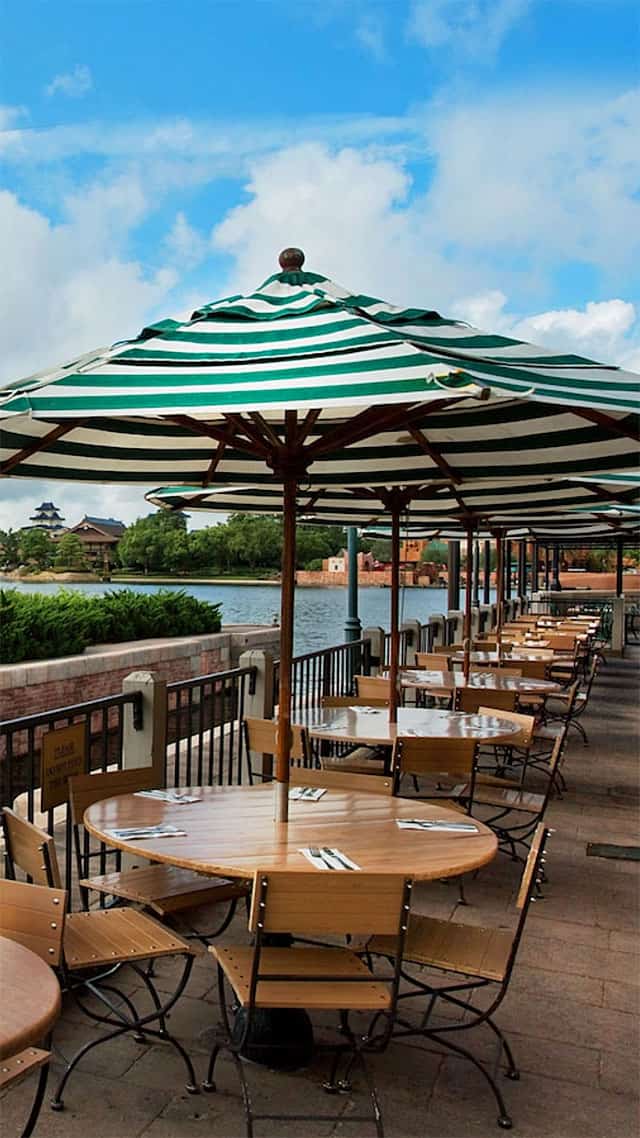 Rose & Crown: located in the United Kingdom Pavilion. There is a nice spot right on the water if you have dining reservations at Rose & Crown. It is also where another dining package for Harmonious can be booked. Here is our review.
My favorite: Katsura Grill. You cannot beat the beautiful gardens and peaceful atmosphere. It is an excellent spot to take a break and enjoy a drink or meal. Additionally, it is rarely crowded.
Hollywood Studios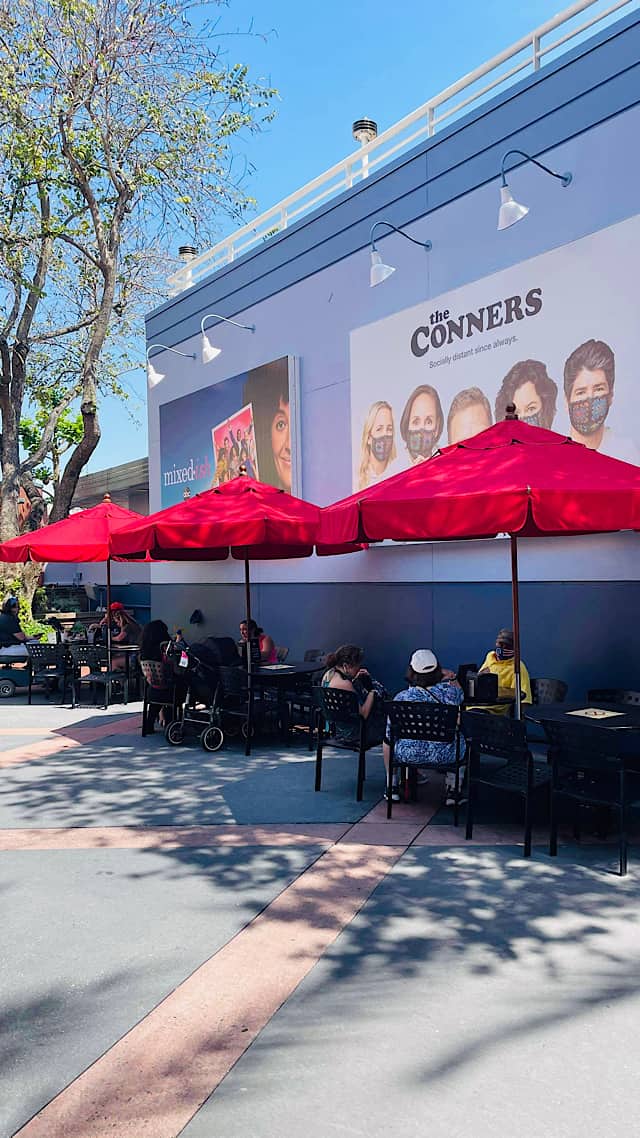 ABC Commissary: located on Commissary Lane. There is a small strip of outdoor tables right outside the restaurant. It can be very noisy and sensory overload in this area. Here is our review.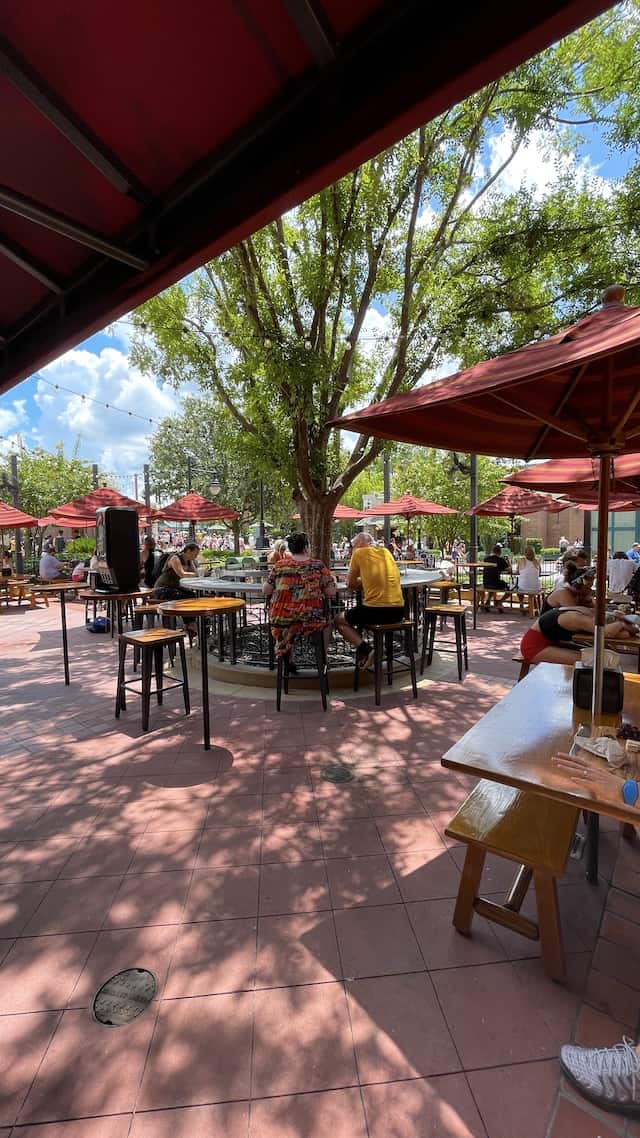 BaseLine Tap House: located across from the Muppet Courtyard as you head towards Galaxy's Edge. This is a bit more quiet and provides plenty of seating and shade. Here is our review.
Docking Bay 7 Food & Cargo: located in Galaxy's Edge. I've always found this area to be crowded. It is covered outdoor seating.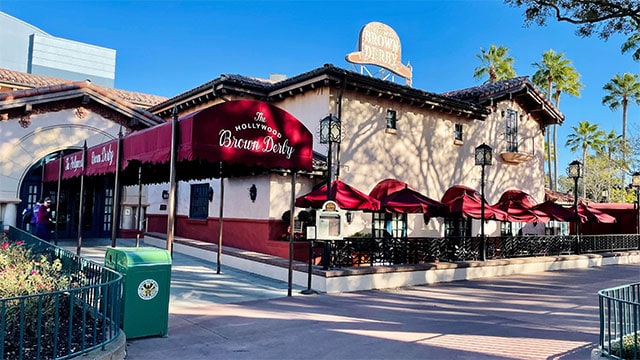 Hollywood Brown Derby Lounge: there is a small lounge outside The Hollywood Brown Derby where you can enjoy some drinks. Here is our review.
Woody's Lunchbox: located in Toy Story Land. Arguably the worst outdoor area in the park because it's so popular and finding a table can be impossible. Here is our review.
Rosie's All-American Cafe/Catalina Eddie's: located on Sunset Boulevard. There is an area of picnic tables tucked behind these dining spots.
My favorite: BaseLine Tap House. It's less crowded than other outdoor spots and provides the most seating.
Animal Kingdom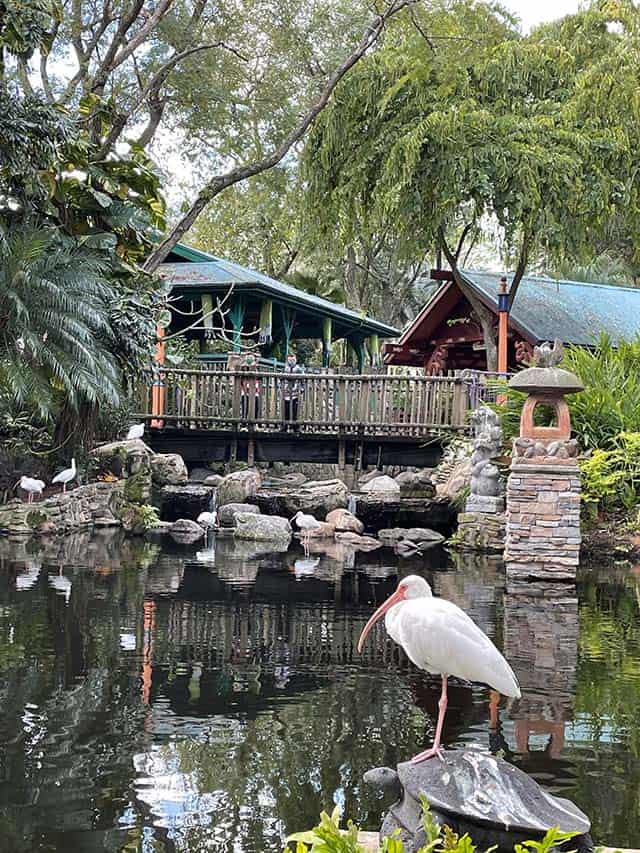 Flame Tree Barbecue: located in Discovery Island. This restaurant provides outdoor seating that overlooks the water. It is beautiful but can get crowded. Here is our review.
Nomad Lounge: located next to Tiffins before you enter Pandora. Casual and comfortable seating truly feels like a lounge experience. You can even see the flotillas glide past you as you sit on the deck area. Plus, they have the best churros on Disney property. Here is our review.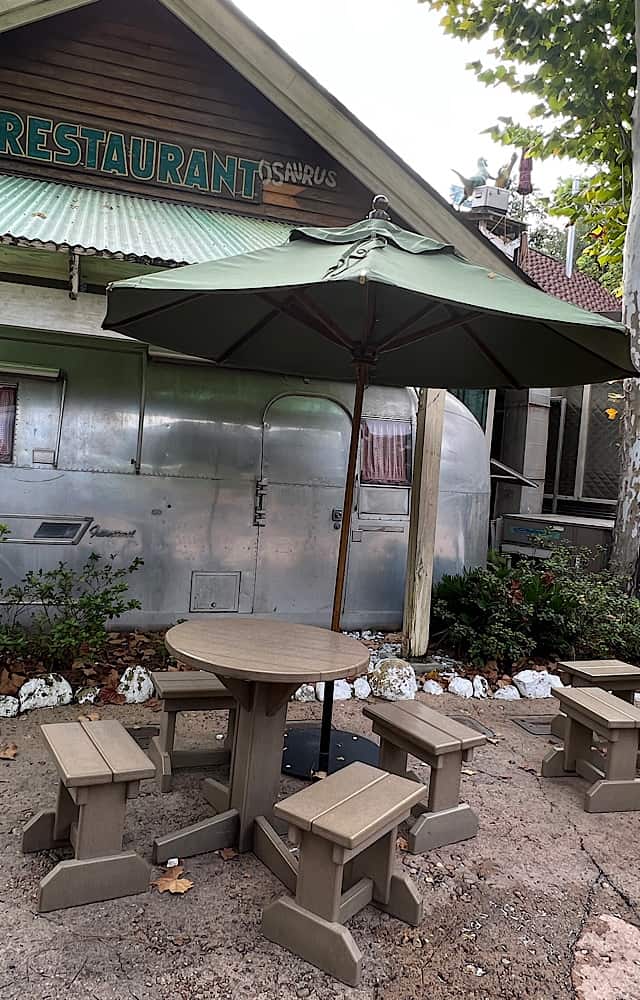 Restaurantosaurus: located in DinoLand. Standard quick-service spot that offers indoor and outdoor seating.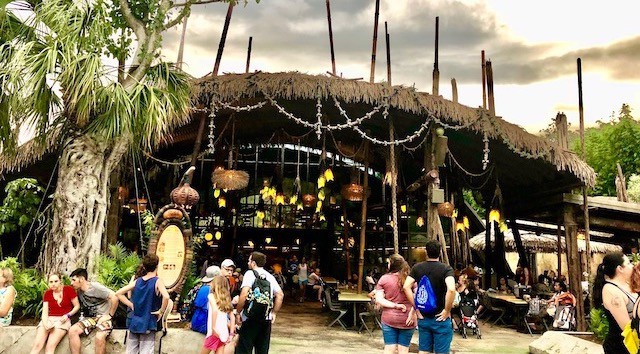 Satu'li Canteen: located in Pandora. There is dedicated outdoor seating, but it can be hard to find a spot during busy meal times. Oftentimes, a Cast Member will only let you in if you have a mobile order ready to be picked up. Here is our review.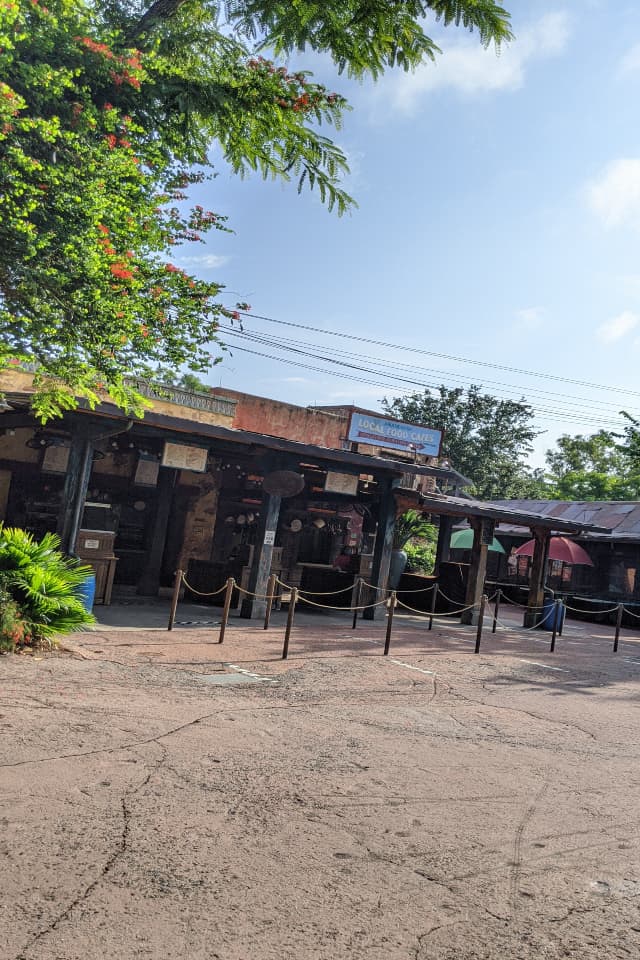 Yak & Yeti Local Food Cafes: located in Asia. Grab your breakfast sandwich or fried rice and enjoy a few minutes of peace as you eat. This spot is rarely crowded. Here is our review.
My favorite: Nomad Lounge. Even though you may have to wait a bit to get in (walk up reservations only), it sure is worth the wait! It is quiet and secluded. Plus, Nomad has great food and drinks!
Resorts
Don't forget many of your favorite resorts have outdoor dining as well. Here are a few that come to mind: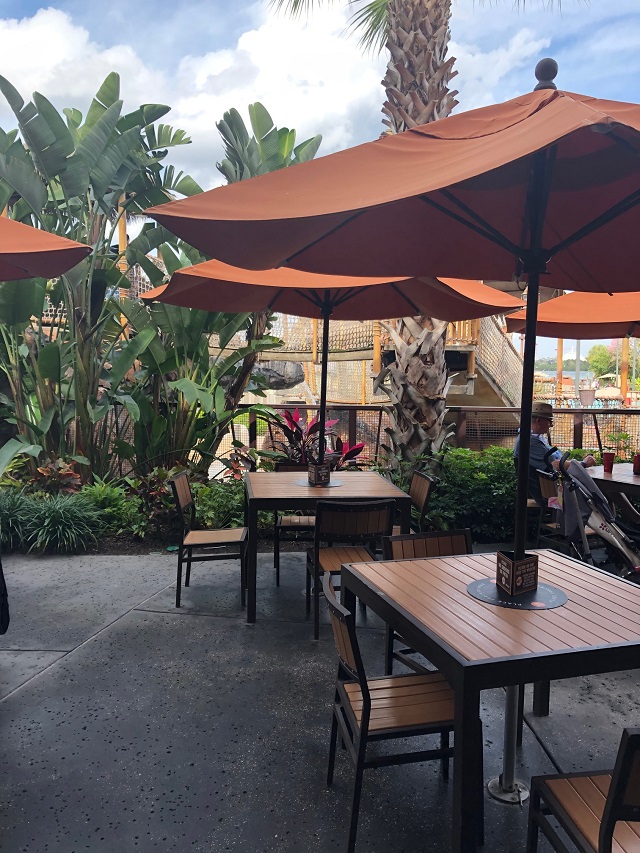 Capt. Cook's at Polynesian Resort: enjoy your food with amazing views of the feature pool and Seven Seas Lagoon. There is also a grassy area for kids to play on. My kids always make a few friends! Here is our review.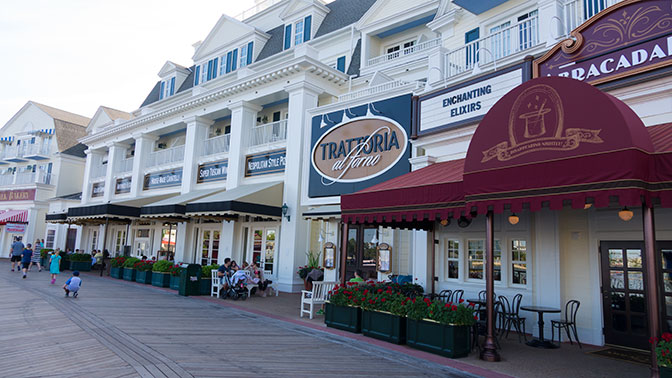 Trattoria al Forno at Boardwalk Resort: this table-service restaurant has a small section of outdoor seating. Here is our review.
Big River Grille at Boardwalk Resort: enjoy views of the Boardwalk and Crescent Lake as you dine on bar food. Here is our review.
Geyser Point Bar & Grill at Wilderness Lodge: overlooks the water and has excellent food!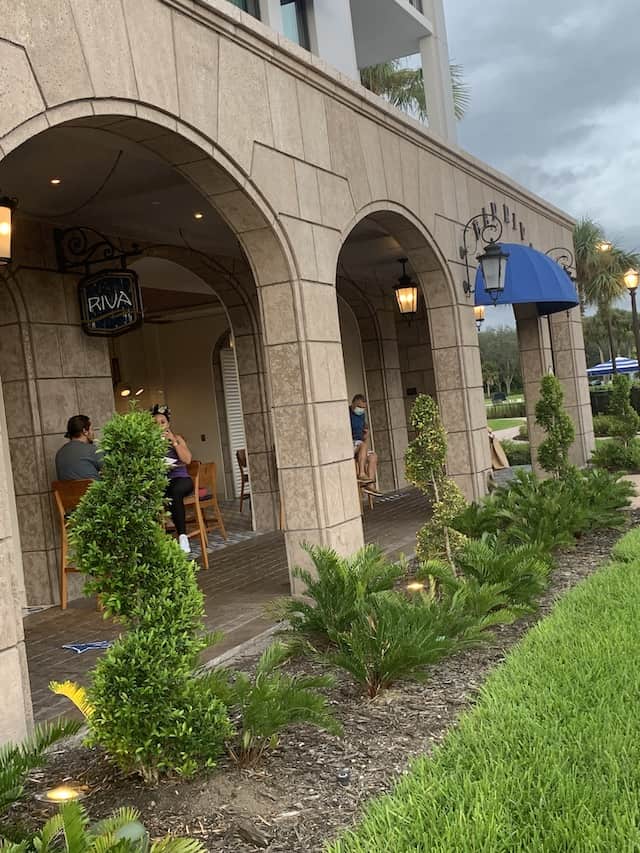 Pool bars and lounges also offer some outside form of dining. I really like Bar Riva at Disney's Riviera Resort because it is under a roof but completely open.
Disney Springs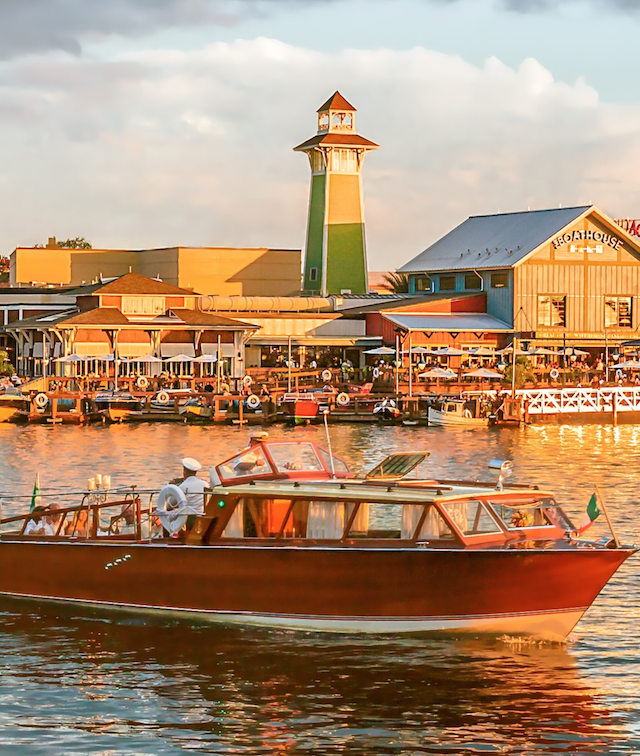 Several restaurants at Disney Springs offer outdoor seating. Chef Art Smith's Homecomin', Wine Bar George, The Boathouse, Jock Lindsey's Hangar Bar, and City Works all pop into mind!
One of the best spots has to be Raglan Road – especially on a night when you can catch a performance! Get your reservation during a prime performance time and check in a bit early. It may take a bit longer, but sitting outside is a real treat!
Just about every restaurant has some type of outdoor seating in Disney Springs.
Where is your favorite spot to enjoy your food outside? Any secret spots? Let us know in the comments below and on Facebook.