Disney World is home to hundreds of food options. You can find the absolute best food at one resort.
Disney Food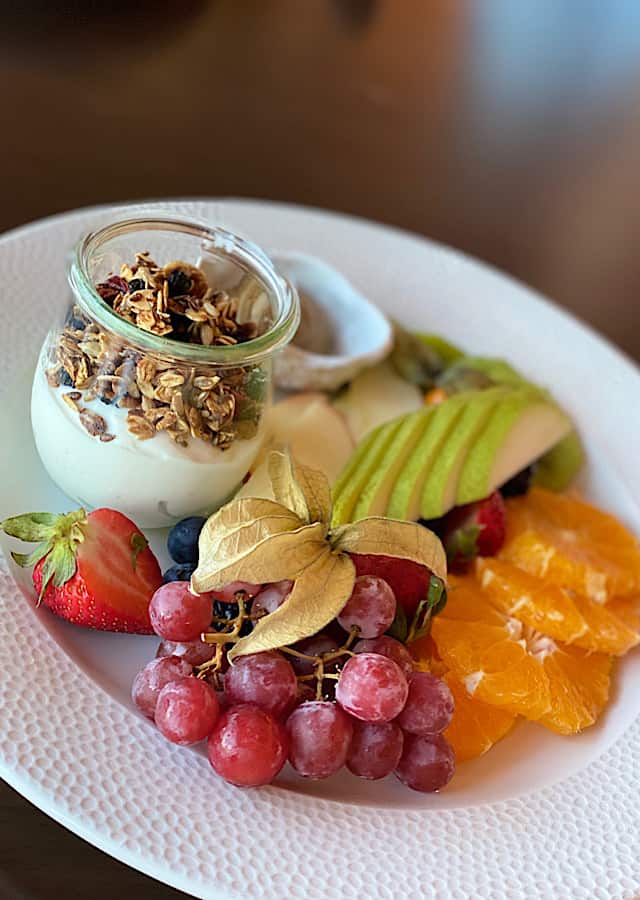 Planning where to eat during your Disney vacation can be kind of overwhelming. With 4 theme parks, 30 resorts, and a shopping and dining district, there are A LOT of options. Everything from seafood and steak to burgers and chicken can make it difficult to narrow down your options.
Do you prefer table service restaurants, or do you like to snack the entire week? Maybe you just like a mixture of cuisines at different price points. If staying at a resort that has so many great options sounds appealing to you, you should really consider staying at Riviera Resort.
Riviera Resort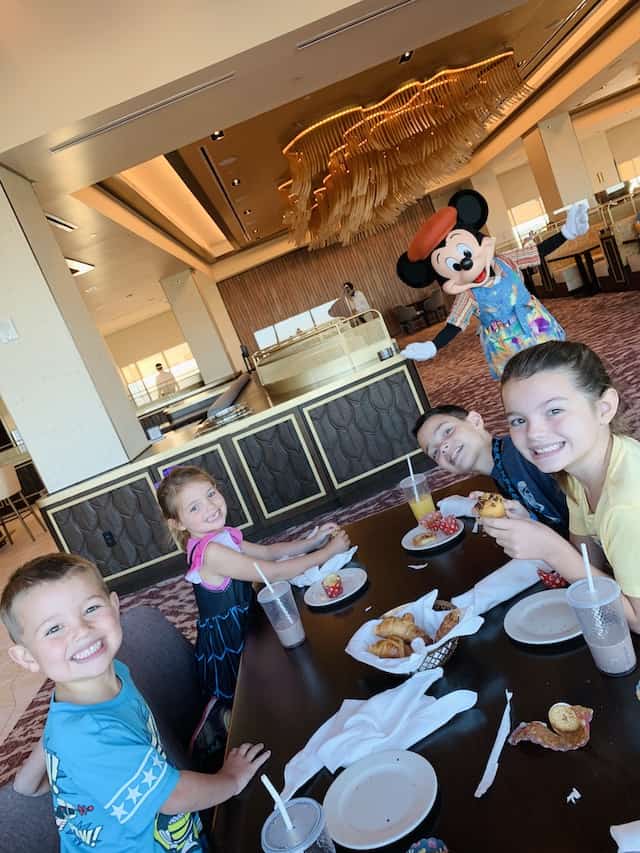 Disney's Riviera Resort is a deluxe resort located on the Disney Skyliner. It is themed after the French Mediterranean, and Imagineers did not disappoint when creating this beautiful hotel. The elegant yet comfortable atmosphere immediately transports you to another place.
Room accommodations are stylish and up-to-date. Since this is Disney's newest hotel (opened in December 2019), the hotel still feels very new. Top notch amenities and restaurants invite you to have a luxurious vacation.
To see everything Riviera has to offer, check out my guide HERE.
There is one table-service restaurant, one quick-service restaurant, an outside pool bar, and a cafe at Riviera. The food from all of these locations are absolutely outstanding. Eating where I am staying is very important to me, and I know if I want good food I need to stay at Riviera. Here is a quick run down of each restaurant and why I love each one.
Topolino's Terrace – Flavors of the Riviera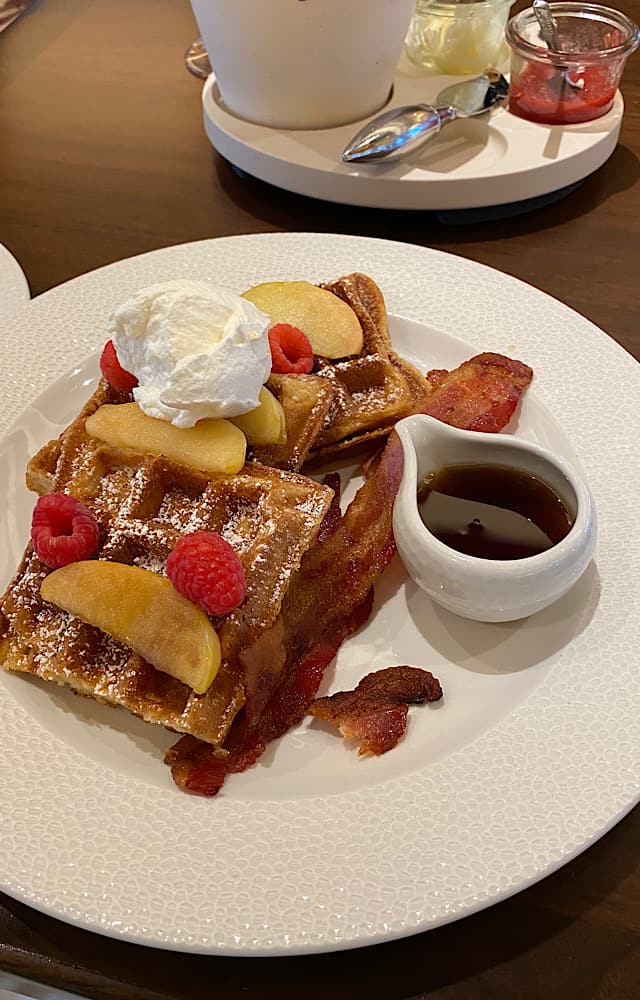 My absolute favorite restaurant on property is Topolino's Terrace. They have the best food and the most unique character interactions. Take the elevator up to the tenth floor of the hotel for incredible views and an outstanding meal.
For breakfast, you NEED to try the sour cream waffles. I dream about them daily – that's how good they are. They also many other options including quiche, breakfast salmon, and steak. One of my favorite parts about this restaurant is that usually they will let you have more than one entree – or at least the option to get a side portion. I always have FOMO when I order the waffles because I want to try other things, so I love that they usually accommodate this request.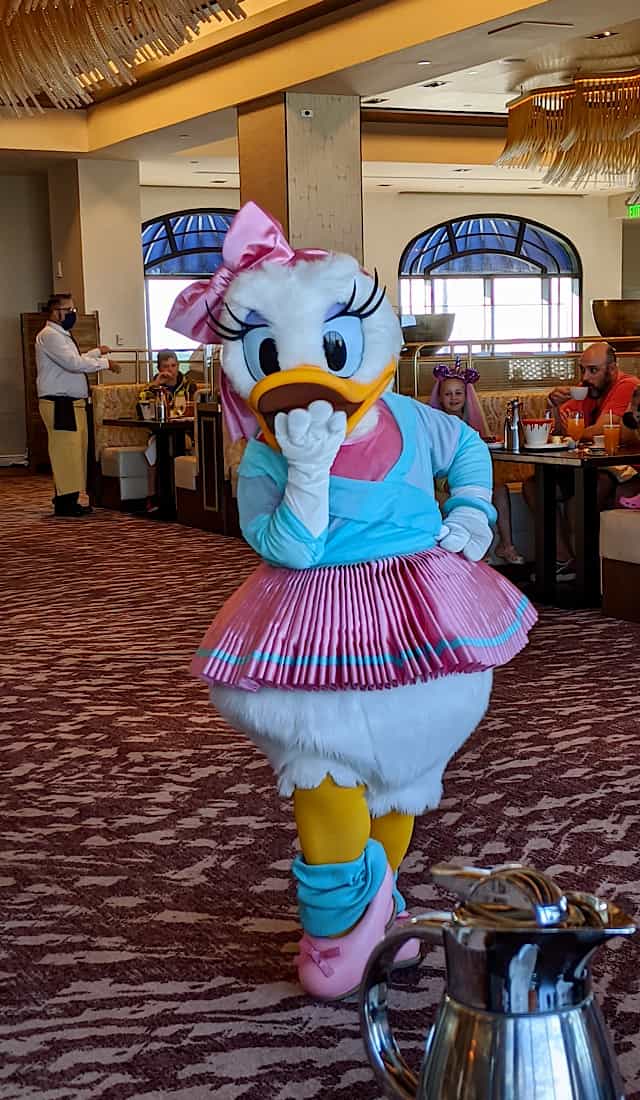 The character interactions at Topolino's breakfast are my second favorite part after the waffles. Mickey, Minnie, Donald, and Daisy circle around the restaurant in their art-inspired costumes. Mickey is a sculptor, Minnie is a poet, Donald paints, and Daisy is a ballerina.
They all come out individually to meet Guests and then again all at once for a special song and dance. The mood is so fun, and the fact that they are in special outfits make the experience even more unique. See a breakfast review HERE.
Pirate tip: ask for a table in one of the four corners of the restaurant to get a great view of the characters!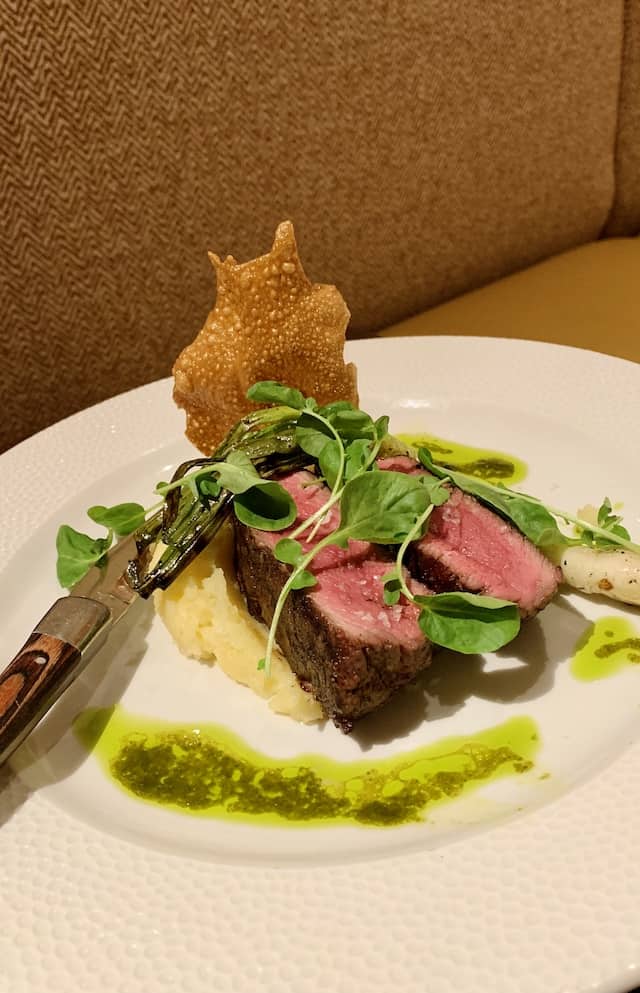 At dinner, the atmosphere completely changes as the lights dim. An entire new experience comes alive at night in the most romantic way. Feast on pasta, meats, and seafood and enjoy incredible nighttime views of the resort.
My personal favorites for dinner are the gnocchi, steak, and warm chocolate cake. I also try to get dinner reservations during Harmonious because you can actually walk out to the terrace and watch the fireworks! They even pipe the music in. It's a really special experience.
Do be mindful that there is an evening dress code. That's how nice this place is! See a dinner review HERE.
Primo Piatto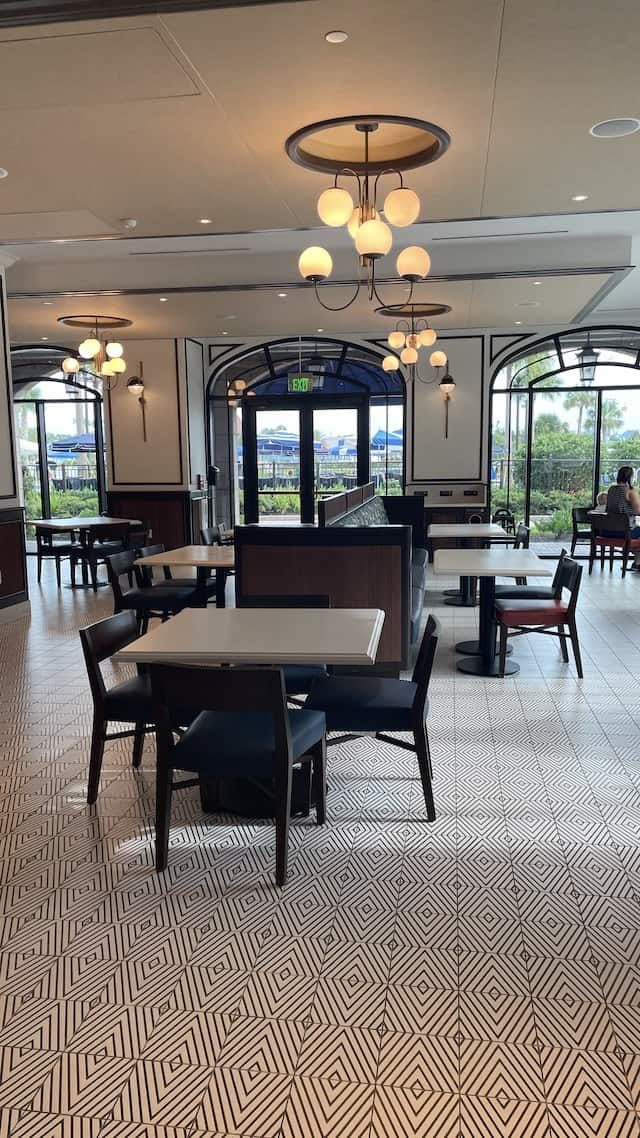 The quick-service option is Primo Piatto. You can grab breakfast as early as 7:00 am and purchase a late dinner or midnight snacks as late at 10:00 pm. Breakfast items include the Croque Madame, Blueberry Lemon Pancakes (a must-try item!), eggs, Mickey waffles, and Cinnamon Crumble French Toast Bread (another must-try!).
Lunch and dinner items include hearth baked pizzas, burgers, Croque Monsieur, and sandwiches. You can also find snack and bakery items all day long. I love the grilled chicken sandwich and Croque Monsieur.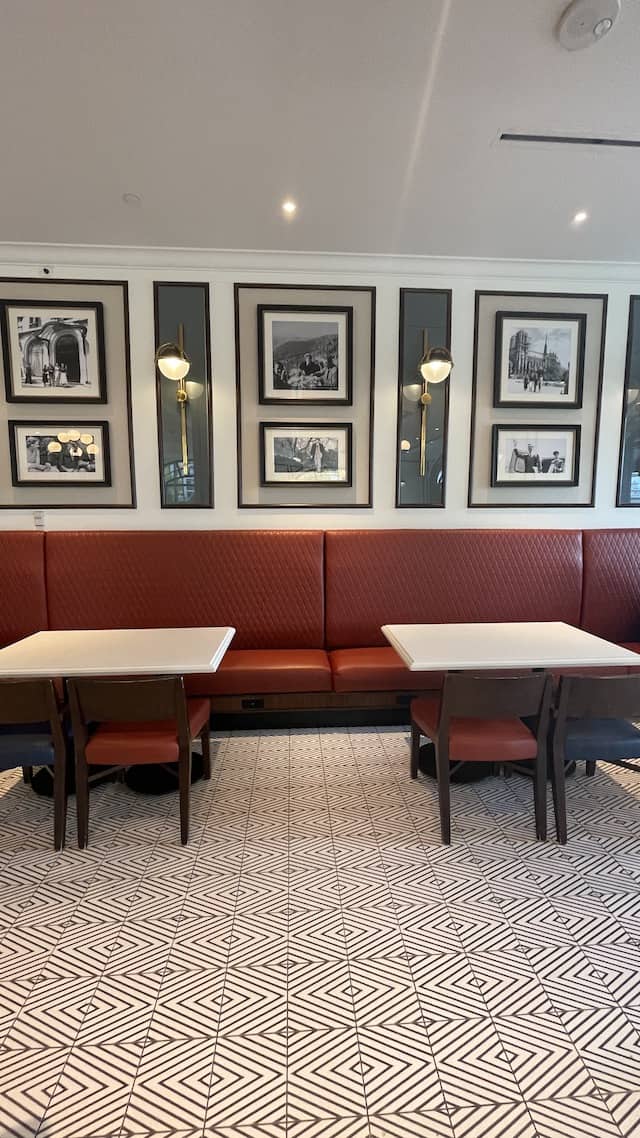 This is not your standard food court experience. Not only is the food exceptional, but they use real plates and silverware! You really feel like you are really sitting at a cafe in France. I love the Freestyle coke machines and the photos of Walt's adventures on the wall.
The one thing I don't care for is the fact that Disney removed many items from Primo Piatto upon reopening in July 2020. They use to serve steak – at a quick-service restaurant! There were many unique items that simply are not there anymore.
Read more about Primo Piatto HERE.
Bar Riva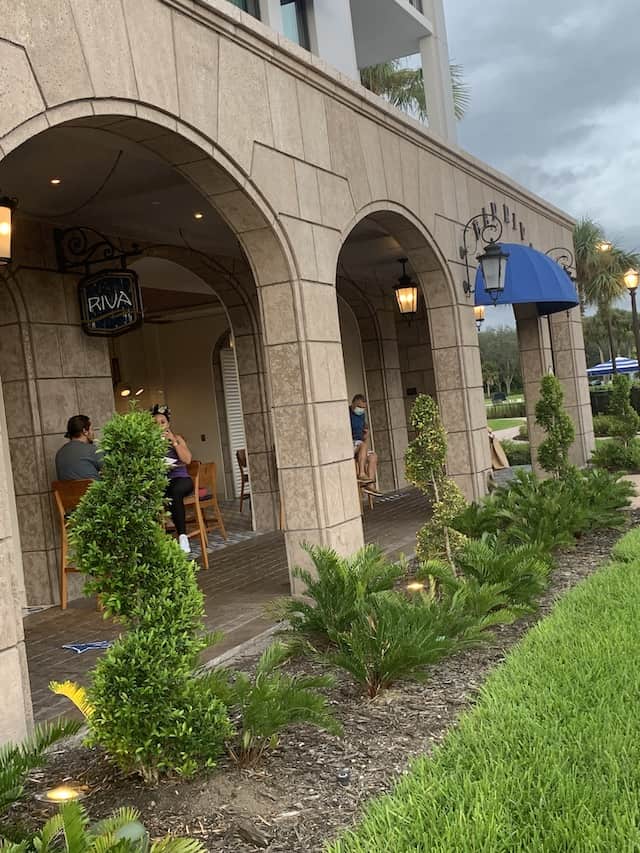 This is the fanciest poolside bar you will ever eat at. Forget about chicken tenders and nachos. Visiting a fancy hotel means you will also be eating fancy even at the pool.
You will find many of the same menu options at Primo Piatto but in a different setting. The Confit Chicken Wings are *chef's kiss* and they also have the same burgers and chicken sandwiches you can find at Primo Piatto. There are a few items that are only at Bar Riva so be sure to check both places out during your visit!
Bar Riva is an open-air bar located right next to the main pool. You can grab a snack before heading over to the pool or pick it up and take it into the pool area. My kids love snacking in between trips down the slide, and having everything in one spot is great. A quick walk over to the bar and you can order a few drinks to enjoy by the pool.
Read Christina's thoughts on Bar Riva HERE.
La Petit Cafe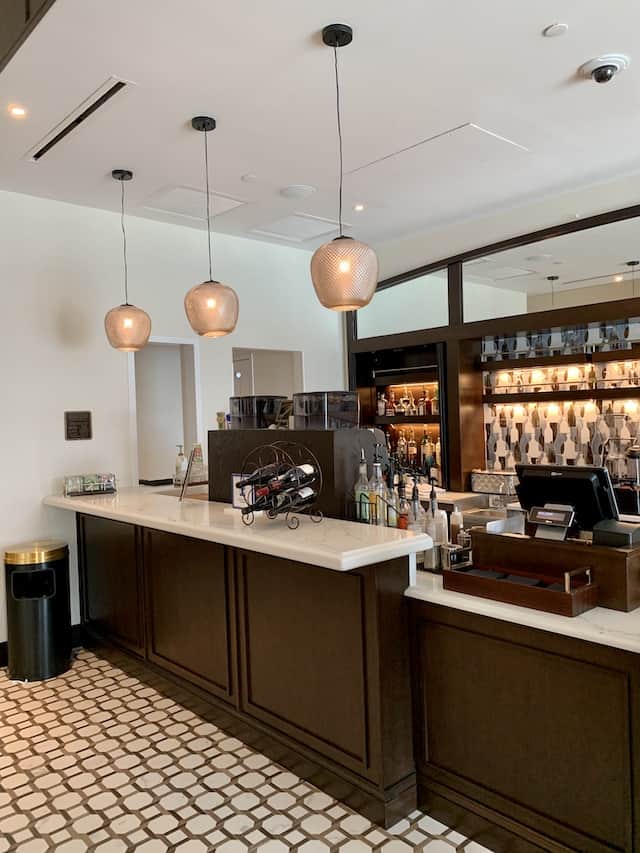 In the main lobby right next to the boutique, you will find La Petit Cafe. This little coffee shop serves up caffeinated beverages and sweet treats like cupcakes and pastries. You can also find small plates like cheese and olives. Additionally, it's where you will find speciality items that Disney offers for the holidays.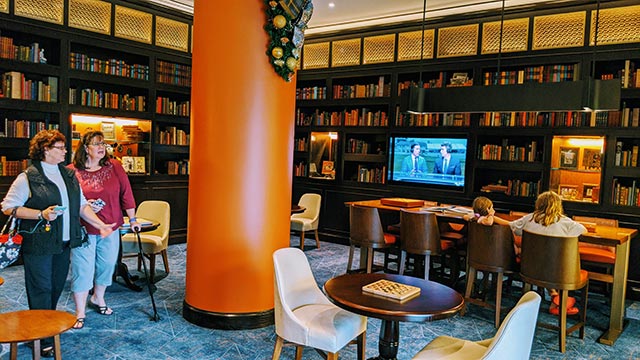 If you grab a latte and pastry, be sure to head next door to the lounge area. This is one of my favorite areas of the entire resort! It is so sophisticated and quiet, and there are all kinds of little artifacts from The Walt Disney Company and Walt himself.
It's a quiet little spot where you can enjoy a few peaceful moments in the morning, unwind after a long day in the parks, or get a little work done mid-day.
Final Thoughts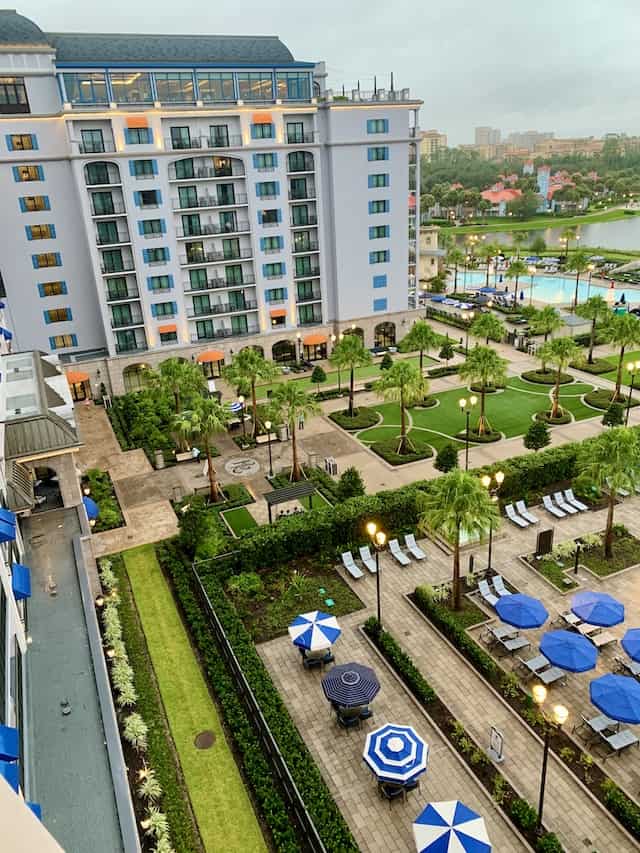 Not only will you find more than just typical park food at Riviera, but you will also find that everything is top-notch. The food really is good and not just by Disney standards. From a quick pastry on your way to the parks to one of the nicest restaurants on property, Riviera really does have the best food at Disney World.
Have you ever eaten at Riviera Resort? Where did you visit and what did you eat? Share your thoughts and experiences with us in the comments below and on Facebook.