Where can you stop for a place to hang out, grab a drink or bite to eat, and enjoy the company of your travel companions? Here is the best Disney World hangout spot you can find in the parks!
Disney Hangouts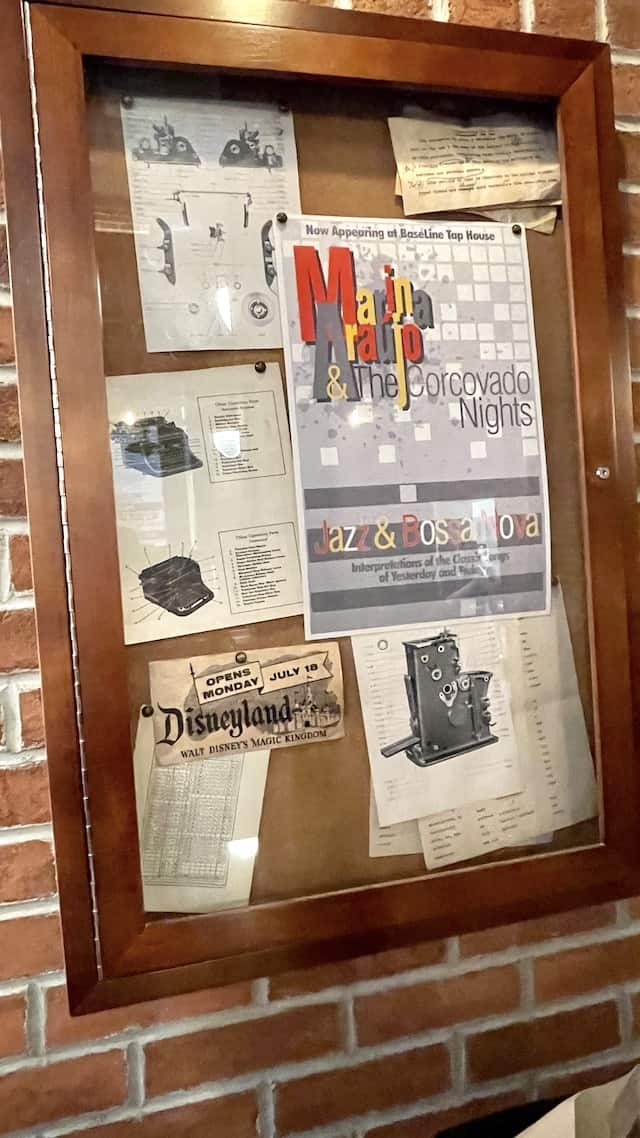 While Disney World may cater to families, there are no shortages of activities for adults. In fact, I (Monica) enjoy going to Disney by myself or with friends as much as I enjoy taking my family. The resorts, theme parks, and Disney Springs offer plenty of bars and lounges. Some of my personal favorites include the Abracadabar at Disney's Boardwalk, Bar Riva at Disney's Riviera Resort, La Cava del Tequila in the Mexico Pavilion, and Oga's Cantina at Hollywood Studios.
However, my absolute favorite hangout spot in the theme parks is BaseLine Tap House in Disney's Hollywood Studios. I know you may be wondering why I feel this way. Oga's Cantina has incredible theming, and the drinks at La Cava are incredible. So why BaseLine?
BaseLine Tap House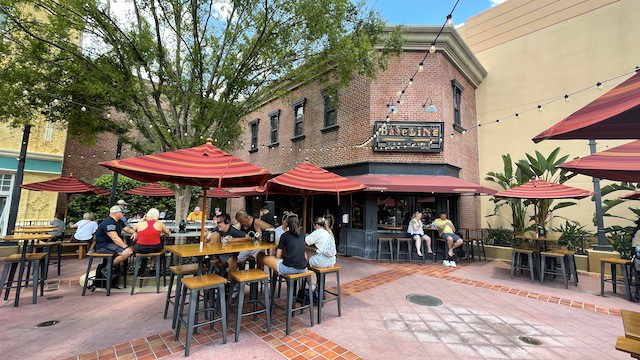 Located at the entrance of Galaxy's Edge and Grand Avenue, BaseLine Tap House offers California brews and wine in a cheery corner pub theming. It is a mashup of industrial Los Angeles on the inside and a breezy terrace on the outside. BaseLine can be easy to overlook as you head towards Galaxy's Edge, but I encourage you to slow down for a few minutes there!
I (Monica) recently enjoyed a quick 30-mintue rest at BaseLine in between attractions at Hollywood Studios. That's really all you need to appreciate the setting and the bites! I also ate at Oga's Cantina that day, so do not feel like you it's redundant to visit both.
I would feel the same about The Hollywood Brown Derby. All of these places offer a different experience and food, so it would be perfectly fine to squeeze in a little break at BaseLine, too!
Theming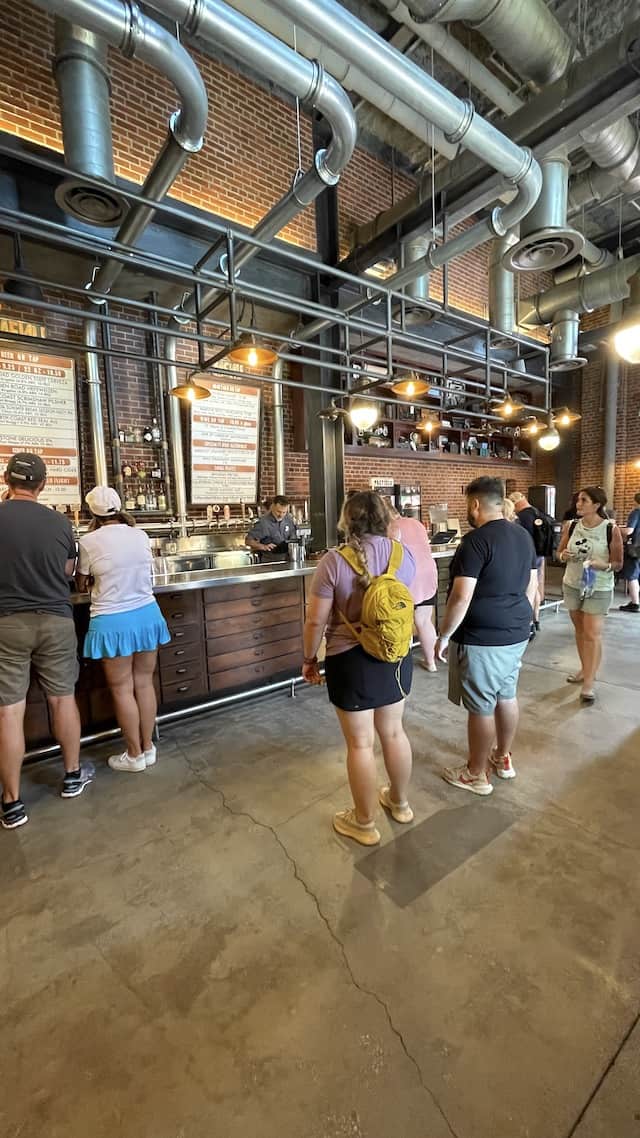 If you are familiar with the Grand Avenue area at all, you probably notice the unique storefronts that line the street in front of Galaxy's Edge. It resembles present-day Hollywood with the tailor shop, loft apartments, and other charming storefront facades. As a side note, I really wish they would have done something with these storefronts. Going into those stores would be fun.
The charming little brick building that BaseLine resides in has so much character! The inside pays homage to the Figueroa Printing Company—a mom-and-pop print house that once enjoyed a flourishing partnership with Disney Studios. Industrial pipes, concrete flooring, and exposed brick give BaseLine a warehouse aesthetic. Dozens of props line the shelves behind the bar area and above the entrance.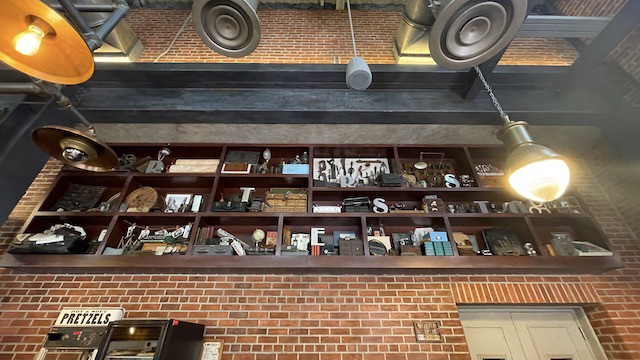 If you look carefully, "Writer's Stop" is spelled out on the shelves! This was the previous lounge space before the re-imagination of Grand Avenue in 2017.
There is even a display with typewriter diagrams, Disneyland opening day ads, and a jazz night. Above the giant windows, you may also spot another nod to Disneyland! If you have the time, stop and look at all the props and displays. There are more references to Disney and California.
Seating Situation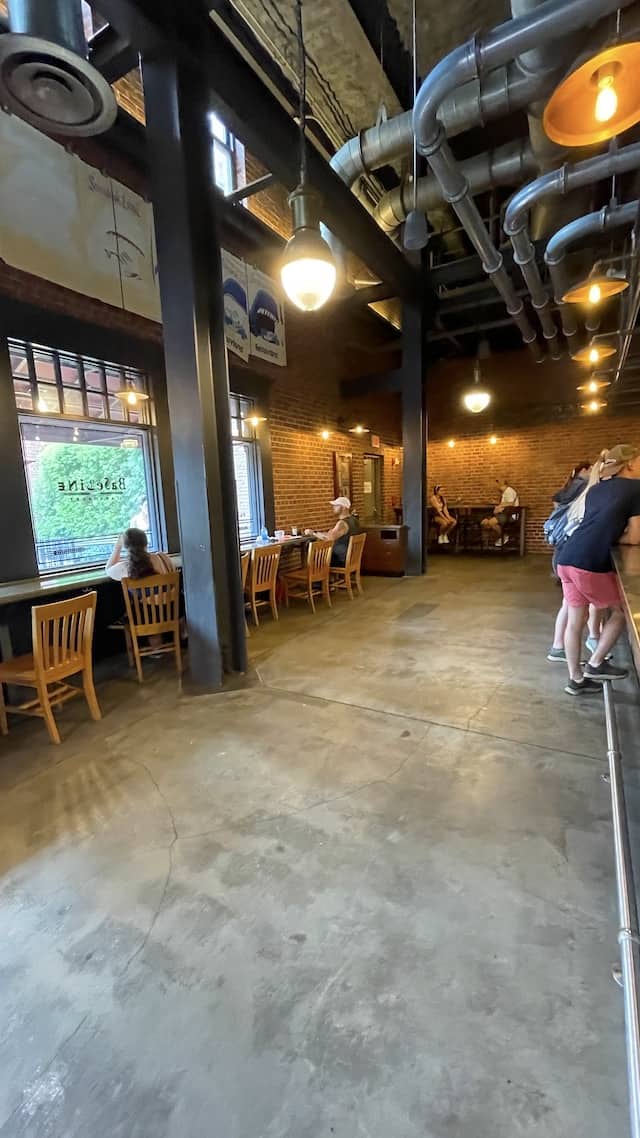 You may be wondering what the seating situation is like at BaseLine. If you have ever been in Oga's you know it's mostly standing area or sharing a booth with another party.
Inside BaseLine, you will find a few tables. However, the majority of seating is going to be a really long bar table underneath the giant window. You will be sitting next to someone you don't know, so be friendly! It does not feel cramped inside since the seating is along the perimeter only. I feel really cramped at Oga's because there are too many tables and booths.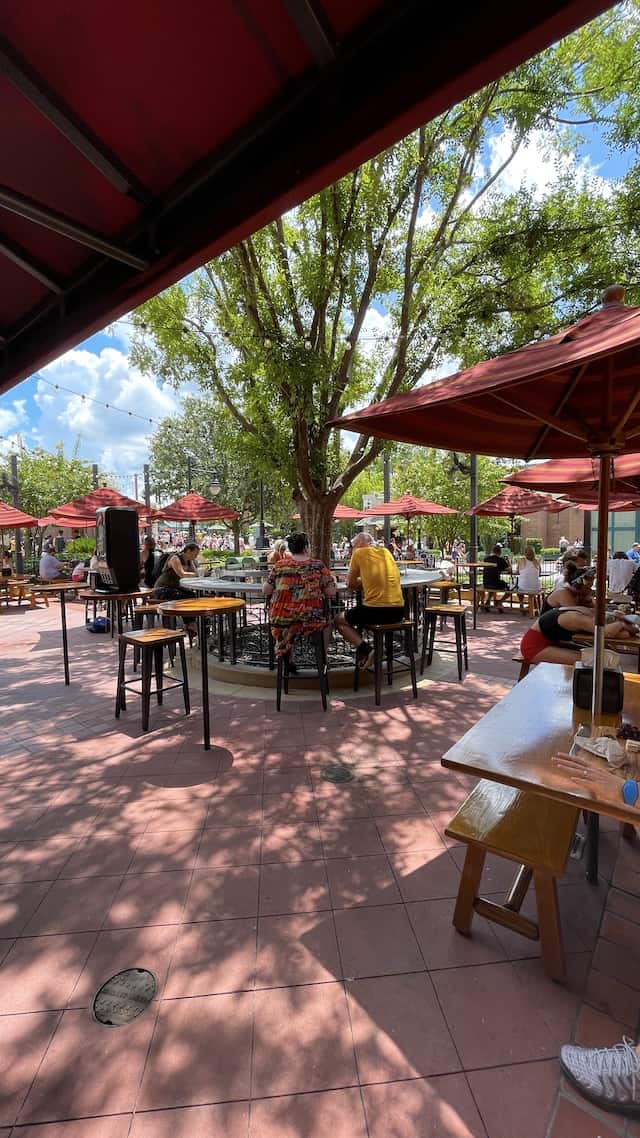 Outside, there are many more tables, but this may not be the most desirable place to relax on a hot, summer day. Luckily, many of the tables are shaded by umbrellas and trees, so if you are going during a "cooler" month or time of day, you should be okay.
BaseLine does not take advanced reservations, but you should not have much trouble finding a spot. I really enjoyed not having to worry about a reservation here. I could fit it into my day as my schedule allowed and felt like I did not need to carve out a lot of time to enjoy the break.
Hollywood Studios can be hard to find an indoor spot for a break (without watching Muppets 3D) AND that does not require a reservation of some type. BaseLine gets major points in my book!
The Menu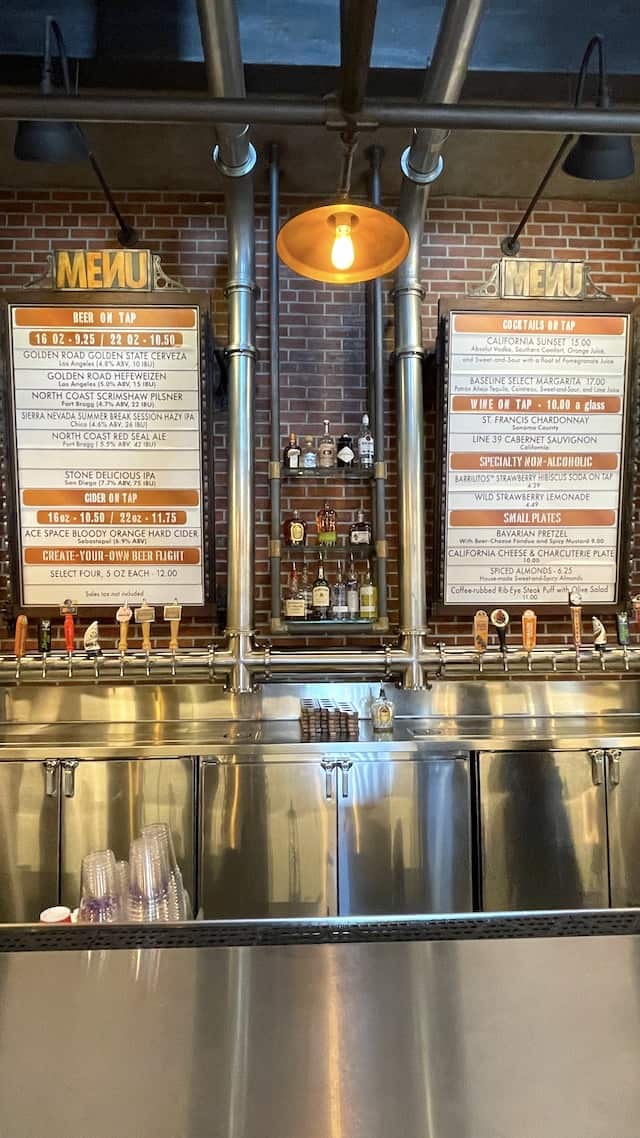 "Small bites and dreamy flights" are the name of the game at BaseLine. According to Disney, the crowning glory of BaseLine Tap House's offerings are—without a doubt—its broad selection of California craft ales, lagers and cider.
There are over 14 beers on tap, 2 hard ciders, 2 wines, and 2 cocktails. If you cannot decide on a beer, may I suggest 4 of them? You can create your own beer flight to sample the different varieties.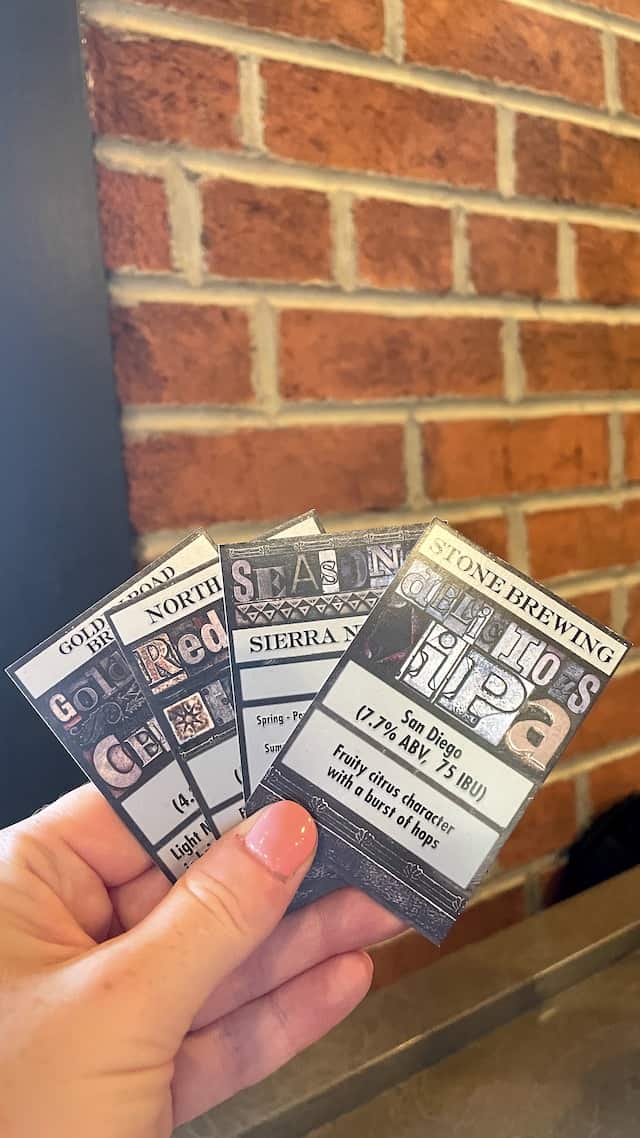 Also included are these fun little cards with the name and description of each beer you choose. They are fun little keepsakes for your Disney box, and they may also help you remember what the name was when you get home and want more!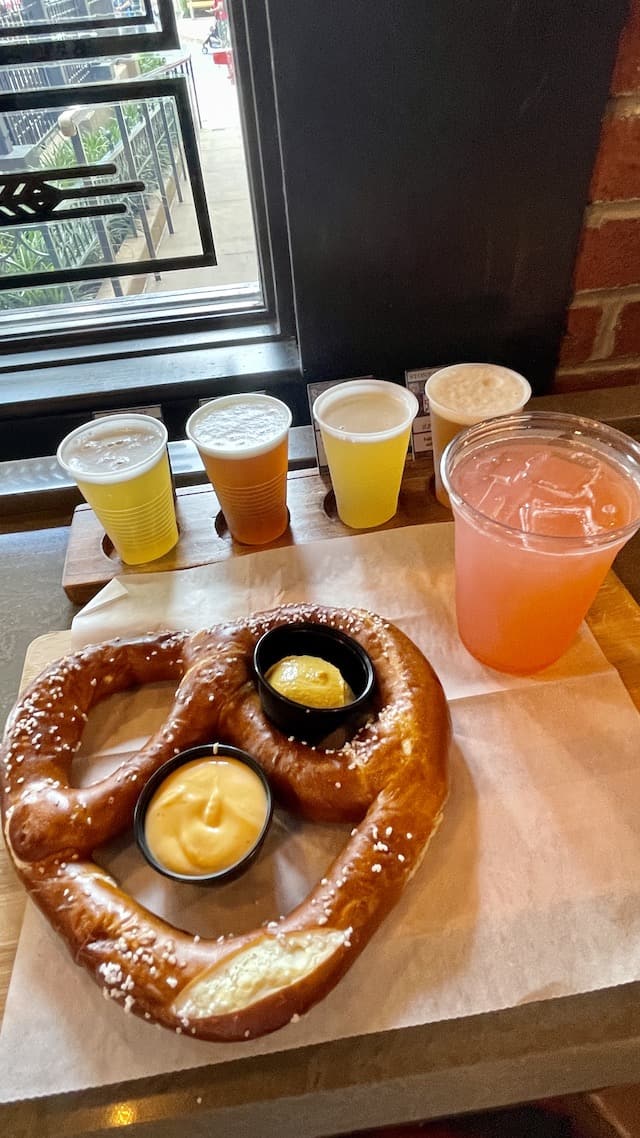 Food items include a massive Bavarian pretzel, a cheese and charcuterie plate, spiced almonds, and coffee-rubbed rib-eye beef puff. I was having trouble between my usual go-to snack at Hollywood Studios (the Jack's Num-Num cookie) and the food here. So, I did what any reasonable person would do and I brought the cookie into BaseLine and ordered the pretzel as well.
I really wanted to try the beef puff, but I suppose that is a good reason to make a trip back and enjoy the space once more.
Final Thoughts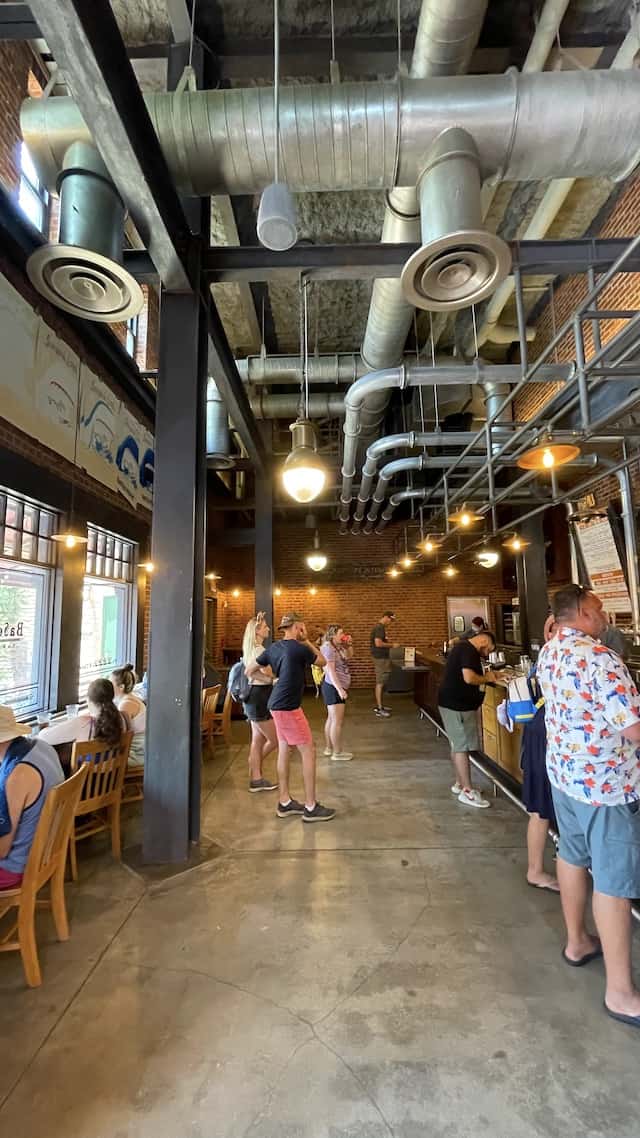 I love a good hangout spot. It feels like an experience and not just taking a 15 minute break because I'm tired. I love to snack at Disney World and find myself preferring to take several smaller food breaks versus sitting down for an hour or so at a table-service restaurant.
BaseLine Tap House fits the bit for me in all areas. The theming is Disney-approved, there is plenty of good food and drinks, and seating is ample. I don't need a reservation, so it feels more like spontaneous fun rather than a planned break.
Do you enjoy BaseLine Tap House? Share your thoughts with us in the comments below and on Facebook.