Disney boasts Oga's Canteen is the most famous watering hole in the galaxy. See our thoughts and discover why we'll keep coming back.
Adventure Awaits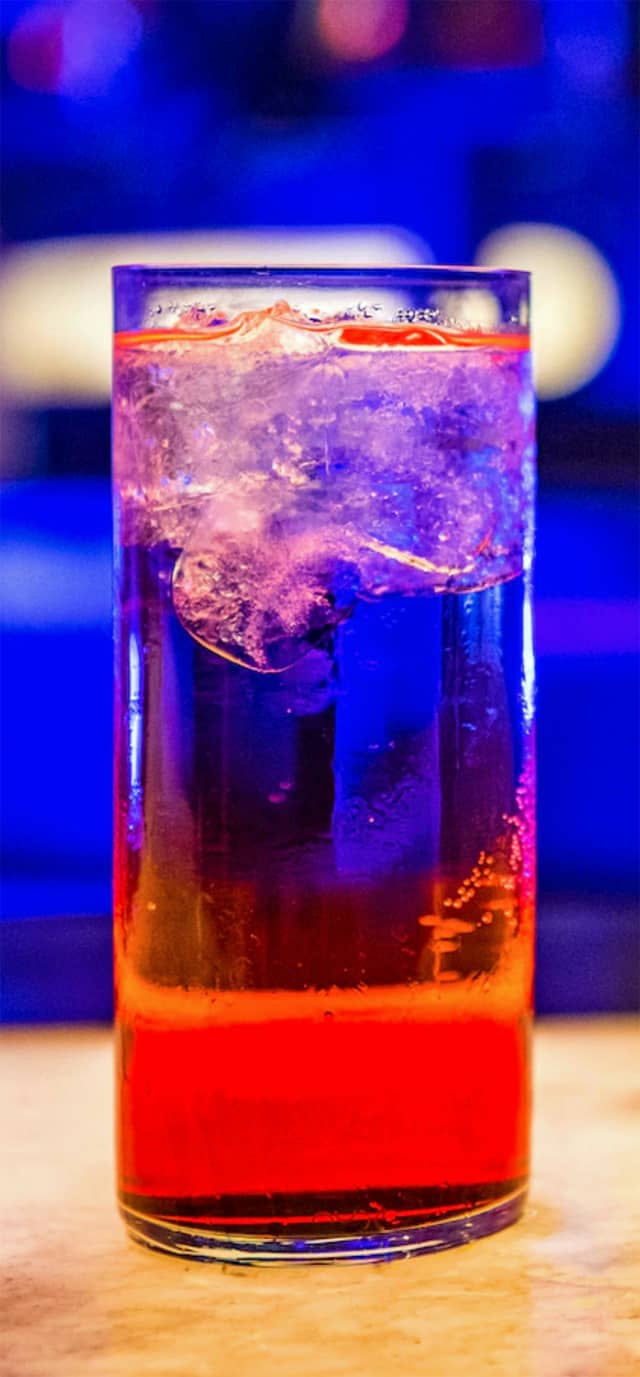 At Oga's Cantina, guests enjoy the local Batuu cantina. Bounty hunters, smugglers, rogue traders, and weary travelers of all ages come together to refuel and enjoy music.
Oga's menu is full of exotic concoctions and snacks for the young and young at heart. The cantina is a welcome rest stop before your next galactic journey.
Travel to Batuu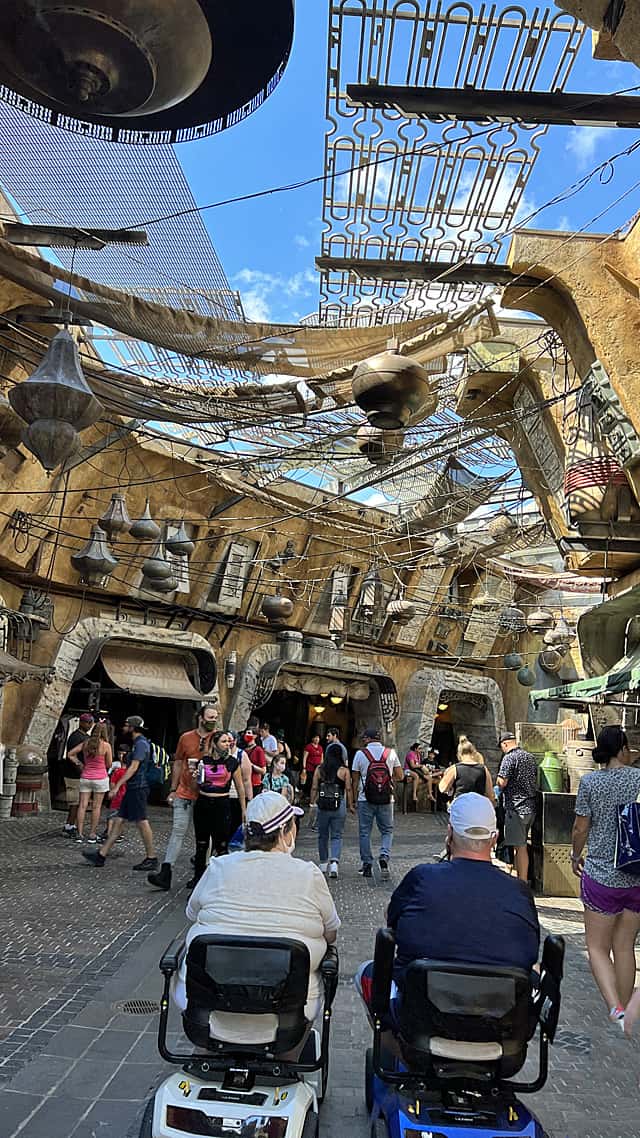 Batuu was once a thriving stop for traders and travelers. Now, lush forests and majestic mountain regions are known only to those wander this far into the Outer Rim. At the infamous Black Spire Outpost, smugglers and rogues peddle their goods among the towering remains of petrified trees.
Locals cook up exotic dishes for explorers. Recently, the struggle between the First Order and the Resistance has made its way to this remote locale. Although Oga's Cantina is on both coasts, we visited in Disney World.
Note: Oga's Cantina is located at both Disney World and Disneyland.
Finding Oga's Cantina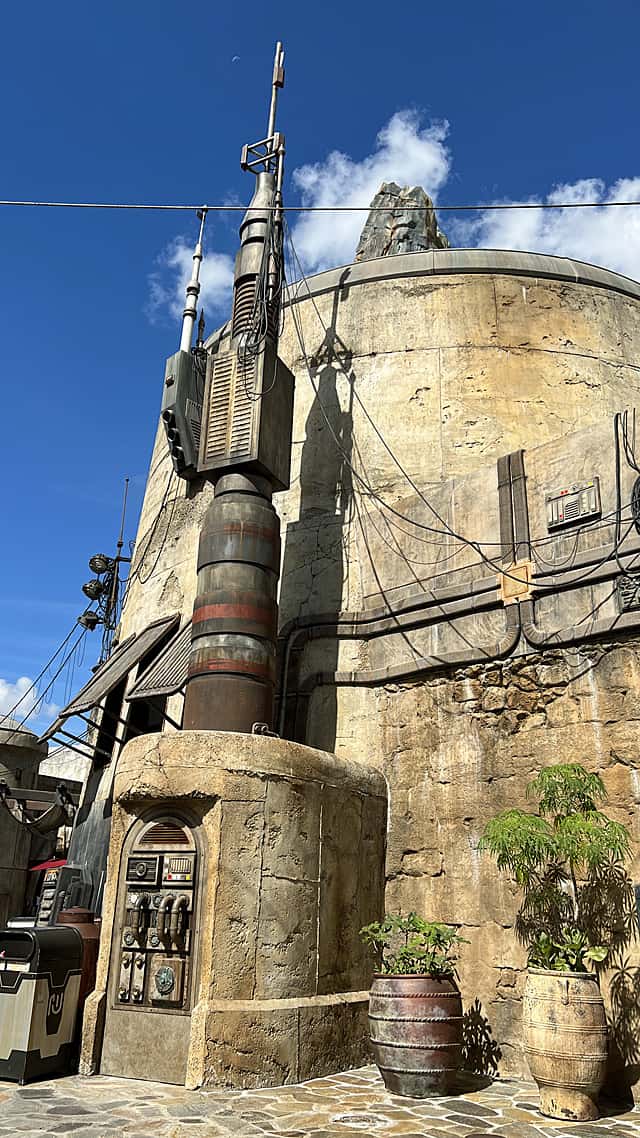 Once you've "landed" in Batuu, your journey isn't over yet. Although I (Susan) appreciate the immersive theming in Galaxy's Edge, I get turned around with the lack of signs. On the day of our (Monica and Susan) adventure, we were near Smuggler's Run and asked a Cast Member where to find Oga's Cantina. We thought we followed her directions, but somehow missed it. Then, we asked another Cast Member who instructed us to look for the round building. We located this building but COULDN'T FIND THE ENTRANCE.
Before giving up, we asked a third Cast Member who pointed around the corner to the red umbrellas. Thankfully, we found the umbrellas and entrance. During the evening the word "Cantina" is lit up. However, during the day, it is concealed unless you know where to look.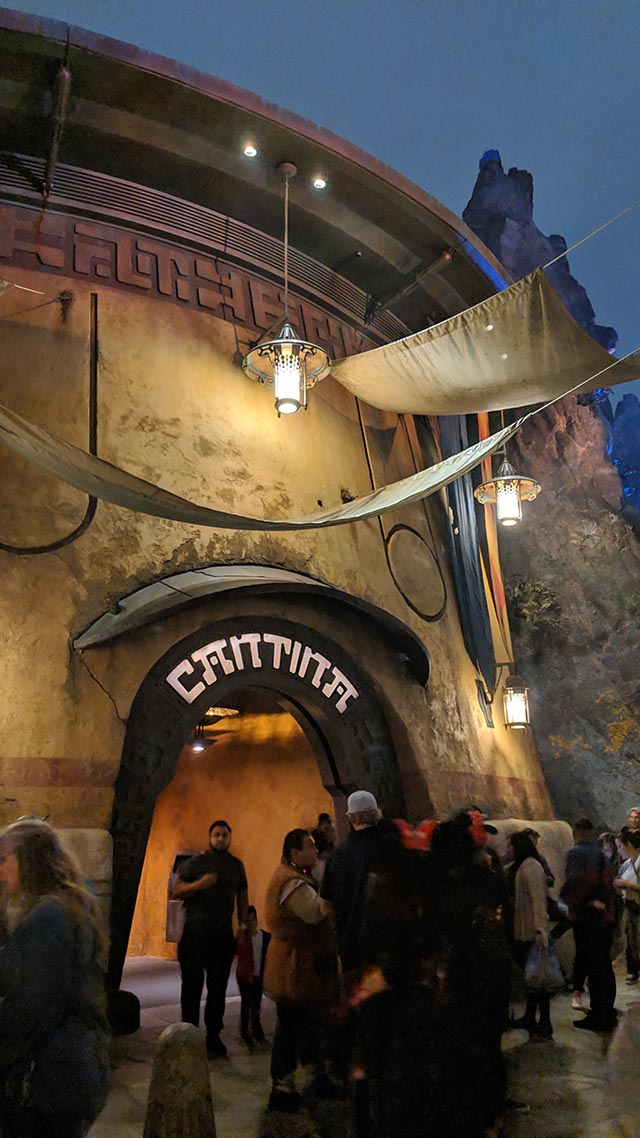 Look for Cantina in the archway at the entrance. (See picture above.)
Look for the red umbrellas to locate Oga's Cantina entrance.
Checking In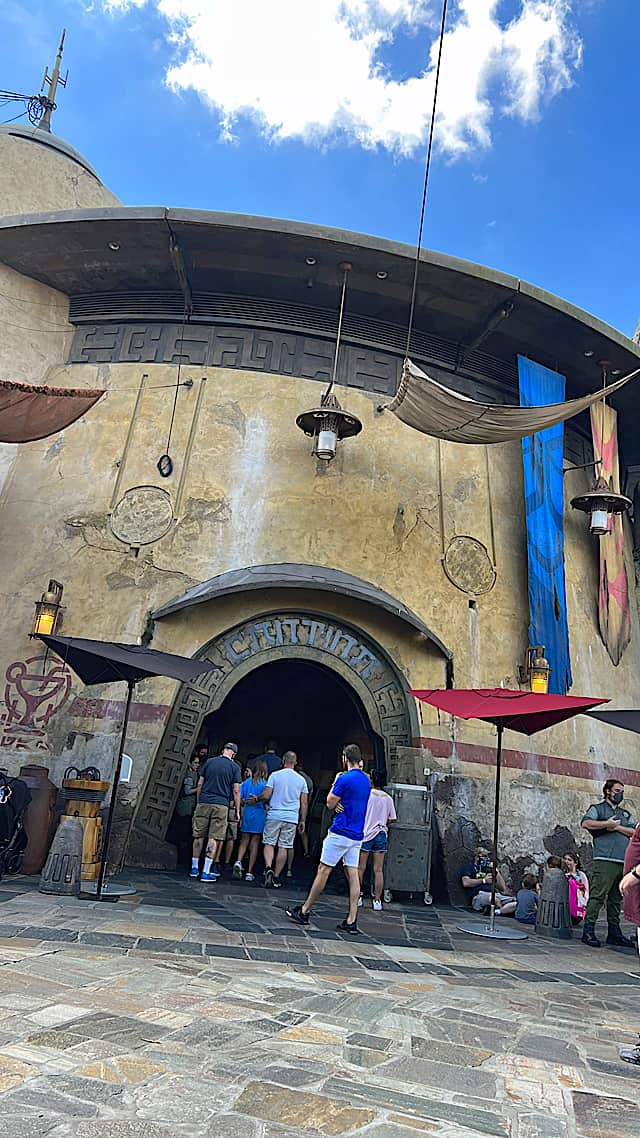 It was pretty hot the day we wandered around Galaxy's Edge so we were ready for the air-conditioning. We asked for a table. However, the check-in Cast Member told us it would be an additional 30-45 minute wait. We decided not to wait.
When guests check in, you'll give Cast Members your cell number. We received a text saying our table was ready about 10 minutes after checking in.
Seating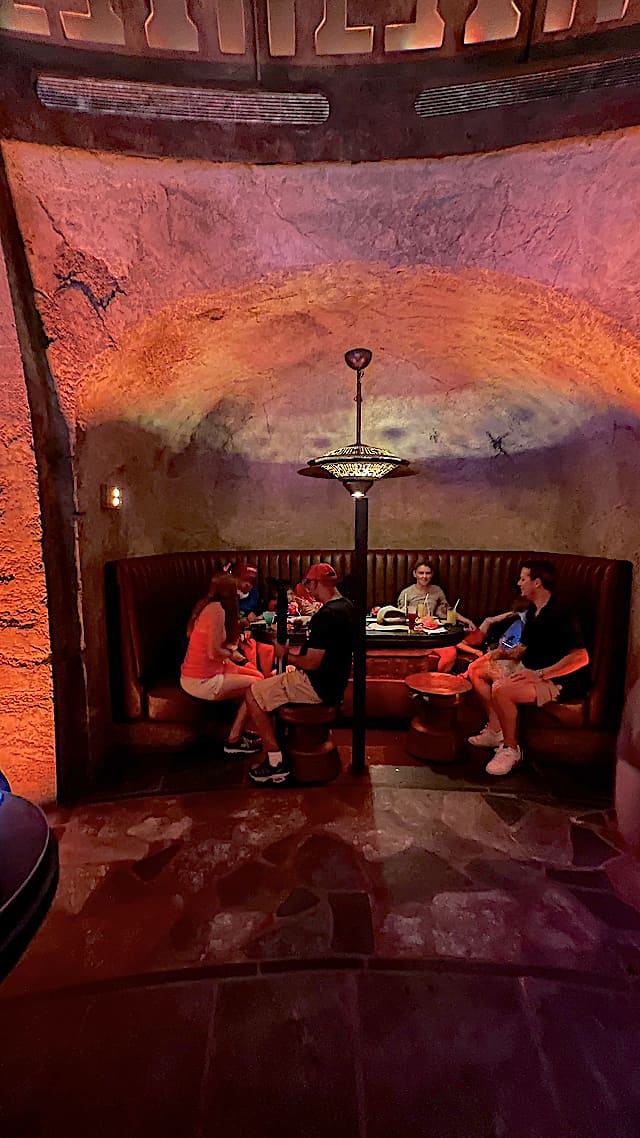 If you can't stand for your time in Oga's Cantina, it may be worth your while to wait on a table. However, standing comprises about 90% of guests spots. You will find some booths along the walls. If smaller parties are seated at booths, these may be shared with other parties.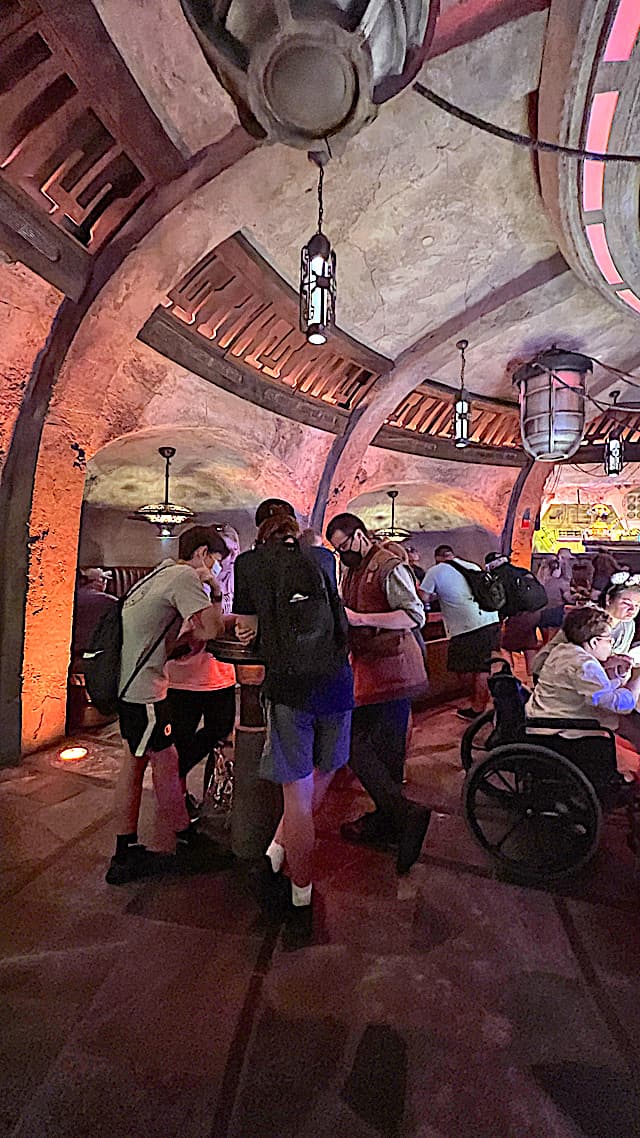 As you can see in the photos, there are standing counters between the booths and the bar. Then, all along the bar guests stand. Rather than fighting for a spot at the bar, Cast Members escort you to your assigned spots when they walk you into the cantina. There's a lower bar area so guests in a wheelchair or scooter can enjoy this fun area.
Note: There is a 45-minute time limit at Oga's Cantina.
Drinks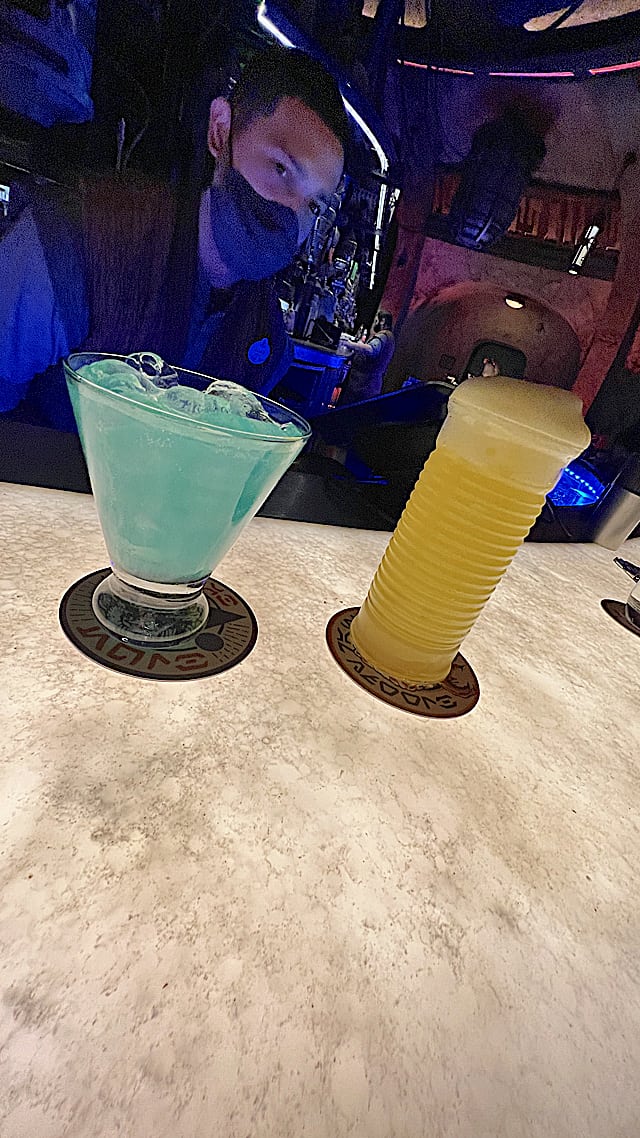 Expect out of this world drinks at Oga's Cantina! This includes a variety of alcoholic and mocktails for kids of all ages. Our bartending Cast Member shared that two of the most popular cocktails are the Fuzzy Tauntaun and the Jedi Mind Trick shown above.
The Fuzzy Tauntaun has peach vodka and schnapps, orange tangerine juice, sugar, and "Buzz Button Tingling" Foam. While some guests loved this drink, we found the tingling foam disgusting. He was kind enough to take the foam off but did give us a bit of a hard time for it! It tasted much better without the foam.
Next, the Jedi Mind Trick is made up of grapefruit and rose vodka, velvet falernum, blue curacao, white grape juice, lime juice, and grapefruit bitters. It tasted like a fresh glass of lemonade.
Note: There is a limit of 2 drinks per person here.
Mocktails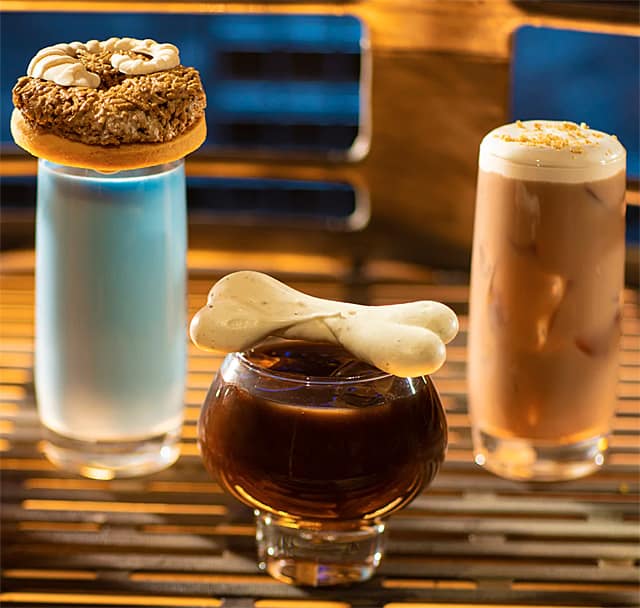 No worries if you prefer no alcoholic drinks. There are so many fun options here! Check out the Blue Bantha in the left side of the above photo. This non-alcoholic concoction is made from the famous blue milk with a Bantha-inspired vanilla-sugar cookie.
Drinks are fun here but wouldn't keep me coming back.
On the right side of the photo is the Black Spire Brew. It contains cold brew Joffrey's coffee, honey, falernum, passion fruit, and citrus.
Menu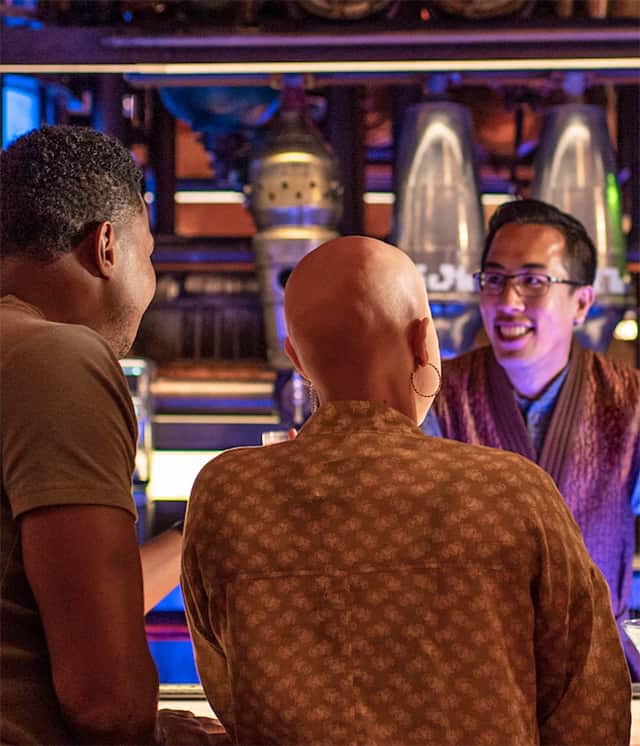 Like the drink menu, the food here is exotic and not for everyone. We were underwhelmed by the choices at Oga's Cantina. There are only TWO snack items on the menu. While we (Monica and Susan) didn't expect a full-course meal, we felt they could do more with food options.
Batuu Bits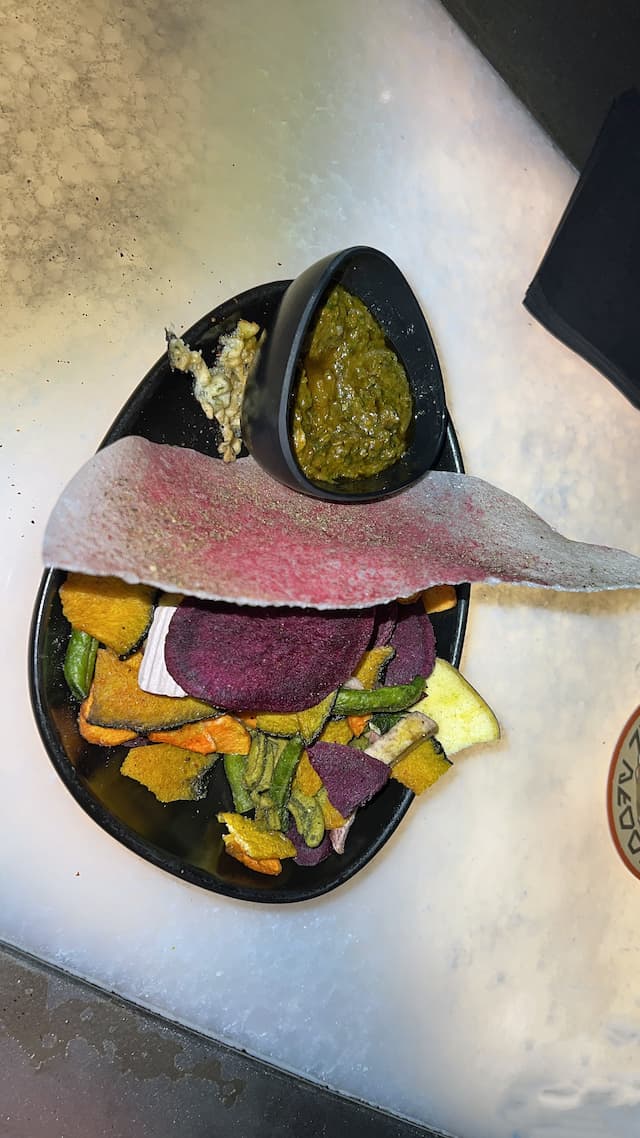 Food here is classified as "snacks" on My Disney Experience. Shown above, we ordered the Batuu Bits. It was so dark inside that we thought the sauce was red before photographing with a flash. Also, it was difficult to figure out exactly what we were eating. Disney describes the Batuu Bits as crispy galaxy snack bits with spiced chermoula dip. Not very descriptive!
After careful analysis (not really), we figured out that the bits were mostly dehydrated vegetable chips. I (Susan) have no idea what the food item is beside the sauce. It was not good! The white round bits were a little sweet and dissolved in your mouth similar to malted milk balls. They were strange, too. Dehydrated vegetable chips are usually crunchy and light. However, these were thick and extremely difficult to bite into. We left this dish virtually untouched.
The sauce would have been tasty with tortilla chips. Chermoula dip consists of cumin, lemon, garlic, cilantro and/or coriander, and olive oil.
If you dislike cilantro, this is not the snack your looking for!
Unless you're a fan of really thick and hard-to-chew vegetable chips, skip this one.
Happabore Sampler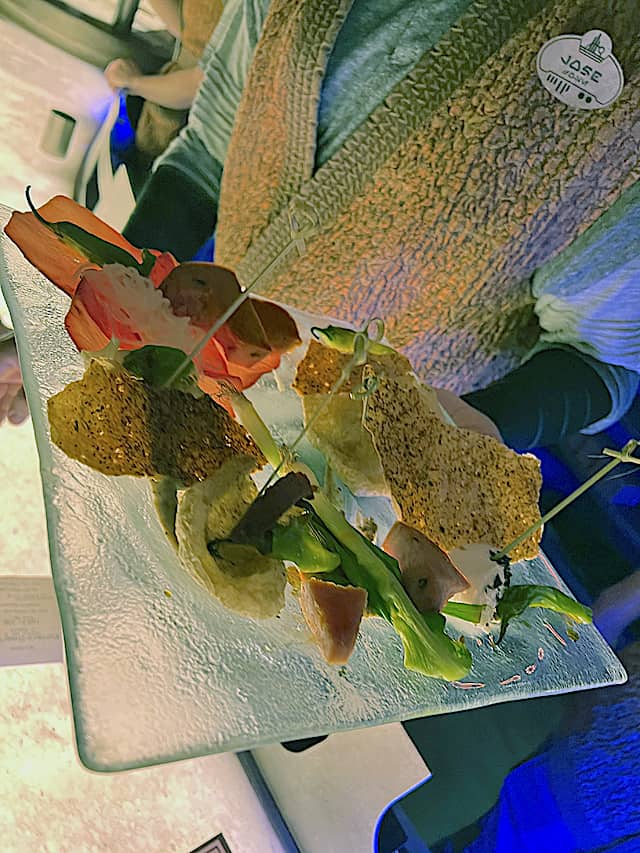 Guests beside us at the bar area ordered the Happabore Sampler. Disney describes it as cured and roasted meats, cheese, and pork cracklings. While the presentation looks interesting, it fell flat on taste according to our neighbors. They also said they expected more from the food here. I don't recommend coming here for the food.
Tip: If you're hungry, Oga's Cantina may not be the best place to go.
Details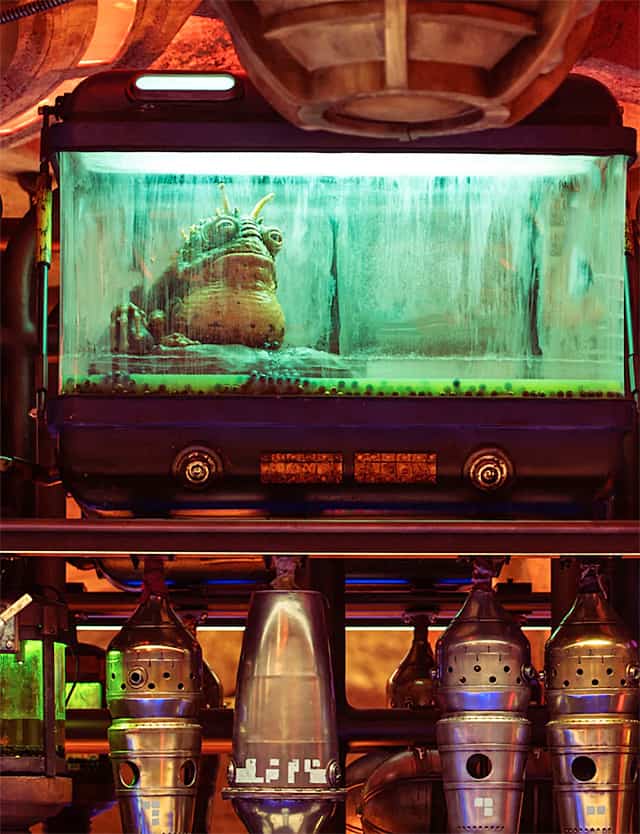 The immersive details here are absolutely amazing. There are otherworldy creatures throughout this tiny space. Check out the cool drink dispensers above.
Every nook and cranny makes guests feel like they're no longer in a theme park. It's dark, fun, and somewhat loud here. Of course all of the signs are written in Aurebesh, the language of Batuu.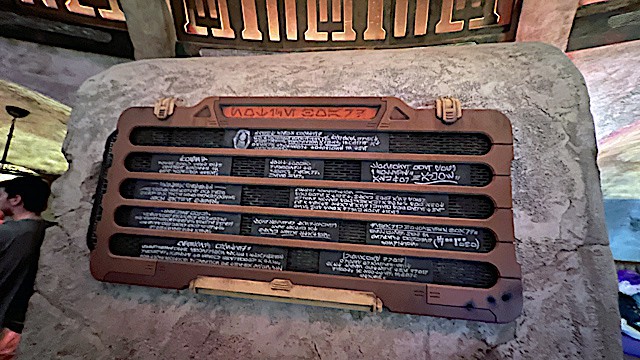 The Bar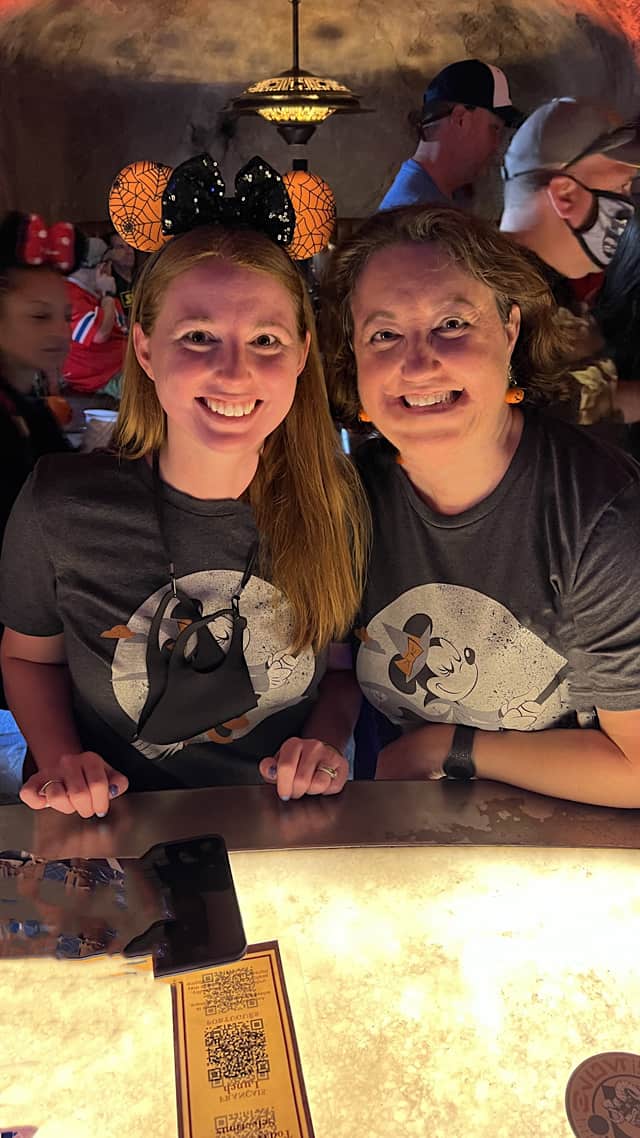 We (Monica and Susan) were a little hesitant to have a reserved spot at the bar rather than a table. Before going to Oga's, we heard that it is so crowded people cannot walk. However, we didn't find this to be the case at all. While the cantina remained full, Cast Members were extremely organized in showing people their assigned spaces at the bar.
The lit-up bar shown brightly in contrast to the otherwise dimly lit space. Here, all guests have designated servers. While the bartending Cast Members serve drinks, they don't actually mix anything. All of the drinks here are served on tap which helps them arrive to guests quickly.
Music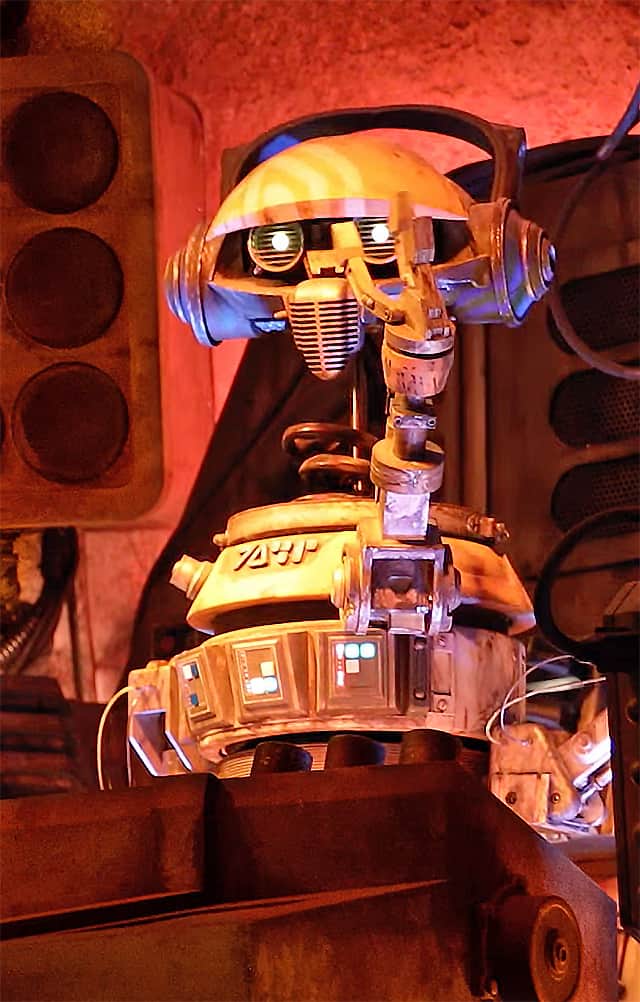 Watching the Star Wars Behind the Attraction show on Disney+, I (Susan) learned that the droid DJ here was once the pilot of Star Tours. According to starwars.com, DJ R-3X is a former pilot of a Starspeeder 3000 for Star Tours.
Then, he was reprogrammed to be a DJ in Oga's Cantina. Now, he spins the latest hits from around the galaxy.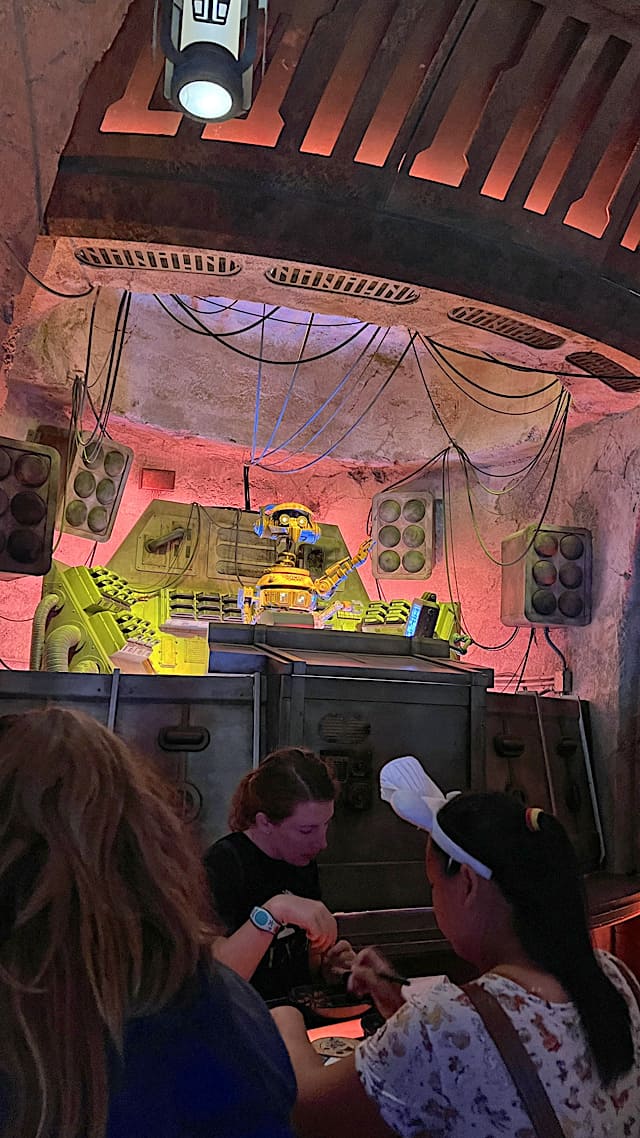 While DJ R-3X is a fun addition to Oga's Cantina, the theming would have felt more believable with a few other droids in the area. The music was a bit loud, but it added a cantina vibe.
Why I'll Return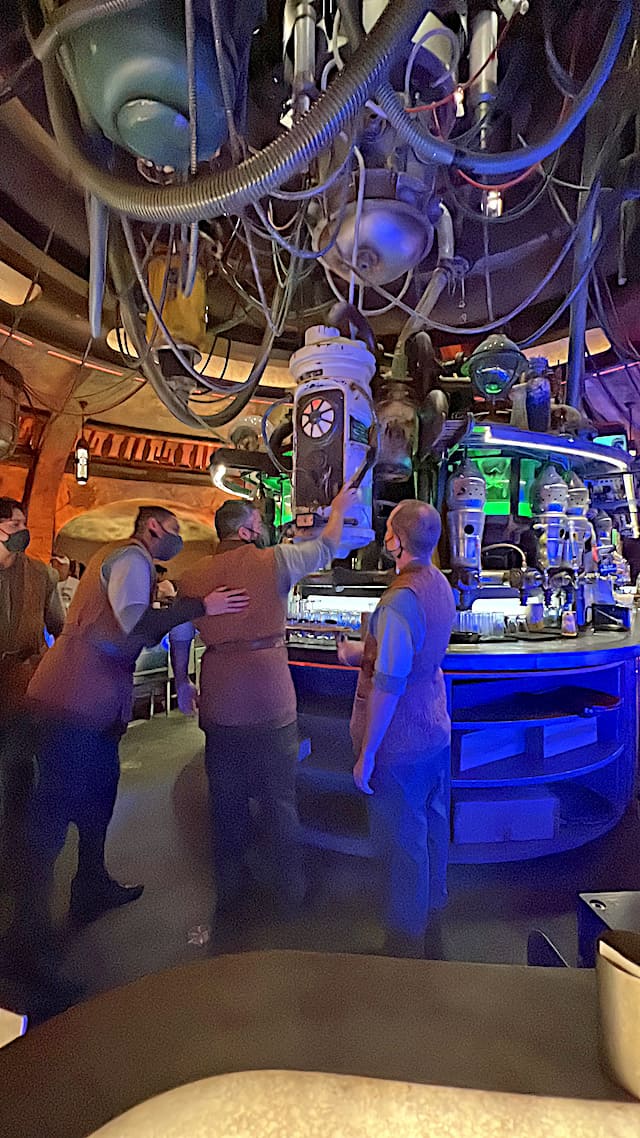 So you're probably wondering, other than the theming, why come here? I can sum that up in just a couple of words: Cast Members.
Cast Members are the highlight of this immersive experience.
From the moment we arrived, Cast Members were here to entertain and ensure we had an amazing time. Their interaction was top notch! The highlight of our visit was when the hyperdrive "acted up." Cast Members busily worked on it while the lights flashed on and off.
"Desperate" cries from Cast Members told us we may need to evacuate. Thankfully, they got it fixed just in time! This was truly the highlight of our visit. Check out the scene above in my video of Cast Members telling us, "I guess you get to stay."
Final Thoughts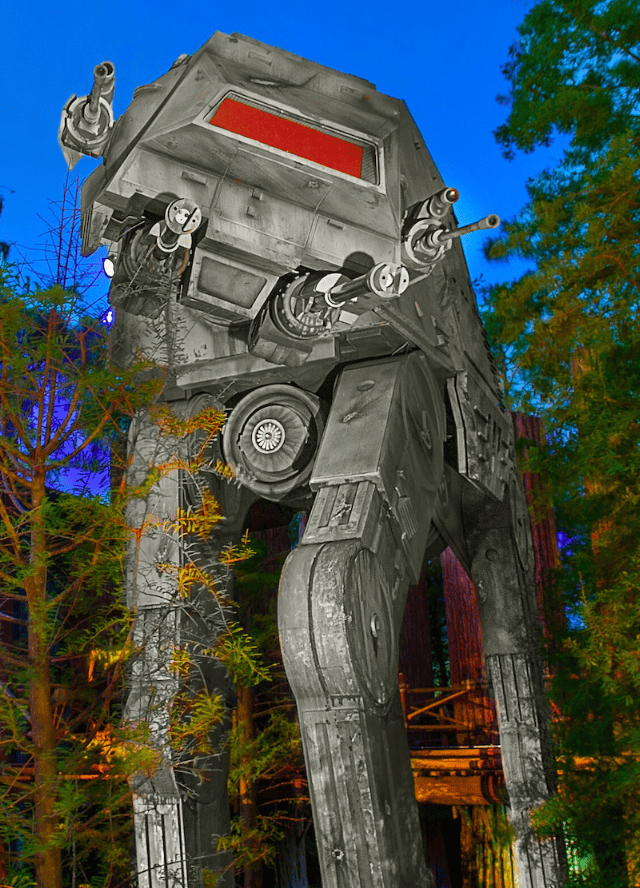 Growing up in the original Star Wars movie era, I have fond memories of each of them. The original 1977 Star Wars movie was the first movie I saw in a movie theater! Walking into Oga's Cantina made me feel as if I was in a Star Wars movie. It was such a unique experience! I highly recommend checking out Oga's at least once! Cast Members here are top notch. It seemed like it was more fun at the bar where guests were literally in the center of the action.
However, Oga's Cantina is on of the hottest advanced reservations at Disney. So, be sure to be on the lookout at your 60-day mark.
Have you visited here? If not, will you consider going to Oga's Cantina? Please let us know on the comments below. Or, continue the discussion on our Kenny the Pirate Facebook page.
Source: starwars.com