There are so many food options at Disney World – from snacks to signature meals. Be sure to add The Hollywood Brown Derby to your dining plans because it's a must for your next Disney trip. Here are 5 reasons why!
The Hollywood Brown Derby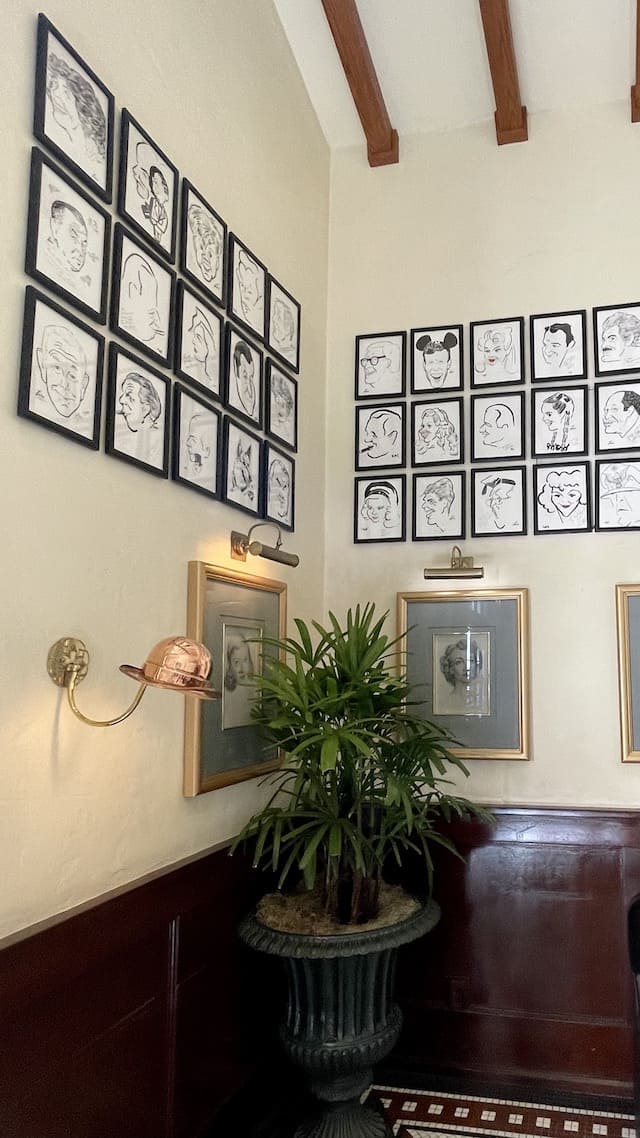 Located at the crossroads of Hollywood Boulevard and Sunset Boulevard at Disney's Hollywood Studios is The Hollywood Brown Derby. This signature dining restaurant is favorite among many Guests for several reasons. All of Disney World's restaurants tell a story, and The Hollywood Brown Derby is no different.
From the food to the service to the story of The Hollywood Brown Derby, I truly believe this restaurant should make it to the top of your dining list for your next trip! In no particular order, here are five reasons why you should dine here.
#5 The Atmosphere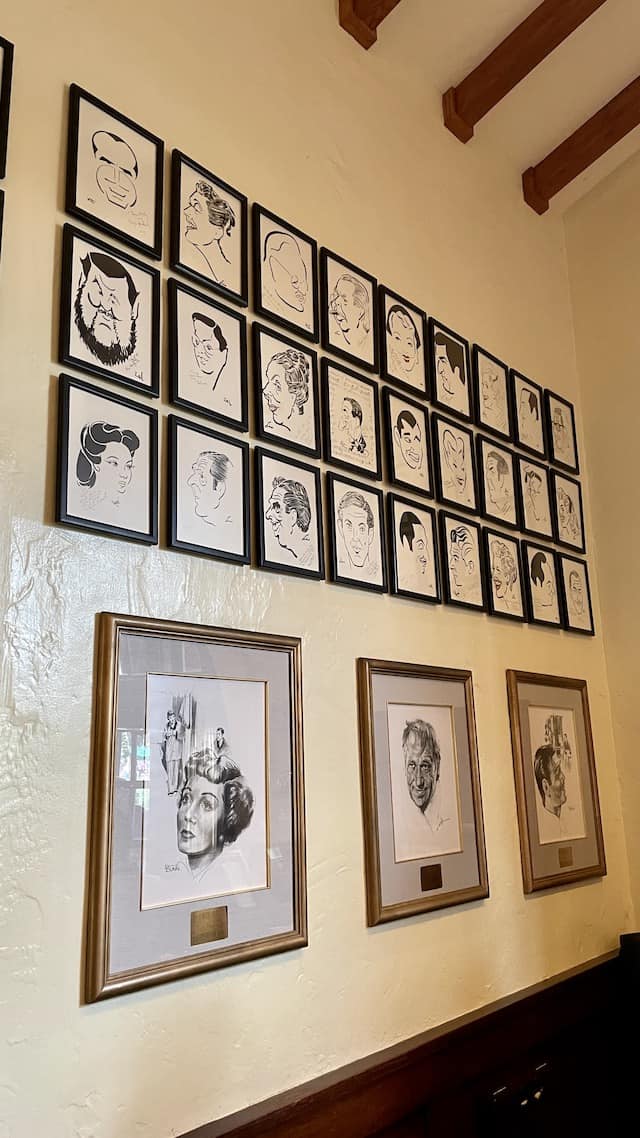 Step into the Golden Age of Hollywood at this fine dining restaurant. If you are looking for a more upscale experience in between fighting the Resistance and playing in Andy's backyard, look no further than Brown Derby.
Starting on the outside is the dark red covered canopy leading to the entrance of the restaurant. The building is very reminiscent of 1920's architecture, and you cannot miss the Brown Derby hat! There is also a small outdoor lounge and seating area, so if you desire to enjoy a few drinks while people watching you can partake in that as well!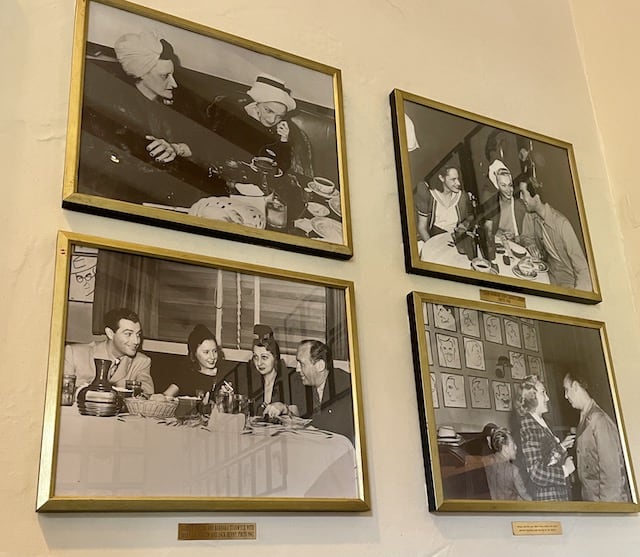 Moving inside, the plastered white walls and classic wood paneling are an exact replica of the iconic Hollywood Brown Derby in California. Upon entering the check in area, you will quickly see the caricatures of various celebrities on the walls. There are portraits and other photos as well celebrating the many famous faces who have enjoyed The Hollywood Brown Derby.
The main dining area is rather large with high ceilings, dark red carpet, and enormous chandeliers. Then, there are separate smaller dining areas that are more private. This is where my party ate when we dined at The Hollywood Brown Derby. There were only two other tables, and there was a small bar area right next to us.
Overall, the atmosphere provides a more upscale and old-fashioned dining experience, which is in stark comparison to some of the other restaurants you will find at Hollywood Studios.
#4 The Food
Did you know the Cobb Salad was created by the owner of The Hollywood Brown Derby? That's right! Bob Cobb created the signature salad that is now served at the restaurant in Hollywood Studios.
This salad is huge and so tasty, but it is not the only star of the show. Your table will first start with warm, fresh bread. Then, choose from entrees like a filet mignon, the famous Cobb Salad, or their signature burger. If you have room for dessert, try the grapefruit cake, which is also a Brown Derby original.
Other than Steakhouse 71, I do believe Brown Derby has one of the best burgers on Disney World property. It is served with bacon jam, a fried egg, and Russian dressing. Multiple people at our table ordered the burger, and we all raved about it. The fries were the perfect accompaniment as well. They were seasoned and hot.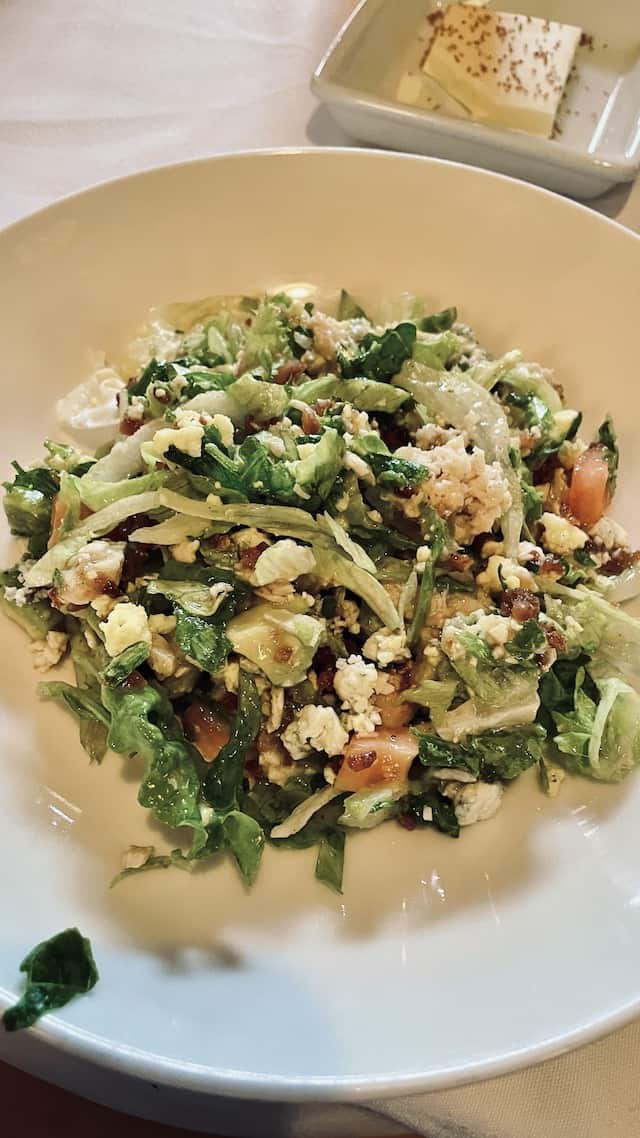 Our table also enjoyed the Cobb Salad. It comes with turkey, bacon, eggs, tomatoes, blue cheese, avocado, and dressing. You can add chicken or shrimp for a small upcharge. The portion is very large, so if you are looking to split a meal I would add a protein as well. The above photo is only half a salad!
We also ordered standard hot dog and steak kid meals for our littlest eaters. We were all pleasantly surprised at how good the kid's steak tasted, so I can't imagine how good the filet mignon is. I guess I will have to make another trip soon to try it out! The kid meals here cost the same as many quick-service restaurants, so this was a nice bonus. Oftentimes my children will order a kid entree and then won't finish it. Brown Derby has the perfect balance of great food for adults and reasonably priced favorites for kids.
If you want a burger that isn't a quick-service burger or something a bit more adventurous than standard park food, consider this restaurant!
#3 The Service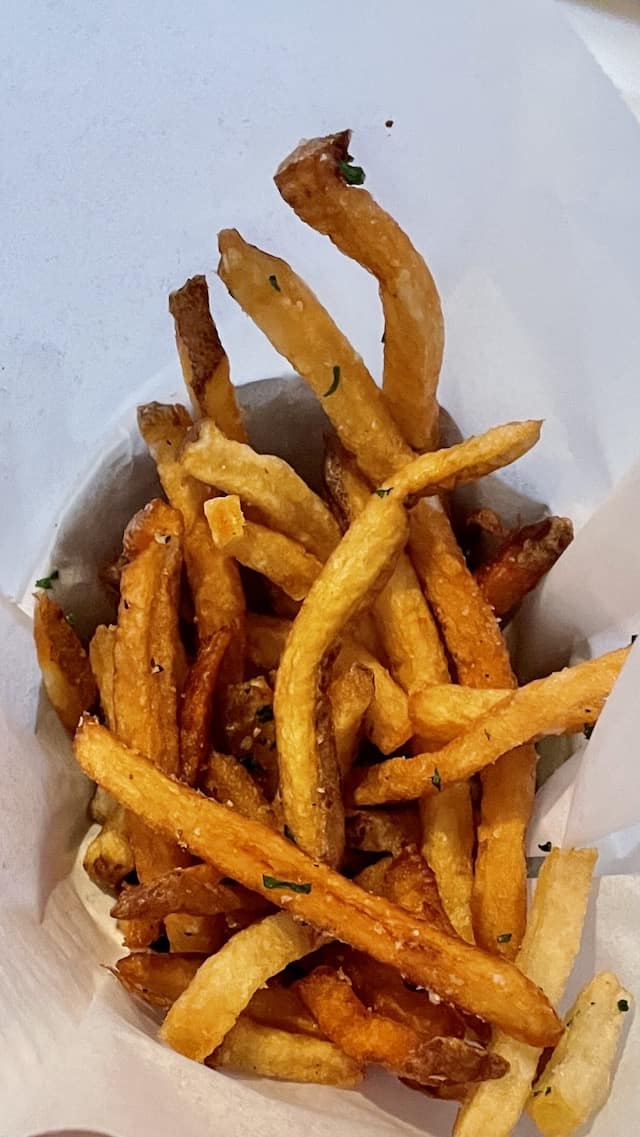 Our server was one of the standout stars of our meal experience at The Hollywood Brown Derby. She was attentive and knowledgable. We had many questions about the menu, and she answered all of them. When we had an issue with a drink, she remedied the situation. Another server who brought us our entrees even went to the trouble of mixing my cobb salad for me. It was very thoughtful and attentive.
Not only that, but other Cast Members we encountered were wonderful as well. We had an early lunch that day, and we were hoping to be seated at the same table. As a party of 8, we are usually forced to reserve restaurant in groups of 4 and 4. We try to get seated close to one another, but sometimes it can be an additional 30-45 minutes of waiting to get tables next to each other.
However, the Cast Members at Brown Derby that day really went above and beyond to get us at a table together. As an added bonus, we were in the back room as I mentioned above. This gave us additional privacy that felt like a more intimate experience.
#2 The Other Hollywood Studios Dining Options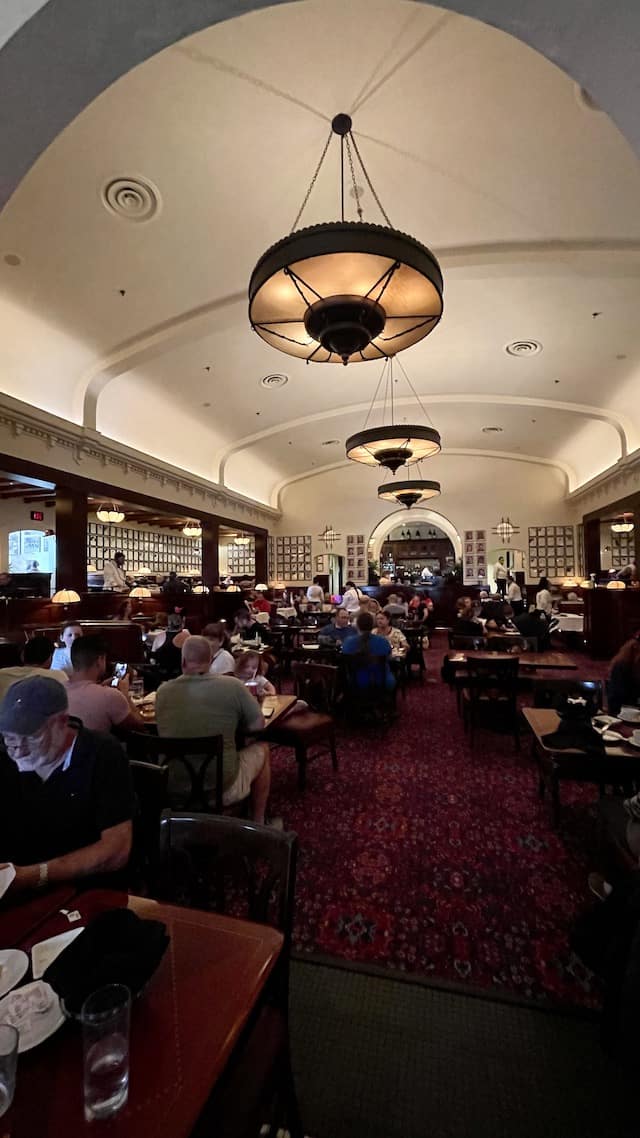 Hollywood Studios is not exactly known for their food options. Other sit-down restaurants include Hollywood and Vine, 50's Prime Time, Sci-Fi Dine-In Theater, and Mama Melrose.
I have eaten at all but 50's Prime Time, and while they are all okay, Brown Derby is the only one I would be excited to visit again. All of the other restaurants are places where you feel like you are in stepping back in time to the 1950's.
The Hollywood Brown Derby dates back even farther, and I think it would actually have been a great restaurant to put further down on Sunset Boulevard. Could you imagine dining in the Hollywood Tower Hotel at this nice restaurant? The Hollywood Brown Derby is the nicest restaurant at Hollywood Studios with the best food, no contest.
#1 The Story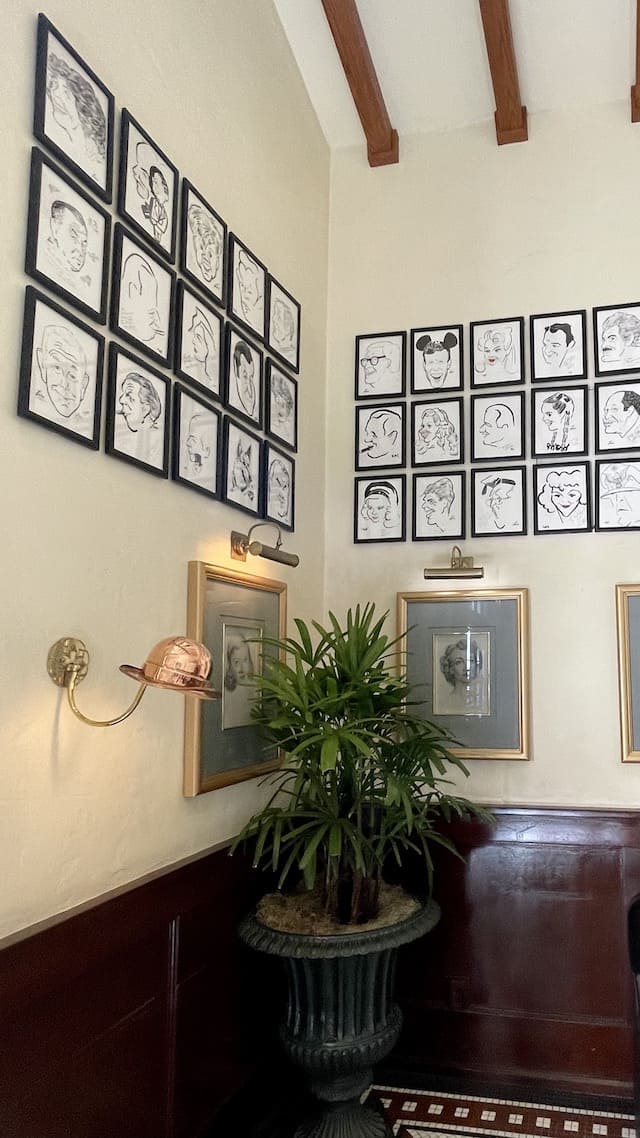 Stepping into The Hollywood Brown Derby is like stepping into another time. The original was a landmark in Los Angeles in a time when everything was glamorous and glitzy. You can't help but imagine what it would have been like to be a famous celebrity dining at The Hollywood Brown Derby in California.
Marisol did an excellent job describing the history of the restaurant, so instead of replicating it I will just send you over to her article! She and her party were also able to enjoy a few dishes my party did not order, so be sure to read her food review and Cobb Salad recipe.
I was not expecting for The Hollywood Brown Derby to become my favorite restaurant in Hollywood Studios, but that is exactly what happened! Have you ever dined here? What are your thoughts? Join the conversation in the comments below and on Facebook.