Do you enjoy character meals while in the Disney Parks? Check out my review for Hollywood and Vine and see if it is worth the price based on character interaction and the quality of food.
Hollywood and Vine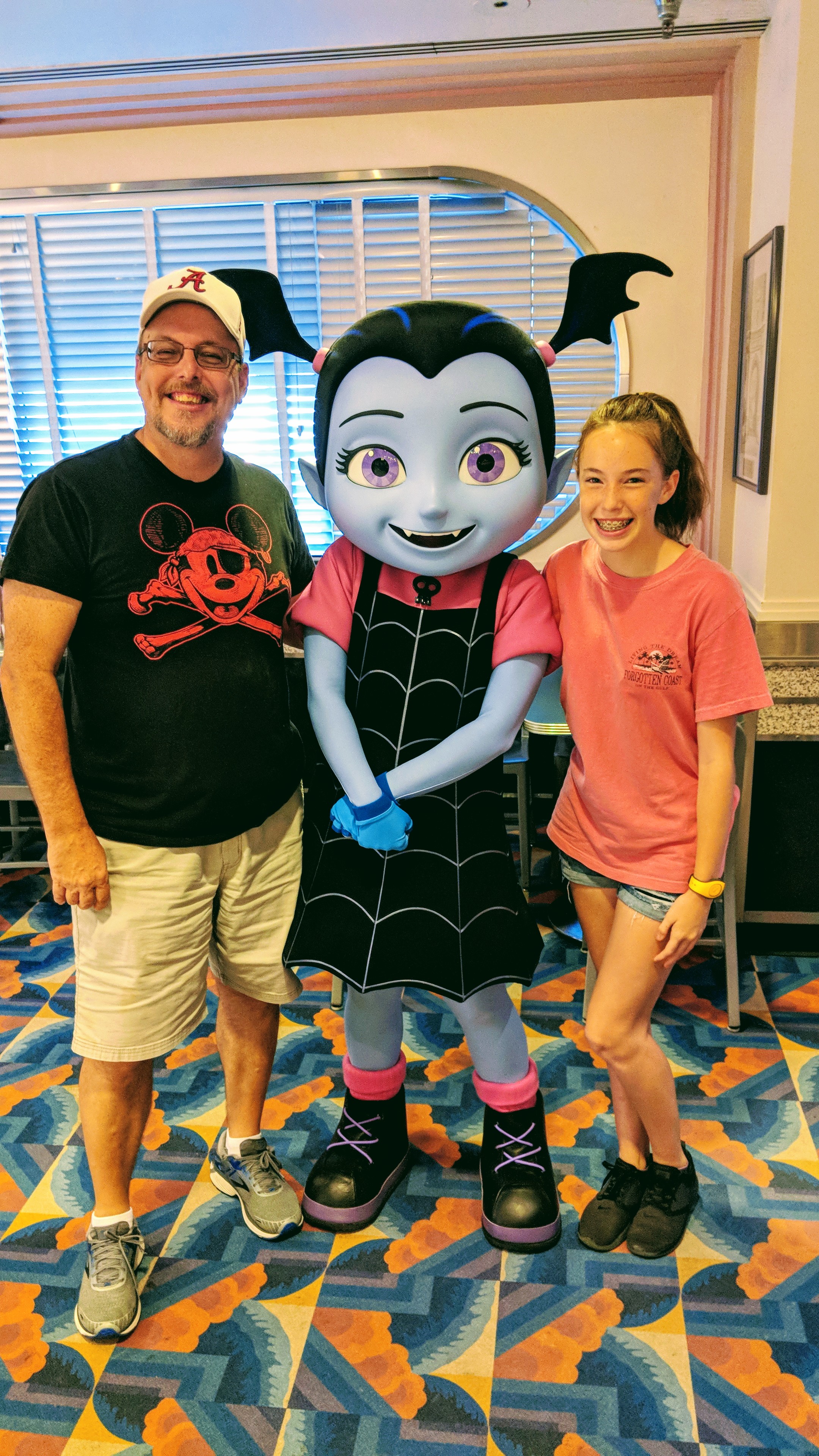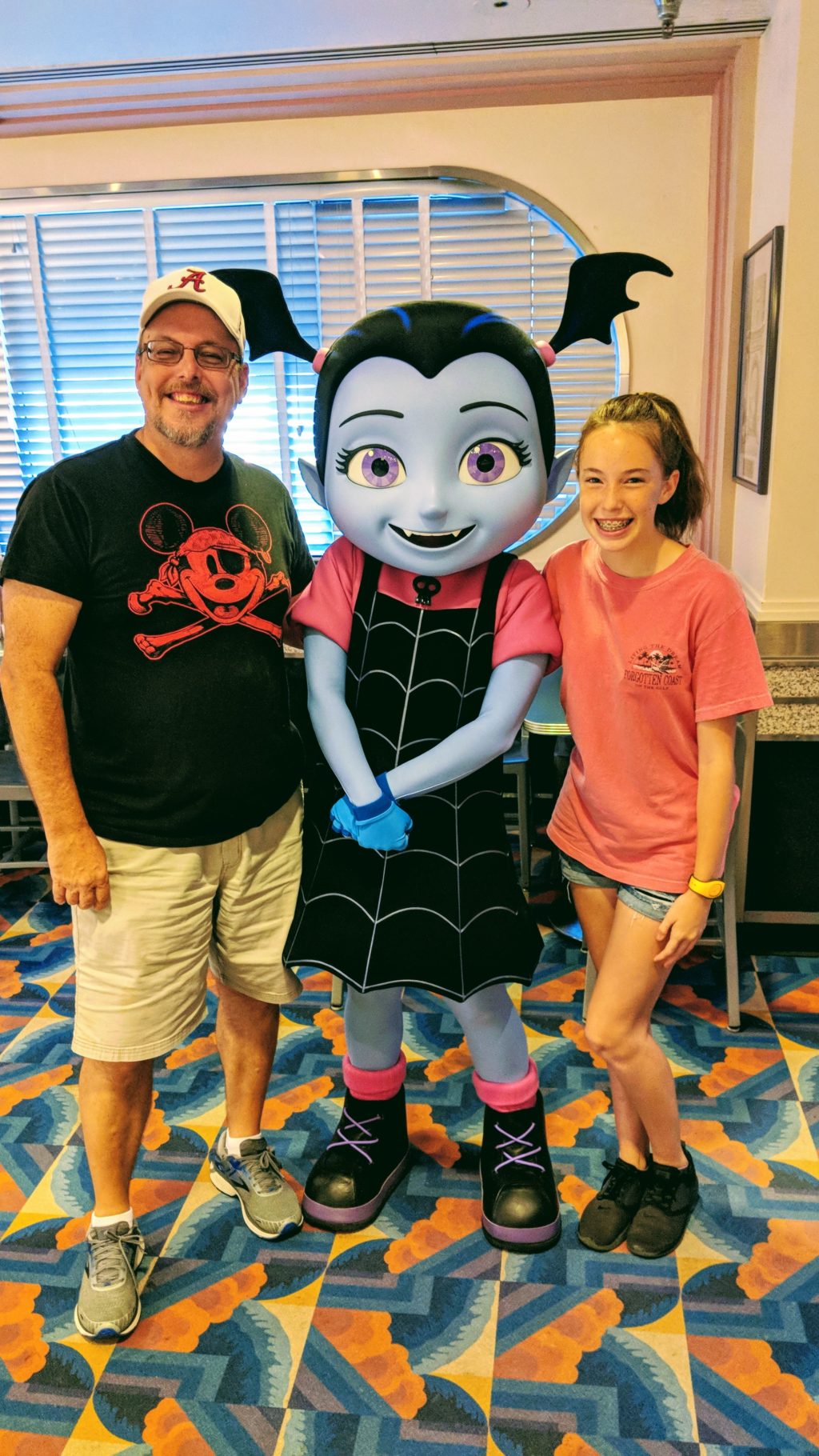 Hollywood and Vine is a table-service restaurant that is located by Echo Lake at Disney's Hollywood Studios. This is a character meal that features Disney Junior characters as breakfast is served. Check out Kenny's review of his experience HERE.
For lunch and dinner, Guests will be greeted by none other than Minnie Mouse, Mickey Mouse, Goofy, and Pluto. Lunch and dinner offers five different themed dining experiences for guests throughout the year.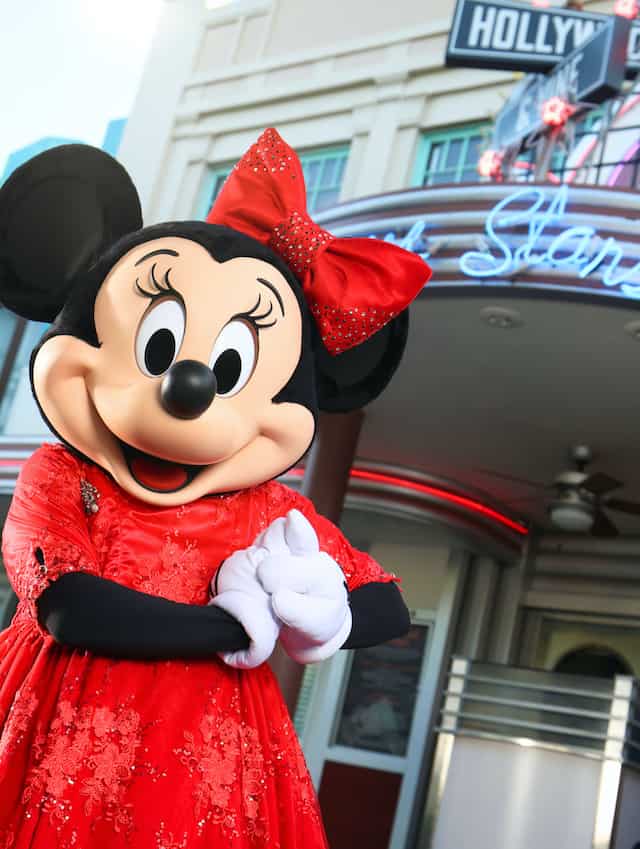 These fun seasonal events include:
Silver Screen Dine: January 5th-March 1st
Join Minnie Mouse for a fabulous dinner party celebrating the glitz and glamour of Hollywood! Check the review for this fun character meal HERE.
Springtime Dine: March 2nd – May 30th
Shake off winter's chill with a divine dinner party that marks the bright and beautiful delights of spring!
Summertime Dine: May 31st-August 9th
Head to Hollywood & Vine for a beach-inspired bash celebrating the sizzle of summer!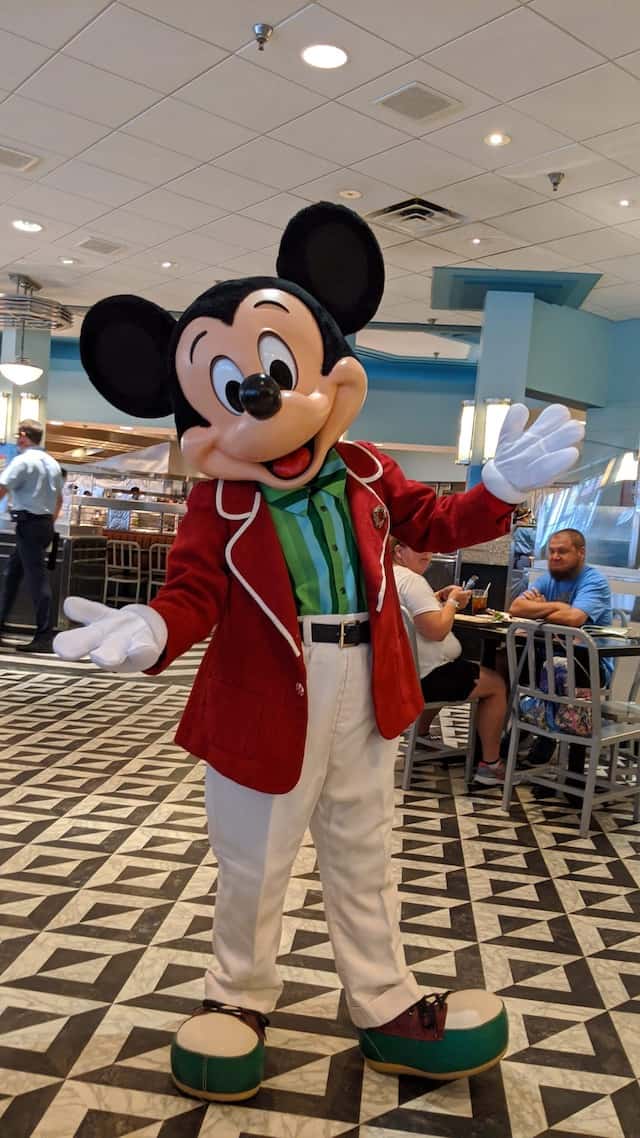 Halloween Dine: August 10th-November 3rd
Visit Minnie's favorite happy haunt for a spooktacular Halloween feast that's frightfully delightful. Be filled with ghoulish delight as you see our favorite Disney pals ready for Halloween HERE.
Throughout the year, Hollywood and Vine offers 5 different seasonal meals for both lunch and dinner.
Minnie's Holiday Dine: November 4th-January 3rd
Deck the halls at a dazzling dinner party filled with holiday cheer and the joy of the season! We have two great reviews both from 2019 and also in 2020 as this character meal was modified.
Character Interactions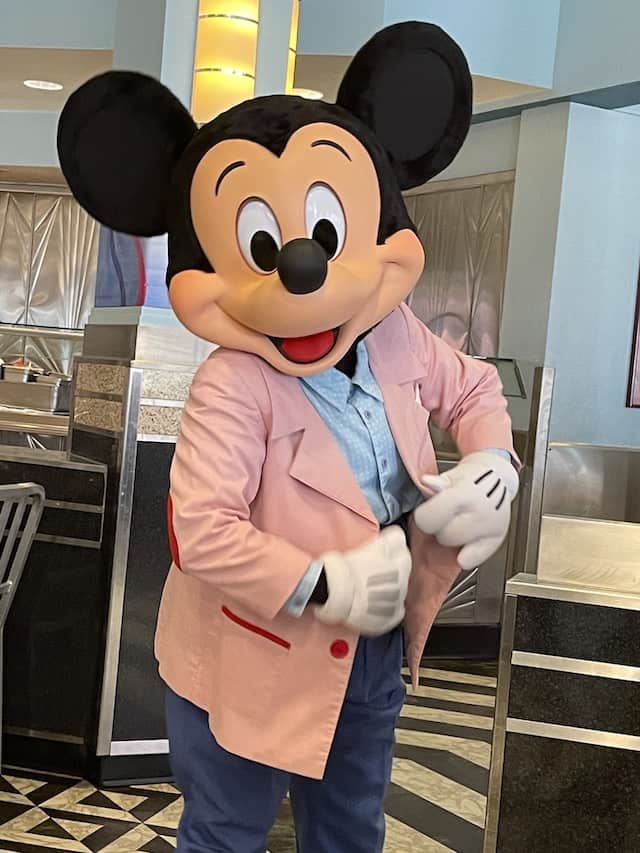 All character meals have now been modified after the reopening of Walt Disney World. I (Donna) absolutely loved character meals prior to the Park closures. This was such a fun way to get character autographs and get amazing photos.
Like so many things, character meals look a bit different. It is good to have an appropriate expectation of what a character meal now looks like. Check out Monica's article detailing the big problem with character meals.
We visited Hollywood and Vine during the Springtime Dine. The characters were so cute in their fun floral outfits and Pluto was in his colorful bandana.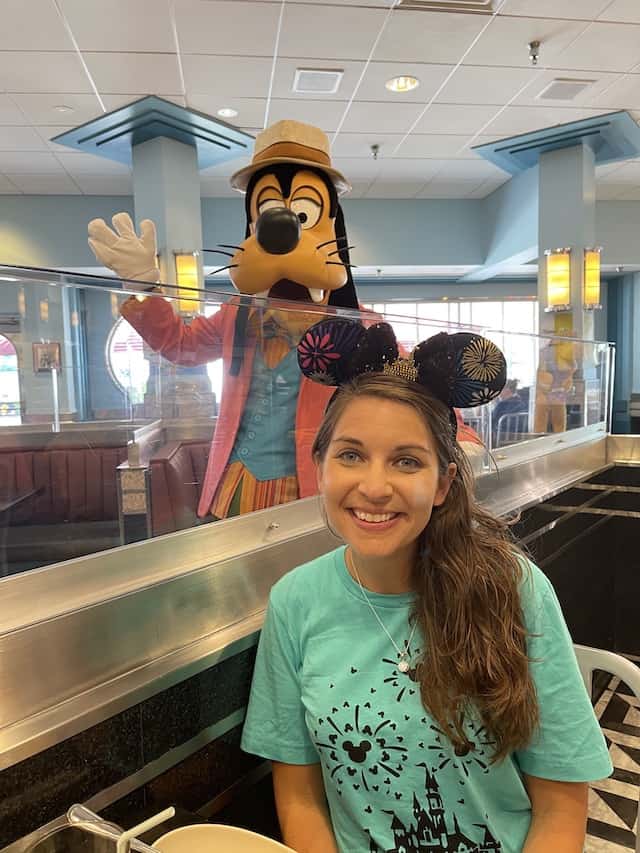 During our meal, we were able to interact with the characters, but because of where we were seated there was a plexiglass divider in a few of our photos. This was not a huge problem for our family, but something that you may want to be mindful of.
It is good to have an appropriate expectation of what a character meal now looks like.
Both Mickey Mouse, Minnie Mouse, and Pluto came on either end of where we were seated and we had great interactions with them both. Goofy stayed on the opposite side of our plexiglass divider so our photos were a bit less magical. We still had a great interaction with him though.
Review of our Meal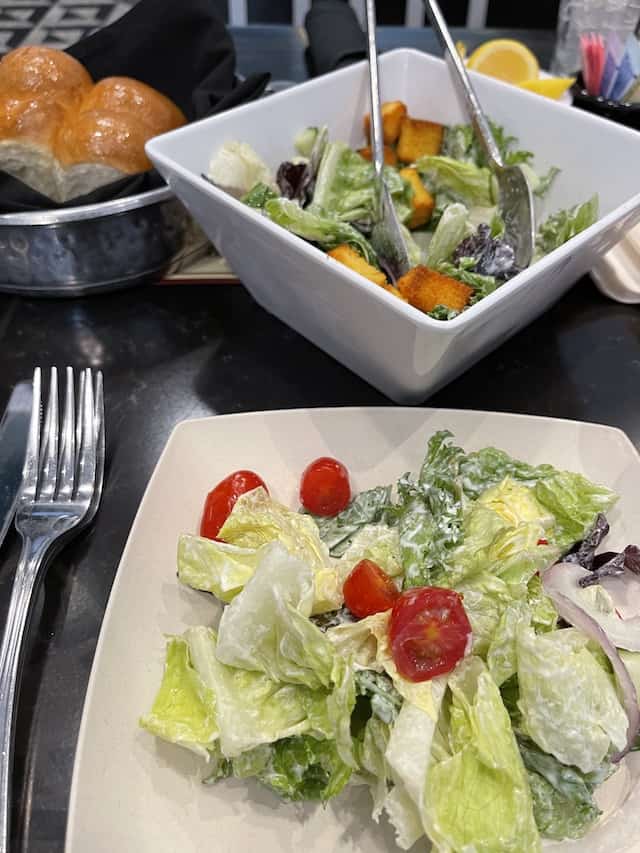 This was our first time dining at Hollywood & Vine. Our initial reason for booking this reservation was to enjoy Mickey Mouse, Minnie Mouse, Pluto, and Goofy during our meal. What we were amazed with was how incredibly good our meal was.
We started with a salad served family style. My husband absolutely loved the croutons on this salad. Our server shared that they were made from cornbread which gives them a sweetness that paired nicely with the salad.
Entrees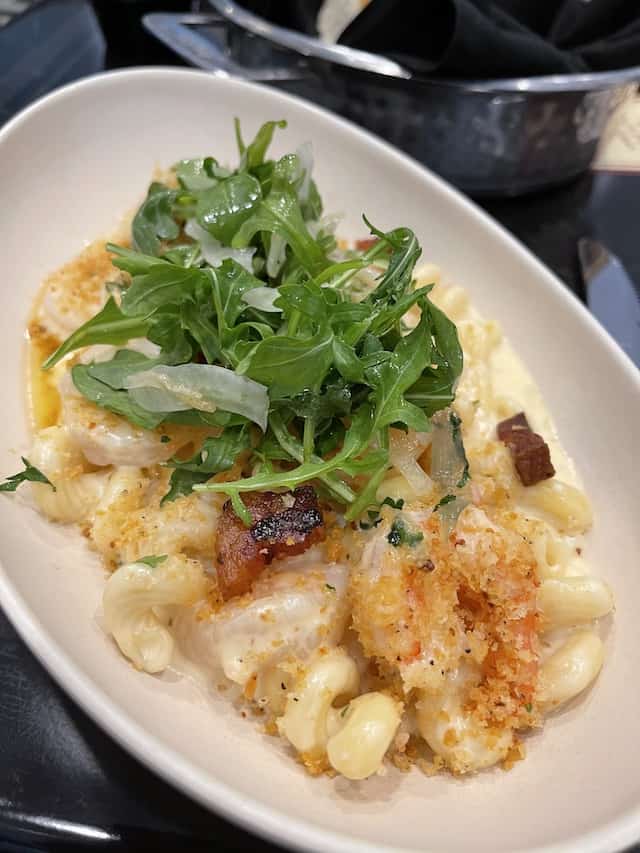 I chose Macaroni & Cheese with Shrimp. Macaroni & Cheese is definitely my comfort food, and this dish was truly delicious. This entree consisted of cavatapi pasta, a four cheese sauce, shrimp, crispy bacon, and topped with a buttered panko crust.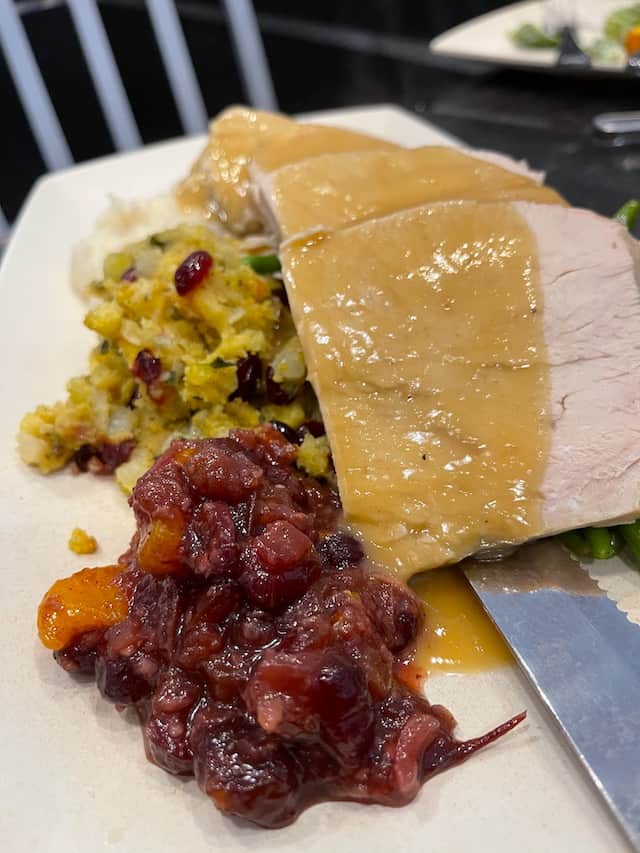 My husband's favorite holiday is Thanksgiving purely for the meal. He selected the Carved Herb-roasted Turkey Breast. This was served with garlic redkskin mashed potatoes, cornbread stuffing, sautéed green beans, turkey gravy and cranberry orange relish.
Since this is his favorite meal, he turns into a food critic when he orders this. He was blown away with how delicious the cut of turkey was. Oftentimes this is dry and bland, but that was not the case with this meal. He thoroughly enjoyed every bite.
Dessert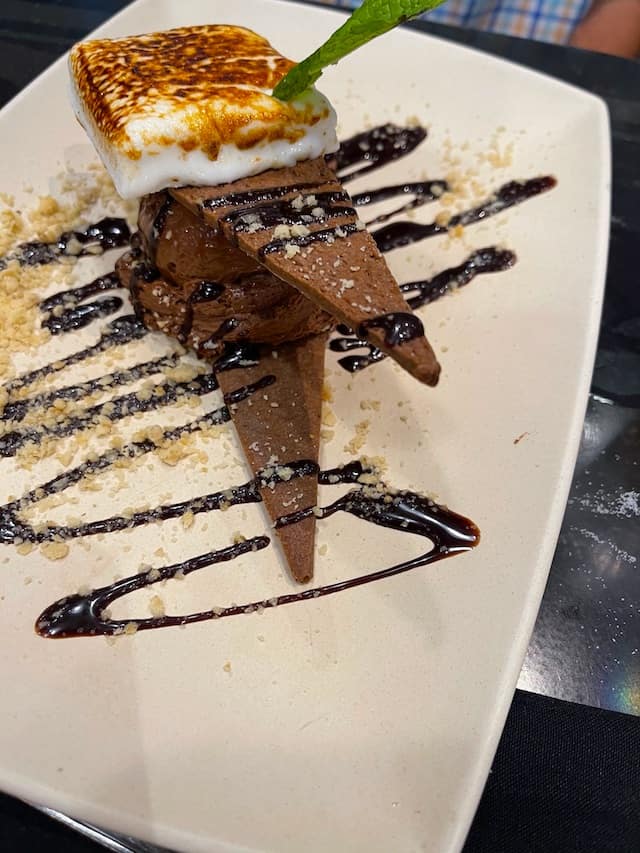 For dessert we were able to select from five dessert choices. I was very intrigued with the Chocolate S'mores Pie. This arrived almost too gorgeous to eat. Well, almost too good to eat. This pie was dark chocolate mousse with toasted marshmallow and graham cracker streusel.
This interesting take on a classic pie was truly unique and quite yummy. The dark chocolate mousse was so yummy by itself, but coupled with the toasted marshmallows this treat was taken to the next level.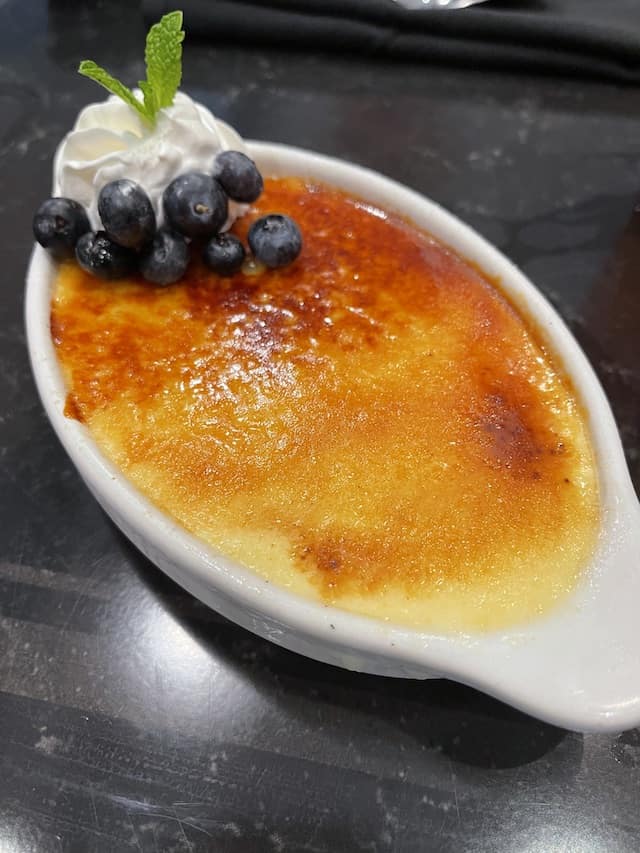 My husband chose the Vanilla Creme Brûlée and we split both this and the Chocolate S'mores Pie. This was our first time trying a creme brûlée, but we quickly fell in love with this rich custard treat with the caramelized sugar crust.
Would we dine here again?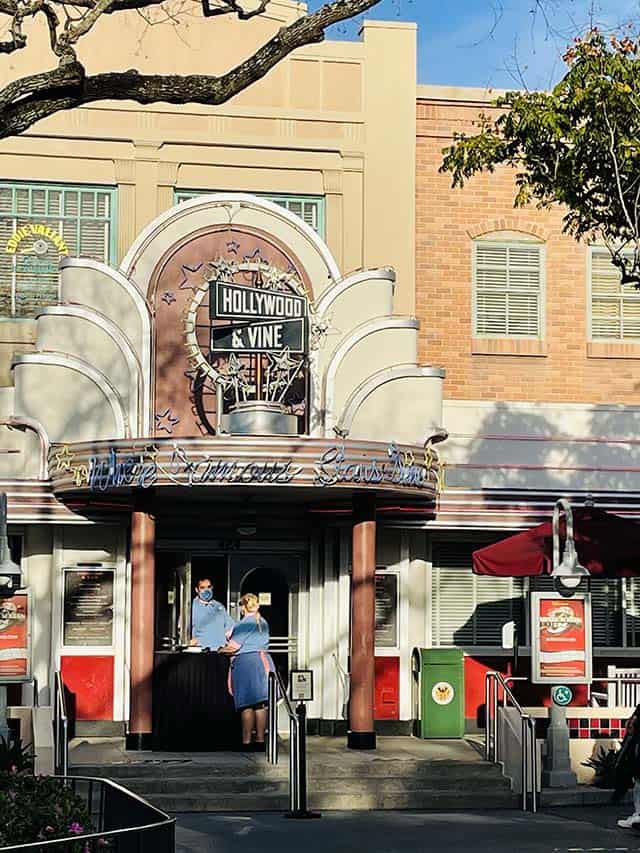 So what will a meal cost at Hollywood and Vine? Currently the price for breakfast, lunch, and dinner are all the same at $35 for children (ages 3-9) and $59.99 for adults (ages 10 and older). This may seem a bit steep for a meal. Is it really worth the price?
Based on character experience alone I do not feel that it is worth this price at least not with the modified character dining. Once interactions can again take place, it would definitely be worth it. I love that you can experience a different dining experience throughout the year.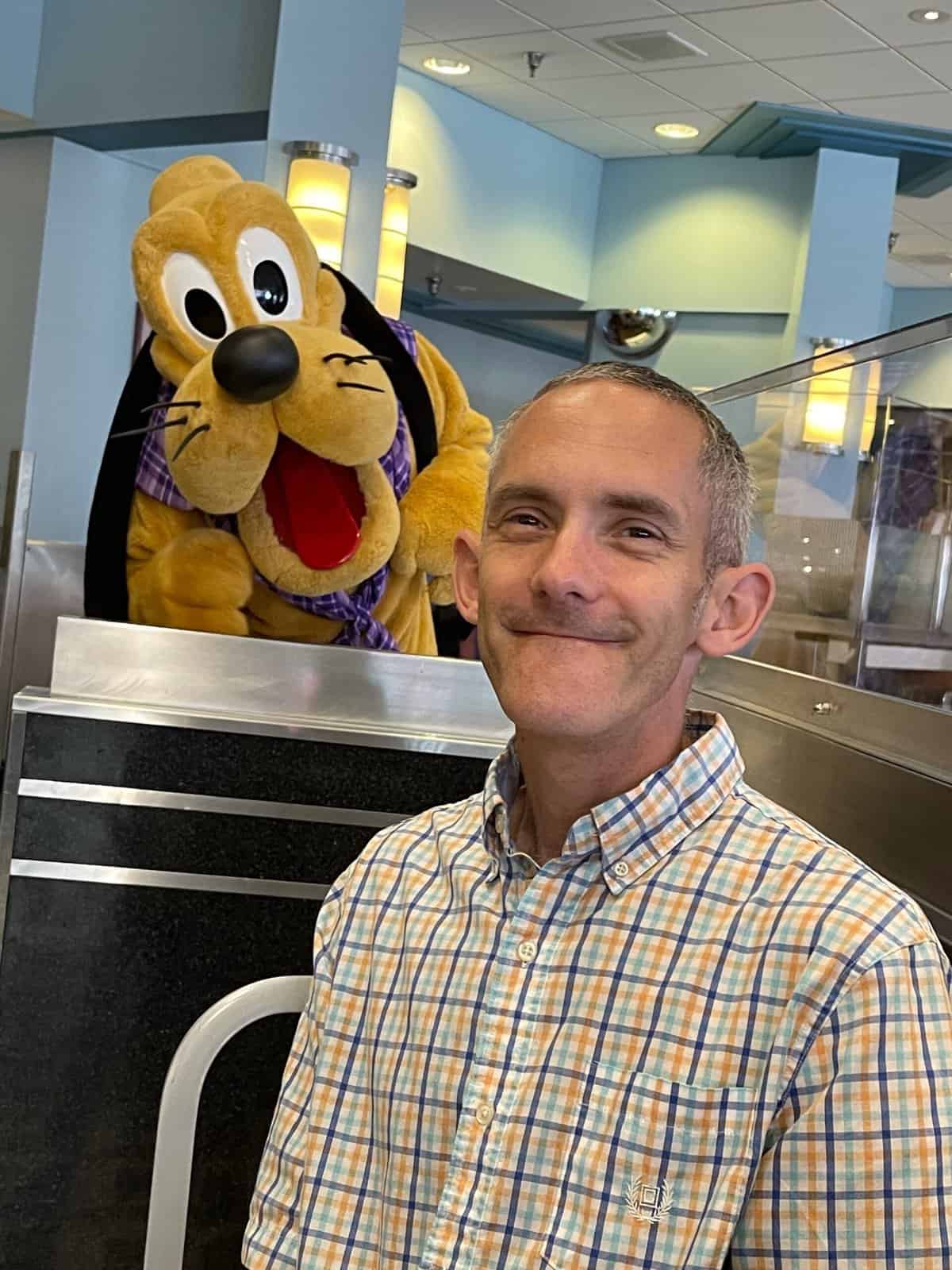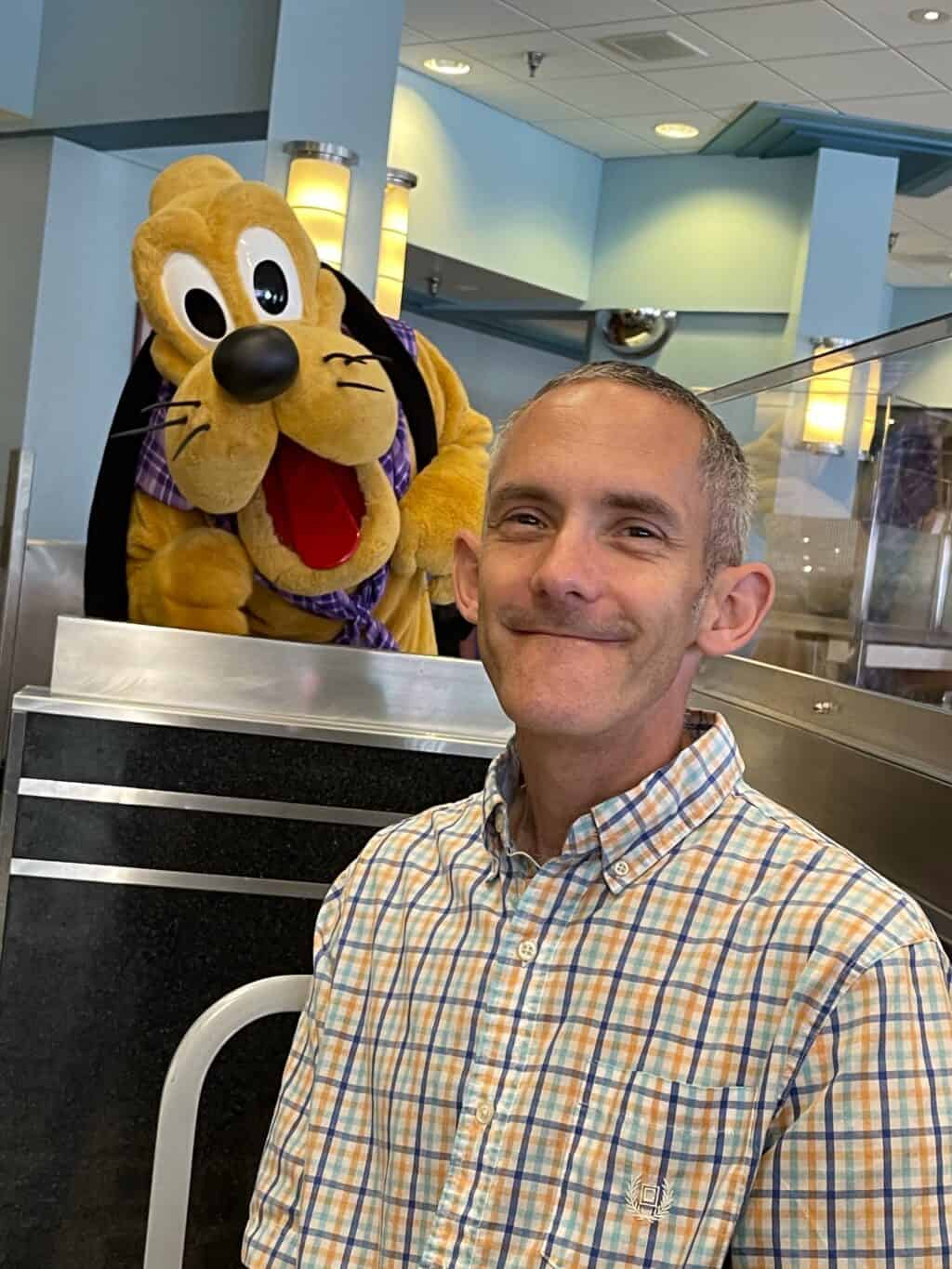 Is the food worth the price? The food was absolutely worth the price in my opinion. I thought we booked this dining reservation to spend time with our favorite pal Mickey Mouse. We were prepared for food to be a similar quality to that of Chef Mickey's which is not stellar in my opinion.
Currently the price for breakfast, lunch, and dinner are all the same at $35 for children (ages 3-9) and $59.99 for adults (ages 10 and older).
The food at Hollywood and Vine was definitely worth the price at this time. I can't wait until more interactions can resume with this character meal, but I would definitely dine here again.
Have you enjoyed a meal at Hollywood and Vine? What is your favorite season to enjoy this fun character dining location? Will you be trying this on an upcoming visit to Disney's Hollywood Studios? Share your thoughts with us on our Facebook Page.