The Magic Kingdom at Disney World is home to many restaurants. From signature dining in Cinderella Castle to funnel cakes at Sleepy Hollow, there are so many options. Pecos Bill Tall Tale Inn & Cafe is one of my favorites, so here are 5 reasons you should eat there on your next trip!
5. Location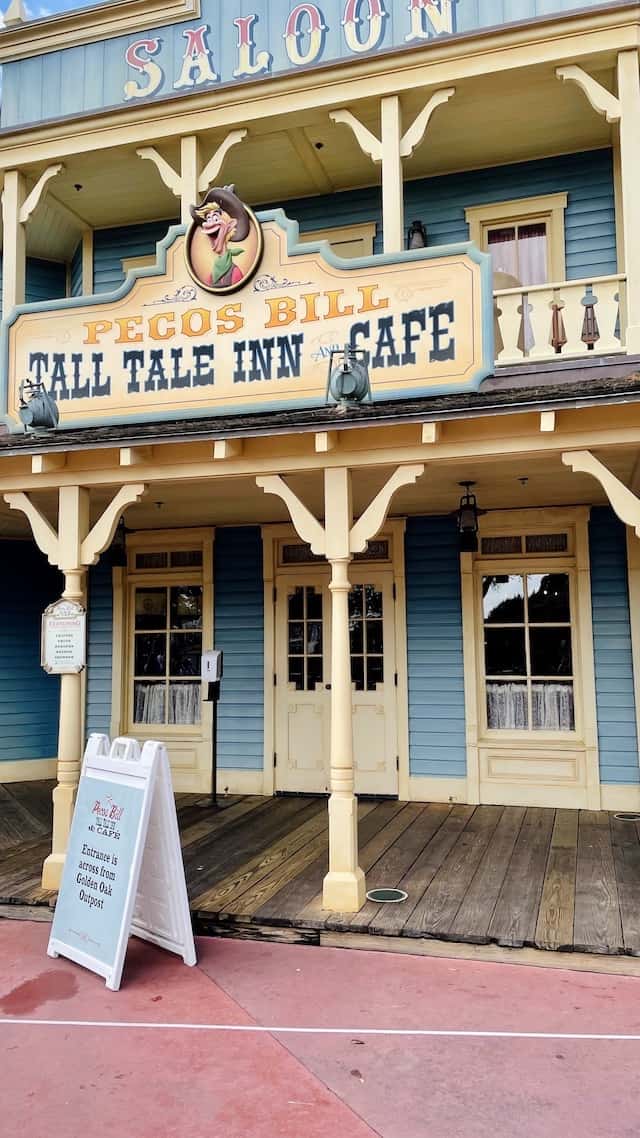 Pecos Bill is located in the heart of Frontierland at the Magic Kingdom. Snuggled in next to Adventureland and Liberty Square, it is the best quick-service location in the whole area.
I really like where Pecos Bill is located because it is really close to two headliners in Magic Kingdom: Big Thunder Mountain and Splash Mountain. I usually work these two rides in mid-morning, and by the time I'm done riding them, I'm ready for a break and some food!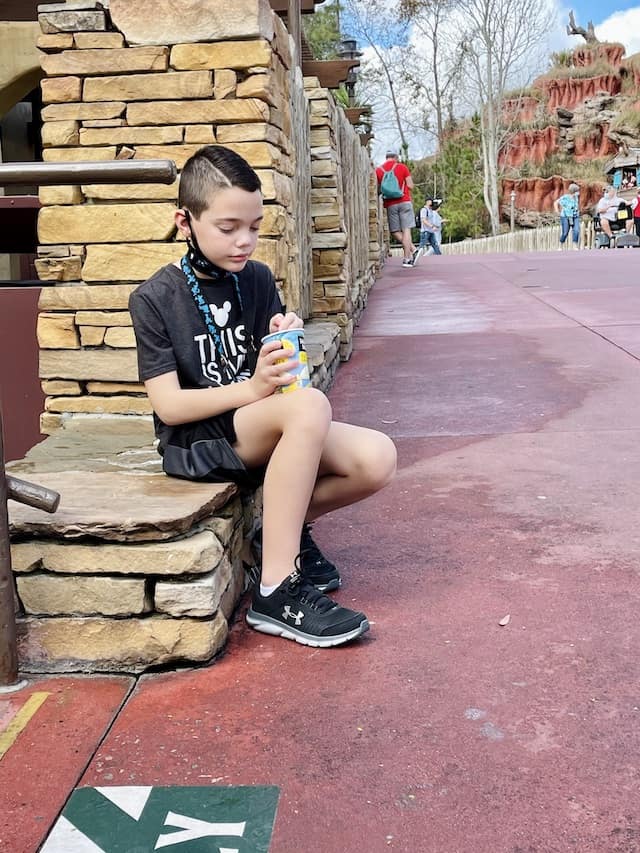 As an added bonus, the cavalcades begin in Frontierland, and Pecos Bill is the perfect spot to sit down and watch a mini parade or two! It's one of my favorite spots to grab a churro or popcorn and take a break.
Pecos Bill offers a convenient location near several attractions making it one of the reasons you should eat there on your next visit to the Magic Kingdom.
4. Theme
Like the rest of Frontierland, Pecos Bill is themed like the Old West and is an old Western saloon. I mean, the name is even Pecos Bill Tall Tale Inn & Cafe, suggesting we are in for a good time here.
The exterior and interior are perfectly themed as well! The exterior has a wooden front porch, blue siding, and cream accents at the main entrance. There is a fake second floor with the word "Saloon" and the year 1878.
Around on the other side of the restaurant is another entrance, which is more reminiscent of adobe-style houses with stone pavement.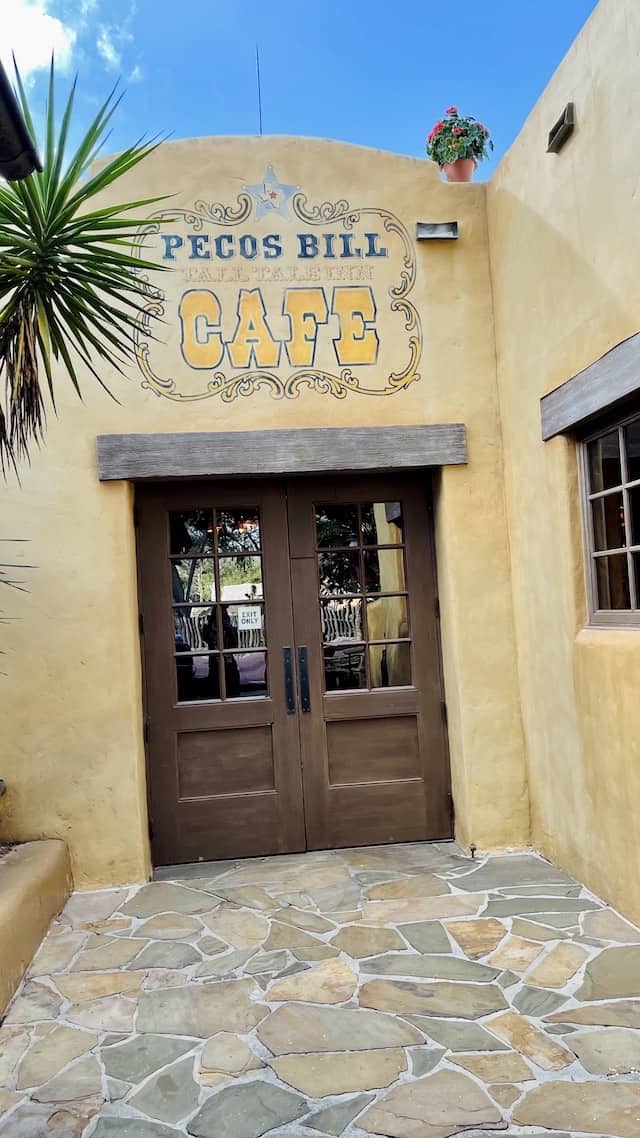 The rest of the exterior has "mis-matched" brick and stone along with wooden poles and crossbeams. There are plants and flowers that are reminiscent of the Southwestern United States.
The Western theme continues inside. It is kind of dark but in a good way because it continues with the feeling of the late 1800s out West with no electricity (although there are chandeliers).
There are more stone and wood accents along with blue can lights, wall lanterns, and mosaics.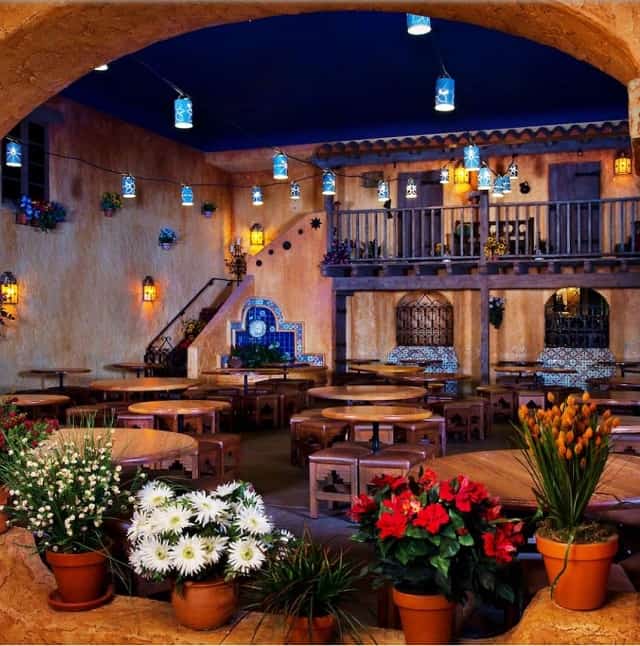 The tables and chairs are made of wood, and there are more plants and flowers. You can even see where that fake second-floor is towards the back of the restaurant.
Overall, I think Pecos Bill fits in very nicely with the rest of Frontierland, and Imagineering did a great job as usual immersing the Guest into the time period and setting of the land.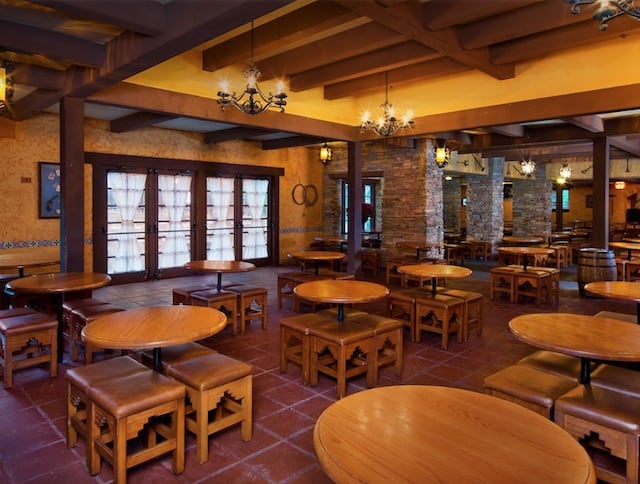 Sometimes it's hard to really appreciate your surroundings and all the details at Disney because it's time to move on to the next ride or head to your dining reservation. I would really encourage you to stop and take in the beauty of the parks next time you go – including Pecos Bill!
3. Seating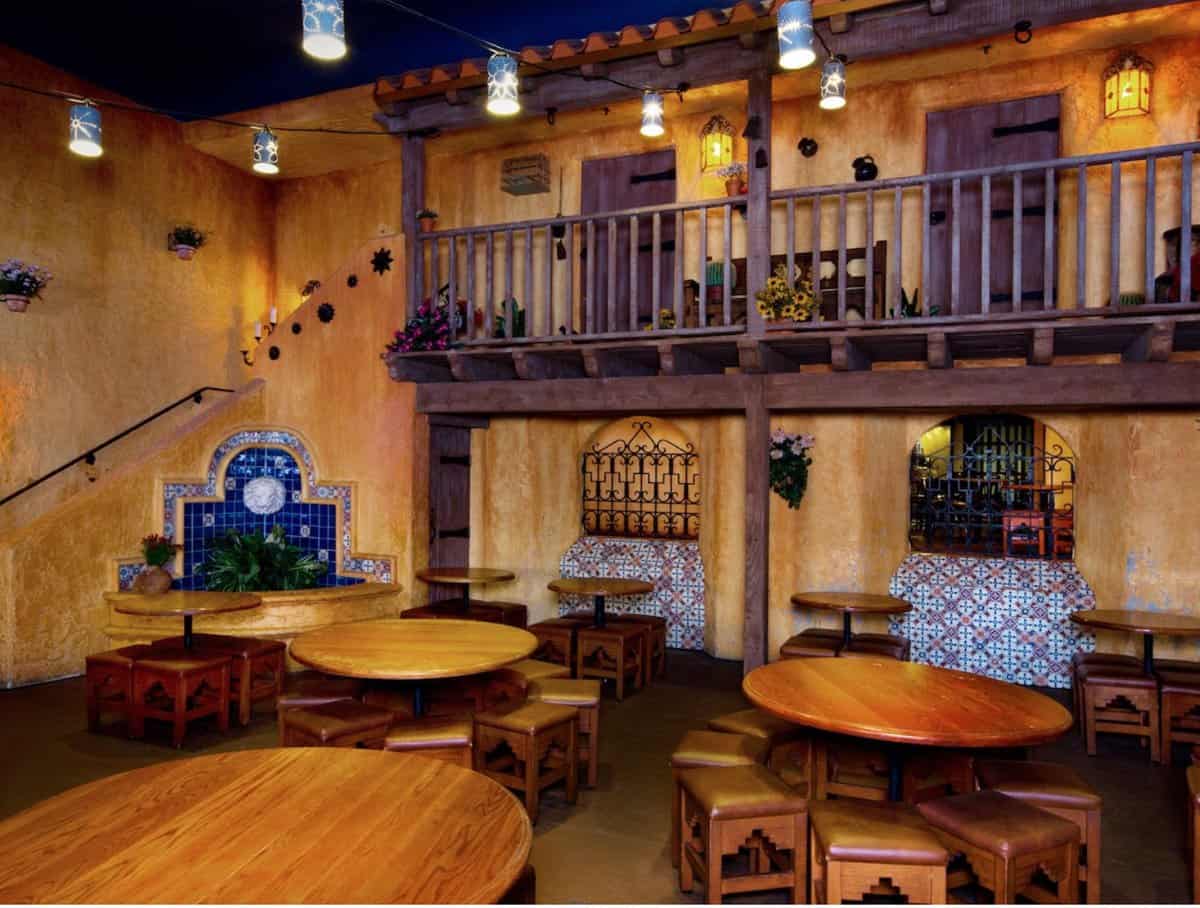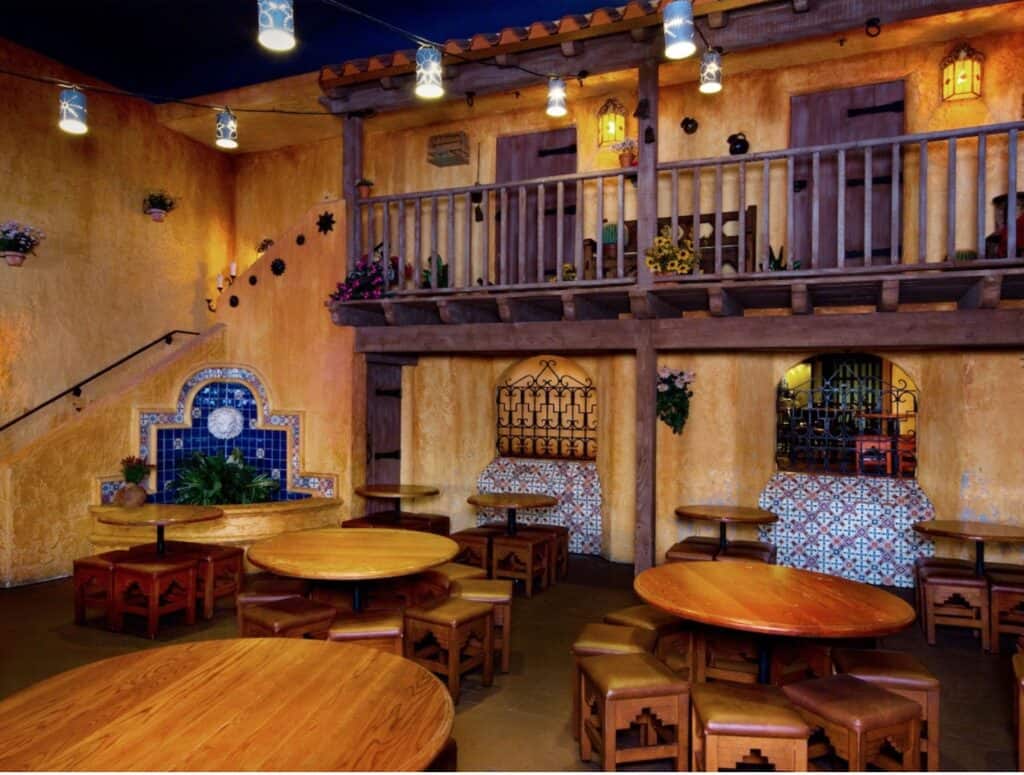 Just like there is an abundance of tall tales from old Western days, there is also a lot of seating at Pecos Bill! Compared to Sleepy Hollow which just has maybe 5 tables, Pecos Bill has countless.
When you first walk into the restaurant via the main entrance, you will find the pick up counters and the topping bar (RIP). As you continue past that area, you will find large seating areas to the left and right.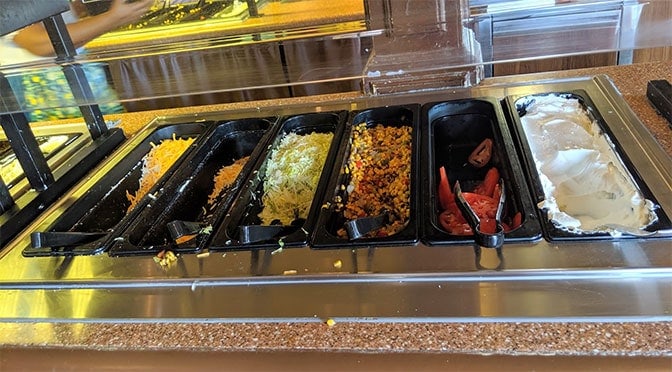 I also need to take a moment to remind you all that these seating areas are indoors.
INDOORS. AIR CONDITIONING.
Yes, many tables are blocked off, and yes, it can be harder to find a spot during the busy lunch and dinner hours, but there is a lot of indoor seating in Pecos Bill. Air conditioned seating at that. Frontierland feels like one of the hottest areas in the park sometimes, and it feels amazing to step in for a meal or just grab a drink of water and rest.
Pirate tip: You can grab free ice water at Pecos Bill! Use the restaurant as an opportunity to hydrate and rest!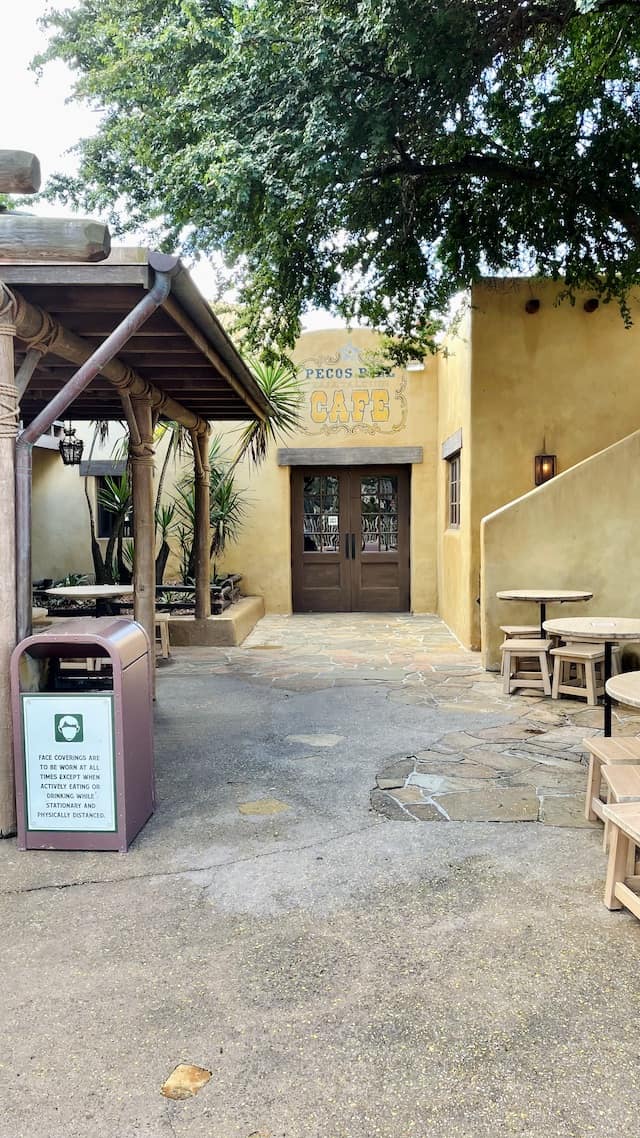 If you want to eat outside (who knows, maybe you are traveling in the dead of winter and the weather is beautiful), there are several outdoor tables as well. This is nice if you are hoping to catch a cavalcade or just take in the atmosphere of Frontierland.
Pecos Bill is one of my favorite places to stop and take a rest in Magic Kingdom.
2. Mobile Order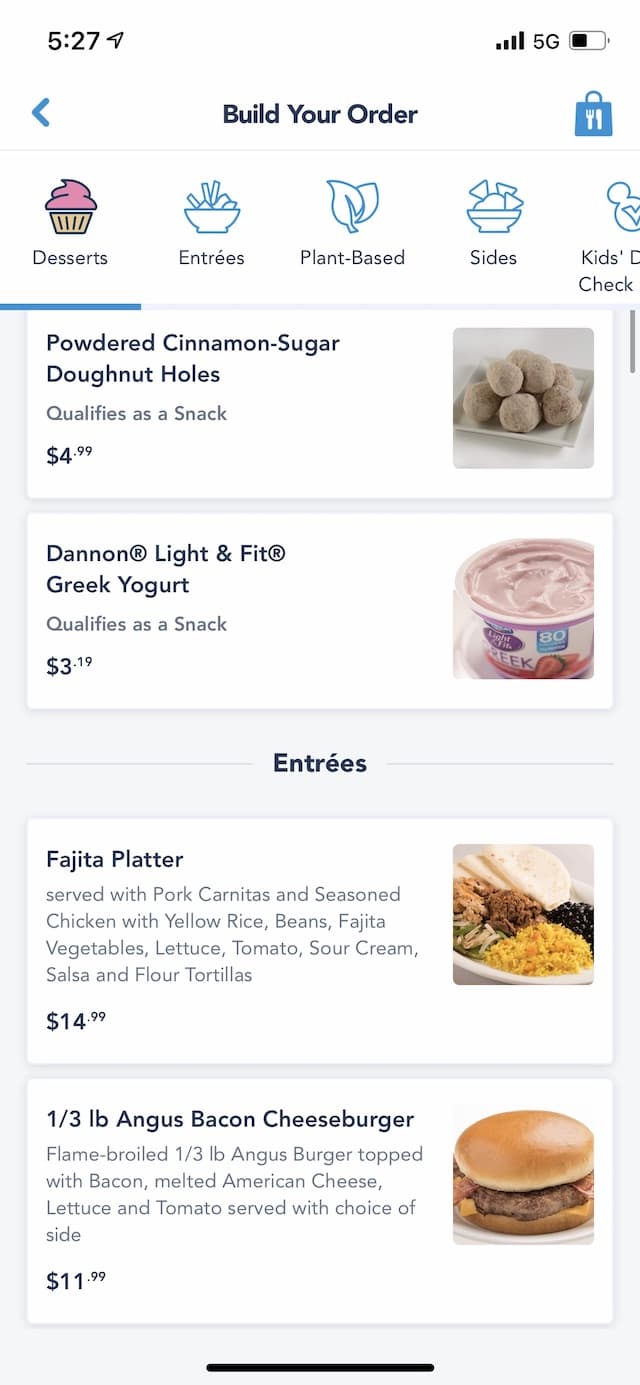 There's a really good chance I choose restaurants based on how easy it is to order and acquire food. One of my favorite reasons to eat at Pecos Bill is the fact that you can mobile order your food there!
As a mom of 4, it can be hard to keep track of what everyone wants to eat. It is insanely easy to use mobile order because as I'm asking them what they want, I can order it at the exact same time.
I can see the full menu, make changes to how I want my food prepared, and edit my order easily if someone changes their mind or wants to add something on.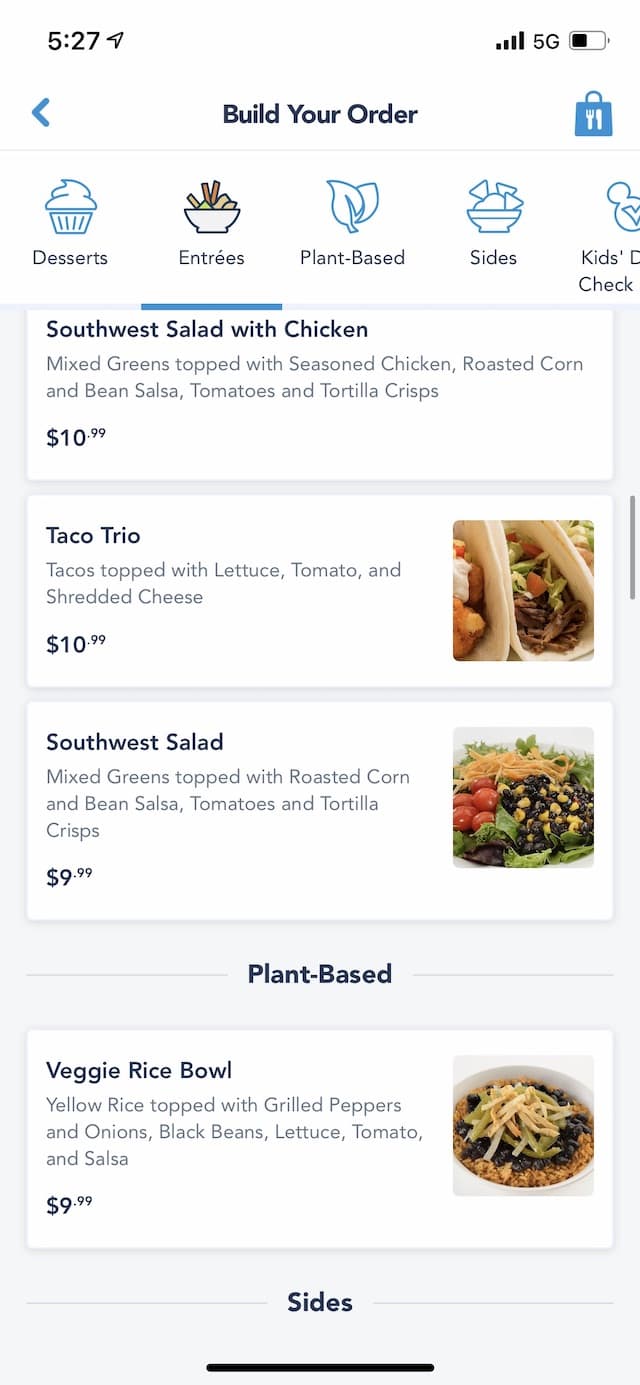 Also, can we just talk about the fact that you don't have to wait in line for your food? You can choose the time you want to pick up your food, order it at the beginning of the day, or wing it and pick it up when it's convenient for you. Any way you order, you still won't have to wait in line. Go shopping in a nearby store or order your food as you wait in line for Big Thunder Mountain. Save time and effort.
I know this is more about mobile ordering than it is about Pecos Bill, but the fact that Pecos Bill has mobile ordering is a major advantage in my book. Not every restaurant offers this, which is all the more reason to visit locations that do use it. For a full how-to on mobile ordering, check out our post HERE.
1. The Menu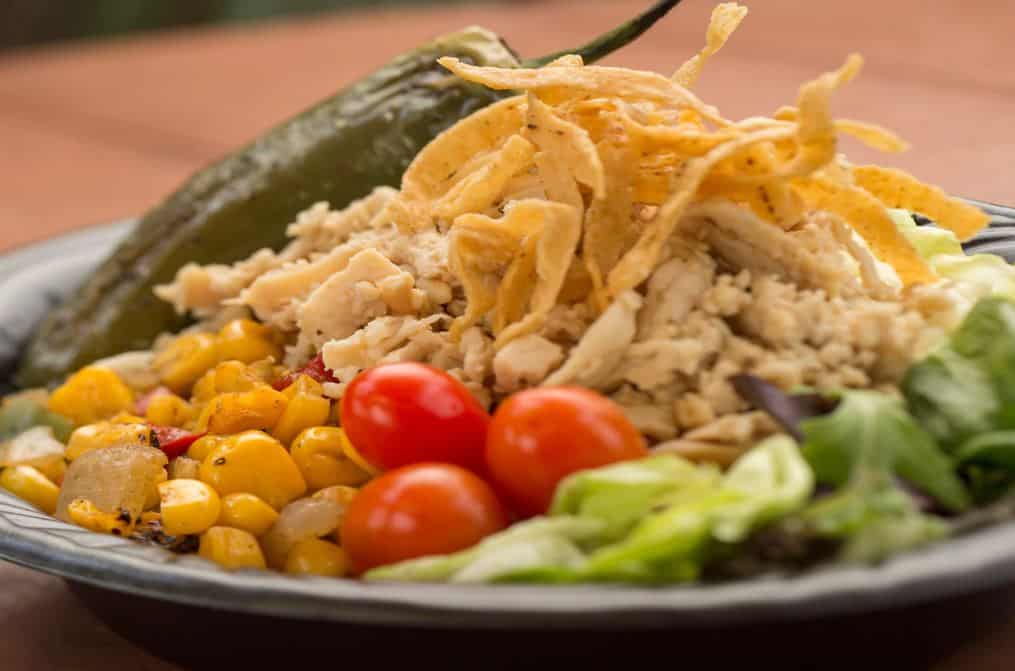 Sleepy Hollow has funnel cakes. Cosmic Ray's has burgers. Pecos Bill has tacos. While this isn't the authentic Mexican food you may find in the World Showcase, this TexMex does hit the spot when you're craving a little more kick.
You can find fajitas (excellent for sharing!), rice bowls, Southwest salads, tacos, and nachos. If you have a picky eater or someone in your party craving more traditional American food, you can also order burgers and corn dog nuggets.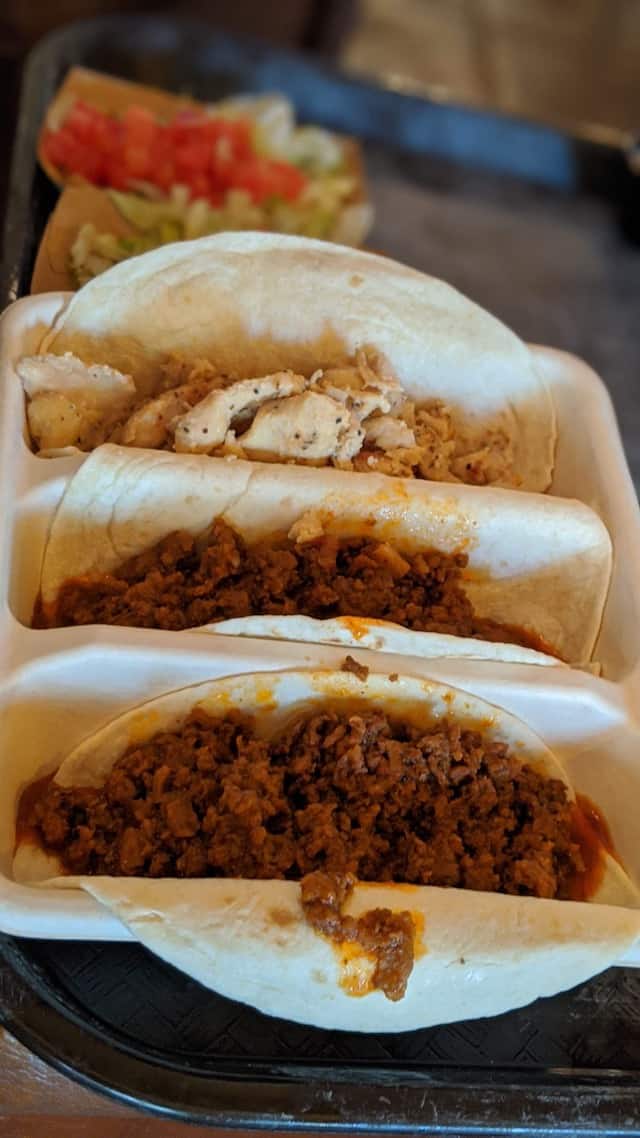 On the kids menu, you can order carnitas or chicken rice bowls, cheeseburgers, Mac n cheese, and the ever-reliable Uncrustables.
Let us not forget about churros with chocolate dipping sauce and the powdered cinnamon-sugar doughnut holes. These are perfect to add on to your dinner or just to grab as a snack. Check out these seasonal desserts I got from Pecos Bill for the 2020 Christmas holiday season: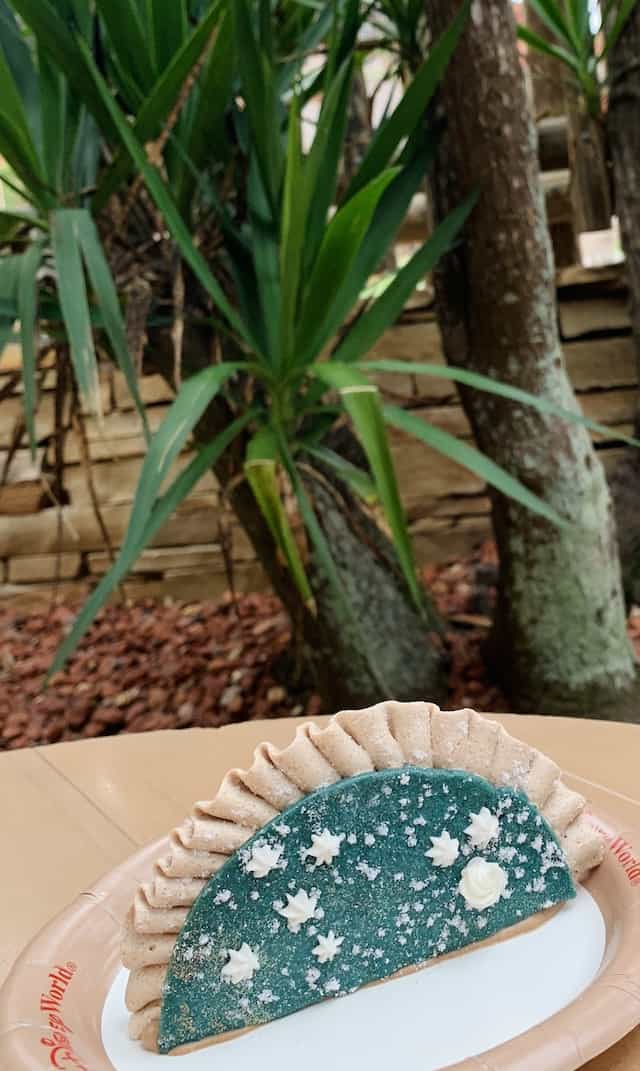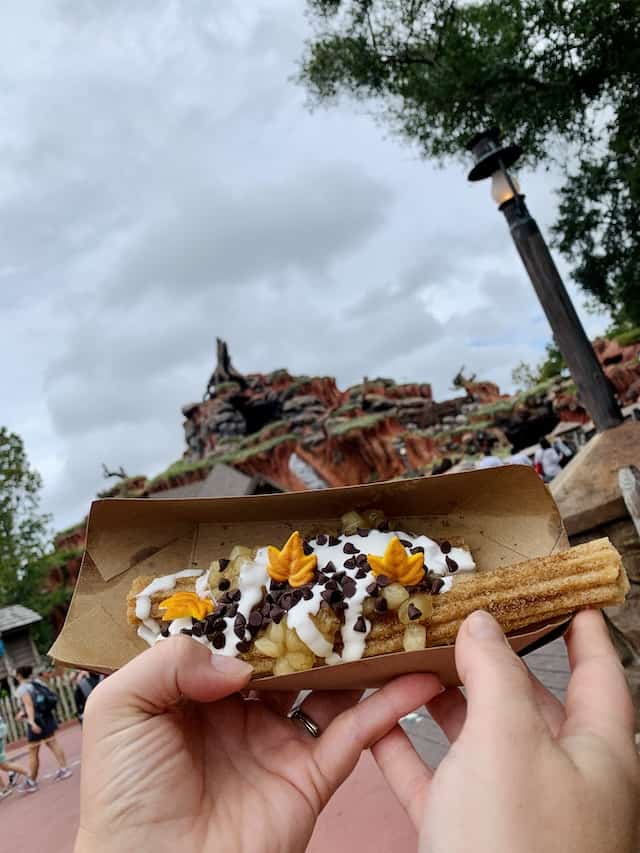 Be sure to add Pecos Bill to your list if you are going during a holiday and want a seasonal treat!
There is also an extensive allergy menu for those with specific dietary needs. Be sure to check out Character Locator for the full menu!
Great location, plenty of seating in the air conditioning, and decent food. Pecos Bill is a great option for your day in the Magic Kingdom. What's your favorite thing to order? Will you be trying this on your next trip after reading this? Let us know in the comments or on Facebook.