Casey's Corner is a beloved restaurant right on Main Street, USA in Disney's Magic Kingdom. This restaurant is so much more than just a hot dog stand. Why do you love Casey's Corner?
Casey's Corner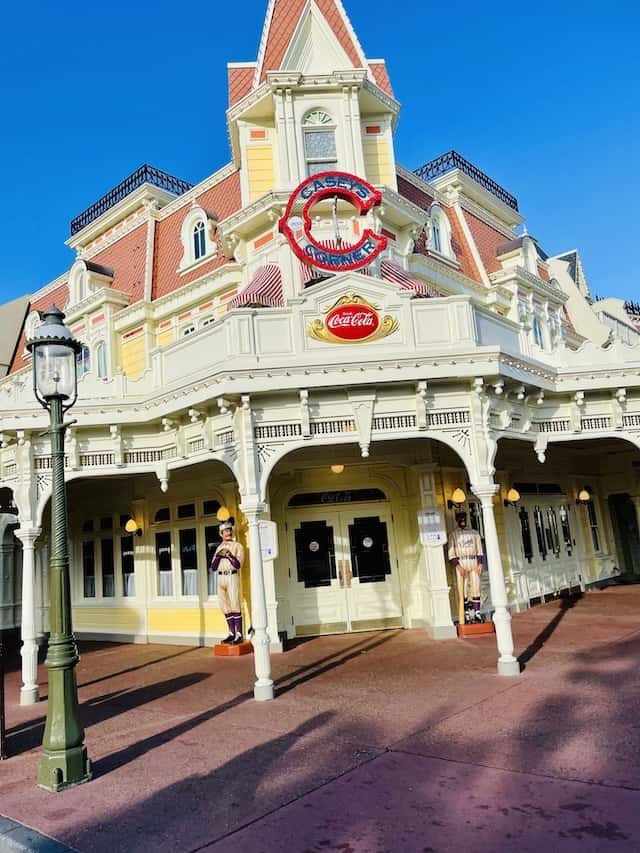 If you're not familiar with Casey's Corner, you'll definitely want to take note! This fan favorite restaurant is located in Magic Kingdom, and there is so much to love about it!
Casey's Corner is located right on Main Street, USA in Magic Kingdom. You'll find it right at the northwest corner, right before you reach the Cinderella Castle hub area. This old fashioned restaurant pays homage to the American national pastime: baseball!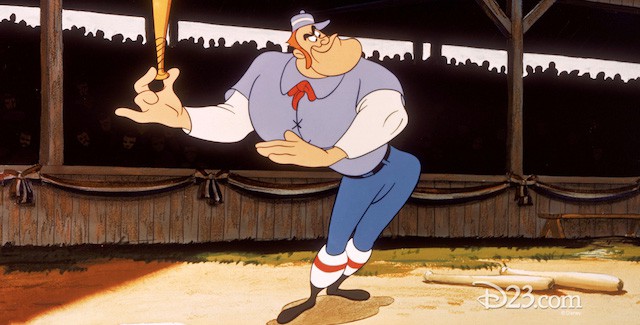 Casey's opened in Magic Kingdom on May 27, 1995. Featuring both an indoor and outdoor dining area, there is something for everyone at Casey's! This quick service restaurant is themed after Casey, the main character in a 1888 Ernest Thayer poem. The poem was later adapted in the 1940's into the Walt Disney animated feature Casey at the Bat.
The poem and the film tell the story of an exciting baseball game in "Mudville" in which Casey, a strong player, strikes out and loses the game. The restaurant is a tribute to Casey and baseball in general!
Casey's Atmosphere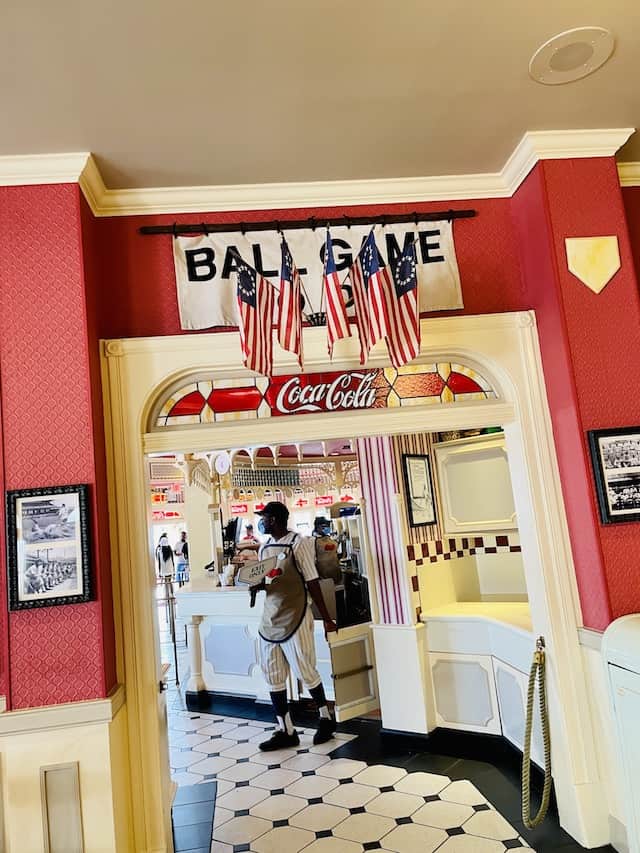 Stepping into Casey's is like stepping into a baseball stadium, and baseball fans will find themselves with an instant burst of nostalgia. Teaming up with Coca Cola, you'll find tons of vintage Coca Cola memorabilia right alongside the baseball theming.
Looking around, you'll see baseball caps, hanging baseball team pennants, and vintage baseball photographs covering the walls. Visiting here is a must if you love baseball!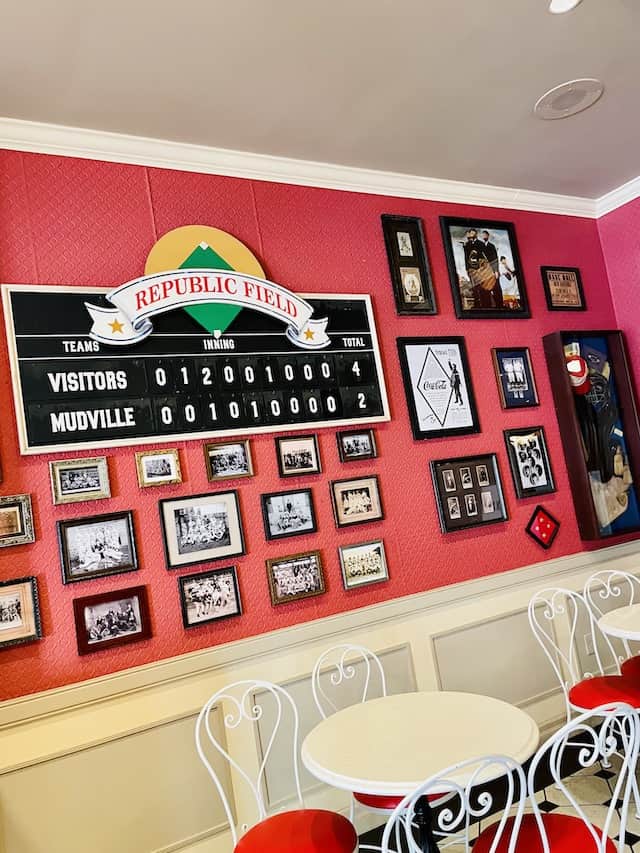 Check out the tribute to the original poem and film in the photograph above! The scoreboard features a Mudville game being played! Uh oh, Mudville is down by 2!

Cast Members are dressed in pinstripe baseball uniforms, completing the baseball theme!
There are a few different options for seating in Casey's Corner. It the heat of the day, we love that Casey's has an indoor (read: air conditioned!) seating area. Seating is limited in here, so you may find yourself standing around for a little while waiting for a seat to open up.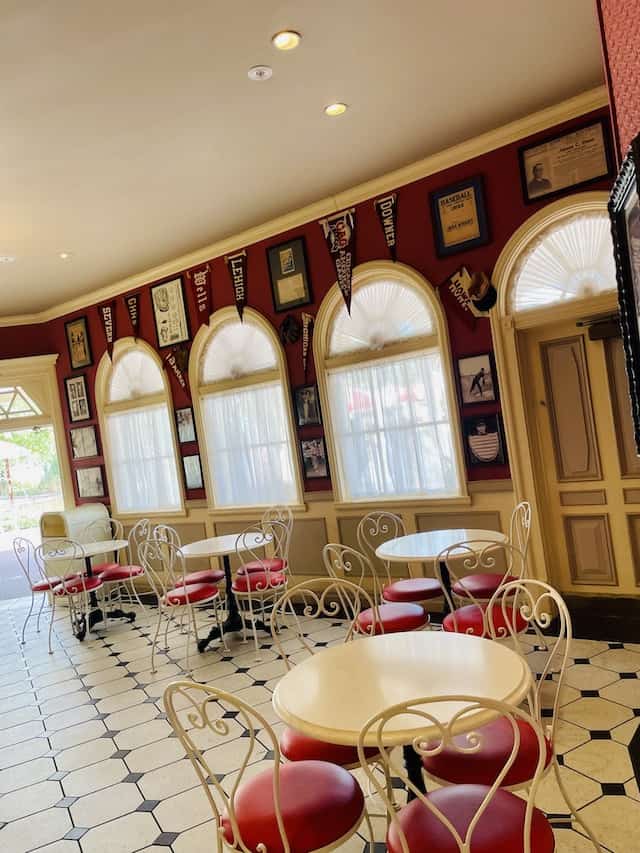 There is also an outdoor seating area right outside of Casey's Corner. This large area offers tables with umbrellas for shade and is a great place to take in the atmosphere of Main Street, USA while you take a much needed break from your busy day. With great views of Cinderella Castle, passing character cavalcades and parade, and people watching, you can easily spend a few hours relaxing here!
Fun at Casey's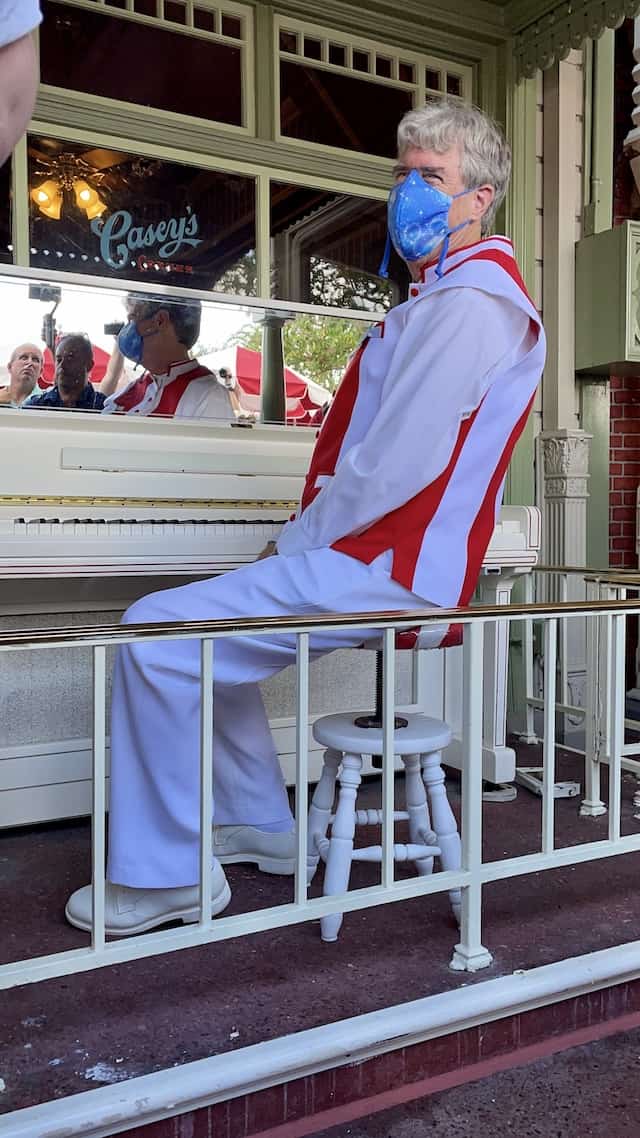 Casey's Corner is so much more than a hot dog stand! The restaurant is known for several fun traditions that Guests at Magic Kingdom have been enjoying for years!
Just outside the restaurant, you'll find a rag-time piano player several times a day. Check out Randy Morris, Casey's original Pianist, who returned for Disney World's 50th anniversary to play once again.
Another fun Casey's tradition takes place each morning as the restaurant opens. Keeping with baseball tradition, Cast Members choose a Guest or two to throw out the first pitch and officially open the restaurant! The chosen Guest usually gets a fun treat for their efforts.
Cast Members will also sing "Take Me Out to the Ballgame," encouraging Guests to join in the fun!
Fans of Casey's have been known to just come and sit outside (under the umbrellas for shade of course) to watch the piano player and interact with the Cast Members.
Not just your average hot dog!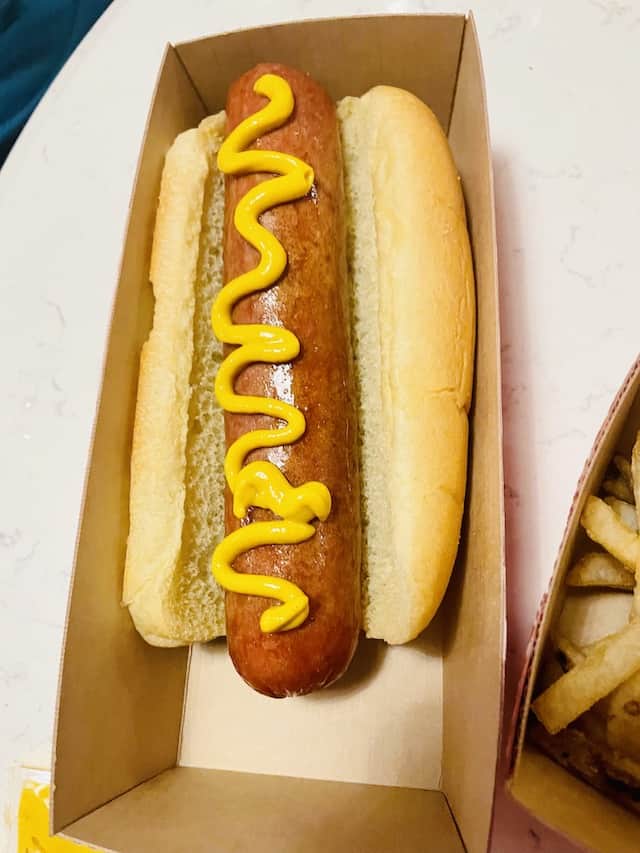 The food at Casey's is about what you'd expect from a hot dog stand, but that doesn't mean it should be overlooked! You really can't go wrong with an All American hot dog!
Guests love to dine on Casey's for lunch, but it is hugely popular around fireworks time. Because of Casey's Main Street Location, many Guests enjoy Casey's while they wait for Disney Enchantment.
If you're hoping for Casey's for dinner while waiting for Disney Enchantment, we recommend you choose your time and submit your mobile order earlier in the day. Because it is such a popular choice, the times will fill up quickly and you may miss out otherwise!
Of course you can get your typical foot long hot dog (or the smaller version) and fries, but Casey's offers a few other delicious options!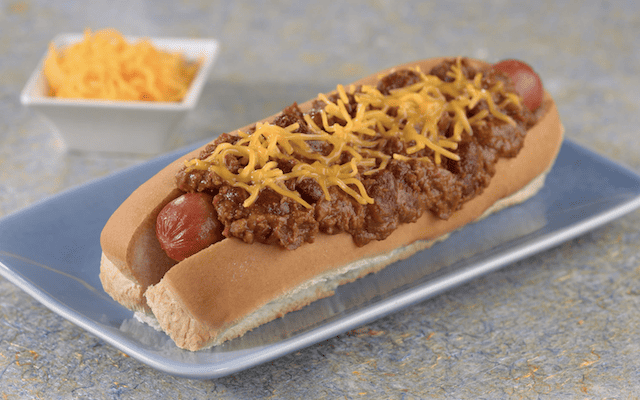 Casey's menu offers Walt's Chili-Cheese All Beef Foot Long Hot dog, which is served with Walt Disney's favorite chili recipe and cheese. This is also offered in a smaller version if you aren't up for the foot long!
There is also a fun 50th Celebration hot dog for more adventurous eaters. This fun treat is described as an "all beef hot dog topped with strawberry-bacon jam, crisp funnel cake pieces, and powdered sugar."
Of course if you're more of a corn dog fan, Casey's doesn't disappoint! Fans of Casey's love the Corn Dog Nuggets, which are small little hot dogs covered in corn bread. They are a treat!
Casey's even offers plant-based hot dogs for those who would prefer them. In the mood for a cup of chili or chili fries? Casey's has you covered! You can get a side of either as well.
Step up to the plate at Casey's!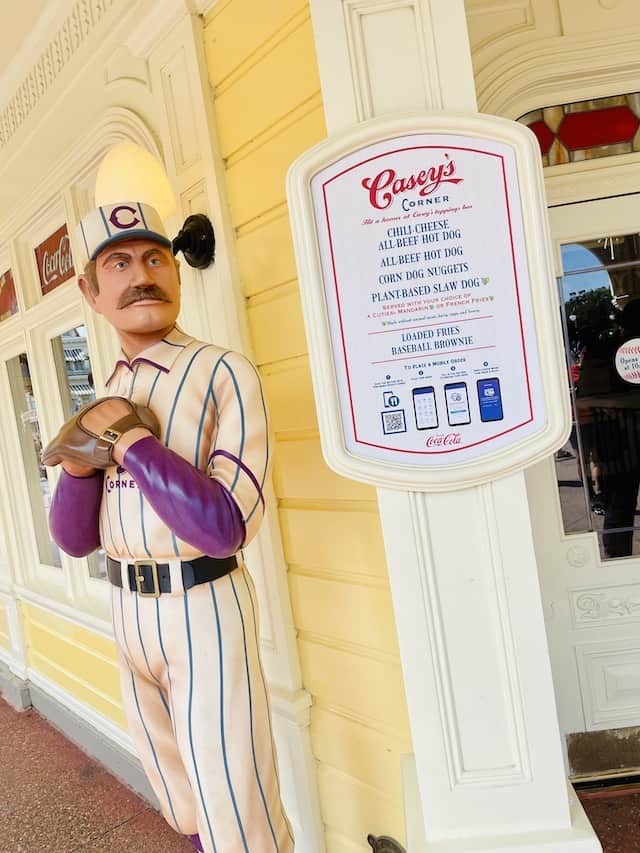 You'll definitely want to head over to Casey's Corner on your next visit to Magic Kingdom if you're a baseball fan, a hot dog fan, or if you're looking for an easy meal that will please the whole family!
Why do you love Casey's Corner? Let us know in the comments below, or tell us on Facebook.