If you're a huge fan of Happily Ever After, you may be wary of Magic Kingdom's newest nighttime spectacular, Disney Enchantment. Or, you may be ready for something new and exciting to hit Disney World! In either case, how do these shows compare? Are they even really comparable?
Happily Ever After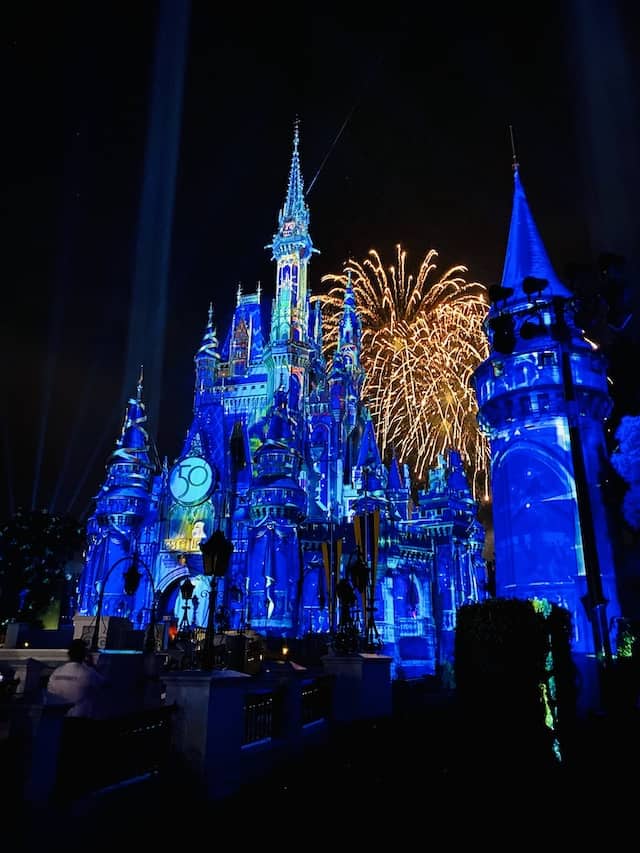 Magic Kingdom's Happily Ever After fireworks show was an 18 minute, spectacular journey through Disney's most beloved films. This show used projection mapping, lights, fireworks, and music to tell the story of heroes, love, and friendship from so many of the Disney movies we know and love.
The show originally debuted on May 12, 2017. At the time, it featured the most technologically advanced projection mapping display in Disney Parks history. Recently, we saw the last run of this spectacular show, as it closed in advance of Disney's 50th anniversary celebration.
The biggest downside to this show was that it really needed to be viewed from the Hub for the optimal viewing experience. In order to see the Castle projections, you had to be on Main Street, and you needed to be fairly close to see them in any detail.
Happily Ever After was a spectacular show that was so meaningful to so many people. I know I miss it already!
Disney Enchantment
Magic Kingdom's newest nighttime spectacular, Disney Enchantment, debuted October 1, 2021: the 50th anniversary of Walt Disney World.
Disney Parks Blog shares, "In 'Disney Enchantment', you're inspired to believe in magic, with captivating Disney music, enhanced lighting, and immersive projection effects that extend- for the first time- from Cinderella Castle down Main Street, USA."
"The evening extravaganza features stunning fireworks as well as an emotional original song, entitled 'You Are the Magic,' by eight-time GRAMMY- winner and former Walt Disney World Cast Member, Philip Lawrence."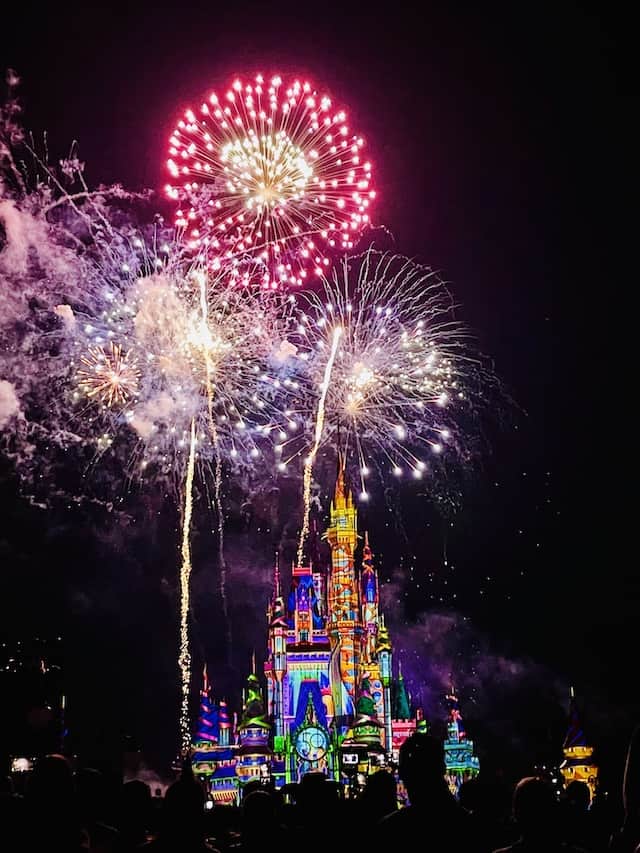 "This one-of-a-kind show features characters, moments and music from dozens of Disney and Pixar animated films. It takes you beyond the ordinary to a land of magic, where we're swept up in a world of wonder filled with friendship, love and fun. Through it all we'll discover we only have to look within to find the power to believe and make dreams come true, because the magic was inside us all along!"
With this show Disney has attempted to disperse the crowds more by using all of Main Street to display the projections. The show can be viewed from all of Main Street, which may help with the crowding issues Disney had with Happily Ever After.
Which nighttime show has the edge?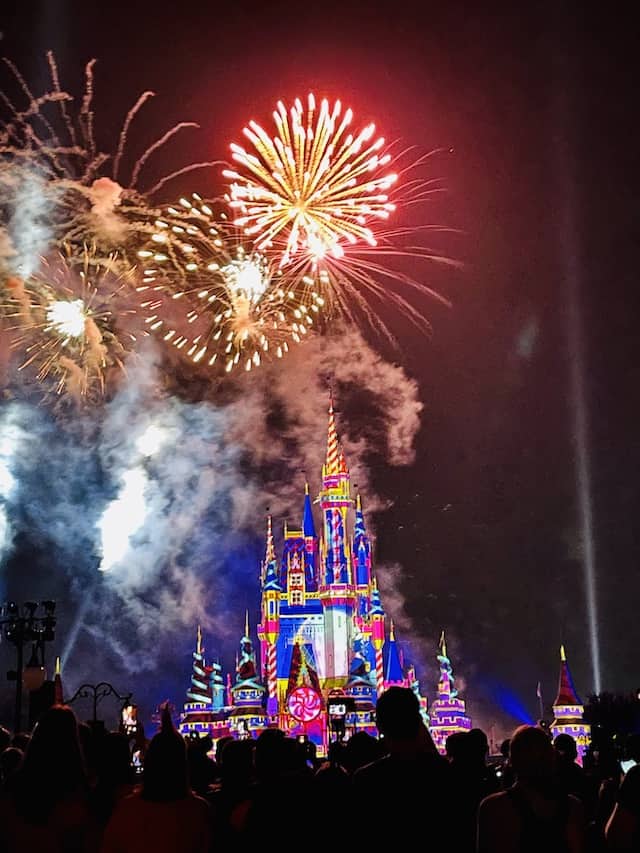 Whenever Disney makes a big change (like removing a beloved fireworks show!) many fans have a lot of feelings. So many were not ready for a change considering Happily Ever After was a relatively new show. Additionally, it was closed for a year and a half of its four year run due to the pandemic.
However, in the spirit of Walt's vision, many Disney fans are ready and willing to embrace change. Remember, Walt said over and over again that the Parks would never really be finished and would keep evolving.
I want to stress that I don't believe you should watch Disney Enchantment with expectations that it is anything like Happily Ever After. Doing so will only cause you to be disappointed!
These two shows have some similarities, but are unique and special in their own ways. The shows are very different and really can not be compared. That being said, let's have a look at the two shows.
Fireworks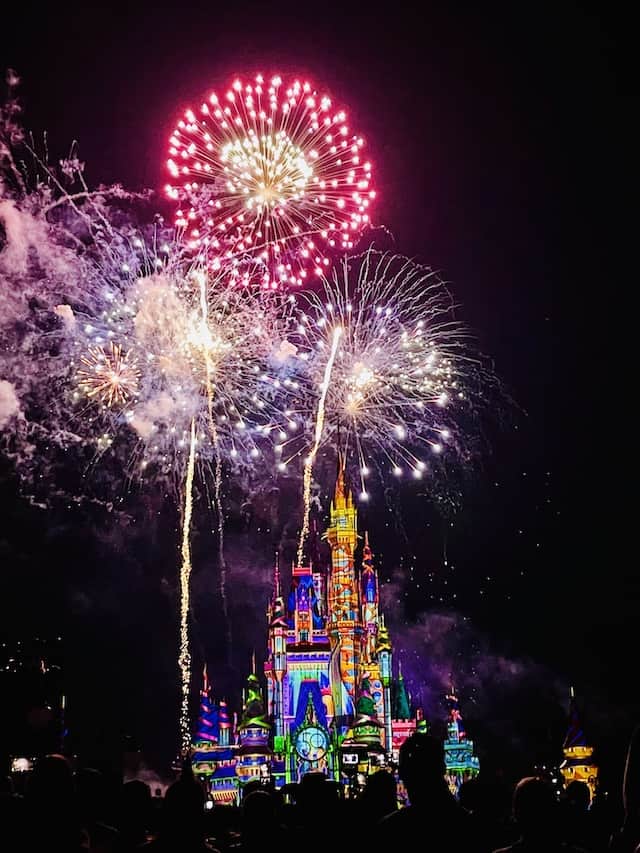 While Happily Ever After was an outstanding show, it wasn't known for having particularly amazing fireworks. Don't get me wrong, they were fantastic, but most people were blown away by the projections on Cinderella Castle. The fireworks were a "plus" that just added to the show.
Disney Enchantment definitely puts on a spectacular fireworks show. While Happily Ever After begins with narration and song, Disney Enchantment hits you with fireworks right away, and they just keep coming!
The fireworks in Disney Enchantment are very visually stunning and magnificent. If you're a fireworks fan, you'll definitely love Disney Enchantment.
Better Fireworks: Disney Enchantment
Projections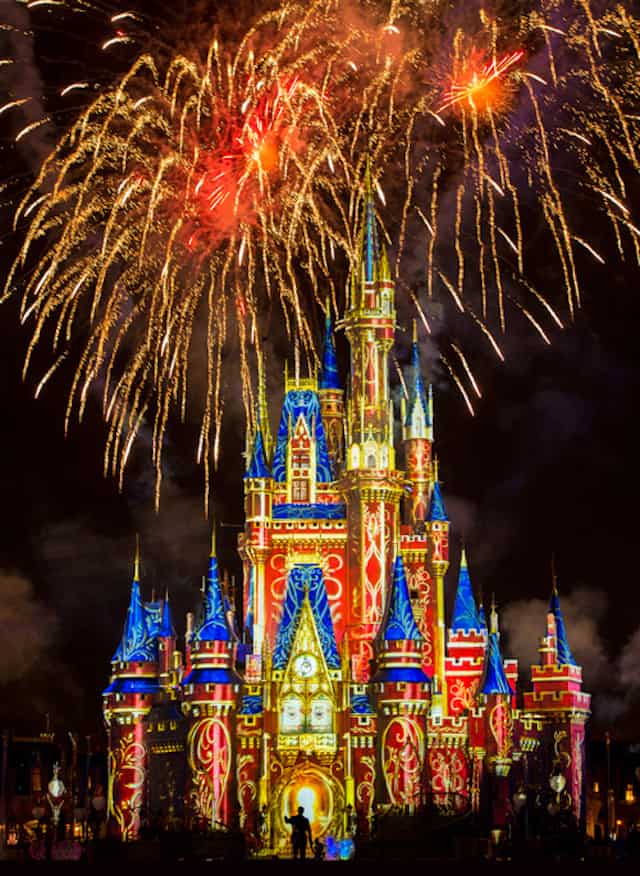 When Happily Ever After debuted, it featured the most technologically advanced projection mapping in Disney's history.
The projection mapping on Cinderella Castle is incredibly unique and spectacular.  The way the Castle transforms with our favorite characters and our favorite scenes was not only advanced for its time but absolutely stunning to take in. Fireworks are special, but the projections on Cinderella Castle really made Happily Ever After stand out.
Disney Enchantment also features stunning projection mapping. However, the projections are not limited to Cinderella Castle. The projections for Enchantment extend all down Main Street, which is an exciting change for Guests!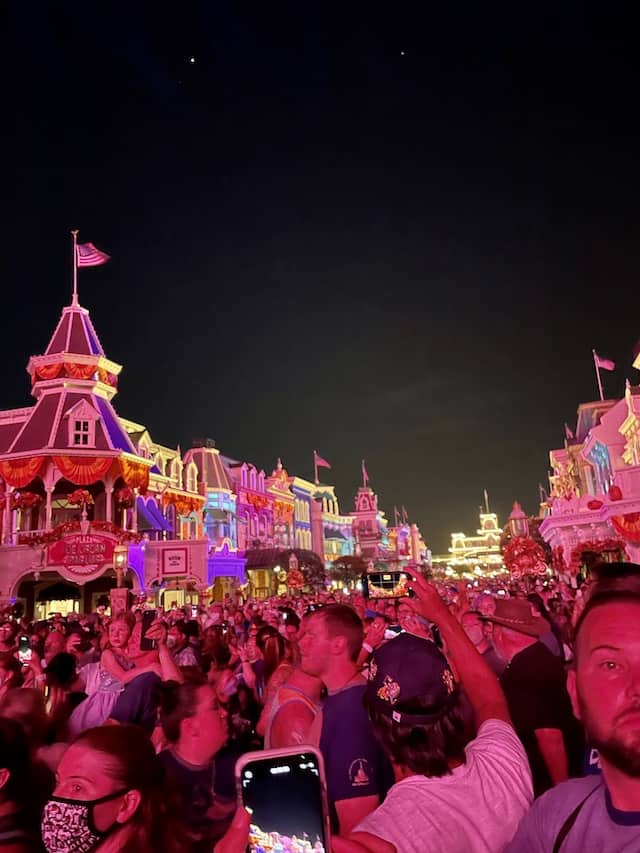 The projection technology has certainly improved, although it could be argued that Happily Ever After's projections did not need improving! The projections on the Castle and Main Street are truly spectacular, and even the biggest Enchantment skeptic will be entertained by them.
Better Projections: Enchantment, but only because of the addition of the projections down Main Street.
Music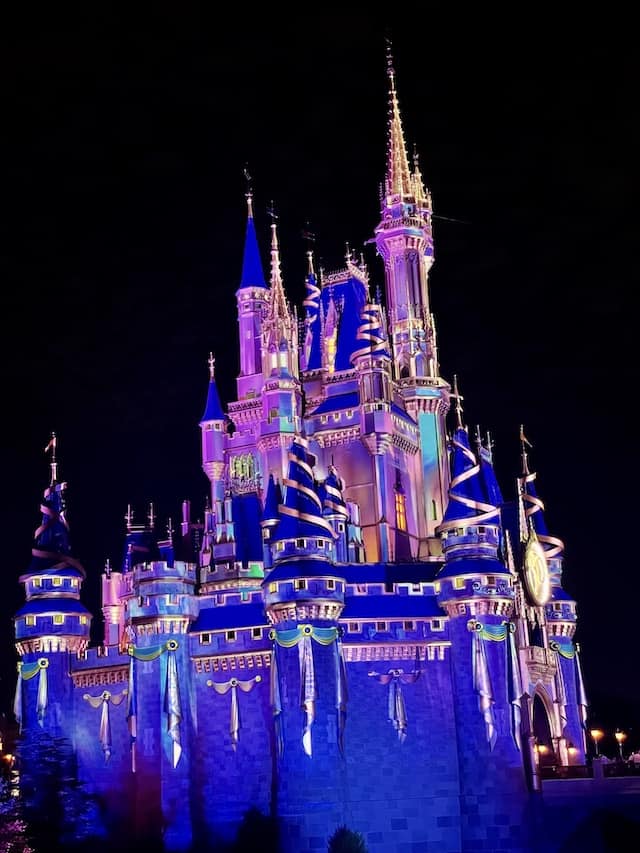 Happily Ever After features a song by the same name performed by Angie Keilhauer and Jordan Fisher. It also has a remarkable score with contemporary versions of all of our beloved songs from our favorite Disney movies. The songs are sung by the original Disney characters who performed them, and although some have slight changes, they stay true to their perspective films.
Disney Enchantment features an all new song, 'You Are the Magic' written and performed by Grammy award winner, Philip Lawrence.
From Disney Parks Blog,
"THE SONG'S POWERFUL LYRICS INSPIRE US FOR THE JOURNEY AHEAD AND TOUCH OUR HEARTS AND MINDS. AND THEY SOAR TO EMOTIONAL HIGH POINTS DURING THE CLIMACTIC MOMENTS OF "DISNEY ENCHANTMENT," AS WE DISCOVER WE ONLY HAVE TO LOOK WITHIN TO IGNITE THE MAGIC THAT WAS INSIDE US ALL ALONG."

Disney Parks Blog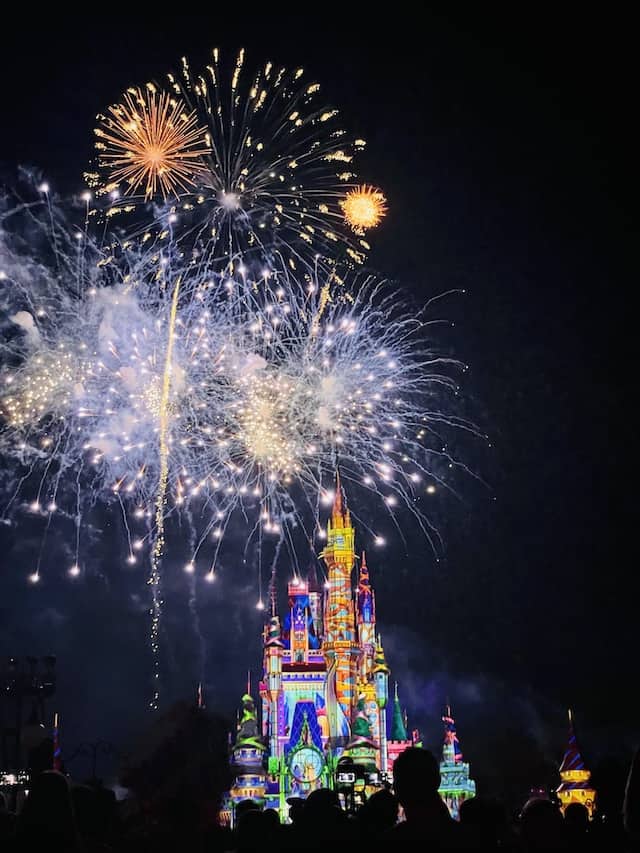 While "You Are the Magic" is a beautiful song, it's no "Happily Ever After." I suspect in time we will all come to love it, but right now, it really falls flat. The rest of the score features cover versions of some of our favorite Disney songs. While change can be good, these songs sound so drastically different from their originals that some are almost unrecognizable.
The music in Disney Enchantment is, point blank, not good. Disney could have (and should have!) done better here.
Better music: Happily Ever After.
Emotions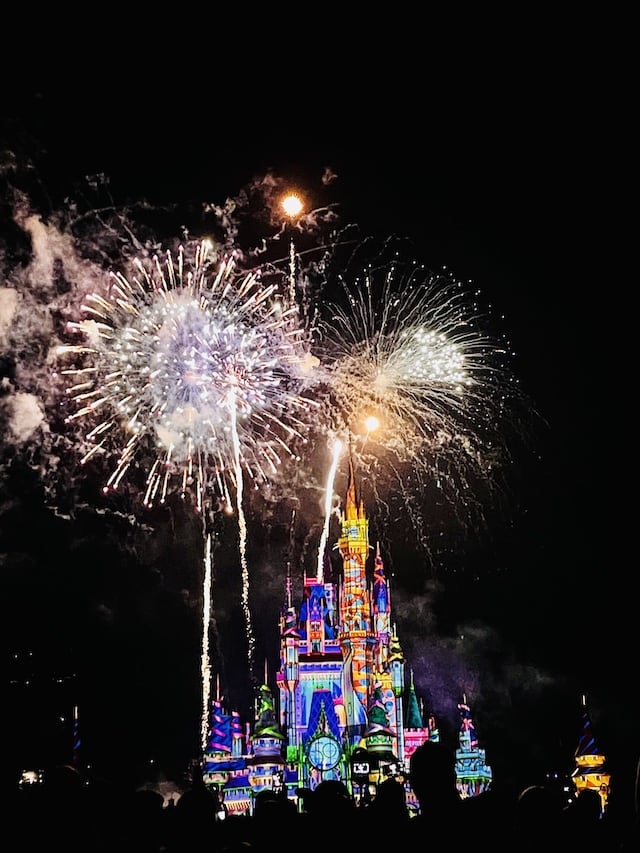 Fans of Happily Ever After often talk about the emotions invoked while watching this show. The show pulls at your heartstrings, reminding you to "reach out and find your happily ever after."
Disney Enchantment is really different because it doesn't invoke many emotions as you watch. Happily Ever After was more of a story where you watched your favorite Disney Characters explore their Happily Ever Afters.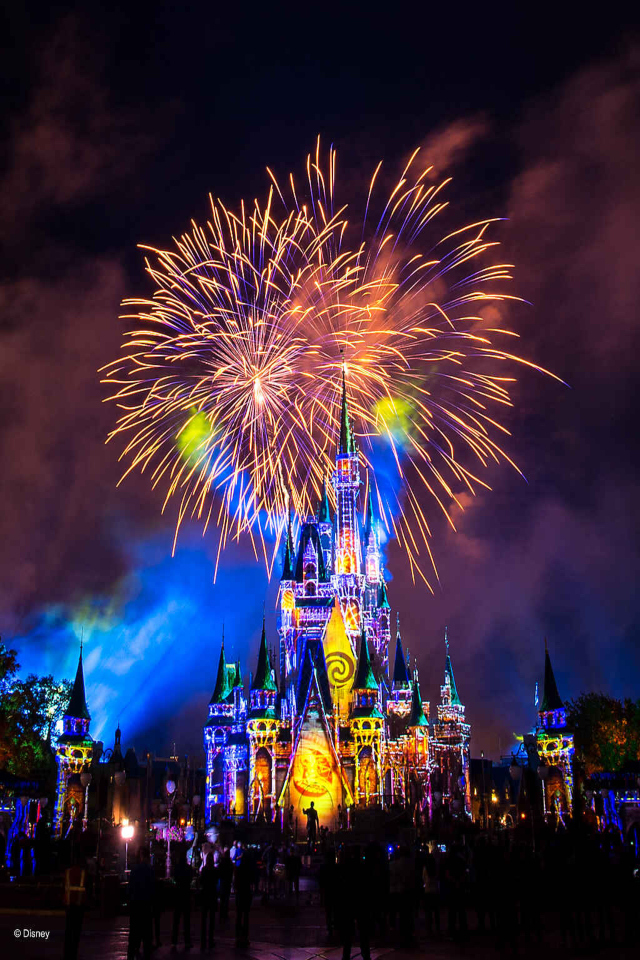 Enchantment doesn't feature a story, it almost seems like more of an advertisement for Disney+. The show throws Disney character after Disney character at you, some extremely popular like Moana and some more obscure like Momma Odie from The Princess and the Frog.
There is no real story, therefore no real emotion felt from the audience. While it is entertaining, it falls short in the "tugs at your heartstrings" department. Even a sound clip of Walt Disney or a welcome for the 50th anniversary would have helped bring nostalgic emotions to viewers.
Better at evoking emotion: Happily Ever After. There is no question here.
Which spectacular is better?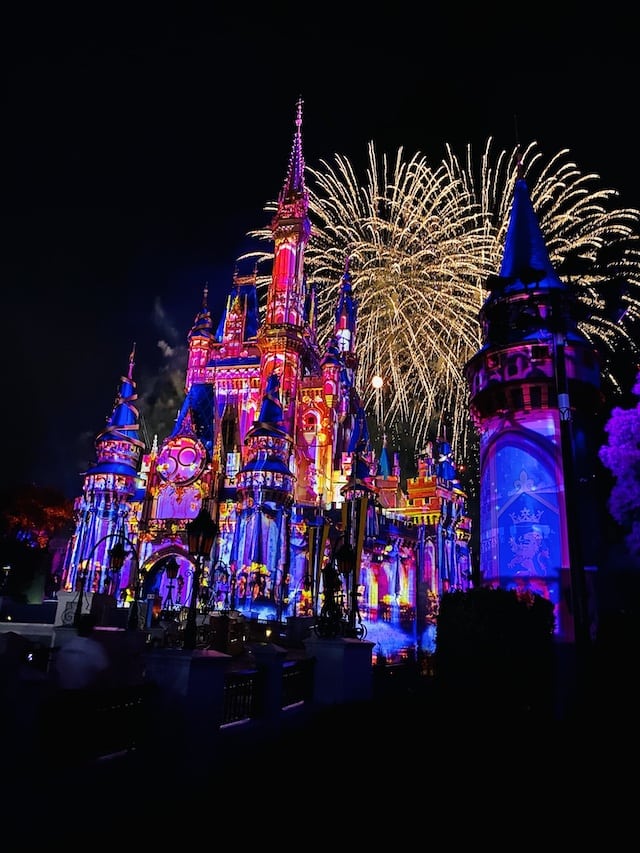 "Better" is relative to each individual, and you'll never find a definitive answer here. The group I was with when I saw Disney Enchantment all had mixed feelings. No one was particularly blown away, but everyone enjoyed it.
It's not Happily Ever After. Not even close. And that's ok. Change is good sometimes, too. But I still miss Happily Ever After.
Have you had a chance to see Disney Enchantment yet? How does it compare to Happily Ever After? Share your thoughts with us in the comments below or on Facebook.