Disney World has shared more details about the theme song for their new fireworks show, Disney Enchantment. Are you excited about this new show?
Disney Enchantment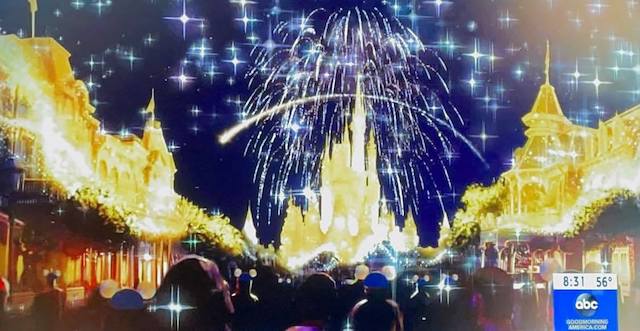 Disney Enchantment will debut on October 1st at the Magic Kingdom. The new nighttime spectacular will feature fireworks, Disney music, and projection effects that will extend from Cinderella Castle all the way down Main Street, U.S.A.
For more details regarding the new show, take a look here. Showtimes for the show can also be found in this post.
As much as I (Maggie) am going to miss Happily Ever After, I am looking forward to seeing all of the enchanting details of this new show.
New Original Song
Coming along with the show is a brand new original song, entitled 'You Are the Magic' written and performed by Grammy award winner, Philip Lawrence.
Philip began his career as a Walt Disney World Cast Member performing in shows like, "Festival of the Lion King" and "Tarzan Rocks!" That is pretty neat, huh? He went on to eventually receive 18 Grammy nominations and win seven Grammy awards.
"The song's powerful lyrics inspire us for the journey ahead and touch our hearts and minds. And they soar to emotional high points during the climactic moments of "Disney Enchantment," as we discover we only have to look within to ignite the magic that was inside us all along."

Disney Parks Blog
To listen to part of the new original song, "You Are the Magic", take a look at the following video.
What do you think of the new original song for Disney Enchantment? Are you looking forward to seeing the new nighttime spectacular or will you miss Happily Ever After? Tell us about it in the comments below or on our Facebook page.
Maggie Baltz