Most do not know it, but Disney World actually has a brewery on property! Big River Grille has so much potential, but unfortunately, the food does not deliver. Have you heard of this restaurant?
Big River Grille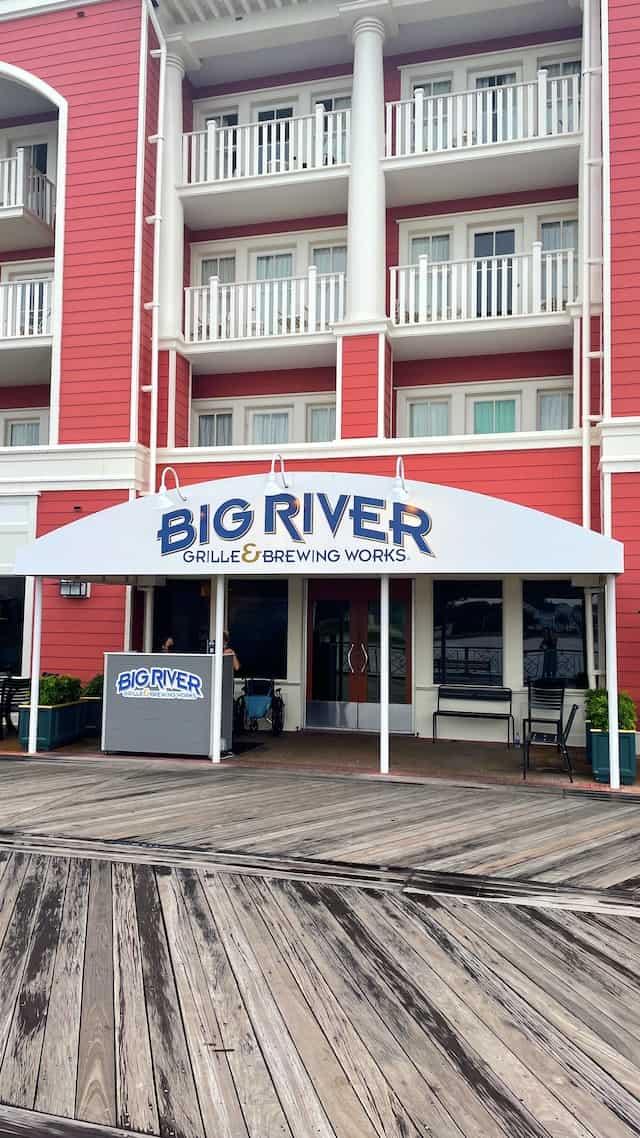 Where can you mix a brewery and family-friendly eats? Disney World, of course! Big River Grille & Brewing Works is the only brewery on property, and it serves up some pub favorites and an extensive alcoholic beverage selection.
Located on Disney's Boardwalk, this restaurant competes with great dining like Trattoria al Forno and Flying Fish nearby.
If you have heard the name before, you will know that Big River Grille & Brewing Works also has two locations in Chattanooga, Tennessee: downtown and Hamilton Place.
Location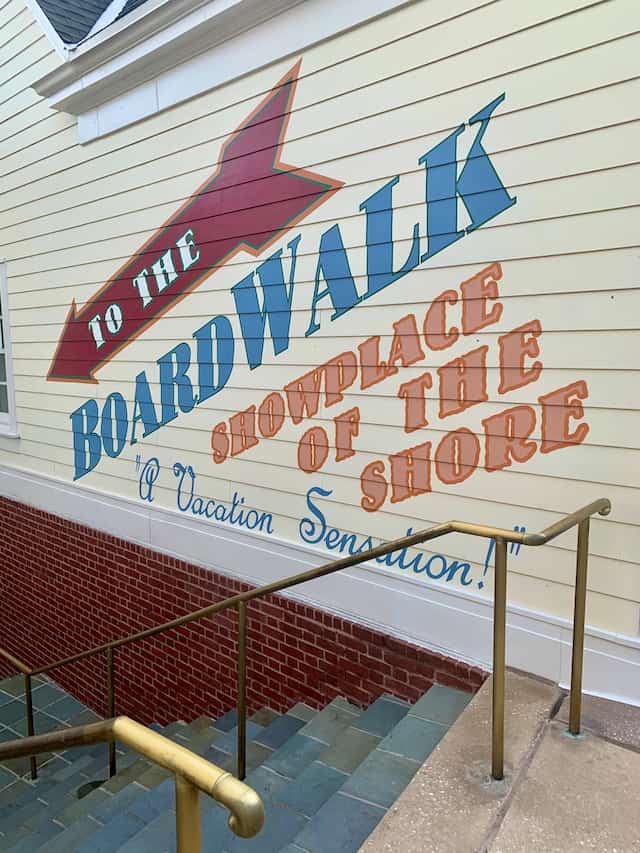 Big River Grille is located in the Epcot-resort area at Disney's Boardwalk. You can get to Disney's Boardwalk by Skyliner, Friendship Boat, walking, or bus. Connected to Disney's Boardwalk is Disney's BoardWalk Inn and Disney's BoardWalk Villas. This resort is one of my favorites on property because of its location, amenities, and nightlife. Read all about this resort HERE.
As I mentioned above, it often gets overlooked because of the other fine restaurants in the area.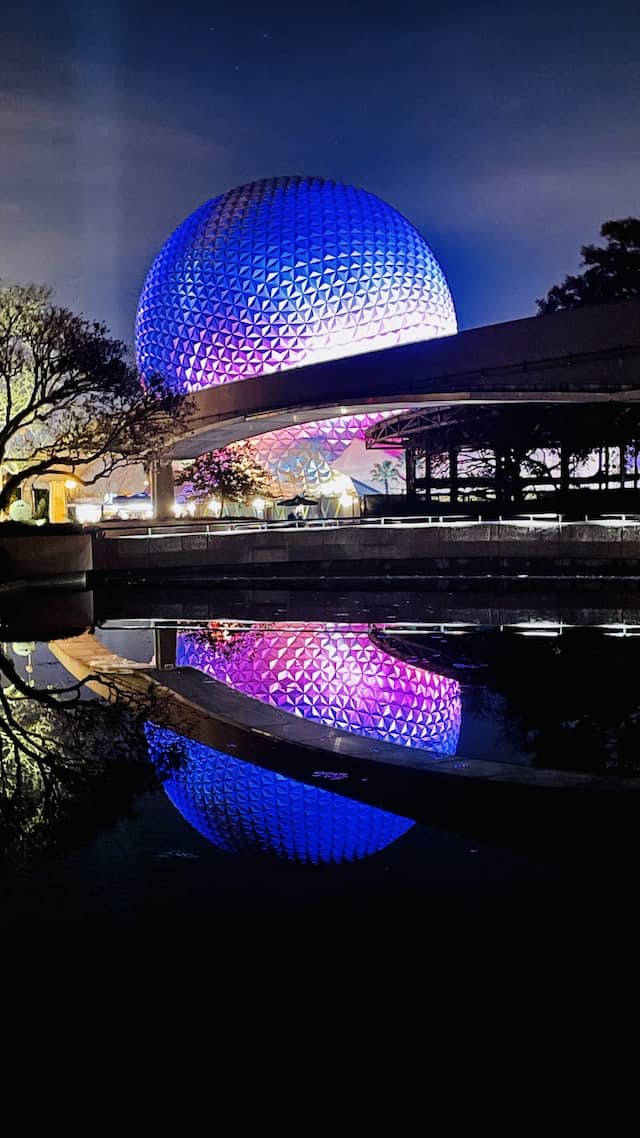 First, you have Epcot itself, which is a 5 minute walk from the Boardwalk. There are over a dozen table-service restaurants in the park alone! Plus, consider what is over at Disney's Yacht and Beach Club as well as the Swan and Dolphin. Restaurants like Beaches and Cream, Yachtsman Steakhouse, and Il Mulino are all very popular dining spots.
Atmosphere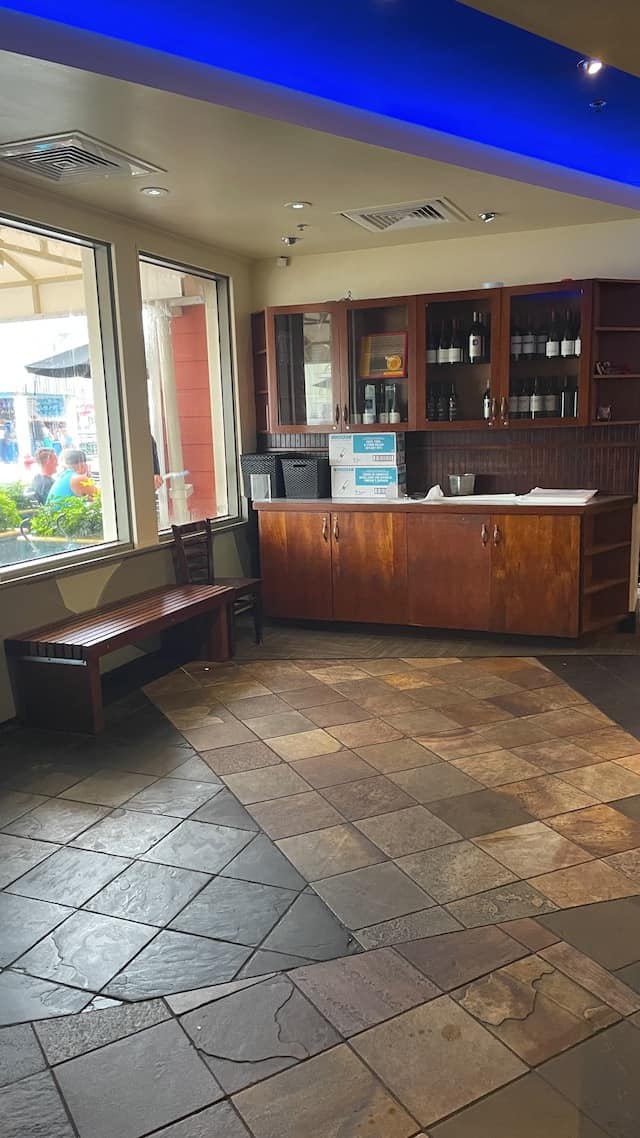 Speaking of the atmosphere, Big River Grille really is the perfect place to gather no matter what you're there for. The Boardwalk itself is very laid back and fun. It's a great place to go for dinner, entertainment, and a night cap at Abracadabar. Or if you are with the kids, go for dinner and then ice cream at the newly-opened BoardWalk Ice Cream.
Once you enter the restaurant, you are greeted by a small waiting area and bar area with televisions. When our KtP writing team went, we were not allowed to wait inside the restaurant and glass dividers were placed between every two seats at the bar. I imagine it may be hard to see the televisions through the glass dividers.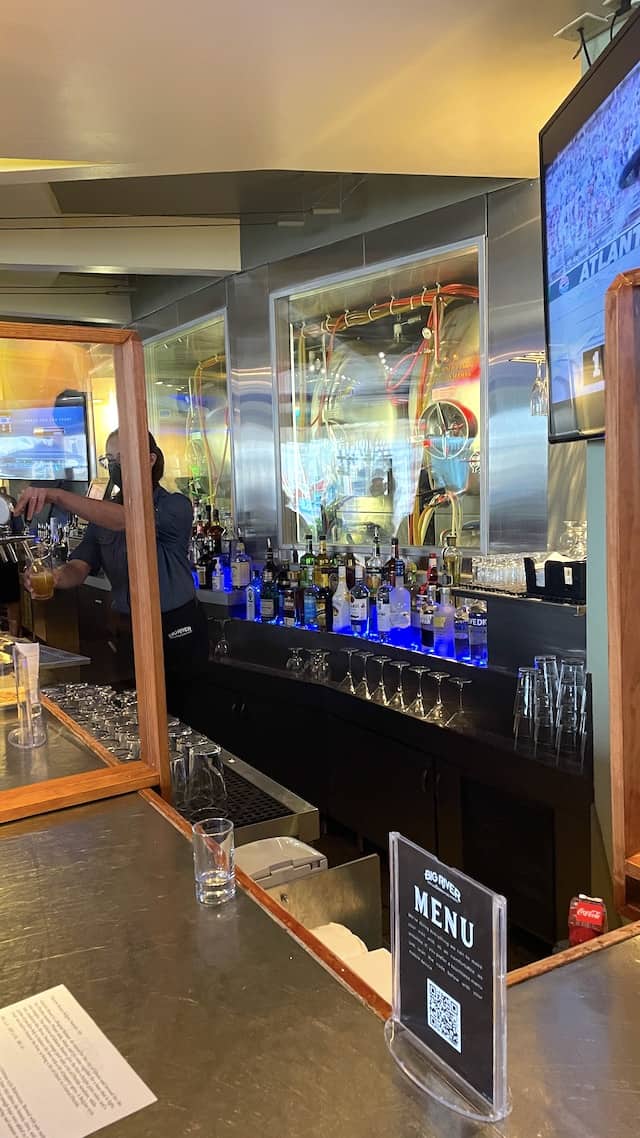 There is the bar area with pub-style seating and the actual brewing station for the beers. The brewing equipment is behind floor-to-ceiling glass so you can still see the brewmaster craft five specialty beers.
On the other side of the restaurant is a more family-friendly area with regular table seating. This is a more secluded and further away from the main bar area making it ideal for families.
There is also some outdoor table seating although I cannot imagine anyone wanting to sit out there unless it's the middle of winter when temperatures are more mild. It would be pretty to sit out there overlooking the water when the weather is nice.
Food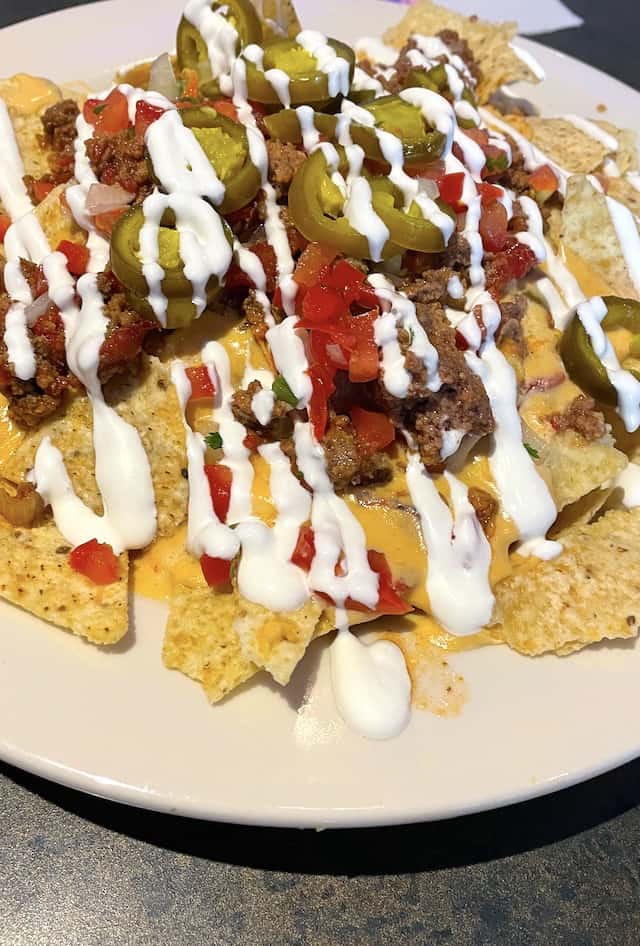 The cuisine at Big River Grille puts a unique twist on traditional bar food. When you think of bar food, you think of wings, nachos, and burgers. Big River Grille has all the traditional pub food but turns it up a notch with regional touches.
The original location is in Chattanooga, along the banks of the Tennessee River. So, you will get items like Cajun Pasta, ribs served with white cheddar potatoes, and a fish sandwich served with Chipotle mayonnaise.
Our team sampled a variety of menu items in order to provide an honest and comprehensive review! We even ordered items off the kids menu (that's dedication). You can find the full menu with descriptions and prices by visiting Character Locator.
Starters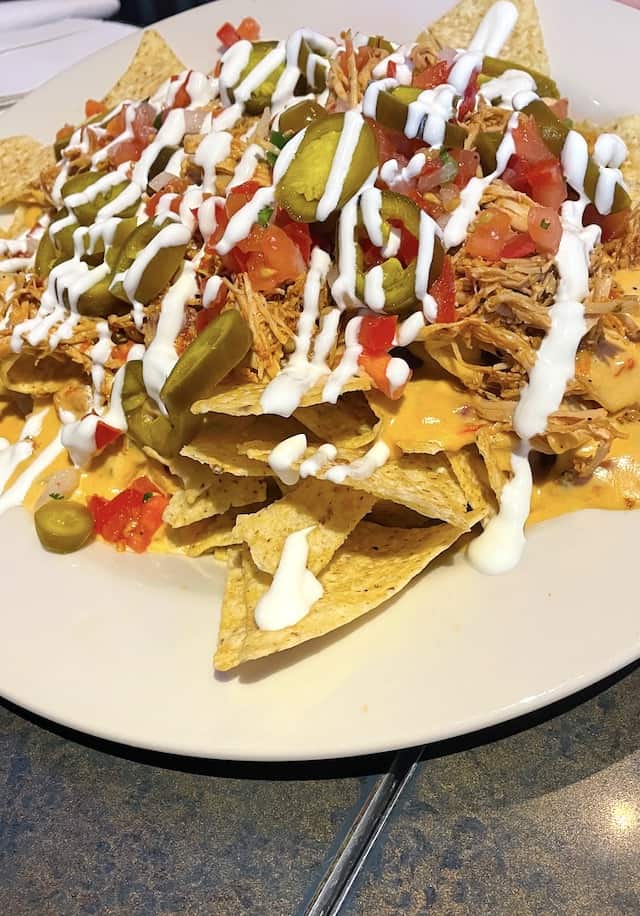 We started with both the beef AND chicken nachos. Both were served with Pepper Jack Cheese, Jalapeños, Pico de Gallo, and Sour Cream. Although we liked the shredded chicken, we all agreed the beef nachos were the superior nacho. Overall, the nachos got an A from everyone in the group!
Both Kate and I also had the beer cheese soup. Kate notes that the soup was fine but prefers the cheese soup from Le Cellier. I thought it tasted great! I really enjoy beer cheese soup even though I do not consume beer.
After such a great start to the meal, things went south pretty quickly.
Burgers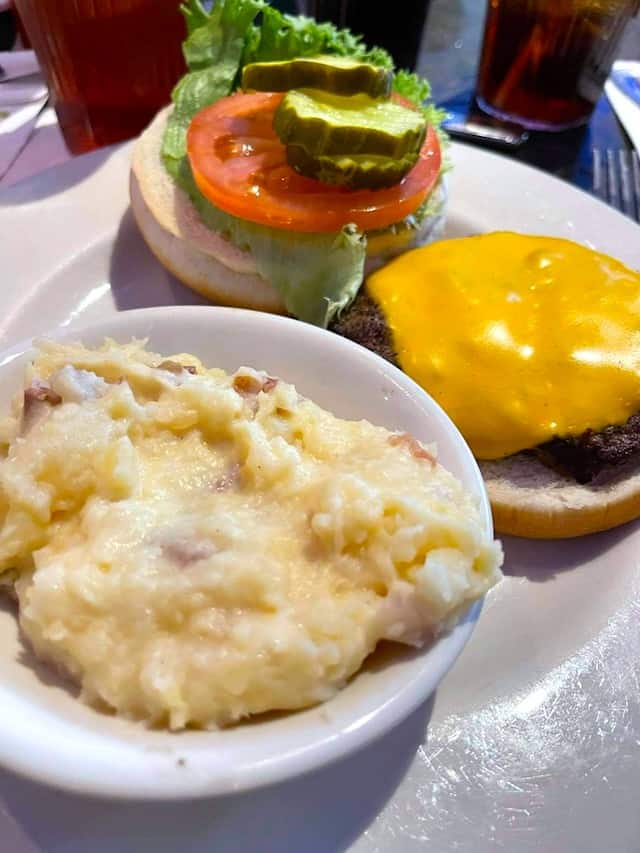 Jamie ordered the Big Brew Cheeseburger, and she was really excited for the kettle chips because she thought they were Cape Cod chips. Other not being able to taste any beer flavor in the burger, the chips she was so excited about ended up being Lay's kettle chips.
Kate had the Waygu Burger, which is a beef breed raised in Japan and is the same breed that produces Kobe beef. She was expecting a quality burger, but she said it tasted like a regular sports bar burger.
Also ordered at the table was was the Black & Blue burger. Susan thought the patty was undercooked and flavorless. The onions were void of any taste, and the blue cheese sauce was overly bitter.
Honestly, all the burgers looked exactly the same. No one cared for the entree they ordered. They all said there was nothing that set their burger apart from a regular one, despite ordering speciality ones off the menu.
Other Entrees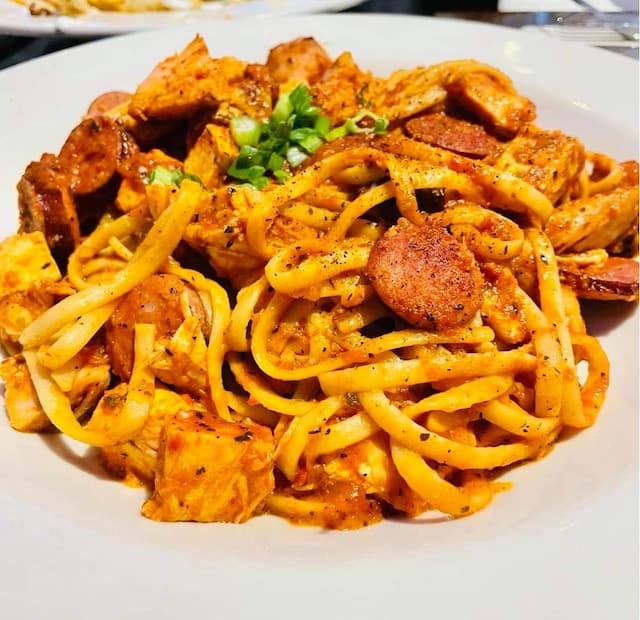 Maggie enjoyed the Cajun Pasta, which comes with chicken, sausage, and vegetables in a Cajun Cream Sauce. It was spicy enough to have flavor but not too hot that it becomes impossible to eat. I believe she is the only one at the table who would actually order their entree again.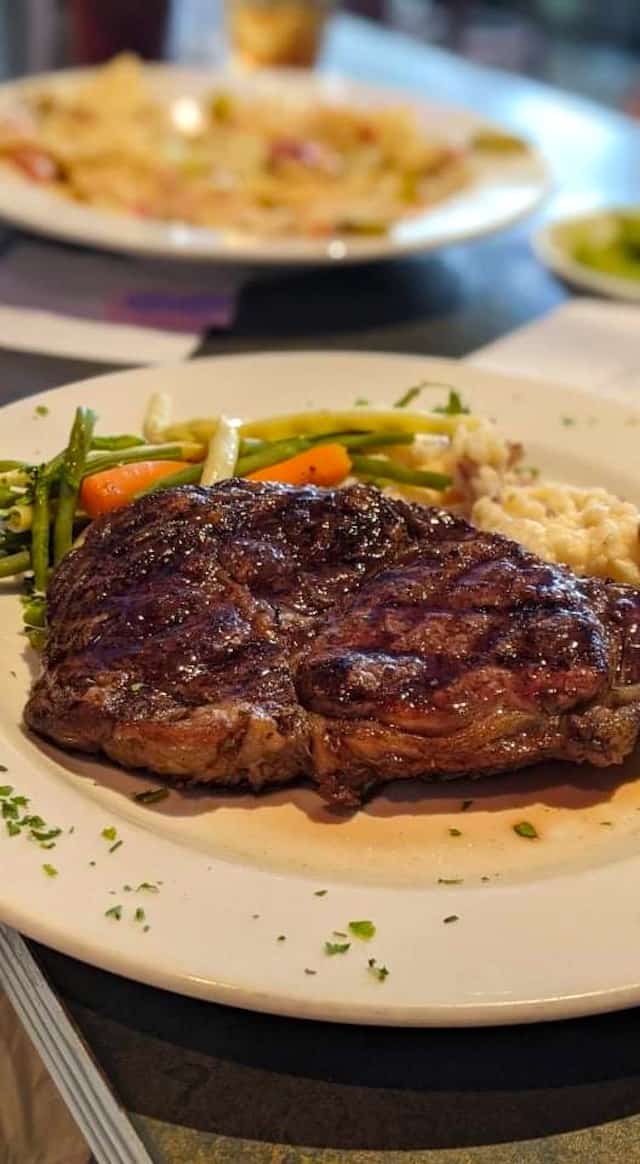 Kenny ordered the ribeye steak with white cheddar mashed potatoes and vegetables. Steak is a common entree he orders while in the parks, so I trust him when he says that this steak was bland tasting. You can read about some of the better steaks on property HERE.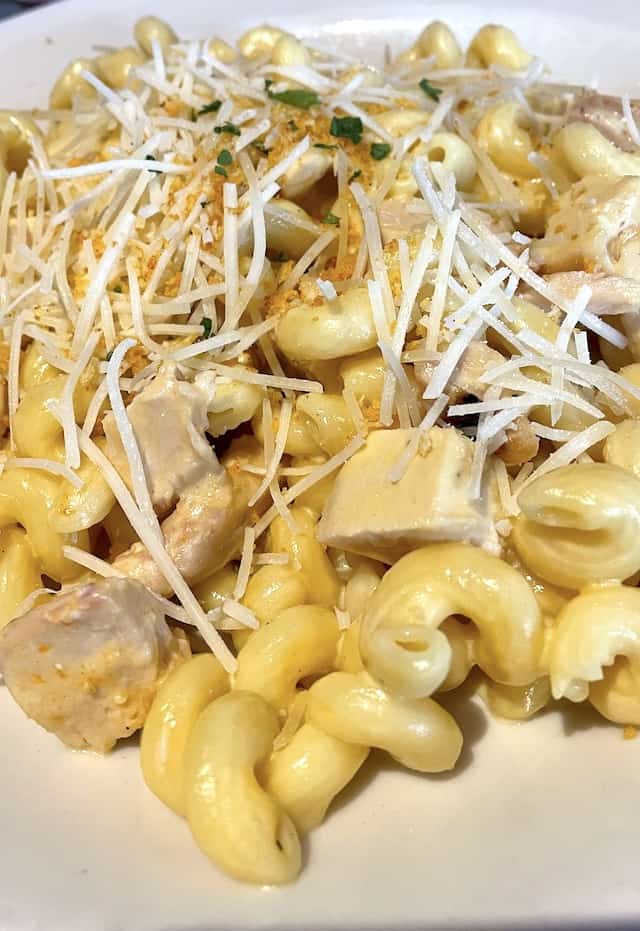 Finally, I tried the classic Mac 'n Chicken. The pasta was fine, but the chunks of chicken were so big. I think I would have preferred shredded chicken. The cheese topping was a nice touch, but there were not enough breadcrumbs to give it a good crunch.
Kids Meal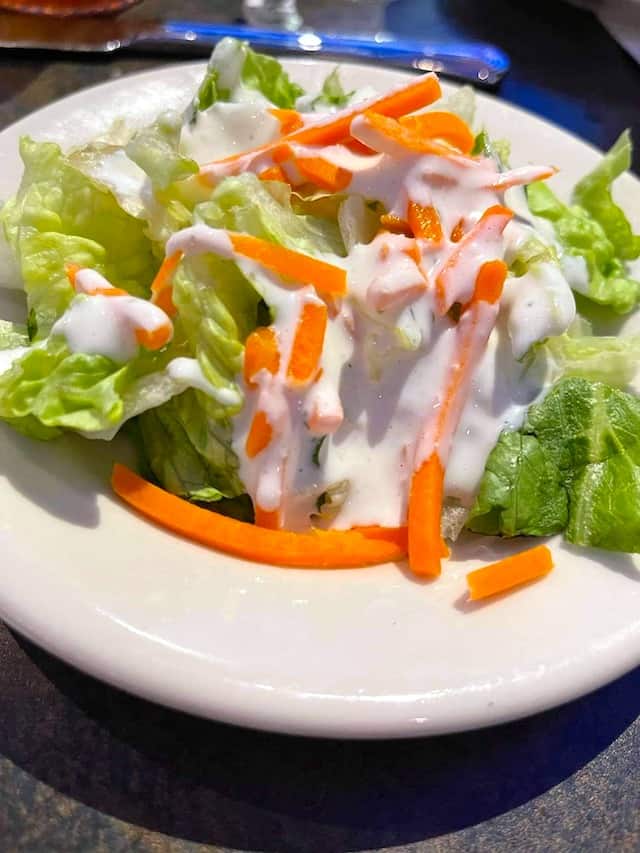 Donna was our official kids meal taste tester. She had the kids salad and cheeseburger. As one would expect from a kids meal at Disney World, the food was adequate but nothing to write home about.
Dessert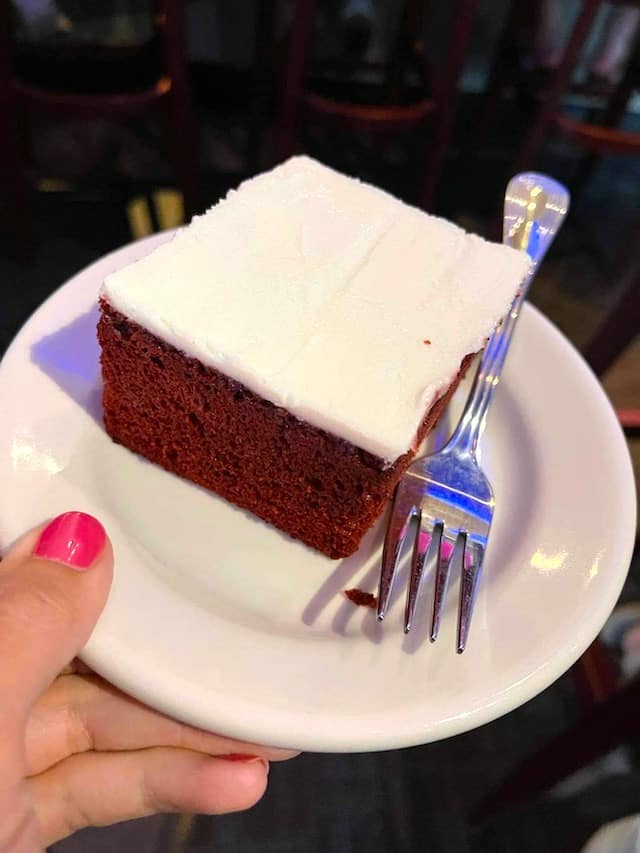 At this point, we were both full from the nachos and entrees and too disappointed to want to try dessert. Considering the fact that there are only two desserts, we felt like we we were not missing out on much.
The kids meal does come with a chocolate cake. However, they were out the day so they substituted it for red velvet cake. Donna thought it was incredibly dry.
Final Thoughts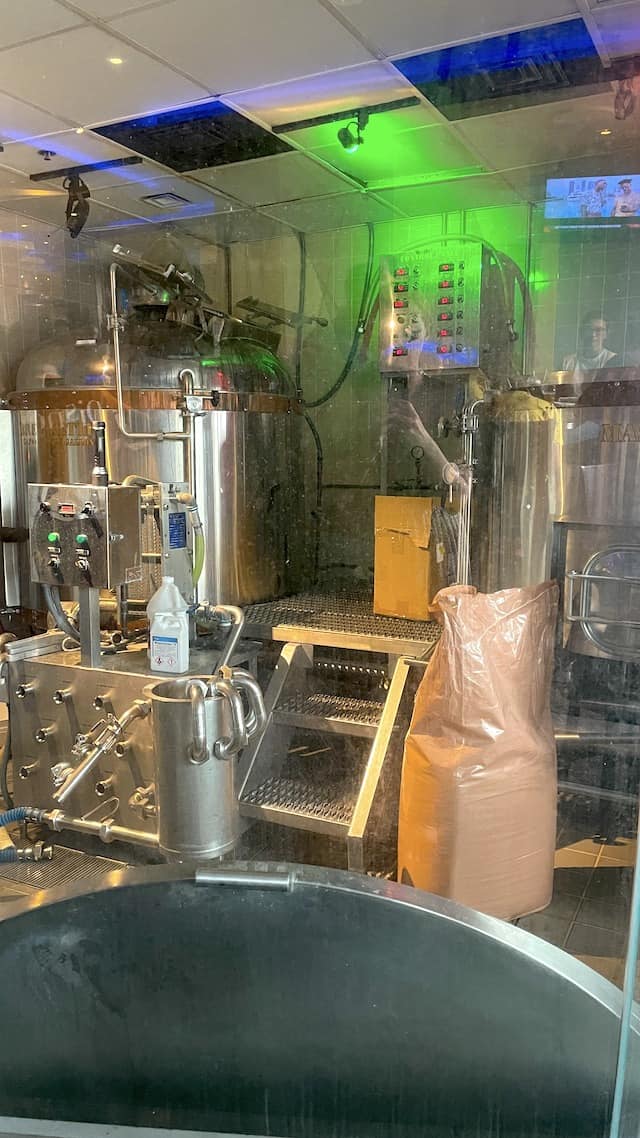 I really wanted to like Big River Grille. A group of us were staying at the BoardWalk Villas, and I enjoy trying restaurants at whatever resort I am staying at. Other than the nachos at the start of the meal, none of us found the restaurant's food offerings to be impressive.
The concept of being the only brewery on property is intriguing, and it may fit the bill for those who just want somewhere to watch a ball game. The ESPN Club also located at the Boardwalk would be a great first option if it were open.
We all agreed that when/if we come to Big River Grill again it will be for the nachos. Those were the highlight of the meal for all of us! Otherwise, I would rather head just a few doors down to Trattoria al Forno for great food instead.
Have you ever dined at Big River Grille? What are your thoughts on the food an atmosphere? Let us know in the comments below or on Facebook.