Dining in Hollywood Studio's Commissary Lane has recently changed with its menu now focused on an international flair at ABC Commissary. Read our thoughts about it and whether we think it's a positive change.
Since reopening in October, ABC Commissary received a new menu. Here guests enjoy a variety of entrees including chicken, pork, and plant based dishes. In doing this, some menu items have also been removed.
Location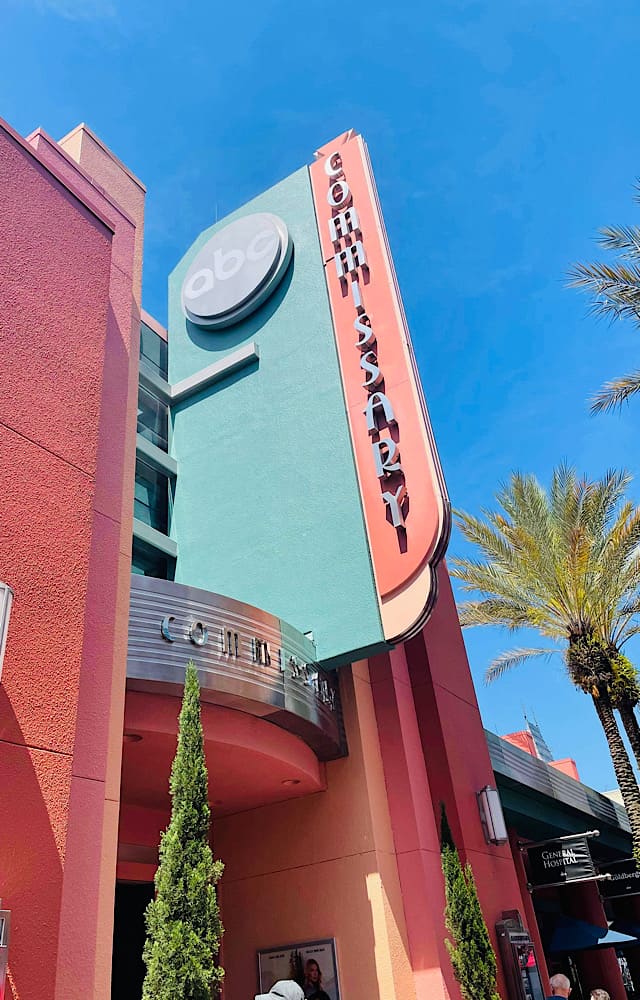 For some reason, when walking through Hollywood Studios, I always think you can walk right around the Chinese Theater, and arrive at Commissary Lane. However, this isn't the case.
To reach ABC Commissary, take a left turn wrapping around the Chinese Theater. Once behind it, simply walk down Commissary Lane and look for the movie posters.
Seating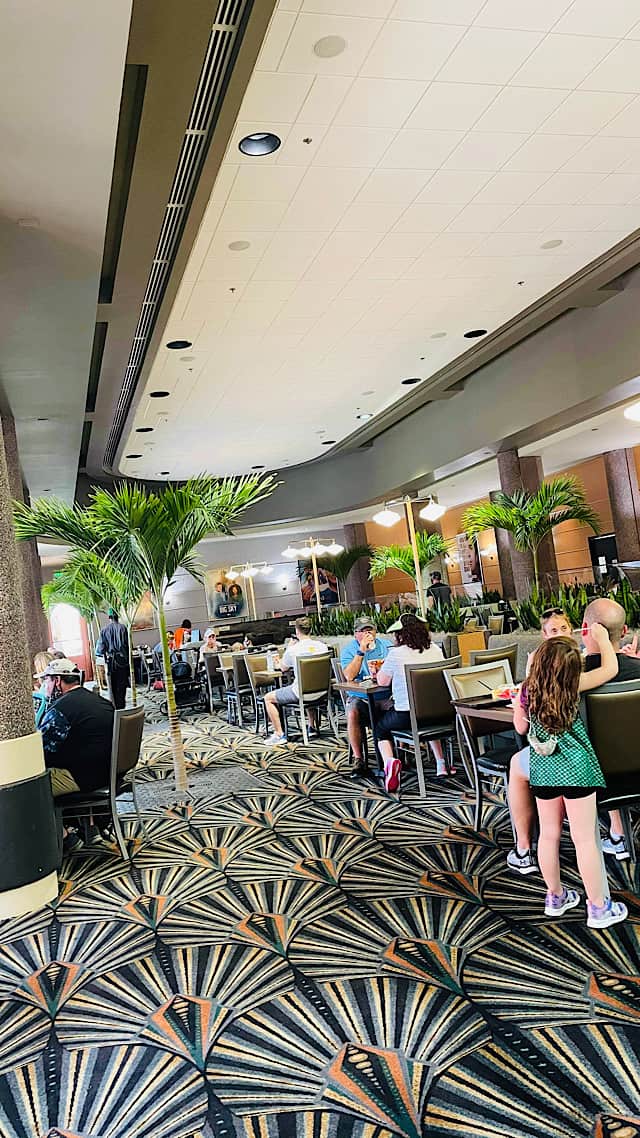 ABC Commissary provides seating inside, but with social distancing these tables can be hard to snag during busier times. To avoid this, plan an early or later meal.
In addition, outdoors tables line Commissary Lane. These are great when it's not too hot. At least they are shaded from the building.
Theming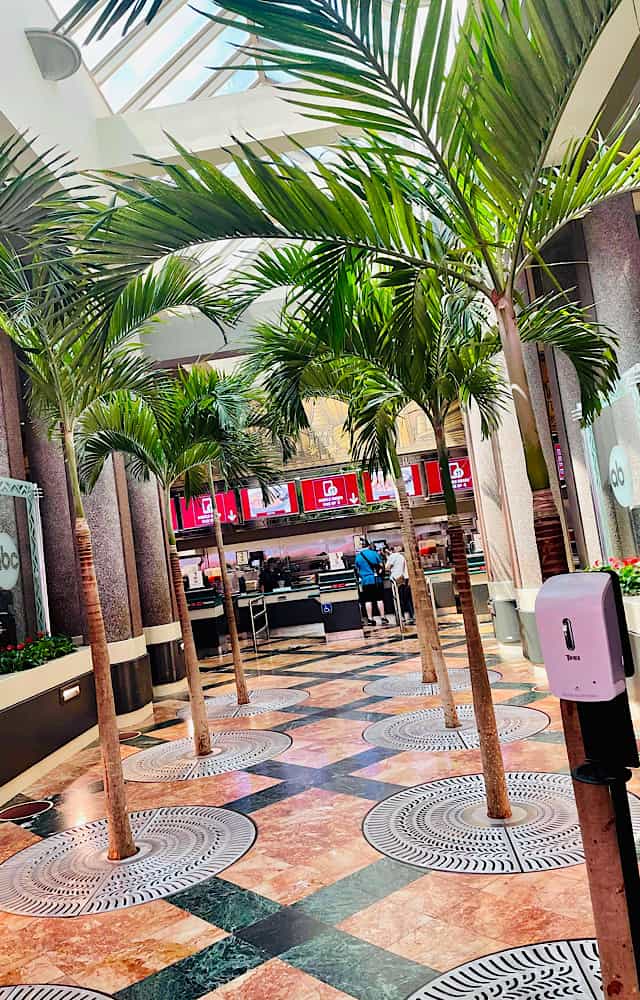 As the name suggests, ABC Commissary is designed to give guests the feeling of being in a cafeteria of a working television or movie studio.
Step inside to experience the Art Deco feeling, including indoor Palm trees. Also, be on the lookout for costumes and other props and items from ABC television shows.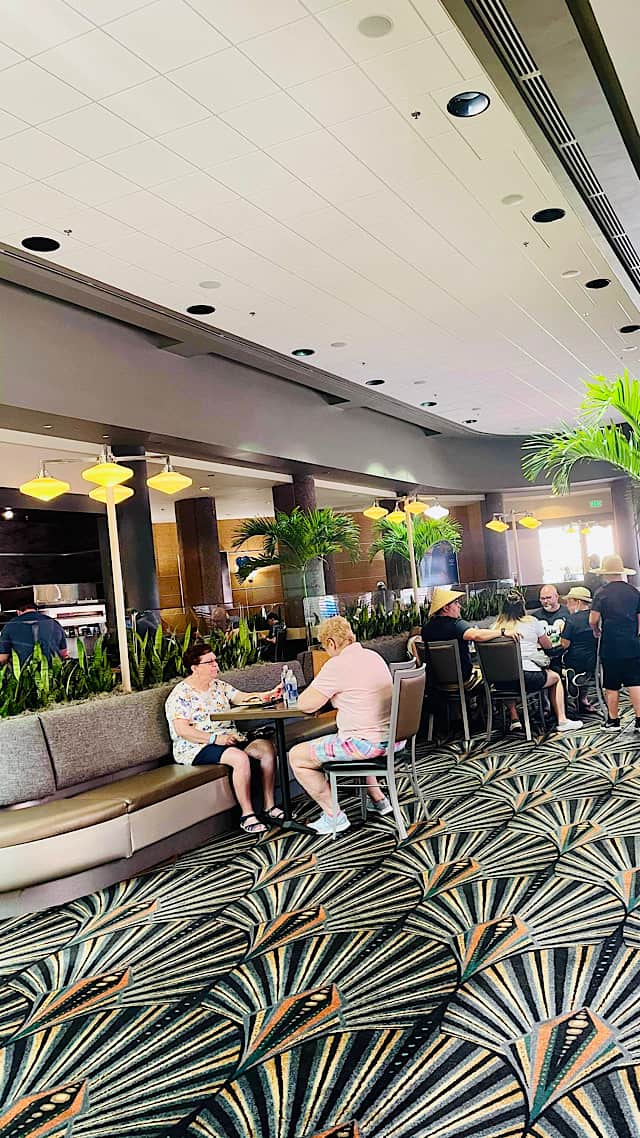 We loved the 80s and 90s theme songs playing in the background, adding to the move style theming. We love Galaxy's Edge and other changes to Hollywood Studios, but miss the production elements, like the Car Stunt Show and the Backlot Tour that used to be here.
ABC Commissary allows you experience some of these fun elements from the past.
Procedure Changes since Reopening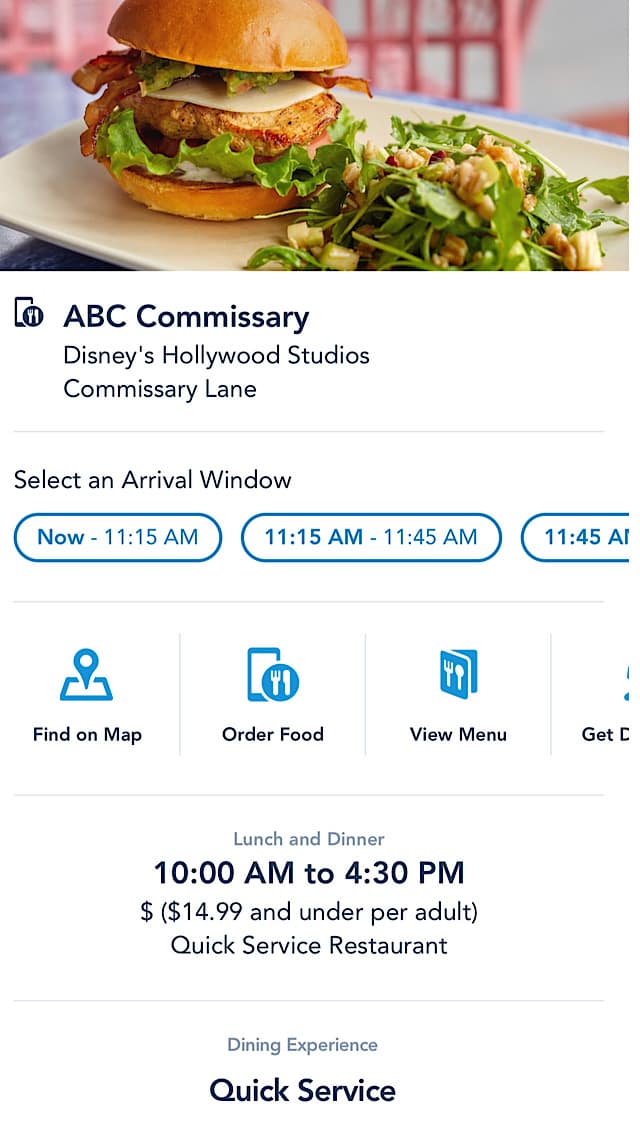 As with other Disney quick service locations, ABC Commissary strongly encourages using mobile ordering. Check out our article here for step-by-step instruction.
Pirate tip: Disney doesn't advertise this, but there is a register available at each quick service location to order food that doesn't require mobile ordering.
We enjoy mobile ordering since it's quick and efficient, but it sure is nice to have another option for those guests not wanting to use it.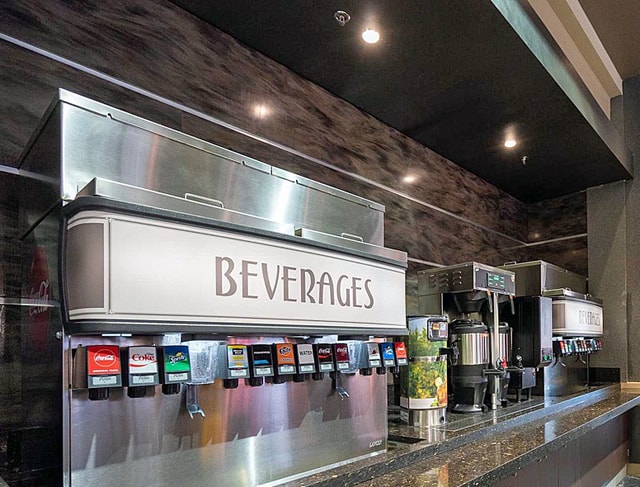 Another change is the way drinks are served. When we visited, a Cast Member stood behind a row or tables to serve guests drinks. Also, this includes free water. If you're not interested in ordering food, but need a cup of ice water, just let the Cast Member at the entrance know. Then, proceed straight to the drink area.
Recently, Disney reverted back to allowing Guests to refill their own mugs at the resorts. If this change hasn't taken place in the parks yet, it likely will soon.
Menu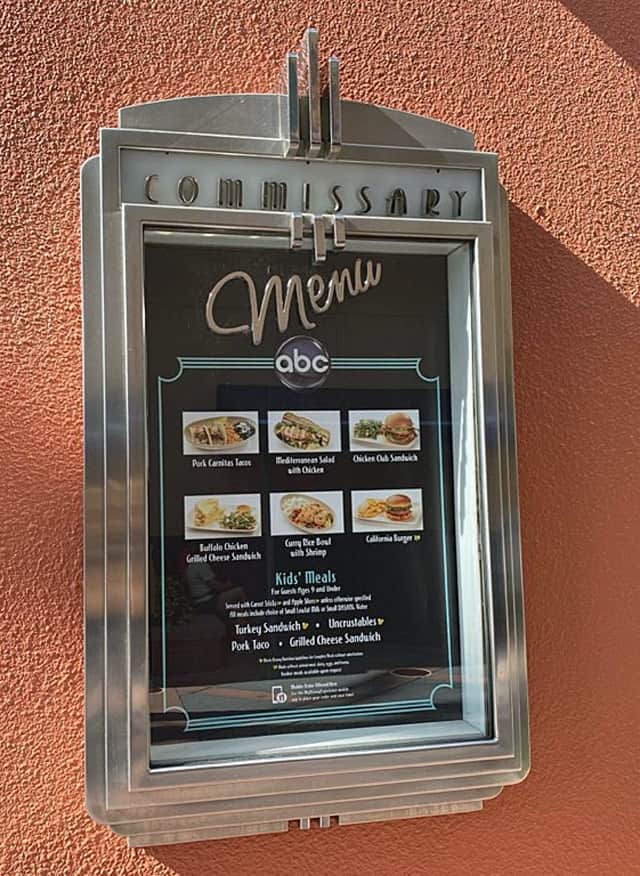 ABC Commissary serves lunch and early dinner from 10:00am until 4:30pm daily. Check out the updated menu below. You'll find an easy restaurant reference guide for all Disney World dining locations on characterlocator.com.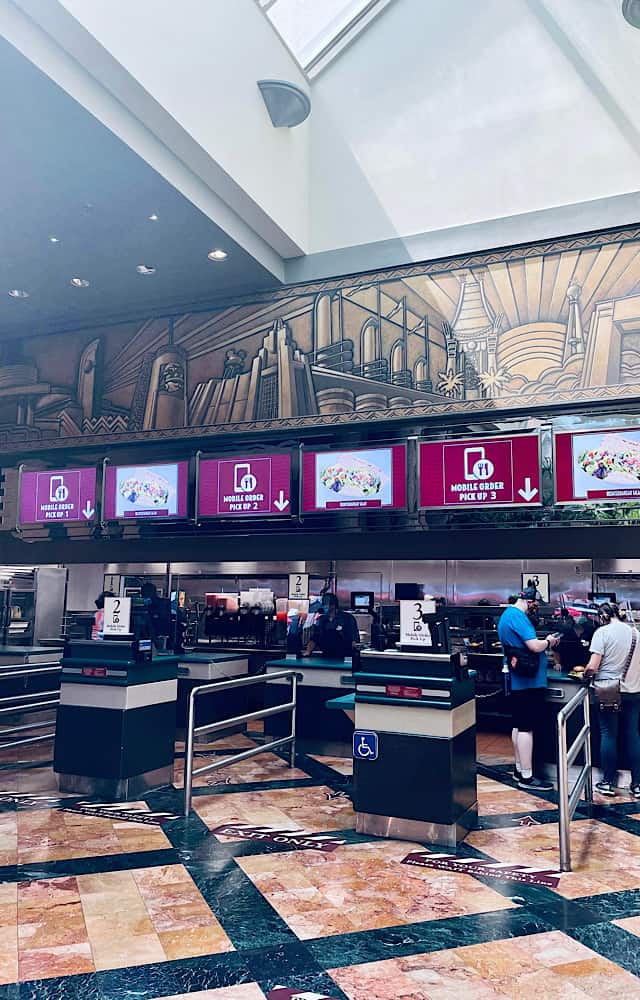 Seasonal Items
As of now, the BB-8 Souvenir Stein is available with choice of beverage for $14.69. Seasonal themed items may be added throughout the year.
Entrées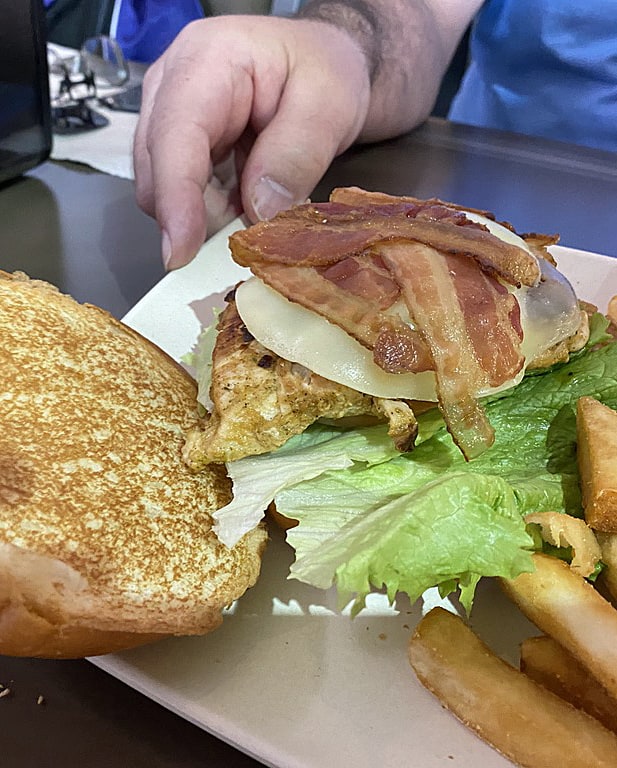 We absolutely love the radical menu changes here. Because we are not a fan of quick service burgers, we thoroughly enjoyed the lighter fare.
Curry Rice Bowl with Shrimp – Sautéed Shrimp and Vegetables tossed with Red Curry Sauce. Served with Jasmine Coconut Rice – $13.99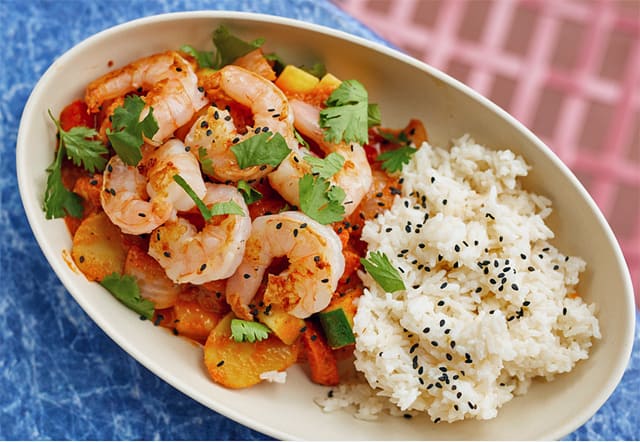 Shrimp Tacos – Sautéed Shrimp on Flour Tortillas topped with Cabbage Slaw, Chipotle-Mayonnaise, and Mango Salsa. Served with Mexican Rice and Black Beans topped with Queso Fresco – $12.99
Chicken Club – Marinated Chicken Breast served on a Toasted Brioche Bun topped with Bacon, Provolone, Guacamole, Ranch Dressing, Lettuce, and Tomato. Served with choice of Side – $11.99
Mediterranean Salad with Chicken – Chicken Breast served over Mixed Greens with Tomatoes, Cucumber, Pepperoncini, Kalamata Olives, and Feta tossed in a Mediterranean Vinaigrette. Served with Hummus and Grilled Flatbread – $11.99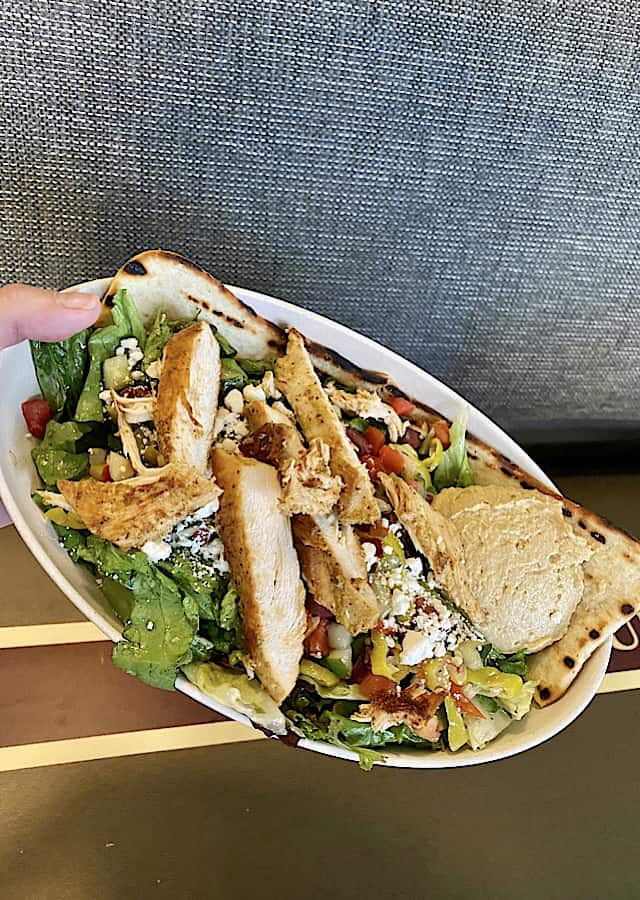 Buffalo Chicken Grilled Cheese Sandwich – Grilled Sourdough toasted with Buffalo Chicken, Monterey, Provolone, Cheddar, and Cream Cheese. Choose a side of Buffalo Sauce and any 1 Side – $10.99.
To make this at home, check out the recipe here.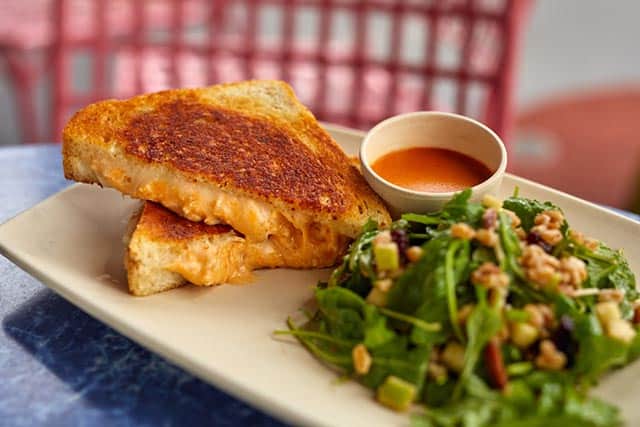 Pork Carnitas Tacos – Pork Carnitas on Flour Tortillas topped with Avocado Salsa Verde, Pickled Onion, and Radish served with Mexican Rice and Black Beans topped with Queso Fresco – $10.99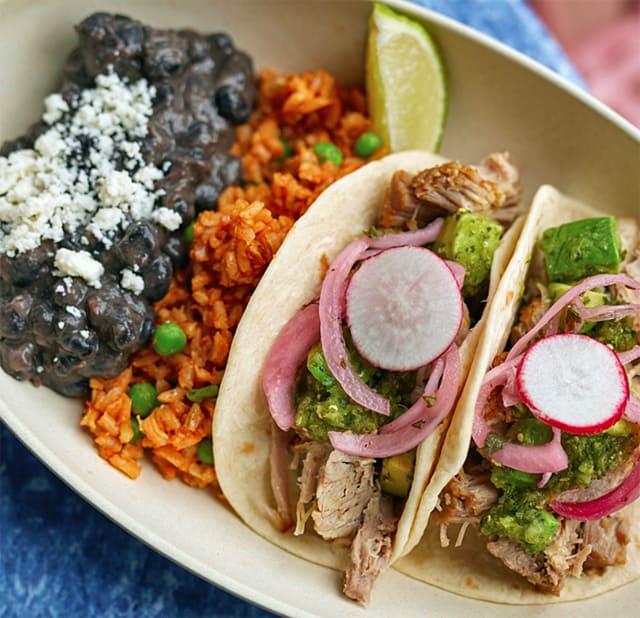 Plant-Based Options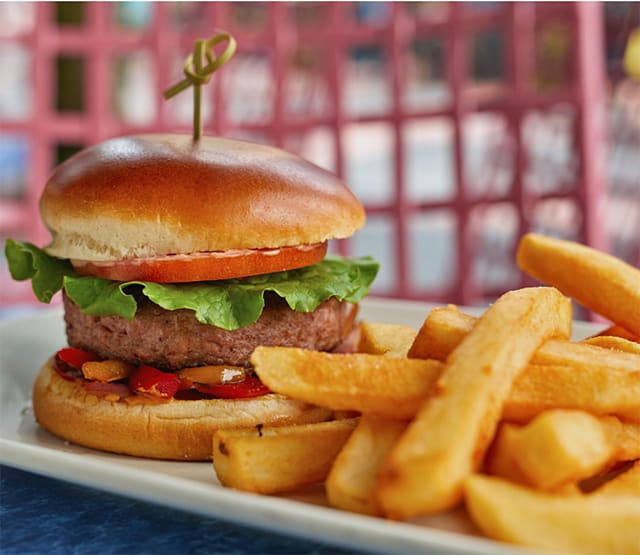 Curry Rice Bowl with Tofu – Crispy Pineapple-marinated Tofu and Sautéed Vegetables tossed in Red Curry Sauce served with Jasmine Coconut Rice – $11.99
California Burger – Seared Farm Fresh Plant-based Burger with Sriracha Mustard and Balsamic-glazed Grilled Peppers and Onions with a "Mayonnaise"-Ketchup blend, Lettuce, and Tomato served with choice of Side – $11.49
Sides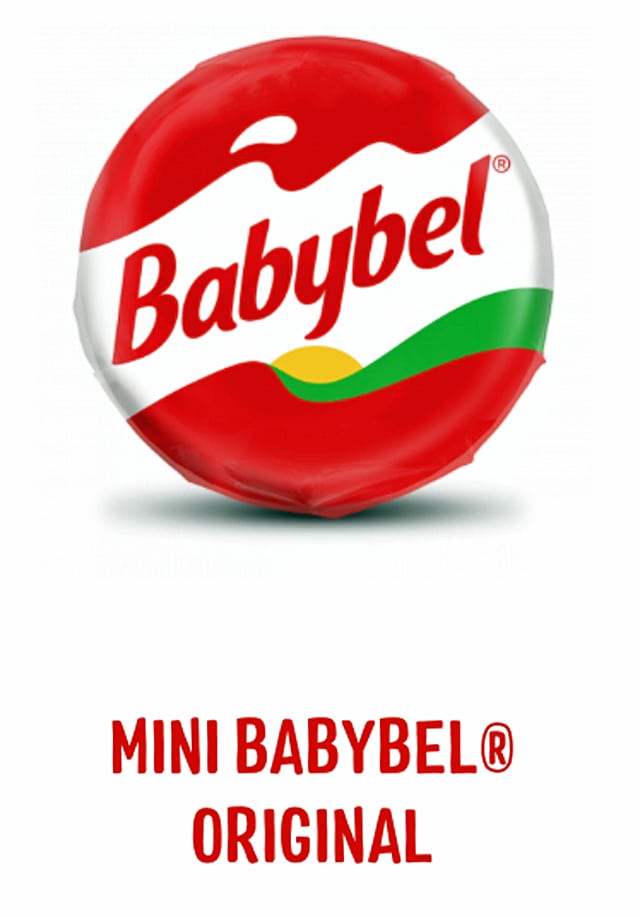 Black Beans – Topped with Queso Fresco $4.49
Mexican Rice – $4.49
Steak Fries – $4.49
Arugula-Farro Salad – Arugula, Farro, Granny Smith Apples, Dried Cranberries, Plant-based Parmesan, and Pecans tossed in a Dijon Vinaigrette – $3.79
Mini Babybel® Snack Cheese – Three individually packaged 100% Natural Semi-soft Original Flavor Cheese – $3.49
Apple Slices – $2.79
Kids Meals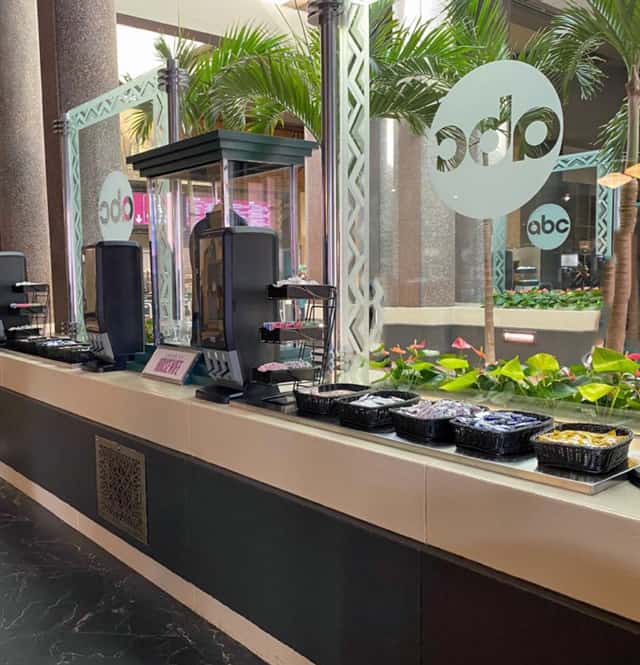 Turkey Sandwich – Smoked Turkey served on a Bun with Lettuce and Tomato served with Carrot Sticks, Apple Slices, and choice of Small Lowfat Milk or Small DASANI® Water. $6.99
Uncrustables Sandwich – Grilled American Cheese on Sourdough served with Carrot Sticks, Apple Slices, and choice of Small Lowfat Milk or Small DASANI® Water – $6.49
Pork Taco – Pork Carnitas on a Flour Tortilla served with Mexican Rice and Black Beans with Queso Fresco and a choice of Small Lowfat Milk or Small DASANI® Water – $7.49
Grilled Cheese Sandwich – Grilled American Cheese on Sourdough served with Carrot Sticks, Apple Slices, and choice of Small Lowfat Milk or Small DASANI® Water – $6.19
Pirate Tip: Although the kids menu says 9 and under, anyone can order from this menu.
Desserts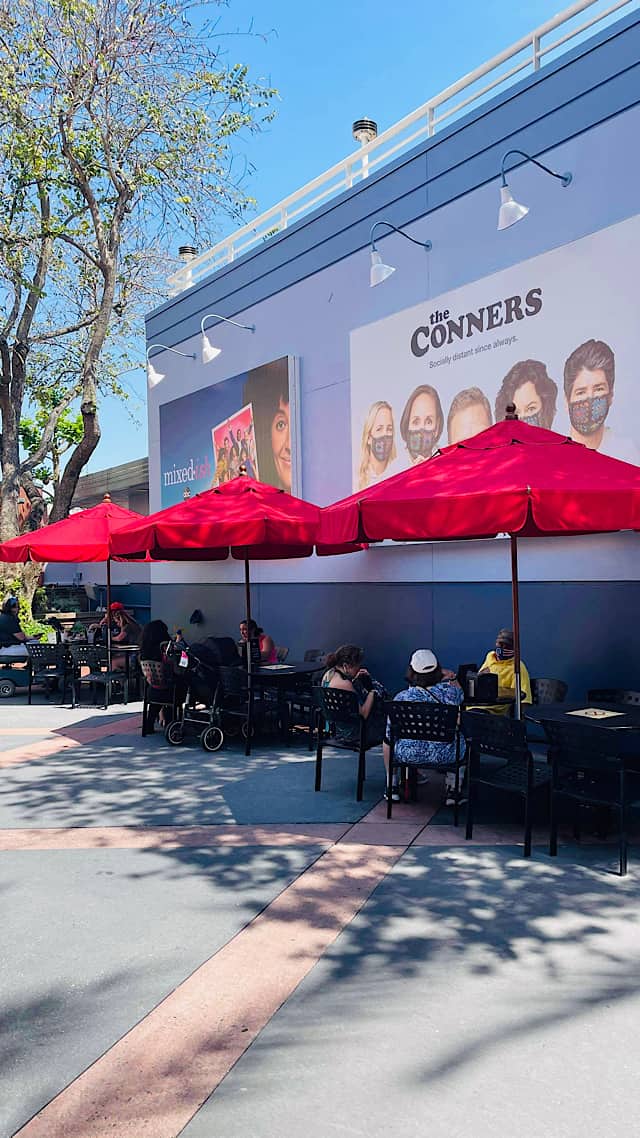 Strawberry Shortcake Verrine – Vanilla Cake Layered with Fresh Strawberries. Topped with Whipped cream, Strawberry Crispearls, and Dehydrated Strawberries – $5.99
Red Velvet Whoopie Pie– Moist Red Velvet Cake filled with a classic Cream Cheese Filling – $4.99
What we ordered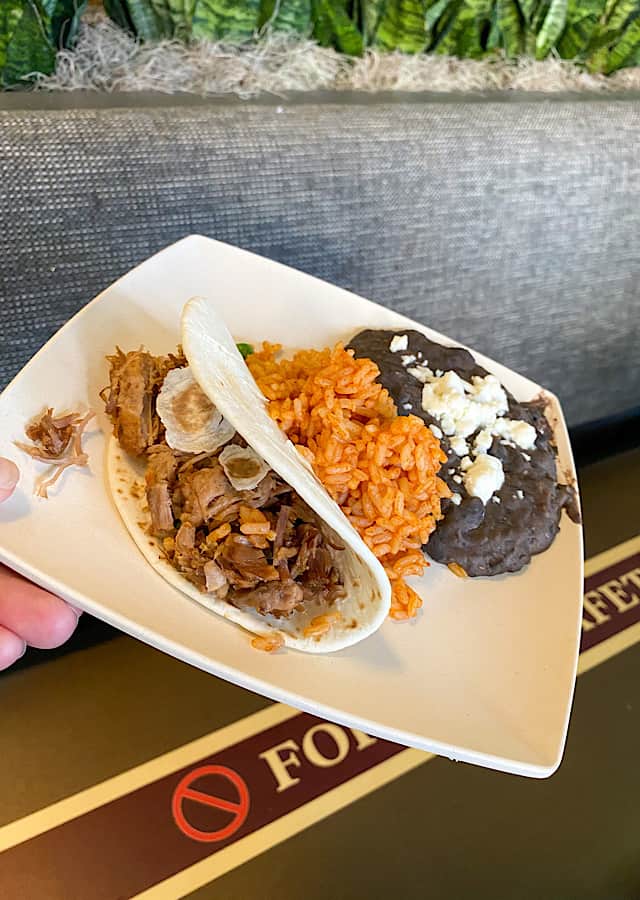 We were fortunate to visit on a few recent trips which gave us a chance to try multiple Entrées. On my first visit, I chose the plant-based Curry Rice Bowl with Tofu since I loved a similar dish at Skipper Canteen and Sanaa.
This dish didn't disappoint! Every bite was an incredible explosion of fresh herbs and spices. I'm not a vegetarian, but enjoy lighter meals in the theme parks. Now, pineapple tofu is an obsession of mine! It REALLY tastes just like pineapple!
Note: The Curry Rice Bowl with Tofu is spicy and may not be the right choice for those that prefer more traditional meals.
My sister ordered the Mediterranean Salad with Chicken. The flavors were amazingly fresh and blended well together. This was a large portion, and could easily be shared.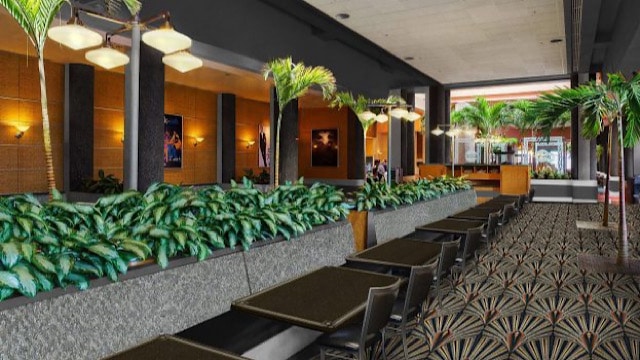 On our second visit, my husband ordered the Chicken Club since he is a less adventurous eater. He shared that the flavor combination really set this sandwich apart from other sandwiches. It was filling, and he said he would order it again.
Last, I ordered the children's Pork Taco. With the side of beans and rice, along with one pork taco, there was plenty to eat. Again, what stood out here is the flavorful and fresh seasoning combinations. This dish was not spicy but very tasty!
Final Thoughts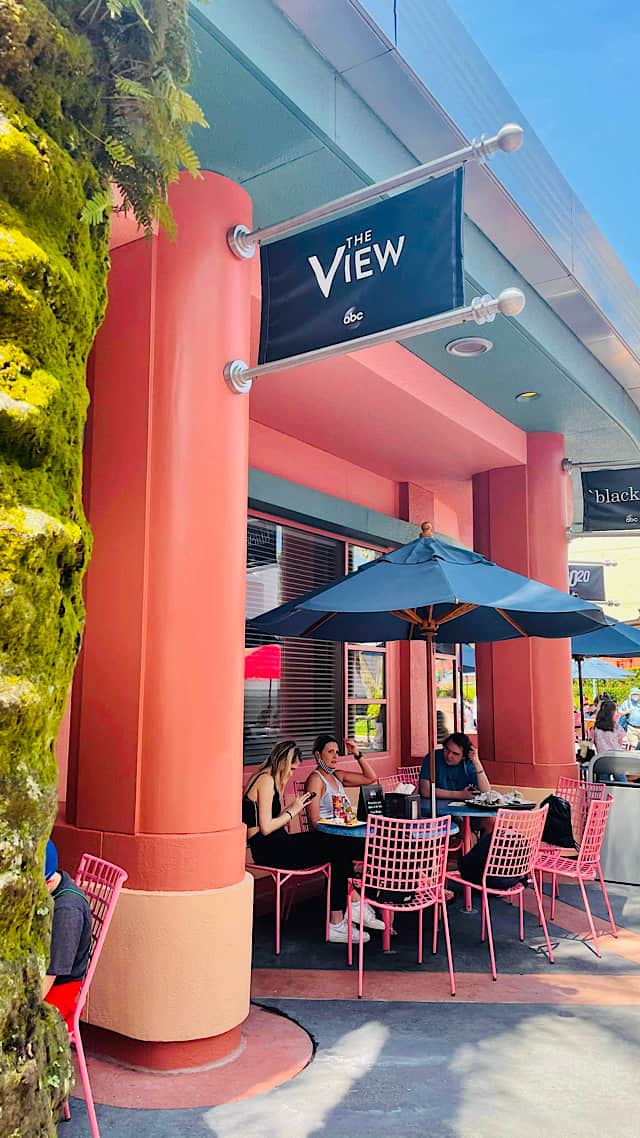 Both times we arrived early, and it was packed! Finding a table was a bit tricky, but Cast Members were very eager to assist. Several Cast Members floated around the dining area asking if guests needed anything.
While we loved the fresh variety of more non-theme park dishes, there are some glaring omissions. If you're looking for your typical burger and chicken nuggets, ABC Commissary is not the place for you.
For decent burgers at Hollywood Studies, go to Backlot Express. If you're looking for a sit-down restaurant, try Sci-Fi Dining for a fun dining experience.
Have you tried ABC Commissary since it reopened, or would you try it after seeing the new menu? Please share your thoughts below or on our KennythePirate Crew Facebook Page.
Are you planning a vacation? Reach out to our trusted travel agency sponsor Authorized Disney Vacation Planner
Mouse Class Travel
!