Boy, do we love Wine Bar George! Check out all the amazing food you can enjoy.
Wine Bar George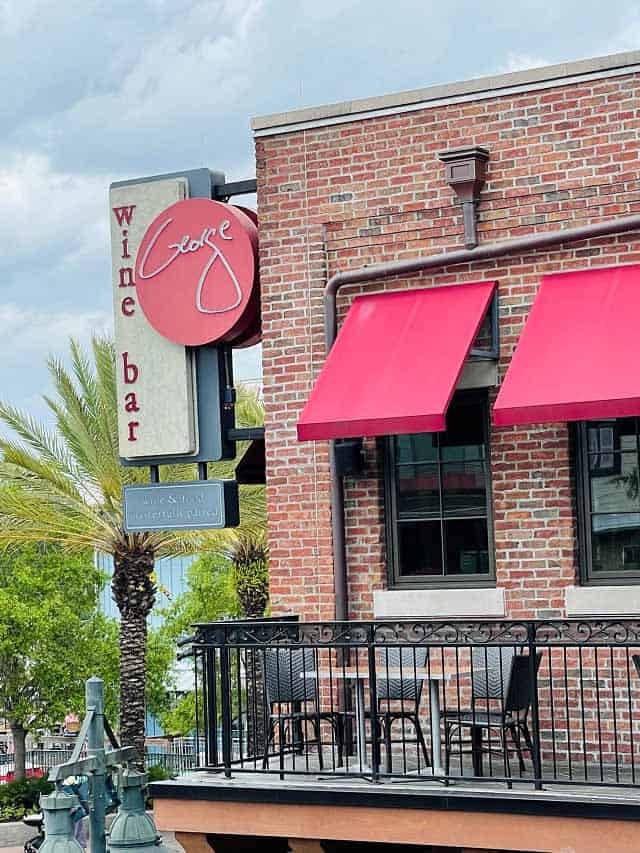 Wine Bar George is delightful Disney dining located in the Landing over at Disney Springs. Many people associate the restaurant with Master Sommelier George Miliotes.
It is true that Wine Bar George is classified as a wine bar, but did you know it also serves up some of the best food in Walt Disney World? If you are looking for a uniquely delicious meal, this place may fit the bill.
I (Katie) have dined here on several occasions ranging from a visit with my husband as part of an anniversary getaway to a weekend trip with friends. It is a great place to go for just about any occasion and any appetite from those looking for small plates to those craving a family-style feast.
The Atmosphere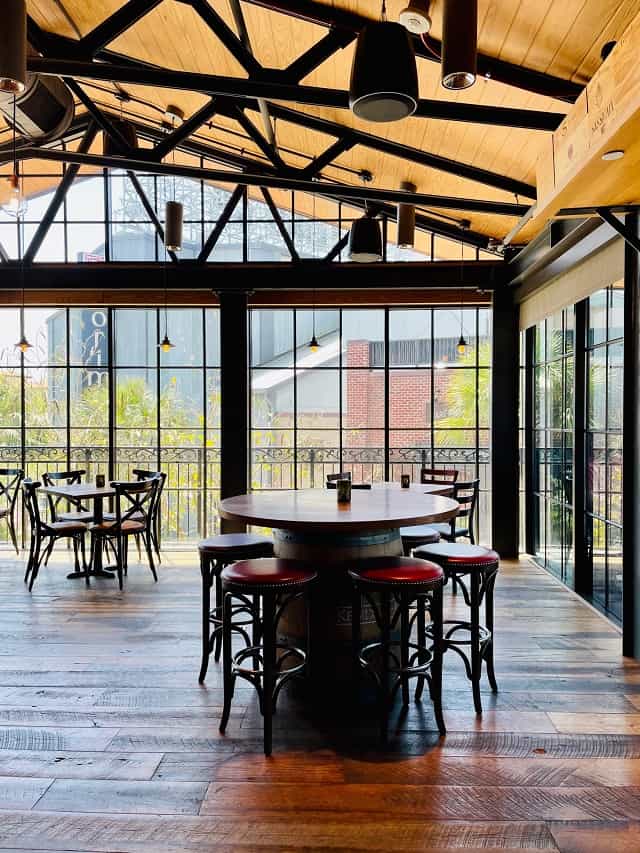 The restaurant's website describes the restaurant's style as casual yet sophisticated. I agree that this is the perfect pairing of adjectives for the estate-style wine bar.
It is, of course, decorated with wine barrels. In fact, many of the tables are made from them. Floor-to-ceiling windows upstairs provide plenty of beautiful natural light.
There are both high-top and traditional tables. It is important to note that the high-top tables have backless barstool seating, so if you have a need for a chair with a back, you should mention it to your hostess.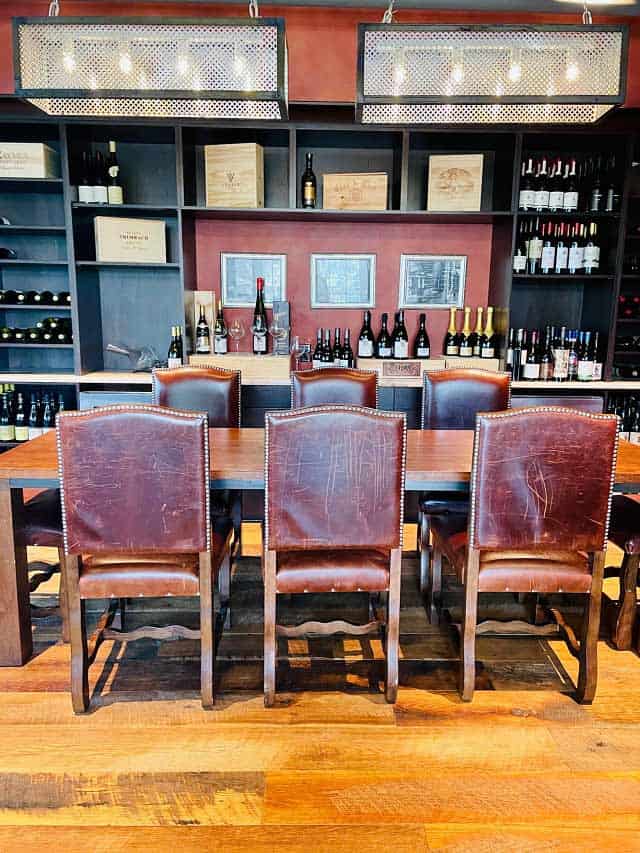 Additionally, you can elect to sit outside on the porch if you prefer dining al Fresco. The location provides nice views of Disney Springs.
In typical Disney fashion, while the restaurant is posh, it is casual. You will not feel out of place in your Disney t-shirt, especially during the day.
Is it Kid Friendly?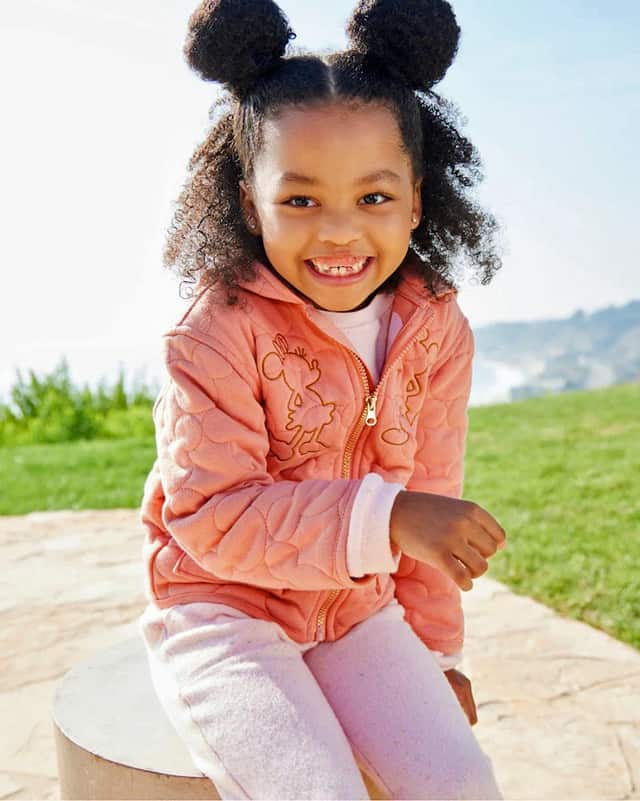 If you are wondering whether it is kid-friendly, the answer is "yes." While this is a great restaurant for a date night or a girls night out, it also welcomes families.
I have not taken my children to Wine Bar George (yet), but I would not hesitate to do so, especially if your children are little Disney foodies. But, for the less adventurous eaters, I noticed that there is a kids menu with traditional Disney kid meal offerings such as chicken tenders and hot dogs.
If you are looking for a character meal for your children, this is not the place for you. For a list of meals with characters, head over here. And, here is a list of restaurants without characters that we think your kids will really love.
The Eats!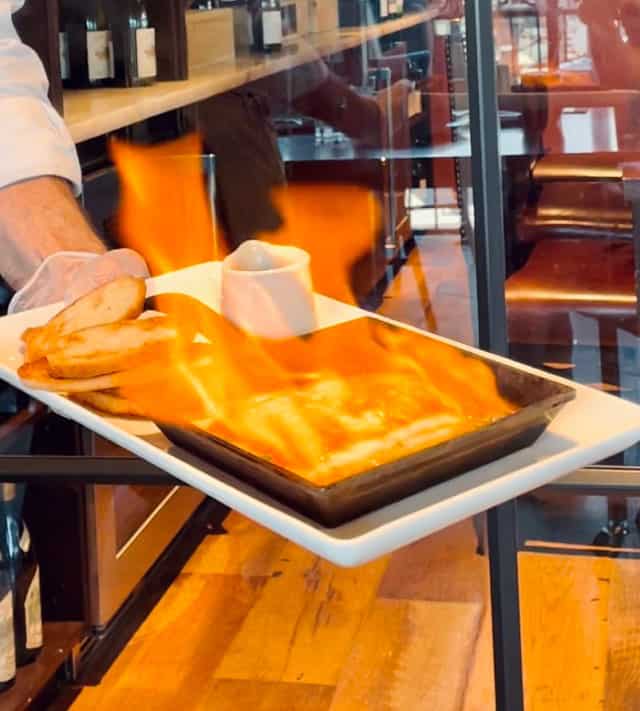 Wine Bar George has some of the best, if not THE best food available in Disney Springs. That is saying a lot because Disney Springs is full of restaurants and has plenty of contenders for "best food." In fact, one of its starters made the list for some of Disney's Best Appetizers.
I have been lucky to be able to taste a variety of dishes to share with you, dear readers. Here is how they stack up.
Saganaki on Fire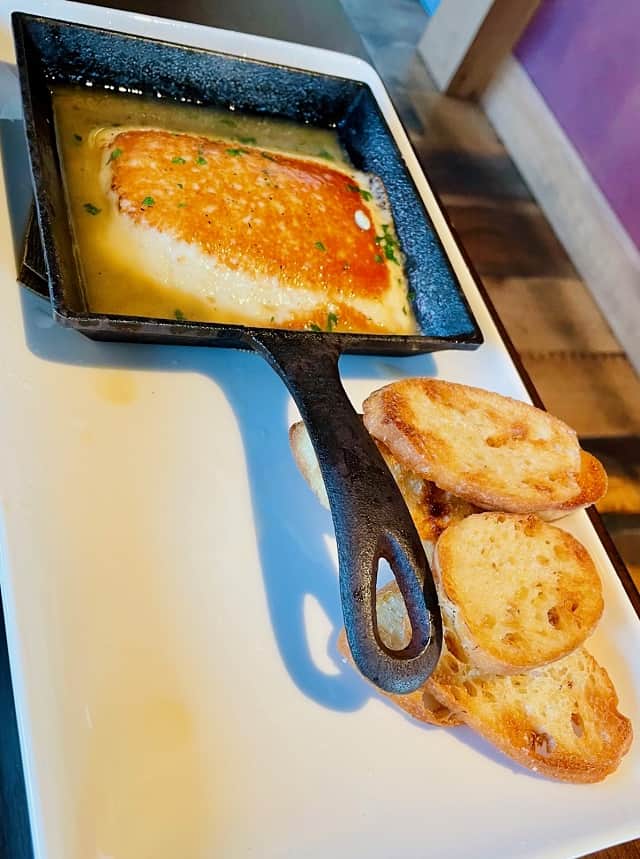 Saganaki on Fire is one of my favorite foods on the planet, and it just so happens that Wine Bar George serves a fantastic version of the dish. In fact, its reputation is one of the things that drew me to the restaurant for an anniversary lunch with my husband.
Saganaki on Fire is literally greek cheese that is set on fire and then extinguished with the juice of a lemon. Wine Bar George serves this dish tableside as you can see in my video below.
Now, you may be thinking, "what on earth is appealing about flaming cheese?" The answer is: everything. This dish is flavorful and delicious in a way that words cannot really explain.
Interestingly, it is meant to be eaten with a fork and knife, but it is served with a bit of crostini for those who prefer to use it as a spread. I have tried it both ways, and while I prefer it with a fork and knife, it is also delicious on the crostini.
Crispy Mac & Cheese Bites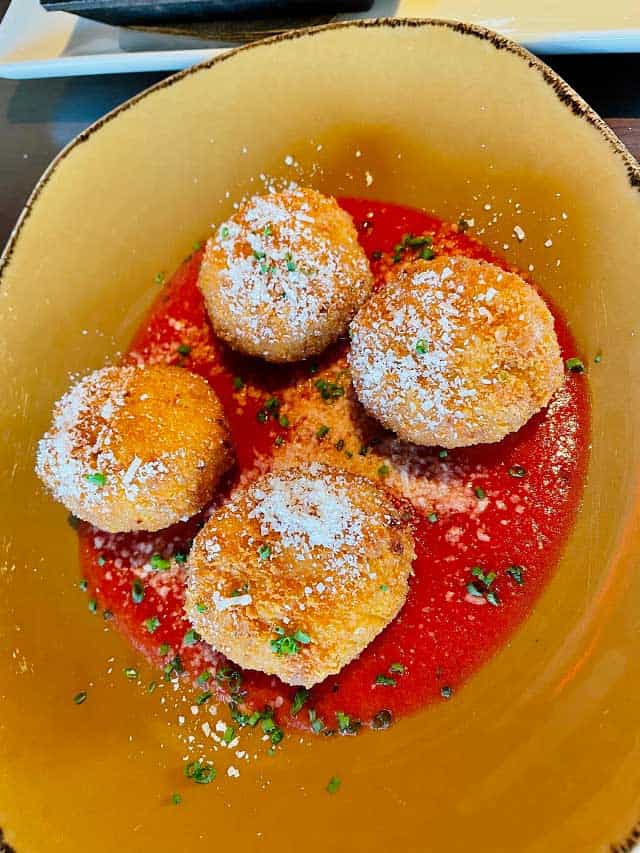 Everyone raves over the crispy Mac & Cheese Bites. My husband liked them when we chose Wine Bar George for an anniversary trip. They are crispy on the outside and creamy and cheesy on the inside. What's not to love? Most people who love Wine Bar George consider these a must-eat.
However, if I had to pick for just myself, they are not what I would order. Don't get me wrong, you will probably love them. However, when I want to indulge in cheese, I will stick with the Saganaki on Fire and the beets I am about to describe.
Roasted Beets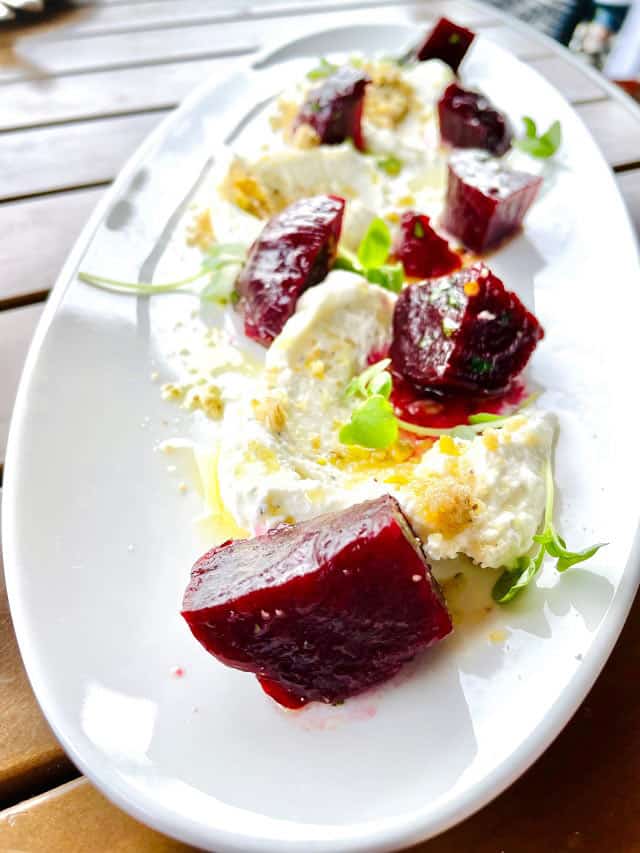 I absolutely love beets and beet dishes. In fact, one of my all-time favorite Disney salads made the list because it contains beets. My favorite Topolino's Terrace dish also honors beets.
And now I have had the divine experience of trying the Roasted Beets and Goat Cheese at Wine Bar George. They are absolutely perfect. I can't imagine a better way to enjoy beets than with goat cheese.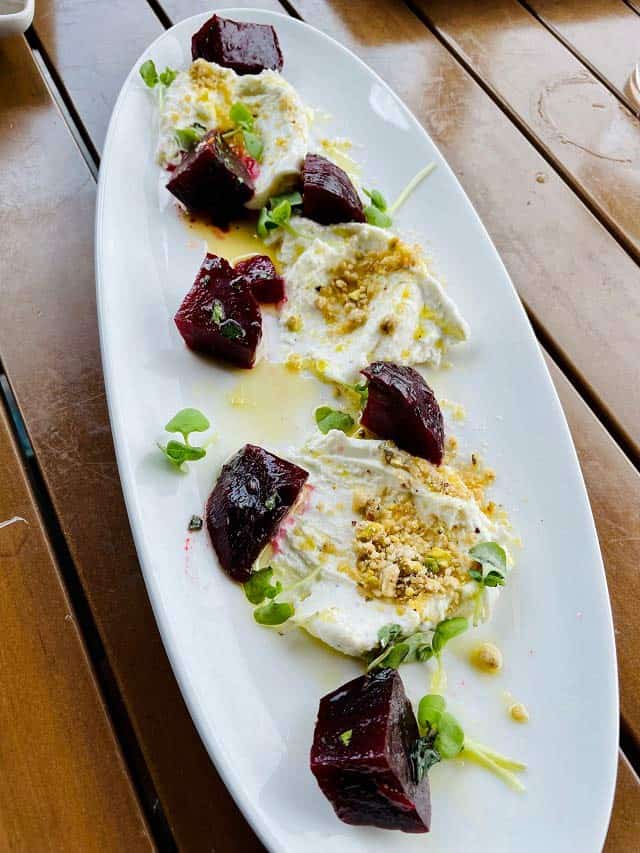 I will be ordering this dish again and again. It is earthy and rich, and it is a welcome dose of iron-rich plant-based food to balance out the not-so-healthy Disney snacks I typically indulge in when I visit.
Chicken Salad Sandwich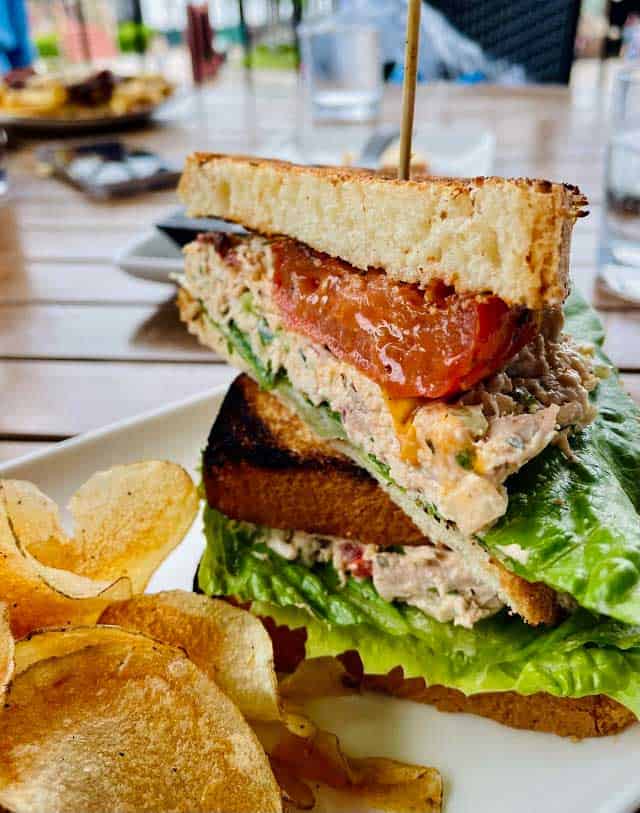 The Chicken Salad Sandwich is a Wine Bar George dish that I never hear anyone talk about. It's a bit of a Wine-Bruno-George situation. One of my friends ordered it on a recent visit and shared it with me, and I was glad to have a chance to taste it. The sandwich also comes with house-made chips. They were crisp and seasoned with plenty of spice and made a nice accompaniment to the sandwich.
If you like onion in your chicken salad this is going to be a treat for you. I am more of a traditional relish and eggs or Waldorf chicken salad fan, however, it was still a tasty dish. It is not overly mayonnaisey, so it has a light feeling to it. I especially love the treatment of the tomatoes served on the sandwich. Those flavorful blistered tomatoes make the dish. I'd eat them on their own.
Steak Frites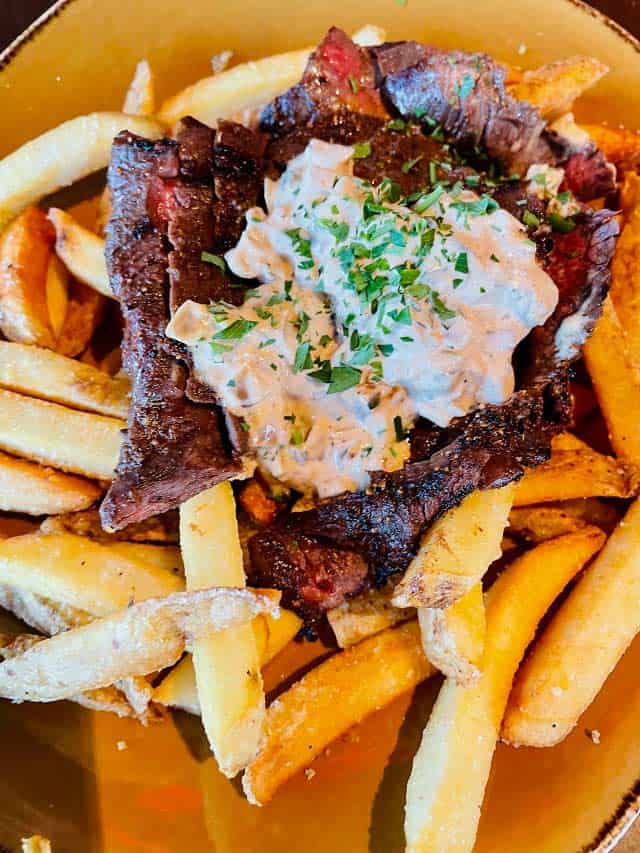 The Steak Frites are another popular Wine Bar George dish. I have had these several times, and the experience has been consistent.
The flavors are absolutely lovely. It is definitely a well-seasoned dish in keeping with the style of fare Wine Bar George is known for.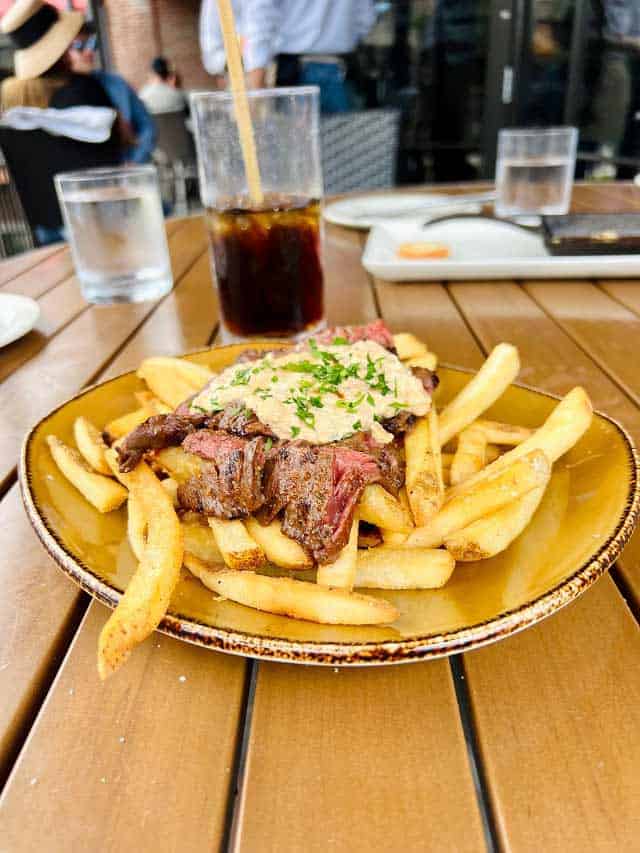 However, I typically find the steak to be a little chewy for my taste, even when it is prepared rare. I know this is typical of this particular cut of meat. While it does not take away from the flavors, it does steer me to other menu items when I am ordering for myself.
Now, the fries are another story entirely. They are absolutely perfect with their crisp, delicious batter and their warm, soft, potatoey centers. I will gladly share this dish with friends just for the fries! They are a treat.
Corkcicles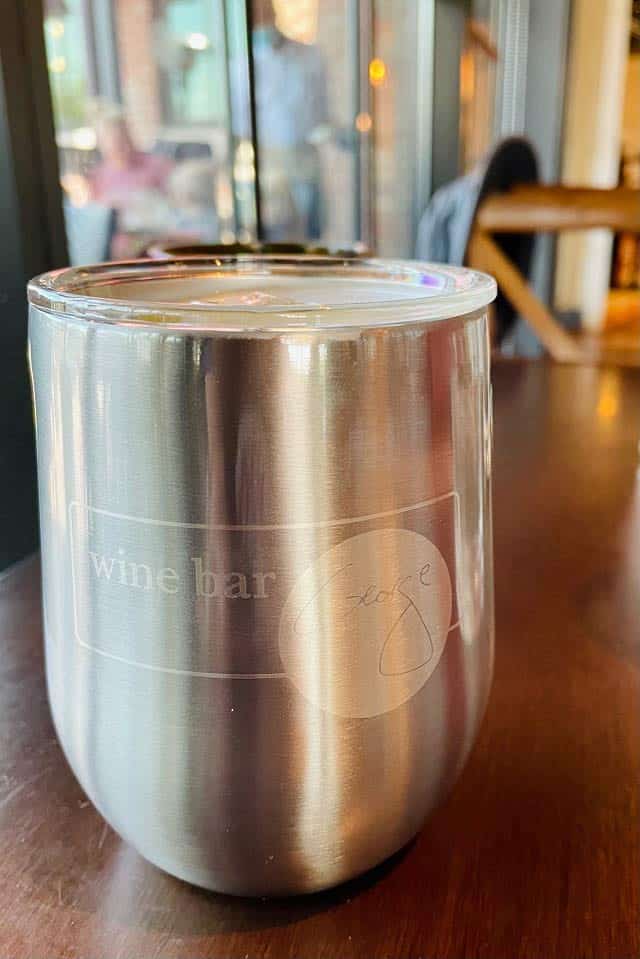 If you love Wine Bar George, you will probably enjoy the souvenir Corksicles that are available seasonally. Sometimes, Wine Bar George offers special, limited-time offer, branded Corkcicles. Other times, it offers the same Disney and Star Wars-themed stemless wine glasses that are available online through the brand's webpage.
When I am at Wine Bar George, and they happen to have the special Corkcicles, I check them out and sometimes I come home with one. And, did you know that each Corksicle comes filled with a free drink?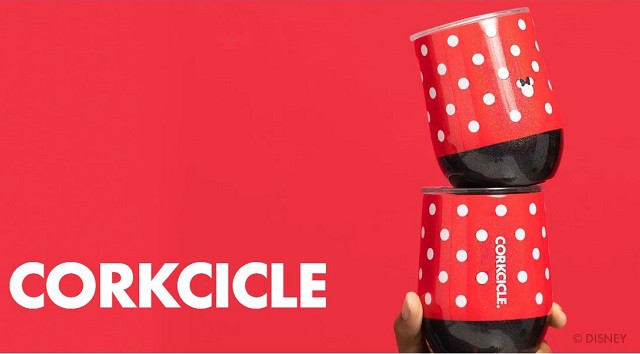 I have tried one of the DOLE Whip drinks, and I have to say I am not hugely fond of it despite my love for DOLE whip. I'd prefer a cup of plain ole' DOLE Whip, which the restaurant cannot offer as the drinks are premixed. However, it is a nice touch to have something complimentary in Disney once in a while. For a list of other things that are still free in Walt Disney World click here.
Overall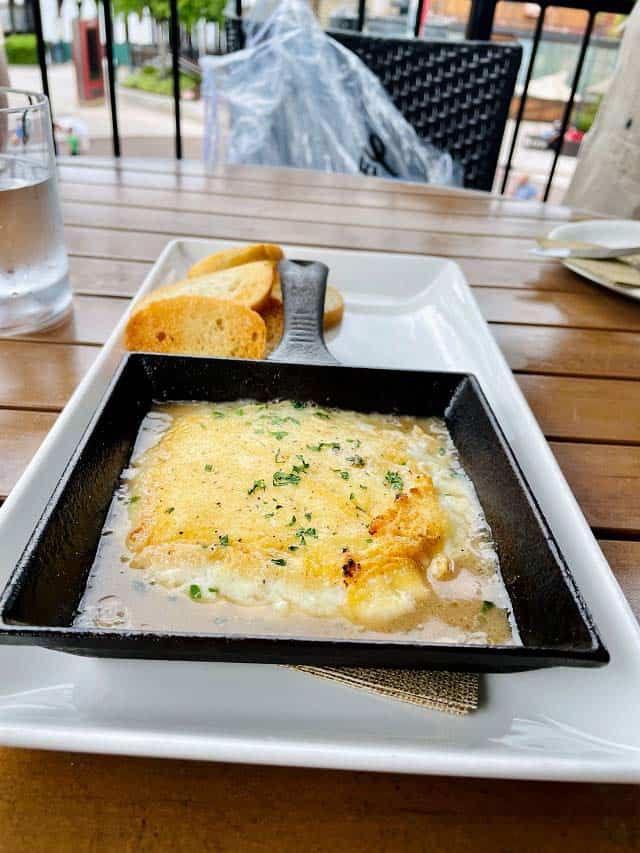 Overall, Wine Bar George is a treat! I would highly recommend you give it a try while you are visiting Walt Disney World, especially if you are spending time in Disney Springs. It has something for every appetite and every palate.
Have you ever enjoyed dining at Wine Bar George? Will you be adding it to your Disney to-do list? Let us know in the comments or join our friendly crew to continue the conversation on Facebook.