LATEST VIDEOS
Subscribe to my Youtube!
Just Mousing Around July 3
LIVE - Just Mousing Around
Just Mousing Around - LIVE
Sometimes you just need a good salad. Believe it or not, there are some pretty spectacular salad creations to be had in Walt Disney World!
Disney Dining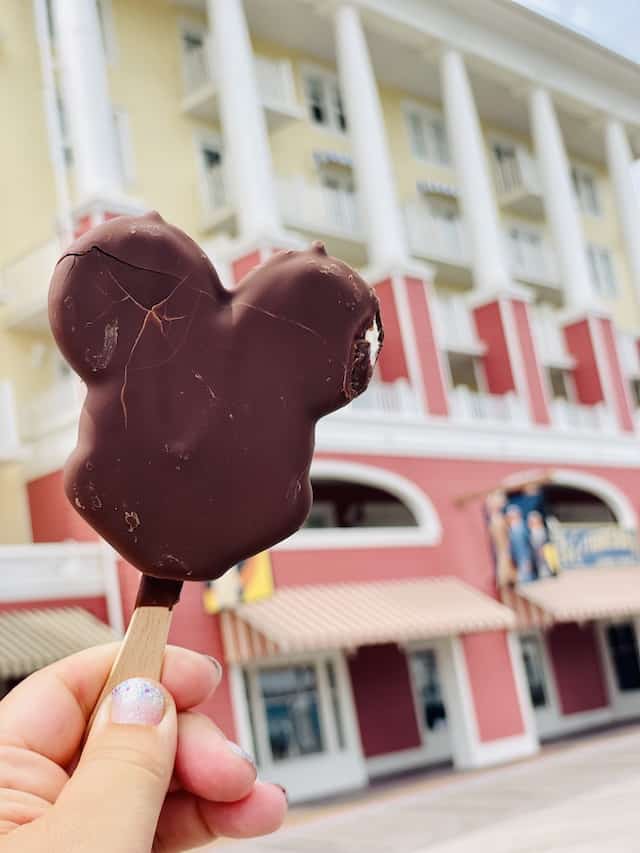 When you think about dining in a theme park, what comes to mind? If you are not a frequent Disney traveler, your mind might first go to foods like popcorn, giant pretzels, pizza, chicken tenders, French fries, and cotton candy. But, if you are a Disney foodie, then your mind probably went somewhere different. You are probably also now craving a very specific item that you cannot have right away, and for that I apologize!
While Disney World does have plenty of typical theme park fare, it also has unique and delicious snack, quick service, and table service offerings. Many restaurants even offer signature dining experiences. Many guests are delighted to discover such variety. Even better, Disney offers menus to cater towards many dietary restrictions.
It is even possible to engage in healthy eating habits while visiting the mouse.
Salads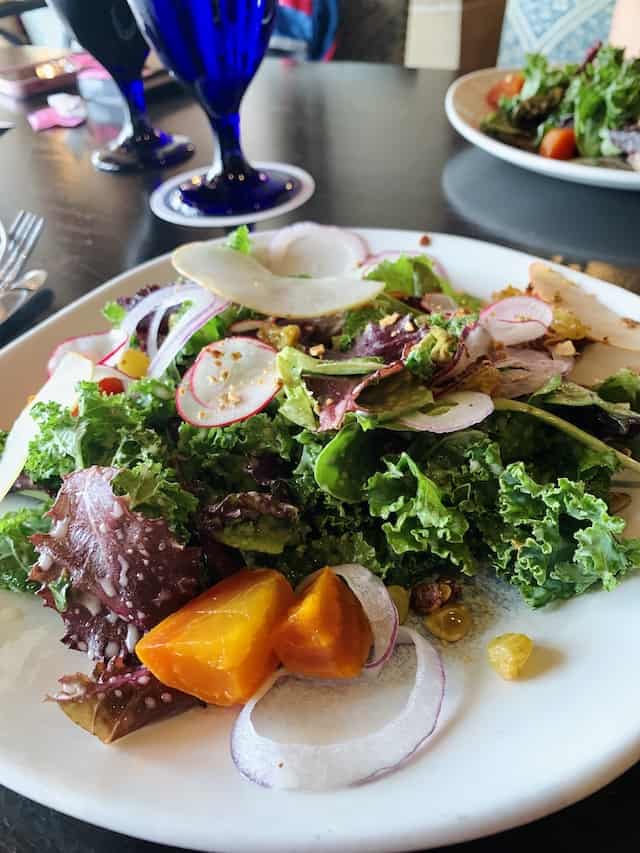 Believe it or not, Walt Disney World offers quite a number of amazing salads at various locations around the resorts. In fact, some of my very favorite salads in all the world are inside the theme parks.
Of course, many of the salads are covered in ingredients that keep them from being a true health food. However, others are packed with superfoods.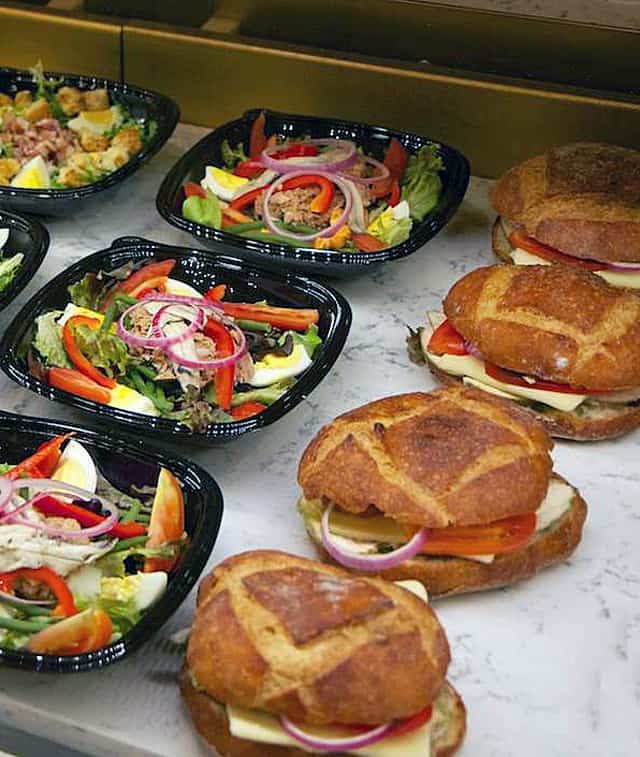 Here is a run down of the very best salads Disney has to offer in terms of deliciousness and where to find them. I will also include notes on whether each suits dietary restrictions based on Disney's recommendations.
5. Grain Salad at Space 220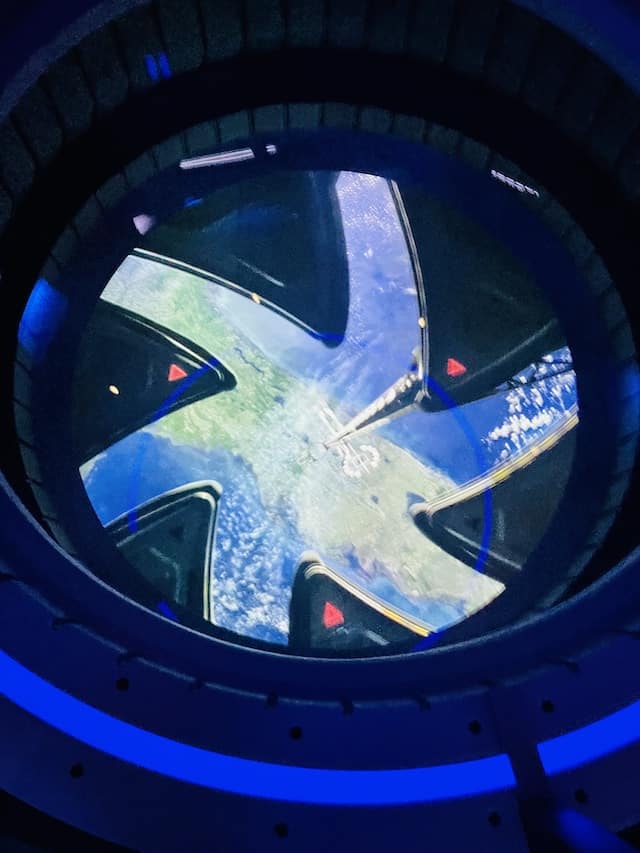 One salad that is out of this world, can be found at Space 220, Epcot's newest hot spot. Space 220 is not just a space themed restaurant. It immerses guests in the experience of traveling to a space station to dine with views of the cosmos.
The main dining room features a prix fixe meal. At lunch you can select an appetizer and an entree, and at dinner you can select an appetizer, entree, and dessert.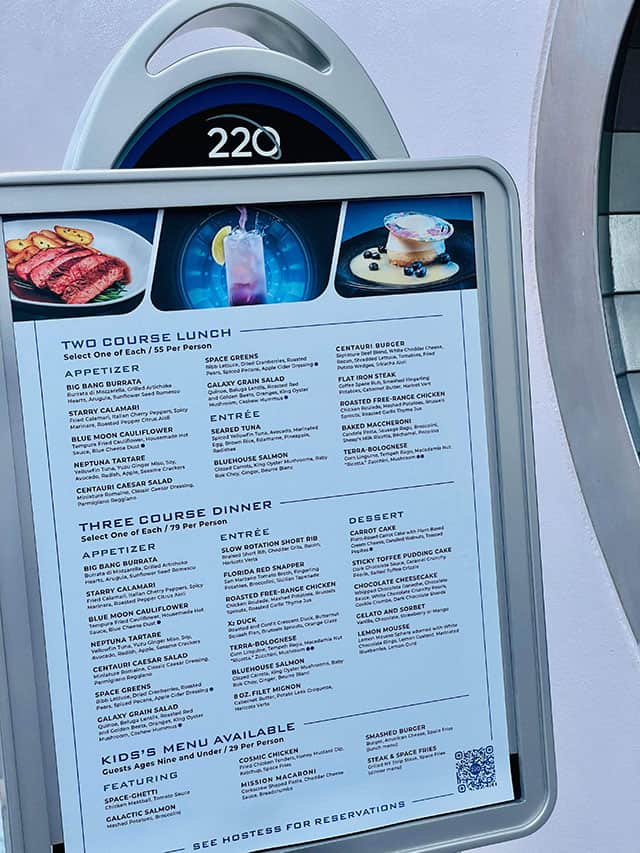 On the appetizer menu, you can find the Galaxy Grain Salad. This dish is not your typical green salad. Rather it is a creation made from Quinoa, Beluga Lentils, Roasted Red and Golden Beets, Oranges, King Oyster Mushroom, and Cashew Hummus.
It is every bit as delicious as it sounds. If you have read any of my other reviews, you might know that I adore beets, and this salad showcases them well. Honestly every ingredient is delicious. This is creativity gone right. I tried a lot of dishes from all categories of the Space 220 menu, and this was my favorite of all.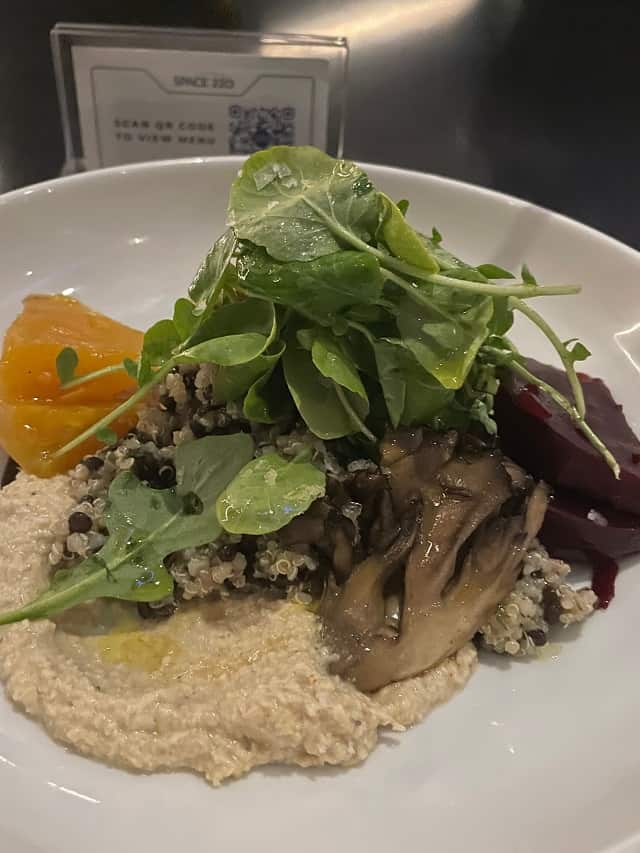 There are several winners on the appetizer list at Space 220. But, if you are craving something plant based, this one is a safe bet. This dish is listed as being Vegan, so if that is important to you, it is a good option.
Unfortunately the Salad is not a stand alone dish on the lounge menu. If you want it, you will likely need to order an entire Prix Fixe meal. However, it never hurts to ask if you can get it a la carte if you dine in the lounge. Let me know what happens if you try it!
4. Tuna Niçoise Salad at Primo Piatto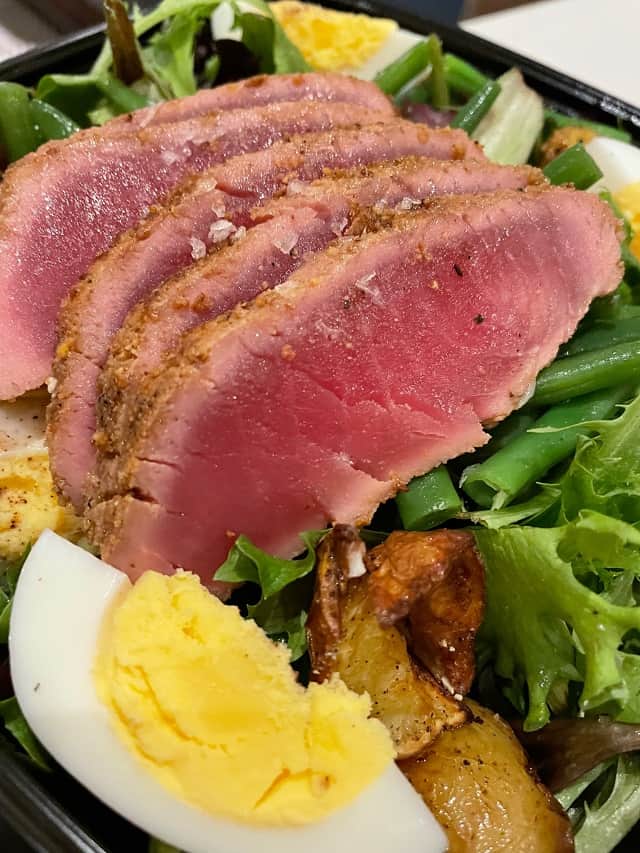 The next salad may be a quick service option, but I'd put it up against many salads I've had at table service and signature locations. The Tuna Niçoise Salad at Primo Piatto is a delicious quick service option when your body is craving nutrients and your taste buds are craving something fresh and delicious.
Primo Piatto is the quick service option at the Riviera Resort. It is one of the many reasons I love visiting Riviera. It has a good variety of options for a quick service restaurant, and some of them are as good as or better than what you can find at table service restaurants.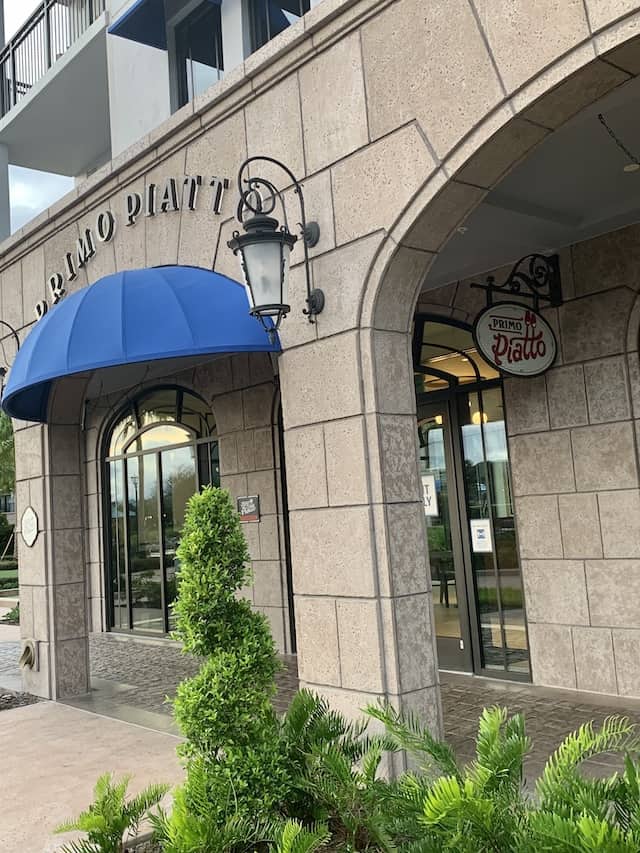 The Tuna Niçoise Salad is no exception to this. It features Seared Rare Tuna on Crispy Greens tossed with Potatoes, Green Beans, Olives, Tomatoes, Hard-boiled Egg, and Champagne Vinaigrette dressing.
It is such a unique salad. Every element was thoroughly enjoyable from the tuna to the dressing to the green beans!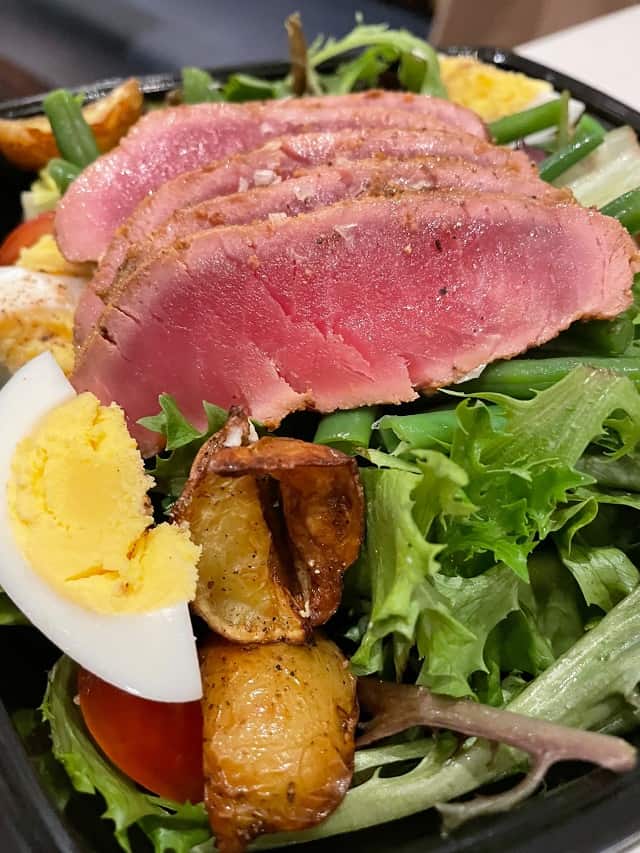 According to the Allergy friendly menus posted on Disney's site, the salad is gluten/Wheat Allergy-Friendly, Milk Allergy-Friendly, Peanut/Tree Nut Allergy-Friendly, Shellfish Allergy-Friendly, and Soy Allergy Friendly. As always, you should ask to verify that when you arrive just to be on the safe side.
3. Hollywood Brown Derby Cobb Salad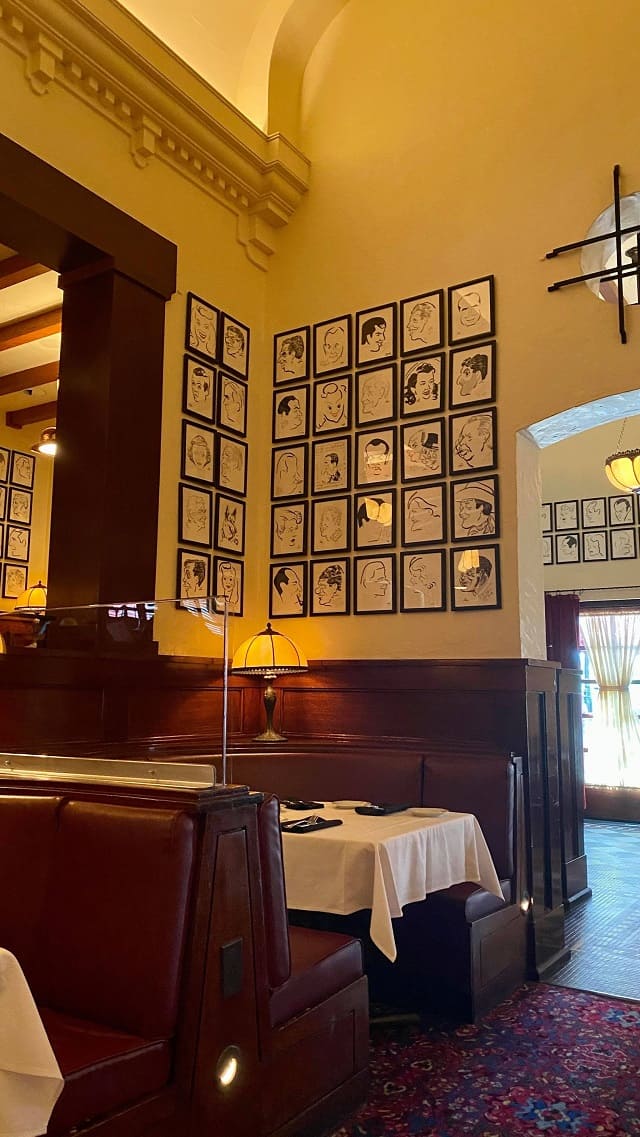 One of Disney's Hollywood Studio's most well known dishes just happens to be a salad. And it is a classic!
Hollywood Brown Derby in Hollywood Studios is a replica of the original Hollywood Brown Derby in California. And like the original restaurant, Disney's Hollywood Brown Derby serves the legendary Cobb Salad. You can read the entire history of both the restaurant and the dish right here.
Disney's Cobb salad looks as delicious as it tastes. It is a lovely arrangement of rows of Spit-roasted Turkey, Bacon, Egg, Tomatoes, Blue Cheese, Avocado, Classic Dressing over a finely chopped bed of lettuce. I honestly love the lettuce.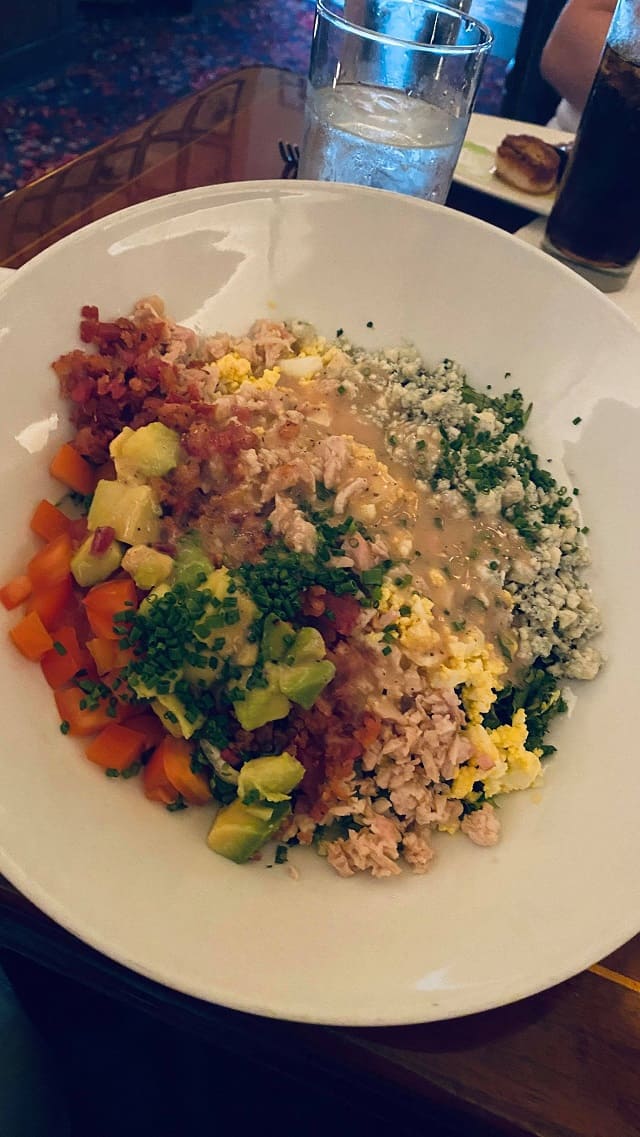 I truly enjoy this salad and have never had a negative experience with it any time I have had it over the past decade. If you want to try a classic dish in the middle of a theme park, this one is a winner.
Even better, this one is suitable for number of dietary restrictions. The menu online states that it is okay for those with Gluten/Wheat, Fish, Peanut/Tree Nut, and Soy Allergies. Verify when you arrive just to be sure.
2. Satu'li Canteen's Salad Base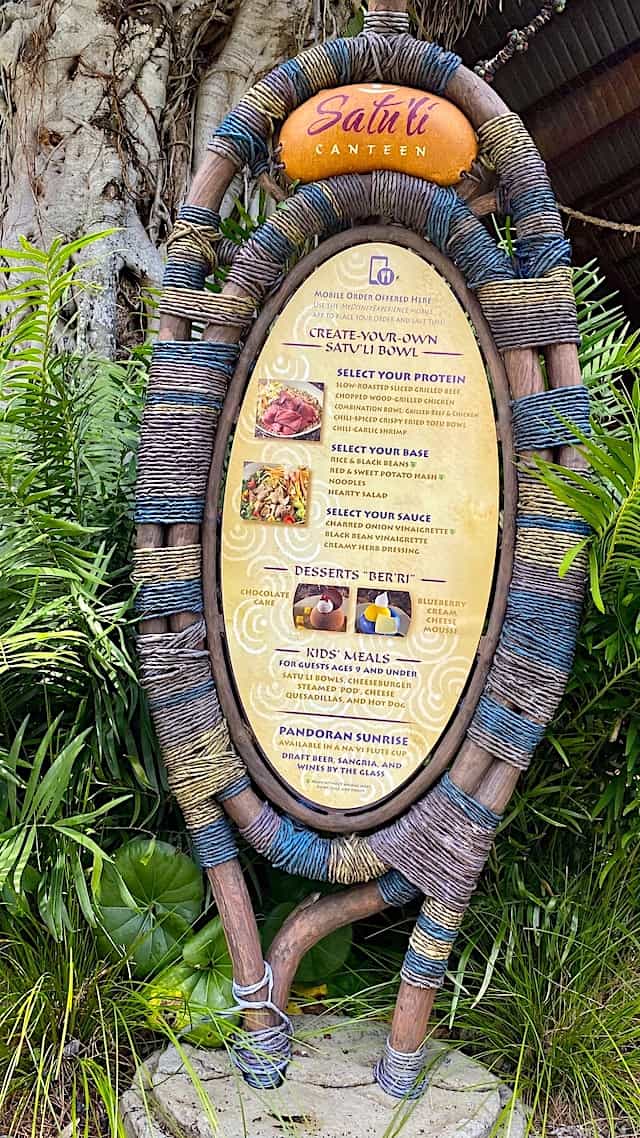 I love Animal Kingdom's Satu'li Canteen in general. It is one of the best quick service restaurants in Walt Disney World. You can read reviews here and here.
You will find Satu'li Canteen in Pandora, near the gift shop at the exit of Avatar: Flight of Passage. It has outdoor covered seating as well as indoor airconditioned seating. Not only does it provide respite from the elements and the crowds, but it provides delicious meals.
Satu'li Canteen offers many combinations of bases proteins and sauces. But, I go for the Hearty Salad almost every time because it is so delicious.
I prefer it with grilled chicken and creamy herb dressing, but I am sure any of the items are great with it. The boba balls and slaw that top it are a nice touch, too.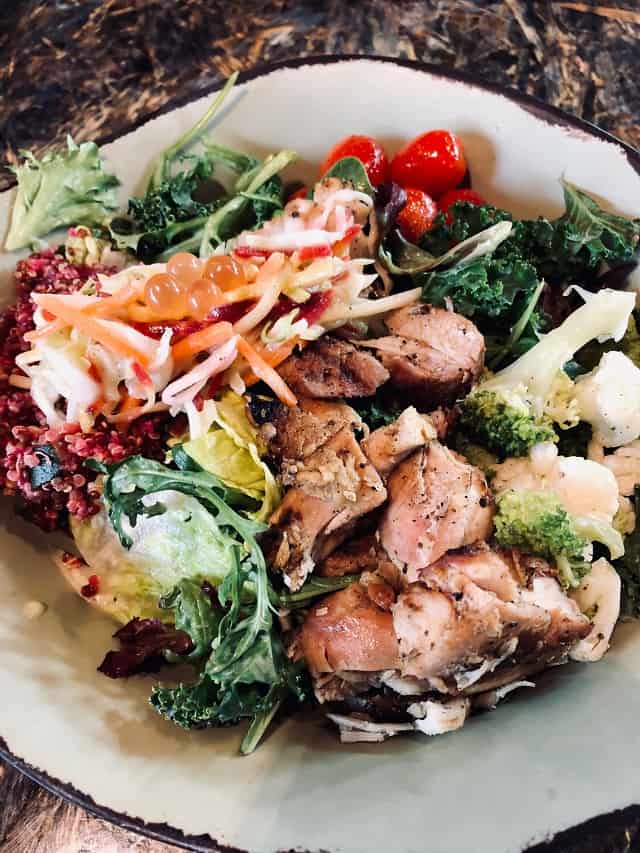 The Hearty Salad base is a star for me because it is typically not just a bed of lettuce. It is filled with yummy treats like quinoa, beets, broccoli, tomatoes, and cauliflower. It's a treat to find such a robust salad in a theme park.
The hearty salad base is great for many dietary restrictions, but you will want to check out all of the proteins and sauces once you arrive as there are too many combinations to list here. Satu'li keeps allergy menus on hand; you just have to ask a cast member.
1. Strawberry Salad from Citricos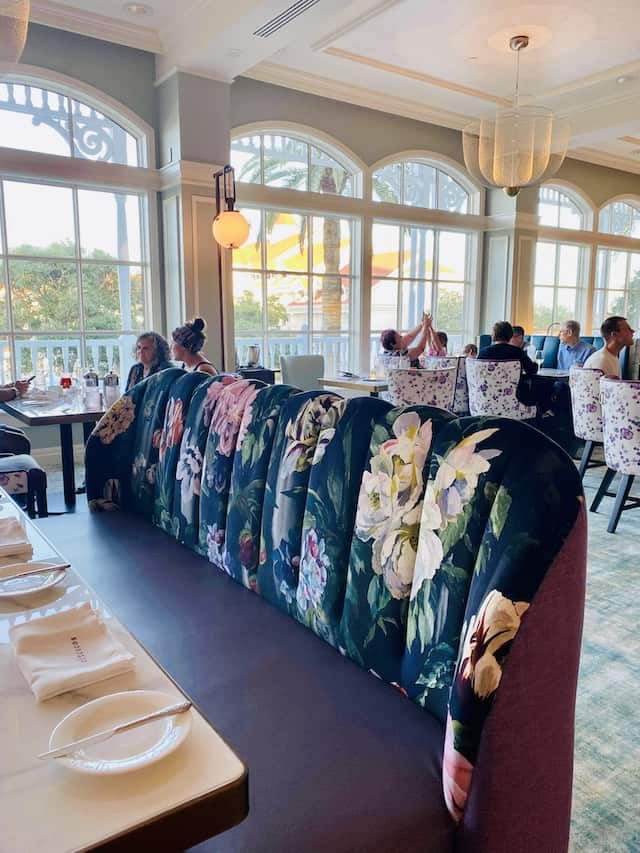 My very favorite salad in all of Walt Disney World is a truly special one. You can find it at Citricos.
Citricos is a signature dining experience at the Grand Floridian. It was recently reconceptualized, and reopened with a new Mary Poppins theme and menu. You can read a full review of this gem here.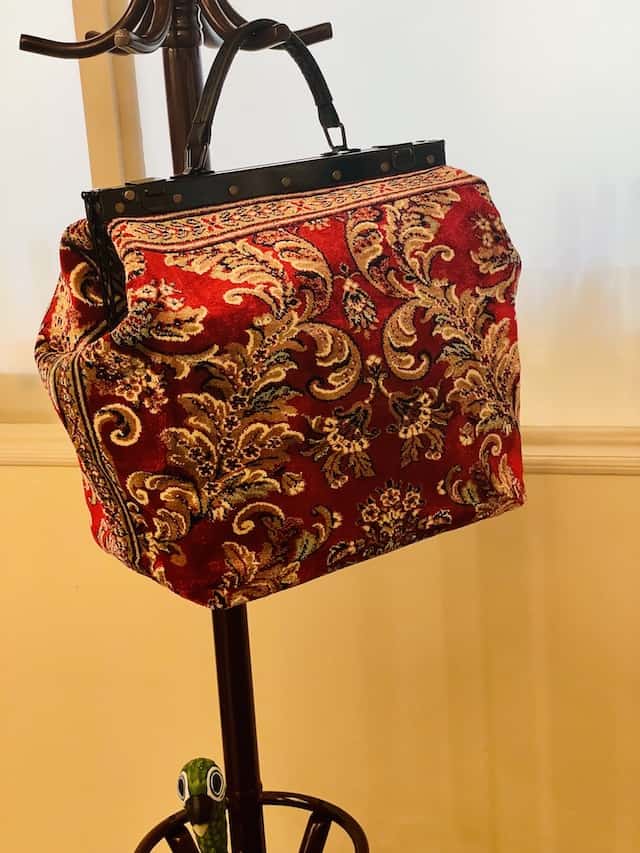 The Strawberry Salad can be found on the First Course section of the menu. It is a perfectly balanced combination of Chamomile Infused Goat Cheese, Frisée Lettuce, Bacon Vinaigrette and Spiced Sunflower Seeds.
The strawberries and goat cheese compliment each other beautifully. The flavors are sweet and creamy and just lovely. It is a refreshing salad to enjoy any time of year. I would like to return just to eat the salad, and although the filet rounds out my top 5 favorite steaks in Disney World, I think the salad may be my favorite dish on the Citricos menu.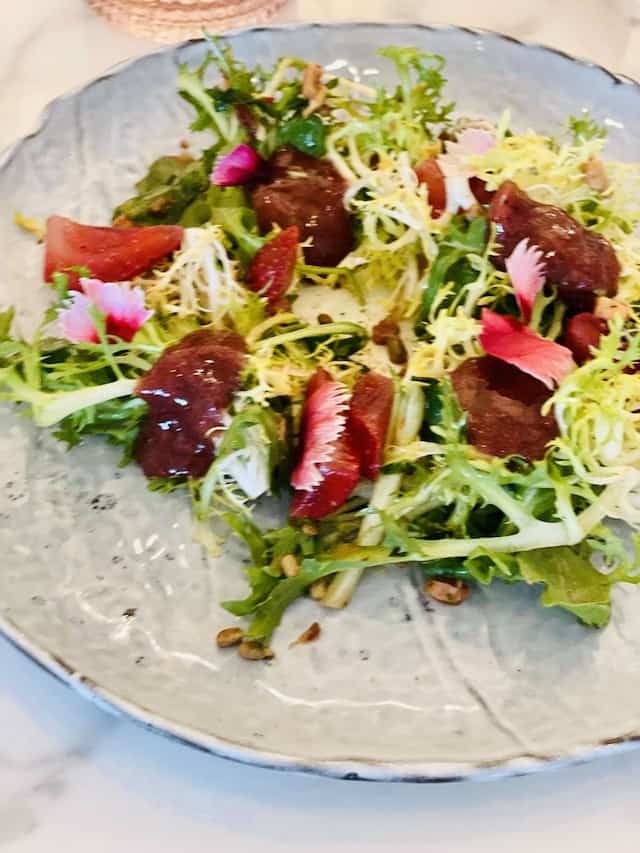 The Walt Disney World Website says that this salad is okay for those with Gluten/Wheat, Egg, Fish/Shellfish, Peanut/Tree Nut, and Soy Allergies. However, you server will be able to assist you with any dietary needs you may need met.
Final Thoughts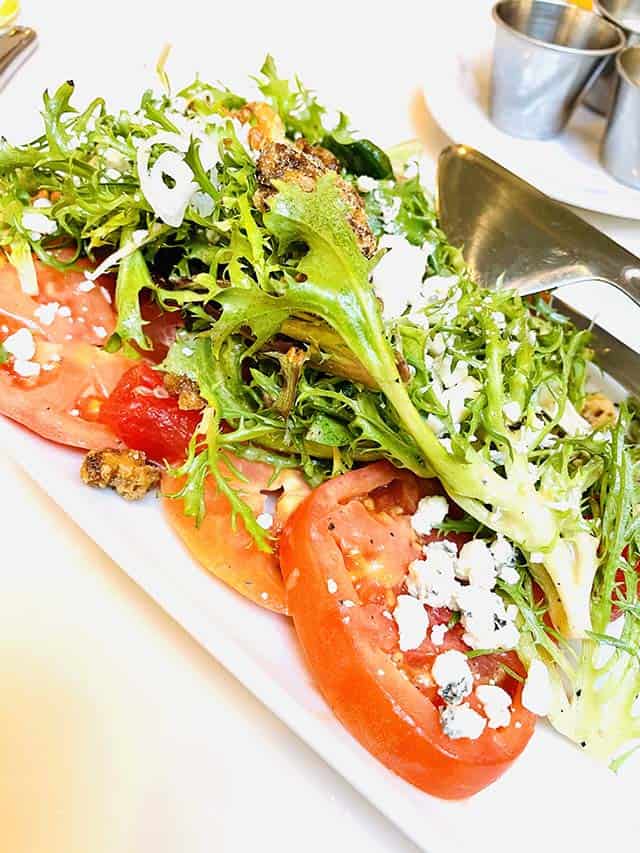 A theme park may not be the most likely place you would expect to find a salad, but these 5 are delicious enjoyable options. In fact, I find myself wishing for one now and then, particularly that strawberry salad.
If you need a veggie fix, Disney has you covered. Hopefully if you need to refuel while you are in the parks, you will be able to find a good one to reach for.
Did I miss one of your favorite salads? Have you ever tried any of these gems? Please share your thoughts with us in the comments below, or tell us on Facebook.
Are you planning a vacation? Reach out to our trusted travel agency sponsor Authorized Disney Vacation Planner
Mouse Class Travel
!