Are you looking for a unique dining experience that is out of this world? Look no further than EPCOT's newest restaurant, Space 220. Read on for our experience and complete review.
Space 220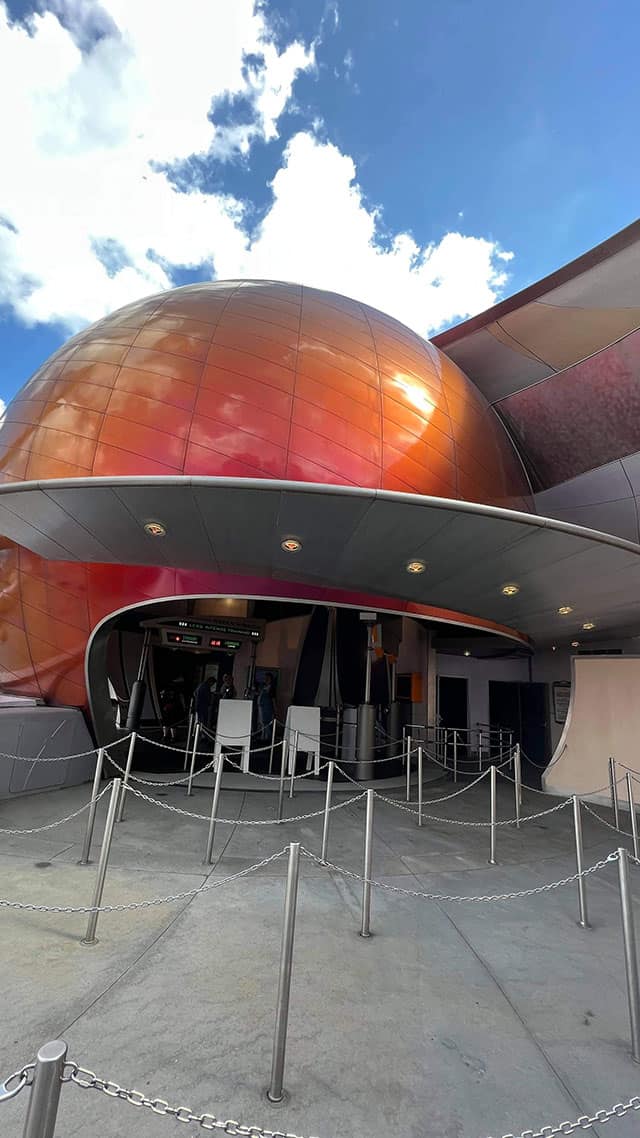 After several delays in opening, Space 220 finally opened its doors on September 20, 2021.
Located next to Mission: SPACE, guests shoot up 220 miles above Earth and experience daytime and nighttime views of the Earth.
Guests feel as if they are docked next to the Centauri Space Station, which is suspended just beyond the orbit of Mission: SPACE. Do you think this restaurant will be on your list of dining experiences at Walt Disney World?
Checking in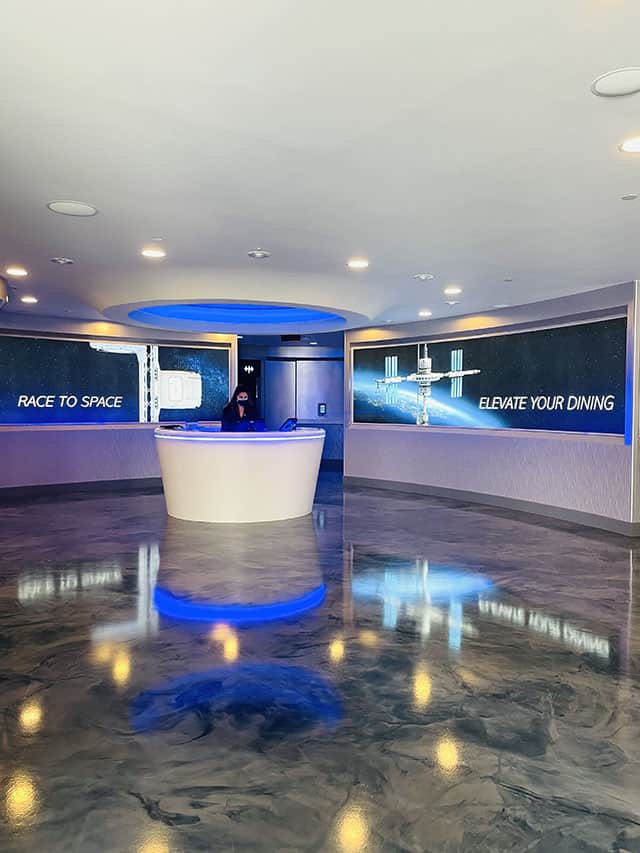 I (Maggie) was lucky enough to experience this new restaurant along with a few fellow KtP writers over Walt Disney World's 50th anniversary weekend.
As we approached Space 220, we noticed an extremely long line of guests waiting for the lounge area. After our meal was over, one of the guests said they had been waiting for nearly four hours!
The lounge area is walk up only.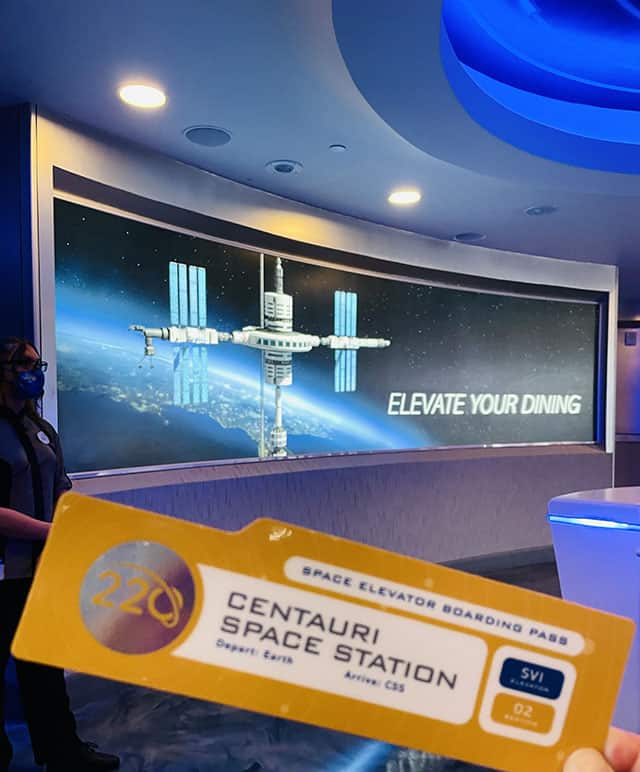 After we checked in, we received our Space Elevator Boarding Pass to Centauri Space Station. No need to enter into a virtual queue for this particular boarding pass!
Our ascent into space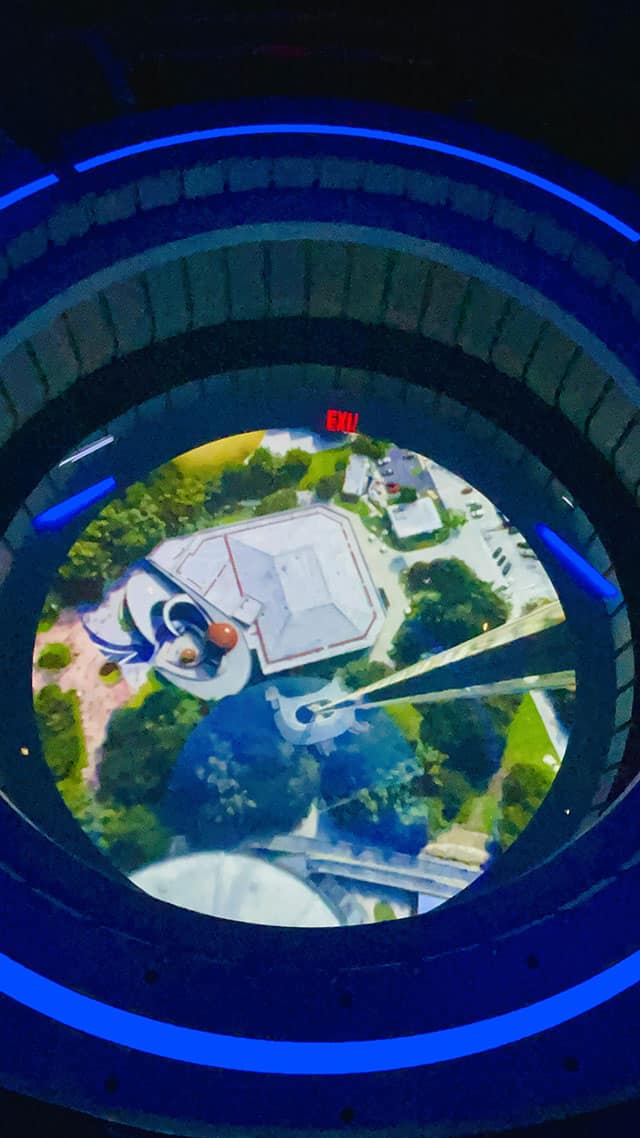 It was then time to begin our ascent into space! We boarded the Space Elevator, and each of us were able to look down and say goodbye to Earth.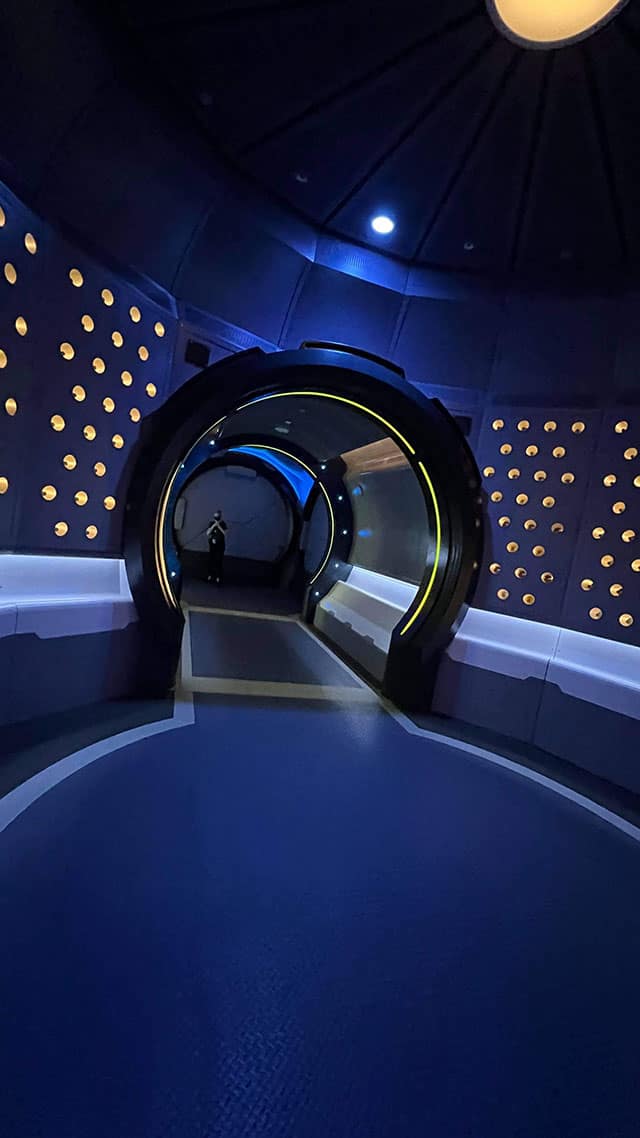 We stepped off of the elevator and we were in space! Okay, not really, but this is Disney and you are on vacation! Forget about reality and immerse yourself into this unique dining experience.
As we were led to our seats, we passed by the grow zone, which is a spinning wall of produce meant to mimic the Earth's gravity. The produce represents the fresh ingredients used by the culinary team.
Dining Area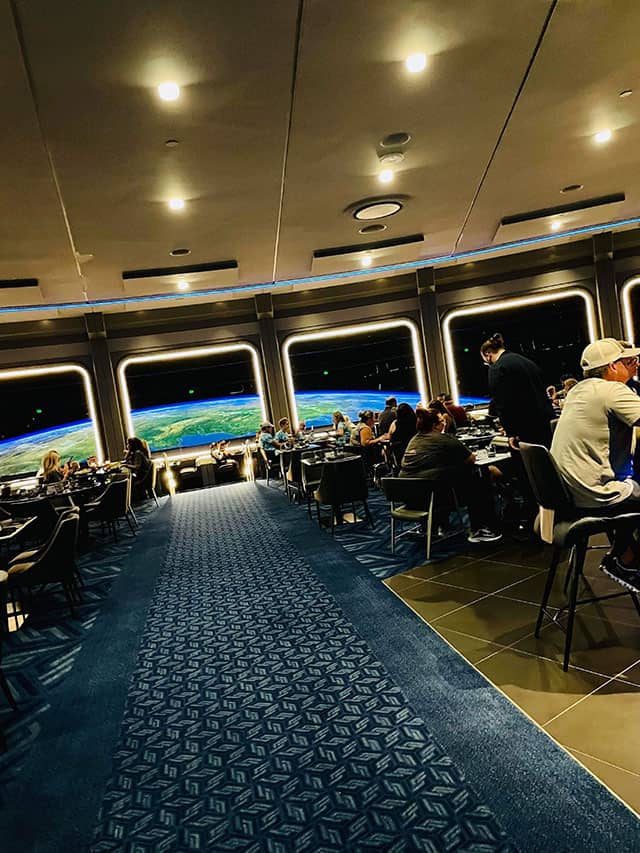 As we walked into Space 220, we knew this was going to be an unforgettable experience.
An immediate sense of calm and something "out of this world" greeted us. Just take a look at that view!
One of the most striking aspects of the dining experience in my opinion is the calming music that is playing in the background. You definitely get the sense and feeling that space is surrounding you and that you are floating.
Lounge Area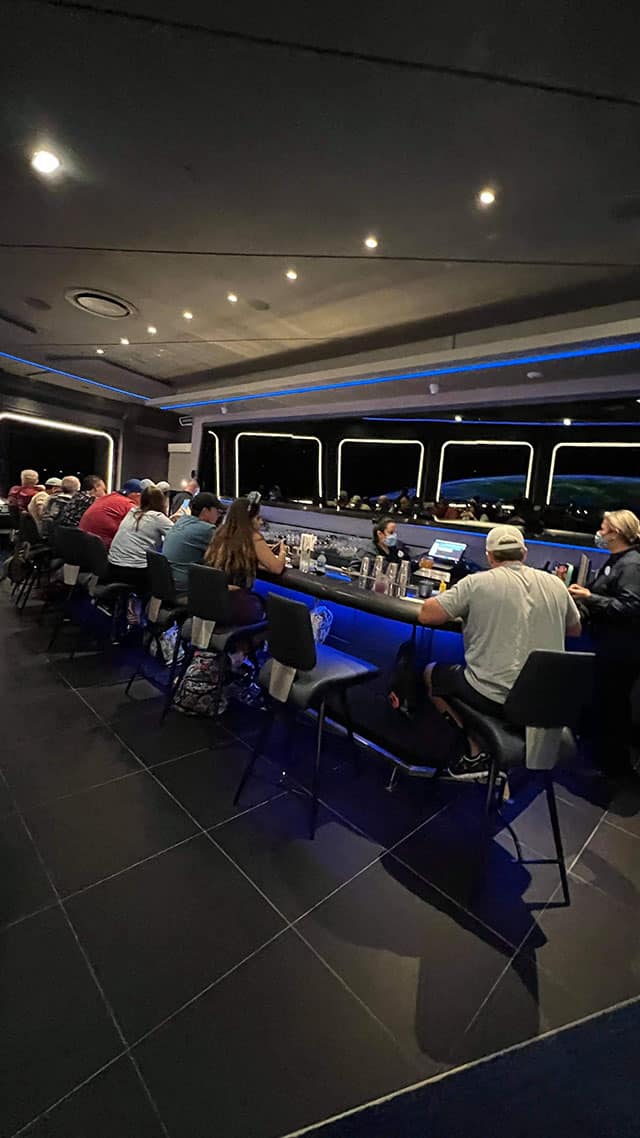 If you want to experience the restaurant, but do not want to commit to the full dining experience, you can sit in the lounge area.
Be sure to arrive early for the lounge area at Space 220 if you do not want to have a long wait!
As mentioned before, keep in mind that the waiting period for the lounge becomes quite long.
Menu and Cost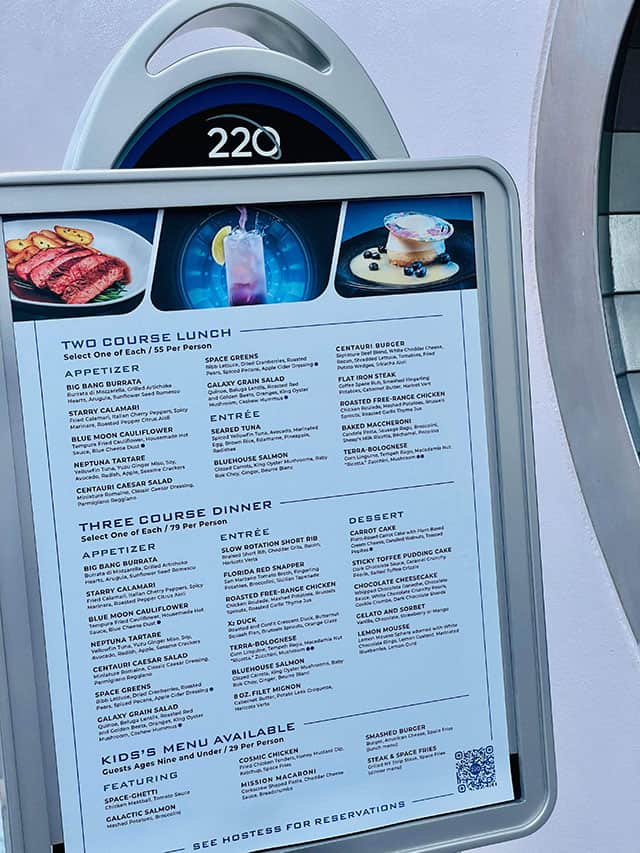 Space 220 features a two-course prix fixe menu for lunch and a three-course prix fixe menu for dinner. The full menu and prices can be found HERE.
As a reminder, this dining experience is quite expensive. Know that what you are paying for during this meal is the full experience rather than just food alone.
Don't forget to check Character Locator for menus and prices of all dining locations at Walt Disney World including Space 220!
Lunch will cost $55 per adult and $29 for children. Guests can choose one appetizer and entree. Desserts are available and can be purchased for an additional charge. Hours for lunch are from 11:30 a.m. to 3:55 p.m.
Dinner is $79 for adults and $29 for children. Guests can choose an appetizer, entree, and dessert. Hours for dinner are 4:00 p.m. to 9:00 p.m.
The Meal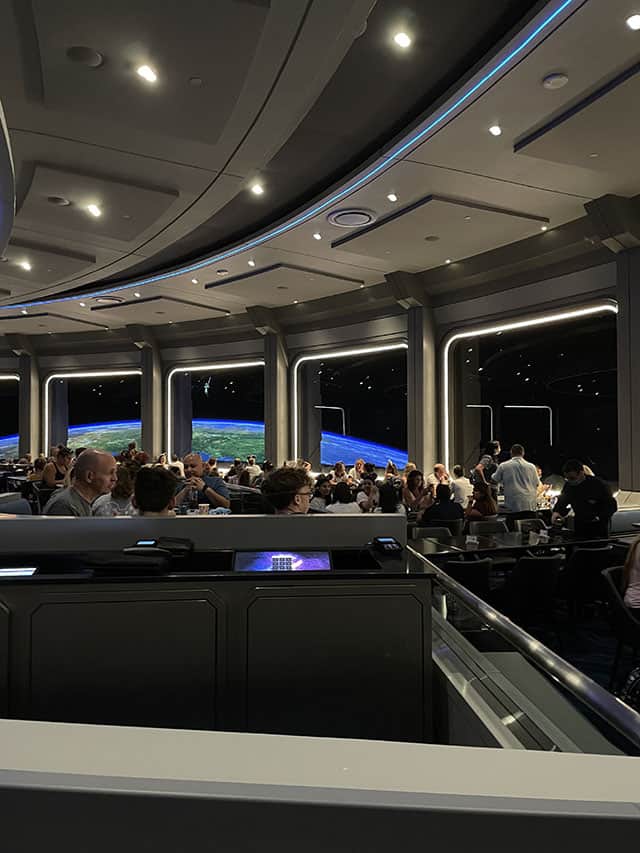 Lift Offs
Between the four of us, we had the following appetizers:
Big Bang Burrata
Blue Moon Cauliflower
Centauri Caesar Salad
Starry Calamari
Big Bang Barrata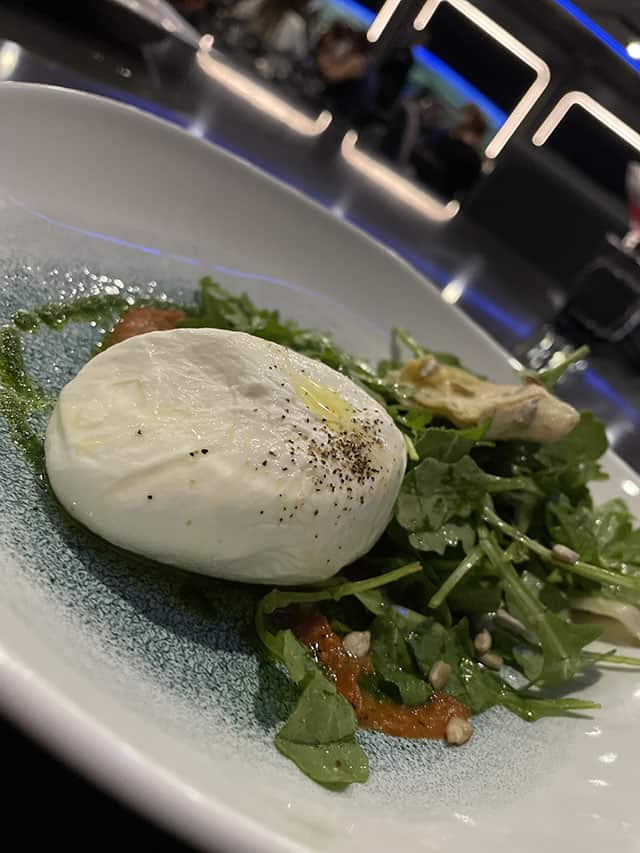 This appetizer included Burrata di Mozzarella, Grilled Artichoke Hearts, Arugula, and Sunflower Seed Romesco. The mozzarella and arugula were fresh and the appetizer was a light and satisfying choice.
Blue Moon Cauliflower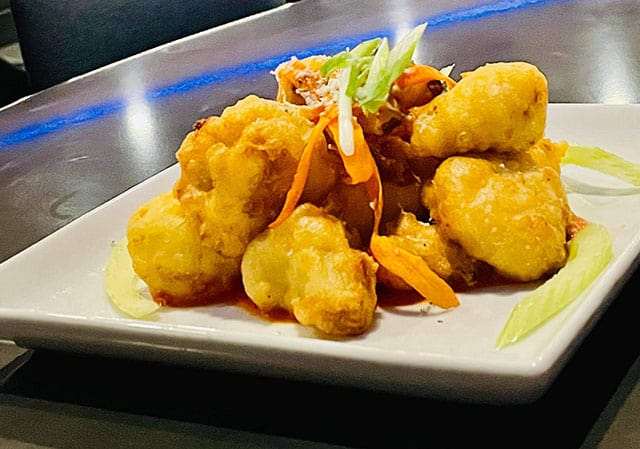 This was outstanding! The breaded cauliflower was accompanied by a medium hot sauce and dusted with blue cheese. It was definitely one of the highlights of the entire meal.
Centauri Caesar Salad
The Caesar dressing tasted rich and creamy and seemed like it was made in house. The salad itself seemed more like a wedge salad compared to a caesar salad.
Starry Calamari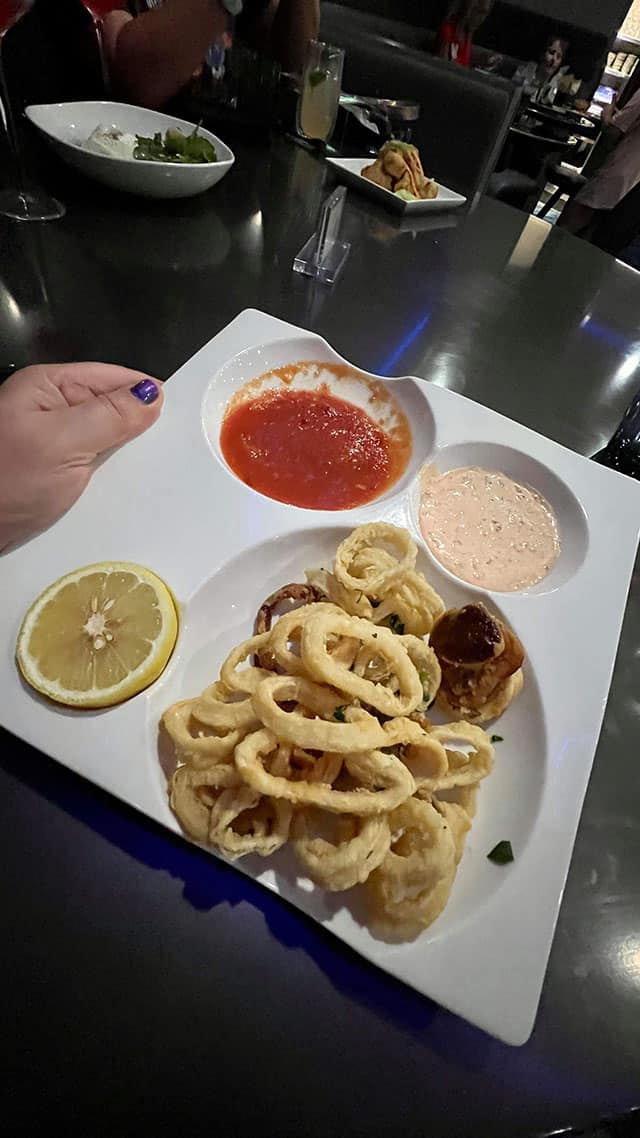 The generously portioned sized calamari was lightly breaded and fried. It was served with aiioli and marinara dipping sauces, which added just a touch of flavor. The marinara sauce was nothing out of the ordinary, but the aiioli made it really enjoyable. It also came with some fried peppers that were extra crunchy and gave the dish a nice touch.
Star Course
Entree choices during our meal for the "Star Course" or main course were of the following:
Baked Maccheroni
Bluehouse Salmon
Flat Iron Steak
Roasted Free-range chicken
Baked Maccheroni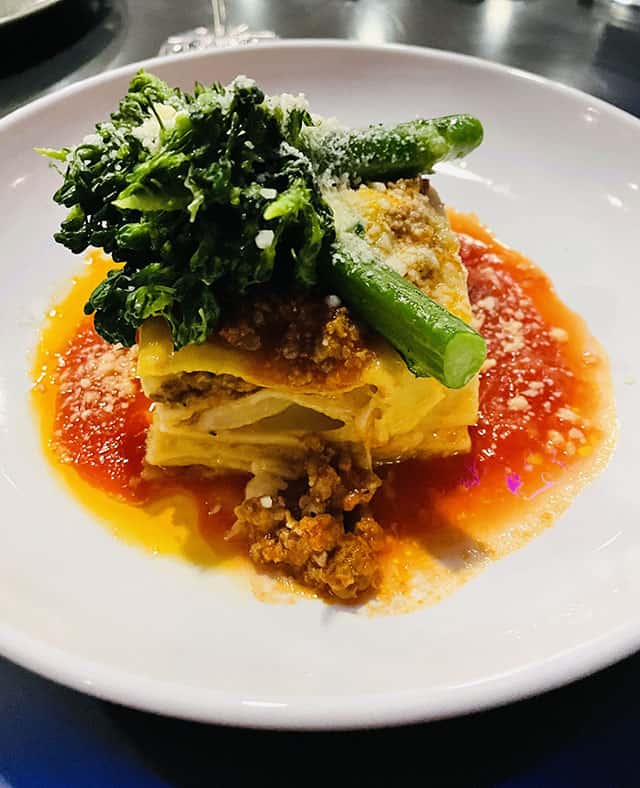 This dish came with Candele Pasta, Sausage Ragu, Broccolini, Sheep's Milk Ricotta, Béchamel, and Pecorino. While it sounds pretty fancy, it is actually just lasagna.
This dish is very filling. The sausage was not overly spicy nor mild. The sauce seemed like an ordinary marinara sauce. Overall, the meal was fine, but I (Maggie) think I have had better lasagna.
Flat Iron Steak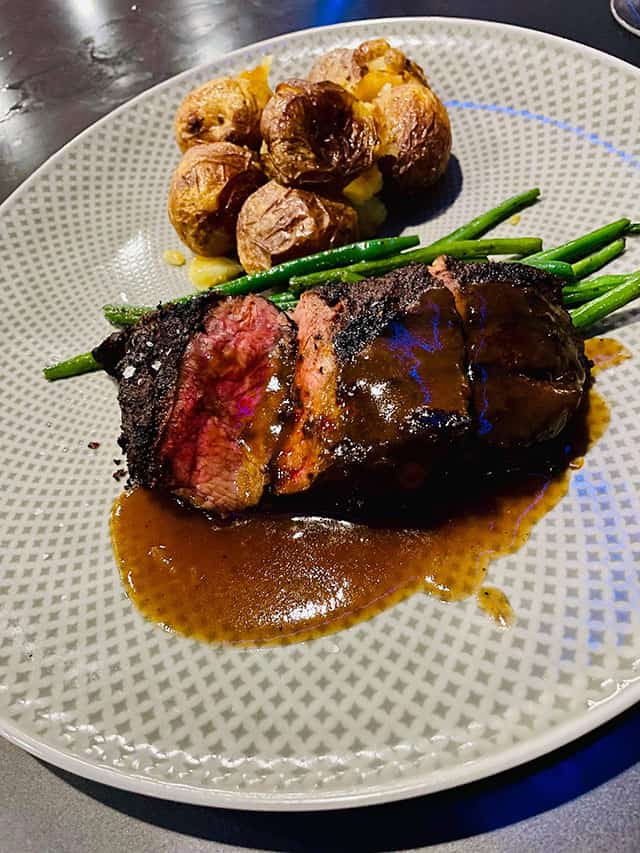 It was not good. The steak was cooked just right, but the coffee space rub made the steak taste as though it was burnt. Had it not been for the coffee rub, this dish could have been amazing.
The smashed fingerling potatoes were average, at best. From that picture shown above, they do look a bit over done to me (Maggie).
Bluehouse Salmon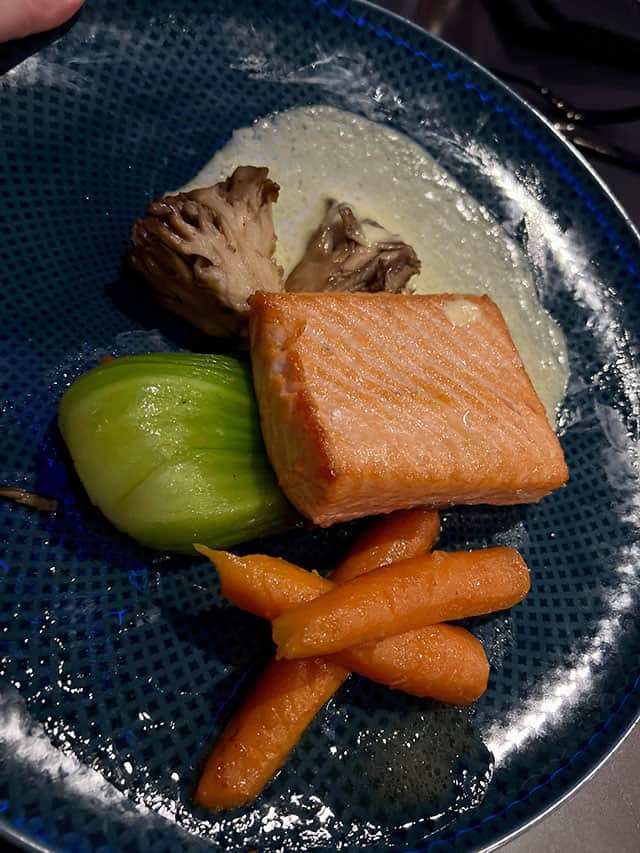 If you are looking for a light entree, this is an excellent choice. The presentation of this entree is pretty impressive. When it came to our table, a clear glass dome was removed, revealing smoke underneath that quickly dissipated in front of us. Because of this, the entire dish had a smoky flavor. WARNING: IF YOU DON'T LIKE SMOKED FLAVOR, THIS IS NOT THE DISH FOR YOU.
Prior to ordering, the server checked to make sure the smokiness was okay. The salmon was cooked to perfection. It was very tender but not overdone. In addition, the buttery beurre blanc sauce balanced the smokiness flavor well.
Sides for this meal were two carrots, a large King Oyster mushroom, and a baby bok choy cluster. While these looked pretty, there were just okay. The salmon did not have a "fishy" taste at all and tasted fresh and delicious.
Roasted Free-range chicken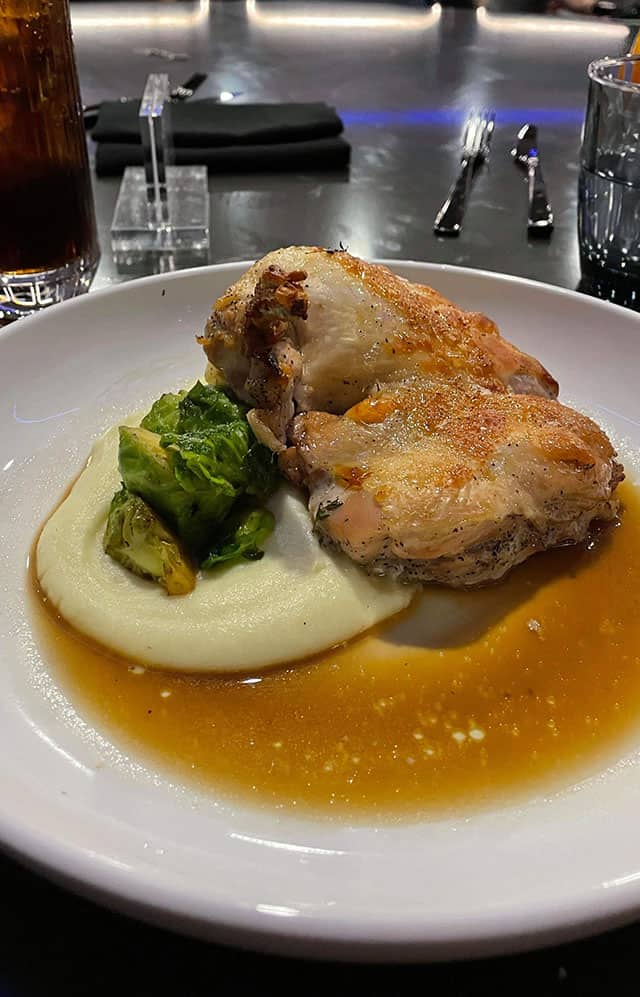 The half chicken was tender and moist. The chicken does come bone-in, but this actually seemed to make the chicken taste better as it was cooked whole.
The mashed potatoes were pretty standard and whipped to a creamy consistency.
Super Nova Sweets
While lunch does not include dessert, we still had to sample some! After such a large lunch, we only tried a couple of the desserts. They included the Sticky Toffee Pudding Cake and I (Maggie) had the Gelato.
So, what were our thoughts regarding these "Super Nova Sweets"? Well, unfortunately, of the desserts we tried, our thoughts were not all that super.
Sticky Toffee Pudding Cake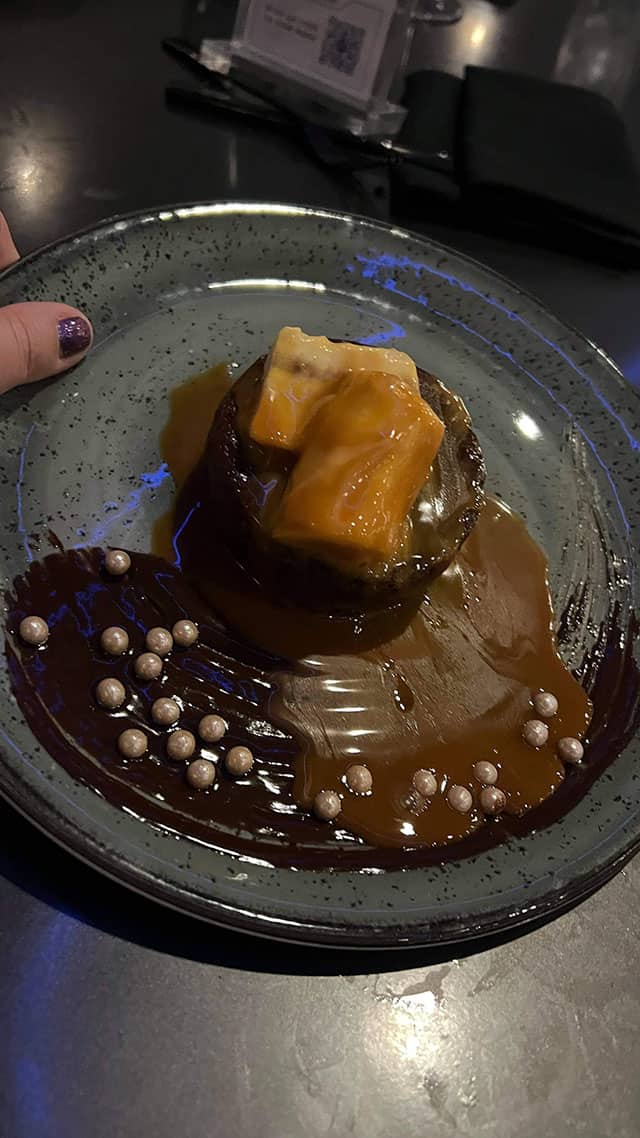 This dish included Dark Chocolate Sauce, Caramel Crunchy Pearls, and Salted Toffee Drizzle. Everyone in our party agreed that the dark chocolate sauce was rather bitter tasting and made it taste more burnt than tasty.
A couple of us mentioned that the Toffee Cake from Liberty Tavern is much better than Space 220. A few of us did not even remember having this, so it was rather forgettable.
Gelato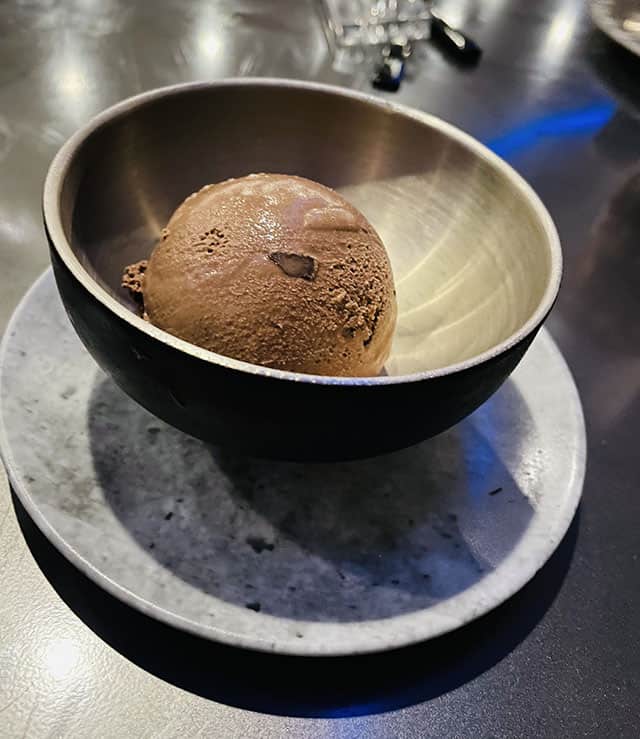 The Gelato is better known as simply ice cream. It is probably not the same gelato as what you might sample in Paris or Rome, but it was just fine. Not feeling all that adventurous? Just get the ice cream.
Perhaps, we should have tried the Chocolate Cheesecake or Lemon Mousse, but that's for another trip.
Mission Complete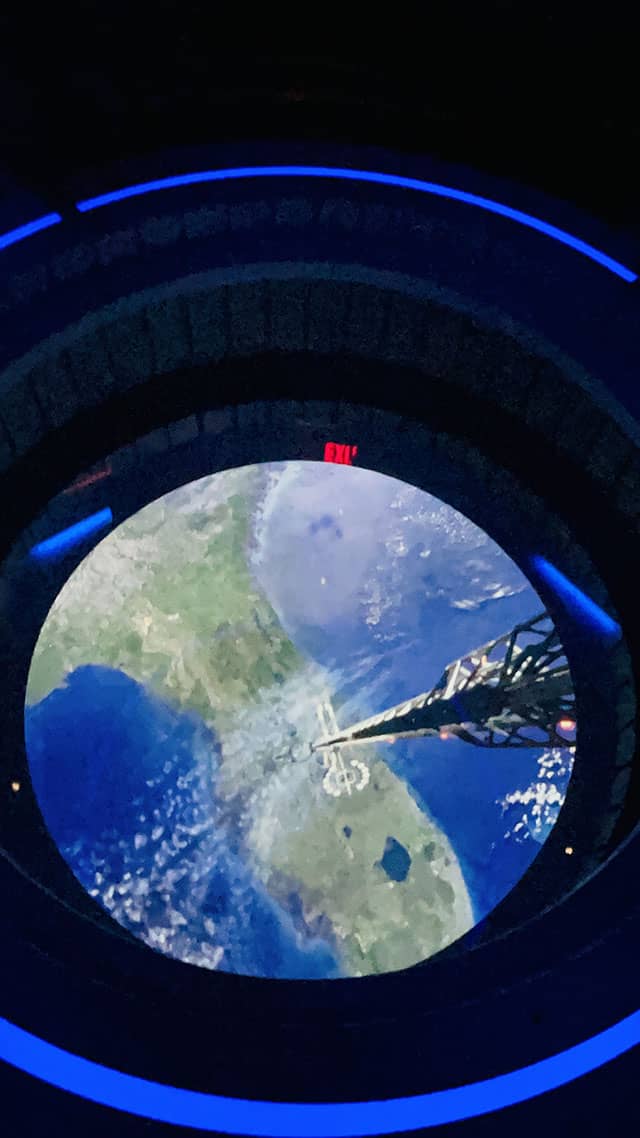 After our meal, our experience was not quite over. After all, we had to travel back to Earth! The experience as a whole does last quite long. We were in the restaurant for a couple hours.
We hopped on board the Space Elevator once again for our descent 220 miles back down to Earth. As we descended back to planet Earth, we saw the familiar state of Florida and EPCOT in our view. We were home.
Final Thoughts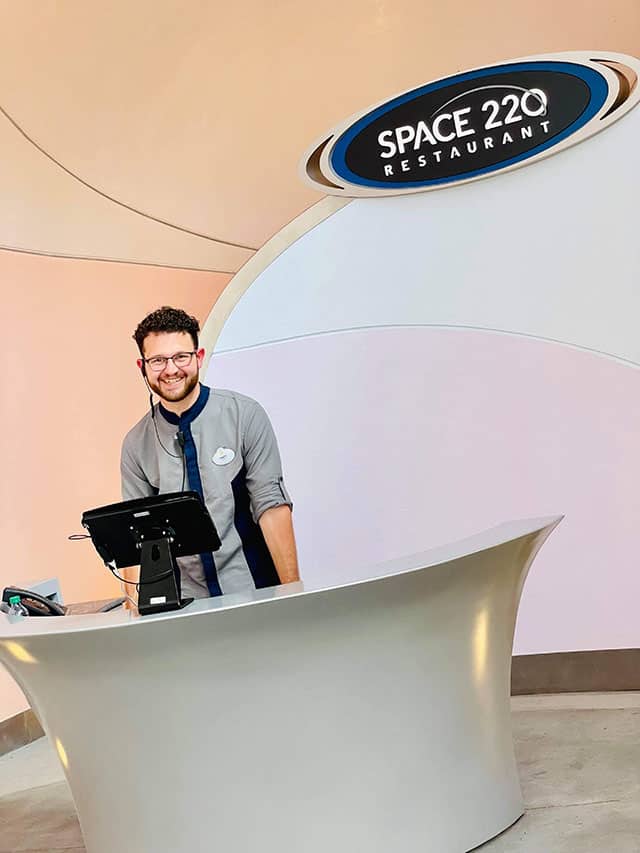 This restaurant is really like no other dining that you will find in Walt Disney World. How many other meals do you have to ride a Space Elevator up to get to your table? It practically feels like a ride in itself as you take off into space.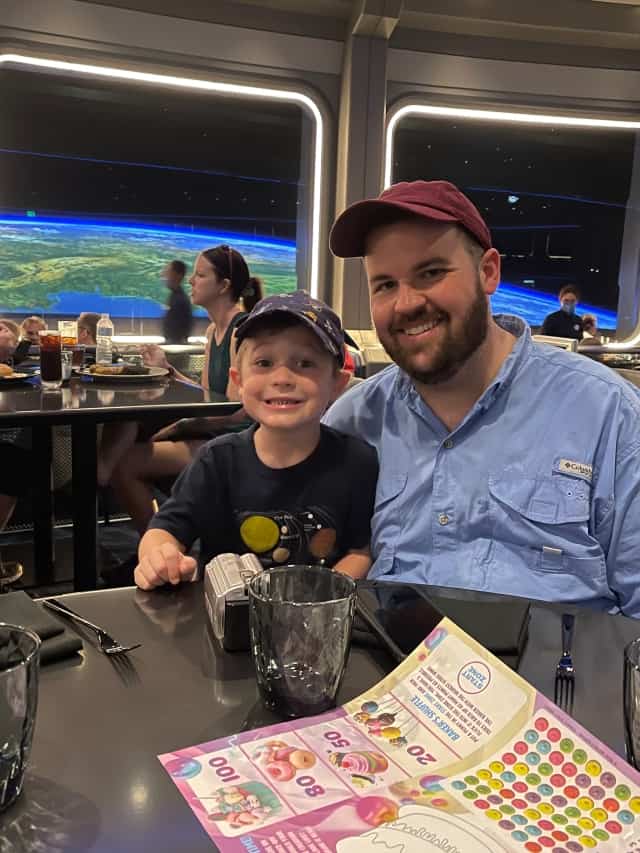 However, this dining option might not be for everyone. One, it is expensive. Two, you might be wondering whether or not it's kid friendly. For a great post about one of our fellow writers experience taking kids to Space 220, read about that HERE.
Finally, in my opinion this meal is all about your overall dining experience. This includes the moment you check in to the moment you leave the restaurant. While much of the food was very good, it was not spectacular to me. I feel like you could get some better (and less expensive) dishes at other locations.
Have you visited Space 220 yet? Will you be adding this to your list of dining choices on a future trip to Walt Disney World? Tell us about it in the comments below or on our Facebook page! Share them with us in our crew, too.