What is the best dessert in the Magic Kingdom? Ask a group of Disney fans and at least one will mention the Ooey Gooey Toffee Cake served at Liberty Tree Tavern. Find out how you can make this delectable dessert at home.
Liberty Tree Tavern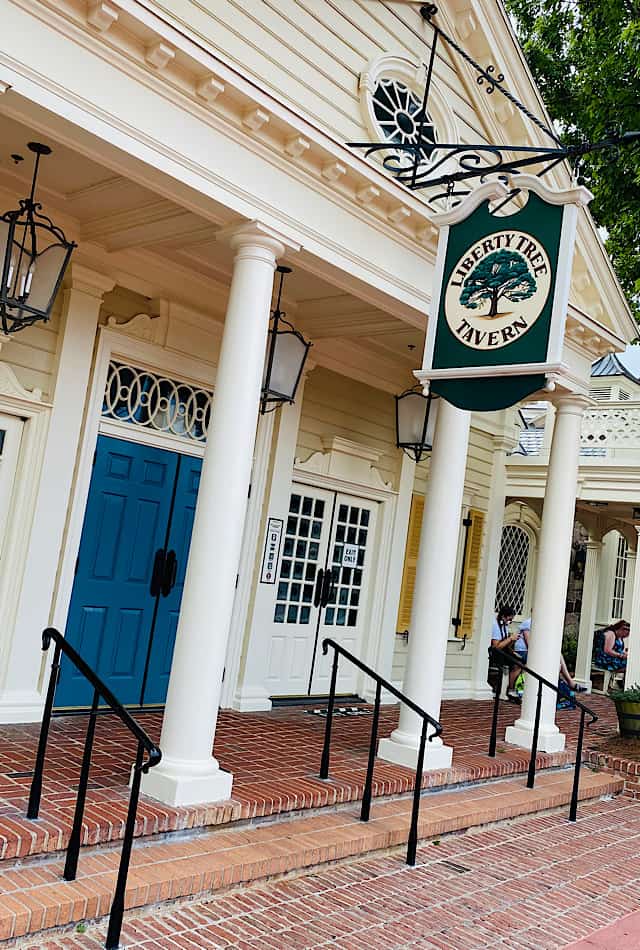 I loved reading Monica's review of Liberty Tree Tavern. The beautiful colonial charm of this venue was simply nostalgic. Be sure to check out the review to see the beautifully themed rooms of this unique dining location.
At 60 days prior to our vacation, Liberty Tree Tavern was at the top of my list. My husband's favorite holiday is Thanksgiving because he absolutely loves a good turkey dinner. I was a bit nervous bringing a resident foodie to a theme park restaurant serving his favorite meal, but we were not disappointed.
We all loved the wonderful servings of turkey, pot roast, and pulled pork. Lucky for my hungry family, second helpings are welcomed. My husband requested seconds on all of the meats.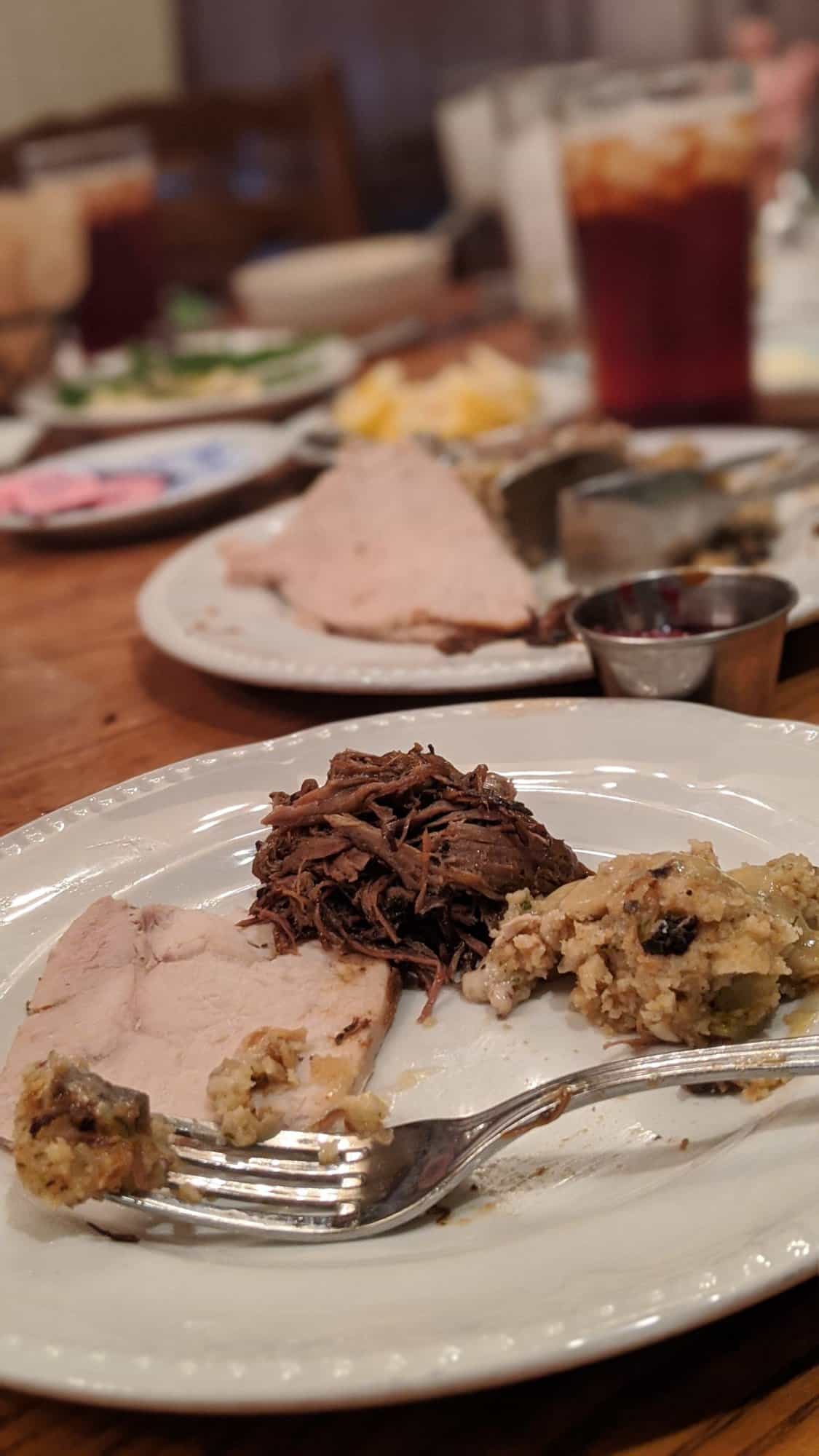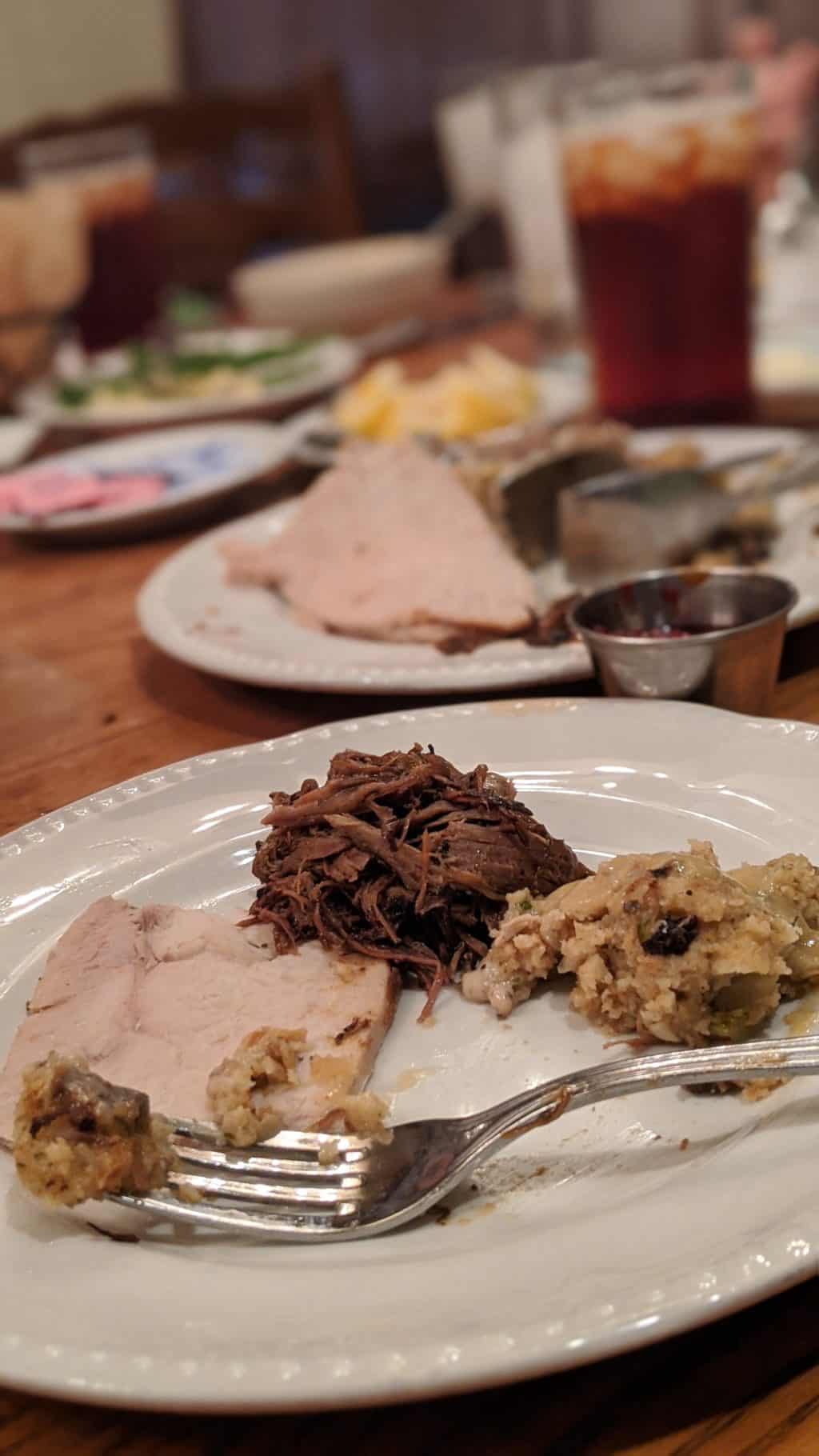 My children absolutely loved the sides. Each meal includes mashed potatoes, herb stuffing, green beans and macaroni and cheese. The macaroni and cheese was truly the star of their dinner.
Our server was so attentive and brought out extra macaroni and cheese before we even ran out. He mentioned that this was a princess favorite and knew it would be a hit with our princesses. Boy was he right!
We ate to our hearts content. When it came time for dessert, I wondered if I could even eat one more bite. That was until I spied the Ooey Gooey Toffee Cake.
I loved the warm cake that tasted similar to a blondie. This warm delectable treat was paired nicely with a scoop of vanilla ice cream. Add a few toffee pieces drizzled with chocolate and caramel sauce to make this dessert simply show stopping.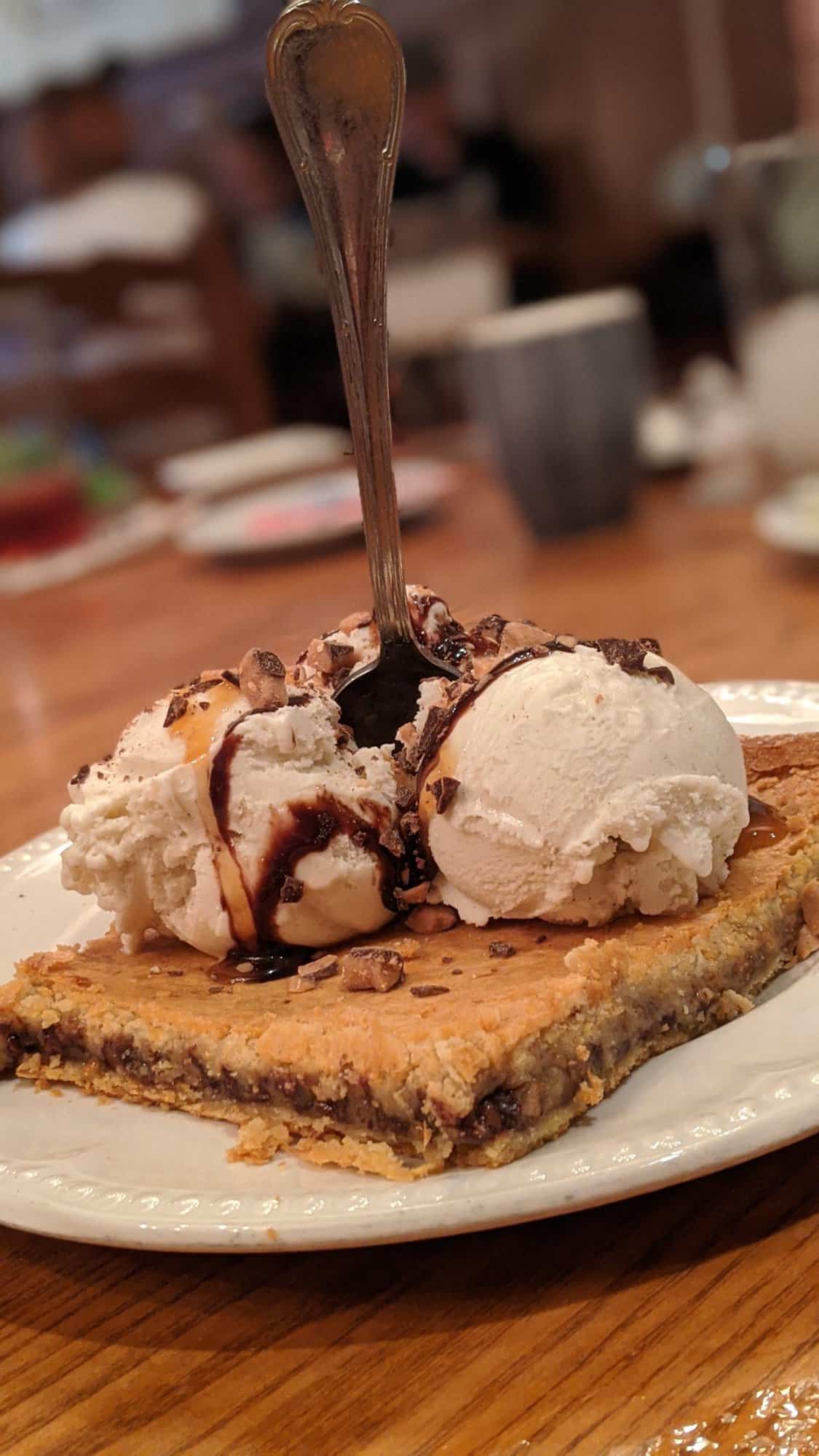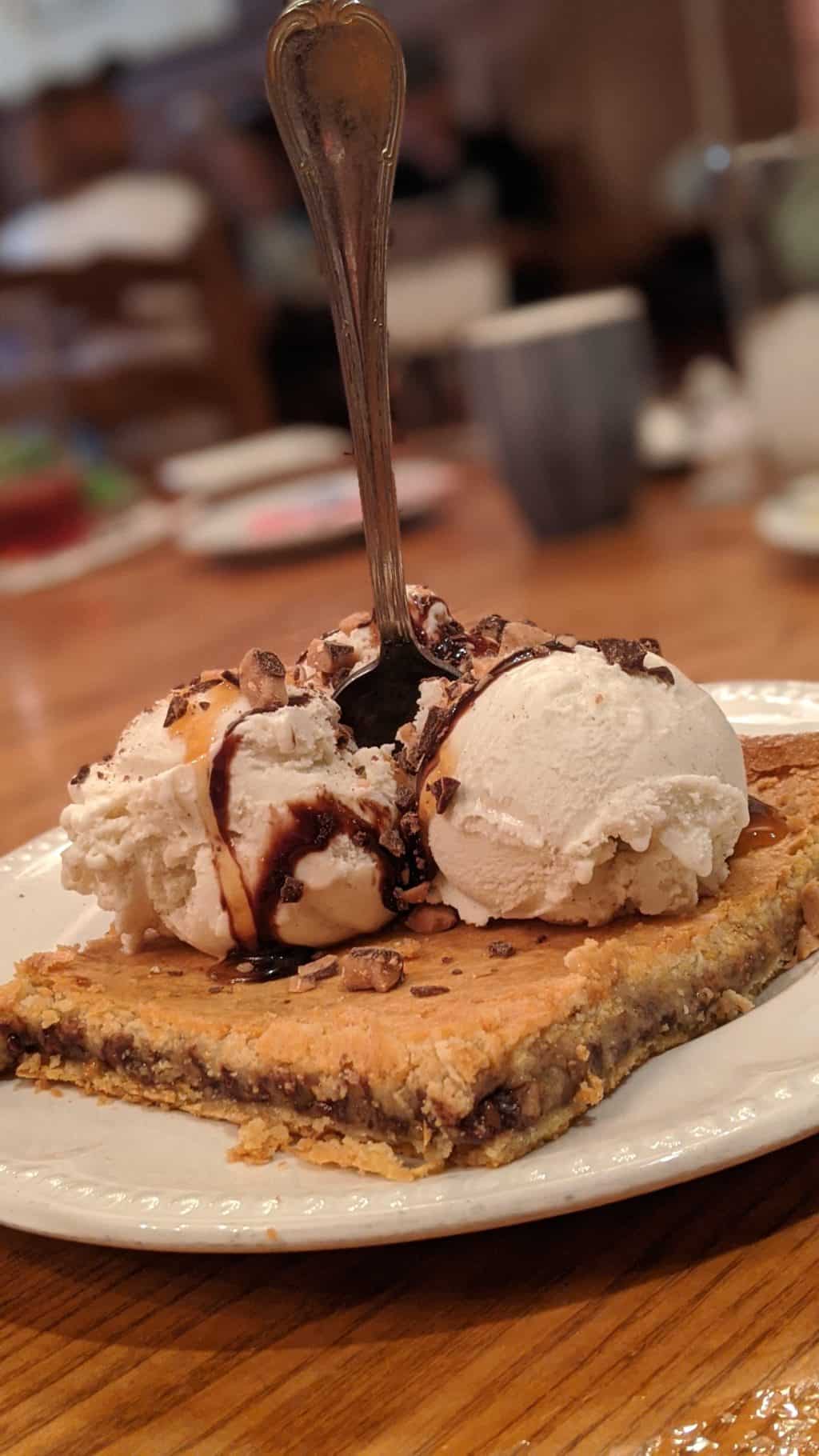 My husband mentioned a few times that he would like for me to try and make this at home. I took these suggestions in stride and the days passed by. He even sweetly shared a recipe he found to make this treat at home. I finally took the hint and headed to the store.
We absolutely loved the Ooey Gooey Toffee Cake found at Liberty Tree Tavern in Magic Kingdom.
Toffee Cake Bottom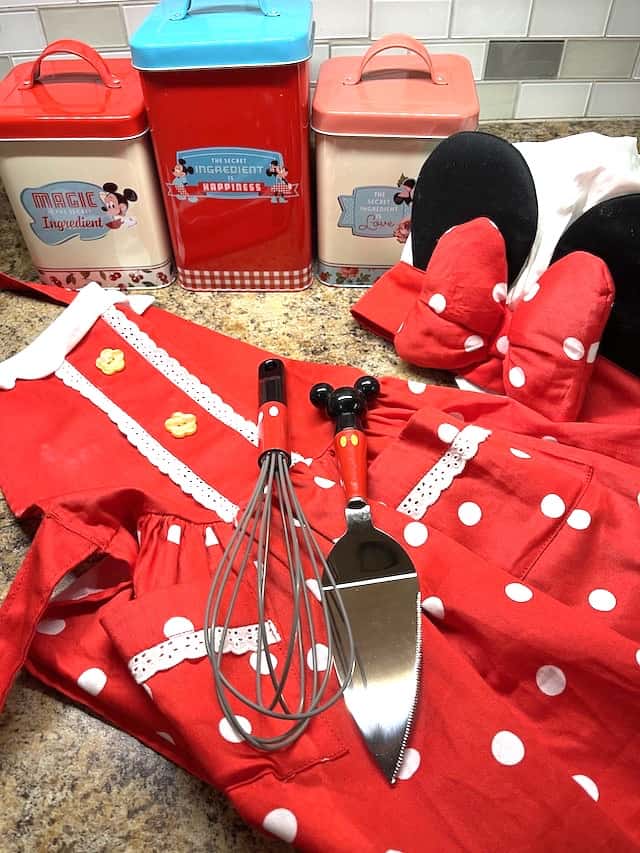 Getting started with this recipe starts with a yummy foundation of cake. I loved that this recipe was so simple! The first listed ingredient is 1 box of yellow cake mix. I can almost imagine Martha Washington making her Ooey Gooey Toffee Cakes for her husband George by starting with a box of cake mix.
This recipe may have evolved a bit over the years since colonial times. I was definitely surprised with how easy this recipe was. I am not a very adventurous baker in the kitchen. If a recipe has too many steps, that dish may never make it into my oven. This recipe is very easy and takes only about 10 minutes of prep time.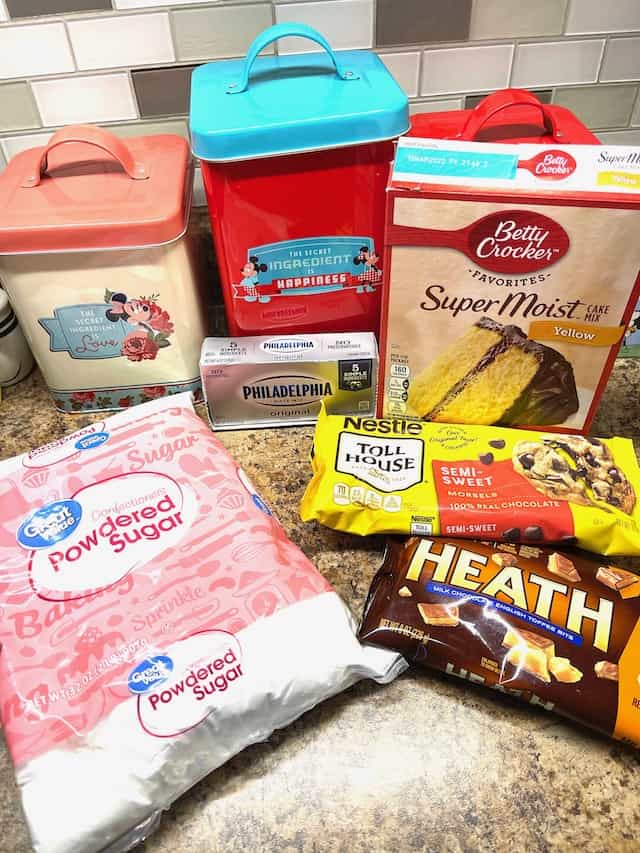 This recipe will serve 9-18 depending on if you would like to have 1 or 2 toffee cakes for your dessert.
Ingredients
1 box yellow cake mix
1 large egg
1 stick of butter (softened)
Instructions
Preheat oven to 325°
Mix ingredients
Spread mixture evenly in greased muffin pans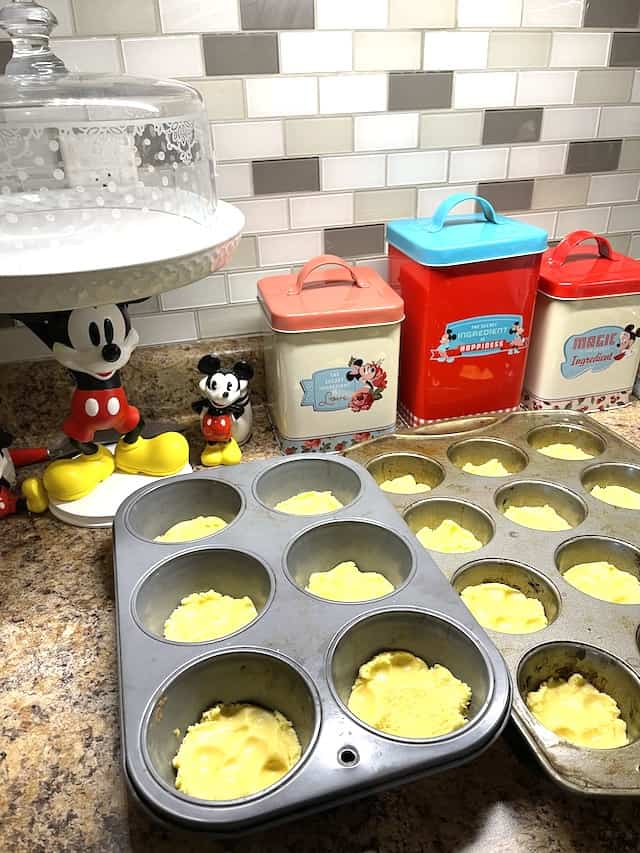 I used both my classic 2.9″ sized muffin tin that is divided with 12 cups. This recipe makes a large batch and I also used my jumbo 3.9″ diameter muffin tin.
I personally love using the muffin tins. This helps to create a bit of a crunchy outer edge. If you are not a fan of crispy edges, then this may easily be prepared in an 11″ x 14″ baking dish.
Use muffin tins to create Toffee Cake with a nice outer edge or use an 11″x14″ baking dish.
Toffee Cake Top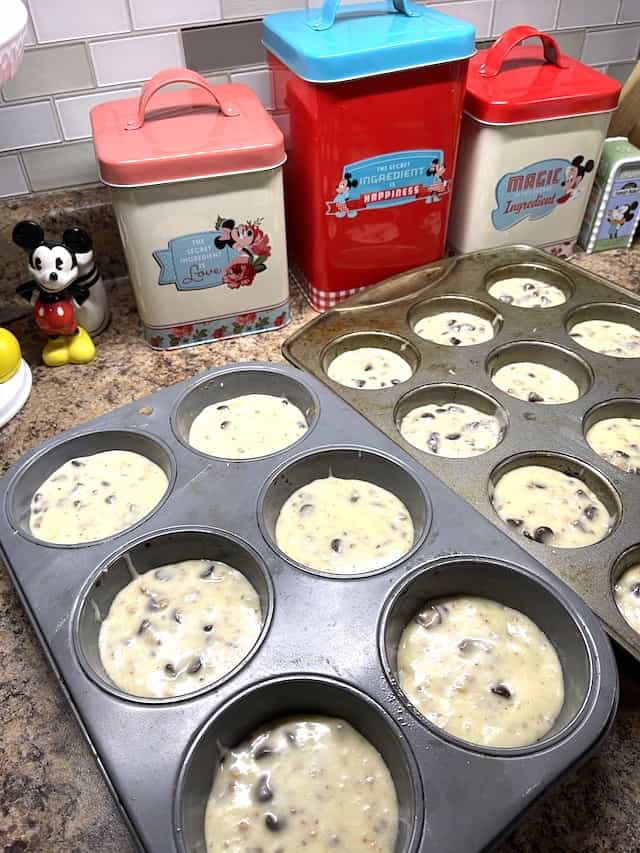 Now comes the real fun. I'm not going to mention names, but someone may have not read the directions thoroughly during the first attempt. The toffee treats were still yummy, but not exactly the same ooey gooey goodness.
Just a tip, when the recipe calls for the powdered sugar to be added SLOWLY this is not just a polite suggestion. Also be sure to watch the mixture when adding the Heath bar pieces and chocolate chips at the end. There are no bonus points for over-mixing.
Ingredients
8 ounces cream cheese (softened)
2 large eggs
1 teaspoon vanilla
1/4 cup butter
3 1/2 cups powdered sugar (sifted)
1 cup semi sweet chocolate chips
1 cup Heath bar pieces
Instructions
Mix cream cheese until smooth
Slowly add eggs and vanilla
Add butter and mix well
Add powdered sugar SLOWLY
Add chocolate chips and toffee pieces
Mix until ingredients are mixed in, but be careful not to over-mix
Pour this atop of your toffee cake bottoms that are already in the muffin tins
Bake for 35 minutes. You want your toffee cakes to be slightly gooey.
Prepare to Enjoy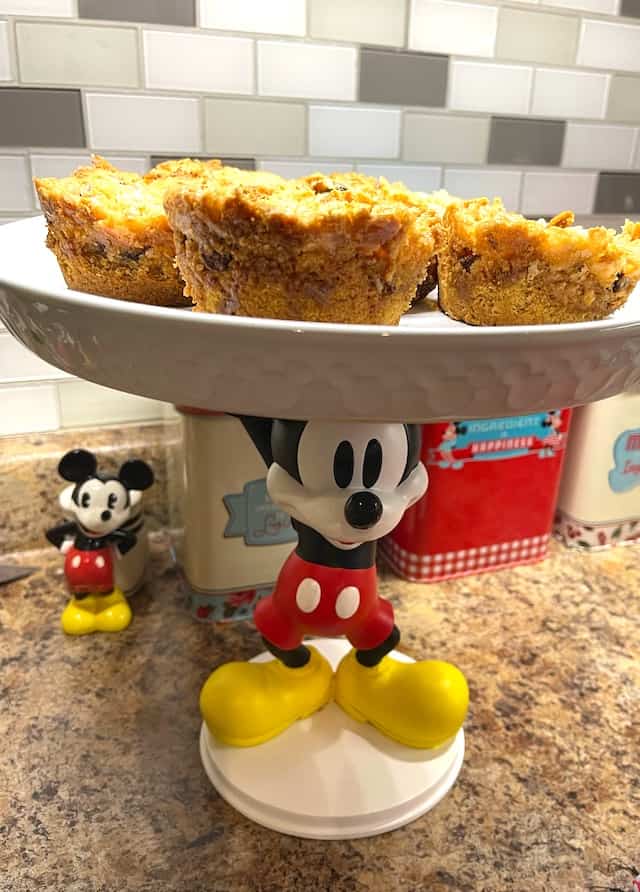 My personal opinion is that this dish is best enjoyed warm. Simply place one or two Ooey Gooey Toffee Cakes on your plate. Add a hearty scoop of vanilla ice cream to this gooey treat. This pairs nicely with this dessert to help offset the sweetness of the Toffee Cake.
To make your dish almost too pretty to eat, add a few sweet magical extras. Add a few of your Heath bar pieces atop your vanilla ice cream. Grab your favorite chocolate syrup and caramel syrup and drizzle these in a decorative pattern for your dish.
Now you have a recipe that is easy to follow and that will be welcomed by your entire family. The best part is that my family thought this dessert took a lot of work. Hopefully the secret won't be out with this post.
With a 10 minute prep time this dessert will make you look like a Master Baker to the delight of your family.
Maybe this treat will help to bring a bit of Disney magic to your kitchen. I hope that it will bring back fond memories from previous meals you and your family shared at Liberty Tree Tavern. This yummy dessert may have your family add Liberty Tree Tavern to your next Magic Kingdom touring plan.
Have you and your family visited Liberty Tree Tavern? Did you enjoy the Ooey Gooey Toffee Cake? Will you try your hand at making this delectable treat at home? Share your thoughts and even photos of your completed dish with us on our Facebook Page.