Are you looking for family friendly restaurants in Walt Disney World that aren't character meals? Here is a list of 7 restaurants your kids will love.
Character Dining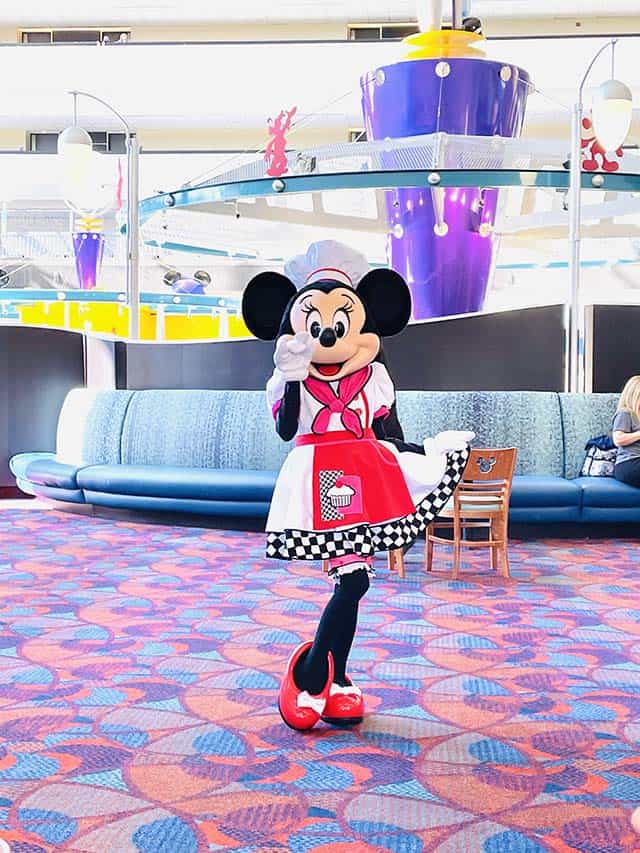 Character Dining is somewhat of a Walt Disney World right of passage. Many people feel like they need to experience it at least once.
Some families, on the other hand, would like for every meal to be a character meal. They would do three a day every day were it possible to do so.
Other people would rather go to just one special meal. Meanwhile, others ignore them all together.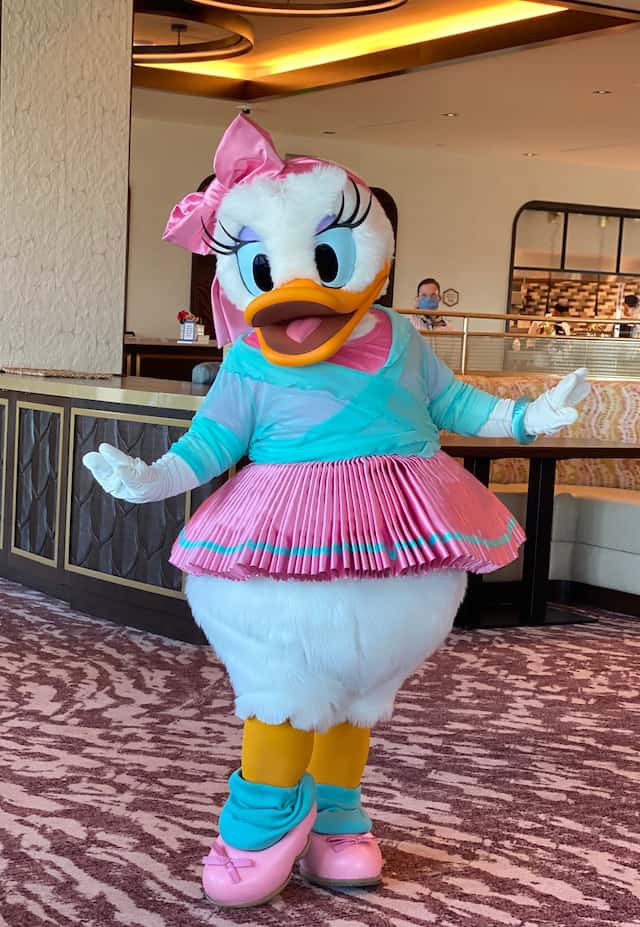 Regardless of your character meal frequency patterns, there is one thing most of us can probably all agree on. Character meals can be expensive.
Character meals are typically all you care to enjoy or prix fix menus. One of the benefits of choosing a more traditional sit down meal is that, unlike at character meals, you will not have to pay for food for each person regardless of whether they intend to eat. For a full list of current character meals offered at Disney, check out our post HERE.
If your child is the type who sips on chocolate milk and licks a chicken tender then calls it a day, a character meal probably isn't the best value for you. And, while the experience is amazingly fun, you may be better served looking into other options for at least some of your meals.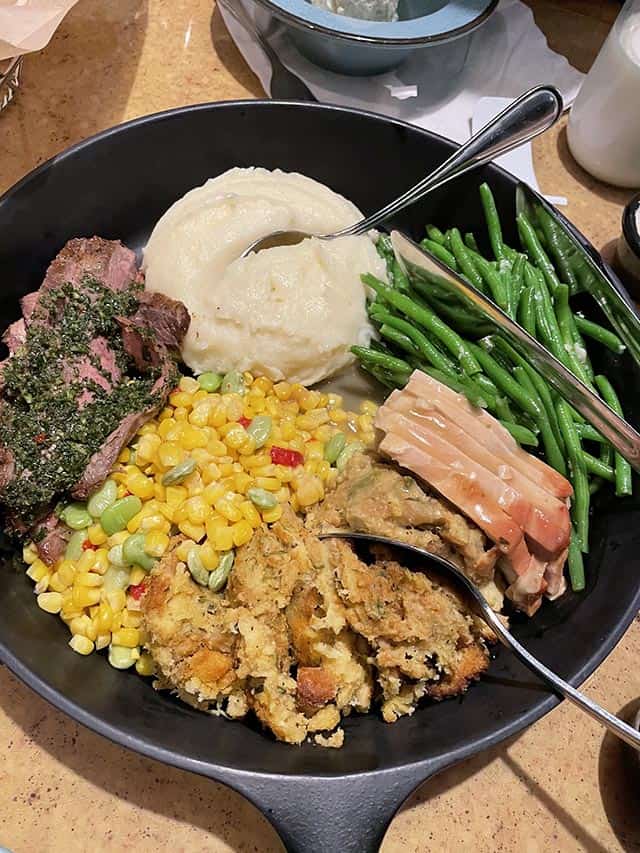 A traditional sit down restaurant carries the benefit of being able to do things like split meals or order appetizers or sides instead of a full meal if that is what works better for your child's vacation eating habits. It also stands a chance of being less time consuming than a character meal.
If you are looking to avoid character meals but still want to visit sit down restaurants your kids will enjoy, then you have come to the right place. In no particular order, here are 7 fun places to take the family that do NOT feature character dining.
1. Beaches & Cream Soda Shop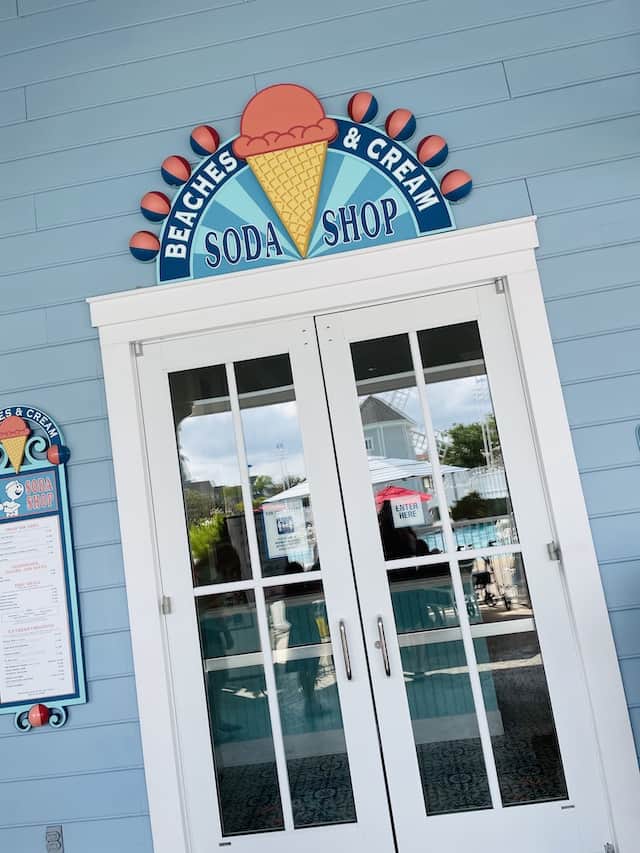 Beaches & Cream Soda Shop is a fun restaurant located at the Beach Club, which is one of the Epcot area resorts. It is convenient for many park guests including those staying in the surrounding Epcot area hotels: Yacht Club, Boardwalk, and Disney's Swan & Dolphin Resort.
This restaurant is also convenient to any guests staying at a Skyliner resort such as Caribbean Beach Resort, Pop Century, Art of Animation, and Riviera. Additionally, any guest at Epcot can easily stroll there by way of the International Gateway exit.
Once there, guests will find delightful soda shop theming, including a juke box! If your kids are anything like my children, they find juke boxes mesmerizing despite the fact that they can play anything they want on Pandora.
Next, the menu features kid-friendly fare, particularly if your kids are relatively picky eaters. Menu items include sandwiches, burgers, and fries.
But, perhaps the most important feature of all is that Beaches and Cream serves decadent ice cream desserts. Many Walt Disney World restaurants, of course, have dessert options, but there is just something so magically fun about getting ice cream from an actual ice cream shop.
Not only does Beaches and Cream serve sundaes, it serves the ULTIMATE sundae. The menu features the "Kitchen Sink," a concoction of ice cream that literally comes to your table in a kitchen sink.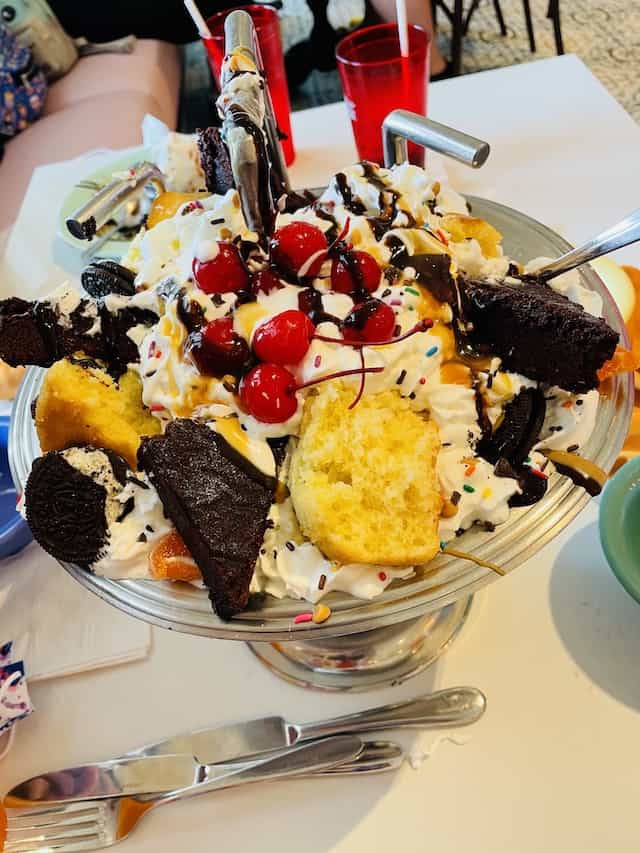 It also comes with a bit of a ceremonious presentation. For those unfamiliar with it, the kitchen sink is made of: scoops of vanilla, chocolate, strawberry, cookies and cream, and mint chocolate chip ice cream smothered in cookies, candy , cake, bananas, cherries, brownies, all of the toppings and sauces available, and an entire can of whipped cream.
And, of course, if you do not like the idea of all those flavors, there are also two alternatives. Guests can try a chocolate or a Neapolitan version if they prefer.
What could be more fun than trying to eat everything but the actual kitchen sink? It's a fun treat to share with your whole family.
If that sounds too monstrous for you, there are also mini sinks available. These currently come with vanilla, chocolate, and strawberry ice cream topped with pineapple, strawberry, hot fudge, peanut butter, whipped cream, Oreo cookies, chewy brownie, assortment of sprinkles and morsels and cherries. They come in a souvenir Mickey or Minnie dish.
The mini sinks are a good size for sharing. My little family has, admittedly, split one for lunch before.
If your family is into soda shop food and ice cream, then this place will be a hit. For a full review, click here.
2. Rainforest Café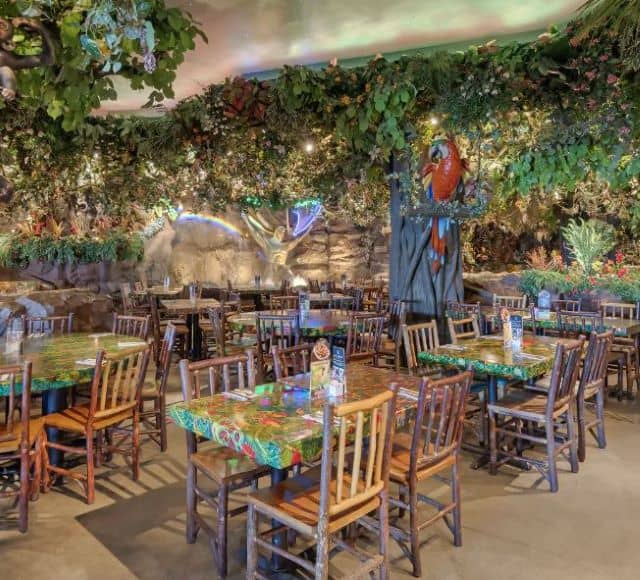 Rainforest Cafe is not unique to Disney. It is a chain that can be found in several malls around the country. However, it does have two locations in Walt Disney World: one in Animal Kingdom and one at Disney Springs.
It is a Landry's owned restaurant, which means that if you are a Landry's member, you get benefits here. This includes guaranteed seating, which is a great perk if the park is busy.
If you have one local to you, I would not suggest taking the time to dine here. In fact, you might visit the local one if you need an animatronic and theming fix.
However, if you do not have one nearby and your kids are into animatronics, the rainforest, or great apes, this could be a fun eating experience for them. I remember going when I was young, and I thought it was the coolest thing-like eating in a scene from a dark ride.
Now, admittedly, Rain Forest Cafe does not have my personal favorite menu. It gets panned frequently in reviews. It can be relatively mediocre. However, if you enjoy chains like Chilis, you will probably like it just fine for a meal.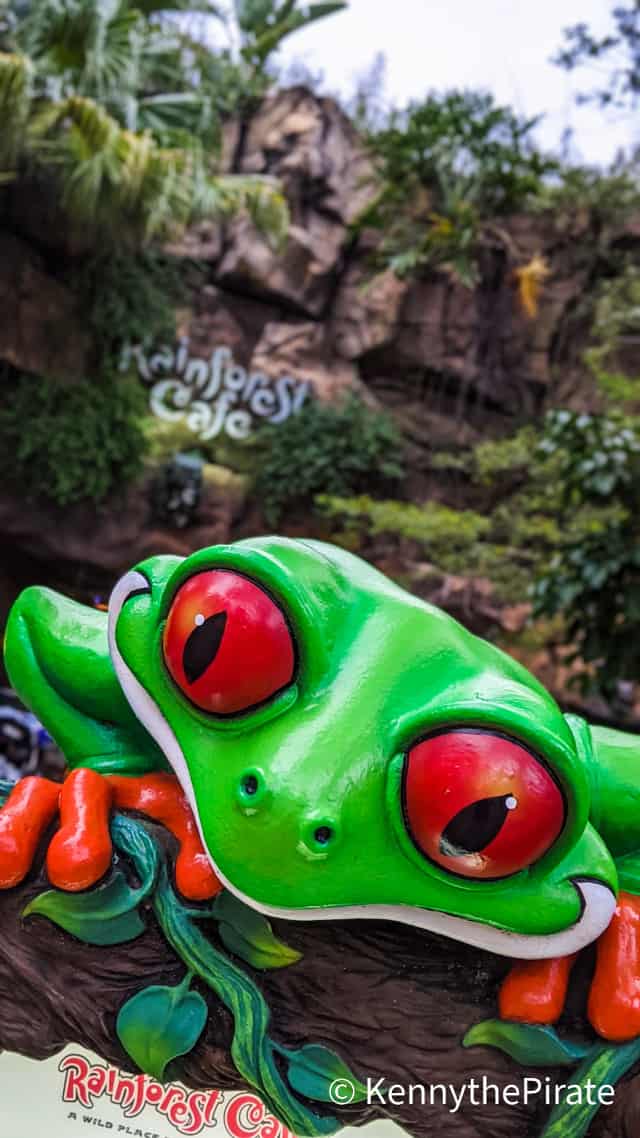 The fun comes from the ambiance, the props, and the animatronics. The entire interior of the restaurant is decorated with a life-like rainforest. The sounds make it even a more realistic experience.
Throughout the restaurant are animatronic animals of the rainforest including gorillas and tropical birds. Kids who love animals and the idea of eating in the jungle will find the place thrilling.
3. Teppan Edo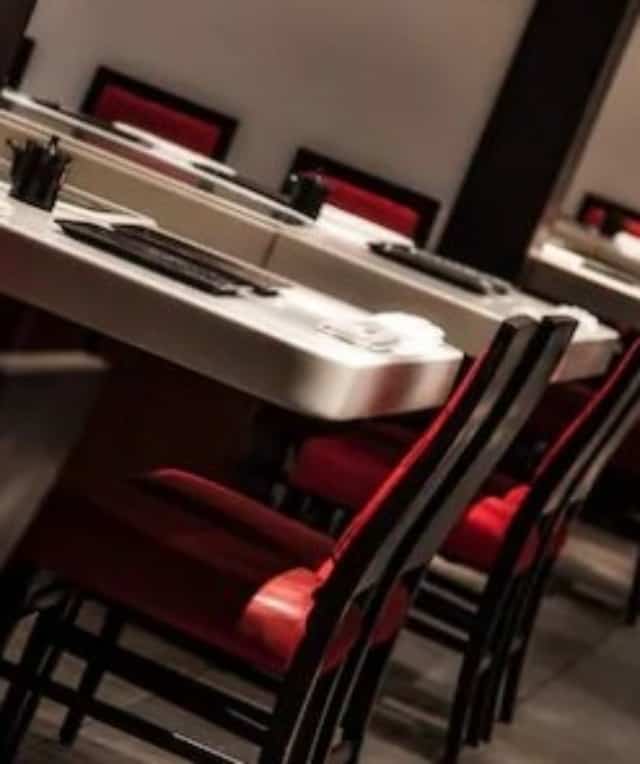 Teppan Edo is located in Epcot's World Showcase in the Japan Pavilion. It is a restaurant featuring Teppan-yaki-style cooking, and the chefs prepare the food right in front of you.
You probably have similar restaurants local to you. I know I LOVE to dine at a similar restaurant local to me. However, Teppan Edo does a few things differently that make a bit of a Disney difference.
For one thing, some of the tricks involve Mickey shaped or character shaped food. For example, you might see a mound of rice or an onion transform into a Mickey, depending on your chef.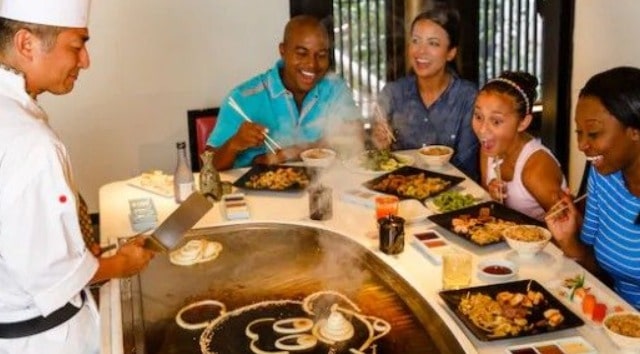 More importantly, the shows do not involve any actual fire. There is some steam but no flames.
I cannot tell you how many times I have been to similar restaurants, and the little children are totally into it until the moment that a blaze goes roaring across the cooking surface. Some of the little ones remain into it, but at least half are terrified. This won't be the case here.
I don't know about you, but my kids suddenly become less particular about what they are eating when presented with Teppan-yaki-style cooking. If the chef puts it on their plate, they just go for it. It's magical.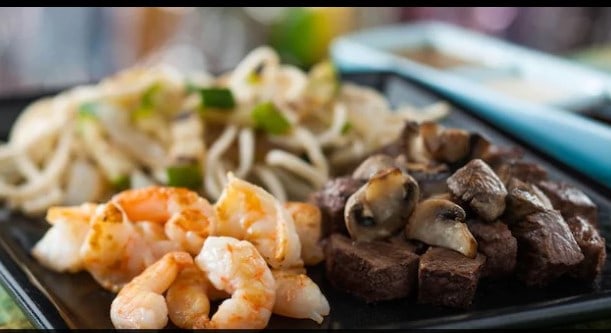 Kids can chose from steak, chicken, shrimp, or salmon. It is a nice break from burgers, fries, hot dogs, pizza, and chicken tenders. Adults have a wide range of options as well.
If your kids have never experienced this style of meal, what better way to introduce it to them than at Walt Disney World? It could be fun for the whole family.
4. T-Rex Cafe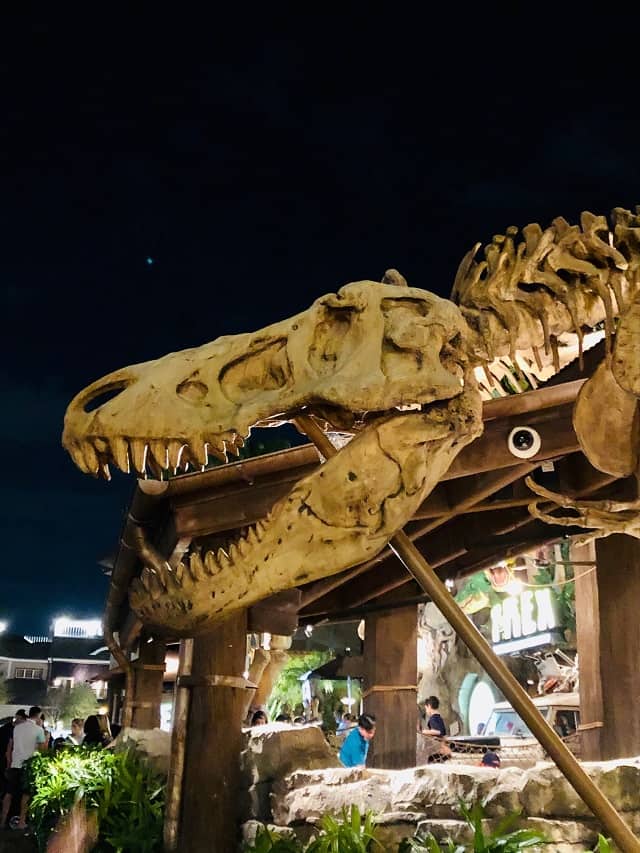 T-Rex Cafe is located in Disney Springs. It's the only restaurant in the area with a huge T-Rex skeleton out front; you can't miss it! The T-rex is definitely an indication of what awaits you inside. If you have a dinosaur fan in your house, then this restaurant is sure to delight.
T-Rex Cafe, like Rainforest Cafe, is a Landry's owned restaurant. You can enjoy perks here as well if you are a cardholder.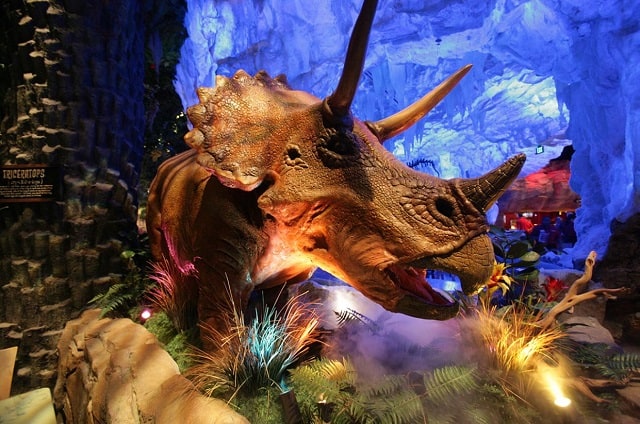 The Landry's card might just come in handy. This restaurant tends to be very popular, and ADRs disappear quickly. It books fast for good reason. What little dinosaur fan wouldn't want to dine in a restaurant filled with dinosaurs?
The interior of the restaurant has prehistoric theming to make diners feel like they are in the midst of the age of the dinosaurs. Naturally, it is filled with life sized animatronic dinosaurs to delight fans of all ages.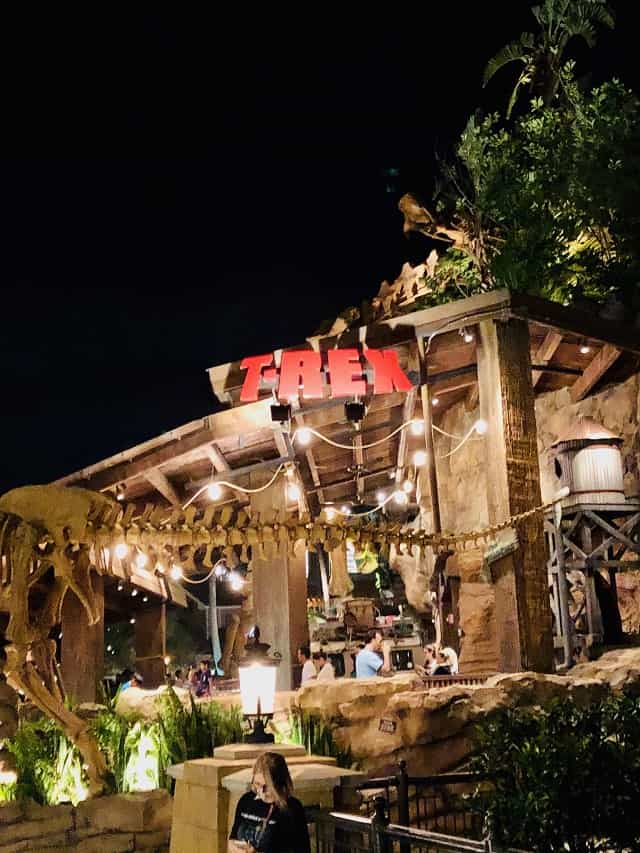 Additionally, the restaurant contains what is known as the "Dino-store." There, you can shop for dino merch. You can even build a Build-A-Dino™ by Build-A-Bear Workshop®. This could be great fun for kids and might be an experience worth saving up for.
Dinner surrounded by dinosaurs and a chance to build a prehistoric pal sounds like a good time to me. If DINOSAUR in Animal Kingdom is too terrifying for your little dino fans, then this might make for the perfect prehistoric fix!
5. Coral Reef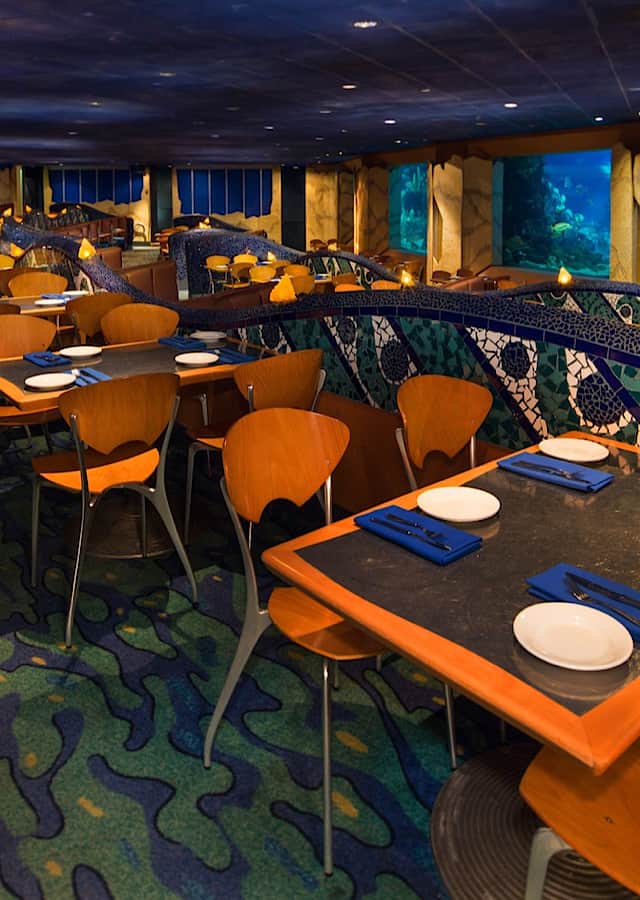 Located in Epcot's Seas Pavilion, this restaurant is an attraction in itself. One entire wall of the dining room is a salt water aquarium.
You and you kids can enjoy watching fish, sea turtles, and sharks swim about as you enjoy your meal. You might even see a scuba diver or two. It can make for a very entertaining meal for little ones, particularly if they love aquatic life.
The nice thing is you don't really even need to get up to enjoy the fish. The aquarium is quite large. Of course, your children will probably want to get a bit closer if you are not seated at one of the nearest tables.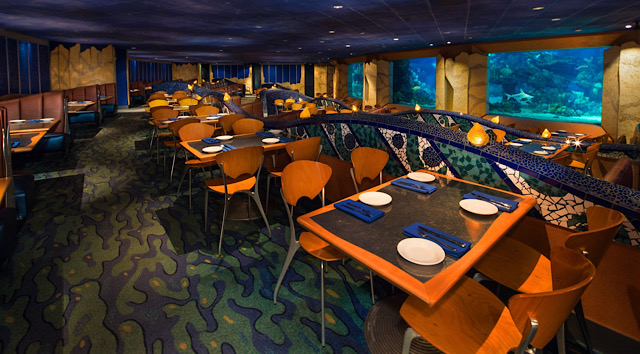 Another nice thing about Coral Reef is that while it is air conditioned like any other restaurant, it tends to feel even more like a nice respite from the heat because of the serene aquatic nature of its ambiance. I always feel particularly relaxed when I go there.
Coral Reef's food can range from mediocre to fine on any given day with the desserts being the surprisingly delightful highlight of the menu. It isn't at the top of my foodie dream list. However, it is a cool place to visit, and the kids love it. For Susan's full Coral Reef review, click here.
6. Biergarten Restaurant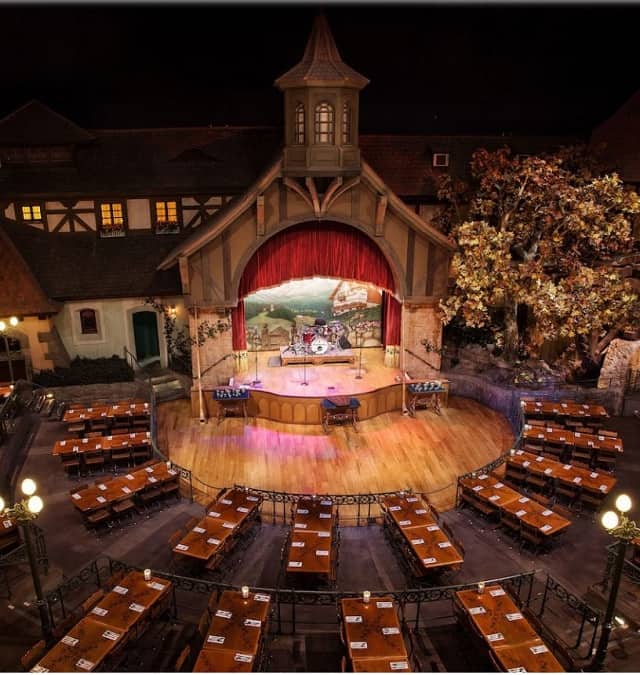 Biergarten Restaurant is located in Epcot's World Showcase. You will find it nestled in the Germany Pavilion.
Now, I know I mentioned that one of the benefits of table service dining without characters is that you do not have to think about whether or not your kids will eat enough to justify a prix fixe menu. For this review, I attempted to include only restaurants with traditional menus.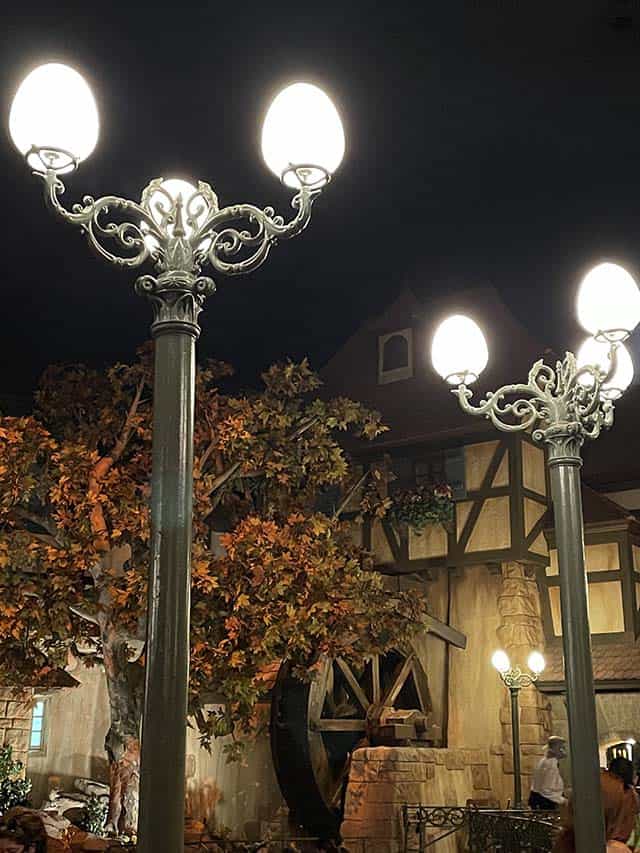 However, Biergarten does not not have a traditional menu. It is an all you care to enjoy restaurant. Despite that, I decided to include it anyhow. It is such a fun and delightful atmosphere! I feel like many families will adore it.
However, if you would rather not read about it because you already know your children will never eat enough to justify it, I encourage you to skip to the final restaurant on the list.
You're sill here? Fantastic! You will probably be unsurprised to find that Biergarten is a German restaurant.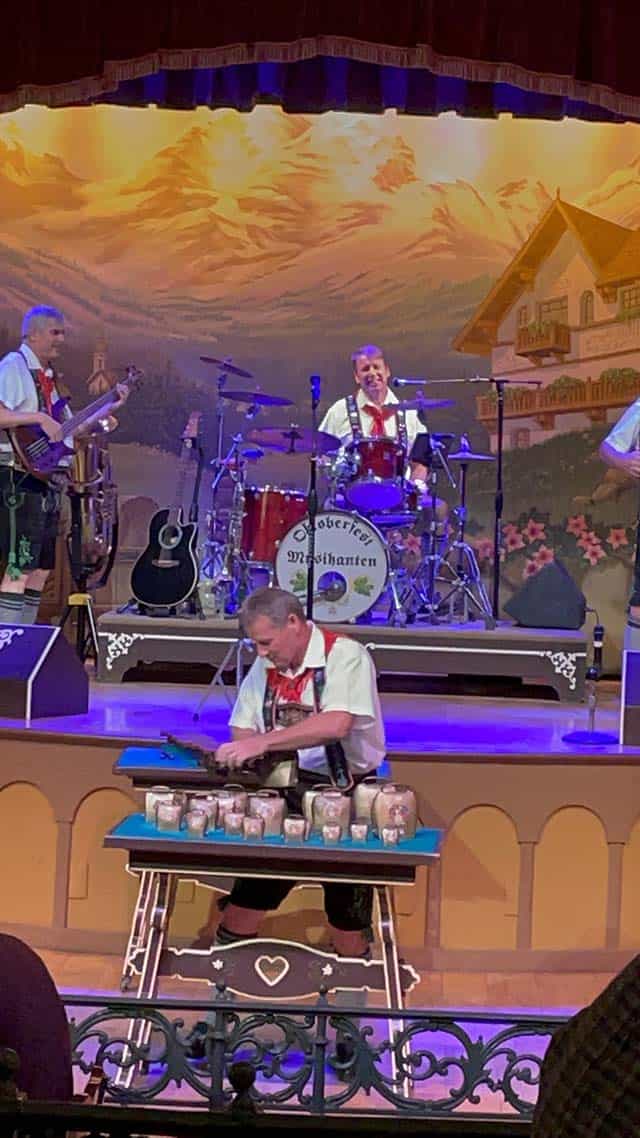 Truly, stepping inside feels like stepping outside into a traditional Bavarian village during an Oktoberfest celebration. There are facades of traditional German homes, trees, and lamp post to make the streets come alive.
If you look up, you will even see a sky full of stars! It is quite charming, really.
Typically you will get to experience traditional live music from a delightful Oompa Band. Prior to the pandemic, guests could also enjoy dancing. We are looking forward to the return of the merriment someday!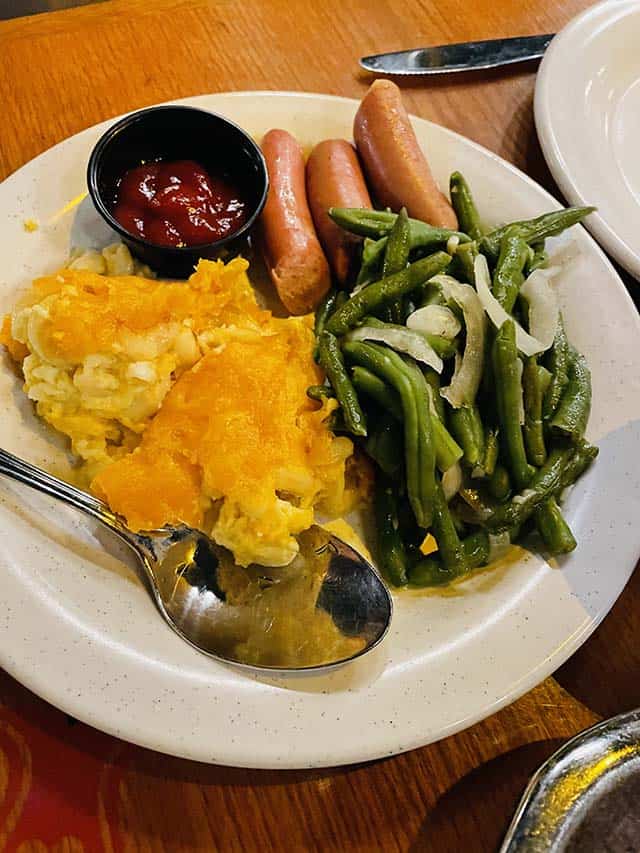 Additionally, people who like German food tend to enjoy the offerings such as sausage and sauerkraut. The children's food is relatively kid friendly compared to many of Epcot's World Showcase offerings. It includes foods that are essentially hotdogs and macaroni.
Overall, this restaurant offers a fun-filled, family experience. I know people who return over and over. For a full review, click here.
7. Sci-Fi Dine-In Theater Restaurant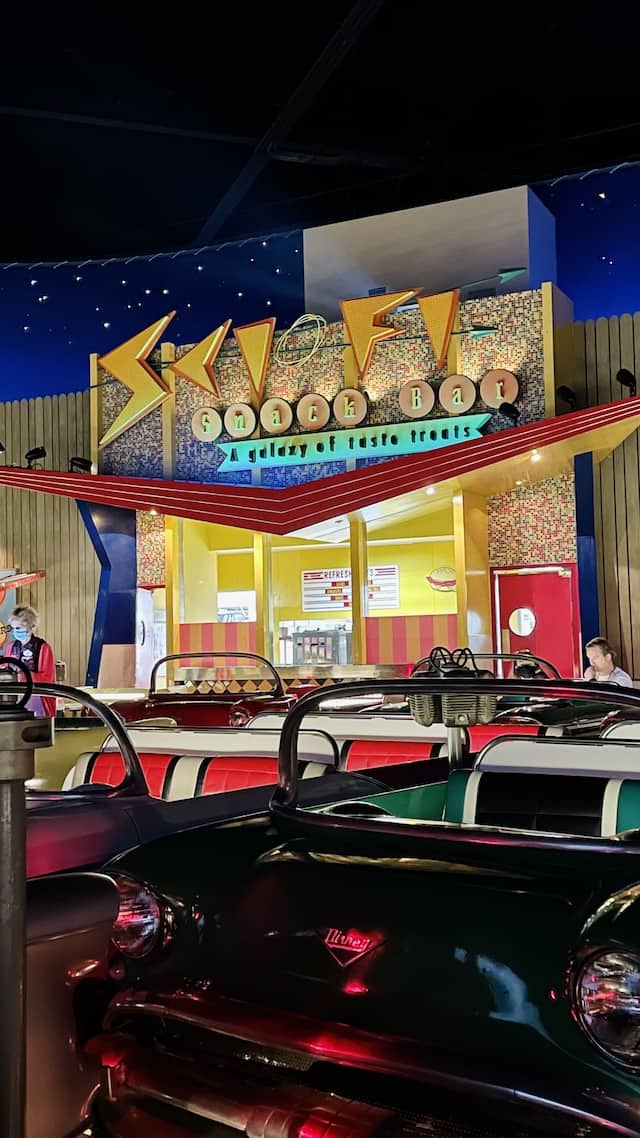 Sci-Fi Dine-In Theater Restaurant is located in Disney's Hollywood Studios. It is a dining experience like none other in the parks. The restaurant is designed to emulate a drive-in theater. Diners even get to eat in a car.
Well, technically, it is a booth resembling a car. There are a few traditional tables available as well, but they are not nearly as fun!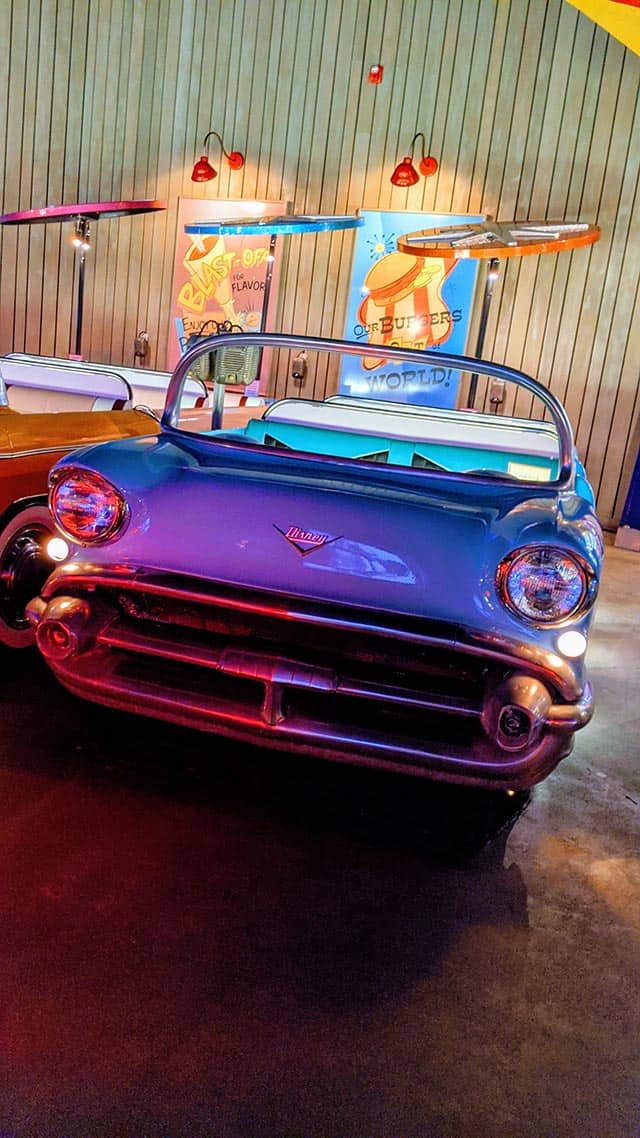 This is a place my little boy and I very much enjoyed visiting for a fun experience. For a little kid, the idea of eating in a car is unfathomably cool.
The menu is relatively standard, offering burgers and fries. Kids can order ice cream as one of their sides if they desire, which is relatively appealing.
The restaurant's theming doesn't end at cars. There is an actual big screen inside!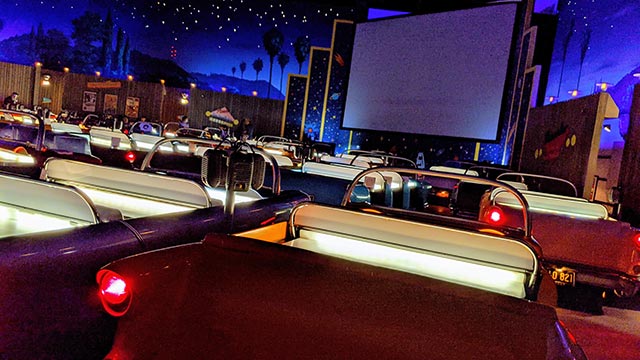 The restaurant shows clips of campy horror films. These are interspersed with spooky Mickey and Tom and Jerry cartoons.
While these are not meant to be scary, they might scare some of your younger or more sensitive travel party members. You might want to take this into consideration if anyone in your family is particularly fearful when it comes to monsters, even the campy ones.
Since there is a movie mash-up playing, the restaurant tends to be very quiet. In fact, it may be Disney's quietest dining experience in terms of human sounds. It is actually peaceful in an eerie way.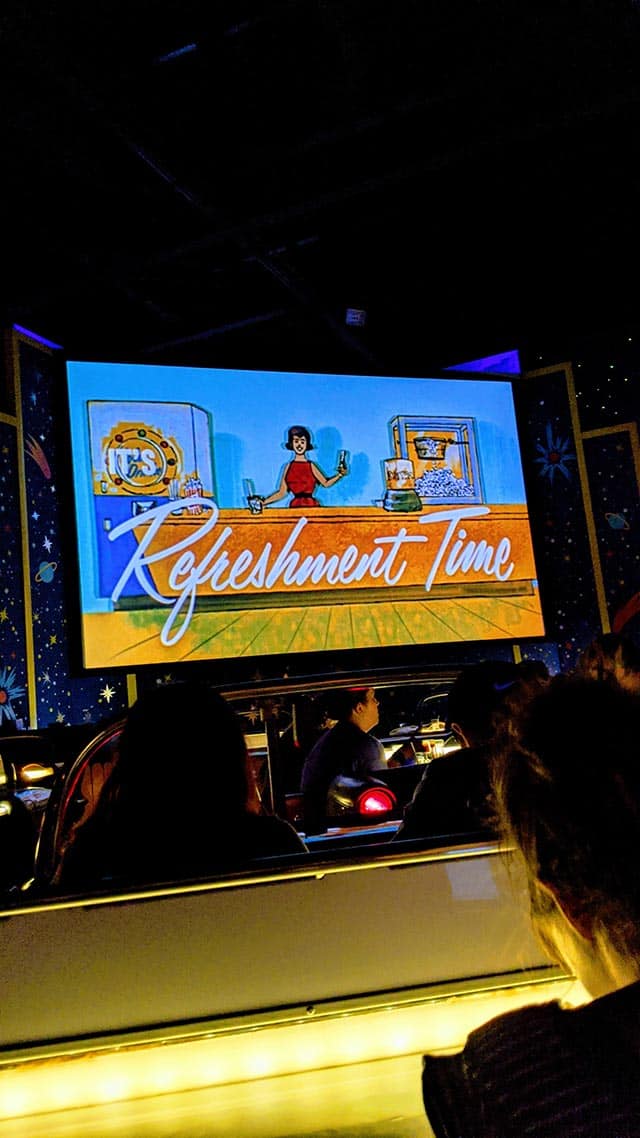 The dining room is also nice and cool, and the dim lighting makes it seem like even more of an escape from the elements outdoors. It is truly one of the best places to take a break in Hollywood studios.
I do not find the food to be terribly exciting. However, the experience itself makes it worth going. For Kenny's full review, click here.
Final Thoughts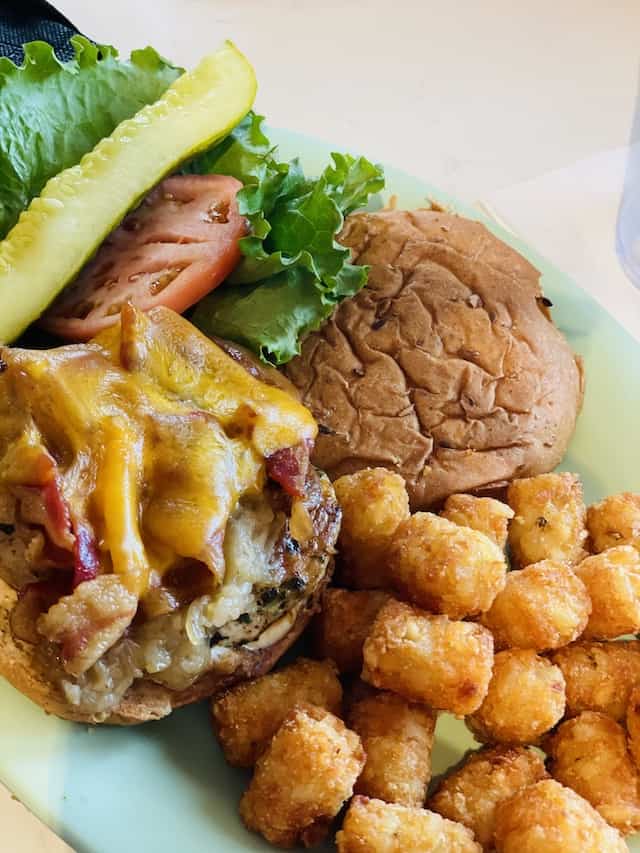 It is true that if you want to save even more money above and beyond the difference between a character meal and table service dining, you may be better served to stick with quick service dining. You might even prefer to pack your own meals.
However, Disney is a special experience, and you may want to treat your family to some special dining experiences during your visit. If that is your wish, then may the ADR Force be with you!
What do you think? Did we miss any of your family-friendly favorites? Do you plan to visit a table service restaurant during your visit? Tell us about it in the comments below or on our Facebook page. Or keep the conversation going and share them with us in our crew, too!