LATEST VIDEOS
Subscribe to my Youtube!
LIVE - Just Mousing Around
LIVE - Just Mousing Around Tonight!
If you are looking for one of Disney's best 50th Anniversary treats, the search is over. Find out where to get this delightful DOLE whip.
DOLE Whip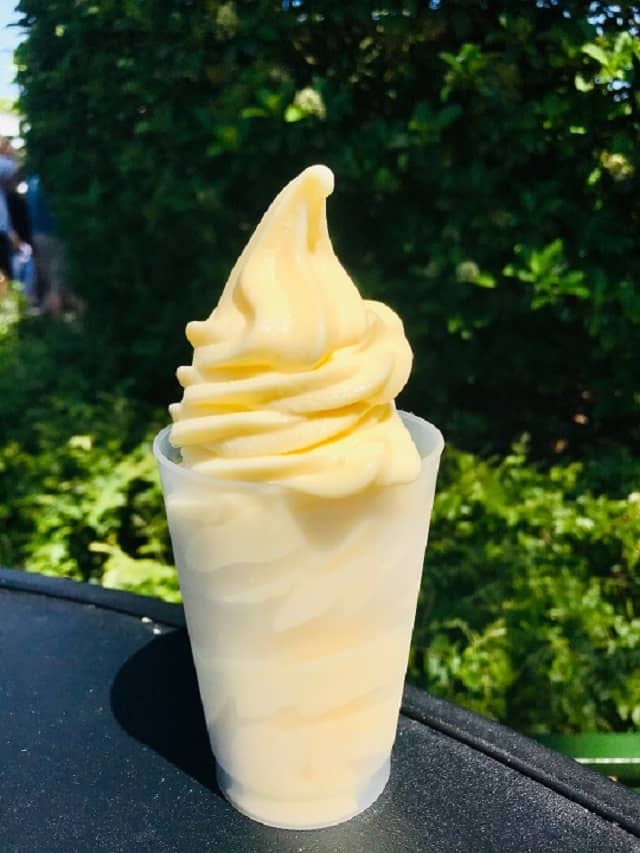 If you have been to Disney or heard any of your Disney-obsessed friends and loved ones talk about Disney, then chances are you have probably heard of DOLE Whip. The frozen dessert is a quintessential Disney treat.
While the dessert started off as a dairy-free pineapple soft serve, it has since begun to come in a host of other flavors and combinations. For example, you can find habanero lime or Blue Cookie Dough DOLE Whip at Swirls on the Water at Disney Springs. But, one of the best flavors is available at Disney's Polynesian Resort.
Pineapple Lanai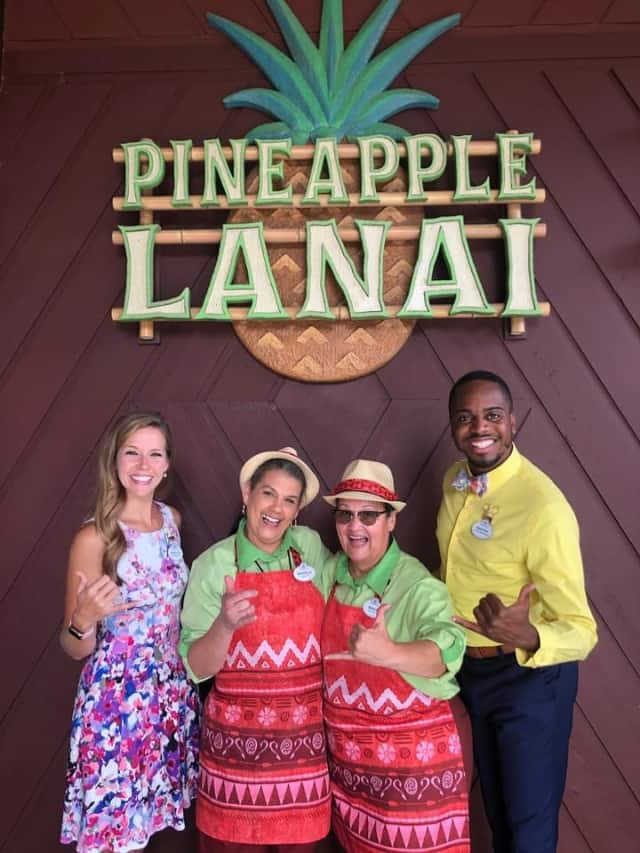 Located on the lower level of Disney's Polynesian Resort, just outside of Captain Cooks, Pineapple Lanai is a great option for those who want to indulge in either traditional DOLE Whip or one of its unique twists.
It is lovely to sit outside and enjoy the resort while delighting in a light, cold, citrusy treat. You can even see a nice view of Cinderella Castle from the outdoor seating area.
50th Anniversary Treats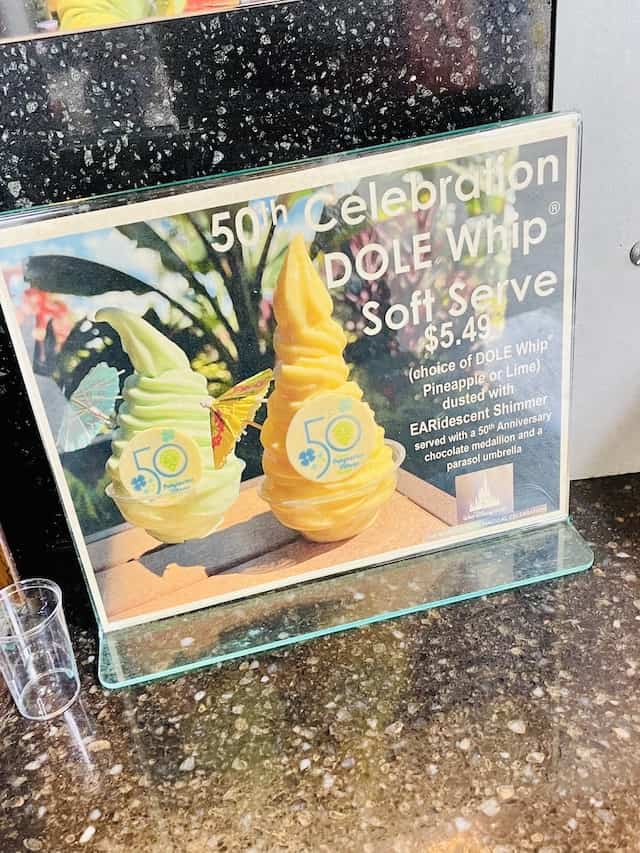 Right now, the eatery has two different 50th Anniversary offerings: 50th Celebration DOLE Whip Pineapple and 50th Celebration DOLE Whip Lime. You can also get the best of both worlds and have them twisted!
These treats come with a 50th White Chocolate Medallion and a decorative umbrella. Then, like most anniversary treats, they are dusted with sparkles!
A Review of the Lime Flavor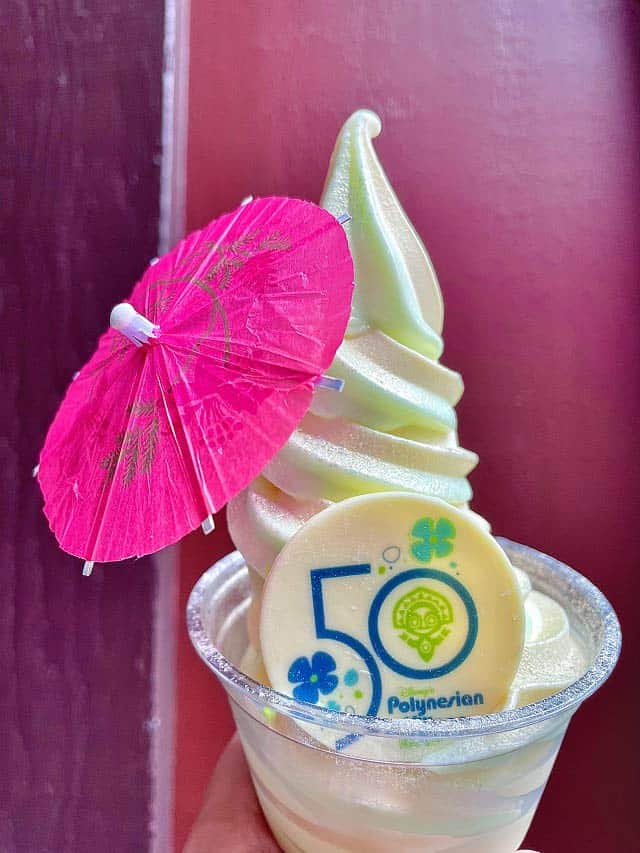 Our own Jamie already reported on the 50th Celebration DOLE Whip Pineapple. You can read her full review of the fun twist on the original classic dessert here.
Since then, a friend and I (Katie) were visiting Walt Disney World and I tried the other flavor, the 50th Celebration DOE Whip Lime and had it swirled with traditional Pineapple. The pineapple and lime flavors complement each other beautifully.
We both agreed it is a delicious DOLE whip combination! It is one of the best treats to try during the 50th Anniversary.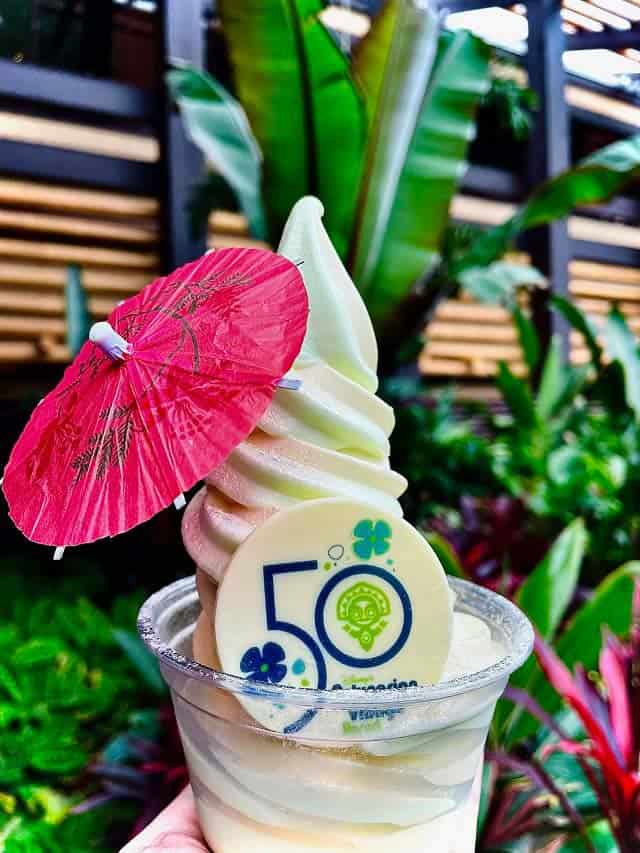 Of course, I have to be honest, the only thing that makes it a 50th Anniversary treat is the addition of sparkles, umbrella, and white chocolate disk, particularly if you order the original pineapple flavor. I believe that the lime flavor will come and go seasonally and will not be limited exclusively to the 50th Anniversary.
However, it is a rather photogenic little treat. Besides, it's a fun way to be festive during the last stretch of the 50th Anniversary celebration.
Have you tried the 50th Celebration DOLE Whip Lime and Pineapple Swirl at Pineapple Lanai Do you think it is snack worthy? Tell us about it in the comments below or join the conversation on our Facebook page.
Are you planning a vacation? Reach out to our trusted travel agency sponsor Authorized Disney Vacation Planner
Mouse Class Travel
!