Get the most out of your next Disney World vacation by seeing and doing all the live entertainment you can enjoy for free!
Live Entertainment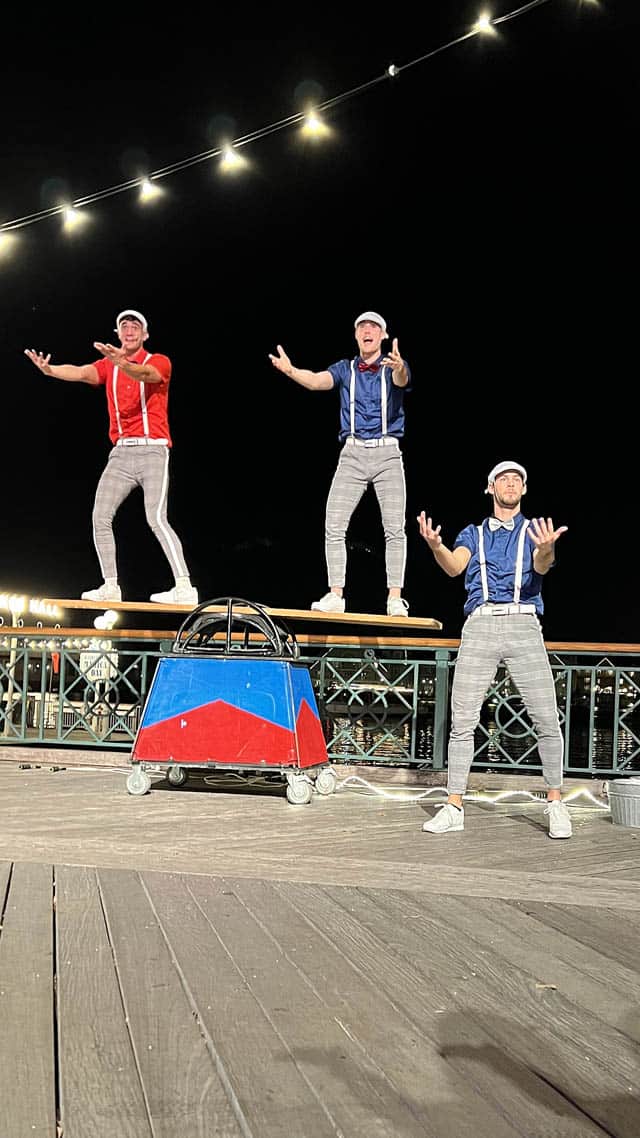 When visiting Disney World, there's so much to do and see! One of my favorite (Susan) experiences is to enjoy live music and other entertainment. This really sets Disney apart from other theme parks.
Whether you love concerts, pop-up performers, or live shows, there really is something for everyone. Take a look to see the options for your next trip and let us know what you think. If you're looking for dining entertainment, check out our ranking HERE.
EPCOT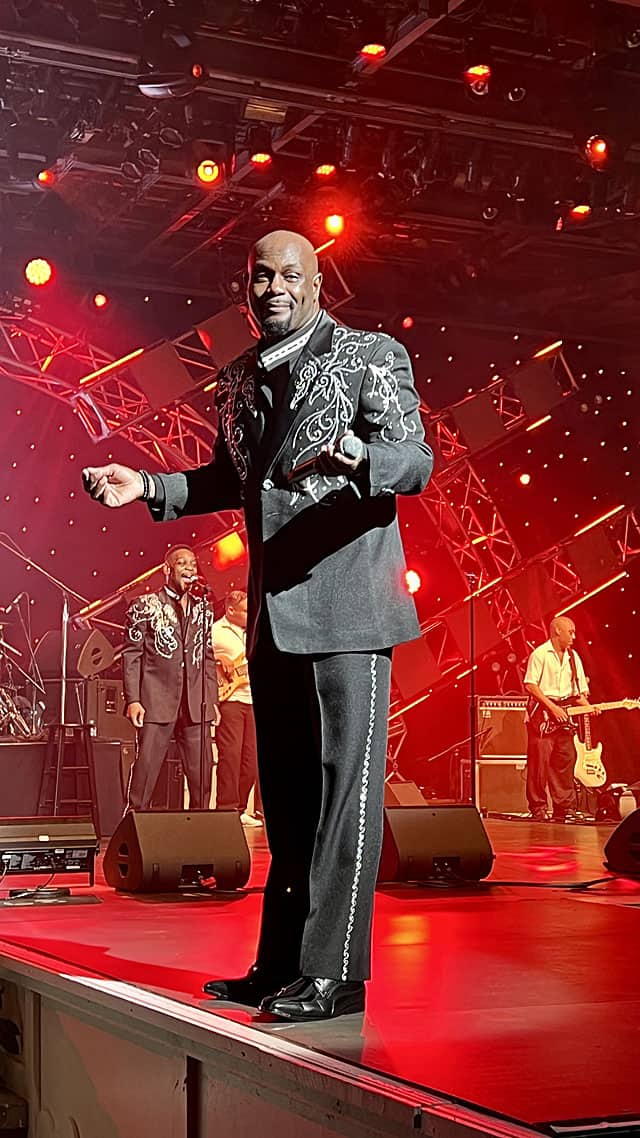 EPCOT, especially the World Showcase, has the widest variety of live entertainment at Disney World. Festivals also include special performances, such as storytellers, topiaries, and fun activities! I (Susan) hope you'll take some time to savor these unique performances.
Festival Concerts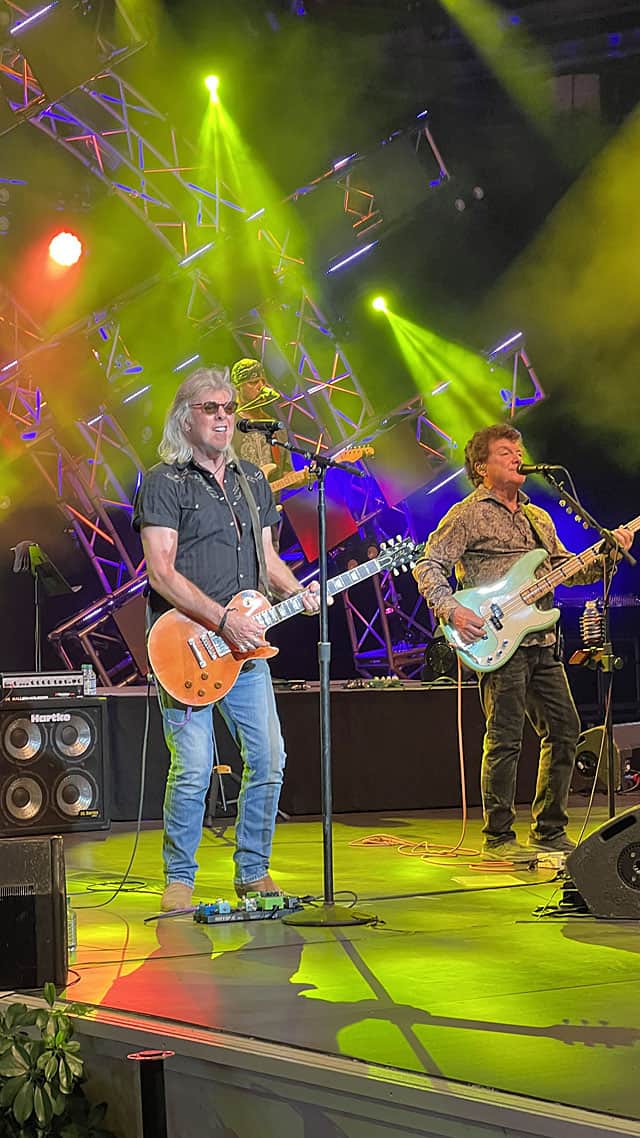 Do you enjoy listening to music? if so, Disney has you covered! With each EPCOT festival, Disney gives guests a variety of entertainment, including free concerts.
The International Festival of the Arts runs mid-January through late-February. Here, check out the Disney on Broadway Concert Series. These concerts are unique because they feature Broadway performers singing popular broadway tunes from popular Disney musicals such as Aladdin, Newsies, and Mary Poppins.
International Flower and Garden Festival runs from the beginning of March until the beginning of July. It's the most beautiful of all Epcot's festivals. Step into brilliant gardens, themed topiaries, a rockin' concert series called Garden Rocks. You can listen to The Little River Band, Rick Springfield and The Spinners as well as other favorite 80's and 90's bands.
Next, The International Food and Wine Festival runs mid-July through mid-November. This festival also features popular 80s and 90s bands with its popular Eat to the Beat Concert series.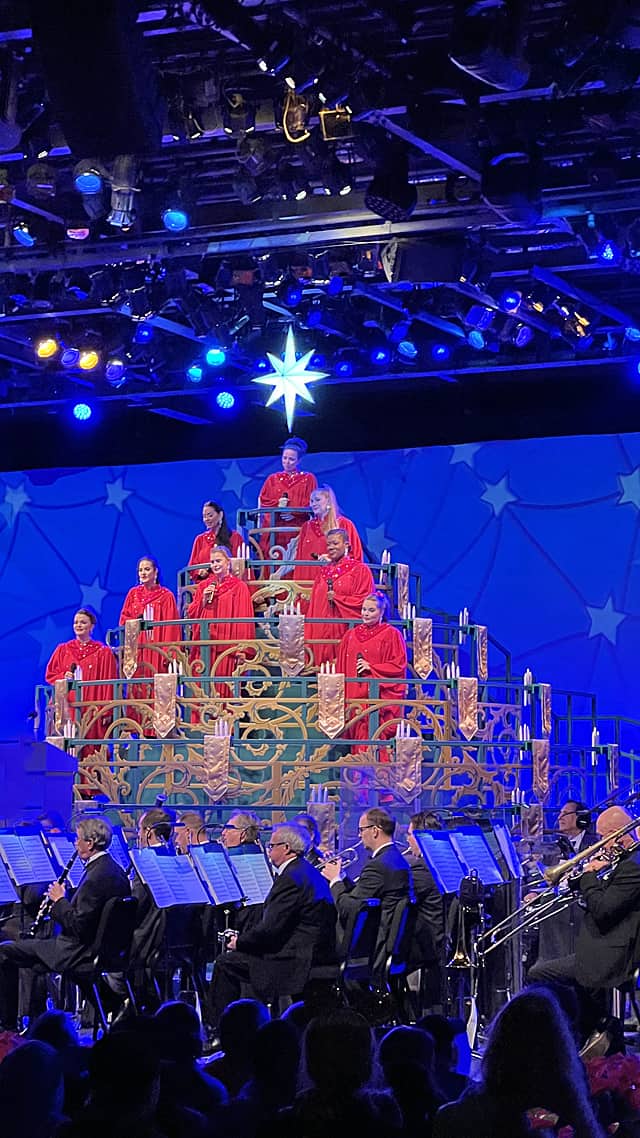 During the holiday season, a celebrity narrator tells the story of Christmas in the Candlelight Processional. It tells the biblical story of a Savior born in Bethlehem. Woven into the production are songs of joy performed by the orchestra and massed choir. Check out Maggie's review of using a dining package for Candlelight Processional HERE.
Look for these concerts in the American Gardens Theater. Performances take place 3 times each night. You can purchase dining packages for these concerts too for possible better seats. Take a look HERE to see if they're worth it.
World Showcase Musicians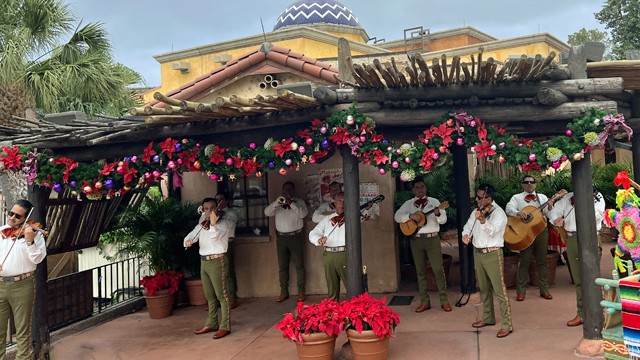 In Mexico, the Mariachi Cobre band is not to be missed! They've been a fan favorite for decades. They play melodies of traditional folk music from Jalisco, Mexico.  The Mariachi Cobre rotates days with the Marimba de Las Americas trio who also play traditional songs from Mexico.
Next, stop at America to take in the The Voices of Liberty a cappella group. Step into the The American Adventure Pavilion for an inspiring vocal performance. Their melodies delight while the rotunda's acoustically perfect dome amplifies their sound. Each performance lasts 15-minutes.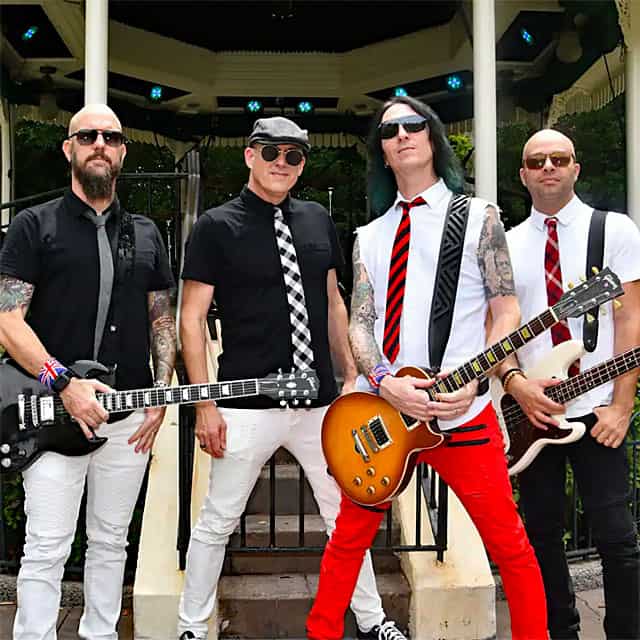 Don't miss Command Performance at the United Kingdom Pavilion. They perform British rock from the 1960s through 1990s in the United Kingdom gazebo.
On the main World Showcase pathway at the Canada Pavilion, explore bands from various regions of Canada on this musical tour of the Great White North.
Other Performers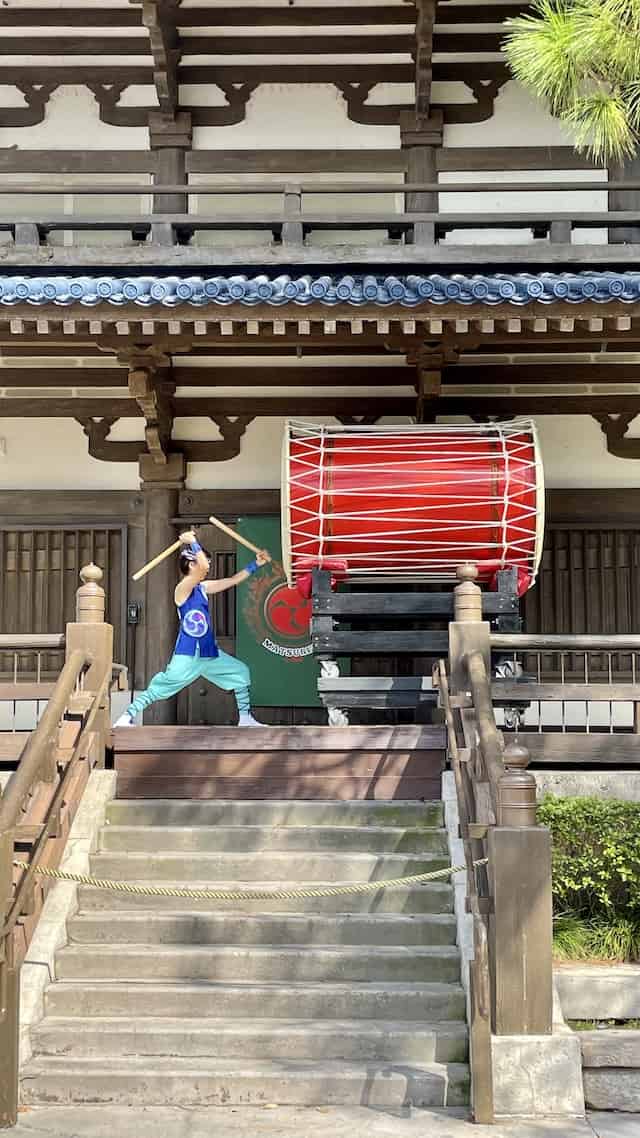 Bands are so much fun, but the entertainment doesn't stop there! At the Italy Pavilion, you can't miss Sergio! This master juggler and mime delights guests with his entertaining act. In Japan, the Matsuriza drummers perform intricate musical arrangements on giant drums in amazing display of physical stamina and rhythm.
The JAMMitors have a rocking time where ever they go. This clean-up crew breaks it down as they drum with some unlikely instruments throughout the day. During festivals and other events, you'll find live performances on the waterside stage located at the Port of Entry before World Showcase.
Be sure to check Character Locator for performance times and locations for every Disney World theme park.
Animal Kingdom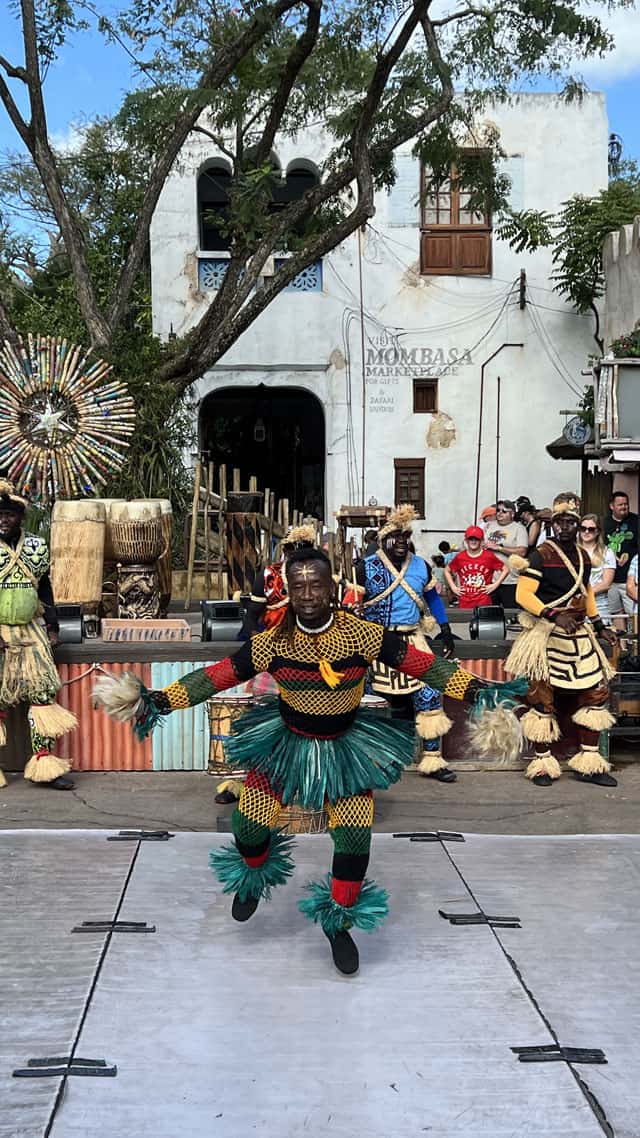 Animal Kingdom is a one-of-a-kind park. Guests can forget they're inside a theme park and take in the natural landscape, magnificent animals, and unique entertainment.
Performances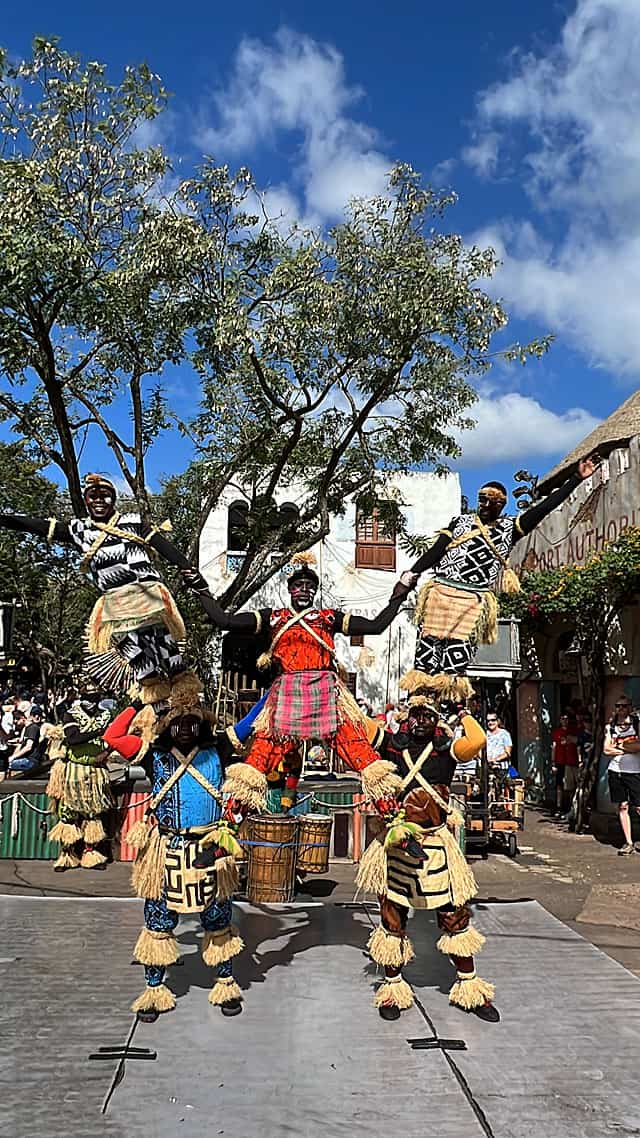 Listen to the simmering sounds of traditional Indian melodies, performed by a talented musician playing with the Chakranadi Sitar player. Feel as if you're transported to a new place through the sounds of charming Indian instruments.
Enjoy the sound of the "kora" at Kora Tinga Tinga. Here, a talented musicial plays a hand-crafted African harp with 21 strings.
Two groups alternate performances in the Harambe section of Africa. The Tam Tam Drummers are a colorful West African inspired rhythm and dance group. They have so much excitement and encourage audience participation.
Then, the Harambe Village Acrobats perform to African drums displaying incredible dance and tumbling skills. I (Susan) love both of these groups.
Shows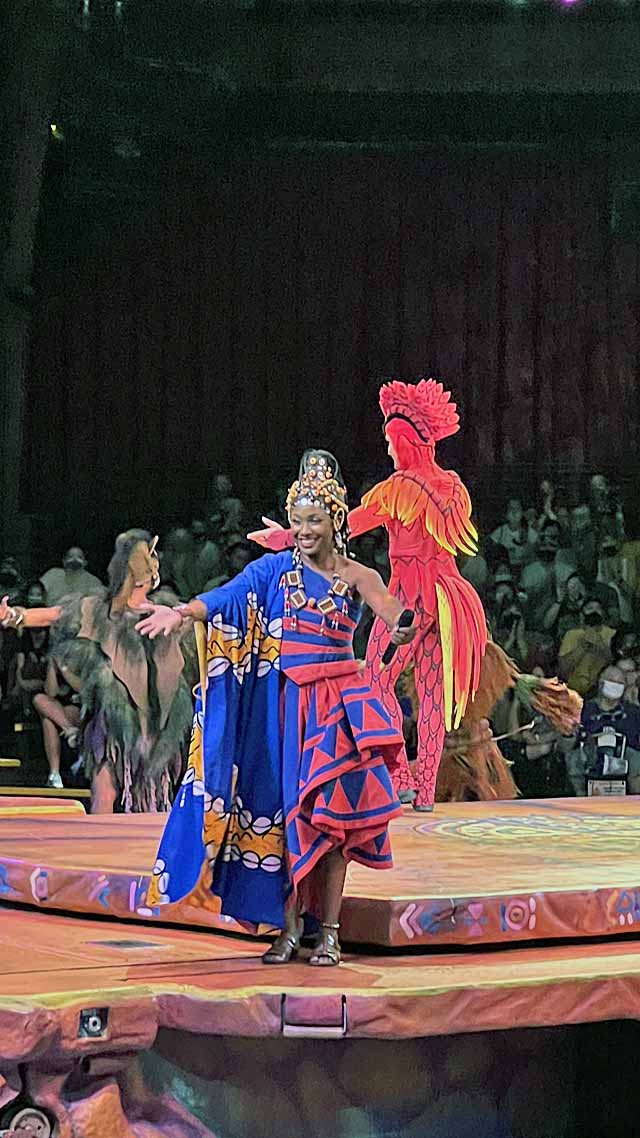 Delight in a larger-than-life show. The Festival of the Lion King is filled with songs, pageantry and puppetry celebrating the classic movie, The Lion King.
The recently reopened Finding Nemo: The Big Blue… and Beyond! is filled with amazing songs, story, and puppetry. Check out my review of the updated show HERE.
Disney Springs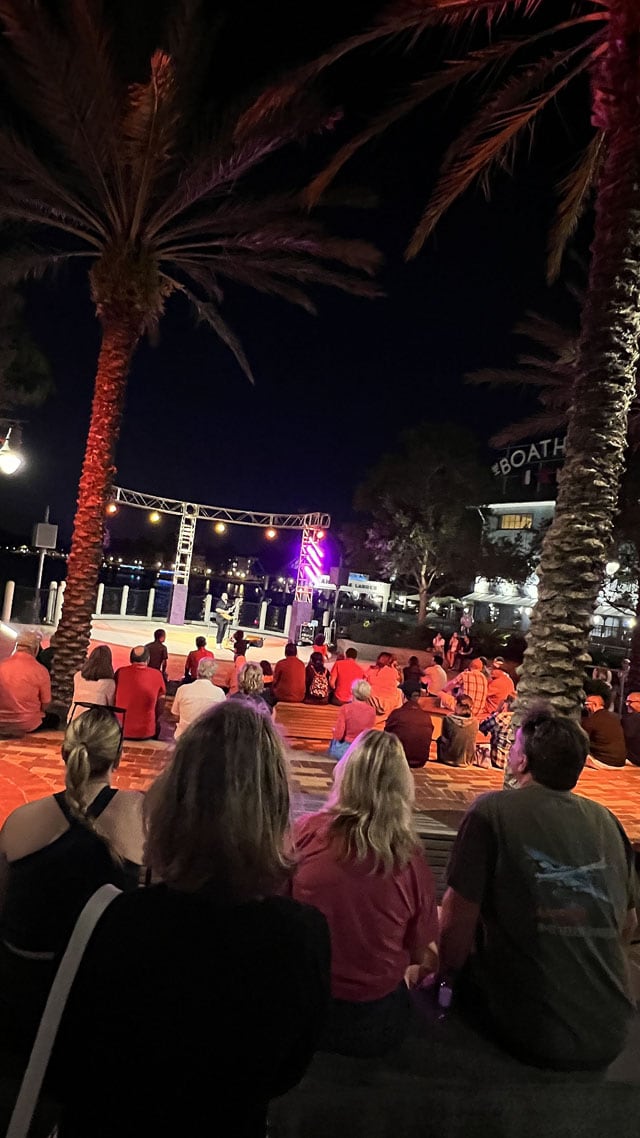 At Disney Springs, unwind at an open-air venue along Lake Buena Vista, where special events and live performances take place each day and evening at the Adventhealth Waterside Stage. Enjoy a lineup of bands, concerts and even a DJ Kids Dance Party at this outdoor stage located in The Marketplace section.
The next two smaller stages are located in the Landing section of Disney Springs. The Riverboat Square offers acoustic guitar and classical music with a modern twist performances. The Waterview Park is a spirited outdoor concert featuring a rotating lineup of live music, from DJs spinning modern beats to bands of all kinds.
Resorts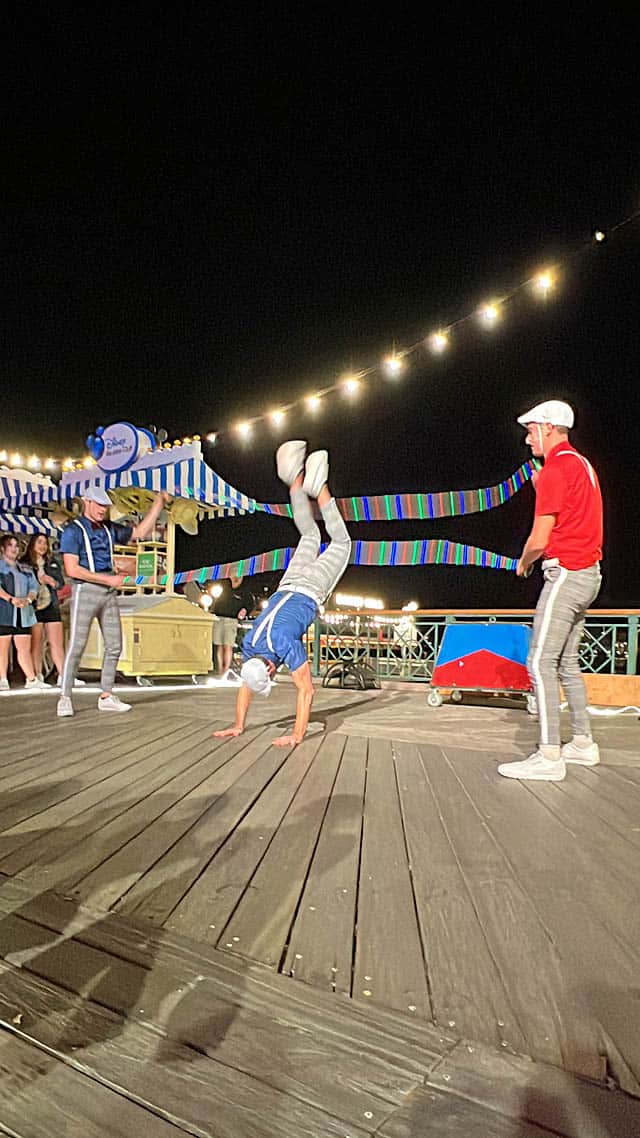 Fitting with the Grand Floridian victorian elegance, guests enjoy melodies played live on a beautiful grand piano in the lobby.
For a lighter musical comedy shoe, head to Port Orleans Riverside's River Roost Lounge to take in the knee slapping humor of Yehaa Bob Jackson. See why this show is not to be missed HERE.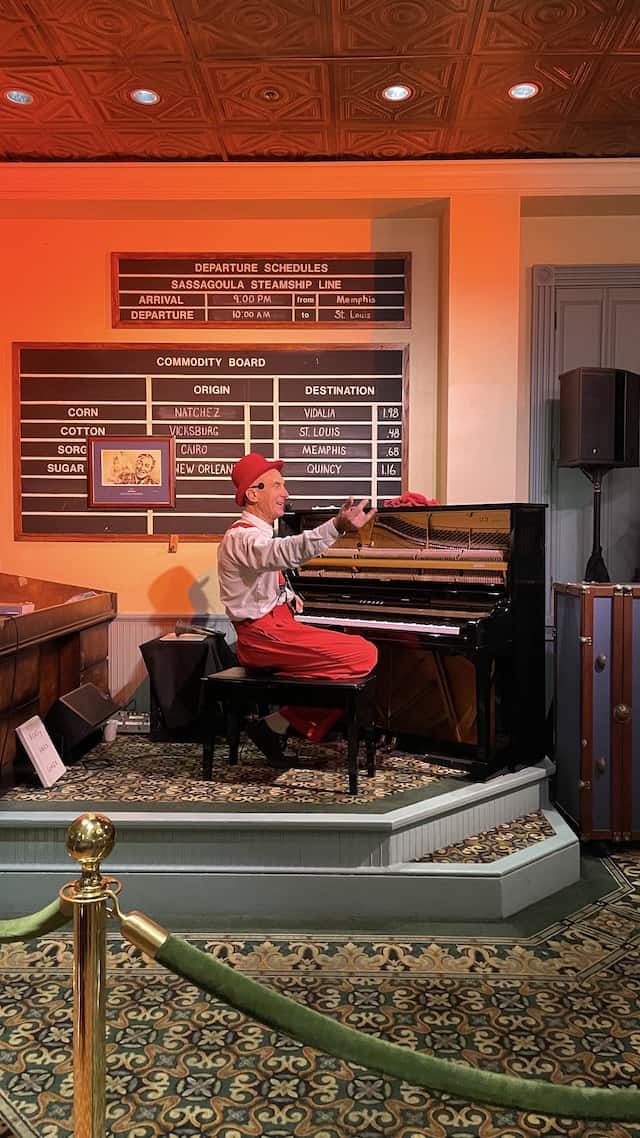 And, at Port Orleans French Quarter, you'll find one of Disney's best kept secrets. Go by the Cat Scat Lounge to unwind in this New Orleans-style lounge with a live jazz band. Performances start at 7:30 PM on Fridays, Saturdays and Sundays.
At Disney's Boardwalk Resort, the boardwalk offers various live performances. On a recent visit, I watched an incredible jump roping act that had the audience captivated. Check out more details on this show HERE.
Magic Kingdom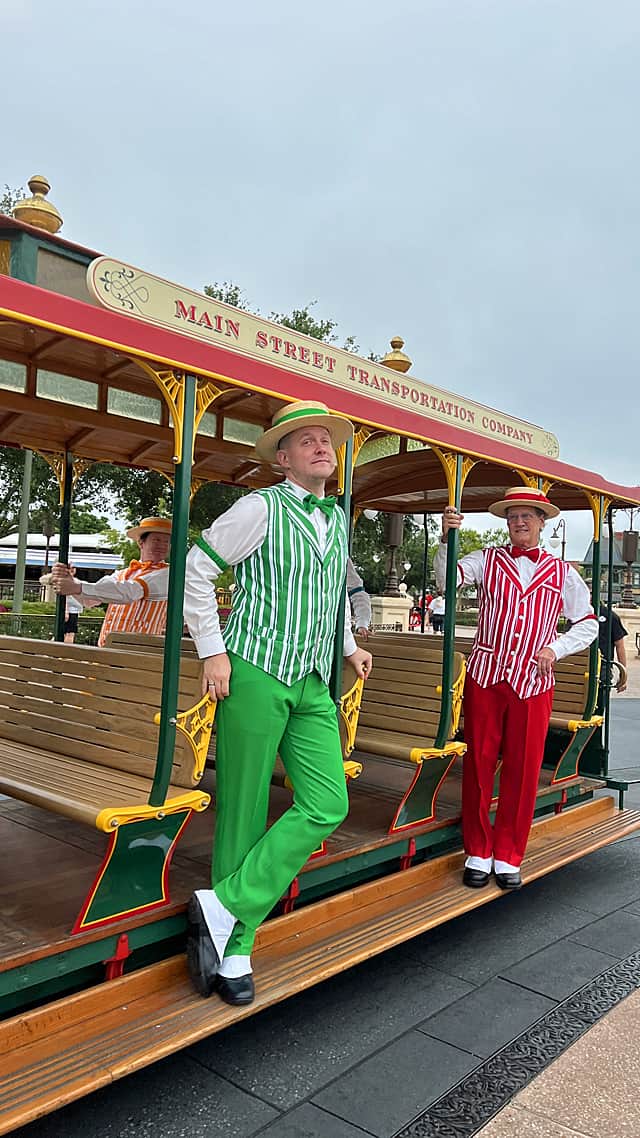 The Dapper Dans perform on Main Street U.S.A. wearing colorful pinstripe suits and straw hats. This quartet performs selections of a cappella American standards and Disney classics, including:
"Yankee Doodle Dandy"
"Strolling Through the Park"
"Mr. Sandman"
"If You're Happy and You Know It"
They also add vaudeville wit for the entire family to enjoy.
Hollywood Studios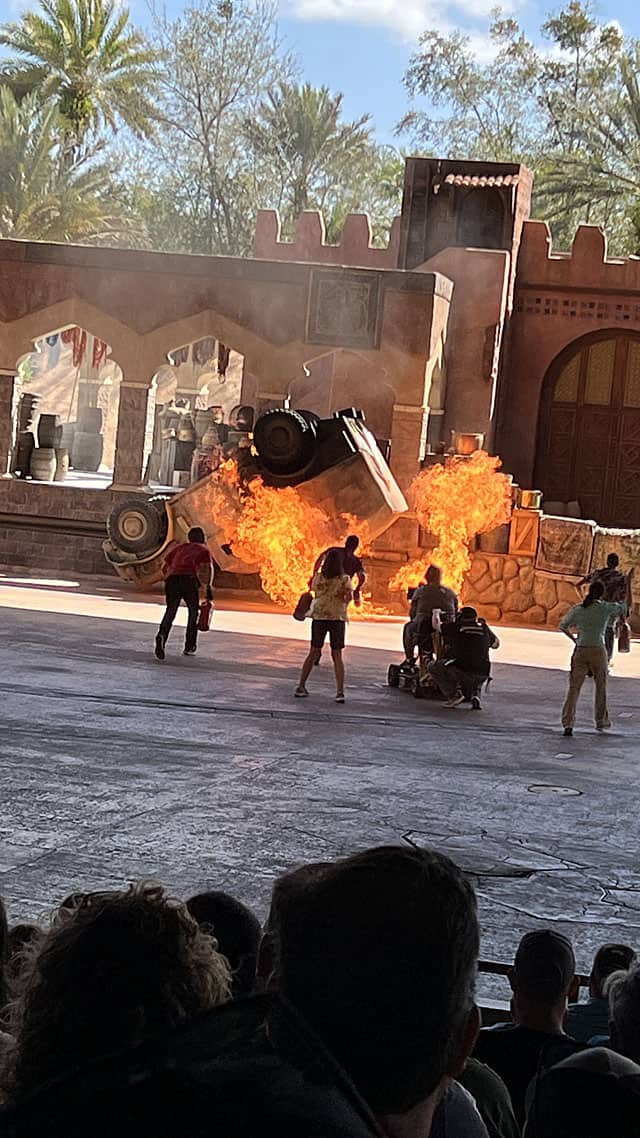 Hollywood Studios offers wonderful shows included with theme park admission. Take a look at Kate's post HERE to see the must do shows at Disney World.
In the Indiana Jones stunt show, watch as performers dodges deadly traps, battles bad guys, leap from tall buildings and makes thrilling escapes straight out of Raiders of the Lost Ark. Along the way, get an inside look at how stunts are done safely including throwing and taking punches, falling from tall buildings, and even using whips in the midst of complex action sequences.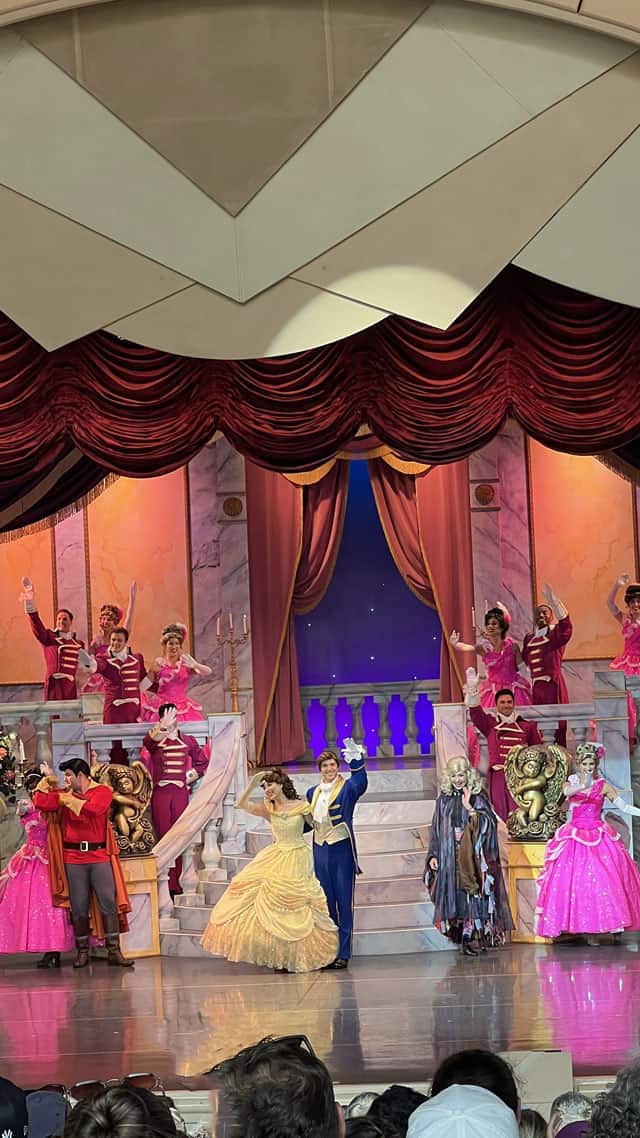 Head to the Theatre of the Stars amphitheater on Sunset Boulevard to take in the Beauty and the Beast Live on Stage Show. This 30 minute heartwarming retelling of Belle and the Beast with colorful costumes, gorgeous scenery and the songs we love.
Last, but certainly not least, enjoy a heartwarming celebration of Frozen with a flurry of stories, songs and special guests at the Frozen Sing-Along Celebration.
Do you love enjoying Disney's entertainment? Which one of these is your favorite? Or will you try something new on your next trip? Please share your thoughts with us in the comments below or on our Facebook Page.