He is a rare gem at Disney World – providing entertainment and fun for people of all ages. If you have never seen his show, be sure to add it to your itinerary for your next Disney trip. You do not want to miss him!
Port Orleans Riverside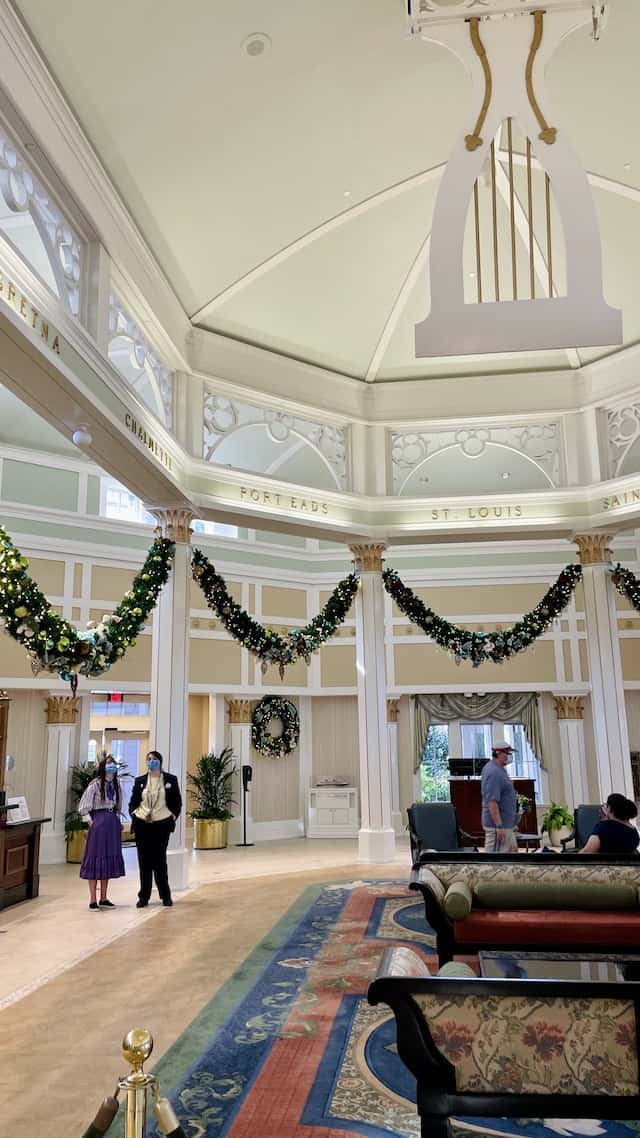 If you are looking for a moderate resort with princess rooms and a laid back feel, look no further than Port Orleans Riverside. Riverside is reminiscent of rural Louisiana. If you can imagine what life looked like in the late 1800's on a river, steamboats and mill wheels come to mind. There is actually a working cotton press mill outside the Riverside food court.
The Alligator Bayou section features cottages with tin roofs while the Magnolia Bend section features stately white mansions and fountains. You can also find the Royal Guest rooms that are some of the best themed rooms on all of Disney World property.
See our full guide to Port Orleans Riverside and French Quarter HERE.
River Roost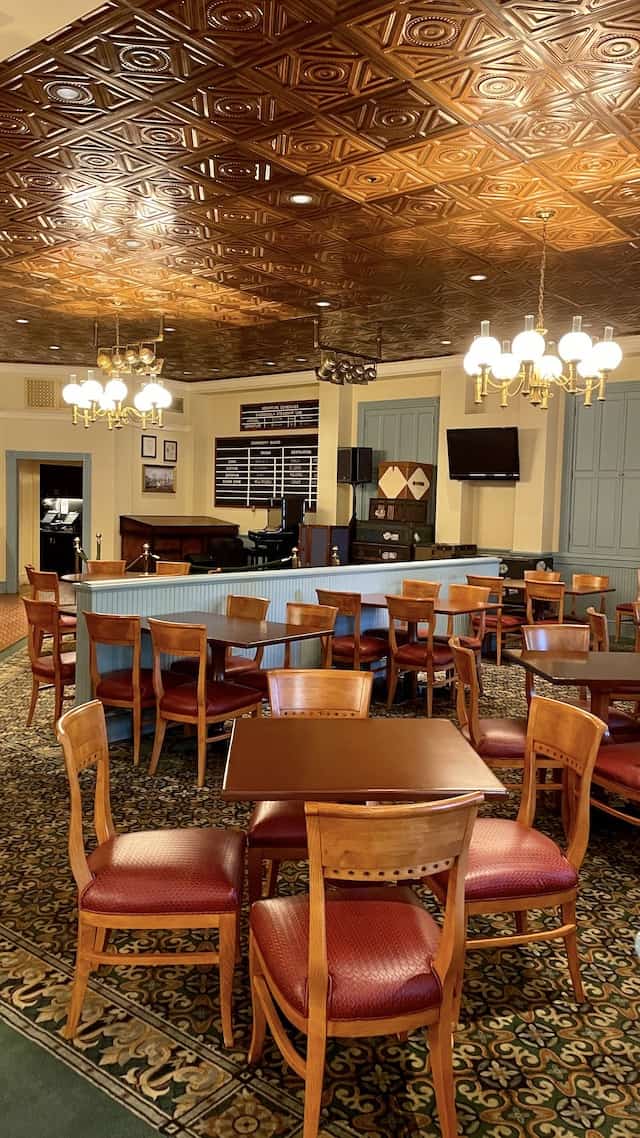 Located inside the main building of Riverside is River Roost. It is the resort's lounge/bar and the home of Yeeha Bob. You can't miss it because it's right next to the general store and across from check-in/bell services. You can find a variety of cocktails and beer along with daily specials at River Roost. On the day I visited, the food options included:
Loaded Potato Puffs: with pulled pork and beer cheese sauce. $11
Mardi Gras Fritters: House-made Pimiento Cheese Fritters with Pepper Jelly. $10
Boudin Ball: Breaded and fried Andouille & Smoked Sausage with Dirty rice Balls served with Remoulade and Creole Mustard with pickled vegetables. $13
Po Boy Flatbread: Cheeder & Italian Cheese, Breaded Shrimp and Oysters, Arugula, Cherry tomatoes and Drizzled with Remoulade. $15
Bayou Wings: Smoked Chicken wings, tossed in a Sweet & Spicy BBQ sauced served with Cajun Steak Fries. $16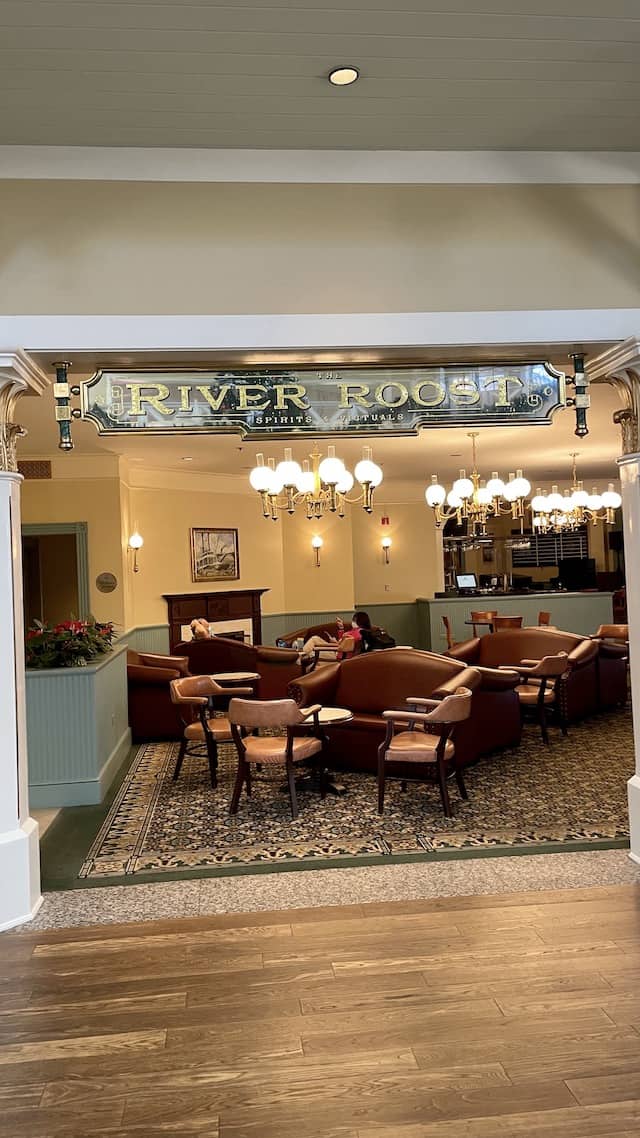 Every night at River Roost, Yeeha Bob Jackson takes the stage to entertain Guests of all ages. Even though River Roost is a lounge with a bar area, kids are still allowed in. In fact, there were plenty of children during my visit!
Yeeha Bob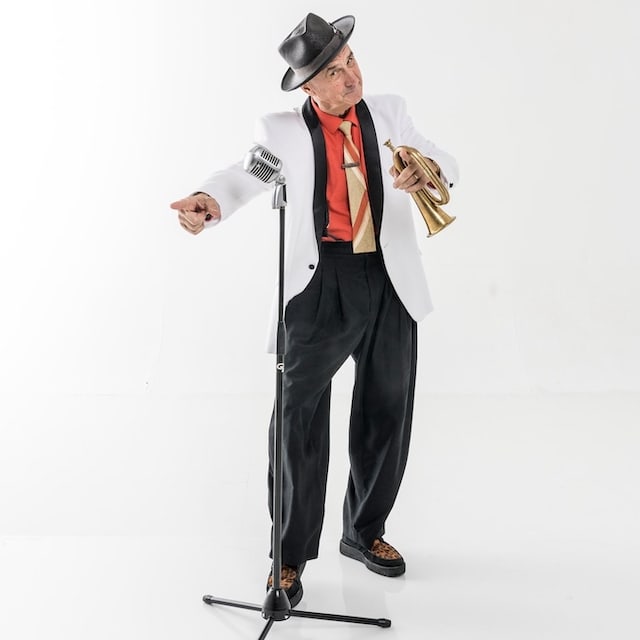 Fun music and comedy are on center stage with Yeeha Bob. He is a local legend and plays both Disney and songbook classics along with kid-friendly numbers. According to his official website, he "makes the world a better place through laughter and music."
Yeeha Bob has been performing at Disney World for over 23 years! Due to the park closure and initial reopening phase, he was unable to return to River Roost. This was mostly due to the fact that the Port Orleans resorts did not open until mid-October 2021. During the time he was not at Riverside, he performed at other local spots.
Then, in September 2021 he announced that with the reopening of Riverside, he would also return to his River Roost shows! His return was met with great support and excitement from his fans and Guests staying at Port Orleans – Riverside.
Tips for Watching Yeeha Bob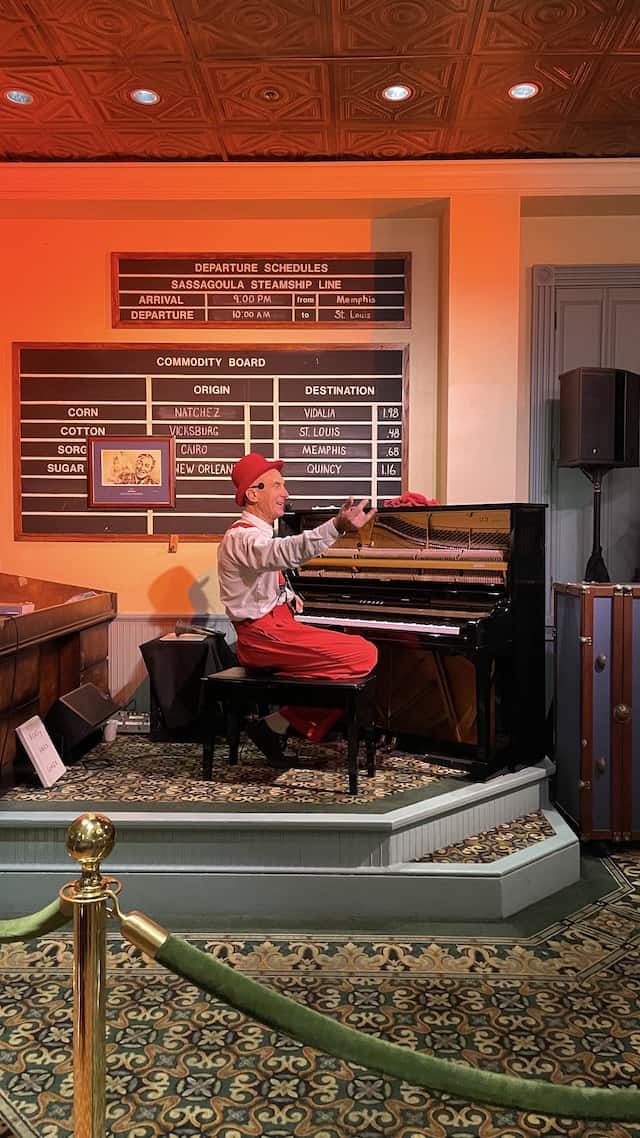 During my stay at Riverside, I knew seeing Yeeha Bob would be a top priority! I had heard wonderful things about his performances and the energy he brings to his shows.
My first tip is to know his schedule. He plays Wednesday to Saturday every week. He does not perform on Sunday, Monday, or Tuesday. His set lasts approximately 1.5 hours with the first one at 8:30 pm. From 10:00 to 10:30 pm he takes a break, and his second show starts at 10:30 pm.
Pirate tip: Be sure to check the Disney website in case his schedule changes.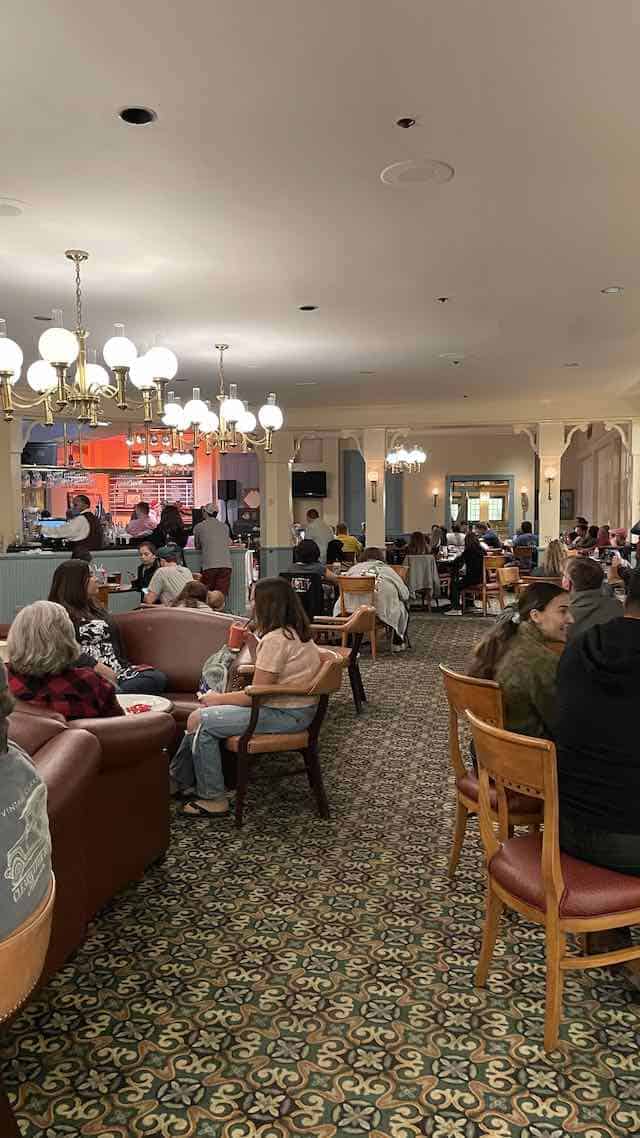 The second tip is to get there early! There are tables, bar seating, and lounge seating so there is plenty of room. However, he is so popular that many arrive early to get a seat and do not leave until the set is over (or even later). I arrived about 15 minutes before his first set started and found a little table with standing room only. I noticed many wander in after me, look around, and then leave when they could not find a place to sit.
Pirate tip: Arrive about 30-45 minutes before Yeeha Bob's first set.
I did not stick around for the second set, but I imagine it is not as crowded because of the time it starts. It may be worth it to watch his second set instead. Also, if you want to be sure to see Yeeha Bob and not just hear him, you will want to sit at the bar or at one of the tables. The couches are on the opposite side and you won't have a good visual of Bob.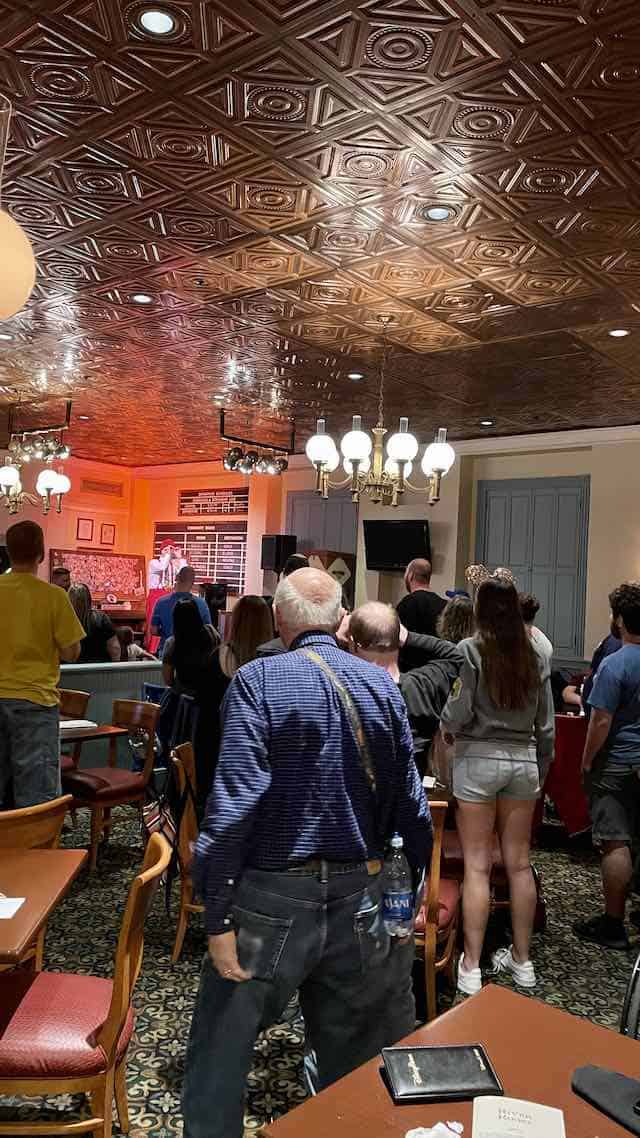 My next tip is to be ready for fun! His show is truly entertaining for all ages. I noticed plenty of people of all ages in the lounge to watch his show. Everyone from the young to the young at heart were singing and dancing along. The energy in the room was so contagious you cannot help but tap your feet and sing along.
With many of the health and safety precautions relaxing at Disney, it appears the singing and dancing together are not only accepted, but but they are also encouraged for his show. For many songs, entire groups of people were up and dancing, and there was definitely a lot of singing.
Pirate tip: This may not be the show for you if you are not comfortable with singing and people not wearing masks.
Final Thoughts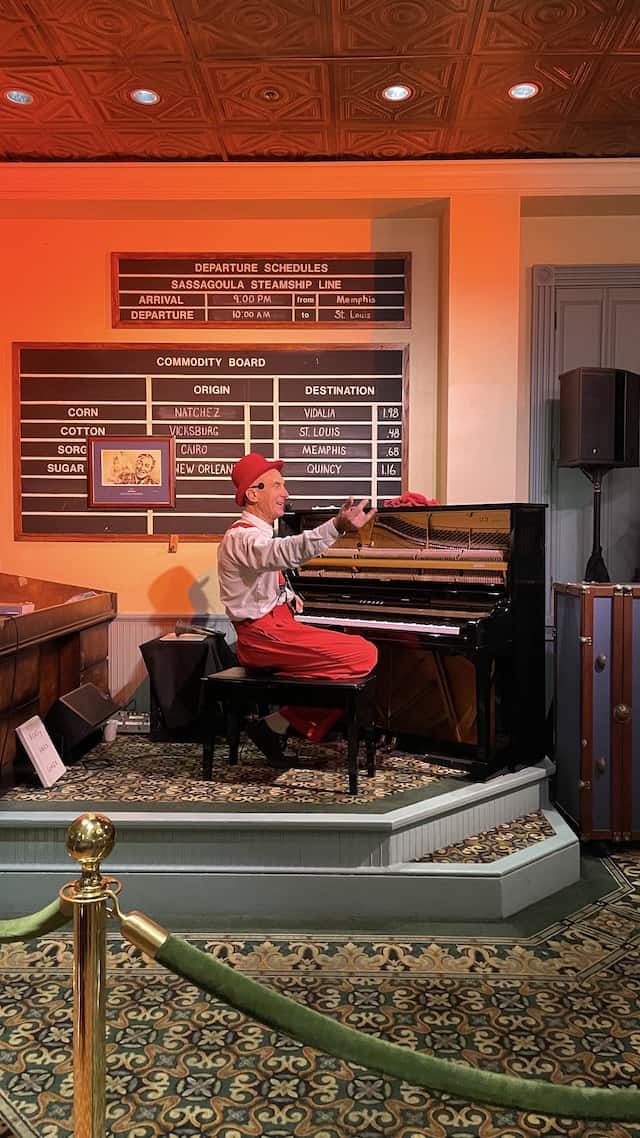 Overall, I really enjoyed watching Yeeha Bob at Port Orleans – Riverside. He played many familiar songs, and his energy was so much fun to experience. This would be an excellent evening activity on a rest day or maybe even your arrival day before you hit the parks for the week.
With Disney Springs a short boat ride away, you can get some shopping and dining done before or after his set. You may also want to head over to Port Orleans – French Quarter and check out the Scat Cat's Club. Live jazz musicians play there throughout the week as well!
Have you watched Yeeha Bob at Riverside? What did you think of his performance? Let us know in the comments below and on Facebook.