When on vacation, it's a perfect time to try new things! Check out our ranking of unique dining options to see which ones to try!
Rankings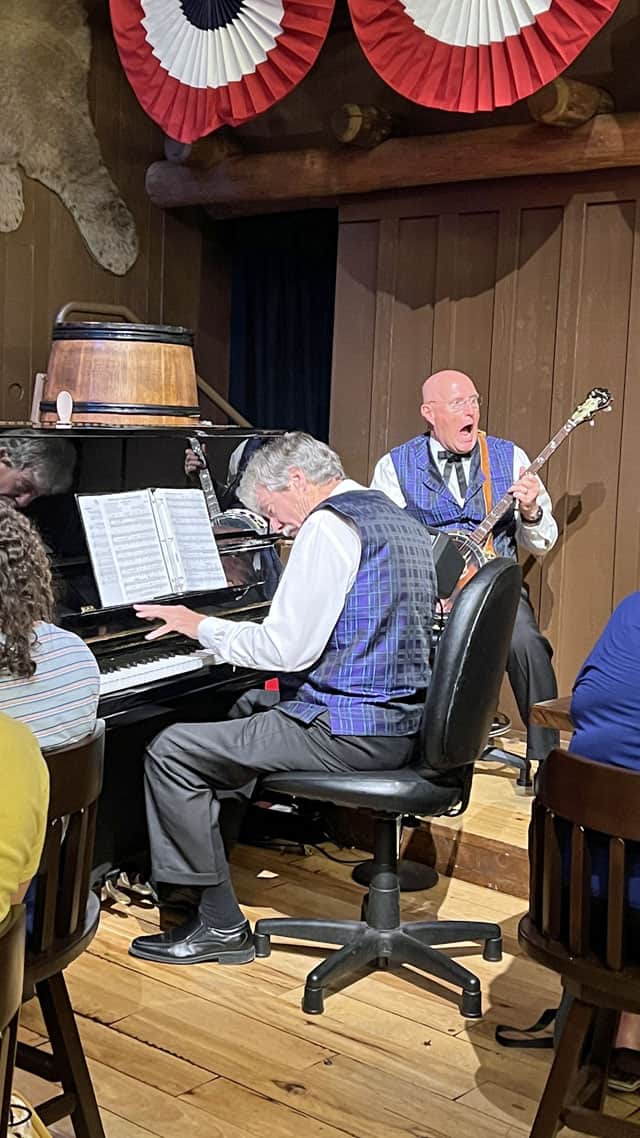 In this post, restaurants are ranked according to which ones have the most interesting and unique entertainment offerings rather than food quality. Please keep that in mind as you read through the list. In the rankings, unique experiences that most guests can't experience at home rank higher than more common experiences. Take a look at my (Susan) and share your thoughts.
Restaurants are ranked according to the most interesting and unique entertainment offerings – not food.
10 – Whispering Canyon Café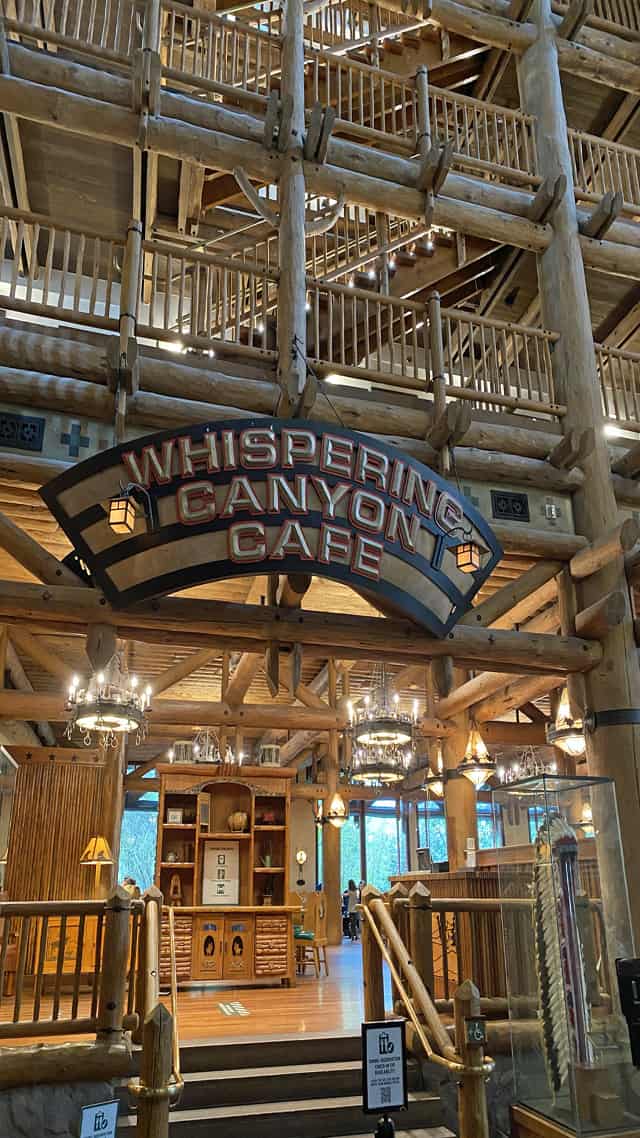 At Whispering Canyon Café guests choose from bottomless skillets and cowboy entrees. Make sure you bring your appetite because portions are served large for breakfast, lunch, and dinner.  Theming mimics the rustic wood along with American pioneer details.
The servers here are the entertainment. When we were first seated at Whispering Canyon Café, the server just made pioneer references and spoke in a country accent. Then, my husband began playfully teasing her, and the entertainment began. She began giving us a hard time, and it was so much fun! Although things have been toned down a bit, servers still love shenanigans with willing diners.
9 – House of Blues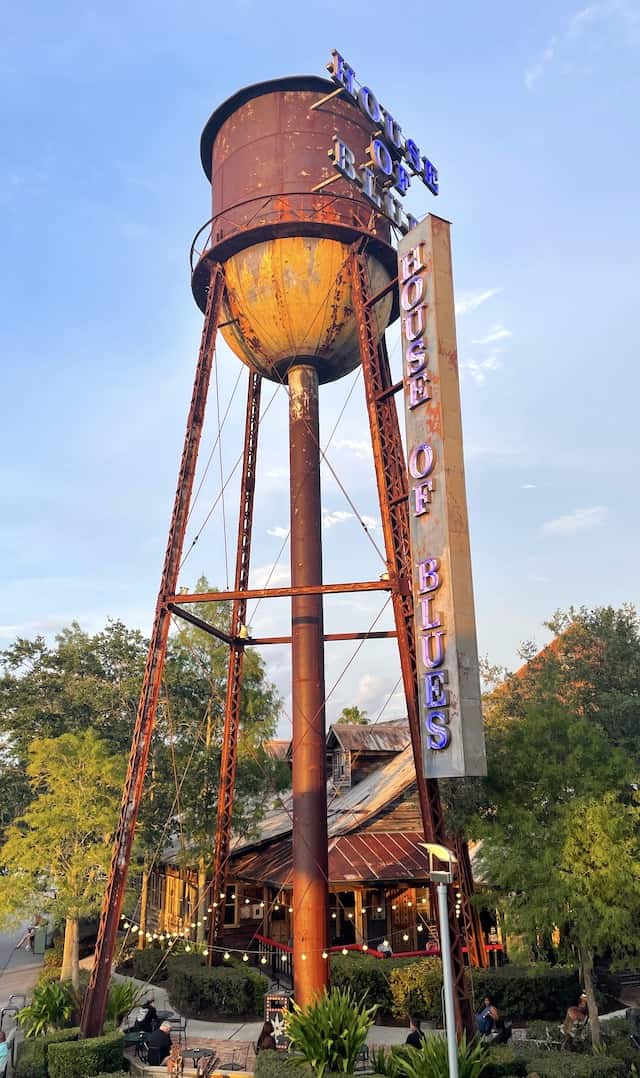 Next, head to Disney Springs to feast on traditional Southern dishes such as New Orleans jambalaya and gumbo, Memphis-style baby back ribs, and Delta fried chicken. The menu also offers signature recipes such as Voodoo Shrimp and Carolina Mess, as well as a wide range of burgers, sandwiches and salads.
If you're in the mood for music, this may be the perfect spot! You'll find free and paid concerts throughout the day and evening.
While House of Blues gives a wide variety of musical entertainment, it's not unique to Disney. It has locations in the following cities: Anaheim, Boston, Chicago, Cleveland, Dallas, Houston, Las Vegas, Myrtle Beach, New Orleans, Orlando and San Diego.
8 – Raglan Road Irish Pub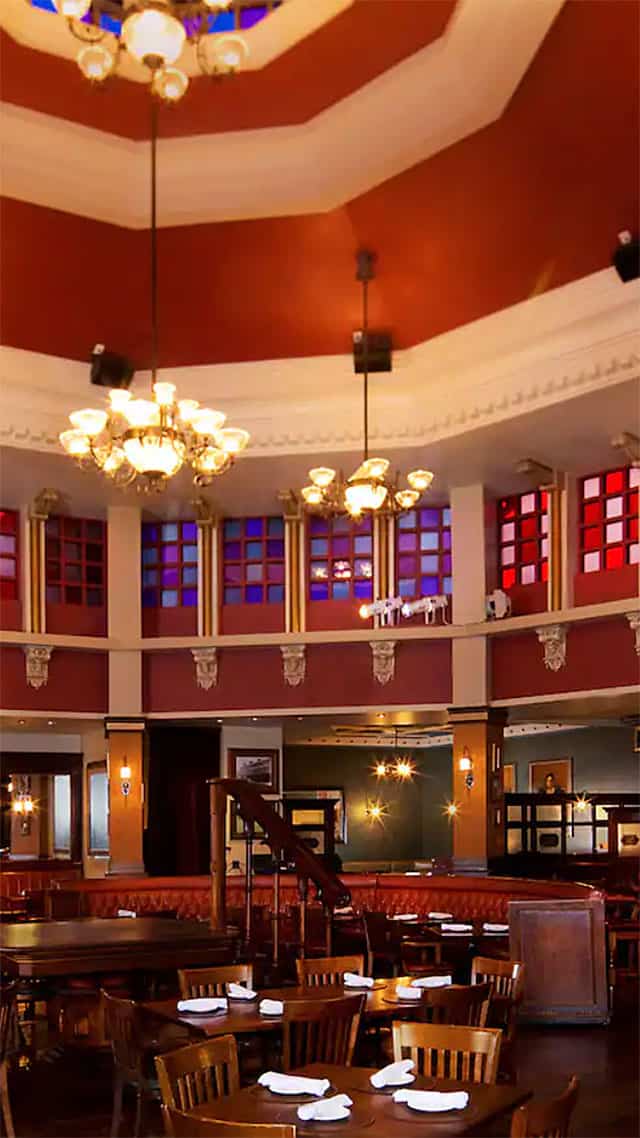 Did you know that Raglan Road is the only authentic Irish pub located in Orlando? Not only that, but it was built entirely in Ireland too and shipped here. Here, you'll find contemporary award-winning Irish food, beer, and spirits with a Celtic twist.
Catch talented singer-songwriters and energetic bands performing Irish tunes, popular ballads and pub classics on multiple stages. Take a look at the entertainment schedule below:
Main Stage: Monday to Friday from 5:00 PM to 10:00 PM, Saturday and Sunday from noon to 10:00 PM
Patio Stage: Daily from 6:00 PM to 10:00 PM
The Rhythms of Raglan: Daily from 5:00 PM to 10:00 PM; additional performances Saturday and Sunday from noon to 3:00 PM during The Rollicking Raglan Brunch
Live Music and Dance Shows: Daily from 5:00 PM to 10:00 PM
Live Bands: Daily from 5:00 PM to 10:00 PM
Show times vary and are subject to change.
7- 'Ohana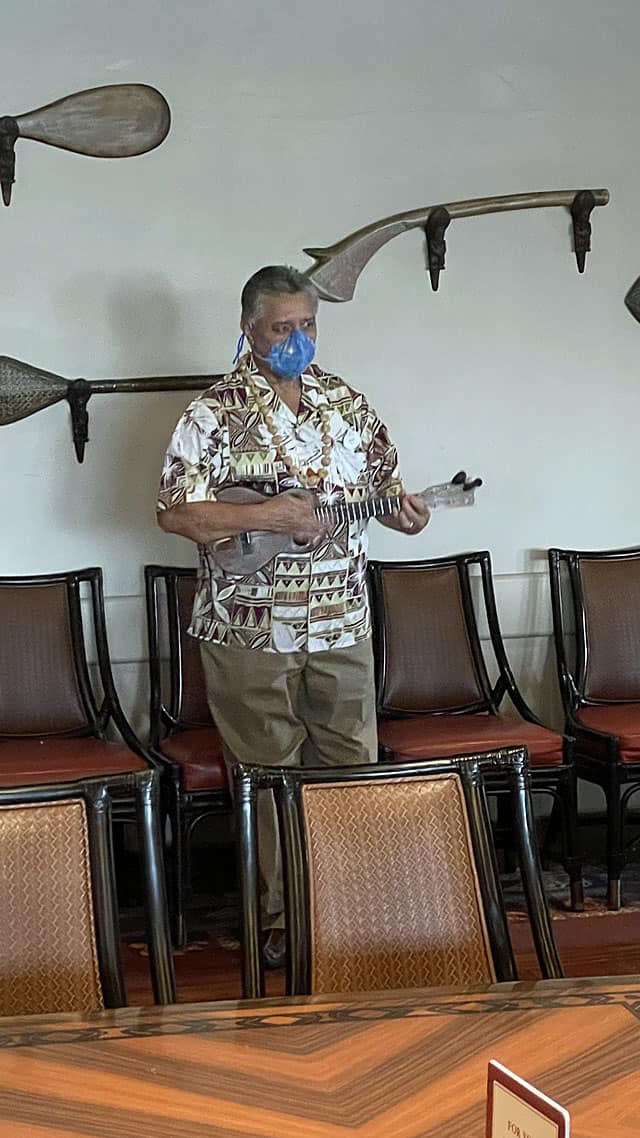 Feel like you've traveled to a tropical oasis at Disney Polynesian's 'Ohana restaurant. Everything from the lush foliage to the tiki statues add to the atmosphere. Ohana means family and "cousins" bring you all the delicious food you want. At breakfast, traditional American food is served with pineapple-coconut bread. Then, at dinner, be prepared for the best grilled meats, veggies, and bread pudding you've ever tasted!
In addition, you'll find entertainment at 'Ohana. First, there's a "cousin" that walks throughout the dining areas singing and playing the ukulele. At breakfast, all of the children are invited to dance and shake instruments around the restaurant. 
5 – Biergarten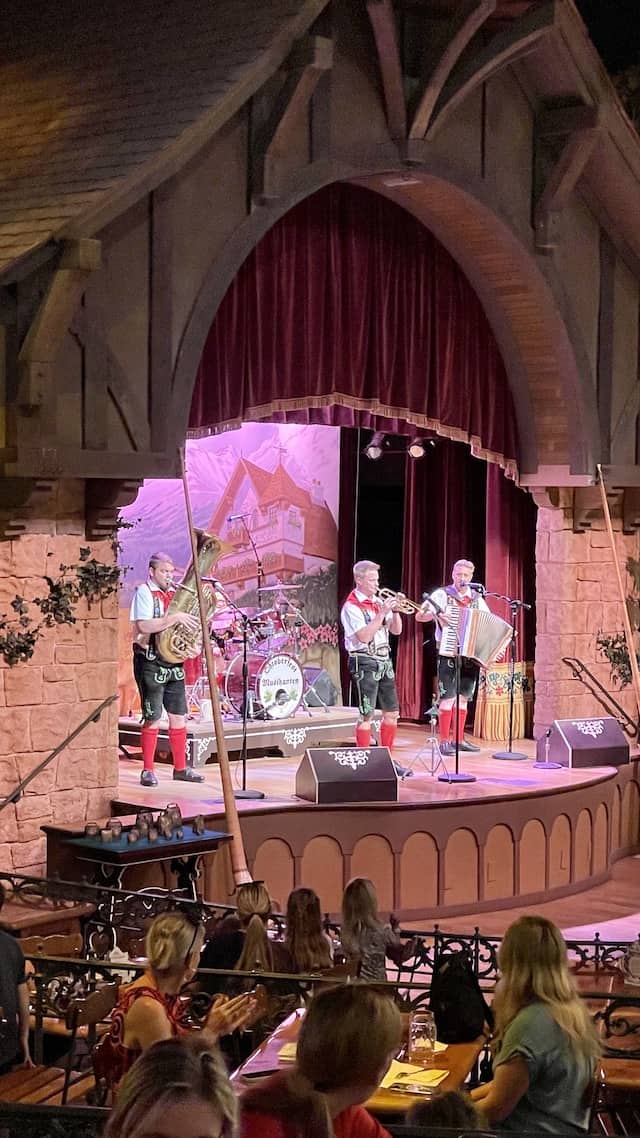 Biergarten transports guest to a traditional Bavarian village to feast on German food, such as bratwurst, rotisserie chicken, pork schnitzel, salads and desserts.
Here, guests celebrate Oktoberfest all year long with the lively Polka band. The band only plays at certain times so be sure to ask your server. What sets Disney's Biergarten apart is the feeling of being in a German village at night while actually dining inside.
4- 50's Prime Time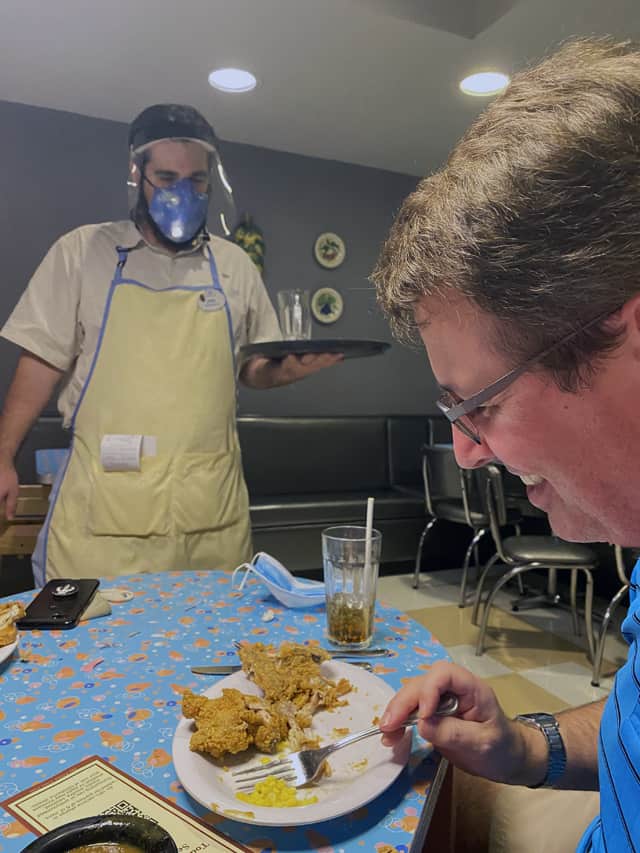 If you remember formica, you'll feel right at home at 50's Prime Time. It covers the space from the check-in area, dining tables, "kitchen", and bar area area. We also loved the Cast Members outfits that reminded us of a 50's diner. 50's Prime Time Café features classic diner dishes such as meatloaf, fried chicken, pot roast, and a blue plate special of the day.
The servers are the star of the show here. I had one of the most memorable meals ever here thanks to our server Josh. "Mom" seated us and told us to mind our manners. You know, no elbows on the table, no talking while chewing, and eating everything on your plate.
My husband, Larry, bantered back and forth with Josh for an incredibly entertaining and fun evening. Check out all about our shenanigans that evening HERE.
4 – The Edison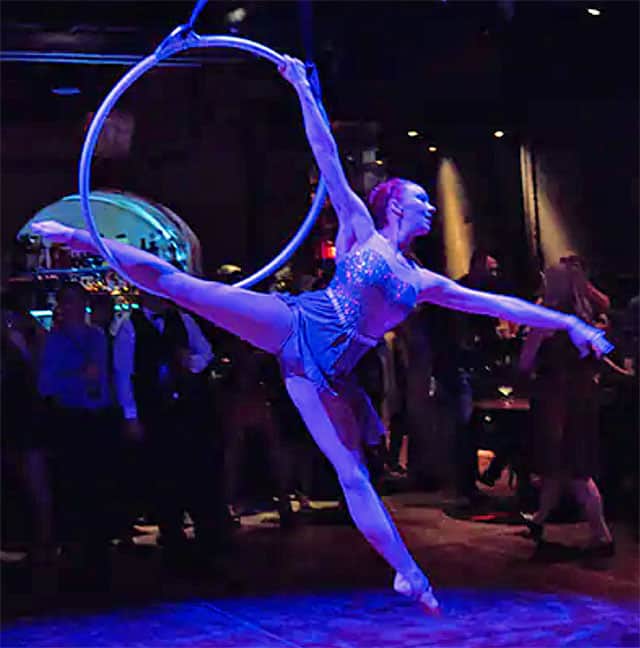 Feel the excitement of the Roaring '20s at the Edison. Designed to look like a 1920s electric company, the food and beverage offerings are just as creative as the theming. It's a lively place where you can sip on signature craft cocktails and hit the dance floor as The Pearl Street Players house band performs bluesy renditions of old favorites.
Then, head to the downstairs bar or stand along the upstairs railing to watch burlesque dancers, flapper-style dresses and amazing aerialists. As you wander through the venue, be sure to get your picture taken with roaming stilt walkers and steampunk-clad inventors.
Note: After 10pm, there is a $15 cover charge and a dress code. Men must wear slacks, jeans or dress shorts. No ball caps, sleeveless shirts or flip-flops are permitted.
3 – Sci-Fi Dine-In Theater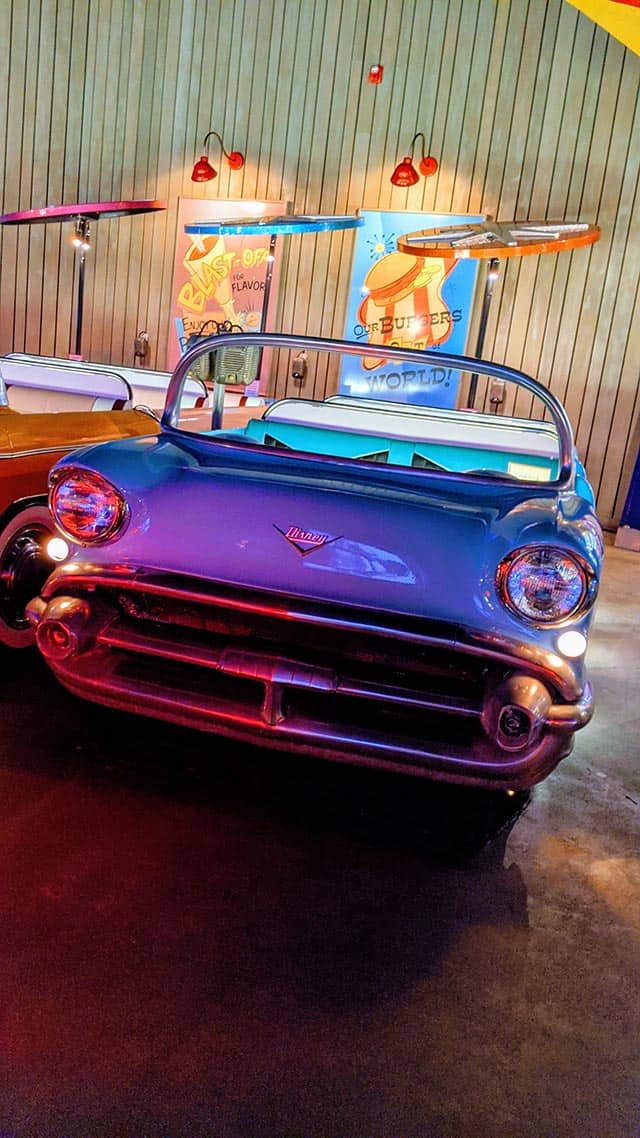 You may have watched a drive-thru movie before, but have you ever experienced dining "under the stars" inside? The Sci-Fi Dine-In Theater restaurant is one of the most unique dining experiences ever! At Sci-Fi Dine-In Theater, guests sit in a car-shaped table and enjoy the "drive-in" playing thrilling, chilling black and white classic sci-fi scenes. Look for these not-so-scary clips: attacking aliens, marauding mummies, rampaging robots, and more.
In the back of the restaurant theater, you'll find picnic tables and an old-fashioned, drive-in-style concession stand!
2 – Coral Reef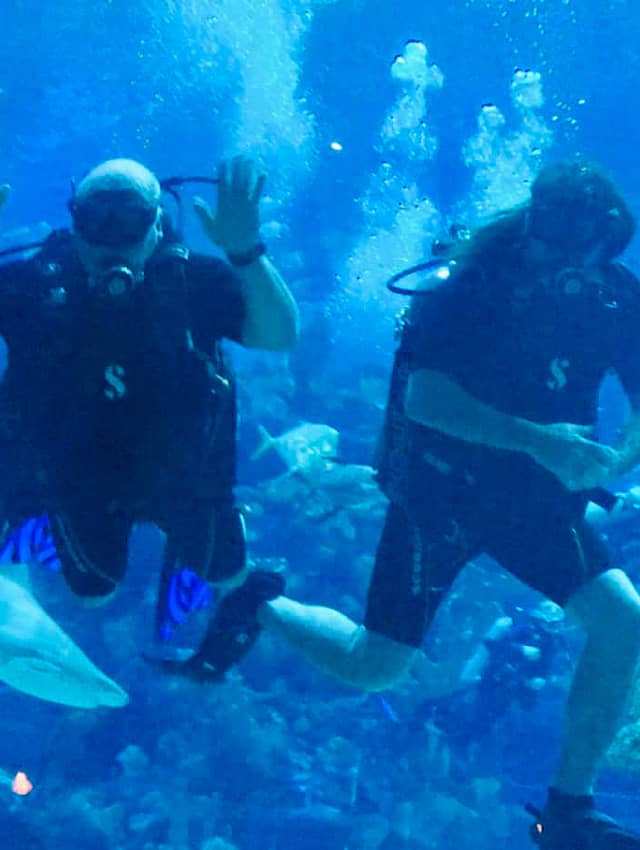 The theming and food are polar opposites at the Coral Reef restaurant. The food is here is okay, but don't expect outstanding seafood or other outstanding cuisine.
However, Coral Reef theming and atmosphere is wonderful! It's adorned with faux sandstone and contemporary wood furnishings. The deep-blue accents and ceramic trim that mimics beach glass all add to the feeling of being underwater.
Where else can you dine while watching an enormous 5.7 million gallon salt-water aquarium filled with fish, sharks, and other sea creatures? We were thrilled to eat right in front of the aquarium and were even entertained by divers during dinner. I would go back for dessert and coffee just to take in the amazing view.
1 – Hoop Dee Doo Musical Revue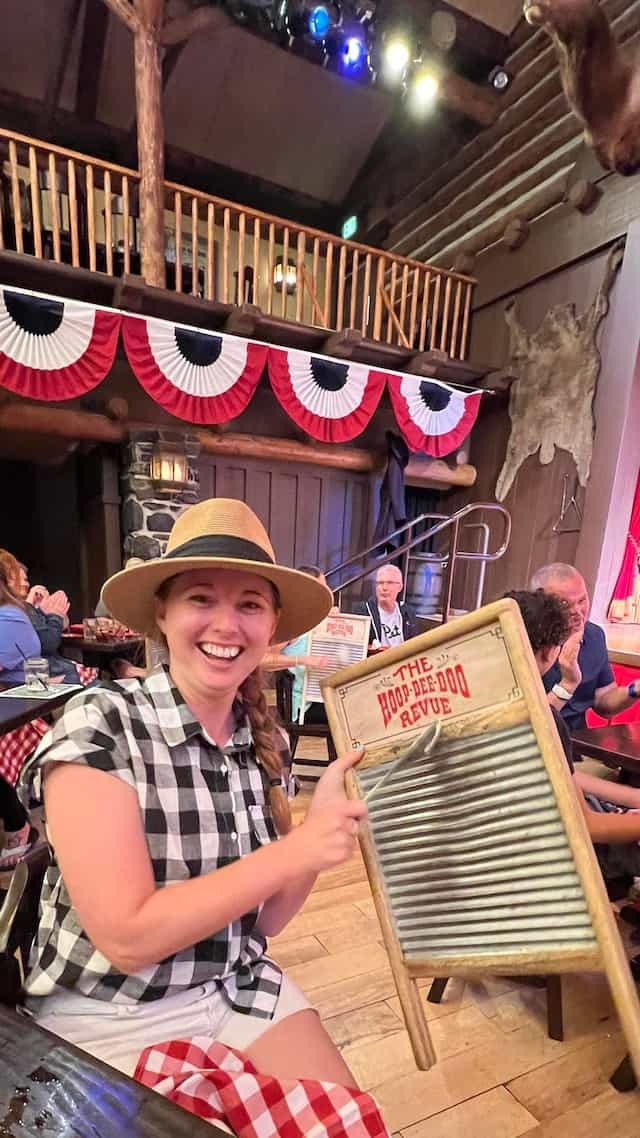 Hands down, the Hoop Dee Doo Musical Revue dinner show is the best and funniest family show I've ever seen!
In between skits and songs, guest chow down on all-you-care-to-enjoy fried chicken and smoked BBQ pork ribs as well as a tossed green salad, cowboy beans, fresh-baked cornbread, macaroni and cheese and coleslaw. Be sure to save room for the strawberry shortcake, too!
You'll experience very talented performers singing, dancing, and lots of comedy. Also, guests were involved in so many aspects of this show. Whether being part of the actual show or "playing" washboards from their seat, guests stay entertained! Check out Donna's review of our wonderful evening HERE.
If you're going to splurge on one expensive Disney table service meal, I highly recommend doing it at the Hoop Dee Doo Musical Revue!
What are your thoughts on these rankings? Which Disney dining with entertainment is your favorite? Please share your thoughts with us on our Facebook Page and follow us on Twitter.

Are you planning a vacation? Reach out to our trusted travel agency sponsor Authorized Disney Vacation Planner
Mouse Class Travel
!