One of the most popular things to explore are the topiaries at EPCOT's Flower and Garden Festivals. Check out pictures of all of them here.
Flower and Garden Festival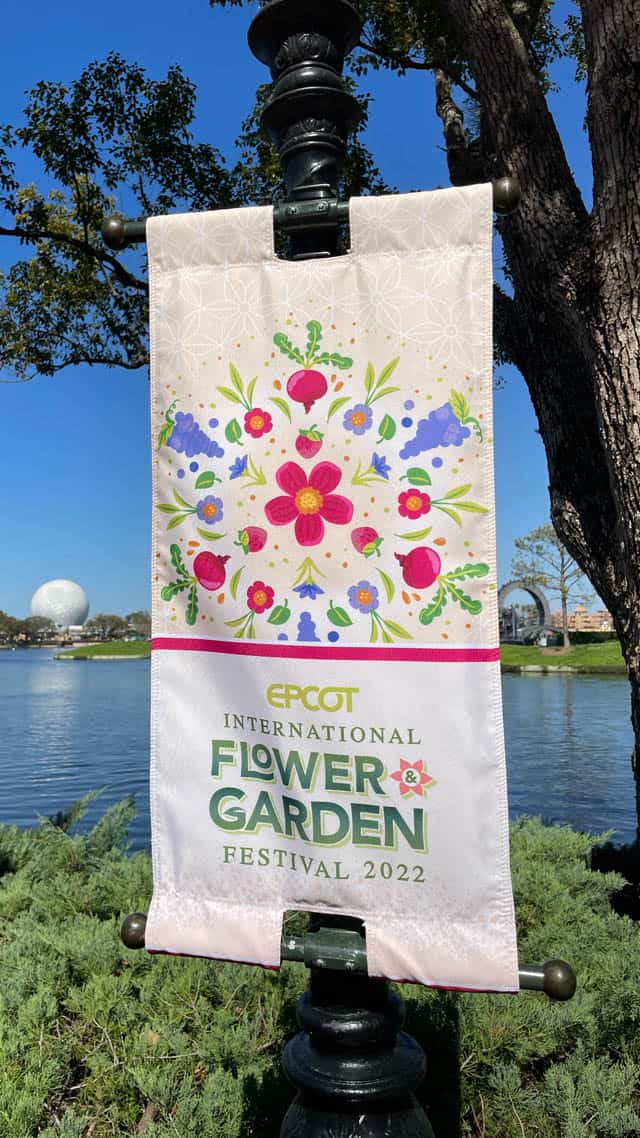 International Flower and Garden Festival is the most beautiful of all Epcot's festivals. Returning in spring 2022, step into brilliant gardens, themed topiaries, a rockin' concert series, guided tours, and so much more. Also, check out the brand new Spaceship Earth light show HERE.
There is so much to see and discover at Epcot International Flower and Garden Festival. This springtime event takes place from March 2 to July 4, 2022. Check out our complete guide to EPCOT's 2022 Flower and Garden Festival HERE.
Goofy with 50th Celebration Cake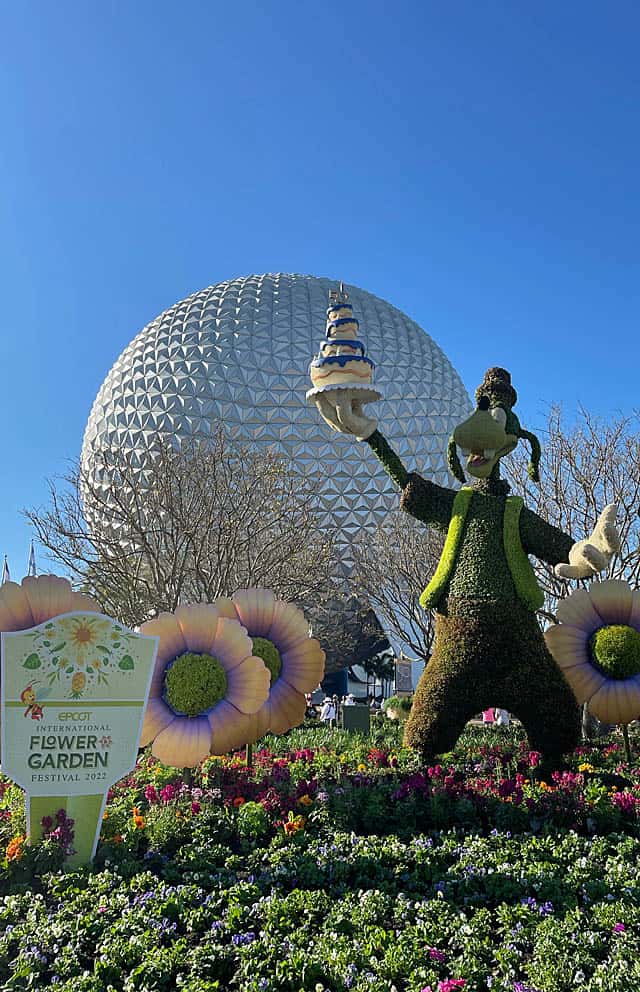 One of this year's new topiaries features Goofy touting his 50th Anniversary cake! Look at EPCOT's entrance to find this display with a flower bed bas and large daisy topiaries. Guests also find Flower and Garden Festival signs with Spaceship Earth in the background, making this a picture perfect spot.
Woody, Bo Peep and Sheep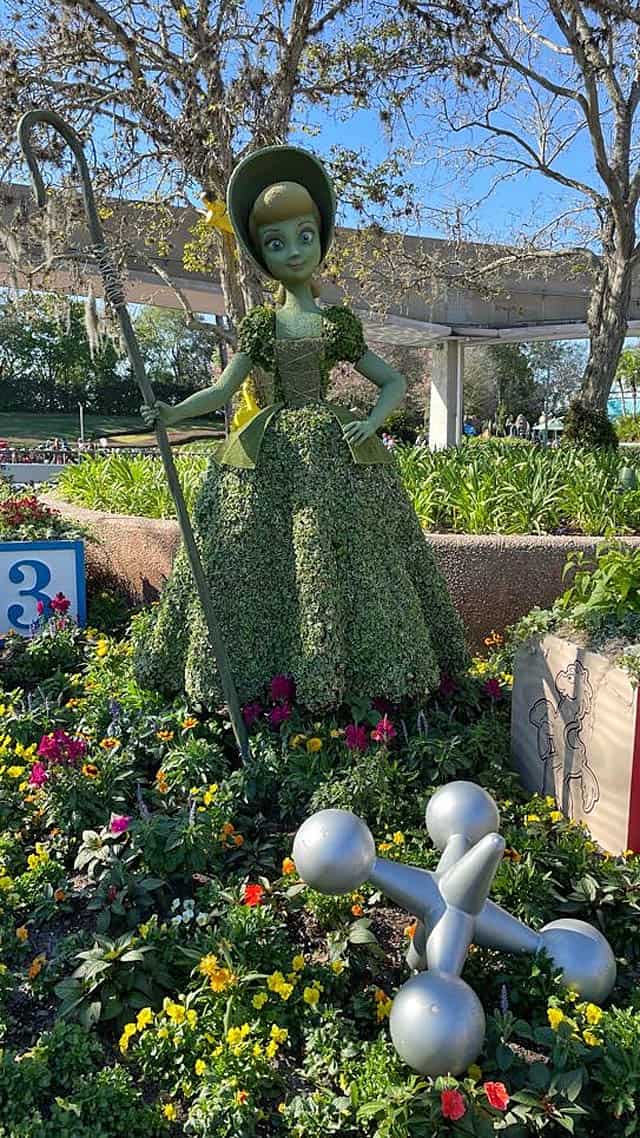 Before heading to the World Showcase, head over to the Land.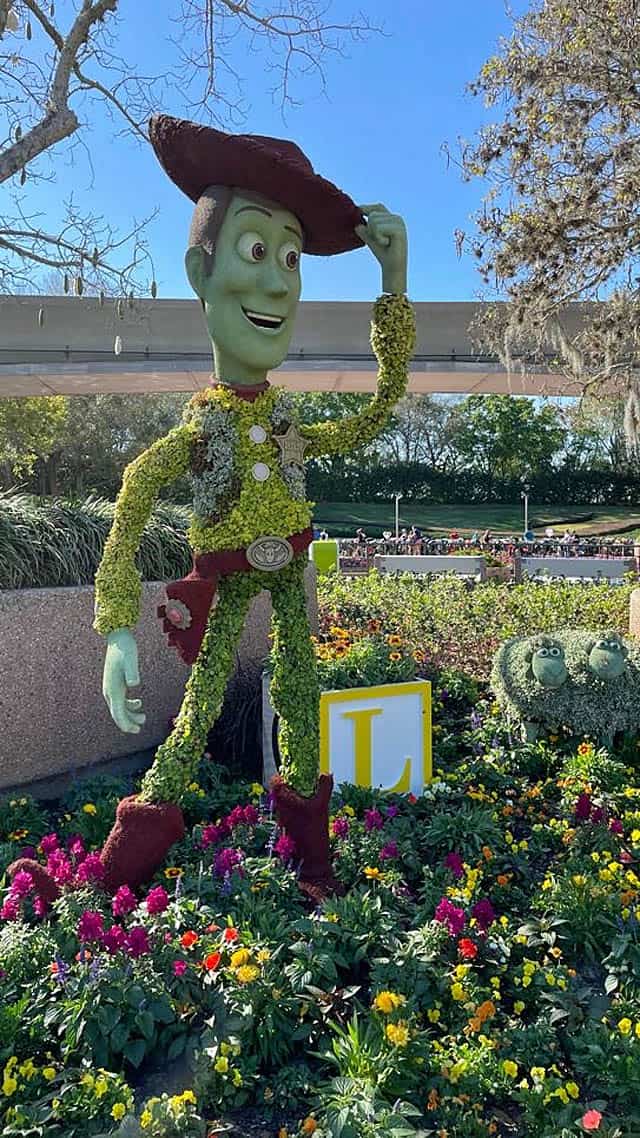 Here, guests can ride not only experience of my favorite attractions, Soarin', but also see Woody and friends in adorable topiaries.
Figment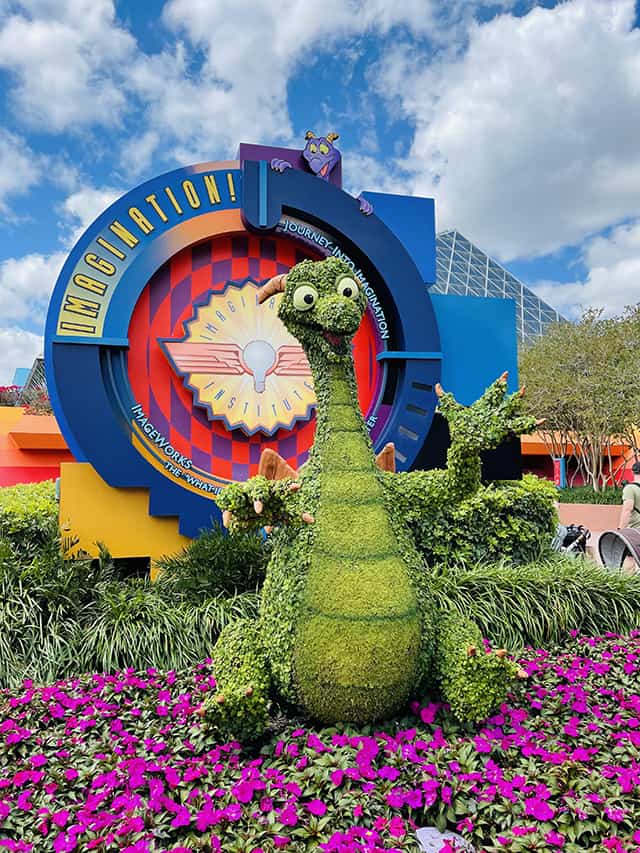 A returning festival favorite, Figment is in front of his attraction at the Imagination Pavilion.
Simba and Friends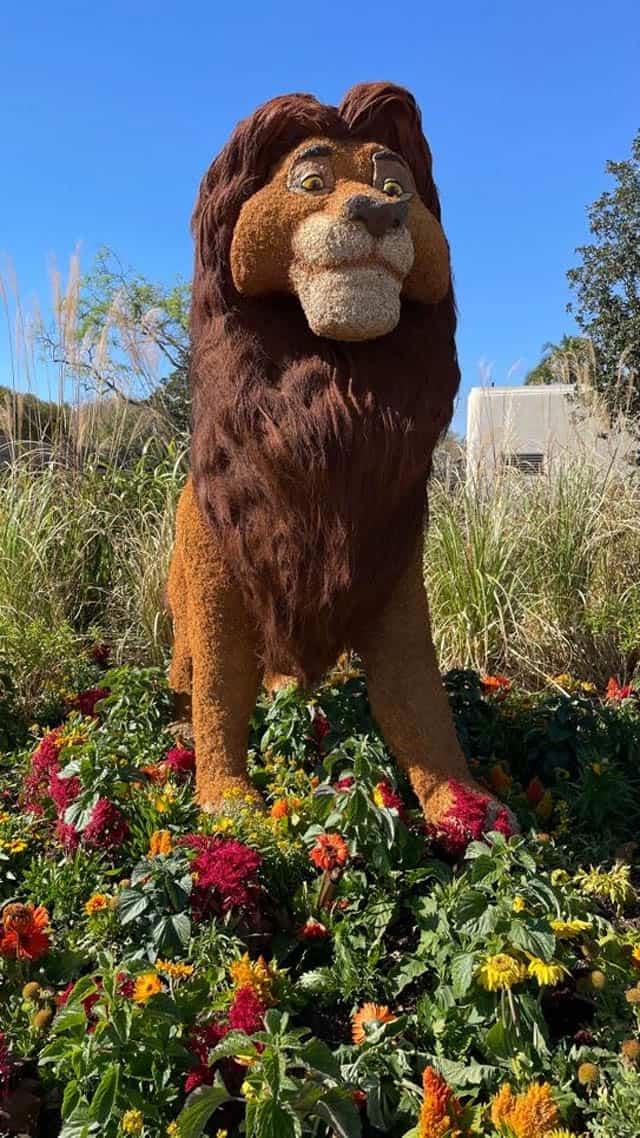 Between the Land and the Imagination Pavilion, keep your eyes peeled for our favorite Lion King characters.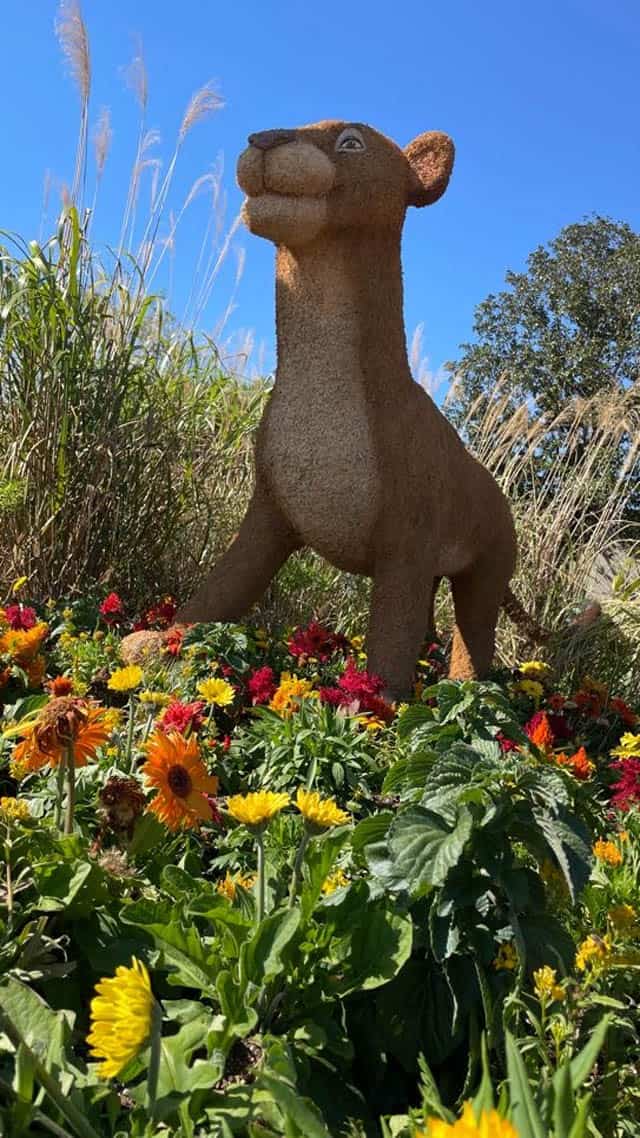 Here, you'll find Simba, Rafiki, Mufasa, Pumba, Timon, and Sarabi.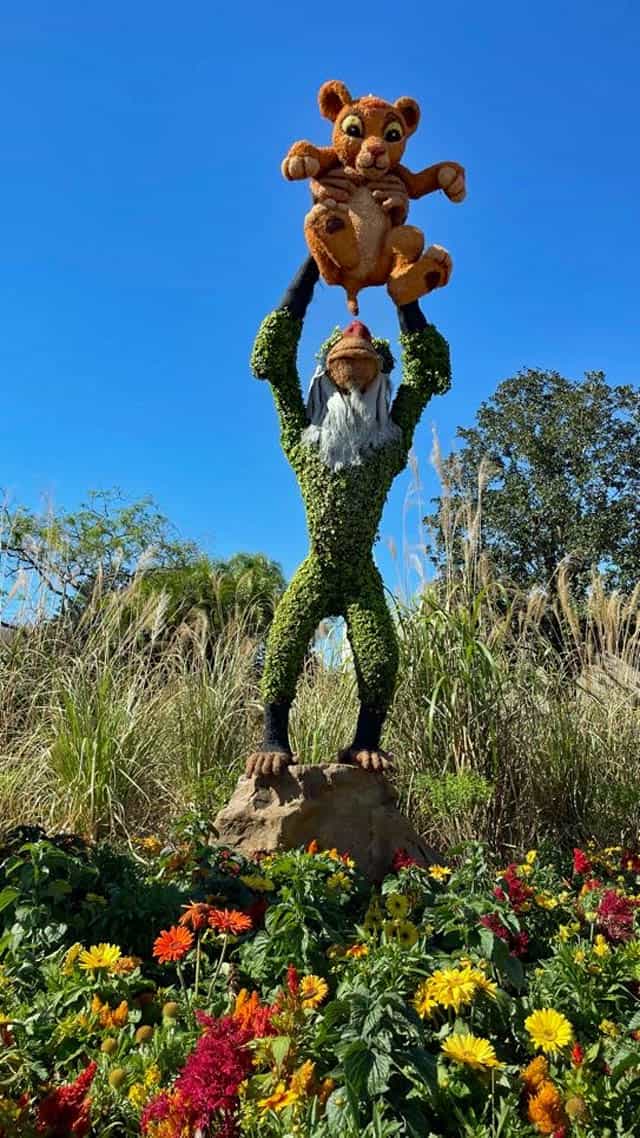 What a fun bunch! I (Susan) love seeing baby Simba. What about you?
Bambi and Friends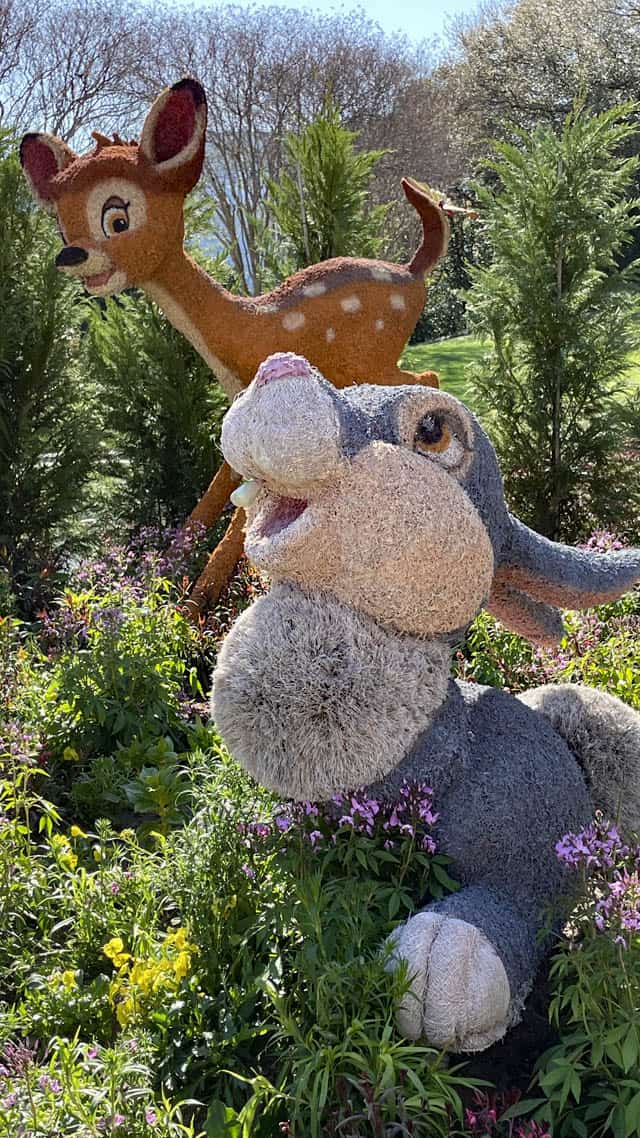 The Imagination! area attracts wildlife, at least in plant form! Fan favorites Bambi, Flower and Thumper can be spotted here.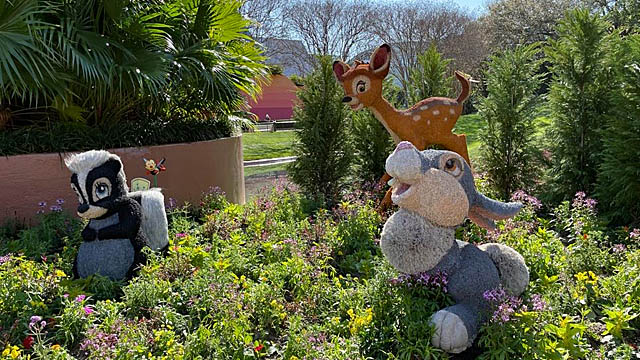 The colors on each one of these along with their sweet expressions make them a not-to-be-missed spot.
Buzz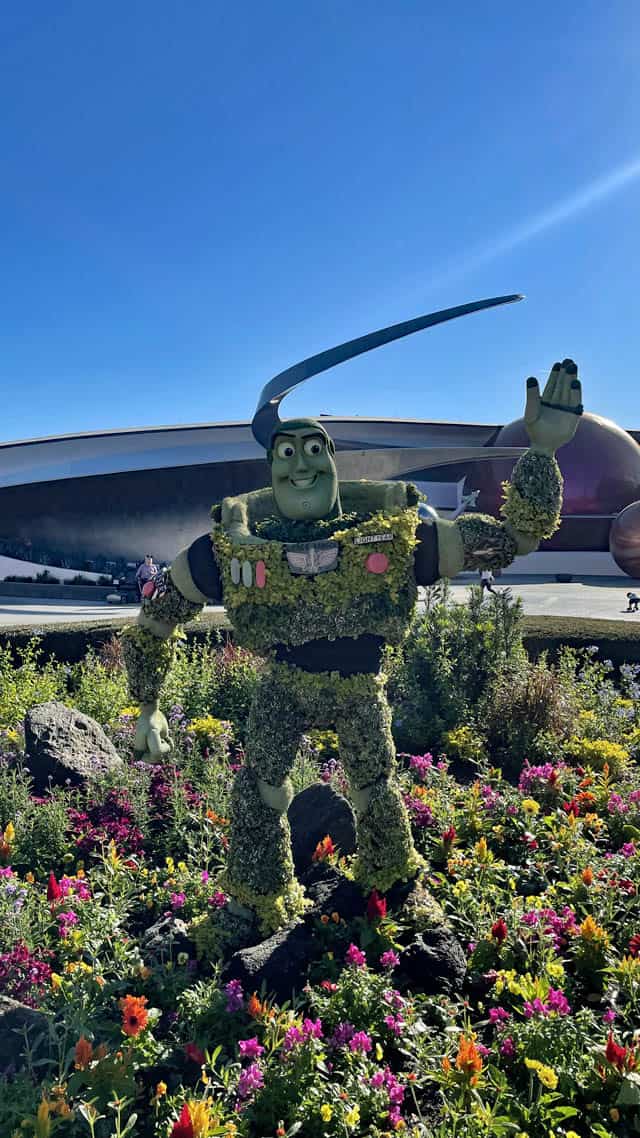 Head out of this world to find Buzz. Look for him in front of the wildly popular Space 220 restaurant and Mission Space attraction.
It's really the perfect place for this space explorer!
Sorcerer Mickey and Friends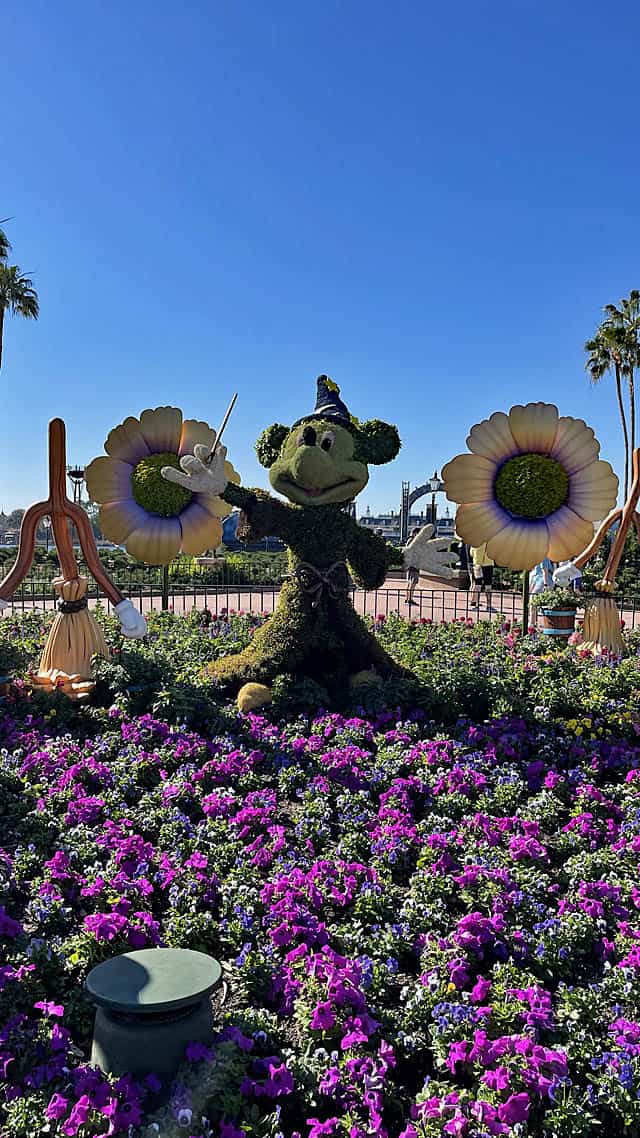 Before entering World Showcase, look for a unique display with Sorcerer Mickey, his magical brooms, hippo, ostriches, and gator.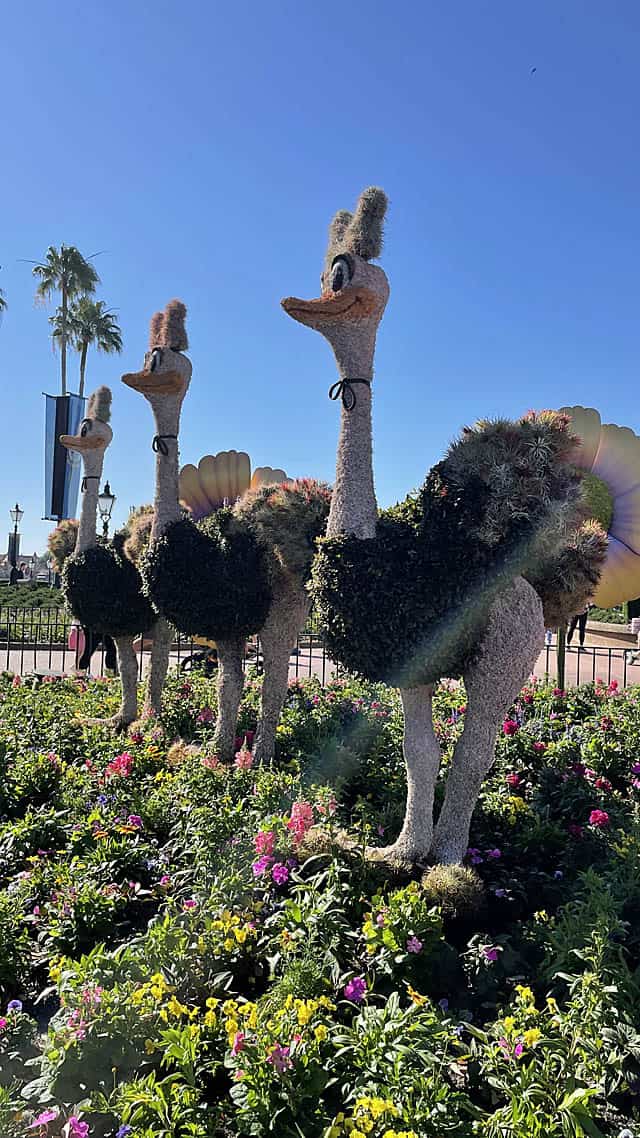 While traveling on the main path to EPCOT's World Showcase, stop before the Port of Entry shops to locate this whimsical topiary. Check out Gator shown below: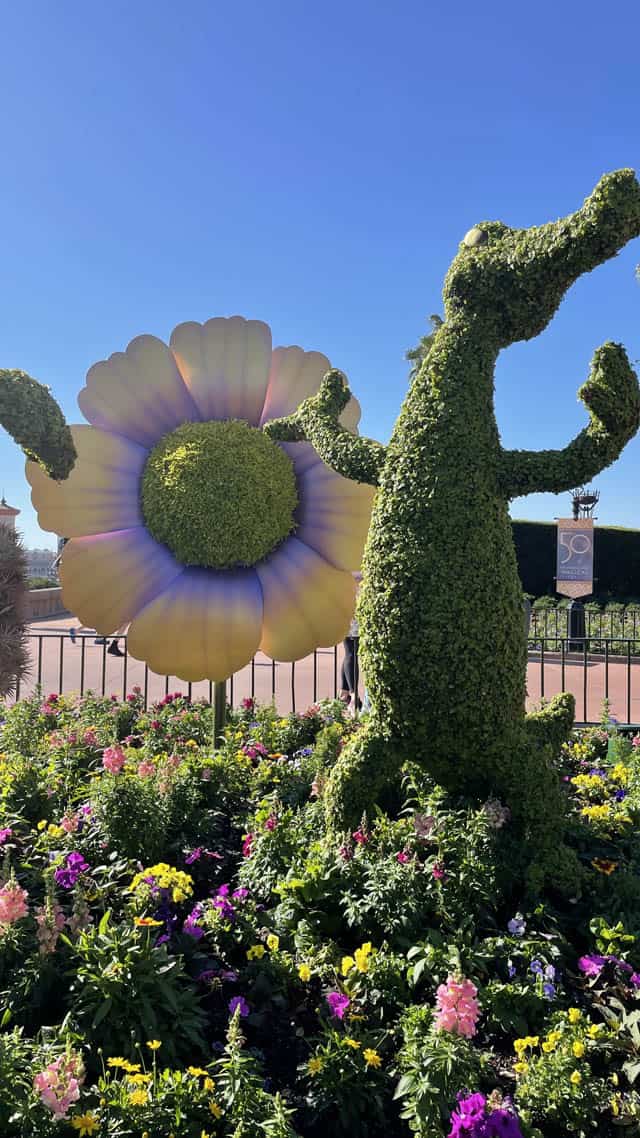 Mickey and Minnie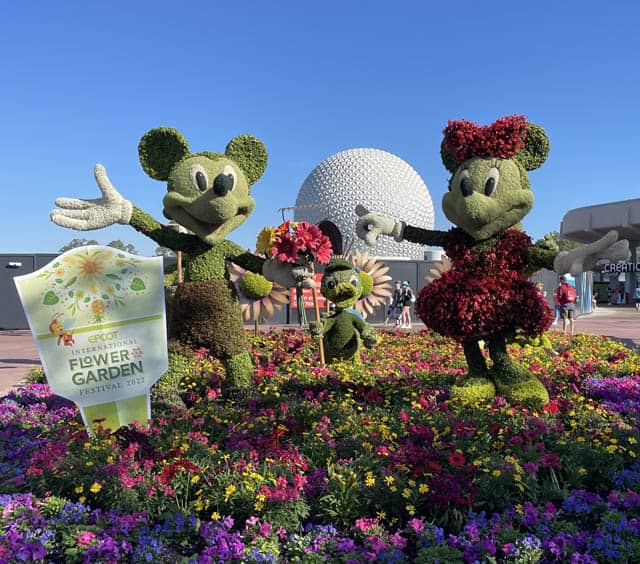 You'll find several topiaries on the bridge to World Showcase. First, Minnie and Mickey are decked out in their dapper flower attire. With their arms spread out, they look like they're so excited to see guests!
Daisy and Friends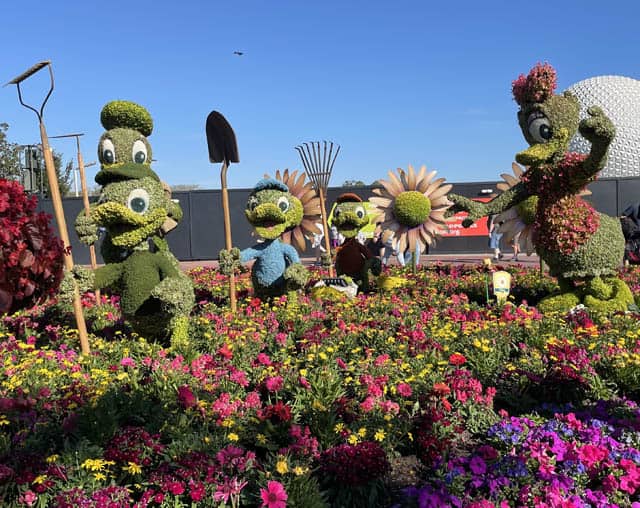 Also, be on the lookout for Daisy, Donald, along with Huey, Dewey, and Louie in this colorful display shown above located behind the Mickey and Minnie topiaries. Disney fans love their ducks and this group is no exception.
Mexico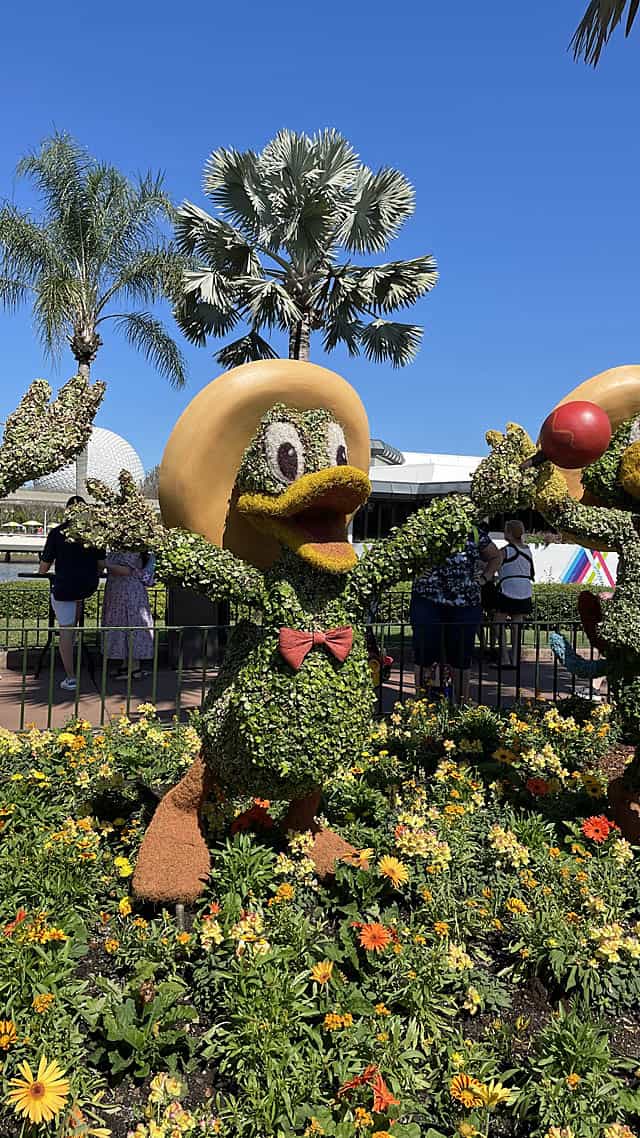 Let's start our journey around World Showcase in Mexico for the Three Caballeros topiary. Recently, Donald returned greeting guests in this fabulous pavilion.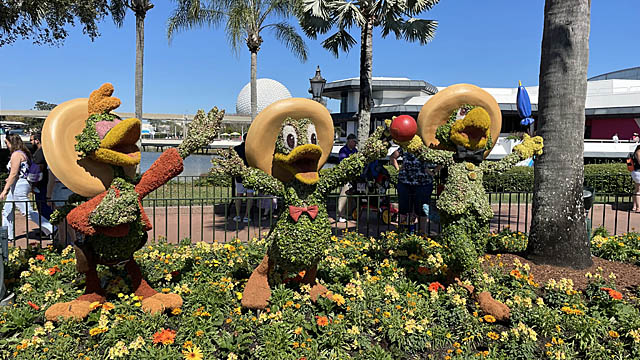 Now, Donald, José, and Panchito are ready for fun!
Norway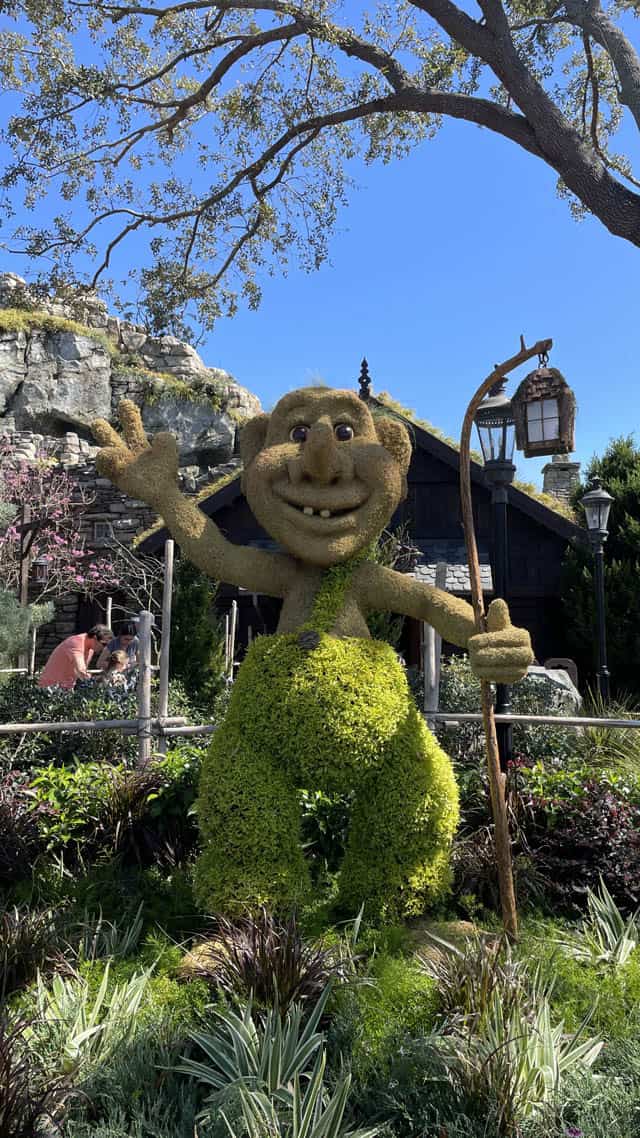 Next, stroll pass Mexico to the Norway Pavilion. Here, you'll find a symbol of Norway, an adorable troll topiary. Also look for the famous Disney sisters, Ana and Elsa, greeting guests in plant form.
China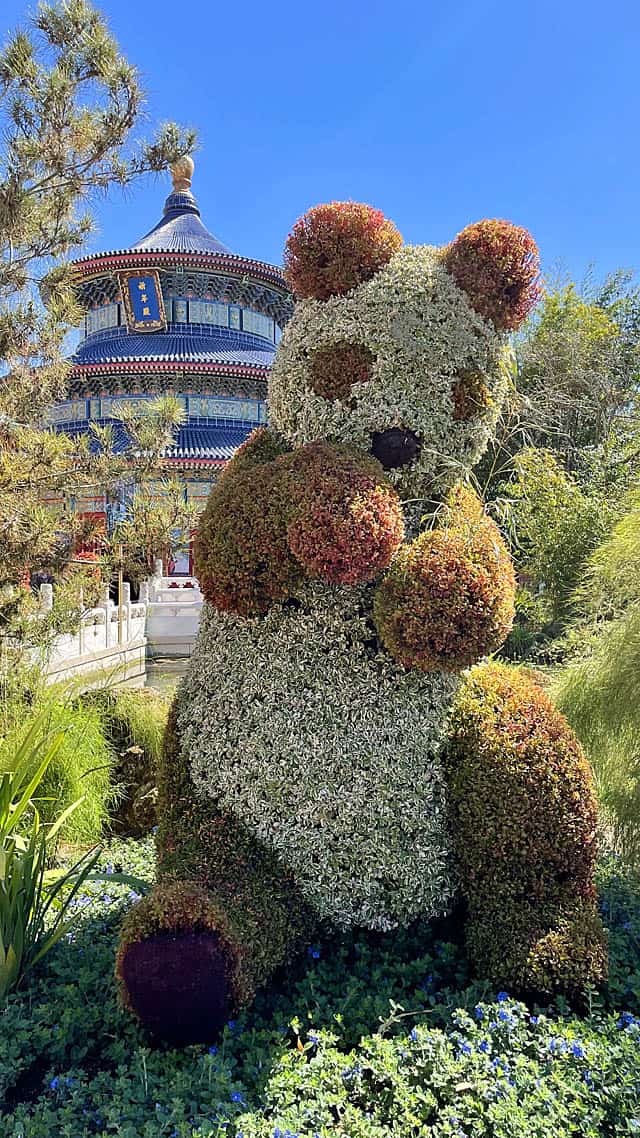 In front of the China Pavilion gardens, look for the playful panda trio. These returning topiaries are always a guest favorite.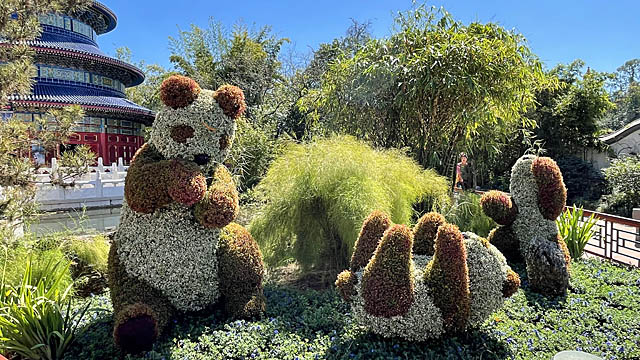 Germany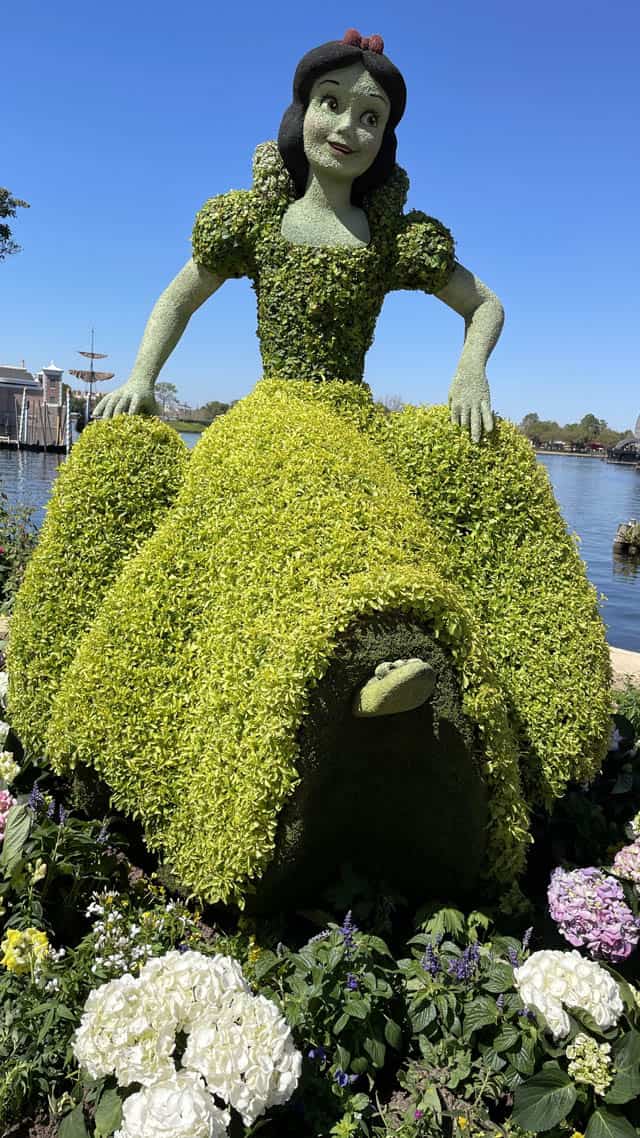 Also waterfront on the World Showcase Lagoon across from the Germany Pavilion, you'll spot Snow White and the Seven Dwarfs. Each of the dwarfs looks ready to sing "heigh, ho, it's off to work we go."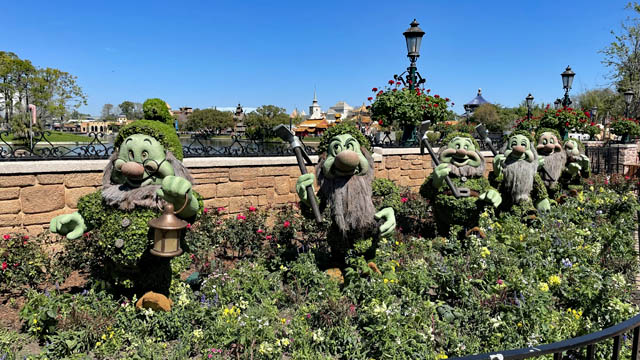 The attention to detail in each topiary brings out each of their adorable personalities.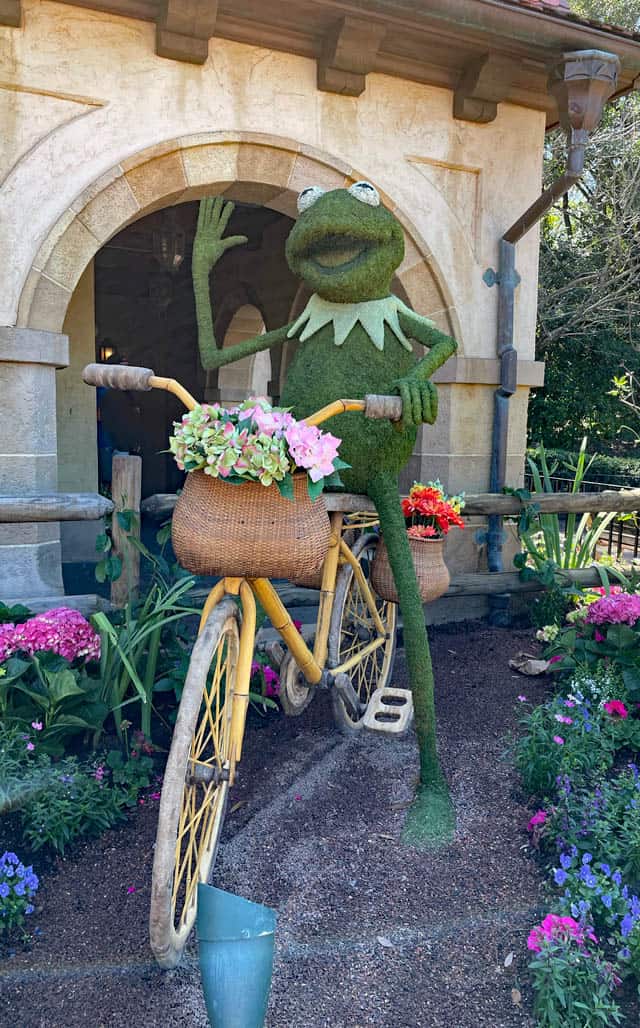 In addition, guests find the beloved Miss Piggy topiary with lots of suitcases ready to travel. And don't forget her faithful pal, Kermit. Kermit returns happily riding his bicycle.
Italy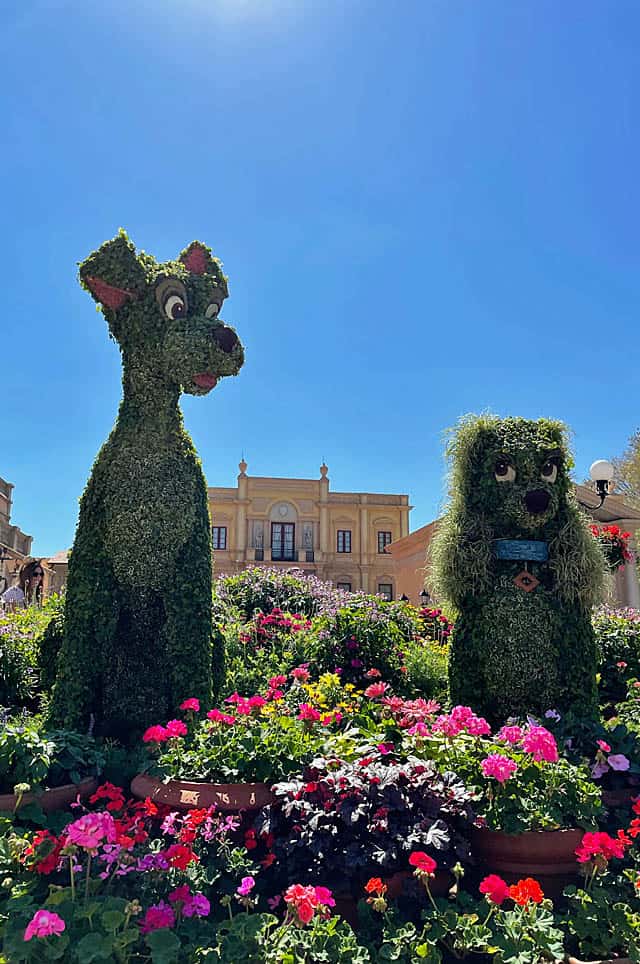 In Italy, guests see our favorite pups in love, Lady and the Tramp. At Tony's restaurant located in Magic Kingdom, there are so many wonderful movie references and details! Now, guests can enjoy this sweet pair in Italy's World Showcase Pavilion.
America
Check out the mischievous Chip and Dale topiaries along with their playful pal Pluto in the America World Showcase Pavilion.
Japan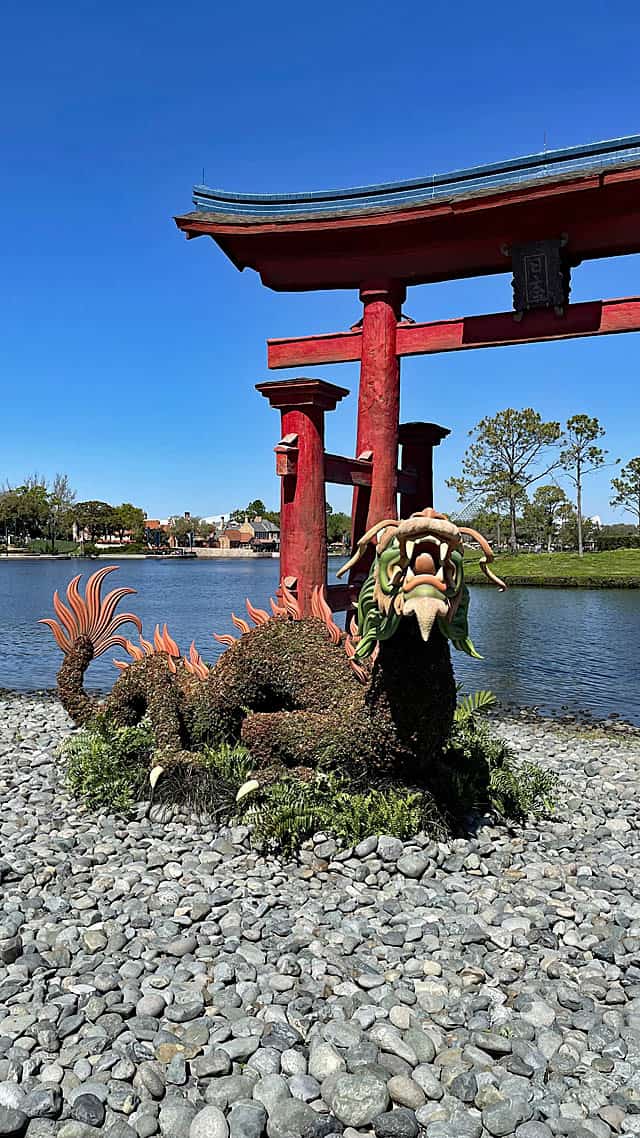 When walking to Japan, look for one of the most prominent symbols in the World Showcase, the Torii Gate on the World Showcase lagoon shore. In front of this iconic structure, look for an impressive Japanese dragon topiary. The details here are stunning and make a wonderful picture spot.
France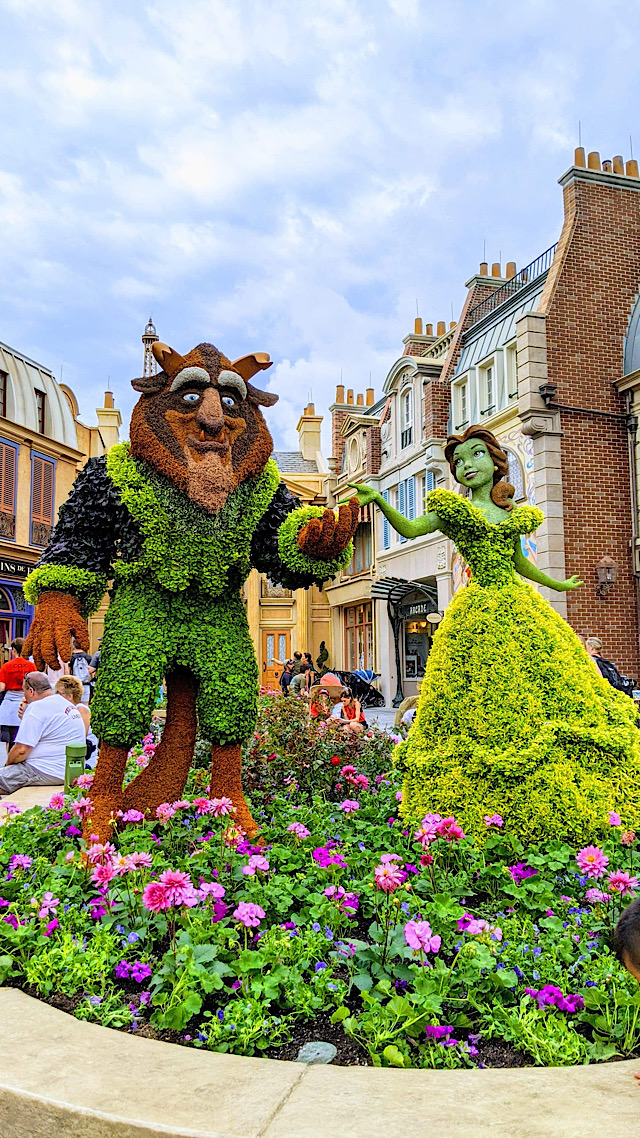 At the France Pavilion, you'll find perhaps the most popular returning topiaries, Belle and the Beast. Not only that, but here you'll also see wonderful Lumiere and Cogsworth.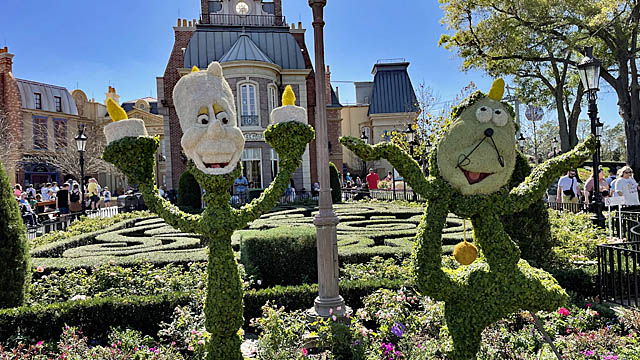 Again, the talented Disney horticulturists make these topiaries pop with amazing facial details.
United Kingdom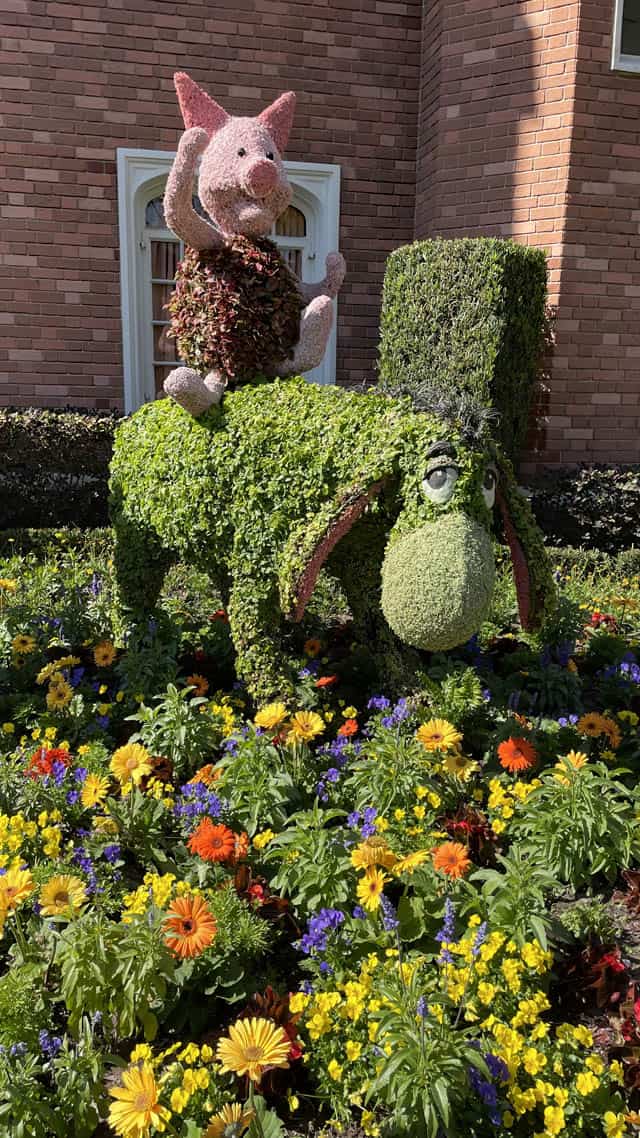 Our favorite Pooh and friends topiaries are located in front of the United Kingdom Pavilion. This returning topiary gang is one of my favorites.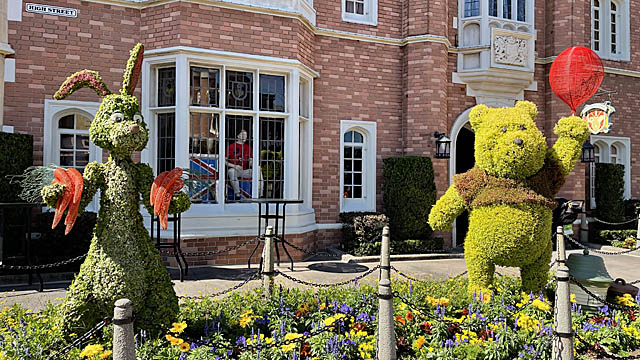 Here, you'll not only find Pooh, but also Piglet, Eeyore, Tiger, and Rabbit. Rabbit's pink flowers make him really pop.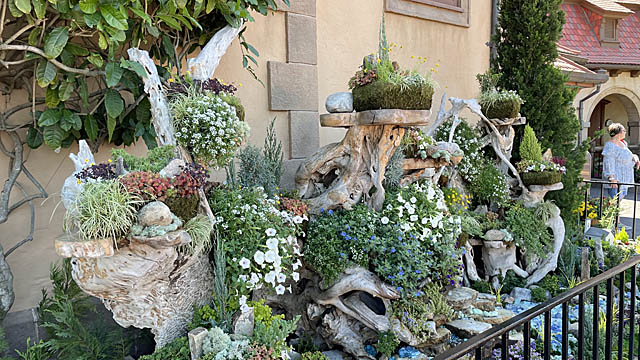 The United Kingdom is a popular spot for topiaries. Along with the Peter Pan gang between United Kingdom and Canada, guests can see Tink in her Fairy House Garden in the United Kingdom.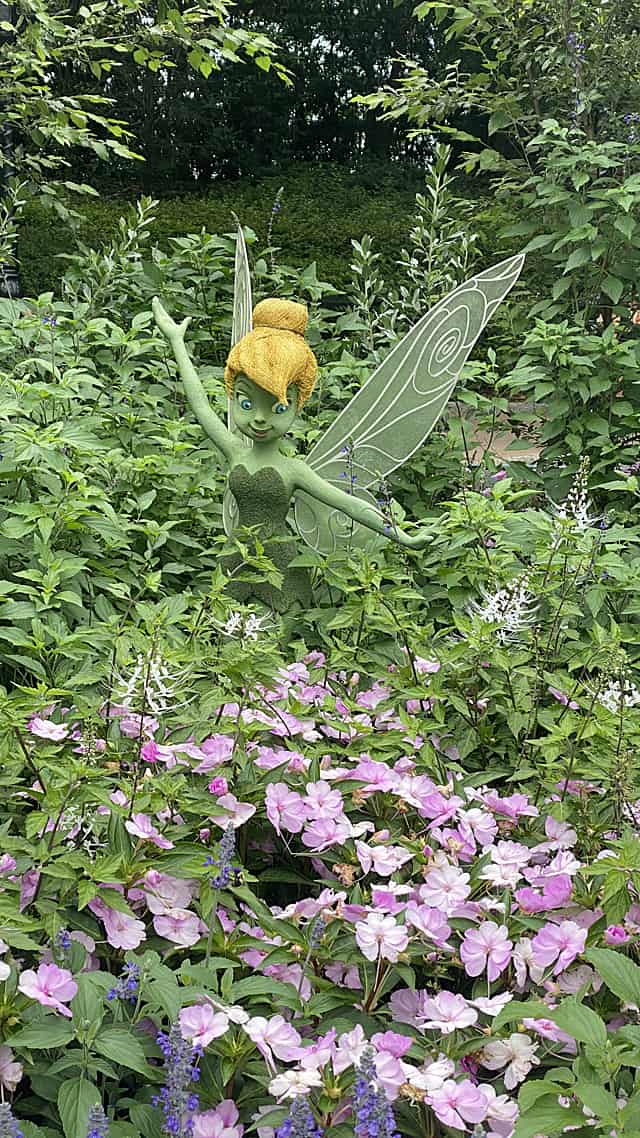 She looks like she's ready for fun!
Between United Kingdom and Canada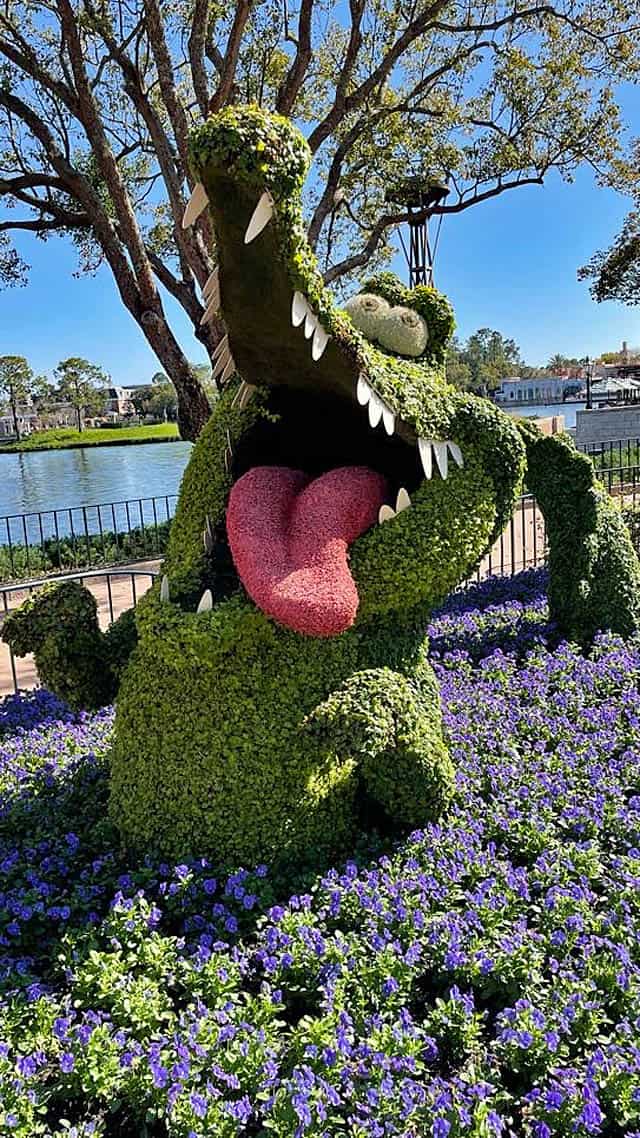 Where else would you find Peter Pan and the gang besides United Kingdom? Between the United Kingdom and Canada Pavilions, set your sails for adventure in locating Peter Pan, Hook, and Tick Tock Croc.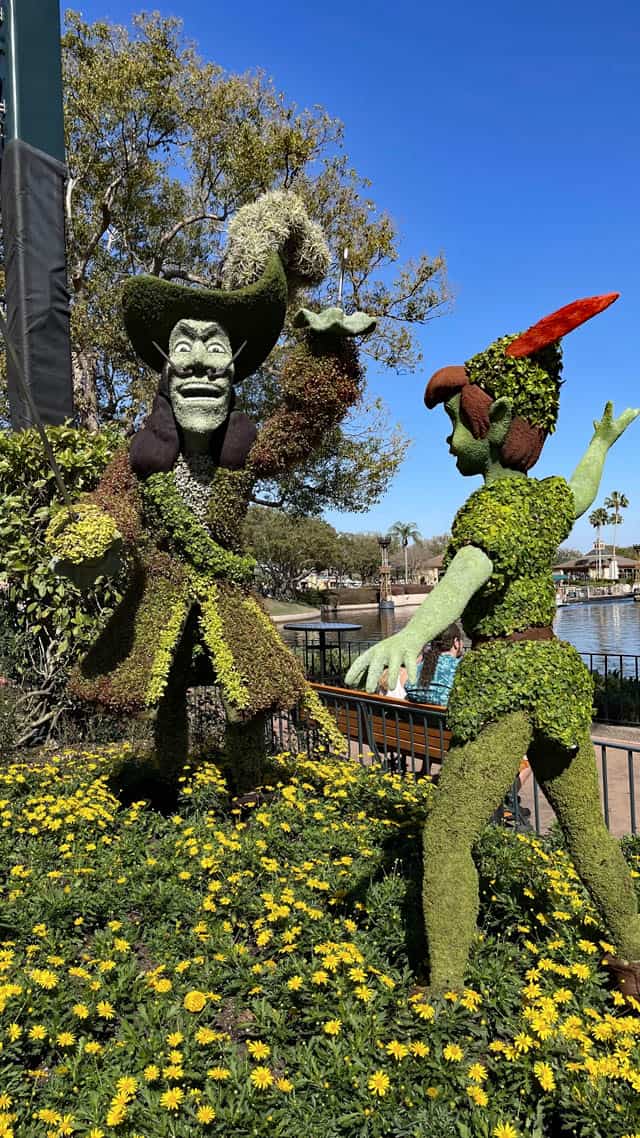 Peter Pan and Hook are standing head-to-head, but Tick Tock Croc is ready for lunch!
Butterflies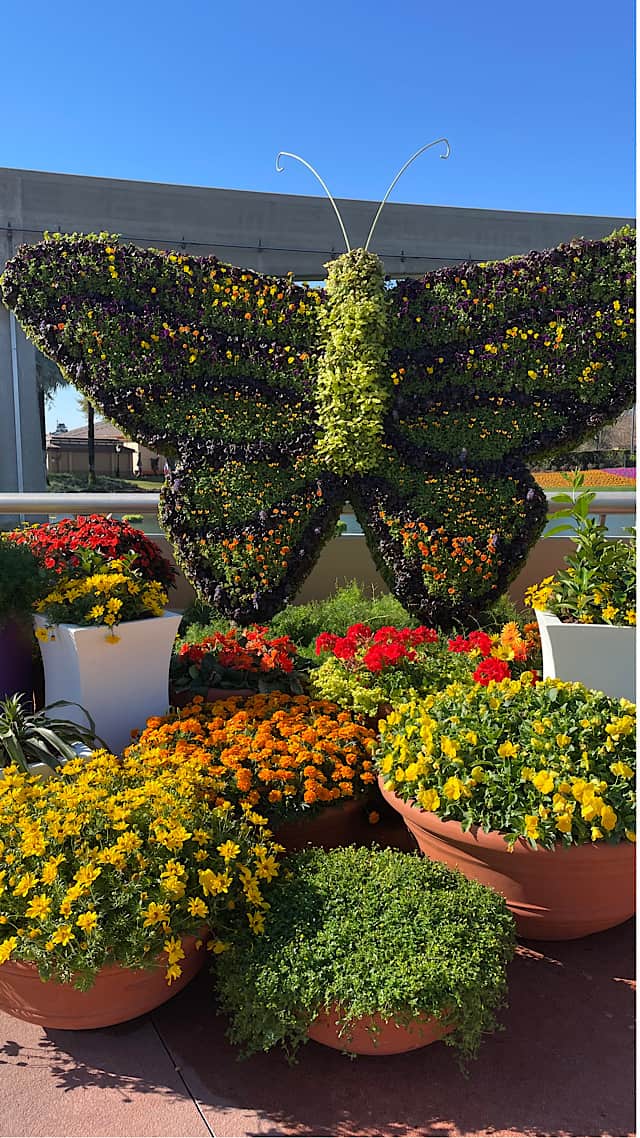 Also, look for the new Blossoms of Fragrance garden filled with wonderful flower scents and butterfly topiaries. Check out pictures and more details on this amazing area HERE.
Which topiary or set of topiaries is your favorite? Are you planning a trip to EPCOT's Flower and Garden Festival? Please tell us about it in the comments below or on Kenny the Pirate's Facebook page.