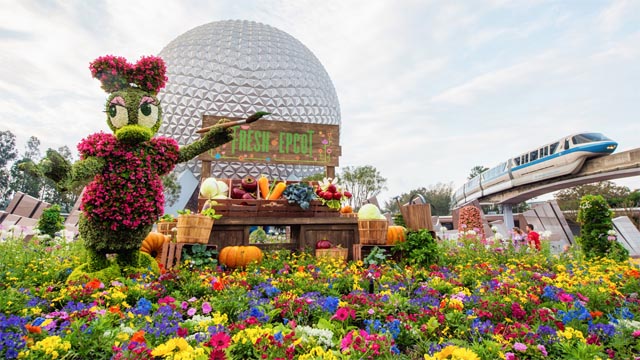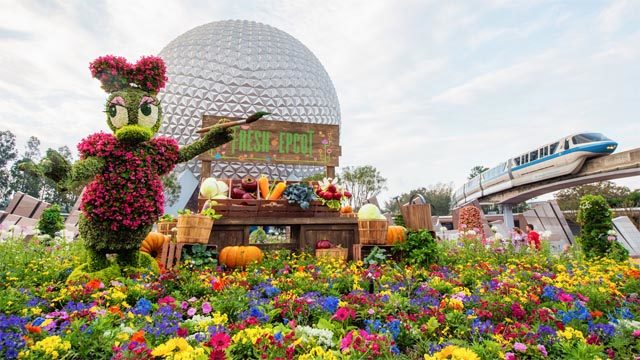 International Flower and Garden Festival is the most beautiful of all Epcot's festivals. Returning in spring 2022, step into brilliant gardens, themed topiaries, a rockin' concert series, guided tours, and so much more. Here's a complete guide to the Epcot International Flower and Garden Festival 2022. Come explore this blooming festival with me!
There is so much to see and discover at Epcot International Flower and Garden Festival. This springtime event takes place from March 2 to July 4, 2022. At nearly 3 months long, it is the longest-running festival Epcot runs. This is good because there is so much going on you need more time to soak it all in!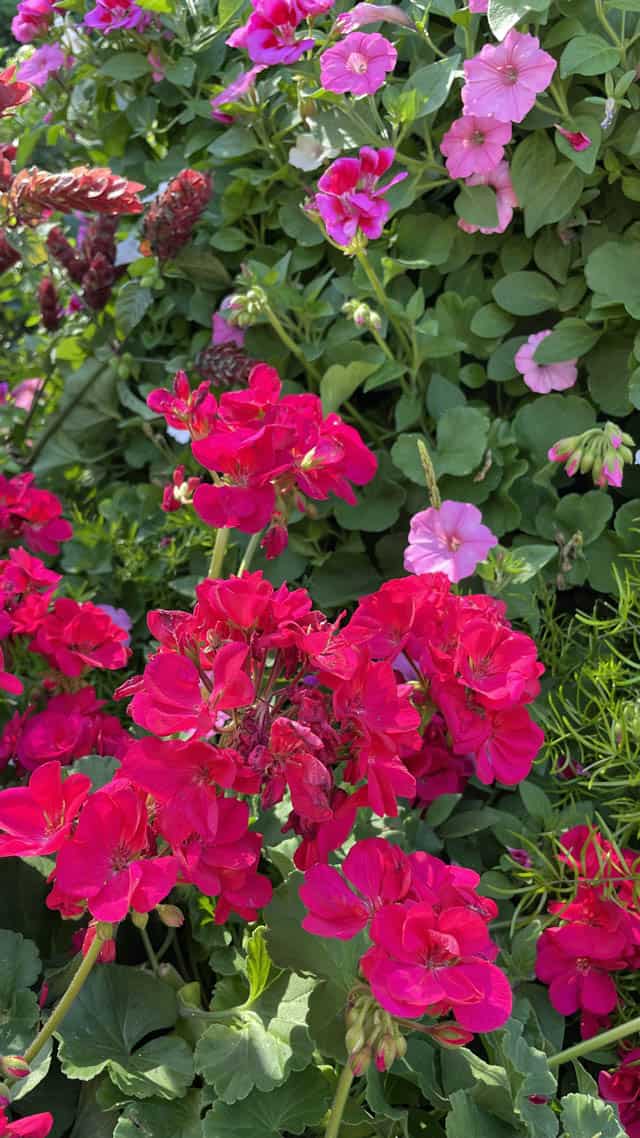 Like all of Epcot's festivals, a separate ticket is not required to experience many of the activities. All you need is your general admission ticket! However, if you want to participate in any of the specialty events you will need to purchase tickets for that.
I am going to walk you through everything you need to know about this event! From food, topiaries, and tours to concert series and dining packages, I've got you covered!
Topiary Displays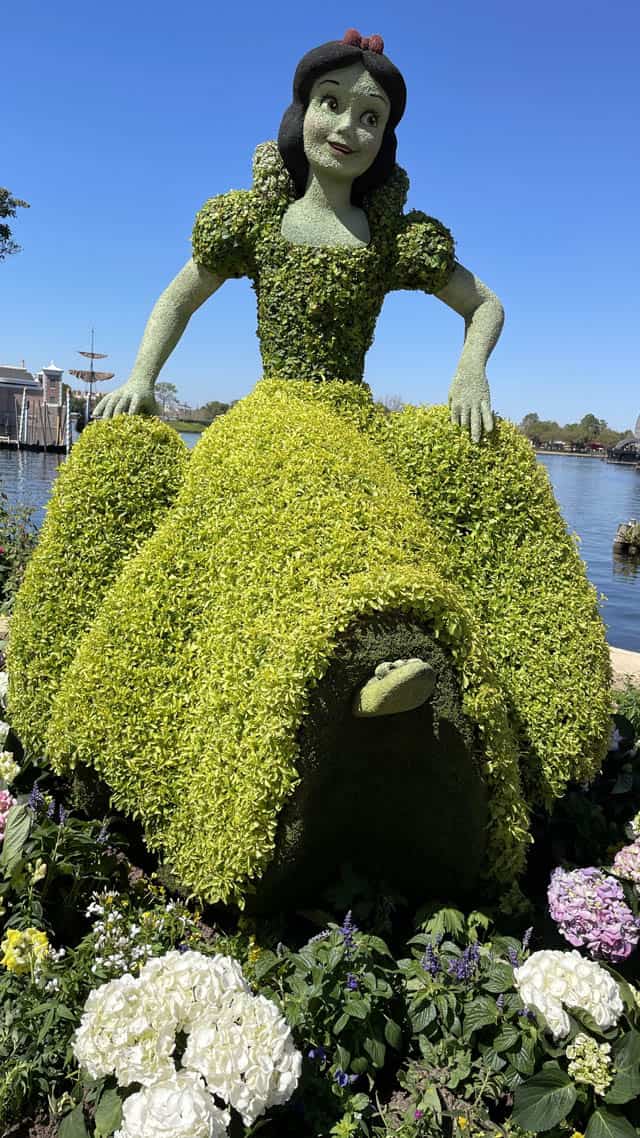 Upon entering the park, the first thing you will likely notice is all the beautiful topiaries. They are everywhere! From characters placed around the World Showcase to the stunning flowers located near the entrance of the park, you could spend much of the day just exploring the displays.
Here is a full list of every topiary you will find at Epcot, which are the perfect backdrop for photos:
Main Entrance – Goofy with Birthday Cake (NEW)
Imagination Pavilion – Pumbaa and Timon (NEW)
Canada – Bambi and Friends
China – Pandas
France – Beauty and the Beast
France – Lumiere and Cogsworth (NEW)
France – Remy
Germany – Snow White and Seven Dwarfs (NEW)
Italy – Lady and the Tramp
Japan – Bromeliad Dragon
Mexico – The Three Caballeros
Norway – Anna and Elsa
Outpost – Simba and Friends
United Kingdom – Captain Hook and Peter Pan
United Kingdom – Miss Piggy and Kermit the Frog
United Kingdom – Tinker Bell and Fairy Houses
United Kingdom – Winnie the Pooh and Friends
World Discovery – Bo Peep and her sheep with Woody
World Discovery – Buzz Lightyear
World Nature – Butterflies
World Showcase Promenade – Donald and Daisy with Huey, Dewey and Louie
World Showcase Promenade – Mickey, Minnie, Pluto and Chip 'n' Dale
World Showcase Promenade – Pluto and Goofy
Character Locator has photos of each topiary and a map showing exactly where they are located! Please note these are subject to change.
Gardens, Tours and Exhibits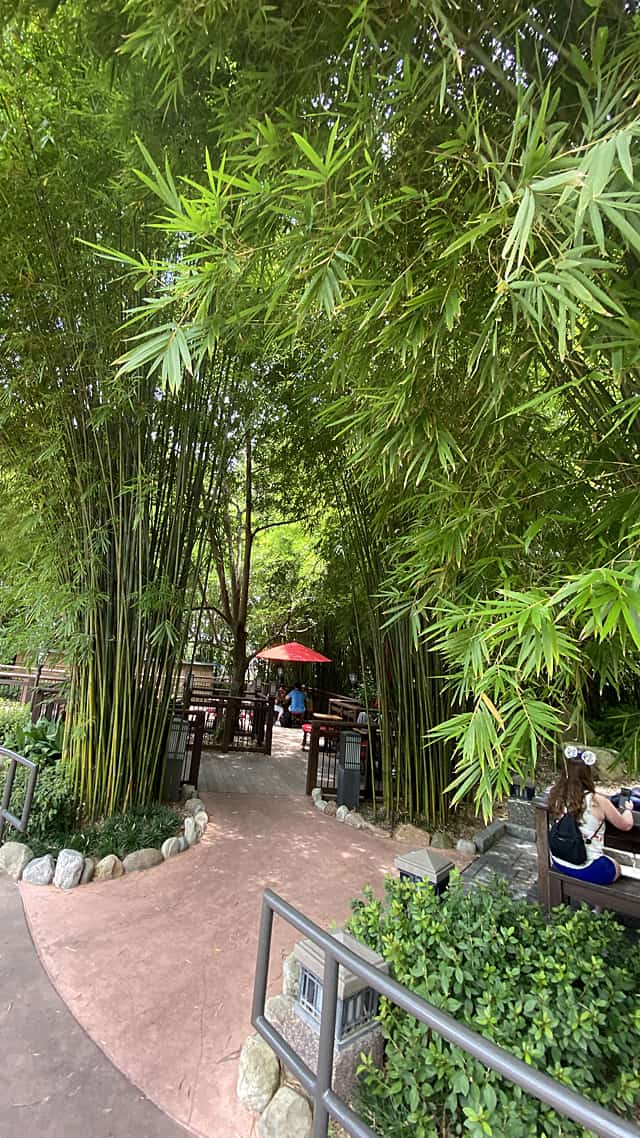 Become entranced in an aromatic petal paradise. Surround yourself with the beautiful sights and sounds of nature as you weave your way through breathtaking flower beds, plots of plant life and wildlife habitats.
Here is a list of the gardens, tours, and exhibits you can walk through while visiting the festival. Please note: the tours listed here are not the guided tours. Those will be covered in just a moment.
Blossoms of Fragrance Presented by Scentsy (NEW) – World Showcase Bridge
Follow your nose and form lasting memories with the help of fresh, unforgettable fragrances. Read more about this new garden HERE.
Outdoor Escapes Presented by OFF!® Repellents – World Discovery
Unwind in refreshing spaces that show just how easy it is to create an outdoor escape that brings family and friends together—no design expertise, huge budget or green thumb required! Closes at dusk.
Floating Gardens – World Nature
Peer upon more than 150 petite plots drifting on the ponds that border the bridge to World Showcase.
Festival Blooms – World Celebration
Admire thousands of flowers that form colorful, living panoramas—with a 50th Anniversary celebration theme.
Bambi's Butterfly House – World Nature near Imagination!
View a kaleidoscope of butterflies up close, in all their extraordinary color. Learn about butterfly lifecycles and maybe even see one emerge from its chrysalis. Closes at dusk.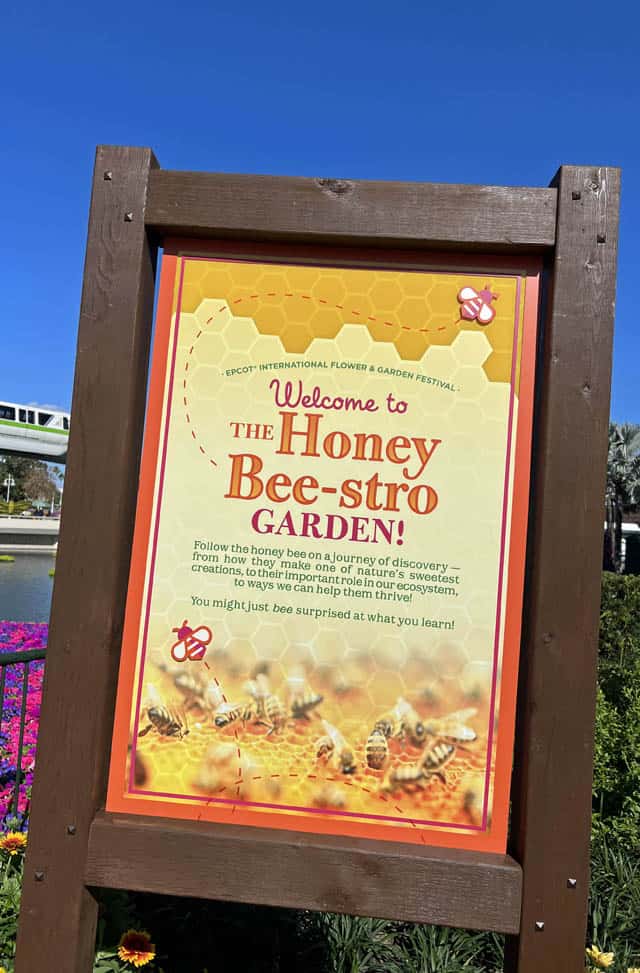 The Honey Bee-stro Hosted by National Honey Board® – Rosewalk near Imagination!
Learn about honeybees' critical role in the environment, and enjoy sweet and savory treats made possible by their hard work. View more information from Susan HERE.
Health Full Trail Presented by AdventHealth – Imagination! Walkway
Delight in a whimsical area made to inspire youthful energy and creativity! The whole family can learn ways to stay healthy at this Outdoor Kitchen and garden. Closes at dusk.
Tropical Rainforest Garden – Mexico Pavilion
Discover the rich biodiversity of the Mexican rainforest and learn about its highly adaptive species.
Extraordinary Orchids – Mexico Pavilion
Set eyes on these spectacular plants blooming in radiant color.
Bold Bromeliads – World Nature by The Land Pavilion
Tour a variety of these amazing plants.
China Zodiac Garden – China Pavilion
Discover your favorite zodiac with while visiting clever creations.
Bamboo Garden – China Pavilion
Visit this garden to see bamboo in a variety of colors, patterns and sizes.
Alpine Miniature Garden – Germany Pavilion
Appreciate the little things in this showcase of diminutive dwellings nestled in a forest of fine shrubs.
Garden Italiano – Italy Pavilion
From fresh spaghetti sauce to pizza toppings, this Tuscan kitchen garden features all the produce and herbs needed to create a classic Italian feast.
Kokedema Garden – Japan Pavilion
Admire fresh expressions of an ancient Japanese art at this tranquil garden.
Bonsai Collection – Japan Pavilion
Learn about the art of bonsai, some of the finest living sculptures. Bonsai masters carefully shape and tend these miniature works of art, creating peace and balance with the earth.
Spice Garden – Morocco Pavilion
Discover how Eastern cultures flourished, trading signature spices and herb blends, once considered more valuable than gold.
France Bouquet Garden (NEW) – France
See bountiful blooms perfect for a bouquet of cut flowers.
English Tea Garden Presented by Twinings®
Unearth the history and art of tea-blending at this elegant English tea garden at the United Kingdom Pavilion, featuring plants used in some of Twinings®' finest blends.
Shakespeare Garden – United Kingdom Pavilion
Rediscover Shakespeare in this idyllic garden featuring excerpts from some of the Bard's most famous sonnets—and the dazzling flowers that influenced them.
Prehistoric Garden – World Discovery near Mission: SPACE
Imagine life on Earth 65 million years ago with astounding plant life that's thrived since the age of the dinosaurs.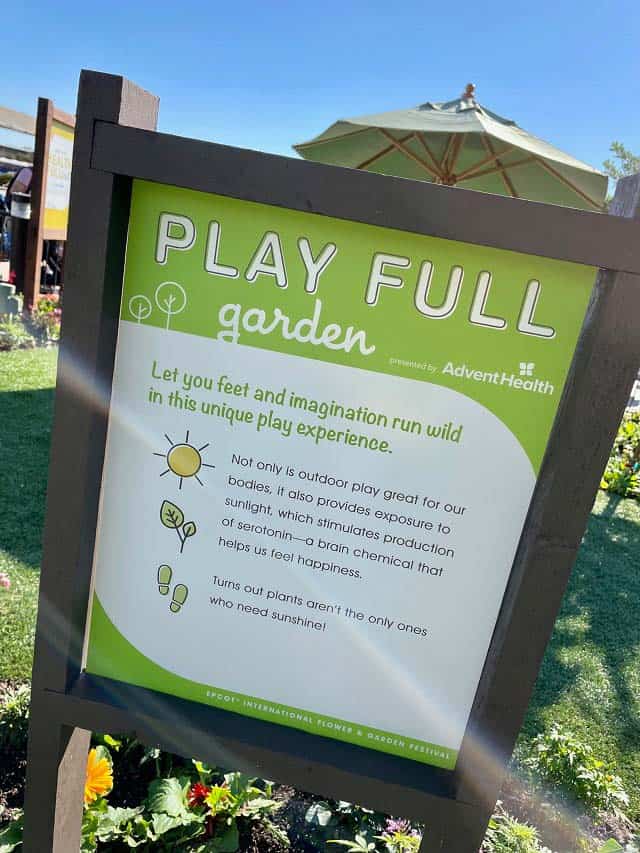 Green Landing Family Play Zone – World Discovery
Enjoy playtime with WALL-E and his eco-friendly garden. Closes at dusk. See the Play Full playground HERE.
Events and Tours
There are a few ticketed events and tours you can participate in if you want a more in-depth experience. These get you more up close and personal with the festival and provide a unique opportunity, especially if you are flower or garden enthusiast.
Advance reservations for events and tours are strongly recommended or required. Visit Guest Relations or call (407) WDW-TOUR to make reservations.
Behind the Seeds *currently unavailable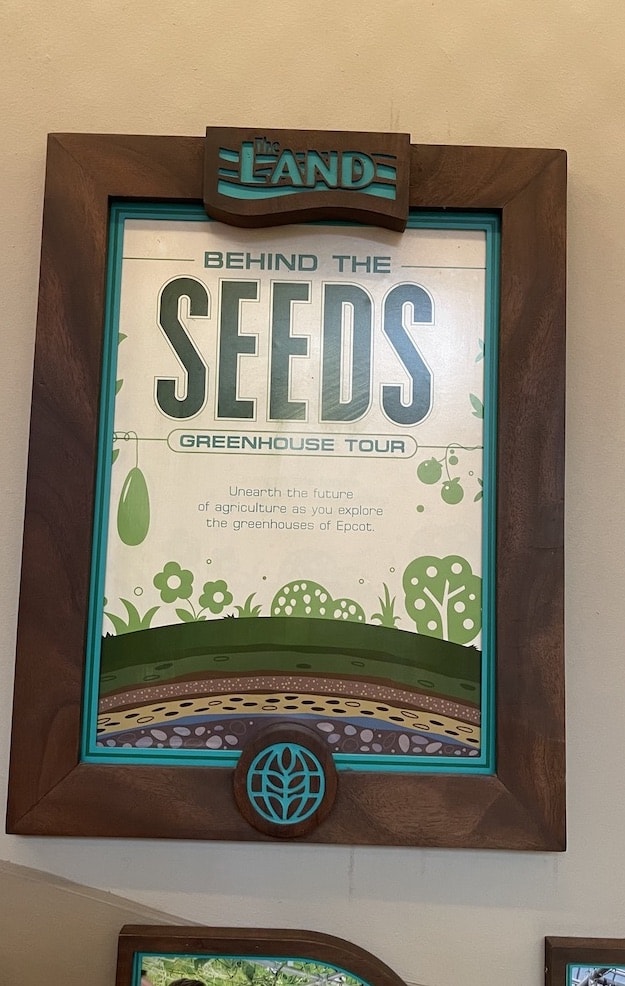 Explore the future of agriculture and get up-close and personal with the critters of The Land Pavilion on this walking tour.
Like the Living with the Land attraction at Epcot? Then you'll love Behind the Seeds! This one-hour tour of the fish farm and 4 greenhouses that make up The Land Pavilion is perfect for anyone with an interest in gardening or natural sciences.
Visit the fish farm and see what it's like during feeding time.
Behold gigantic fruits and vegetables and unusual crops from around the world.
Discover the latest plant-growing techniques, including hydroponics.
Take home a handout with some great ideas for your own garden.
You'll be on your feet for the entire one-hour tour so make sure you were comfortable shoes and water. Adult tickets are $25.00 and child tickets are $20.00.
Gardens of the World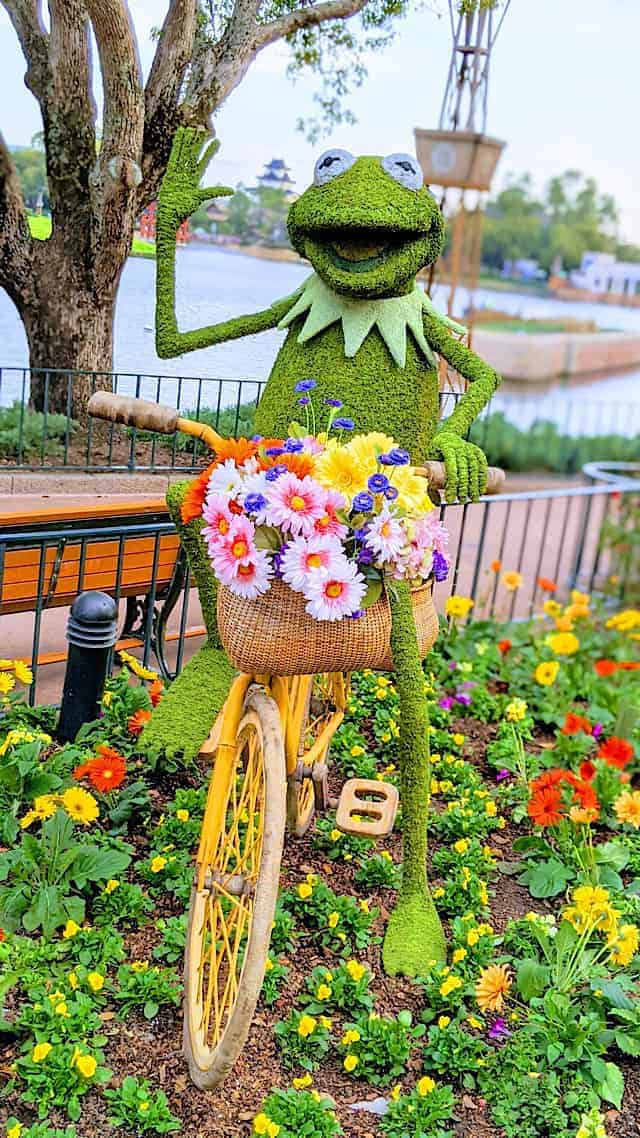 Explore the lush landscapes and signature displays of the 2022 Epcot International Flower & Garden Festival! Over the course of 3 hours, join a knowledgeable Disney Horticulturist—and a small group of fellow enthusiasts—for a fascinating walking tour throughout the World Showcase Pavilions.
During your journey "around the world," you'll experience the following:
Become privy to behind-the-scenes tales about the award-winning topiaries and gardens that make the Festival so special.
Examine the role of landscaping at Walt Disney World Resort.
Learn ways you can apply Disney landscaping techniques at home.
Discover various plant materials and gardening techniques—and see how landscaping helps develop a theme.
Don't miss this limited-time opportunity to explore—or even develop—a budding passion for gardening!
The price of this tour is $85.00 plus tax, per guest. Valid admission to Epcot is also required and is not included in the price of this tour. Guests must be at least 12 years of age to participate. In addition, Guests under 18 years of age who are participating in the tour must be accompanied by a paying Guest at least 18 years of age.
Tours take place on select weekdays from 9:00 AM to 12:00 PM during the Festival. You'll be on your feet for the duration of this 3-hour walking tour. With that in mind, make sure you wear comfortable shoes and bring along water or a beverage to stay hydrated.
English Tea Garden Presented by Twinings of London®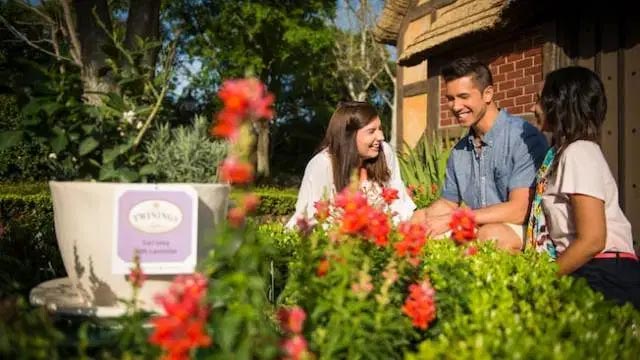 Gain a new appreciation for this time-honored beverage during a complimentary tour of an elegant English tea garden. During this guided foray, you'll learn more about the artistry behind the growing and blending of a variety of botanicals, which is vital for the creation of uniquely flavored brews.
Bring your camera! More than a dozen tea-flavoring plants are tucked inside oversized saucers placed throughout the garden, making for delightful photo opportunities.
The tour lasts approximately 20 minutes, and are held Monday through Thursday at 3:30 PM and 5:00 PM, and Friday through Sunday at 1:00 PM, 3:30 PM and 5:00 PM.
Royal Tea Garden Tour
Embark on a guided tour of an English tea garden, where you'll enjoy a sampling of tea and scones.
The Royal Garden Tea Tour begins at 9:30 AM in the United Kingdom Pavilion at Epcot—before World Showcase opens to the general public at 11:00 AM. Your tour guide will lead you through an elegant tea garden, where you'll spend approximately 45 minutes exploring the garden in-depth, and learning the artistry and history behind growing and blending tea. Your tour ends with a stop at The Tea Caddy, where you'll be served tea and scones!
The price of this tour is $20.00 per person, including tax. Valid admission to Epcot is also required and is not included in the price of this tour.
You'll be on your feet for the duration of this 45-minute walking tour. Because of this, please be sure to wear comfortable shoes. Tour is from 9:30 AM until approximately 10:30 AM, followed by a visit to The Tea Caddy from 10:30 AM to 10:45 AM.
Garden Rocks Concert Series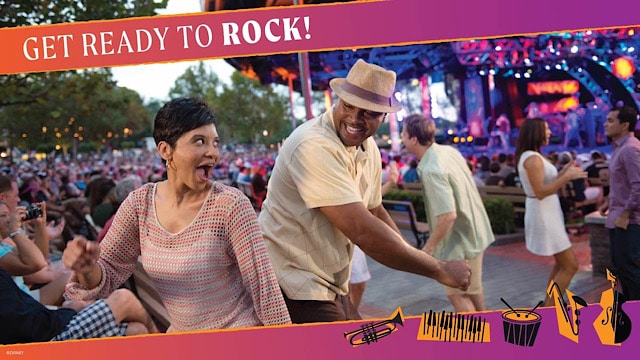 The Garden Rocks Concert series takes place seven days a week and features live musical performances. Sit back and relax at the America Gardens Theatre in the American Adventure Pavilion and rock out to some of your favorite classic hits.
The show is performed three times each evening, at 5:30, 6:45, and 8:00 p.m.
Here is the current line-up for the 2022 Garden Rocks Concert Series:
March 4-5 – The Guess Who
March 6-7 – Rick Springfield
March 11-12 – Melina Leon – NEW to Garden Rocks
March 18-19 – Mike DelGuidice, currently on tour with Billy Joel – NEW
March 20-21 – Kool and The Gang – NEW to Garden Rocks
March 25-28 – The Orchestra starring former members of ELO
April 1-2 – The Spinners
April 3-4 – The Pointer Sisters
April 8-9 – Blue October – NEW to Garden Rocks
April 15-16 – Tommy DeCarlo, singer of the band Boston – NEW
April 17-18 – Don Felder, Formerly of The Eagles
April 22-23 – STARSHIP featuring Mickey Thomas
April 24-25 – Claudia Leitte – NEW
April 29-30 – Berlin
May 1-2 – TobyMac
May 6-7 – Blood, Sweat & Tears
May 8-9 – The Commodores – NEW to Garden Rocks
May 13-14 – Ambrosia with Peter Beckett – NEW
May 20-21 – A Flock Of Seagulls
May 22-23 – Collin Raye – NEW
May 27-28 – Thelma Houston – NEW
May 29-30 – Little River Band
June 3-6 – Simple Plan
June 10-13 – Herman's Hermits starring Peter Noone
June 17-20 – Plain White T's
Garden Rocks Concert Series Dining Packages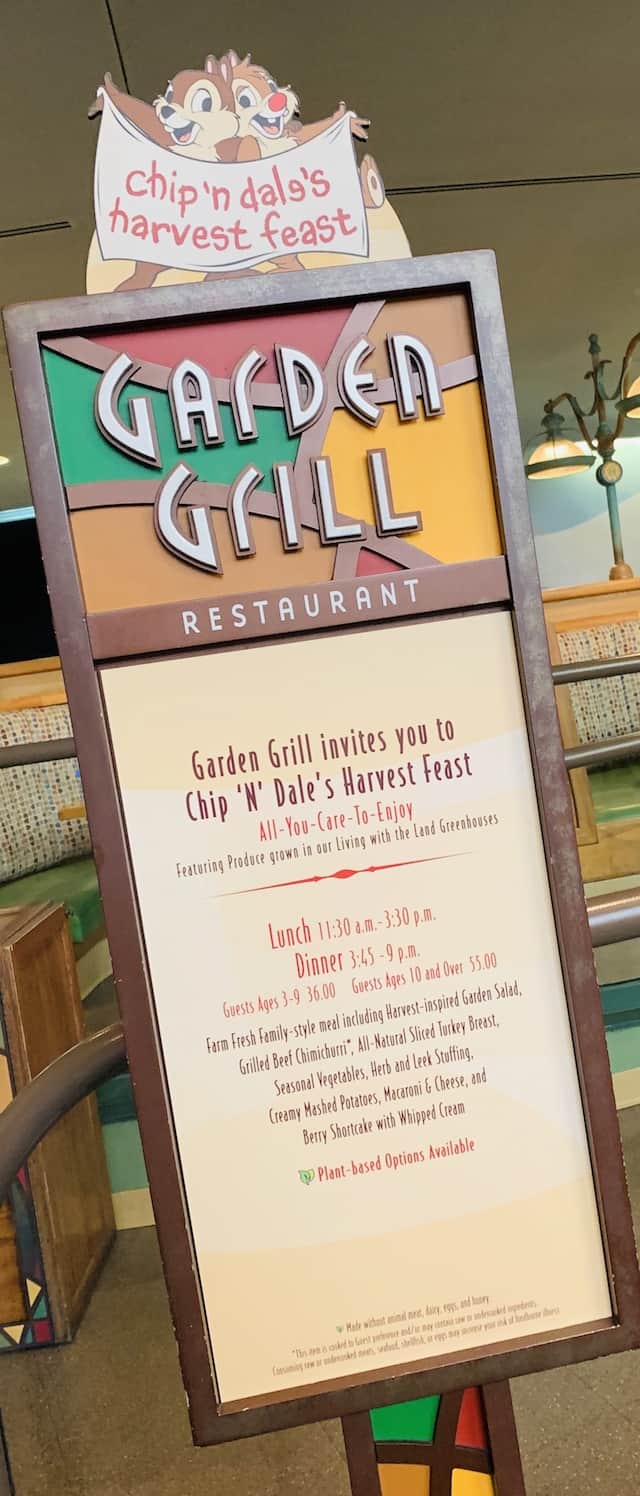 Dining packages for the Garden Rocks Concert Series are also available. Guests can purchase a dining package for one of four Epcot restaurants that gets you a guaranteed seat for one of the 3 nightly shows.
When you making your advanced reservation (which is highly recommended), it will show you what time your show is based on the time of your dining reservation.
Each package includes an appetizer, entrée, and dessert—or one (1) full buffet or family-style dining, where applicable—along with a non-alcoholic beverage and one (1) guaranteed seat to the Garden Rocks Concert held on the same day.
Disney Dining Plan and Disney Deluxe Dining Plans require 2 table-service entitlements for this dining package. The prices listed below do not include tax or gratuity.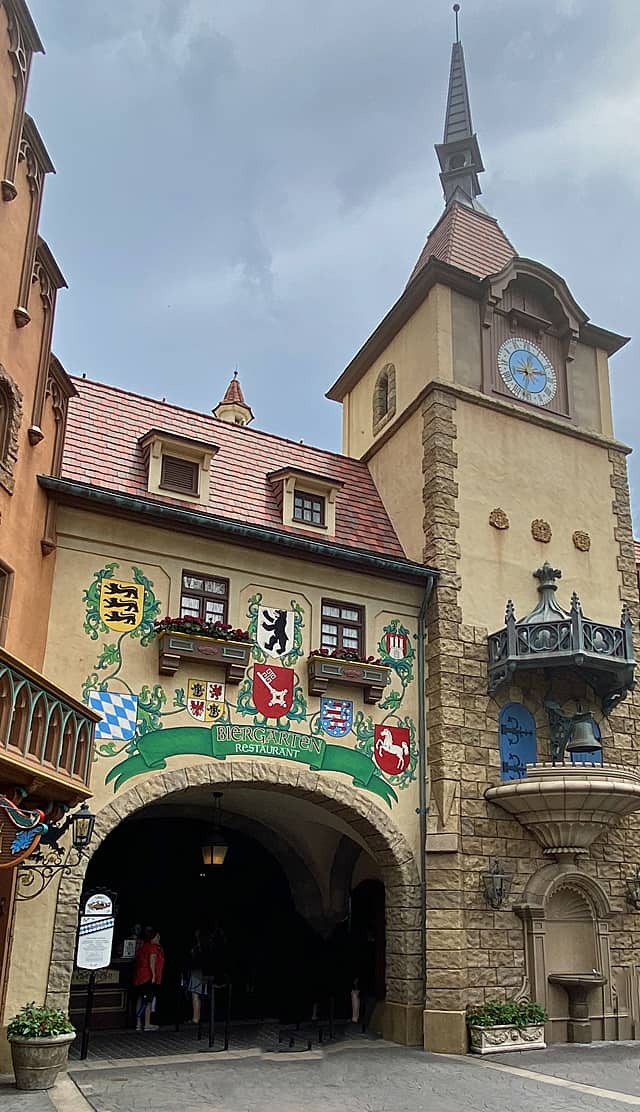 Biergarten Restaurant in Germany Pavilion
Lunch: $57 for adults; $32 for kids
Dinner: $57 for adults; $32 for kids
Coral Reef Restaurant in The Living Seas Pavilion
Lunch: $69 for adults; $22 for kids
Dinner: $69 for adults; $22 for kids
The Garden Grill Restaurant in The Land Pavilion
Breakfast $52 for adults; $31 for kids
Lunch: $65 for adults; $39 for kids
Dinner: $65 for adults; $39 for kids
Rose & Crown Pub & Dining Room in United Kingdom Pavilion
Lunch: $57 for adults; $22 for kids
Dinner: $57 for adults; $22 for kids
Menus for International Flower & Garden Festival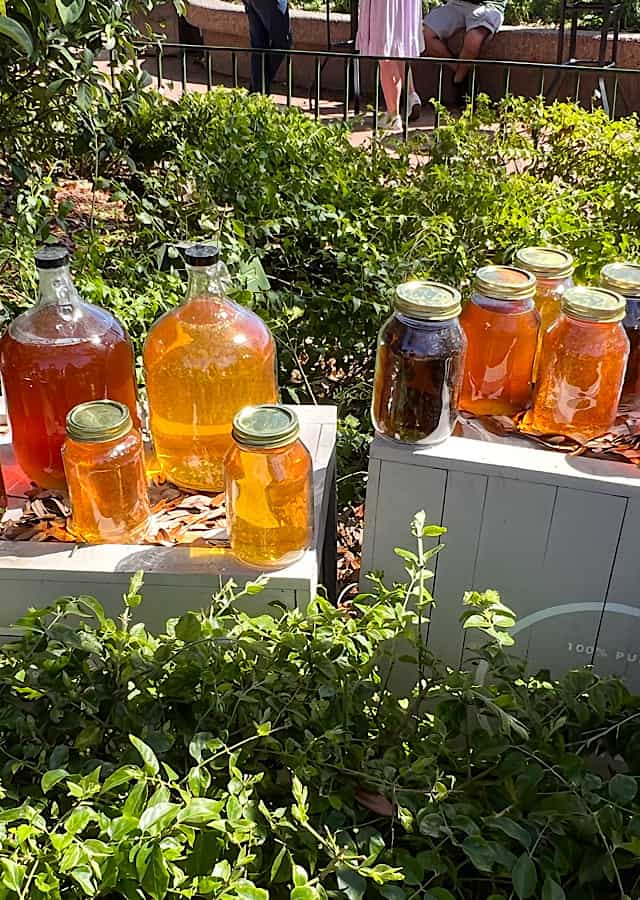 A big part of the Epcot Flower and Garden Festival is the food. There are so many creative food options to discover at the Flower & Garden Festival. With over a dozen outdoor kitchens, everyone will be sure to find something they like!
Pricing and locations for the food options below can be found on Character Locator. Menu items with a (KA) are considered kid-approved!
When you see a link within a menu, we are providing our thoughts on the given item!
BAUERNMARKT: FARMER'S MARKET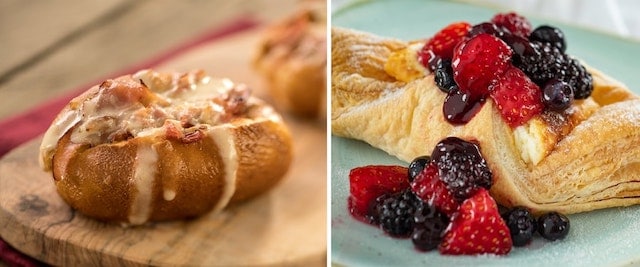 Venture to Germany for Bavarian bites sure to sate foodies of all ages—every dish is köstlich! See our review HERE.
Food
Potato Pancakes with House-made Apple Sauce
Potato Pancake with Caramelized Ham, Onions, and Herb Sour Cream (Gluten/wheat friendly)
Toasted Pretzel Bread topped with Black Forest Ham and Melted Gruyère Cheese
Warm Cheese Strudel with Mixed Berries
Beverages
M.I.A. Brewing Hugo, Doral, FL
Bitburger Premium Pils, Rhineland-Palatinate, Germany
Stiegl Brewery Radler Zitrone, Salzburg, Austria
Beer Flight
Apfelschaumwein: Sparkling Wine and Apple Liqueur
CIDER HOUSE
Food:
BLT Scone with Nueske's® Applewood Smoked Bacon, Sundried Tomato and Basil. A review can be found HERE.
Dark Chocolate Raspberry Tart with Whipped Cream
Beverages:
3 Daughters Brewing Pink Lemonade Hard Cider, St. Petersburg, Fla.
Bold Rock Watermelon Hard Cider, Nellysford, Va.
Blake's Hard Cider Co. Triple Jam Hard Cider, Armada, Mich. (New)
Samuel Smith Old Brewery Pure Brewed Organic Lager, Tadcaster, UK
Snakebite: Blake's Hard Cider Co. Triple Jam Hard Cider and Samuel Smith Old Brewery. Pure Brewed Organic Lager
Cider Flight
THE CITRUS BLOSSOM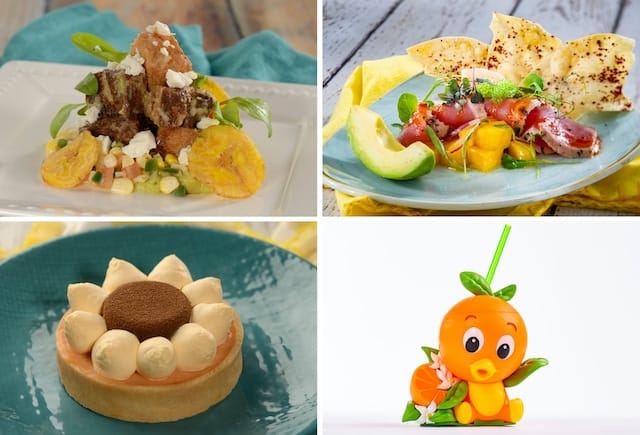 Treat your taste buds to the subtleties of lemon, orange and lime—turning delicious dishes even more delish!
Food:
Crispy Mojo Marinated Pork Belly, Avocado Cream, Corn Salsa, Salsa Verde and Plantain Chips (gluten/wheat-friendly)
Tuna Tataki Bowl with Spicy Yuzu Glaze, Mango, Avocado and Pappadam Crisp
Grapefruit Tart: Grapefruit Curd, Lychee Jam, Ginger Mousse and Yuzu Cream
Beverages:
Orange-Lemon Smoothie in a Souvenir Orange Bird Sipper Cup – See our disappointing review HERE.
Islamorada Beer Company Coconut Key Lime Ale, Fort Pierce, Fla
First Magnitude Brewing Lemon Hefeweizen, Gainesville, FL
Playalinda Brewing Company Hibiscus Lime Ale, Titusville, FL
Beer Flight
Orange Sunshine Wine Slushy
EPCOT FARMER'S FEAST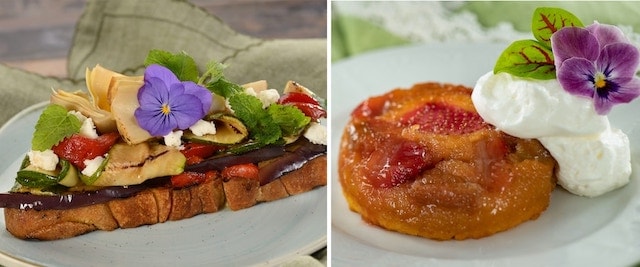 Early Bloom Menu – March 2 through April 9, 2022 See our early bloom review of this amazing kitchen HERE.
Chilled Potato and Leek Soup "Vichyssoise" with Chive Oil and Crispy Leeks (gluten/wheat-friendly)
Chargrilled Bison Ribeye with Creamy Leek Fondue, Roasted Carnival Cauliflower, Romanesco and Port Wine-Goat Cheese Butter (gluten/wheat-friendly)
Goat Cheese Creamsicle Pop: Goat Cheese Crémeux, Orange Cream, Olive Oil Cake, Cranberry Sauce and Praline
Springtime Menu – April 10 through May 21, 2022
Grilled Vegetable Bruschetta with Marinated Peppers, Zucchini, Squash, Artichokes, Goat Cheese and Balsamic Glaze on Grilled Ciabatta
Herb-crusted Spring Lamb with Marble Potatoes, Spring Vegetables and Red Wine Butter Sauce
Strawberry Rhubarb Upside-down Cake with Crème Fraîche Whipped Cream
Summer Solstice Menu – May 22 through July 4, 2022
Tomato and Cornbread Panzanella with Burrata Cheese and Fresh Basil
Barbecue Seared Pork Tenderloin with Summer Succotash, Herb Butter and Grapefruit Vinaigrette (gluten/wheat-friendly)
A Whole Lotta Melon: Feta Cheesecake with Watermelon Curd, Pickled Watermelon Rind, Watermelon Caramel and Compressed Watermelon (gluten/wheat-friendly)
Beverages:
Collective Arts Raspberry Lemon Verbena Whole Leaf Steeped Sparkling Hard Tea, Hamilton, Ontario
Hibiscus Lemonade Cocktail featuring Islamorada Brewery & Distillery Hibiscus Gin
EPCOT SUNSHINE GRIDDLE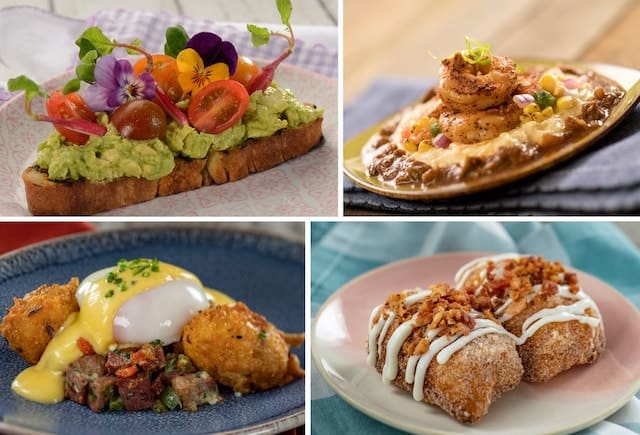 Food:
Avocado Toast with Marinated Toybox Tomatoes and Fresh Goat Cheese on Toasted Ciabatta (new)
Shrimp and Grits: Blackened Shrimp and Cheddar Cheese Grits with Brown Gravy and Sweet Corn Salsa
Corned Beef Brisket Hash with House-made Potato Barrels, Onions, Peppers, Cheese Curds, and a Soft-poached Egg with Tabasco Hollandaise
Fried Cinnamon Roll Bites with Cream Cheese Frosting and Candied Bacon
See our reviews HERE and HERE.
Beverages:
Froot Loops Shake
Joffrey's Coffee Cold Brew Cocktail with Milk, Kahlúa Rum and Coffee Liqueur, and Vanilla Vodka
FLAVOR FULL KITCHEN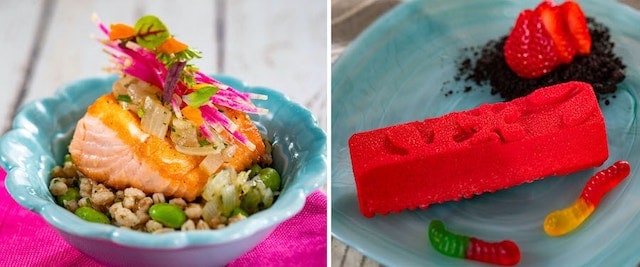 Discover the many flavors of healthy cuisine in this delightful eatery, featuring vegetables straight from the garden! This outdoor kitchen gets mixed reviews HERE.
Food:
Grilled Street Corn on the Cob with Savory Garlic Spread (plant-based and gluten/wheat-friendly)
Seared Verlasso® Salmon with Farro Risotto and Micro Herbs
Strawberry Mousse with Chocolate Crisp Pearls
Beverages:
Blood Orange Agua Fresca
Cookie Butter Worms and Dirt
FLEUR DE LYS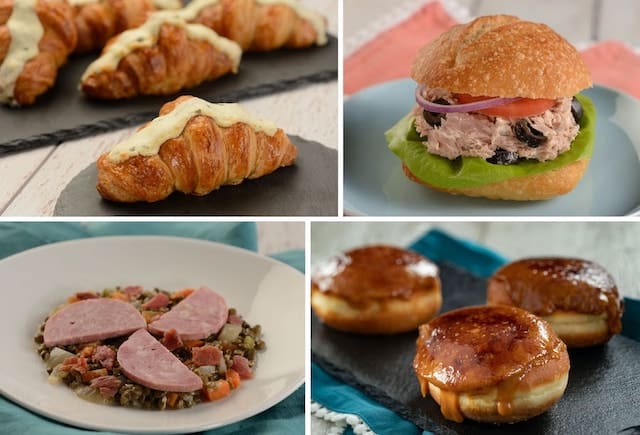 Indulge in haute cuisine and boissons that'll make you fall in ooo-la-la-love with this palate-pleasing Parisian pop-up!
Food:
Croissant au Fromage de Chèvre, Herbes et ail Rôtie: Croissant with Goat Cheese, Herbs and Roasted Garlic
Pan Bagnat Classique: The Niçoise Sandwich with House-made bread, Albacore Tuna, Mayonnaise, Tomato, Black Olives, Lettuce and Celery
Salade de Lentilles à la Lyonnaise: French Green Lentil Salad with Bacon and Garlic Sausage
Beignet Caramélisé, Fourré Crème Vanille, Glacé au Caramel Fleur de Sel: Caramelized Beignet filled with Vanilla Cream and Glazed with Caramel Fleur de Sel
Beverages:
Kronenbourg Blanc 1664 Draft Beer
VeRy Raspberry: Rosé Wine with Natural Raspberry Flavor
Grand Mimosa Cocktail with Grand Marnier, Champagne, and Orange Juice
La Vie en Rose Frozen Slushy: Vodka, Grey Goose L'Orange Vodka, St. Germain Liqueur, White and Red Cranberry Juice
HANAMI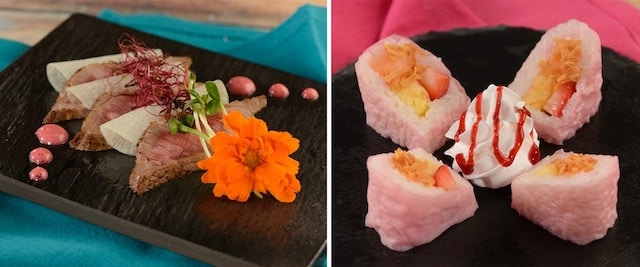 Journey to Japan for innovative plates crafted with culinary Zen—each delish dish is a Festival favorite!
Food
Frushi: Strawberry, Pineapple, and Cantaloupe wrapped in Sweet Rice and Pink Soy Wrap served with Whipped Cream, Drizzled Berry Sauce, and Toasted Coconut. You NEED to try frushi!
Chicken Yakitori: Grilled Chicken with Scallions, Red Pepper-Shoyu Emulsion and Pickled Onions
Beef Tataki: Seared Sirloin with Red Shiso Sauce, Watermelon Radish and Sprouts

Beverages:
Sakura Zen Ale
Pineapple Sake
Blood Orange Sour with Fresh Mint
THE HONEY BEE-STRO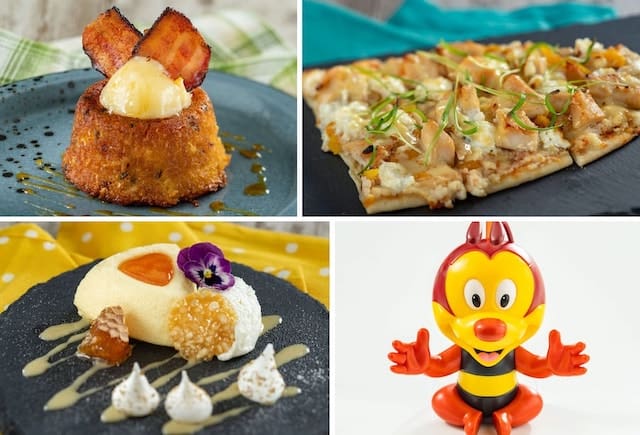 Food:
Tupelo Honey and Sweet Corn Spoon Bread with Jalapeños, Bacon, and House-made Whipped Honey Butter
Lavender Honey Mustard-marinated Chicken Flatbread with Whipped Honey-Ricotta Cheese, Marinated Vegetables, and Purple Haze Lavender Goat Cheese
Local Wildflower Honey-Mascarpone Cheesecake with Orange Blossom Honey Whipped Cream, Whipped Honey, Crystalized Honey, Honeycomb, Dehydrated Honey, and Fennel Pollen Meringue Kisses
Beverages:
Honey-Peach Freeze in a Souvenir Spike the Bee Sipper Cup
First Magnitude Brewing Co. Honey Bee Citrus Blonde Ale, Gainesville, FL.
Florida Orange Groves Winery Orange Blossom Honey Wine, St. Petersburg, FL
Honey-Peach Freeze with Blueberry Vodka
Susan had the chance to explore this kitchen and learn more about bees. Read about her experience HERE.
JARDIN DE FIESTAS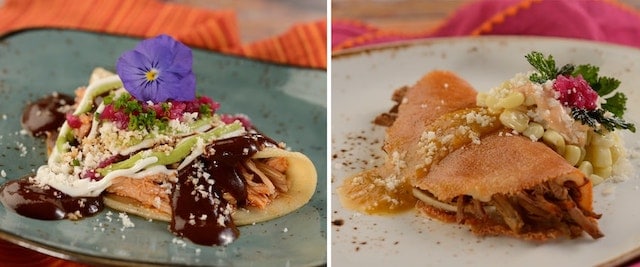 Take a food-tastic tour of the Mexico Pavilion… these tantalizing tastes will add some spice to your day! Jaelyn loved the Taco Vampiro – read about it HERE.
Food:
Enchilada de Mole Negro: Chipotle Chicken in a Corn Tortilla with Mole Negro, Avocado Mousse, Crema Mexicana and Queso Fresco (gluten/wheat-friendly)
Taco Vampiro: Barbacoa Beef in a Corn Tortilla with Crispy Grilled Monterey Jack Cheese, Salsa Ranchera and Esquites (gluten/wheat-friendly)
Tostada de Chorizo: Plant-based Chorizo and Black Beans on Crispy Corn Tortilla with Avocado Mousse and Queso Fresco (gluten/wheat-friendly)
Beverages:
Poppy Flower Margarita: Curamia Tequila Blanco, Hibiscus Flower Tea, Cucumber Juice, Aperitivo and Lejay Blackcurrant Liqueur with a Chile Salt Rim
Hypnotic Margarita: Corazón Tequila Blanco, Ilegal Mezcal Joven, Rosemary, Hpnotiq Cognac and Lemon Juice
Craft Mexican Lager
LA ISLA FRESCA
Nibble on Caribbean-seasoned dishes that'll send appetites swaying to the island beat! Maggie shares her thoughts on this kitchen HERE.
Food:
Arepas topped with Melted Queso Fresco

Arepa topped with Shrimp, Crushed Avocado Ají and Tomato Sauce

Arepa topped with Chorizo

Coconut Tres Leches: Vanilla Cake soaked in Oat Milk, Almond Milk and Coconut Milk with Toasted Coconut (plant-based)
Beverages:
Tropical Breeze: Lemonade, Grapefruit and Simple Syrup (non-alcoholic)
Islamorada Beer Company Coconut Key Lime Ale, Islamorada, FL
Florida Orange Groves Winery Tropical Perception White Sangria, St. Petersburg, FL
Tropical Breeze with Don Q Límon Rum
LOTUS HOUSE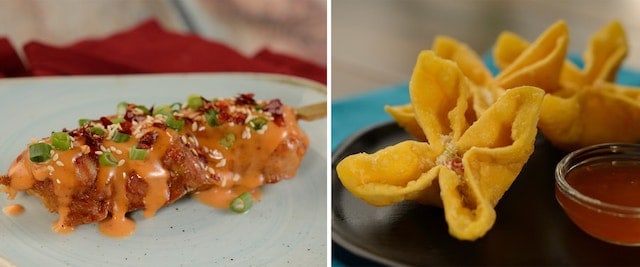 Sink your teeth into authentic Chinese eats filled with morsels of good fortune!
Food:
Spicy Mala Chicken Skewer
House-made Cheesy Crab Wontons
Beverages:
Rose Bubble Milk Tea (non-alcoholic)
Jasmine Draft Beer
Marco Boba: Amaretto, Iced Coffee, Milk and Boba
Kung Fu Punch: Smirnoff Vodka, Triple Sec, Mango, Orange Juice and Soda Water
Tang Dynasty: Jose Cuervo Especial Tequila Gold, Light Rum, Strawberry, Piña Colada Mix, White Boba Pearls and Soda Water
MAGNOLIA TERRACE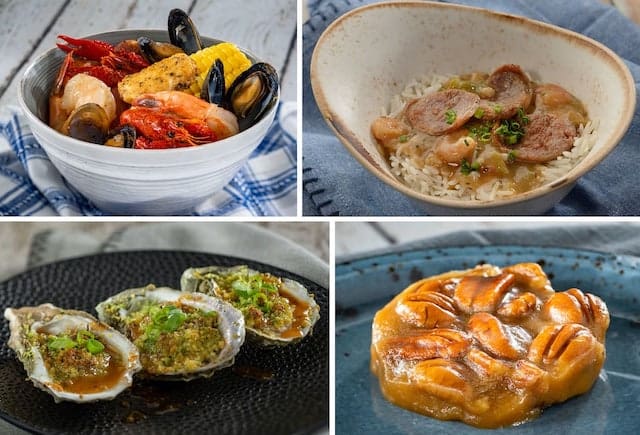 Get a nice, cozy feeling with some comfort food inspired by the Gulf region.
Food:
Southern Seafood Boil: Shrimp, Mussels, Crawfish, Potatoes, Corn and Andouille Sausage
Spicy Chicken Gumbo with Andouille Sausage and BEN'S ORIGINAL™ Long Grain & Wild Rice
Grilled Oysters with Cajun Butter (gluten/wheat-friendly)
House-made Boudin Bites featuring BEN'S ORIGINAL™ Long Grain White Rice
Pecan Praline (gluten/wheat-friendly)
Beverage:
Bayou Cocktail: Bayou Spiced Rum, Coconut Rum, Fruit Punch, and Minute Maid Orange Juice
81Bay Brewing Co. Orange Coriander Wheat Ale, Tampa, Fla.
Wicked Weed Brewing Day Light American Light Ale, Asheville, N.C. (new)
Parish Brewing Co. Ghost in the Machine Double IPA, Broussard, La
Beer Flight
NORTHERN BLOOM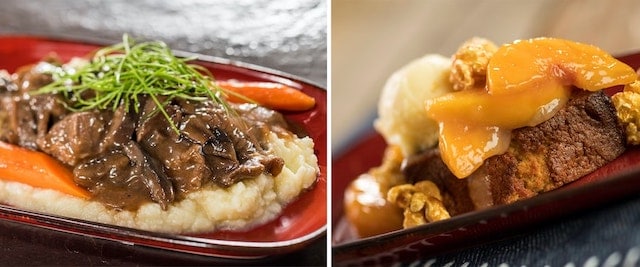 Please discriminating palates with fantastic fare from our Great White North neighbor… O Canada! Unfortunately, this kitchen did not get rave reviews from Kate.
Food:
Seared Scallops with French Green Beans, Butter Potatoes, Brown Butter Vinaigrette and Apple-wood-smoked Bacon
Beef Tenderloin Tips, Mushroom Bordelaise Sauce, and Whipped Potatoes with Garden Vegetables
Griddled Maple Pound Cake with Warm Peach Compote and Sweet Corn Gelato
Beverages:
Maple Popcorn Shake
81Bay Brewing Apricot with Maple Syrup, Tampa, FL
Collective Arts Brewing Blackberry Fruit Beer, Hamilton, Ontario
Goose Island Beer Company Lost Palate Hazy IPA with Mango and Cinnamon, Chicago, Ill.
Maple Popcorn Shake with Tap 357 Maple Rye Whisky
Beer Flight
PINEAPPLE PROMENADE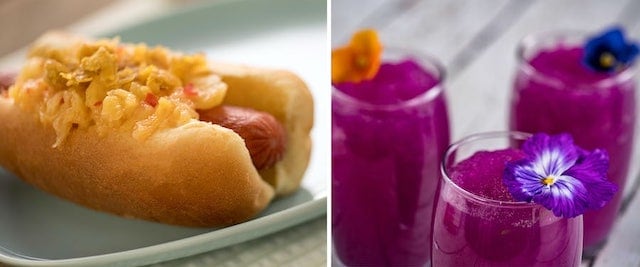 Get your tropical fruit fix from tart 'n' tangy to the sweetest frozen treats!
Food:
Spicy Hot Dog with Pineapple Chutney and Plantain Chips
DOLE Whip®
Beverages:
Frozen Desert Violet Lemonade
DOLE Whip with Fanta®
3 Daughters Brewing Tropical Hefe Wheat Ale, St. Petersburg, FL
Wicked Weed Brewing Fresh Pressed Wheat Ale with Mango, Pineapple, and Guava, Asheville, N.C.
Lexington Brewing & Distilling Company Alo'hop IPA, Lexington, Ky
Playalinda Brewing Company Violet Lemonade Ale, Titusville, FL
Florida Orange Groves Winery Sparkling Pineapple Wine, St. Petersburg, FL
DOLE Whip topped with Parrot Bay Coconut Rum
Pineapple Beer Flight
PRIMAVERA KITCHEN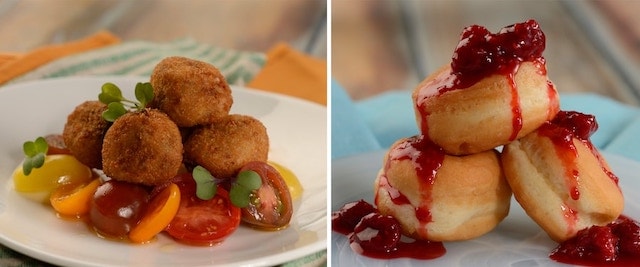 Mangiare hearty helpings of Old-Country dishes served with a glass of vino… now that's amore!
Food:
Arancini: Fried Risotto Balls stuffed with Braised Beef served with Grape Tomato Salad and Balsamic Emulsion
Ravioli alla Boscaiola: Sweet Sausage Ravioli with Sweet Corn, Spring Vegetables and Cream Sauce
Bomboloni: Cream-filled Italian Doughnut with Raspberry Sauce and Powdered Sugar
Beverages:
Peroni Pilsner
Pinot Grigio
Chianti
Prosecco
Rosa Regale
Moscato
Italian White Sangria with Prosecco
Italian Red Sangria with Cabernet Sauvignon
Italian Margarita with Limoncello and Tequila
TANGIERINE CAFE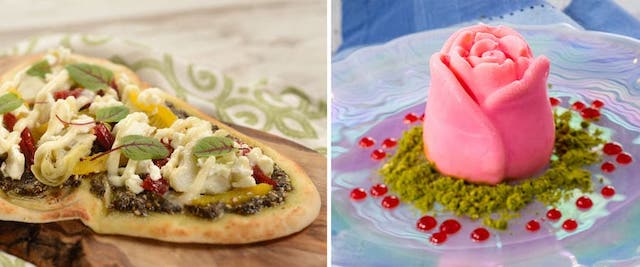 Intoxicate taste buds with the exotic flavors of this North African mecca—mysterious Morocco!
Food:
Grilled Kebabs—Lamb Kefta or Harissa Chicken—with Carrot-Chickpea Salad and Garlic Aïoli (gluten/wheat-friendly)
Mediterranean Flatbread with Za'atar, Artichokes, Olives, Mozzarella and Feta Cheese
Vanilla, Rose Water and Pistachio Panna Cotta
Beverages:
Pomegranate Mimosa
Playalinda Brewing Company Ginger and Elderberry Ale, Titusville, FL
3 Daughters Pomegranate Hard Cider, St. Petersburg, FL
B. Nektar Blackberry Mint Mead, Ferndale, MI
Flight
TROWEL & TRELLIS HOSTED BY IMPOSSIBLE FOODS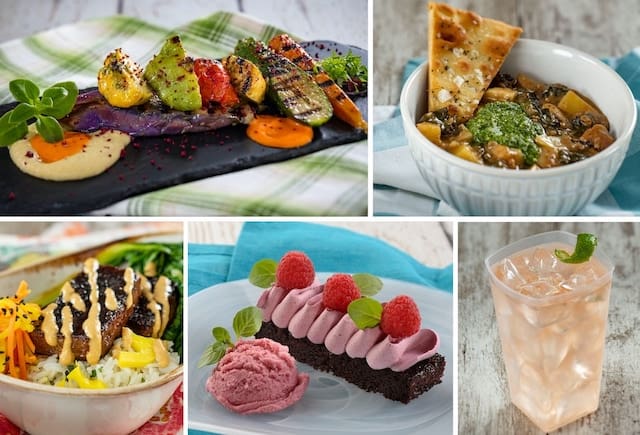 Delight in some of your favorite foods—created from innovative recipes with some impossibly delicious twists! This kitchen HITS THE SPOT!
Food:
Grilled Street Corn on the Cob with Savory Garlic Spread e
Impossible Sausage and Kale Soup
Boneless Impossible Korean Short Rib with Cilantro-Lime Rice, Danmuji Slaw, and Kimchee Mayonnaise
Lavender Pot de Crème with Blueberry Cake, Pink Peppercorn, and Lime Whipped Cream
Beverages:
Twinings of London Energize Matcha Cranberry & Lime Green Tea
Parish Brewing Co. Bloom Hazy IPA, Broussard, La.
Twinings of London Energize Matcha Cranberry & Lime Green Tea with Hanger 1 Makrut Lime Vodka served in a Mason Jar
JOFFREY'S COFFEE AND TEA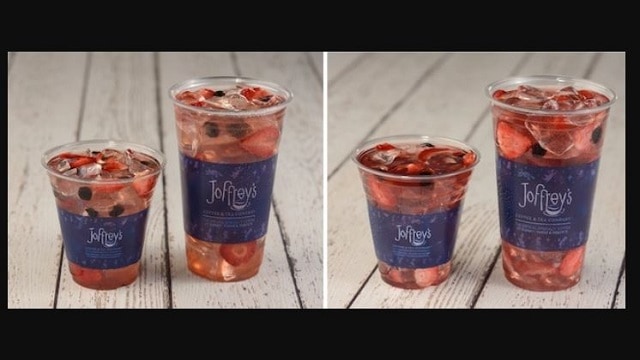 FUNNEL CAKE – BETWEEN THE AMERICAN ADVENTURE PAVILION AND JAPAN PAVILION
In addition to the regular offerings at this location, satisfy your sweet tooth with a Strawberry Cheesecake Funnel Cake topped with Strawberry Ice Cream, Cheesecake Crumbles, Strawberry Drizzle and Whipped Cream.
JOFFREY'S COFFEE & TEA COMPANY – THROUGHOUT EPCOT
Discover different festival offerings at each of the Joffrey's Coffee & Tea Company locations.
World Discovery (Near Mission: SPACE): Minty Melon Refresher
A lightly caffeinated blend of Watermelon-Cucumber-Mint Juice with Strawberries and Blueberries
Spirited option available featuring Watermelon-Basil Vodka
World Showcase (Near Disney Traders): Pink Paradise Refresher
A lightly caffeinated blend of refreshing Dragon Fruit-Lychee Juice with Strawberries and Blueberries
Spirited option available featuring Watermelon-Basil Vodka
The American Adventure Pavilion: Wildberry Wonder Refresher
A lightly caffeinated blend of Wildberry-Hibiscus Juice with Strawberries and Blueberries
Spirited option available featuring Tropical Rum
Near Canada Pavilion: Strawberry Fields Refresher
A lightly caffeinated blend of Strawberry Açaí Juice with Strawberries and Blueberries
Spirited option available featuring Strawberry-Lemongrass Vodka
REFRESHMENT OUTPOST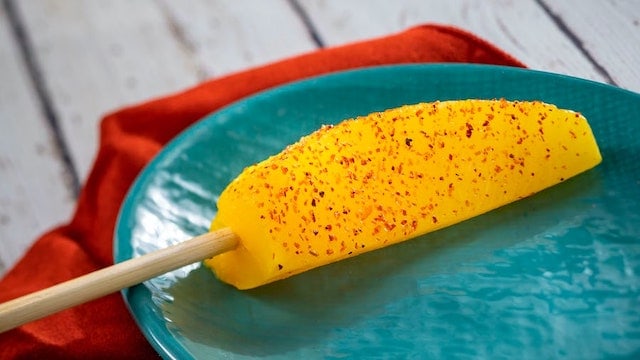 Food:
Pineapple Skewer with Tajin Seasoning (plant-based and gluten/wheat-friendly)
Tangerine Soft-serve
Beverages:
Lexington Brewing Tangerine Cream Ale, Lexington, KY
Blake's Hard Cider Co. Blueberry Lemonade Hard Cider, Armada, MI
Orlando Brewing Passionate Organic Blonde Ale with Passion Fruit, Orlando, FL
REFRESHMENT PORT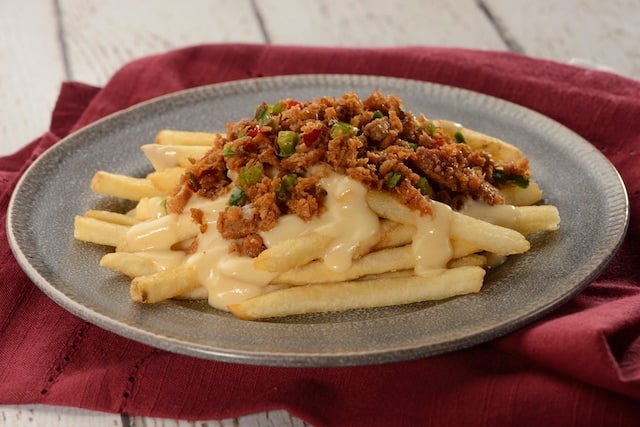 Food
House-made Italian Sausage and Peppers Poutine
Beverage
Stem Ciders A Salted Cucumber Apple Hard Cider, Denver, CO
Lavender Martini: Vodka with Lavender and Lemon
Festival Merchandise
Plenty of festival-exclusive merchandise will be available to purchase at Flower & Garden Festival.
Orange Bird Spirit Jersey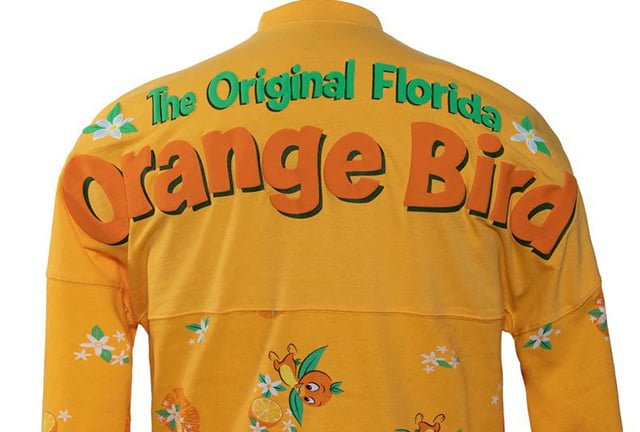 See what's missing from this collection HERE.
Mickey Mouse and Minnie Mouse
Browse a collection that celebrates Mickey and Minnie Mouse—featuring apparel, drinkware, trading pins and a MagicBand. See more from this collection HERE and HERE.
Figment's Garden
Grow your imagination with Figment-themed apparel, drinkware and more as you dream green this festival season.
Spike the Bee
Find sweet reminders of Spike the Bee on apparel, accessories, drinkware, a garden stake and other collectible novelties.
Annual Passholder Discounts
While we are talking about Annual Passholders, did you know they get discounts on many of the festival offerings?
In addition to the magnets and other merchandise items available just to passholders, APs can receive a 20% discount on all merchandise. Not a bad perk to have at all!1
Passholders also enjoy a 10% discount on the Garden Rocks Concert Series dining package. Plus, the Behind the Seeds and Garden of World tours are also eligible for a 15% discount for Annual Passholders.
Kid-Approved Activities at Flower & Garden Festival
Of all the Epcot festivals, the Flower & Garden Festival is probably the most kid-friendly! With all the fun character topiaries, kid-approved menu items, and exhibits even the youngest guests will have a great time!
Many of these activities are already listed throughout this guide, but here are a few more! Let's take a look:
Spike's Pollen Nation Scavenger Hunt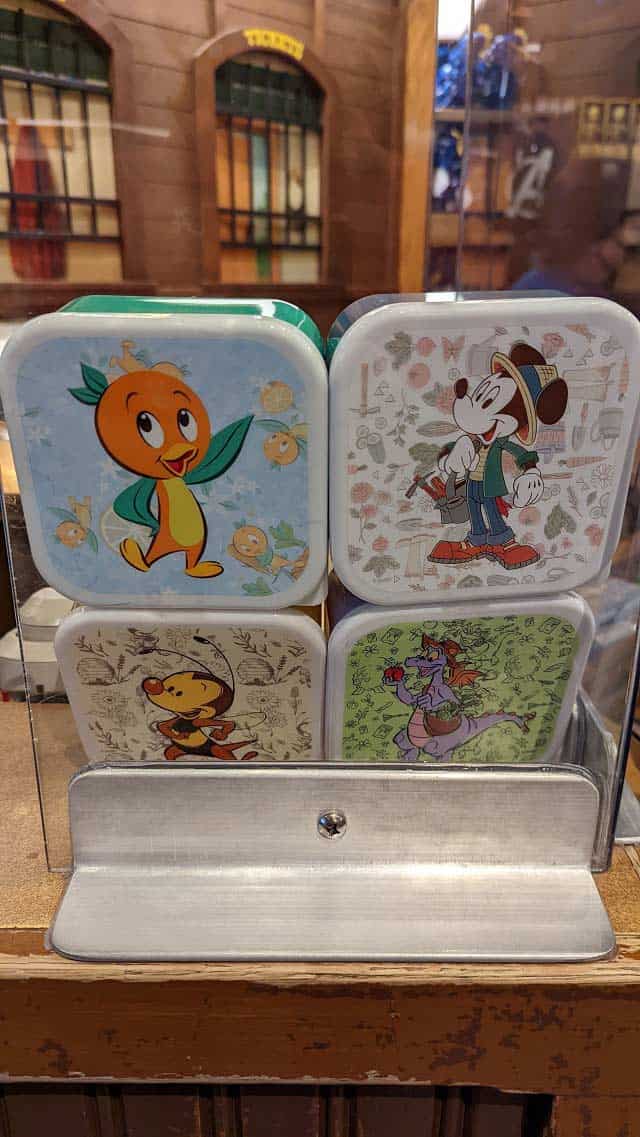 Gardeners of all ages are invited to participate in a springtime scavenger hunt starring Spike, the buzziest honey bee at Disney World. Embark on a search for Spike's best blooms as he pollinates flower beds across Epcot!
Begin this botanical-happy hunt by purchasing a map at Port of Entry. Next, buzz through the World Showcase in search of flowers featuring the big bee himself, then return your completed map to Port of Entry for a special surprise.
Maps are $9.99 (Annual Passholder discounts do apply) and are only available while supplies last.
Egg-stravaganza Scavenger Hunt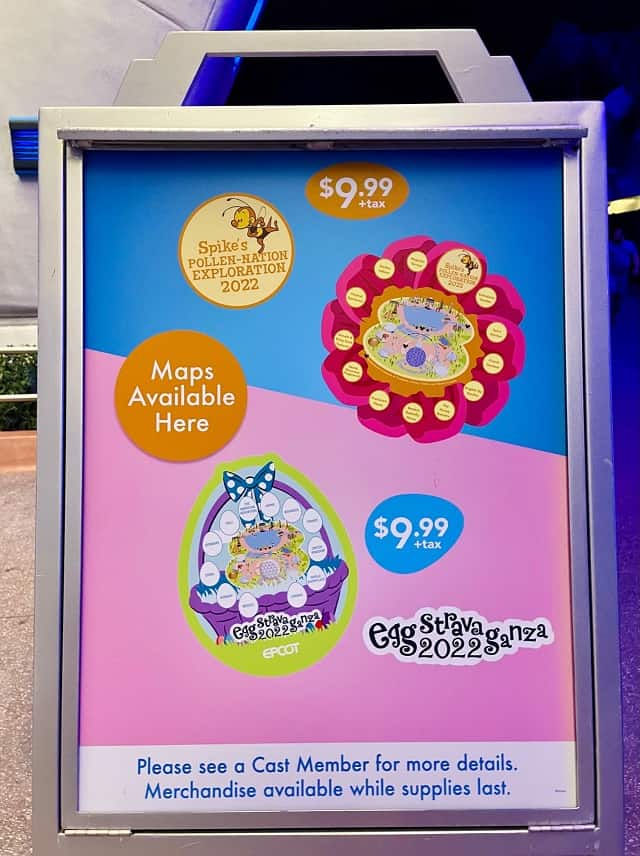 Break out the bunny ears! From March 27 through April 12 (while supplies last), the "hoppy-est place on Earth" welcomes rabbits of all ages to Egg-stravaganza, a popular scavenger hunt that has everyone scampering around World Showcase in search of Disney character-themed eggs.
Prepare to crack the case of the oversized orbs by purchasing a map. Maps can be found at Disney Traders, Pin Central, and World Traveler. Next, hunt high and low for hidden eggs featuring your fave Disney peeps and return the completed map to Disney Traders for a surprise.
Maps are $9.99 (Annual Passholder discounts do apply) and are only available while supplies last. Read more about this hunt HERE and see the prizes HERE.
So, are you ready to explore Epcot's International Flower & Garden Festival?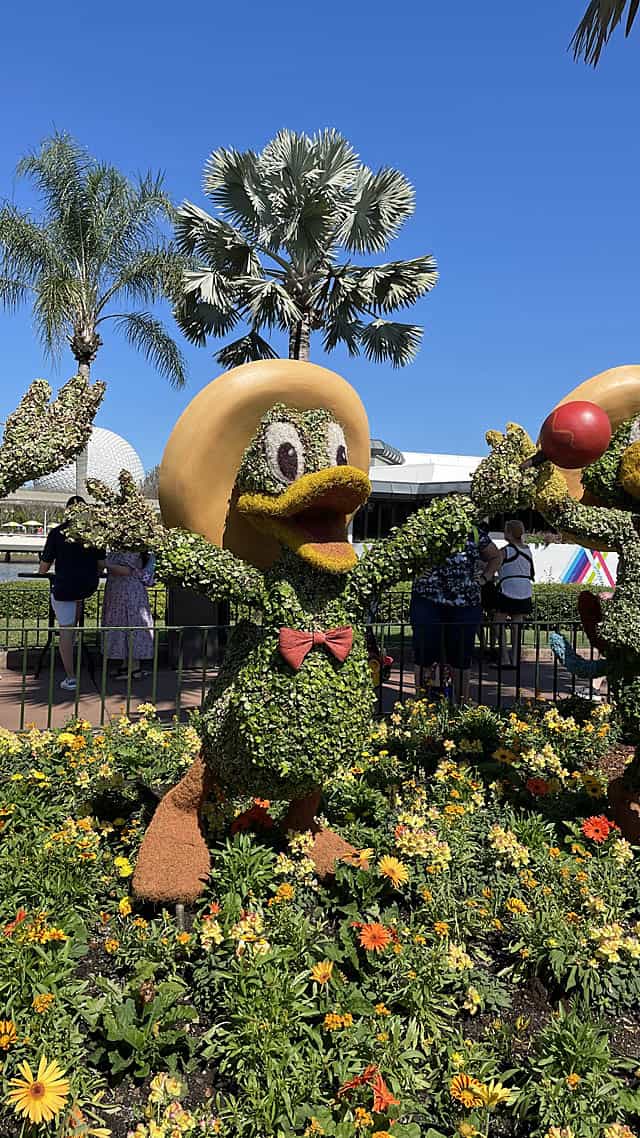 I hope you enjoyed this virtual tour of Flower & Garden Festival! Now that you are well-prepared, you can head to Epcot this spring to enjoy the beautiful blooms, delicious food, and even participate in a tour or two!
As always, Character Locator is the best source around for your planning needs! You will find detailed maps, prices for the menu offerings, and everything else you need to plan your day at Epcot!
What questions do you have about Flower & Garden Festival? Ask them below or on Kenny the Pirate's Facebook page!