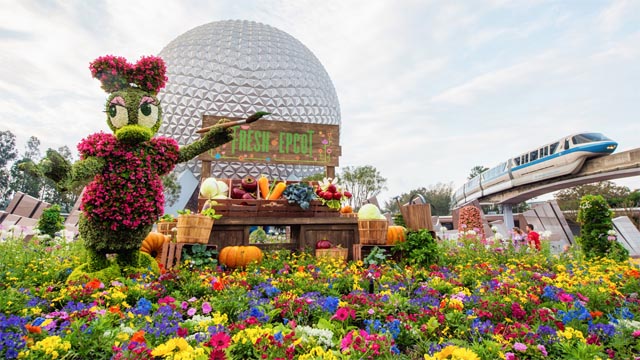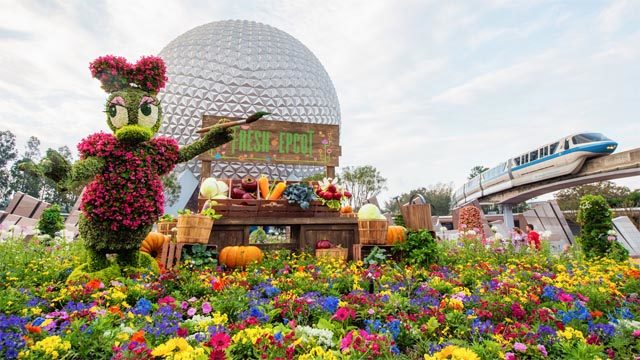 International Flower and Garden Festival is the most beautiful of all Epcot's festivals. Returning in spring 2020, step into brilliant gardens, themed topiaries, a rockin' concert series, guided tours, and so much more. Here's a complete guide to the Epcot International Flower and Garden Festival 2020. Come explore this blooming festival with me!
There is so much to see and discover at Epcot International Flower and Garden Festival. This springtime event takes place from March 4 to June 1, 2020. At nearly 3 months long, it is the longest-running festival Epcot runs. This is good because there is so much going on you need more time to soak it all in!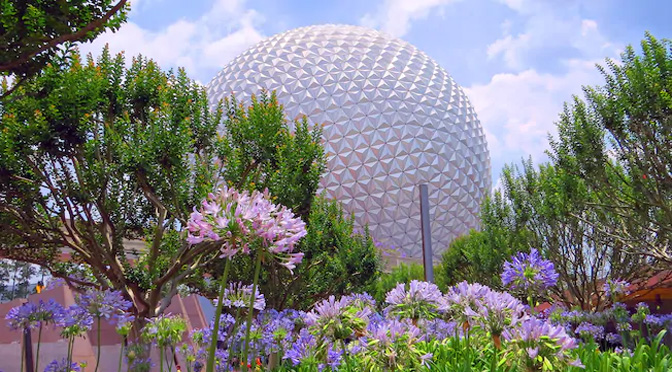 Like all of Epcot's festivals, a separate ticket is not required to experience many of the activities. All you need is your general admission ticket! However, if you want to participate in any of the specialty events you will need to purchase tickets for that.
I am going to walk you through everything you need to know about this event! From food, topiaries, and tours to concert series and dining packages, I've got you covered!
Topiary Displays
Upon entering the park, the first thing you will likely notice is all the beautiful topiaries. They are everywhere! From characters placed around the World Showcase to the stunning flowers located near the entrance of the park, you could spend much of the day just exploring the displays.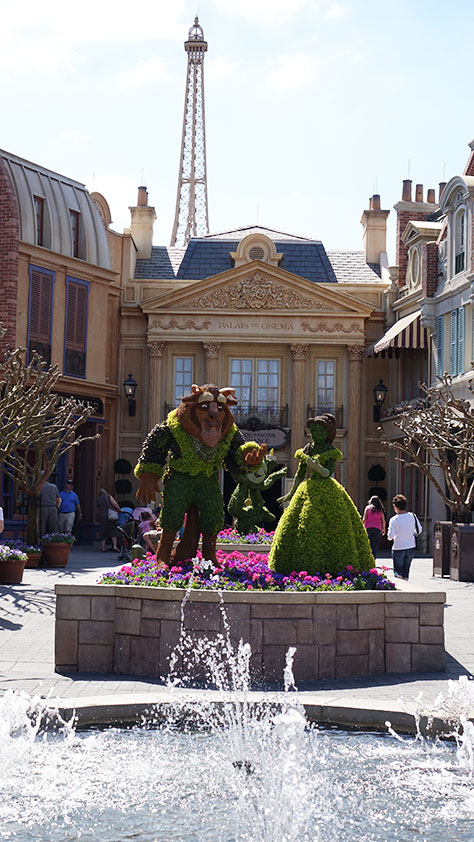 Here is a list of every topiary you will find at Epcot, which are the perfect backdrop for photos:
Anna and Elsa – Norway Pavilion
Bambi and friends – Canada Pavilion
Beauty and the Beast – France Pavilion
Bo Peep and her sheep with Woody – Future World East
Bold Bromeliads – The Land at Future World East
Bromeliad Dragon – Japan Pavilion
Buzz Lightyear – Mission: SPACE at Future World East
Captain Hook and Peter Pan – United Kingdom Pavilion
Construction Mickey and Minnie with Goofy, Pluto and Chip 'n' Dale – between Future World and World Showcase
Donald and Daisy with Huey, Dewey, and Louie – Showcase Plaza
Fantasia – Sorcerer Mickey, Brooms, Ostriches and Hippo – Imagination at Future World West
Lady and the Tramp – Italy Pavilion
Miss Piggy and Kermit the Frog – between the United Kingdom and Canada Pavilions at the France Pavilions
Pandas – China Pavilion
Pluto and Goofy – between Future World and World Showcase
Remy (NEW!) – France Pavilion
Simba and Friends – Outpost Shop
Snow White and Dopey – Germany Pavilion
Tinker Bell and Fairy Houses – United Kingdom Pavillion
The Three Caballeros – Mexico Pavilion
Topiary Butterflies – Future World West
Topiary Flowers – Main Entrance
Winnie-the-Pooh & Friends – United Kingdom Pavillion
Character Locator has photos of each topiary and a map showing exactly where they are located! Please note these are subject to change.
Gardens, Tours and Exhibits
Become entranced in an aromatic petal paradise. Surround yourself with the beautiful sights and sounds of nature as you weave your way through breathtaking flower beds, plots of plant life and wildlife habitats.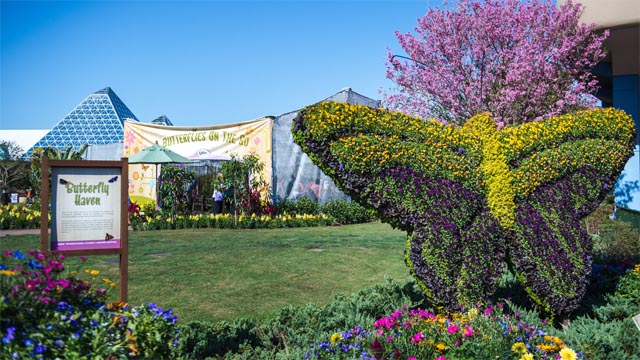 Here is a list of the gardens, tours, and exhibits you can walk through while visiting the festival. Please note: the tours listed here are not the guided tours. Those will be covered in just a moment.
Bamboo Garden
As a member of the grass family, bamboo can be found at the China Pavilion in many colors, patterns, and sizes.
Bo Peep's Playtime Training Ground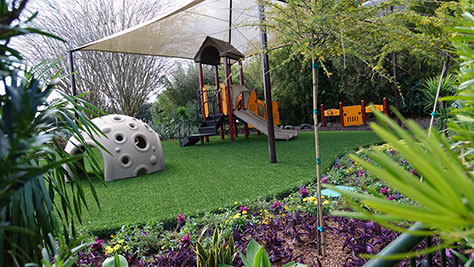 Gather adults and kids at the Test Track walkway for Toy Story 4- themed engaging and interactive fun.
Bold Bromeliads
Located at the Mexico Pavilion
Bonsai Collection
Take a trip to the Japan Pavilion and discover the ancient art of bonsai with some of the finest living sculptures created by bonsai masters, who carefully shape and tend these miniature works of art—creating peace and balance with the earth.
Chinese Zodiac Natural Sculptures
Located at the China Pavilion
English Tea Garden Presented by Twinings of London®
Discover the history and art of tea blending at this elegant English Tea Garden at the United Kingdom Pavilion, featuring plants important to some of Twinings finest tea blends.
Festival Blooms

Located at Future World, this display boasts thousands of flowers form colorful, living panoramas overlooking Future World's East and West lakes.
Floating Mini-Gardens
Peer upon more than 100 petite plots drifting on the ponds that border the walkway between Future World and the World Showcase.
Garden Italiano
From fresh spaghetti sauce to your favorite pizza topping, this Tuscan kitchen garden at the Italy Pavilion features all the produce and herbs needed to create a classic Italian feast.
Health Full Trail Presented by AdventHealth
Delight in a whimsical area along Imagination Walkway for kids, made to inspire youthful energy and creativity. Your whole family can learn fun and interactive ways to stay healthy at a brand-new playground and outdoor kitchen.
The Honey Bee-Stro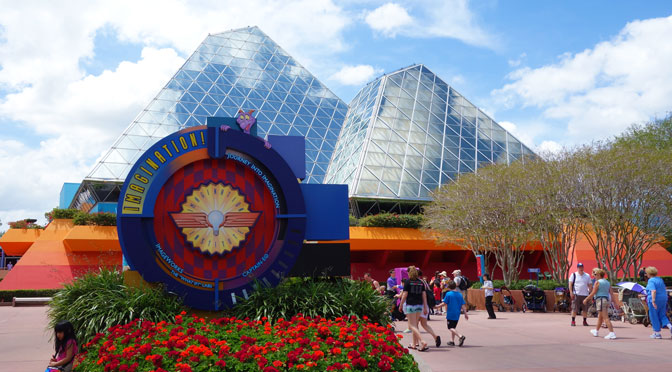 Learn about the importance of honeybees in this immersive garden. You can also enjoy some food options, made possible by their hard work, from the adjoining outdoor kitchen. Find it near Imagination! Pavilion.
Kokedama Garden
Admire fresh expressions of an ancient Japanese art. The Kokedama Garden features skilled bonsai creations.
Shakespeare Garden
Thou shalt adore matching up famous quotes to flowers found within this vibrant garden at the United Kingdom Pavilion. William Shakespeare often used flowers and exotic gardens to help set the scenes for his plays and employed them as symbols and metaphors.
The Goodness Garden Butterfly House Presented by GoGo squeeZ
Visit this foliage-filled exhibit at Future World West to view a kaleidoscope of butterflies and observe several species up close, learning about their life cycles and maybe even witnessing them emerging from chrysalises.
NOTE: This is in a new location this year! The garden will be located beside The Land Pavilion.
Plant a Garden Perfect for Pollinators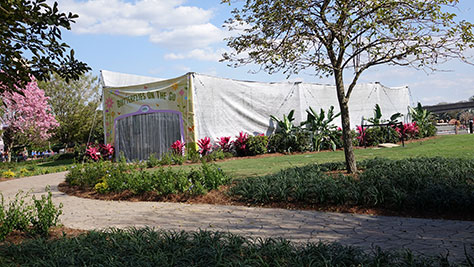 Stop by this display near the Butterfly House and take garden-ready ideas home with you, along with garden crafts and sustainable best practices.
Tropical Rainforest Garden
Visit the Mexico Pavilion and learn how Mexico rainforests are rich with plants and animals that have adapted to a wide variety of light levels and water conditions.
Urban Spice
At the Morocco Pavilion, learn how in many eastern cultures, ancient spices were considered more valuable than gold. Even today, many cultures are defined by their signature spices and herb blends, created from plant leaves, stems, roots, seeds, and flowers.
My personal favorite is the Goodness Garden Butterfly House! It is so neat walking through and watching them up close.
Events and Tours
There are a few ticketed events and tours you can participate in if you want a more in-depth experience. These get you more up close and personal with the festival and provide a unique opportunity, especially if you are flower or garden enthusiast.
Advance reservations for events and tours are strongly recommended or required. Visit Guest Relations or call (407) WDW-TOUR to make reservations.
Behind the Seeds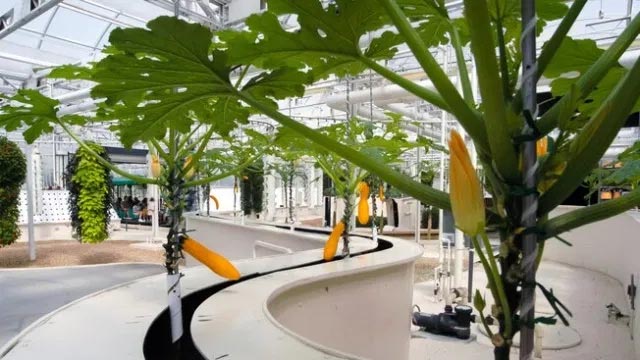 Explore the future of agriculture and get up-close and personal with the critters of The Land Pavilion on this walking tour.
Like the Living with the Land attraction at Epcot? Then you'll love Behind the Seeds! This one-hour tour of the fish farm and 4 greenhouses that make up The Land Pavilion is perfect for anyone with an interest in gardening or natural sciences.
Visit the fish farm and see what it's like during feeding time.
Behold gigantic fruits and vegetables and unusual crops from around the world.
Discover the latest plant-growing techniques, including hydroponics.
Take home a handout with some great ideas for your own garden.
You'll be on your feet for the entire one-hour tour so make sure you were comfortable shoes and water. Adult tickets are $25.00 and child tickets are $20.00.
Gardens of the World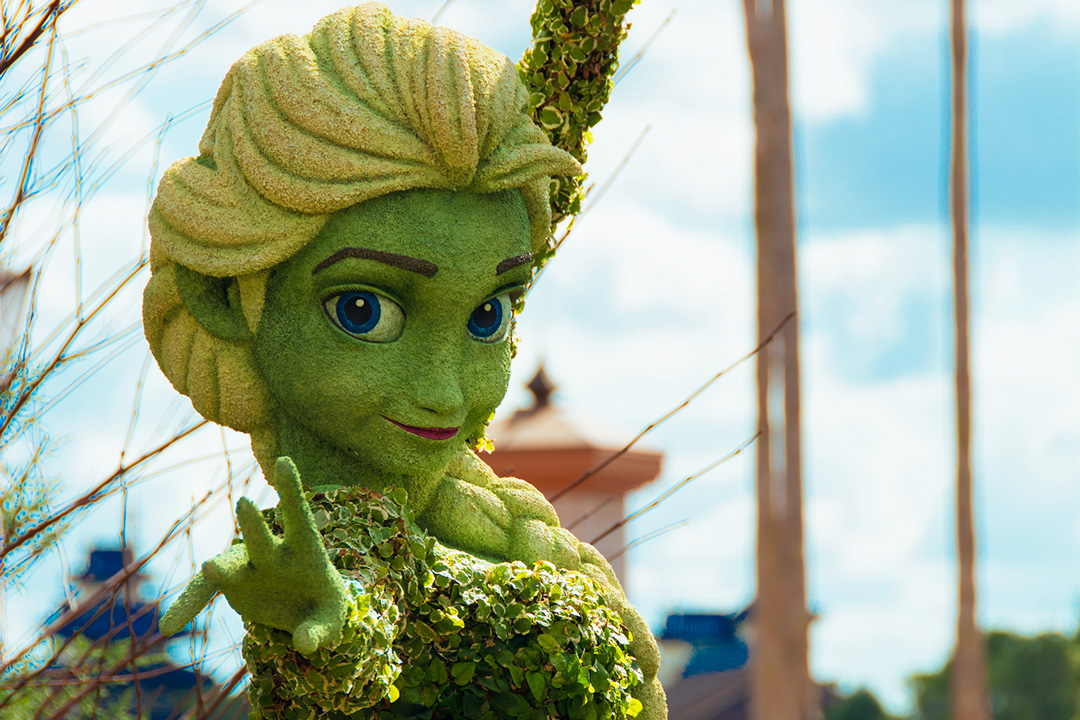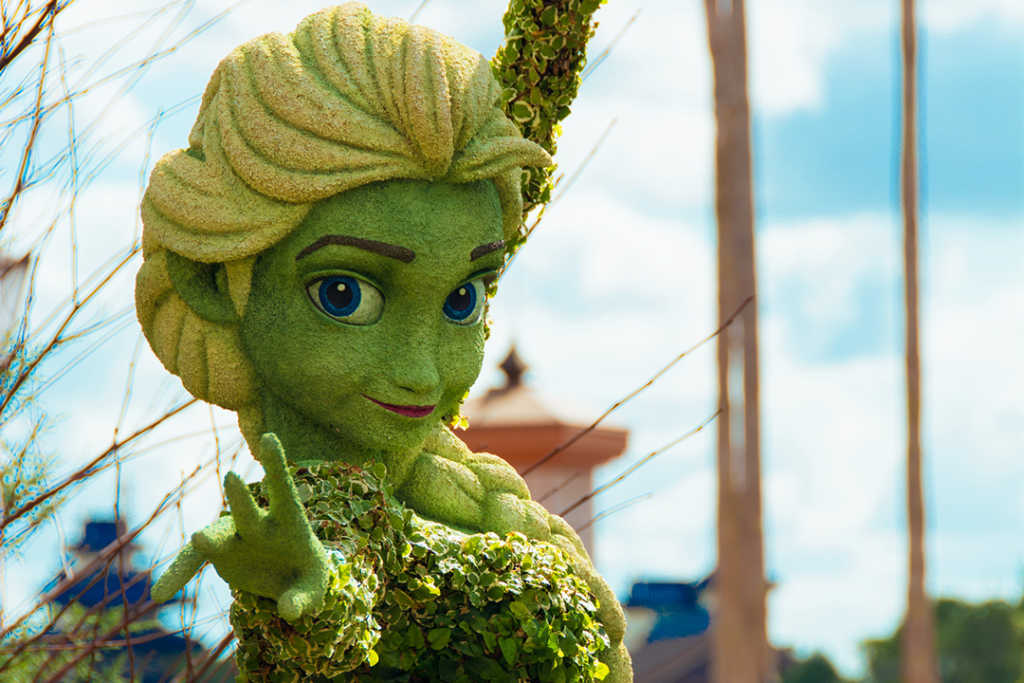 Explore the lush landscapes and signature displays of the 2020 Epcot International Flower & Garden Festival! Over the course of 3 hours, join a knowledgeable Disney Horticulturist—and a small group of fellow enthusiasts—for a fascinating walking tour throughout the World Showcase Pavilions.
During your journey "around the world," you'll experience the following:
Become privy to behind-the-scenes tales about the award-winning topiaries and gardens that make the Festival so special.
Examine the role of landscaping at Walt Disney World Resort.
Learn ways you can apply Disney landscaping techniques at home.
Discover various plant materials and gardening techniques—and see how landscaping helps develop a theme.
Don't miss this limited-time opportunity to explore—or even develop—a budding passion for gardening!
The price of this tour is $85.00 plus tax, per guest. Valid admission to Epcot is also required and is not included in the price of this tour. Guests must be at least 12 years of age to participate. In addition, Guests under 18 years of age who are participating in the tour must be accompanied by a paying Guest at least 18 years of age.
Tours take place on select weekdays from 9:00 AM to 12:00 PM during the Festival. You'll be on your feet for the duration of this 3-hour walking tour. With that in mind, make sure you wear comfortable shoes and bring along water or a beverage to stay hydrated.
English Tea Garden Presented by Twinings of London®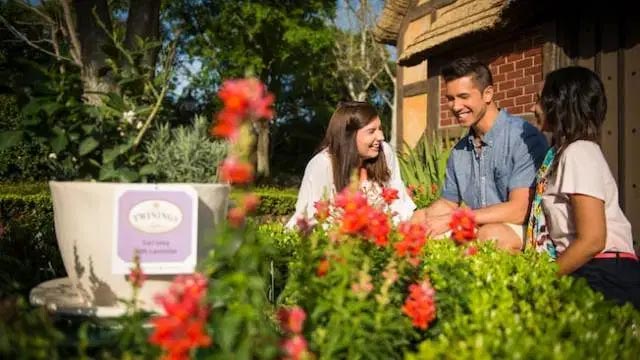 Gain a new appreciation for this time-honored beverage during a complimentary tour of an elegant English tea garden. During this guided foray, you'll learn more about the artistry behind the growing and blending of a variety of botanicals, which is vital for the creation of uniquely flavored brews.
Bring your camera! More than a dozen tea-flavoring plants are tucked inside oversized saucers placed throughout the garden, making for delightful photo opportunities.
The tour lasts approximately 20 minutes, and are held Monday through Thursday at 3:30 PM and 5:00 PM, and Friday through Sunday at 1:00 PM, 3:30 PM and 5:00 PM.
Royal Tea Garden Tour
Embark on a guided tour of an English tea garden, where you'll enjoy a sampling of tea and scones.
The Royal Garden Tea Tour begins at 9:30 AM in the United Kingdom Pavilion at Epcot—before World Showcase opens to the general public at 11:00 AM. Your tour guide will lead you through an elegant tea garden, where you'll spend approximately 45 minutes exploring the garden in-depth, and learning the artistry and history behind growing and blending tea. Your tour ends with a stop at The Tea Caddy, where you'll be served tea and scones!
The price of this tour is $20.00 per person, including tax. Valid admission to Epcot is also required and is not included in the price of this tour.
You'll be on your feet for the duration of this 45-minute walking tour. Because of this, please be sure to wear comfortable shoes. Tour is from 9:30 AM until approximately 10:30 AM, followed by a visit to The Tea Caddy from 10:30 AM to 10:45 AM.
Garden Rocks Concert Series
The Garden Rocks Concert series takes place seven days a week and features live musical performances. Sit back and relax at the America Gardens Theatre in the American Adventure Pavilion and rock out to some of your favorite classic hits.
The show is performed three times each evening, at 5:30, 6:45, and 8:00 p.m.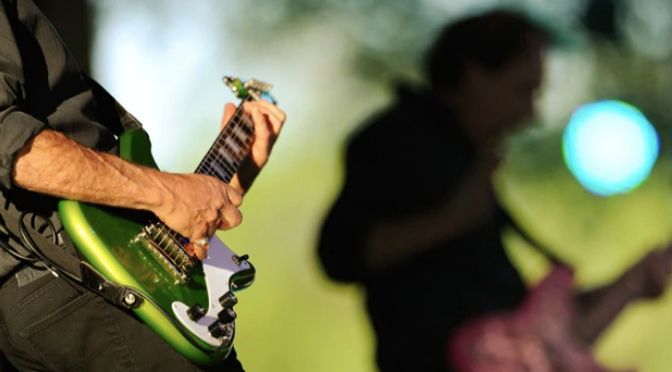 Here is the current line-up for the 2020 Garden Rocks Concert Series:
Peabo Bryson – NEW! March 4 and 5
The Orchestra starring former members of ELO March 6 through 9
The Guess Who March 10 through 12
Simple Plan March 13 through 16
STARSHIP featuring Mickey Thomas March 17 through 19
Mark Wills – NEW! March 20 through 23
The Spinners March 24 through 26
Sister Hazel March 27 and 28
The Pointer Sisters March 29 and 30
Steve Augeri – Former Lead Vocalist of Journey March 31 through April 2
Blood, Sweat & Tears April 3 and 4
Expose' April 5 and 6
Berlin April 7 through 9
A Flock of Seagulls April 10 and 11
Atlantic Starr – NEW! April 12 and 13
Tony Orlando April 14 through 16
High Valley – NEW! April 17 and 18
Rick Springfield April 19 and 20
Christopher Cross April 21 through 23
Plain White T's April 24 through 27
Don Felder – Formerly of The Eagles April 28 through 30
Don McLean – NEW! May 1 and 2
Casting Crowns – NEW! May 3 and 4
Ambrosia with Peter Beckett May 5 through 7
Thelma Houston – NEW! May 8 and 9
The Allman Betts Band – NEW! May 10 and 11
Air Supply May 12 through 14
Herman's Hermits starring Peter Noone May 15 through 18
Mike DelGuidice & Big Shot – NEW! May 19 through 21
Claudia Leitte – NEW! May 22 and 23
Daughtry – NEW! May 24 and 25
Marshall Tucker Band May 26 through 28
Crowder – NEW! May 29 and 30
Survivor May 31 and June 1
Garden Rocks Concert Series Dining Packages
Dining packages for the Garden Rocks Concert Series are also available. Guests can purchase a dining package for one of four Epcot restaurants that gets you a guaranteed seat for one of the 3 nightly shows.
When you making your advanced reservation (which is highly recommended), it will show you what time your show is based on the time of your dining reservation.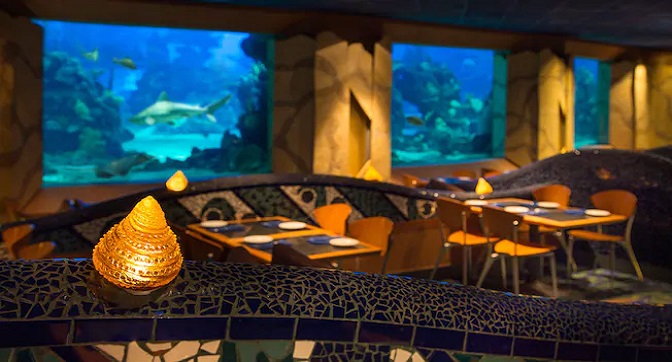 Each package includes an appetizer, entrée, and dessert—or one (1) full buffet or family-style dining, where applicable—along with a non-alcoholic beverage and one (1) guaranteed seat to the Garden Rocks Concert held on the same day.
Disney Dining Plan and Disney Deluxe Dining Plans require 2 table-service entitlements for this dining package. The prices listed below do not include tax or gratuity.
Biergarten Restaurant in Germany Pavilion
Lunch: $57 for adults; $32 for kids
Dinner: $57 for adults; $32 for kids
Coral Reef Restaurant in The Living Seas Pavilion
Lunch: $69 for adults; $22 for kids
Dinner: $69 for adults; $22 for kids
The Garden Grill Restaurant in The Land Pavilion
Breakfast $52 for adults; $31 for kids
Lunch: $65 for adults; $39 for kids
Dinner: $65 for adults; $39 for kids
Rose & Crown Pub & Dining Room in United Kingdom Pavilion
Lunch: $57 for adults; $22 for kids
Dinner: $57 for adults; $22 for kids
Menus for International Flower & Garden Festival
Part of any Epcot festival is the food. There are so many creative food options to discover at the Flower & Garden Festival. With over a dozen outdoor kitchens, everyone will be sure to find something they like!
Pricing and locations for the food options below can be found on Character Locator. Menu items with a (KA) are considered kid-approved!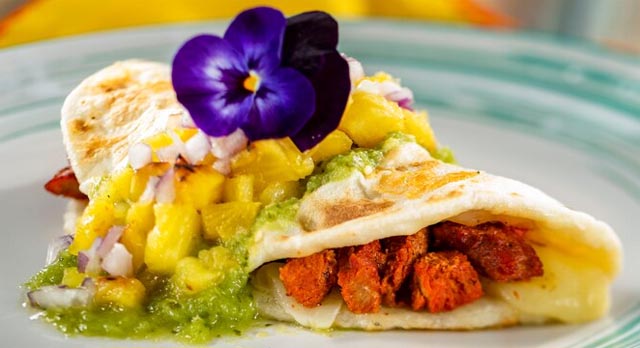 Bauernmarkt: Farmer's Market

Venture to Germany for Bavarian bites sure to sate foodies of all ages—every dish is köstlich!
Potato Pancakes with House-made Apple Sauce (Plant-based) (KA)
Potato Pancake with Caramelized Ham, Onions and Herb Sour Cream
Toasted Pretzel Bread topped with Black Forest Ham and Melted Gruyère Cheese (KA)
Warm Cheese Strudel with Mixed Berries (KA)
M.I.A. Brewing Hugo, Doral, FL
Bitburger Premium Pils, Rhineland-Palatinate, Germany
Stiegl Brewery Radler Zitrone, Salzburg, Austria
Beer Flight
Apfelschaumwein: Sparkling Wine and Apple Liqueur
The Citrus Blossom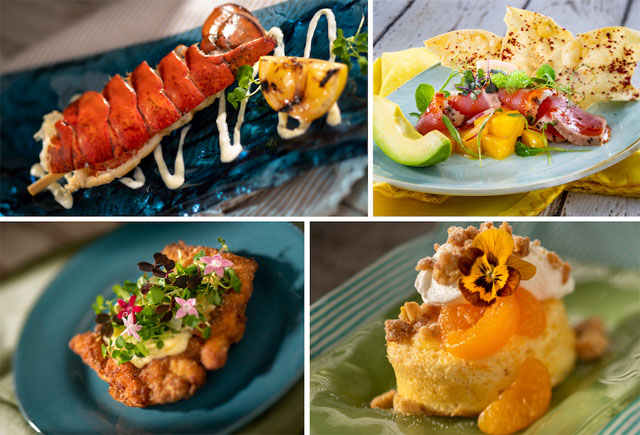 Treat your taste buds to the subtleties of lemon, orange and lime—turning delicious dishes even more delish!
Lobster Tail with Meyer Lemon Emulsion and Grilled Lemon (GF)
Tuna Tataki Bowl with Spicy Yuzu Glaze, Mango, Avocado and Pappadam Crisp
Crispy Citrus Chicken with Orange Aïoli and Baby Greens (KA) (GF)
Citrus Shortcake: Orange Chiffon Cake, Lemon Curd, Mandarins, Whipped Cream and Citrus Crumble
Orange Cream Shake in a Souvenir Orange Bird Sipper Cup (Non-alcoholic) (KA)
Islamorada Beer Company Coconut Key Lime Ale, Fort Pierce, FL
First Magnitude Brewing Lemon Hefeweizen, Gainesville, FL
Heavy Seas Brewery TropiCannon Citrus IPA, Halethorpe, MD
Beer Flight
Orange Sunshine Wine Slushy
Flavor Full Kitchen Hosted by AdventHealth

Discover the many flavors of healthy cuisine in this delightful eatery, featuring vegetables straight from the garden!
Grilled Baby Vegetables with Hummus Cream and Red Pepper Coulis (Plant-based)
Seared Verlasso® Salmon with Farro Risotto and Micro-herbs
Strawberry Mousse with Chocolate Crisp Pearls (KA)
Blood Orange Agua Fresca (Non-alcoholic)
Cookie Butter Worms and Dirt (Non-alcoholic) (KA)
Fleur de Lys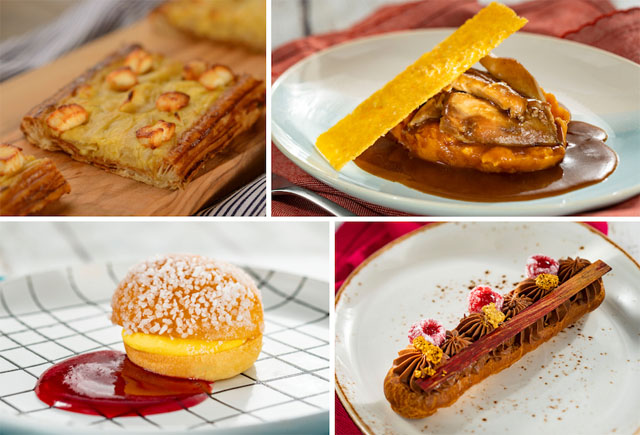 Indulge in haute cuisine and boissons that'll make you fall in ooo-la-la-love with this palate-pleasing Parisian pop-up!
Tarte aux Oignons Caramelises et Chévre: Goat Cheese Tart with Caramelized Onions on a flaky Pastry Crust
Canard Confit à l'Orange: Braised Duck Confit à l'Orange with Mashed Sweet Potatoes
Tarte Tropezienne, Coulis Framboise: Brioche Cake filled with Light Pastry Cream and Raspberry Coulis
Éclair Chocolat Framboise: Éclair filled with Raspberry and Chocolate Mousse
Kronenbourg Blanc 1664
VeRy Raspberry: Rosé Wine with Natural Raspberry Flavor
Bordeaux, Château Tarin
La Vie en Rose Frozen Slushy: Vodka, Grey Goose l'Orange Vodka, St. Germain Liqueur, White and Red Cranberry Juice
Florida Fresh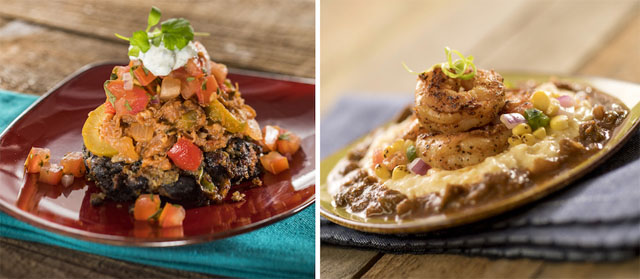 Enjoy sweet 'n' tangy treats from our own Sunshine State-station, nestled between the France and Morocco Pavilions.
Carne Guisada with Black Bean Cake and Cilantro Lime Sour Cream
Spicy Blackened Shrimp and Cheddar Cheese Grits with Brown Gravy and Local Sweet Corn Relish
Key Lime Tart with Toasted Meringue
Watermelon Cucumber Slushy (Non-alcoholic) (Plant-based) (KA)
Tampa Bay Brewing Company Twisted Strawberry Fest Fruit Ale, Tampa, FL
Big Top Brewing Company Conch Republic Key Lime Wheat, Sarasota, FL
First Magnitude Brewing Co. Monarch Milk Stout, Gainesville, FL
Beer Flight
Florida Orange Groves Winery Key Lime Sparkling Wine, St Petersburg, FL
Watermelon Cucumber Slushy with Gin
Hanami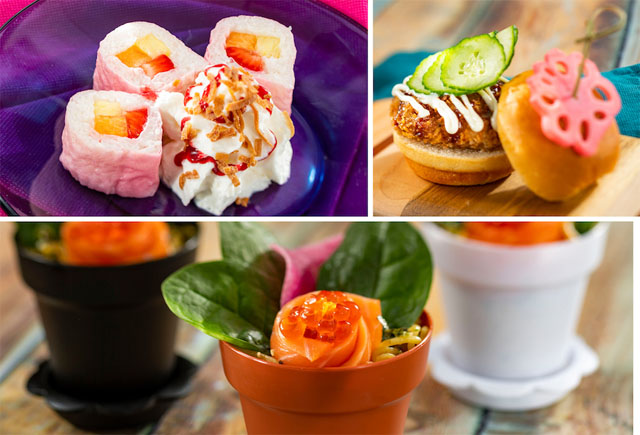 Journey to Japan for innovative plates crafted with culinary Zen—each delish dish is a Festival favorite!
Frushi: Strawberry, Pineapple and Cantaloupe wrapped in Sweet Rice and Pink Soy Wrap served with Whipped Cream, Drizzled Berry Sauce and Toasted Coconut (KA)
Menchi Katsu Slider: Japanese-style Panko-breaded Beef Patty topped with Tonkatsu Sauce, Mayonnaise, Cucumber, and Pickled Lotus Root
Salmon Flower Ikura: Fresh-cut Salmon, Salmon Roe, Spinach and Watermelon Radish, and Chilled Ramen tossed with Poke Sauce
Kirin Draft Beer
Strawberry Nigori Sake
Furano Martini: Vodka, Lavender Syrup and Yuzu Juice
Jardin de Fiestas

Take a food-tastic tour of the Mexico Pavilion… these tantalizing tastes will add some spice to your day!
Chilaquiles de Pollo: Chipotle-braised Chicken and Tortillas served with Salsa Ranchera, Monterey Jack Cheese, Crema Mexicana and Guajillo Cheese
Quesadilla al Pastor: Flour Tortilla filled with Monterey Jack Cheese and Pork Pastor topped with Grilled Pineapple, Salsa Verde, Red Onion and Cilantro
Choriqueso Torta: Bolillo Roll filled with Chorizo and Monterey Jack Cheese, Avocado Mousse and Jalapeños
Cruz Blanca Rosé Spritz: Effervescent Rosé Wheat Ale with Elderflower Liqueur
Mango Mexican Lucky Margarita: Spicy Ancho Verde Liqueur, 100% Agave Tequila Blanco, Mango-Passion Fruit Purée, Lime Juice, Applejack and Ginger Cordial served with a Tajin Chili-Lime Rim
Rosita Margarita: Rose Petal Liqueur, 100% Agave Tequila Blanco, Lemon and Cranberry Juices served with a Rose Petal Salt Rim
La Isla Fresca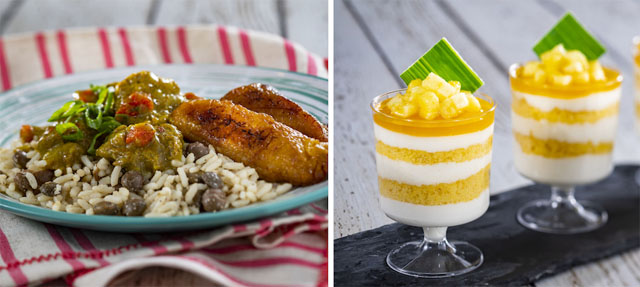 Nibble on Caribbean-seasoned dishes that'll send appetites swaying to the island beat!
Lamb Curry with Sweet Plantains and Rice
Sugar Cane Shrimp Skewer with Steamed Rice and Coconut Lime Sauce (KA)
Tropical Mousse Cup: Layers of Passion Fruit Cake, Coconut Mousse and a Tropical Fruit Glaze with Fresh Pineapple (KA)
Tropical Freeze (Non-alcoholic) (KA)
Golden Road Brewing Tart Mango Cart Wheat Ale, Los Angeles, CA
Tropical Freeze with Parrot Bay Mango Rum
Lotus House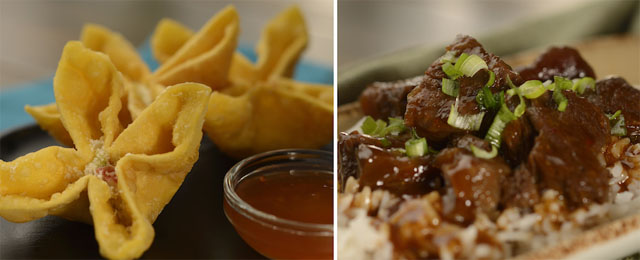 Sink your teeth into authentic Chinese eats filled with morsels of good fortune!
Szechuan Spicy Red-braised Beef Shank over Rice
Bon Bon Chicken Skewer with Sesame and Peanut Sauce
House-made Crab and Cheese Wontons
Panda" Bubble Tea: Classic Milk Tea with Black and White Boba Pearls (Non-alcoholic)
Jasmine Draft Beer
Marco Boba: Amaretto, Iced Coffee, Milk, and Boba
Kung Fu Punch: Vodka, Triple Sec, Mango Syrup and Orange Juice
Time Out: Bacardi Rum, Peach Liqueur, Peach Syrup, Piña Colada, Sprite, Soda Water and Magic Boba
Magnolia Terrace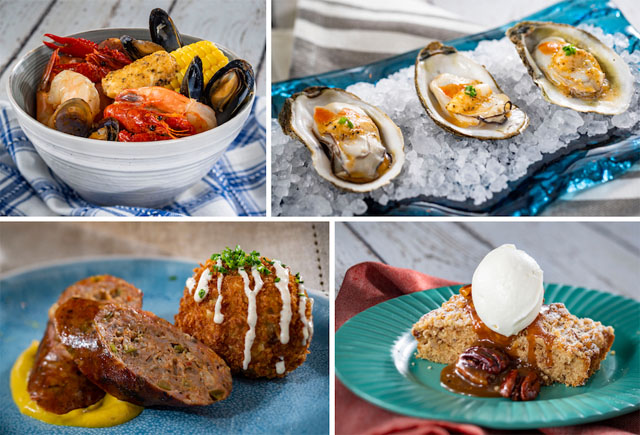 Get a nice, cozy feeling with some comfort food inspired by the Gulf region.
Southern Seafood Boil: Shrimp, Mussels, Crawfish, Potatoes, Corn and Andouille Sausage
Grilled Oysters with Cajun Butter
House-made Boudin Two Ways with Spicy Mustard
Pecan Cake with Maple Whipped Cream featuring Burton's Maple Syrup
Pecan Praline
Wild Heaven Beer Session Citrus Lager, Avondale Estates, GA
The Duck-Rabbit Craft Brewery Amber Ale, Farmville, NC
Parish Brewing Co. Ghost in the Machine Double IPA, Broussard, LA
Beer Flight
Northern Bloom

Please discriminating palates with fantastic fare from our Great White North neighbor… O Canada!
Seared Scallops with French Green Beans, Butter Potatoes, Brown Butter Vinaigrette and Apple-wood Smoked Bacon (GF)
Beef Tenderloin Tips, Mushroom Bordelaise Sauce, Whipped Potatoes with Garden Vegetables (KA)
Griddled Maple Pound Cake with Warm Peach Compote and Sweet Corn Gelato, featuring Burton's Maple Syrup (KA)
Maple Popcorn Shake (Non-alcoholic)
Unibroue Éphémère Apple Wheat Ale, Chambly, Québec
81Bay Brewing Apricot with Maple Syrup, Tampa, FL
Collective Arts Brewing Blackberry Fruit Beer, Hamilton, Ontario
Beer Flight
Maple Popcorn Shake with Tap 357 Maple Rye Whisky
Pineapple Promenade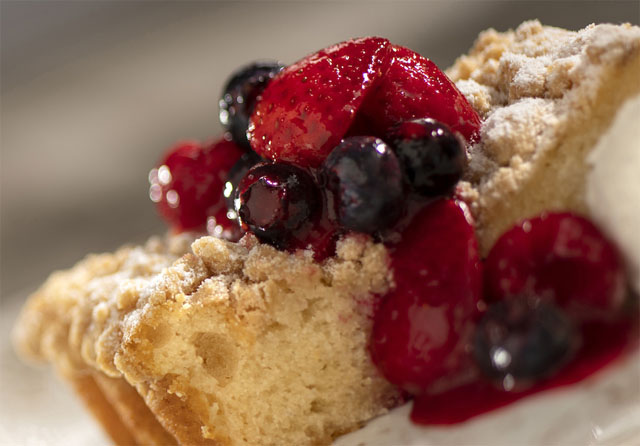 Get your tropical fruit fix from tart 'n' tangy to the sweetest frozen treats!
Spicy Hot Dog with Pineapple Chutney and Plantain Chips
Mixed Berry Buttermilk Cake
DOLE Whip® (Plant-based)(KA)
Frozen Desert Violet Lemonade (non-alcoholic) (KA)
Pineapple DOLE Whip® with Fanta (Non-alcoholic) (KA)
Collective Arts Brewing Piña Colda Sour, Hamilton, Ontario, Canada
Maui Brewing Co. Pineapple Mana Wheat, Kihei, HI
SweetWater Brewing Company Goin' Coastal IPA with Pineapple, Atlanta, GA
Playalinda Brewing Company Violet Lemonade Ale, Titusville, FL
Florida Orange Groves Winery Sparkling Pineapple Wine, St. Petersburg, FL
DOLE Whip® with Parrot Bay Coconut Rum
Pineapple Beer Flight
Primavera Kitchen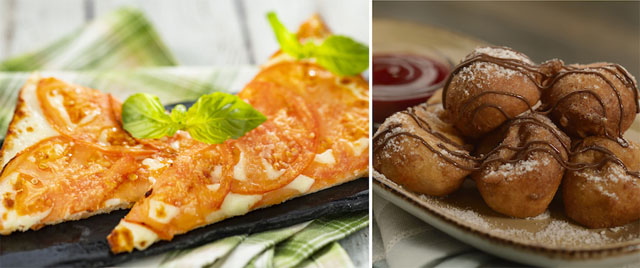 Mangiare hearty helpings of Old-Country dishes served with a glass of vino… now that's amore!
La Regina "Margherita": Rustic Italian Flatbread, Vine-ripened Tomatoes, Whole-Milk Mozzarella, Parmesan and Basil (KA)
Ravioli: Grilled Chicken Ravioli with Spring Vegetables and creamy Pesto Sauce (KA)
Zeppole: Ricotta Cheese Fritters, Powdered Sugar, Raspberry Sauce and Chocolate-hazelnut Drizzle (KA)
Peroni Nastro Azzurro Pilsner
Pinot Grigio, Santa Marina
Chianti, Gabbiano
Prosecco, Villa Sandi
Corbinello, Montegrande
Moscato, Fior d'Arancio Montegrande
Bellini
Frozen Italian Margarita with Limoncello and Tequila
Taste of Marrakesh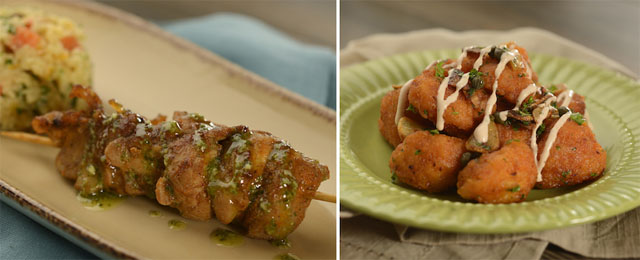 Intoxicate taste buds with the exotic flavors of this North African mecca—mysterious Morocco!
Harissa Chicken Kebab with Dried Fruit Couscous Salad and Cilantro Oil
Fried Cauliflower with Capers, Garlic Parsley and Chili Ranch Sauce (KA)
Walnut Honey Baklava
Casa Beer
Larroque Chardonnay, Meknes
White Sangria
Desert Rose: Sparkling Wine topped with Pomegranate Liqueur
Trowel & Trellis Hosted by Impossible™ Foods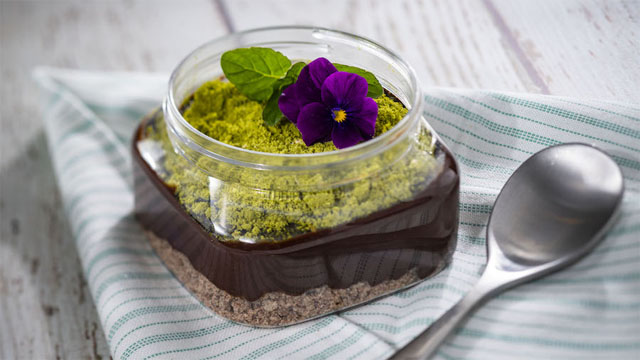 Delight in some of your favorite foods—created from innovative recipes with some impossibly delicious twists!
Grilled Street Corn on the Cob with Savory Garlic Spread (GF) (Plant-based) (KA)
Impossible™ Farmhouse Meatball with Lentil Bread, Spinach, Marinated Vegetables, and Creamy Herb Dressing (Plant-based)
Chocolate Pudding Terrarium with Avocado Cream, Matcha Crumble, and Baby Herbs (GF) (Plant-based)
Bloomin' Blueberry Lemon and Ginger Tea featuring Twinings of London® (Non-alcoholic)
Playalinda Brewing Company Tropical Wonderland Wheat Ale, Titusville, FL
Bloomin' Blueberry Lemon and Ginger Tea featuring Twinings of London® with Tito's Handmade Vodka served in a Mason Jar
The Honey Bee-stro Hosted by National Honey Board™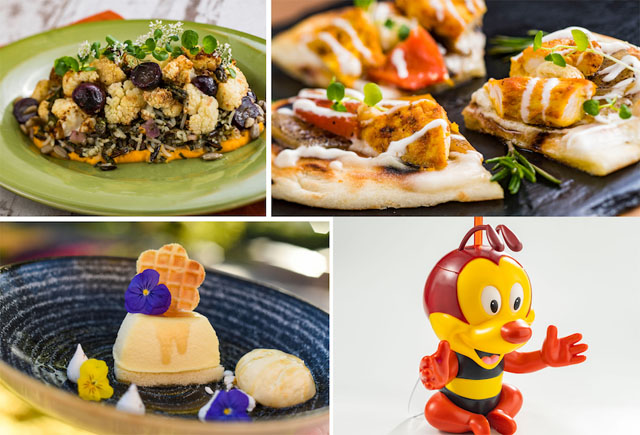 Quell cravings with an incredible menu of all-natural food and drink infused with the nectar of the gods!
Roasted Cauliflower with Buckwheat Honey Carrot Puree, Wild Rice Pilaf, Asparagus, Honey Blistered Grapes, Sunflower Brittle and Coriander Flowers (GF) (KA)
Honey Tandoori Chicken Flatbread with White Cheddar Cheese, Charred Vegetables, Clover Honey Sour Cream and Micro Citrus Greens
Local Wildflower Honey-Mascarpone Cheesecake with Orange Blossom Honey Ice Cream garnished with Fennel Pollen Meringue Kisses (KA)
Honey-Peach Freeze in a Souvenir Spike the Bee Sipper Cup (Non-alcoholic) (KA)
B. Nektar New Wave Lemonade Mead, Ferndale MI
Florida Orange Groves Winery Orange Blossom Honey Wine, St. Petersburg, FL
Honey-Peach Freeze with Blueberry Vodka
Specialty Coffee Carts Hosted by Joffrey's Coffee & Tea Company®
Wet your whistle with Festival-inspired beverages and adult libations at coffee carts across the park!
Future World Coffee Cart Hosted by Joffrey's Coffee & Tea Company – Spring Berry Bliss: Frozen Strawberry and Coconut Syrup topped with Raspberry Vodka
Port of Entry Coffee Cart Hosted by Joffrey's Coffee & Tea Company – Passion Flower: Frozen Passion Fruit and Tea infused with Lemon Vodka
American Adventure Coffee Cart Hosted by Joffrey's Coffee & Tea Company – Tropical Breeze: Frozen Lemon, Coconut Syrup and Pineapple Rum
Canada Coffee Cart Hosted by Joffrey's Coffee & Tea Company – Orange Splash: Frozen Lemon mixed with Orange Vodka
BLOCK & HANS – American Adventure Pavilion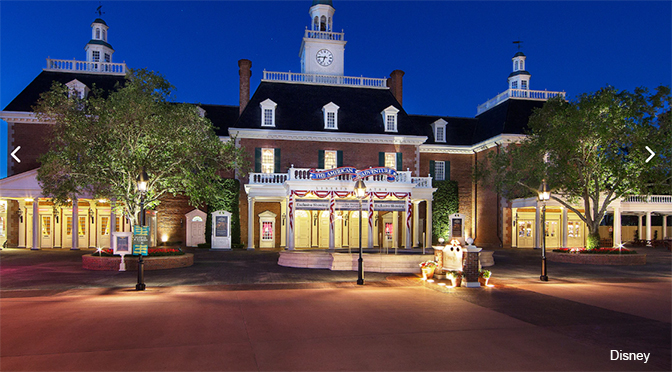 Arendelle Aqua Lemonade: Frozen Lemonade with Monin Cotton Candy (Non-alcoholic) (KA)
Redstone Meadery Black Raspberry Nectar, Boulder, CO
Arendelle Aqua Lemonade: Frozen Lemonade served with Monin Cotton Candy and Ole Smoky Blackberry Moonshine
COOL WASH – Near Test Track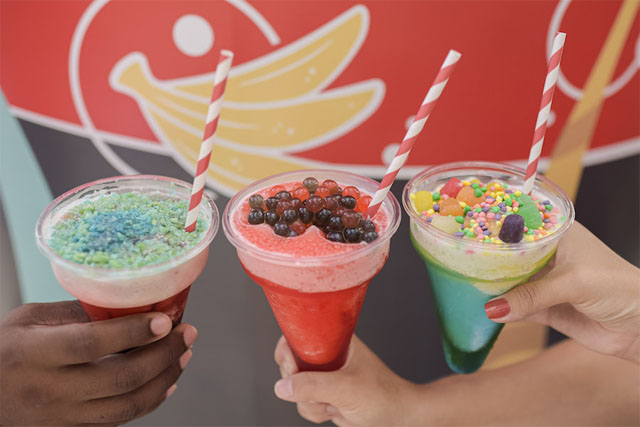 Assorted Coca-Cola® Slushies (Non-alcoholic) (KA)
FUNNEL CAKE – American Adventure Pavilion
Mini Funnel Cake topped with Lemon Cheesecake Ice Cream, Blueberries, and Powdered Sugar (KA)
REFRESHMENT OUTPOST – World Showcase Plaza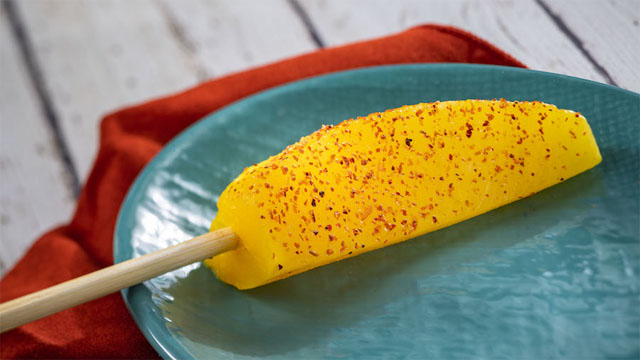 Pineapple Skewer with Tajin Seasoning (Plant-based) (KA)
3 Daughters Raspberry Lemonade Dry Hard Cider, St. Petersburg, FL
Short's Brewing Company Starcut Ciders Mosa Hard Cider, Bellaire, MI
Ciderboys Banana Bliss Hard Cider, Stevens Point, WI
Cider Flight
REFRESHMENT PORT – World Showcase Plaza
Fried Green Tomatoes with Blue Crab-Fennel Salad, Remoulade, and Smoked Paprika Oil
Popsicle Trio: Honeydew, Raspberry-Mint, and Coconut-Lime (KA)
Short's Brewing Company Starcut Ciders Squishy Hard Cider, Bellaire, MI
Festival Merchandise
Plenty of festival-exclusive merchandise will be available to purchase at Flower & Garden Festival.
Orange Bird Minnie Ears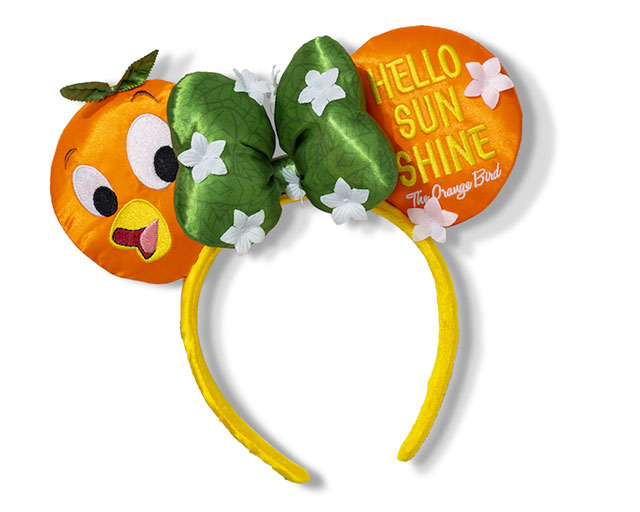 Orange Bird is featured on these adorable ears! "Hello Sunshine" is displayed on one ear while the Florida parks mascot is displayed on the other. A green bow with white flowers is placed in the middle.
Orange Bird and Spike the Bee Sippers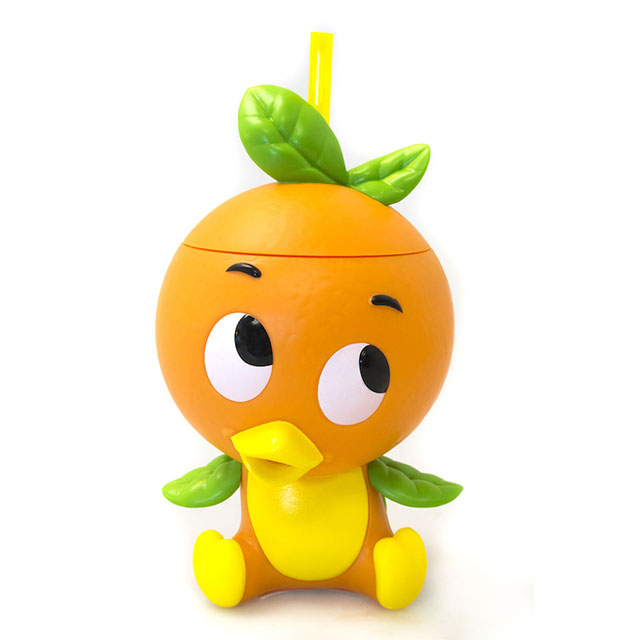 If you need an adorable drink holder or souvenir to take home, look no further than these sipper cups! The Spike the bee sipper is new this year and can be found at the Honey Bee-stro.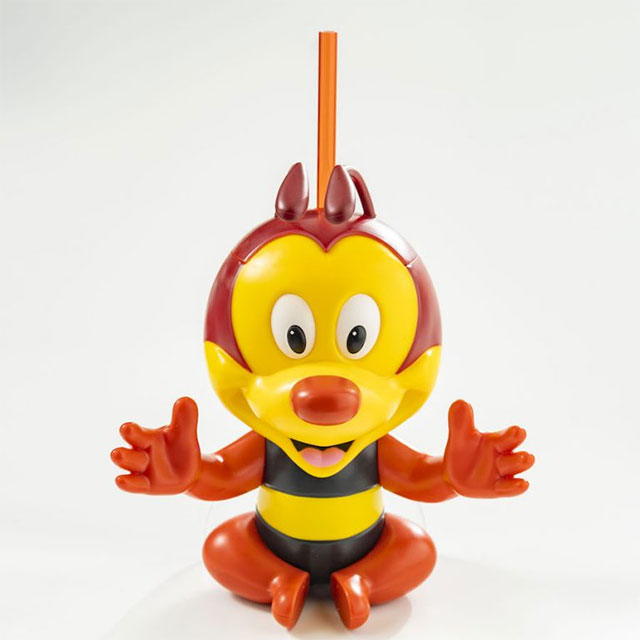 Spike the Bee will also be hiding among his favorite flowers throughout World Showcase as a part of Spike's Pollen-Nation Exploration Scavenger Hunt. Maps can be purchased at Mouse Gear, World Traveler and select Festival Markets.
Citrus Backpack and Spirit Jersey
Complete your Citrus look with the backpack and spirit jersey!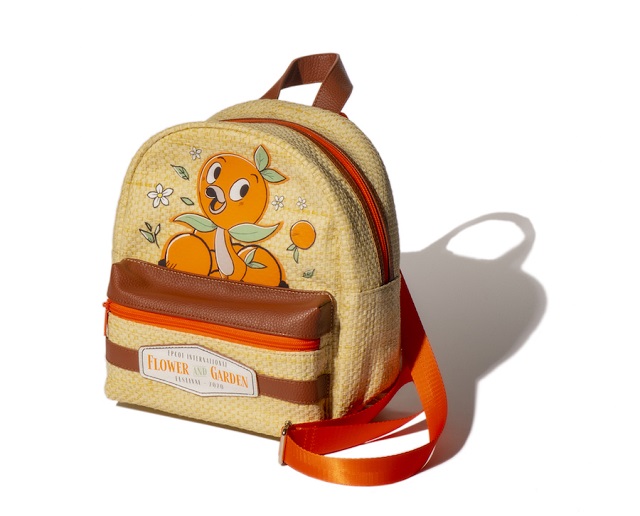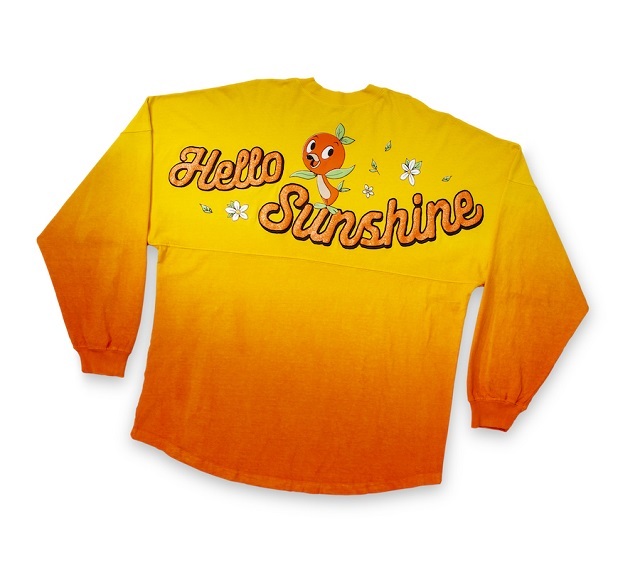 Minnie's Flower Cart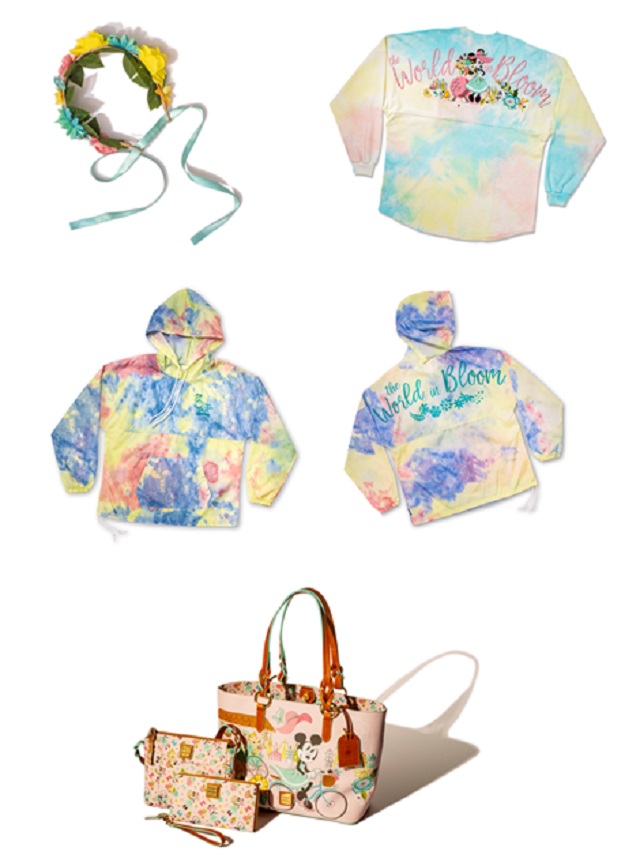 This flowery collection is certainly going to be popular as the flower crown is just too adorable! The spirit jersey and apparel pieces are one not to miss!
Mickey's Farmer's Market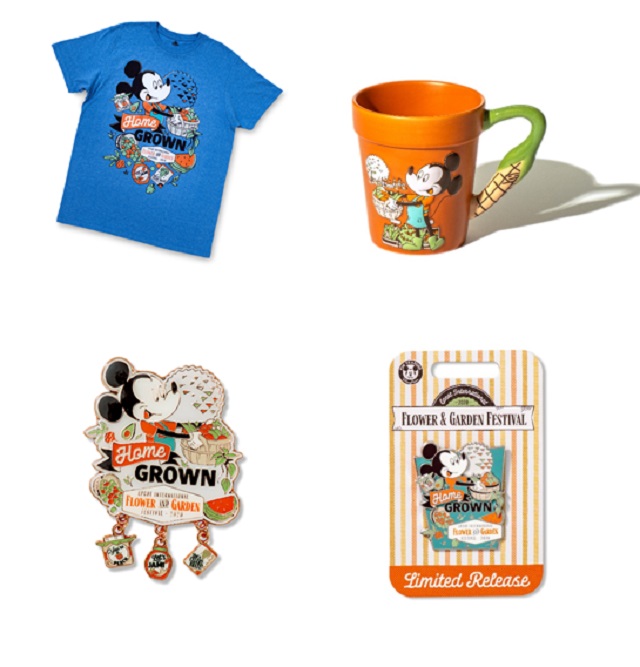 It's not a visit to a festival dedicated to flowers and garden without having merchandise dedicated to a farmer's market!
Wishables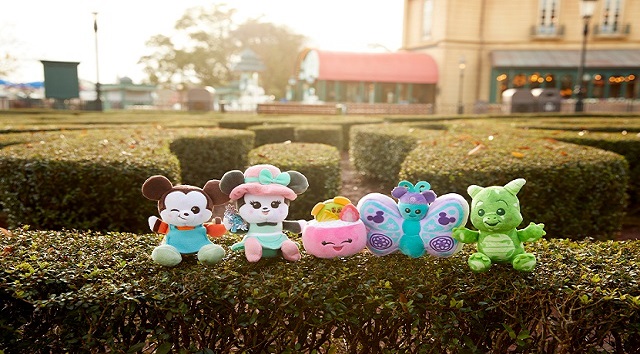 This release coincides alongside the festival this year as you can purchase them at Epcot during the festival as well as online at shopDisney.com.
Annual Passholder Magnets, Pins, and Shirts
Disney Annual Passholders love to show off their passholder status with magnets! There are two options this year. The Donald Duck magnet will be available to Passholders March 4 to April 19, while Orange Bird will be available from April 20 to June 1. Pick up will be at Mousegear.
Annual Passholder Discounts
While we are talking about Annual Passholders, did you know they get discounts on many of the festival offerings?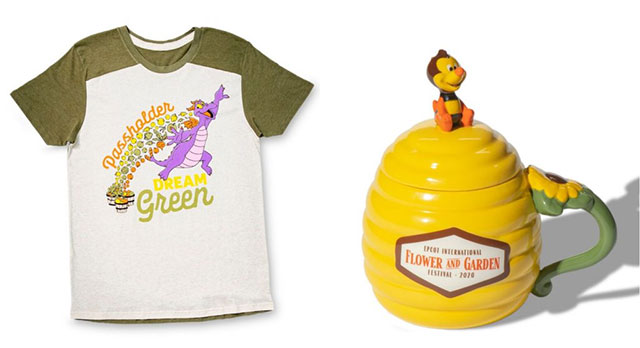 In addition to the magnets and other merchandise items available just to passholders, APs can receive a 20% discount on all merchandise. Not a bad perk to have at all!1
Passholders also enjoy a 10% discount on the Garden Rocks Concert Series dining package. Plus, the Behind the Seeds and Garden of World tours are also eligible for a 15% discount for Annual Passholders.
Kid-Approved Activities at Flower & Garden Festival
Of all the Epcot festivals, the Flower & Garden Festival is probably the most kid-friendly! With all the fun character topiaries, kid-approved menu items, and exhibits even the youngest guests will have a great time!
Many of these activities are already listed throughout this guide, but here are a few more! Let's take a look:
Spike's Pollen Nation Scavenger Hunt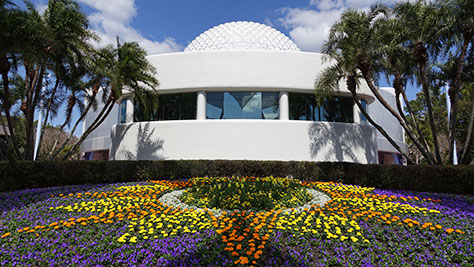 Gardeners of all ages are invited to participate in a springtime scavenger hunt starring Spike, the buzziest honey bee at Disney World. Embark on a search for Spike's best blooms as he pollinates flower beds across Epcot!
Begin this botanical-happy hunt by purchasing a map at Port of Entry. Next, buzz through the World Showcase in search of flowers featuring the big bee himself, then return your completed map to Port of Entry for a special surprise.
Maps are $6.99 (Annual Passholder discounts do apply) and are only available while supplies last.
Egg-stravaganza Scavenger Hunt
Break out the bunny ears! From March 27 through April 12 (while supplies last), the "hoppy-est place on Earth" welcomes rabbits of all ages to Egg-stravaganza, a popular scavenger hunt that has everyone scampering around World Showcase in search of Disney character-themed eggs.
Prepare to crack the case of the oversized orbs by purchasing a map. Maps can be found at Disney Traders, Pin Central, and World Traveler.
Next, hunt high and low for hidden eggs featuring your fave Disney peeps and return the completed map to Disney Traders for a surprise.
Maps are $6.99 (Annual Passholder discounts do apply) and are only available while supplies last.
So, are you ready to explore Epcot's International Flower & Garden Festival?
I hope you enjoyed this virtual tour of Flower & Garden Festival! Now that you are well-prepared, you can head to Epcot this spring to enjoy the beautiful blooms, delicious food, and even participate in a tour or two!
As always, Character Locator is the best source around for your planning needs! You will find detailed maps, prices for the menu offerings, and everything else you need to plan your day at Epcot!
What questions do you have about Flower & Garden Festival? Ask them below or on Kenny the Pirate's facebook page!
-Monica