Check out the buzz at Epcot's Bee-Stro Garden. You will find the best festival food here along with interesting bee and honey info here.
Flower and Garden Festival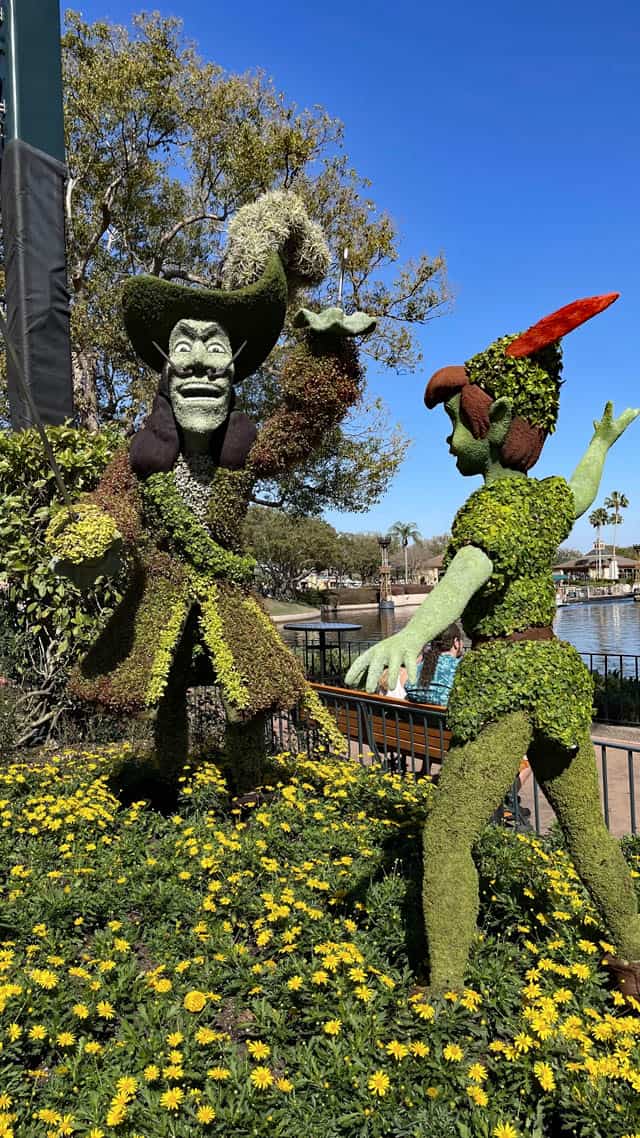 International Flower and Garden Festival is the most beautiful of all Epcot's festivals. Step into brilliant gardens, themed topiaries, a rockin' concert series, magic bands, merchandise, and more. Also, check out the brand new Spaceship Earth light show HERE.
EPCOT's International Flower and Garden Festival takes place from March 2 to July 4, 2022. In addition, check out our complete guide to EPCOT's 2022 Flower and Garden Festival HERE.
The Bee-stro Garden Booth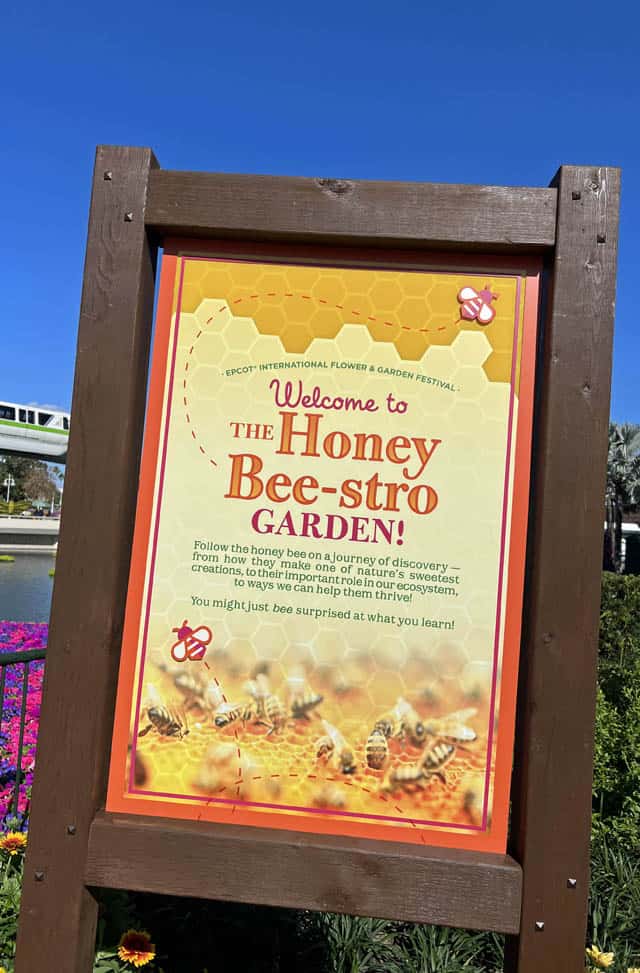 Since debuting in 2018, this wonderful booth has delighted guests with dishes features on of my (Susan) favorite foods, honey. Because it's sponsored by the National Honey Board, food is only the beginning at this location.
Bees are amazing. They play a huge part in our world's food supply.
Menu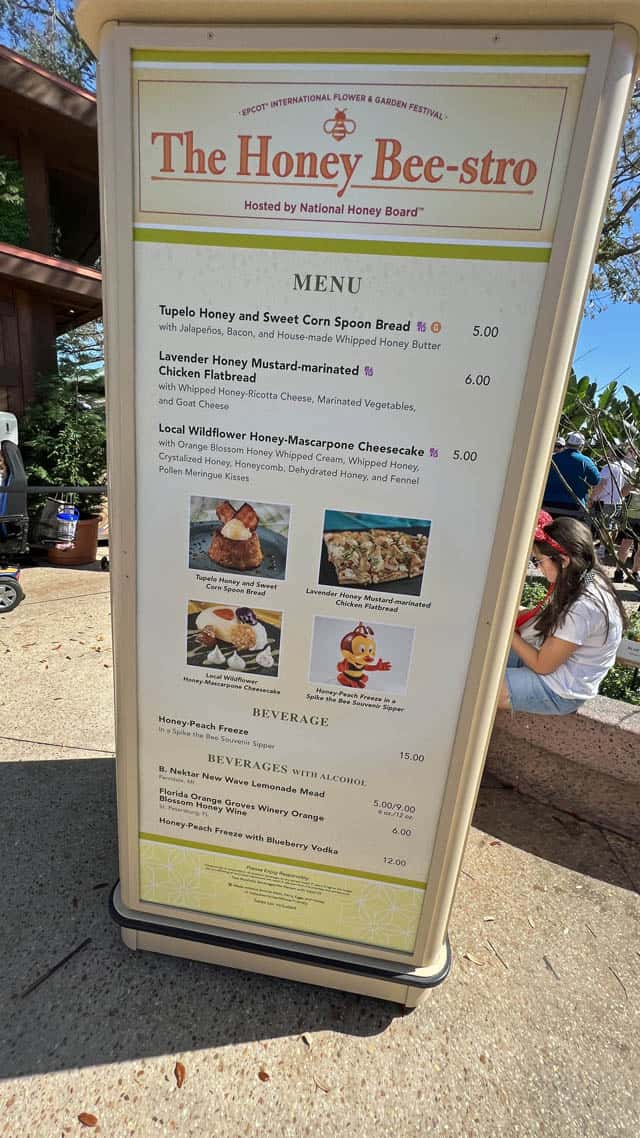 Rather than focusing on regional dishes, this booth's focus is everything honey. Check out the menu prices above and items available listed below:
Food
Tupelo Honey and Sweet Corn Spoon Bread
Lavender Honey Mustard-marinated Chicken Flatbread with Whipped Honey-Ricotta Cheese, Marinated Vegetables, and Purple Haze Lavender Goat Cheese
Local Wildflower Honey-Mascarpone Cheesecake with Orange Blossom Honey Whipped Cream, Whipped Honey, Crystalized Honey, Honeycomb, Dehydrated Honey, and Fennel Pollen Meringue Kisses
Beverages:
Honey-Peach Freeze in a Souvenir Spike the Bee Sipper Cup
First Magnitude Brewing Co. Honey Bee Citrus Blonde Ale, Gainesville, FL.
Florida Orange Groves Winery Orange Blossom Honey Wine, St. Petersburg, FL
Honey-Peach Freeze with or without Blueberry Vodka
Tupelo Honey and Sweet Corn Spoon Bread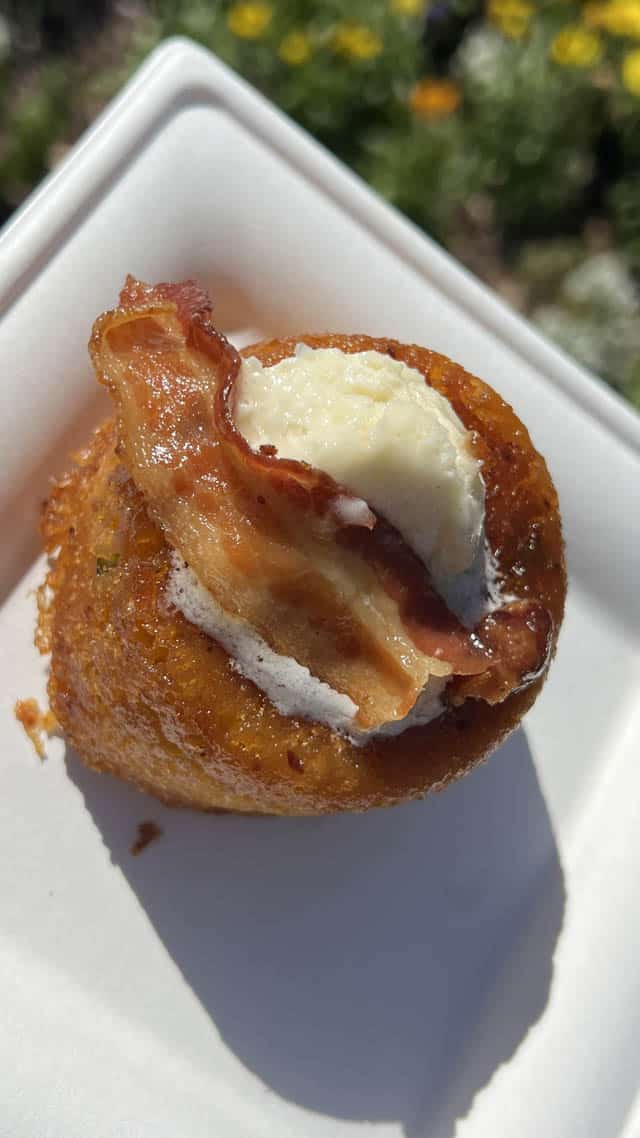 Spoon bread is a southern dish traditionally made with cornbread, milk, eggs, and butter to create a soft texture with no crumbs. This version added not only Tupelo honey but also jalapeños, bacon, and house-made whipped honey butter.
At the Honey Bee-Stro Booth, it had a slightly crunchy outside texture like it had been coated in honey. The result is nothing short of wonderful! All of theses flavors combined created the perfect spoon bread. Is your mouth watering yet?
Chicken Flatbread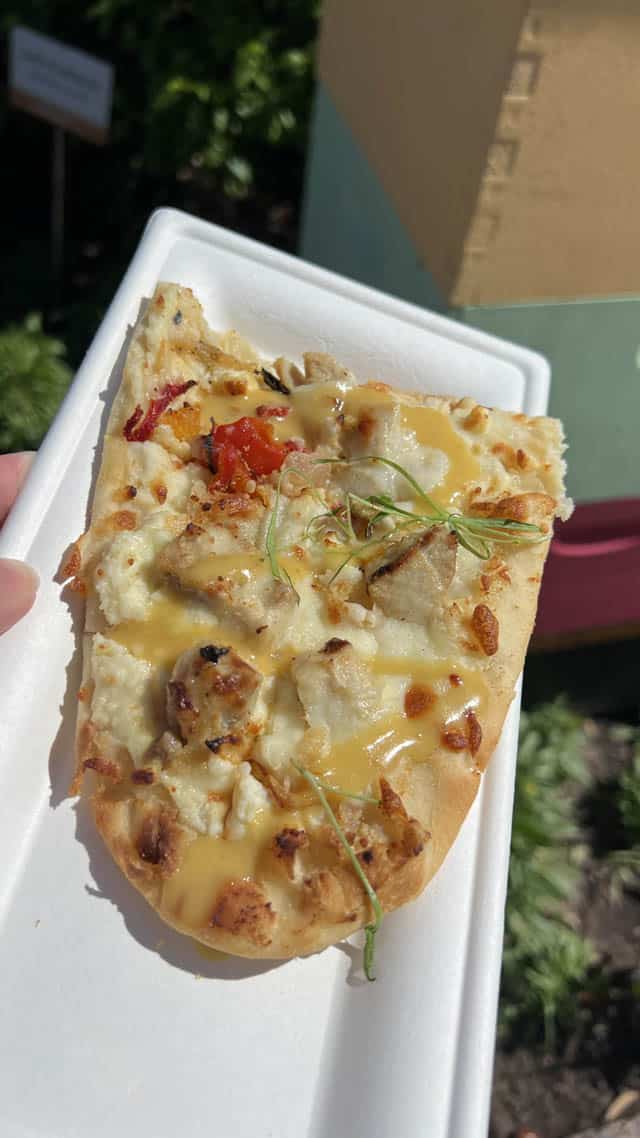 Next, I (Susan) tried the Chicken Flatbread. It's one of the better festival values priced at $6.50. This lavender honey mustard-marinated Chicken Flatbread is large enough for lunch. The combination of whipped honey-Ricotta Cheese, marinated vegetables, and purple haze lavender goat cheese were fabulous. It was difficult to distinguish the flavors individually, but they all blended together beautifully.
As you can see from the picture, they're weren't too many vegetables. However, I really appreciated the fact that they didn't overpower the dish. The honey mustard gave a slight bitter taste that balanced the sweetness. This was the best flatbread I've ever tasted!
Cheesecake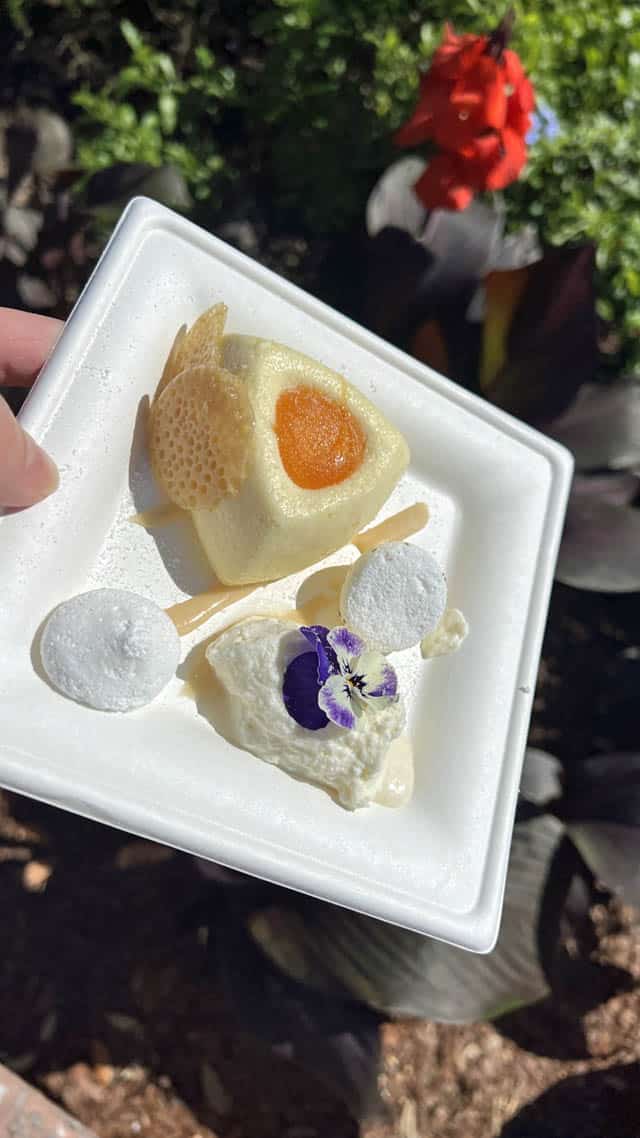 Last, but not least, I tried the cheesecake. Usually I'm not a fan of booth desserts. They're just too sweet and don't taste up to their appearance. However, this local wildflower honey-mascarpone cheesecake was light and delicious and not overly sweet. Made with local wildflower honey, this cheesecake tops my list of festival desserts I've ever tasted!
Blossom honey whipped cream, whipped honey, crystalized honey, honeycomb are added for a depth of honey flavors. This dish is accented with dehydrated honey, and fennel pollen meringue. The dehydrated honey disc tasted like a piece of honey candy. I didn't detect fennel in the meringue. If you enjoy meringue, you'll like this version too. Hope you'll give this one a try on your next visit!
Honey-Peach Freeze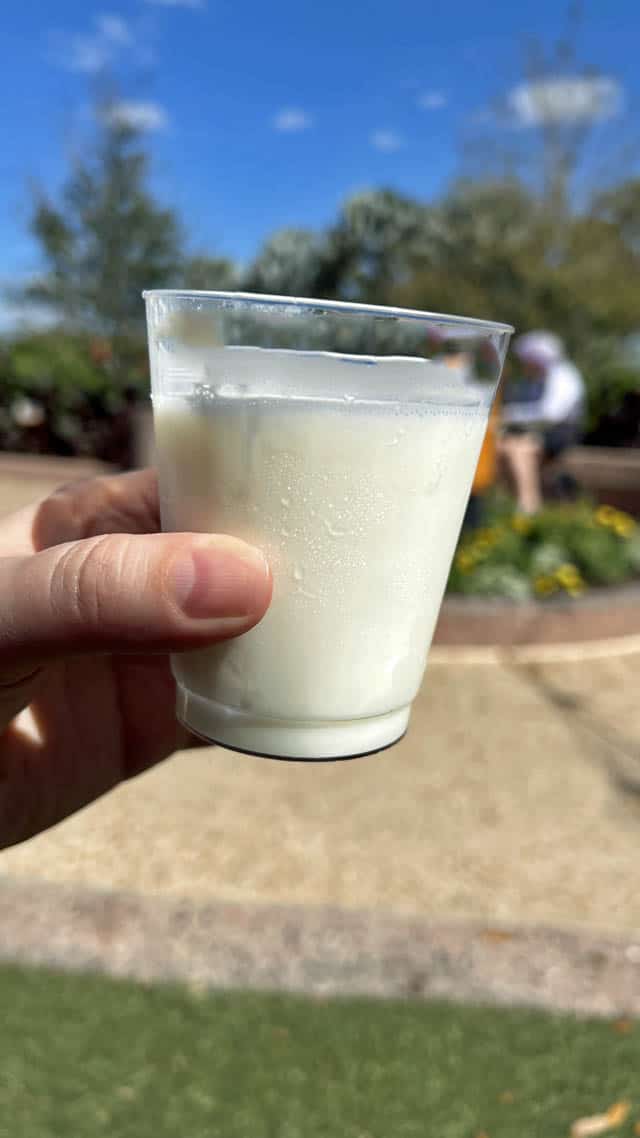 My feelings are mixed on the honey-peach freeze. Like other beverages here, it wasn't overly sweet, which is a win! However, the peach and honey flavors were subtle, more like a milk consistency. Additionally, it wasn't frozen, just cold, and didn't really have much flavor.
So, it you're looking for a slightly sweet milk, try it. Otherwise, you may want to skip this one. Guests can order the honey-peach freeze with or without alcohol. Also, there's an option to order it with the popular Spike the Bee sipper souvenir cup.
All About Honey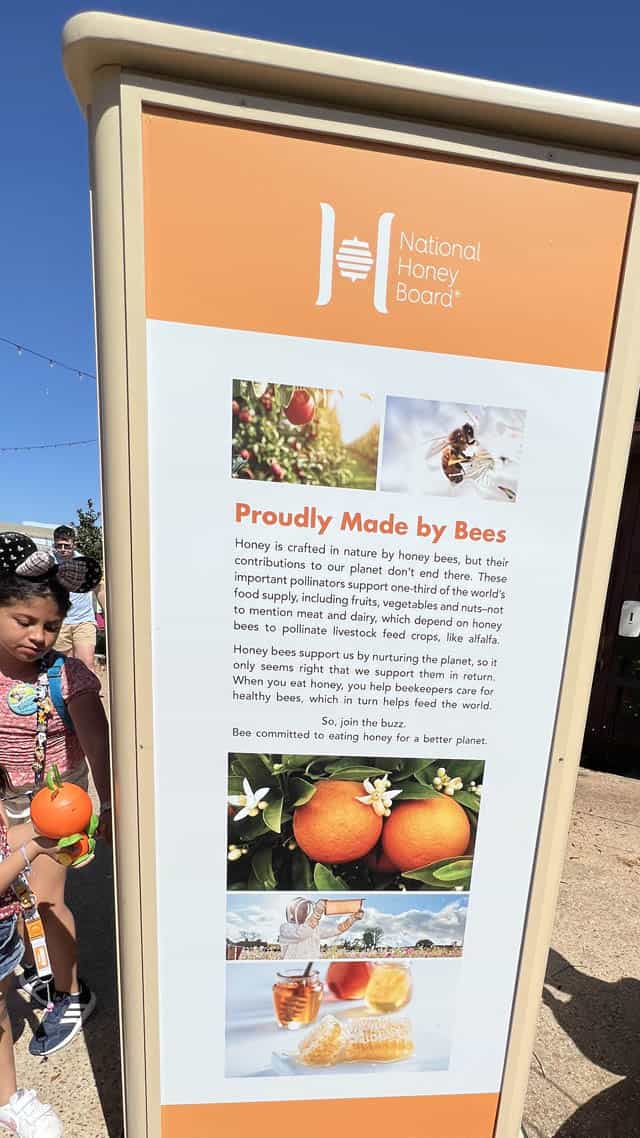 As a part of their booth sponsorship, the National Honey Board gives guests educational information on bees and honey varieties. According to the National Honey Board, bees pollinate support one-third of the world's food supply, including fruits, vegetables, and nuts. Additionally, they support meat and dairy products for to pollinate livestock and feed crops.
Honey Varieties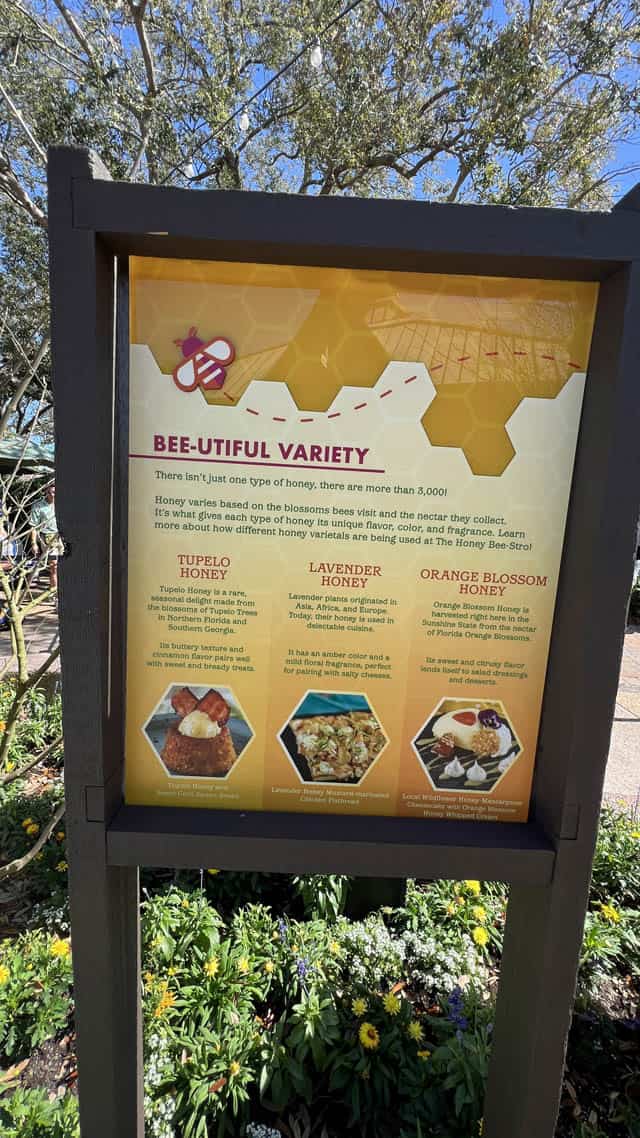 There are so many varieties of honey, each with a unique flavor and color. Some of the varieties used here include Tupelo Honey, Lavender Honey, and Orange Blossom Honey.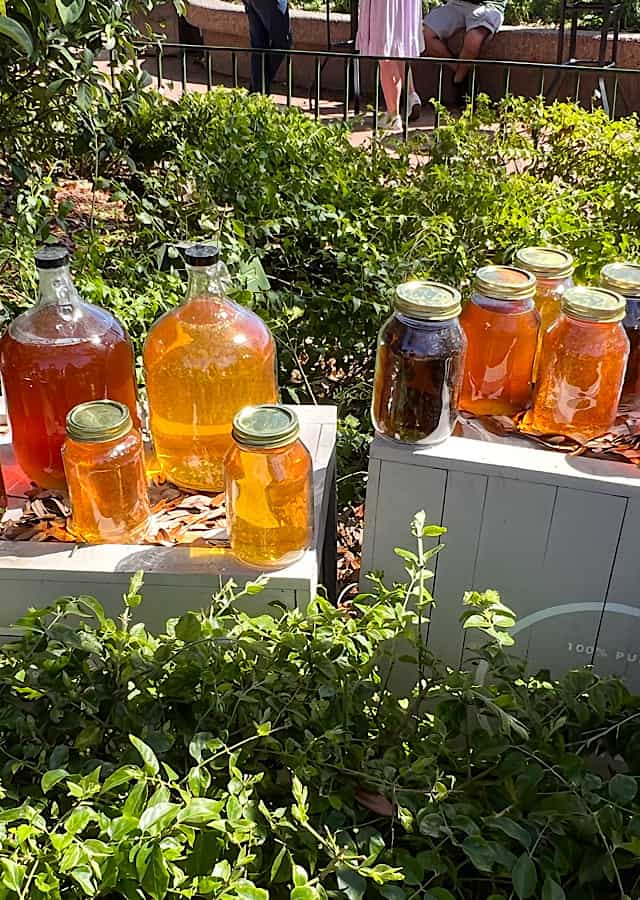 Used in the spoon bread dish, Tupelo Honey is a rare treat made from Tupelo Tree blossoms in Northern Florida and Southern Georgia. It gives dishes a buttery texture. Next, Lavender Honey came from Asia, Africa, and Europe originally. In the chicken flatbread, it gives off a mild floral fragrance.
Third, the Orange Blossom Honey is gathered in Florida from orange blossoms. It gives the delicious cheesecake a sweet, citrus flavor.
Honey Production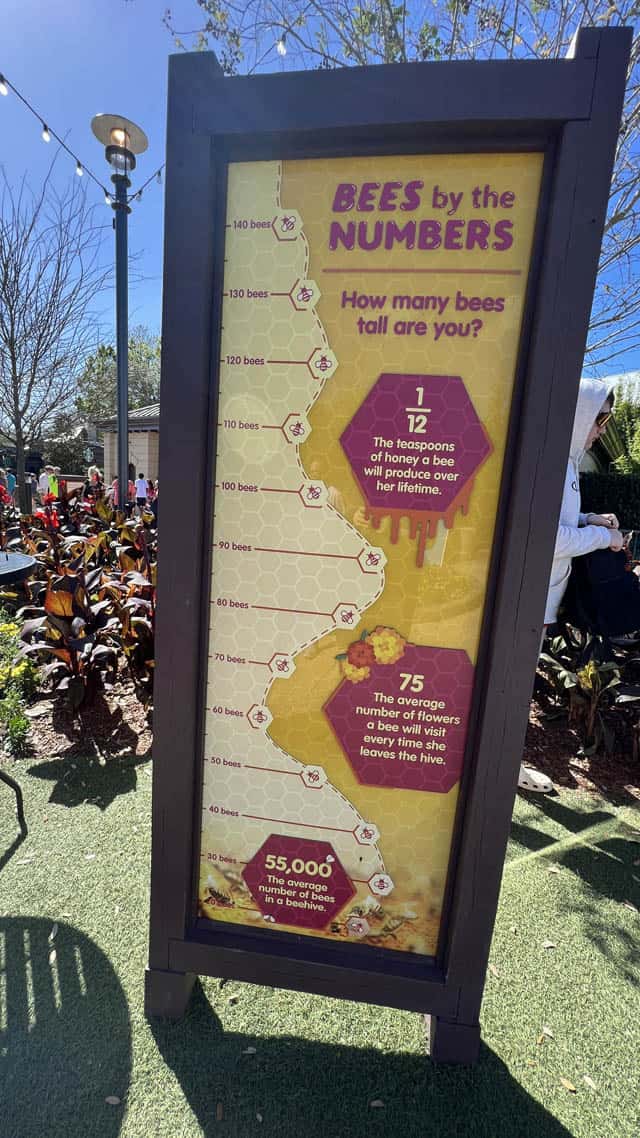 In this area, kids of all ages can check out bee facts and measure their height in bees using the sign shown above.
Making Honey
Bees really are incredible! In addition to pollinating flowers, vegetables, and nuts, they give us the most incredible thing: honey. But, how do we actually get honey from them? There are a series of steps involved.
First, honey bees collect nectar from flower blossoms and bring it back to the hive. Second, bees deposit nectar into the honeycomb as they rapidly fan their tiny wings. This causes the liquid to evaporate and creates honey! Last, beekeepers safely remove honey from honeycomb to strain and bottle it.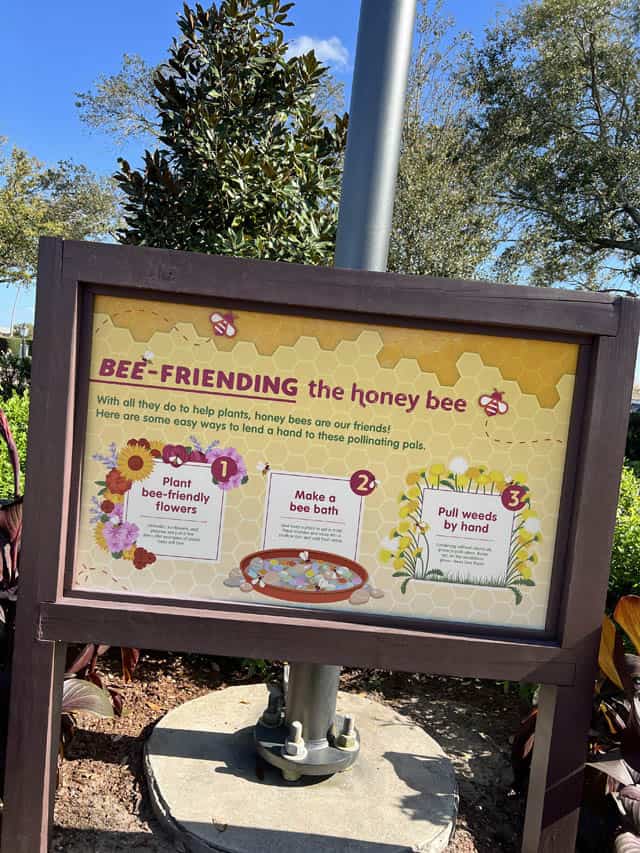 Check out some of the ways you can help out these wonderful creatures above.
Photo Backdrop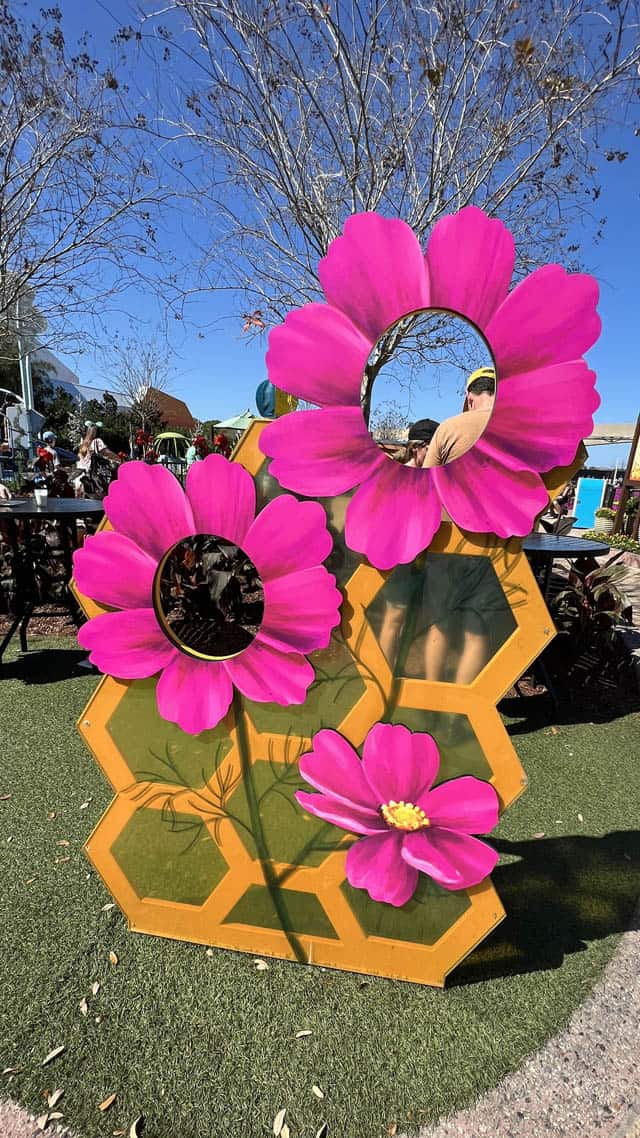 While you're at the kitchen, get a picture in the honeycomb blossom photo op located in the grassy area here. Such a cute backdrop!
Areas to Eat and Explore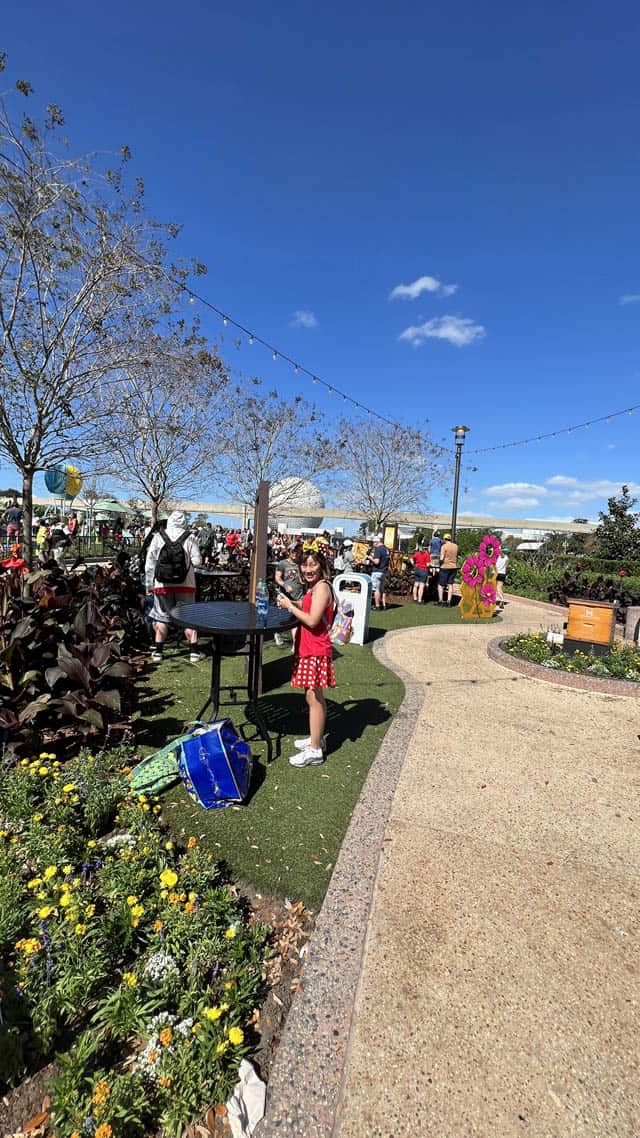 Flower and Garden festival booths, including this one, get extremely busy! However, guests eating here find a large grassy area with several standing tables. You can see the walkway and tables above.
National Bee Board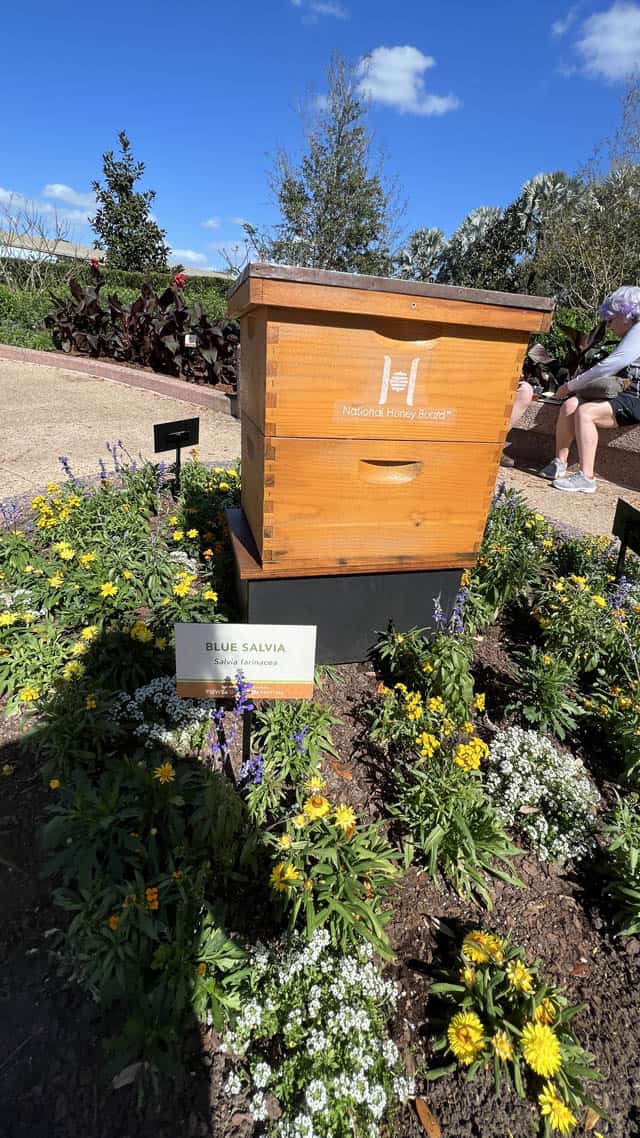 Honey is a one-ingredient recipe made by bees, flowers and mother nature herself. This entire area was a such a pleasure to eat at and explore. I hope you'll stop by if you get a chance.
To learn more about honey, bees and sustainability, recipes and where to find various honey varieties, go to the National Honey Board's website HERE.
Are you planning a trip to EPCOT's Flower and Garden Festival? If so, will you try this booth? Please tell us your thoughts in the comments below or on our Kenny the Pirate's Facebook page.