Check out details and pictures of all the new and returning dishes at EPCOT's Flavor Full Kitchen booth in our review here.
Flower and Garden Festival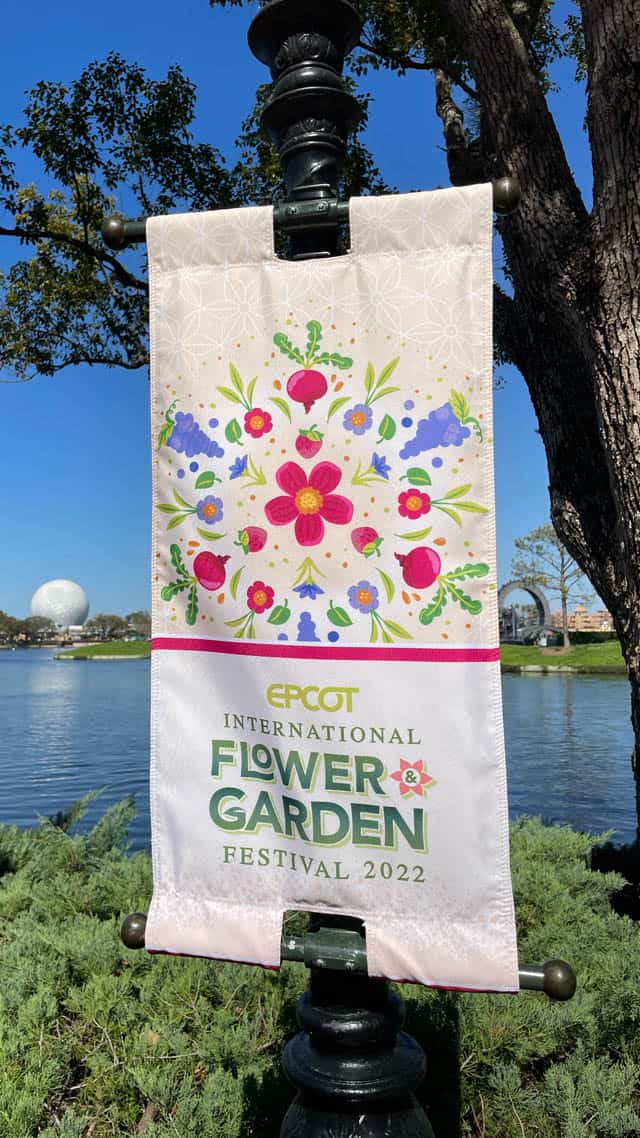 International Flower and Garden Festival is the most beautiful of all Epcot's festivals. Step into brilliant gardens, themed topiaries, a rockin' concert series, magic bands, merchandise, and more. Also, check out the brand new Spaceship Earth light show HERE.
EPCOT's International Flower and Garden Festival takes place from March 2 to July 4, 2022. In addition, check out our complete guide to EPCOT's 2022 Flower and Garden Festival HERE.
Flavor Full Kitchen Booth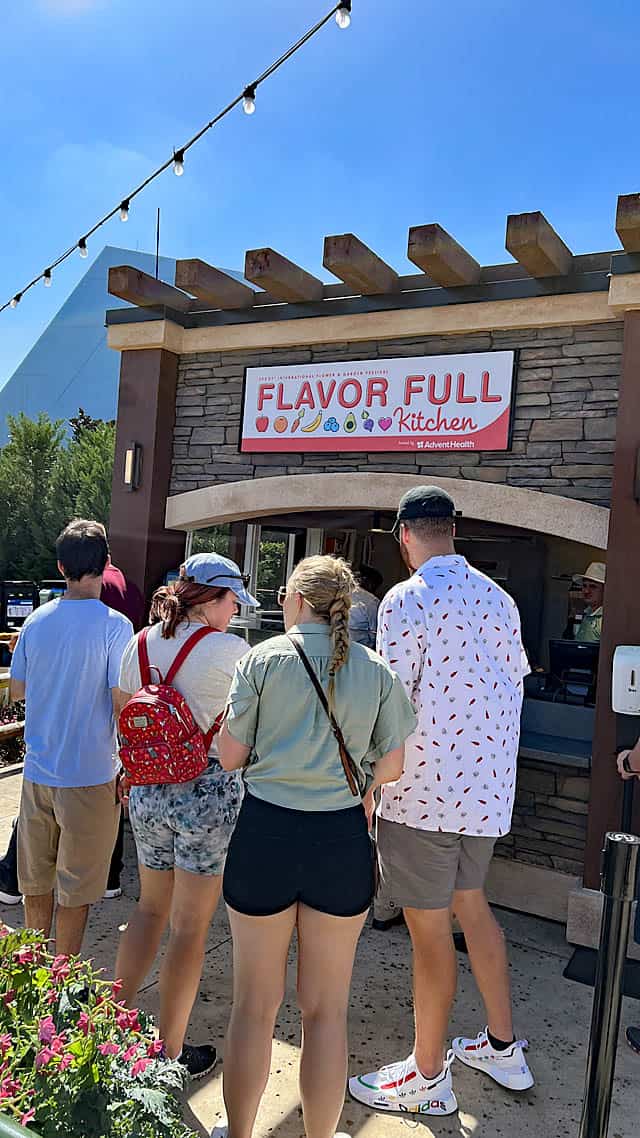 Sponsored by Advent Health, this year's Flavor Full Kitchen Flower and Garden Festival booth returns with a a mix of returning and new items. You'll find this booth between the Imaginations Pavilion and Refreshment Port. Although there's not a dedicated table area here, there are nearby tables spread out along the main pathway.
Menu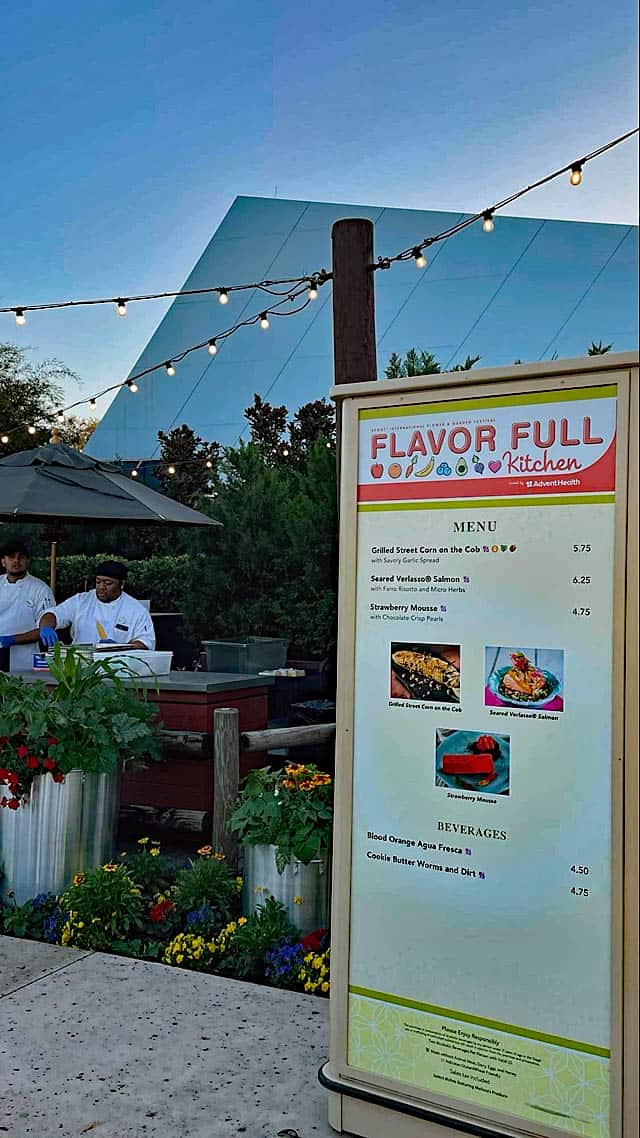 Nourish yourself with flavorful fare made with healthy ingredients fresh from the garden at this booth. Check out the menu below:
Food
Grilled Street Corn on the Cob with Savory Garlic Spread (plant-based and gluten/wheat-friendly)
Seared Verlasso® Salmon with Farro Risotto and Micro Herbs
Strawberry Mousse with Chocolate Crisp Pearls
Beverages
Blood Orange Agua Fresca (non-alcoholic)
Cookie Butter Worms and Dirt (non-alcoholic)
Grilled Street Corn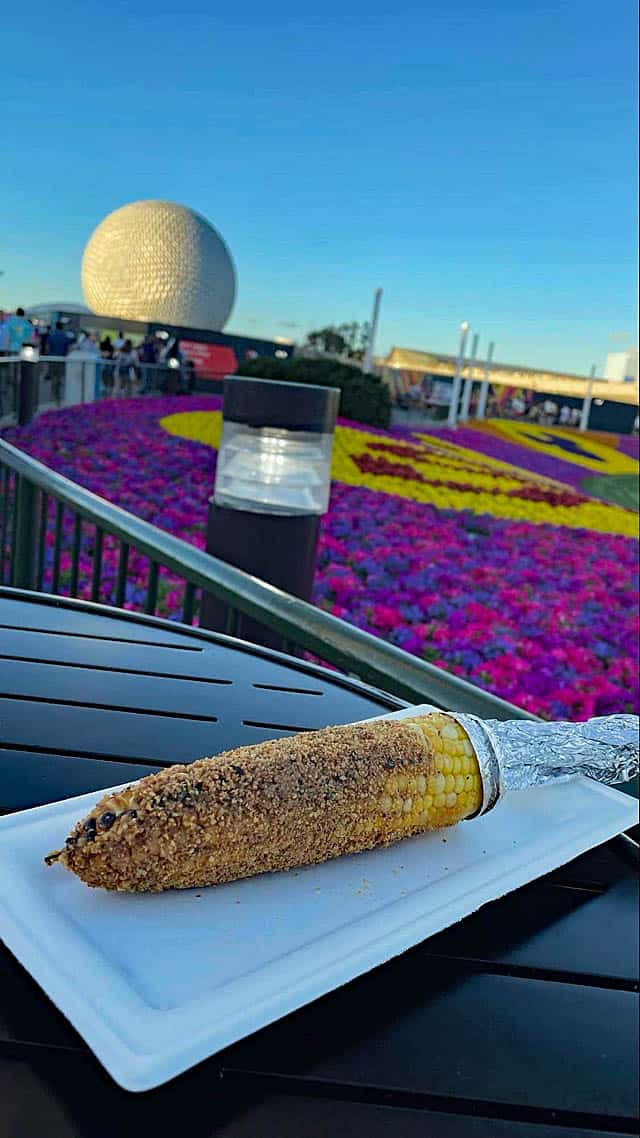 Now, let's break down my (Susan) thoughts on each dish. At home, I order Mexican Street Corn and expected this to be similarly tasty. However, that was not the case. The corn is grilled beside the booth which is amazing! Unlike Mexican Street Corn with tasty cheese and spices, Disney describes the coating as a Savory Garlic Spread.
It tastes like they rubbed cornbread all over corn. This "spread" took away from the sweetness and flavor of the corn. Also, myself and other KtP writers did not detect any garlic flavor. If ordering again, I would ask for grilled corn without anything on it. This dish will set you back $5.25.
Salmon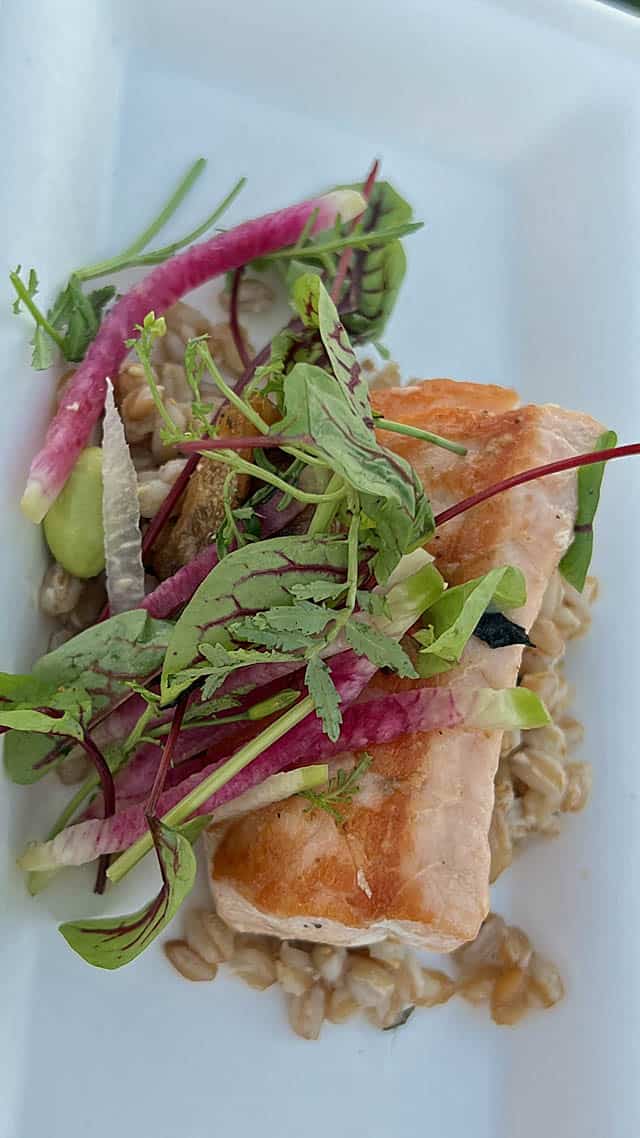 In contrast, the Seared Verlasso Salmon is a winner! Searing the salmon kept it flavorful without drying it out. The Farro Risotto was delicious. It's thicker than other grains, seemingly more hearty.
The Micro Herbs, including edamame were a nice finishing touch . The dish costs $6.25. If you enjoy salmon, I highly recommend giving this dish a try!
Strawberry Mousse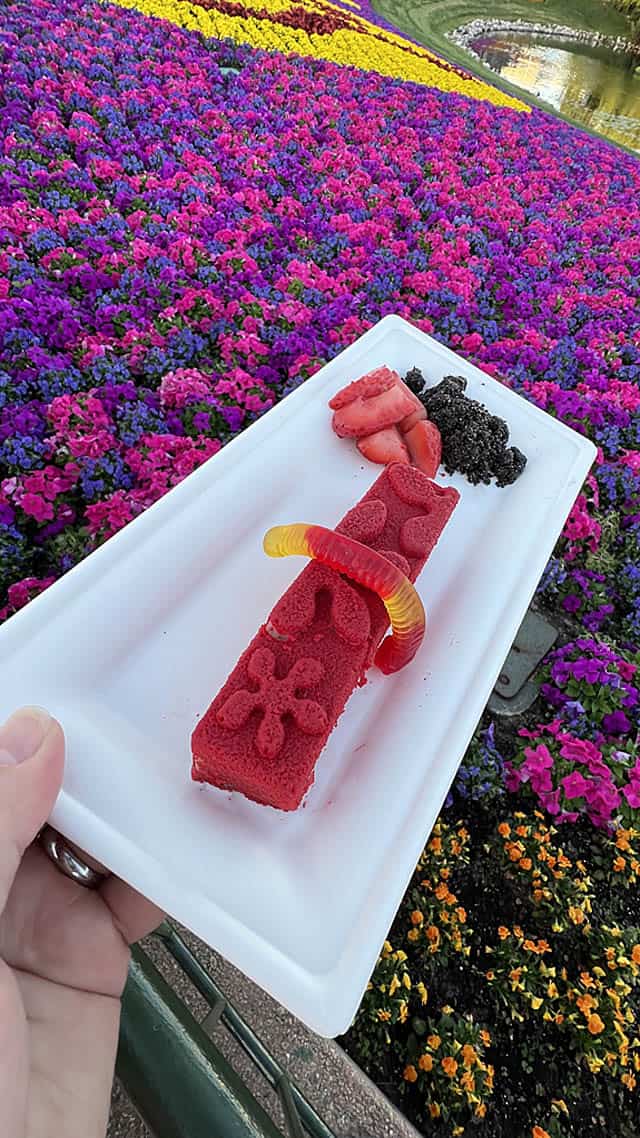 The most visually appealing dish here is the Strawberry Mousse with Chocolate Crisp Pearls. Also, I love the quirky addition of gummy worms and Oreo "dirt" among the "floral" mousse. The presentation, however, is much better than the taste.
The strawberry mouse was okay at best and lacked any depth of flavor. I didn't care for the coating on this dessert or the chocolate crispy pearls. Instead, I'm a fan of creamy mousse without anything extra added. This dish costs $4.75, but unfortunately, I don't recommend it.
Cookie Butter Dirt and Worms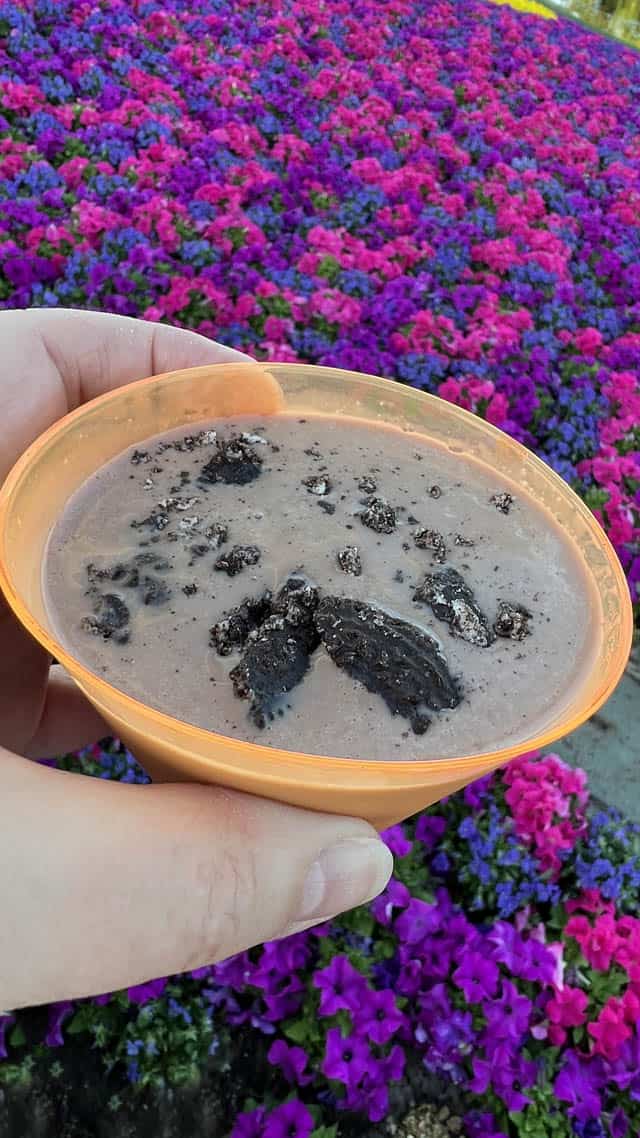 As you can see in the name of this drink, it's supposed to come with gummy worms. However, mine only had "dirt" pieces. I wanted to love this drink since I love cookies and cream milkshakes like those at The Plaza.
KtP Writers felt this drink had a unique flavor…and not in a positive way. The drink was cold but not frozen. It had the consistency of chocolate milk, but the butter tasted more like coffee. We didn't finish it. We all agreed you should skip your $4.75 for another festival dish.
Blood Orange Agua Fresca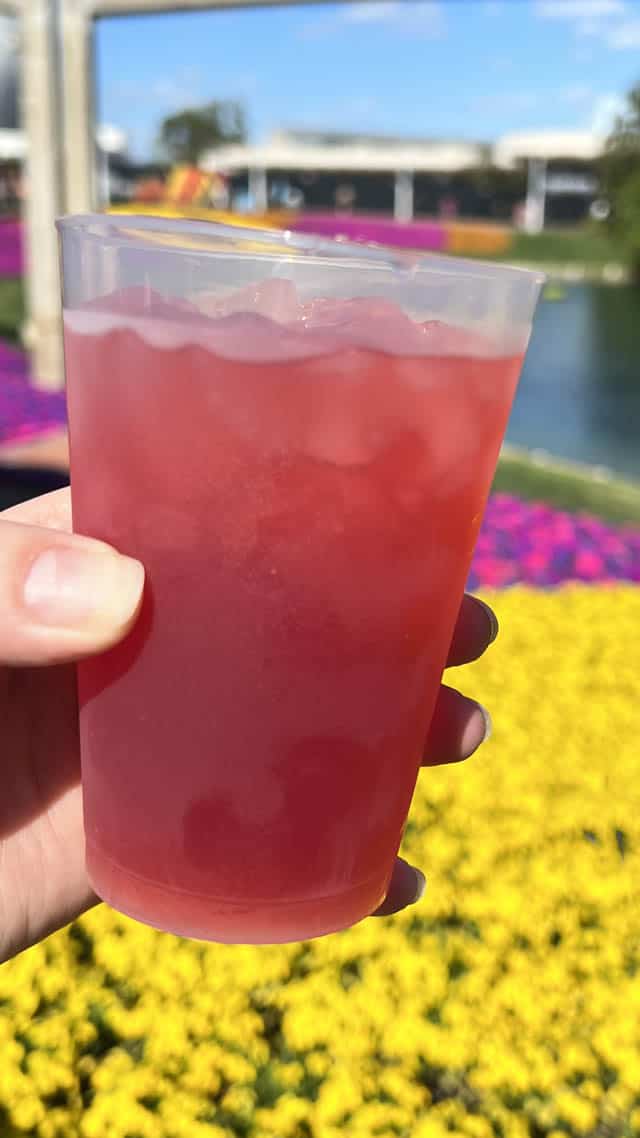 Agua fresca is a light fruit drink popular throughout Mexico. It's made by blending fruit with water, sugar and lime juice.This beautifully colored drink costs $4.50. Blood oranges have a subtle sweet orange flavor with hints of tart red grapefruit, cherries and raspberries.
A fellow KtP writer, Maggie, and myself tasted this drink. If you like Hawaiian Punch, you'll love this refreshing drink. It was bursting with fresh fruit flavor. However, both of us found it overly sweet.
Gardens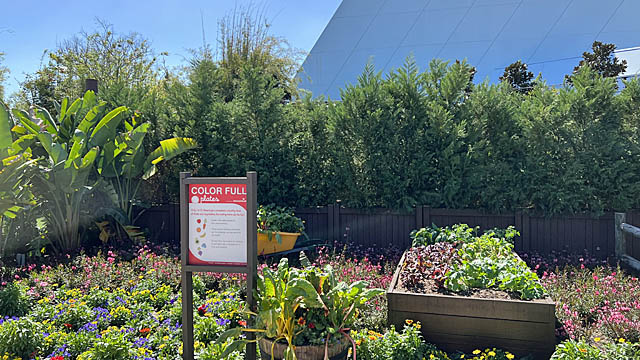 With the emphasis in this booth of garden fresh food, look for fresh fruits, vegetables, flower and herb gardens in this area. We enjoyed exploring the small gardens featured here.
Are you planning a trip to EPCOT's Flower and Garden Festival? If so, will you try this booth? Please tell us your thoughts in the comments below or on our Kenny the Pirate's Facebook page.