LATEST VIDEOS
Subscribe to my Youtube!
LIVE - Just Mousing Around
LIVE - Just Mousing Around Tonight!
Opa! Looking for something good to eat at EPCOT's Flower and Garden Festival? Save room for some of the food at this food booth.
EPCOT Flower and Garden Festival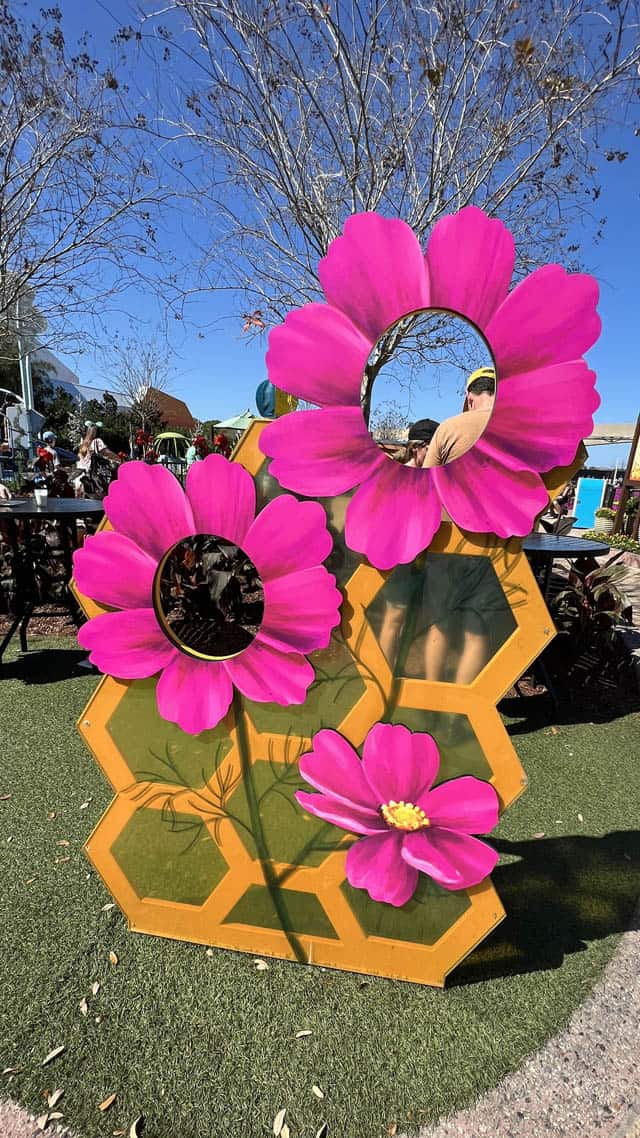 Though it still might be a little cold where you are, springtime and sunshine have arrived at EPCOT with the Flower and Garden Festival. This festival runs now until July 4th. There is still plenty of time to sample food from the many outdoor kitchens, take in the beautiful flower displays, and admire all of the themed topiary displays throughout the park.
Be sure to look at our full guide of the festival HERE.
Bauernmarkt: Farmer's Market – Germany Pavilion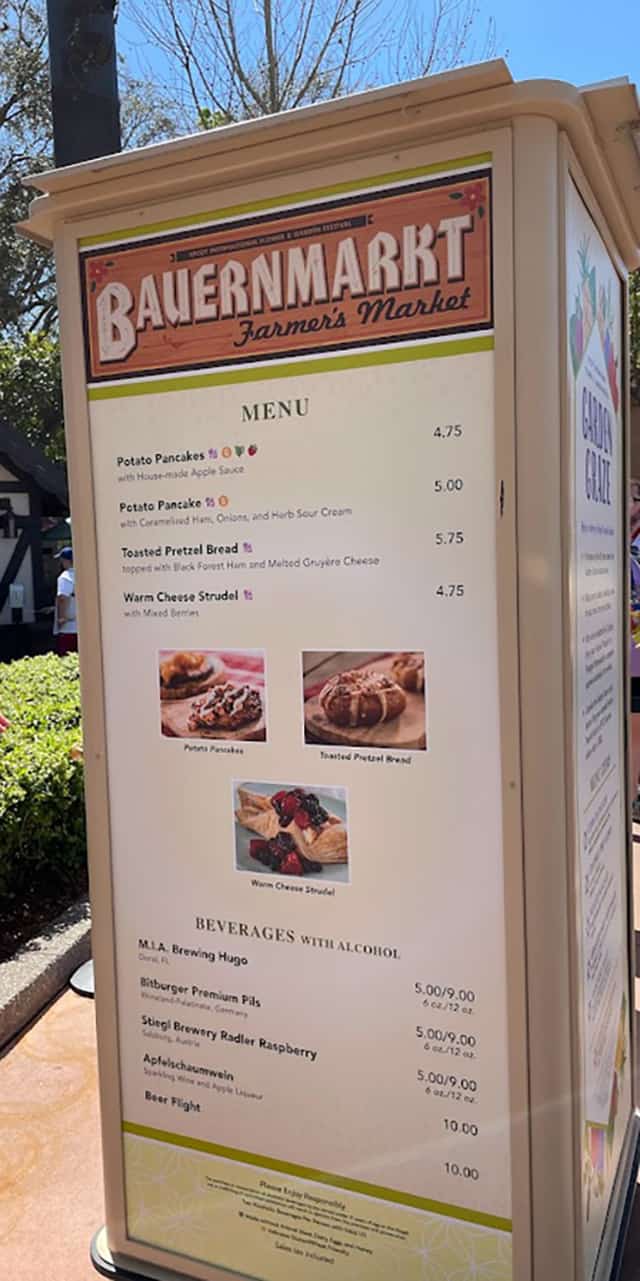 One of my (Maggie) favorite things to do during the festivals is try all of the great food. On a recent trip, I decided to try the full booth at Bauernmarkt: Farmer's Market at the Germany Pavilion. Here is what I thought.
I am a big fan of German food. At home, nearly every year my family takes the time to visit our local Oktoberfest. While at EPCOT, we have always loved to eat at Biergarten. This booth in particular was one of the booths I was very excited to try.
Be sure to stop by Bauernmarkt if you are participating in the Garden Graze!
Potato Pancakes with House-made Apple Sauce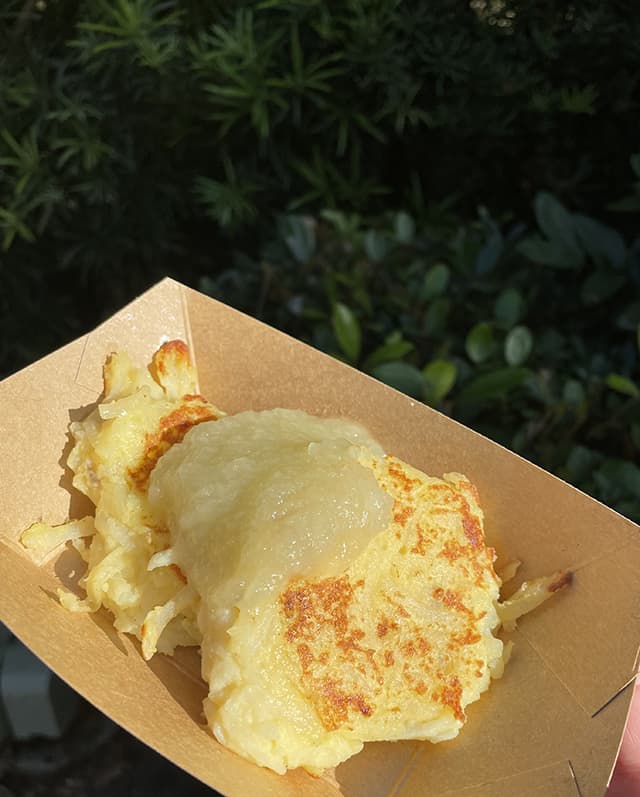 This menu item is one of the dishes on the Garden Graze menu. It is plant-based and also gluten/wheat friendly. One of my favorite things to eat are potato pancakes, so I could not wait to try these!
These potato pancakes were fine, but they seemed to be missing something. I think a nice side of sour cream might have been nice and would have added some more flavor. They seemed pretty plain. While I do enjoy having apple sauce with potato pancakes, I would have rather have had it on the side instead of poured directly on top.
Potato Pancake with Caramelized Ham, Onions and Herb Sour Cream
This dish out of all of the regular food items (not including dessert) was definitely one of my favorites. I think this is what the regular potato pancakes needed. The caramelized ham, onions and herb sour cream gave the potato pancakes an incredible burst of flavor.
This dish is also gluten/wheat friendly and costs $5.00.
Toasted Pretzel Bread topped with Black Forest Ham and Melted Gruyère Cheese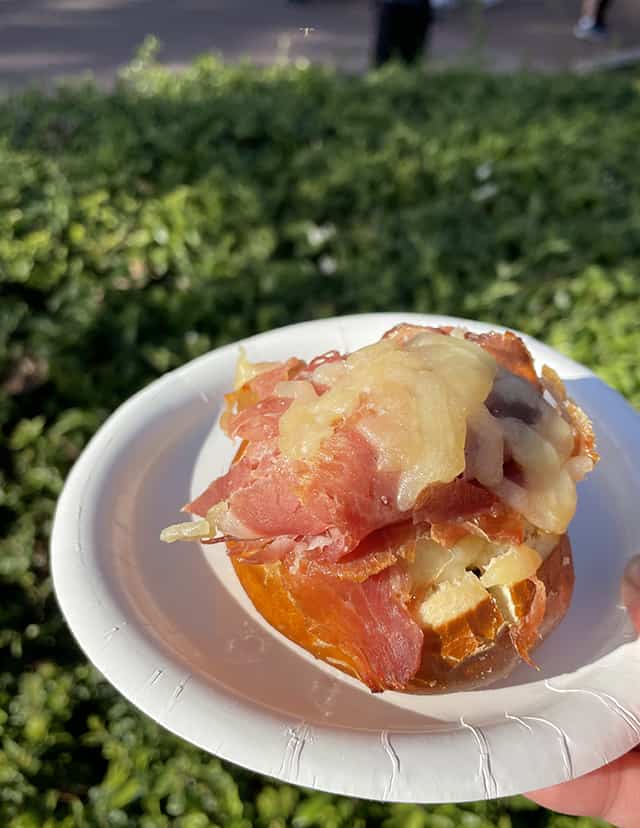 This was my least favorite dish out of the booth. I usually enjoy pretzel bread and have loved the pretzel bread rolls we have had at Biergarten.
However, the pretzel bread flavor here seemed too overwhelming and the only flavor I noticed was the pretzel bread.
Warm Cheese Strudel with Mixed Berries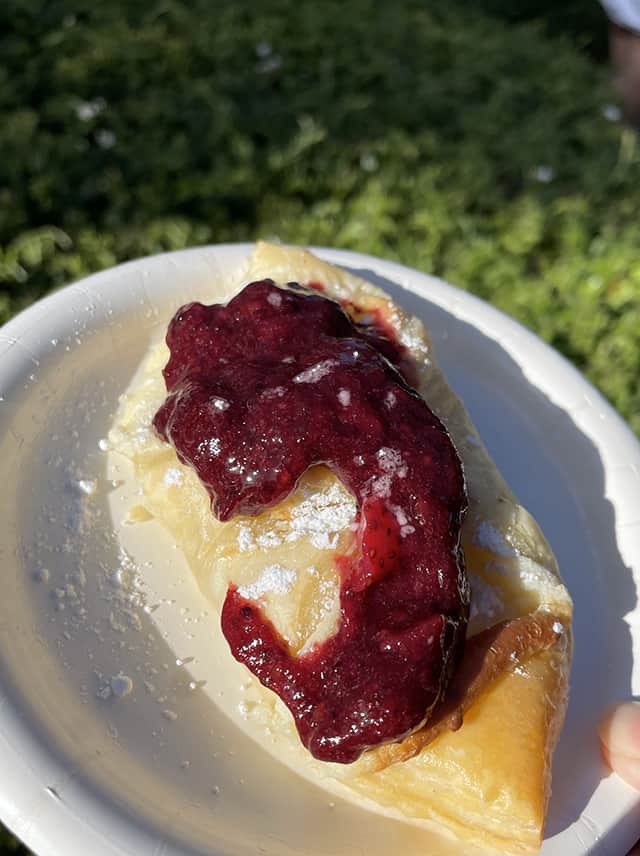 If there is one dessert you have to try at the Flower and Garden Festival, I highly recommend this one! The strudel here was light and flaky and the mixed berry topping was superb. In my opinion, this was the best dish out of the entire booth and one of the best desserts of the festival.
Overall, this booth is one of the more reasonable priced booths of the festival. Each dish is $4-5 each. I did not try any of the drinks, but those are obviously more expensive going for $5-10 each.
Have you tried any of the items from the Bauernmarkt- Farmer's Market booth in the Germany pavilion? Which one was your favorite? Tell us about it in the comments below or on our Facebook page.

Are you planning a vacation? Reach out to our trusted travel agency sponsor Authorized Disney Vacation Planner
Mouse Class Travel
!