If you were planning to skip Japan's Hanami at this year's Flower & Garden, you might want to rethink your plans. It is one of the best all-around Outdoor Kitchens this year.
Epcot International Flower & Garden Festival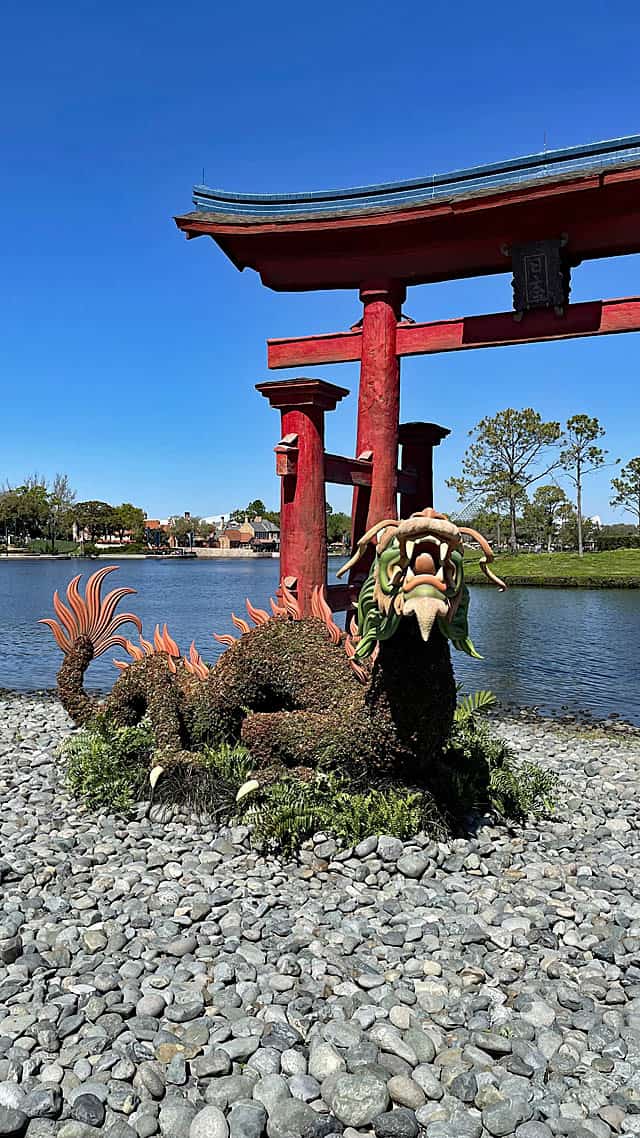 From now until July 4, 2022, guests traveling to Walt Disney World can enjoy Epcot International Flower & Garden Festival. It is a Springtime festival popular with park goers. You can check out the KtP complete guide to the Epcot International Flower and Garden Festival 2022 HERE.
At this festival, guests can step into brilliant gardens, enjoy themed topiaries, take in a rock concert series, and so much more. But, one of my favorite parts of Flower & Garden is sampling the dishes at the festival. I (Katie) went on a whirlwind tour with Jordyn to taste as many things as possible to help you make your wishlist!
Hanami (Japan)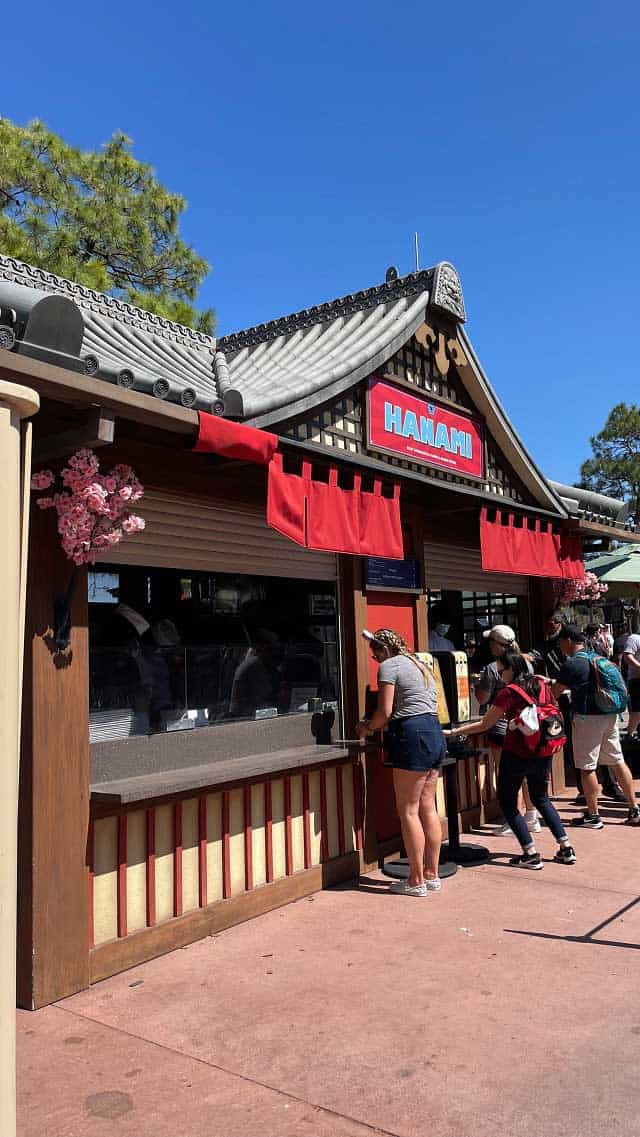 Located in Japan, Hanami serves up Japanese dishes with edible plants. It is also home to a Flower & Garden dish that has a bit of a Disney Foodie following: Frushi.
I honestly wasn't even sure I would try the offerings at Hanami this year. Japan is always on my wish list, and then sometimes I get over there, and sometimes I don't. But, as luck would have it, everywhere else we stopped first let us know that no food was ready when we got in line at 11:00.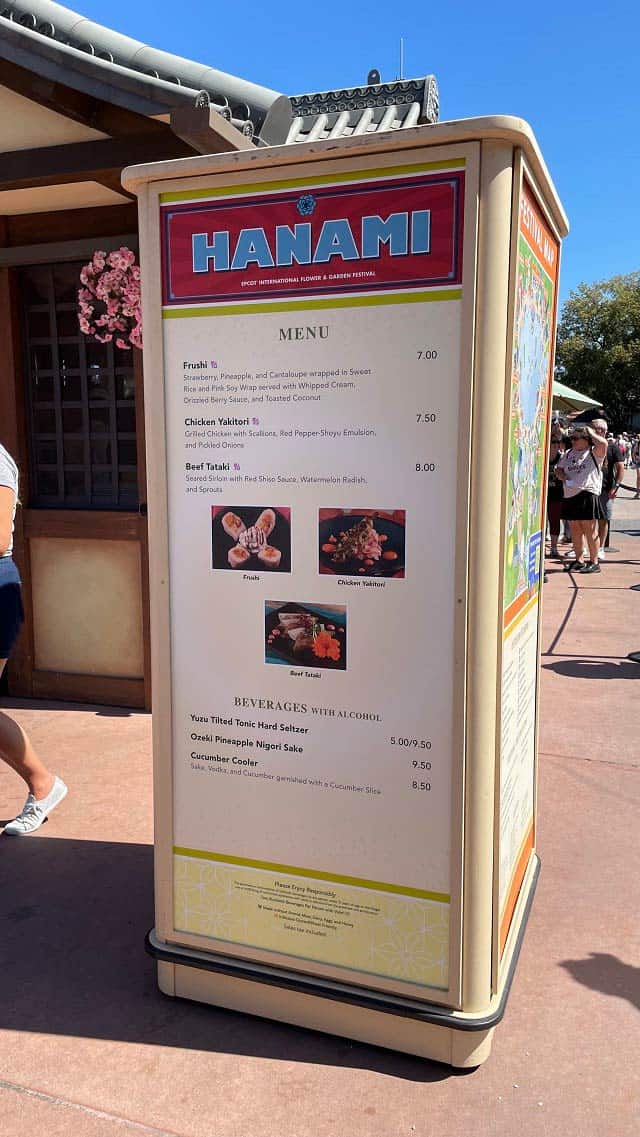 Hanami had the distinction of having food ready to serve at its opening, and we were hungry. So, it felt like a sign that we should go ahead and order one of everything edible. I have to say, it worked out well! We enjoyed it all.
Chicken Yakitori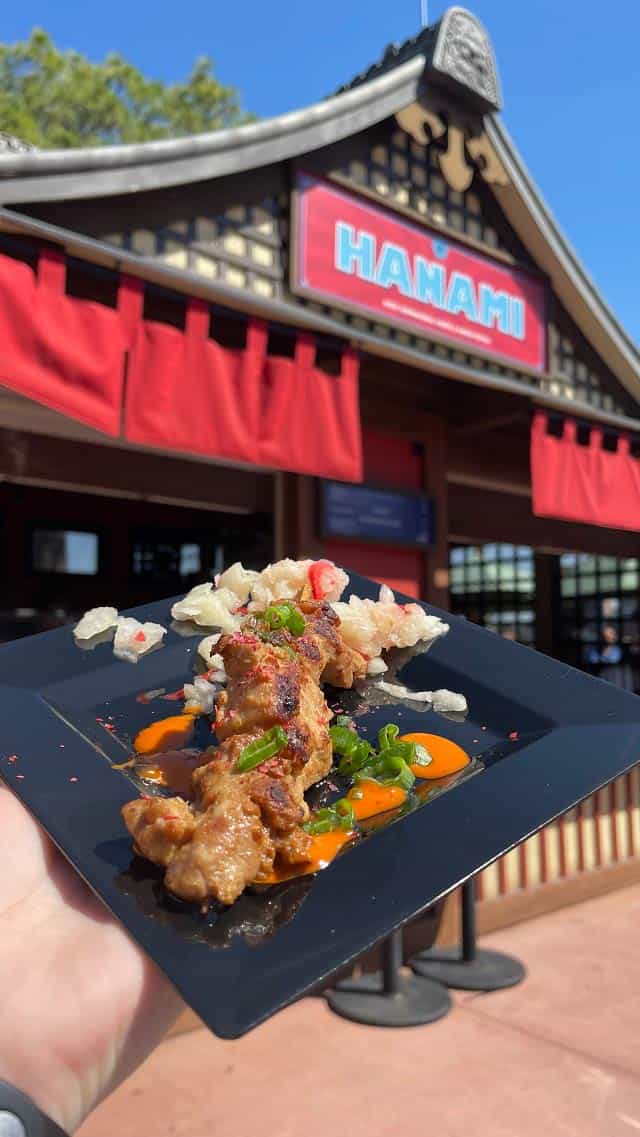 Jordyn ordered the Chicken Yakitori. The dish features grilled chicken on a skewer served with scallions, red pepper-shoyu emulsion, and pickled onions.
I wasn't planning on trying the chicken because it sounded like it might be too spicy for me. But, Jordyn discovered that the chicken itself is not spicy, only the red pepper-shoyu emulsion (which is on the side). So, I got to have a taste after all.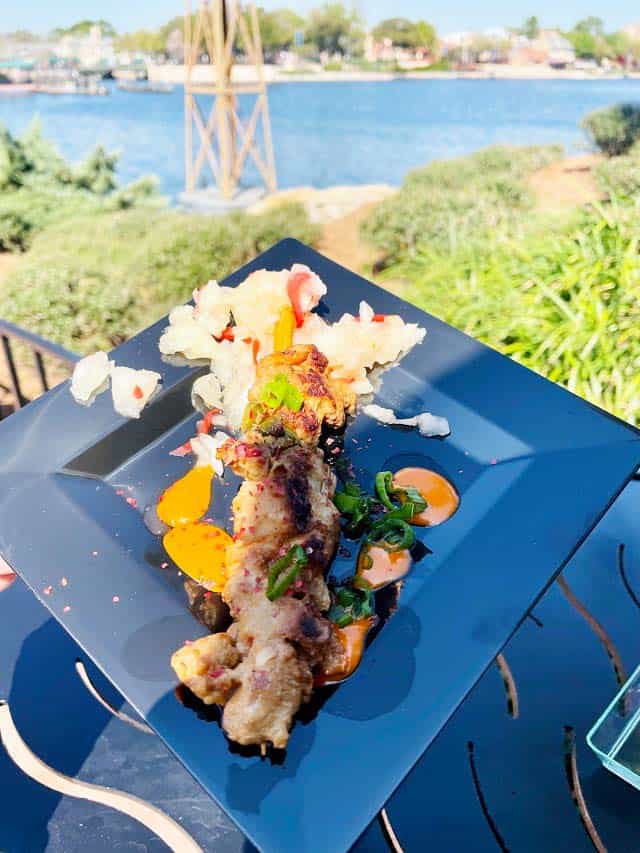 The chicken was tender and flavorful. It may be the best chicken I have had at an Epcot festival.
According to Jordyn, the dish could have done just fine without the pickled onions. They were too heavy on the ginger. But otherwise, it was a good dish to start the day.
Beef Tataki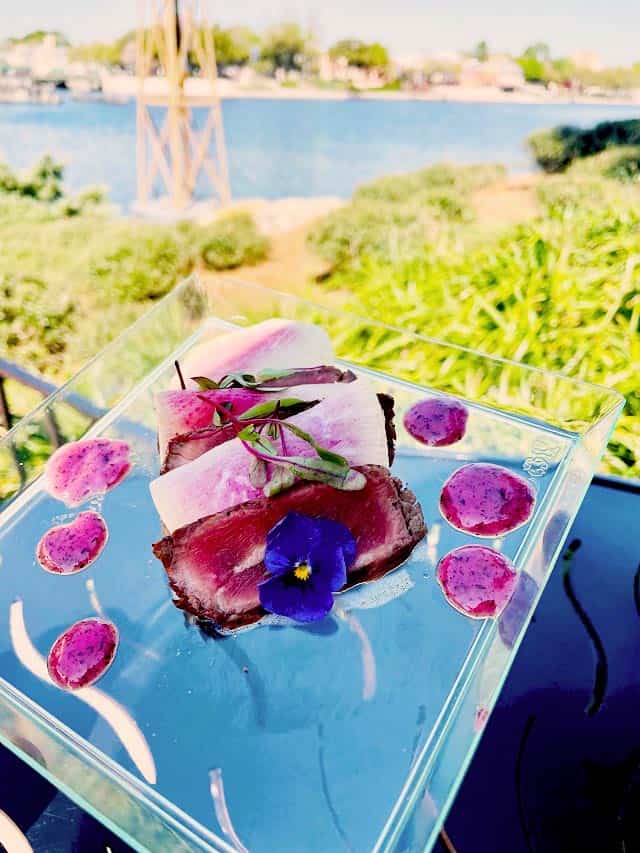 I ordered the Beef Tataki for us to share. Seared sirloin with red shiso sauce, watermelon radish, and sprouts adorned the plate in an attractive array of food. It is certainly one of the prettiest beef dishes I have ever eaten.
The sirloin was tender and had a subtly savory flavor profile, and the watermelon radishes were very good! Overall, we both really enjoyed this dish. I even ate the flower because the Cast Member assured me it was edible. It didn't really have much flavor; however, I figure I can get away with counting it as a vegetable.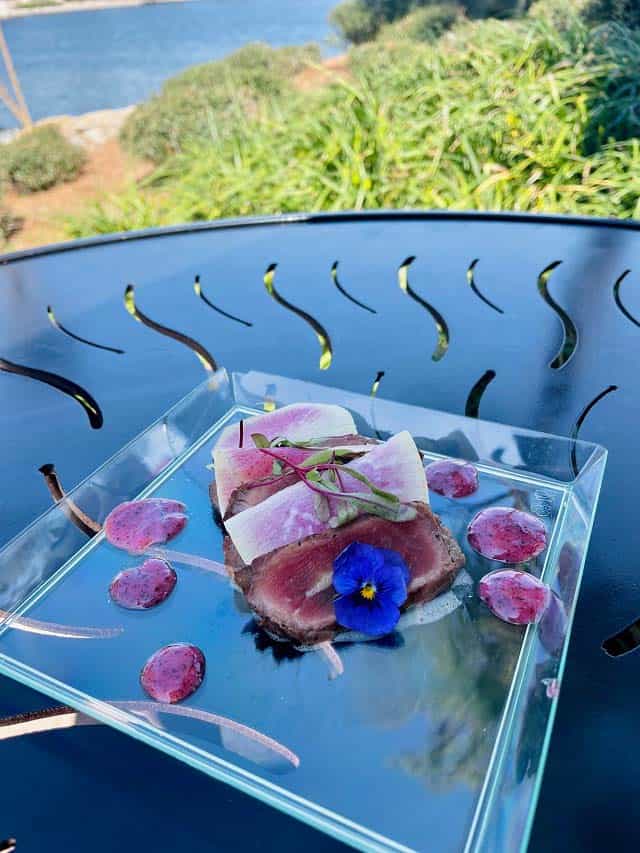 In my opinion, the Beef Tataki is the second-best protein-centric dish at the festival. This year's very best protein preparation was over at EPCOT Farmers Feast.
Frushi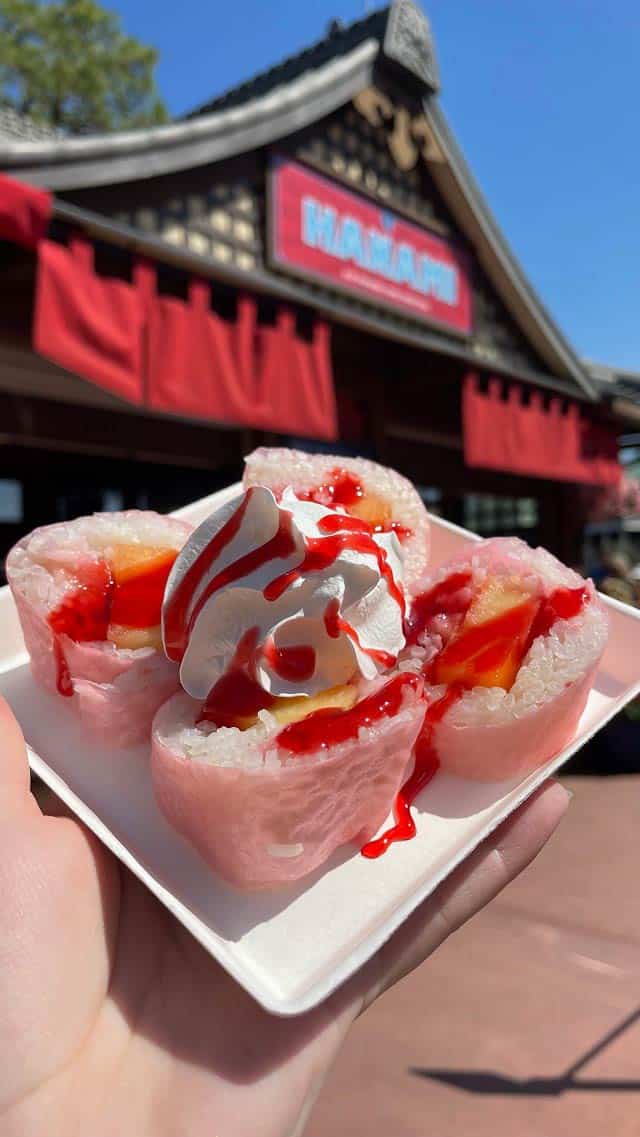 I cannot believe how many times I have been to Flower & Garden without tasting the Frushi. Disney foodies rave about the dish that is comprised of strawberry, pineapple, and cantaloupe wrapped in sweet rice and a pink soy wrap and served with whipped cream, drizzled berry sauce, and toasted coconut.
I have never ordered it because I am not big on coconut. However, this year a wild thought occurred to me: what if I ask for it without the coconut? (Groundbreaking, right?)
The Cast Members were happy to oblige and made me a coconut-free Frushi plate. The dish is a generous portion with 4 pieces of frushi. It was a great size for sharing, and we could have easily split it four ways (but I am glad we didn't have to).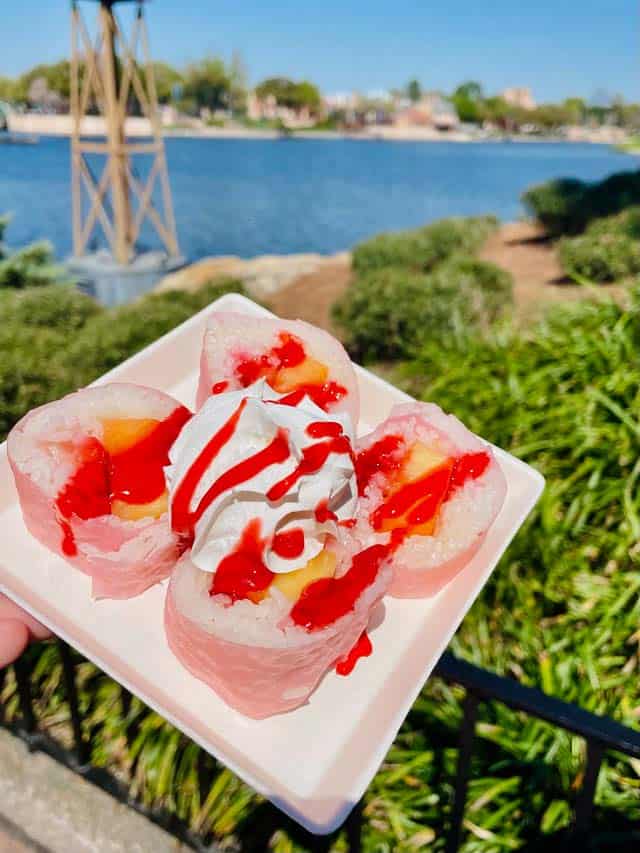 The rice, fruit, and fruit sauces made an amazingly perfect combination. It tasted light and sweet without being cloying and refreshing. It is the perfect spring dessert. Needless to say, I will be ordering it again and again.
Not only was it delicious, but it was also one of the best items I have had at an Epcot Festival. I am going to have to revaluate my list of the top 10 best festival snacks to make room for Frushi. How did I miss this all of these years? It's of those dishes that I know I am going to randomly crave.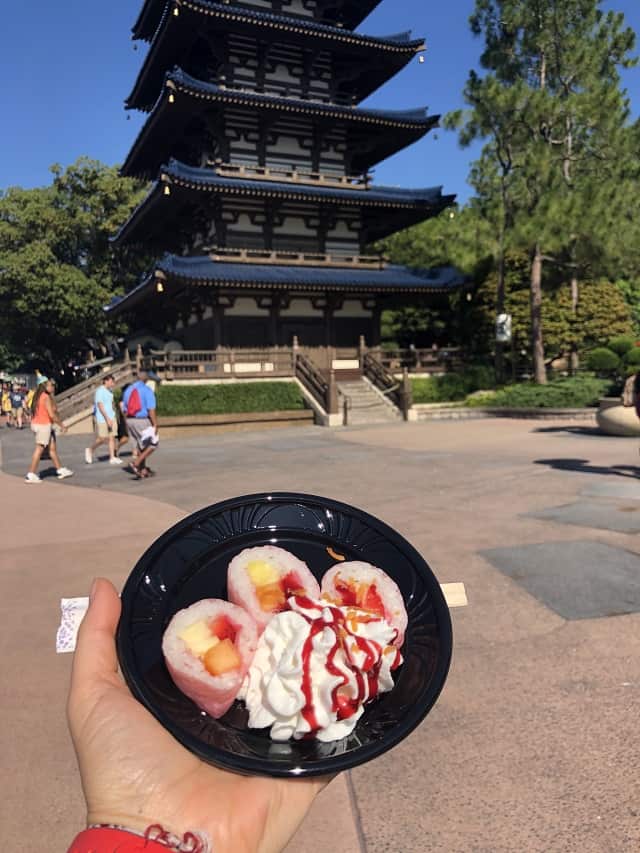 And more importantly, why can't Disney just serve a Sushi Doughnut/Frusi combo all year round? I would never eat anything else at Epcot.
Final Thoughts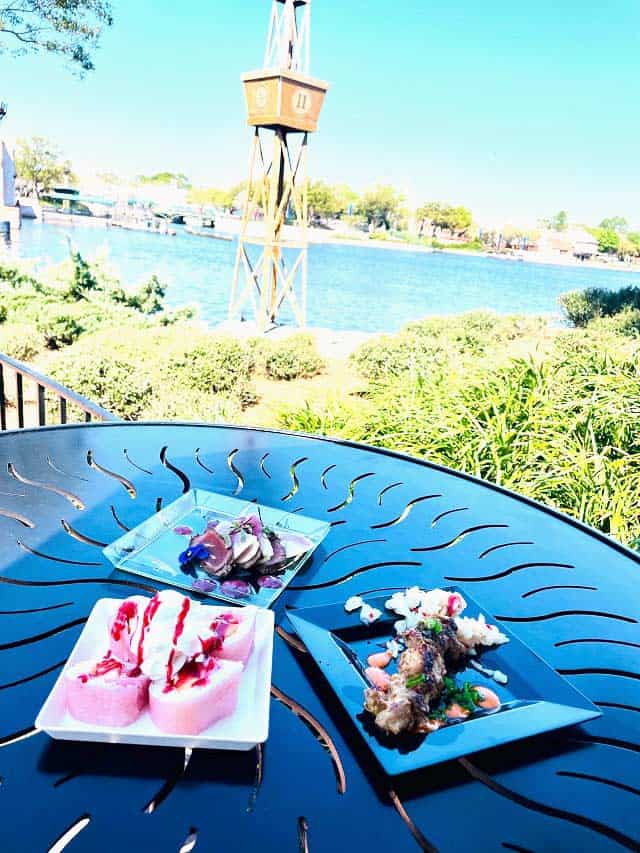 Overall, Hanami is one of the best Outdoor Kitchens at the Festival. Every food item is worth eating.
Have you tried Hanami this year? Is it on your snacking wishlist? Let us know in the comments or join our friendly crew to continue the conversation on Facebook.