LATEST VIDEOS
Subscribe to my Youtube!
Just Mousing Around - LIVE
LIVE - Just Mousing Around
LIVE - Just Mousing Around Tonight!
We found an outdoor kitchen at this year's Epcot International Flower & Garden Festival that we love. Unfortunately, they are only here for a limited time!
Flower & Garden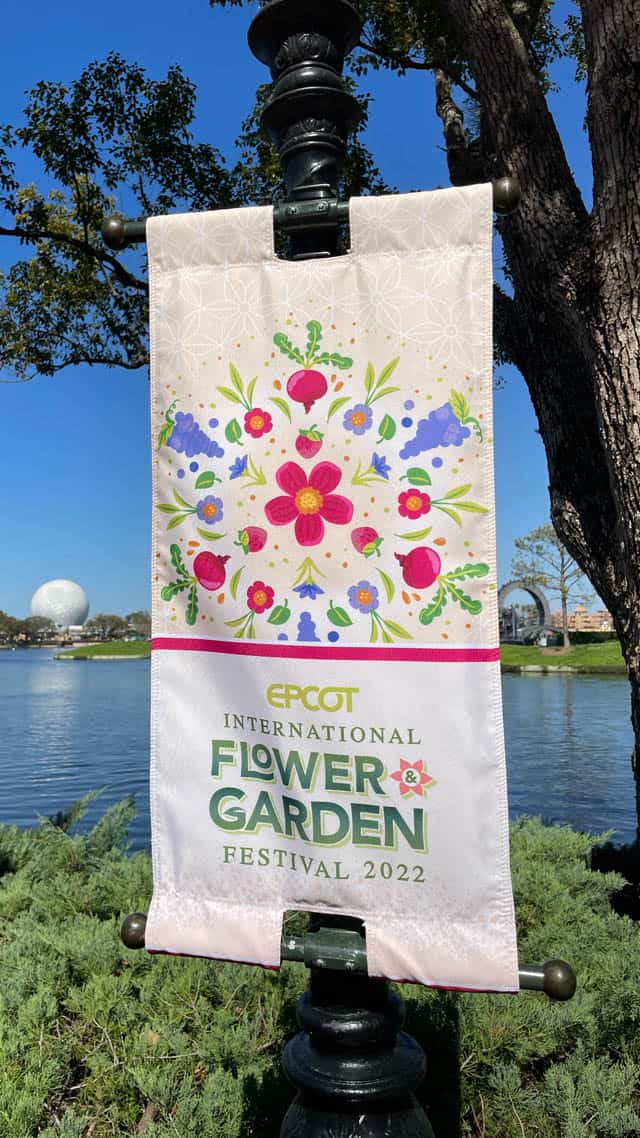 From now until July 5, 2022, Walt Disney World Guests can enjoy the Epcot International Flower and Garden Festival. At this festival step into brilliant gardens, themed topiaries, a rock concert series, and so much more.
You can check out our complete guide to the Epcot International Flower and Garden Festival 2022 HERE. One of my favorite things to enjoy is sampling the fare at the outdoor kitchens. While some of the food is disappointing, some of it is top-notch!
EPCOT Farmers Feast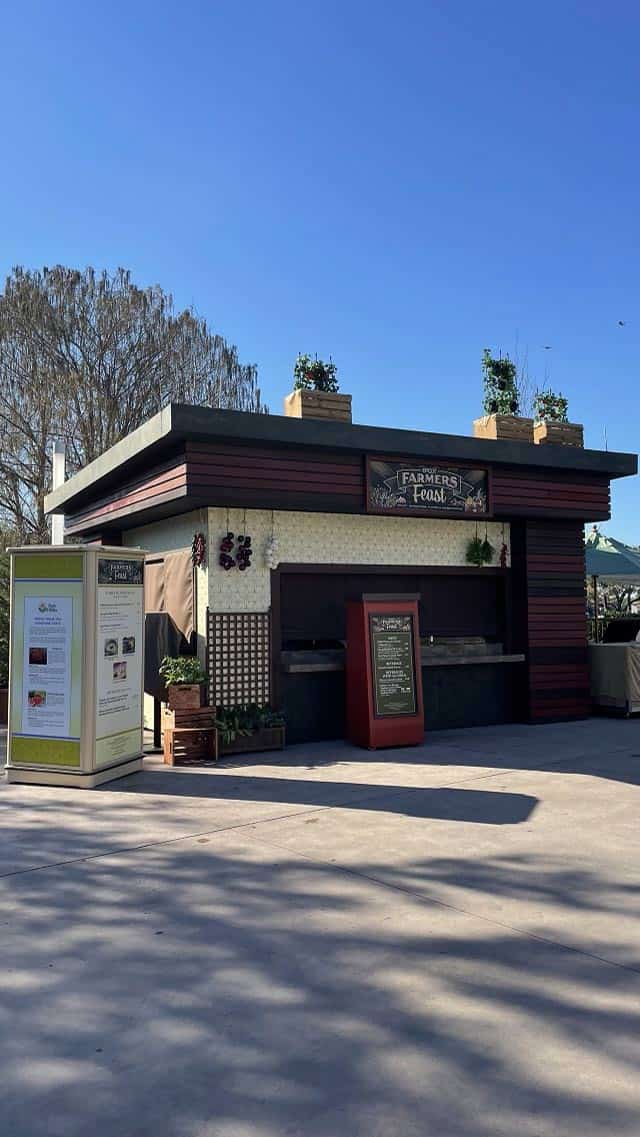 Located near Test Track presented by Chevrolet®, EPCOT Farmers Feast is an outdoor kitchen serving up some of the festival's most delicious offerings. However, the offerings will change throughout the festival.
The "Early Bloom Menu" and its current selection of offerings only lasts until April 9th, when the first rotation happens. So, if you want to try them, you will have to hurry! On April 10th, they will be gone. The menu will change once again on May 22.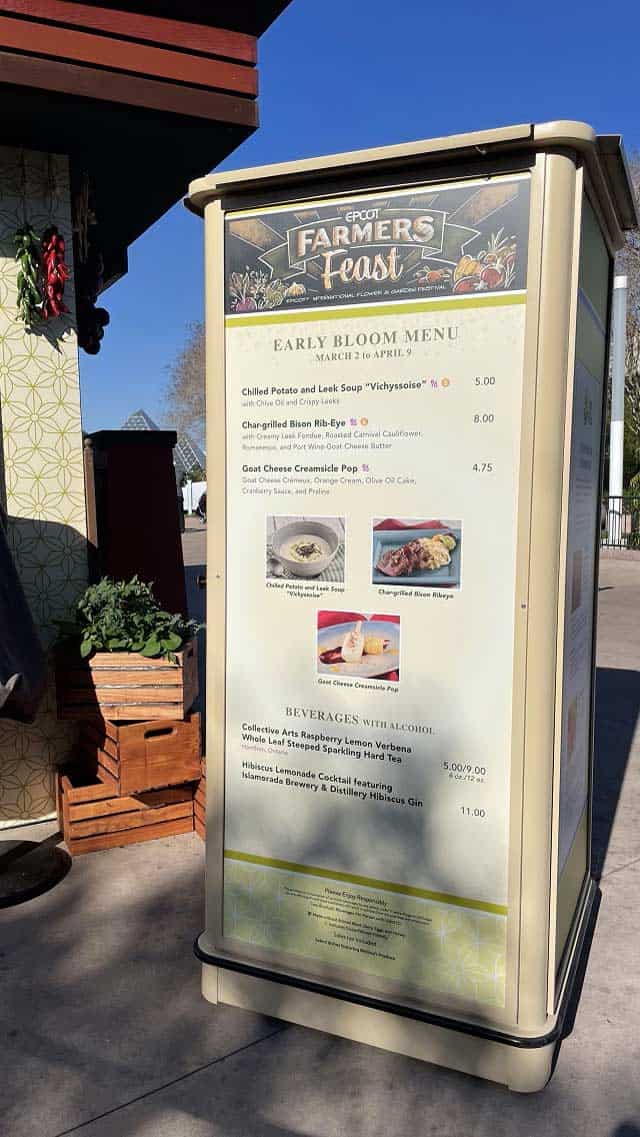 I had the chance to sample the entire booth with KTP social media extraordinaire Jordyn. This is one of the rare stops around World Showcase where we liked absolutely everything! I would highly recommend these dishes if you like goat cheese. I (Katie) happen to love goat cheese.
Here is a rundown of the offerings! Hopefully, it will help you make informed decisions about whether to spend your hard-earned Disney budget at EPCOT Farmers Feast.
Chilled Potato and Leek Soup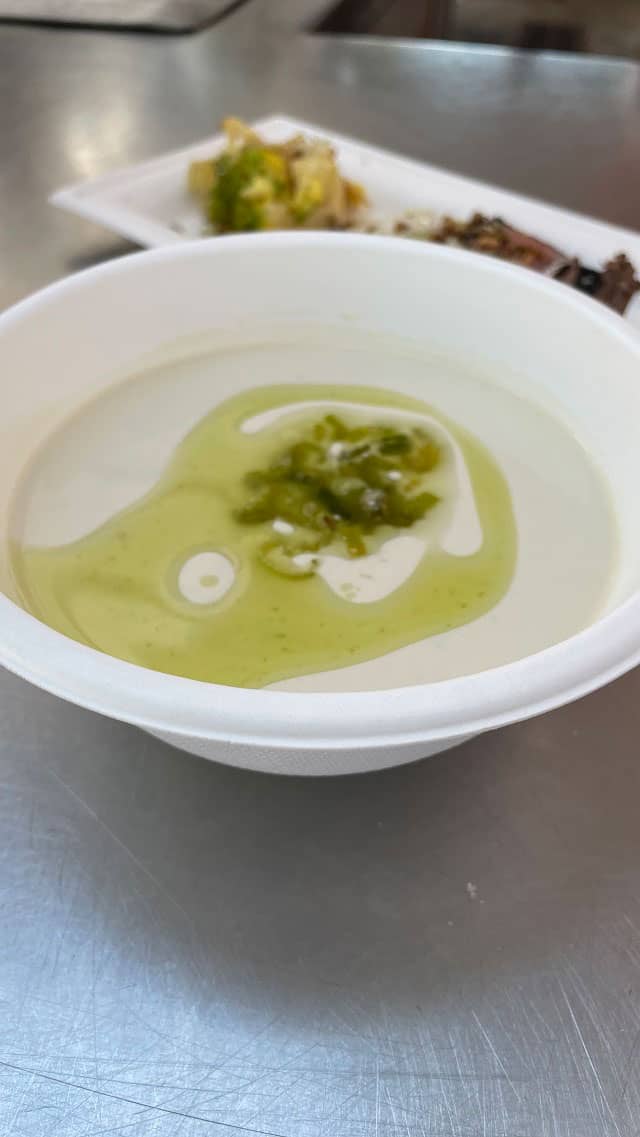 The Chilled Potato and Leek Soup is described as "Vichyssoise" (potato soup) with chive oil and crispy leeks. Those with dietary concerns will need to know that it is Gluten/ Wheat Friendly.
I was extremely skeptical about trying this dish. Chilled savory soup is not something I had ever experienced. I have had and loved chilled sweet soups like strawberry soup, but I wasn't certain the chill would translate as well in this case.
My first impression of the soup when it was presented to us was "that is a HUGE bowl of soup." This is one dish where Disney does not skimp on the portions! It is probably one of the festival's best values in terms of bang for your buck! It is a whopping helping of soup.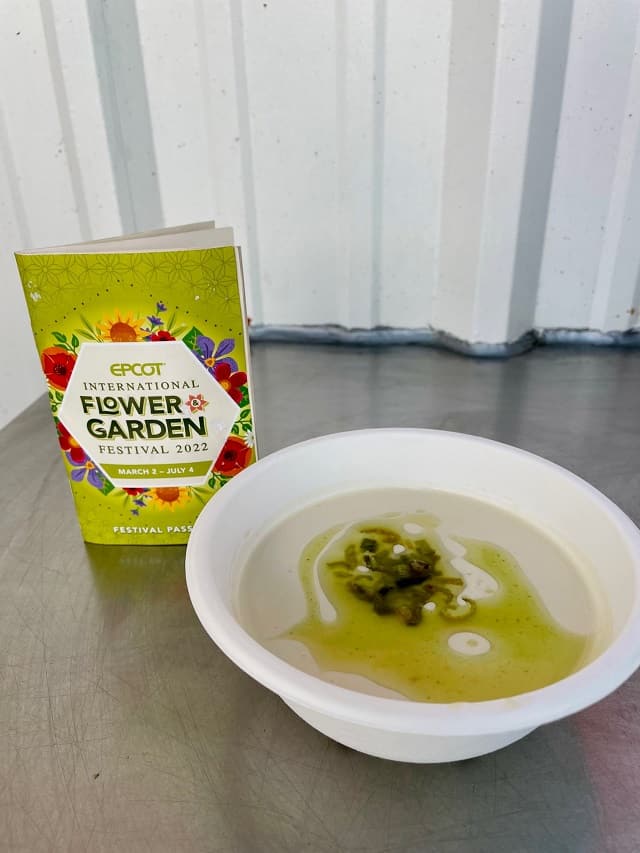 My skepticism turned into doubt that we would be able to finish the entire thing after a full day of eating. That made me sad because when I tasted it, I was pleasantly surprised! The flavors worked well, even as part of a cold dish. It was extremely flavorful, savory, and tasty.
Verdict: If you are adventurous, this is a fun one to try. But bring friends to share or bring your appetite because it is huge!
Char-grilled Bison Rib-Eye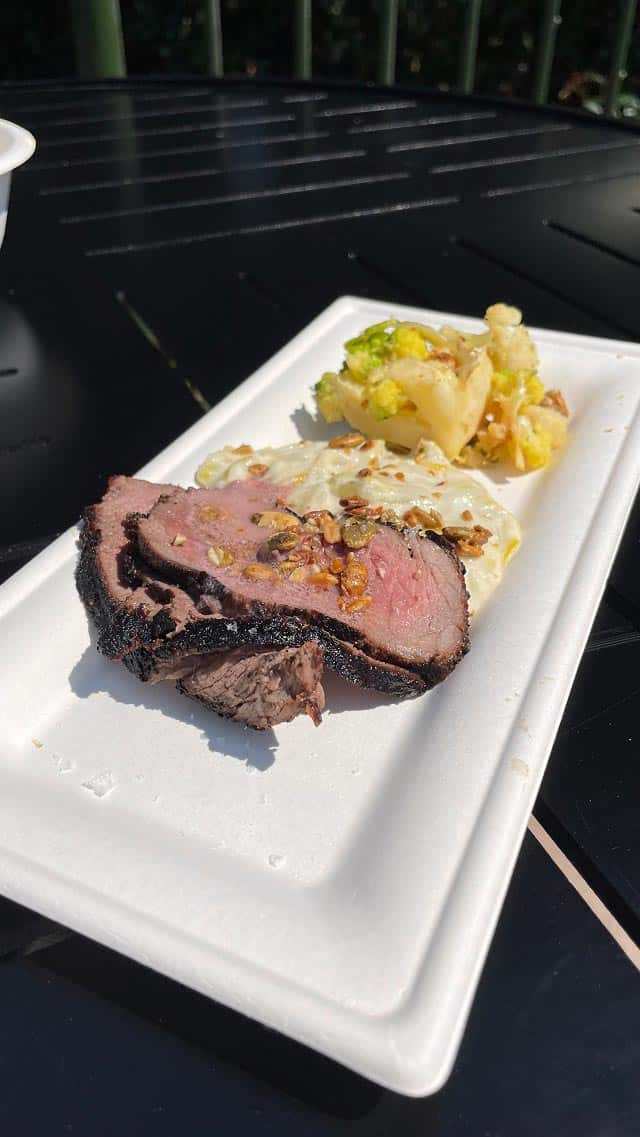 Next up is the Char-Grilled Bison Rib-Eye. It is served with creamy leek fondue, roasted carnival cauliflower, Romanesco, and port wine-goat cheese butter. This dish is also Gluten/Wheat friendly.
Both of us really liked this dish. The bison is some of the best I have had. It was so tender that I was able to slice it with my spoon. In the spirit of the festival, I will describe it as "spork-tender."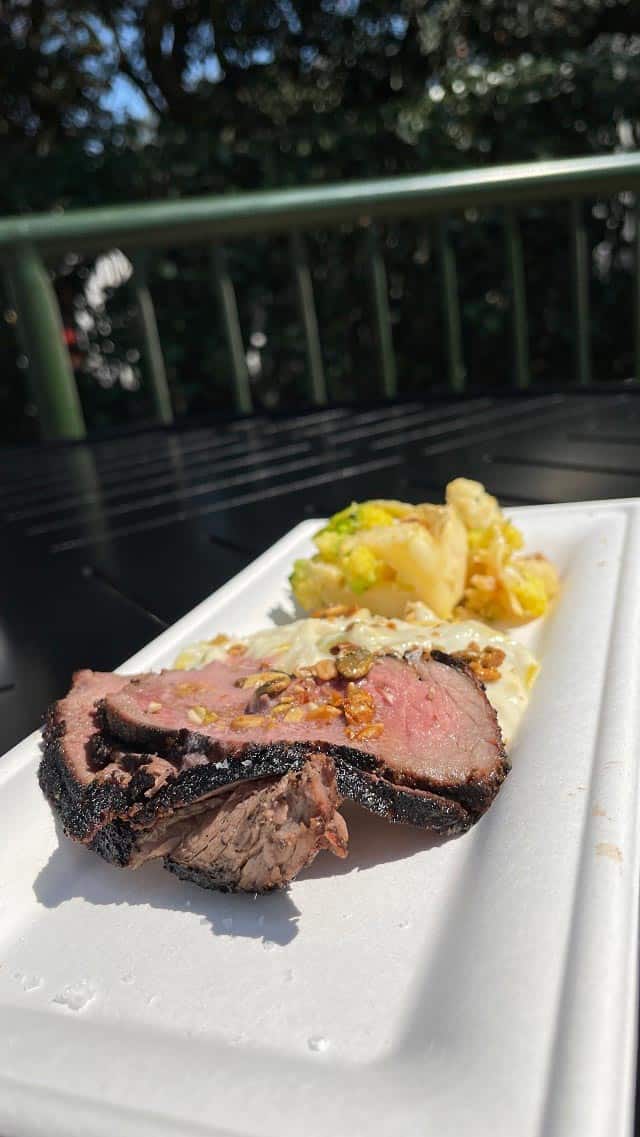 Sometimes "charred" dishes at these festivals can taste a little burnt, but that was not the case here. The char was a perfect textural contrast to the tender meat, and it enhanced the flavor. It is one of those cases where the preparation truly honored the protein.
The creamy leek fondu was a perfect accompaniment. It was rich, creamy, and dreamy.
The cauliflower was the dish's weakest component. It was good, but it was not special like the rest of the plate. Still, I have no complaints.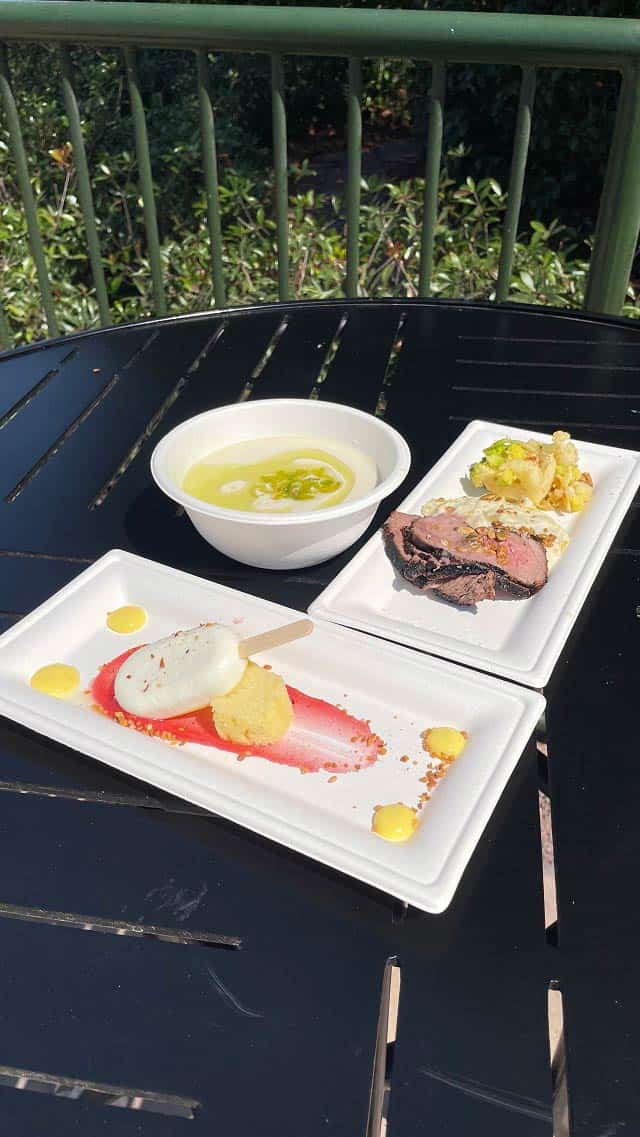 Overall, this was the best protein dish I have ever had at Flower & Garden. I imagine there are plenty of ways this dish could go wrong, but this particular dish on this particular day was masterful.
For my part, it pained me not to be able to lick the plate clean. However, I had to save room for dessert.
Goat Cheese Creamsicle Pop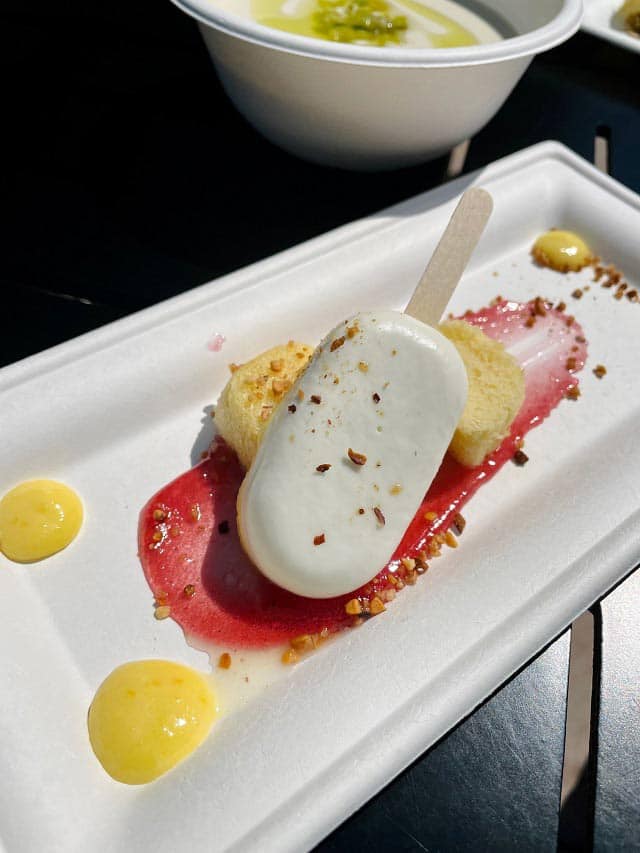 Speaking of special, this is another dish that is pretty special. We both loved the Goat Cheese Creamsicle Pop.
The pop is Goat cheese Crémeux. It comes with accompaniments of orange cream, olive oil cake, cranberry sauce, and praline.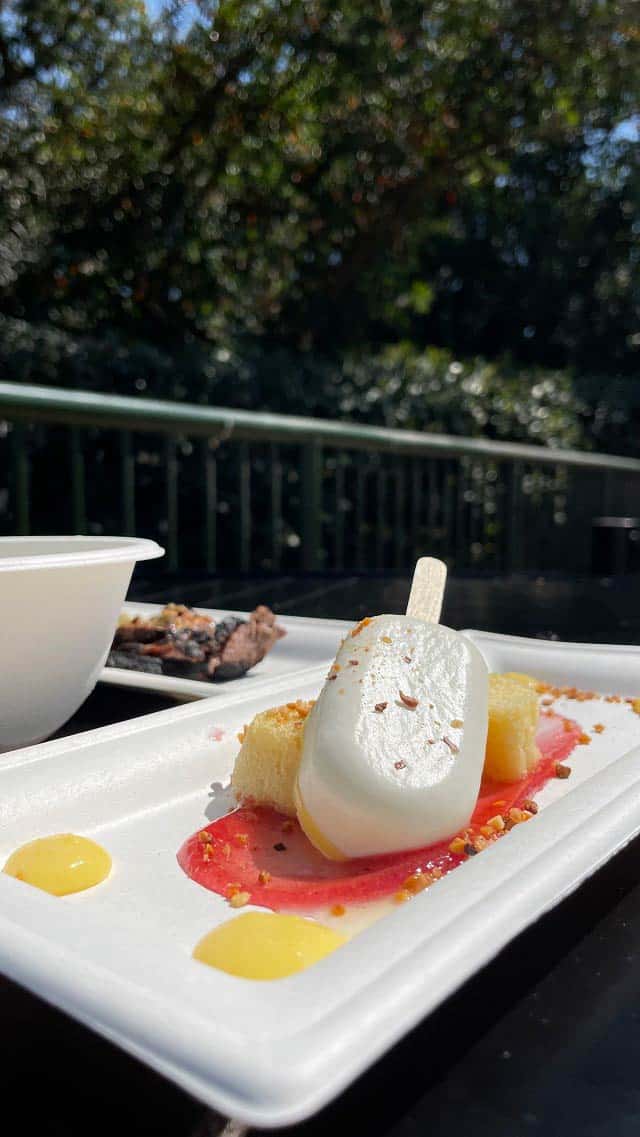 The pop itself was creamy and smooth, and the cranberry added just enough sweet! The olive oil cake was a touch on the dry side, and I think the dish could have been done without it. However, it wasn't unpleasant.
I will definitely be having another of these before they disappear and make way for the next wave of snacks. I wish it were sticking around for the entire festival.
What Gives?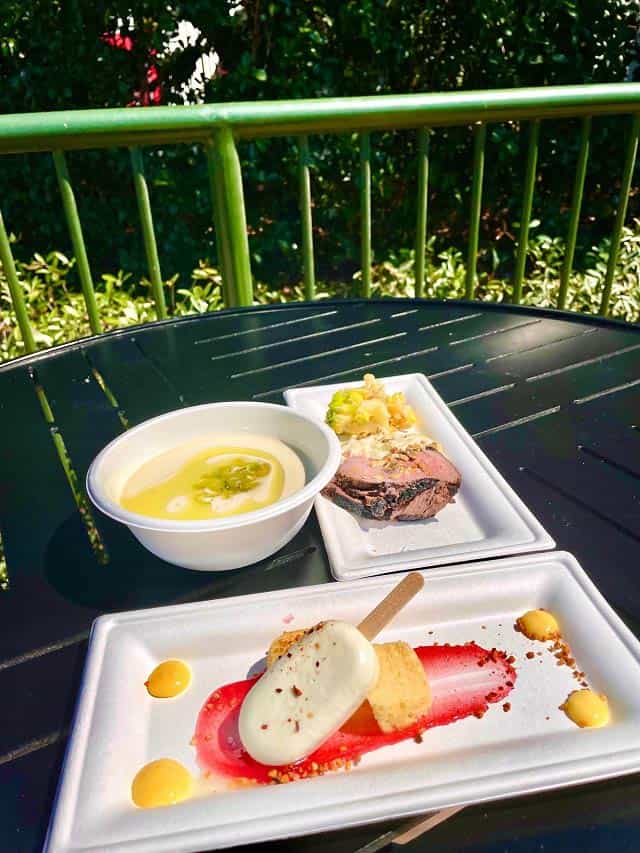 Disney, can we have a talk? Why is it that you are going to establish an Outdoor Kitchen that is a total WIN with three awesome and diverse dishes and then take it away 1/3 of the way through the festival?
I hope that these dishes, especially the bison and the pop, make a return appearance next year. I also hope the second wave of snacks is good. They have a lot to live up to!
What's Next?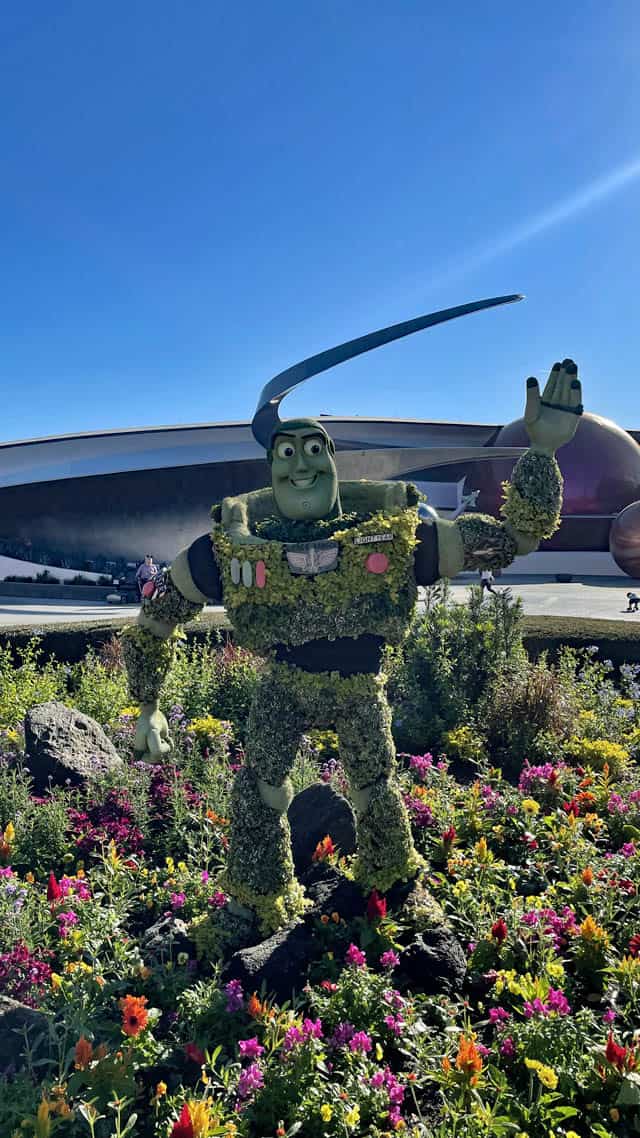 On April 10th, the new plates roll in. Through May 24, guests can sample Grilled Vegetable Bruschetta with marinated peppers, zucchini, squash, artichokes, goat cheese, and balsamic glaze on grilled ciabatta.
They will also be able to try Herb–crusted Spring Lamb with marble potatoes, spring vegetables, and red wine butter sauce. The dessert option will be Strawberry Rhubarb Upside-down Cake with crème fraîche whipped cream.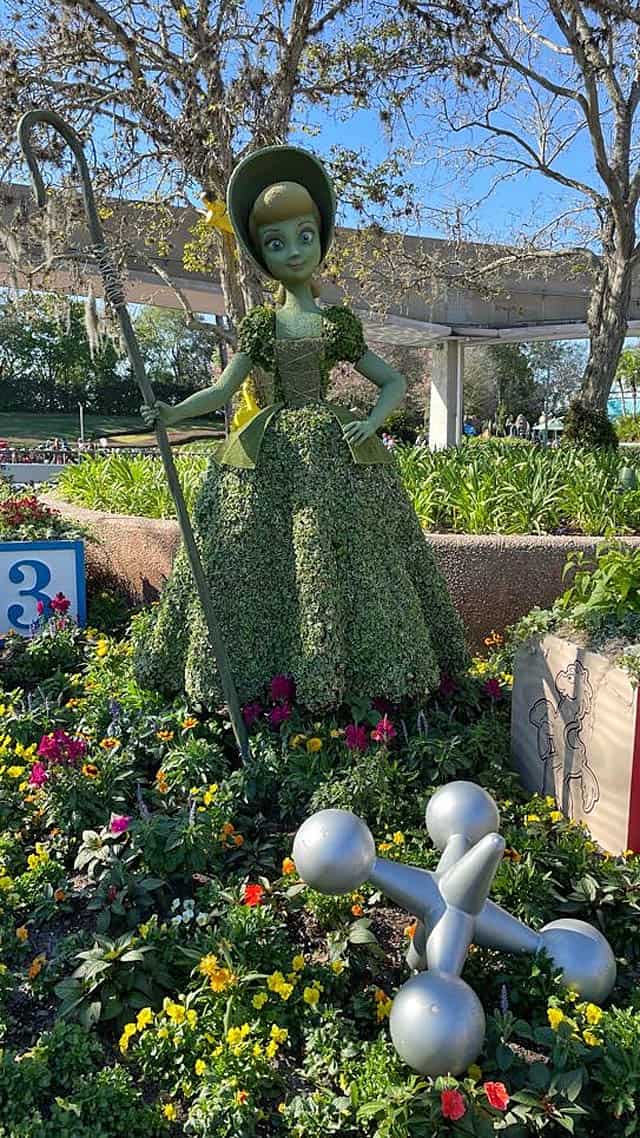 I have to say, all that sounds delicious. But, I will reserve judgment until I have a chance to taste everything.
Have you had a chance to try out EPCOT Farmers Feast? Are any of these treats on your snacking wishlist? Let us know in the comments or join our friendly crew to continue the conversation on Facebook.
Are you planning a vacation? Reach out to our trusted travel agency sponsor Authorized Disney Vacation Planner
Mouse Class Travel
!