It's that time of year when your apparel and accessories are also in season during the holidays. Loungefly has a wide variety of merchandise to show off your holiday spirit this year! Take a look.
Loungefly Holiday Pluto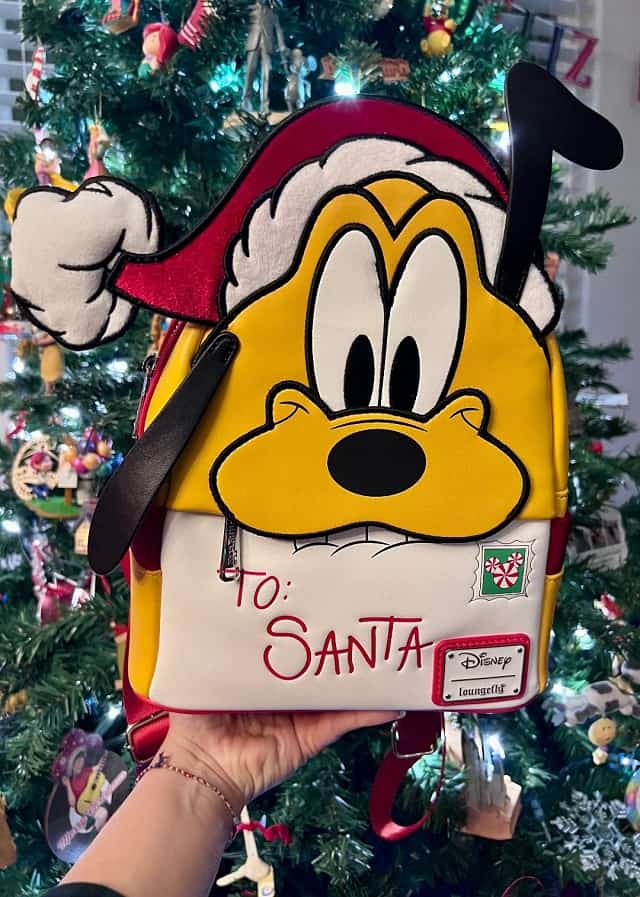 When I first saw pictures of the holiday collection my heart fluttered. The holiday Pluto bag just called out to me… "Marisol… you need me… you need me…" I was thrilled when I received a special holiday package from our friends at Loungefly. My very own Holiday Pluto Loungefly backpack! Let me tell you, it is even CUTER in person! Let's put it this way. My daughters were claiming it for themselves!
Here is a description of the backpack:
Good dog, Pluto! Help Pluto deliver a letter to Santa and show him he's been good all year with this Loungefly Disney Pluto Santa Letter Mini Backpack. There's plenty of room for all kinds of holiday goodies with this charming backpack.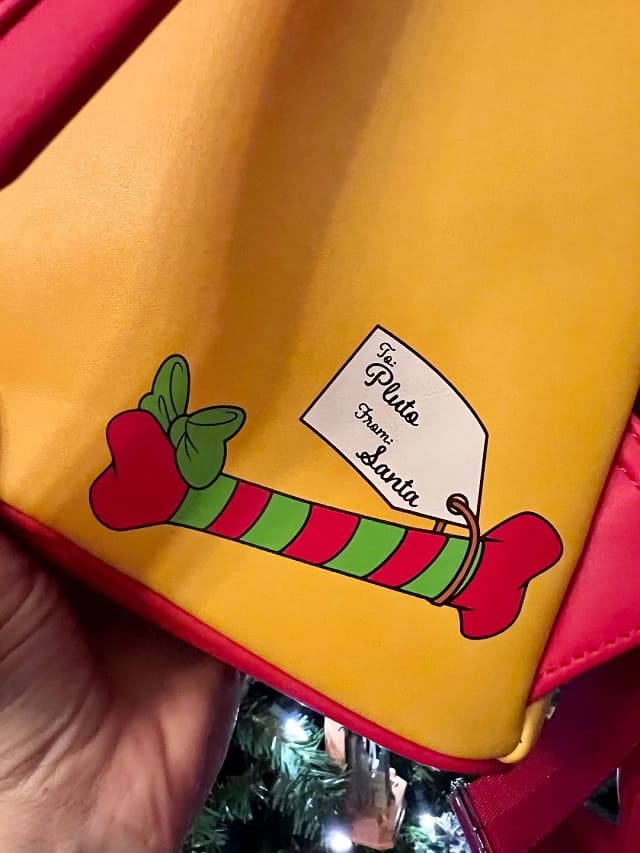 On the front of the backpack, you can see Pluto wearing a Santa hat as he peeks out over the front pocket. In his teeth, he holds a letter to Santa. His ears and hat give the backpack a layered look complete with a faux fur cotton lining on the Santa hat and a red velvet material.
The inside is lined with Pluto's handwriting making his letter to Santa! The back is as cute as in the front. It shows you exactly what Pluto has asked from Santa during this year's holiday season. What is at the top of his list? There is a bone, wrapped in red and green trim, with a handwritten gift tag that reads: To: Pluto/From: Santa. The Holiday Pluto mini backpack sells for $90 and a matching wallet sells for $40.00.
Thanks to our friends at Loungefly! I am so thankful and excited to show off my new mini backpack around town to all of my holiday festivities and, of course, at the Disneyland Resort!
Loungefly Holiday Collection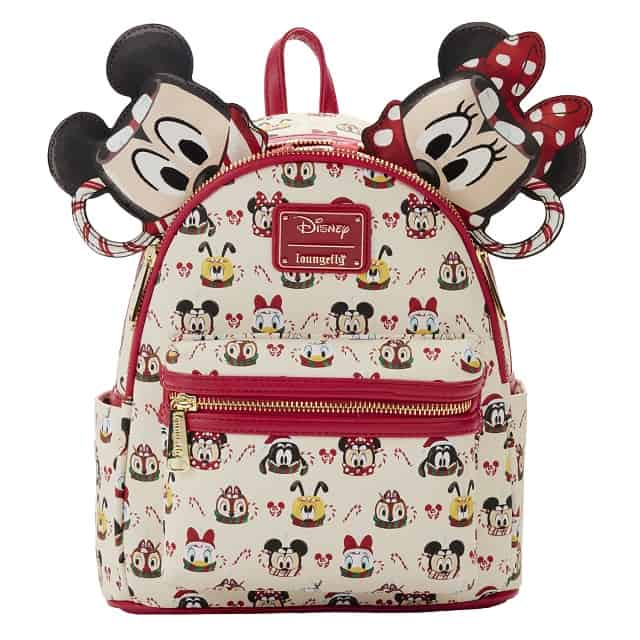 This year's holiday collection consists of 2 backpacks, 2 crossbody's, a pair of Mickey ears with mini backpack, a hoodie, 3 keychains, three wallets, 2 sets of Blind Box Pins and even a lanyard! Want to add another pair of ears to your collection? Even better, what if they snapped to your mini backpack? Well, Loungefly has done just that!
The Disney Hot Cocoa Mini Backpack & Ear Headband with ears retails for $100. This mini backpack features a festive print of fan favorite Disney characters as holiday mugs. A front zipped compartment offers more room for your daily necessities. At the top, there's an insert of the Mickey Mouse and Minnie Mouse Mugs Headband. The ears slip into a zipper pocket at the top of the front panel and have straps with snaps that go over the headband to keep it in place.
You cannot have a backpack without having the matching wallet! The Loungefly Disney Hot Cocoa Mugs All Over Print Zip Around Wallet is made of vegan leather (polyurethane). Inside, there are 4 slots for holding cards and 1 clear slot for holding your ID. A die-cut shape of Mickey Mouse ears adds a classic Disney touch. The wallet retails at $40.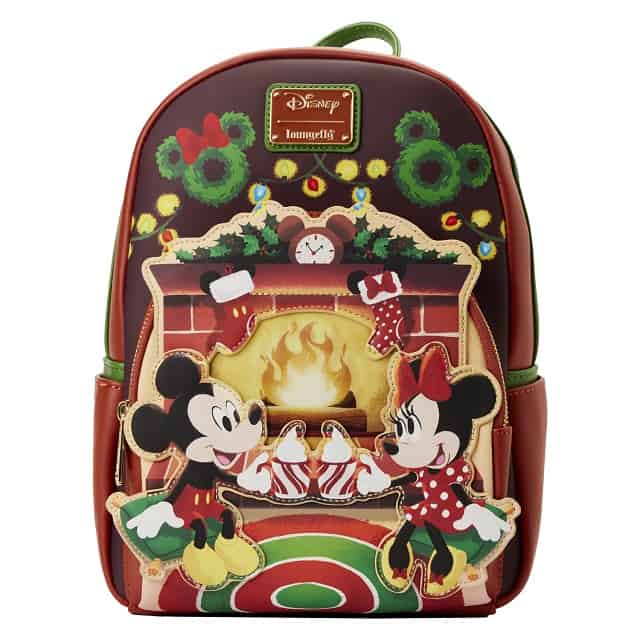 The Mickey & Minnie Mouse Hot Cocoa Fireplace Mini Backpack features a fireplace where Mickey and Minnie Mouse are raising their whip-cream-filled hot cocoa cups in a toast. On the back, Pluto has a wish list for Santa. It retails for $85.00.
Loungefly Crossbody, Keychain and Wallets
Calling all hot chocolate fans! This special crossbody bag takes on the entire shape of a cup of cocoa with Mickey Mouse's adorable face and ears. Unzip a generous portion of whipped cream to reveal plenty of room for all the things you'll need as you dash through the day. And the sprinkles on top are peppermint-scented beads! The adjustable straps are in festive candy cane-colored stripes, which match the candy cane handle on the side. It retails for $75.00.
The other festive crossbody is one of my favorites. It resembles what we love to place over the fireplace in hopes that Santa Claus will visit our home on the night of the 24th! The entire purse takes on the entire shape of a holiday stocking, but all done up in Minnie Mouse polka-dot style. Just under the cuff of the stocking, you'll find the zipper top, which opens to reveal plenty of room. Also, at the top, you'll find Minnie Mouse's signature ears and bow.  It retails for $75.00.
The second wallet of the collection features Mickey Mouse and Minnie Mouse Fireplace with Cocoa Zip Around Wallet. Inside, you'll find 4 slots for holding cards and 1 clear slot for your ID. It retails at $40.00. Do you see a common theme in this year's collection? Oh yes! A toast to a hot cup of cocoa!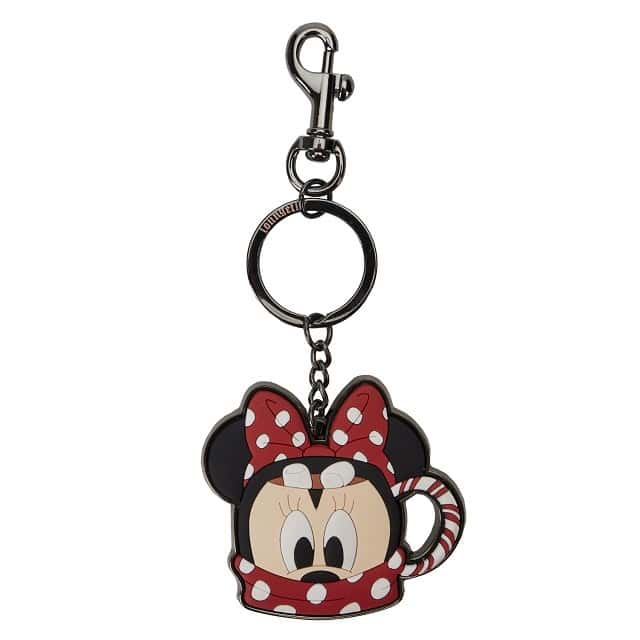 This year's collection features three different festive Disney keychains.
The Loungefly Disney Mickey Ornament 3D Molded Keychain
Disney Mickey Mouse Cocoa 3D Molded Keychain
Minnie Mouse Cocoa 3D Molded Keychain.
Each of them retail at $12.00. A perfect addition to add as an extra accessory piece to your favorite holiday Disney Loungefly!
Apparel, Lanyard, and Pins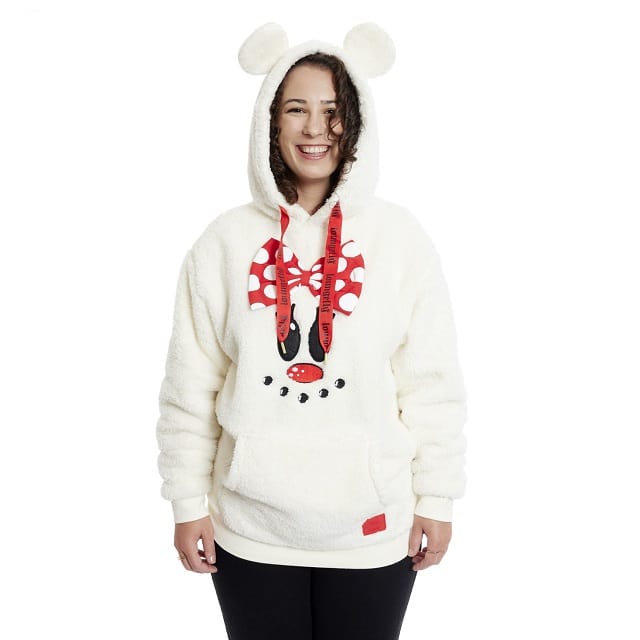 As a HUGE fan of the Disney parks at Tokyo Disney and their holiday Mickey and Minnie snow people merchandise, I knew this hoodie was for me! The body of this comfy hoodie is Sherpa material, with a cozy front pocket for your hands. The hood features Minnie Mouse's ears, which stick out on top. It is made of 100% polyester and the lining is 60% cotton and 40% polyester. It retails at $75.00.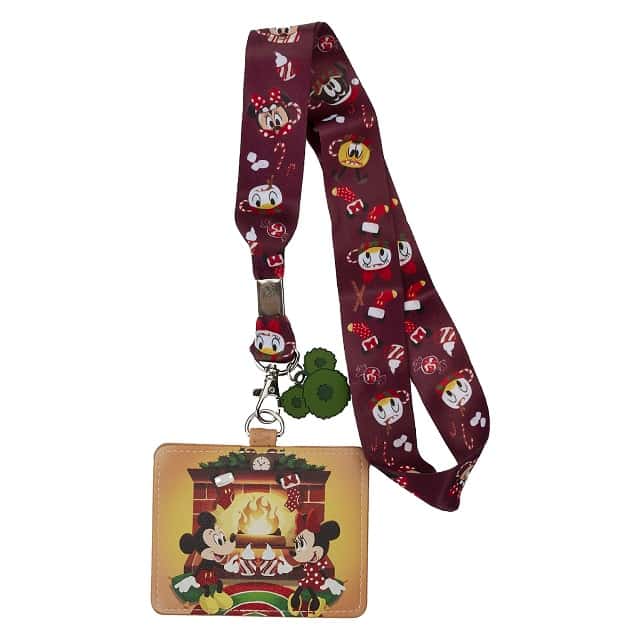 New to this year's holiday collection is the Mickey and Minnie Mouse Fireplace Cocoa Lanyard with Card Holder. The card holder is made of vegan leather (polyurethane). A rubber charm of Mickey's ears, in holly leaves, tops off the look. It retails for $12.00.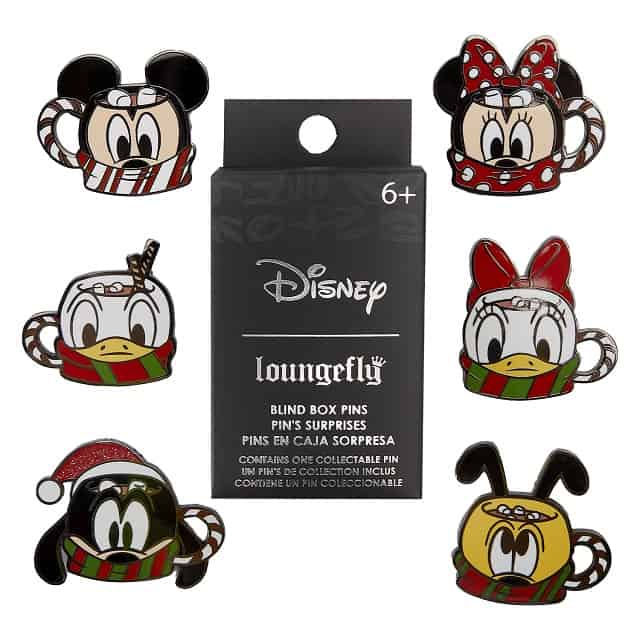 Finally, where are my pin collecting fans?  One of the sets showcases Minnie Mouse with her red and white polka dotted scarf; Mickey Mouse, with his candy-cane striped scarf; Donald Duck, with cinnamon sticks; Daisy Duck, with a red bow; and Pluto.
Pins are sold individually and blind. Collect all 6. There's a 1 in 12 chance you may find the glitter chase of Goofy with a Santa hat on. It retails for $10.00.
The entire Loungefly Holiday Collection can be purchased at Loungefly.com. What a perfect gift for a special loved one or for yourself during this magical time of year! Happy shopping!!
Which piece from the holiday collection are you wanting to receive under the Christmas tree this year? Let us know in the comments on Facebook and in our Facebook group.