The Grand Floridian is one of the most well-known resorts at Disney World. It's also home to Disney Vacation Club villas. If you're considering a stay in a suite or villa, this guide will teach you everything you need to know.
Disney's Grand Floridian Resort and Spa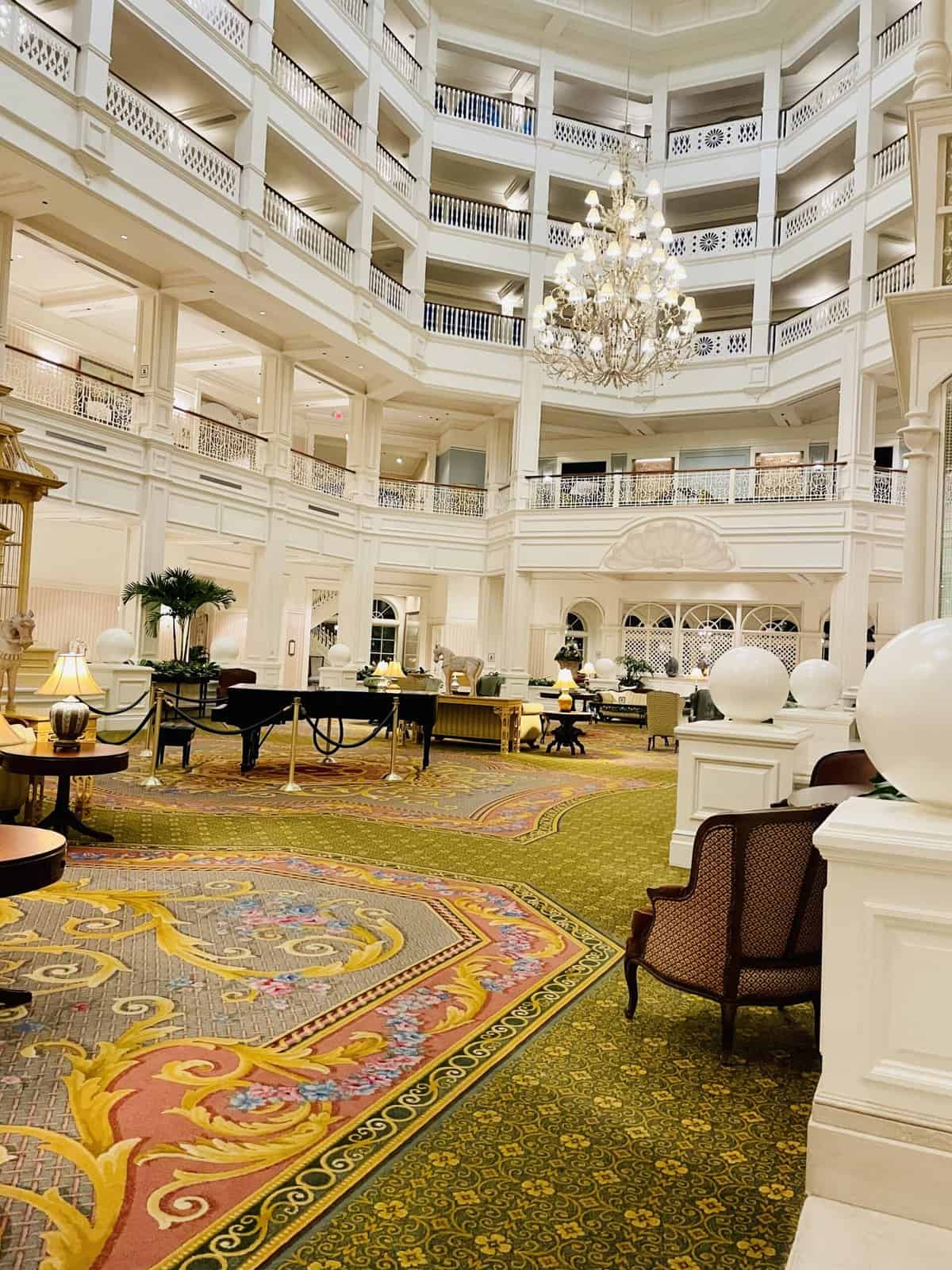 Although the Grand Floridian is not the first Disney Resort, it is one of the most well-known. Themed after the Victorian elegance of turn-of-the-century Florida beach towns, the white buildings and red gabled roofs are unmistakable as you enter the Magic Kingdom area.
Did you know the resorts in the Magic Kingdom area reflect the various lands of the park? The Grand Floridian represents Main Street, U.S.A. with its elegant old-time feel.
The resort opened in the summer of 1988 and is home to many restaurants, the Disney Wedding Pavilion, and almost 1,000 rooms. It has become known as Disney's flagship resort, and it is on the bucket list for many Disney fans despite the high price tag.
Disney Vacation Club (DVC) Accommodations at Grand Floridian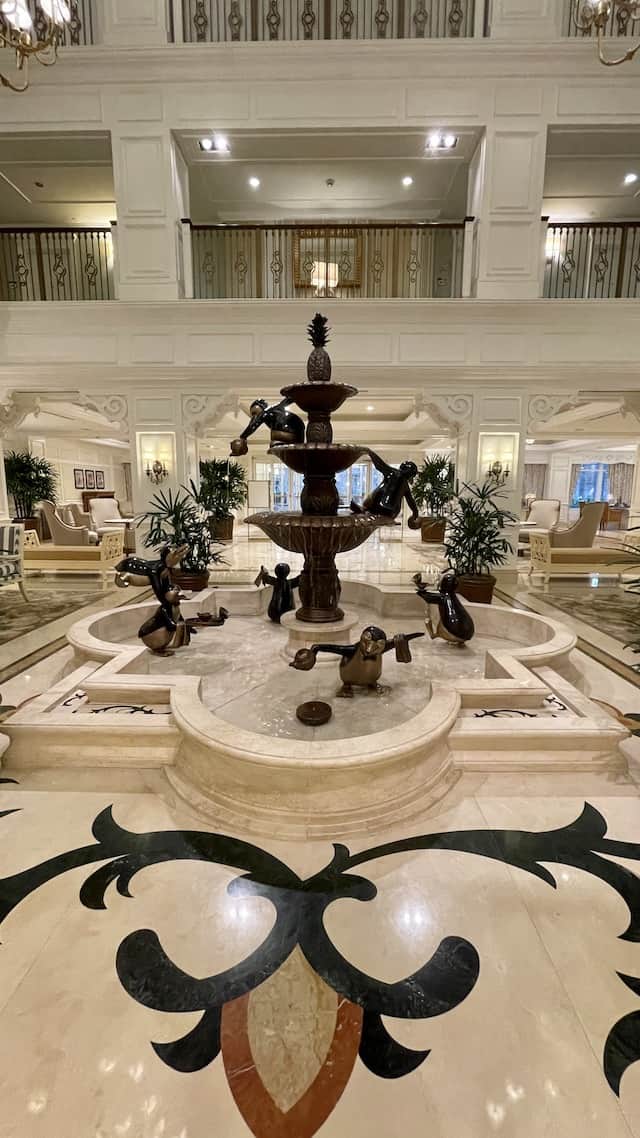 Many people call the Grand Floridian their DVC "home resort" when they visit Disney World. DVC accommodations include 147 suites and villas. The villas were added to the resort in 2013, and a refurbishment of the rooms in the Big Pine Key building will add an additional 200 villas for DVC guests. You can see photos for the planned refurbishment HERE.
There are 6 floors in the current DVC building, although at least half are currently closed for refurbishment (at time of publication). This will make it extremely difficult to get into a Grand Floridian DVC room until the rooms have been refreshed and the new rooms open this summer.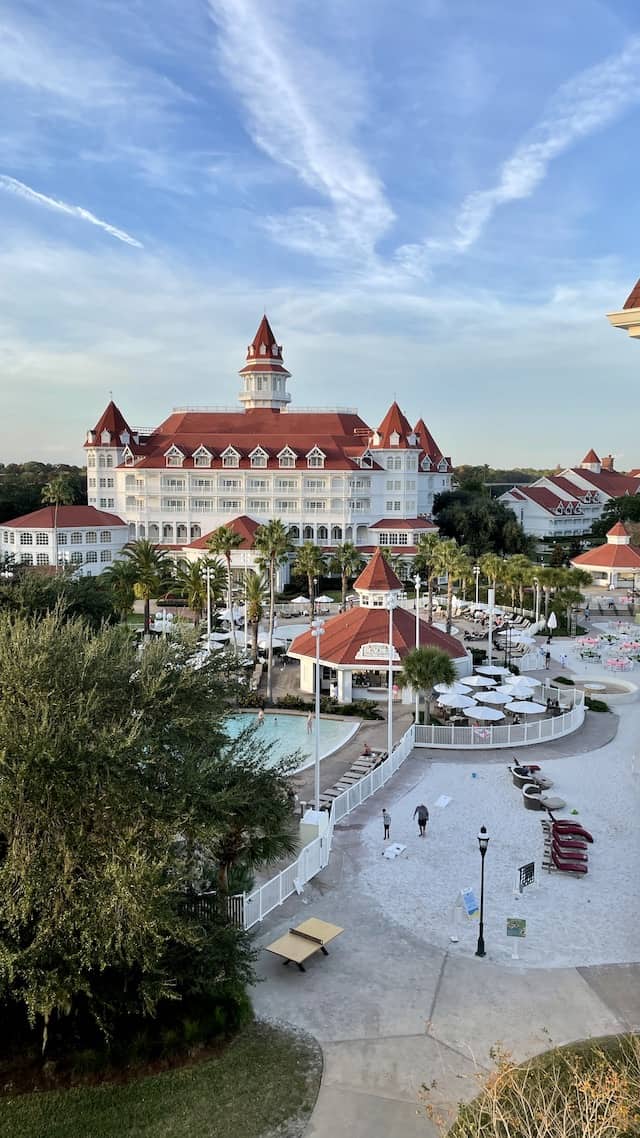 The DVC building is a short walk away from the monorail and main lobby, and it is very close to one of the pools and splash pad. In fact, there is a covered walkway leading from the porte cochere at the main lobby to the lobby of the villas. The villas have their own parking and porte cochere as well as a lobby where guests can access concierge services.
There are studios, 1-bedroom villas, 2-bedroom villas, and 3-bedroom grand villas at the Grand Floridian. There is not really a "theme" to the rooms, but you will find touches of Mary Poppins, Dumbo, and the Sherman Brothers.
My family had the opportunity to stay in a studio for 5 nights, so I would like to show you around!
Studio Tour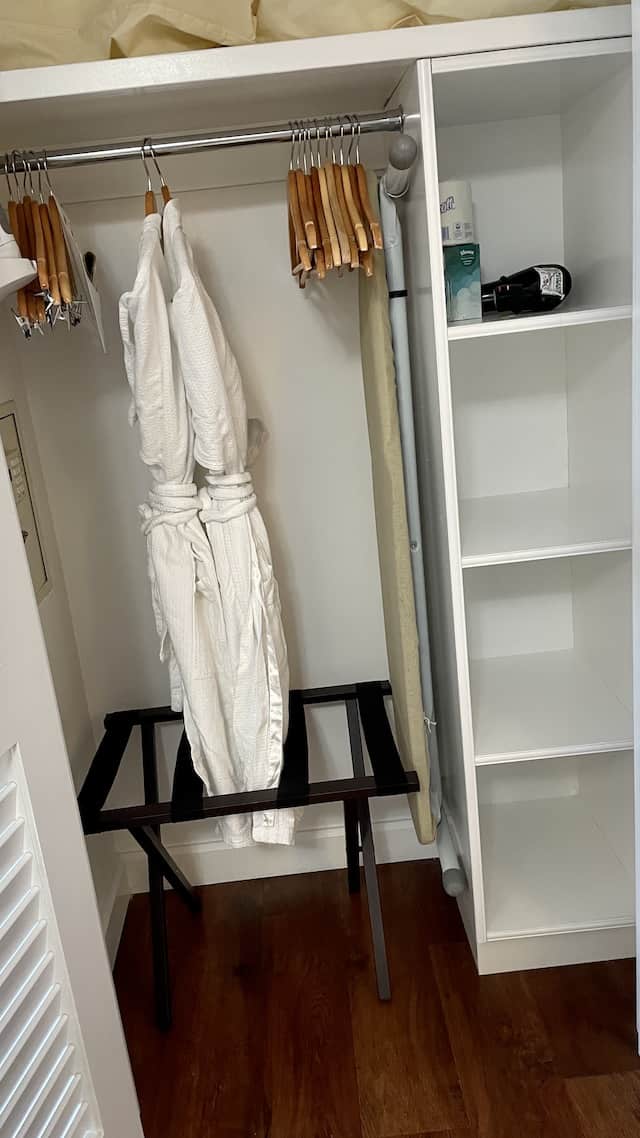 Upon entering a studio, the first thing you notice is the hallway. To your right is a small space with a door leading to the room next to you. If you are not visiting with another party you will not need this space and can instead hold your suitcases, stroller, or other necessities.
Also on your right is the closet area. It comes with storage shelves, two robes, hangers, a luggage rack, iron and ironing board, and extra blankets and pillows. This is the some of the only storage you have in the entire studio because there is no dresser. I suggest bringing some extra hangers and pack wisely!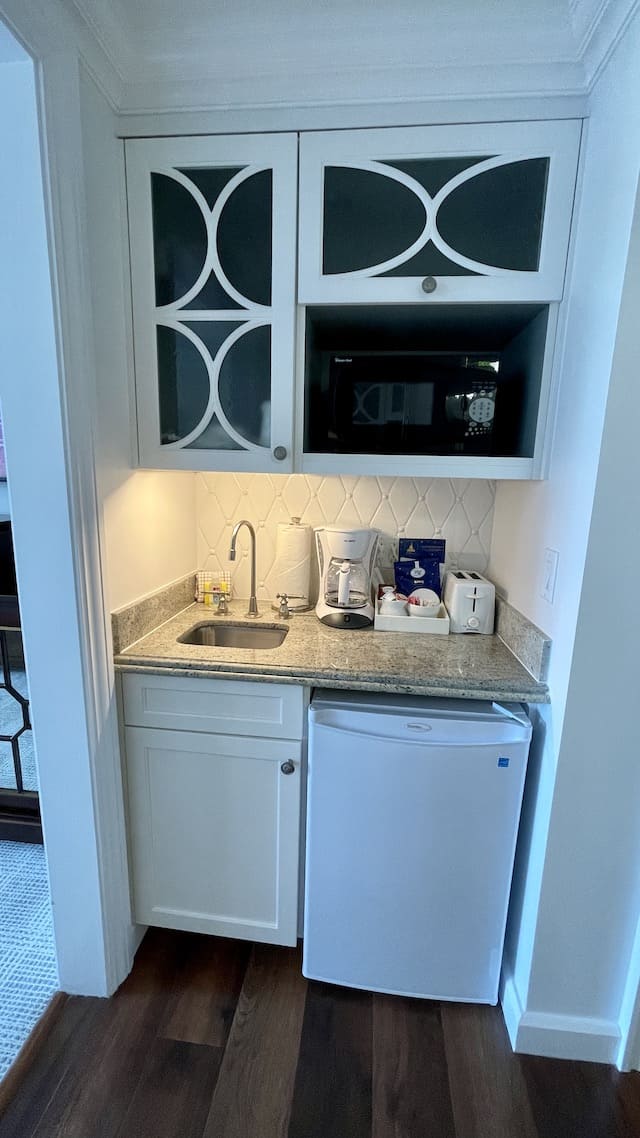 Next to the closet is the kitchenette. This is pretty standard for most DVC studios at Disney World. There is a sink, drink cooler (not a mini fridge like many think), microwave, toaster, coffee pot, and all the essentials you need. You can find soap, towels, utensils, bowls, and cups. Unfortunately, you will not find the roll-out pantry shelves like at Copper Creek and Bay Lake Tower. There is not a lot of storage for snacks, so do be mindful of this.
In the villas with a full kitchen, you will find more of the amenities of home like pots, pans, a full refrigerator, stove, and more. I prefer the full kitchens just because we have a large family and I like to spread out more. For this trip, we booked two studios instead.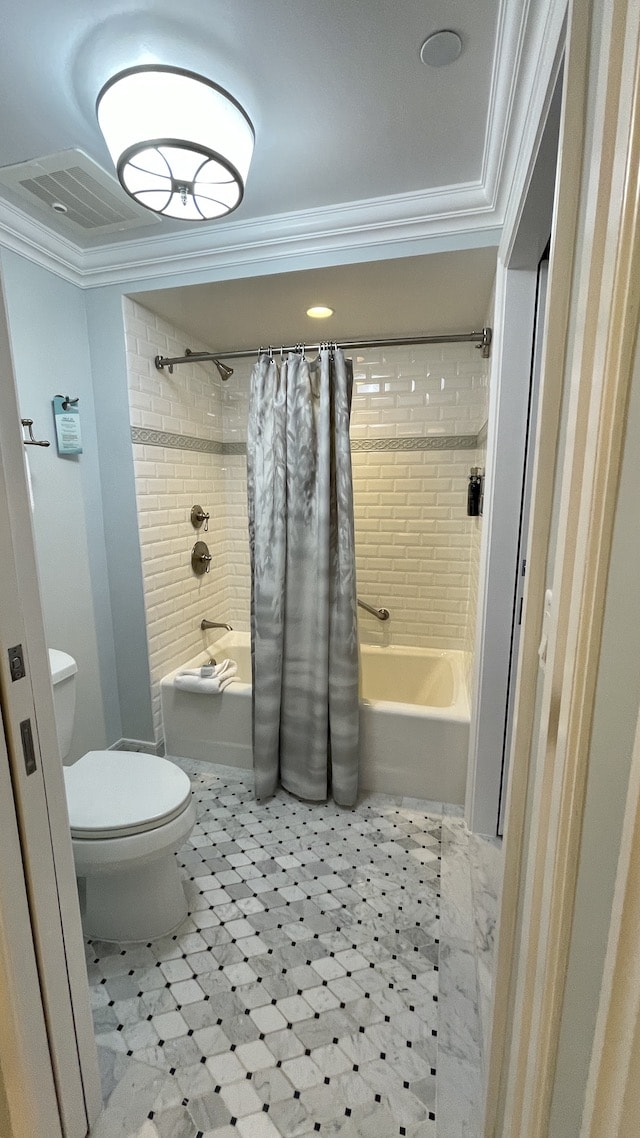 Across the hallway is the split bathroom. Only a few other Disney DVC hotels have split bathrooms with a toilet and tub/shower combo in one room and the vanity and stand up shower in another. Polynesian and Riviera are the other two.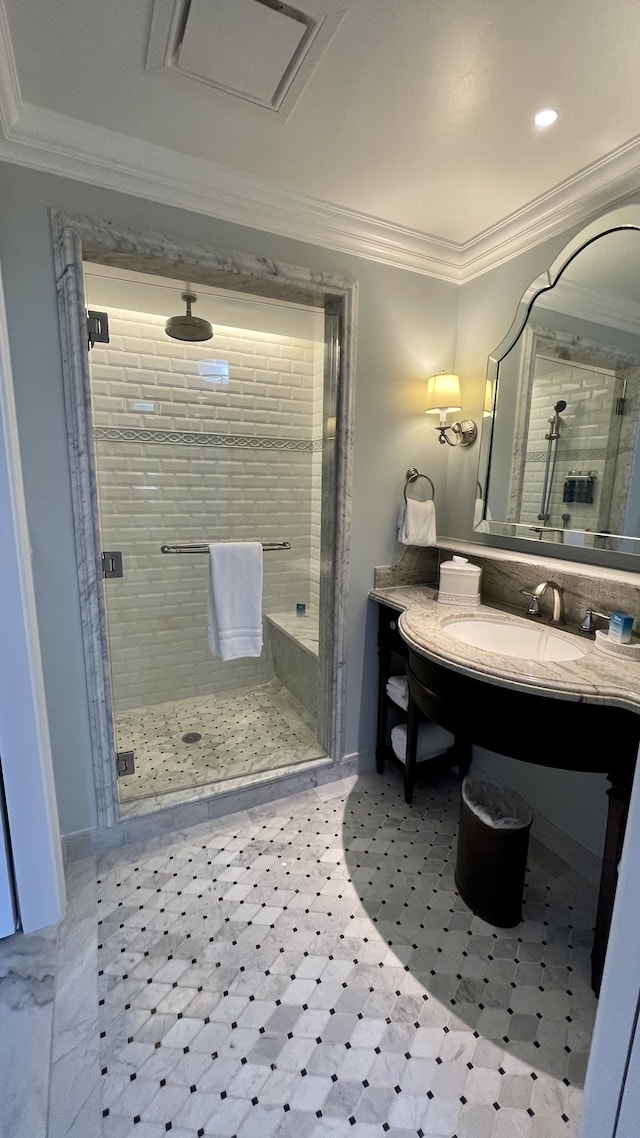 There is not a lot of storage space on the vanity, but the pocket doors are nice for saving space. I really appreciate having two showers in one room, and I wish more DVC studios would offer that.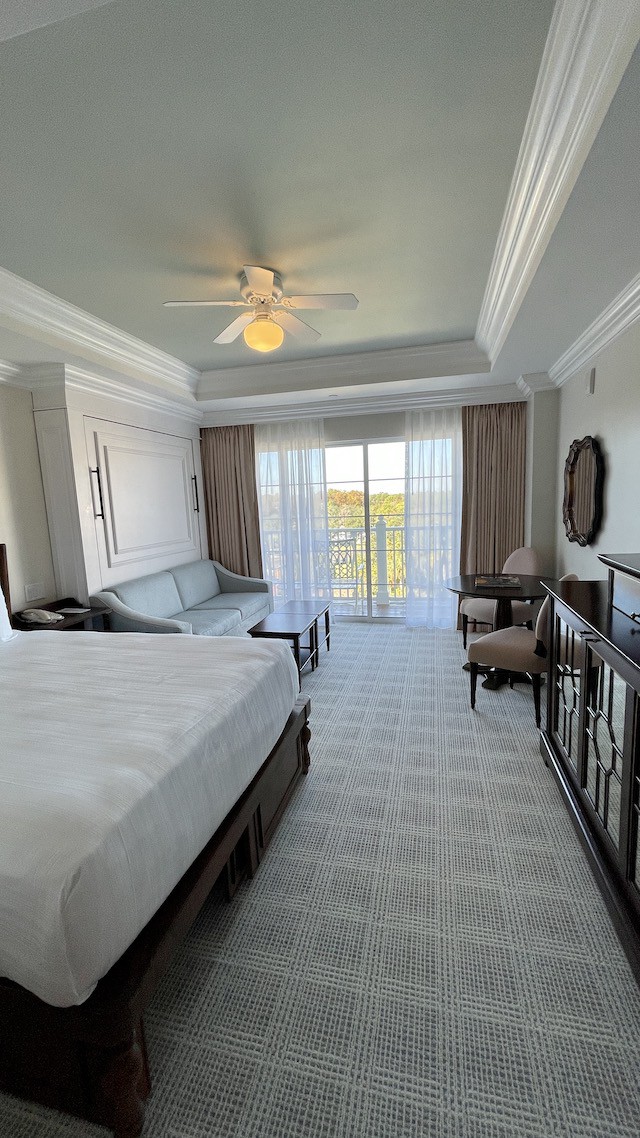 In the main living area is a queen bed with a few pull out storage drawers and an open space to put your suitcases in. There is a sofa that pulls out into a bed, a table and two chairs, and a small coffee table.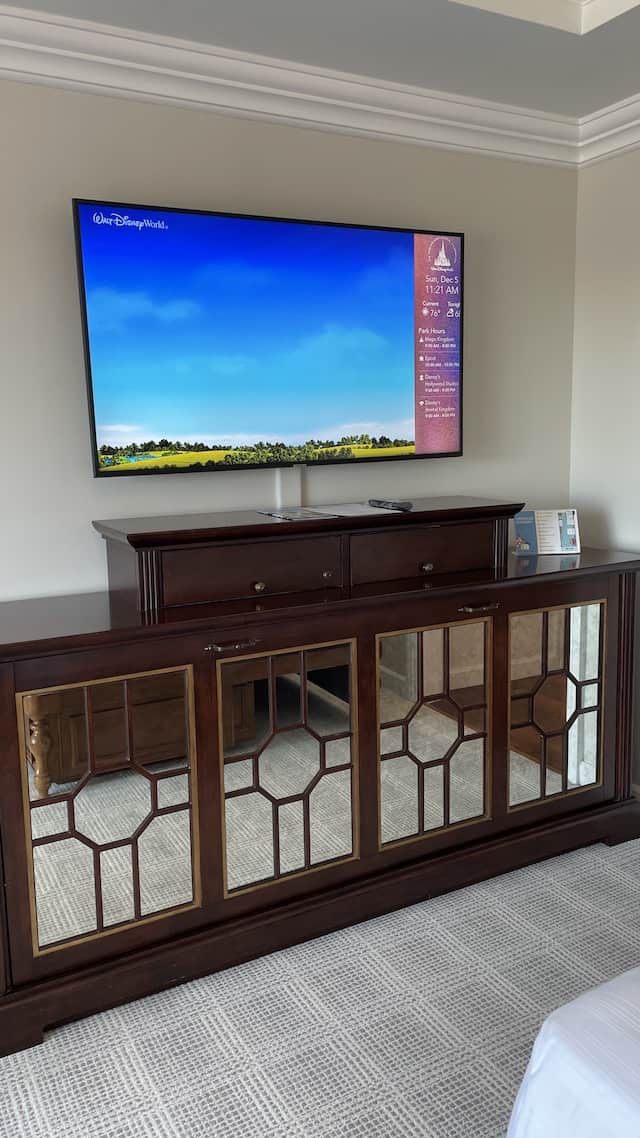 This studio does sleep five because there is a pull out bed under the television. This is why there is no actual dresser in the room!
DVC Amenities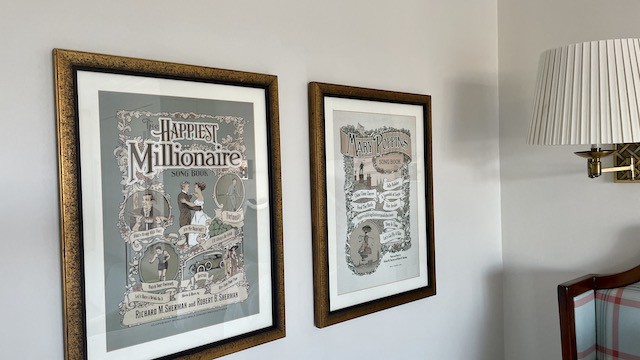 Your stay at the Villas at Disney's Grand Floridian Resort and Spa will feel truly feel like home with all the amenities. As stated above, you have access to a full kitchen if you stay in a 1-bedroom, 2-bedroom, or 3-bedroom. Additionally those villas also have a full size washer and dryer which is great for doing laundry during your stay.
If you are staying a studio you will not have a washer and dryer in your room. The laundry room is located on the 4th floor of the DVC building. Unfortunately, the 4th floor was closed while we were there. Concierge gave us a card with enough money for each load of laundry and sent us over to Big Pine Key to do laundry there. This was an inconvenience, but we understood the reasoning for it.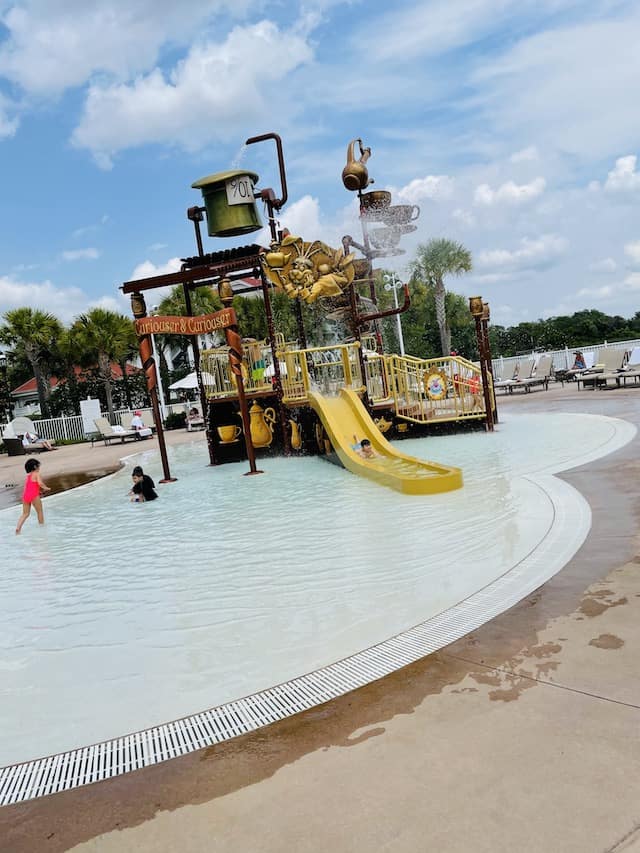 Other than room amenities, the Grand Floridian offers so many recreational activities. There are two pools, a splash pad, sand beach area with games, marina with boat rentals, arcade games, a full salon and spa, a fitness center and jogging path, and the Wedding Pavilion.
I highly suggest making time to enjoy everything the Grand Floridian has to offer. We enjoyed a movie on the lawn and writing letters to Santa during our stay. We spent more time at the pool than we usually do, and my children really enjoyed the beach area.
You can read more about what the Grand Floridian has to offer by reading Christina's review HERE and Jamie's review HERE.
Have you ever stayed at the Villas at Disney's Grand Floridian? What did you think of it? Would you consider staying here after reading this guide? Let us know in the comments below and on Facebook!