Check out our Aladdin Musical review to see for yourself why this fabulous production is not to be missed!
Broadway Closure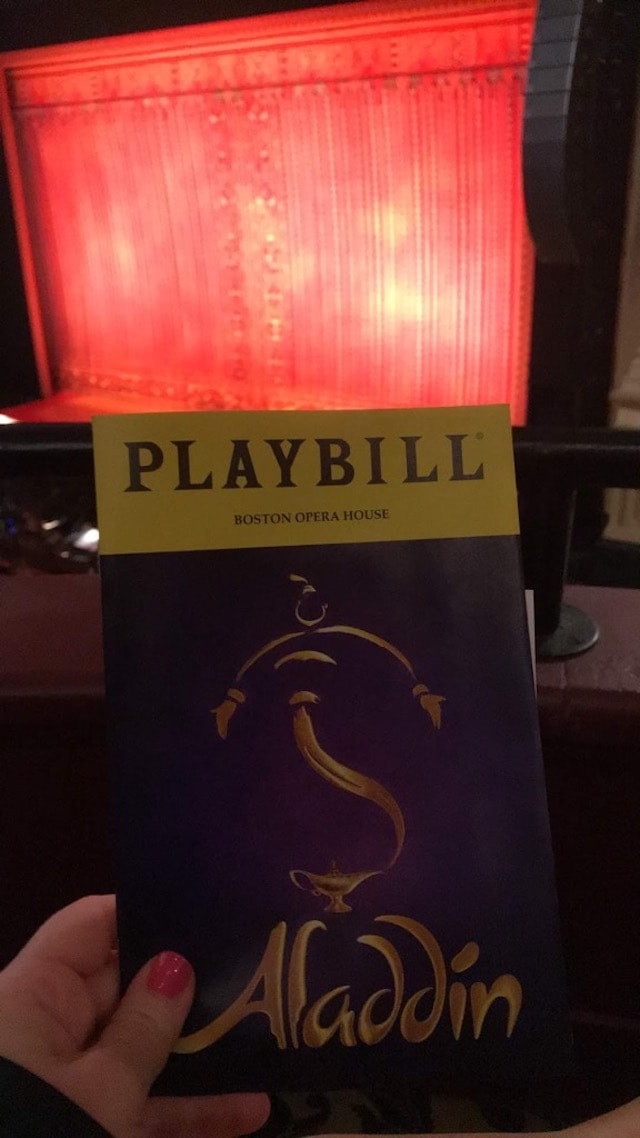 In the summer of 2020, Disney announced suspending productions of Aladdin and the Lion King until January 2021. Not only this, but all of Broadway shut down due to Covid-19. However, since Broadway remained closed, Aladdin and the Lion King did not resume shows.
Another Disney musical production, Frozen, will not be returning to Broadway. We were disappointed with this news. Fortunately, Disney's Frozen musical will be touring during the 2021-2022 season. Check your local theater to see if it's coming near you.
Behind the Scenes Disney Magic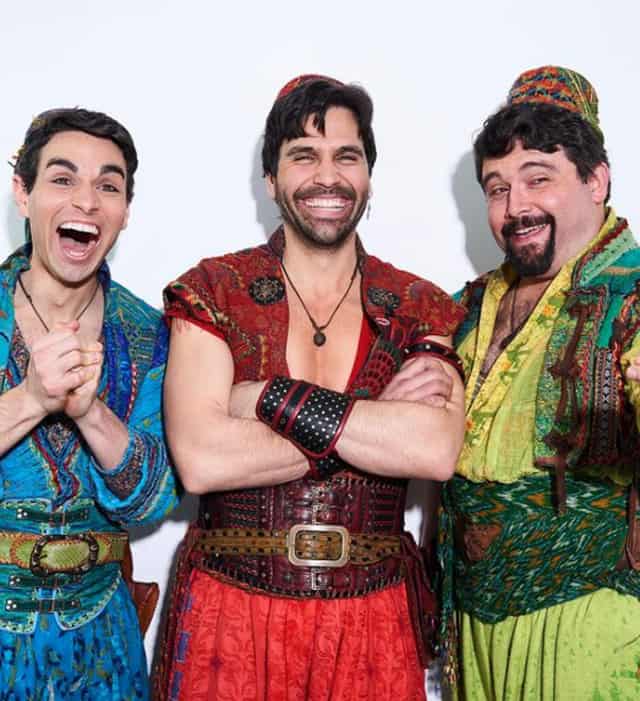 Because of the pandemic, Broadway stayed closed longer than the original date. That didn't stop the Disney magic from continuing. Check out Disney's choreography from The Lion King, a home version of "Go the Distance" by Broadway stars, and an at home concert performed by Broadway's brightest stars.
Exciting News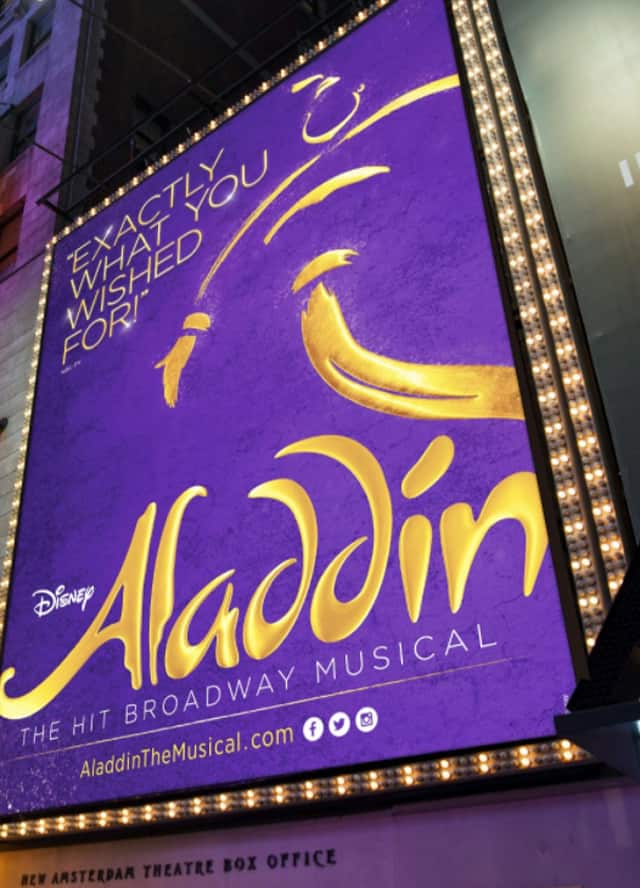 In May, Good Morning America announced Broadway re-opened on September 14, 2021. Three shows will be a part of this Return of Broadway including Hamilton, The Lion King, and Wicked.
Disney's Aladdin first performance since re-opening was on September 28, 2021.
The Story of Aladdin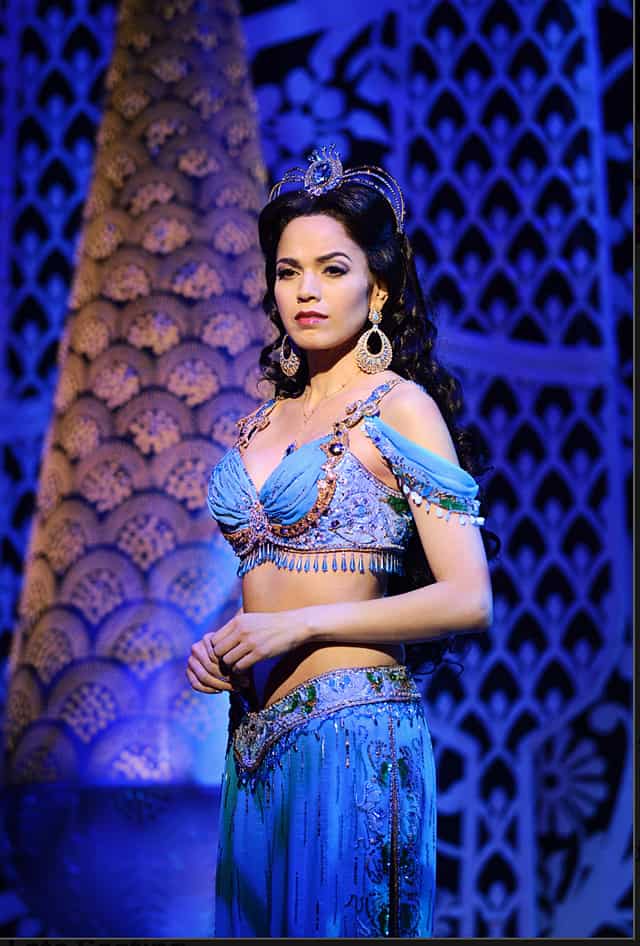 Aladdin is named for one of the main characters in the story. In the beginning, people call him a poor street urchin. He steals food from the marketplace and him and his sidekick live a simple but carefree life. Suddenly, his whole life changes when he meets an enchanting girl at the market. He doesn't know it at the time, but his encounter is with Princess Jasmine.
Along the way, Aladdin recovers a magical lamp at the Cave of Wonders. To his surprise, the lamp comes with a hilarious wish granting genie. Genie helps Aladdin win Jasmine's heart, but there's a villain, Jafar in this story. Jafar brainwashes Jasmine's father into having Jasmine marry him. Jafar wants the throne, the riches, and even the magical genie lamp for himself. In the end, Aladdin sets genie free, and gets the girl.
Shows Beginnings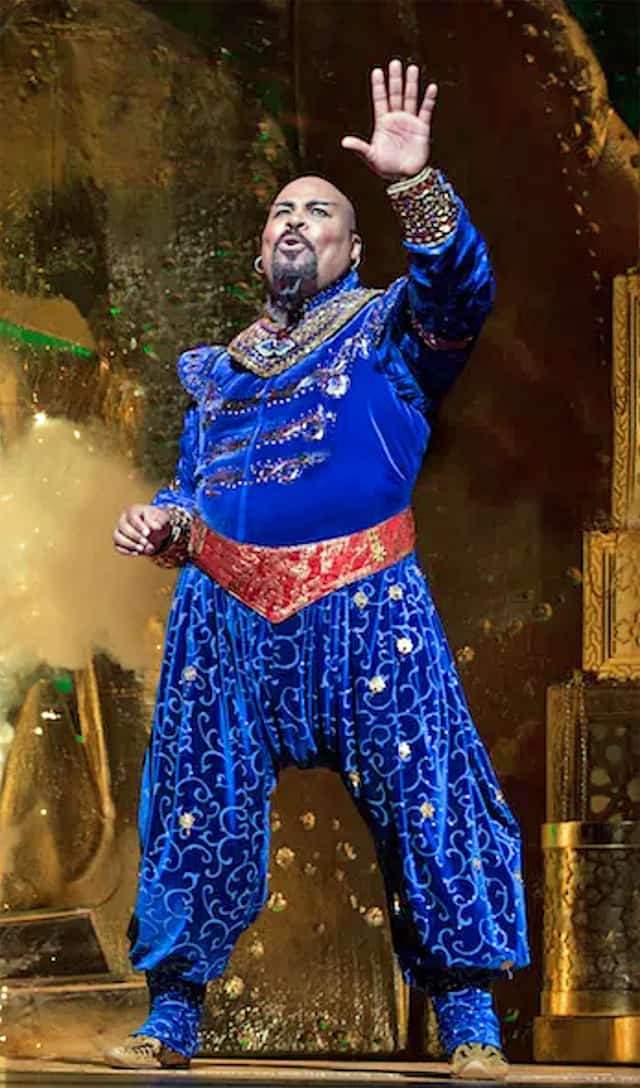 The musical is based on the 1992 Oscar-winning animated film Aladdin. Aladdin the Broadway Musical officially opened on March 20, 2014. This wonderful production received 5 Tony Awards nominations in 2014. These nominations included Best Musical.
James Monroe Iglehart, the original Broadway Genie, won best actor that year!
Why Should I See this Show?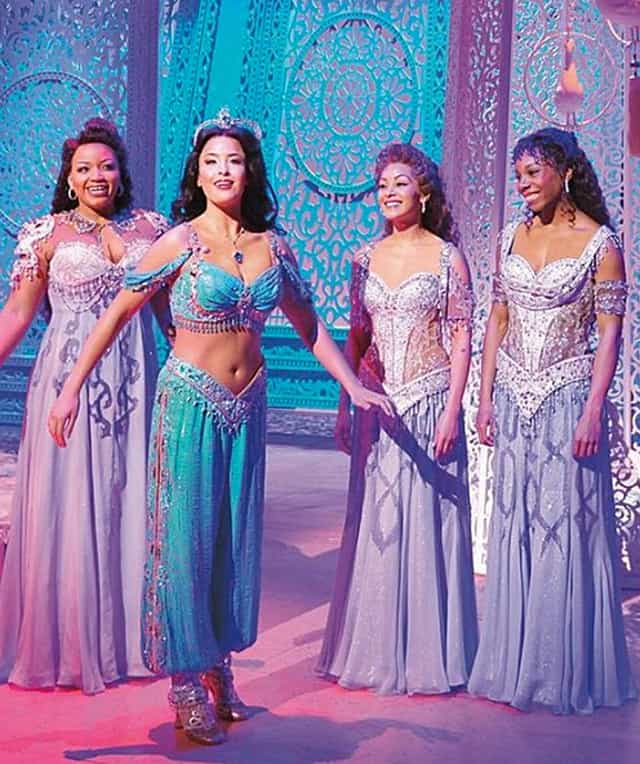 Whether you're an avid theater goer or love everything Disney, this is a not to be missed show! As with all Disney Broadway productions, they are family friendly. The Aladdin the Musical website recommends the production for ages 6 and over. It may be difficult for children younger than 6 to sit through the entire show.
"FABULOUS AND EXTRAVAGANT!"

The New York times
Watching Aladdin feels like our favorite animated movie comes to life! From the moment the show begins, it's evident that it's going to be a top notch show. The detailed props and colorful costumes give a "cartoonish" feeling while still keeping the story believable. Not only that but the acting is superb.
Read on to see some of my (Susan) favorite parts of this show-stopping musical.
Amazing Aladdin Facts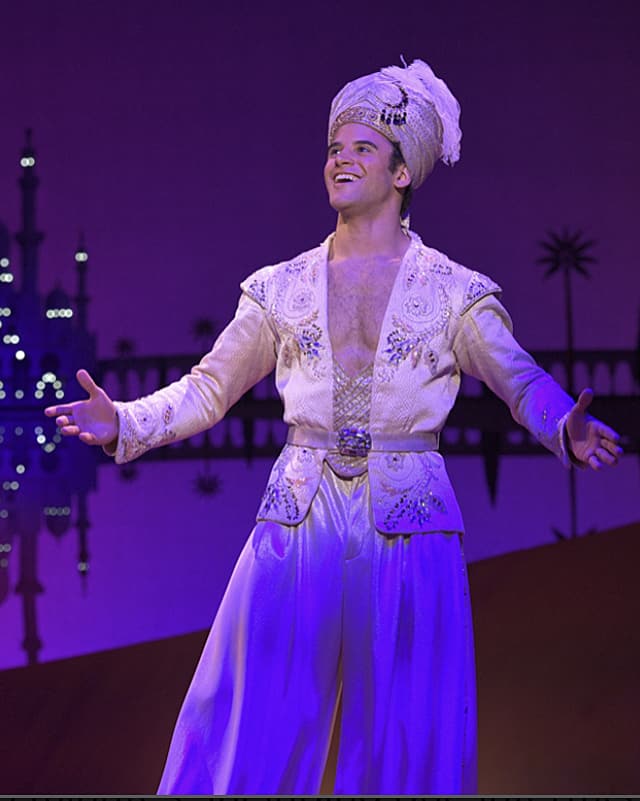 Since its beginning in 2014, Aladdin the Musical boasts over 10 million viewers worldwide! The costume designs here are truly one-of-a-kind.
A single costume contains 8,644 Swaovski® crystals!
This "magical" production contains 84 wonderful special effects. One of my favorites is the flying magic carpet. Finally, there are 6 productions worldwide. Lots of Disney lovers!
Making Aladdin Come Alive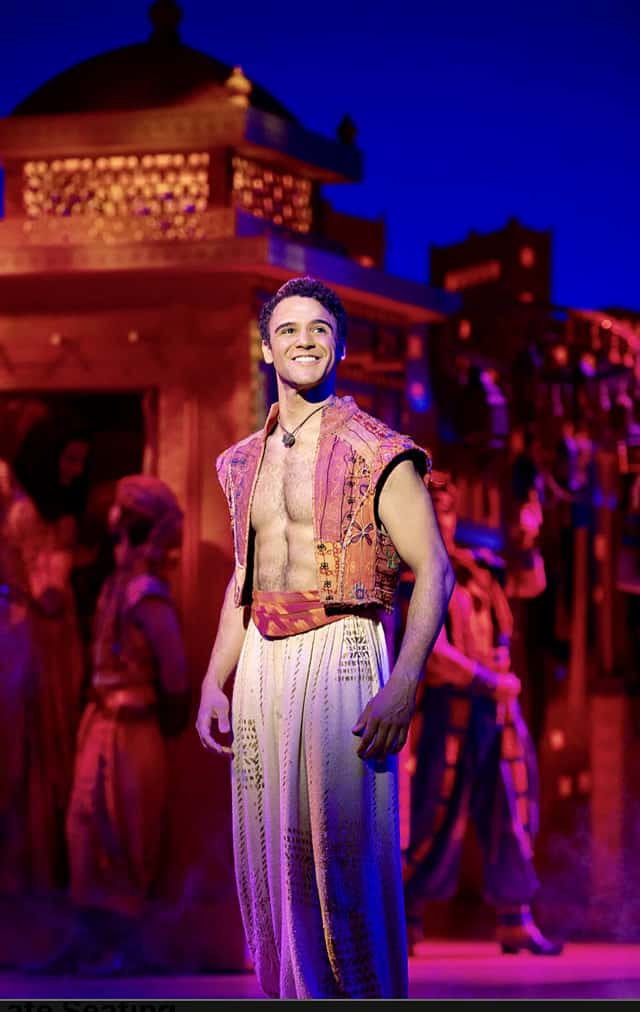 To put on each Aladdin performance, approximately 180 people are needed. This includes actors, musicians, stage crew, dressers, make-up artists, hair stylists, ushers, and box office employees. If you're wondering how the actors change so fast, they have a staff that assists them!
"MUSICAL COMEDY WISH-FULFILLMENT!"

The New York Magazine
Genie Lamp Prop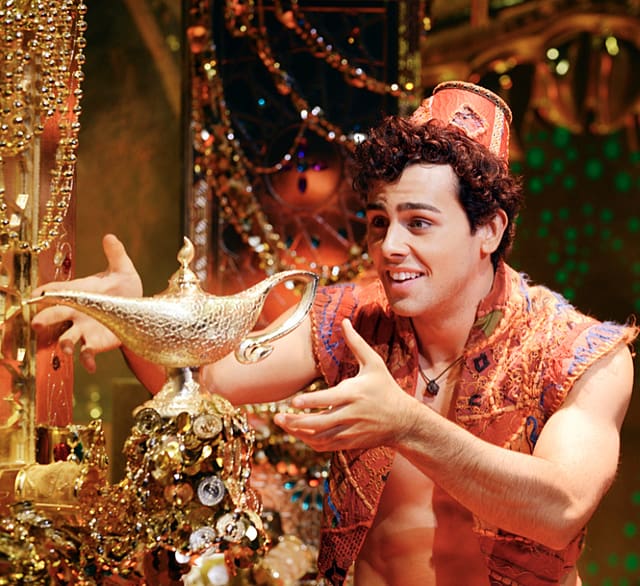 One of my favorite props is the genie lamp. There are several steps in creating the famous genie lamp. First, the lamp is hand sketched. After that, the crew creates a 3d computer rendering of the genie lamp. Then, this "magical" lamp, is handcrafted in clay to create the specific design. Lastly, it's painted and intricate details are added.
Interesting Fact: It takes several days to print each lamp. The 3d rendition is built from several layers.
Music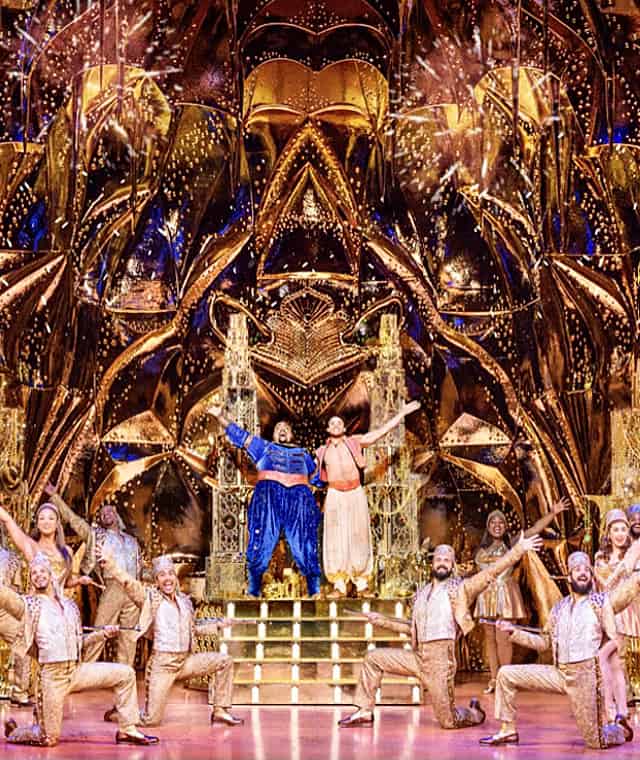 The show's songs feature music by Tony and Oscar winner Alan Menken. Lyrics are by the following creative people:
Howard Ashman, 2 time Oscar winner
Tim Rice, Tony and Oscar winner
Chad Beguelin, Tony nominee
Watch a sneak peek of this fabulous production below:
Aladdin the Musical is directed and choreographed by Tony winner Casey Nickolaw. As you can see, this is quite impressive list! Even if you're not familiar with these artists, just look at each of their awards. And in case you're wondering, yes, the music really is that wonderful! Each song transforms you to a far away land where, just maybe, dreams do come true.
Other Prop and Costume Details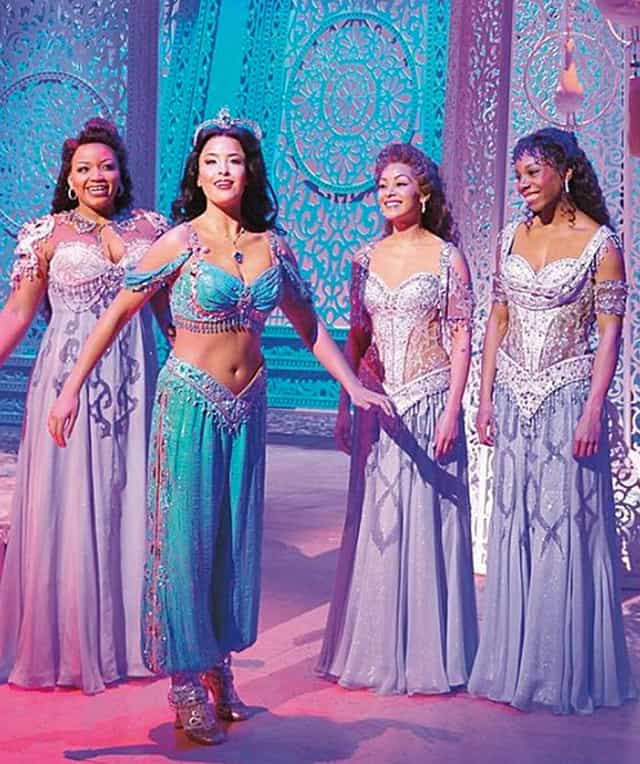 Creating the Aladdin the Broadway Musical truly was a team effort. Included in this create group are scenic designer Bob Crowley, lighting designer Natasha Katz, sound designer Ken Travis, and costume designer Gregg Barnes.
Cool Fact: 342 people in 26 different costume shops worked on the construction of the costumes for Aladdin.

aladdinthemusical.com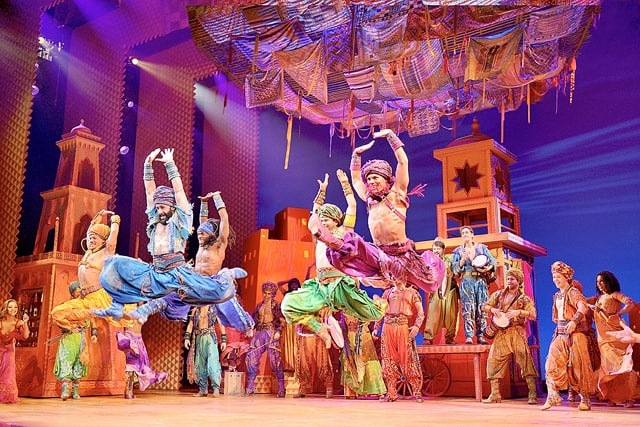 The stunning fabrics used were imported from 9 different countries: Morocco, India, Turkey, France, Italy, China, Italy, Uzbekistan, and Guatemala.
Genie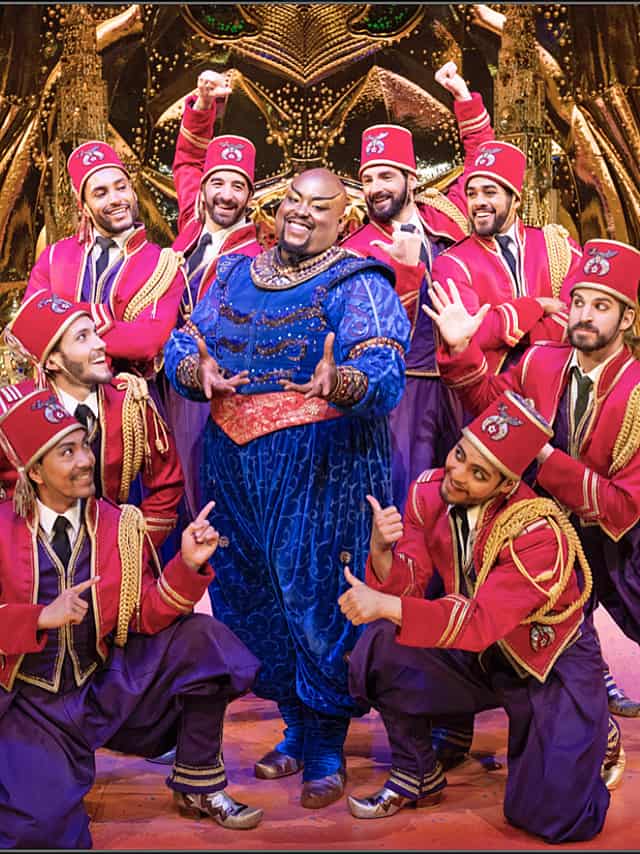 All of the actors were amazing, but the showstopper here is Genie. His outgoing and hilarious personality steals the show! His show presence is fabulously bold without overpowering the other actors on the stage.
Interestingly, the character of the Genie for the animated movie was initially going to be based on jazz greats Cab Calloway and Fats Waller. However, this inspiration was not used in the Aladdin movie. In a wonderful way, these inspirations were brought back with the musical. If for no other reason, go to see Genie grant wishes and keeps you in stitches!
Ways to Catch the Show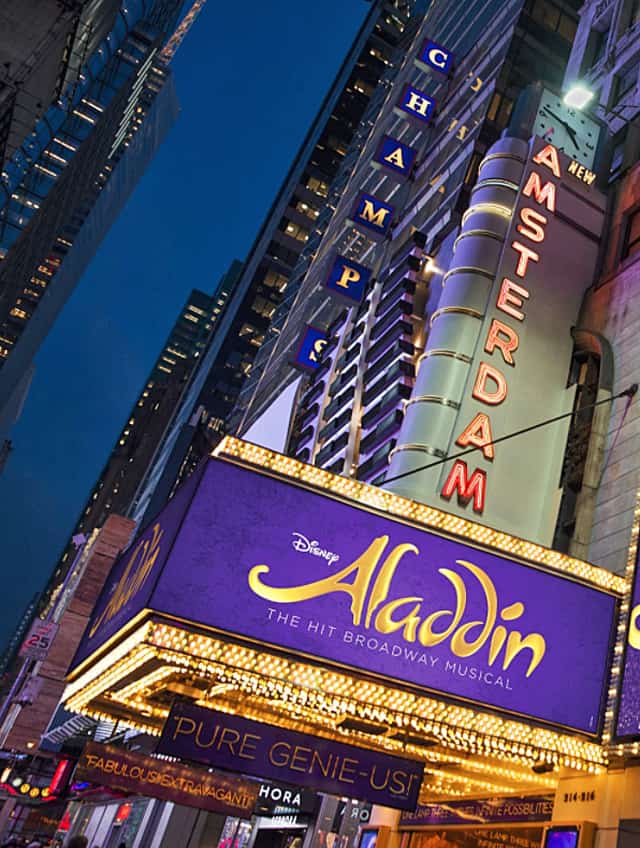 Join the cast of Aladdin on stage at the famous New Amsterdam Theatre in New York City for an immersive performance of Aladdin. The show runs 8 times a week at the historic New Amsterdam Theatre on 42nd Street. If you haven't seen a Broadway show in New York City, I hope you can. There's a unique charm that comes from these smaller theaters so rich in history. The theater itself is a work of art. We (Susan and kids) loved it so much there! Now in its sixth hit year on Broadway, Aladdin will make your wishes come true.
Not near New York City? No worries! Aladdin the Musical is also touring world-wide and throughout the USA in the 2021-2022 season. We enjoyed the touring version at our local theater in 2019, and it was AMAZING! To find locations, purchase tickets, go to the official Disney Aladdin The Musical website here.
Final Thoughts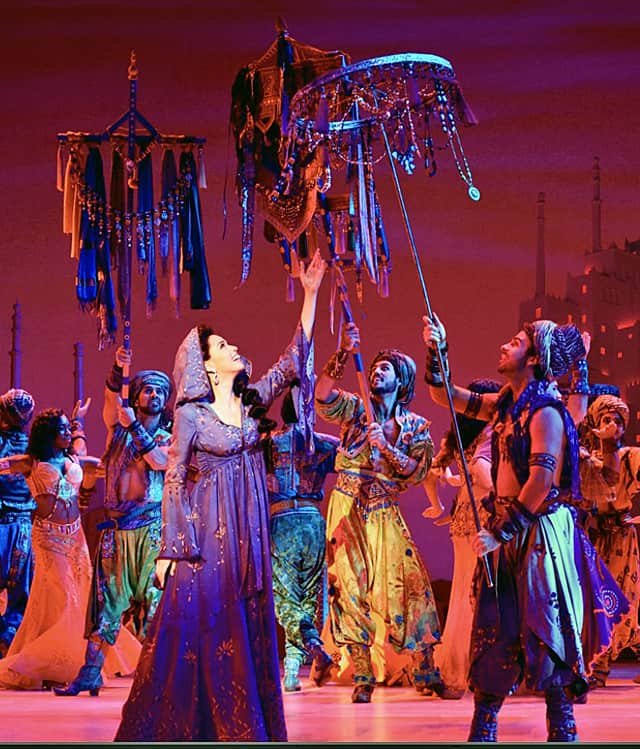 It's such an enjoyable show that people of virtually all ages can enjoy. Watching Aladdin is a wonderful way to forget your "real life" for just a few hours and be transformed into a magical place. We (Susan and husband, Larry) absolutely loved every single thing about this show. Along with all of the other wonderful details, the show is also hilarious!
Although the story moved quickly, the singing and dancing kept us on the edge of our seats. But without doubt, Genie tops the list!! I (Susan) hope to have inspired you to catch the show soon.
Have you watched Disney Broadway shows? Or would you consider going now that theaters are re-opening? Please share your thoughts below or on our KtP Facebook Page.
Source: aladdinthemusical.com
Are you planning a vacation? Reach out to our trusted travel agency sponsor Authorized Disney Vacation Planner
Mouse Class Travel
!