LATEST VIDEOS
Subscribe to my Youtube!
Just Mousing Around - LIVE
LIVE - Just Mousing Around
LIVE - Just Mousing Around Tonight!
We're thrilled to share that live entertainment is back on the boardwalk! Check out the hilarious and talented latest act performing here.
Disney's Boardwalk Resort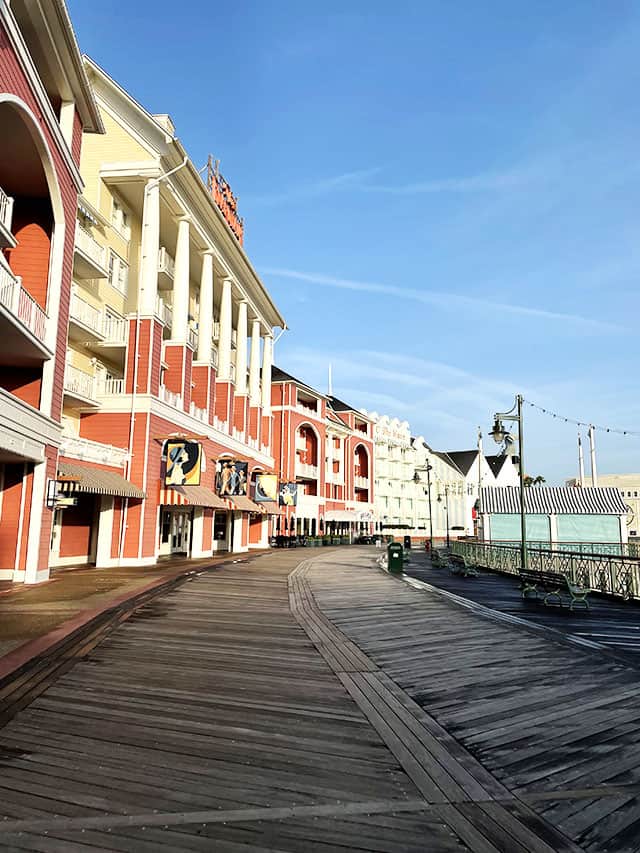 The BoardWalk Resort is one of the most unique resorts in all of Disney World! Not only is it one of Disney's Deluxe hotels and DVC locations, but the actual boardwalk offers fun entertainment and plenty of dining choices as well.
Described as a resort that evokes turn-of-the-century boardwalks in coastal cities such as Coney Island and Atlantic City, the Boardwalk Resort has a theme that sets it apart from the rest.
The Boardwalk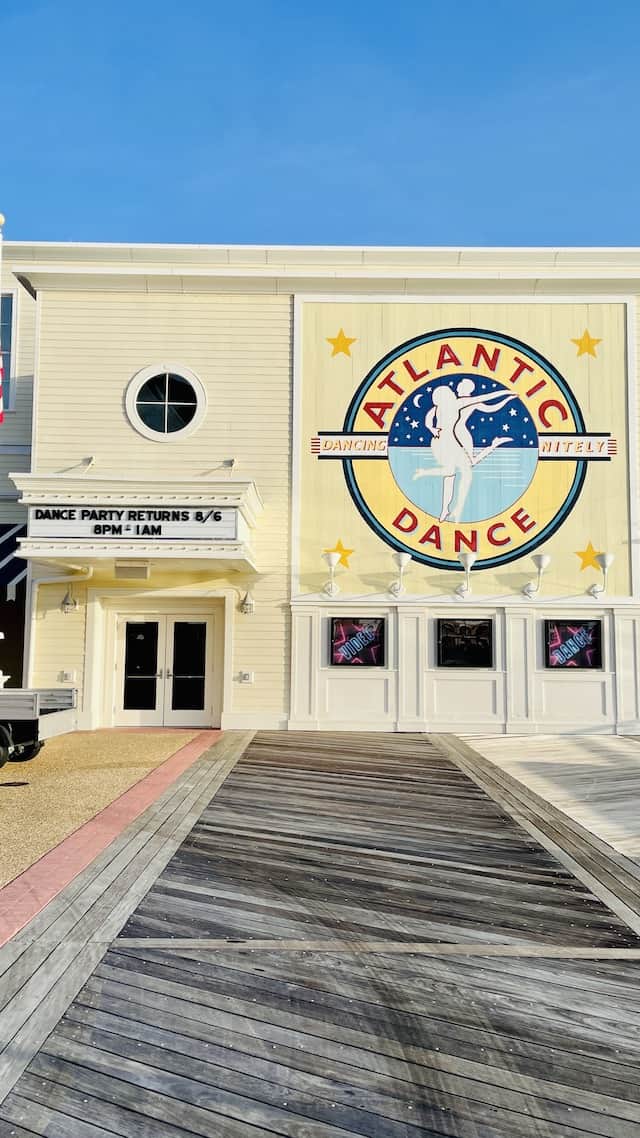 Here, guests find table service restaurants, walk-up locations, and even a magic-themed bar. Not only that, but on the boardwalk, guests can play basketball, rent surrey bikes, and so much more!
For entertainment, Guests can enjoy Jellyrolls and the Atlantic City Dance Hall for guests 21 years of age and older. This location is a throwback to the 80s and 90s dance clubs.
Live Entertainment Returns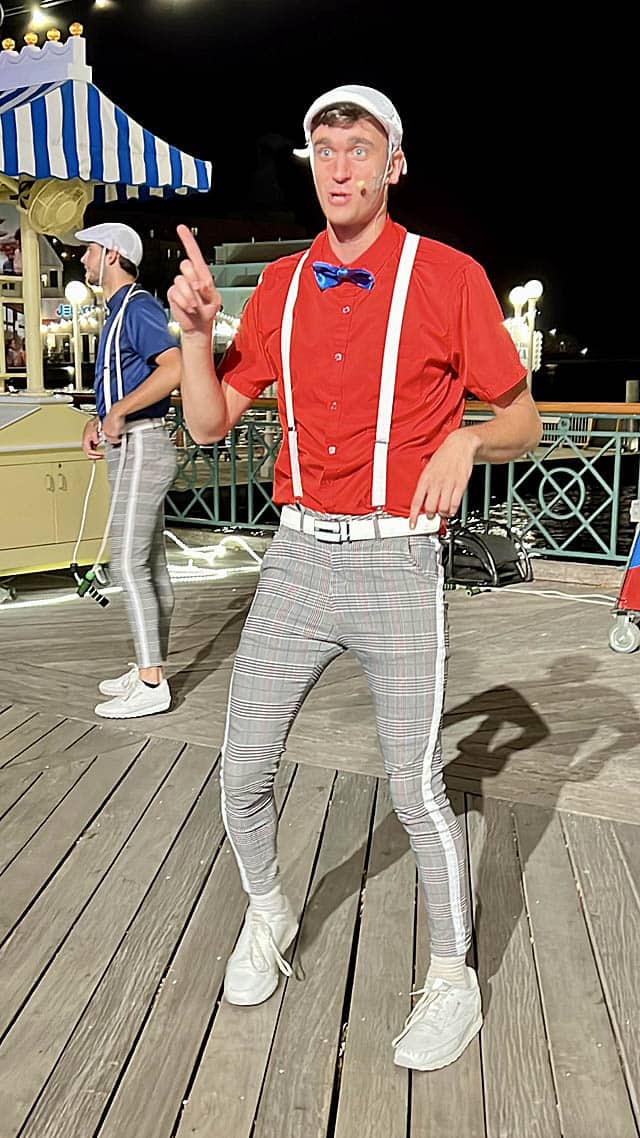 Before closing for Covid-19, Disney's Boardwalk hosted a variety of live entertainers on the boardwalk. On our recent visit, Maggie and I (Susan) were thrilled to see an act started as we approached Trattoria to check-in for dinner. When we approached, the group was recruiting guests to join their show.
Boardwalk Bouncers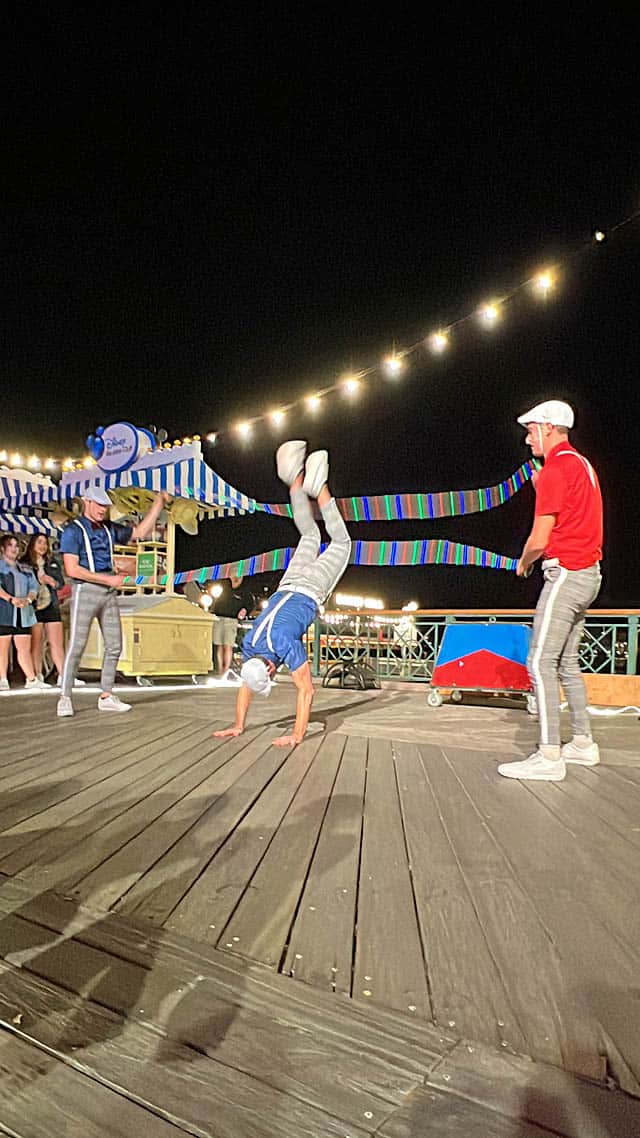 Energetic, entertaining, and wildly talented are just a few words to describe this talented trio. They engaged the crowd, encouraging everyone to get as close as possible to the fun! A string of lights bordered the performing area which was a cool touch.
They "bounced" using a variety of amazing jump rope feats. Not only that, but the jump ropes lit up as they performed their combination of gymnastics and jump roping.
Crowd Interaction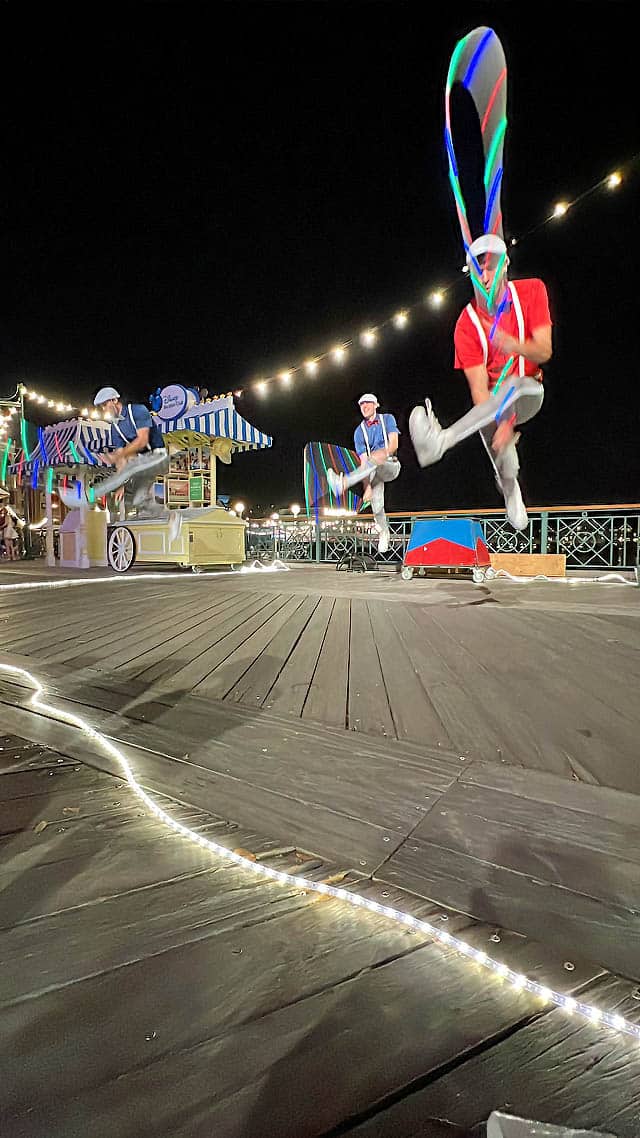 Throughout the 15-minute performance, the crowd was expected to cheer and clap loudly throughout each act. In addition, the comedic lines kept everyone cracking up. They were not just performers, but wonderful entertainers as well.
The Act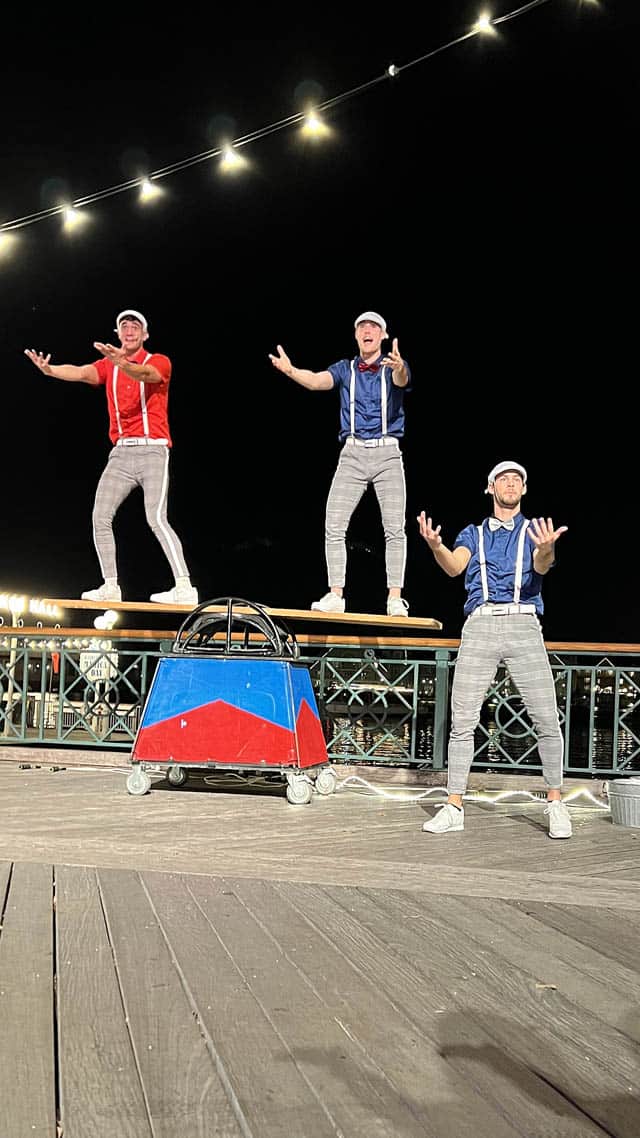 After introducing each group member, the trio set out with so many amazing feats! First, they jump roped individually, then the ropes were intertwined as the trio performed amazing act jumping simultaneously.
In addition to all of the bouncing and jumping rope, they even jumped rope while balancing on a see saw above the ground. This energetic act was so fun! Hope you can catch live acts on the boardwalk soon.
I hope you get a change to catch the live entertainment at Disney's Boardwalk Resort. These acts as well as everything else happening on the boardwalk make it "come alive" at night.
Are you excited about live entertainment returning at Disney's Boardwalk Resort? Have you seen other entertainers here? If so, which one? Please share your thoughts in the comments below or on our Facebook page.
Are you planning a vacation? Reach out to our trusted travel agency sponsor Authorized Disney Vacation Planner
Mouse Class Travel
!