Have you been looking for something new to try in Disney's landscape of dining? Flying Fish might just be the next dining highlight of your trip!
No One Really Talks About Flying Fish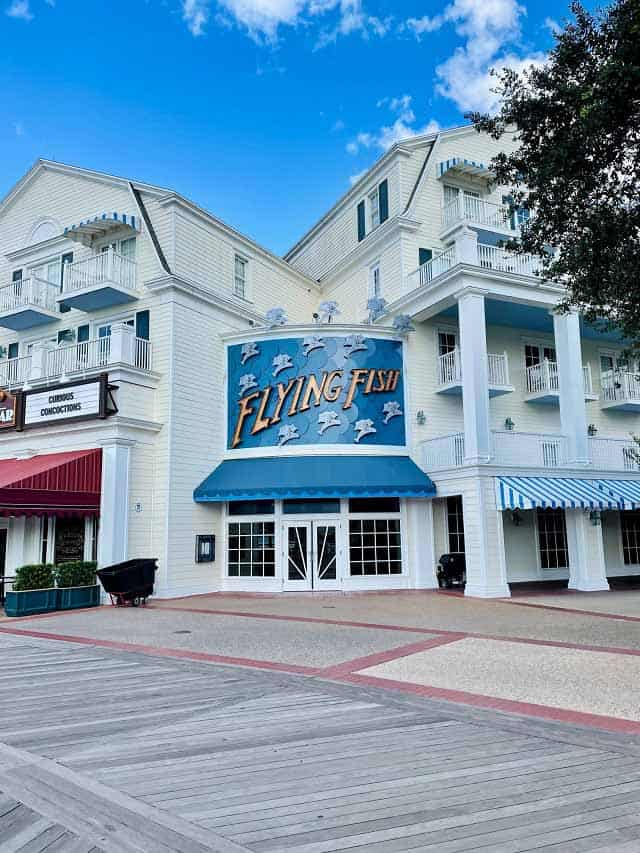 One thing I (Kate) have noticed in my Disney fandom is that I hear a lot about the signature dining experiences at many of the Walt Disney World resort hotels as well as the ones in the theme parks. People talk up California Grill, Jiko (as well they should), Topolino's Terrace, Yachtsman Steakhouse, and Le Cellier.
But, no one really talks about Flying Fish. In fact, it was a very easy reservation to grab relatively last minute, but the quiet surrounding it made me a little nervous.
In hindsight, I was wrong to be trepidatious. It has got to be one of the most underrated restaurants in Walt Disney World.
Where is Flying Fish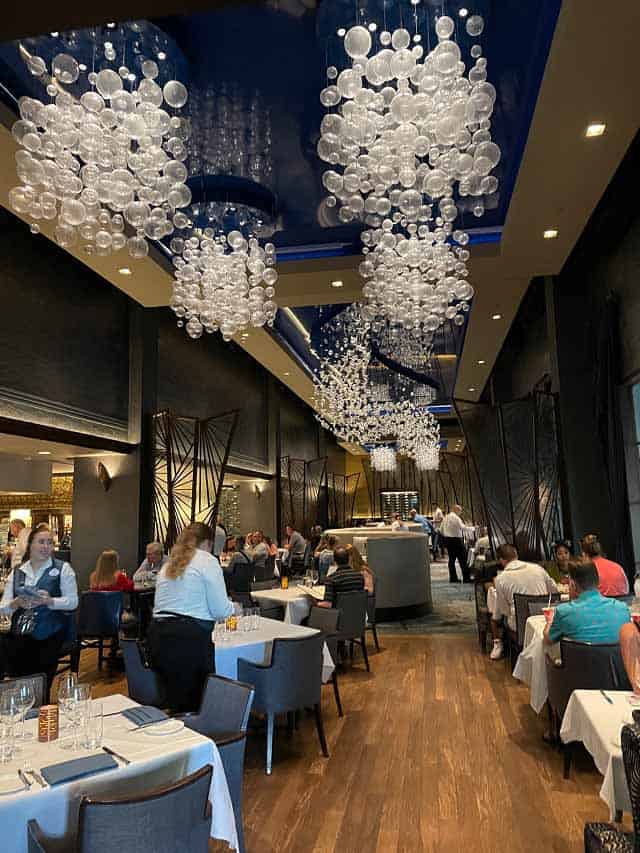 Flying Fish is located along Disney's BoardWalk. It is easily accessible by foot from Yacht Club, Beach Club, and Disney's Swan & Dolphin Resorts. Epcot Guests can also easily exit the park via International Gateway and find themselves at Flying Fish within minutes.
Finally, guests staying at Skyliner resorts or those visiting Disney's Hollywood Studios can hop aboard the Skyliner and disembark at Epcot. Flying Fish is only a very short walk from the station.
Guests staying at other resorts or visiting other theme parks will need to drive or utilize rideshare. Alternatively, they could head to Disney Springs and take a bus to BoardWalk if they prefer using Disney's free transportation.
Atmosphere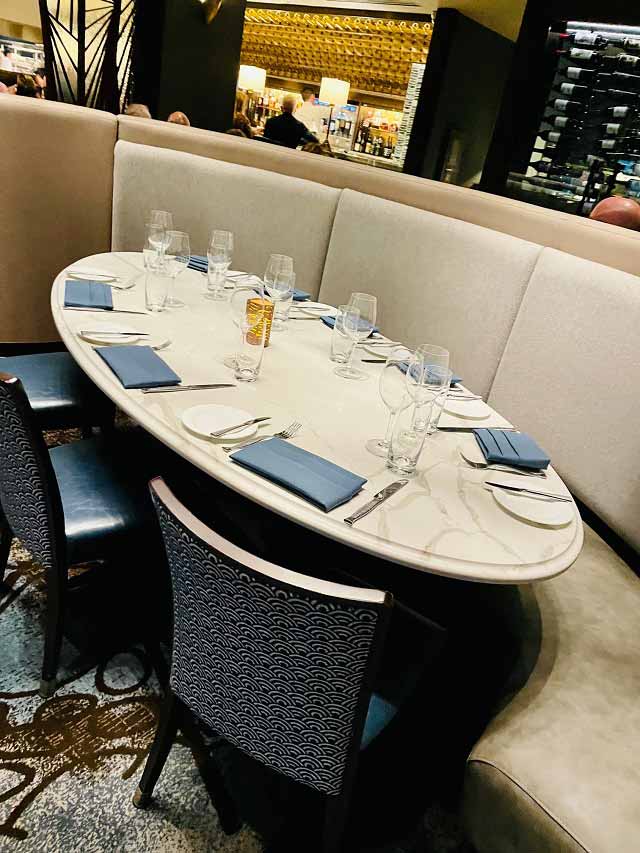 Flying Fish is a relatively typical fine dining establishment in terms of style. It incorporates its wine selection into the decor along with dark wood finishes and white linens – the sort of things that feel safe for this type of restaurant.
It does have a unique touch. A massive chandelier with glass bubbles and flying fish winds across the ceiling throughout the space.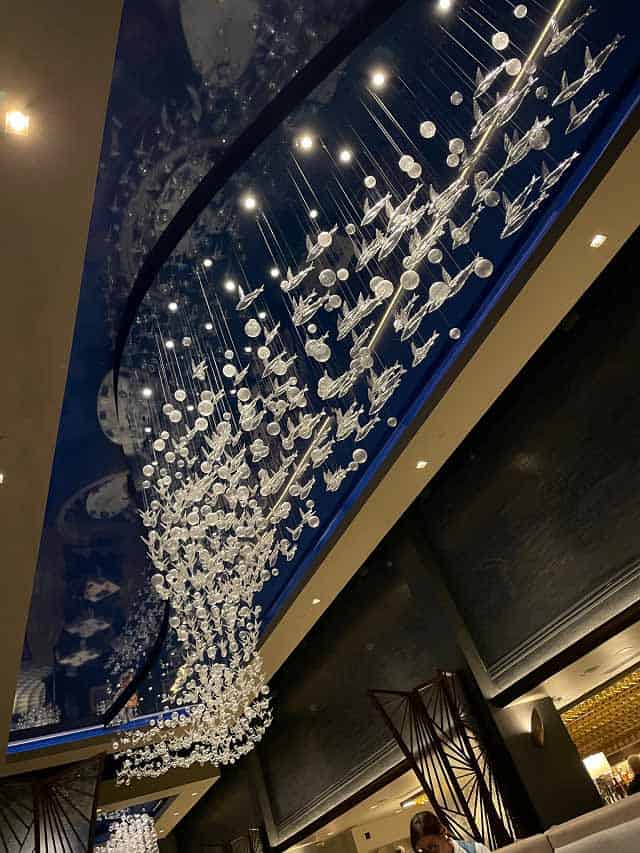 Otherwise, Flying Fish is not a standout in terms of overall aesthetics, but it is not bland either. But, never mind that. People do not go to a Walt Disney World restaurant to stare at the ceiling.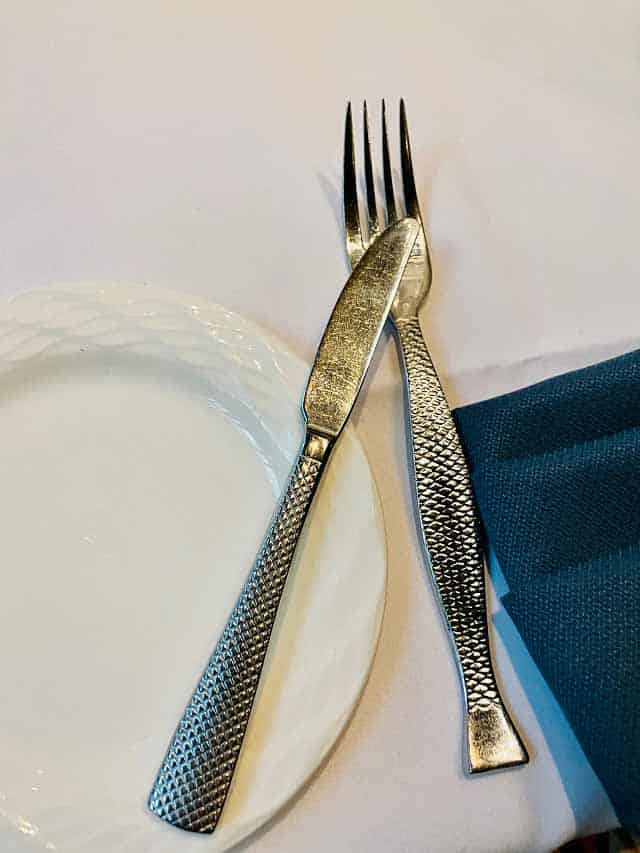 I (Kate) will note that my family, particularly my children, did enjoy one sweet quirky touch. The flatware has fishtails! My little girl called it her "mermaid fork."
The Menu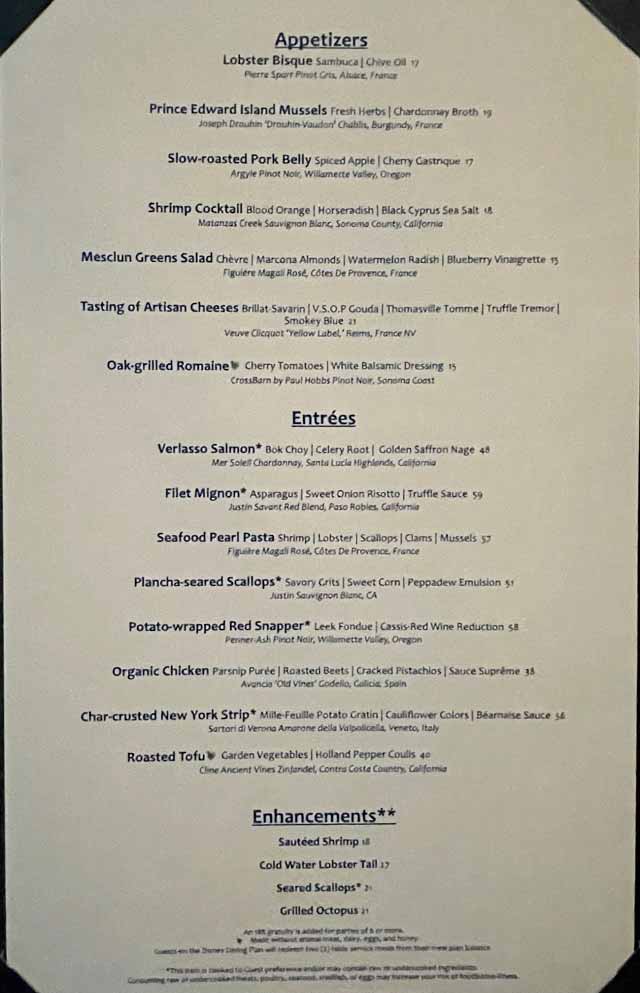 Flying Fish's is primarily a seafood restaurant; however, the menu offers a diverse selection of land and sea options. Honestly, it all sounded delicious, and I wanted to try everything on the appetizer, dinner, and dessert menu.
Children's Options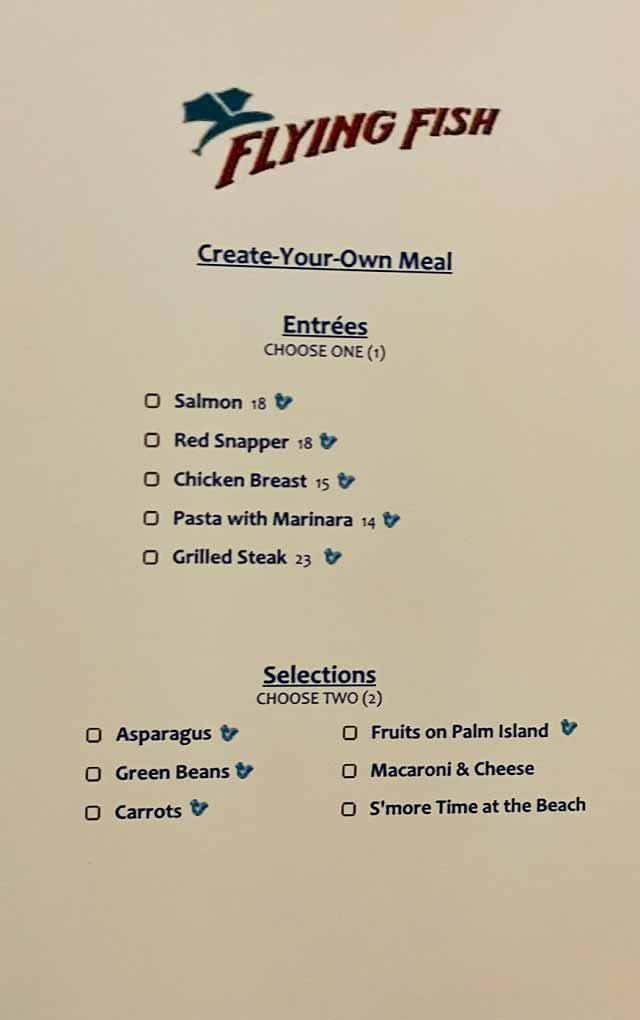 There are also a variety of options for children that stretch beyond the typical burger, pizza, hotdog, mac n cheese, or chicken tender options. Each meal comes with a drink as well as two sides.
One of my favorite things about Disney meals is that often a dessert counts as a side dish. This is something my children really look forward to, and it keeps them highly interested in table service meals. It definitely makes enjoying signature dining easier with children in tow.
Bread Service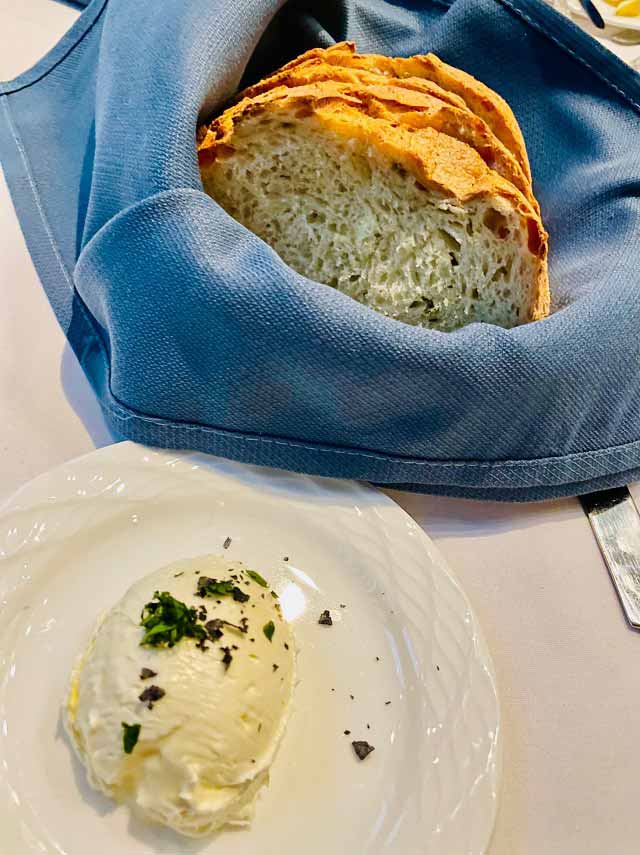 Flying Fish has a good bread service. The night we dined there, we were presented with a basket of potato bread and butter. It was fresh, hot, and flaky.
I enjoyed this hearty bread. It is not something I would put on my "must eat" list like the pretzel bread over at Le Cellier or the bread service over at Sanaa, but it was good.
Appetizers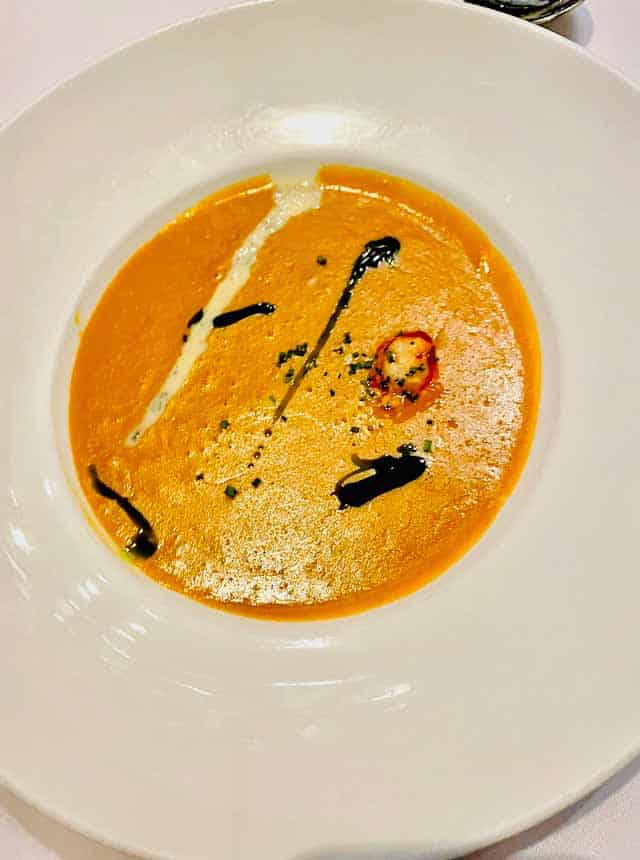 My husband ordered the Lobster Bisque to share with our son. The bisque was rich, creamy, savory, and delicious. It is truly a fantastic dish. My husband and little boy, who is normally the pickiest eater, both loved it. In fact, my son still talks about that Lobster Bisque.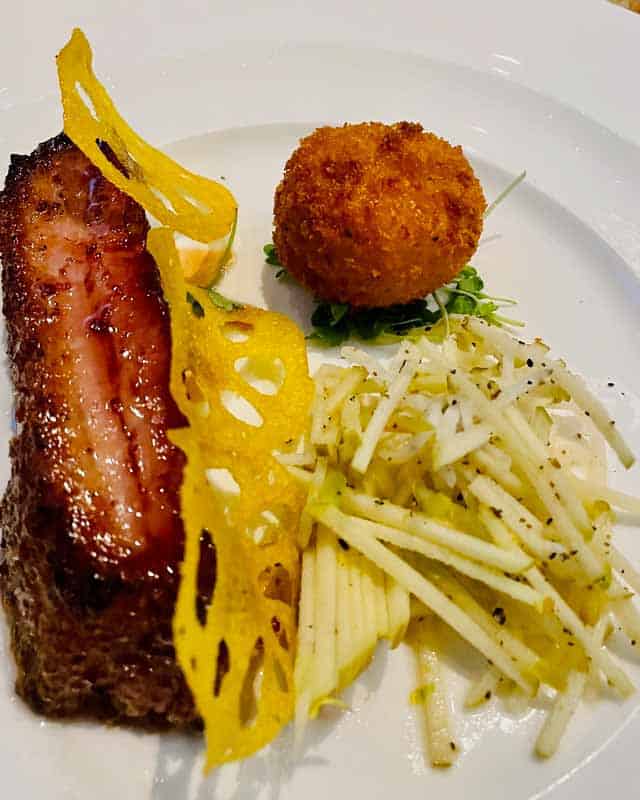 I had the Slow-Roasted Pork Belly. This was another special dish. It was savory and salty, and the glaze finished it perfectly.
The menu does not fully describe all of the accompaniments for the pork belly, but each part was a treat. Of course, my favorite Disney pork belly dish is over at Steakhouse 71, but this one deserves attention as well.
Entrees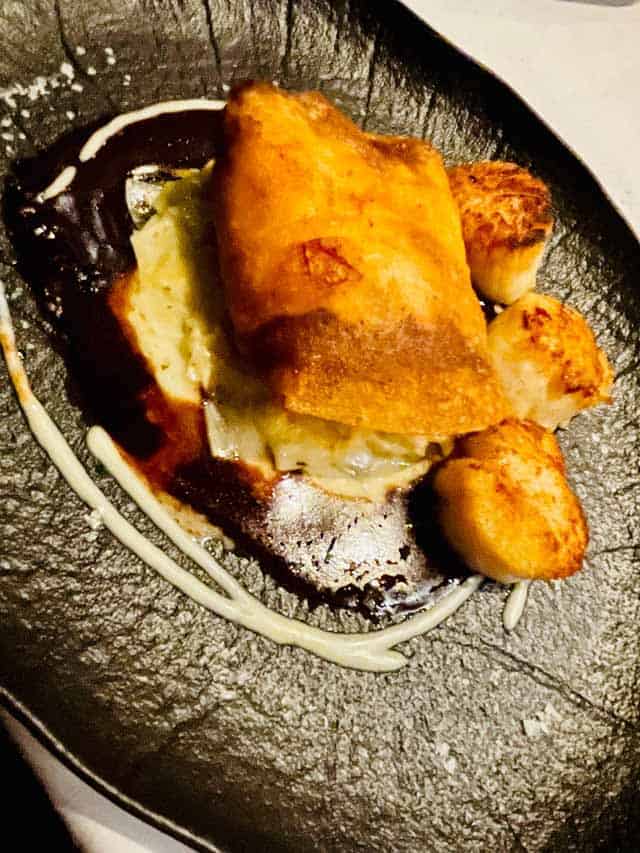 For my entree, I decided to try Fly Fish's signature dish: Potato-wrapped Red Snapper. It is served with a leek fondu and Cassis-Red Wine Reduction. Our server said that the dish gets people into the door, and I can understand why. It is absolutely delicious.
The potatoes were sliced paper thin to create the most delightfully crisp wrapping. The fish itself was light, flaky, and perfectly cooked. And the reduction offered a rich, bright flavor to enhance the fish.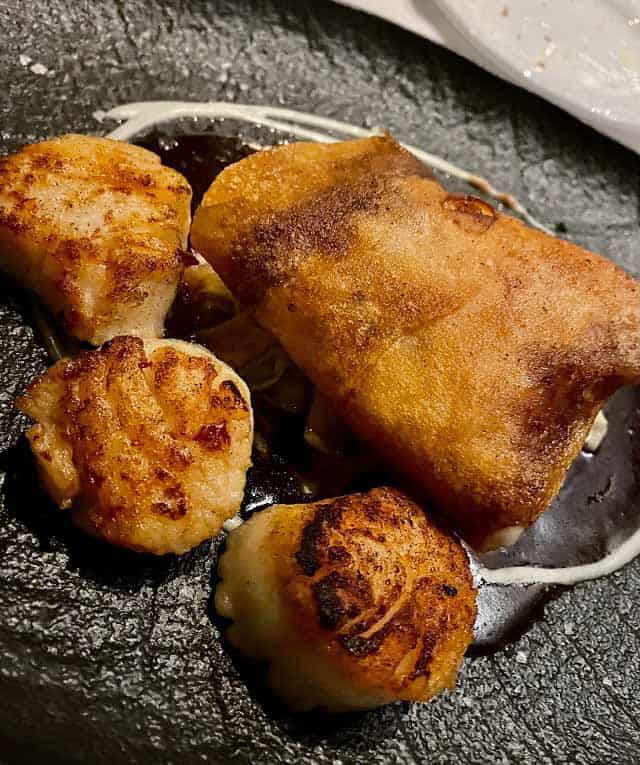 I also ordered a scallop accompaniment. These scallops were pan-seared to perfection. My husband and I both loved them. They are some of the best in Disney World.
My husband ordered the Seafood Pearl Pasta. This was another recommendation from our server. While there was some pearl pasta in there somewhere, the dish was primarily seafood. It was chock full of Shrimp, Lobster, Scallops, Clams and Mussels.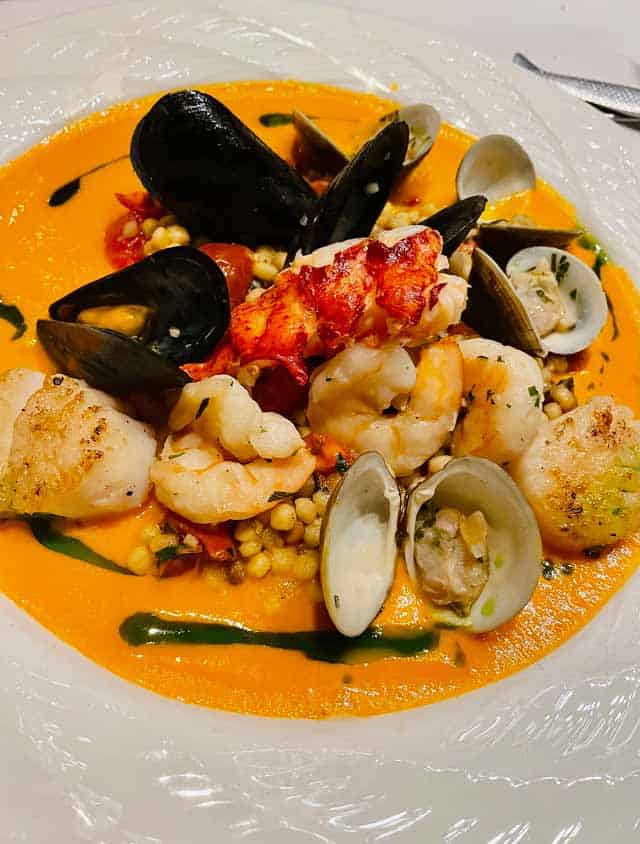 I tried it and enjoyed it, but I would not choose it over the snapper. Then again, I am not generally a seafood pasta person. My husband also liked the pasta, but he said he will try a different dish next time.
Children's Entrees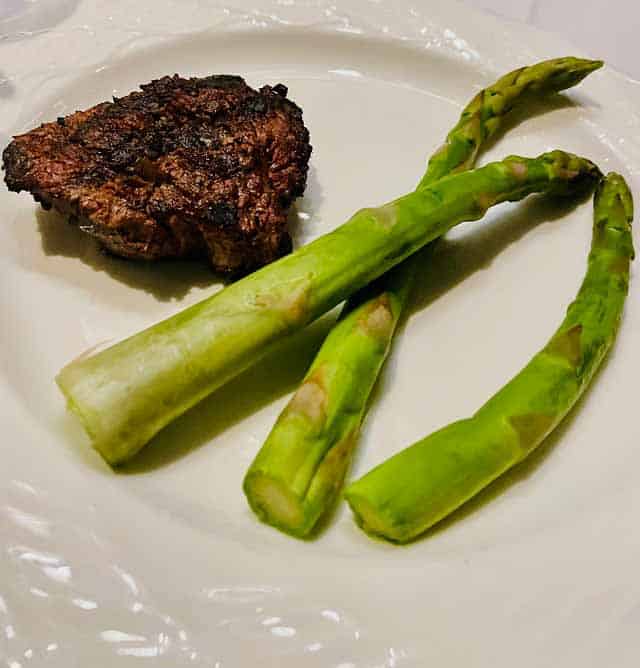 Our littlest traveler, our daughter, ordered the child's steak. She had asparagus as her side. I have to say that I am impressed with Flying Fish for offering it as a child's side at no additional charge. Many table service and signature places offer green beans for children and not asparagus. And it was not dinky asparagus but huge spears of jumbo asparagus.
She loved both. The steak had a nice char to it, and the asparagus was perfectly prepared. It was a kids' meal fit for a budding foodie.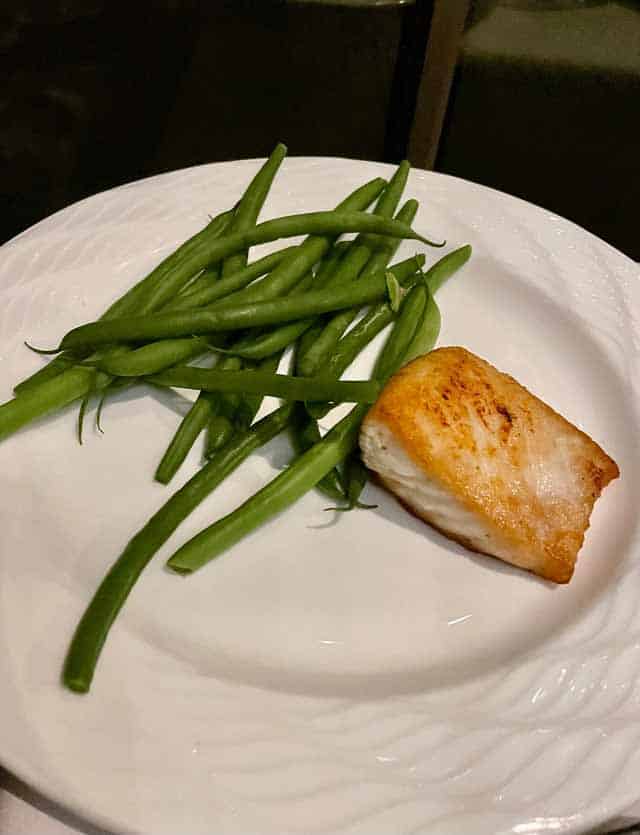 My little boy on the other hand asked for salmon and green beans. He saved his second side for dessert.
He loved his salmon. In fact, he says it is one of the best Disney kids' dishes he has eaten. He did not love his green beans, but he gave them a try anyway.
Dessert
I was too full for dessert, but I ordered it anyway. I had the Creamy Goat Cheesecake. This is a pretty creation made of goat cheese, pistachio sponge cake, honey, and a white chocolate garnish.
I adore goat cheese with honey and pistachio; it is one of my favorite combinations. And, I have to say it is as good in its sweet form as it is in its savory form. It was light and fluffy, and creamy, and just plain good.
I will say that I do prefer a mascarpone cheesecake. But, this was an interestingly tasty change of pace.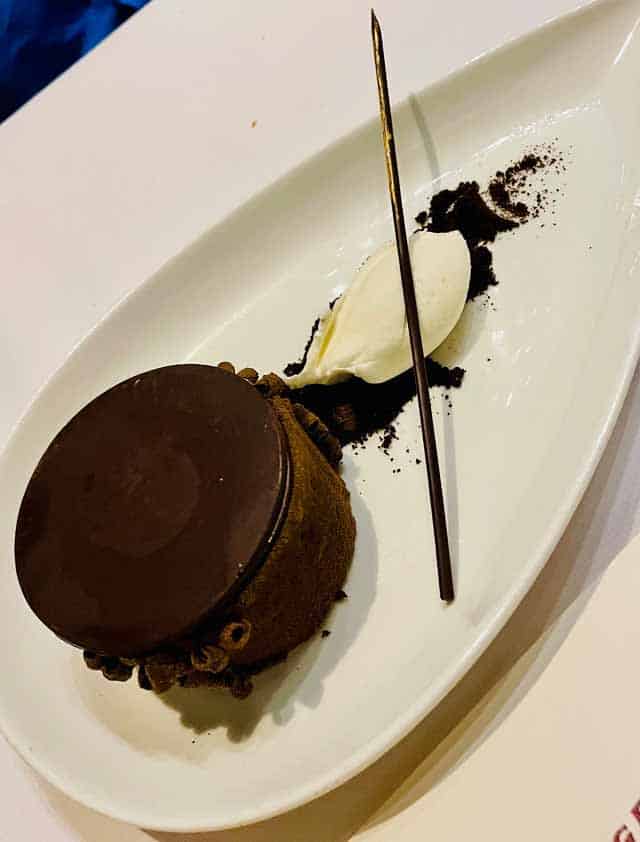 Even though I suggested we share, my husband ordered the Coaco Breach, for research purposes, of course. This is a creation of chocolatey decadent goodness.
If you order it, your server will bring it to the table and then pour hot chocolate ganache over it. It then melts into the center of the cake giving it a warm center. This thing was decadent and delicious. If you like chocolate, you will like this.
Children's Desserts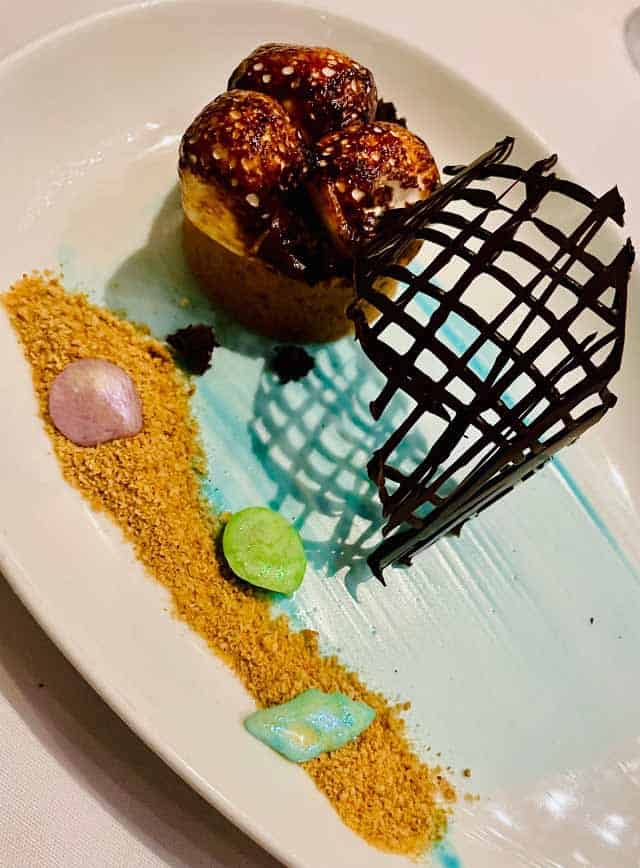 The children both ordered something called S'more Time at the Beach. It is probably one of the cutest little desserts in Disney World aside from the ones they have over at Jiko and Sanaa. This dessert is meant to look like a beach. It is a chocolate and roasted marshmallow concoction served atop graham cracker crumbs used to create a sandy beach landscape. Candy shells adorn the plate as well.
The children kindly let me sample it, and I found that it was decadent and yummy. As I said, it is one of the better children's desserts aesthetically and taste-wise. In fact, it is probably superior to many of the desserts you find on adult menus in table-service restaurants.
After Dinner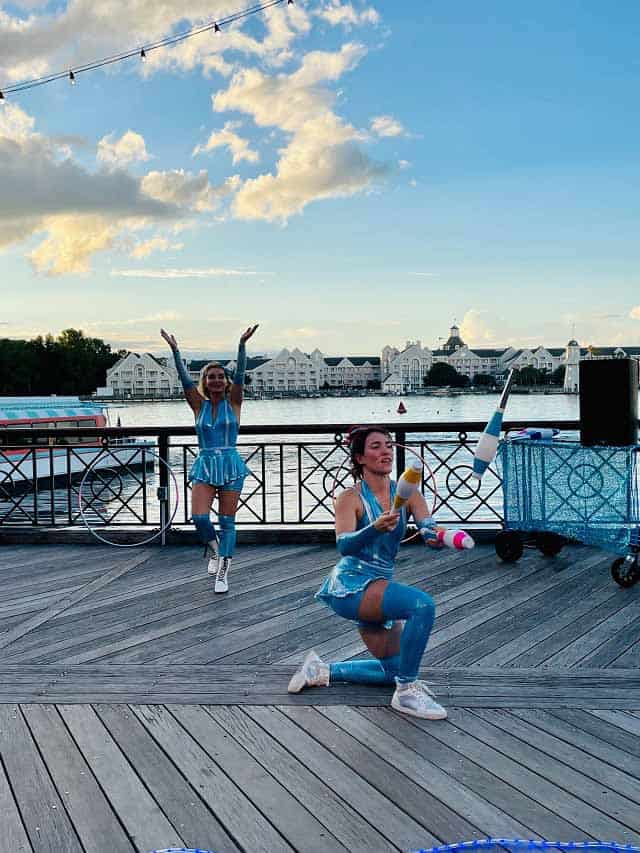 After a delightful dinner, we stepped outside right in time to catch a show on the Boardwalk, the Juggling Jacks. My kids were delighted by the show, especially my little girl.
We had a 7:15 reservation, and we exited dinner around 8:45 or so. We were not only able to catch Juggling Jacks, but we got to see the One Man Show as we walked on down the way a bit. But, you could also enjoy the shows prior to dinner if you wanted a later reservation.
Overall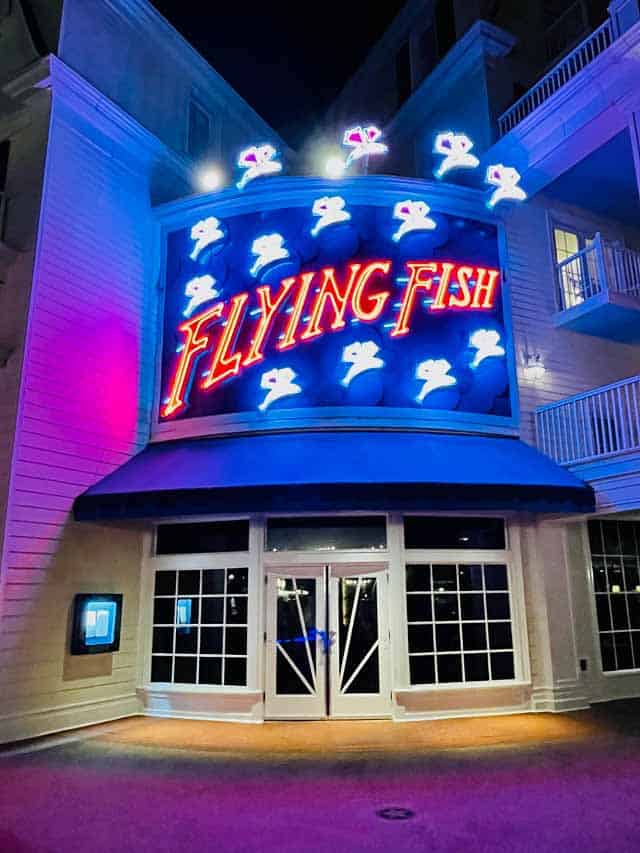 My entire family loved our Flying Fish Experience. Our son even dubbed it the best meal of the entire trip. This is high praise since we had excellent table service meals including fan favorites like Via Napoli and Beaches n' Cream. He said he loved all the meals, but at the end of the day, this was his favorite.
My little girl said her favorite meal of the trip was Mickey Ice Cream Sandwiches. Go figure. But she did note that she also liked Flying Fish and wants to eat there and then watch Juggling Jacks for her birthday.
For my part, I do not think I have had better seafood in Walt Disney World. It is nice to know there is a place to go where seafood is the focus of the menu rather than a menu option that serves as a red meat alternative as it is at many of the signature and table service restaurants.
I think we will have warm memories of this dining experience for a long time. Certainly, we will try to get back there again someday, especially if we are staying in an Epcot area resort.
More Great Signature Dining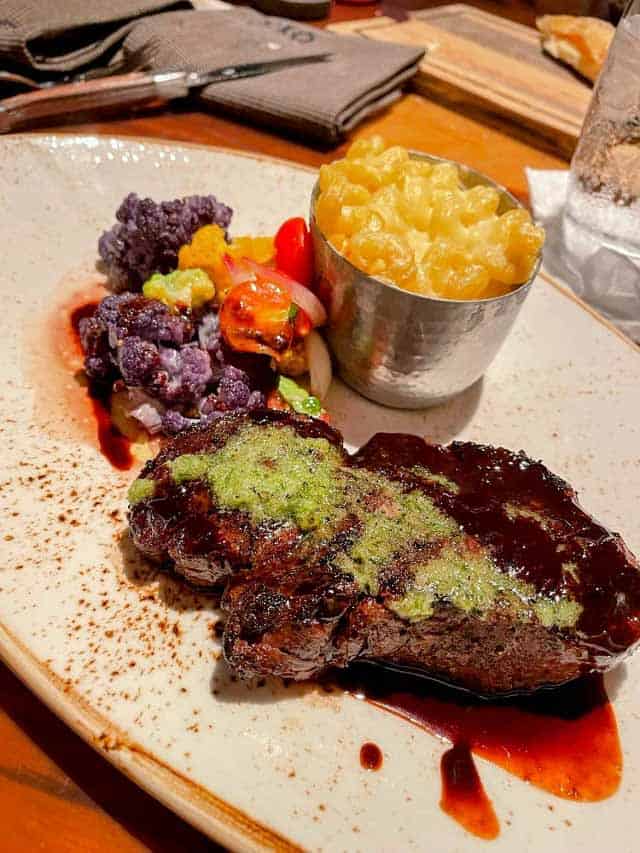 Are you looking for other fine dining/signature dining recommendations? We have more dinner reviews for you:
Have you tried Flying Fish lately? Is our experience a one-off or is it always really good? Let us know in the comments and be sure to share with your friends who are looking for great seafood in Walt Disney World.