Disney's Skyliner is the newest form of transportation to get around the parks and resorts. Here is everything you need to know about it, including how to use it and where it goes.
The Skyliner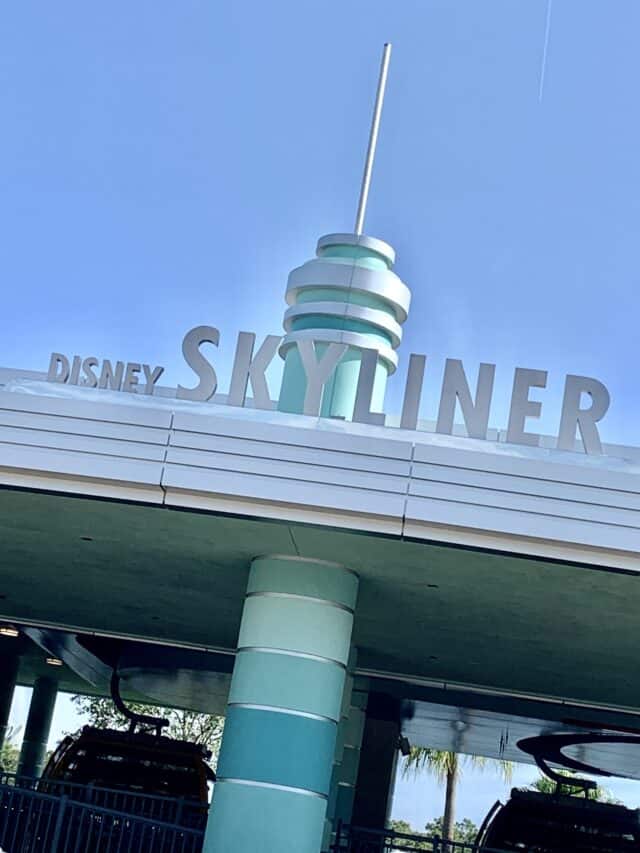 Introduced in the fall of 2019, the Disney Skyliner became one of the best ways to travel around The Walt Disney World Resort. While you have to wait for other transportation options like the monorail and bus, the Skyliner is a continuous loading process. You can get from Caribbean Beach to Hollywood Studios in less than 5 minutes!
These individual gondolas take you and your party up into the sky as you see Disney World like never before! One of my favorite views is seeing the France Pavilion as my gondola heads into the International Gateway at Epcot. Many consider it an attraction that must be experienced just like any other ride at Disney.
Disney's Skyliner has not been without issues, however. Everything from collisions to evacuations cause some Guests to be skeptical of it. Additionally, severe weather will shut the Skyliner down forcing Guests to find alternate transportation. While these problems are few and far between, it does prove that the Skyliner does have its disadvantages. More on that in a few.
How to use the Skyliner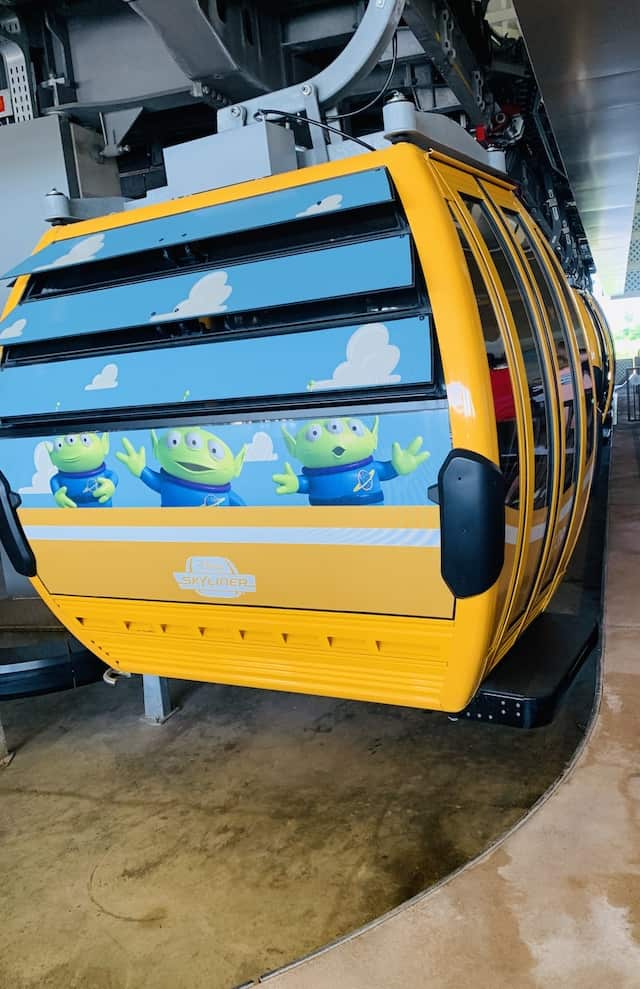 Anyone can use the Skyliner. You do not need to be staying at a specific resort (or even onsite for that matter) to be able to use it. Like other forms of transportation at Disney World, it is completely free to board and there's no limit to how many times you can utilize it.
You will simply board the loading station and following the directions to get where you want to go. You may have to get off and transfer to another gondola depending on your destination. The Skyliner continuously boards, so the lines to get on move quickly. Just watch your step because they do not stop unless someone who needs extra assistance to board.
One other great thing I love about the Skyliner is that they are rather big! You can fit about 8-10 people in each gondola, and they are big enough to fit most strollers. This is great for families with children! Like the monorail, you will not have to fold up your stroller in order to board. Be aware that you may need to board with another party if the Skyliner is busy.
Where it goes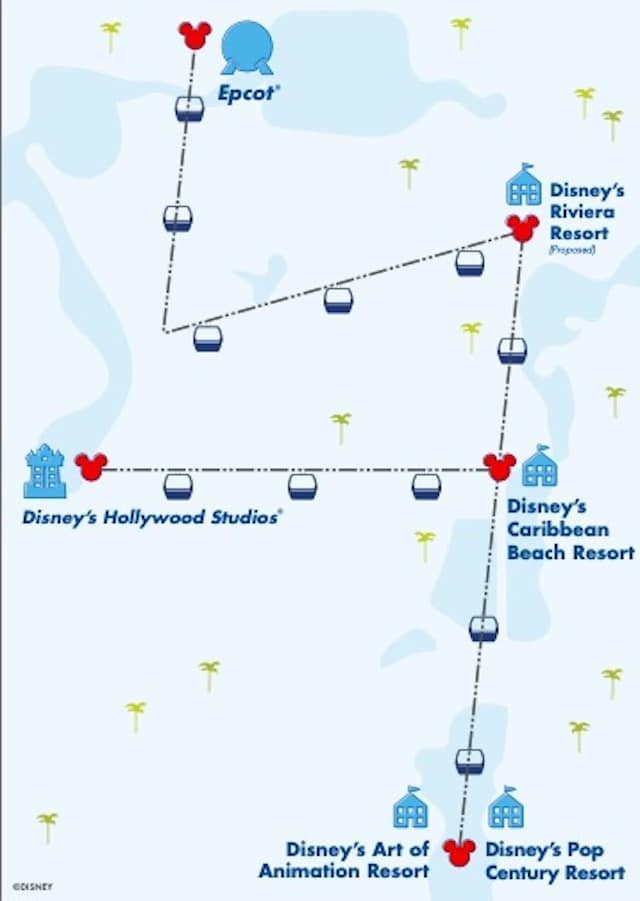 The Skyliner transports Guests between two parks and several resorts. I will take you in order from getting to Epcot to Hollywood Studios with resort stops in between.
First, you will load the Skyliner at the International Gateway at Epcot. This means if you are visiting or staying at any of the Epcot resorts (Boardwalk, Beach Club, Yacht Club, Swan, Swan Reserve, and Dolphin) you are within walking distance of the Skyliner station.
The next stop from the International Gateway is Riviera Resort. You can either get off if Riviera is your destination or stay on to head to Caribbean Beach. Once at Caribbean Beach, everyone must get off since this is the main hub.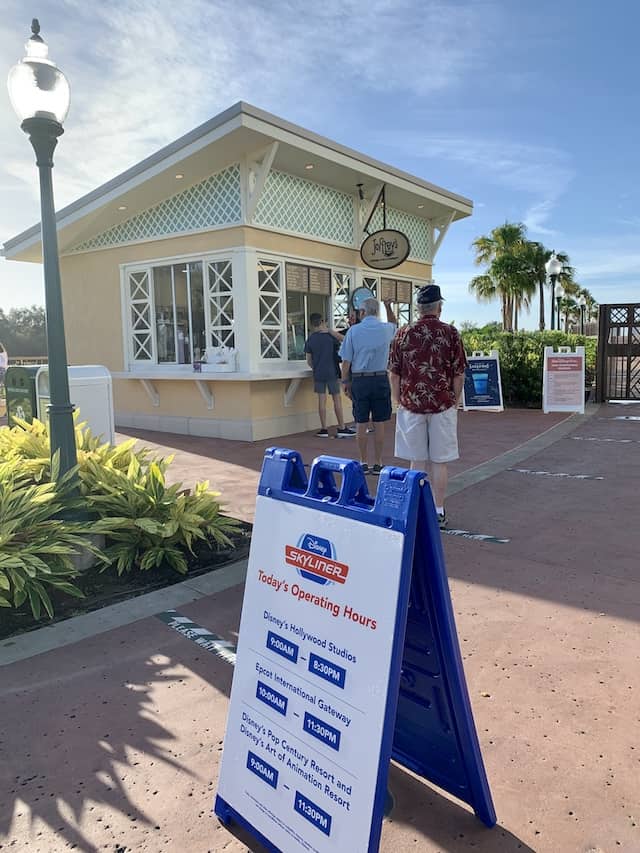 As an added bonus there is a Joffrey's location at the Caribbean Beach station so you can get your coffee and donut fix before heading to the parks!
There are transfers to Hollywood Studios and POP Century/Animation (these two resorts share a station). Just follow the signs to get to where you want to go. You are now within 5 minutes of approaching Hollywood Studios!
From start to finish, you can get from Epcot to Hollywood Studios in about 15 minutes if there are no delays.
If you are looking to stay at one of these Skyliner resorts, I highly encourage you to do so! Having convenient access to two parks is incredible and gives you an advantage for getting there for rope drop before others. You can read about which Skyliner resort I think is best HERE and why Donna loves to stay at Skyliner resorts HERE.
Disadvantages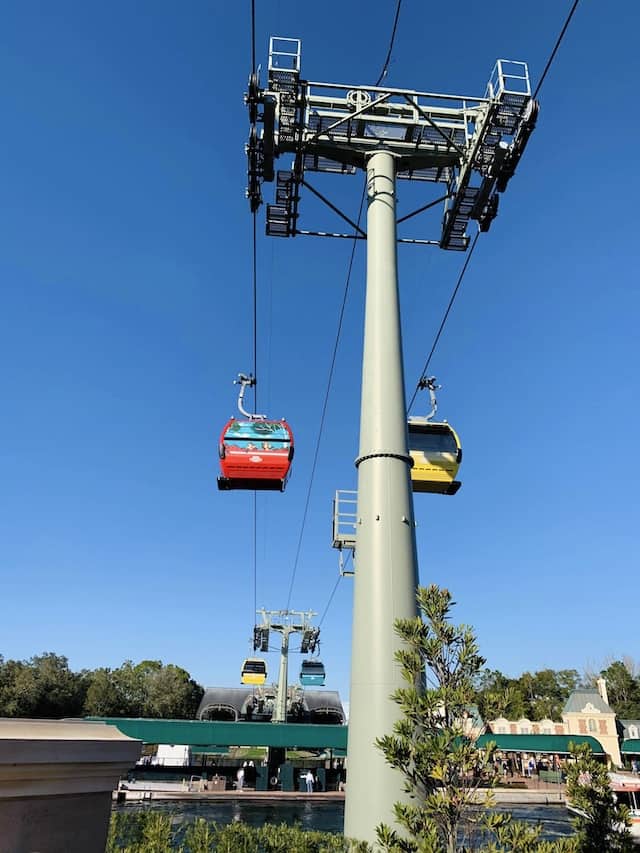 The Skyliner sounds amazing, doesn't it? It is not without some disadvantages though.
As I mentioned above, severe weather will close the Skyliner down. If there is thunder/lightning in the area it will shut down, and you will need to find alternate transportation. I remember a few years ago I was frantically trying to make it to my resort to get on my Magical Express bus in time. I was able to get on at Hollywood Studios but once I got to Caribbean Beach it closed due to weather. I had to uber to POP Century from Caribbean Beach!
Also, the Skyliner is not without accidents. We have written about several since it opened in September 2019. The main causes of these accidents are due to gondolas crashing into one another.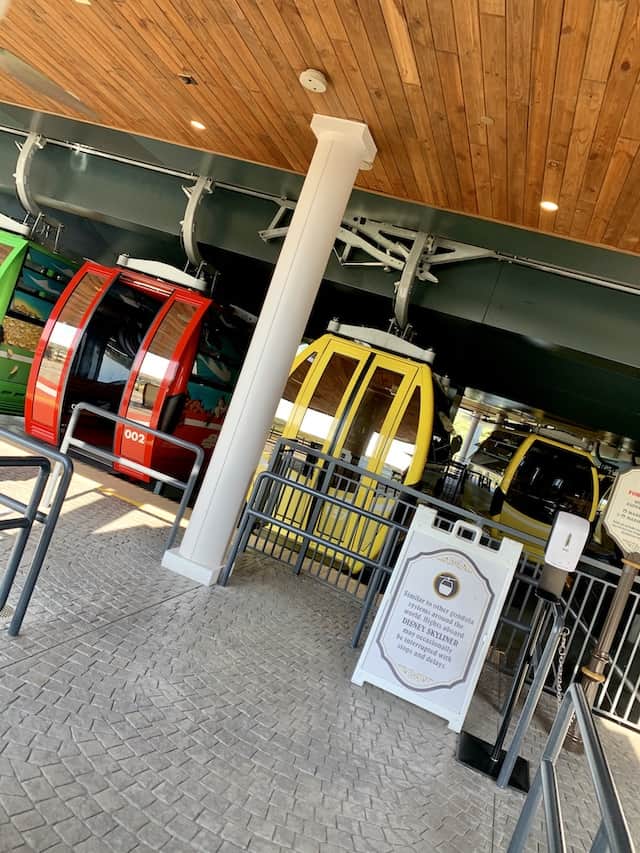 There have also been times when the gondolas stopped and Guests were suspended in the air for hours. This is very rare, but it can happen. It can also be very hot and stuffy when they are not moving, so this is something to keep in mind in case you get stuck. Disney installed emergency kits in each gondola, so if a situation occurs be sure to listen to the overhead speaker for instructions.
Finally, many Guests have a fear of heights or fear of the gondolas getting stuck. You may not like the feeling of being suspended in mid air for the duration of your flight. If someone in your travel party cannot handle the Skyliner, it is best to take other forms of transportation if possible.
However, all of these situations are incredibly rare given how much the Skyliner runs each and every day. I would not let that stop you from trying this amazing transportation option!
What else would you like to know about the Skyliner? Ask your questions below in the comments or on Facebook!