EPCOT offers many great food offerings. Is Via Napoli worth the dining reservation or should you skip? Pull up a chair as we review our recent meal at this dining location.
Visiting Italy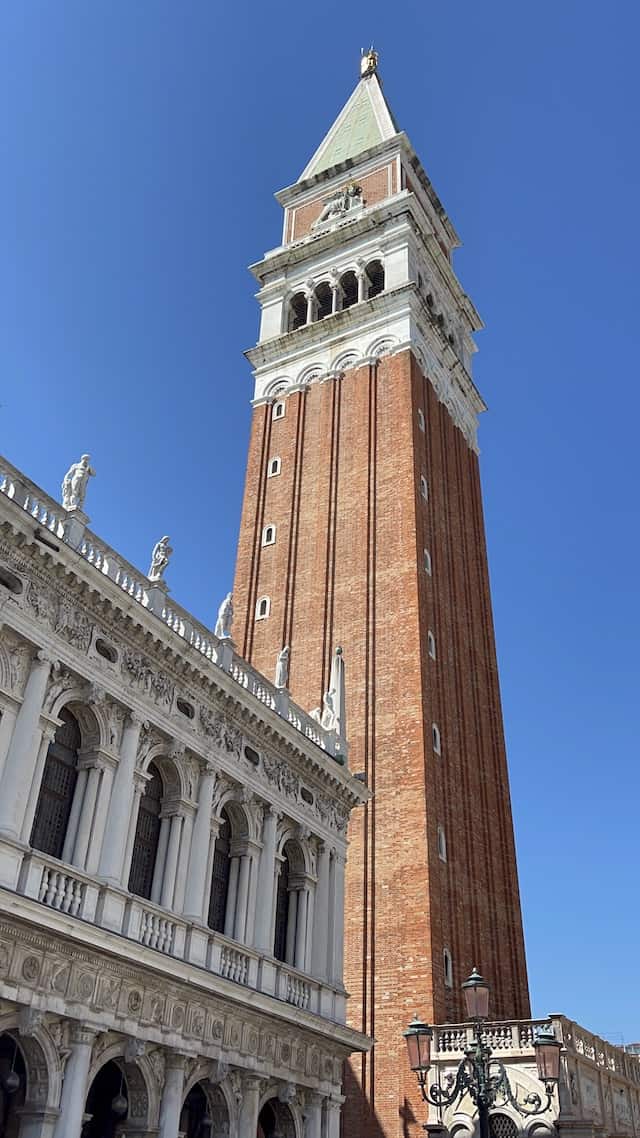 Recently, my (Donna) husband and I took a vacation of a lifetime to visit Italy in both Venice and Florence and then travel to Paris, France. We had our travel agenda planned before our trip. You know you are a "Disney Geek" when you arrive in Venice and you are blown away that it looks just like the Italy Pavilion in the World Showcase.
Italy is gorgeous. There is much more to enjoy in this beautiful country. It is amazing how Imagineers have recreated many of the beautiful scenes from Italy inside the Pavilion
I (Donna) took the above photo of the bell tower at St. Mark's Square. On a recent trip to EPCOT, my husband and I were gazing at the Italy Pavilion and remarked at how much it reminded us of sitting in Venice.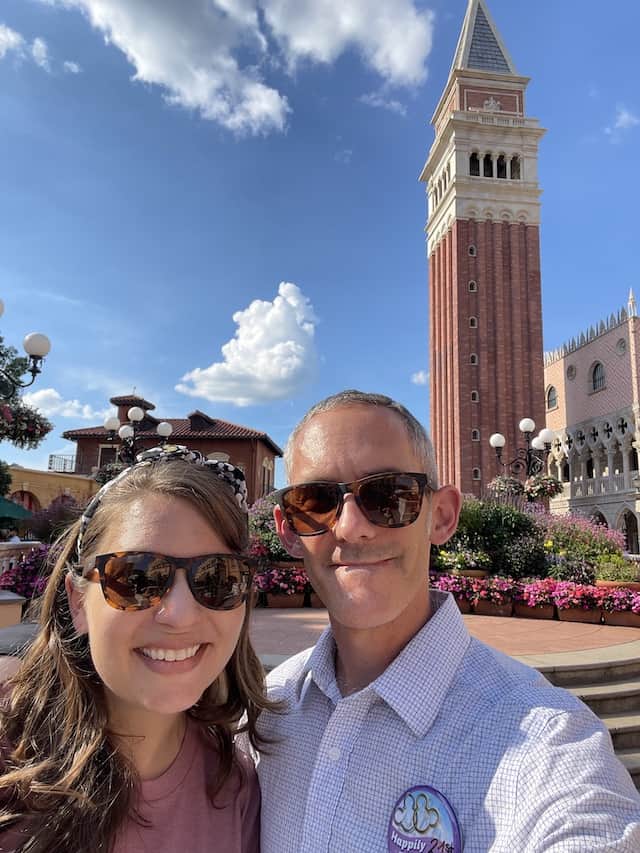 When we snapped this photo, we both agreed that the Disney Imagineers truly captured the beauty of Italy. Be sure to check out Susan's guide to the Italy Pavilion HERE.
Of course, you can't visit Italy without enjoying the food. When we first arrived in Venice, our first meal was at a local cafe where we tried our first authentic pizza. We were a bit confused when ordering as the "individual" pizza is the size of a medium pizza. It was HUGE.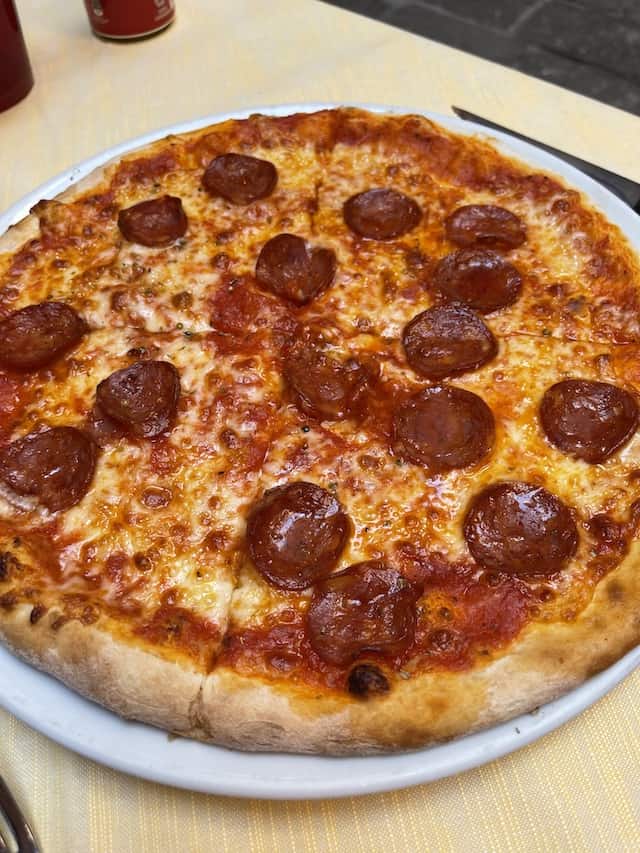 My husband and I (Donna) ordered one pizza to share, and the server was quite confused. He continued to check on us throughout our meal to order another pizza for us. The pizza was delicious with a thin crust and bold and hearty sauce.
When we returned home, I was delighted to read Marisol's review of Via Napoli at EPCOT. I couldn't wait to dine here and see if it could truly compare to the authentic cuisine we enjoyed during our Italian vacation.
Dining at Via Napoli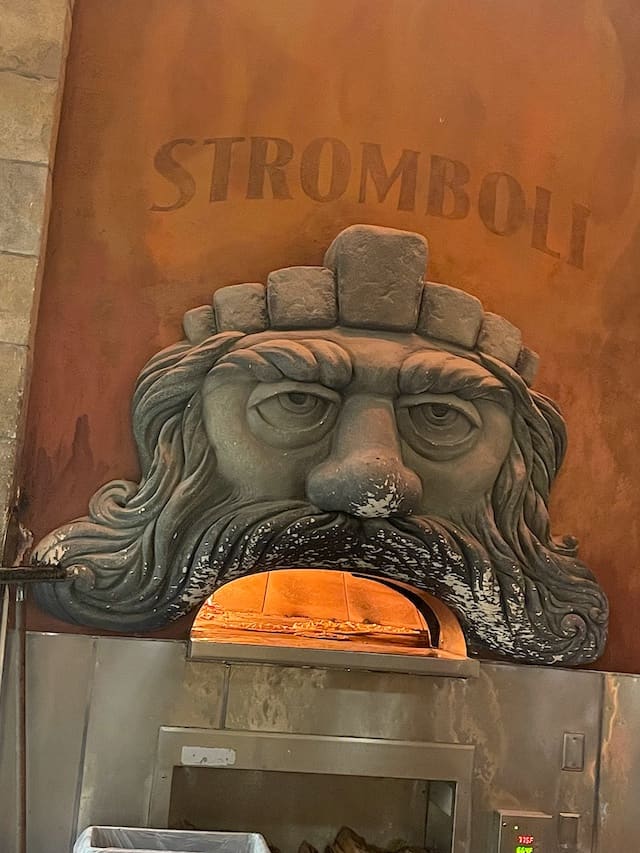 Reservations are recommended to dine at Via Napoli, but these are typically easily available. Guests are invited to tour the entire restaurant including a unique view of the kitchen. This was my daughter's favorite part. She loved looking at the large pizza ovens.
The kitchen is quite open and surrounded by glass. We could easily enjoy watching as they prepared our dishes. My daughter was absolutely mesmerized by all of it and commented that it was better than watching a cooking show. If you have any budding chefs, this is a fun dining location for them to experience.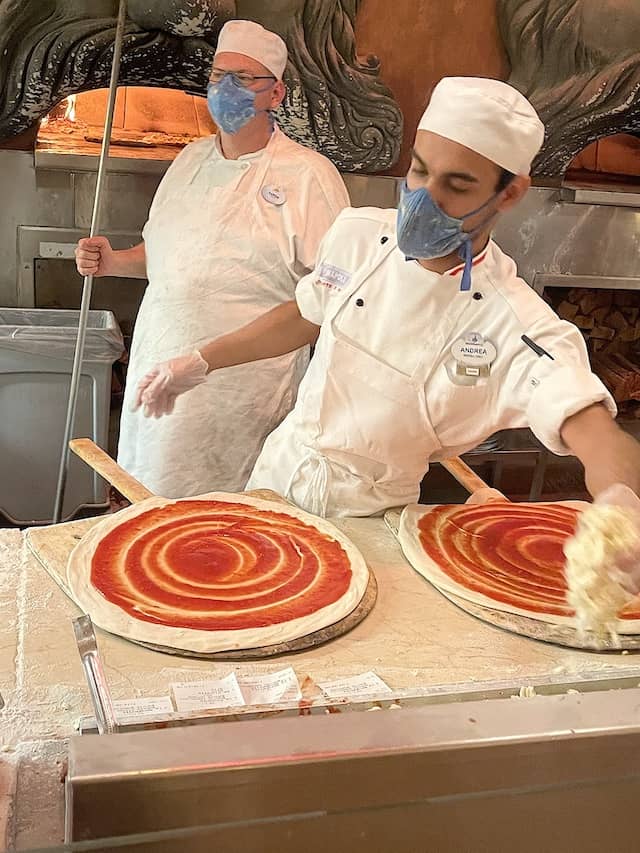 The dining room is quite large and a bit noisy, but in a funny way, the loudness reminded me of Italy. Where many table service options offer a higher price tag throughout EPCOT, Via Napoli offered an authentic dining atmosphere while menu prices are fairly modest.
If you have any budding chefs, this is a fun dining location for them to experience.
Appetizer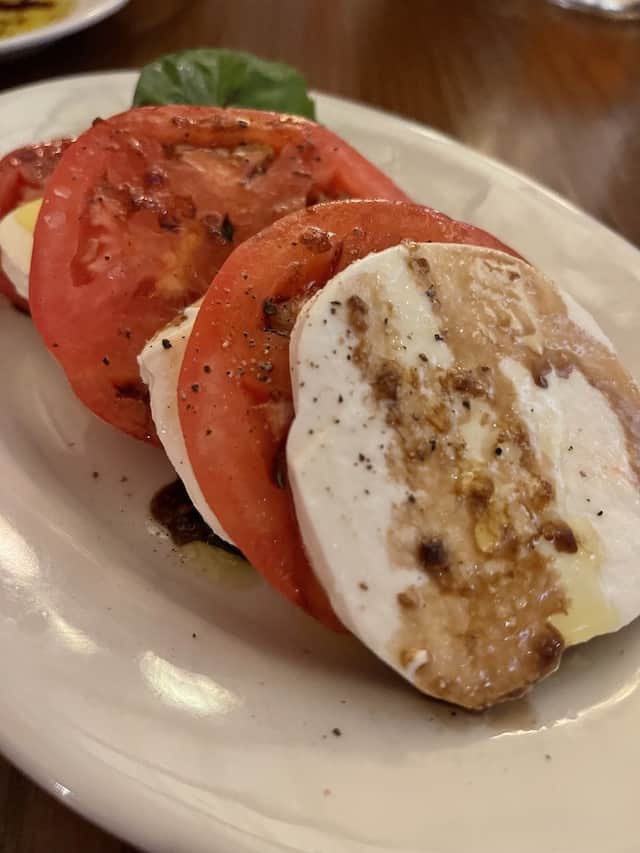 We made our reservation at Via Napoli to try their pizza, but we also wanted to try an appetizer as well. Our first choice is the Mozzarella Caprese Salad. This salad was made with large slices of mozzarella cheese and large slices of ripened tomatoes. A delicious balsamic vinegar drizzle made this appetizer simply delectable.
This was $12.00 which was a bit steep for a salad, but this was perfect to share especially with pizza coming as well.
Mozzarella Caprese Salad is made with large slices of mozzarella cheese and large slices of ripened tomatoes drizzled with balsamic vinegar.
Pizza Review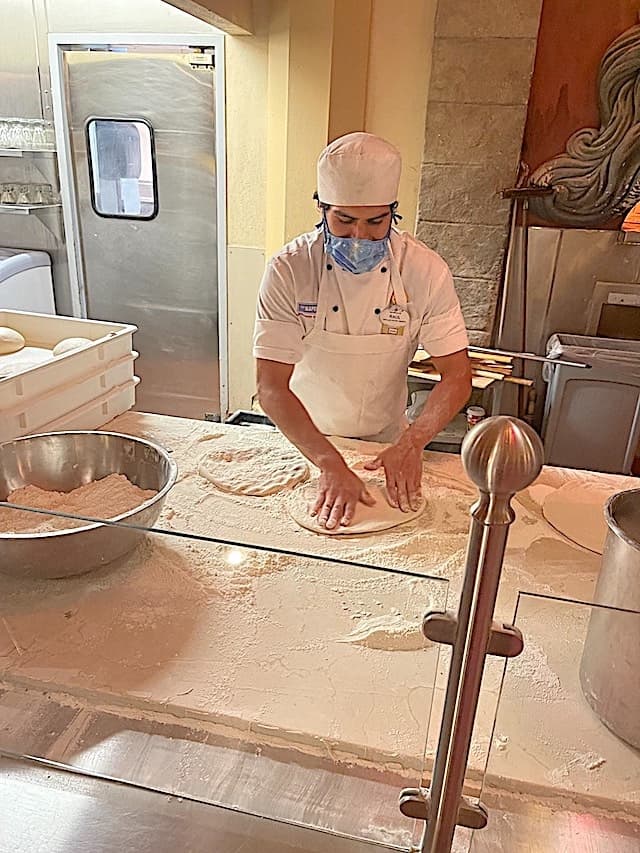 So what size pizza should you order at Via Napoli? This sounds like a silly question unless you have never eaten here before. I was dining with a friend and tried to explain the large size of an "individual" pizza. It wasn't until the table next to us ordered the 20″ Large pizza that she was convinced that pizza comes a bit larger at Via Napoli.
The suggested serving size is that an individual pizza serves one, the large serves 2-3 people, while the Mezzo Metro Pizza serves 3-4 people. The table that ordered the large pizza next to us consisted of four adults, and even they could not finish their large pizza.
They did share that this pizza is great warmed up at your resort. That being said, we did not really want to carry around to-go containers of Ziploc bags of pizza with us as we continued our evening at EPCOT.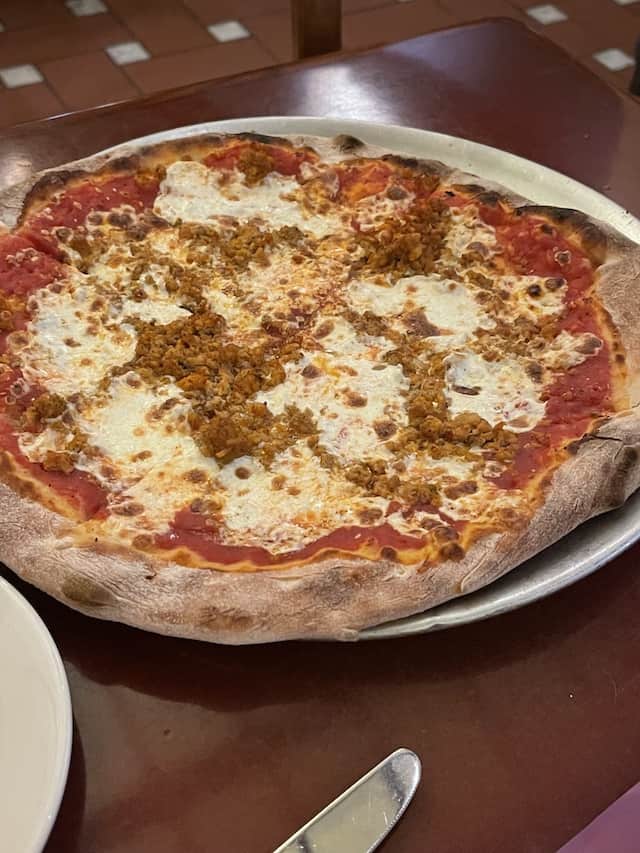 We ordered the Piccante Pizza that came topped with mozzarella cheese, Italian sausage, and tomato sauce. What truly makes a pizza special at Via Napoli is the dough.
The thin pizza crust is created using authentic Caputo flour, that is imported from Southern Italy. While using water sourced from a spring similar to Italy's Campania region.
Our pizza was delicious although the crust was a little burnt on the edges. The tomato sauce was delicious, and the Italian sausage was not overly spicy. This "individual" was the perfect size for sharing and well worth the dining reservation.
Children's Meal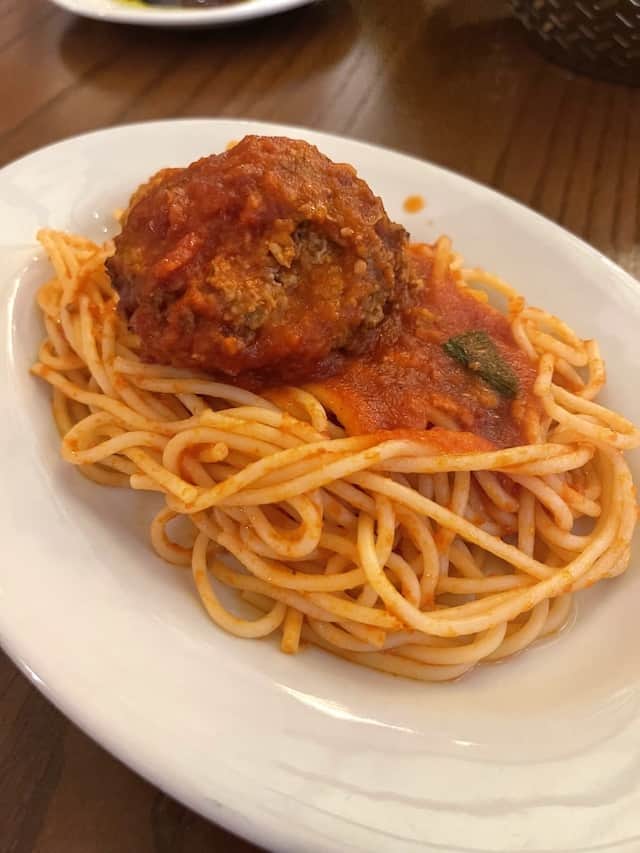 My youngest daughter loves spaghetti and has become quite the food critic when it comes to sampling Italian cuisine. She ordered the spaghetti that came with tomato sauce and meatballs. The children's menu is for guests nine years old and younger and the serving size is quite small.
The spaghetti sauce had a rich flavor, and the meatball was quite delicious. It just seemed that there should have been more spaghetti to accompany the gigantic meatball. Overall, this dish received a big thumbs up from my daughter. This was moderately priced at $10.00.
The children's menu is for guests nine years old and younger and the serving size is quite small.
Overall Review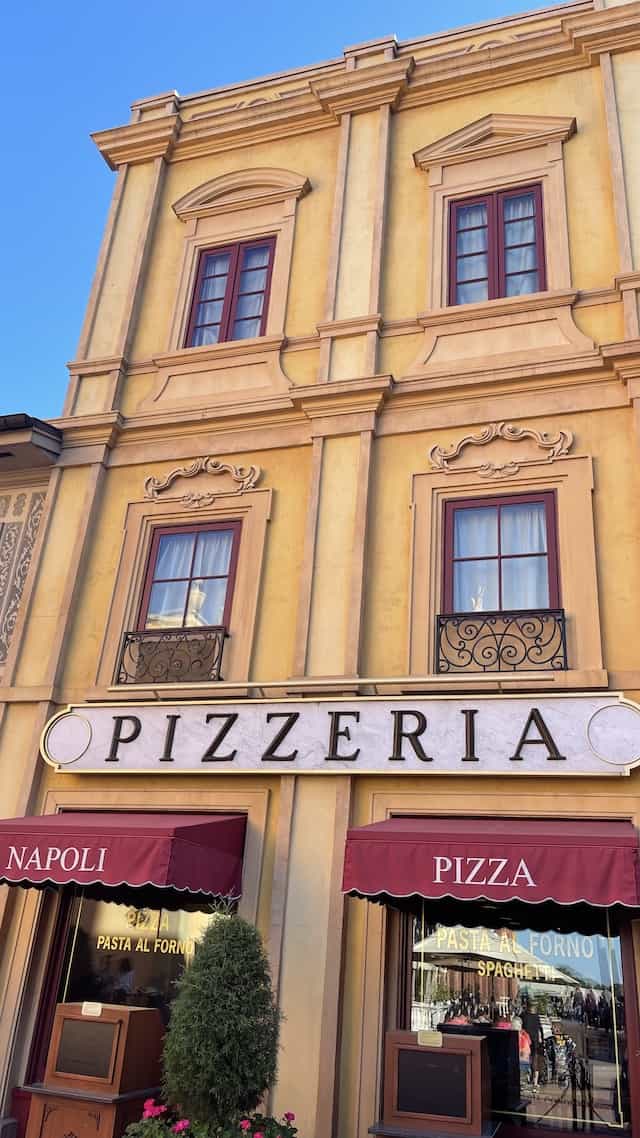 The main question is, "Would we dine here again?" Absolutely! I (Donna) felt that the pizza was very authentic to what I had previously enjoyed in Venice, Italy. Although the price of an "individual" pizza is a bit high, this is the perfect location to share appetizers and entrees.
This is a great dining location conveniently located around the World Showcase, to rest and relax while enjoying authentic food without a huge price tag. We will add Via Napoli to our future dining reservations.
Have you dined at Via Napoli before? What was your experience? Will you plan to dine here during your next trip to EPCOT? Share your thoughts with us on our Facebook Page.