Jiko-The Cooking Place has made a triumphant return to Disney's Animal Kingdom Lodge. Here is a review of the culinary delights that await diners.
Jiko-The Cooking Place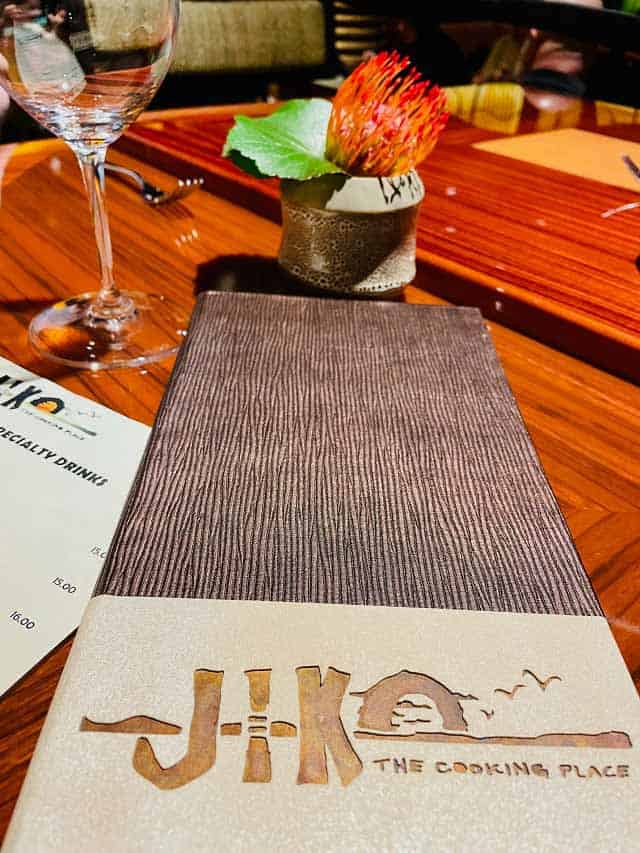 Not too long ago, Walt Disney World announced the return of one of its beloved resort restaurants Jiko-The Cooking Place. The restaurant re-opened its doors on February 17, 2022, after its closure.
Jiko is the signature restaurant at Disney's Animal Kingdom Lodge. It is located on the first floor of Jambo House.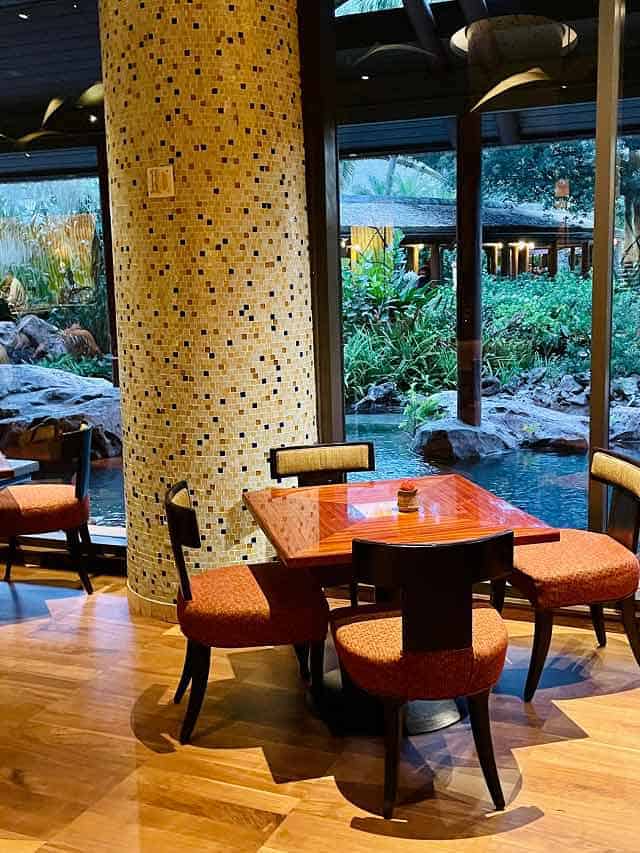 Jiko rounds out a trio of amazing sit-down options at Animal Kingdom lodge that include Boma, which is arguably Disney's best buffet, and Sanaa, which is an underrated but noteworthy table service restaurant over at Kidani. And, don't forget about The Mara, the quick service option that is home to Zebra Domes, one of Disney's best and most coveted snacks.
Jiko is known for serving up a delicious blend of traditional African, Indian and Mediterranean cuisine. Dishes are infused with a uniquely bold blend of tantalizing flavors and fragrant spices.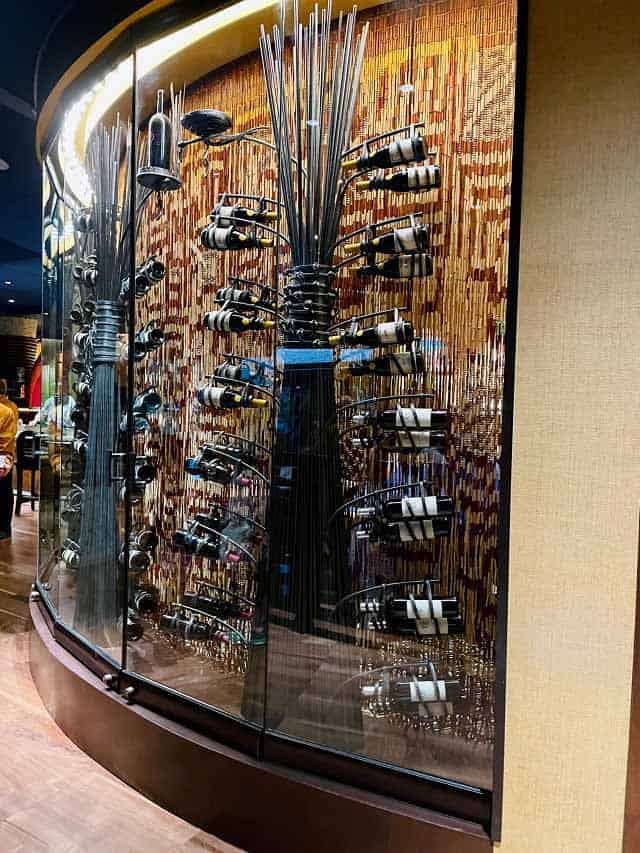 Moreover, Jiko is also known for boasting one of the largest selections of South African wines outside of South Africa itself. It is certainly a wonderful place to dine if you are looking for a true culinary experience.
The menu changes seasonally based on the availability of ingredients. However, no matter the season, Jiko is sure to provide great food.
The Atmosphere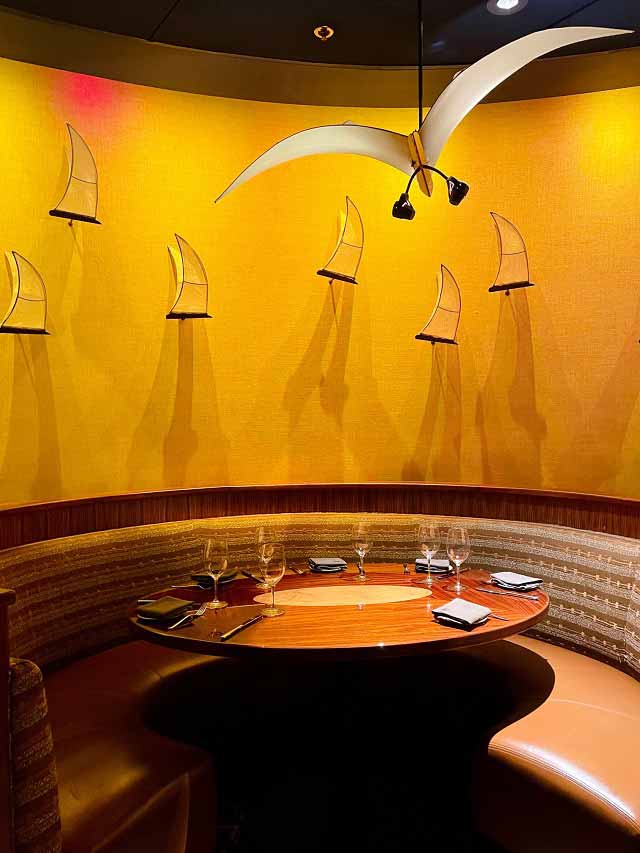 Jiko's lovely decor lends itself to a beautiful atmosphere. Guests will notice the Canoe bird decorations. These birds are said to bring prosperity and luck. Additionally, many of the windows overlook the lush vegetation and water features outdoors.
Guests can also watch chefs preparing dishes in the open show kitchen that blends seamlessly into the theming. And, if it pleases them, before and after dinner, Guests can enjoy a stroll to view the magnificent animals making their home on the savanna at Animal Kingdom Lodge.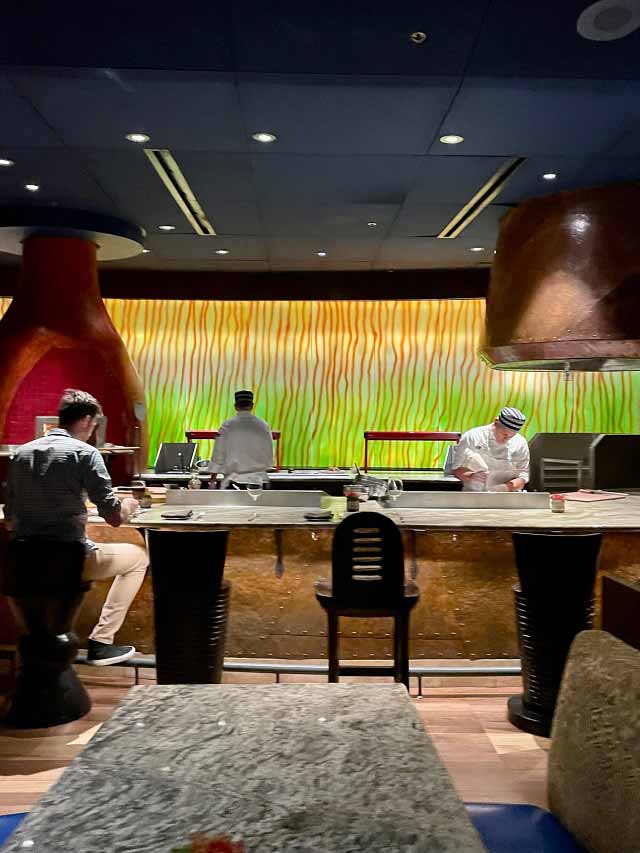 The restaurant is appropriately dim and quiet. Moreover, the service is lovely. Both times I (Katie) have been since the reopening, I found the servers to be knowledgeable and friendly.
Towel Service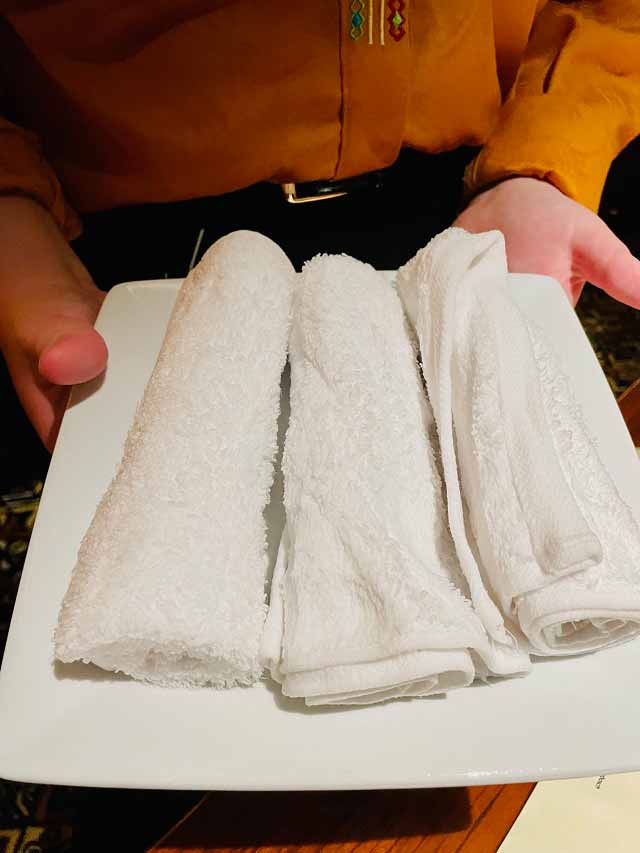 I also appreciate that dinner begins with an interesting tradition. The servers present guests with warm scented towels to cleanse their hands and faces, if they wish.
The towels were warm yet somehow refreshing even on a hot day. It was a nice touch.
The Bread Service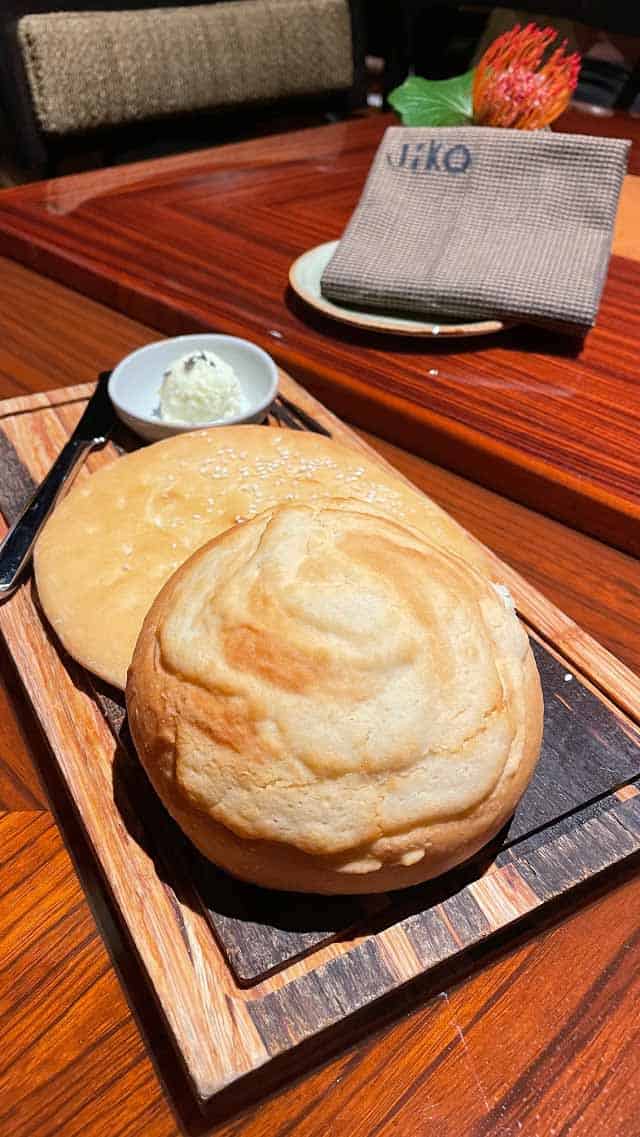 Jiko's dining experience begins with a lovely and much-appreciated bread service. The selection both times I have been since reopening has been an Egyptian bread and a Giraffe bread served with Jiko butter and black sea salt.
The Egyptian bread is interesting, but I vastly prefer the Giraffe bread. And the butter is simply amazing.
Appetizers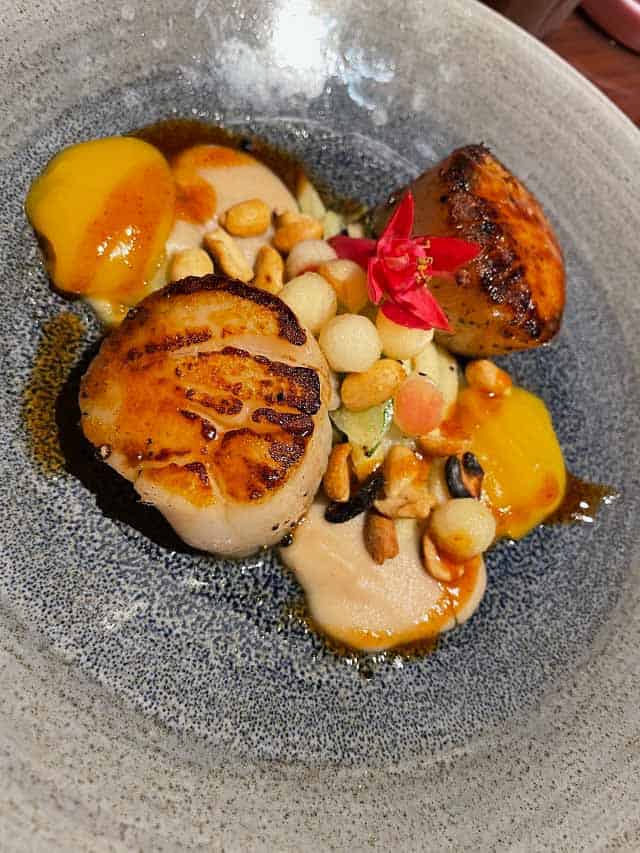 I have been lucky to taste quite a few appetizers at Jiko. In fact, a group of friends and I split several one evening and made quite a meal off of shared plates.
My personal favorite is the Seared Scallops with Nhopi and Groundnuts. This delicious duo of diver scallops is seared perfectly and prepared with blistered peanuts, Nhopi, chestnut cream, fennel-apple slaw, and a cider reduction.
I am a huge scallop fan, and these were perfectly cooked and delicately delicious each time I tried them. The flavors work beautifully together. I am sure the preparation varies seasonally, but scallops of any type are probably a safe bet at Jiko.
In a very close second is the Roasted Squash Bisque (although sometimes it might come in first depending on when you ask me.) I love a good soup, and this, dear readers, is an amazing soup. It is a creamy squash bisque poured tableside over parmesan crisp, slow-poached egg, and preserved pumpkin.
When I had this dish, the flavors were gloriously earthy, and the egg was perfectly cooked. I could honestly return to Jiko and be happy feasting on nothing more than bread, scallops, and soup.
However, I also had the occasion to try the Duck Confit and Honey-Raisin Flatbread. This dish consisted of preserved duck, rocket, toasted chickpeas, mozzarella, plump raisins, harissa and spiced honey.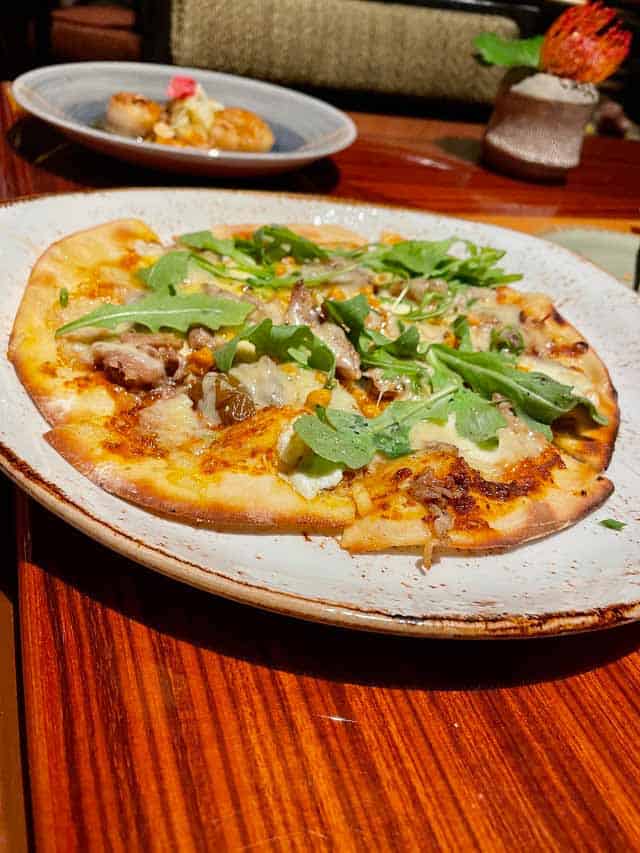 I am not a person with a high tolerance for spicy foods. The harissa was a bit too much for me personally. However, the ingredients were still very good, and if you enjoy duck and spicy foods, you will like this dish.
I will say, I do miss the bread service add-on offered prior to the pandemic. It was like a light version of the ever-popular Sanaa bread service. However, with such a lovely complimentary bread service, I suppose few people would opt to order it.
Enhancements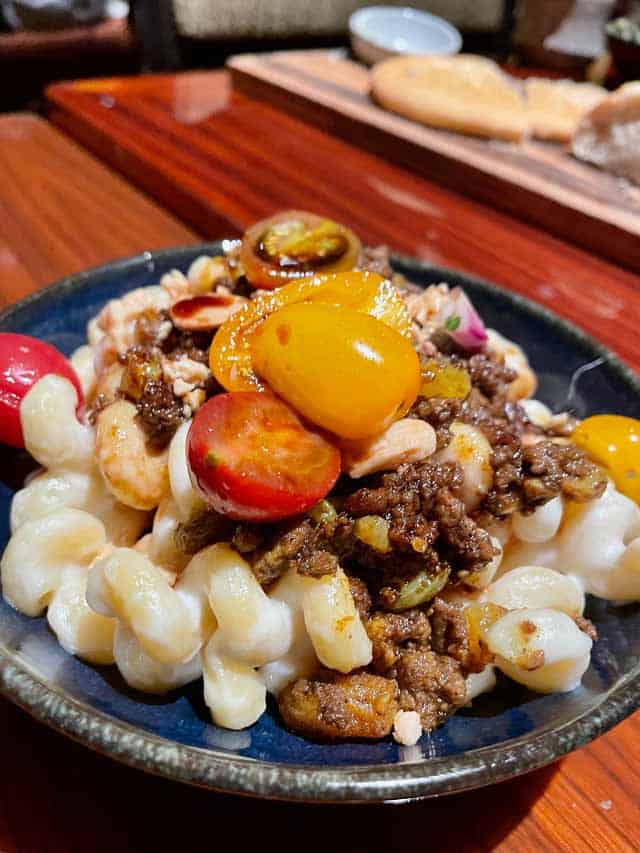 I have also tried the Bobotie Mac & Cheese. This is four-cheese mac & cheese, waygu, almonds, raisins, kachumbari and red wine reduction.
The kachumbari gives it a bit of a kick, which I did not love. I actually prefer the plain mac & cheese that comes along with the Oak Fired Filet. However, if you don't mind chili peppers, you might enjoy the enhancement.
Entrees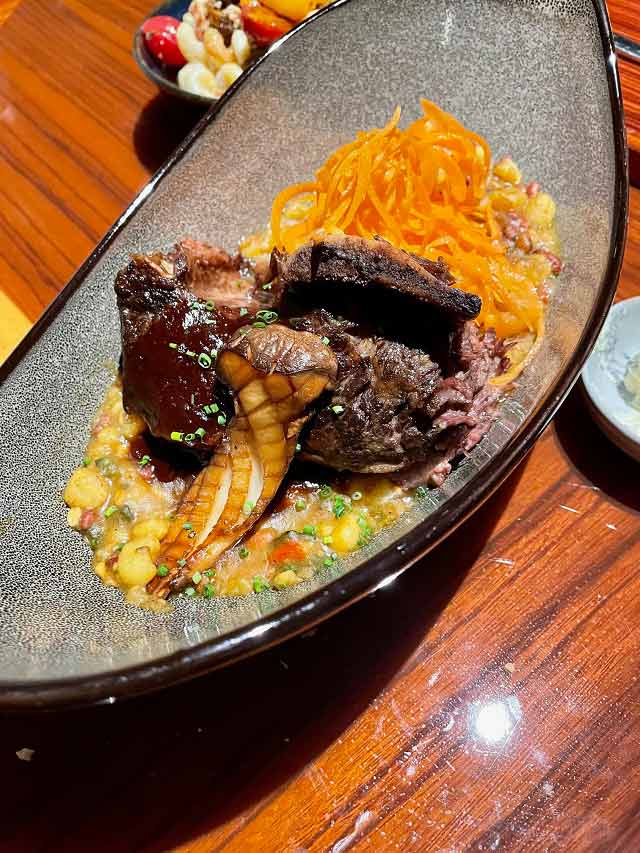 The entree selection is also solid. I would love to try all of them.
As it stands, one of the items I have tried is the Botswanan Seswaa Short Rib. This savory dish is a beef short rib slow-cooked and served with hominy, sea peas, mushrooms and carrots. Overall, the meat was tender and flavorful.
However, my favorite entree by far remains the Oak-grilled Filet Mignon. It is served with four-cheese macaroni, rainbow cauliflower, and chocolate-red wine demi-glace.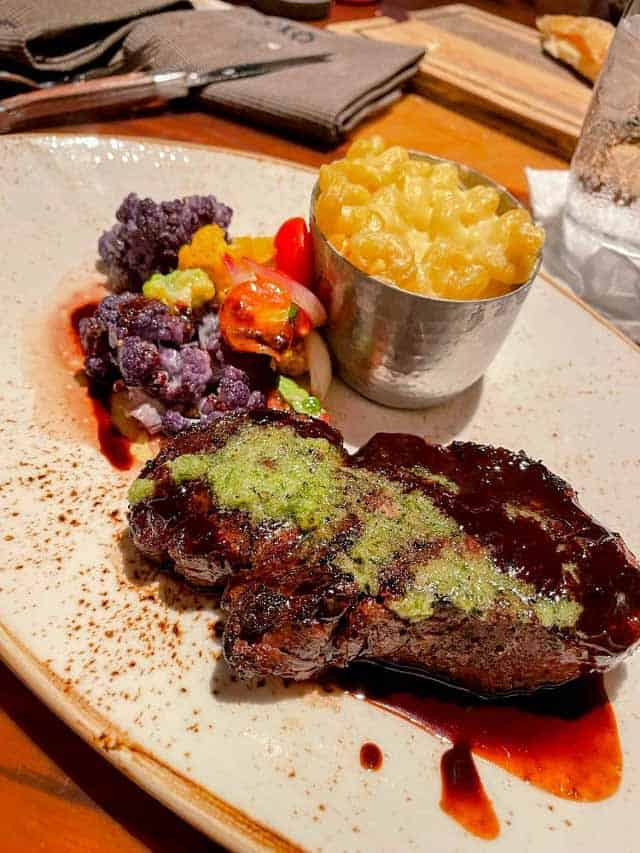 This is the dish I selected to celebrate my birthday at Walt Disney World this year. My family and I were lucky to be able to celebrate with your favorite swashbuckling Disney aficionado, Kenny the Pirate himself, who joined us for dinner.
We all agreed that Jiko's filet is a stellar choice. It has a unique dark, earthy flavor profile, and you may even detect a hint of oaky nuttiness. Kenny even mentioned that it is one of the better steaks he has had at Walt Disney World. Jiko had not reopened when I wrote my list of Disney's best steaks, but perhaps I should revisit it.
Is it a Place For Children?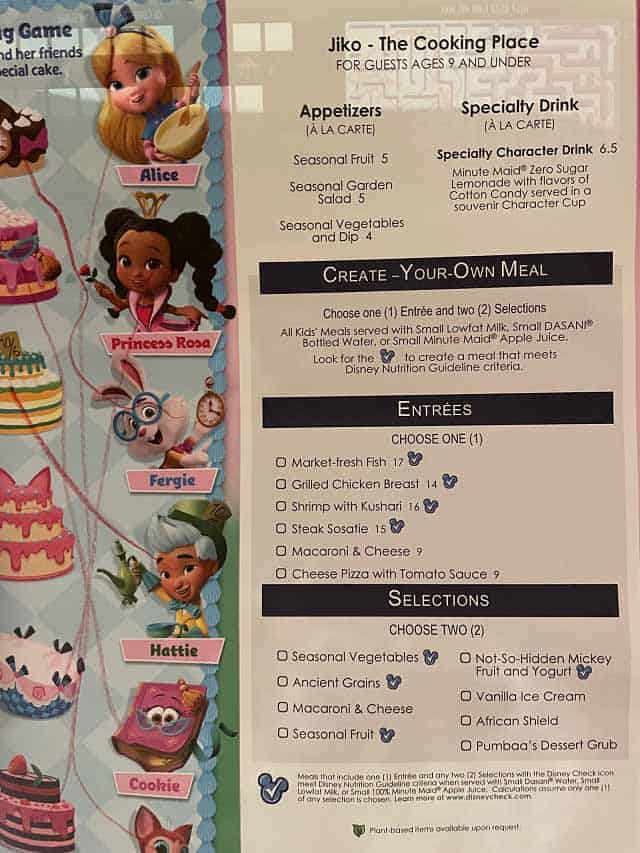 You are probably wondering whether Jiko is a good place to bring children. While the children's menu is not currently published on Walt Disney World's webpage, there is a menu for kids with a well-rounded selection of offerings.
It comes with crayons and activities to occupy little ones. Now, it should be noted that while it is child-friendly, Jiko is a signature restaurant, and it will take longer to dine there than it does at quick service and table service meals. So, you may want to take the length of the meal into consideration and couple it with your children's tolerance for sitting still at meals.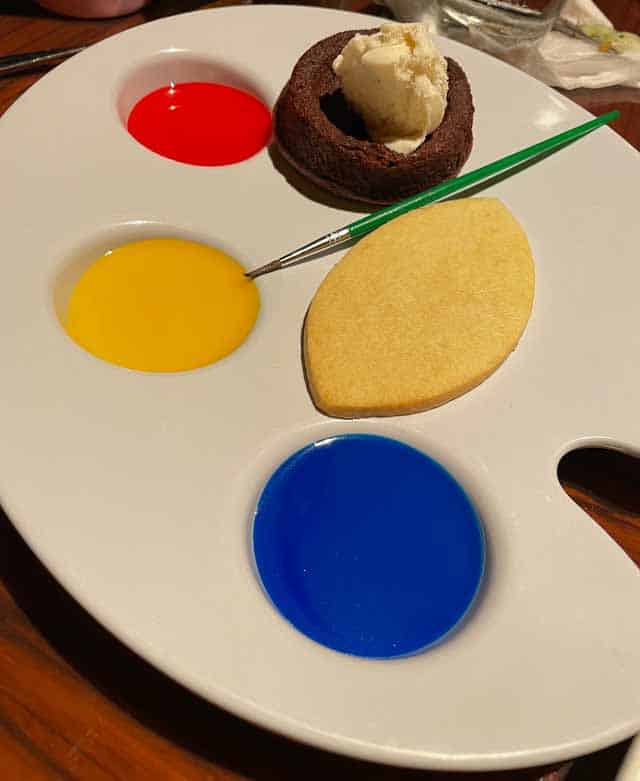 My little girl is a foodie, so she was entertained by all the things there were to taste. My little boy was highly entertained since we had Kenny the Pirate there with us to share stories of his ride challenges to raise money for Give Kids the World and to answer all of his Disney trivia questions. But, alas, not all Jiko meals come with a pirate.
Food Options for Children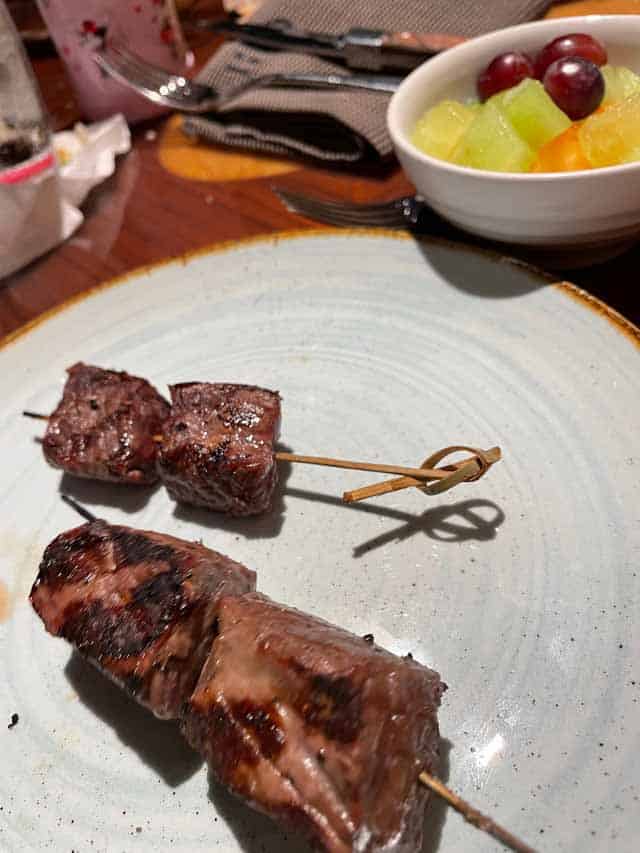 My little girl ordered the Steak Sosatie with fruit. She ate every last bite. She actually gets a little annoyed when we go to restaurants no and there is no "steak sosatie" to be had.
For those who are curious, Steak Sosatie is beef on a skewer. It was tender and flavorful, though it did not have the unusual spices and glazed found in the preparation for the Oak Grilled Fillet.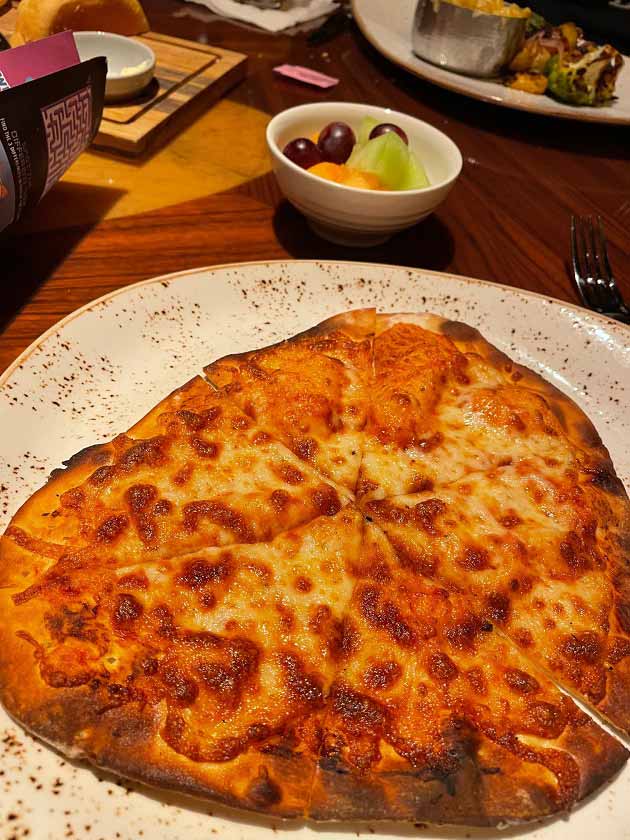 My little boy, who is less adventurous, found there were plenty of items that appealed to him and selected the cheese pizza with tomato sauce and fruit. He said it was neither the best nor worst pizza he'd had at Walt Disney World. He vastly prefers the pizza at Sanaa saying that it is his favorite Disney pizza.
Interestingly, although tomato sauce is part of the menu's description, there was precious little on the pizza itself. It came across more like a crispy cheese flatbread.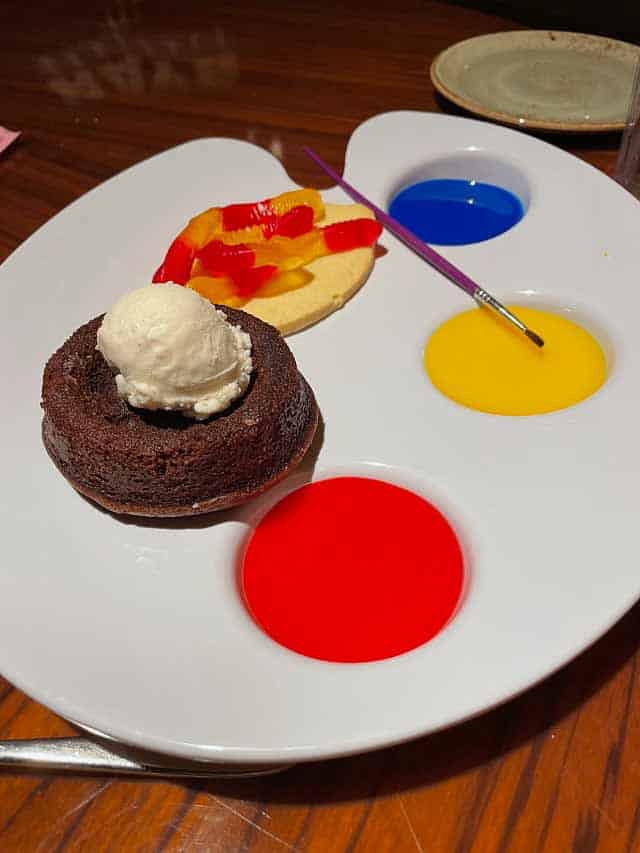 Both children asked for the African Shield for dessert. This dish comes with a shield-shaped cookie as well as a small chocolate cake with ice cream. Additionally if comes with "paints" to decorate it. The server also brought my little girl some gummy worms because she asked if they had any, and low and behold, they did. Steak and gummy worms. Does it get better?
The process of painting kept them both amused for a long stretch of time. This provided them a welcome distraction as we waited for the bill and enjoyed the conversation.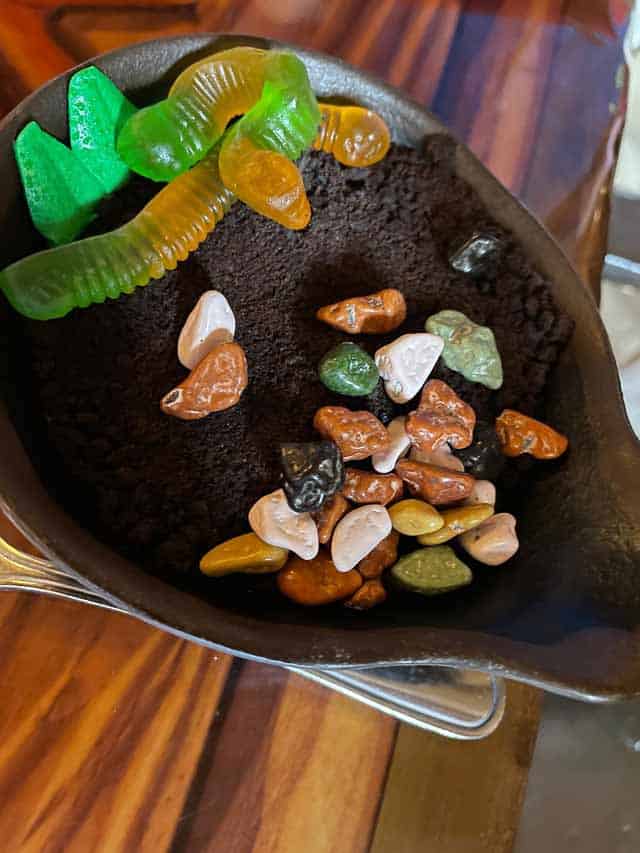 We noticed Pumbaa's dessert grub is also on the menu. We had this at Sanaa during our trip, so I thought I'd mention it here in case you are curious as to what it is.
This dessert is basically a slightly more sophisticated version of dirt cake with worms. It is chocolate pudding, chocolate cookie crumbs, chocolate pebbles, and gummy worms. I believe there is even a bit of marshmallow in it.
A Surprise Dessert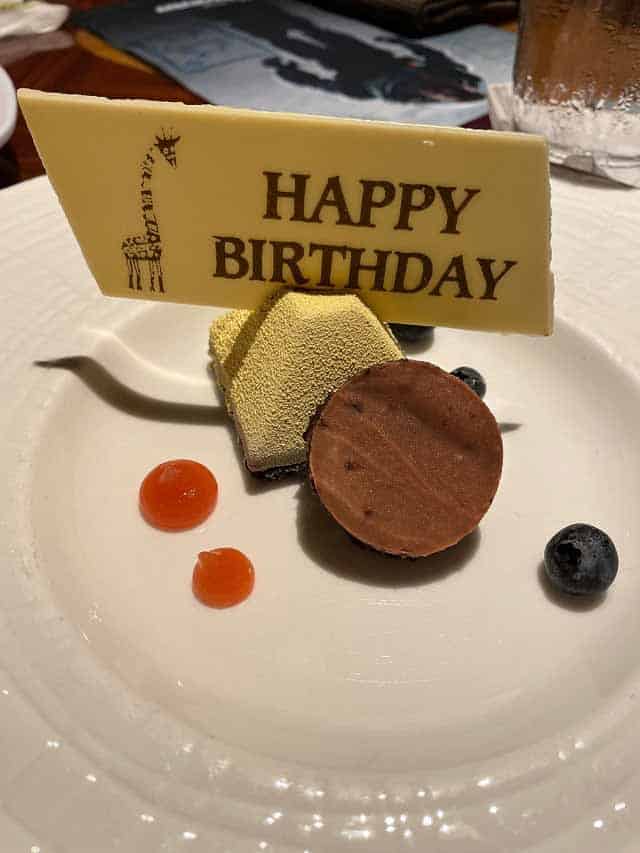 Since it was my birthday, our server surprised us with a birthday dessert. It came with a chocolate mousse topped with a lovely white chocolate birthday message. Accompanying it was some sort of a chocolate disc along with a few dollops of the most lovely sauce.
It is not a dessert that aligned with anything particular on the menu, and I forgot to ask what it is called. I enjoyed it very much, and it was a kind and welcomed surprise.
Overall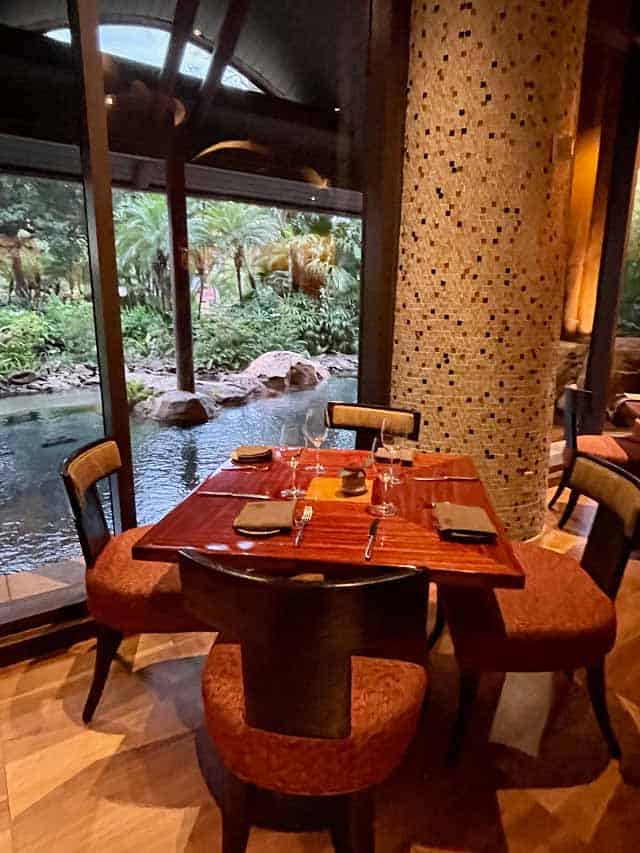 Jiko is just as lovely as it was prior to its period of closure. It is one of my favorite places to eat in Walt Disney World and a place I would like to return to as soon as I am able.
The food and service have been consistently good over the years. What's more, I have always loved the feeling I have when I am there. Do you have places that wrap you in peaceful happiness as soon as you walk in? That's Jiko.
It is a joyful place to visit. If you are looking for a meal that just feels special, this is the one.
Have you ever dined at Jiko? Please, let us know your thoughts on the Kenny the Pirate Facebook page. Don't forget to join the KtP crew page, too!