Are you looking for a really great breakfast buffet on Disney property but not quite sure where to start? If so, look no further and book a reservation at Boma – Flavors of Africa at Disney's Animal Kingdom Lodge right now.
Boma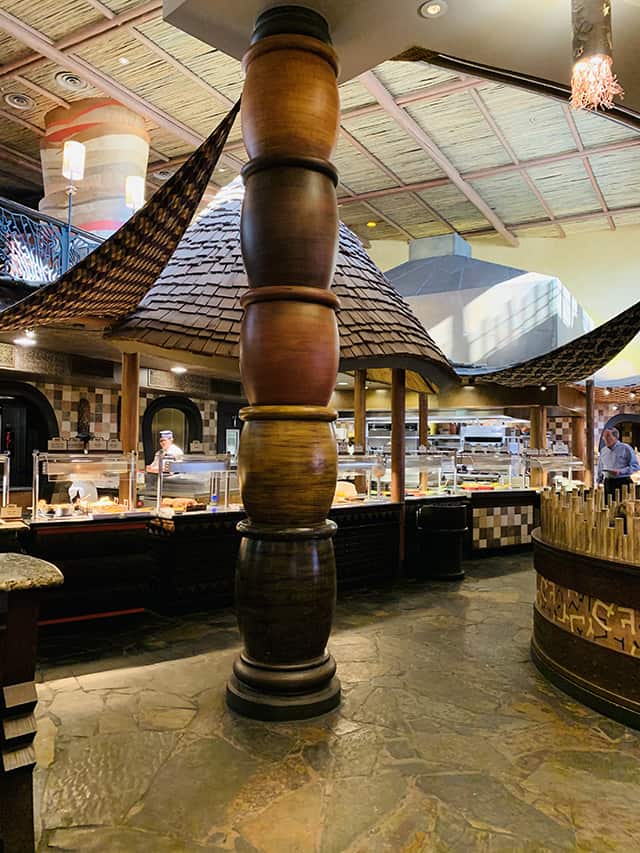 Boma – Flavors of Africa is at Disney's Animal Kingdom Lodge in the Jambo House building. After entering the gorgeous lobby of this unique resort, take the stairs down to the ground level past Victoria Falls Lounge.
This restaurant offers a breakfast and dinner buffet. For a great review of dinner, be sure to read Susan's post HERE. After reading it, you will see why dinner here is one of the very best buffets at Walt Disney World! Not only is dinner outstanding, but breakfast is amazing as well! In fact, in my (Maggie) opinion, it is easily one of the very best breakfast buffets on Walt Disney World property.
Atmosphere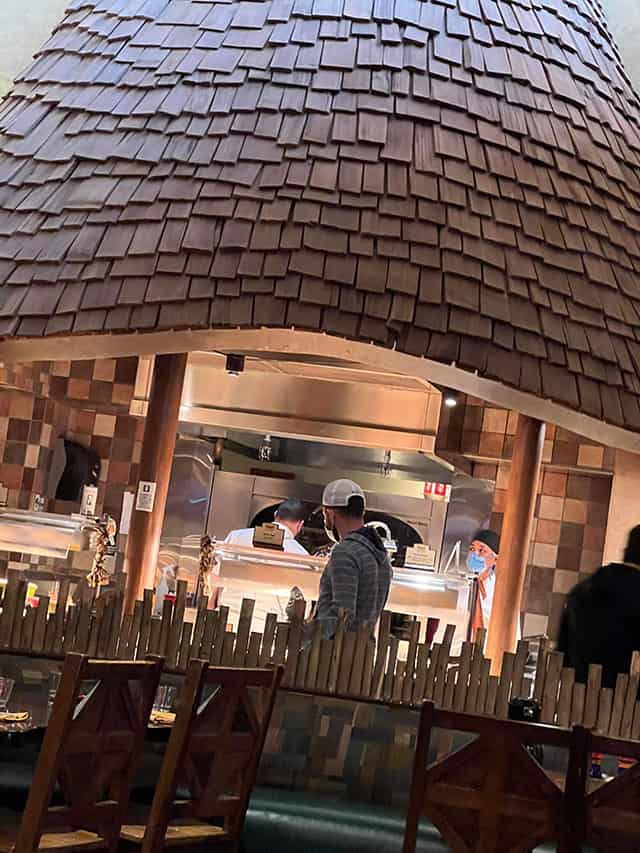 Boma is meant to resemble a lively African marketplace. Guests will enter the large open dining area and find themselves under thatched roofs and colorful African inspired decor. Did you know that some of the larger tables even resemble the continent of Africa? How cool is that? There is also seating off to the side that is away from the open dining area and a bit more private and quiet.
After you enjoy your meal, take some time to look outside at the wonderful wildlife right in front of you! It is truly one of the features of Boma that makes this dining experience unique. Guests also have the option to explore Disney's Animal Kingdom Lodge or go outside to view the African savannah. I highly recommend doing this if you visit because the resort and different kinds of animals are incredible.
Buffet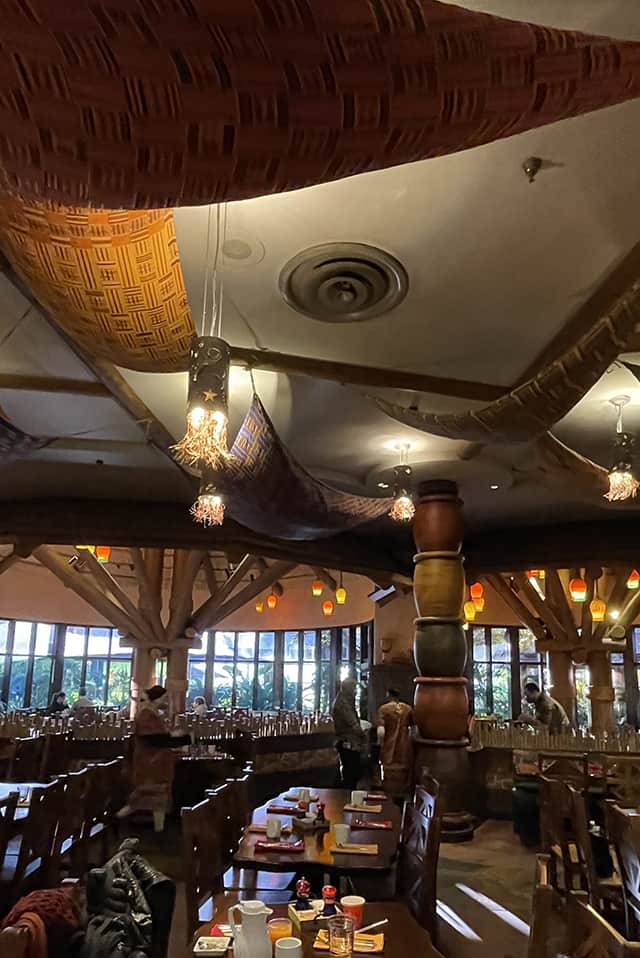 Boma also stands out as being the very FIRST buffet to open since buffets returned! Boma reopened to all guests as a buffet on August 20, 2021. Disney World describes breakfast at Boma with the following description on their website:
Greet your day with a cup of full-bodied Kenyan AA coffee, tropical juice and a bountiful breakfast buffet. Selections may include made-to-order omelets, French toast bread pudding, pastries, carved ham, fresh fruit and turkey bobotie—a type of South African quiche.
Boma offers an all-you-care-to-enjoy buffet for both breakfast and dinner.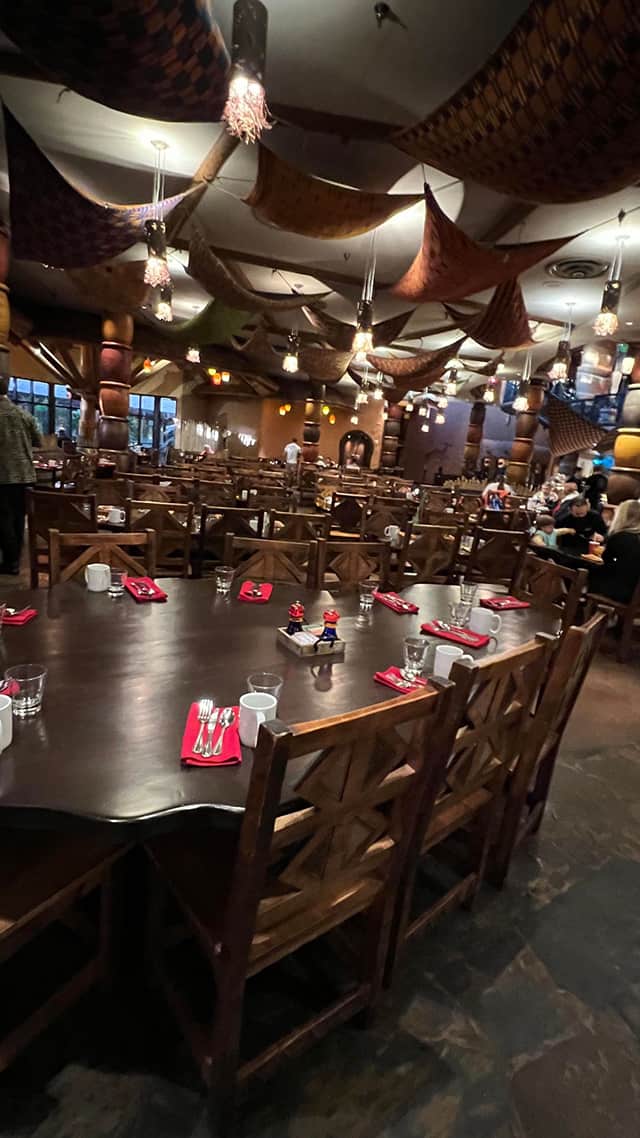 Both buffets are all-you-care-to-enjoy, meaning you can get your money's worth and enjoy as much or as little as you want. Breakfast is served from 7:30 am to 11:00 am, and dinner is served from 5:00 pm to 9:30 pm. Advanced dining reservations are highly recommended, so be sure to book a reservation here well in advance.
Boma breakfast and dinner are one of the more reasonably priced buffets at Disney. Breakfast costs $29 per adult plus tax and gratuity and $17 per child plus tax and gratuity. Dinner is a bit more at $49 per adult/$29 per child plus tax and gratuity.
Menu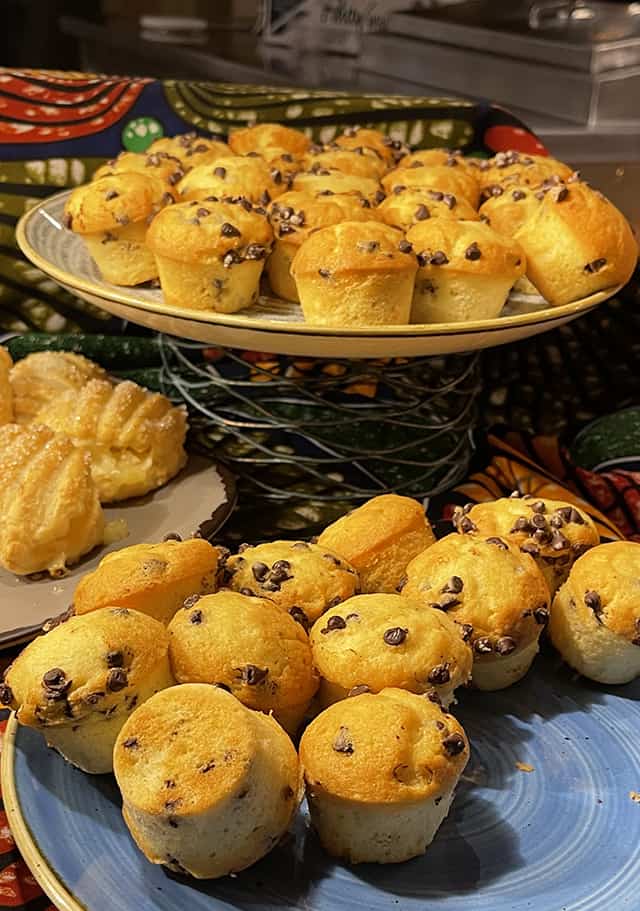 Upon its reopening, Boma also introduced an all new menu. Here are the breakfast items that you can find available at this buffet:
Breakfast muffins
Pancakes
Waffles
Breakfast Potatoes
Bacon and Sausage
Cinnamon-raisin bread pudding
Carved Ham
Coconut Steel-cut oatmeal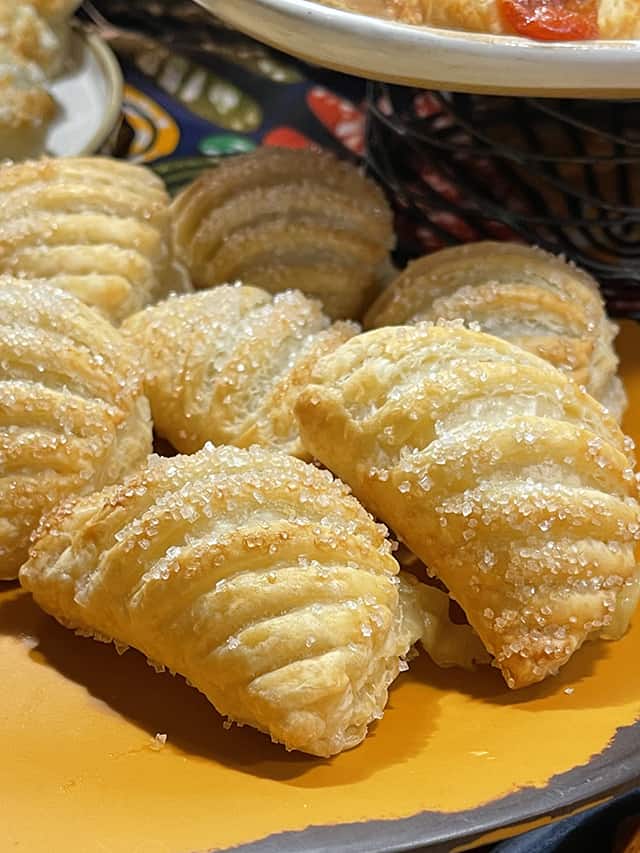 Turkey Bobotie
Omelets (Ham and Swiss, Western with Ham, Peppers, Onions, Cheddar, Egg White with Roasted Red Pepper, Spinach, Feta, Plant-based Bobotie)
Cinnamon Rolls
Sticky Buns
Deviled Eggs with Smoked Salmon
Composed Yogurt Parfait
Avocado, Papaya, Grapefruit Salad
Various fruit
If you are wondering if you can get Mickey waffles here, YES you can! You can also find Simba waffles at this location as well.
My Experience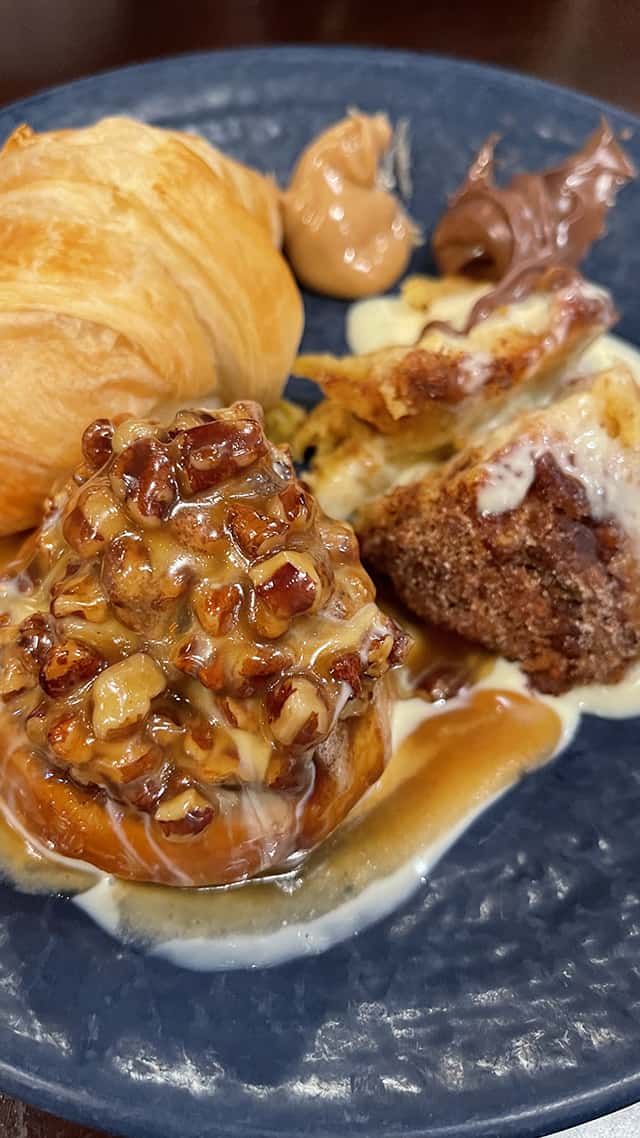 I have been to Boma for breakfast at least a few times now, and each time, it did not disappoint! I love the wide range of selections this buffet has to offer. It has a little bit of something for everyone.
While there are some African influenced dishes here, it also offers traditional breakfasts many guests enjoy, and I think that is one huge reason why this is such a great buffet.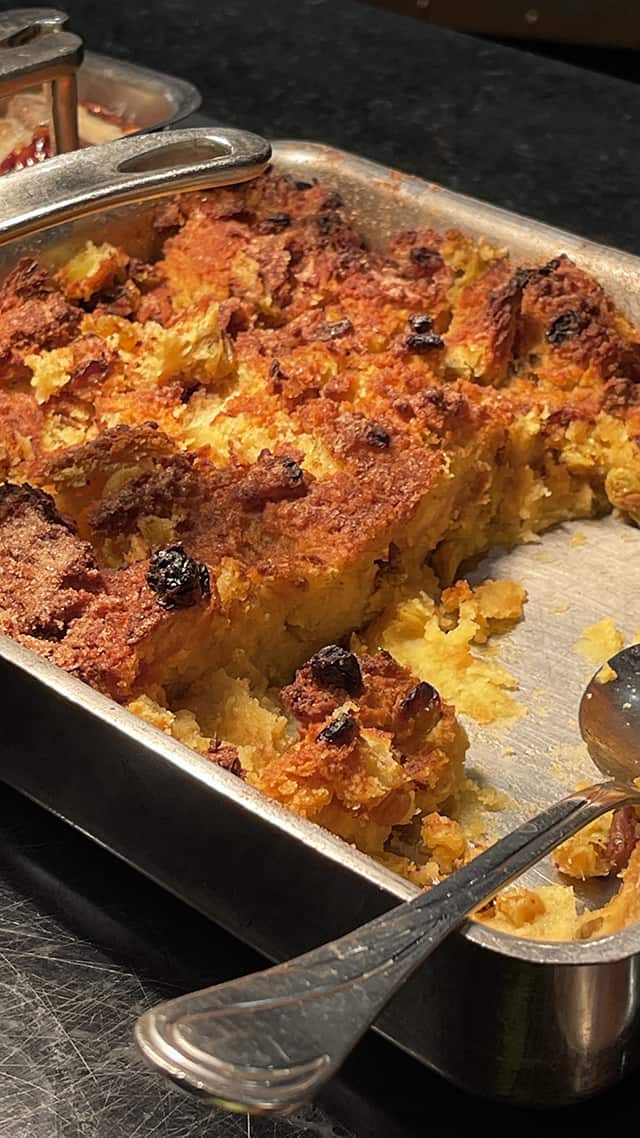 One of the stand-out dishes of the buffet is its French Toast bread pudding and turkey bobotie. The turkey bobotie is similar to a quiche and includes turkey, mushrooms, and traditional spices.
The French Toast bread pudding is warm, sticky and simply melts in your mouth! I know that this is a favorite dish for many guests who visit this buffet and it's definitely not hard to see why.
All of the breakfast items of this buffet are served hot and fresh. Believe me when I say that it will definitely make you want to go back for seconds or maybe thirds.
Final Thoughts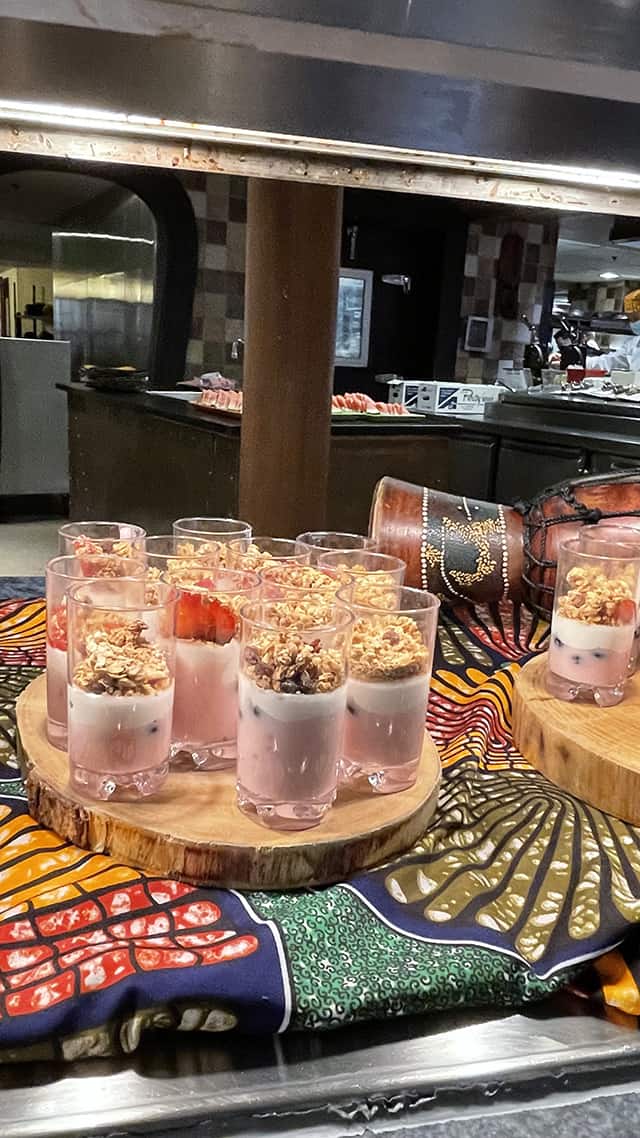 Go to Boma breakfast if you are looking for a wide range of various breakfast items to choose from. I think one of the best parts of this buffet is that it offers such a wide selection. Adventurous eaters can enjoy the African inspired dishes, while guests who enjoy a more traditional breakfast can still get items such as pancakes, waffles and bacon.
It is also one of the very few buffets available on property and the price is very reasonable. Other buffets on property at this current time include: Biergarten Restaurant, Cape May Cafe and The Crystal Palace. Of those three restaurants that I just mentioned, I would definitely pick Boma as my first choice!
1900 Park Fare and Akershus Royal Banquet Hall still remain unavailable at this time, and Disney has yet to announce when or if they will return.
Have you visited Boma at Disney's Animal Kingdom Lodge before? Do you agree that it is one of the very best buffets on Disney property? Will you be booking a reservation here on a future trip? Tell us about it in the comments below or on our Facebook page. Be sure to keep the conversation going and share your experience with us in our crew too!