Boma at Disney's Animal Lodge boasts a family friendly buffet with an African flare. Check out details and photos on each dish here.
Getting There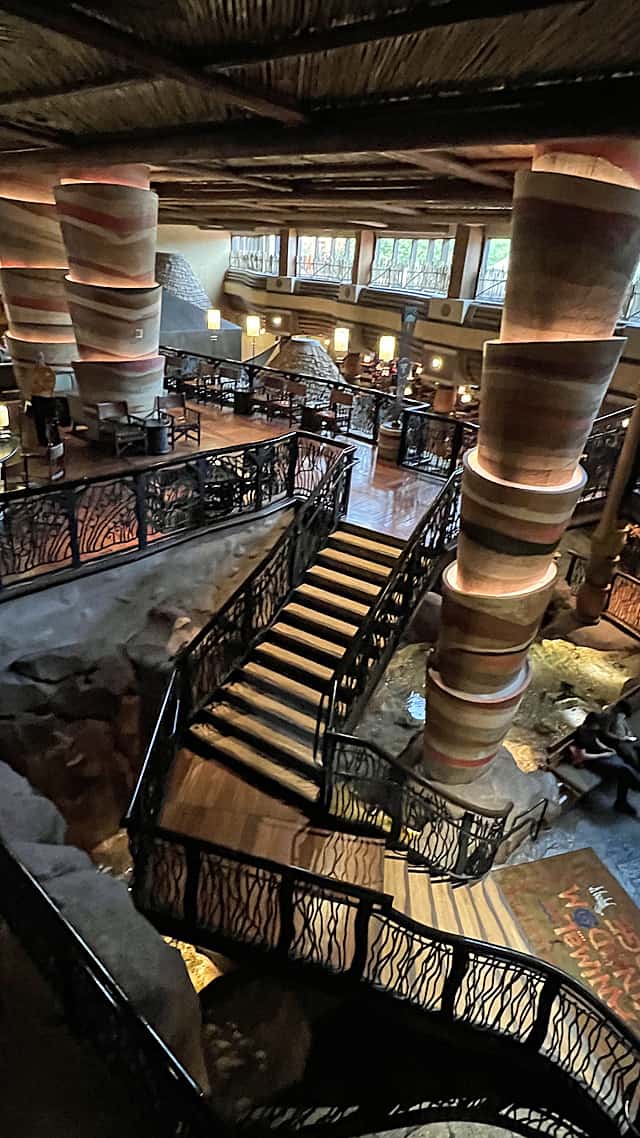 To take in the immersive theming and food of Boma, catch a ride to Disney's Animal Kingdom Lodge. While guests find Sanaa at Kidani Village, Boma is located in the Jambo House building. If taking a rideshare or bus, be sure to get off at Jambo House. Check out our Animal Kingdom Lodge guide HERE.
When arriving at the main entrance of Jambo House, take the cool stairs shown above (or elevator) past Victoria Falls Lounge. Then, walk to the ground level.
Checking In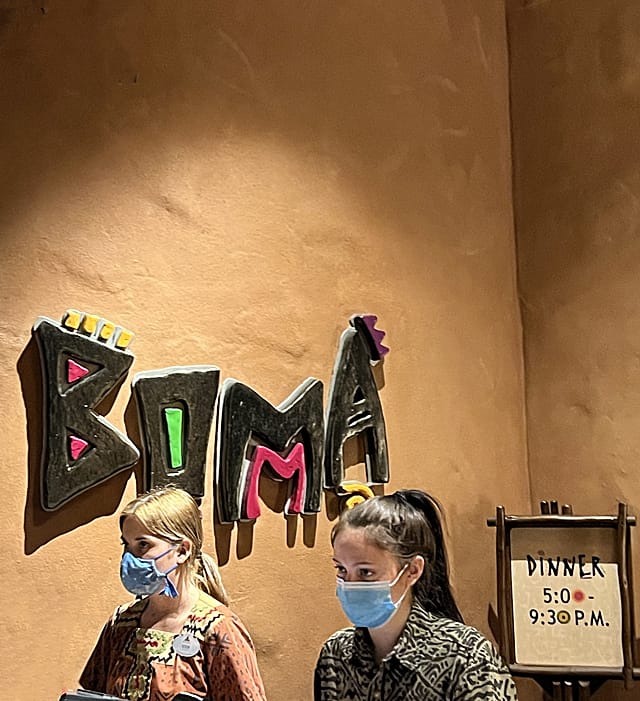 Since our reservation was at 5:00pm, we arrived about 4:45pm. At that time, Cast Members instructed us to check-in using the QR code nearby. After doing that, at exactly 5:00pm, we were able to actually check-in. Since we had an opening time reservation, we only waited a few minutes. I (Susan) love getting there early before restaurants get packed.
Reservation tip: If you want to minimize waiting for a table, make your reservation at opening time.
Overview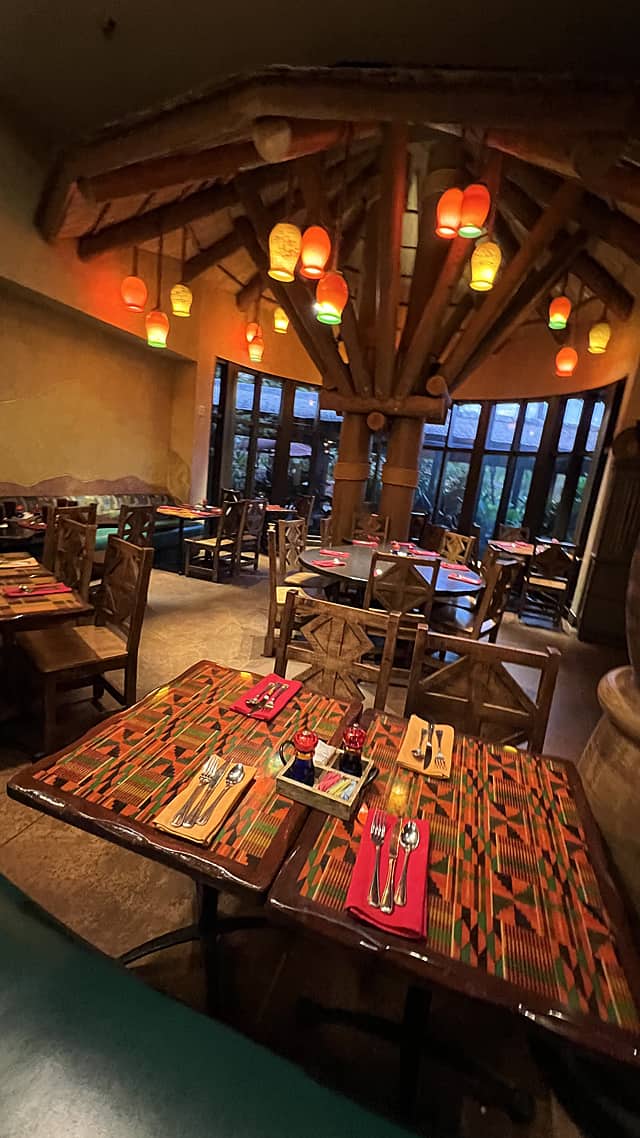 Resembling a lively African marketplace, this restaurant features an all-you-care-to-enjoy buffet. Here, guests dine under thatched roofs and vibrant tapestrys. This is a one-of-a-kind dining experience. Boma offers dishes from several African countries and includes favorite American classics. The warm colors resemble African sunsets.
At dinner, watch chefs prepare Oak roasted meats, vegetarian specialties, seafood dishes, fresh salads and house-baked pastries in the open kitchen. Kid options include options like chicken nuggets. Guests 21 years of age and up delight in unique South African wine and beer. Soft drinks, tea, coffee and fruit juices are included in cost of buffet. My husband, Larry, even ordered the famous POG juice! He shared that it was a little too sweet.
Seating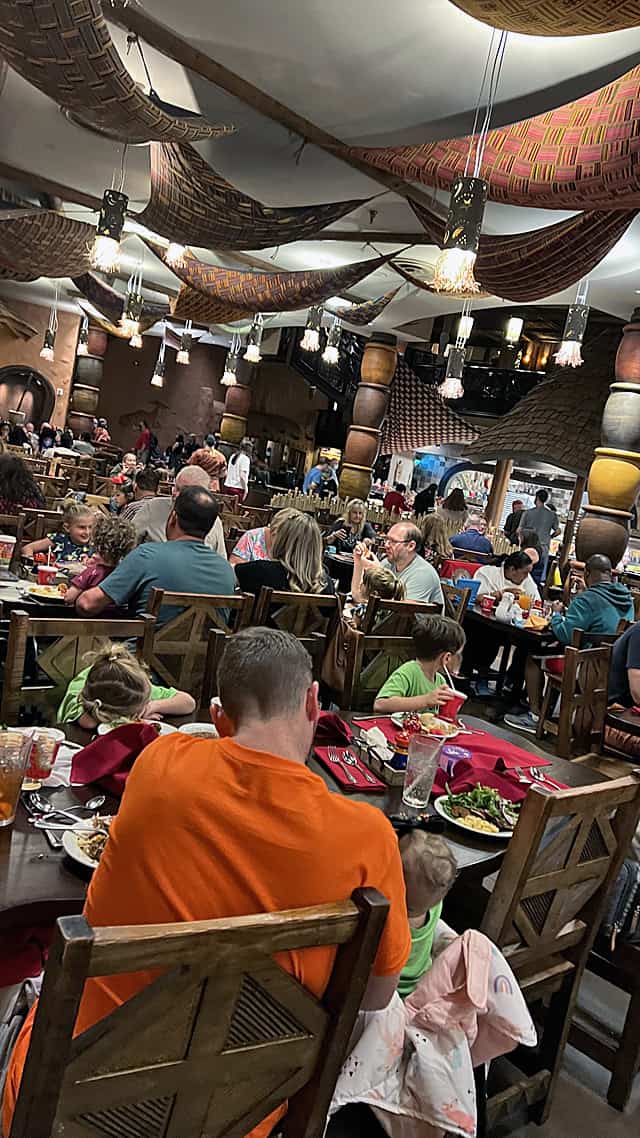 Since theming resembles an open air market, most tables are in the large dining area. However, check out the photo in the overview section of this article. This is where we sat nestled in the alcove away from the main crowd. Tables here sit 2-10 people. Sturdy wood embodies all the tables and chairs. Also, the largest tables are shaped like the continent of Africa. So cool!
Buffet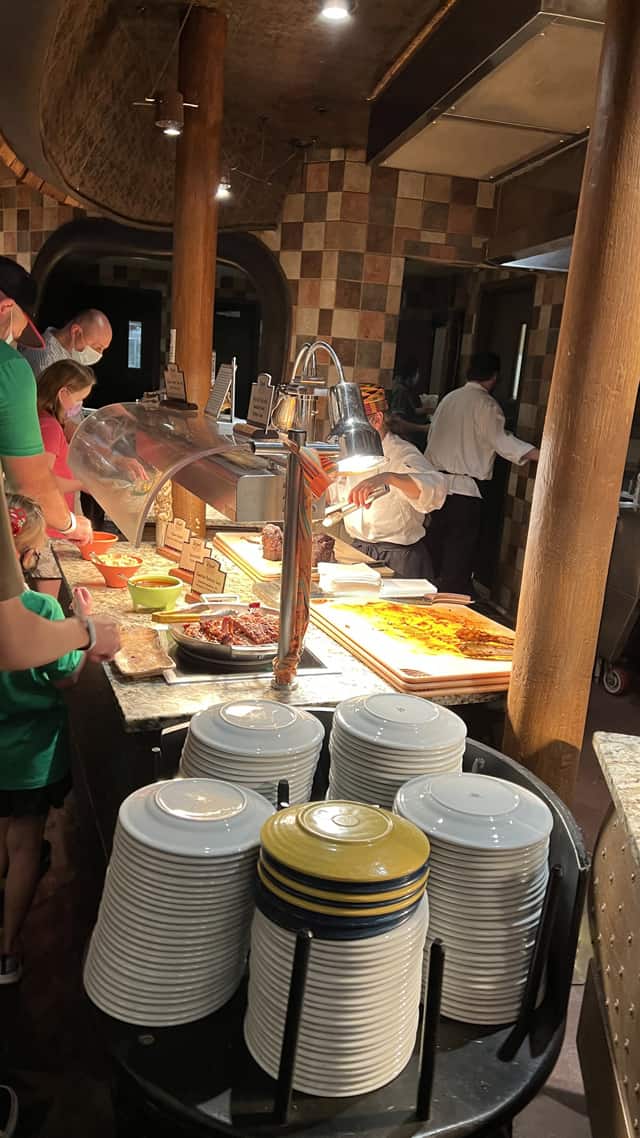 Since I knew I was reviewing Boma's dinner buffet, I was determined to try at least a bite of everything on the buffet. However, this was a tall order! There are so many dishes here. Guests are guaranteed not to leave hungry.
As you read through each section below, pretend you're actually walking through the buffet line. I've ordered them by section in the order you'll find them at Boma from right to left looking at the buffet. I'll also share my favorite dish from every section. Hope you enjoy your food journey!
Carving Area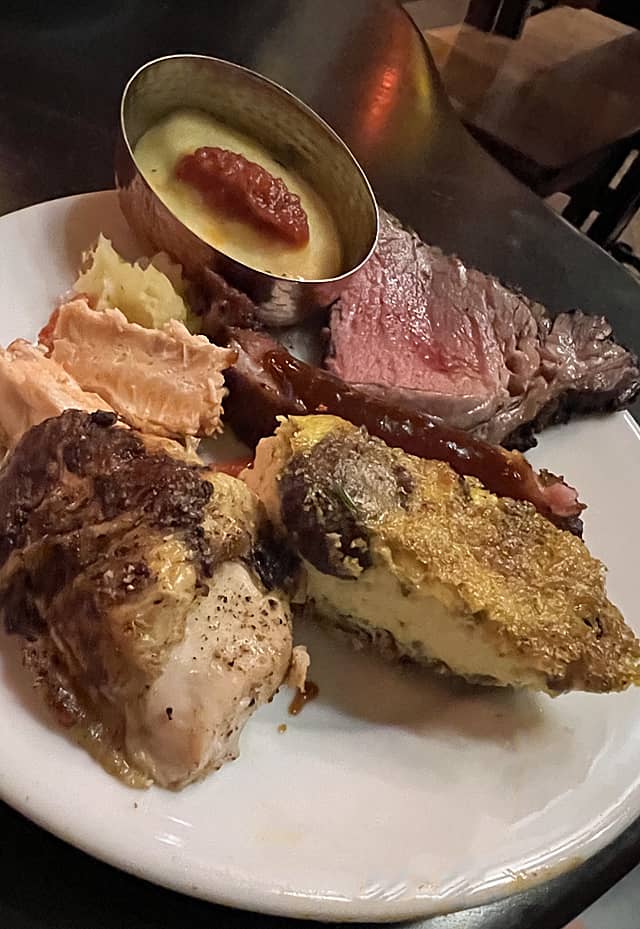 First, pick up a plate to dig in! Plates are located in several spots throughout the serving areas. Although all of the dishes and spices gave off such a pleasing aroma, the carving area's meats cooking smells permeated the restaurant. As with the rest of the buffet, you'll find a large variety of dishes here.
First, check out the Senegalase Salmon with Yassa Sauce. This grilled dish comes from Senegal, a west African country. On top there's a mixture of mustard sauce, onion, tomatoes, and lemon. Below you can see the Durban roasted chicken cooking on skewers in the rotisserie oven.
If you're a roast beef lover, don't miss the African spiced beef striploin. This is carved to order, and Cast Members asked how we liked our steak cooked. It was a wonderfully tender cut of meat that melted in my mouth. Another thing I loved about it was there was very little fat. These pair perfectly with the buttery herb-stuffed potatoes.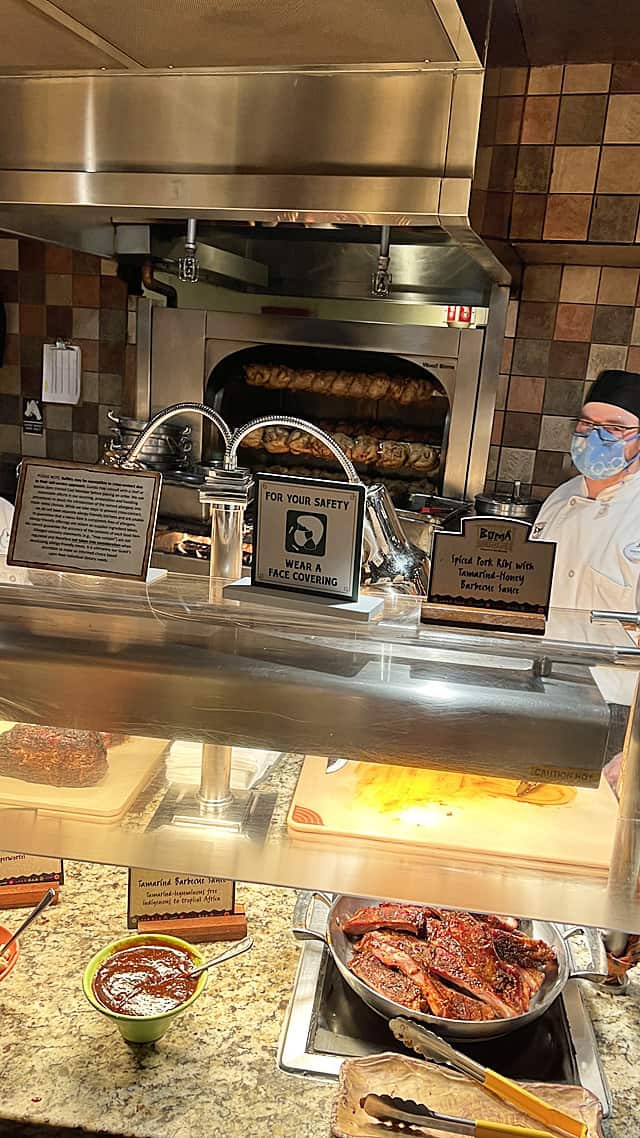 After that, I tried a totally new dish, Lamb Bobotie. This south African inspired custard pie consists of coarsely ground lamb, curry, and other spices. I wanted to love this, but the unfamiliar spices made it hard to finish.
Served in tiny dishes, the sweet corn pudding with spinach and chakalaka jam also tasted like a custard. I enjoyed it but was eager to try the Spiced Pork Ribs with Tamarind-Honey Barbeque Sauce. These ribs fell off the bone and were seasoned perfectly. The sauce was delicious! When eating at buffets, I tend to gravitate to the meat, and Boma's meat selections are winners!
Carving Station winner: This was a tough decision between the ribs and the striploin. Ultimately, the well seasoned steak won out!
Children's Section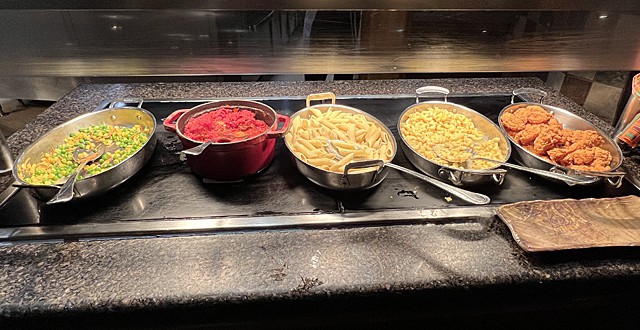 Get another plate as we dive into the kid-friendly food. These less seasoned items are also nice for those wanting more traditional dishes. From left to right, check out the mixed vegetables (corn, peas, and carrots) above. Then, enjoy the marinara sauce with meatballs with penne pasta. Or if you prefer macaroni and cheese, that's included too. Finally, crispy chicken tenders here satisfy hungry guests.
Winner of children's section: I have to go with chicken nuggets here since they're a favorite of so many.
Soups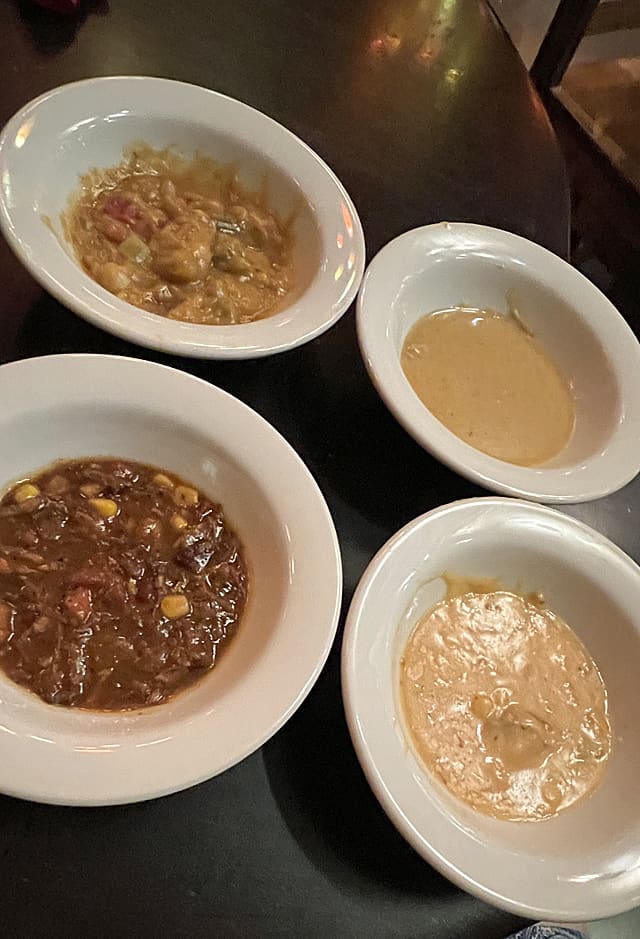 Save room because we're just getting started. Boma chefs make 4 house-made soups daily. First, the Cote d'Ivoríe (seafood gumbo) is pictured top left. Beside that is the Butternut Squash soup (Botterskorsie Muurbal Sop). I'm a huge fan of butternut squash, but the seasoning overpowered the delicate sweetness of the squash.
On the bottom left, savor the Ghanaian Oxtail Stew, a Western African-inspired tomato-based stew with Tamarind. Tamarind is a fruit that produces a sweet and tangy pulp. I was hesitant to try anything with Oxtail in it, but I found it hearty and delicious. It reminded me of an African inspired beef vegetable soup. Finally, check out the Sambal cream-based Chicken Corn Chowder. I appreciated the creaminess of this soup.
Soup winner: To my surprise, the Ghanian Oxtail Stew was fabulous and my favorite.
Sides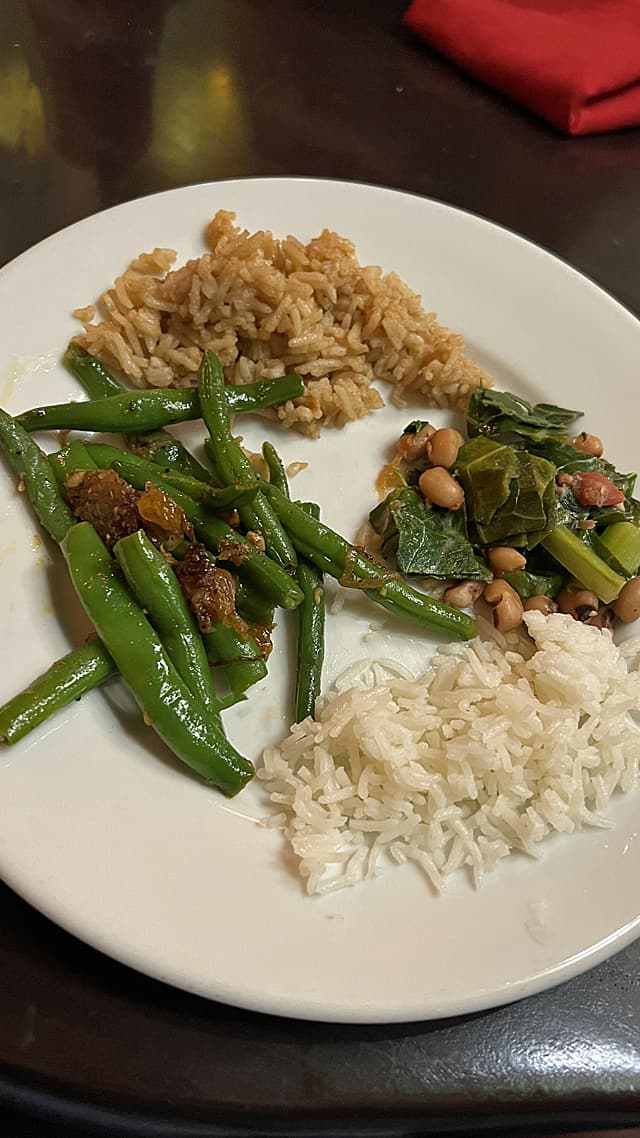 In the sides section of the buffet, enjoy both white Basmati Rice and Peanut Rice with Coconut, Soy Sauce, and Ginger. Both were well prepared. While the ginger coconut rice had pleasant flavors, the fluffy texture and wonderful simplicity of the Basmati Rice won me over.
If you're looking for green vegetables, check out the West African Black Eyed peas, Greens and Stewed Tomatoes and the sautéd Spiced green beans with Golden Raisins. I enjoyed both of these dishes, especially the black-eyed peas and greens.
Sides winner: This was a toss up between the Basmati rice and the Black eyed peas. I really think both are winners. Because it complements everything on Boma buffet, the Basmati Rice wins here!
Prepared Salads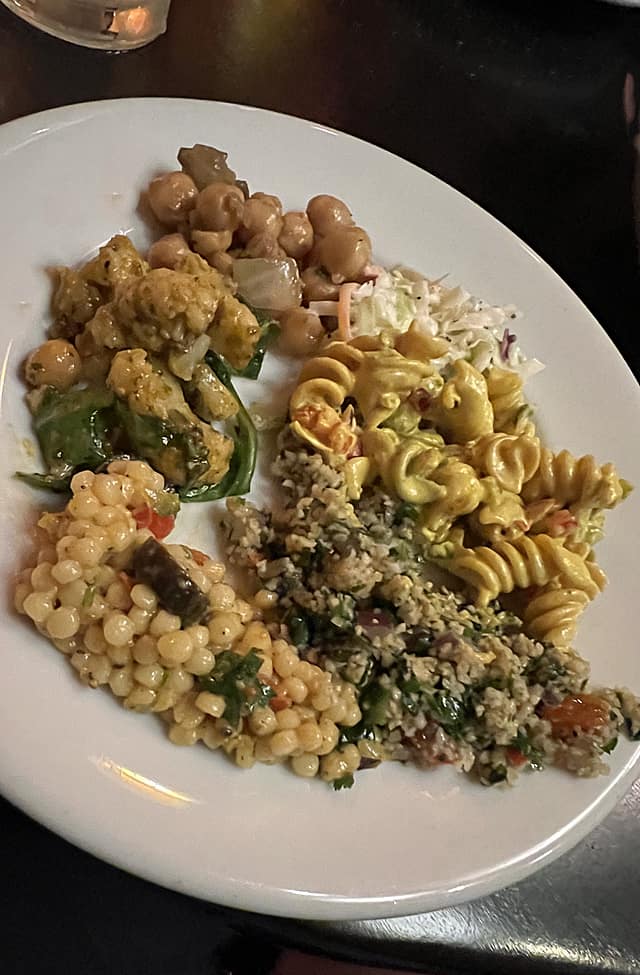 Boma rotates freshly made salads daily. On our visit, we tasted Tunisian Couscous and Shrimp Salad, North African Cauliflower Salad, and Berbere-Chickpea Salad. Each of these are uniquely seasoned to add a touch of African flavor. Be sure to try a sample of each to pick your favorite.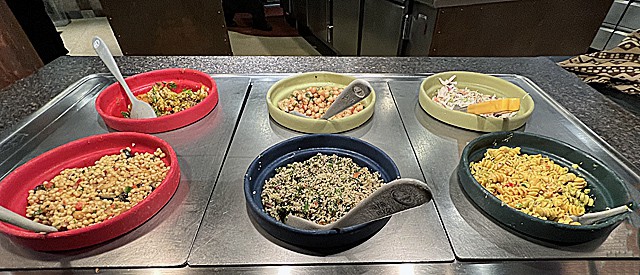 Next, be sure to check out the Tabbouleh Salad traditionally made with chopped parsley, tomatoes, mint, onion, bulgur. It is seasoned with olive oil, lemon juice, salt and sweet pepper. The Pasta Salad is prepared with mayonnaise, bell peppers, curry, and turmeric. Last, the coleslaw is standard American style coleslaw. It was okay, but there were much more flavor filled options.
Salad winner: The creamy mayonnaise blended with wonderful spices makes the pasta salad my favorite!
Create Your Own Salad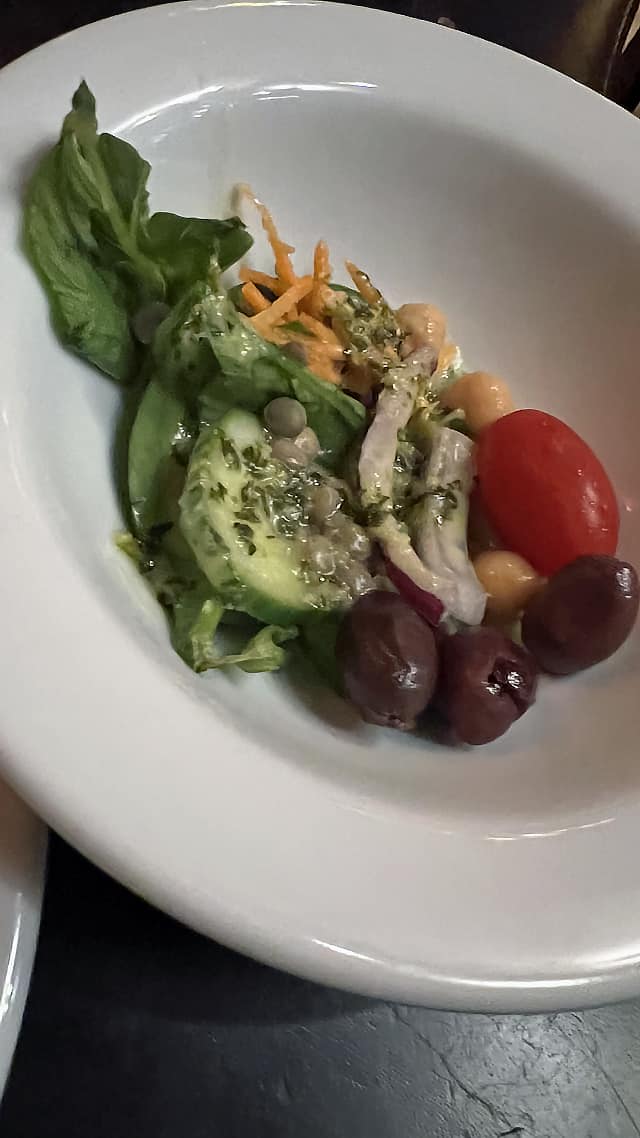 In case you like to make your own salad, Boma sets out a small section for that. Start off with the basic lettuce and vegetable mix and then add your favorite items and dressing.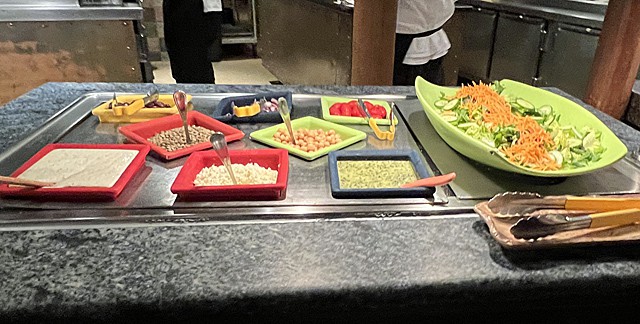 On this mini salad bar, look for grape tomatoes, cucumber salad (cucumber, onion and tomatoes sliced), chickpeas, lentils, feta cheese, and Kalamata black olives. Next, choose between chili cilantro vinaigrette and Ranch buttermilk dressing. Both of these were delicious and house made.
Salad Dressing winner: The chili cilantro vinaigrette was the best since it bursted with fresh, unique flavors.
Fruit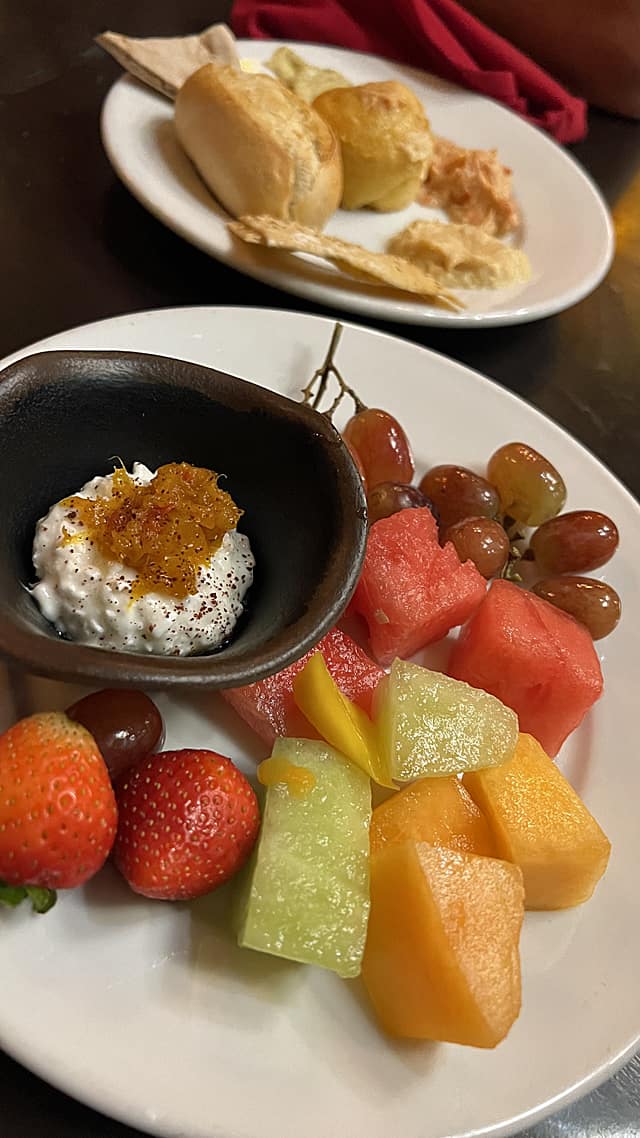 Next, let's take a look at the fruit section. One of my favorite things about this enormous buffet is the huge variety of healthy options. Here you'll find several fresh fruit options: grapes, pineapple/melon salad, strawberries, and watermelon pieces.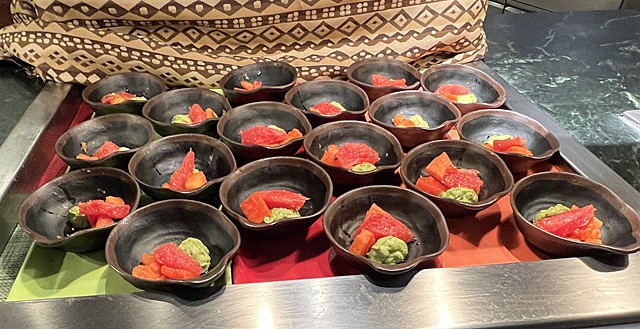 In addition to fresh fruit, check out the prepared dishes: Avocado, Papaya, and Grapefruit Salad and Spiced cottage cheese with Berbers-glazed Pineapple. The cottage cheese dish was just okay, but I'm not a cottage cheese fan.
In contrast, the Papaya, and Grapefruit Salad was simply divine! According to Disney, is made with papaya, avocado, grapefruit, mint leaves, yogurt, grapefruit juice, and honey. Check out Disney's recipe for this super fresh dish HERE.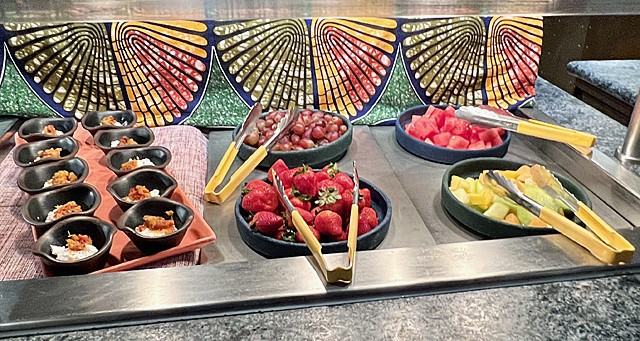 Fruit winner: Avocado, Papaya, and Grapefruit Salad by a landslide.
Bread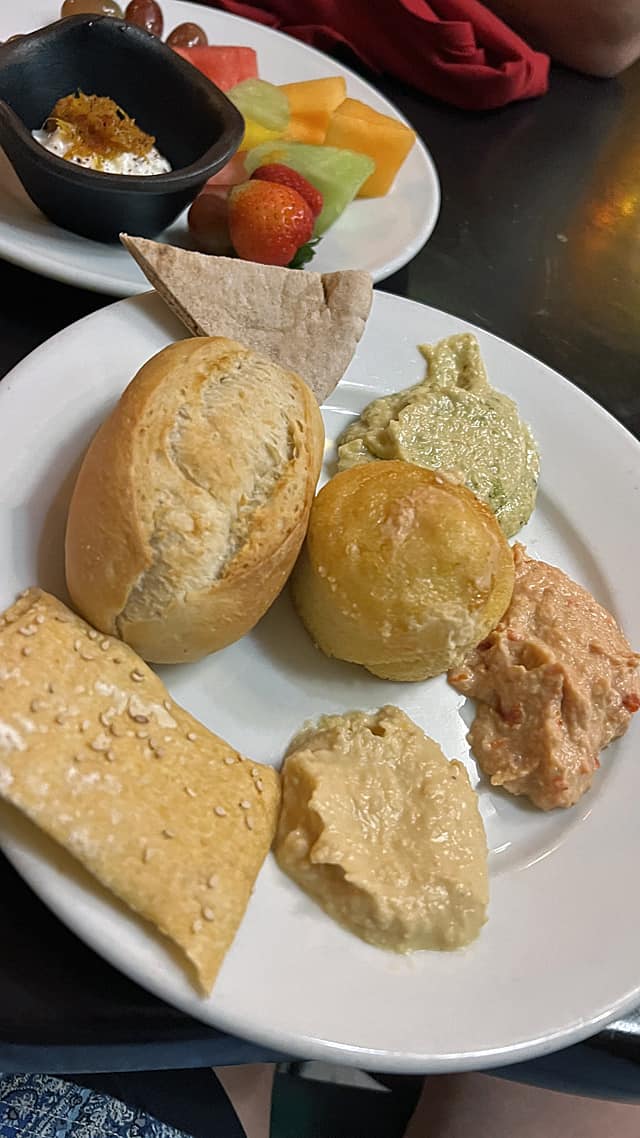 Time to grab another plate filled with house made bread. Whether you love french rolls, pita bread, or dinner rolls, Boma has them all! In addition, Boma serves fresh butter and 3 types of Hummus (hummus, sun-dried tomato and coriander) to accompany the bread selections. You may just want to fill an entire plate with all this deliciousness!
Bread winner: I chose the dinner rolls because they were so soft and fresh!
Desserts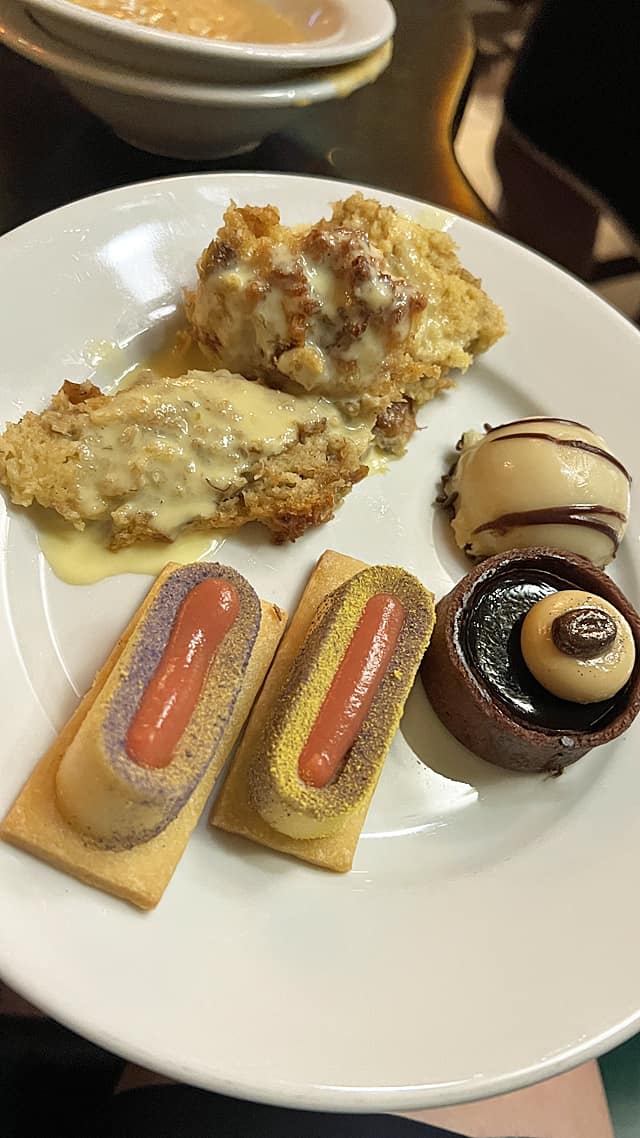 Here's what you've been waiting for, desserts! Boma bakes their pastries and desserts in house daily ensuring each wonderful bite satisfies your sweet tooth in the most amazing way. Here, sink your teeth into zebra domes, hazelnut brownies, and pineapple tarts.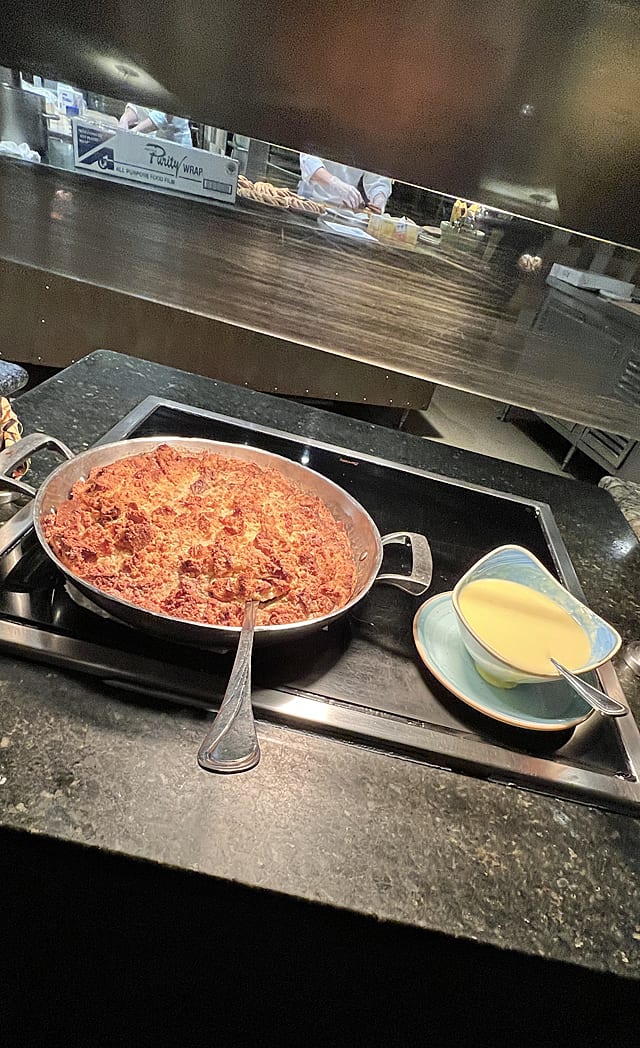 Next, indulge in all the banana bread pudding with vanilla sauce. I found without the vanilla sauce, the bread pudding was a little dry. But wait, there's more! Try the chocolate coffee tart and the fruit tarts. Full yet? If you're like me, that won't stop you from trying more.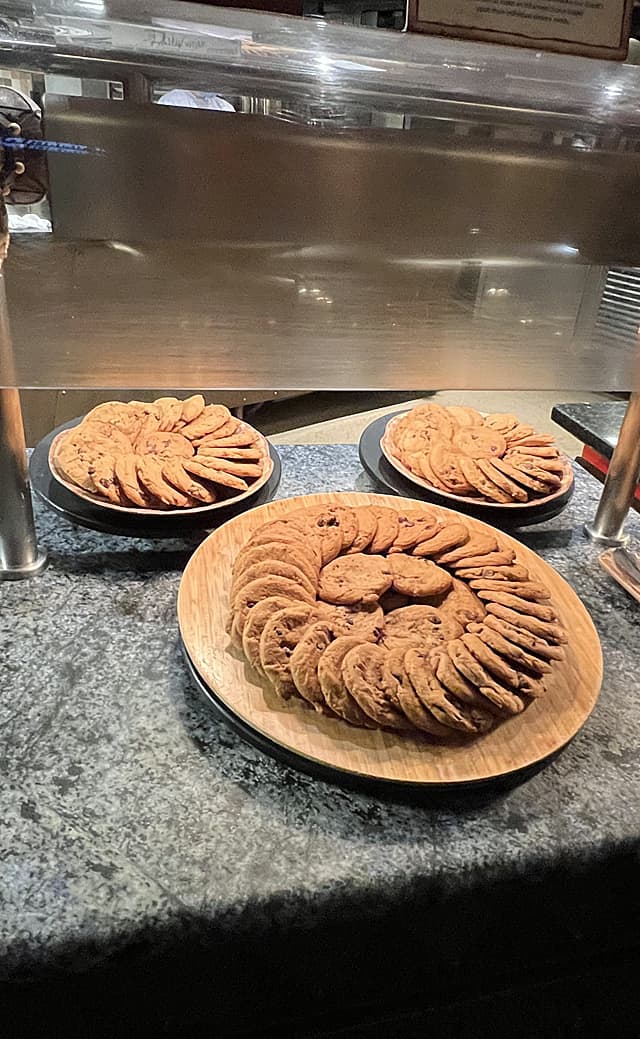 Want something more basic? Check out the chocolate chip cookies above. Love the hidden Mickey display. These were also house-made and were quite tasty.
Dessert winner: Zebra domes because this wonderful mousse is heaven on a plate.
Final Thoughts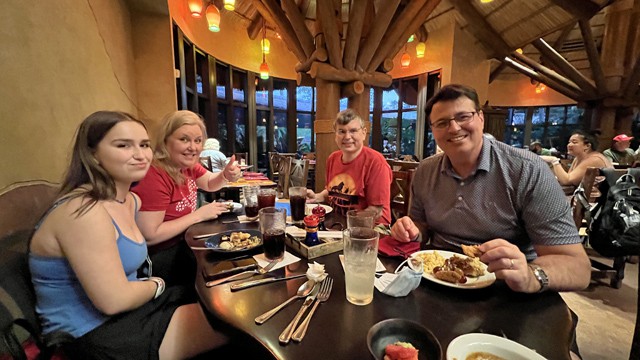 Although my family thought I was a little crazy for trying each dish, I just had to sample them all. Don't worry, though: some plates were shared so we didn't waste food. I counted 50 buffet items in all so there is something for everyone.
Current prices are $59.99 for adults, and $35.00 for children 3-9, plus tax and gratuity.
We thoroughly enjoyed our dinner and agreed you won't find a better buffet in Disney or most places for that matter. We also were happy we sat in the alcove rather than the large open dining area. However, like most Disney buffets, it's on the pricy side. Current prices are $59.99 for adults, and $35.00 for children 3-9, plus tax and gratuity. If you're a Disney World Annual Passholder or Disney Visa cardholder, you'll receive a 10% discount.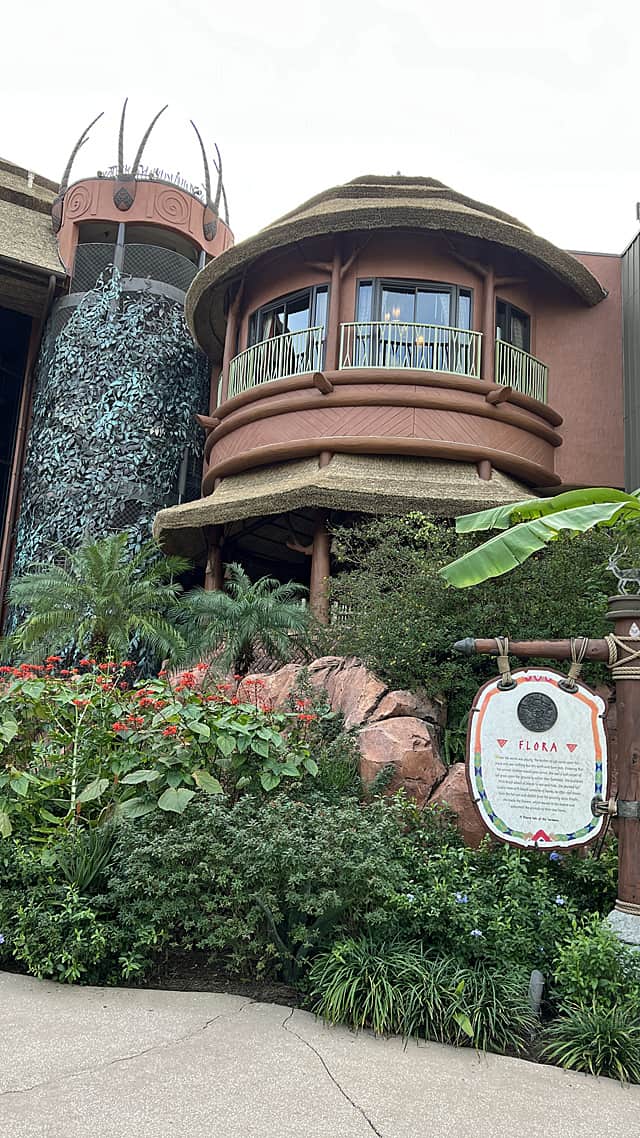 When you visit Boma at Disney's Animal Kingdom, be sure to go outside. It is so surreal watching so many animals graze and wander around the savanna. Please take the time to savor this unique moment.
Have you dined at Boma? If so, what are your favorite dishes? If not, will you try it? Please share your thoughts on the Boma buffet on our Kenny the Pirate Facebook Page or join the KtP Crew.