Jambo! Do you love visiting Disney's Animal Kingdom? Is Kilimanjaro Safaris one of your favorites? Does seeing a giraffe from your hotel room balcony sound like an experience of a lifetime? If so, a stay at Disney's Animal Kingdom Lodge might be in your future! Read on to see my (Maggie) complete guide to this wonderful resort.
Animal Kingdom Lodge opened its doors in 2001. It is the only Disney resort that has views of animals from its guestrooms! On a typical day, guests might see zebras, giraffes, Ankole cattle, and okapi just to name a few.
Last update: April 6, 2023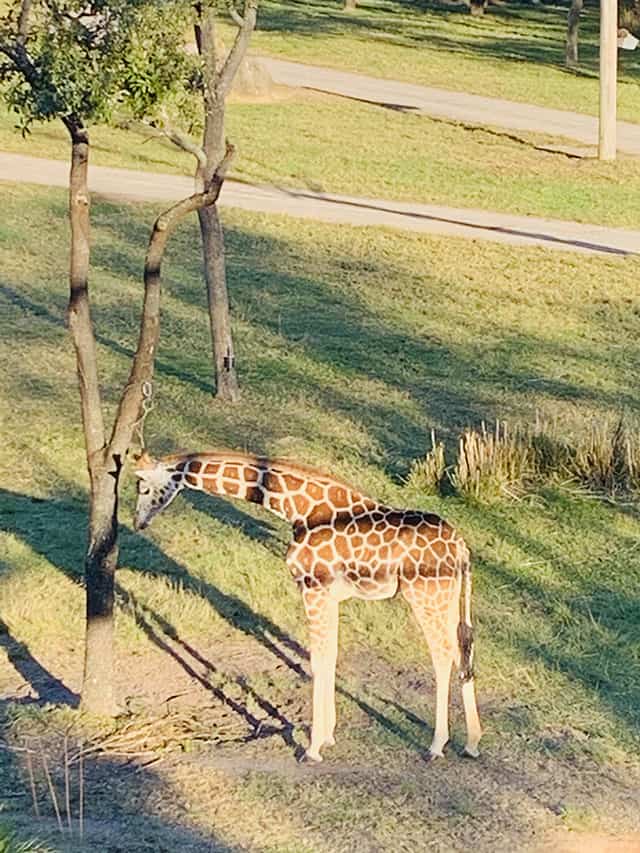 Not only does the resort house over 200 animals and birds, its architecture and theming are also incredibly impressive.
Once you step into the resort, guests are immediately immersed in African culture and artwork.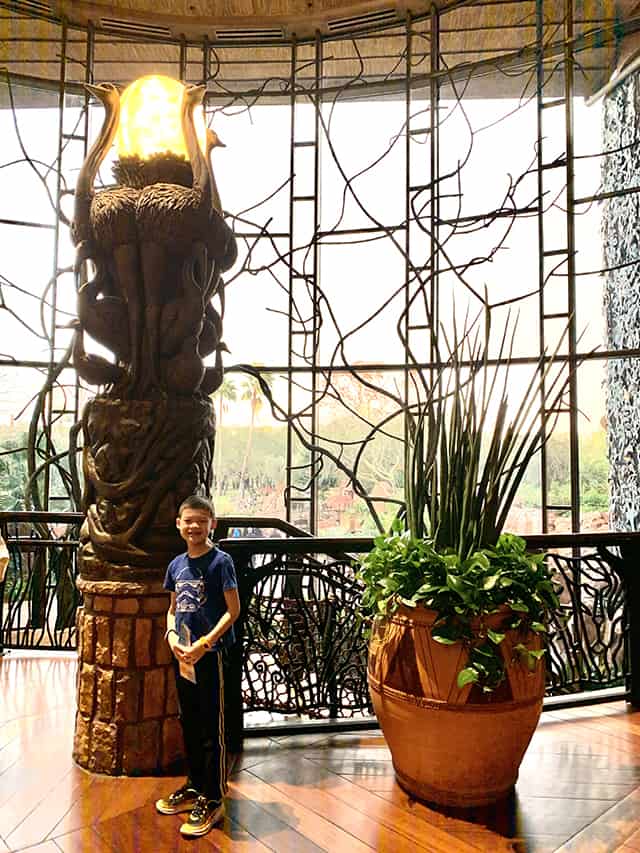 I have had the pleasure of staying at this beautiful resort a couple of times.
Current Availability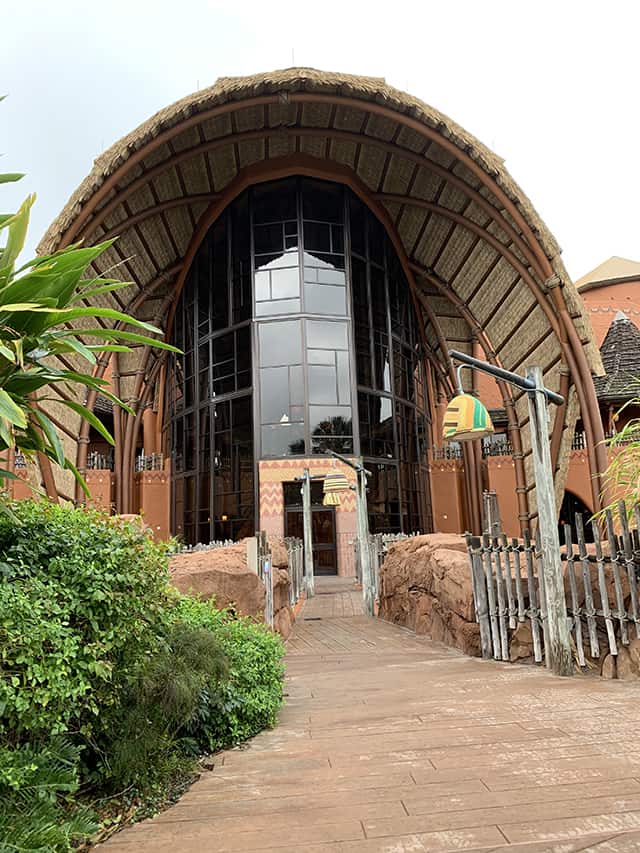 Disney's Animal Kingdom Lodge reopened to guests once again on August 26, 2021! In my opinion, it is one of the most unique and beautiful Disney resorts on property.
Dining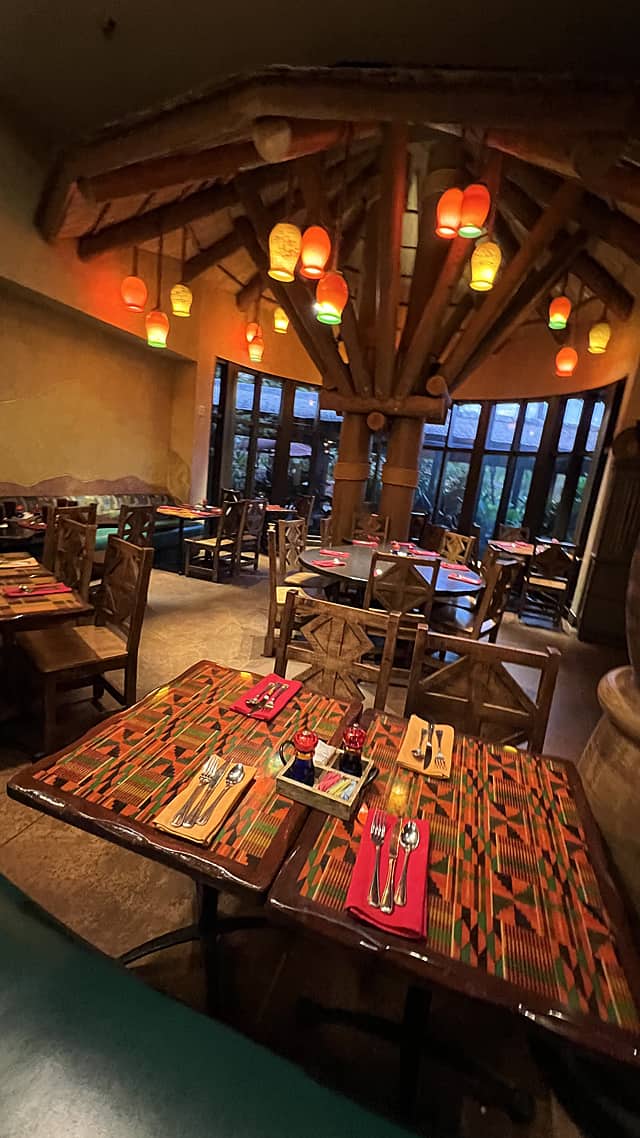 Animal Kingdom Lodge has some of the most wonderful dining experiences! The dining locations serve African-inspired dishes along with traditional favorites, like Mickey waffles.
Guests have a choice of having breakfast, lunch and dinner and can often times get a glimpse of some animals while dining!
This resort has nine dining locations available. Let's take a look at all of the locations available to guests.
Jiko – The Cooking Place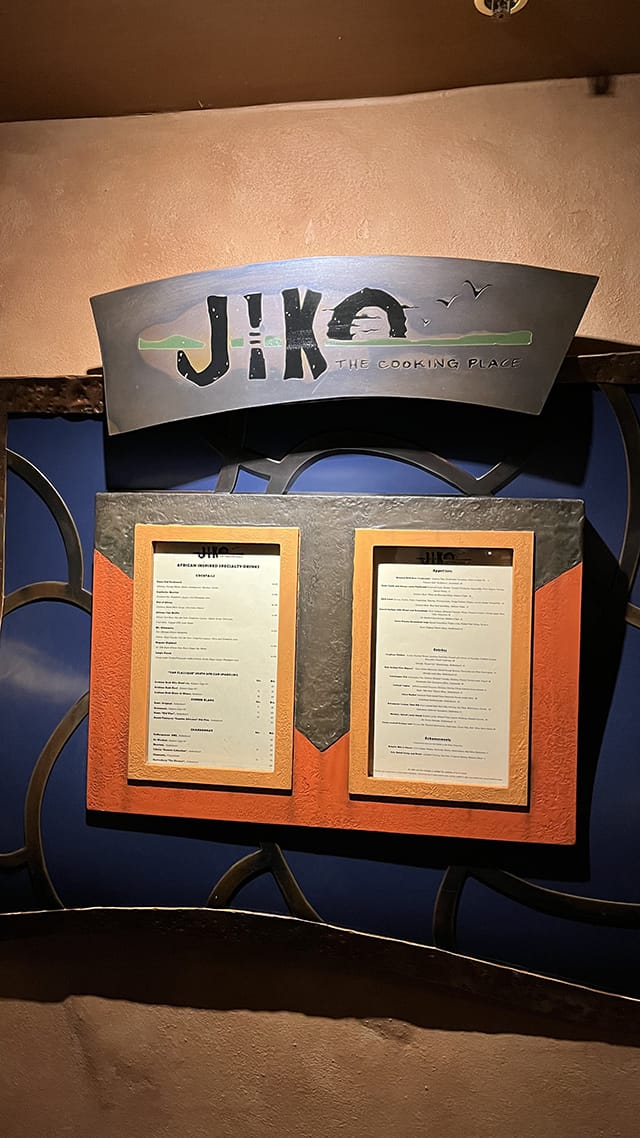 Jiko is a fine dining option which offers traditional African, Indian and Mediterranean cuisine. It features an open air kitchen, and guests can watch the chefs prepare their meals.
Since this dining option requires a certain dress code and is considered to be a fine dining option, we did not eat here during our stay. I love the decor of the restaurant with all of the abstract flying birds hanging from the ceiling.
Boma – Flavors of Africa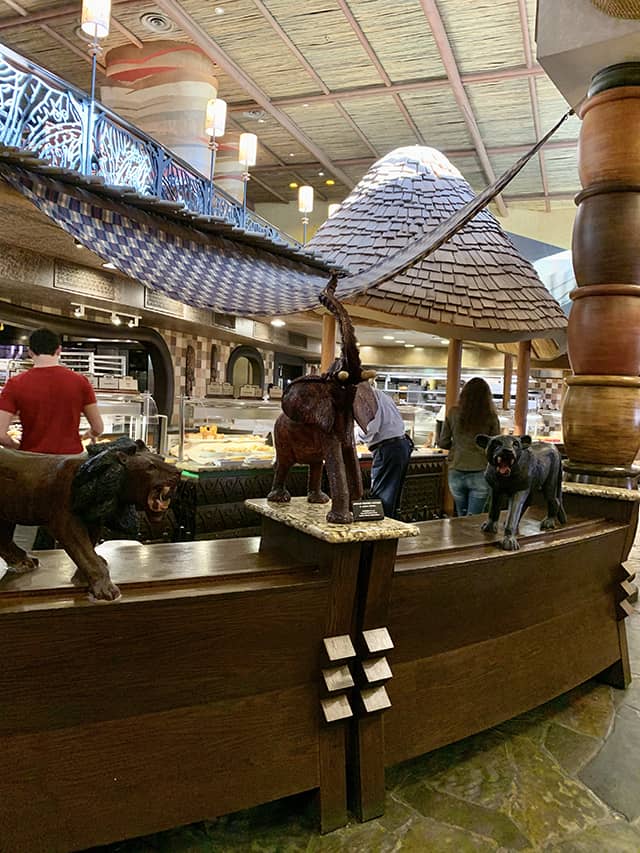 Boma is one of my favorite places to go! My family had a wonderful breakfast here. This dining option is an all you can eat buffet and serves breakfast and dinner. For a great review of Boma, read Jamie's post here and check out Susan's review of dinner HERE.
Like Jaime says in her review, I would also agree that this is one of the best breakfast buffets at Disney World.
Sanaa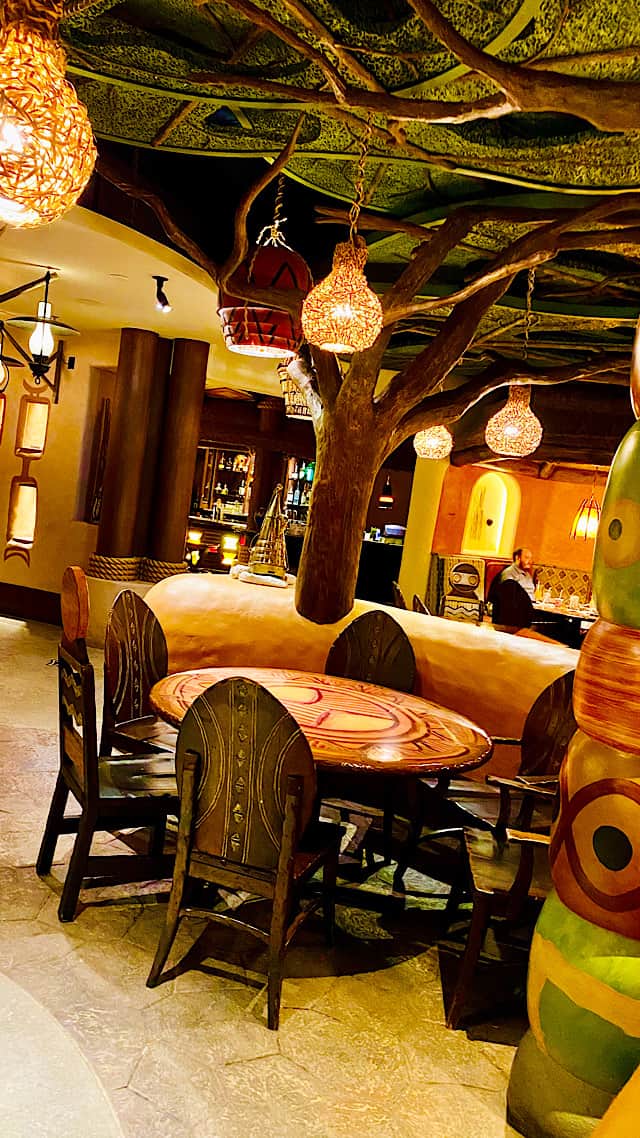 Sanaa is located in Kidani Village, which is just a shuttle ride away from Animal Kingdom Lodge. It is currently offering a quick service breakfast option in the morning and lunch and dinner later.
Lunch and dinner are the main reasons to visit, and Sanaa is one of the most coveted dining reservations. Famous for its exquisite bread service and scenic animal views, this is the place to truly take in everything this resort has to offer.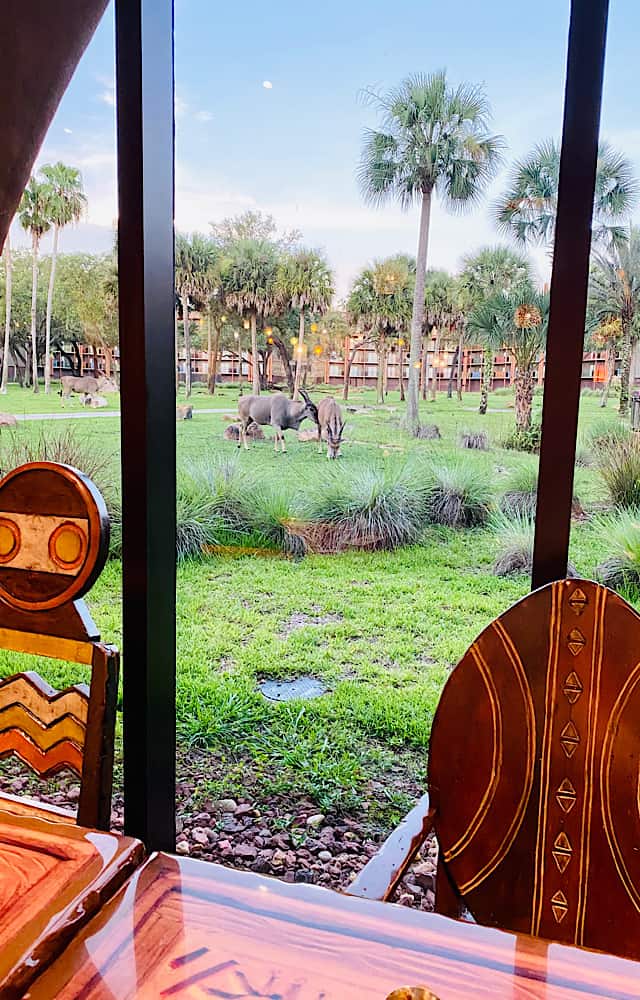 Read KtP Writer Susan's review of Sanaa here. One of the best reasons to go here is to see the animals during sunset.
For a great view and dining experience, make a reservation about 30 minutes before sunset.
Why do you want to go at this time? This is when the animals eat! Watch them eat while you enjoy a delicious dinner of your own.
Sanaa Lounge
Here you can grab a cocktail or other drink and take in some views of the wildlife. If you are looking to just have some light appetizers to eat, hello bread service! You can have them here. Current hours are from 11:30 a.m. to 11:00 p.m.
The Mara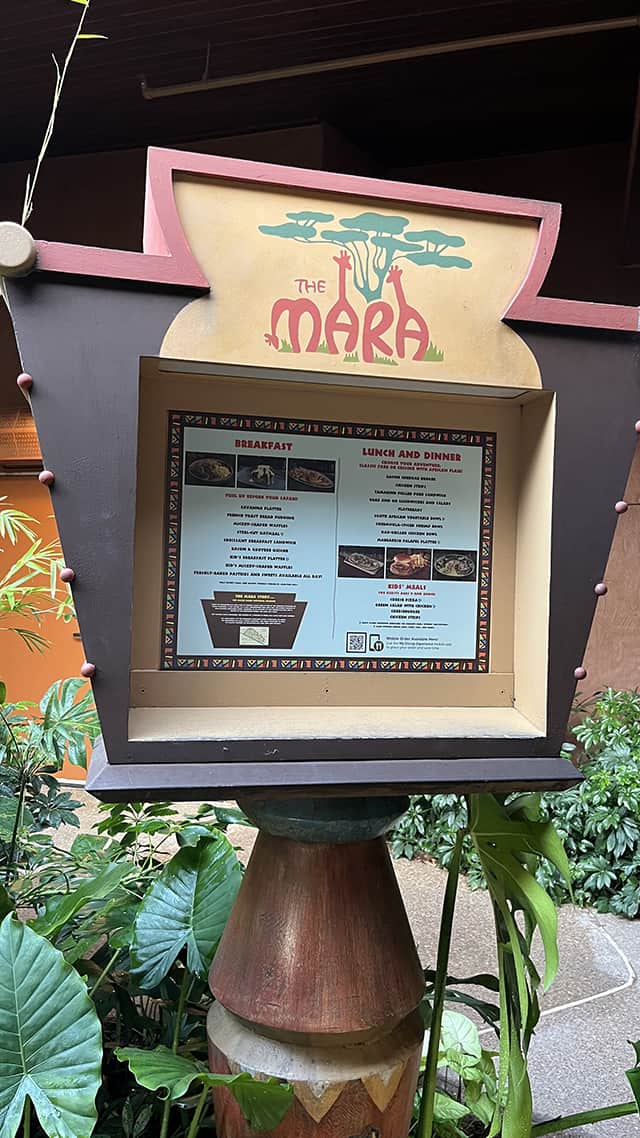 The Mara is a quick service location in Animal Kingdom Lodge, which serves breakfast, lunch, dinner and also has late dining available. Traditional breakfast items are served along with other traditional favorites, like burgers, sandwiches and flatbreads.
The Mara is open from 7:30 – 11:30 a.m. and 5:00 – 10:00 p.m.
Maji Pool Bar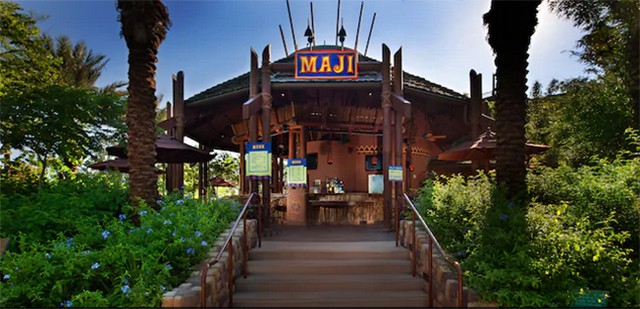 Maji is Swahili for "water", so naturally, it's by the pool. Located at Disney's Animal Kingdom Villas- Kidani Village, guests can enjoy a drink and choose from a selection of sandwiches, salads and other snacks.
Maji Pool Bar is open to guests at this time daily from 11:00 a.m. to 10:00 p.m.
Uzima Springs Pool Bar
This location is the quick service location by the pool of Animal Kingdom Lodge. Guests can choose from a selection of various drinks, snacks and salads.
Uzima Springs Pool Bar is open and available to guests at this time. Hours are 11:00 a.m. to 10:00 p.m.
Cape Town Lounge and Wine Bar
Wine lovers might enjoy this spot near Jiko. Guests can sample South African wines and enjoy various appetizers. The full Jiko menu is also available to guests if they would prefer to dine at the bar.
Unfortunately, this location is not available at this time.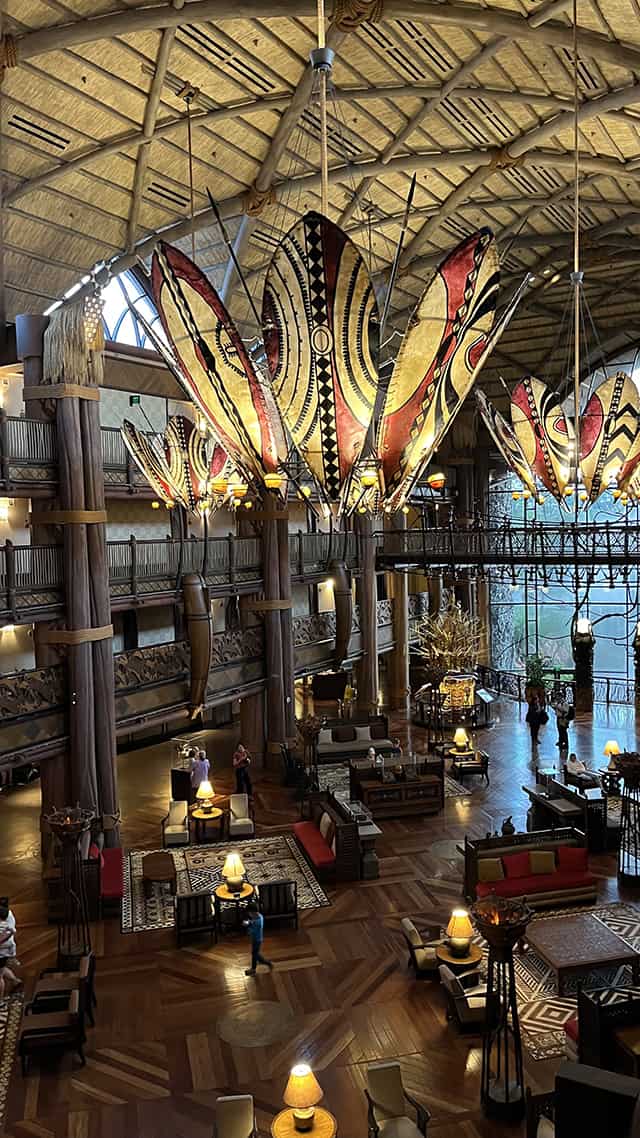 Victoria Falls Lounge
This lounge is located right above Boma. Guests here can enjoy a selection of light appetizers and fine wines and cocktails.
Victoria Falls Lounge has reopened to all guests! Current hours are from 5:00 p.m. to 11:00 p.m.
Location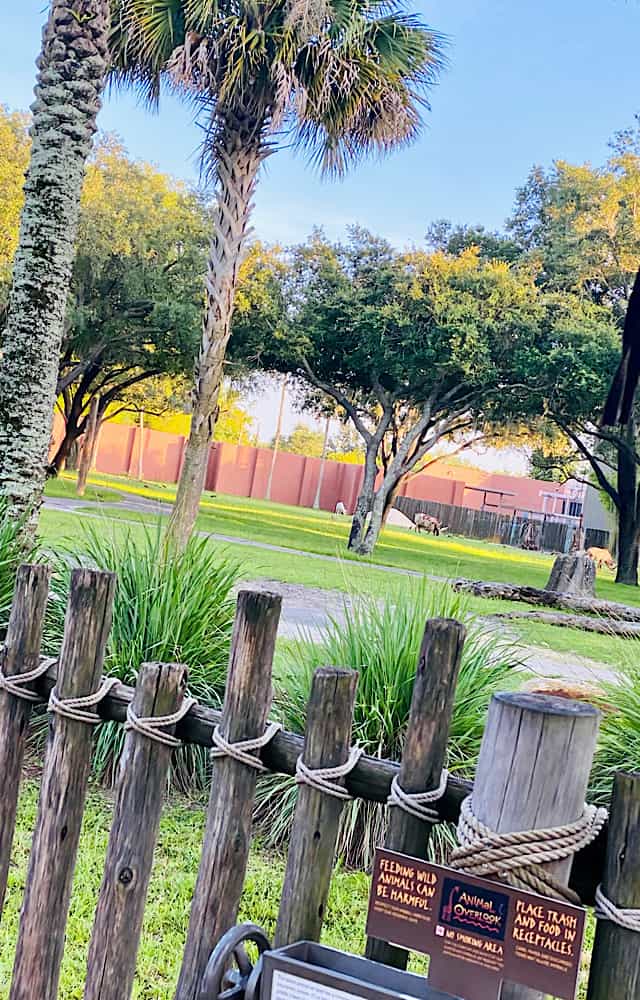 If there are any complaints about this resort, it is usually because of its lack of transportation options. Guests frequently complain about how far away the resort is from all of the other parks. Also, with bus transportation being your only option of transportation other than a taxi or car, some guests are turned off by this.
However, it's probably closer than you think. Look at the approximate bus times below.
Animal Kingdom – approximately 5 minute drive via bus
Magic Kingdom – approximately 10 minute drive via bus
Hollywood Studios – approximately 5 minute drive via bus
Epcot – approximately 10 minute drive via bus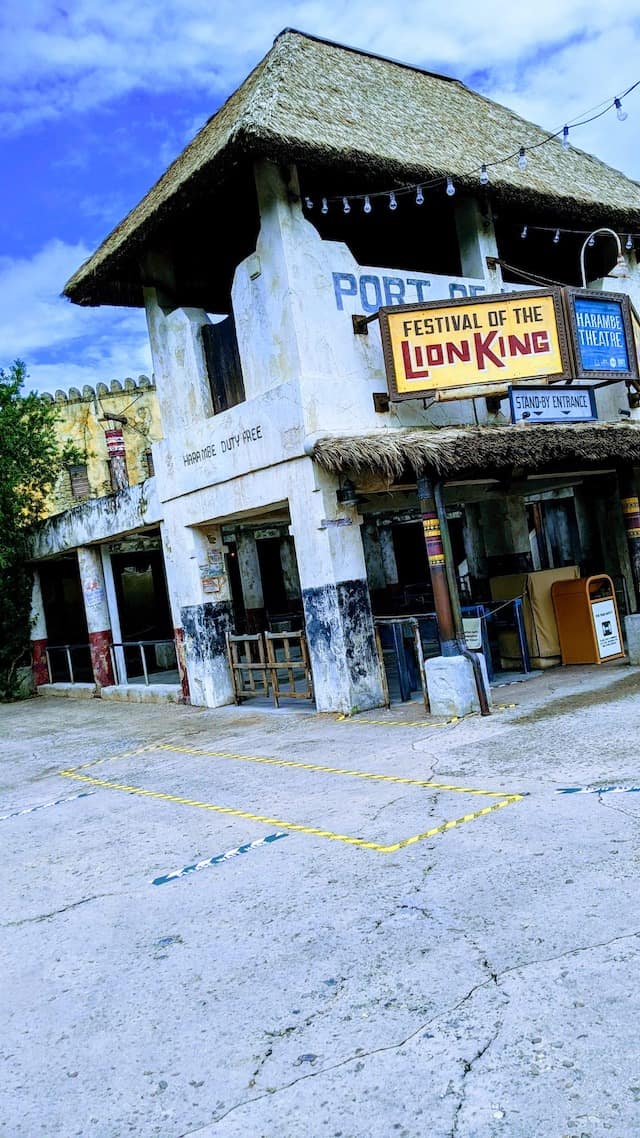 During our stay, we had no trouble or delay with the bus transportation. Bus transportation was frequent and a new bus would arrive every 10-15 minutes.
I had expected worse, so this was actually a pleasant surprise. It is important to keep in mind the above times are only estimates and when you do go, you always have to take traffic into consideration. My best advice is to have a plan and always leave early. I think a certain pirate always recommends that!
Rooms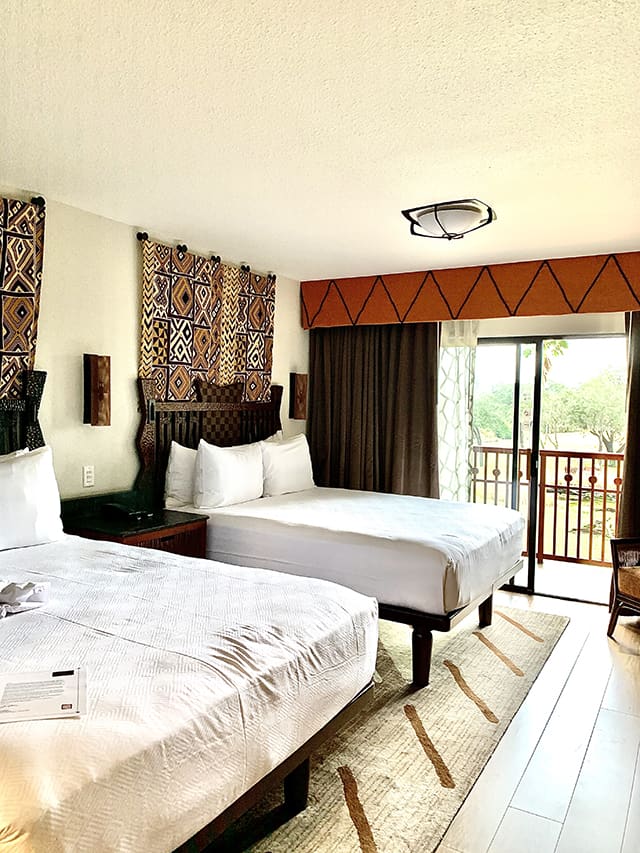 In my opinion, the rooms at Animal Kingdom Lodge are one of the things that make this resort truly unique. It's not because of the rooms themselves, but because you can see animals right outside your window!
Guests have a choice of staying in a Savanna View, Pool View, Standard View room along with various club level rooms.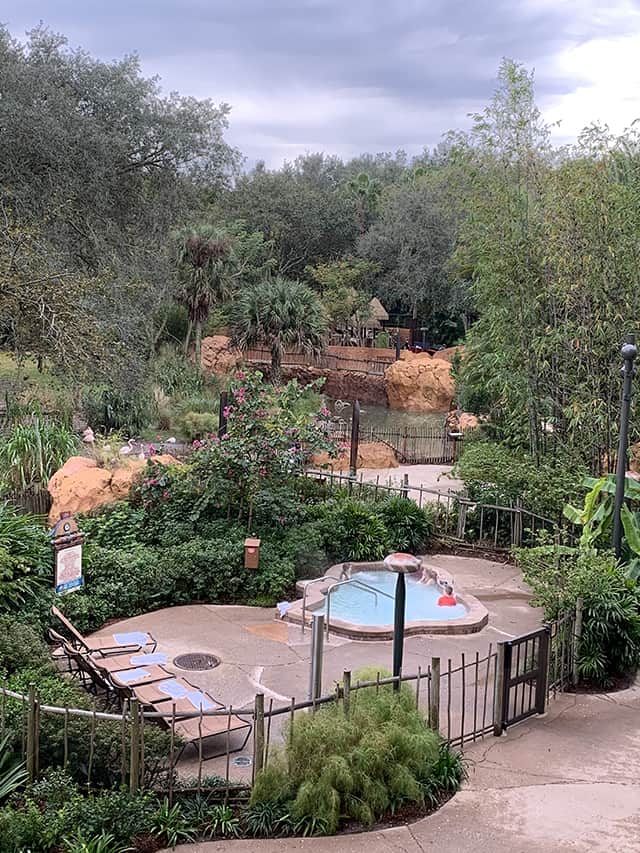 If you want to have a chance of seeing some animals, book a Savanna View.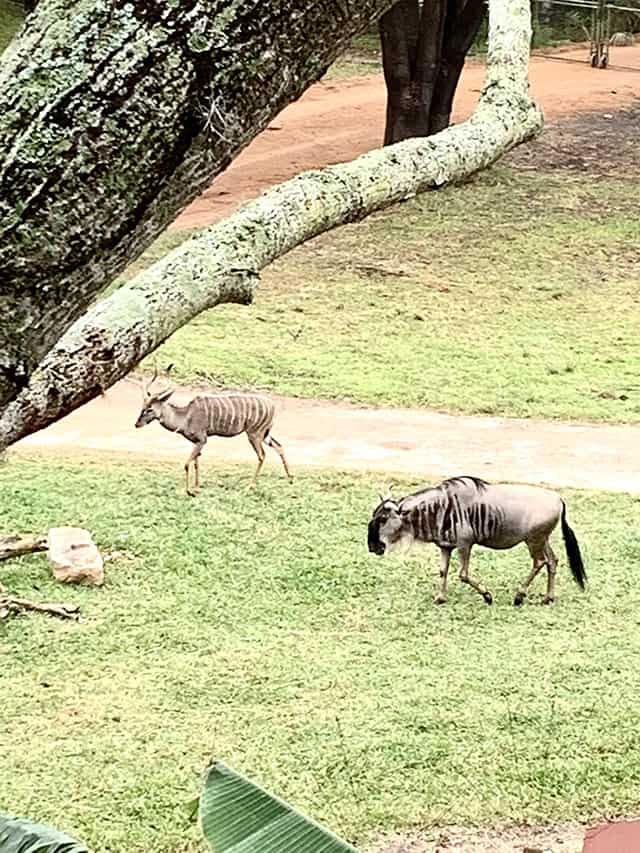 My family and I stayed in a club level suite during our last stay and we had a view of the Savannas. For my complete review of our club level stay, you can read about it here.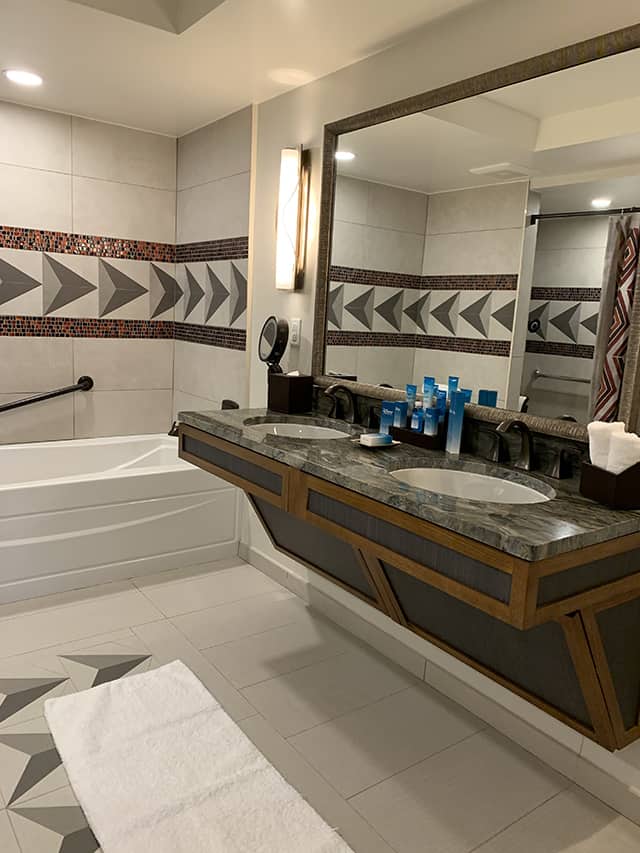 Guests booking a Savanna View have a choice of 2 Queen Beds or 1 King Bed. The bathrooms and overall room are actually quite large and many of the rooms here have recently been refurbished.
What will stand out to you is the view! All you have to do is look outside your window or step outside on the balcony and you might see some giraffes or zebras walk by or wake up to any of the many tropical birds that call Animal Kingdom Lodge their home.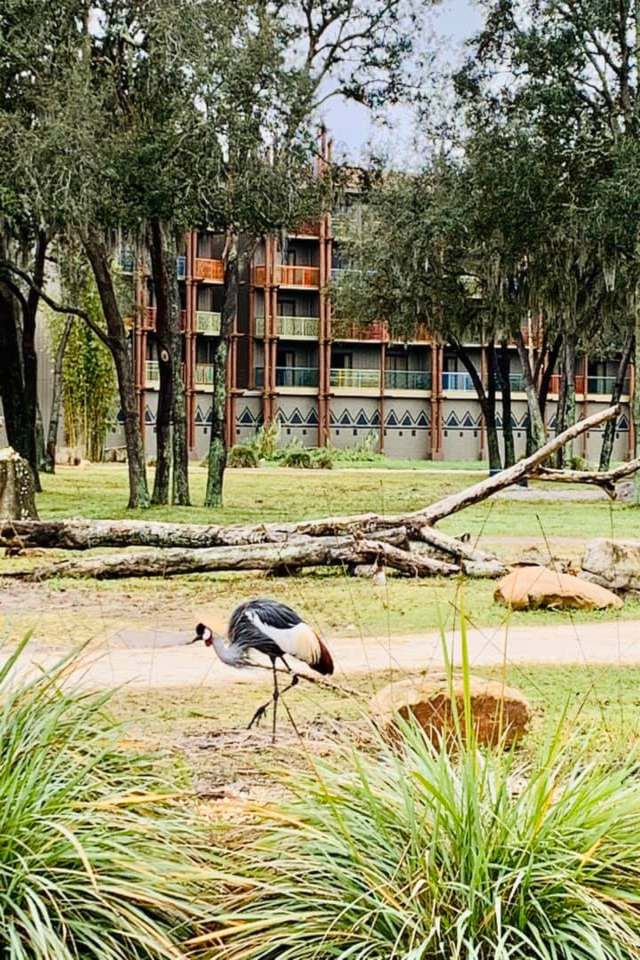 Recreation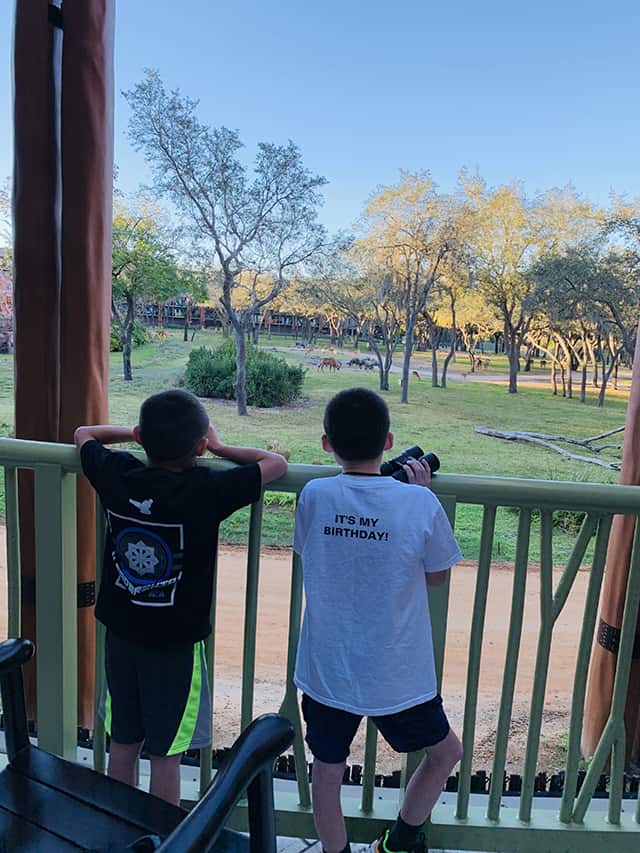 Animal Kingdom Lodge is one of those resorts that you could spend just a few days at the resort itself and be happy. I feel like the resort itself is an experience.
Our family only stayed here a few days and I was wishing we had stayed for longer because there were so many activities that we did not get to participate in.
Pools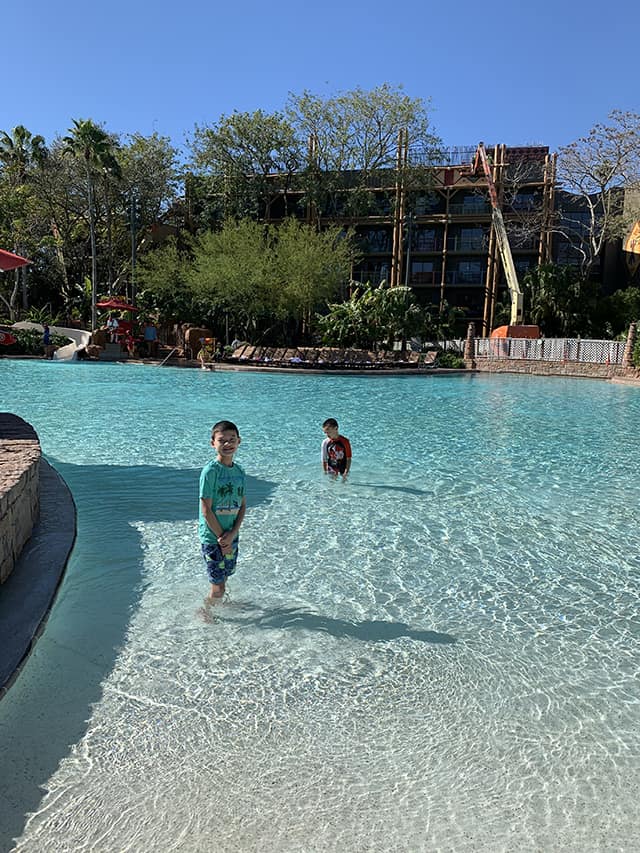 There are two pools available to guests. Uzima Springs Pool is located at Animal Kingdom Lodge. It is probably one of the largest pools of the Disney resorts- 11,000 square feet!
The pool features zero-depth entry and a waterslide.
Samawati Springs Pool is located over at Disney's Animal Kingdom Villas – Kidani. Guests can walk over to Kidani or take a shuttle to take a dip in this pool that features a waterslide and zero-depth entry.
Complimentary towels are available at each pool.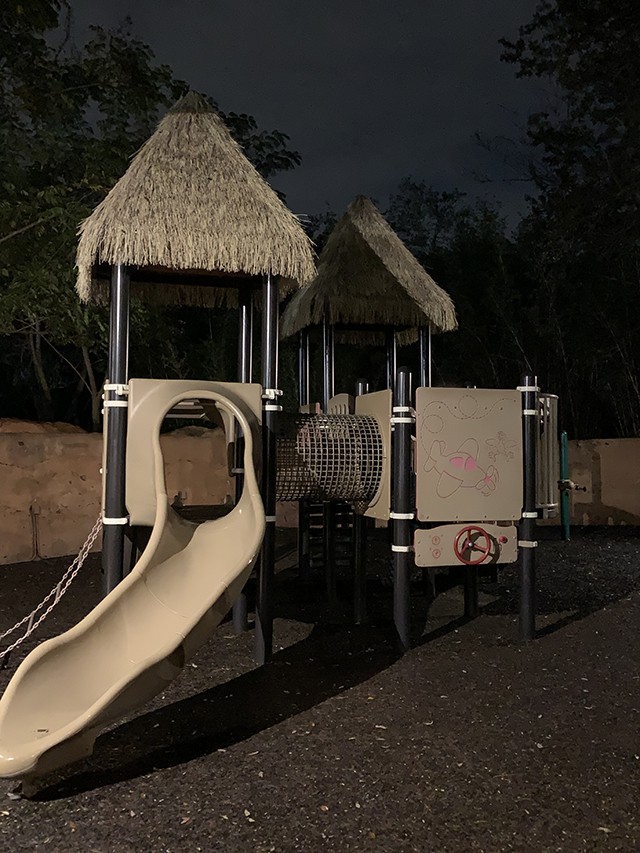 In addition to the pools, Hakuna Matata Playground and an arcade is available to guests.
Final Thoughts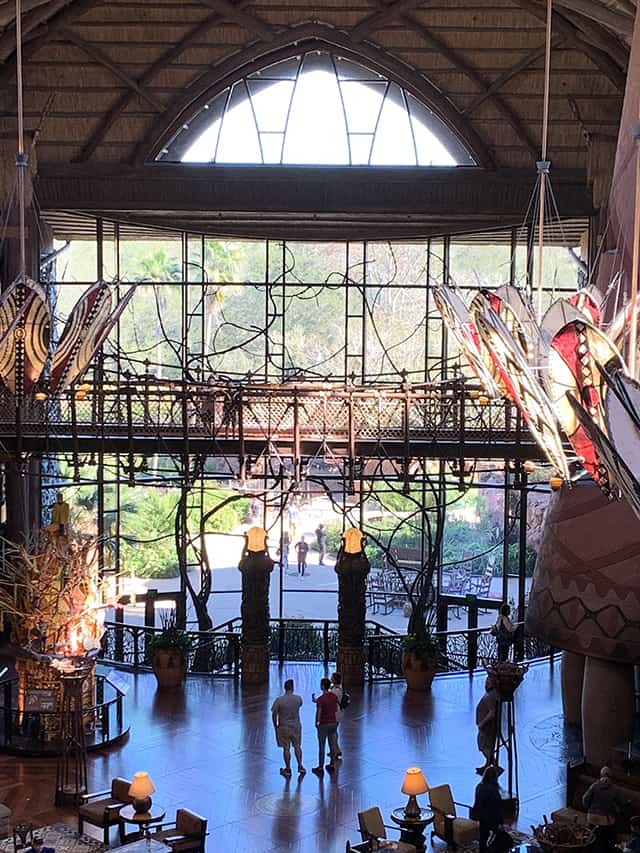 I love staying at Animal Kingdom Lodge. The resort is a stay in itself. Days can be spent just watching the wildlife that surrounds you. Cast Members go out of their way to tell you about animal facts and can make your stay so much more enjoyable.
The theming of the resort is breathtaking and I could spend an entire day just looking at all of the fun architecture and history behind it all.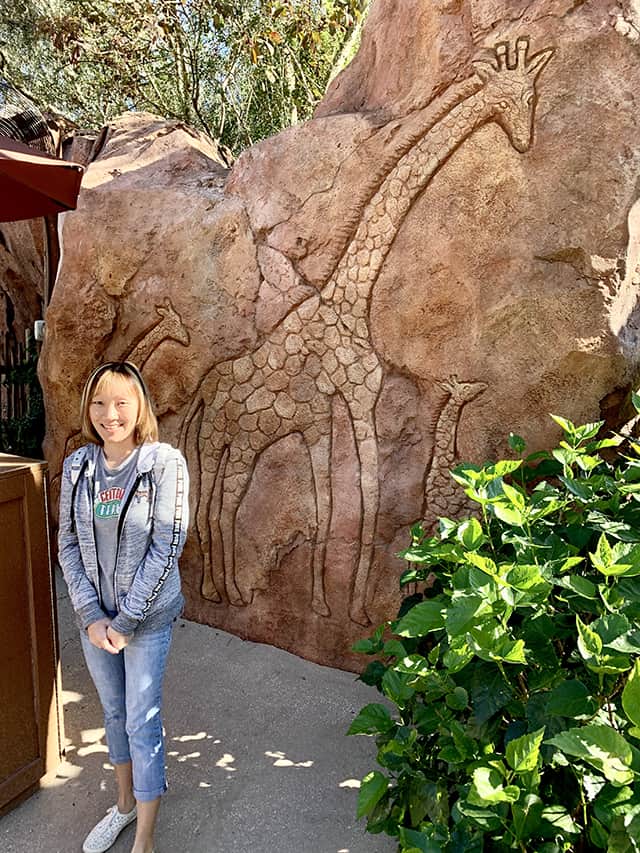 During our stay, there were so many extra activities to do, such as nighttime safaris, storytimes and fun activities to do during the day.
If you do have a future stay planned, be sure to check with the front desk to see what activities are available and open at this time.
Have you stayed at Disney's Animal Kingdom Lodge? How was your experience? Tell us about it in the comments below or on our Facebook page! Do you have any questions about the resort?
Maggie Baltz