I recently visited Boma for breakfast and enjoyed my experience a great deal – so much so that the first thing I did when I returned home was to book another breakfast here for our upcoming trip!
Boma Flavors of Africa is a table service restaurant located in Disney's Animal Kingdom Lodge. The breakfast buffet here is arguably one of the best in all of Disney World.
Featuring a variety of breakfast staples and some African inspired cuisine, there are options for everyone, from adventurous palates to cautious eaters.
The Atmosphere
Animal Kingdom Lodge is strikingly beautiful. I'll admit, one of the reasons I booked this reservation is because I have been dying to get inside Animal Kingdom Lodge to get a good look, and I really just needed the excuse to drag my family there. It didn't disappoint.
I visited at Christmas, so I was also able to get a glimpse at Animal Kingdom Lodge's beautiful Christmas tree. Even without the tree, the lobby is stunning. Boma is located on the lower level of Animal Kingdom Lodge's Jambo House, adjacent to Jiko – The Cooking Place, and The Mara.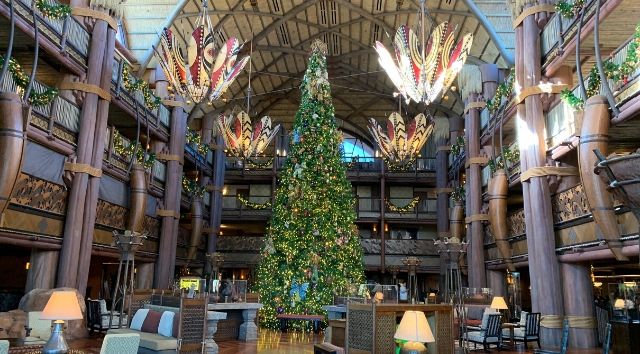 As we entered the check-in area, we were greeted by friendly Cast Members and an atmosphere resembling a lively African Market. The kitchen is open to the restaurant, and the Cast Members were busy cooking up some delicious looking treats.
There are a variety of different seating areas, from booths to tables. Some seats offer a view of the outdoors, and some offer great views of the kitchen.
Woven tapestries hang from the ceiling. Everywhere you look there are interesting details, such as animals, lanterns, and large wooden log structures holding up thatched roofs.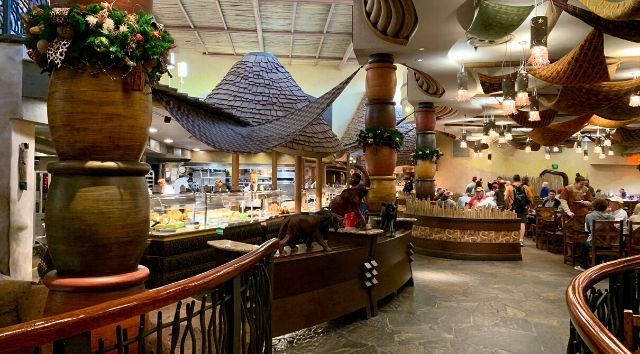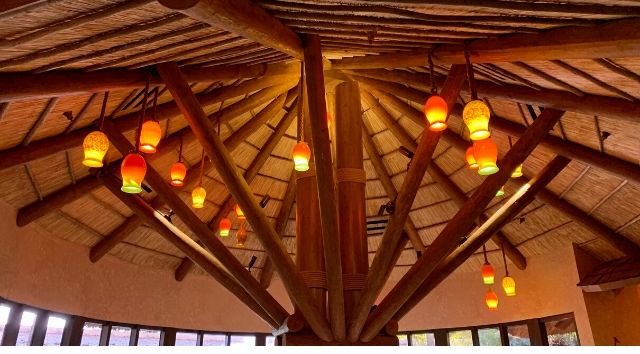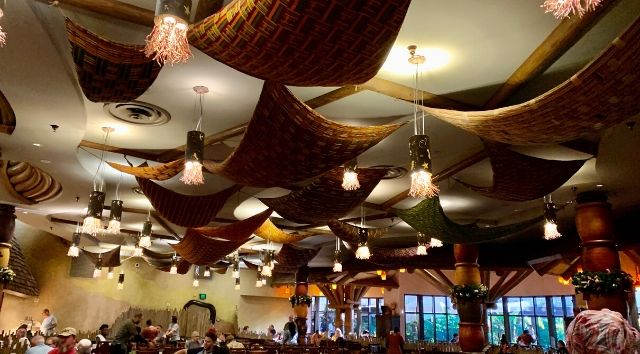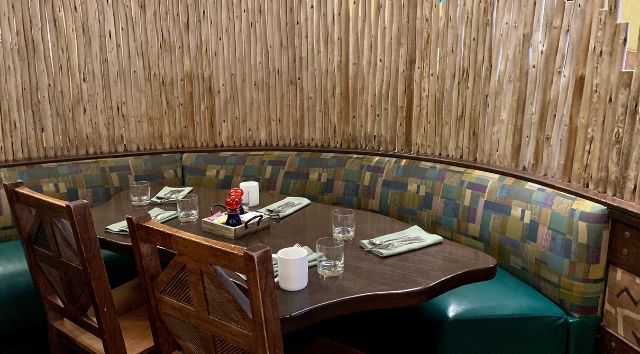 After you eat, take advantage of your time here and have a look around. You can walk out to the animal viewing area and spot some very cool animals!
While we were there, we saw zebras and giraffes. It was definitely a fun enhancement to our time at Animal Kingdom Lodge.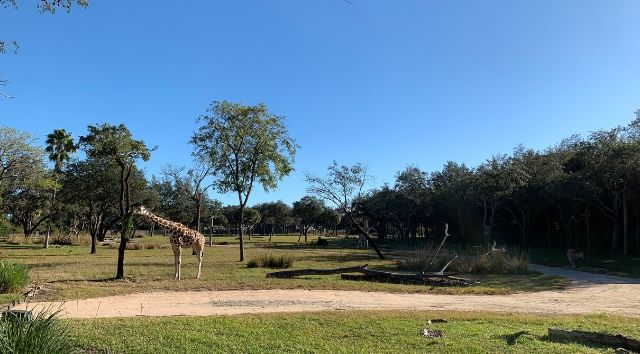 The Food
Ok, I know the food is what you are really wondering about it. In a word, the food was amazing! We were thrilled with the buffet choices and the ability to try some African inspired cuisine with the ability to choose familiar foods if we didn't like it.
Our server brought us some delicious coffee and a blend of passionfruit, guava, and orange juice.
The buffet featured a toasting station with a variety of bagels, toast, and toppings. There is also a yogurt, fruit, donut, and pastry section.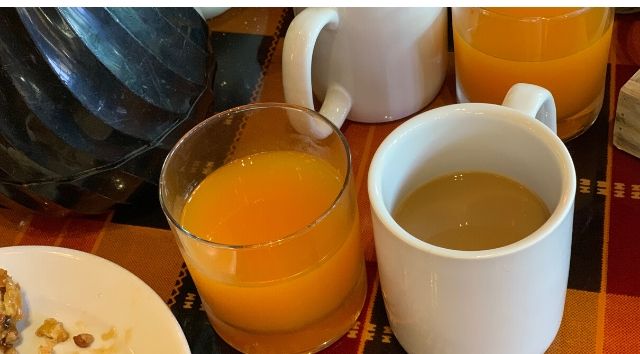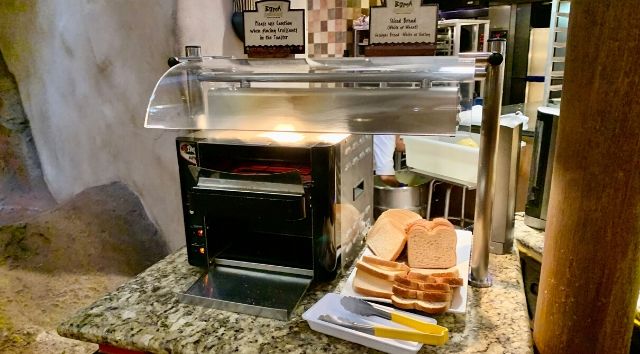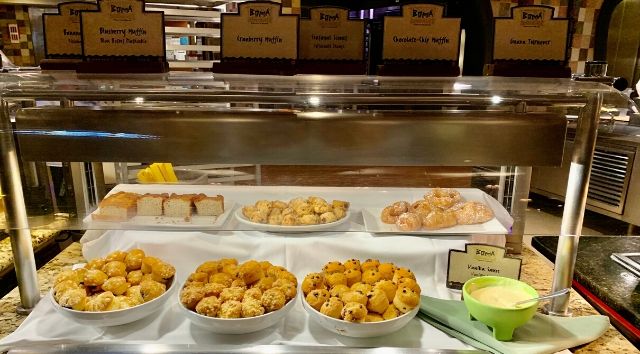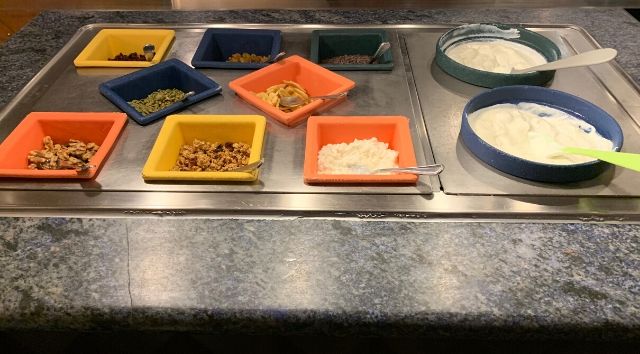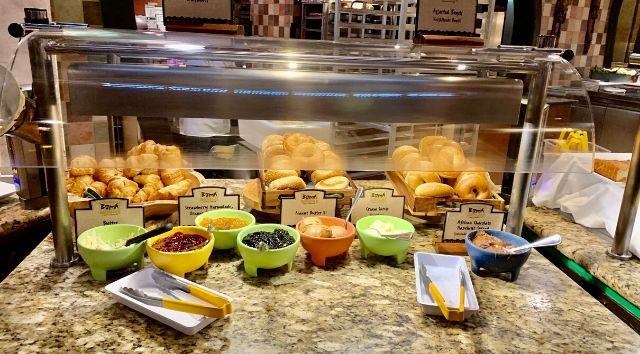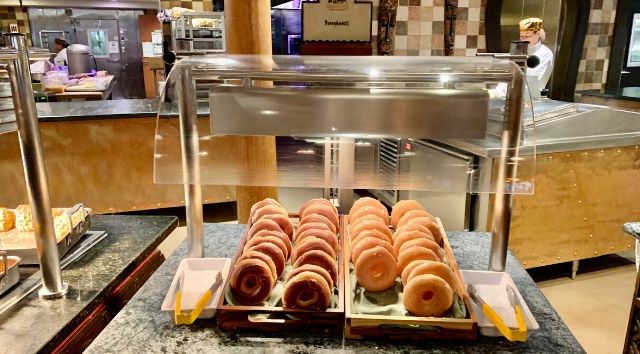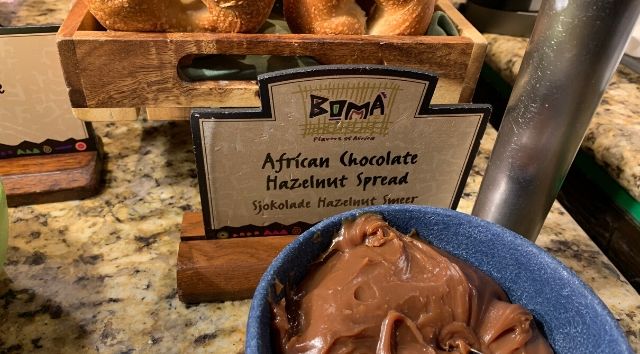 I don't know about you, but when I eat breakfast at Disney World, I am looking for one thing: Mickey Waffles! Boma doesn't disappoint! There are plenty of Mickey Waffles available.
There is even a special treat for Lion King fans: Simba waffles!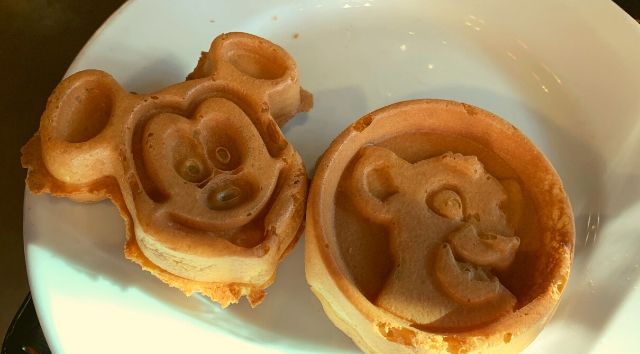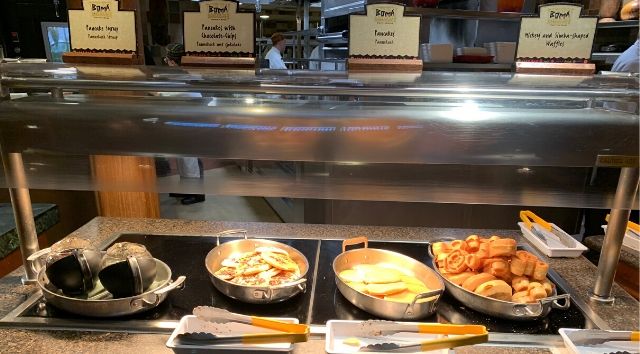 They also have traditional breakfast staples such as made to order omelettes, tater tots, pancakes, bacon, and sausage.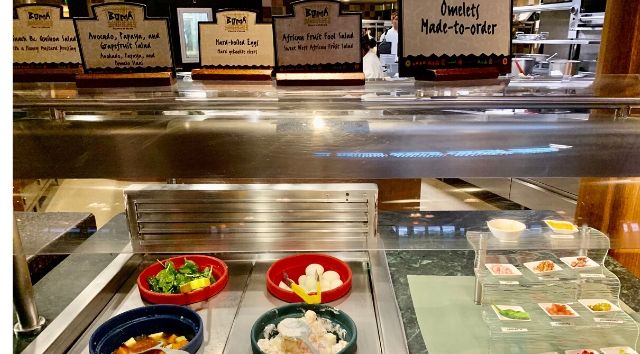 There are plenty of African-inspired dishes to try as well.
One of the standouts was Western African Sweet Plantains. They were soft and sweet, with carmelized, slightly crispy edges.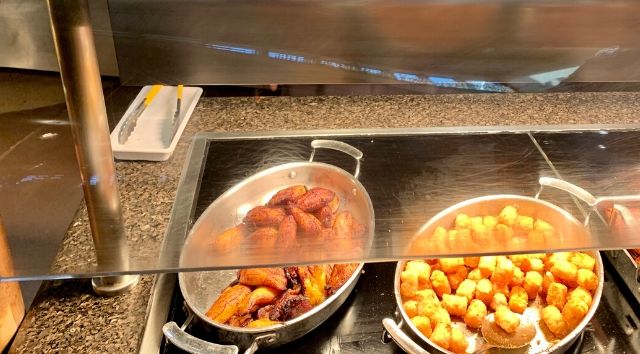 Another stand out is African Spiced Corned Beef Hash. The corned beef was incredibly delicious.
There was a choice of two toppings. Boma mustard is a blend of Chipotle and Teriyaki with mustard. Sambal is a bit sweet with hints of spice and chill.
I went back for seconds of this one-the Sambal made the Corned Beef Hash even more amazing. My only regret is that I didn't get a better picture!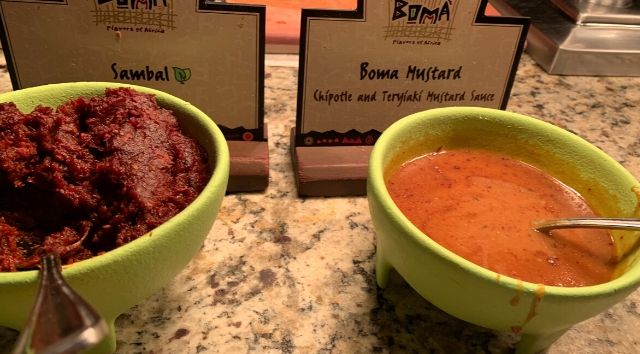 The Turkey Bobotie is similar to quiche with its egg base, but interesting ingredients, like turkey, mushrooms, and traditional spices, give it a flavor that's completely unique.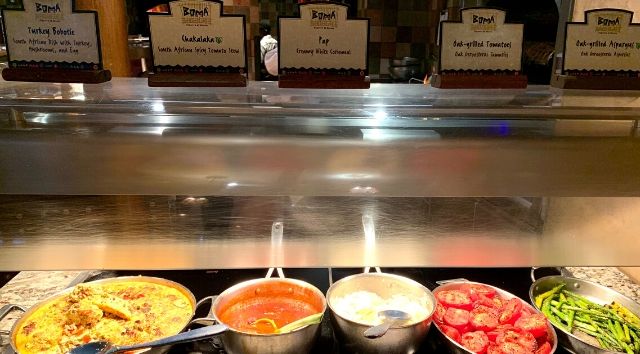 In my opinion, the stand out offering at Boma was the French Toast Bread Pudding with Pecan Praline Sauce. Unfortunately for me, I happened to try this first and nothing else could even compare to it! I've been dreaming about it ever since.
The warm, sticky deliciousness melted in my mouth. I've been trying to come up with a good way to describe it to you, but there is no way I can do it justice.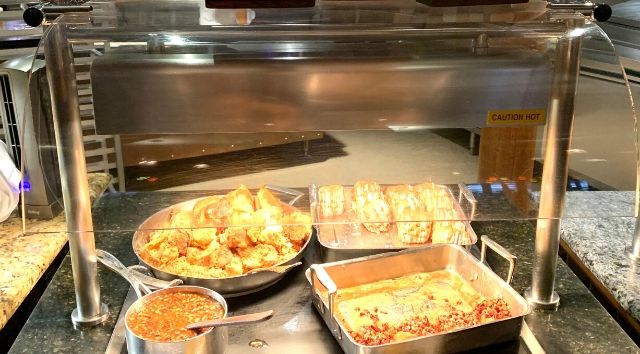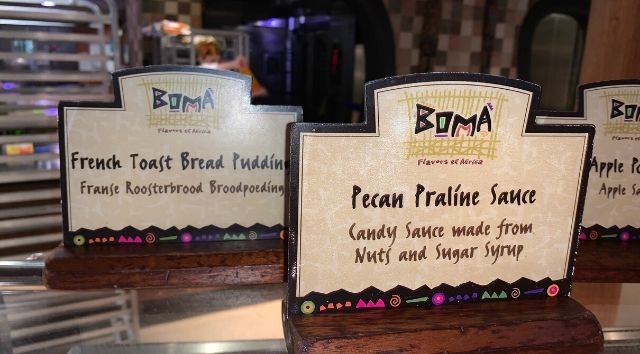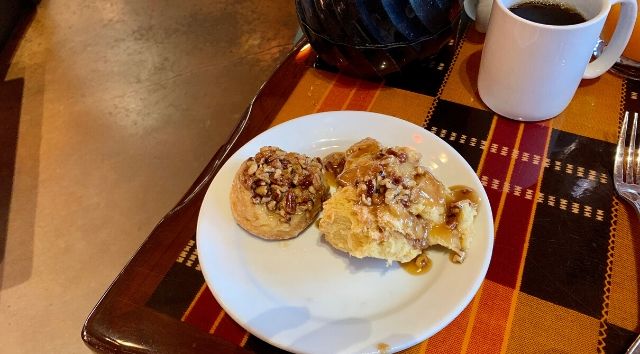 I can't stop thinking about this amazing dish, and it prompted me to book a reservation for our upcoming trip in April so I can get my hands on this one again!
April seems so far away, so I searched around and found this recipe on Disneyfoodblog. Enjoy!
French Toast Bread Pudding served with a warm Pecan Praline Sauce
*This recipe has been converted from a larger quantity in the restaurant kitchens and not tested for home use. The flavor profile may vary from the restaurant's version.
French Toast Bread Pudding
Bread:
4 loaves Raisin Bread
2 loaves Kaiser Rolls
1qt Egg Yolks
2TBSP Cinnamon
1 TBSP Salt
1 cup Sugar
2 cup Syrup
1 gallon Heavy Cream
Method:
Cut bread into 1×1 cubes and place into a Lexan.
Mix egg yolks, cinnamon, salt, sugar, syrup and heavy cream together in
a cambro.
Pour egg mixture into the bread and mix thoroughly.
Place Mixture into container and sprinkle granulated sugar on top with 4
butter pats.
Place in a 350 degree oven for 25 minutes.
Caramel, Banana, and Nut Topping
3 Bananas- sliced
1 cup Pecans Chopped
2 batches Caramel (recipe below)
Procedure
Have sliced bananas and place them in warm caramel sauce.
Add pecans to the caramel sauce.
Caramel
1 packed cup brown sugar
1/2 cup half-and-half
4 tablespoons butter
Pinch salt
1 tablespoon vanilla extract
Directions
Mix the brown sugar, half-and-half, butter and salt in a saucepan over
medium-low heat.
Cook while whisking gently for 5 to 7 minutes, until it gets thicker.
Add the vanilla and cook another minute to thicken further.
Turn off the heat, cool slightly and pour the sauce into a jar.
Refrigerate until cold.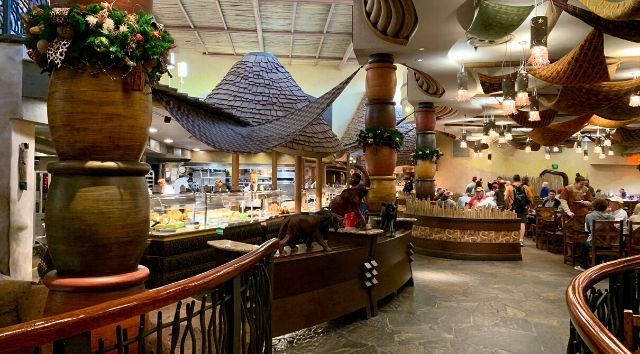 Overall Thoughts
Boma was incredible. The atmosphere was stunning, and the food was incredible. I was not disappointed in the slightest, and I can't wait to return in a few short months.
Currently, Boma's breakfast is $29.00 for adults and $16.00 for children ages 3-9. Boma participates in the Disney Dining Plan as a 1 credit table service meal.
There are also Tables in Wonderland and Annual Passholder 10% discounts available.
Reservations are recommended and can be made up to 180 days in advance.
Getting here can be slightly tricky if you are staying onsite without a car. I would recommend an Uber, Lyft, or Minnie Van as your best transportation options.
Alternatively, you can take a bus to any park and catch the Animal Kingdom Lodge bus from there, but be prepared to give yourself plenty of time if you choose that route.
However you get there, I can assure you it will be worth it!
Have you tried Boma yet?  Are you planning to?  Have you tried the French Toast Bread Pudding? Let us know your thoughts below or on Kenny the Pirate's Facebook page! You can also join the KtP Crew where members share reviews of restaurants all the time!
Jamie Fonseca