With bigger groups, having extra space is a game changer. We love the 1 bedroom villas at Disney's Animal Kingdom Lodge, and you will too!
Animal Kingdom Lodge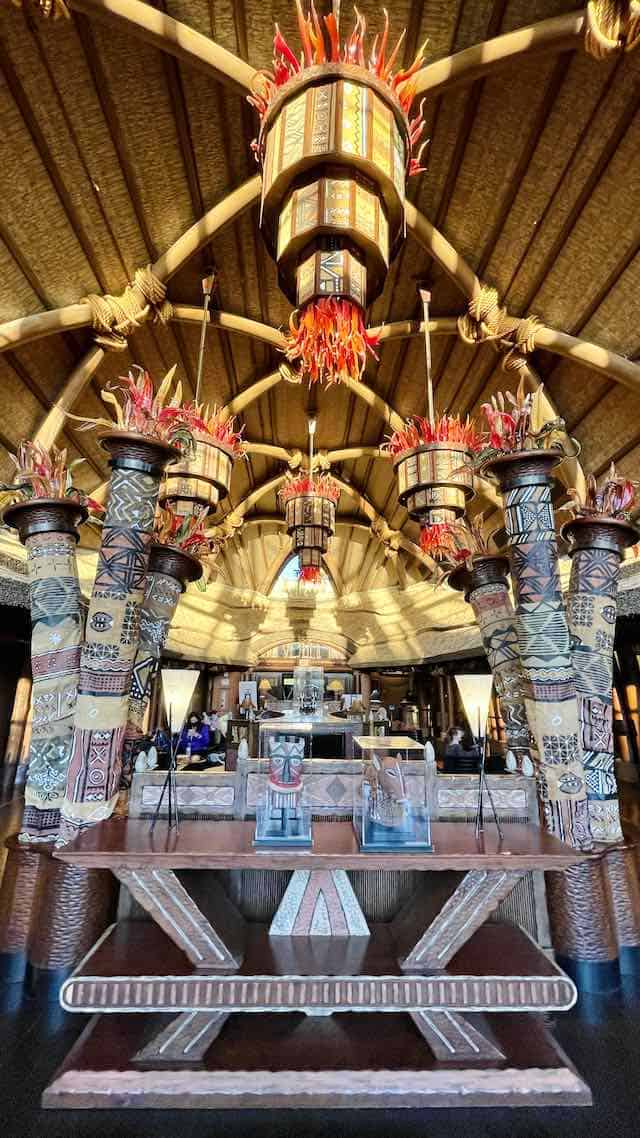 I (Monica) will preface this entire article by stating that Animal Kingdom Lodge was never on my list of resorts to stay at. I KNOW. How foolish of me. I just never really connected with the theming or thought it would be somewhere I would enjoy staying. I prefer the charming quirkiness of the Boardwalk and the lavish Riviera Resort.
After staying here on a recent visit, I realize the error of my ways. Partly because Animal Kingdom Lodge blew me away with its beauty, and partly because of the room accommodations we stayed in (more on that in just a minute).
Animal Kingdom Lodge is themed after an African Savana. Let me tell you, Disney delivered on this theming. From the deep wooden accents to the African animals grazing right outside your window, you may forget you are even in Florida.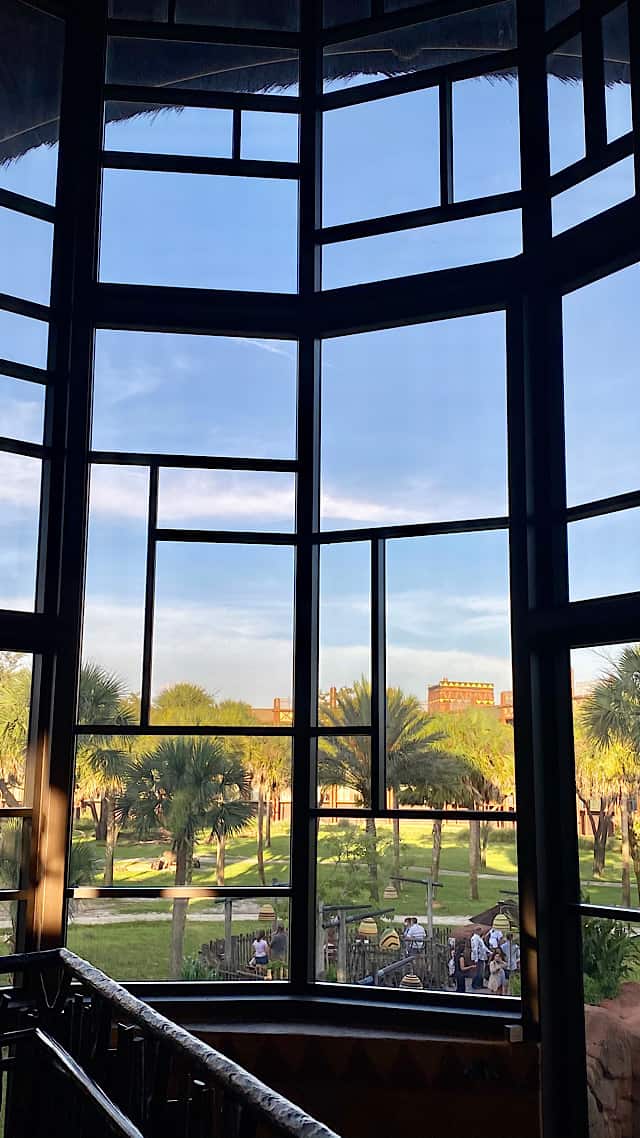 It is a deluxe resort conveniently located next to Animal Kingdom. You can only get to the parks and Disney Springs by bus, which is kind of a bummer. But, it's only a quick 5-minute ride to Animal Kingdom, so if you want to spend a lot of time at this park Animal Kingdom Lodge may be the resort for you.
Disney describes the Lodge as, "Step into the heart of Africa at this magnificent Resort hotel. Inspired by the traditional African kraal, the horseshoe-curved design provides spectacular views of 4 lush savannas that over 200 hoofed animals and birds call home. Delight in dazzling pool areas, exciting animal programs and one of the largest collections of African art in the United States as you experience your own African safari adventure with a touch of Disney magic."
What?! One of the largest collections of African art in the United States? Count me in!
Jambo House and Kidani Village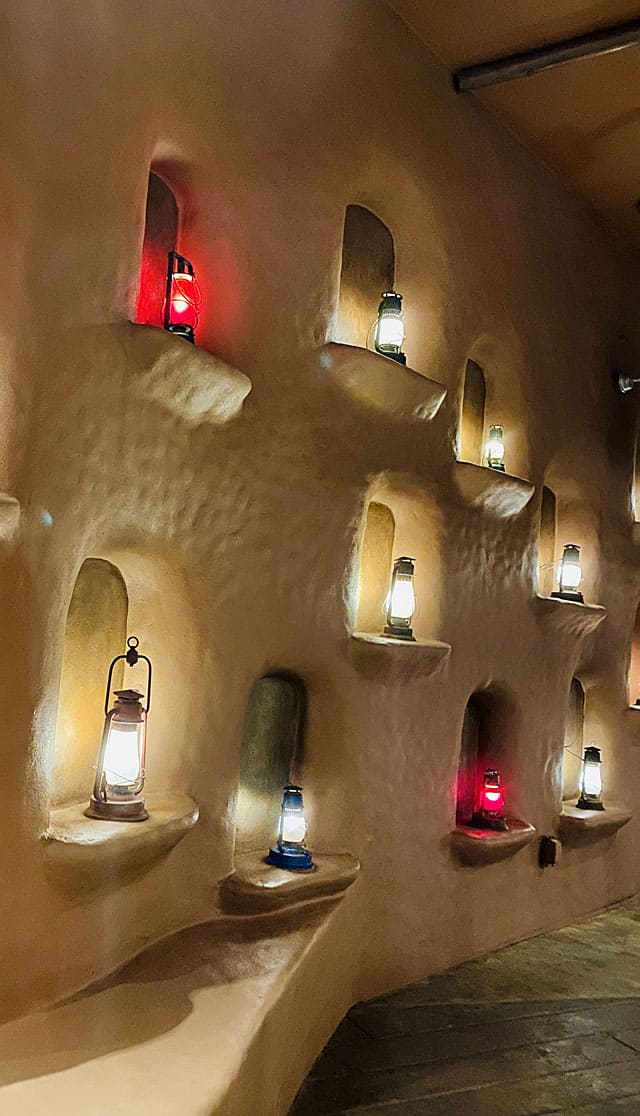 Animal Kingdom Lodge is split into sister resorts: Jambo House and Kidani Village. Jambo is the larger "main building" of the resort. When Disney announced there would be a DVC resort here, Disney renamed the main building to Jambo. Jambo has regular cash rooms as well as DVC accommodations, but not as many DVC rooms as Kidani Village.
So, consider Kidani the DVC portion of Animal Kingdom Lodge. Similar to other DVC resorts, you will find studios, 1-bedroom villas, 2-bedroom villas, and 3-bedroom grand villas. Depending on which view you book, you can step outside and see spectacular views of animals.
Do note there is an internal van that transports Guests back and forth between hotels. This makes it really easy to shop and dine at either resort. I definitely prefer the gift shop at Jambo because it is much larger, but both have really great dining.
1-bedroom at Kidani Village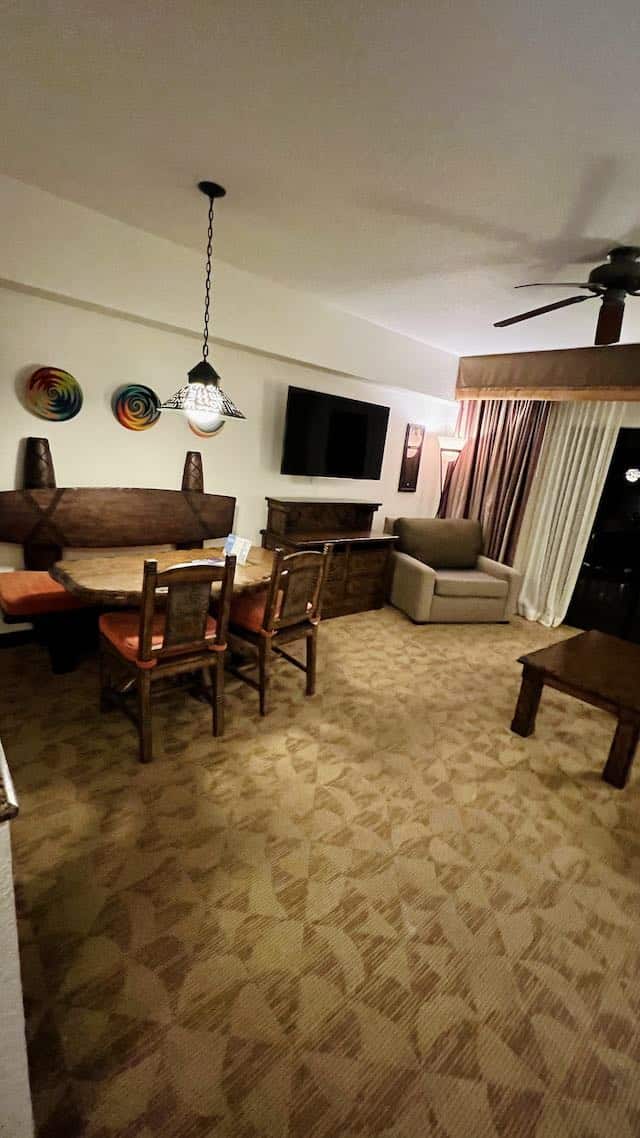 I travel to Disney a lot in big groups. Whether it be my large family of 6 (plus my parents) or as a group with other KtP Writers, I find it really important to have adequate space. Have you ever fit 5 adult females into a studio at the Boardwalk? It's doable, but it is cramped! And yes, we know this from personal experience.
I also prefer the large kitchens and washer and dryer instead of getting two studios. I've done both, and I vastly prefer the villas.
On a recent trip with other KtP Writers, we decided to get a 1-bedroom villa instead of a studio. We found a really great price on it, and a few of us got to knock another resort off our Disney bucket lists. Here is what a 1-bedroom villa looks like at Kidani Village.
First Bathroom and Laundry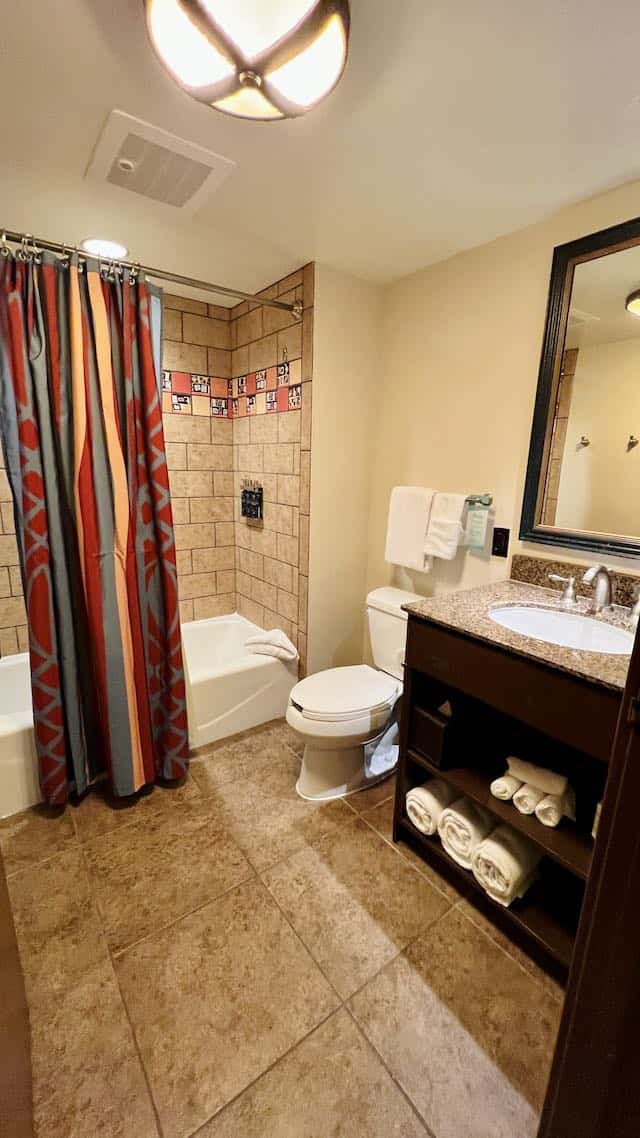 When you first walk into the 1-bedroom at Kidani, there is a bathroom on the right. It has a tub/shower combo, toilet, and vanity. I love the colorful shower curtain and tiles in the shower.
The vanity is a decent size and provides ample storage for your cosmetic and personal hygiene products. You will find plenty of towels, too! Don't be afraid to call Mousekeeping if you need more, though.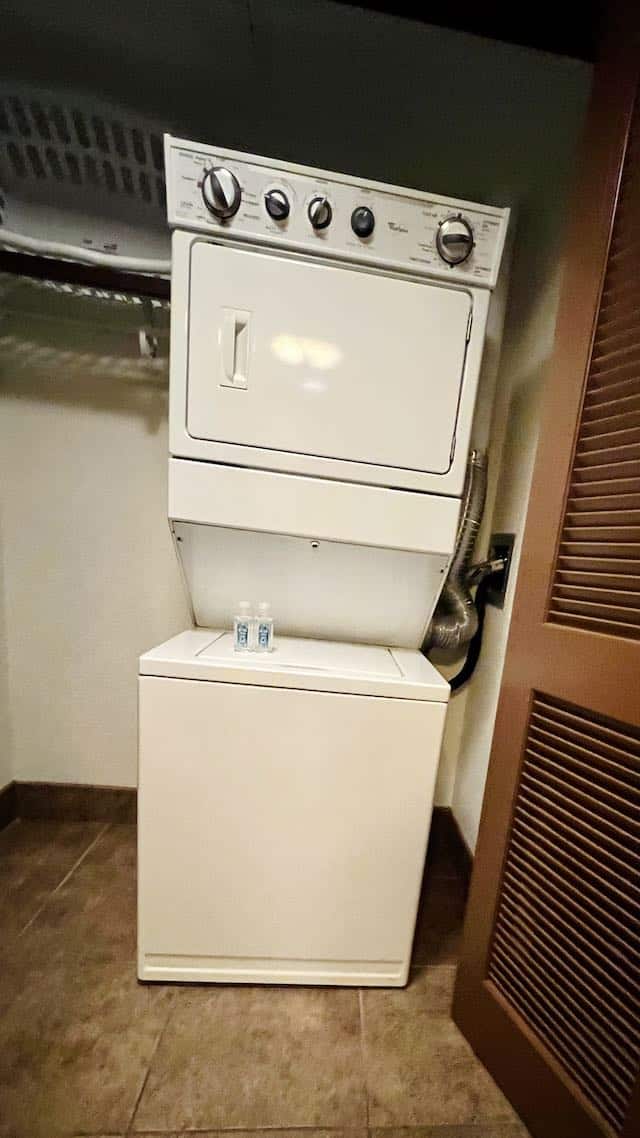 Across the hall is the stackable washer and dryer. It is behind a small closet door which is pretty typical for Disney World deluxe villas. Having a washer and dryer to do a quick load is one of my favorite parts of staying in a villa. Disney supplies a few laundry products, but I always recommend bringing your own so you have enough. There is also a plastic hamper if needed.
Kitchen, Dining, and Living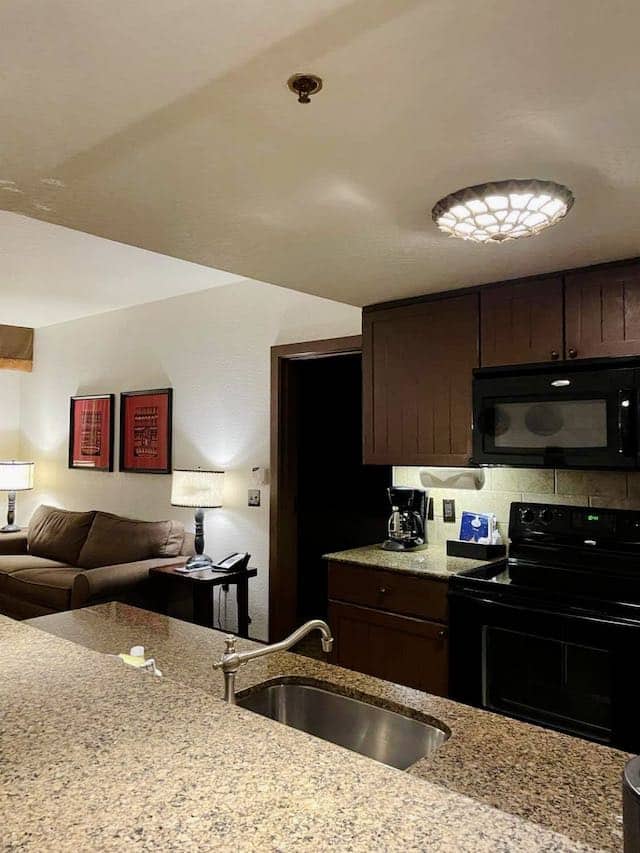 Then, this opens up to your kitchen, dining room, and living area. This is a full kitchen with a full size refrigerator, microwave, oven, stove, and dishwasher. There is a coffee pot with plenty of supplies along with every single utensil and dish you could need for preparing meals in your villa.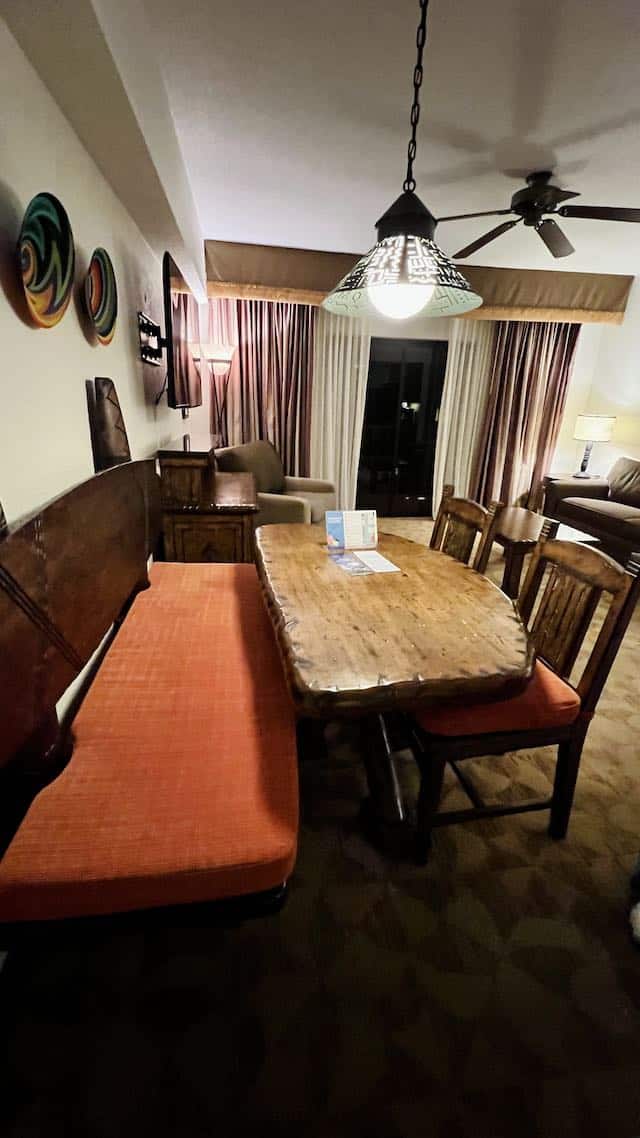 The dining area is a simple table with a long bench and two chairs on either side. This would seat 4 comfortably, and maybe 5 if you are ok with a tight fit. Since there is not adequate seating at the table, Disney provides a bar area with two barstools on the other side of the kitchen.
The living room has a couch that turns into a bed, two end tables, and a coffee table on one side. On the other wall you will find a sofa chair that turns into a bed, a dresser, and television. I heard no complaints from those who slept on the sofa bed or chair bed.
Bedroom and Second Bathroom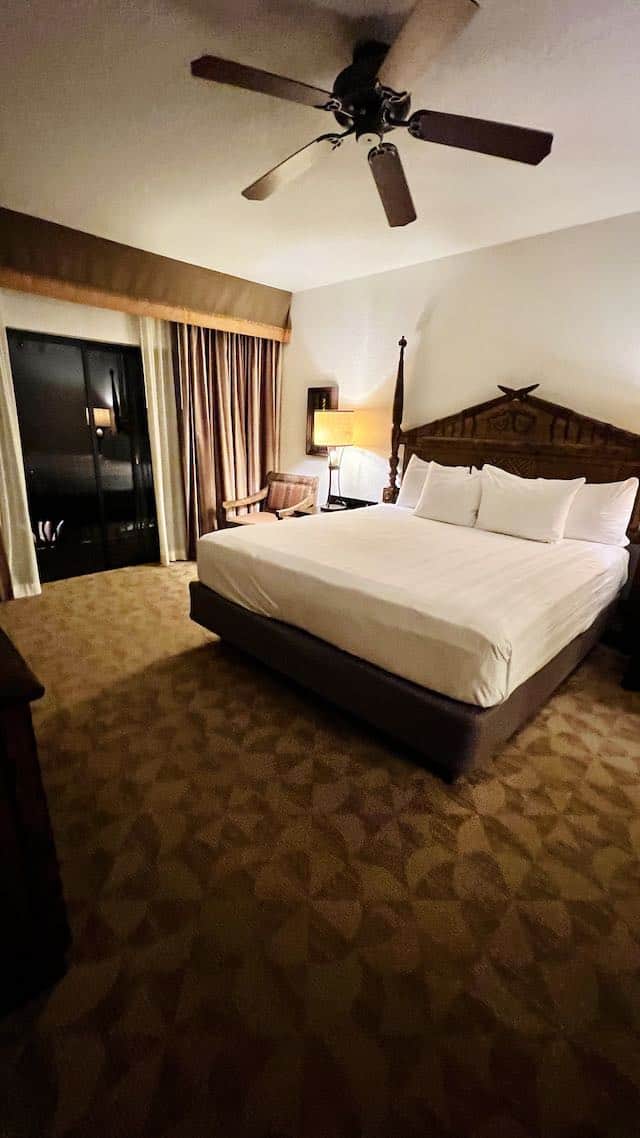 The bedroom has a king size bed, chair, end tables, dresser, and television. I love the Lion King engraving on the headboard!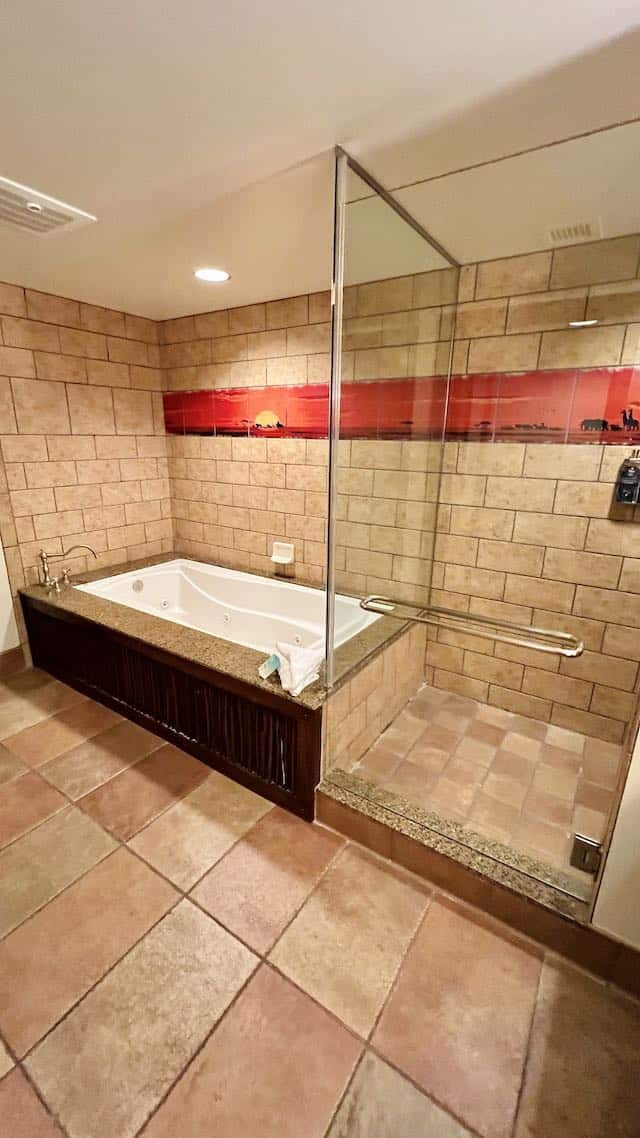 The bathroom located inside the bedroom is massive! There is a separate jacuzzi tub and a glass stand-up shower. There are no travel size bottles in the shower – just the big bottles. Do you see the Lion King scene along the wall? I love the subtle nods to the film, and it's not in your face like you would see at value or moderate resorts.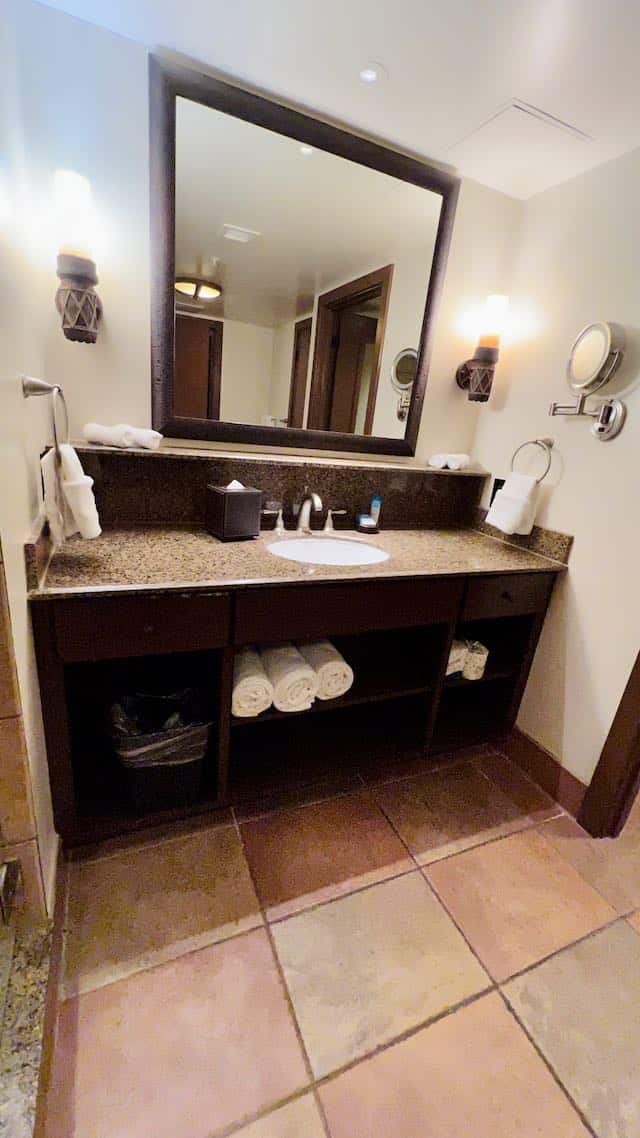 There is a large sink area, but unfortunately, only one sink. Even so, we had plenty of room to put our things! There is also a separate area with the toilet and a small closet area with extra pillows and blankets, hangers, ironing board, and safe.
Final Thoughts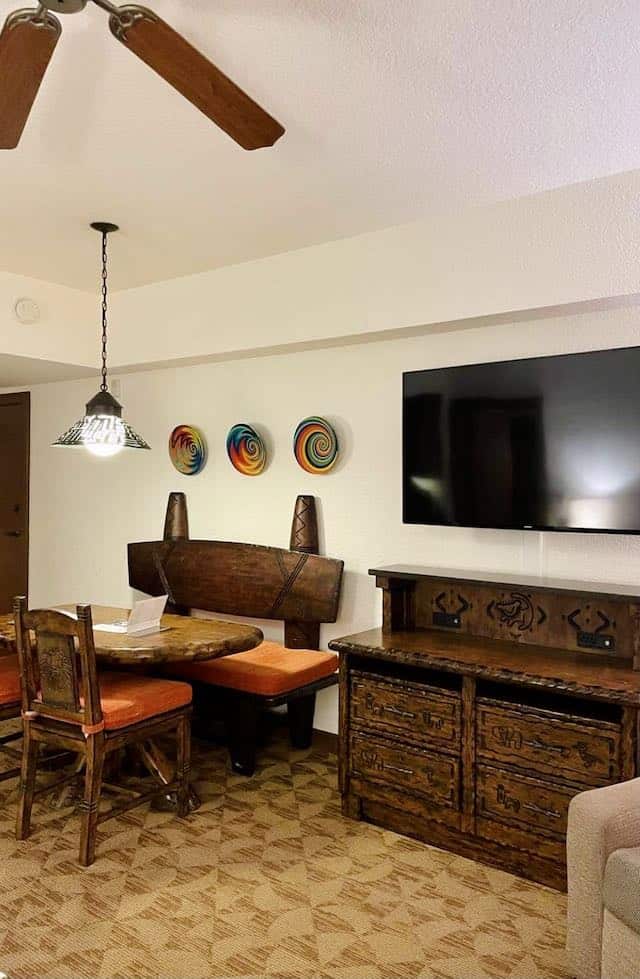 Animal Kingdom is truly a beautiful resort and is probably one of the most underrated in all of Disney. I love the theming more than I thought I would, and the animals were incredible to watch. The only thing I did not care for was the dark accents throughout the resort building and in our room.
Having a 1-bedroom villa allowed our group of four to spread out and have our own space! After staying with this same group of women, we all decided 1-bedrooms are the way to go. So, tell me why we booked a studio at Beach Club for this summer!?
Have you ever stayed at Animal Kingdom Lodge? Did you love it as much as we did? Let us know in the comments below and on Facebook.