If you're looking for a beach oasis in the heart of Disney World, check out details and photos of the DVC Beach Club Villas Deluxe Studios.
Disney's Beach Club Resort is inspired by cozy New England style beach hotels. The Epcot Disney World Resorts are my (Susan) favorite. Here at Disney's Beach Club, guests find Epcot at the back door of the hotel.
Overview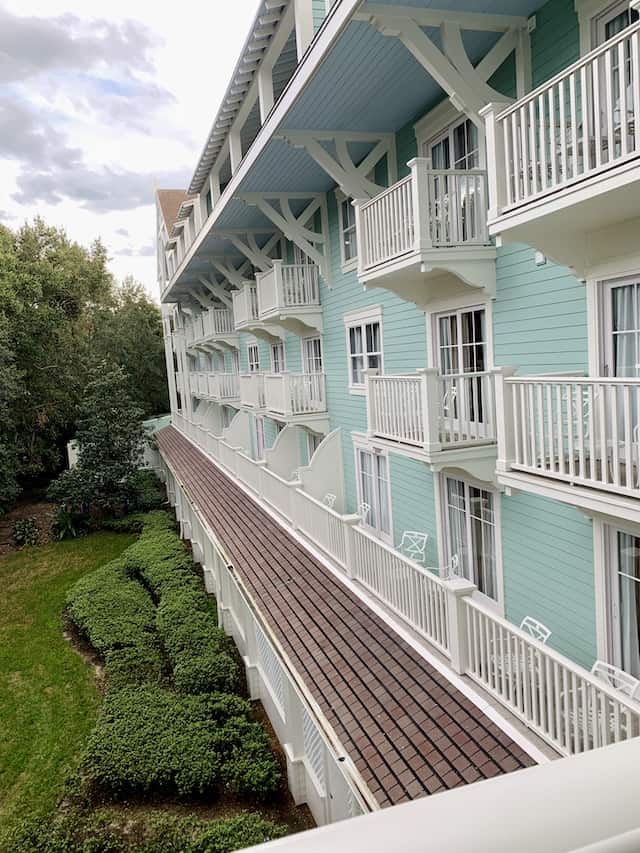 Disney's Beach Club Villas are the smallest DVC resort. Because of this and the incredible pool area, they're also the most difficult reservations to score. When we (Susan and husband, Larry) stayed here, we fell in love with the charming elegance of the resort. The short walks to the Beach Club Marketplace and transportation options were top notch.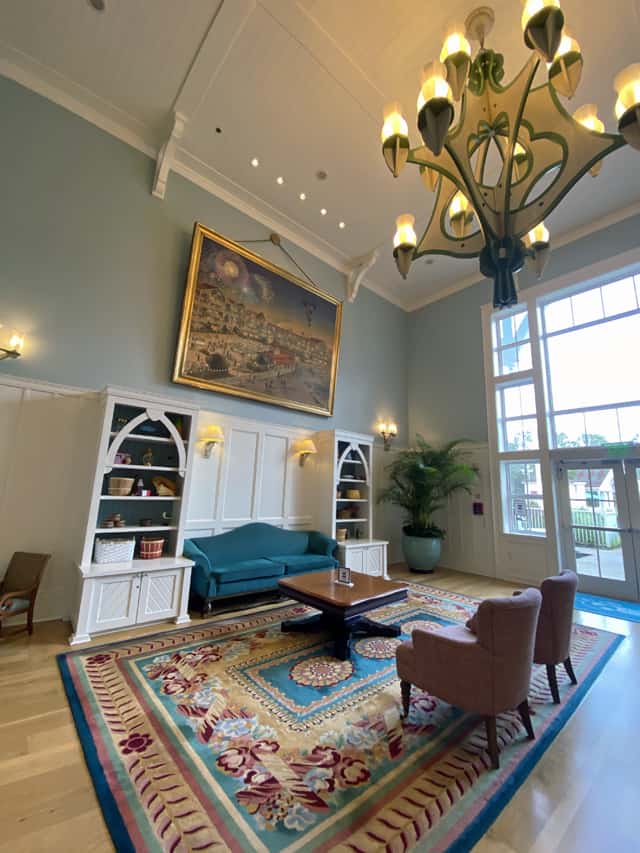 Disney's Beach Club is not only a EPCOT resort, but it's also the closest resort to EPCOT. When we walked there, we took the sidewalk on the back side of the Villas and arrived at the International Gateway in less then 5 minutes. I could get used to that!
It less than a 5 minute walk to Epcot from Beach Club.
Many of the amenities, including the pool, are shared with its sister resort, Disney's Yacht Club Resort. We found the Beach Club to be more laid back and casual versus the Yacht Club's somewhat stuffy and formal feel. Check out our Complete Guide to Disney's Yacht and Beach Club here.
Also, the smell here is AMAZING! Even my husband couldn't wait to get home and order the candle. It's described as clover and aloe. Not sure how, but the scent brings a peaceful feeling of being on a beach vacation.
Room Offerings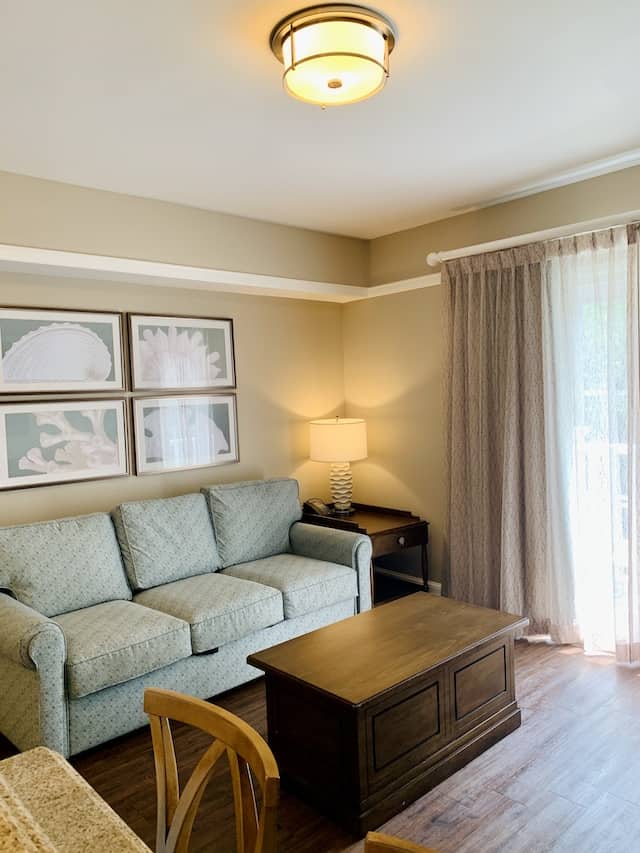 Beach Club has DVC accommodations and regular deluxe rooms. Guests began arriving in non-DVC rooms on May 30, 2021. With increased capacity, Disney is beginning to open more resorts. We can't wait to see them all open again!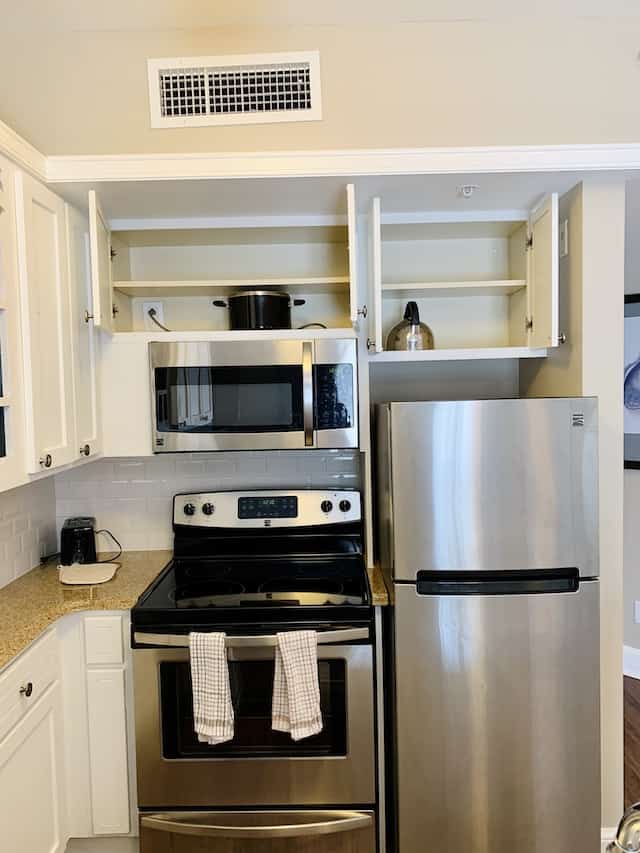 At Disney's Beach Club Villas (DVC), guests choose from either a Deluxe Studio, a 1-bedroom, or 2-bedroom suites. One and two-bedrooms come equipped with a full full kitchen, spacious living and dining areas, separate bedrooms, and a washer and dryer in unit. To see our review on the 2-bedroom Villa, read here.
Disney owned (non-DVC) rooms also offer deluxe rooms along with 1- and 2-bedrooms. However, when renting directly from Disney, guests choose standard, garden, woods, or water view. Two additional and costly suites can be rented also, the Nantucket VP Suite and the Newport Presidential Suite.
Along with other Disney Deluxe Resorts, Disney's Beach Club Resort offers Club Level Rooms. Although some Resorts have been given an re-opening date for Club Rooms, Beach Club hasn't done so.
Keep reading for a review of the Deluxe Studio!
Dining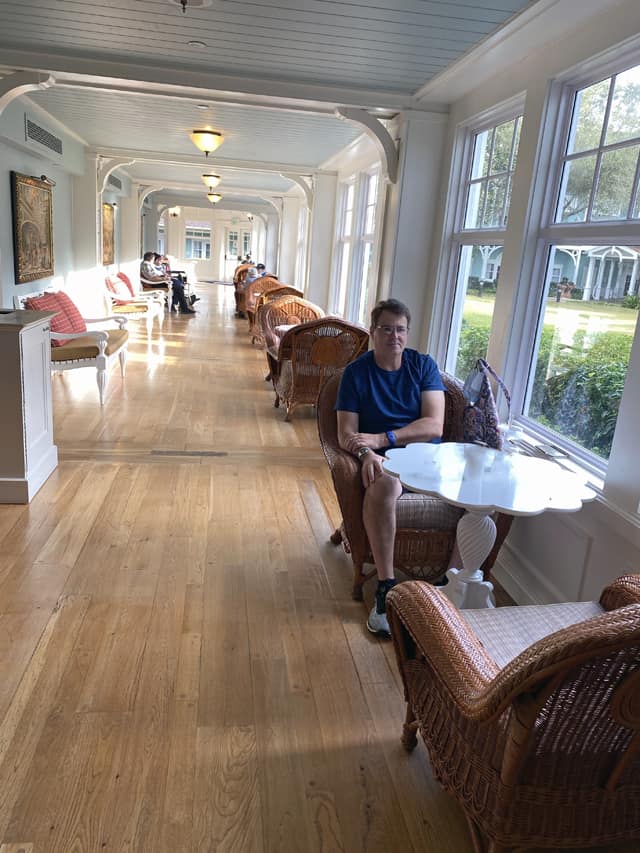 Dining at Beach Club Resort is different than the majority of Disney Resorts because it doesn't have a dedicated Quick Service location. We really missed that during our visit. We loved the sunny seating area where we enjoyed breakfast.
However, along with grab-and-go items, refillable mug drink station, Beach Club Marketplace offers a small hot food serving area. We loved our Bounty Breakfast platter that even included Minnie waffles. Oh my – what a treat!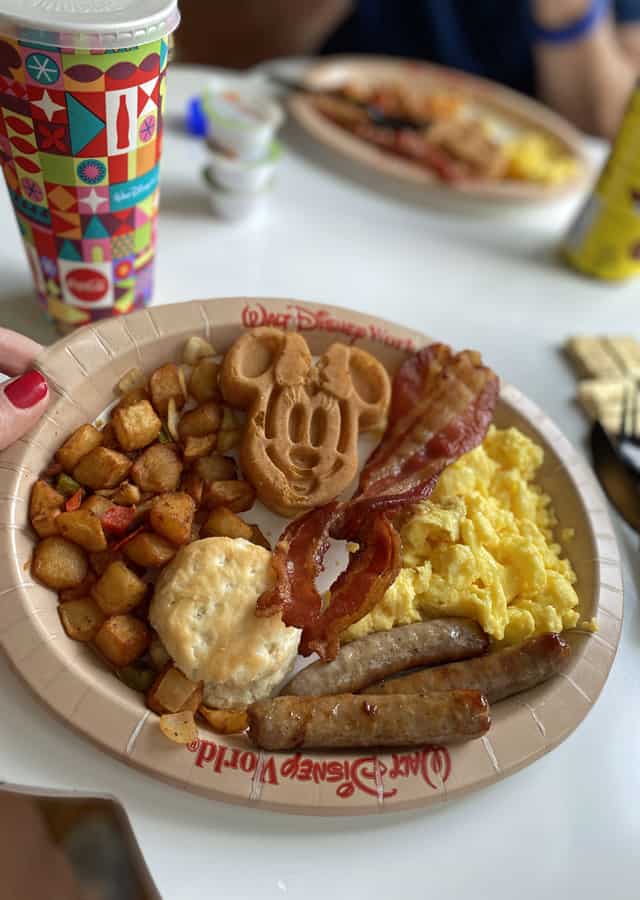 Wanting to dine at a beach side restaurant for fresh seafood? Then, check out Disney's Beach Club table service restaurant, Cape May Café. Cape May Café recently re-opened with a modified menu and no characters. Note that crab legs are extra which is stopping me from trying it. Just too expensive not to include them!
Beach Club Marketplace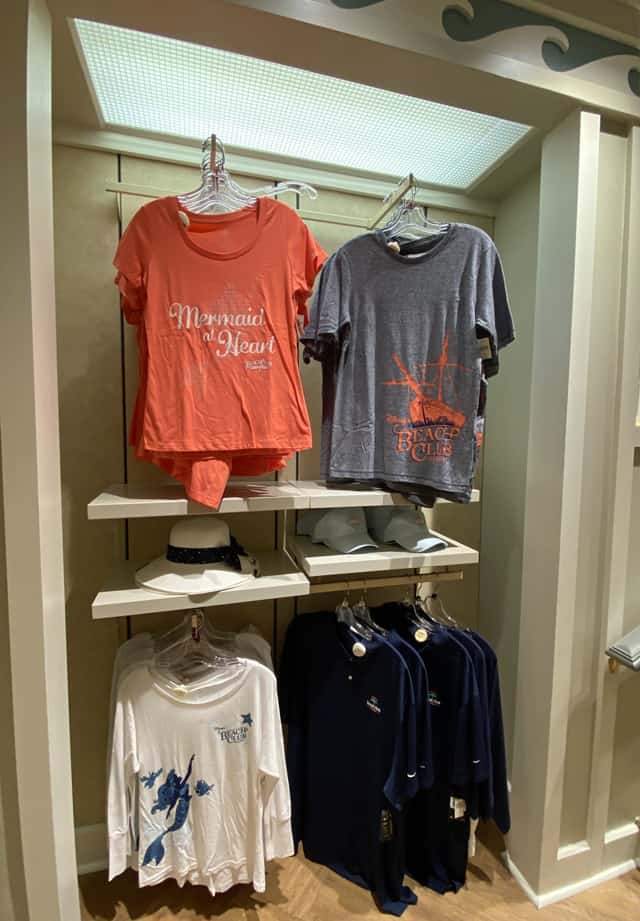 Beach Club Marketplace is a mixture of to-go dining options, groceries, sundries, toiletries, and merchandise. It's really a one-stop shopping experience. With Beach Club being such a small resort, the Marketplace is convenient no matter where you're staying in the resort. Shoppers can find an assortment of Beach Club and Little Mermaid items here.
Pools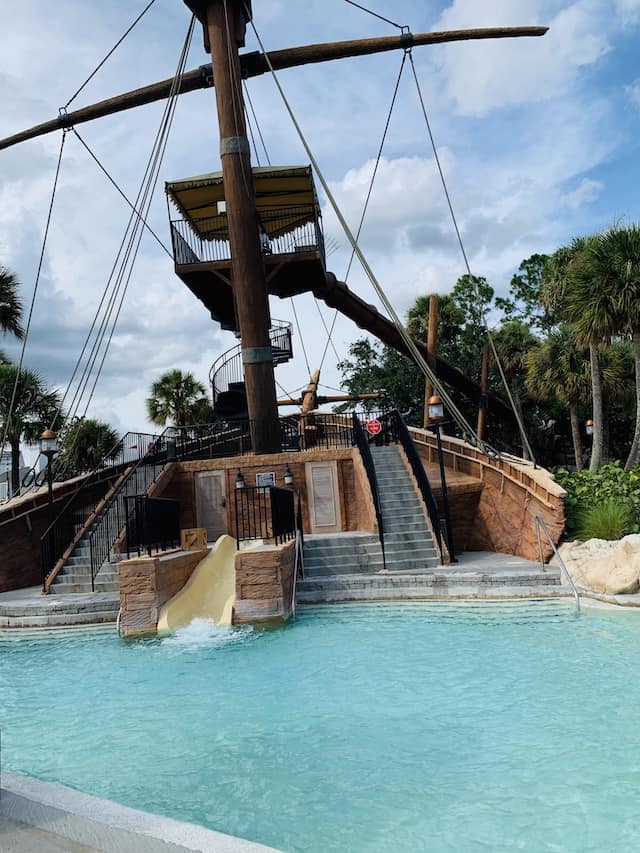 In addition to the DVC quiet pool, Disney's Beach Club boasts the amazing Stormalong Bay pool area. We were totally blown away by the size and offerings here! Guests enjoy a pirate shipwreck slide, pool with a sand bottom and sides, and a lazy river. There is ample space to relax in pool chairs located throughout this enormous area.
Check out why it's the absolute best Disney pool here.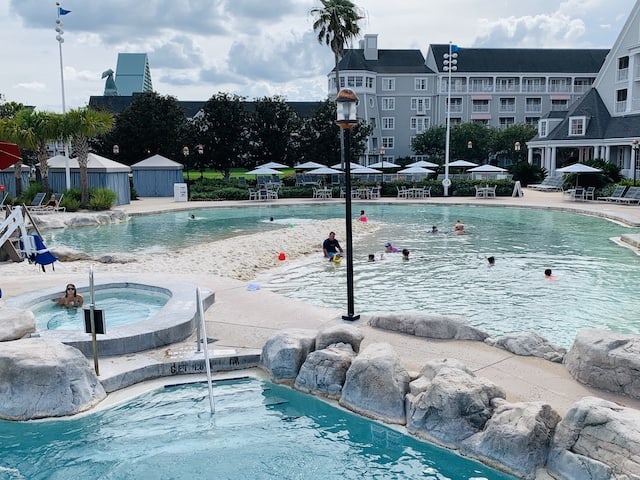 I can't wait to soak in the hot tub here and float down that lazy river on our next visit. What a perfect way to relax after a busy park day!
Transportation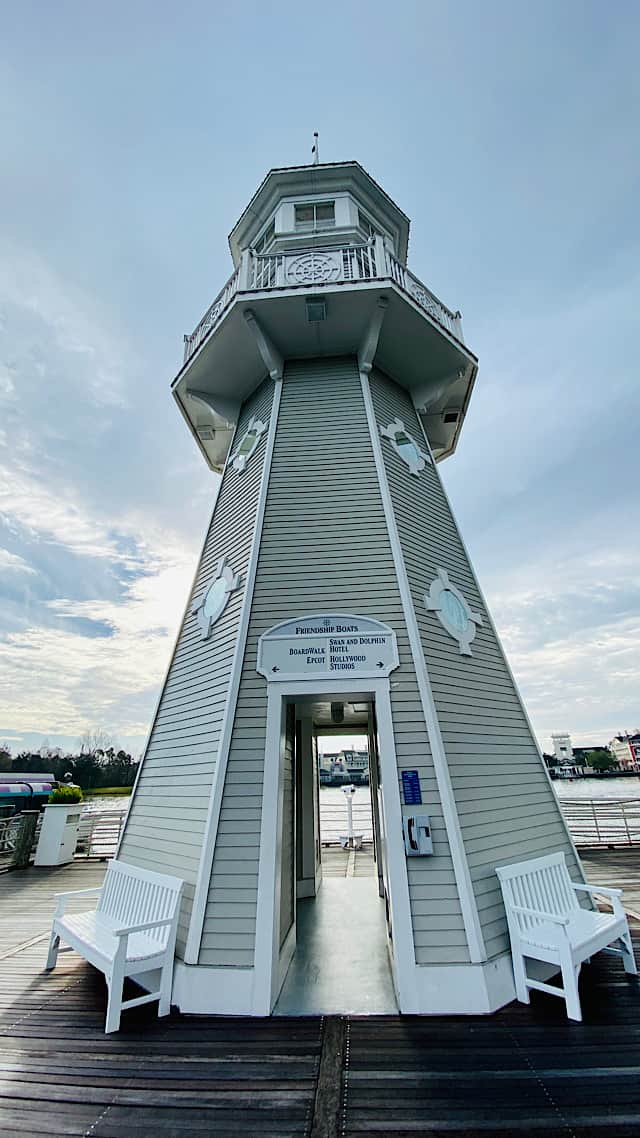 One of my favorite things about our stay at Beach Club Villas are the transportation options. There are three ways to travel to EPCOT and Hollywood Studios. My favorite way is walking. However, keep in mind that Hollywood Studios is a 20-30 minute walk and can get hot during some times of the year. This is the BEST way to arrive before everyone else to Hollywood Studios.
Next, guests here can catch the Skyliner to Hollywood Studios at EPCOT's International Gateway station. Finally, take the relaxing Friendship Boats. We enjoyed this leisure ride on our last visit.
For a complete guide of Disney boat transportation, including the Friendship Boat schedules, read here.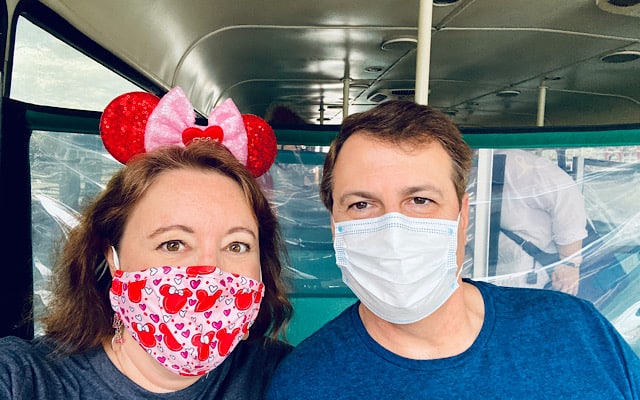 We had so much fun taking the Friendship Boat to Hollywood Studios on Valentine's Day.
Beach Club DVC Villa Building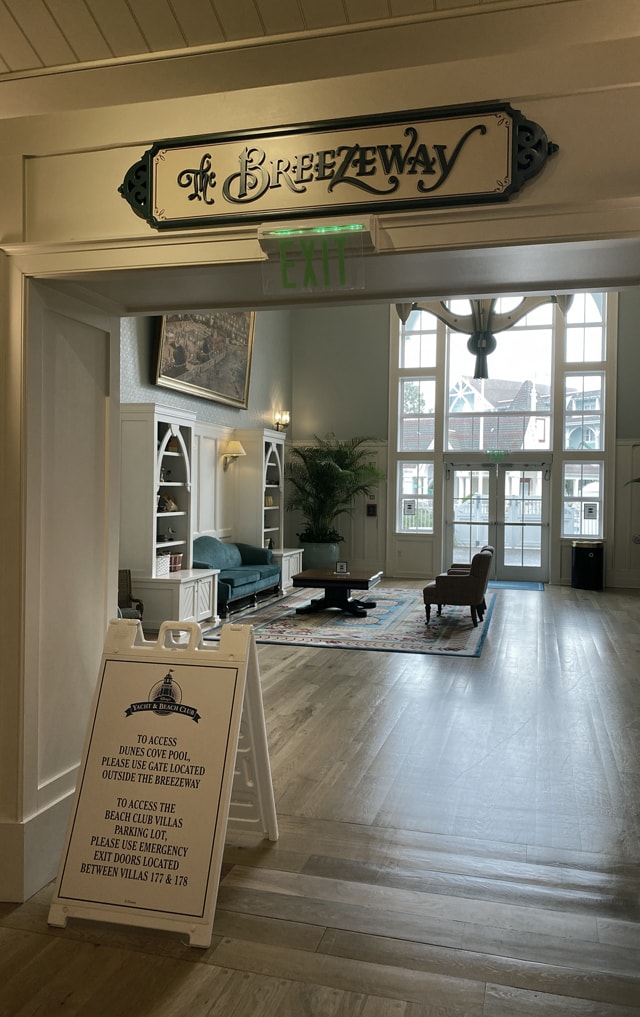 Just a short walk from Beach Club Marketplace, turn at the Ariel statue into the Beach Club Villa building. We enjoyed the seating areas within the DVC building. They made it feel so welcoming!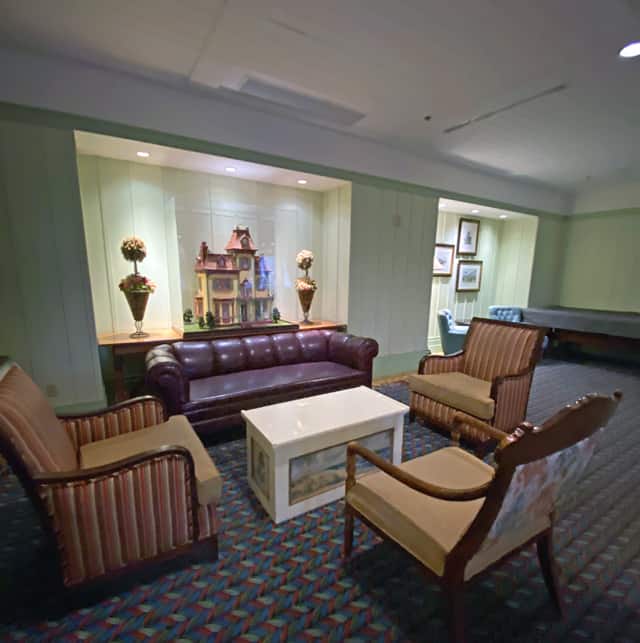 One of the things that surprised me was the concierge present in the Beach Club Villa building. Not sure if this was because the rest of the resort was closed at the time of our stay or if they're always present, but it was such a special touch. Having our own concierge made us feel like VIP guests.
Deluxe Studios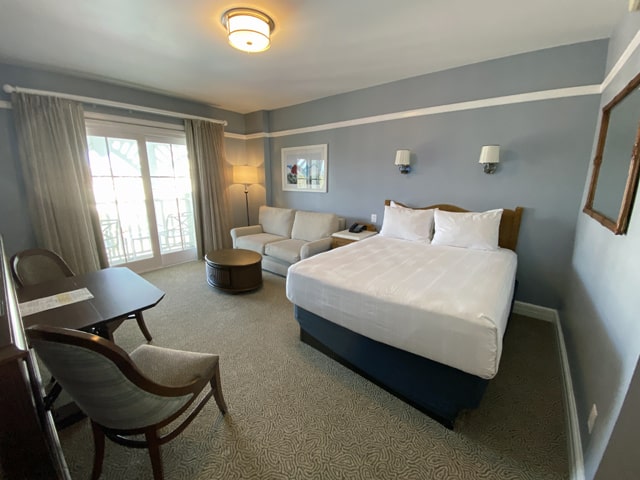 In the deluxe studio, look for an incredibly comfortable queen size bed. Although the bedding is extremely boring, we loved the comfy mattress, pillows, and covers. White, really? Nothing beachy here.
As with other DVC Deluxe Studios, you'll also find a sofa that folds out to a queen size bed. We didn't test this to check for comfort level. In our experience, the queen sleeper sofas are hit or miss.
Seating and Sleeping Areas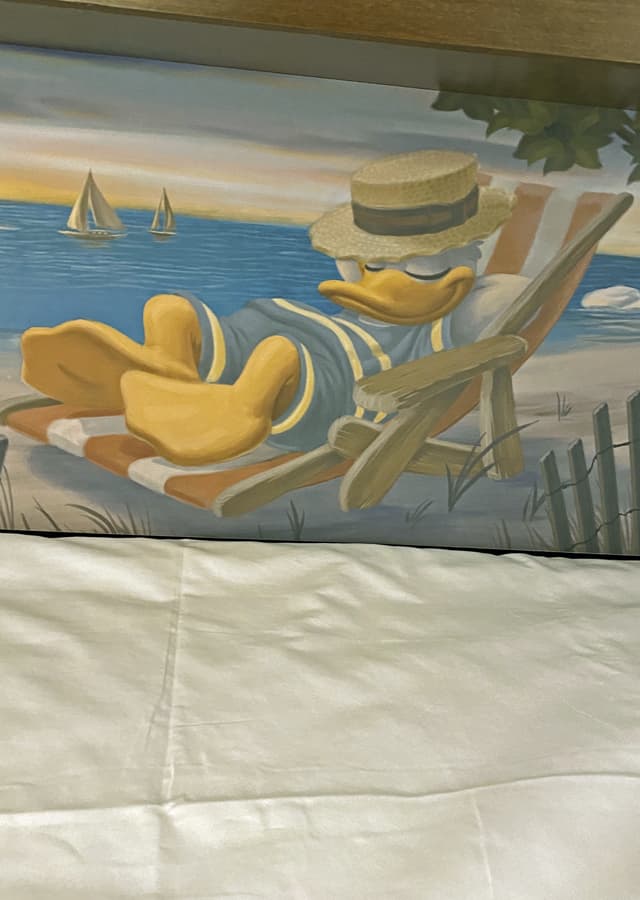 The trundle bed features our favorite duck, Donald, ready for a trip to the beach. We appreciated the seating area shown below when the trundle bed isn't in use as well as the four additional drawers.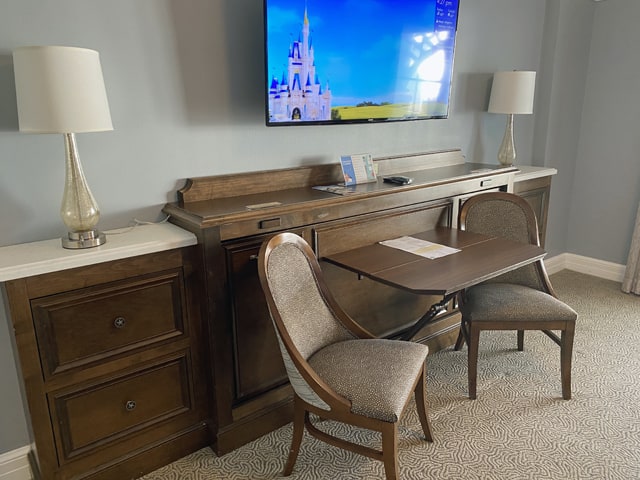 When getting ready or just relaxing in the room, the sofa is a nice touch. We liked the tan accents resembling sand and the blue sky walls. However, there is virtually no theming in these rooms. In fact, they are quite boring compared to many Disney rooms.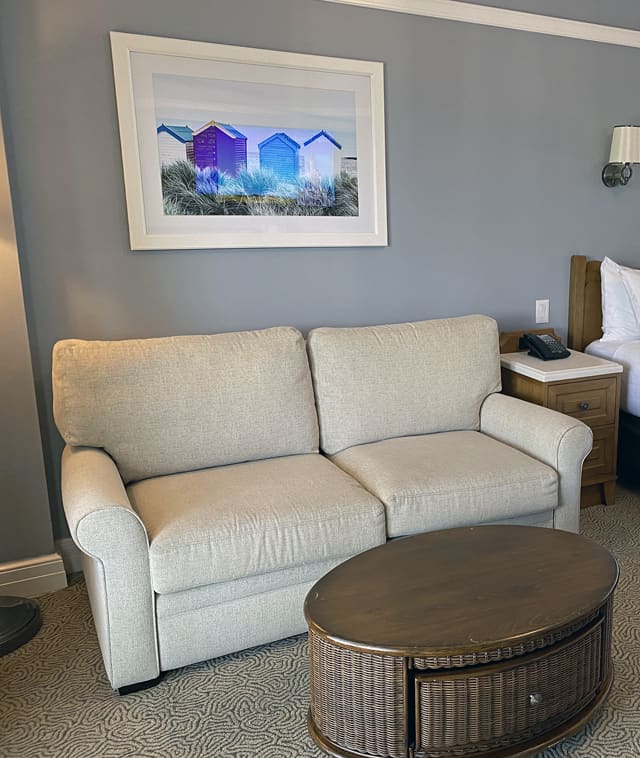 Kitchenette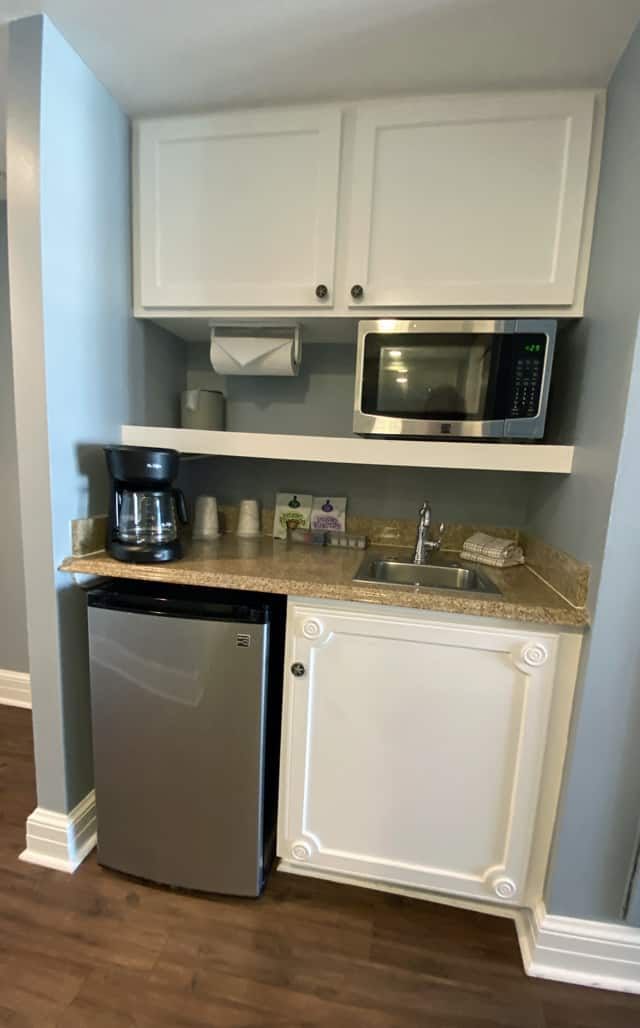 We appreciated the kitchenette and enjoyed a cup of coffee on our balcony every morning. In addition, disposable plates, cups, bowls, and silverware are located in the cabinets overhead.
Also, each Deluxe Studio contains hand towels and paper towels along with dish soap. It was nice having an additional sink for getting ready and washing our hands. This kitchenette setup is standard for DVC Deluxe Studios.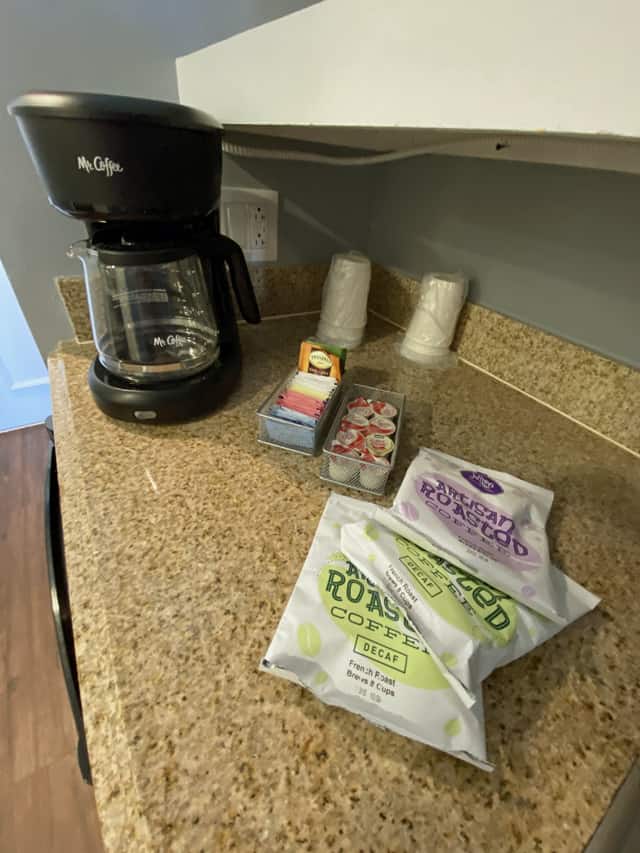 The coffee area is nice for early mornings relaxing in the room. Here, look for a coffee maker, Joffrey's coffee pods, Twinings tea, sweetener, and creamer.
Bathroom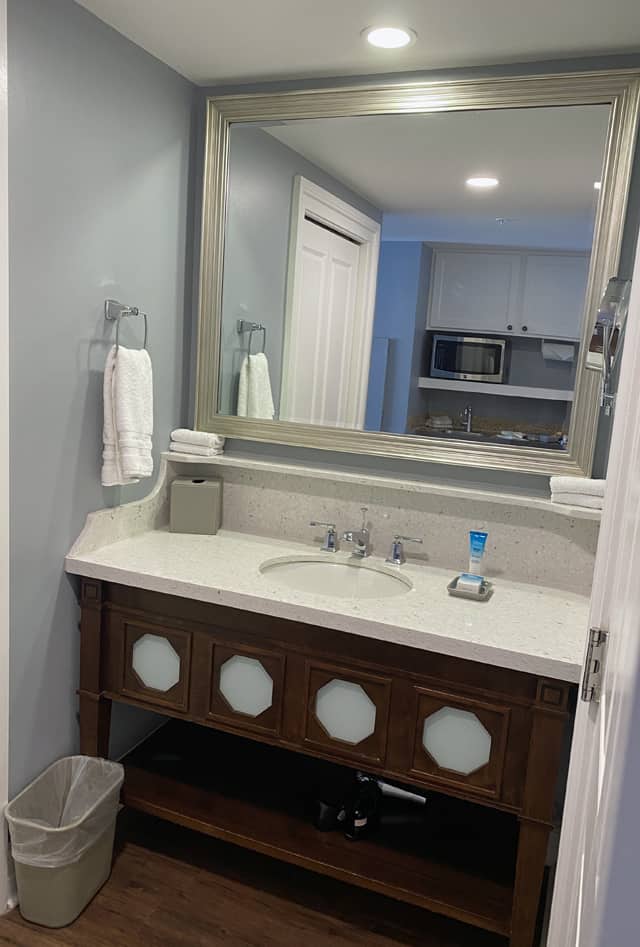 The vanity area is separate from the rest of the bathroom. When multiple people are getting ready in the morning, this is very helpful. We missed the drawers that Boardwalk and other Disney Resorts have.
Directly across from the vanity area is a closet with a luggage rack, clothing hangers, and a safe.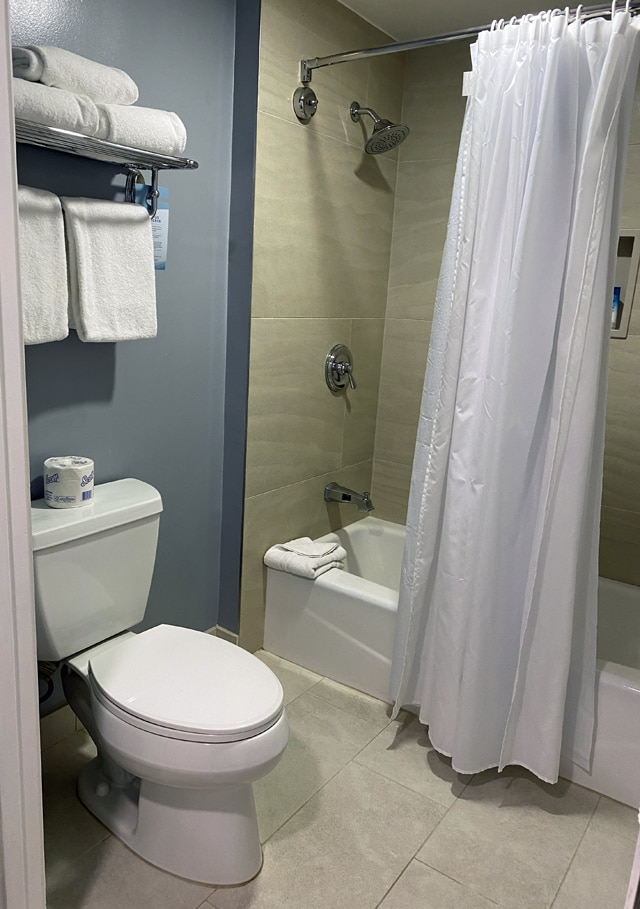 Check out the bathroom above. Okay, you'll have a typical toilet and shower. We appreciated the tan tiling representing the beach, and the blue walls representing the ocean, but come on!
This is the most boring bathroom I've seen at any resort. There is a WHITE boring shower curtain and absolutely ZERO Disney or beach theming outside the colors. Disney, you can do better here!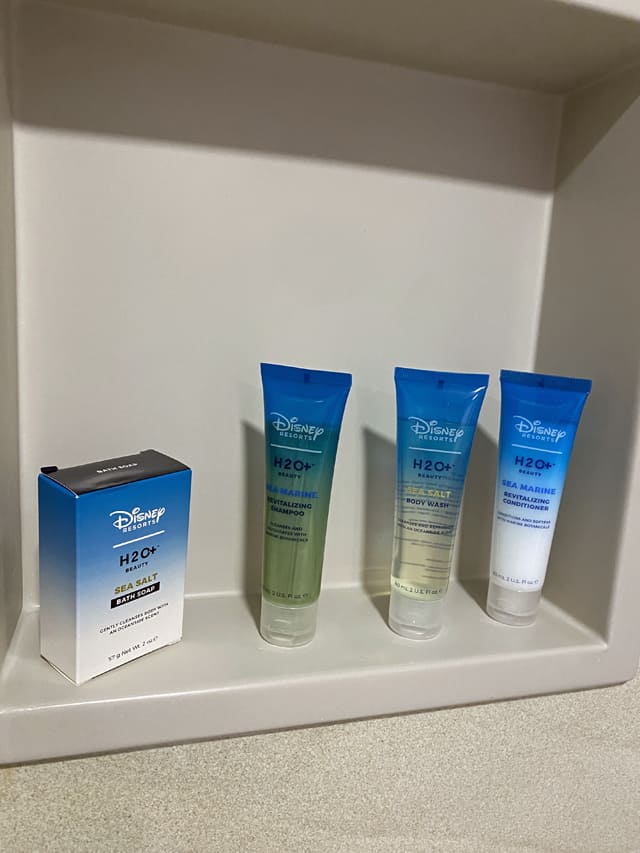 The shower supplies in the Deluxe Resorts are far superior to the squirt shower items found in value and moderate resorts. These miniature bottles seem so much more sanitary than the shared bottles. Ewww! I am somewhat obsessed with the H20 sea salt products and look forward to using them on every Disney visit.
Views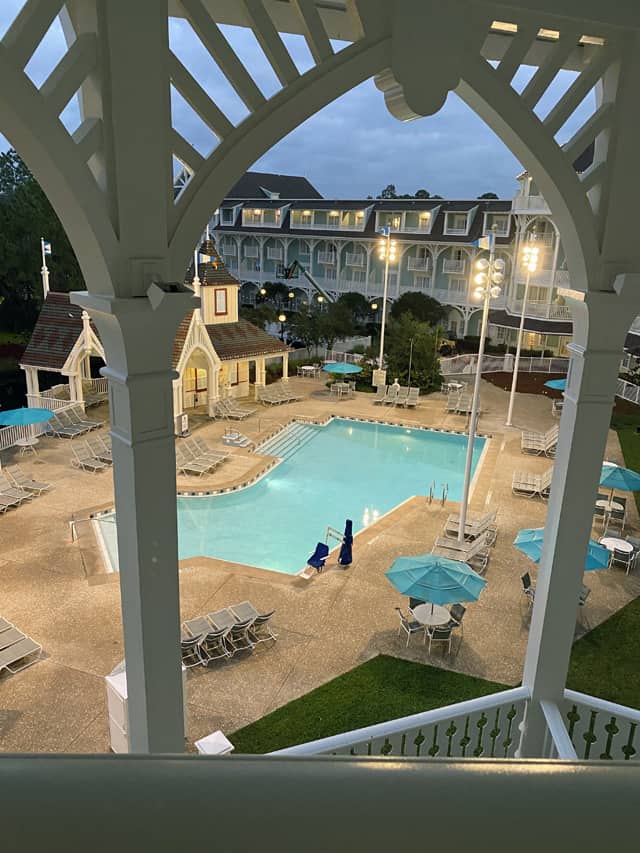 While you can't choose views at Beach Club Villas, we were so pleased with our view of the quiet pool. Our balcony was an extremely relaxing space to enjoy morning coffee.
Truly, we felt like we were at a private resort rather than at a busy Disney property. I'll take this view any day over the business of value resorts!!
Final Thoughts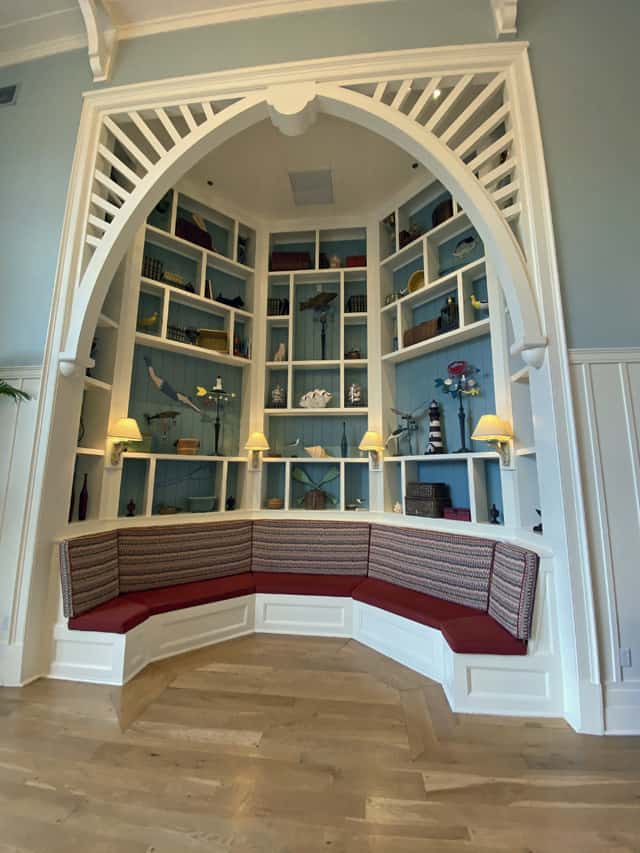 Disney's Beach Club offers an incredible charm that is hard to find anywhere else on Disney property. We appreciated all of the quaint seating areas that make you feel like you're the only guest on property. Also, the beach decor is charming, yet not too formal, to enjoy.
Although our room was clean, the theming was incredibly boring. However, I would gladly stay at this resort on any visit due to the charming public areas and pool area that left us awestruck. And you just can't beat the close proximity to not only one, but two, Disney theme parks!
Have you ever stayed in a villa at Disney's Beach Club? What did you think? Share your thoughts with us on Facebook.
Are you planning a vacation? Reach out to our trusted travel agency sponsor Authorized Disney Vacation Planner
Mouse Class Travel
!