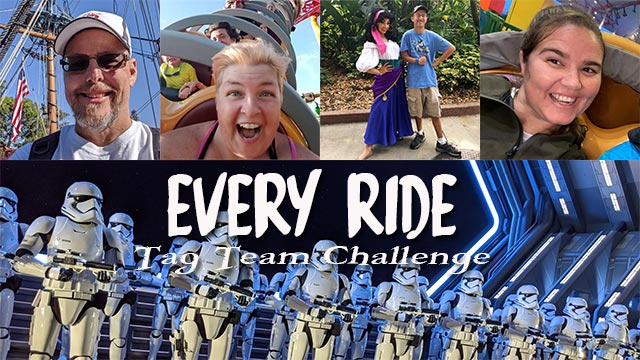 If you've followed my blog and social media for long, you know I love theme park challenges. Along with my kids and friends, we have done every ride in Walt Disney World in a single day many times, done every ride in Disneyland before anyone else ever had and I hold the record for doing the Coast to Coast (Disney World and Disneyland) challenge with 95 rides in two consecutive days. In light of ever changing parks, I'm introducing the NEW Tag Team Challenge.
What is the Tag Team Challenge?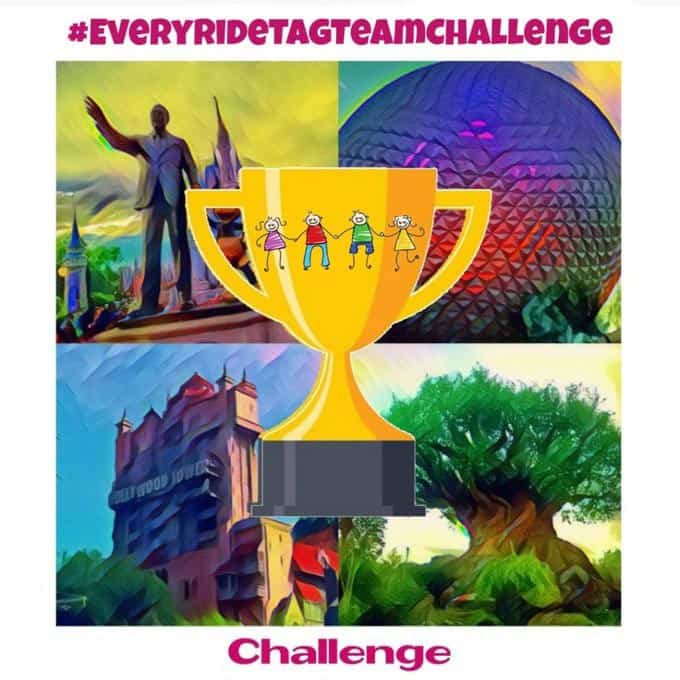 Due to the changes that have occurred in Walt Disney World caused by Covid-19, the parks are currently not offering park hopping. So, some friends and I dreamed up a new challenge. We call it #EveryRideTagTeamChallenge. The new challenge will occur Saturday, August 15, 2020.
Here's how it will work. Like a wrestling match, one person will complete a ride in one park, then "tag" another member of the team in a different park, who will ride a different ride. That person will then "tag" someone to ride in a different park. The tag will take place via live video on our Twitter accounts.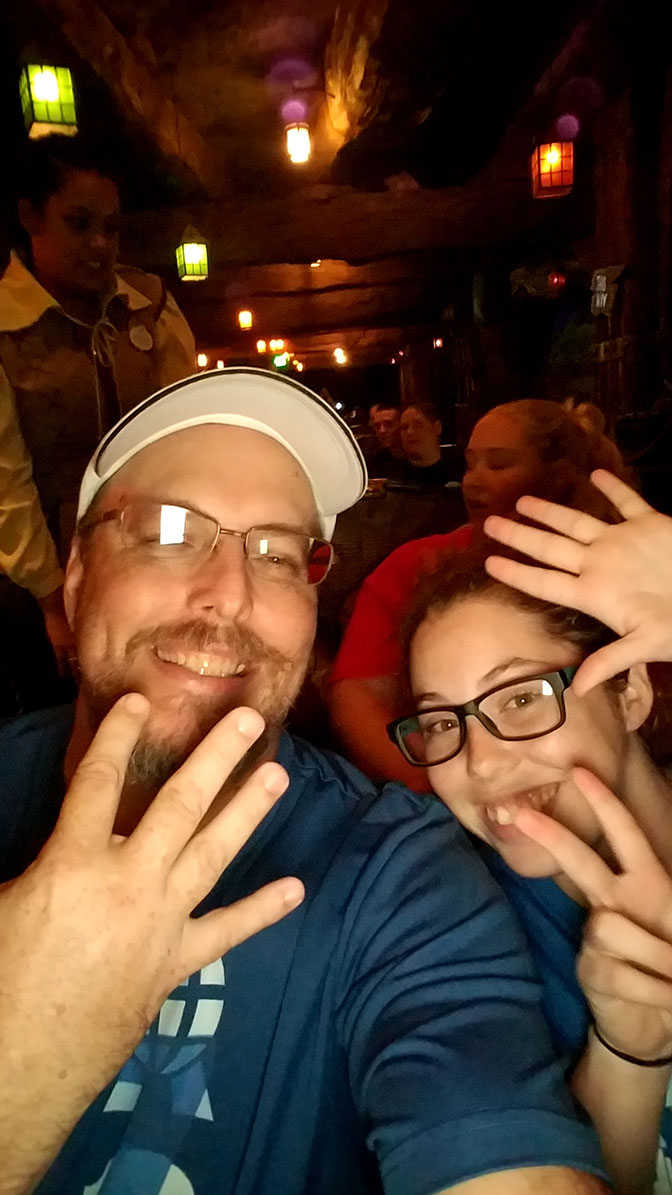 Our attempt will mean that no person can ride two rides back to back in the challenge. Someone else must be tagged after each ride.
As a team, we must complete every operating ride in Walt Disney World in a single day. We have chosen to establish a rule that the challenge cannot begin before any park that opens at 9:00 AM opens. For us that means that we will begin the moment that Magic Kingdom opens. The park usual opening time is actually before 9:00 AM, so the first person may be entering prior to 9:00 AM, but Magic Kingdom is our starter park.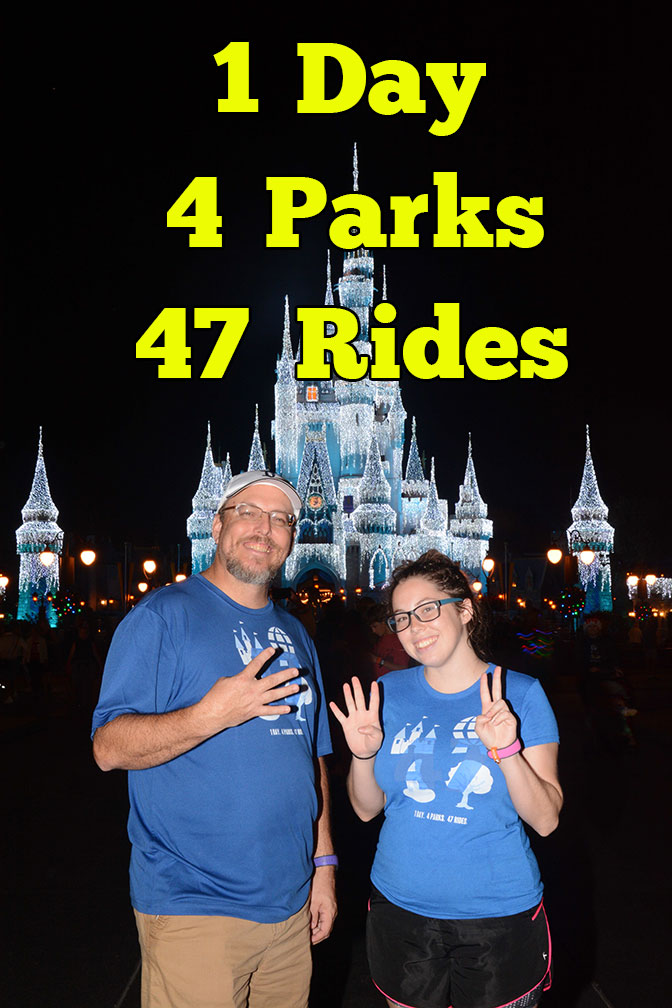 We chose the 9:00 AM opening time because no park will open until 9:00 AM beginning in September 2020. We wanted to make this a challenge that you could share with some family or friends as well! We have to be in line for the final ride before the last park closes.
We will post a short live video of us entering a given queue and on ride (as much as possible). A short video may be shared following the ride, if coverage doesn't allow the live video to be shown. We want to share our full day with you.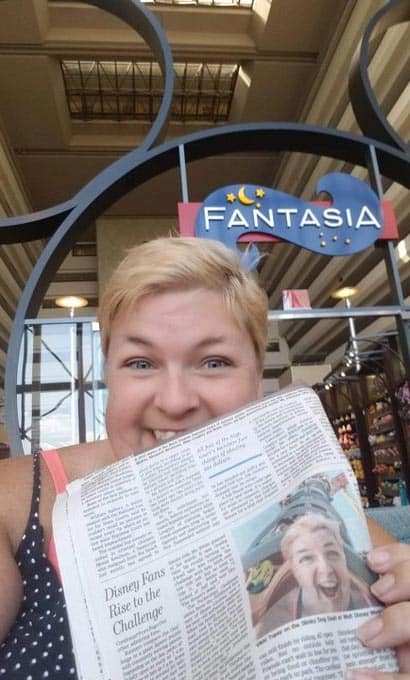 We are going to share our day with you on Twitter by following the hashtag #EveryRideTagTeamChallenge. You can follow me and turn on your notifcations for updates on my Twitter and my friends will be posting live on their Twitter accounts as well. Here are their accounts: DisneyDude_71, KleighM84, Vikkimouse321. I will retweet each person's post to help you follow along as well.
You don't have to have a Twitter account to follow along! You can just open a link in your browser to watch the fun.
Vikki is a grizzled veteran of theme park challenges having completed Every Ride in Walt Disney World 3 different times. Kendall has completed Every Ride in Walt Disney World 3 times as well and holds the record for being the fastest to complete 48 rides here. Brady has made several attempts at the ride challenge and has completed our Character Locator Challenge having met 46 different characters in the 4 parks.
The Rules
In keeping with the basic guidelines set for by the Every Ride Challenge.
The challenge takes place as a single team with different members in different parks. Each park may be represented by a single person or a group of people, but no park hopping is expected or offered.
We must post live videos of us entering the queue line and of us on the ride vehicle. If the video on ride should fail, uploading a short video after would be acceptable. After riding the person will then "Tag" a team member. No one can enter a queue before they are tagged.
We must not ride two consecutive rides in the same park.
We cannot enter a park until a park with a 9:00 AM opens. This may occur before the announced opening time, but the team may not begin and no member may enter any park until the first person enters the 9:00 AM opening park.
The challenge will be completed if the team completes every currently operating ride in Walt Disney World before the final park closes.
No Fastpass of any kind may be used. No Cast Member recovery may be used. Virtual Queue for Rise of the Resistance is expected.
No Skip the line privileges
No Club Level Fastpass
No Club 33 special edition Fastpass
No VIP Tour Guides
No Family/Friends holding your place in line
No purchasing extra tickets to gain additional Fastpass options.
No "No Strings Attached" redemption certificates
No paper Fastpasses that may be given to you as guest recovery
No violating any park rule.