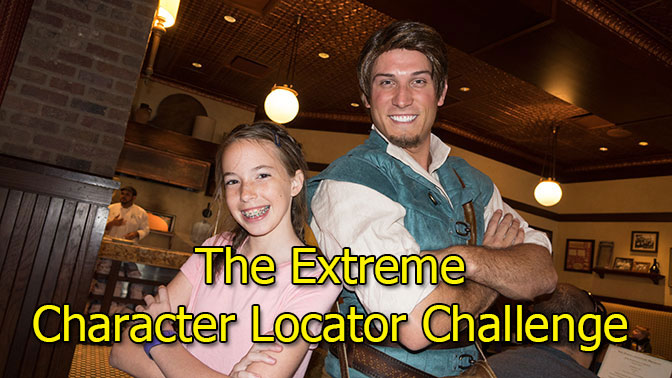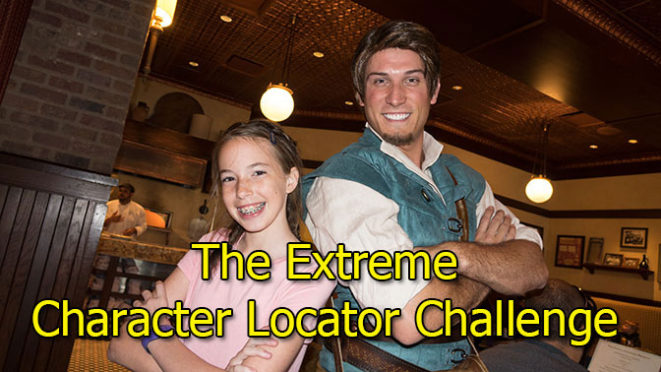 The Character Locator Challenge isn't for wimps! You'll walk and stand, walk and stand, walk and stand for an entire day. You must have park hopping privileges in some form and can either use your own transportation, public transportation or Disney transportation.
The goal is to meet as many characters in Disney Parks as possible in a single day by following the rules below.
Here are the rules:
The characters must have appeared in an official Disney / Pixar / Marvel / Star Wars production. Characters such as Streetmosphere, Main Street Citizens, iCan, DiVine or Norway Vikings do not count.
You may only count unique characters met. If you meet them in different costumes, it doesn't add anything to your total.
No line jumping or line holding allowed.
You must appear in all photos together in the same clothing all day. No change of clothes allowed.
At Walt Disney World you may use Fastpass, but it must be according to Disney rules with 3 advance Fastpass and extra ones obtained using only your ticket(s)
At Walt Disney World you must share screenshot of all Fastpass used throughout the day. Screenshot must contain your names.
You may include characters met at any character meal during the same day, but must include a photo of your receipt to prove you paid to eat there. This is to eliminate the chance that someone just ran in and took photos with the characters without paying.
Use of Extra Magic Hours is okay
Use of Halloween or Christmas parties is okay
You must meet Mickey in at least one park.
You must meet at least 1 character in each of the 4 Disney World parks (Magic Kingdom, Epcot, Hollywood Studios, Animal Kingdom). At Disneyland Resort, you must meet at least one character in each park.
Each meet photo must be shared on Twitter with #CharacterLocatorChallenge @thepiratekenny on each post. Example 1. Pluto #CharacterLocatorChallenge @thepiratekenny
You may not use a private Twitter account
Your attempt must be on a single operating day.
Dance parties do not count.
Photos must be taken by another person. "Selfies" do not count.
Characters appearing in a "Dance Party" environment do not count.
Using Character Locator will make this challenge MUCH easier!
SIGN UP AT THE BOTTOM OF THE POST!
Below I'll list everyone who meets all of those qualifications here on the Pirate's Wall of Fame. Are you ready to take on the challenge?
KtP's Character Locator Challenge Wall of Fame
Walt Disney World
*In the past I scored the count based on unique characters and characters in different costumes. Debbie and I met 68 characters with different costumes and 71 total meets. The Lamb family met 73 characters with different costumes!
Disneyland
Universal Orlando Character Challenge
Are you going to take on the challenge? Sign up by leaving your Twitter handle and the date of your attempt in the comments below and make sure you're very familiar with the rules.