So, before we left for our special Daddy/Daughter trip in April, 2012, she told me she wanted to meet as many characters as she could…in one day.  She had just designed her very own challenge!  Her older sister and brother hold 3 touring records for attractions and Debbie had just completed her first Ultimate Magic Kingdom tour two days earlier with 64 attractions in one day.  But she was still determined to meet as many characters as possible on a fairly busy Saturday. My 8 year old Daughter LOVES characters.  It is a special time in her life because she is old enough to remember everything about her time at Walt Disney World and young enough to still see the characters are real, living characters.  She spoke constantly on this day about how Mickey must be really busy because he has to open a park, meet guests in that park, perform multiple times in shows and hop to other parks to repeat those tasks.
The challenge would require park hopping to all four parks and we established a few guidelines for our challenge that you can find here.
So how did we do? We had 71 character meets, 68 would count according to our guidelines and 60 of them were actual unique characters. That's right we met 60 DIFFERENT characters in one operating day. It required almost 14.5 hours of time. We began with a Crystal Palace breakfast where we met Tigger, Eeyore and Piglet. We paid for our breakfast about 15 minutes in and departed at 8:54 to scurry down to meet Rapunzel. If we weren't first in line, we'd be behind all day.
We made it to Rapunzel's new location next to City Hall just as the Rope Drop crowd was counting down the Welcome Show. We then met Snow White and Mary Poppins quickly before hustling off to Adventureland to meet Jasmine and Aladdin. They were 5 minutes late, then told us they needed to take a ride on the Magic Carpets before coming back to meet us.
We had seen Alice and White Rabbit on Mad Tea Party two days before.  They also rode before their first meet.  We had hoped to meet Frontier Donald before meeting Ariel, but the delay from the Carpets caused us to go ahead and line up for Ariel and Prince Eric.  In retrospect a nice dinner in Epcot would have given us the ability to meet those Princesses with no wait :)  We saw Peter Pan just across the bridge and darted toward his queue line.  He was fun and full of life as always.
We headed up behind the castle and joined the line to meet the Tremaine Family who are still in search of a prince before meeting Alice and the White Rabbit. It was time to return to the Castle to meet the Fairy Godmother, who spread some magic for Debbie and her character challenge. We met Donald, then Goofy before heading to meet Stitch (who was making bunny ears over my head) and Chip n Dale (Spacemen) in Tomorrowland. It was 11:30 and we were heading to Animal Kingdom after meeting 22 characters at Magic Kingdom.
(The only character that we would have to scratch at this point was Jessie.)
We arrived at Animal Kingdom and proceeded directly to meet Russell and Dug.  We practiced our Wilderness Explorer call before heading to Camp Minnie Mickey to meet 8 characters in an hour.  We skipped Mickey because his line was very long, but we knew we'd find him at Epcot.  We moved on to Africa to meet Baloo and Louie then met Rafiki at Planet Watch. We met 13 different characters at Animal Kingdom in 10 queue lines.  We had met a total of 35 characters in 23 queues by 2:09.
We then took a bus to Hollywood Studios and proceeded to the Phineas and Ferb meet and greet.  It was the most grueling line I've ever experienced.  We waited 33 minutes and there is NO SHADE for the guests in line or for the characters.  I had Debbie wait next to the water fountain in the shade because she is fair skinned and couldn't take that much sun.  She gathered some new friends and then began playing while the parents held their place in line.  I DO NOT recommend visiting this meet in the afternoon in the spring or summer!
We then found a Green Army Man by TSMM trying to grab a bit of shade for himself before meeting Handy Manny and Jake.  We circled back to meet Mike and Sulley before waiting in the AIR CONDITIONING for Woody/Buzz.  We knew it was a 30 minute line, but it would be nice and cool.  After meeting those toys, we made our way to Character Palooza.  We love this random meet because no one knows in advance who will show up.  We hit the jackpot!  We finally got to meet Max Goof.  I was super excited.  Debbie was still looking for Pluto.  We concluded Hollywood Studios by meeting Lightning and Mater and getting their autograph.
We had met 57 characters in 38 queue lines and exceeded our goal by 6:10 pm.
It was off to Epcot.  Debbie wanted badly to meet Marie before her line closed at 7:00, so we took the "short walk" to Epcot via the Boardwalk.  We would have made it into the park in time, but 142,000 jr. high cheerleaders were in line at the International Gateway.  We made our way down to Character Spot instead.  The line was only 20 minutes when we entered but ballooned to 50 just moments later, whew!  We met the Big Cheese and his sidekicks there.
We took the monorail, Debbie's favorite ride, back to the Magic Kingdom to conclude our day. We met Tiana and Naveen for their last meet. Debbie had compassion on him being excluded from photos and asked to pose with him alone after meeting them together. We met Tink and Terrance before heading to Town Square to meet the Princesses. We finished the night with an extra Mickey & Minnie meet.
After completing her challenge, we stopped in to City Hall to get a button to commemorate Debbie's character challenge and the wonderful cast member Alan did some magic and presented her with her favorite character!  That's the kind of magic that brings us back!!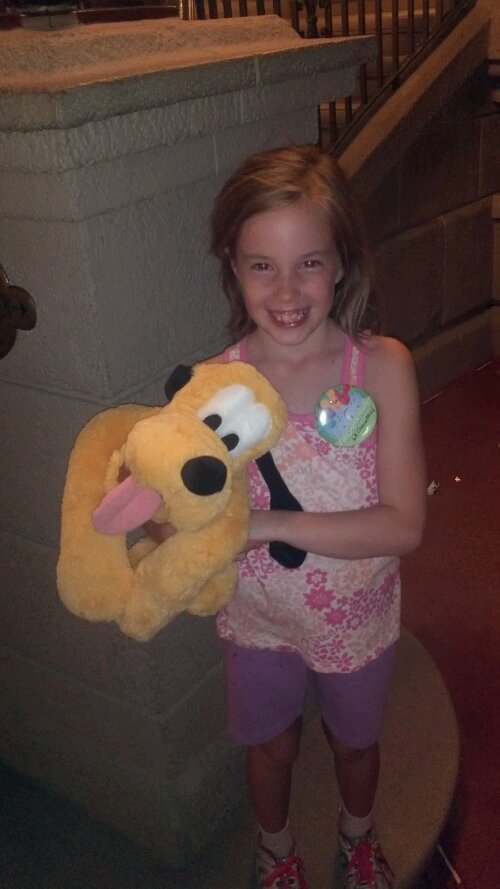 So will you take on the challenge???
Ultimate Character Day Data (Our average wait and interaction time was only 6.16 minutes per character or 10.18 minutes per queue.)
| | | | | | |
| --- | --- | --- | --- | --- | --- |
| | MK | AK | HS | EP | |
| Total | 31 | 13 | 22 | 5 | 71 |
| Different | 29 | 13 | 22 | 4 | 68 |
| Unique | 28 | 11 | 20 | 1 | 60 |
| Queues | 17 | 10 | 15 | 1 | 43 |