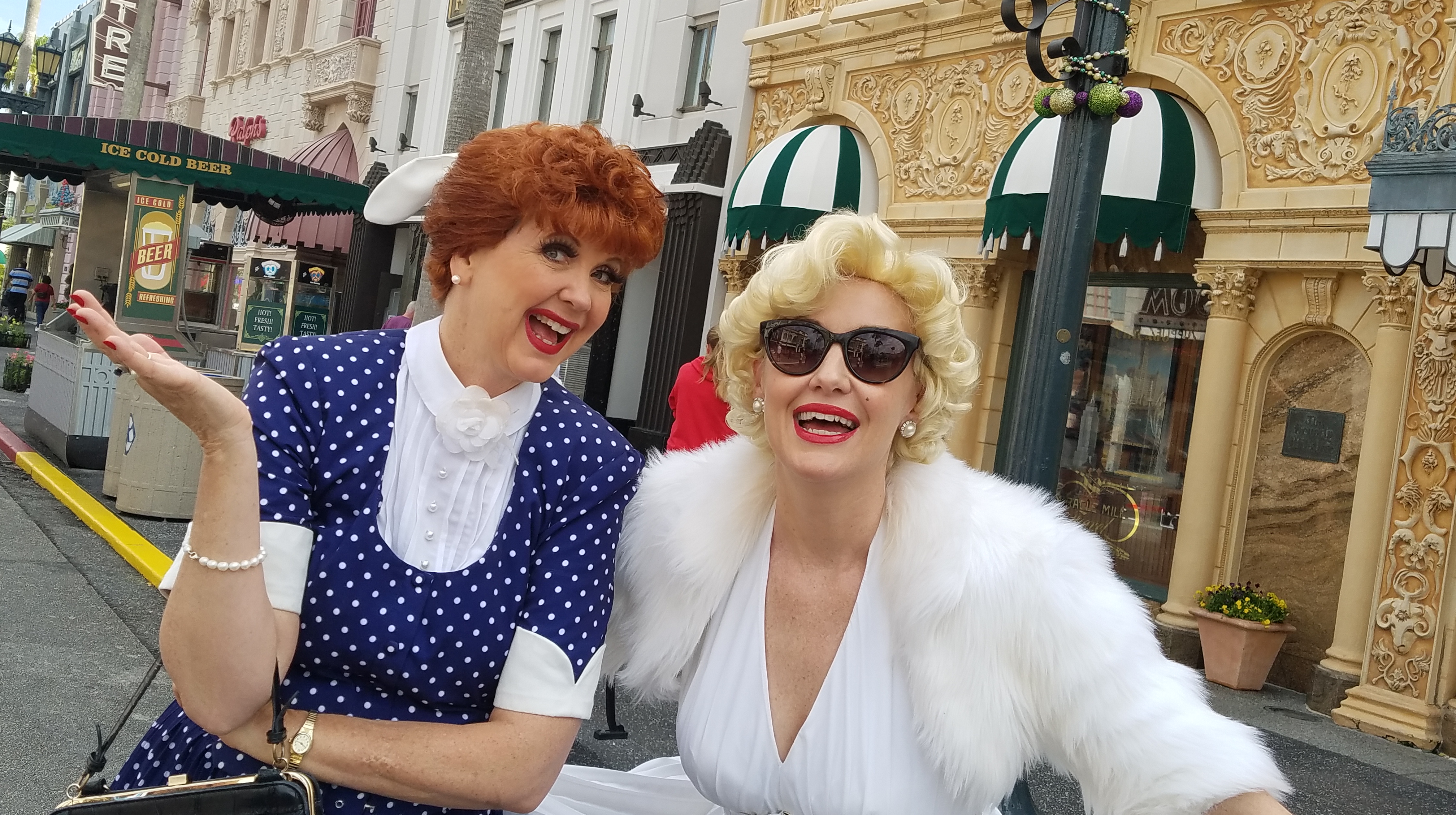 My friend Ryan hadn't visited Universal Orlando in like 20 years and his wife Heather hadn't been to their Studios park and they love characters, so we set out to see how many characters we could meet along with a few shows and rides.  How does 53 in one day sound?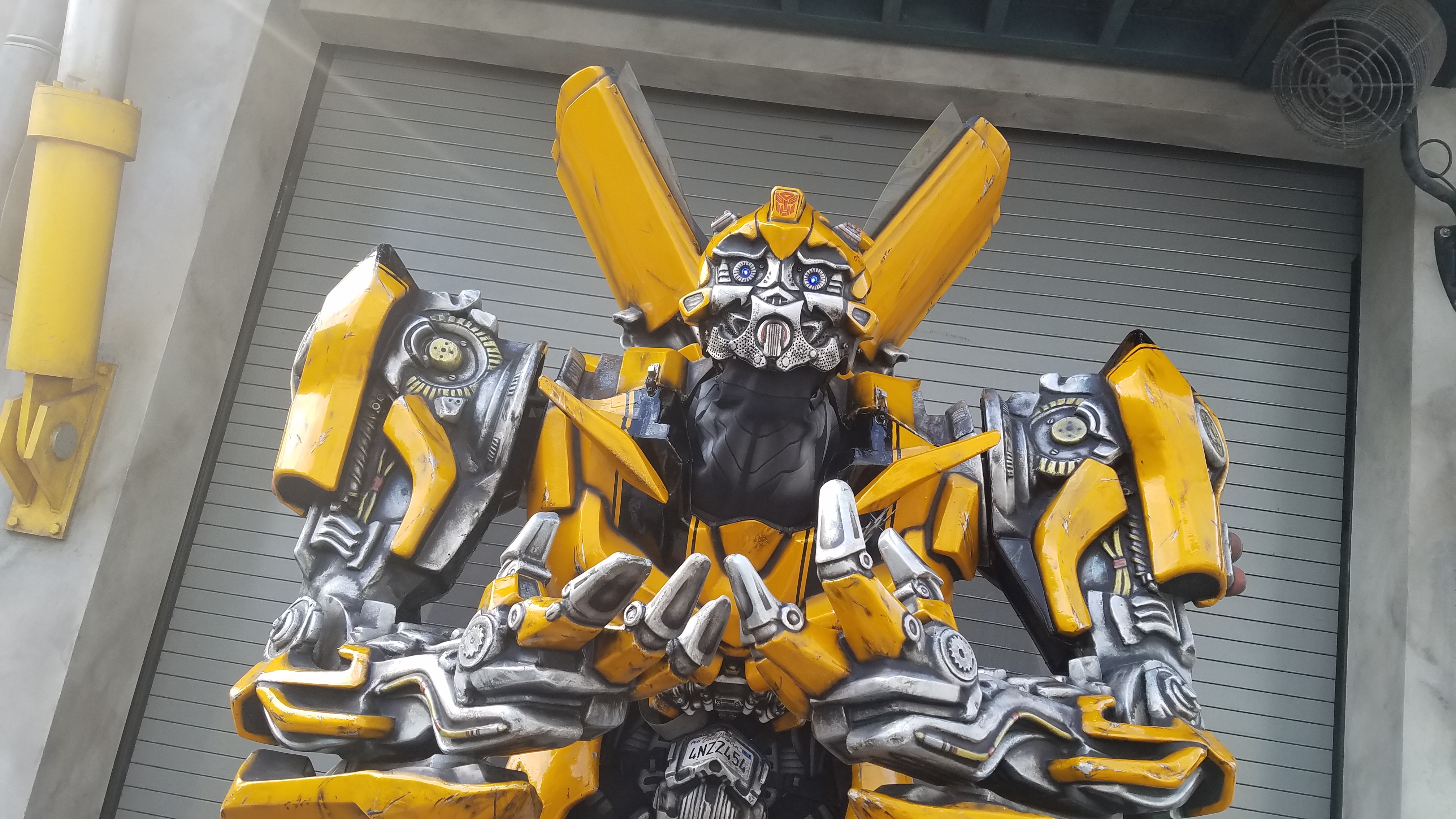 We began the day with a ride on Despicable Me.  If you read anyone's Universal touring plan and it doesn't tell you to go here immediately at rope drop, just throw it away because you could wait up to 30 minutes with Express pass and 90 or more without it.  Ryan felt queezy, so I could tell he wasn't going to be game for most of the rides because they spin, have 3D or are roller coasters.  Good thing they mostly wanted to meet characters!
We began by meeting Bumblebee.  He's fun because he plays all sorts of music clips between poses.  Yes, he is enormous.   None of the transformers sign or stamp.  Photo only.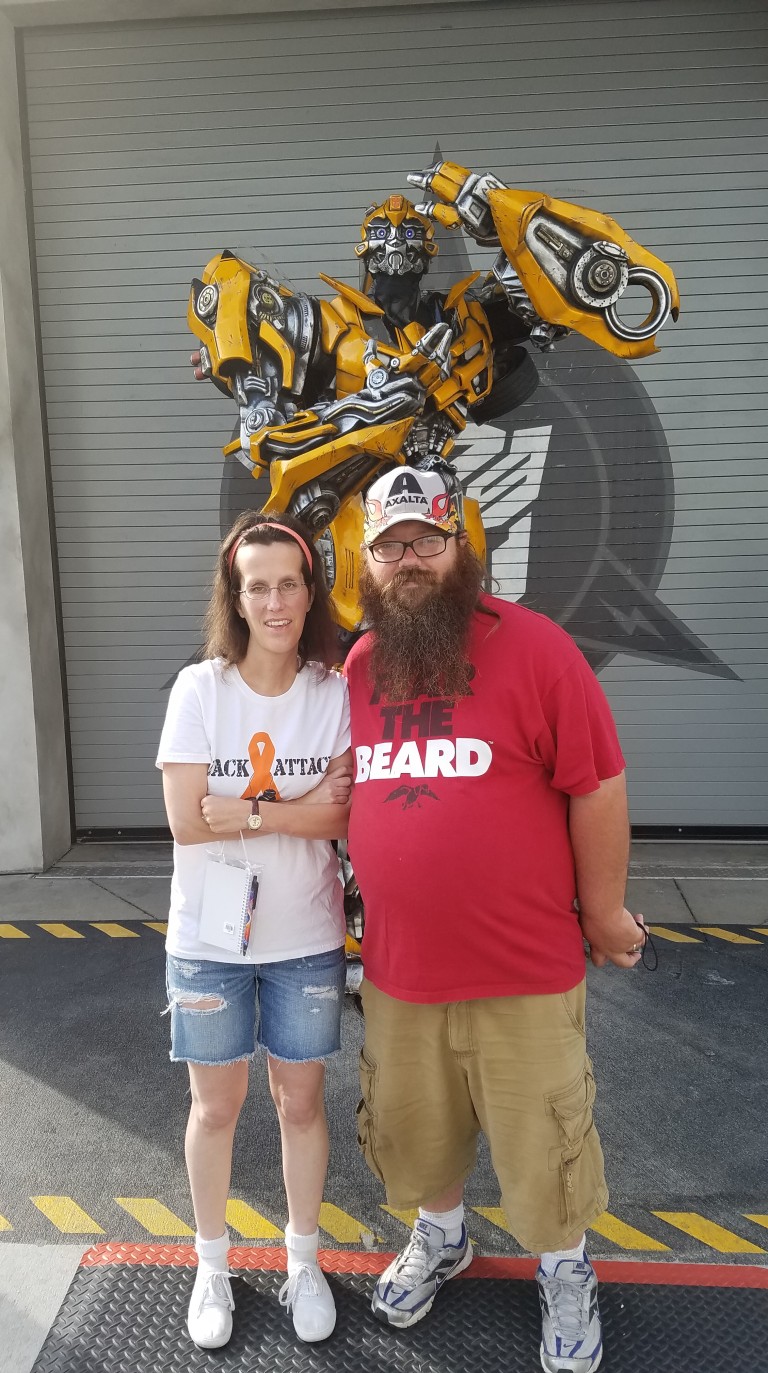 Right after we met Bumblebee, we went right back into the really short line and Megatron came out to visit.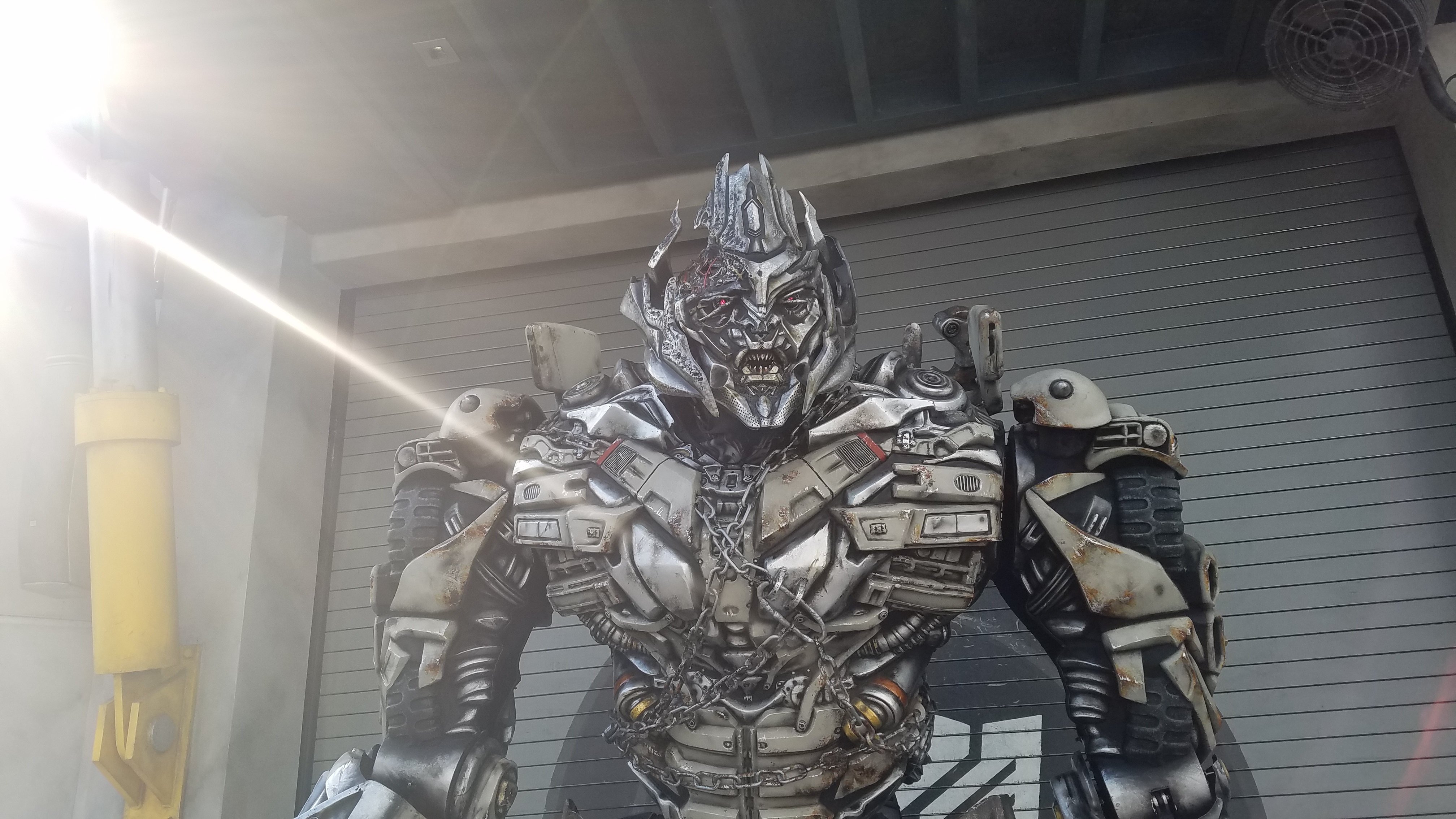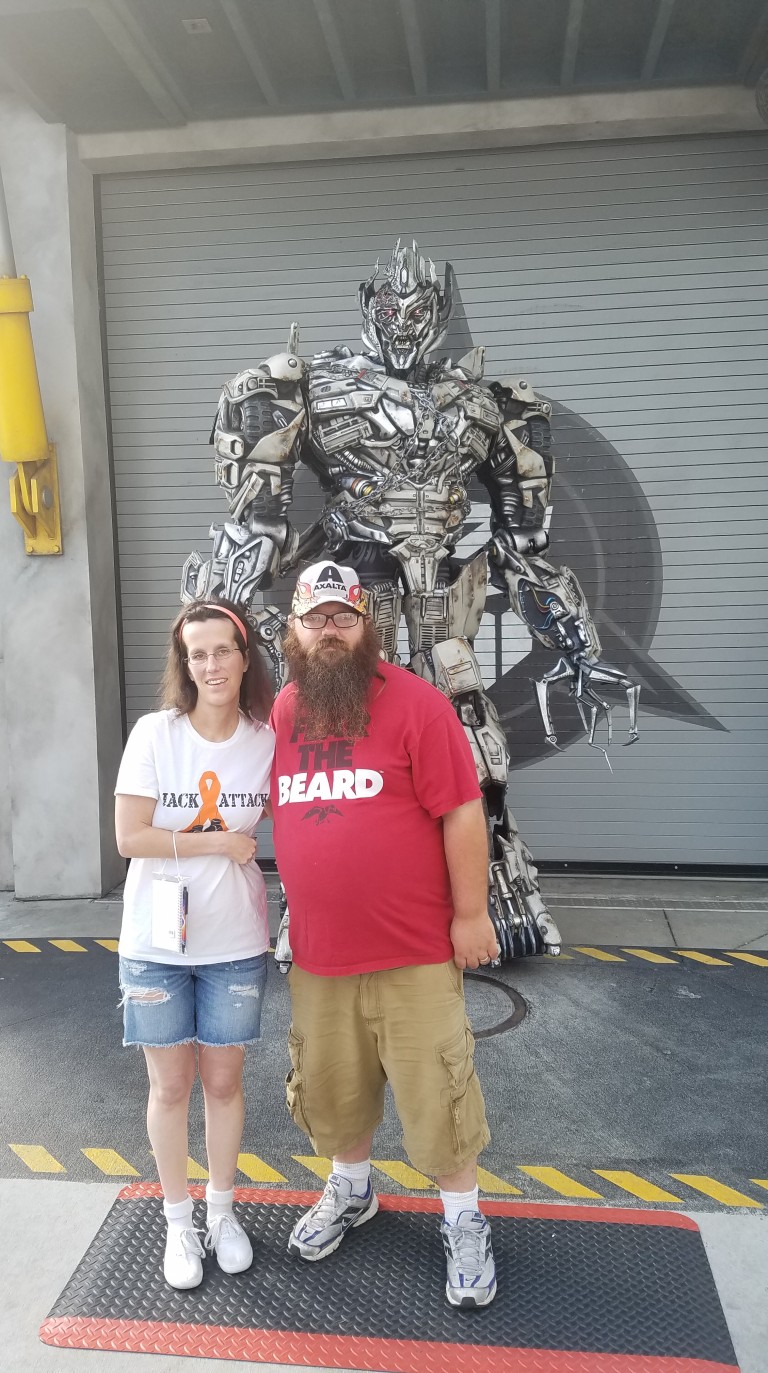 We then walked around the corner and Heather wanted to visit with Bart Simpson, who was up to his normal antics at the mobile home in Hollywood.  You might find Marge, Homer, Bart and/or Lisa here.   Signs autographs.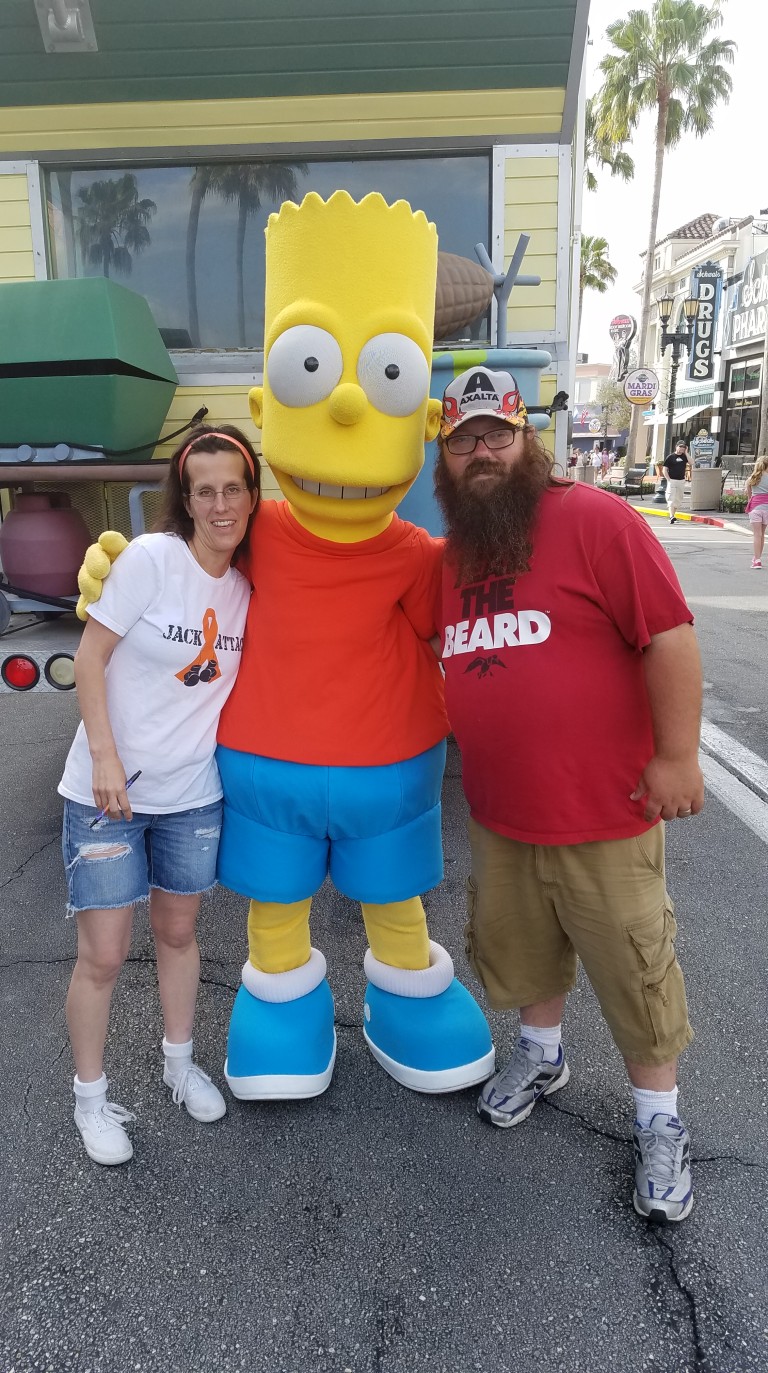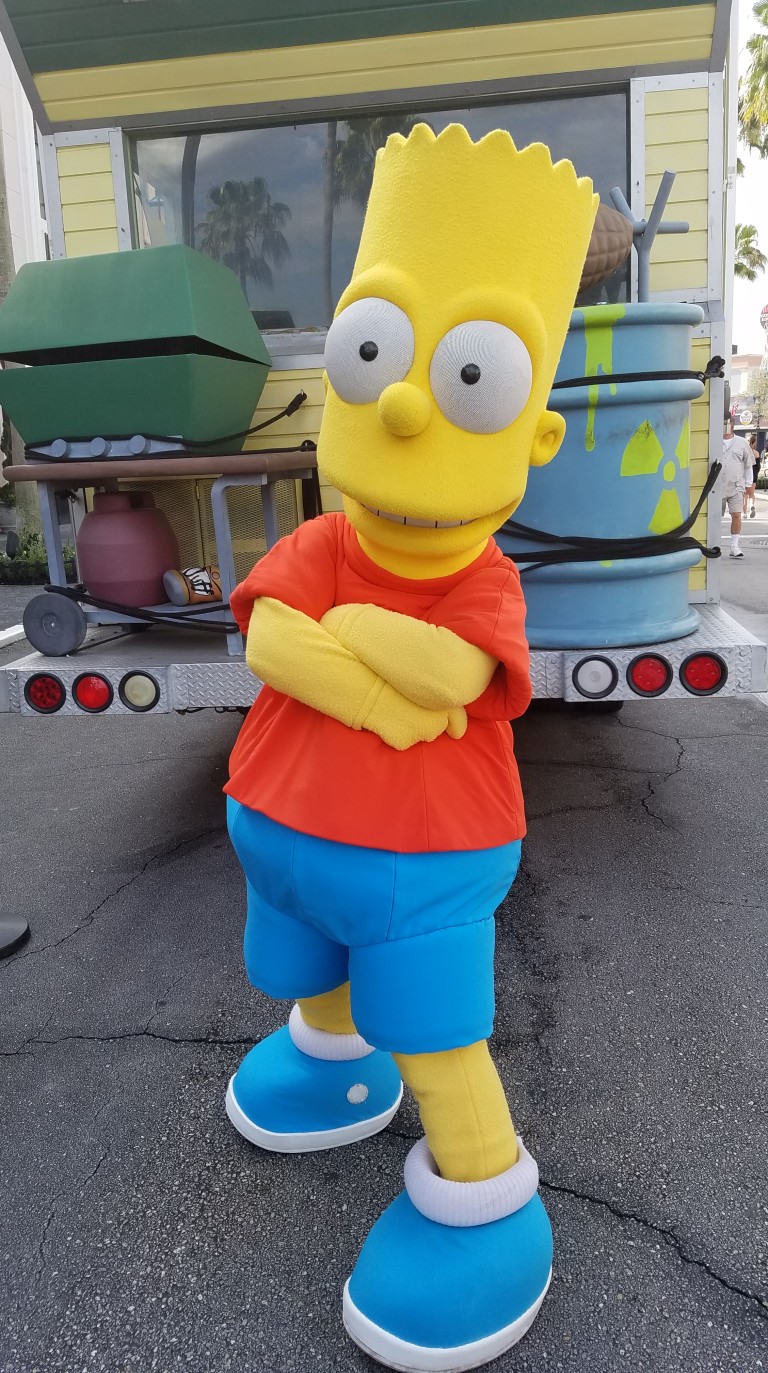 We spotted Scooby Doo, but didn't see Shaggy around.  Universal character attendant told us that Shaggy would return at 10:20 with Velma and Daphne.  Awesome!  I had never met Velma.  I saw Daphne and Fred on my last visit.  Signs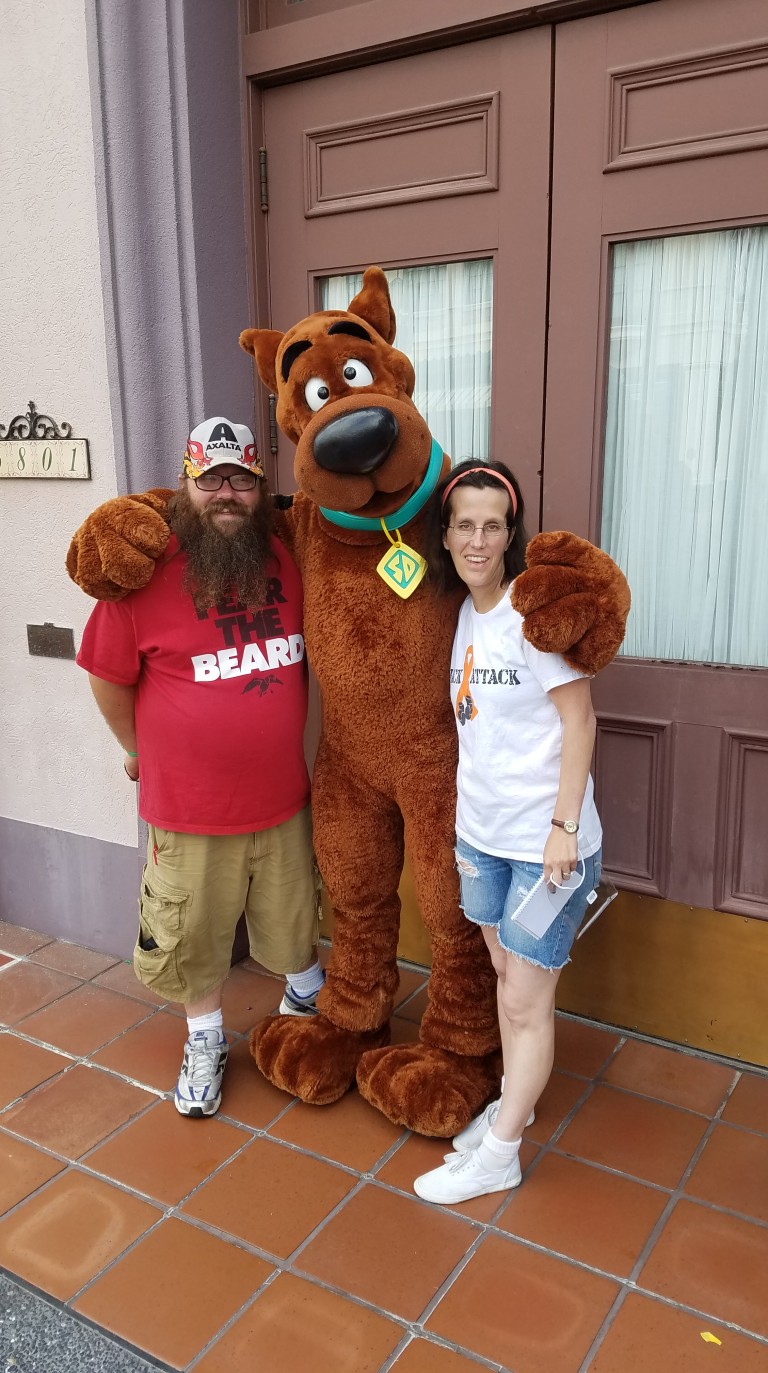 Rooby, rooby, roo!
After meeting Scooby, Marge dropped in to visit with Bart.  Sign autographs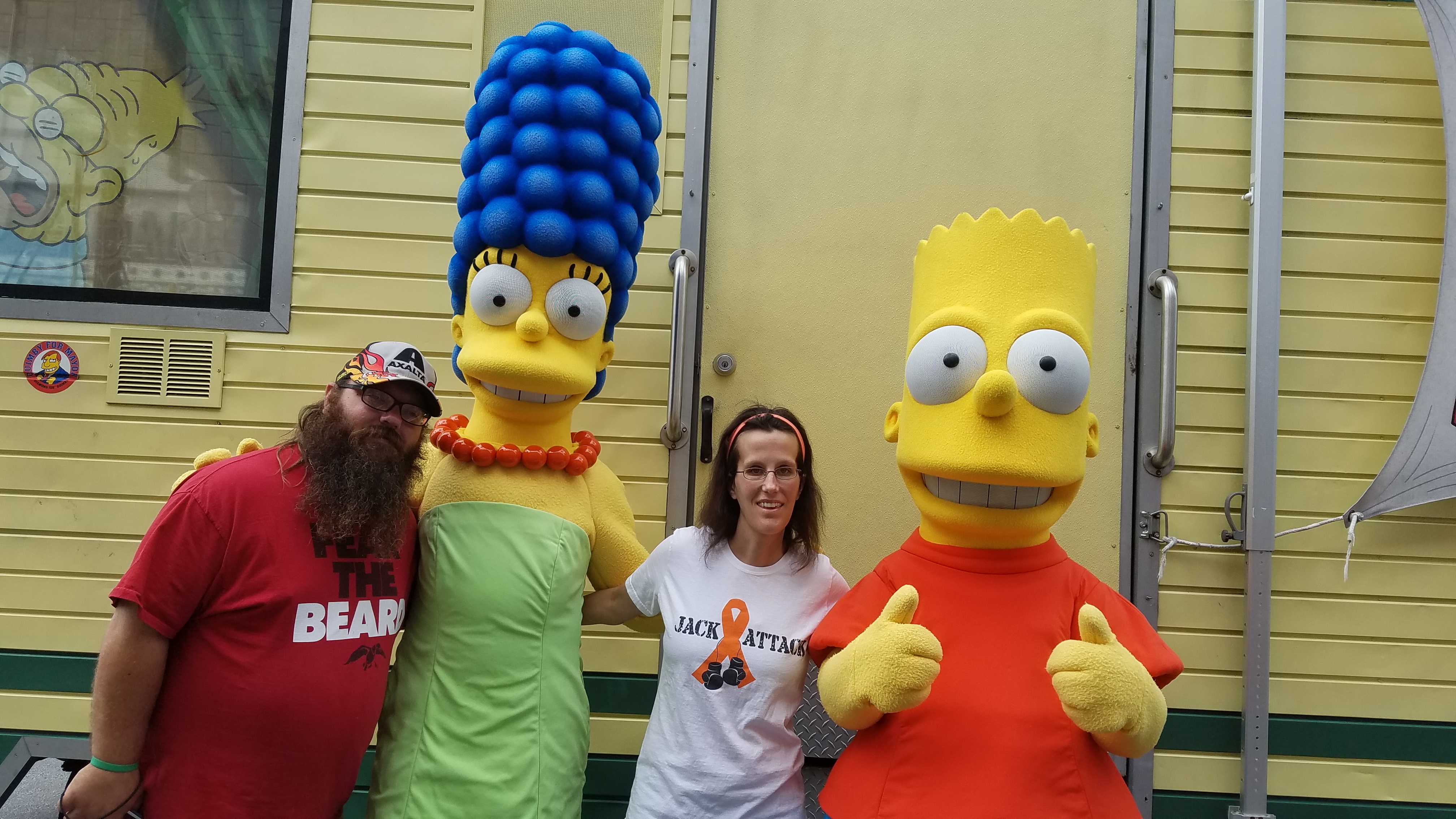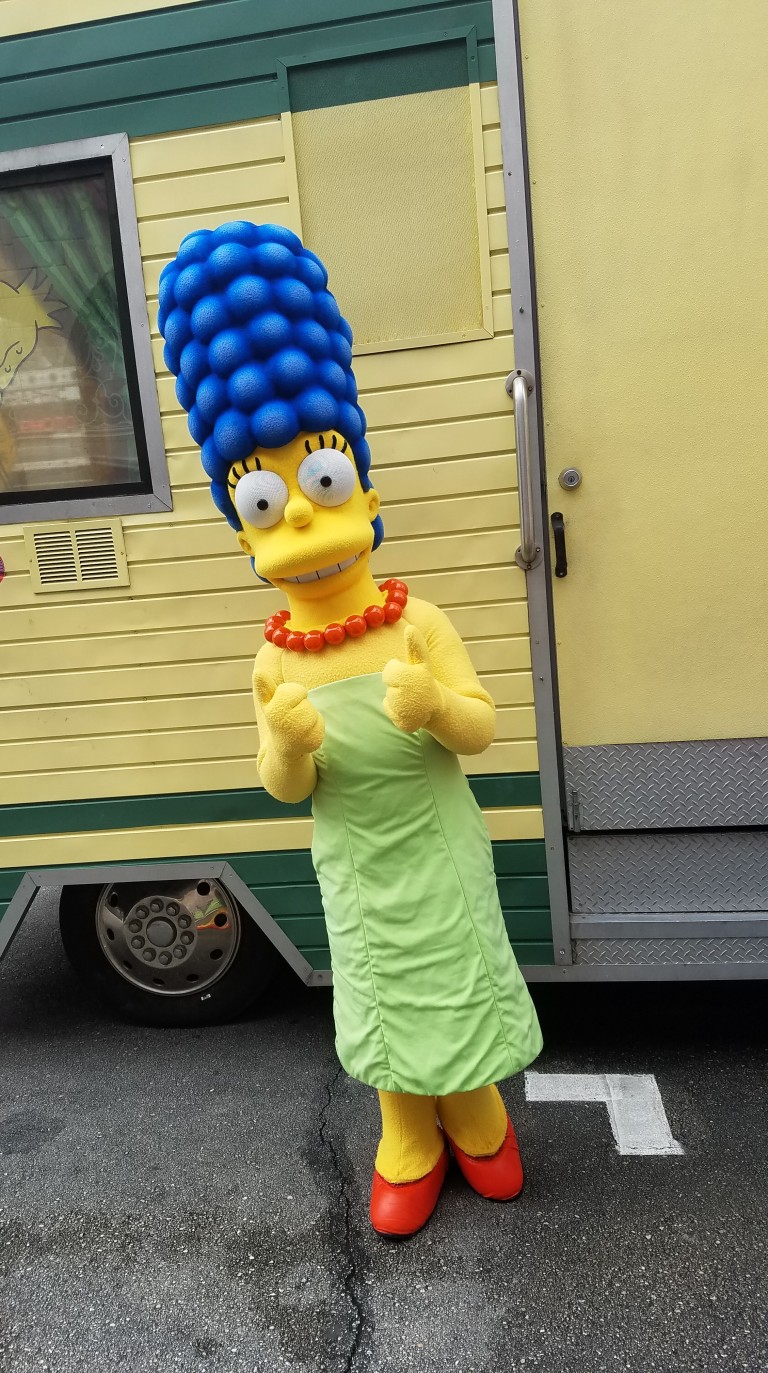 We were told that Hello Kitty would arrive around 10am.  A Universal photographer was in the area waiting in front of the new store, but she was a little late.  Still cool to see her as she is new to the park.  Stamp only.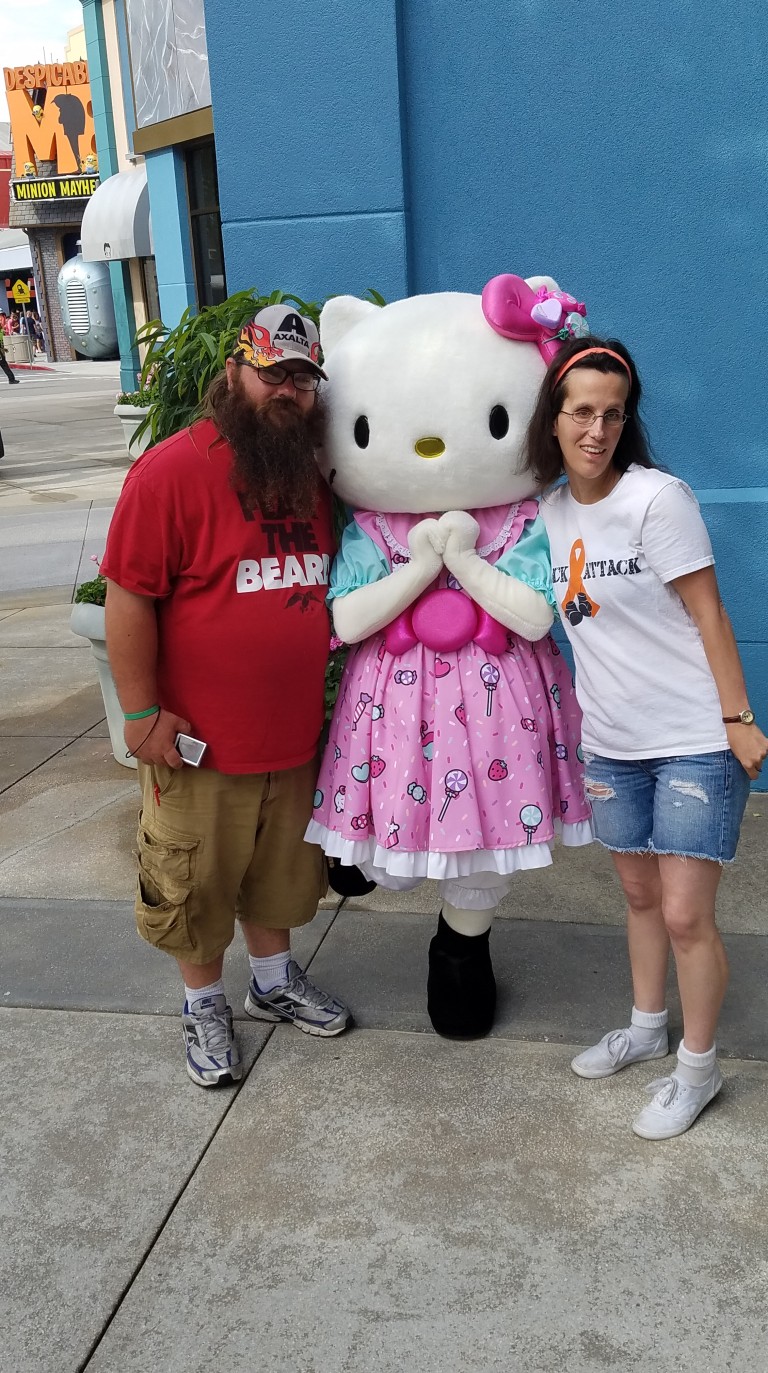 Every little girl's childhood just came to life.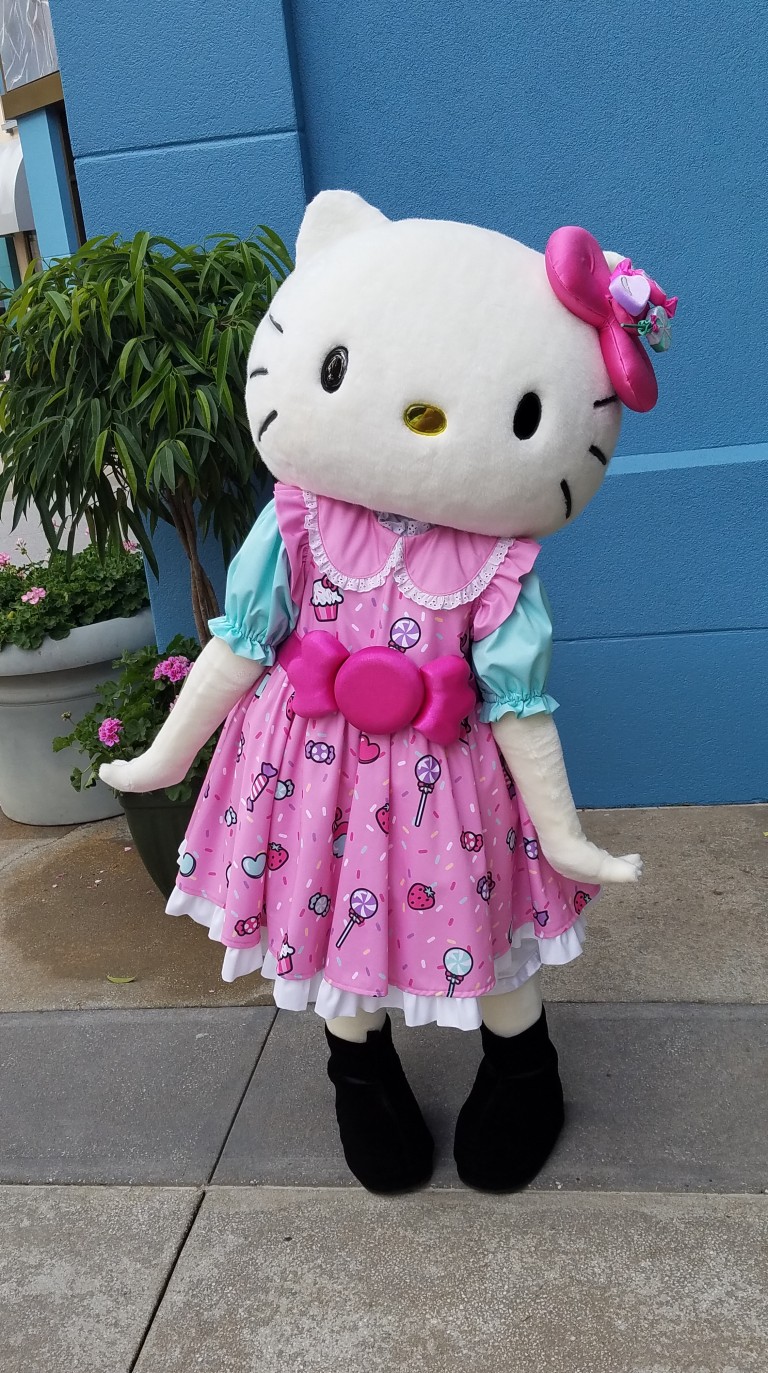 See, I was actually there.  Roll tide!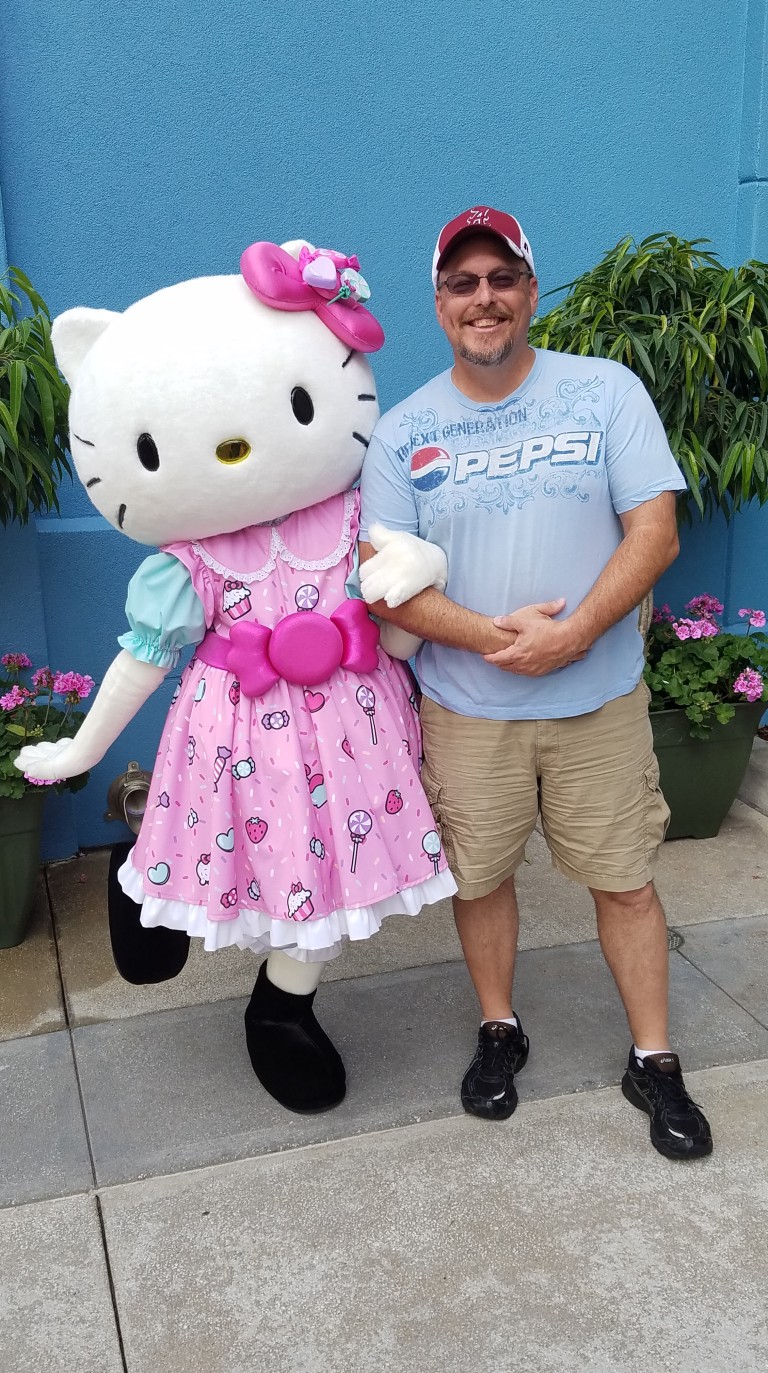 Lucy Ricardo and Marilyn Monroe were posing for the Hollywood Paparazzi, so we joined the fun.  Each signs.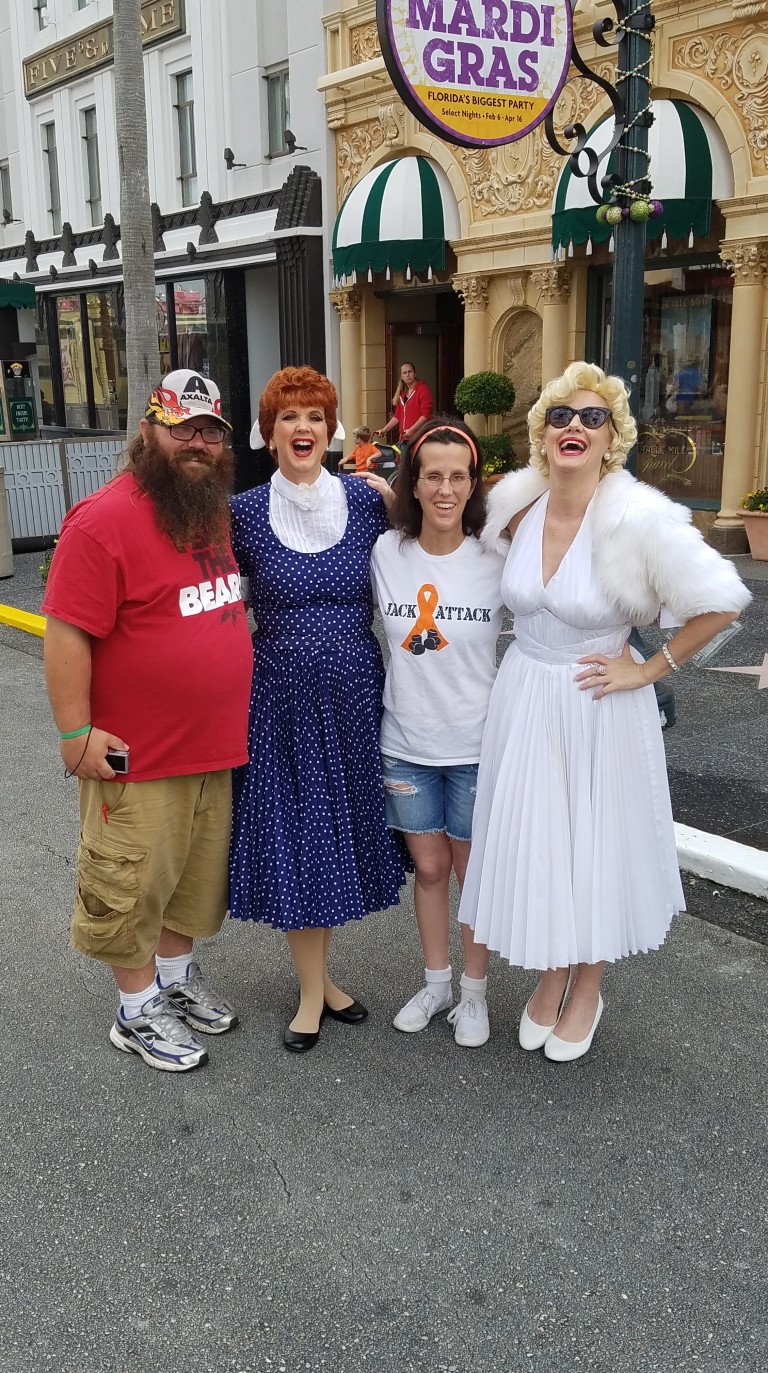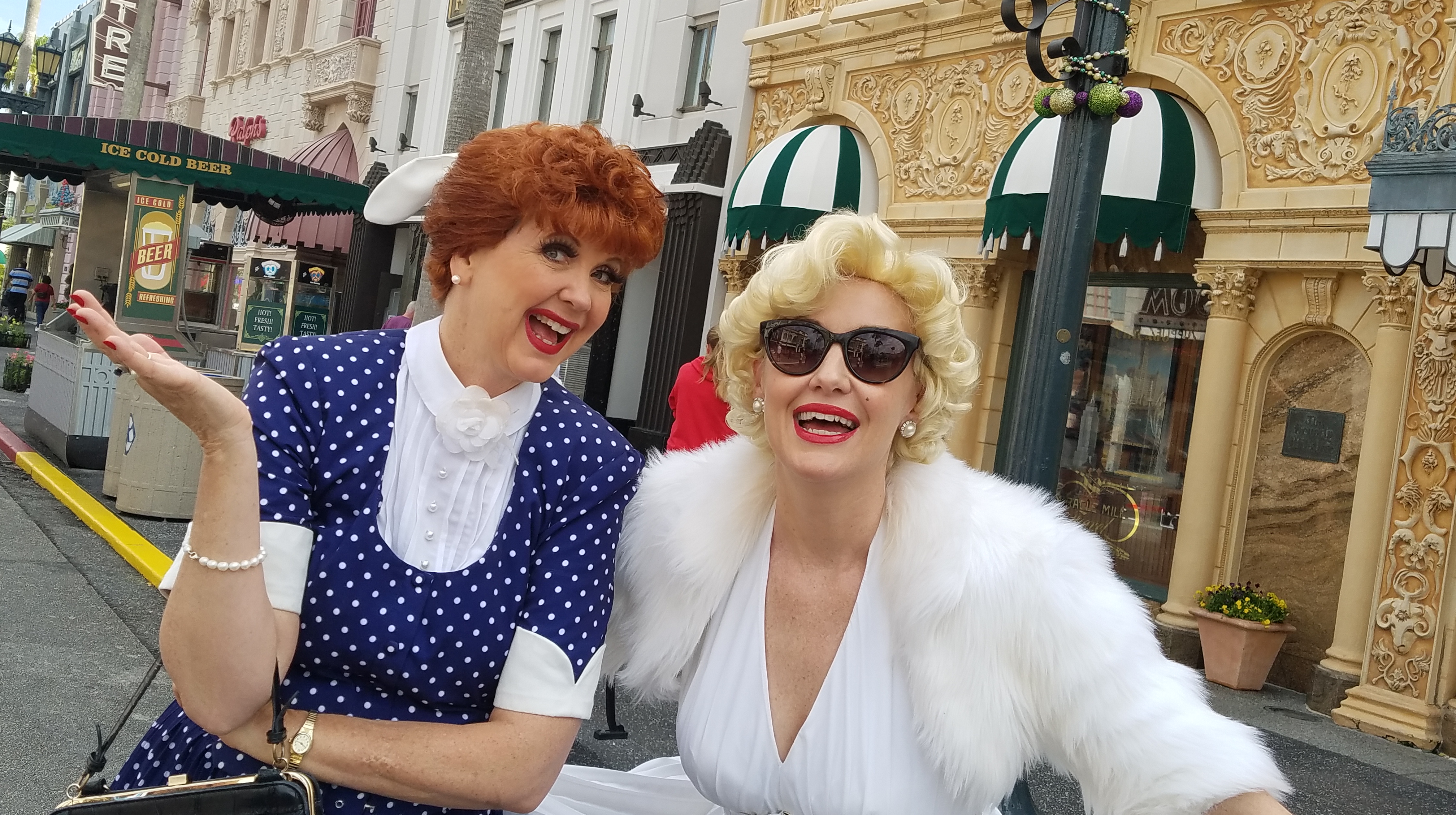 Betty Boop arrived shortly after in Hollywood.  She has helped me find Doc Brown like 17 times over the years.  Signs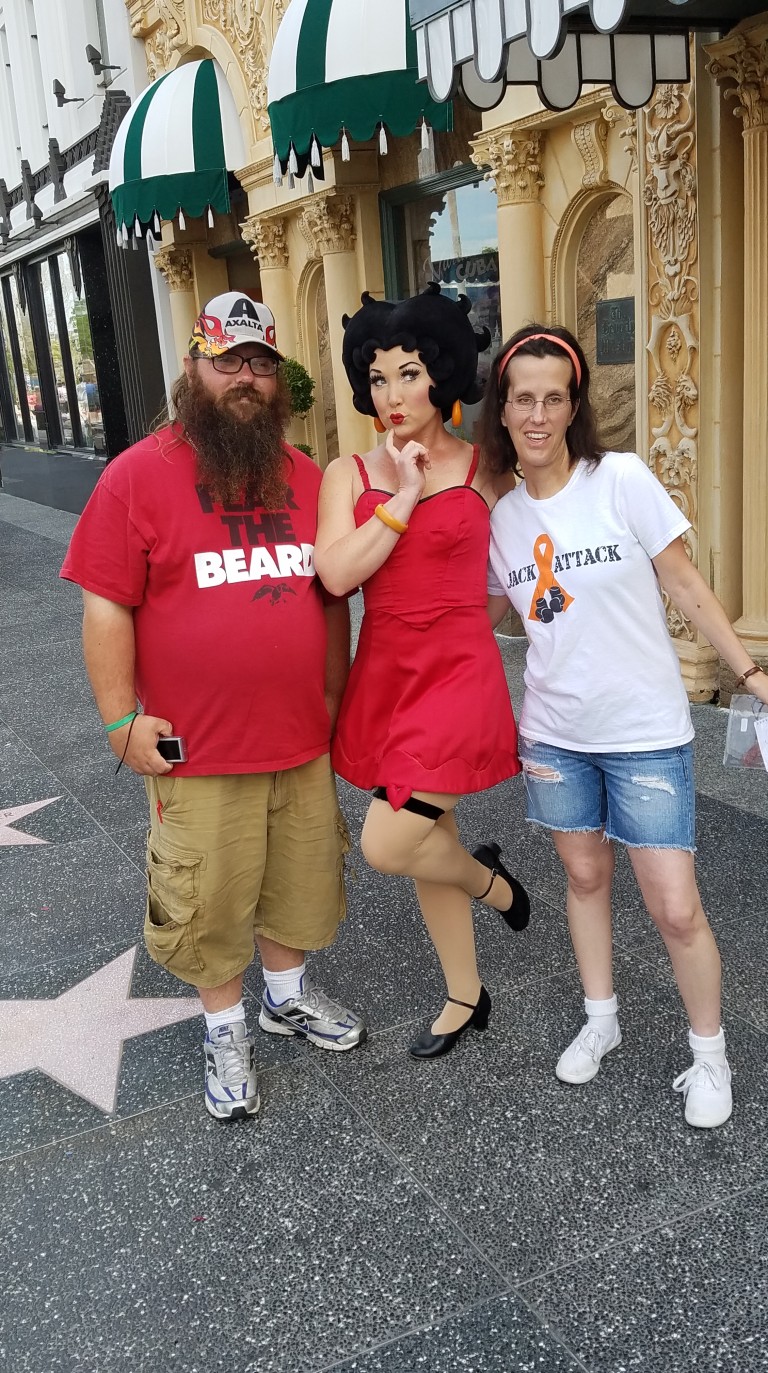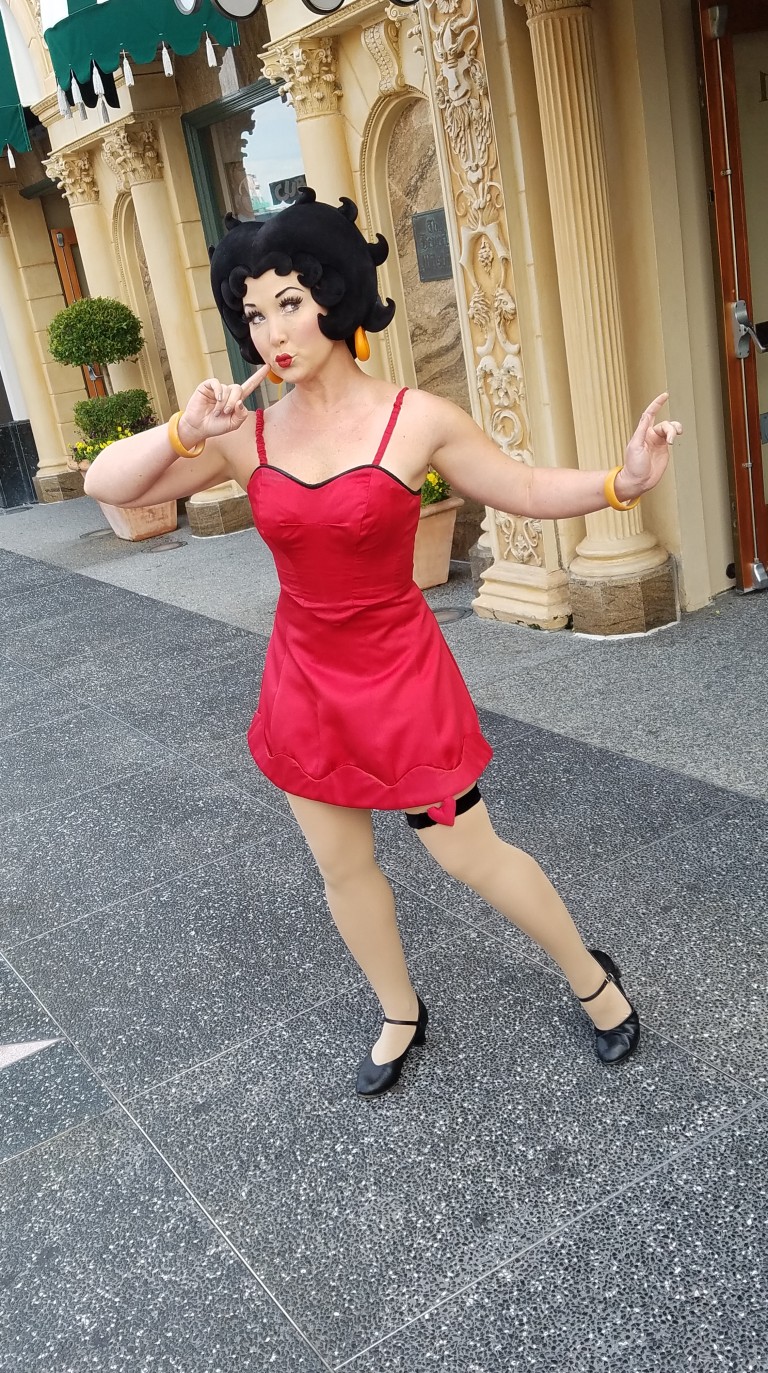 Scooby gang was a little late, but well worth it.  Shaggy was hilarious!  He was digging my friend Ryan's beard and really stole the show.  Each sign.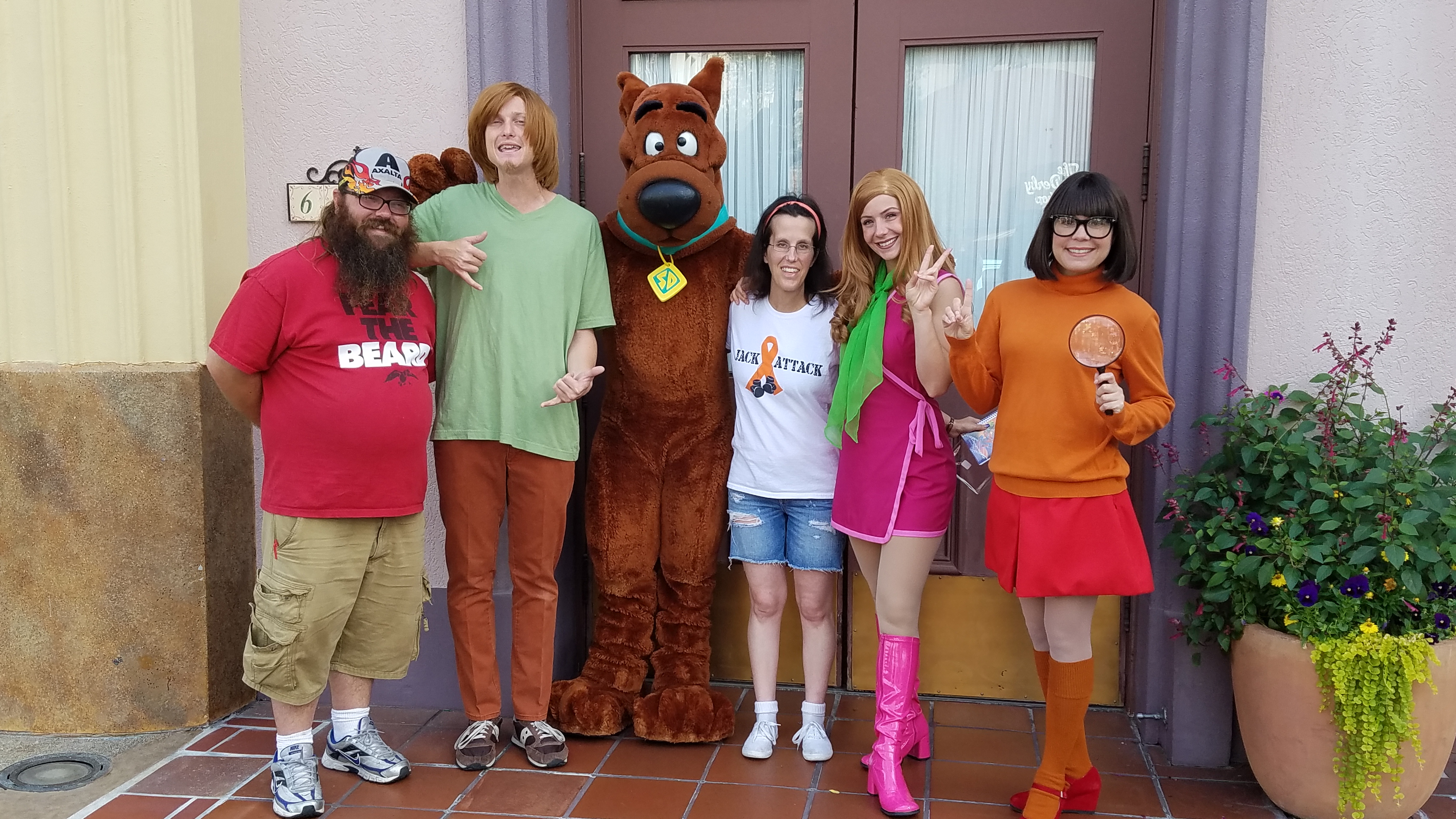 Ashamed Fred wasn't around, right?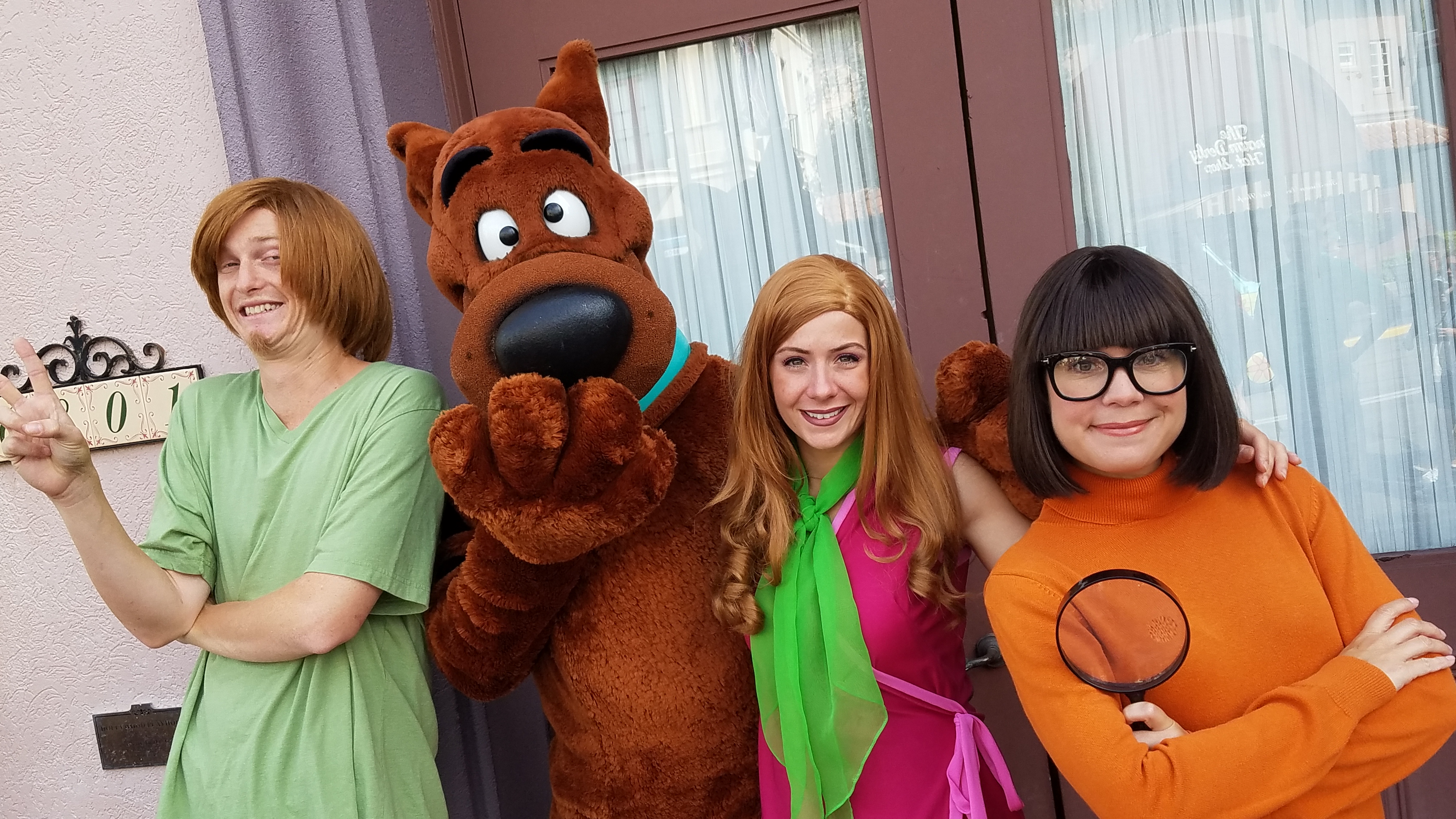 We wanted to make it to Shrek right before he began his set and catch Fiona with him and Donkey.   Donkey appeared for 1 or 2 guests, then left.  I'm thinking he forgot to turn off the toaster on the waffles.  Hey, dude, you cost them character number 54!  Fiona signs, but isn't always at the meet.  Shrek has a stamp.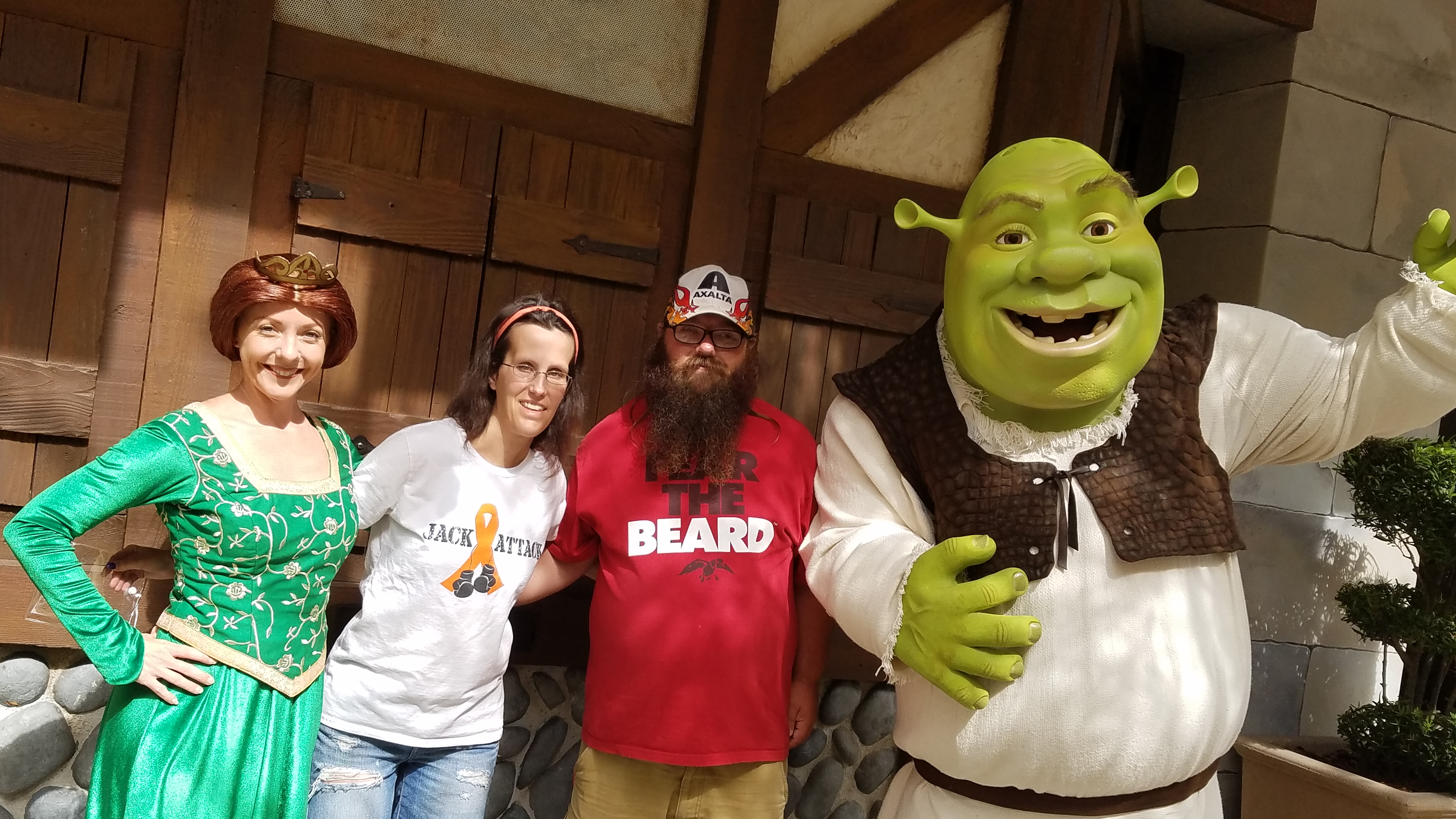 Just like my family, a Princess and an Ogre.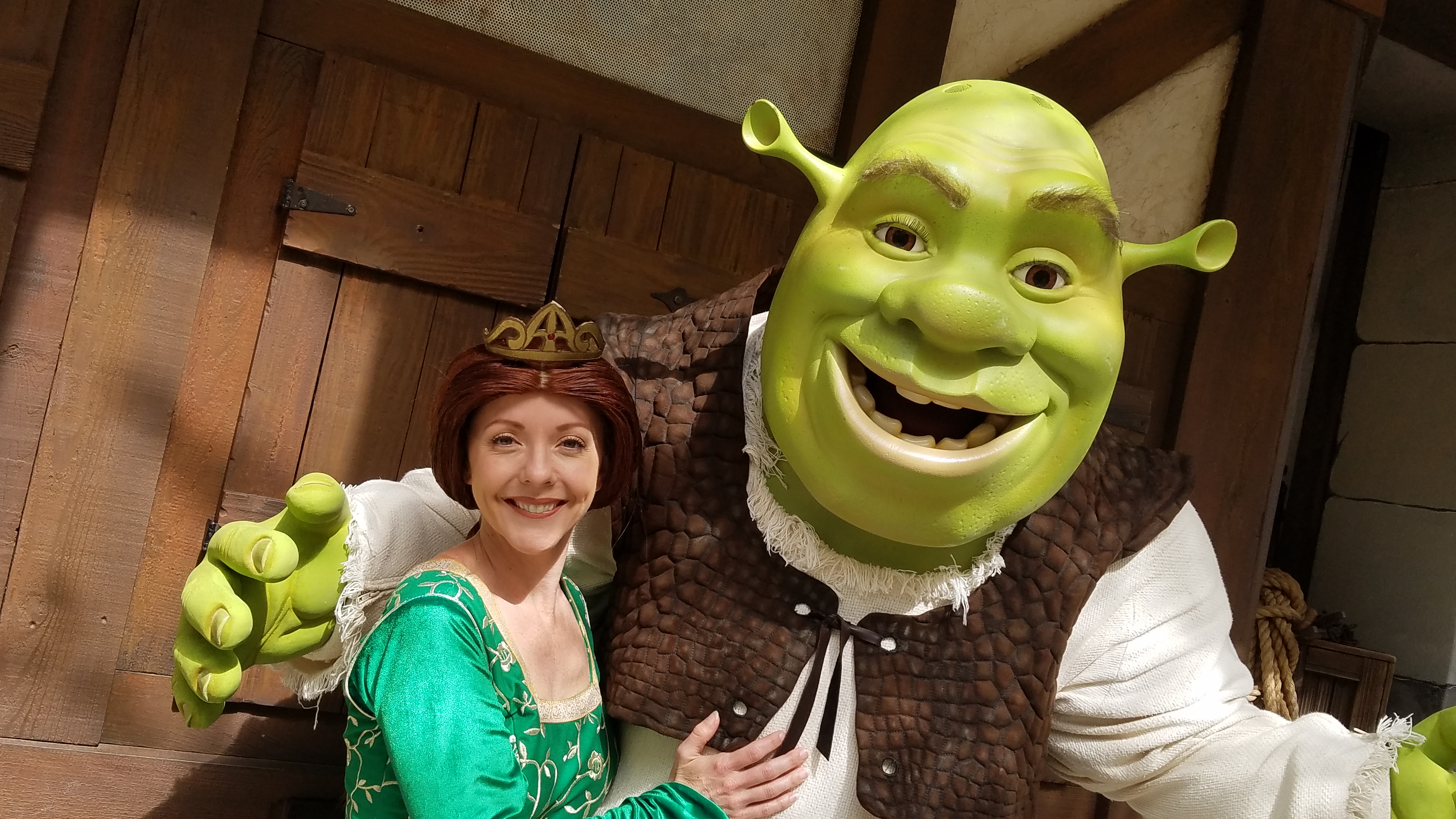 Sometimes when you ride Despicable Me really early in the day, the Minions won't be in the dance party or you'd like to meet different Minions, just cut through the Super Silly Stuff Store and enter the short queue.  I've met like 6 or 7 Minions, Gru and Vector here at different times.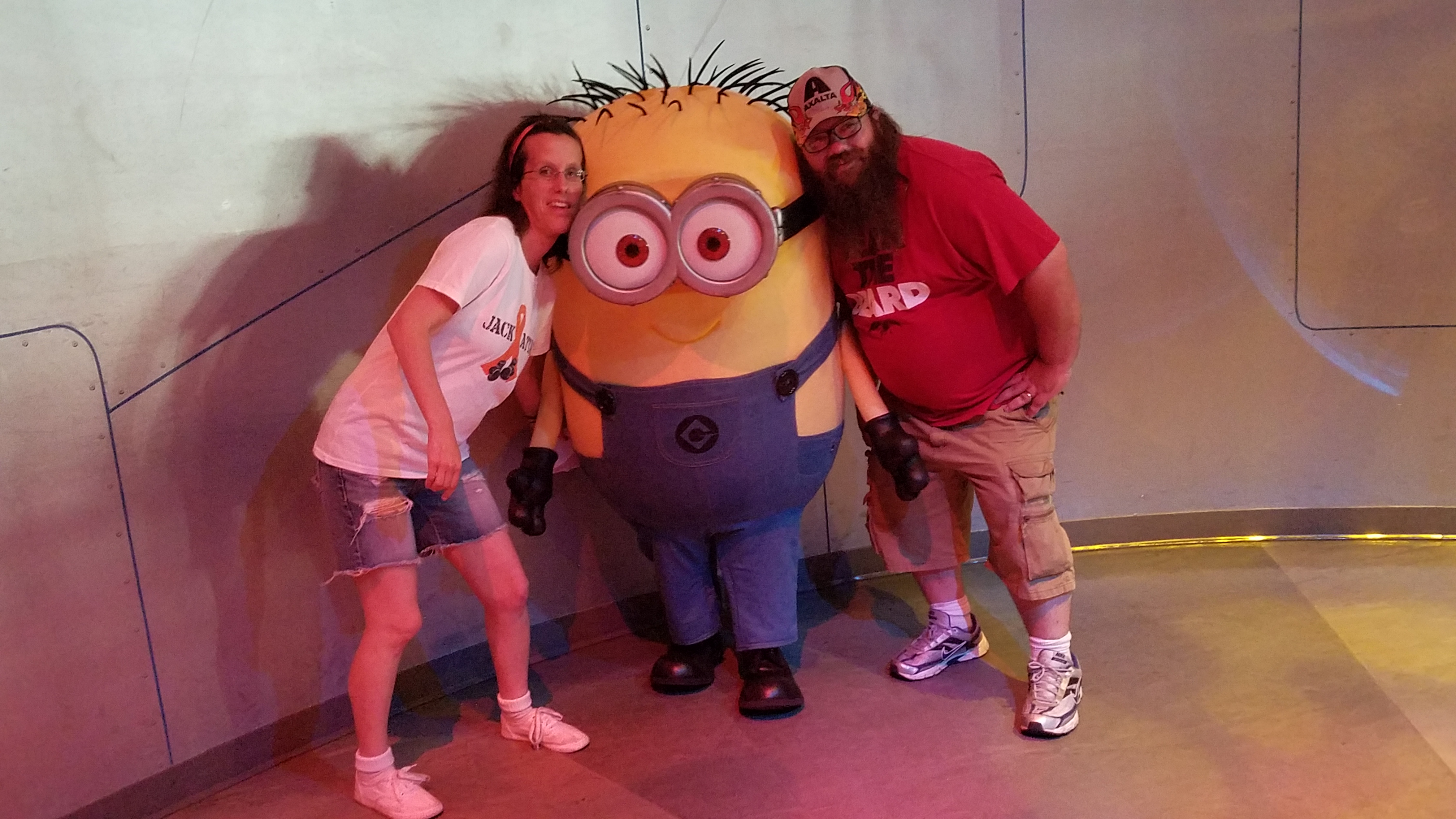 Hello there Jerry Minion.  Minions don't sign autographs and don't have stamps!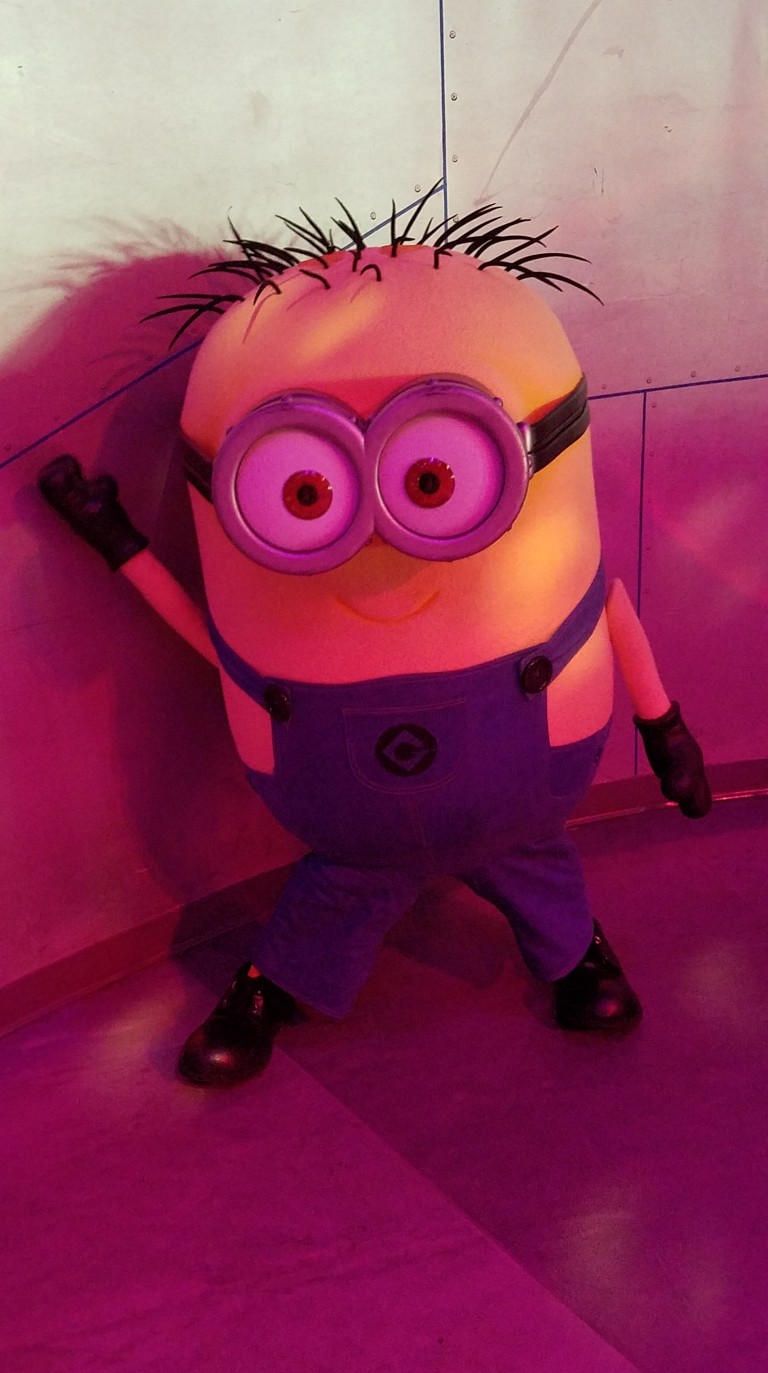 We got Lucky and caught Beetlejuice in Hollywood.  He usually hangs out around Monster Cafe and begins at 11am each day.  He's a fun character interaction and poses well too.  He does sign.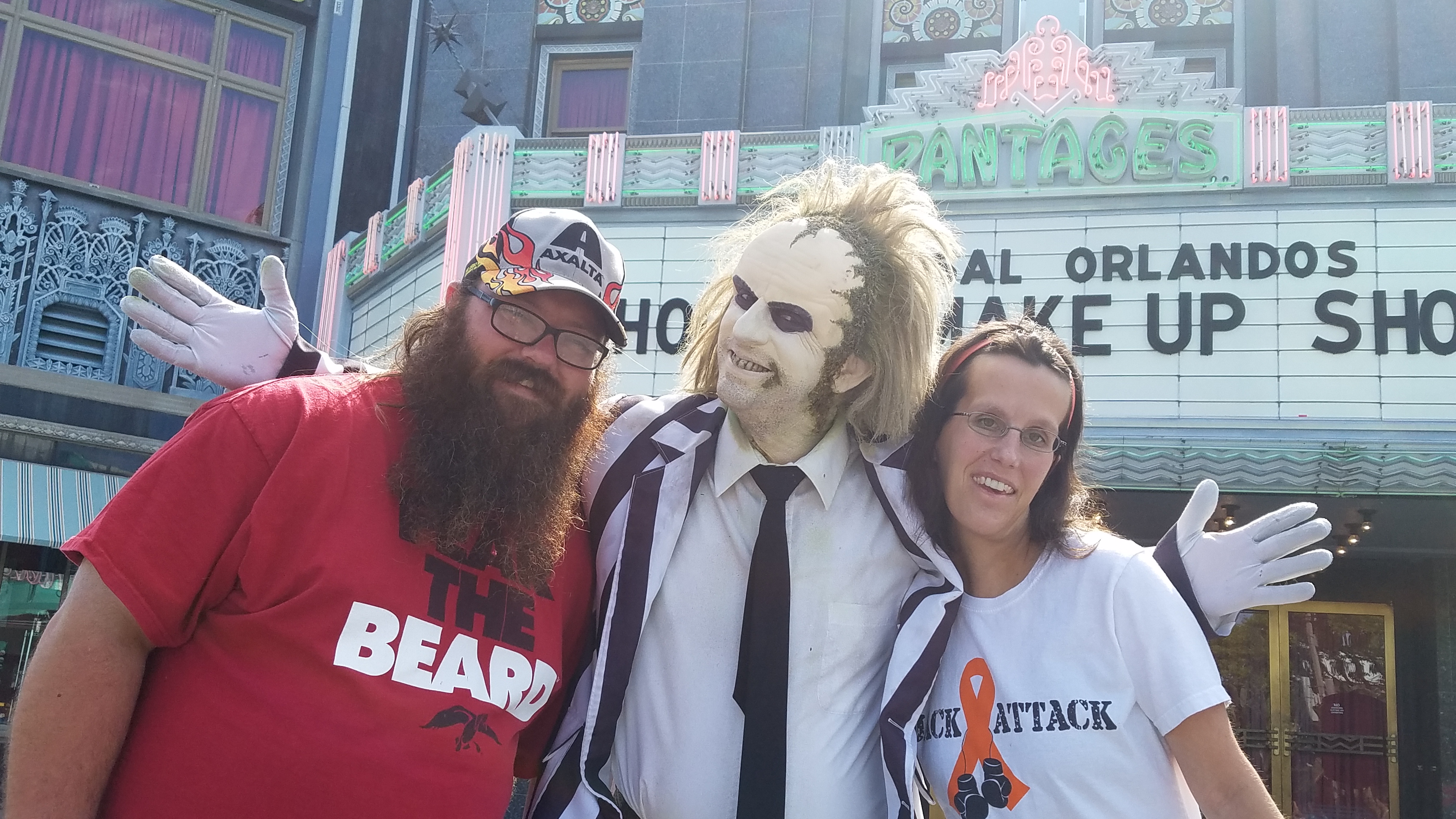 So, at this point we spent a good bit of time in the "Character Zone" in Hollywood in front of Mel's Diner.  Different character groups come out, do a little performance and pose for photos for a few minutes.  If you miss some characters, just come back for another set and meet them.  Set times for this are usually on the park map, but most characters don't post their meet and greet times.
Character Zone characters do not sign.  Instead the Universal character attendants have special stamps for each character to help the line move quickly.  Dora and her characters stamp.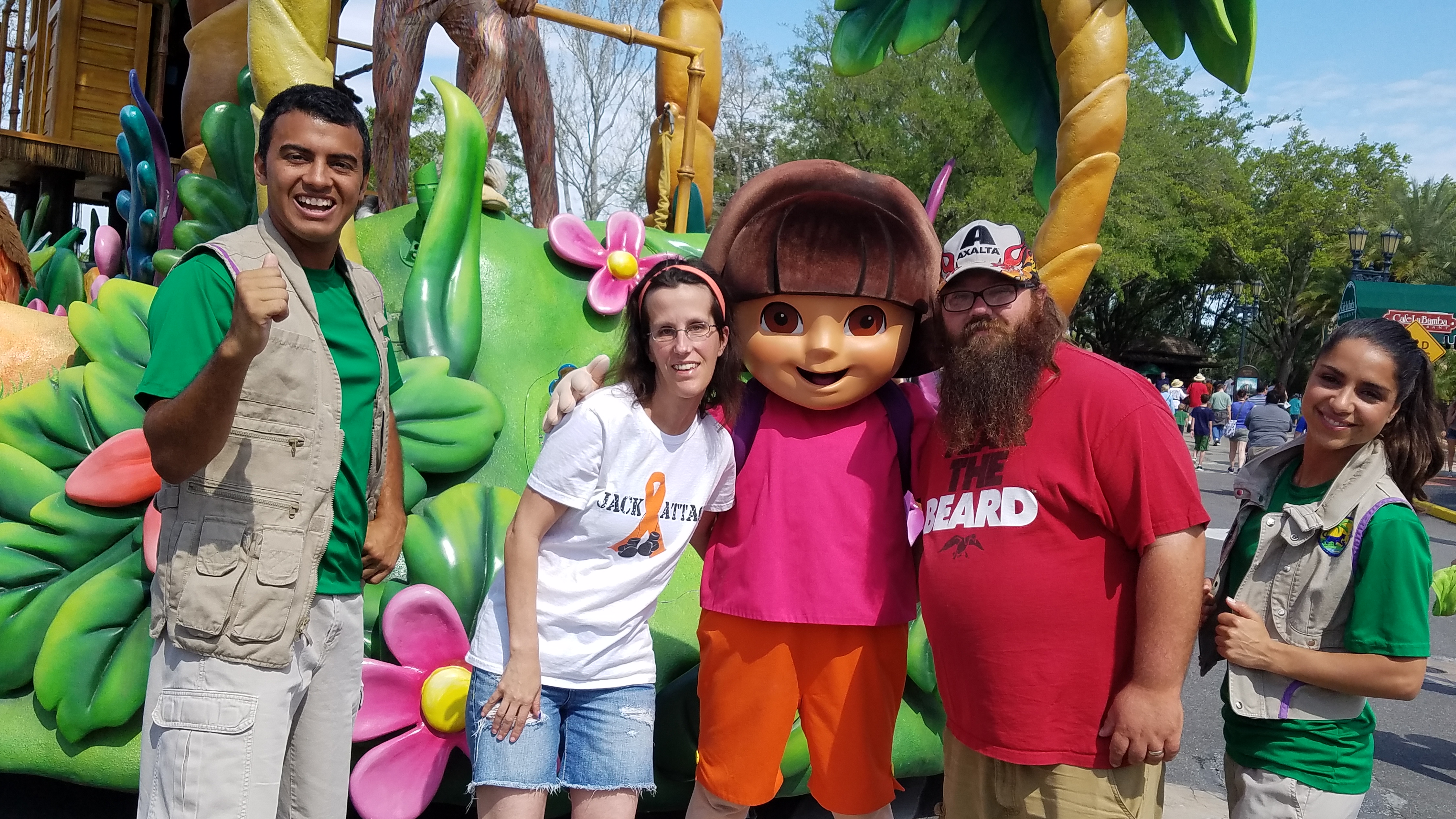 Baby Jaguar stays in his Jeep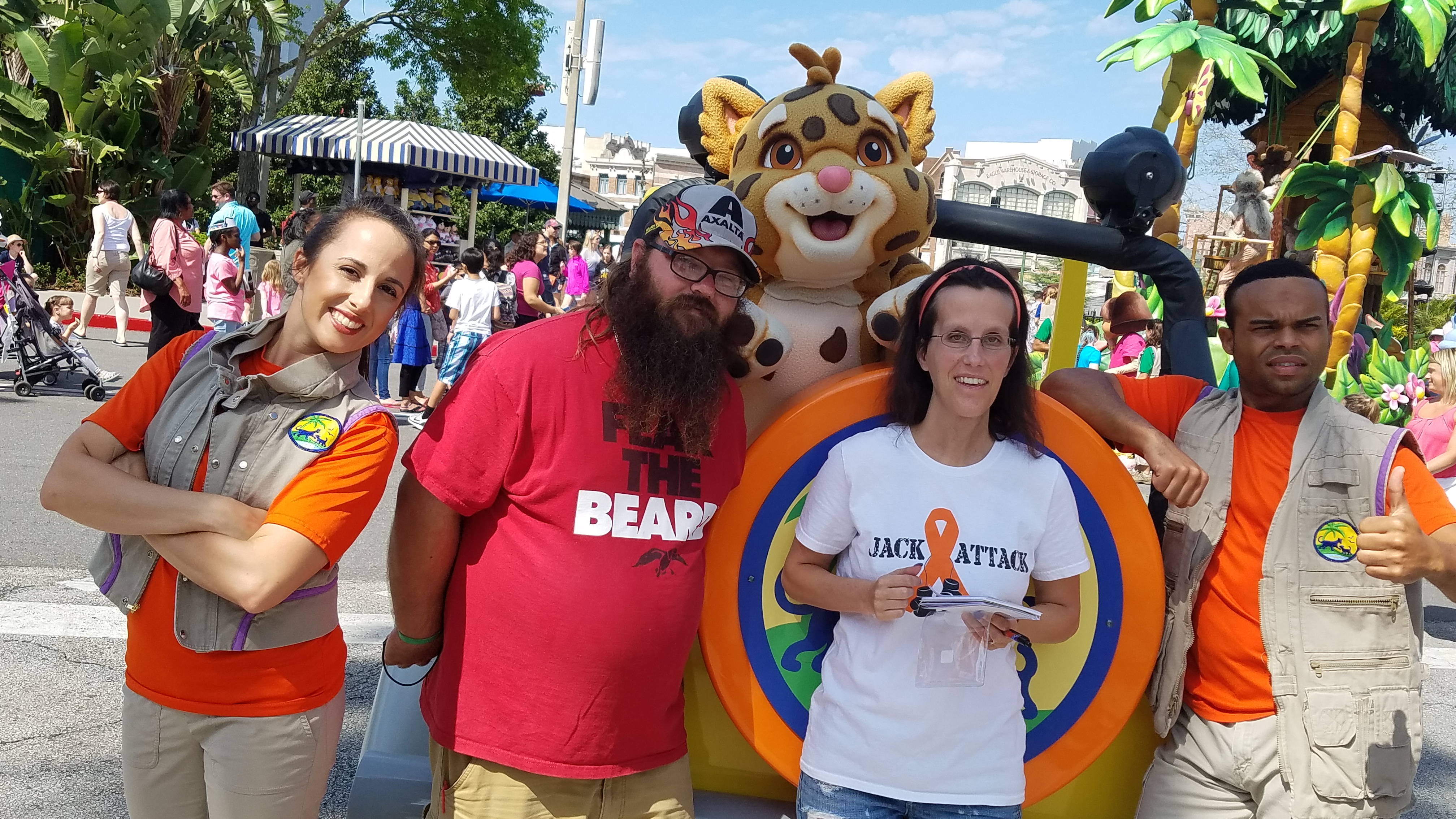 We then saw Diego.  We had to meet Boots later as the line was cut.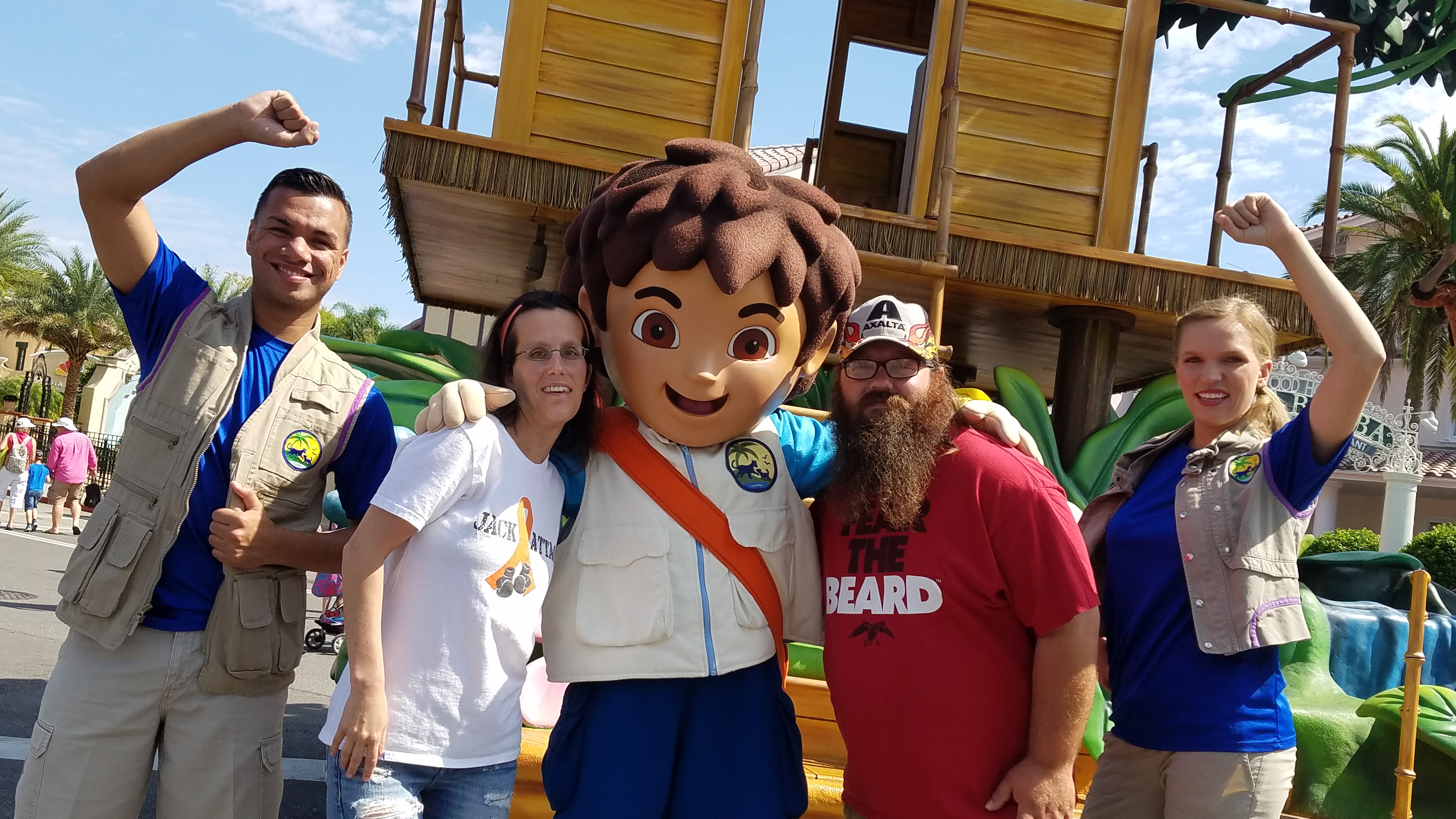 We had a little time between Character Zone sets, so we made the short wait to see Optimus Prime at the transformers meet area.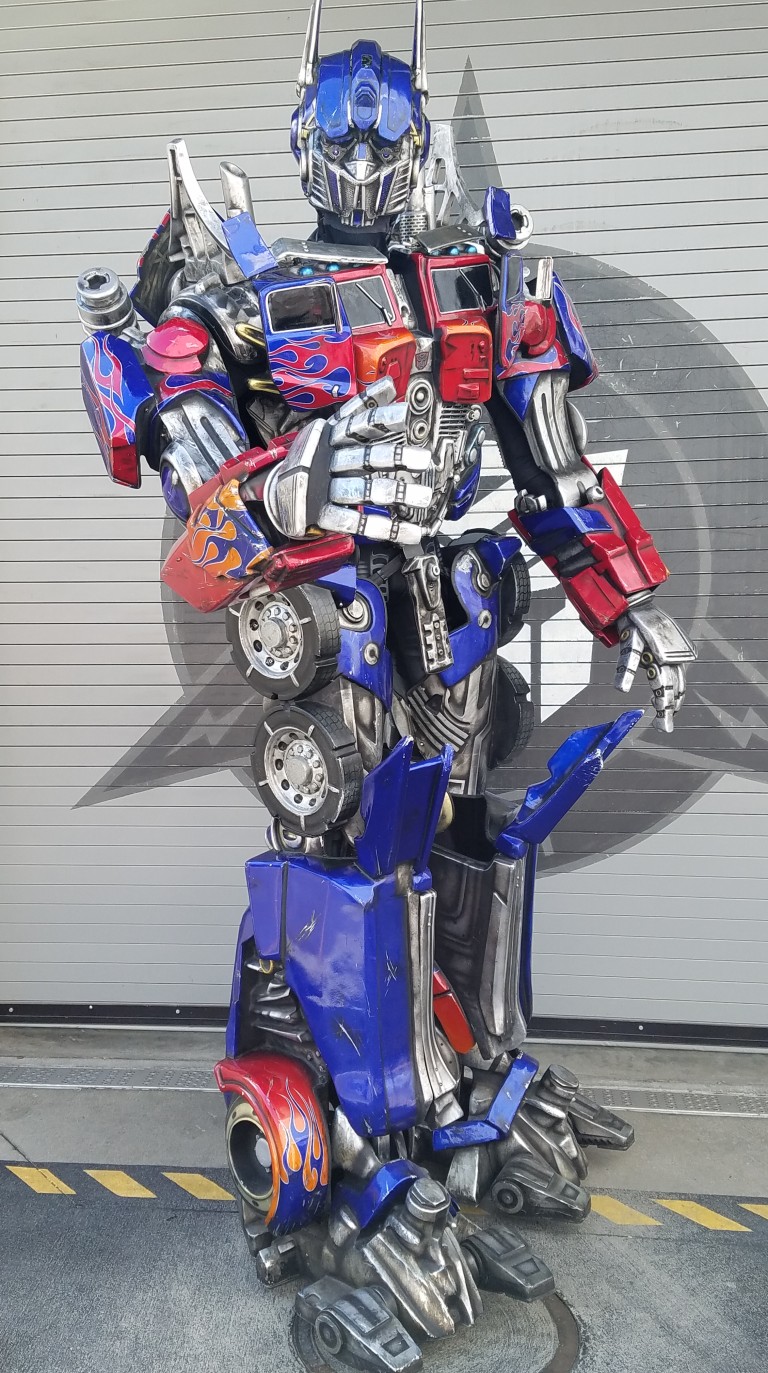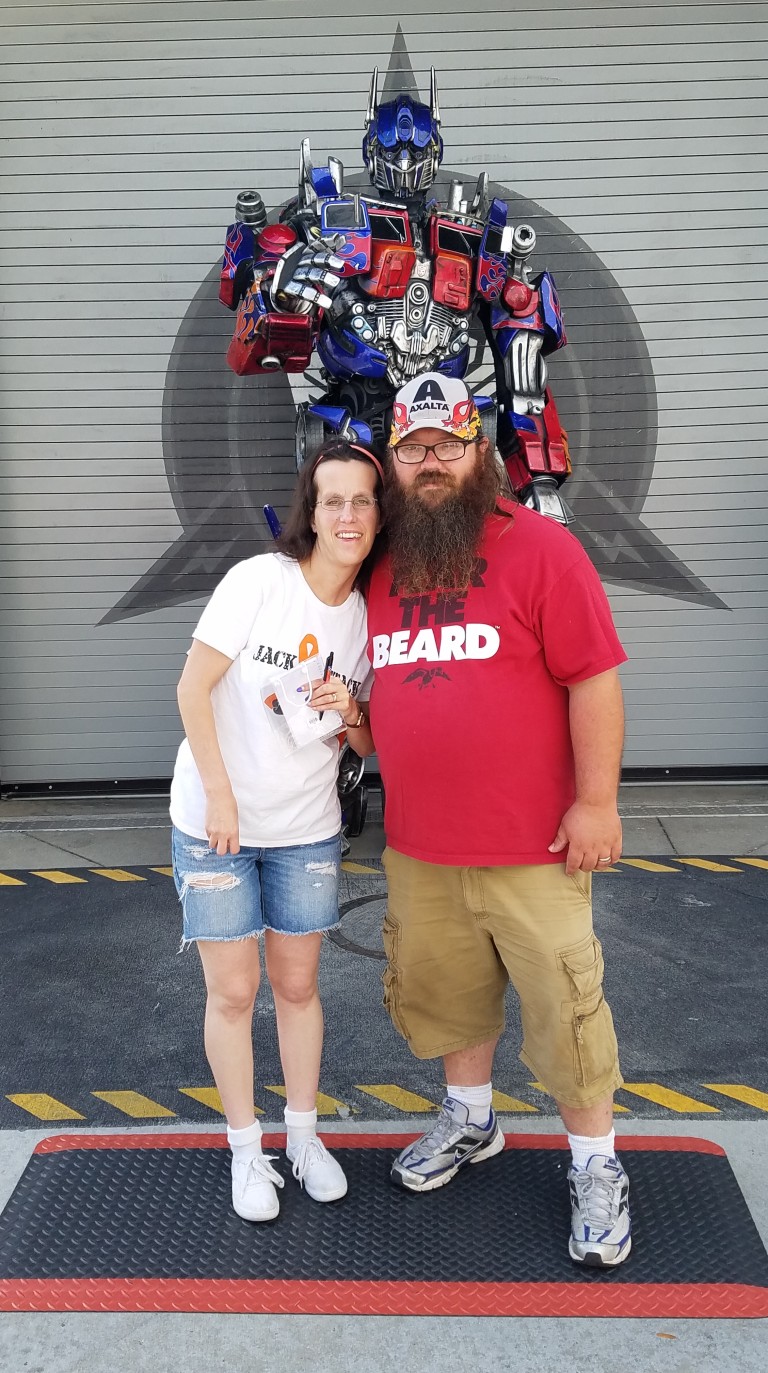 Another act of great fortune was spotting Doc Brown in Hollywood.  Doc is most often around the Back to the Future train and DeLorean near Animal Actors.  Doc signs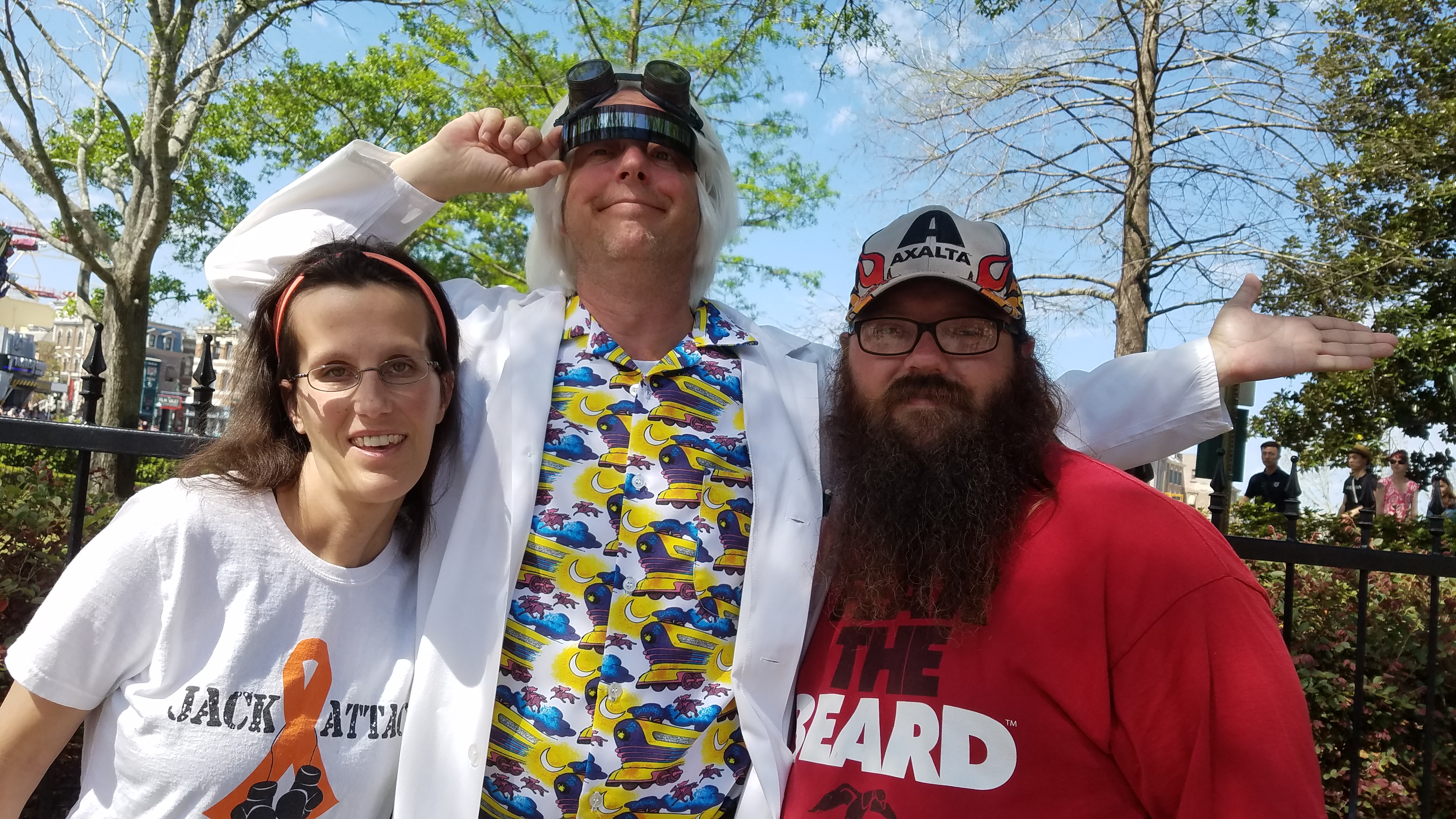 It was back to the Character Zone for the Hop characters.  Mr. Bunny and E.B. meet right in front of the float and they are really popular.  All Hop characters stamp.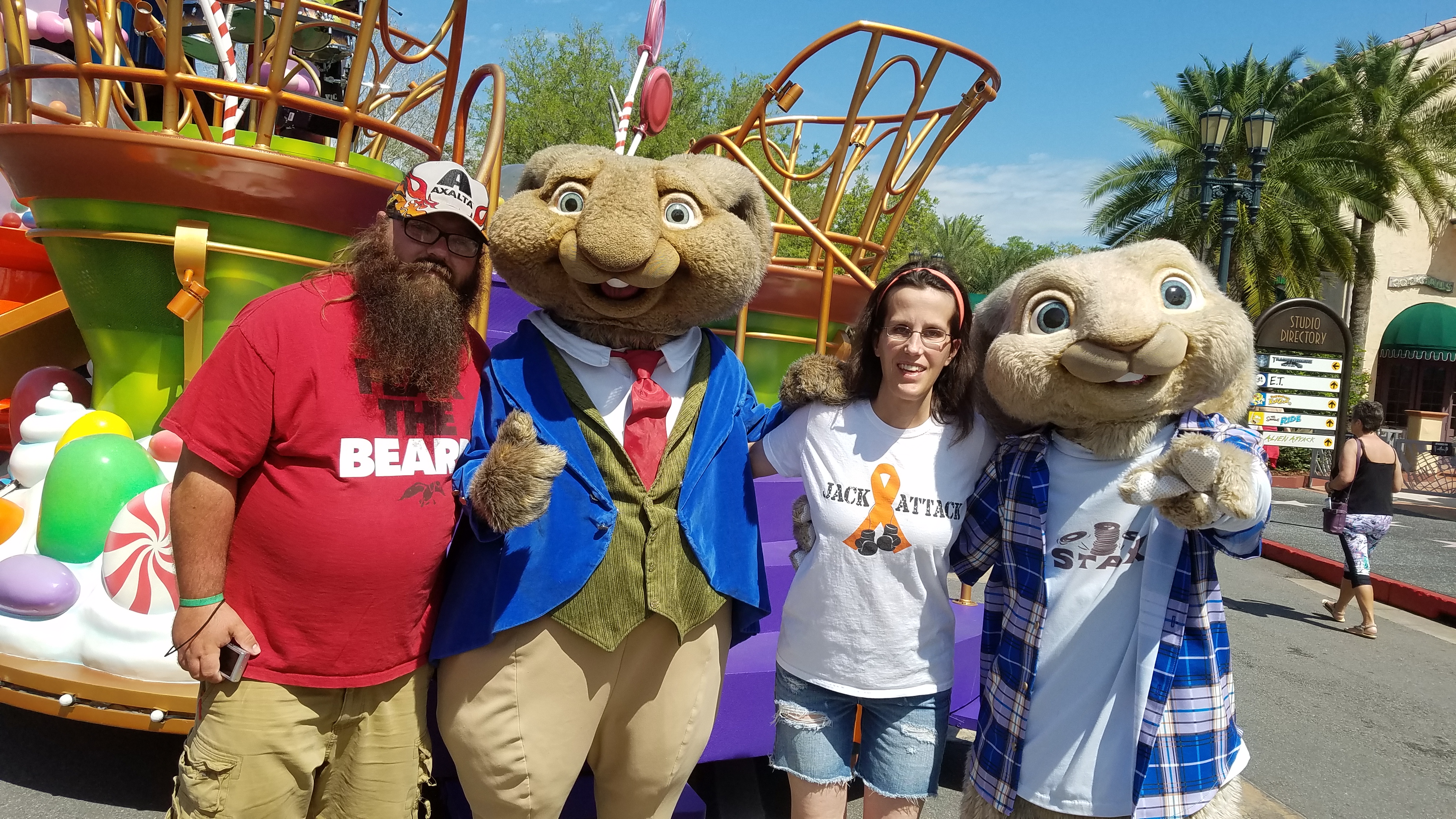 Pink Berets Patch, Bit and Fluffy also meet with guests and have stamps.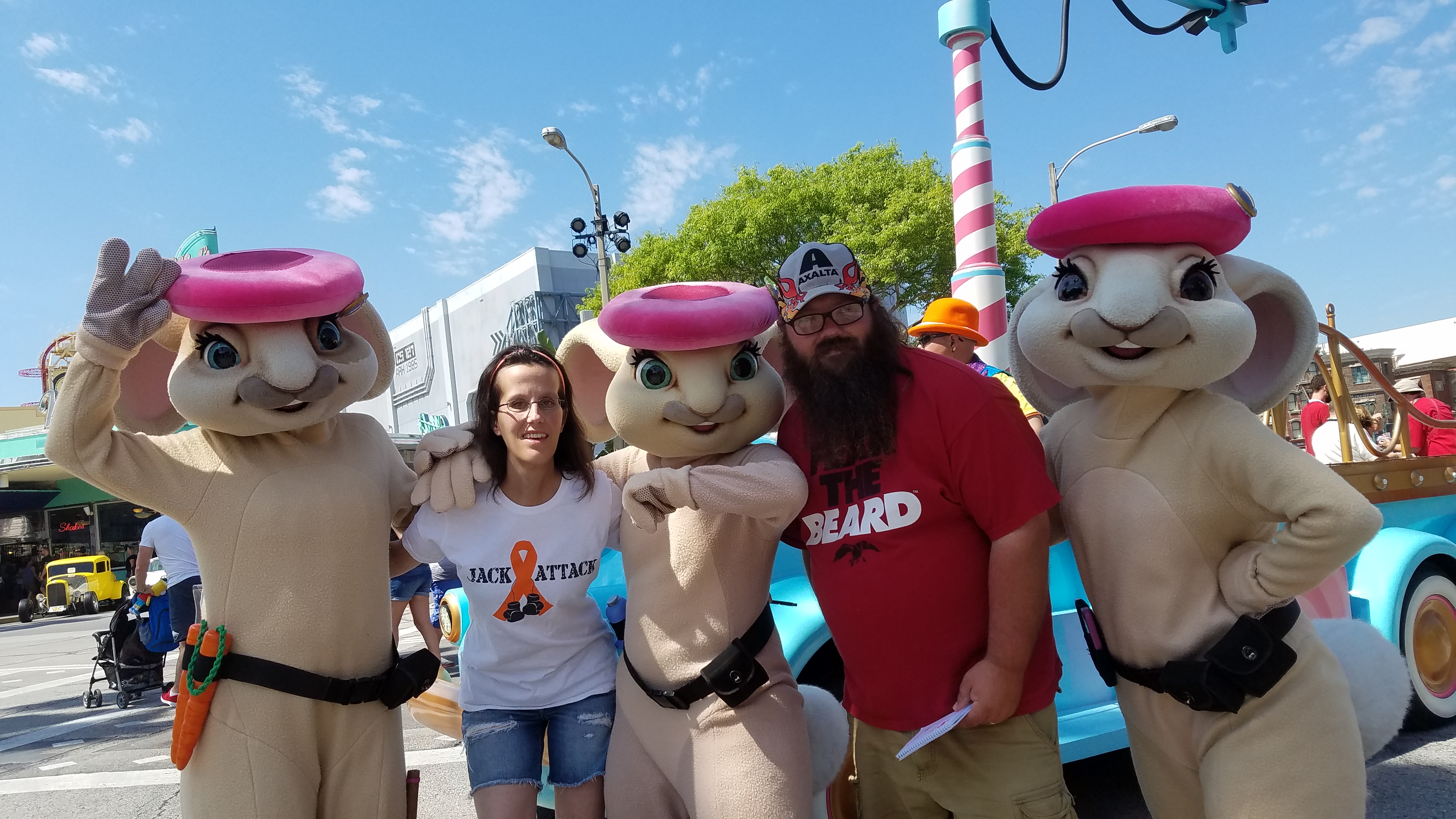 Carlos and Phil are also available for meets.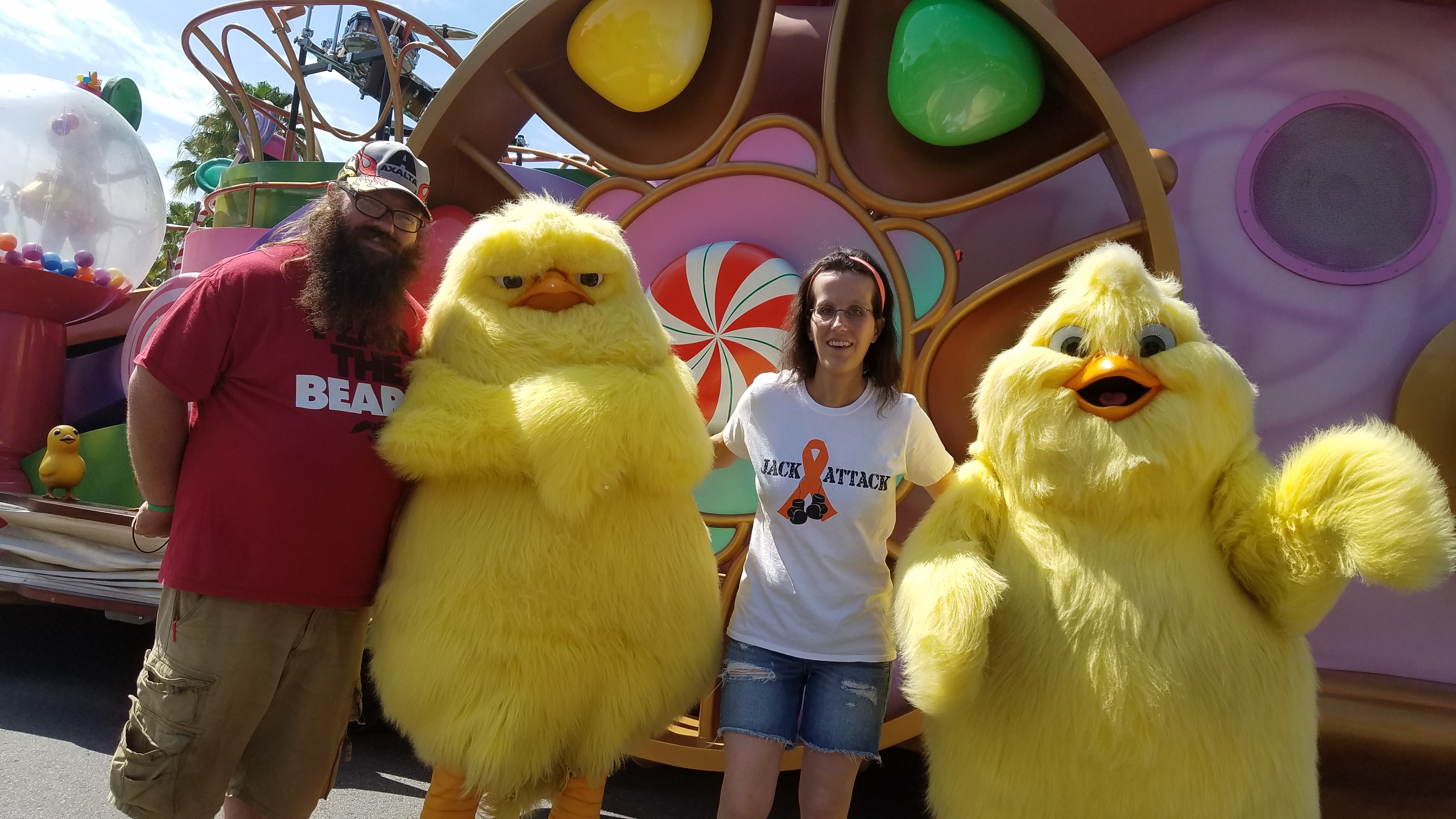 We grabbed a bite to eat at Mel's Diner and within a few minutes the Spongebob group came out, did their little mini show and met guests. Again only stamps.  Patrick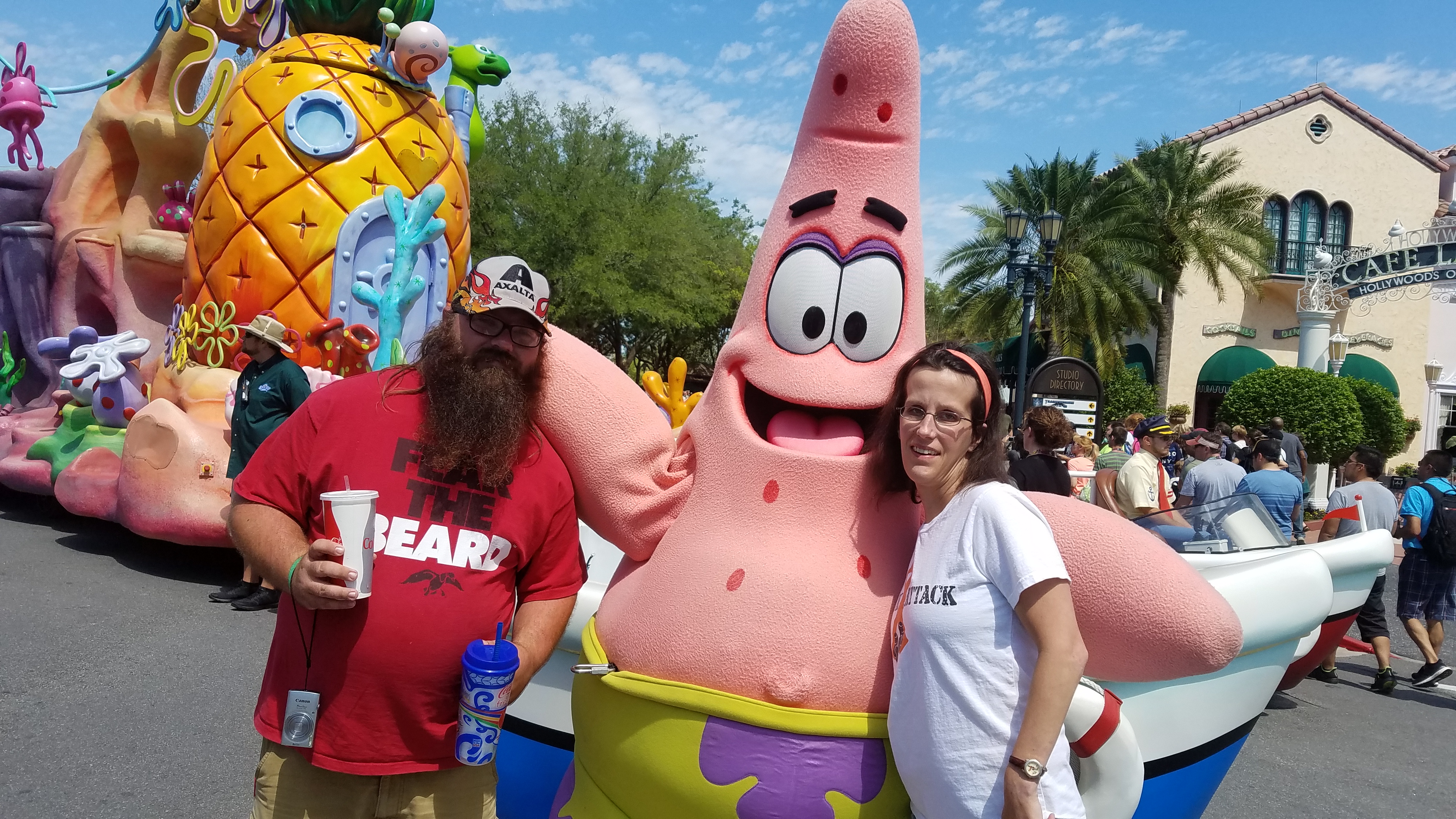 Squidward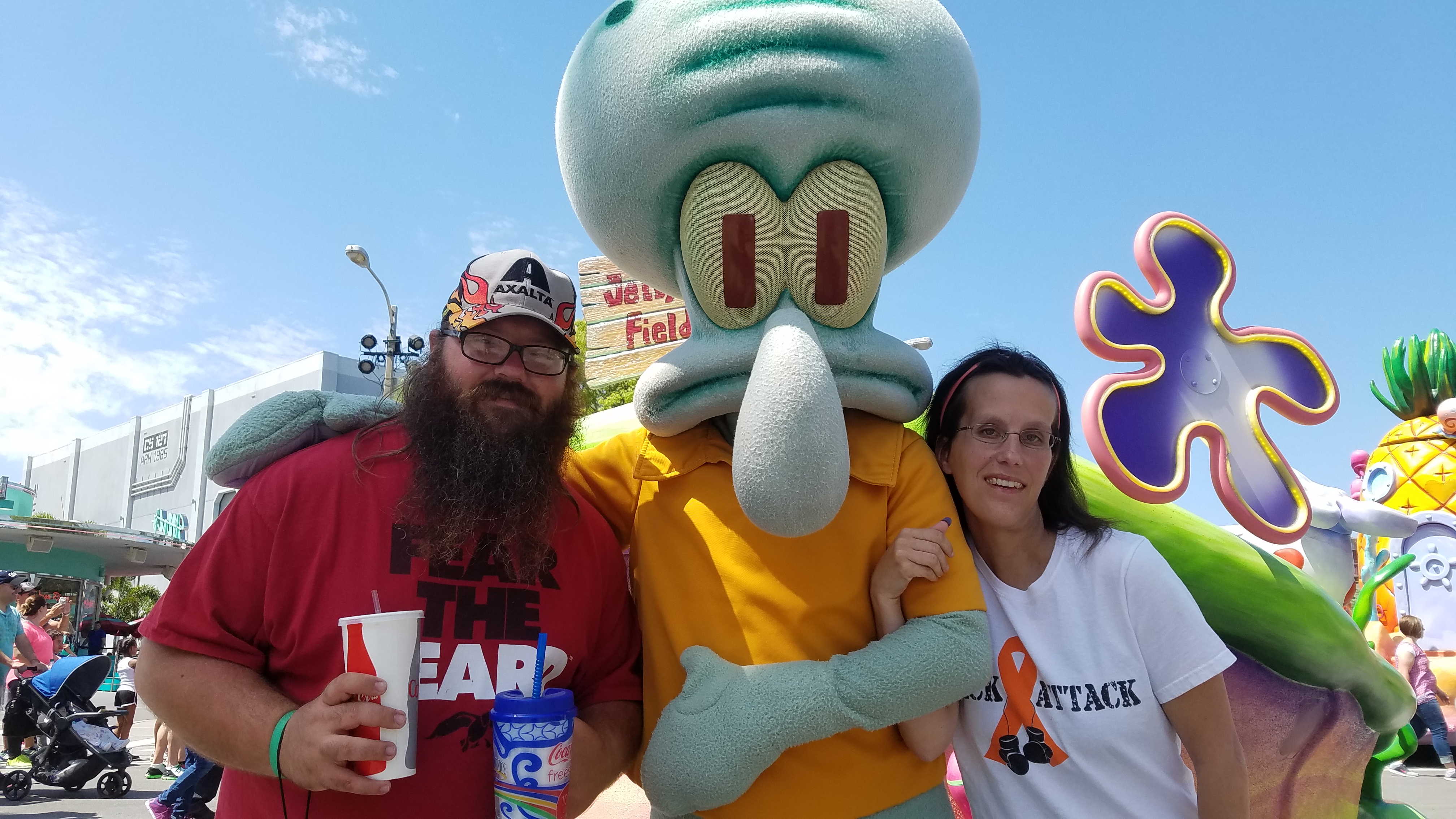 And the Star of the show was happy to see us.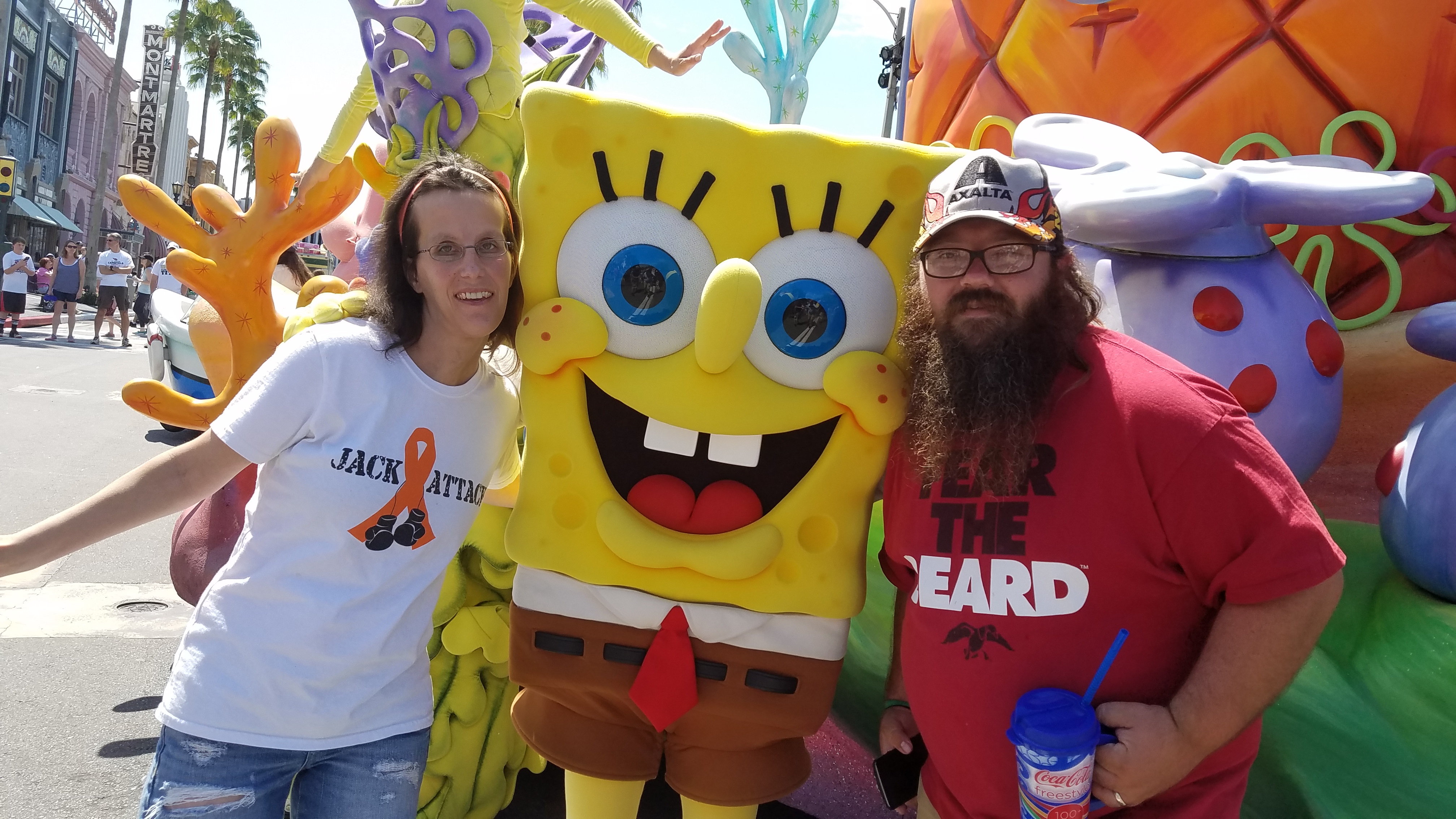 A few minutes later the Despicable Me group arrived and followed the same procedures of little show and stamp only.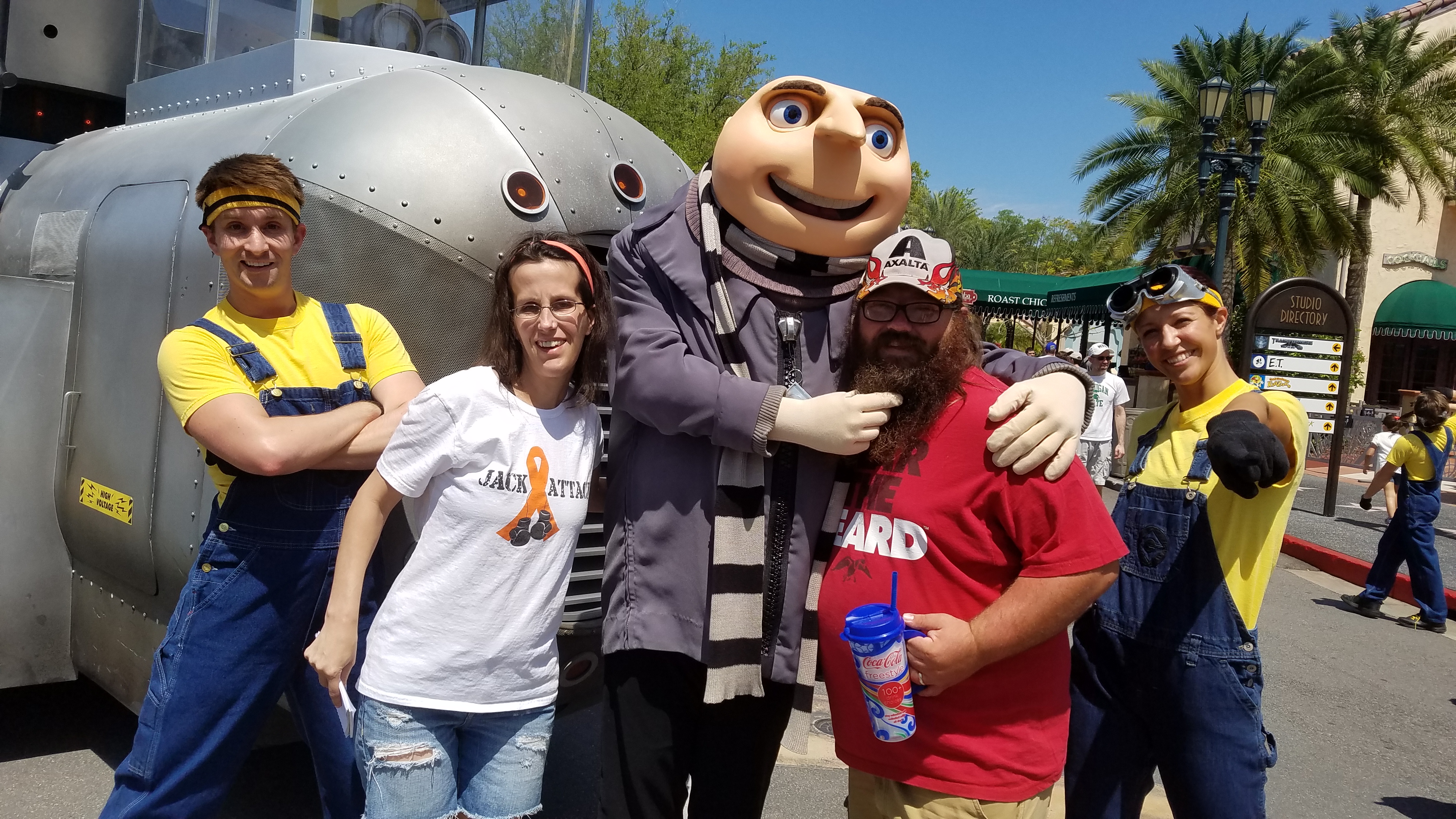 Vector is a funny one.  Some days he'll just run all over the place messing with guests.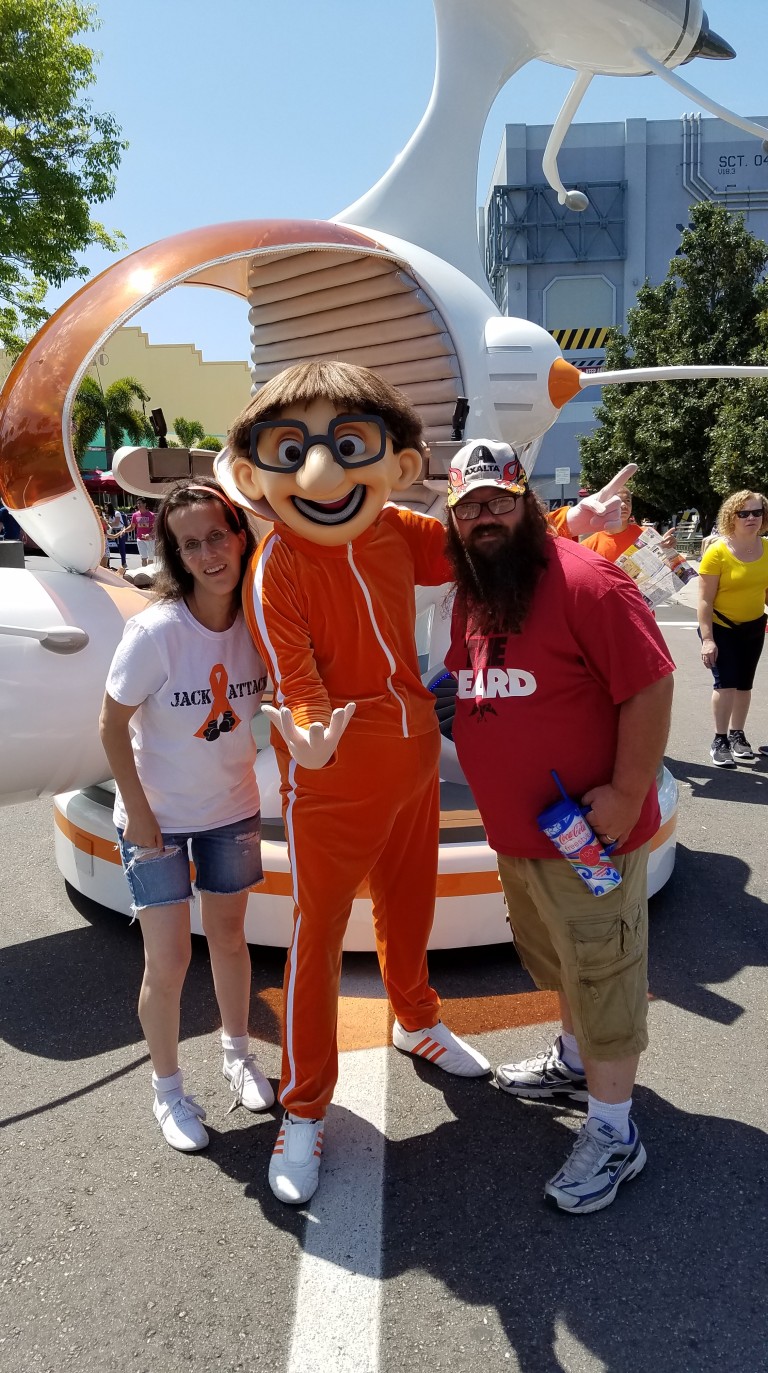 Edith, Margo, Agnes and FLUFFY!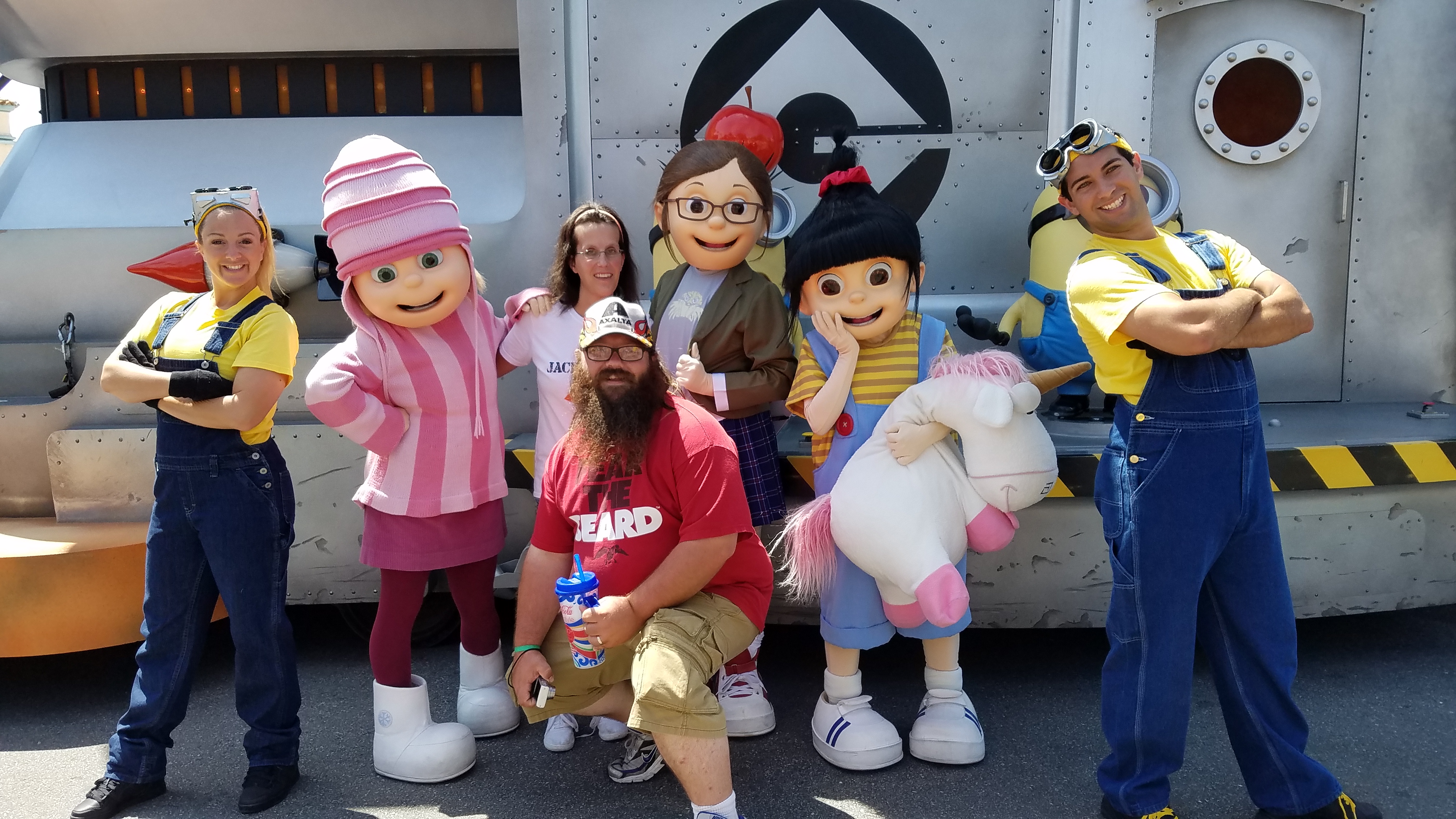 We caught Boots before heading over to Islands of Adventure because Heather really wanted to meet the Marvel Superheros and Villains.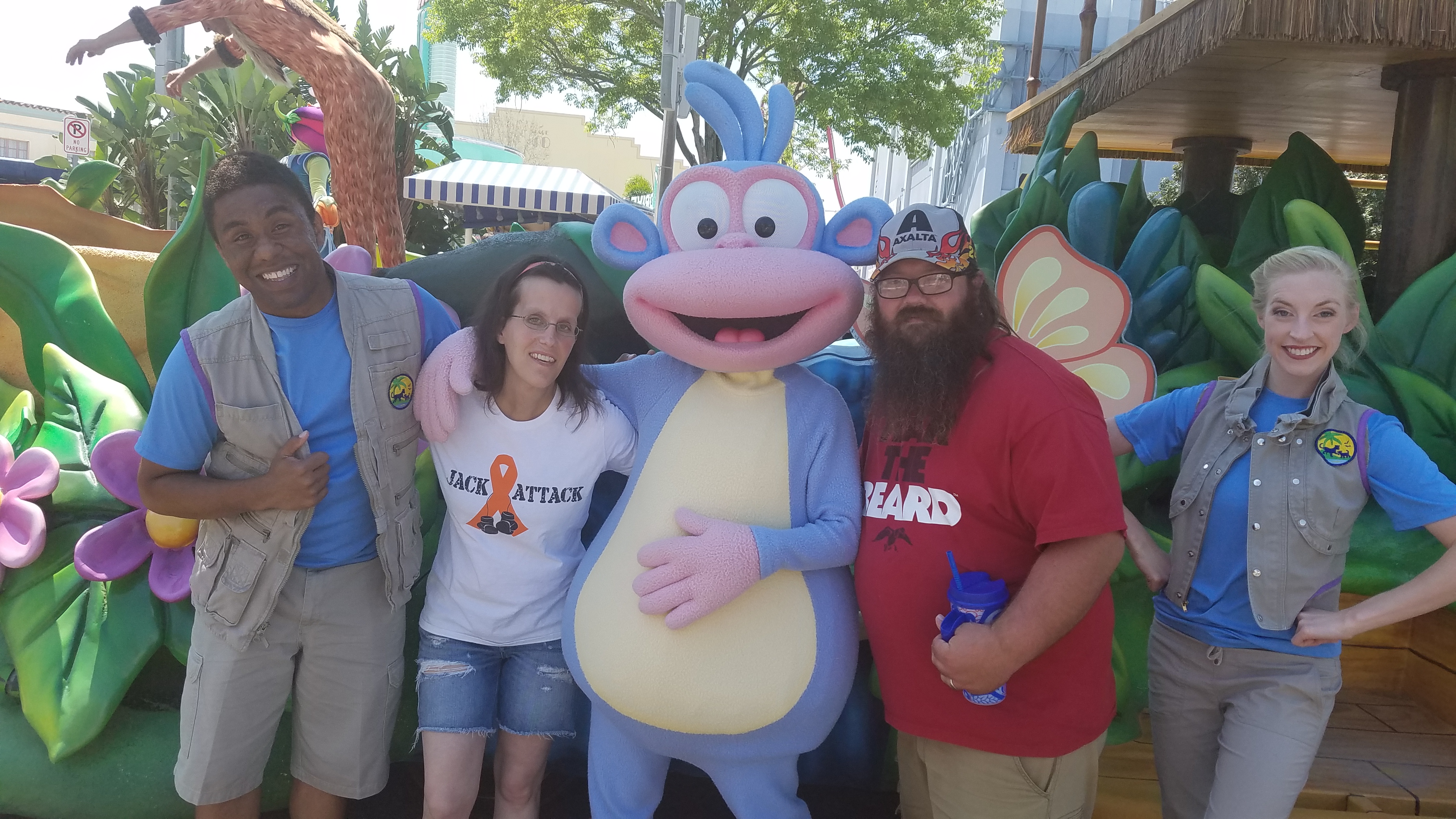 We wasted a few minutes looking around the shops and rested a little in Circus McGurkus before the Seuss characters popped out next door.  You can find their times on the park map.  Each sign autographs.  Characters were infatuated with Ryan's Duck Dynasty beard.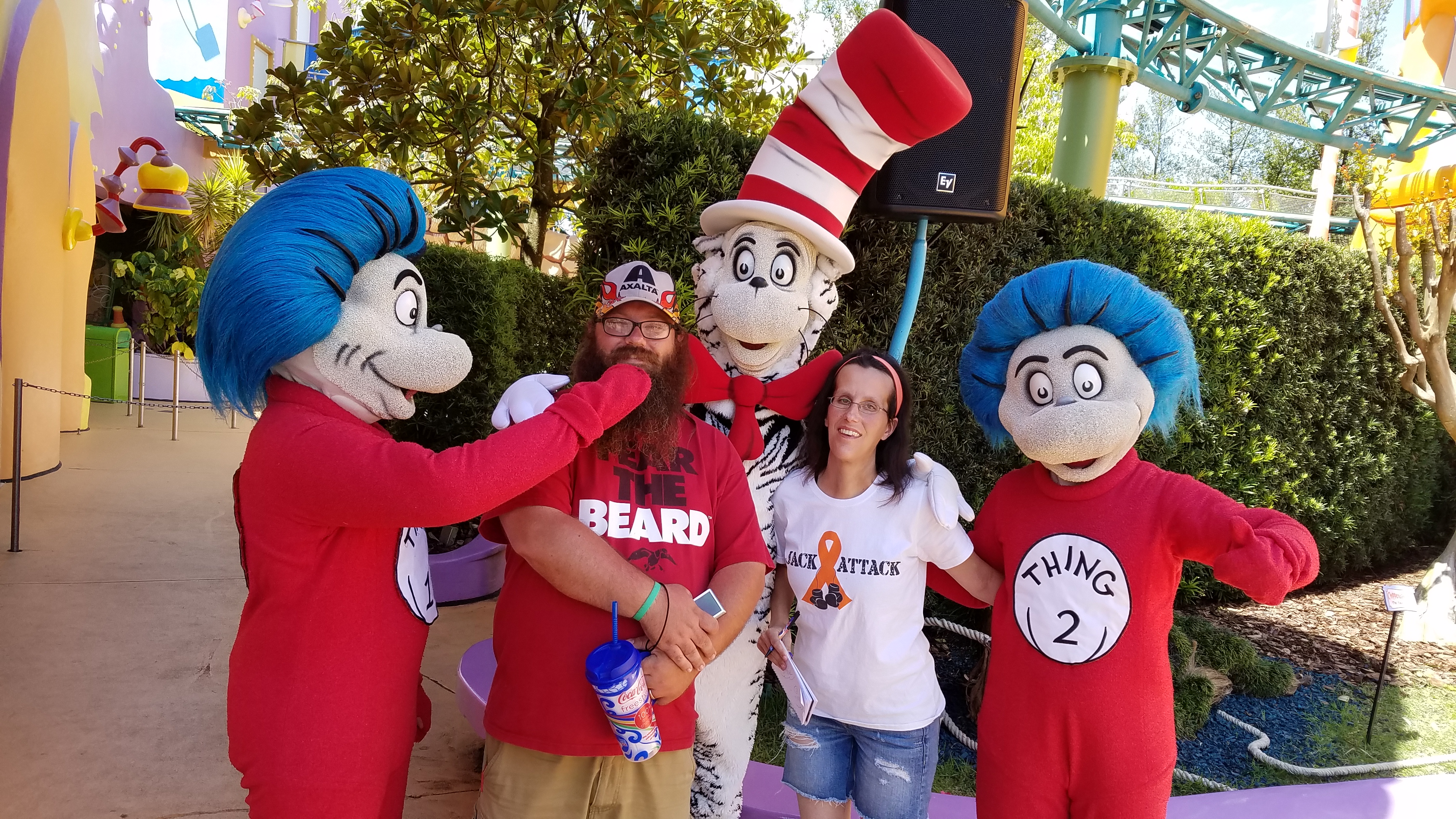 I think Grinch was jealous.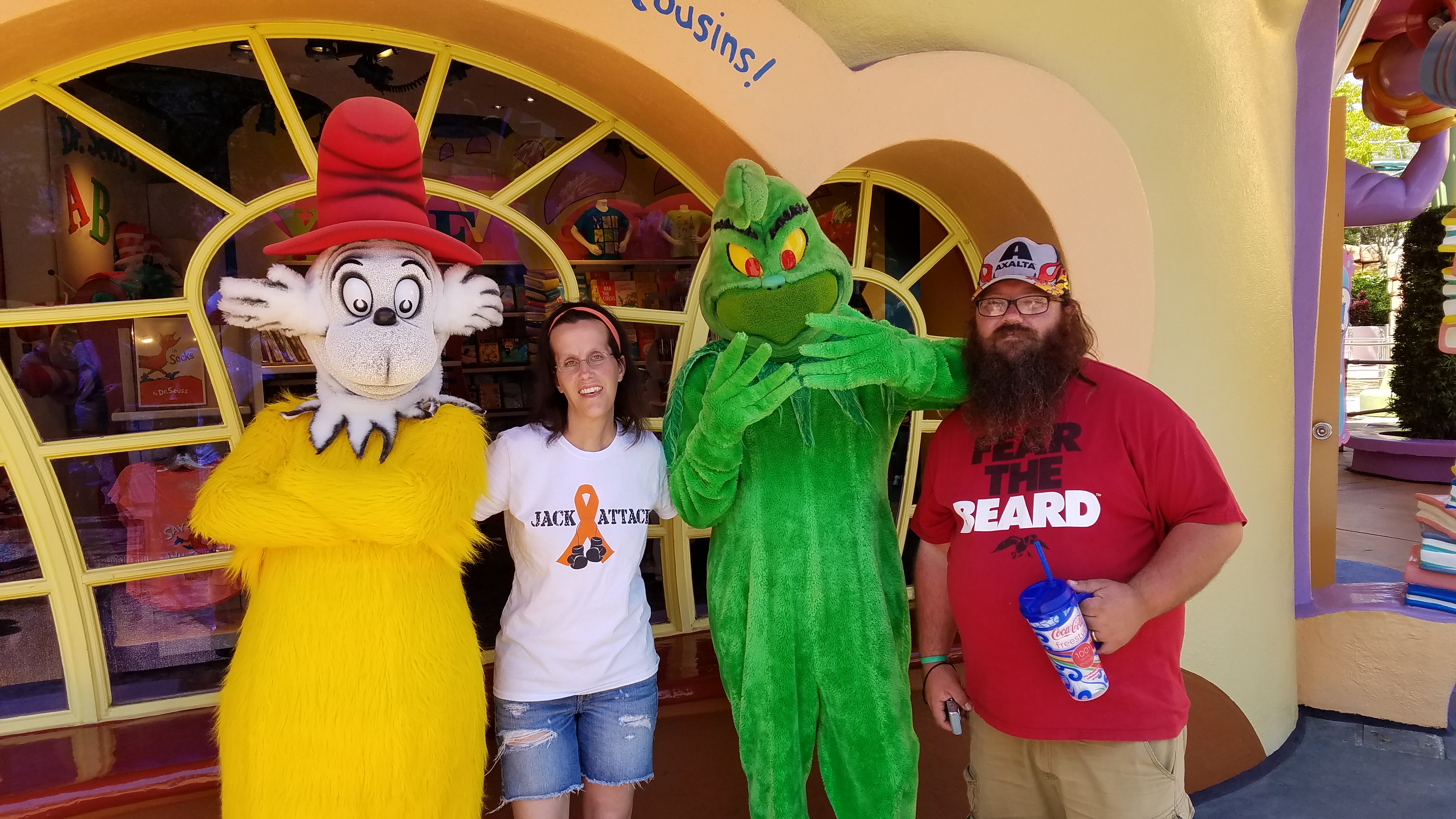 We found Woody near the big tip board on the way back toward Marvel Superhero Island.  We asked the team member if he knew when we could find Popeye/Olive Oyl, but he didn't know.  Woody signs.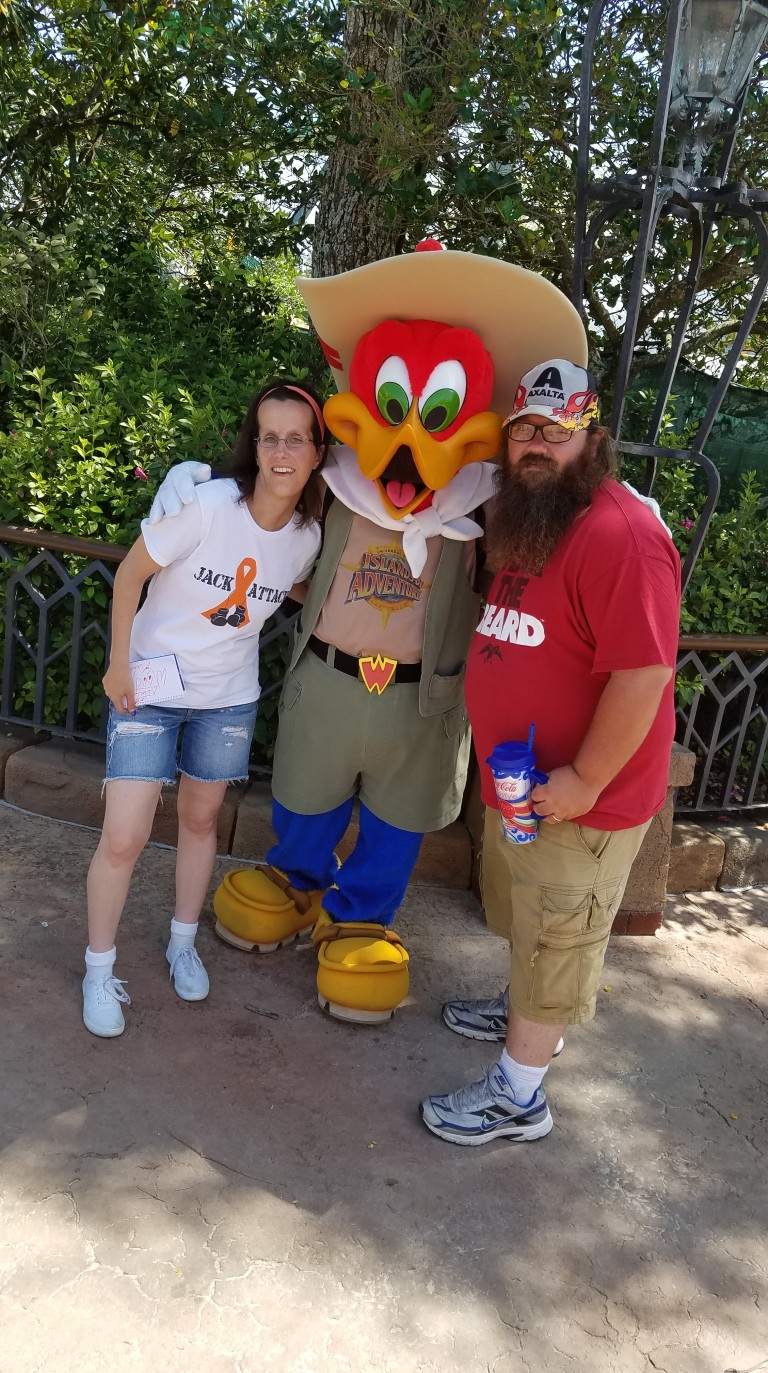 Green Goblin popped out and we set out to follow him to where he would meet guests only to realize that he spends 5 or 10 minutes running around pranking guests before doing any meet and greets.  We settled for Dr. Doom the first time around.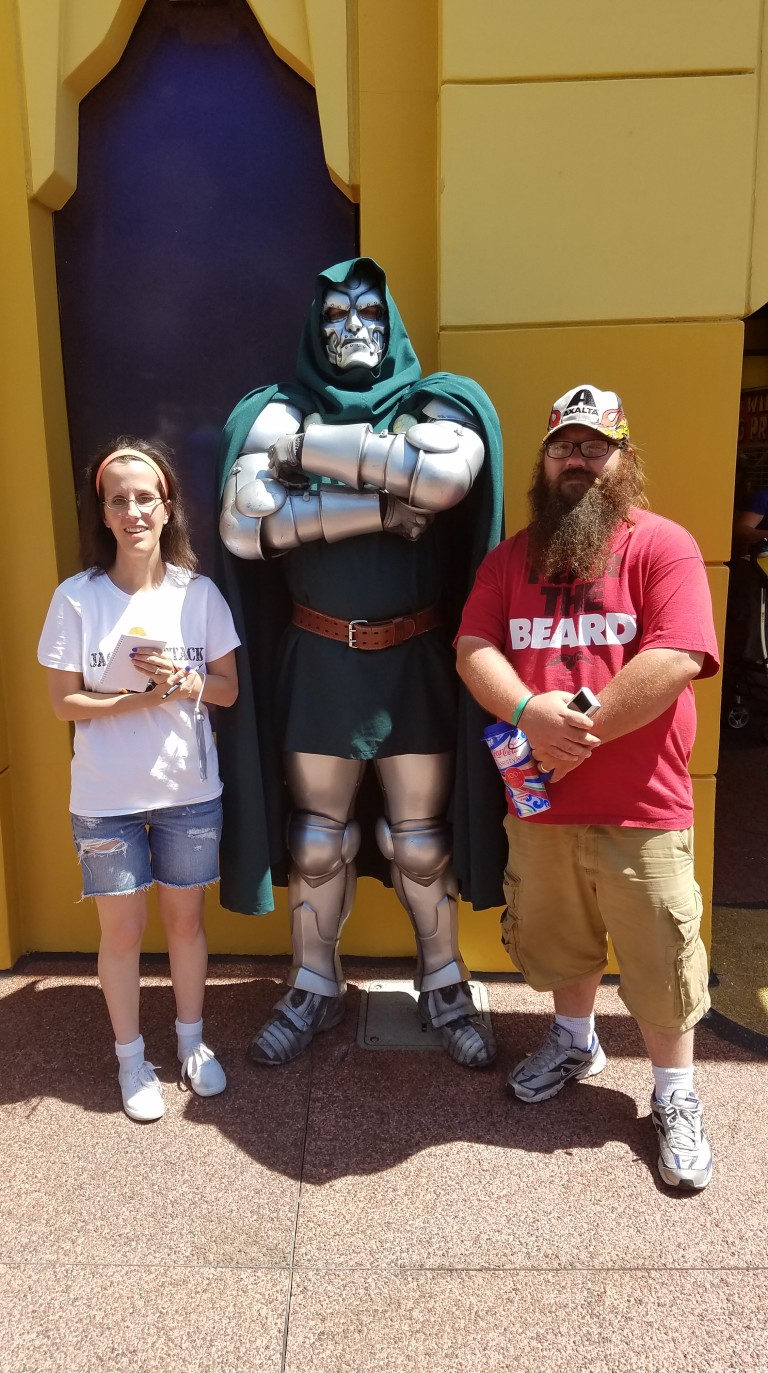 A kind team member called over her radio and found out that Olive Oyl would be out in "3 minutes," so we headed over to the next land which is toon lagoon.  We didn't know exactly where to find her, but Ryan used his excellent Character Location skills to find her at the gas station.  Seems like Popeye has been kind of rare lately.  I'd do the job, but I can't promote eating yucky green things in a can.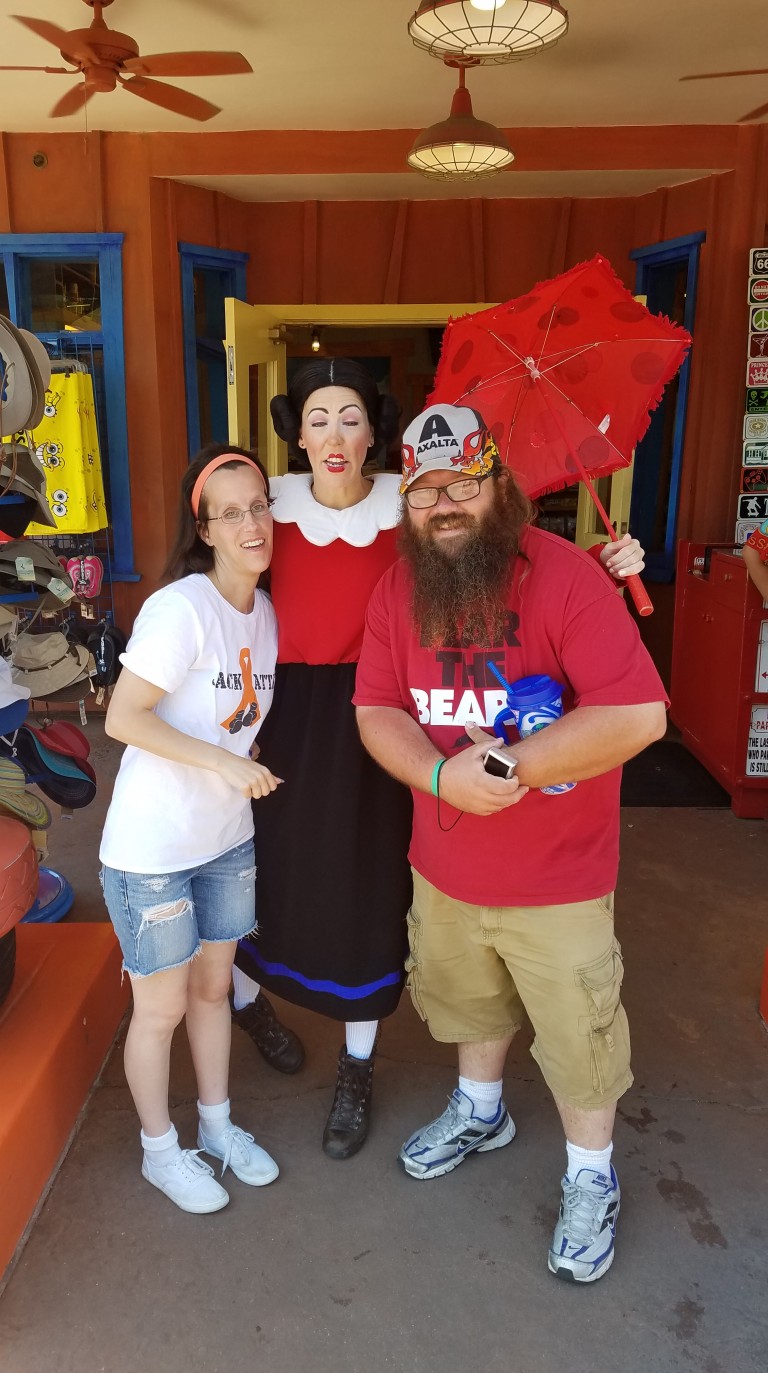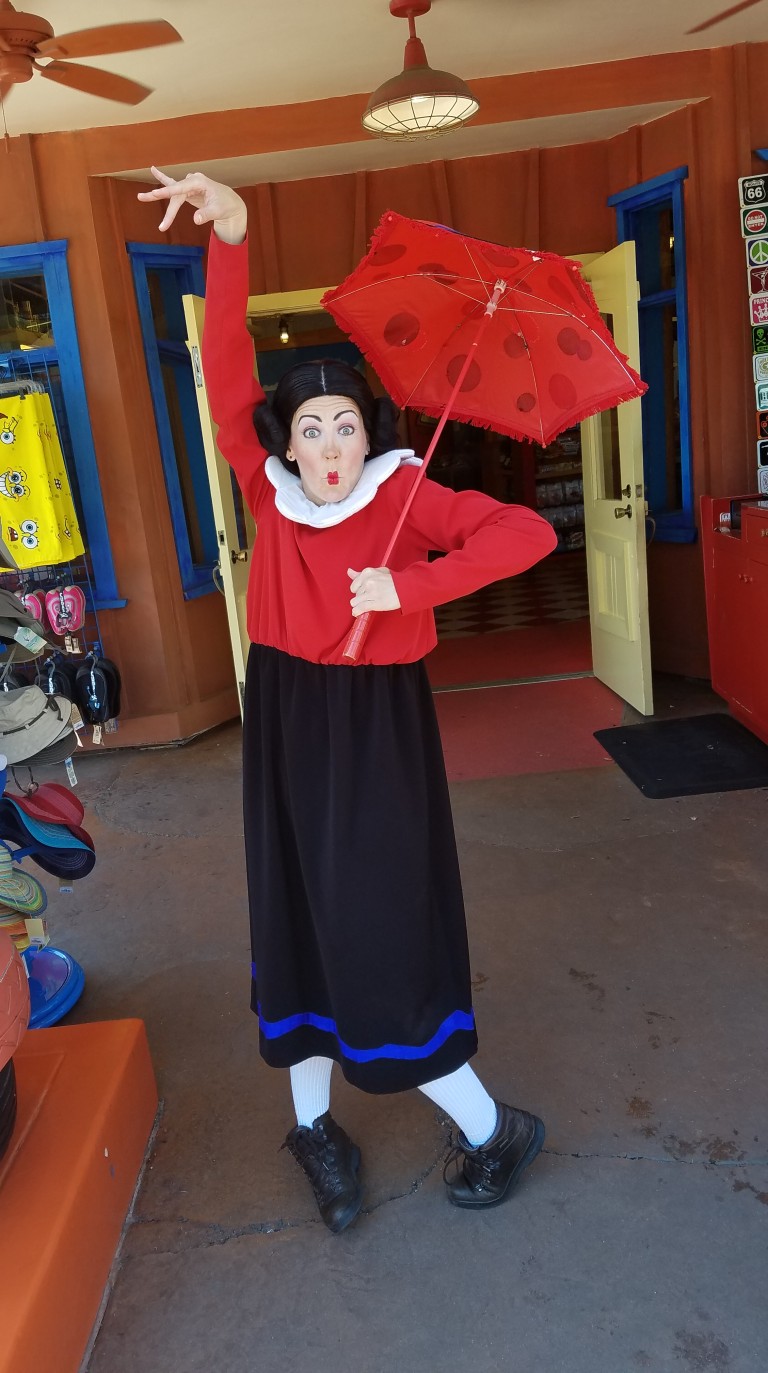 I told them that Captain America is always the most popular character in IOA and we lined up for him first.  He spent about 10 minutes with an adorable Make-a-Wish child who had his wheelchair decked out like Captain America.
Some may have been annoyed by the longer wait, but I thanked Cap.  One of my dear friends had a nephew who took part in Make-a-Wish and he only lived a couple years longer.  I'm okay with 10 minutes that can make a child's life better.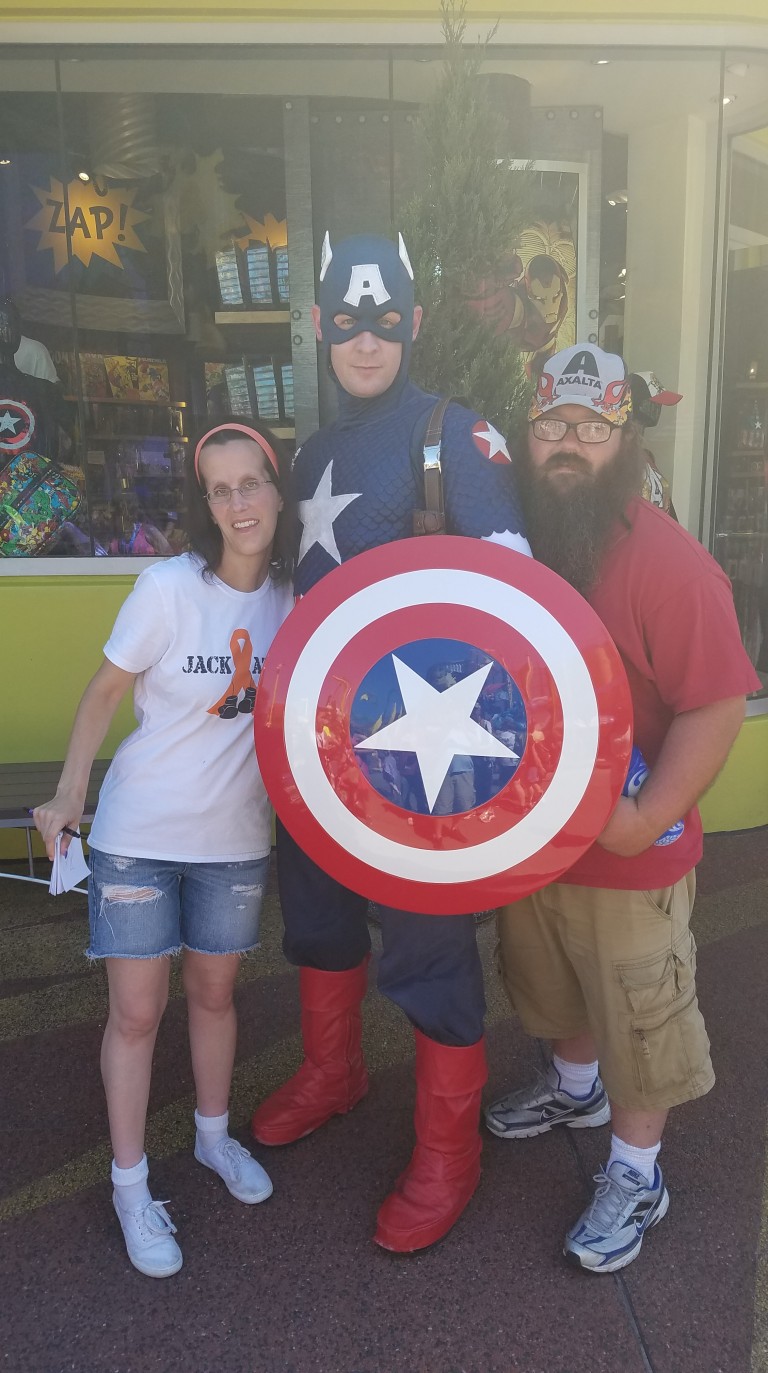 We had enough time left to squeeze in a meet with Wolverine before this set ended.
After enjoying a snack, we waited for Green Goblin to run all over Islands of Adventure, then joined the small line once he arrived with Dr. Doom.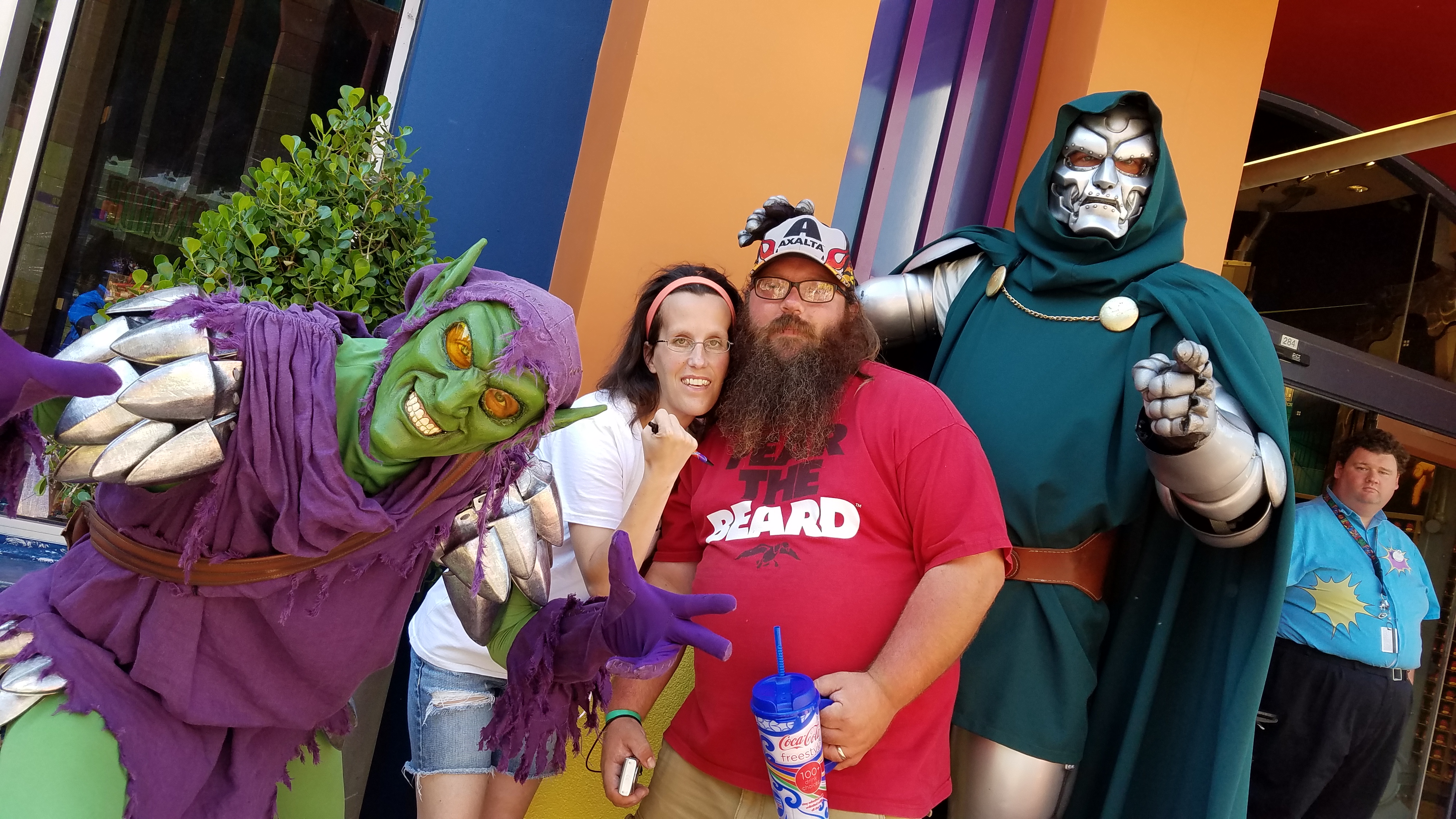 We then caught the next Marvel Heros set and finished off with Cyclops then…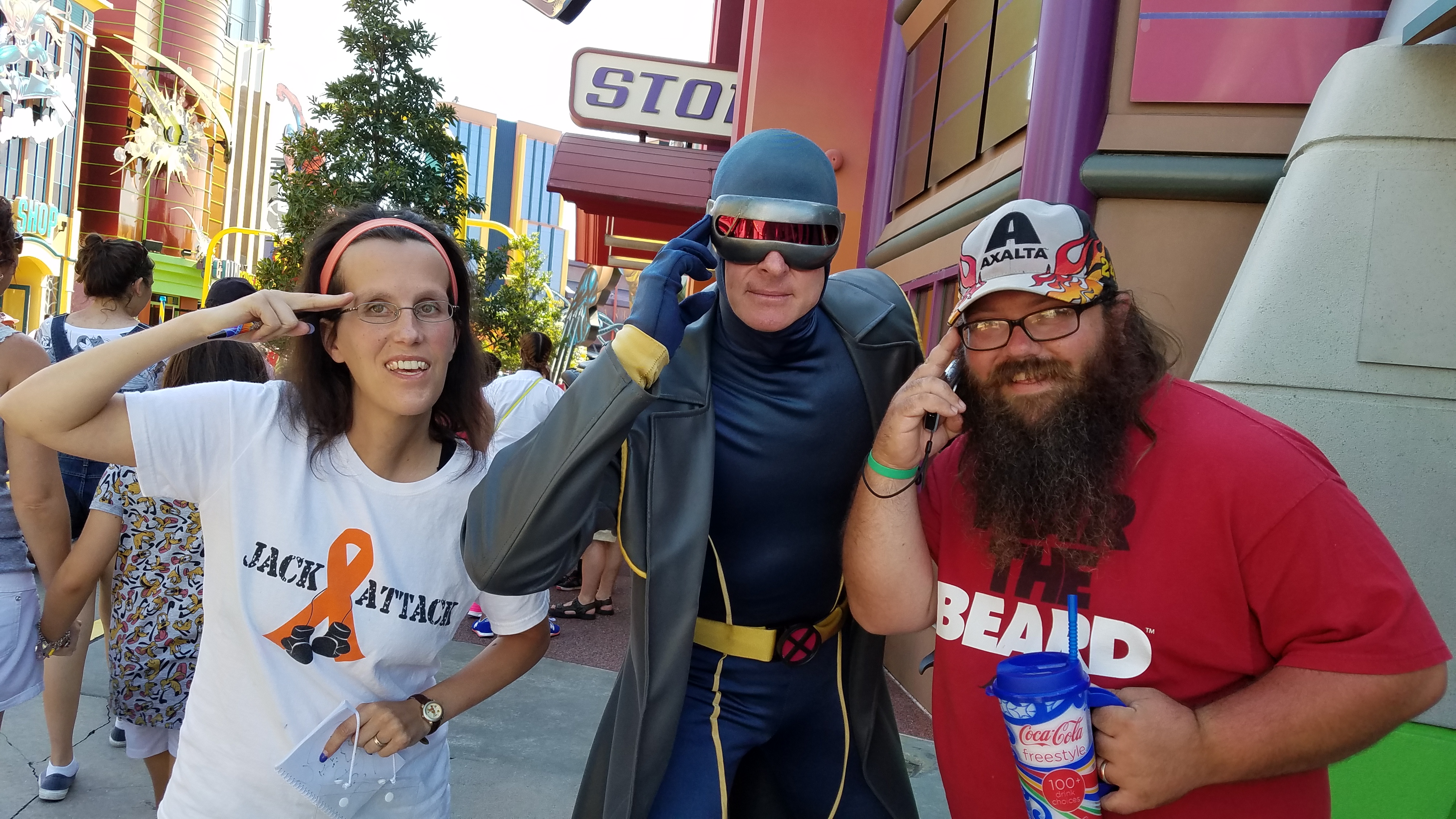 Rogue and Storm.  If we had met them all in a single set (hard to do later in the day), we could have returned to USF in time to meet more Simpsons characters and maybe Barney, but Heather really wanted these guys and we weren't interested in turning our fun day into a track meet.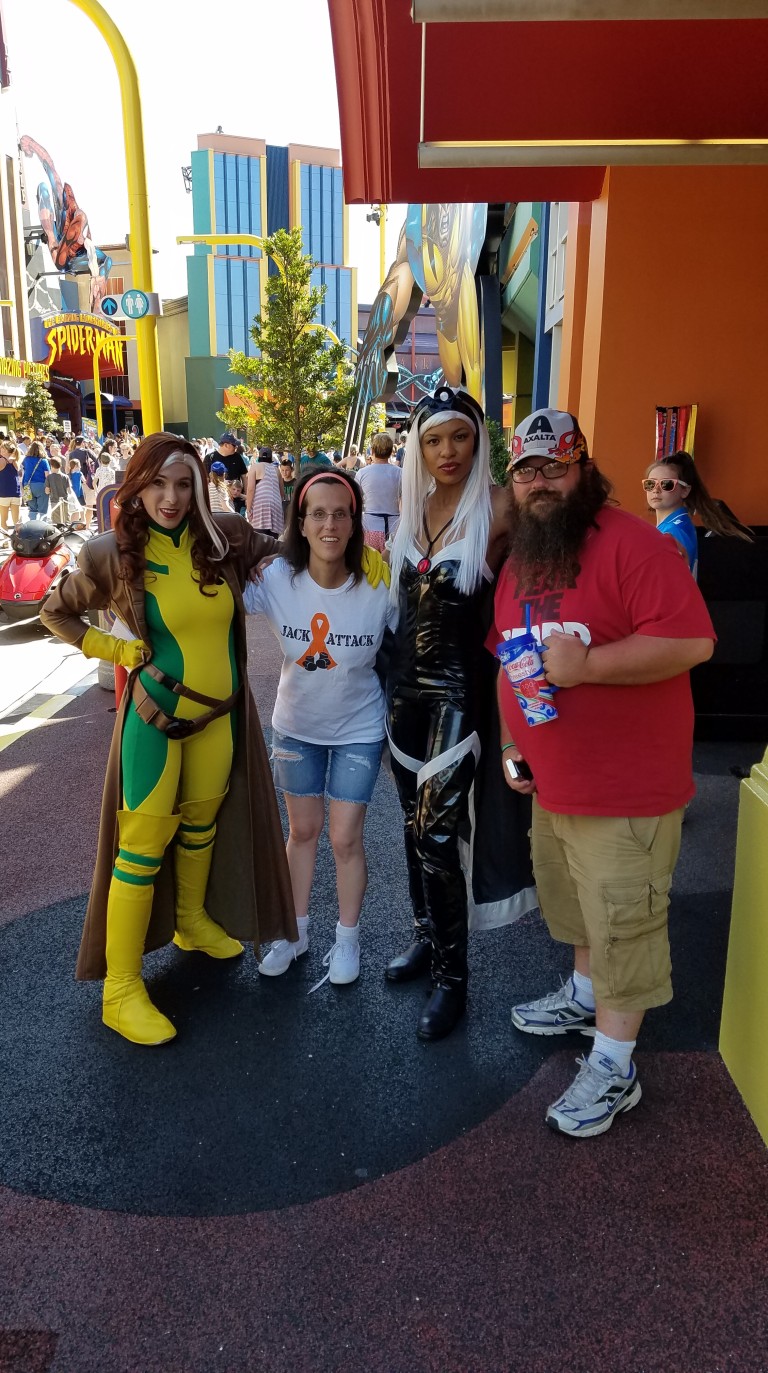 We then waited a few minutes to meet Spider Man.  Imagine a great backdrop of the Big Apple behind them!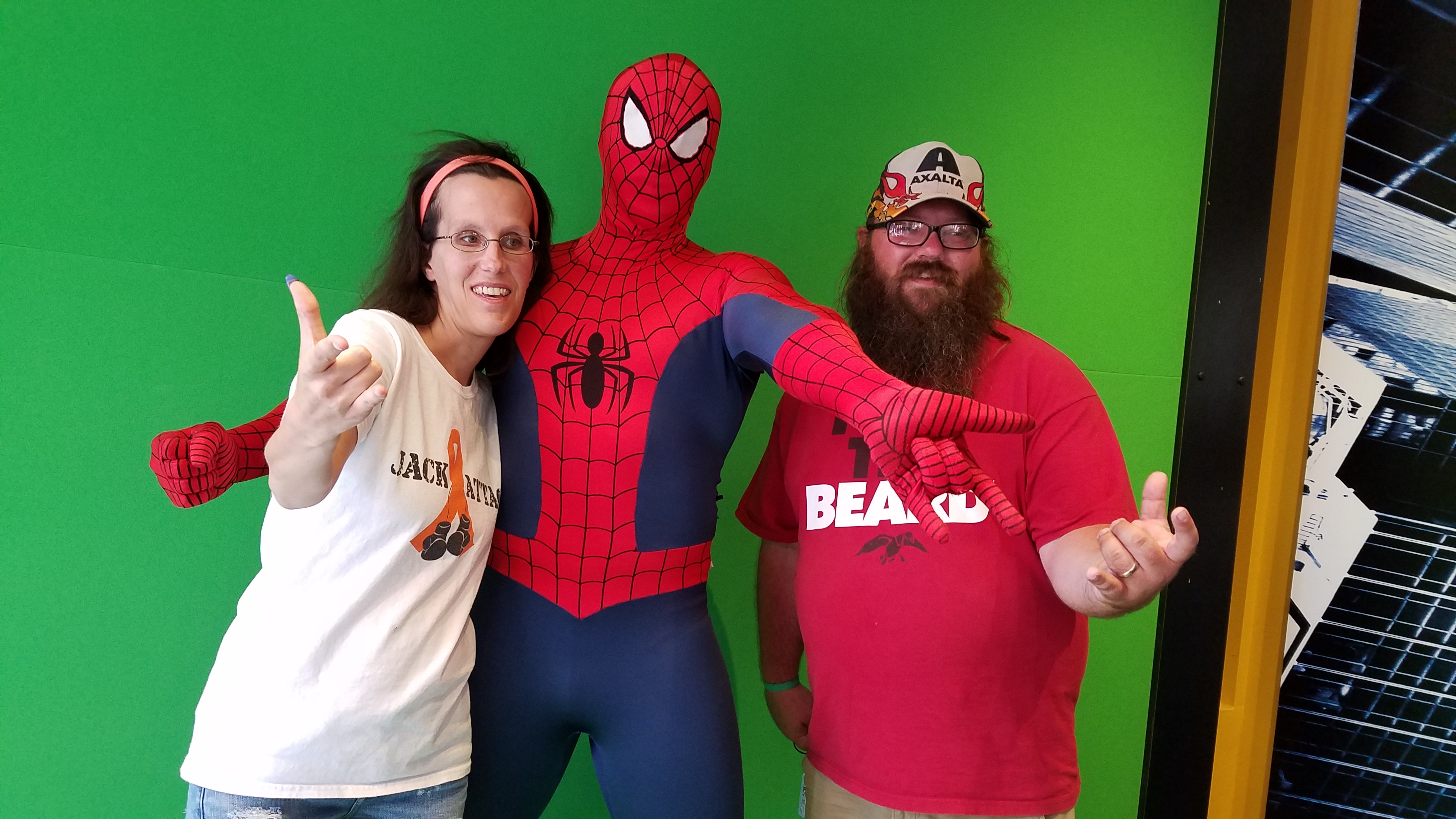 We walked the rest of IOA and I showed them the ridiculous line to meet the Raptor before taking the Harry Potter train back over to USF.  It was a 25 minute wait, but it was shaded with fans too and it keeps moving well.
King Kong is looking really awesome.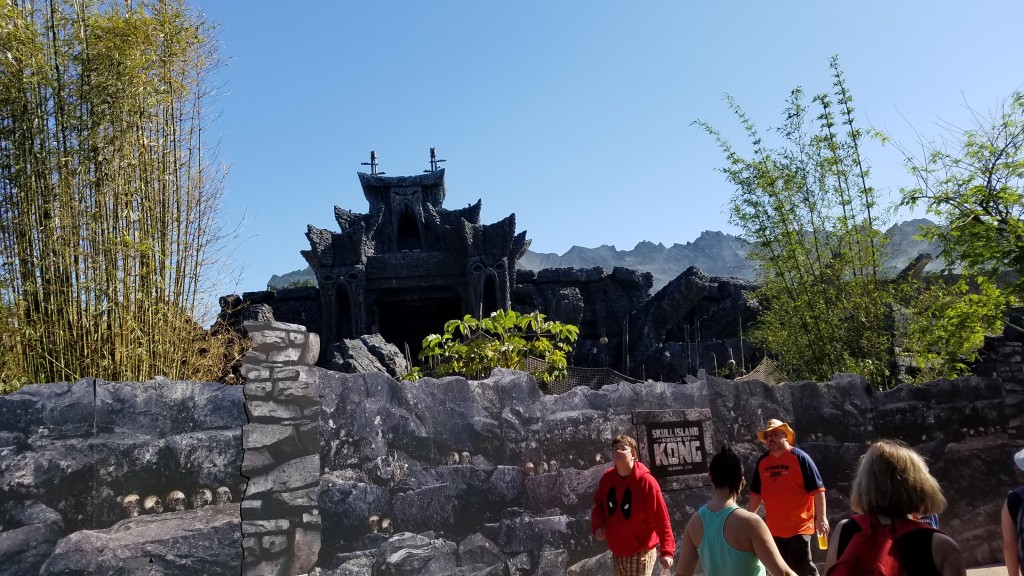 Heather really wanted to get a photo with the Knight Bus Driver and talking head.  It's actually a fun meet too.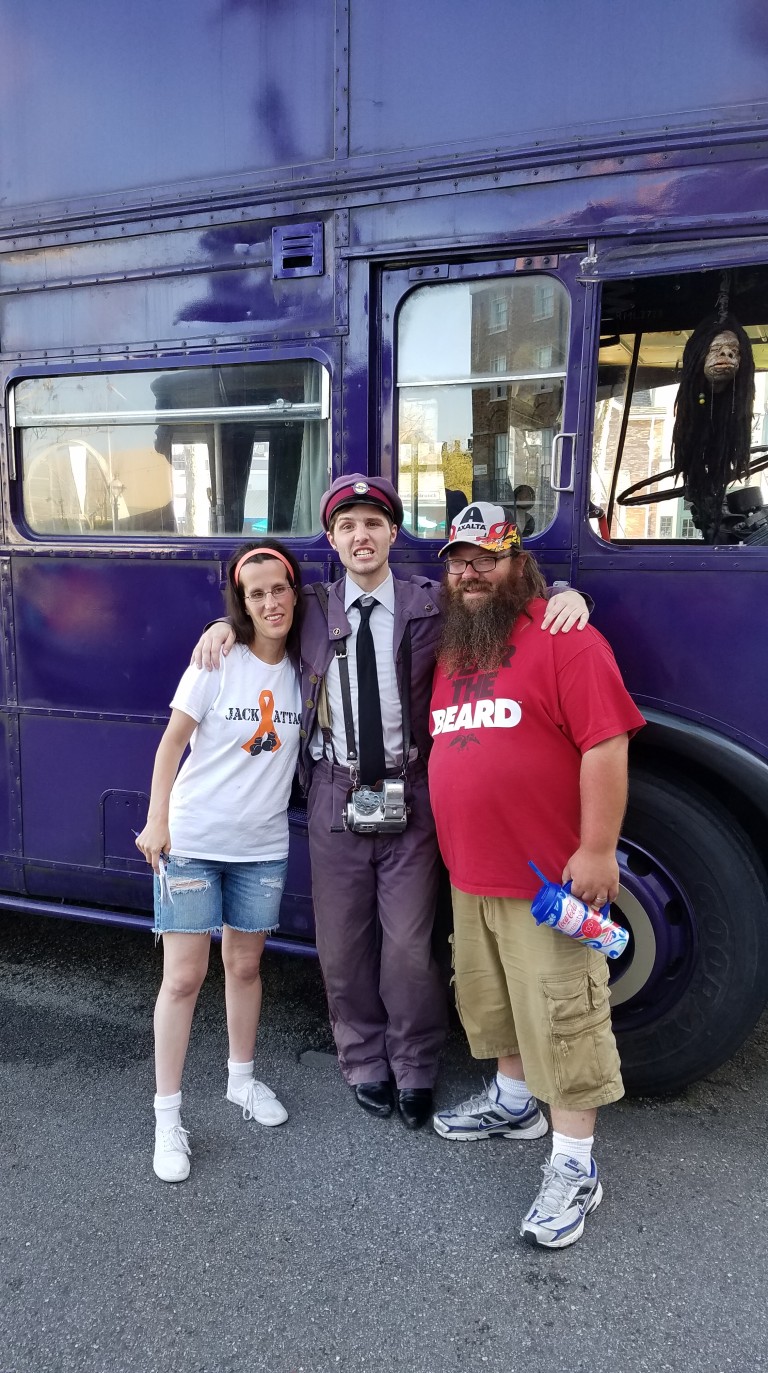 Ryan wanted a photo with Bruce the Shark.  Here's one of her bro :)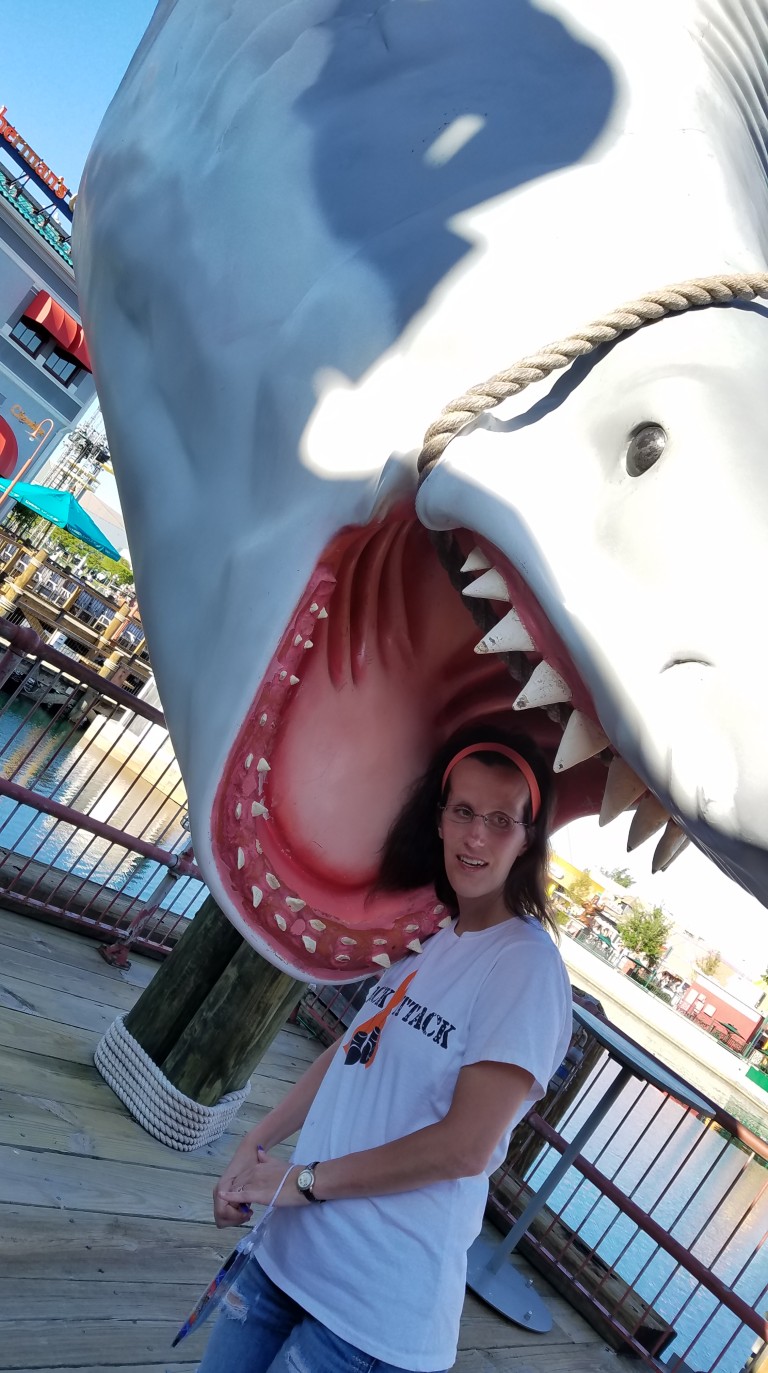 We took in the always hilarious Horror Makeup Show and rode Et before deciding to hit the road with an hour left.  We had a great time, met a ton of characters and never even walked fast.