Foodies assemble! Here are 5 of Disney's very best non-chocolate Disney sweets! Which ones do you enjoy?
Disney Sweets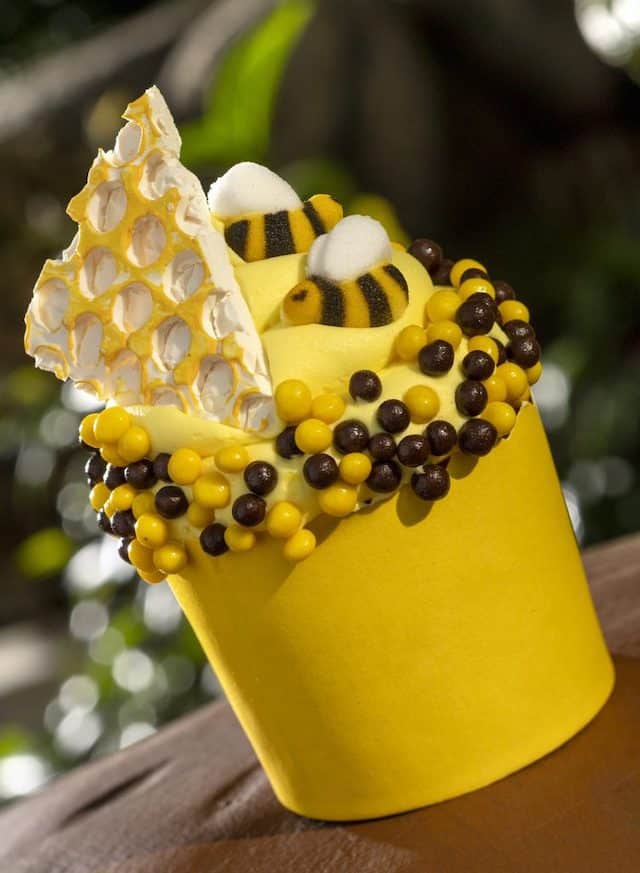 It is so fun and satisfying to indulge in something delicious during a Walt Disney World vacation. In fact, it is safe to say that Disney food has its own fan following.
It is especially fun because Disney has so many options. Something can be found to satisfy any palate.
This is even true for people who do not particularly care for chocolate or for those who need to avoid it all together. Believe it or not, some people just aren't choc-a-holics.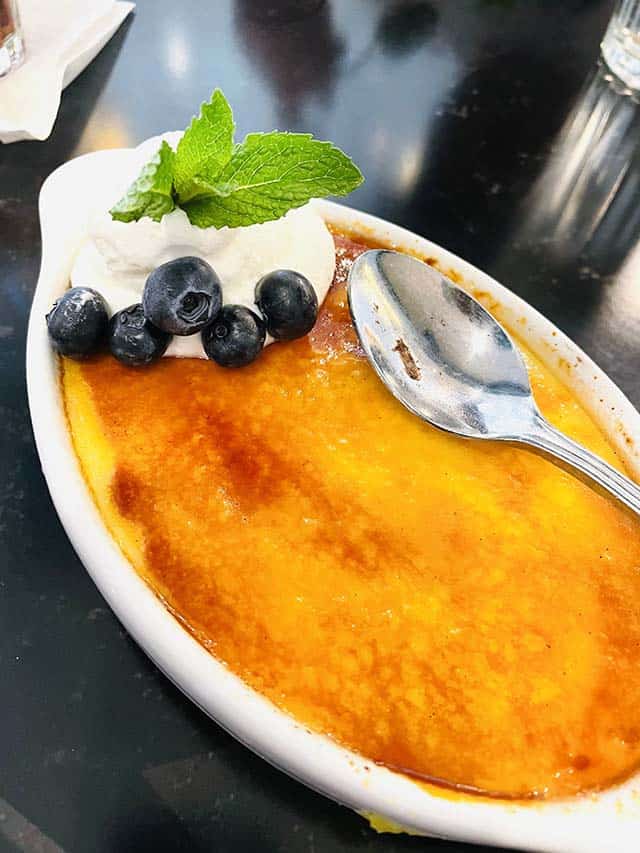 If you are craving sweets but are not in the mood for chocolate, never fear! Disney has you covered!
In no particular order, here is a rundown of our favorite non-chocolate Disney sweets and where to find them. Proceed with caution because this list might make you crave treats infused with the magic of Disney.
1.'Ohana Bread Pudding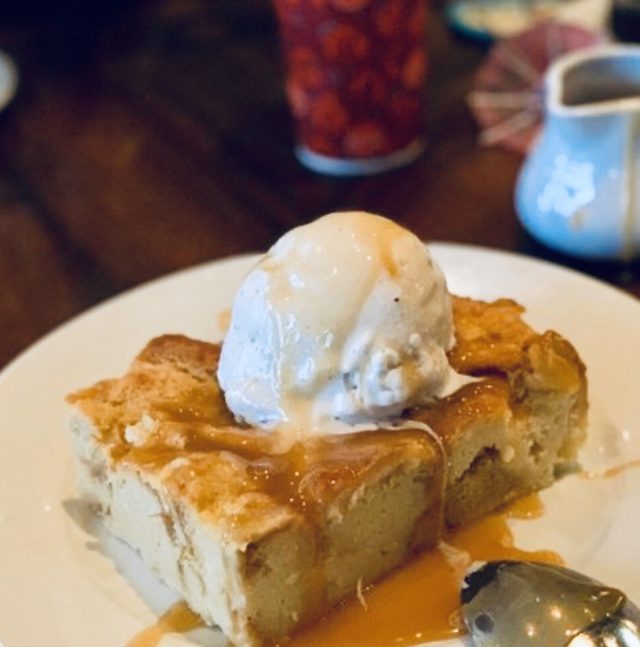 If you love bread pudding, Walt Disney World has some delicious offerings. In fact, even if you aren't into bread pudding, you might be into THIS particular bread pudding.
'Ohana offers a delicious end to its meal. The 'Ohana Bread Pudding is a fan favorite.
While Disney temporarily removed the 'Ohana noodles from the menu, they never messed with the bread pudding, and it's a good thing. People love the banana infused dessert. They rave over the caramel sauce.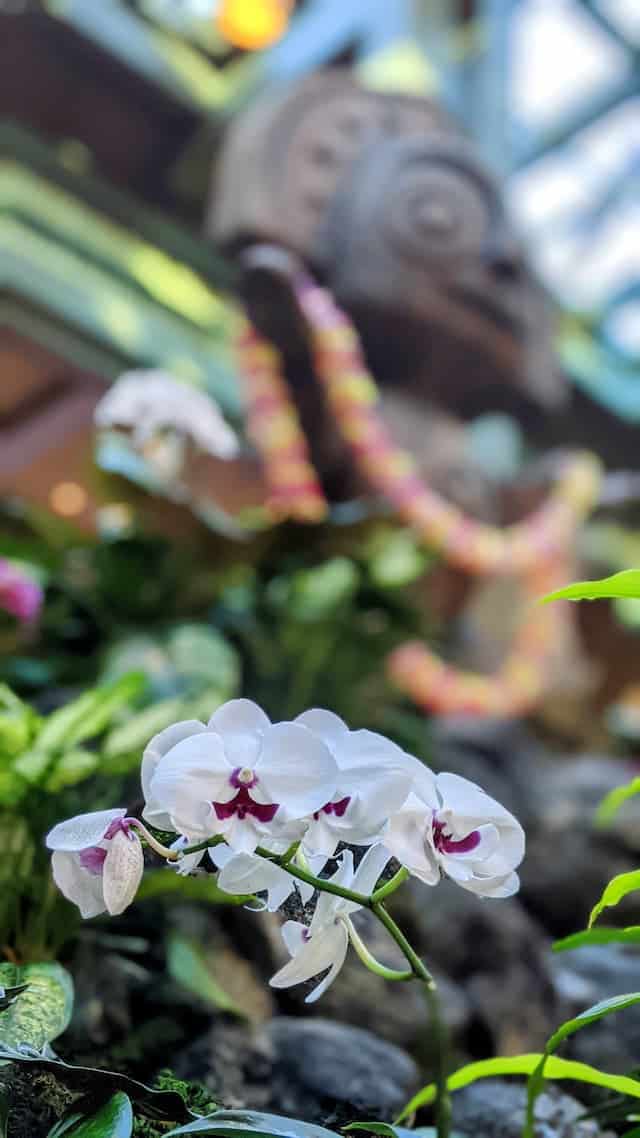 If you want to find it, you will need to head over to the Polynesian. It is served as part of 'Ohana's lunch and dinner. It is a prix fixe meal, meaning it is impossible to order just dessert at 'Ohana. To check out summer 2021 pricing updates, click here.
I have heard tales that you can find the dessert a la carte at Kona Cafe. However, there is no word on whether this occurrence will continue with the reopening of 'Ohana.
2. Cronut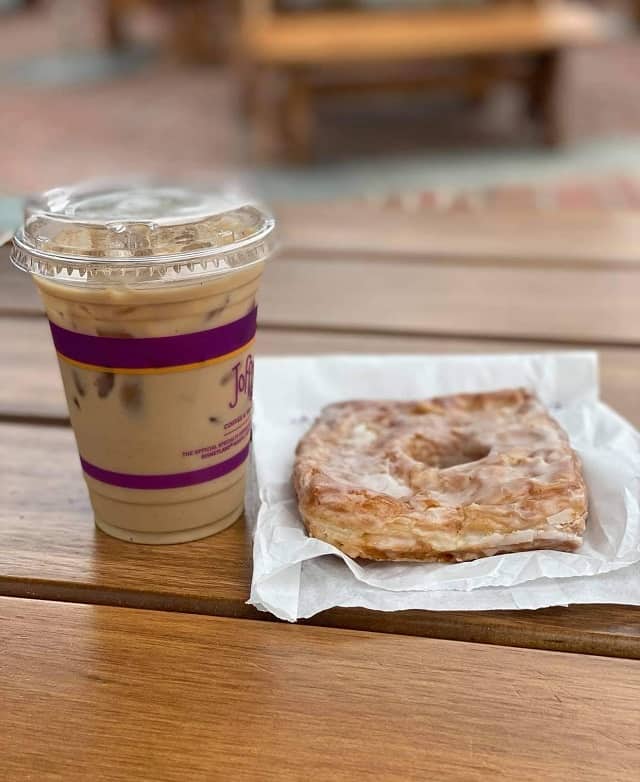 The Cronut is an interesting hybrid. It is a cross between a croissant and a doughnut, and sometimes you will see it labeled as a "croissant doughnut."
It is sweet and flakey and sugary and buttery. While some people don't find them that special, I think they are pretty amazing, and I like them much better than actual doughnuts.
The Cronut has had many different homes over the years. It also shows up in various forms.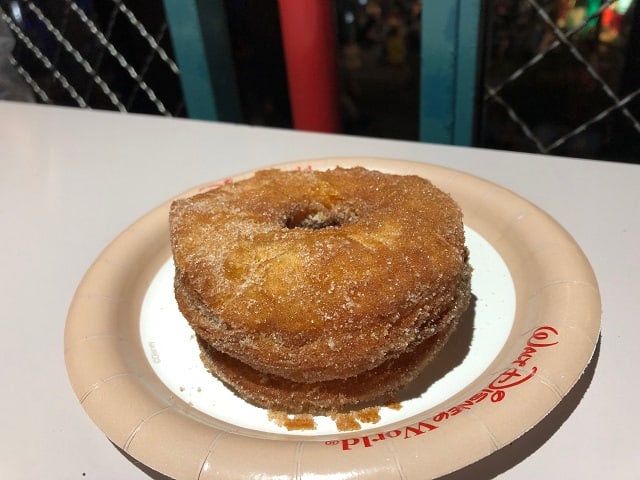 They might be coated with cinnamon sugar or glazed. Everglazed has even been known to release limited cronuts covered in toppings.
Currently, you might have luck finding the elusive treat at Joffrey's. Their selection of pastries can vary daily, so it can be hit or miss.
3. Citrus Swirl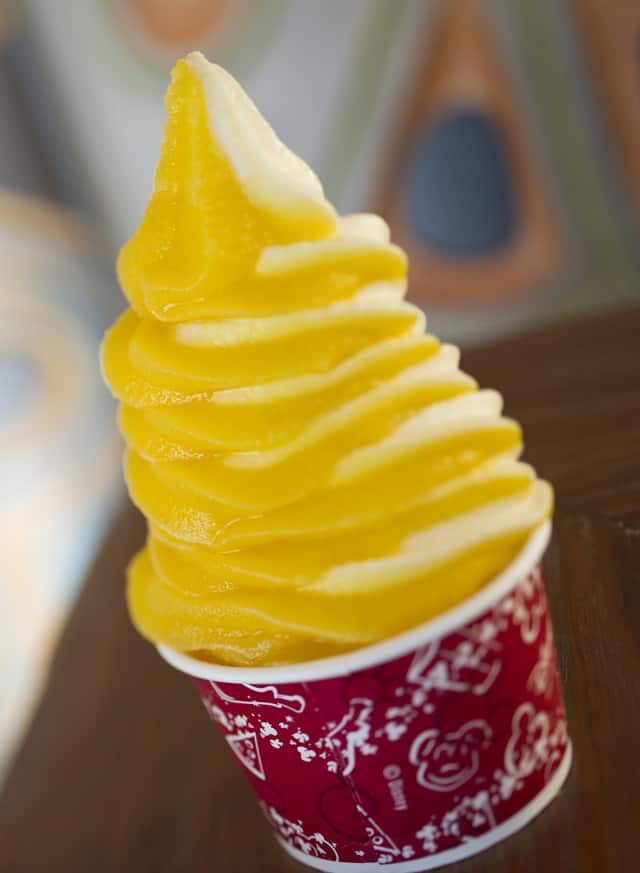 You have likely seen the adorable Orange Bird character on merchandise around the parks. People love this little cutie.
People also love the dessert he represents. Citrus Swirl is one of Disney's delicious frozen treats.
You can find it at Sunshine Tree Terrace in the Magic Kingdom. The food stand is in Adventureland, relatively close to Aloha Isle.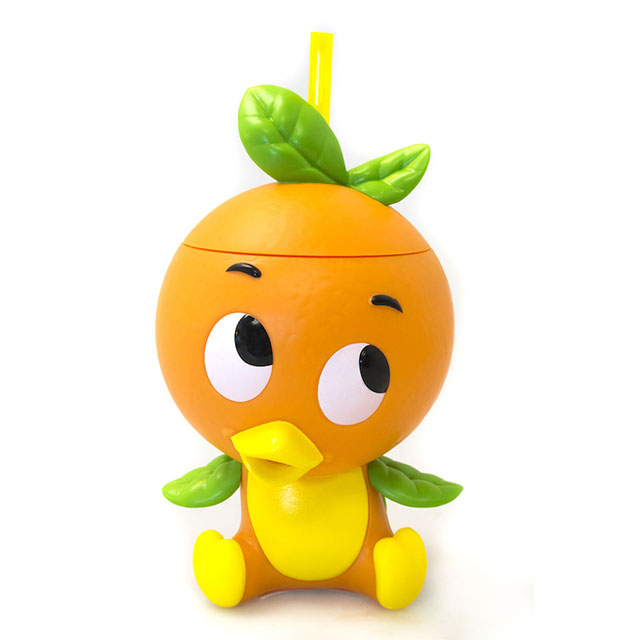 Sunshine Tree Terrace, like Aloha Isle serves DOLE Whip, including orange DOLE. However, Citrus Swirl, contrary to popular belief, is NOT DOLE Whip. Rather, it is vanilla soft serve swirled with frozen orange juice.
I don't typically like orange flavored things; however, this is actual orange juice. It isn't overly sweet; it is tart, citrusy, and delightful. If you love oranges, you will most likely enjoy it.
4. Jaq & Gus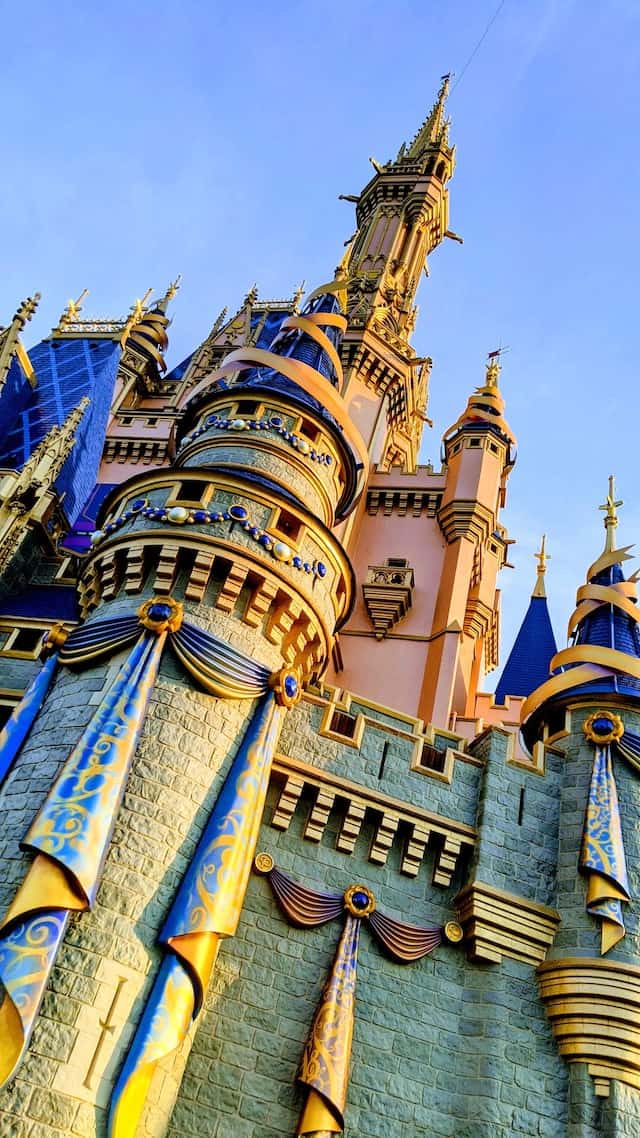 The Jaq & Gus is an elusive dessert that can only be found at Cinderella's Royal Table in the Magic Kingdom. If you want to try it, you will have to snag reservations in the castle.
It is part of the lunch and dinner menu. The meals are both prix fixe, meaning everyone in the party must pay regardless of what you eat, so there is no stopping in just for dessert.
However, if you do dine at the castle, when you go to select your dessert option, keep this one in mind.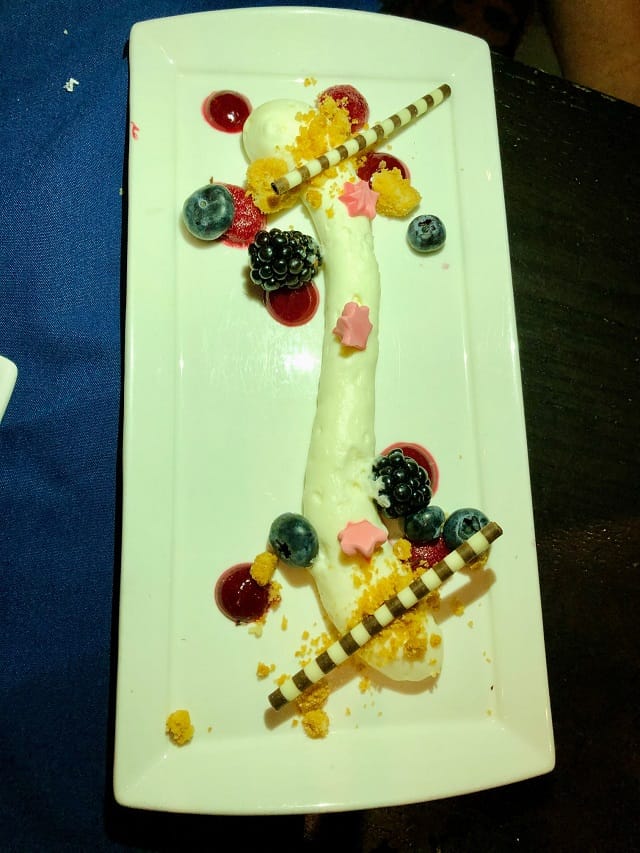 Jaq and Gus is a mascarpone cheesecake with seasonal flavors and garnishes. It is not your typical wedge of dense cheesecake you find at most places. Rather, it is rich, creamy, and smooth and one of my favorite cheesecake dishes I have ever eaten.
We didn't even order it when we dined at the castle. We asked for the chocolate and peanut butter desserts. However, our server decided to bring us one out anyway.
"This is from the Fairy Godmother," he told us. "It's much better than any of the others, and you must try it."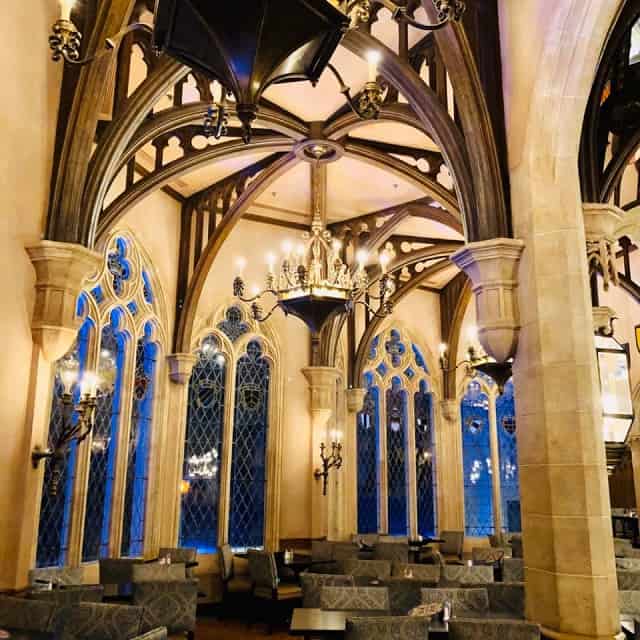 He was not wrong. We all loved it. I would highly recommend it over the other choices, which were fine but forgettable.
If you find yourself dining at the castle, keep the Jaq and Gus in mind when you make your selection for desert. It is not only the star of the castle, it's one of the stars of the entire Walt Disney World dessert realm.
5. Blueberry Cream Cheese Mousse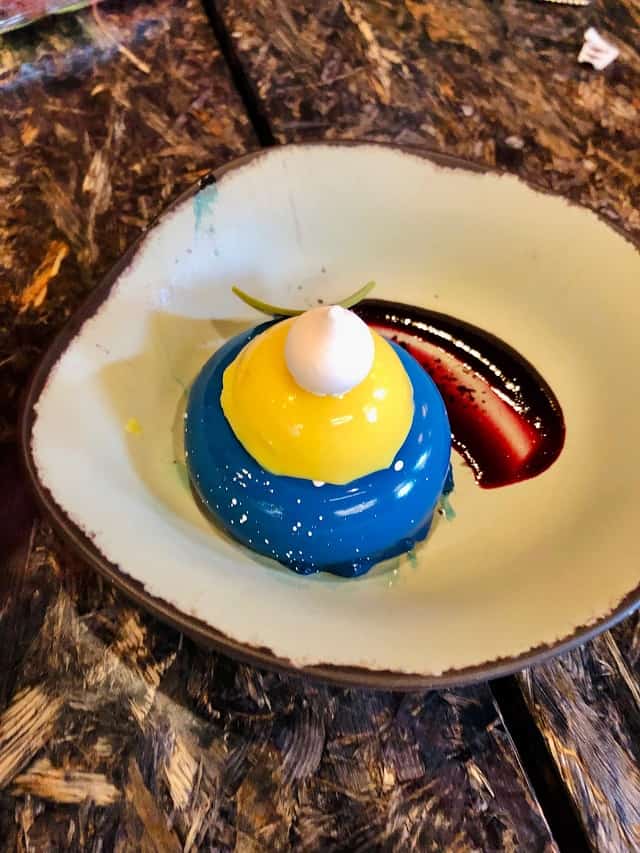 I have no adequate words to describe this dessert other than sweet, creamy, bright, and delicious. It's like a light fluffy cheesecake infused with fruits, and it is one of my favorite treats.
The various layers are uniquely delectable both in isolation and in combination with one another. It makes each bite fun to eat!
You can find this little beauty (or should I say "blue"ty) at Satu'li Canteen over in Pandora in Disney's Animal Kingdom. It is Navi-blue in keeping with the land's theming.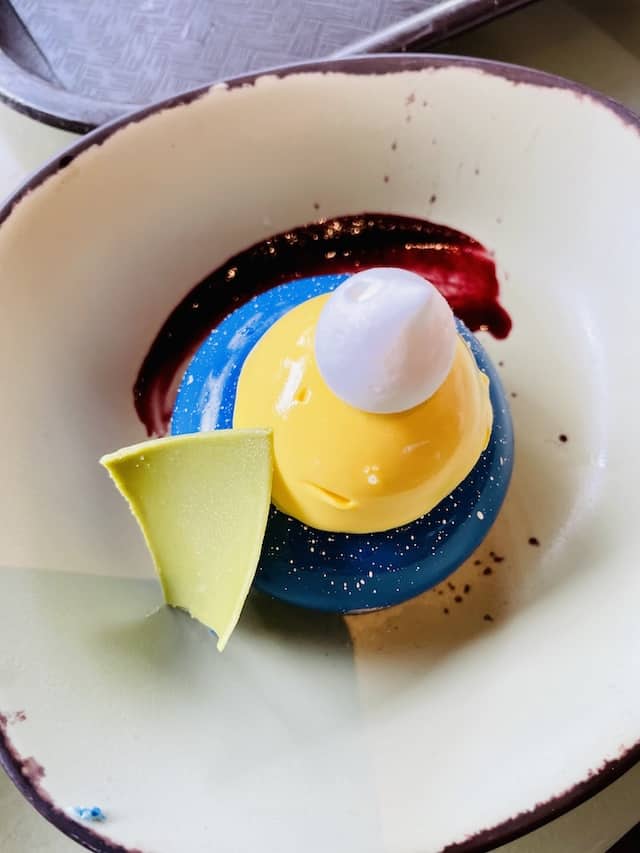 I usually avoid foods that are so heavy on the artificial coloring, but I make exception for two Disney treats. This is one, and the other is Violet Lemonade at Taste of Epcot's International Flower & Garden Festival.
If you find yourself craving lunch in Pandora, after you finish your cheeseburger pods and protein bowls, you might just want to treat yourself! While it is big enough to share, it is also small enough not to feel too guilty if you end up eating the whole thing. It will work out regardless of whether anyone else in your travel party saves room for dessert.
6. Fraises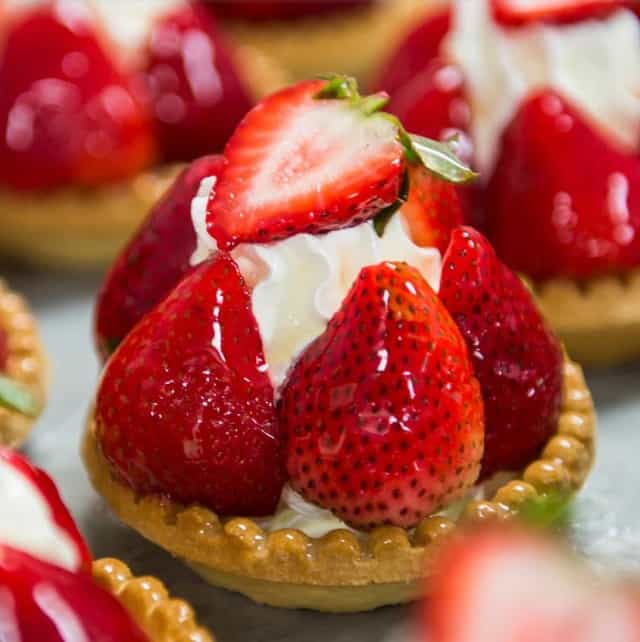 It is no secret that the French are good at pastries. This holds true even in Disney's own French Pavilion in Epcot.
If you visit and head to the back of the pavilion, you will find a most delicious dining location. Les Halles Boulangerie-Patisserie is a treat. You'd be hard pressed to choose something that isn't delicious.
The bakery items are no exception. And one of the best is the Fraises.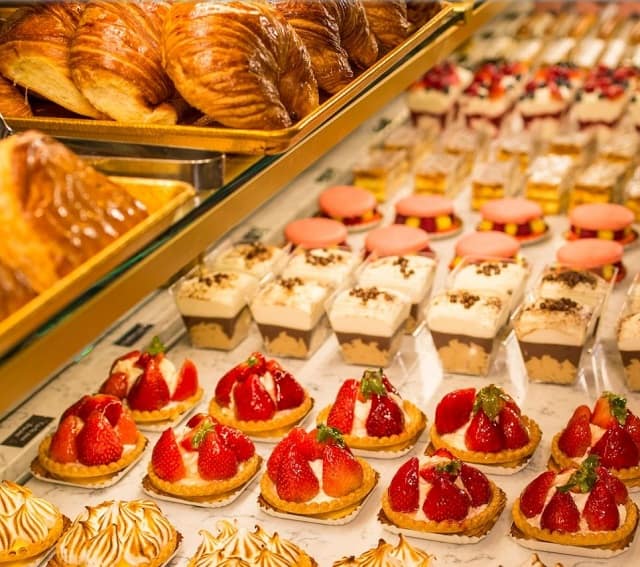 "Fraises" is French for "strawberries," and this dessert highlights them well. It is simply a tart with vanilla cream and strawberries. This is a case where simplest things can be tres bien.
The dessert is one that tastes as good as it looks. If you are in the mood for real strawberries, then you will enjoy it.
7. L'artisans des Glaces Sorbet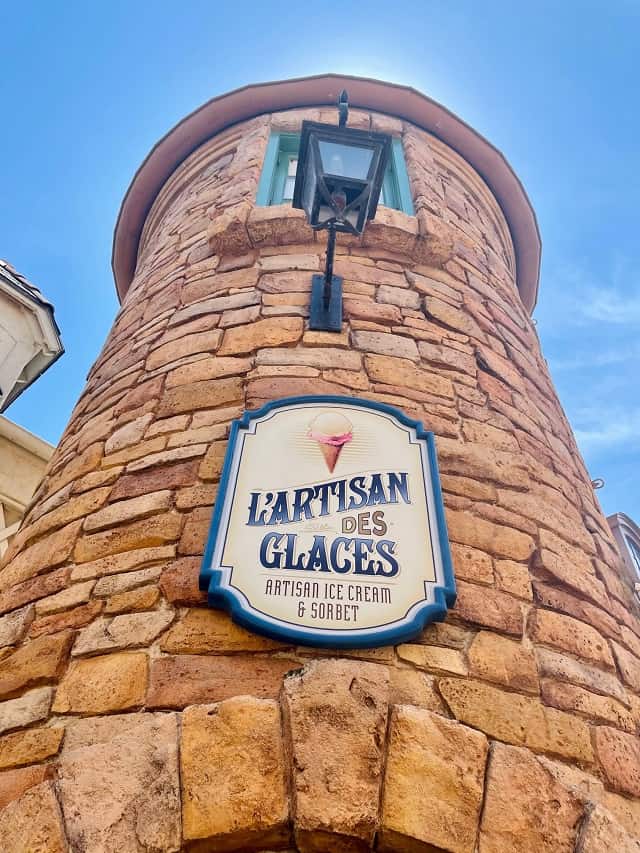 Speaking of delicious food in France, Disney's French Pavilion also does Ice Cream well. L'Artisans Des Glaces scoops up some of Disney's finest ice cream treats.
You can find the ice cream shop in Epcot. It is located adjacent to Les Halles, which presents a difficult dilemma as people approach: Ice cream vs. French Pastries.
L'Artisans Des Glaces, unlike many of Disney's restaurants which serve Edy's or Haagan Daz, creates its ice creams in house. The difference is certainly detectable. In fact, many people claim it is the best ice cream in all of Disney World.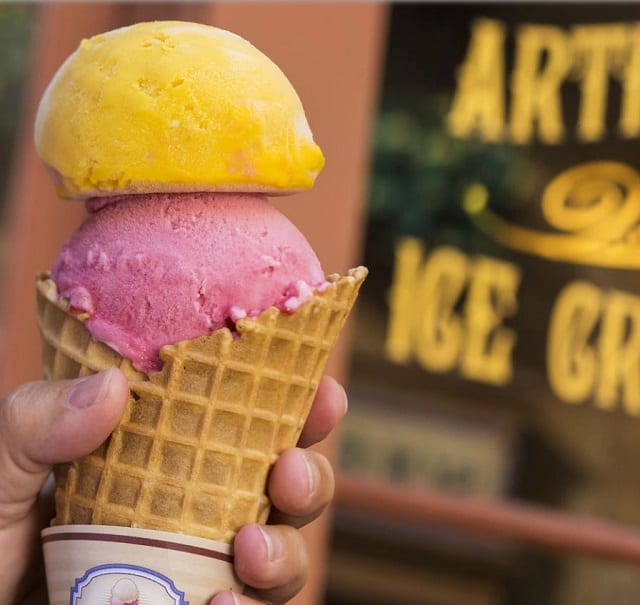 The ice cream creations are yummy, but for me the Sorbet here is one of the most perfect desserts you will find. It is particularly amazing on a hot day.
The flavors are creamy and delicious without being overly sweet. I highly recommend trying the mango and strawberry if ever you need something refreshing and frozen as you enjoy your day at Disney.
8. Pongu Lumpia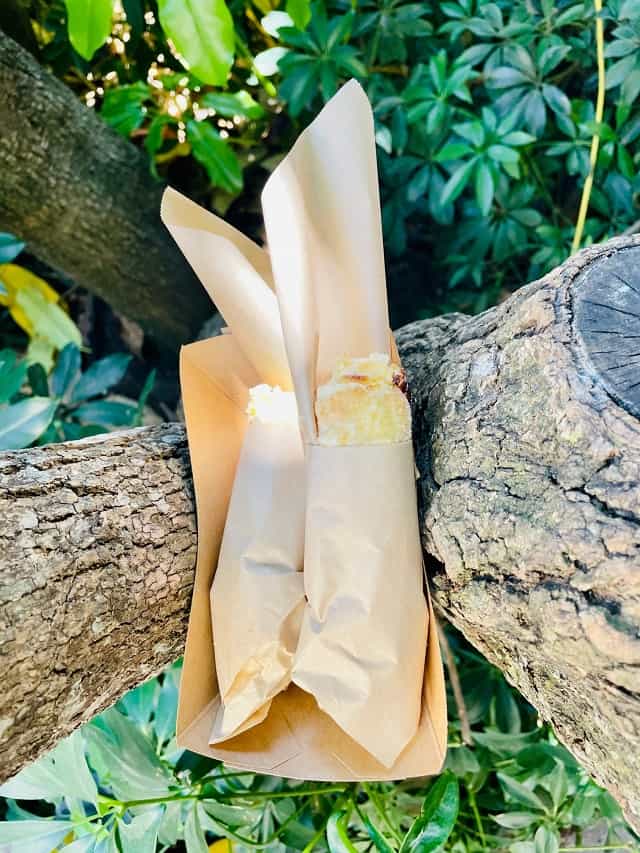 I know I said earlier that the Blueberry Cream Cheese Mousse is one of my favorite desserts. However, most of the time when I go to Satu'li I make the very difficult decision to skip it in favor of something even better: Pongu Lumpia.
Pongu Lumpia is located at Pongu Pongu in Pandora, just outside of the Flight of Passage gift shop and Satu'li Canteen. People tend to flock here for drinks, including the famous Night Blossom. But, to me, the real treat is in the dessert.
Pongu Lumpia is a pineapple cream cheese spring roll. They are usually served warm and melty. To me it tastes like the stuff dreams are made of. I find myself craving them randomly.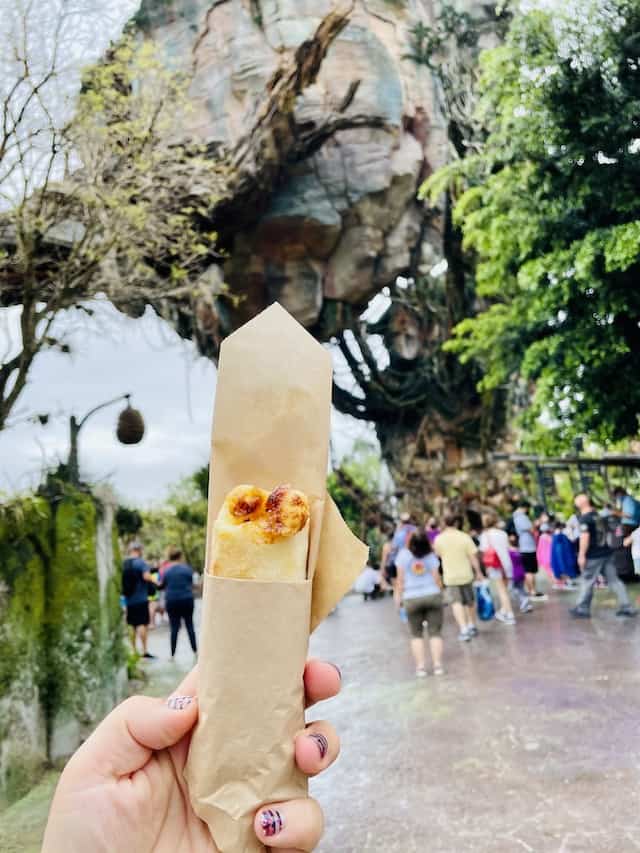 Some people find them too sweet. So if sugar is not your thing, these are not for you.
I will say I am they type of person who loves sugar but does not like "Disney cupcake level" sugar. Pongu Lumpia are less cloying than a Disney cupcake but sweeter than…well most everything else in the parks. They are also pretty messy, so prepare accordingly if you try one. You will probably want to wash your hands afterwards.
9. DOLE Whip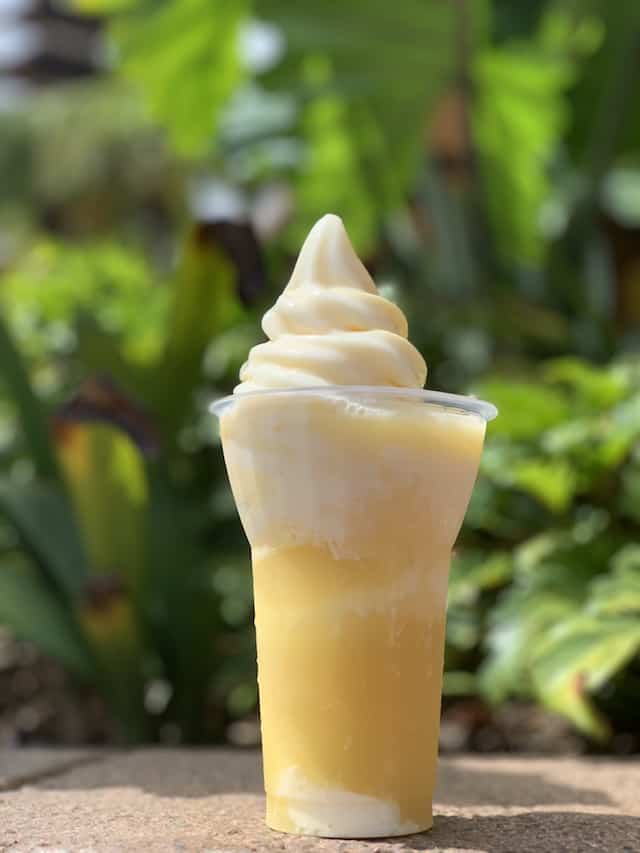 DOLE Whip is a quintessential Disney dessert. Not only is DOLE Whip chocolate free, it is also dairy free, gluten free, and vegan.
Some people find it to be over-hyped. I am not one of those people.
I love it in almost all of its glorious forms. You can have it as a float with pineapple juice (or even POG juice if you are lucky), on top of pineapple upside down cake, as nachos, or even with various types of alcohol.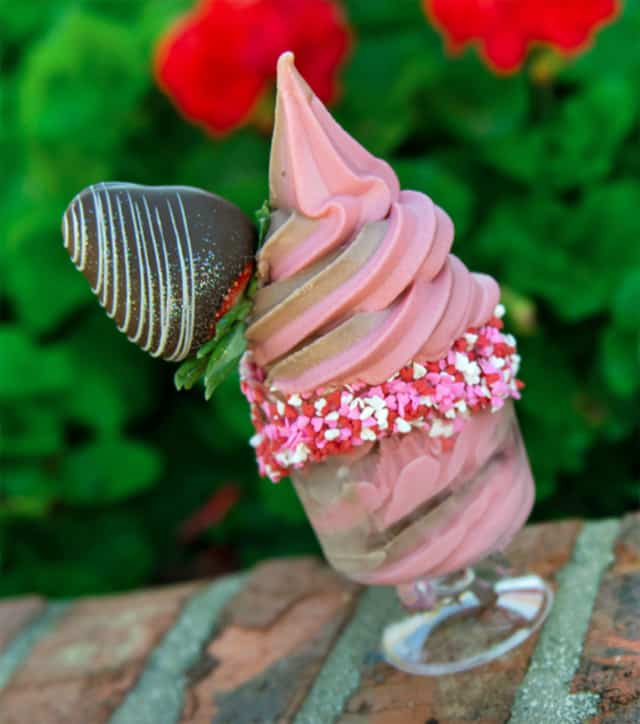 My personal favorite flavors are classic pineapple and raspberry. However, you can find the frozen delicacy in a wide range of flavors including lime, orange, strawberry, and coconut at various locations depending on the time of year. It is typically also offered twisted with vanilla soft serve.
If you love DOLE Whip, or if you want to try it for the first time, you are in luck. It is available in quite a number of Disney locations. To read all about them, click here.
10. Macaron Lime Raspberry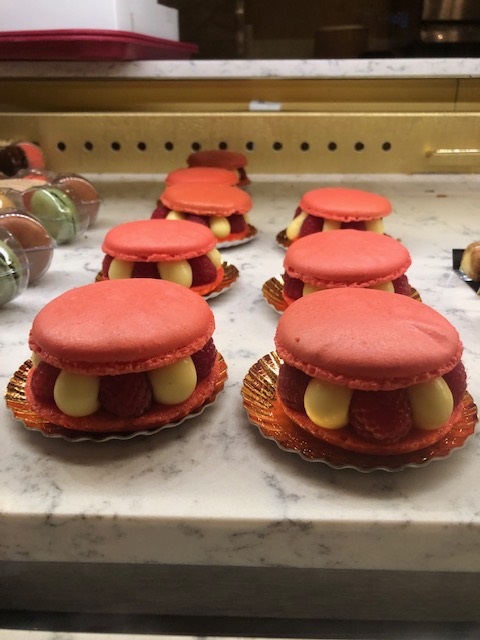 The Macaron Lime Raspberry is the third dessert from Epcot's France Pavilion to make the list. Honestly, you can't go wrong when you are visiting that little corner of the Epcot World Showcase.
However, you can't really get much better than the Macaron Lime Raspberry. To find it, you will have to head to Les Halles Boulangerie-Patisserie.
This treat is definitely my favorite macaron I have ever had. It is also quite possibly my favorite treat in all of Epcot.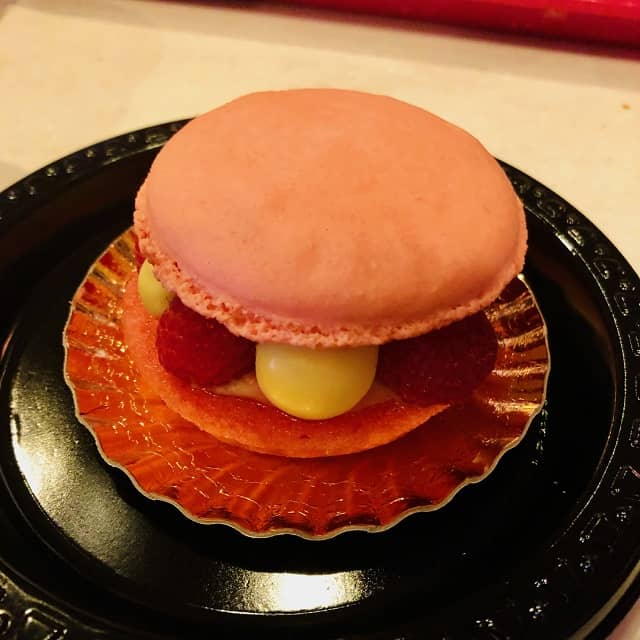 It is a simple pink macaron. Between the halves are raspberries and dollops of lime cream.
The flavors and textures come together brilliantly. If you want a light dessert filled with sweet, raspberry goodness this one is for you.
Final Thoughts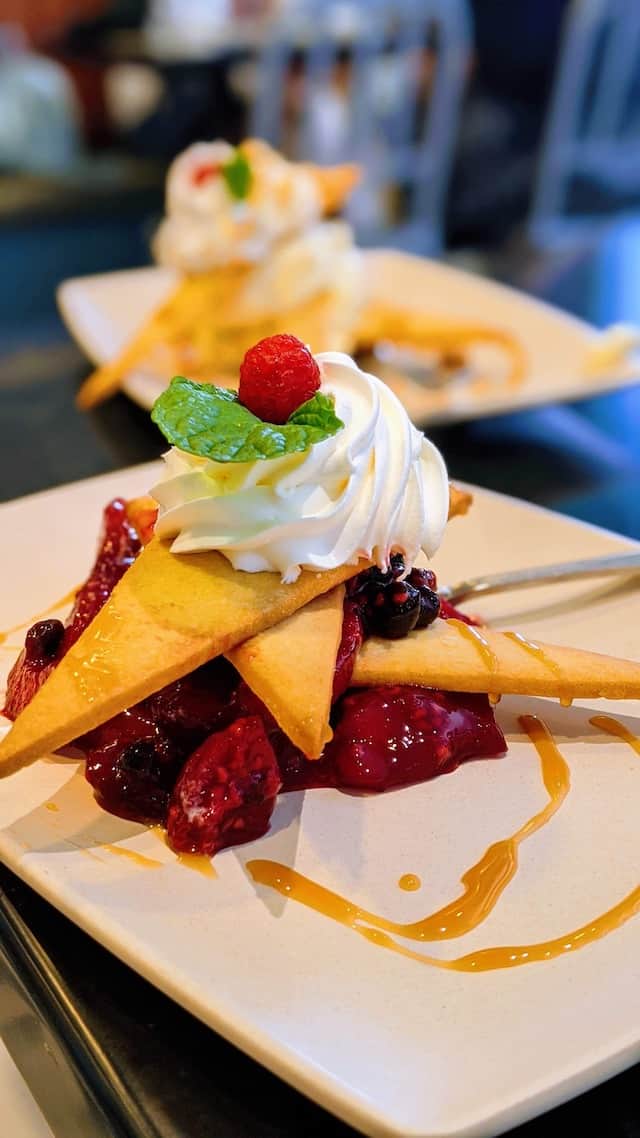 If you are a dessert lover who is not too keen on chocolate, Walt Disney World is a good place to be. There are sweet options to indulge your desires.
What do you think? Did we miss any of your favorite non-chocolate Walt Disney World desserts? Tell us about it in the comments below or on our Facebook page. Or keep the conversation going and share them with us in our crew, too!
Are you planning a vacation? Reach out to our trusted travel agency sponsor Authorized Disney Vacation Planner
Mouse Class Travel
!