This is my favorite character meal on Disney World property ever! Not only is the food amazing, but the character interactions are fantastic.
Character meals return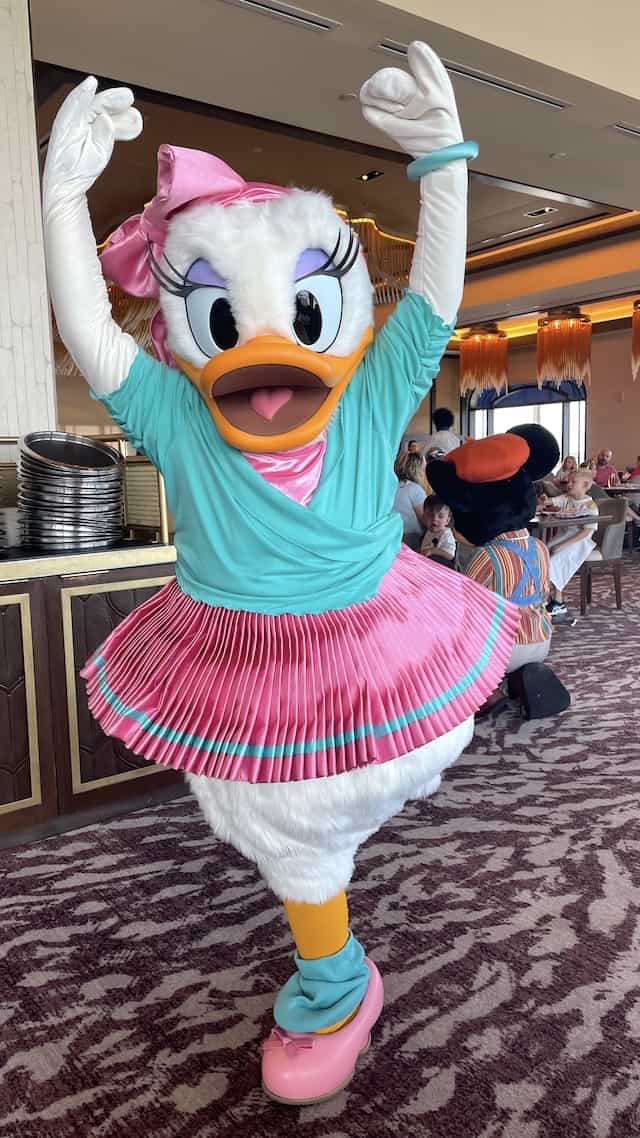 While a few character meals did return with the reopening of Disney World in July 2020, it has been a slow process getting more back. Slowly but surely most have returned with a few exceptions. With character hugs and autographs back, character meals are in demand even more.
Over the years, I (Monica) have had the opportunity to eat at many character meals including 'Ohana, 1900 Park Faire, Chef Mickey's, Cinderella's Royal Table, and Be Our Guest in the Magic Kingdom area. In the Epcot/Hollywood Studios area I have eaten at Trattoria al Forno and Hollywood and Vine.
However, my favorite character meal out of all of those can be found at Disney's Riviera Resort.
Topolino's Terrace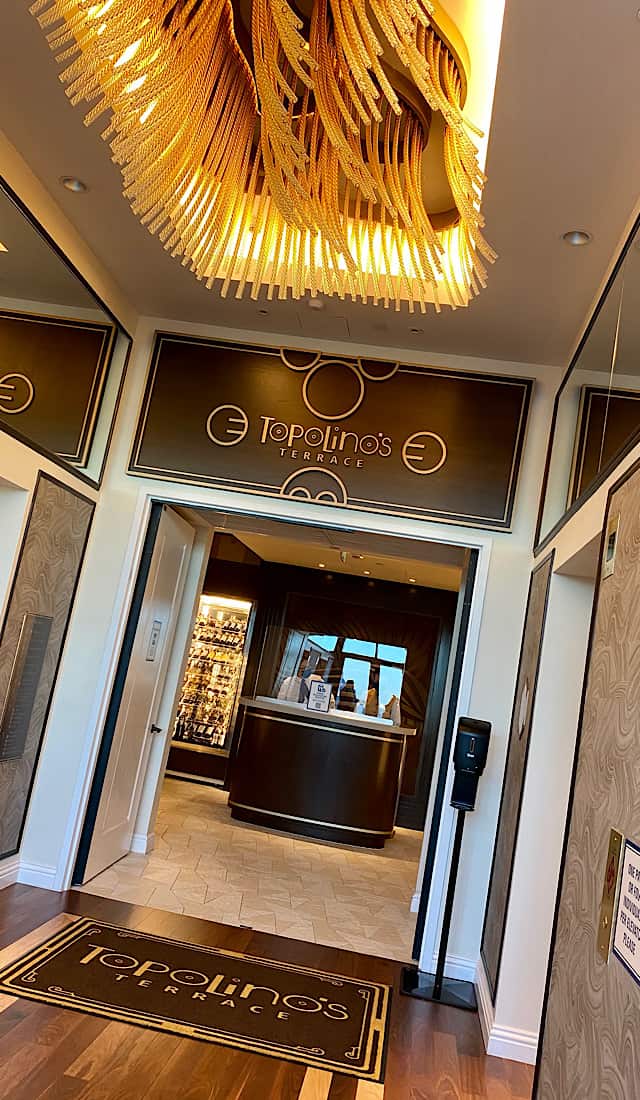 I have written extensively about my love of Riviera Resort and its food. Here's a quick rundown if you are interested. Click on any of the links below!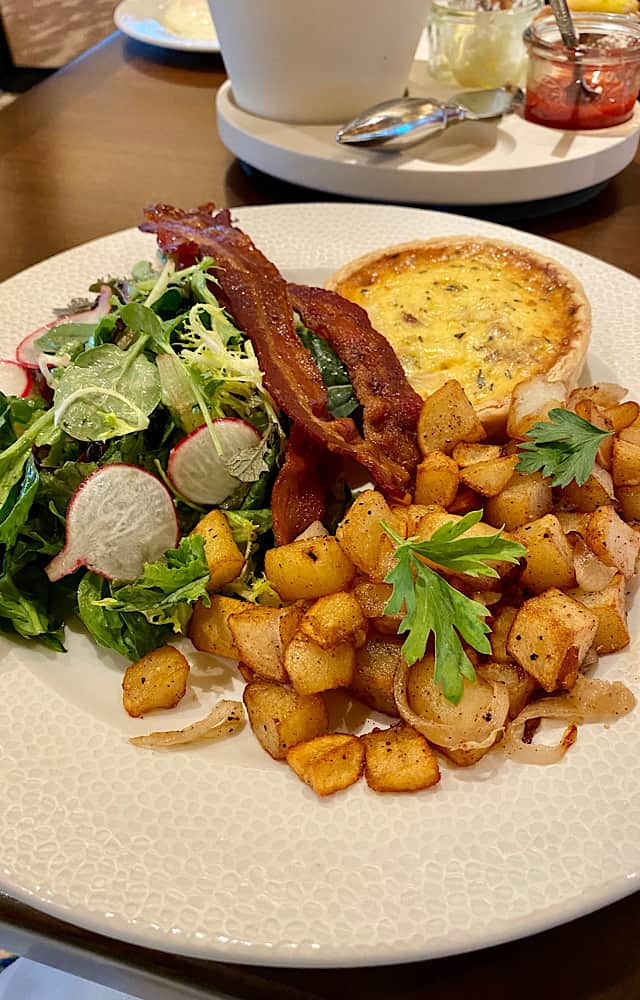 I could eat everything at Riviera, but my absolute favorite food can be found at Topolino's Terrace. In the morning, greet your favorite friends and feast on the incredible Sour Cream Waffles. At night prepare to be transported to a signature dining experience straight from the French Riviera. If you time your reservation just right, you can also see Harmonious fireworks from Epcot.
This rooftop restaurant shows off stunning views of the resort, nearby Caribbean Beach, and even other theme parks! You can see the tops of the Swan and Dolphin hotels and the peaks of Expedition Everest. I highly suggest stopping by the resort to explore a bit and enjoy a meal there!
Breakfast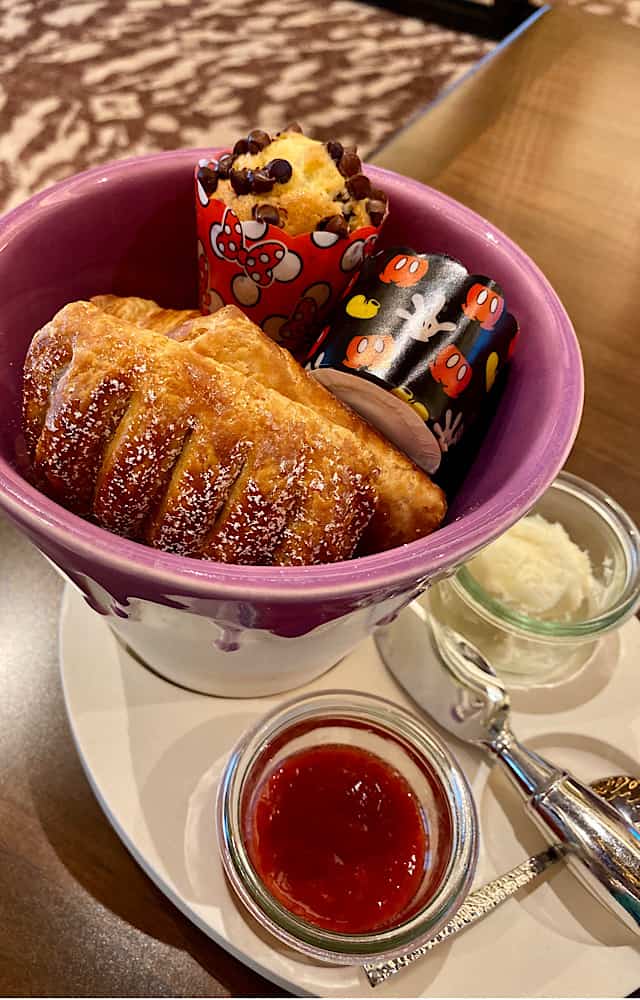 Our KtP team wrote about Topolino's breakfast when it first opened and then again when it reopened with social distancing. It is a favorite among all of us writers and our families due to the yummy food and fun character interactions.
On a recent visit, I enjoyed Topolino's Terrace for breakfast during my stay at Riviera Resort. I wanted to provide an update on what exactly the experience looks like now since our previous reviews discussed it when it was different. For starters, Cast Members do still hand out the autograph cards as you are seated at your table. When we got this, I was surprised and curious if they were still not doing autographs. More on that in a bit.
Next, the fresh pastries are back in the adorable paint buckets! For a brief time after the parks reopened, they were served in a plain basket. Our server also poured fresh POG juice for our table as well.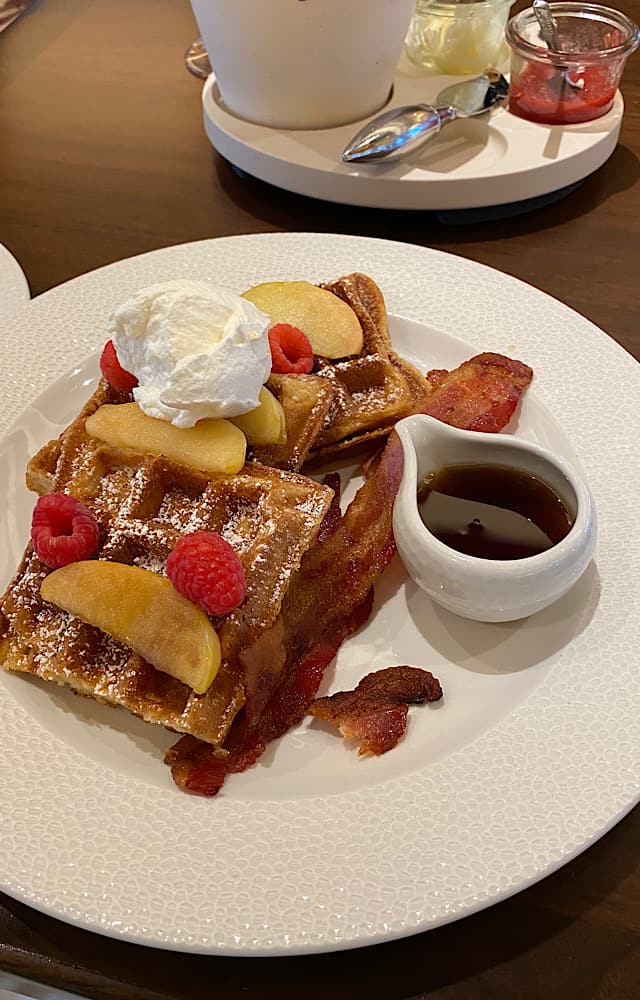 It is no secret I am a glutton for the Sour Cream Waffles. I dream about them every day of my life! In fact, it was the thing I was most excited about for this trip. Forget about the character hugs, the Keys to the Kingdom tour, and the Drawn to Life show; just get me those waffles!
They were just as heavenly as they were during previous meals. The fresh fruit and whipped butter on top of those fluffy waffles…now I'm thinking about them again.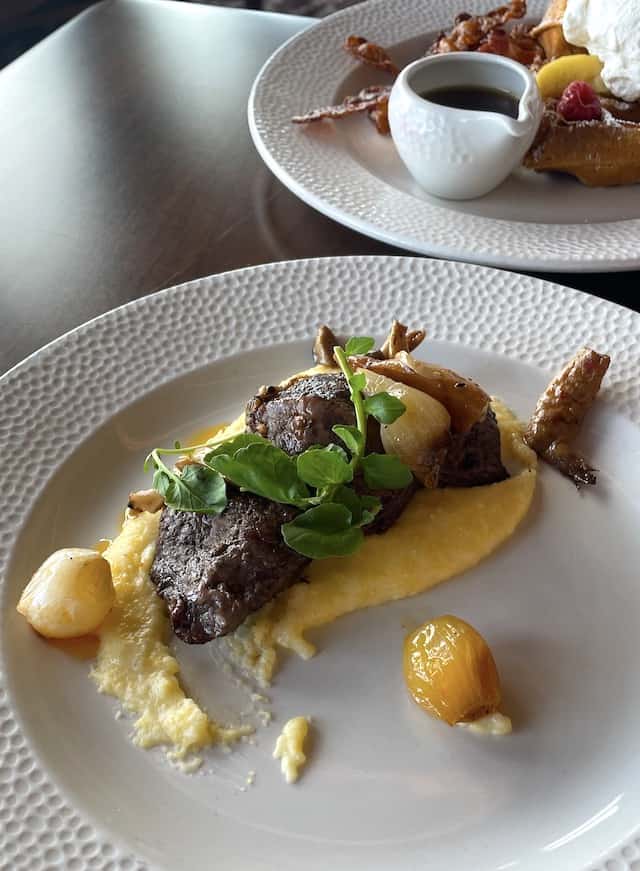 Our table also ordered eggs, potatoes, and a side of the wood-fired butcher steak. Although this is a prixe fix meal, servers are usually more than happy to accommodate additional requests. UPDATE: Disney has closed this "loophole."
Just be sure to be polite and never assume they will be able to accommodate it.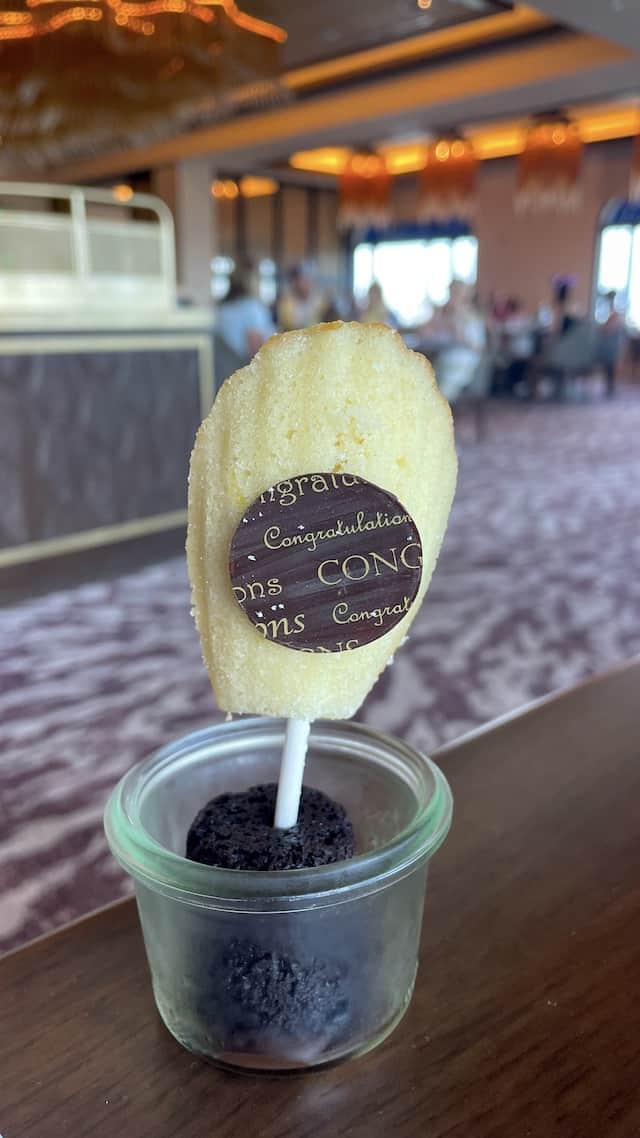 Lastly, we received a special congratulatory treat for my anniversary. It was a chocolate muffin with some type of vanilla crunchy wafter on a stick. It tasted okay and we were very thankful for the sweet gesture. However, it paled in comparison to the delicious food we had in front of us, so we focused on that.
Even if there were no characters at Topolino's Terrace for breakfast, it would still be my favorite meal at Disney. I have never had bad food here, and it is a big reason why I keep coming back.
Characters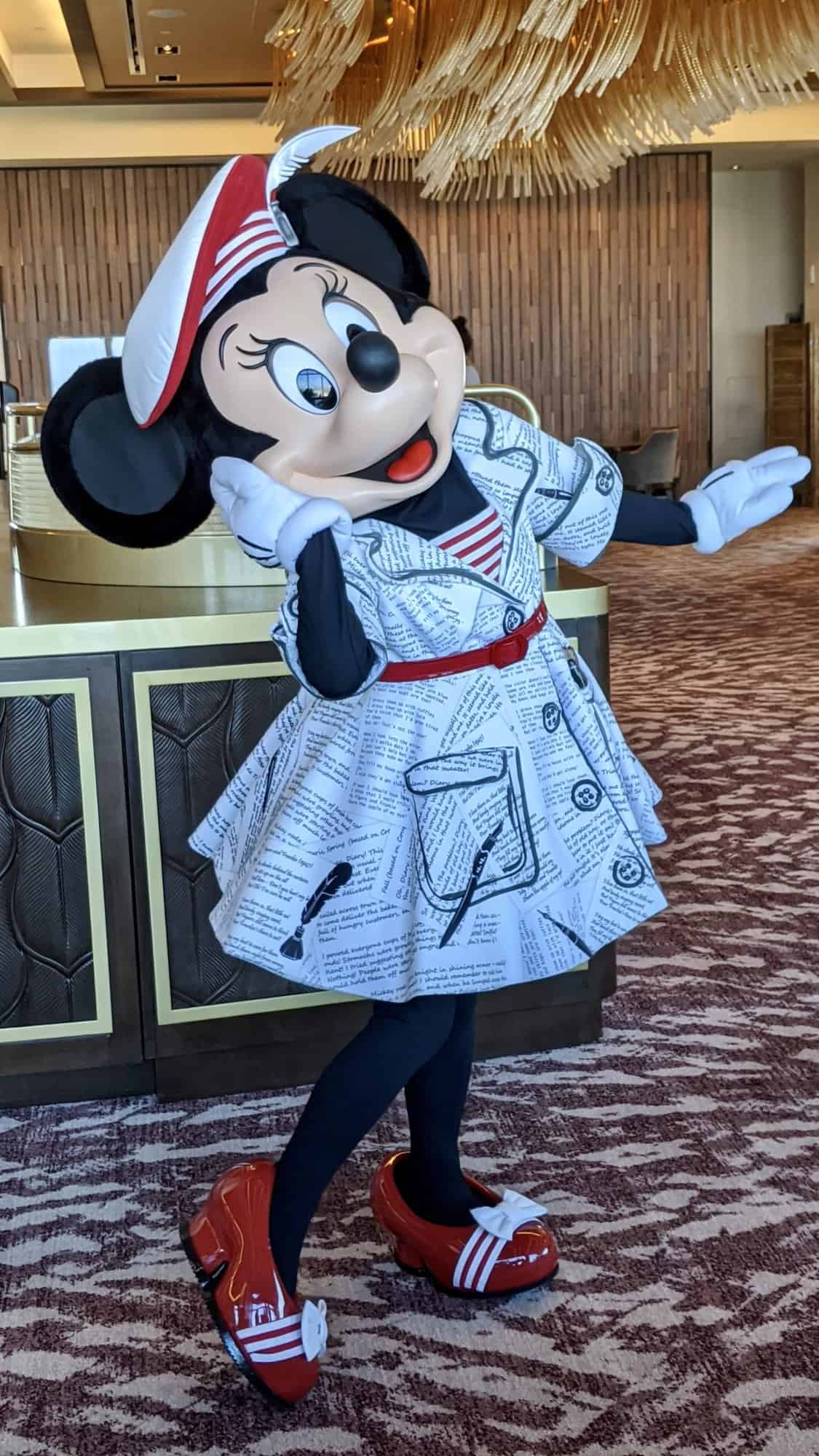 But, what a joy it is to have characters at Topolino's Terrace! Mickey, Minnie, Donald, and Daisy all dress up in their unique outfits that can only be found at Topolino's. Mickey is a painter, Minnie is a writer, Donald is a sculptor, and Daisy is a ballerina.
Within a few minutes of sitting down, Daisy visited our table which began the continuous character interactions throughout the meal. It was so lovely to hug her! I have eaten there quite a few times but never had the opportunity to give her a squeeze! Next came Minnie and then Mickey (we missed Donald on this first rotation).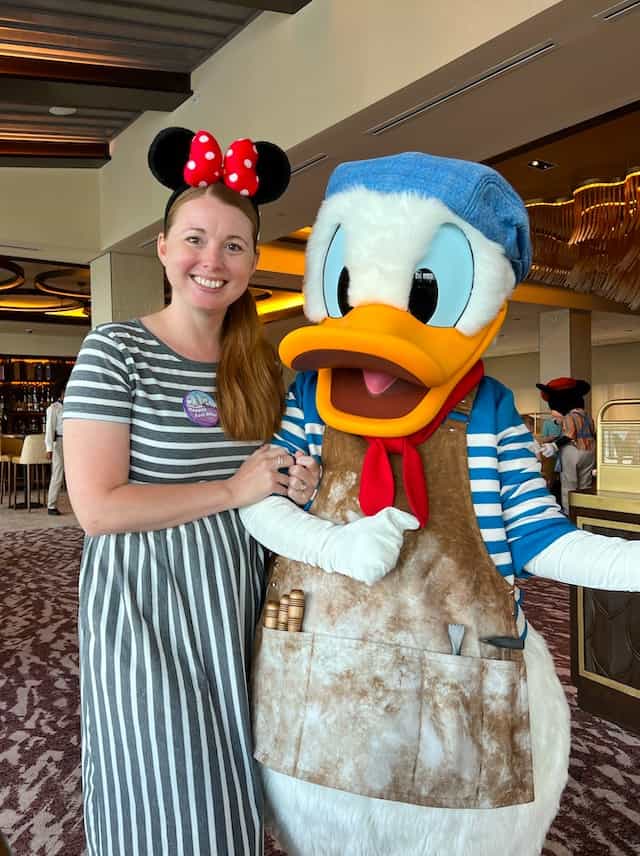 We saw them 2-3 times during our hour-long experience, so do not fret if you are halfway through the rotation when you enter the restaurant. In between each rotation, all four come out together for a song and dance! It is really fun to watch and clap along. You may even catch a few of them interacting with each other and with Guests. I saw Minnie and Donald play peek-a-boo with a little boy who had gone out to the terrace.
You may be wondering if these characters sign autographs given the fact that autograph cards are handed out. The answer is yes! They are happy to sign for you, and you will still receive the card as well.
Amazing experience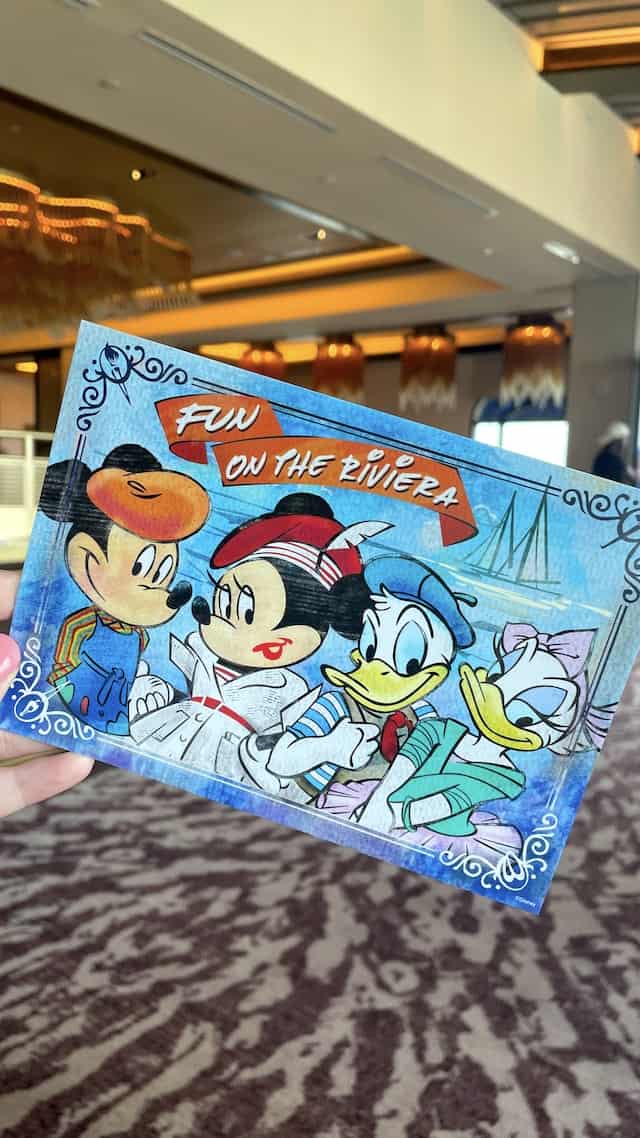 I am so happy I finally got to experience my favorite character meal with no restrictions! I know I speak for most Disney families that the character hugs and interactions were sorely missed for almost two years. Hugging Mickey allows you to forget all about your cares and worries and focus on the magical moment in front of you.
Even if you have enjoyed Topolino's Terrace in the past, I encourage you to experience it again. It was only open for about 3 months before the parks closed down, and the experience was drastically different with social distancing. I assure you it is worth to get the full experience!
The same can be said for any character meal that you may have experienced during the initial reopening. The things that make Disney World such a special place are finally returning slowly but surely and deserve to be experienced!
What is your favorite character meal, and why is it Topolino's Terrace?! If you have eaten here before, share your experience with us in the comments or on Facebook!