I was shocked how much I loved this show!
Drawn to Life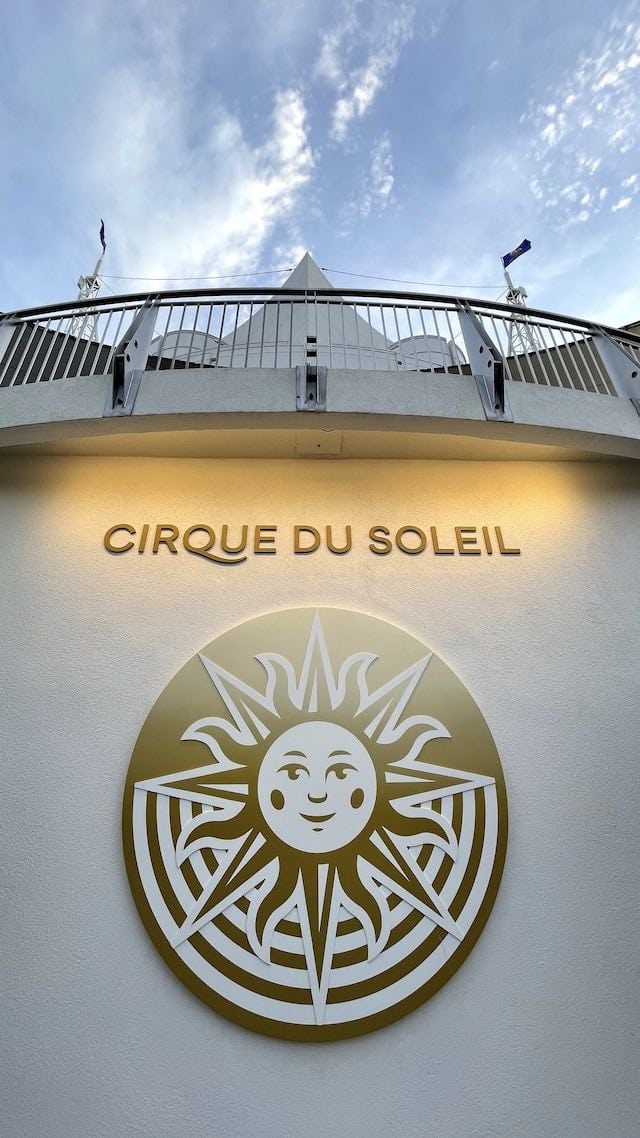 When I (Monica) was planning my anniversary trip with my husband, I wanted us to do things we have never tried before at Disney World. When you go often, it can sometimes become easy to do the same things over and over. This trip was a great opportunity to see a show since we did not have our children with us.
If I am being honest, Drawn to Life did not really appeal to me. Maybe you are the same way. Who would want to go to Disney Springs to see a show when you can watch fireworks at Magic Kingdom? However, I am so glad we experienced Drawn to Life, and I hope this review inspires you to see it as well.
From the Cirque du Soleil website: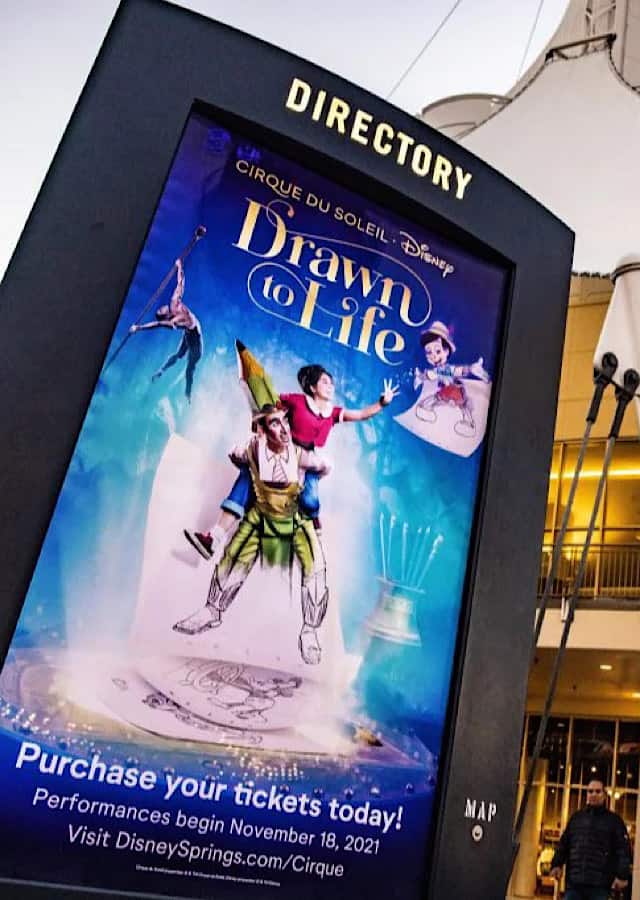 Set your imagination in motion and get ready for a first-of-its-kind creative collaboration between iconic memory-makers Cirque du Soleil and Disney.
Drawn to Life invites you into an astounding world where the art of Walt Disney Animation is experienced like never before. Gather your whole family for an unforgettable leap into this amazing new show—a live acrobatic journey where the stage is transformed into a giant animation table.
The art of classic Disney animation is reinterpreted through Cirque du Soleil's innovative design, acrobatic performances, dazzling choreography, and eclectic costuming alongside all-new Disney animation and an original score inspired by timeless Disney music. The show is absolutely alive with all the high-flying, mind-blowing exuberance that Cirque du Soleil is famous for.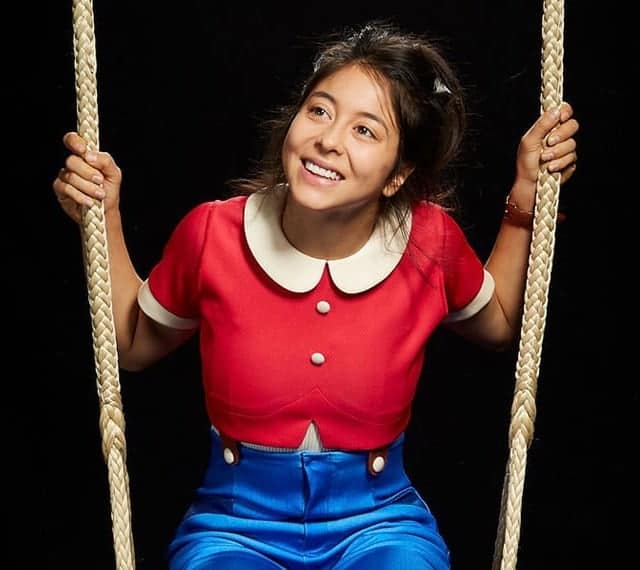 This love letter to the art of Disney Animation celebrates life in all of its motions and emotions. The show tells the story of a determined girl who discovers one last gift left by her animator father: a sequence of unfinished drawings.
Guided by a magical pencil and a quirky troupe of imaginative muses, she embarks on an inspiring quest filled with her childhood Disney memories. We'll follow her as she leaps into a whimsical world of animation and discovers new possibilities that animate the story of her future.
Ordering Tickets and Seats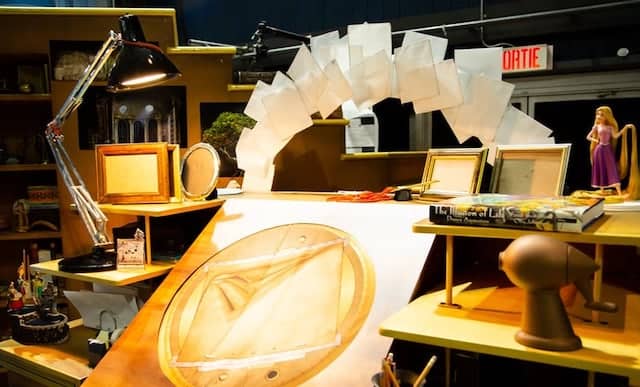 Doesn't that description sound amazing? Once I really began to dig deep into what the show was about, I knew we should check it out. I purchased tickets in late April for our early June trip. There is no need to worry about tickets selling out. If you want to take some time to study the theater seating or work it in to the rest of your Disney World vacation plans, please take that time.
Tickets range from $80 all the way up to $185 with children under 2 being free as long as they sit on your lap. The theater is circular and small enough that there is really not a bad seat in the house. However, if you are looking for the most bang for your buck without breaking the bank, I would suggest one of the first few rows on the second level.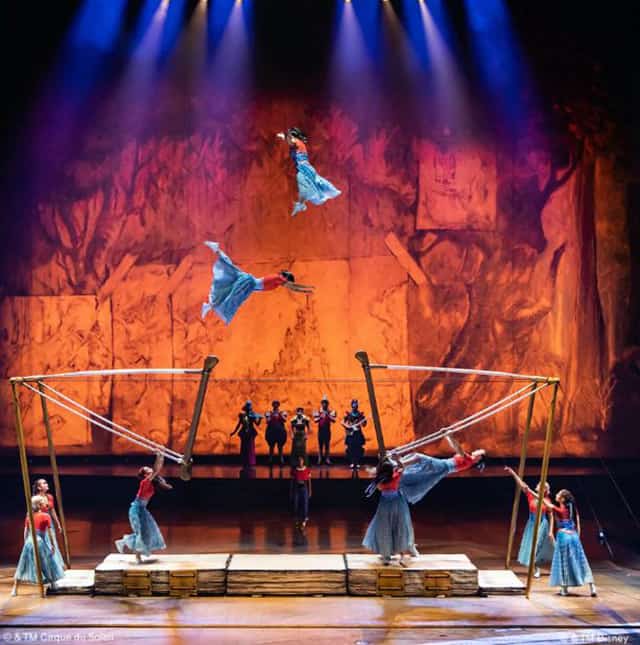 My husband and I sat in Section 204 which is in the middle of the theater. We had an excellent view of everything taking place on stage! Plus, since we were in the upper section we could see the performers as they ran up and down the stairs on the lower level. This is definitely an immersive show and sitting closer to the stage may actually deter you from seeing the big picture.
Pirate tip: I suggest selecting seats that are near the aisle. My husband and I were in dead center of the row and felt like we were stuck the entire show. The seats are quite small and getting up and down would be disruptive.
Showtimes are 5:30 pm and 8:00 pm most days, and they do not perform on Sundays and Mondays. We decided on the 8:00 show so we could have time to eat dinner and shop a bit before the show. If you prefer to eat later I would suggest the 5:30 pm show. Drawn to Life is 90 minutes long with no intermission.
Theater
Getting to the theater is very easy. The theater is located on the West Side of Disney Springs. If you are driving, you can park in any of the three nearby parking garages. The Watermelon garage is the closest. Rideshare pick up and drop off are also close by, so if you decide to get back to your hotel that way it's not a bad walk at all.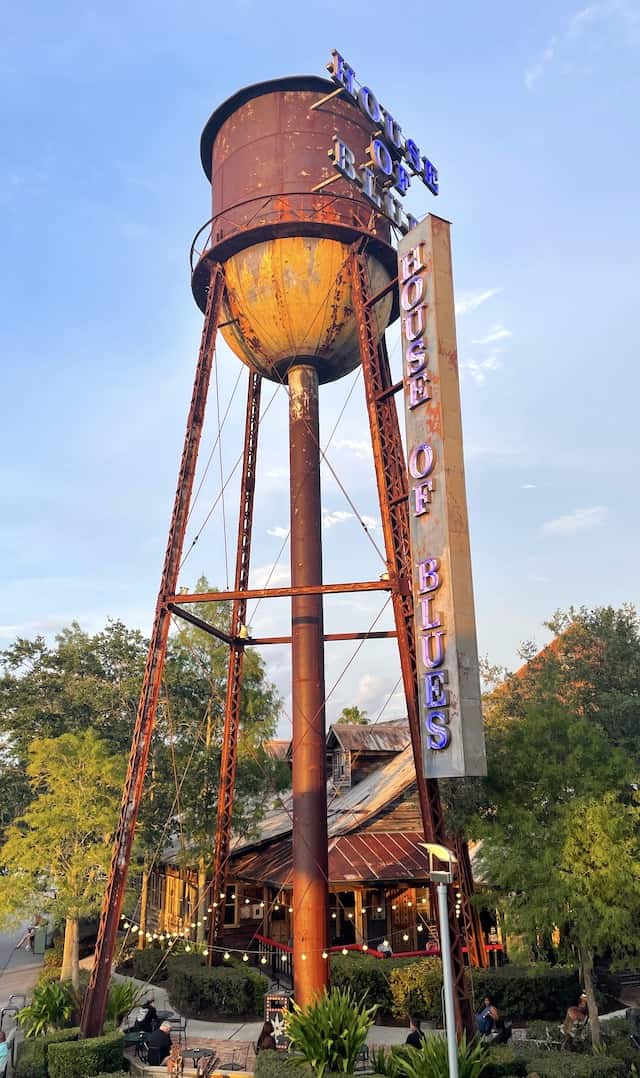 Nearby dining options include City Works Eatery & Pour House, House of Blues, and Jaleo. My husband and I arrived at Disney Springs around 4:00 pm on the opposite end. We strolled through the entire Disney Springs area, stopping to shop and eat at Chef Art Smith's Homecomin' along the way.
I think this is an excellent "strategy" so you are not backtracking anywhere. Weekends are much busier than weeknights, so you may need to account for extra crowds.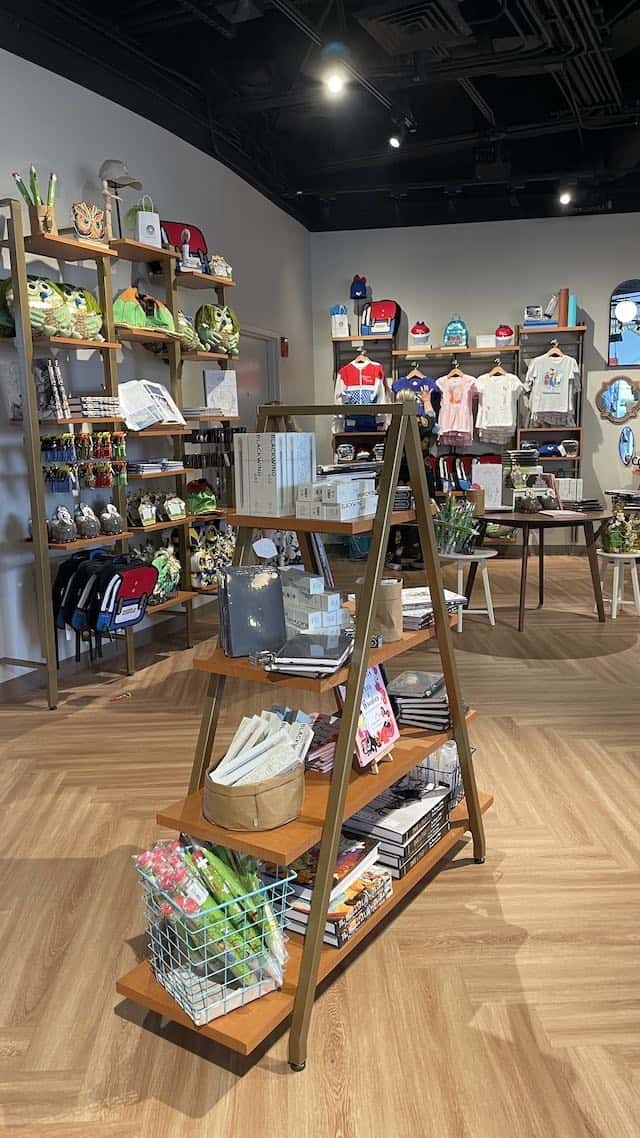 There is a Drawn to Life shop on the first level of the building. You can enter the store without entering the actual theater. There you will find all kinds of Drawn to Life and Disney animation merchandise, including clothing, accessories, books, and toys. You may appreciate the merchandise after watching the show.
To get to your seats, you will head upstairs to the next level where they will let you in 30 minutes before showtime. I recommend getting there right when the doors open so you can see the pre-show! Tickets are delivered electronically after you purchase them which you can then print or add to your digital wallet.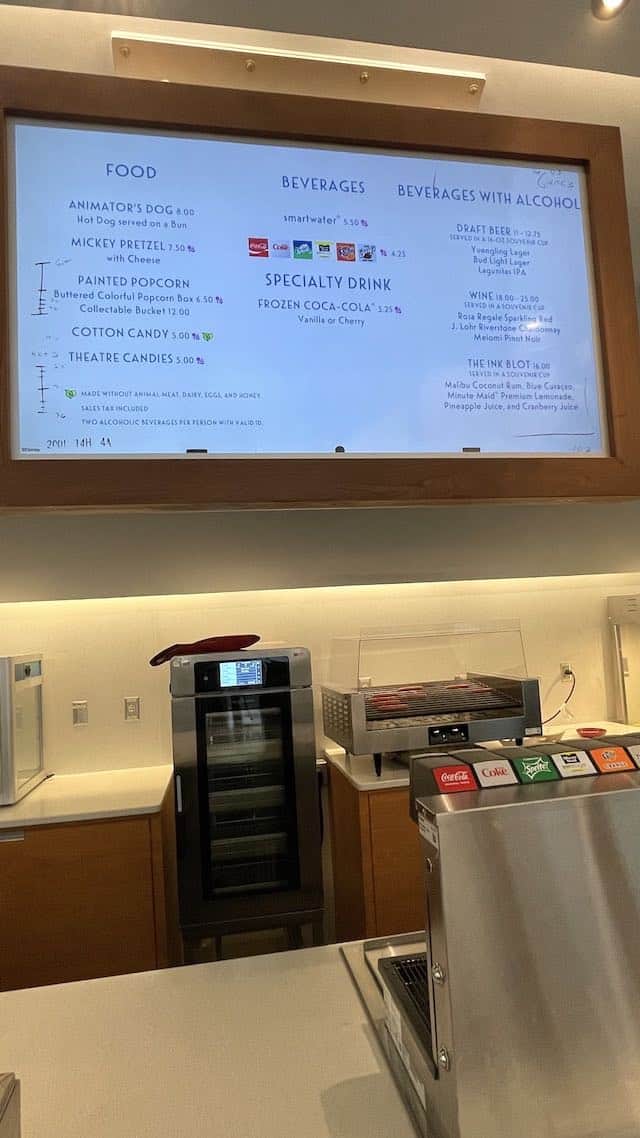 Once inside, you can stop for concessions and drinks and check out the art and information that decorates the walls. There were many nods to Disney animation, animators, animation techniques, and more.
There is also a photo opportunity with a swing! Do note you cannot take photos during the show.
Live Show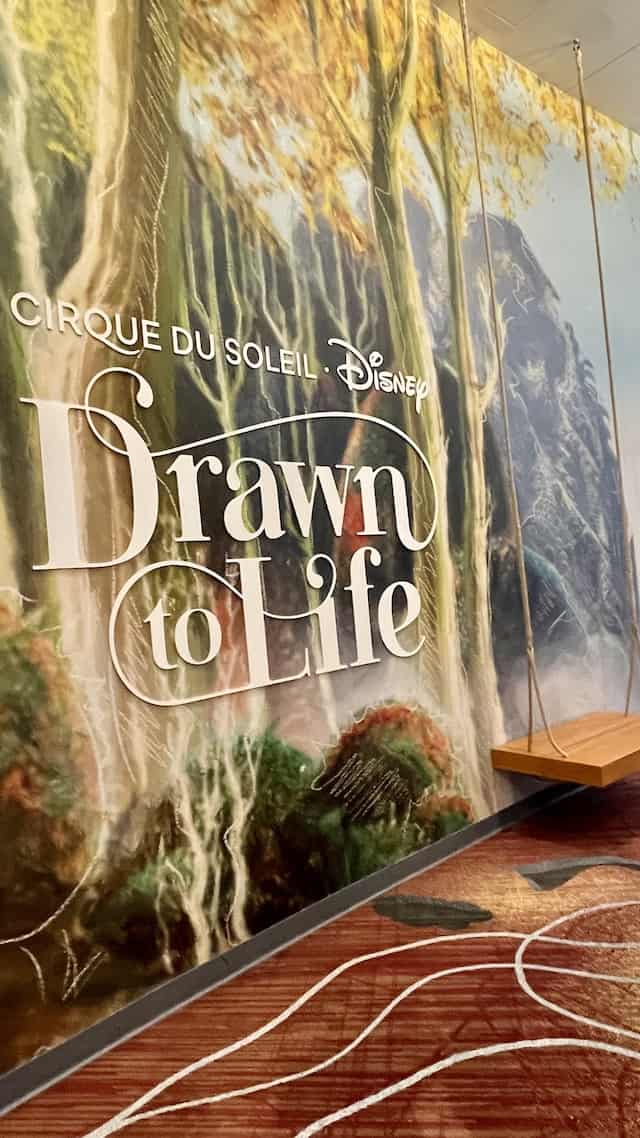 The Drawn to Life show is truly incredible. I was a bit worried this would not be my husband's cup of tea, but I think he may have loved it more than I did! He kept saying he wanted to bring the kids back because they would have been enthralled with the performance acts. Having seen the show, I do think it is very family-friendly and will keep children entertained. However, I can also understand wanting to keep them quietly seated for 90 minutes.
It is a classic Disney animated story. A child is left without a parent and must overcome obstacles to defeat the villain in order to be victorious.
Acrobats, cyclists, stunts, and the incredible costuming and set kept us entertained from start to finish. I was on the edge of my seat for a few of the stunts! There is very minimal talking but a lot of beautiful music. Cirque du Soleil and Disney did a fantastic job with Drawn to Life. It is everything you would expect from Cirque du Soleil with the nostalgic Disney we know and love so much.
Throughout the show you may notice a few nods to Disney animation, or Disney Easter eggs as they are called sometimes. I do not want to give any away, but be sure to keep your eyes peeled!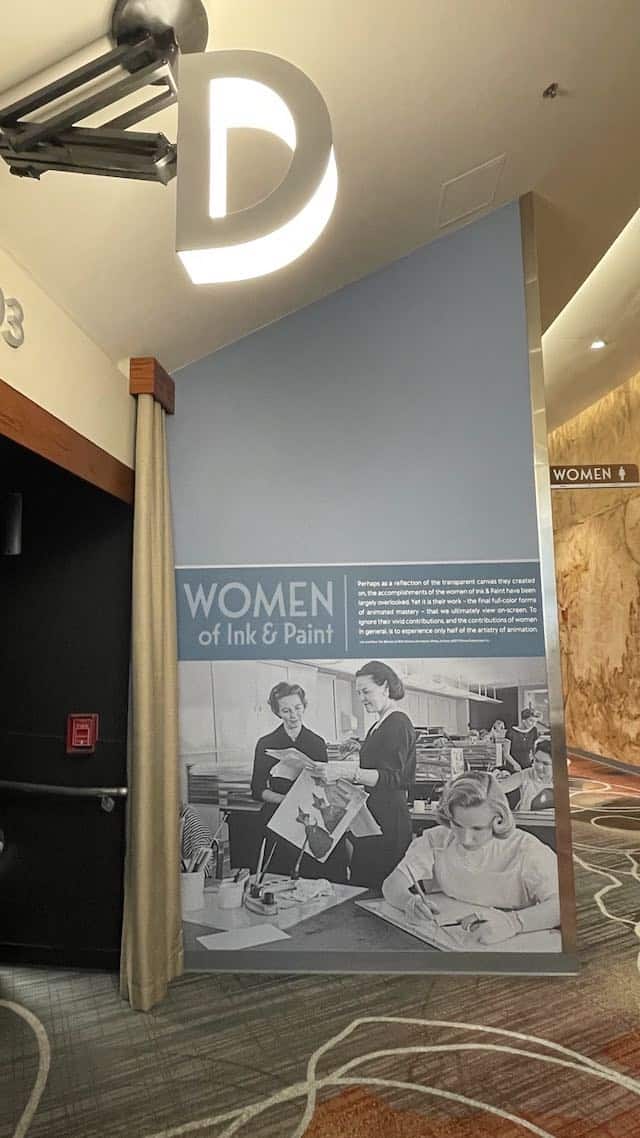 There were hints of humor and nods of nostalgia woven in to balance the show. I felt many different emotions during Drawn to Life. The message of learning to overcome any doubts and trust your creativity is inspiring. Do not worry if you cannot make it on your next trip! Cirque du Soleil just debuted in late 2021, and I'm sure it will be here for years to come.
Overall, Drawn to Life is an excellent activity to enjoy with your family, your spouse, or a group of friends. I hope to see it a few more times in the years to come! The story is beautiful, the stunts are breathtaking, and the nods to Disney animation are nostalgic. Go get your tickets now!
Have you seen Drawn to Life at Disney Springs? What did you think of the show? Share your thoughts with us in the comments below and on Facebook.
Are you planning a vacation? Reach out to our trusted travel agency sponsor Authorized Disney Vacation Planner
Mouse Class Travel
!